Love a pumpkin soup recipe? Me too! This crockpot butternut squash soup contains buttery butternut squash cooked to perfection with a combination of warmth, spices, and extra luscious cream in your kitchen staple crockpot/slow cooker.
Pumpkins can take a while to cook, so cooking them in your crockpot can significantly reduce your time in the kitchen. Ripe pumpkin pieces are mixed with complementary ingredients from potatoes to dried ginger and fresh cream to create your next hearty meal.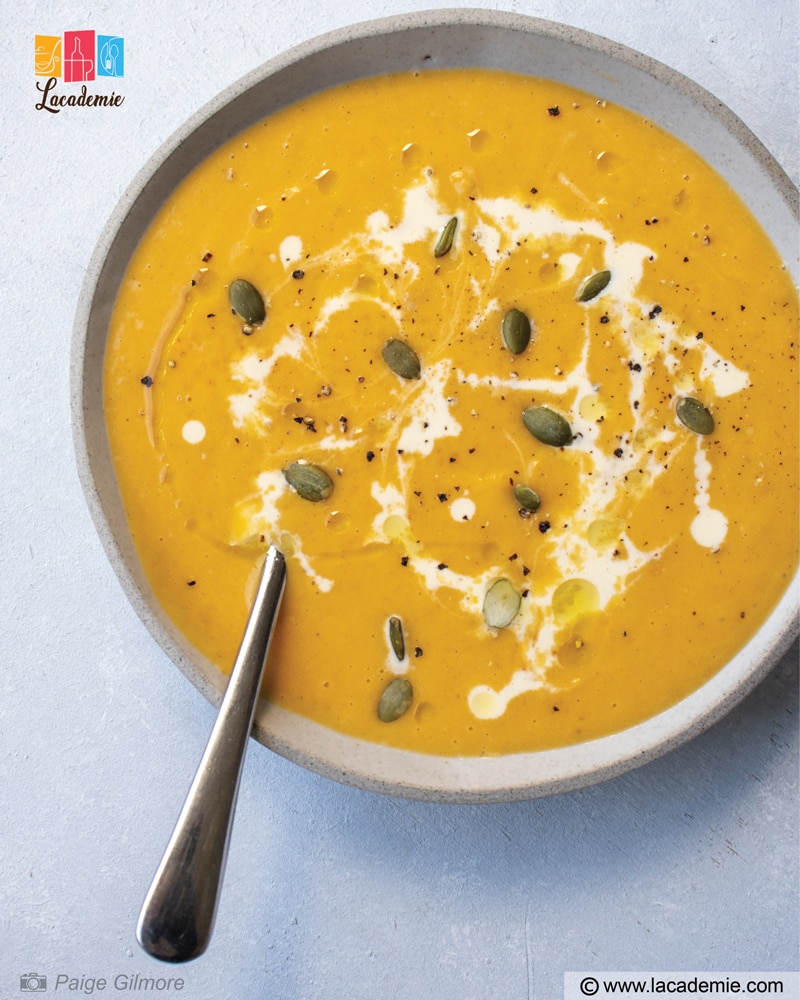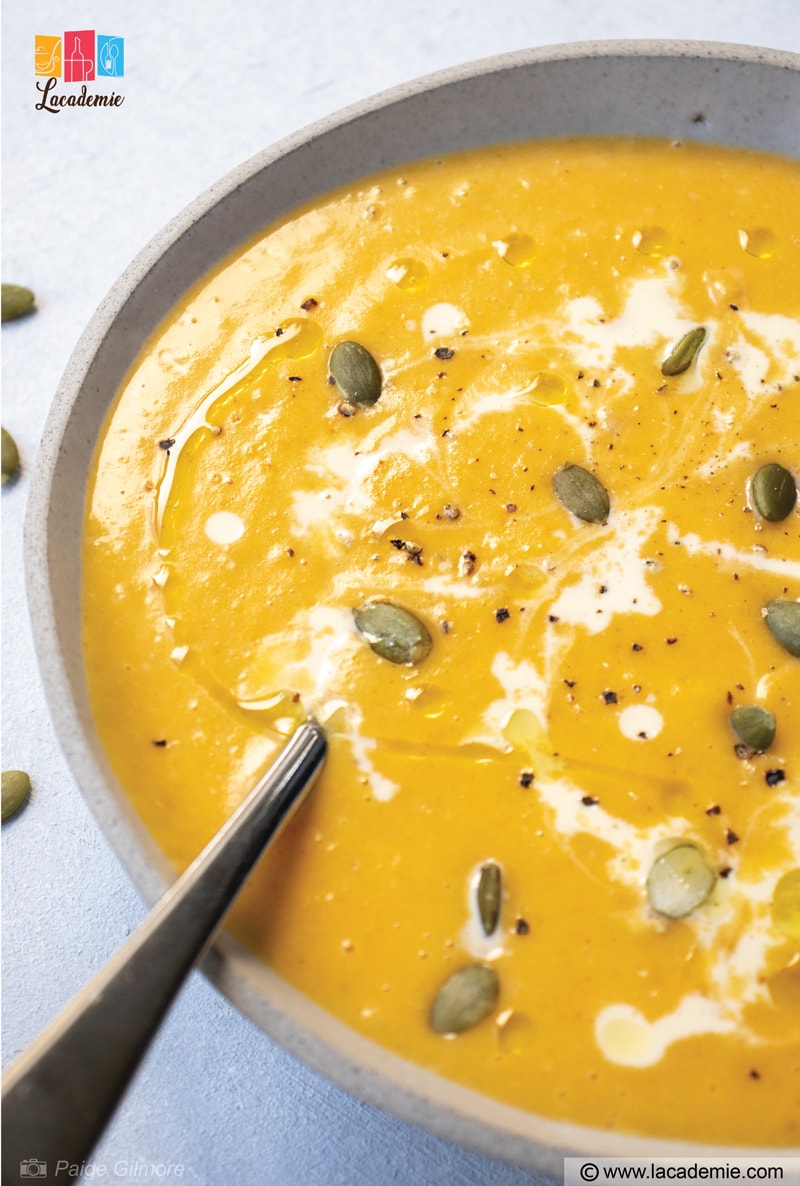 What Is Crockpot Butternut Squash Soup?
Crockpot butternut squash is essentially a cream of vegetable soup or, in this case, a cream of butternut squash soup.
This dish comprises butternut squash pumpkin cooked in vegetable stock, seasoned with onion, garlic, seasoning, and then pureed with fresh cream.
This is an ideal crockpot recipe in the fall or as a hearty recipe for dinner. By using this cookware, all ingredients are cooked at a low temperature in a certain period. All you need to do is set and walk away!
Tools
Crockpot soup recipes are the best because the tools do all the hard work for you! To recreate this crockpot butternut squash soup, use the following:
Crockpot / slow cooker: make full use of your device in this recipe.
Hand blending stick: using this tool is super convenient as you don't need to transfer the mixture into the blender.
Chopping board: this one will help you chop the butternut squash with ease.
Sharp knife: make sure you pick up the right knife that can quickly chop all the ingredients.
Large ladle: filling the soup into bowls with the ladle will become easier than using spoons or large spoons.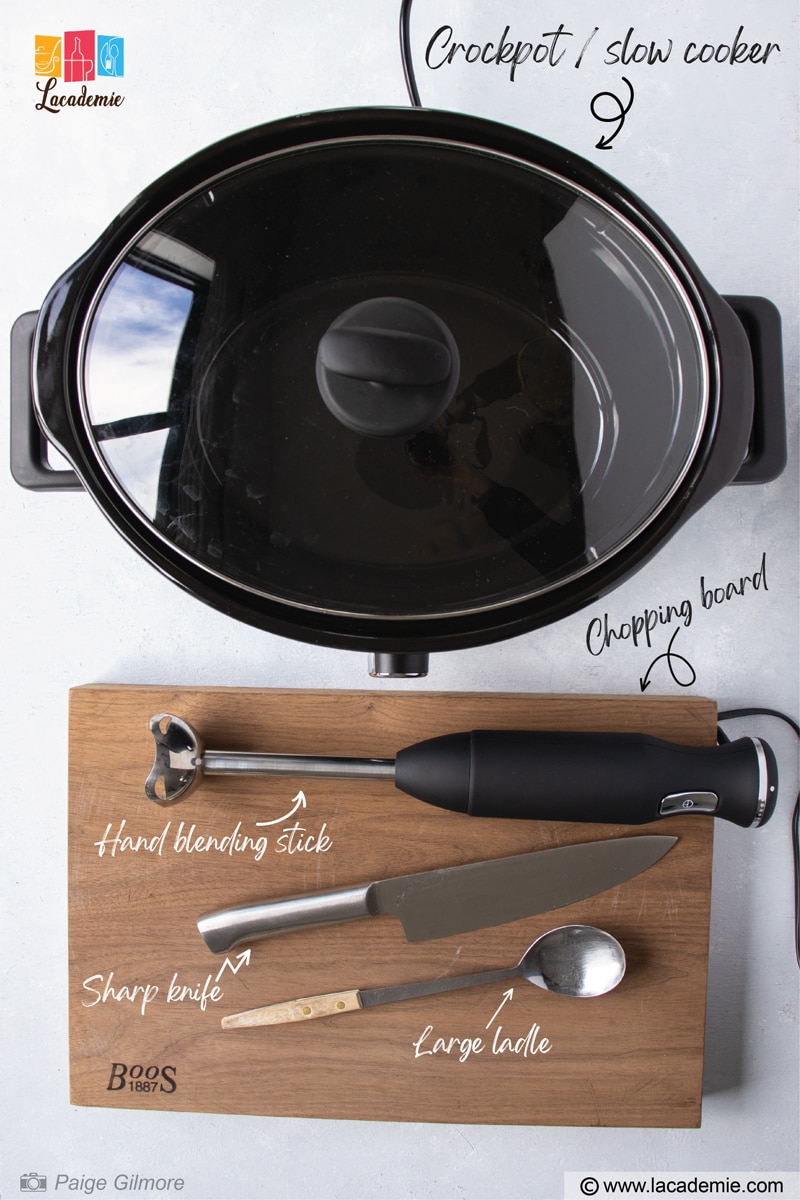 Ingredients
Here are the main ingredients to make your crockpot butternut squash soup mouth-watering.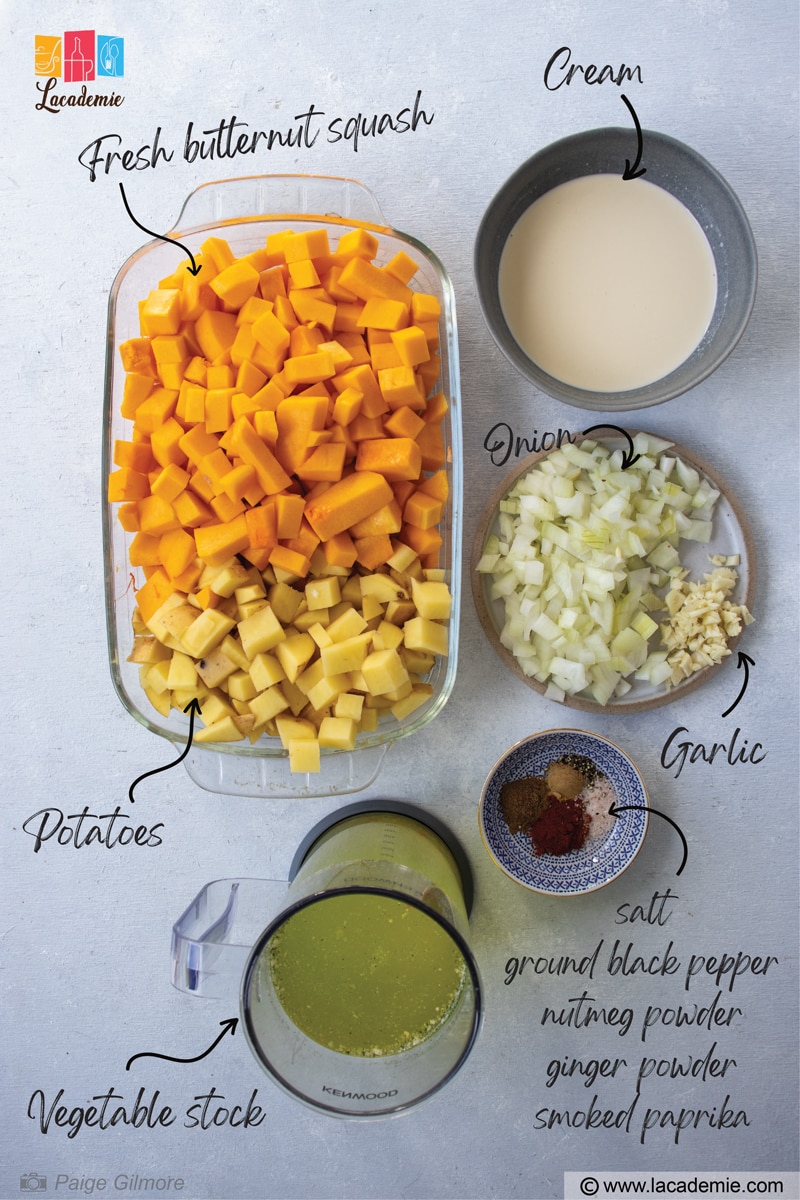 Fresh butternut squash: The absolute heart of this soup, butternut squash has an extremely rich, luscious flavor and color.
Ingredient Substitutions: you can substitute half the amount of butternut squash with carrots if you want to include other vegetables in your soup. Butternut squash carrot soup is an excellent variation that delivers soothing warmth on chilly days.
Potatoes: Adding a few potatoes helps give the soup a hearty filling texture.
Vegetable stock: The liquid in which this soup is made.
Cream: Fresh cream is added right before you blend your soup.
Ingredient Substitutions: Need hints of coconut flavor in your soup? Feel free to swap cream with coconut milk.
Nutmeg powder, ginger powder, smoked paprika: This selection of spices gives your butternut squash soup a warm and comforting taste.
Pumpkin seeds: sprinkle some toasted pumpkin seeds on top for garnish, as well as add extra protein to your soup.
How To Make Crockpot Butternut Squash Soup
Making this easy crockpot butternut squash soup recipe is so simple! Just follow these four basic steps, and you'll be enjoying your pumpkin soup in no time!
Step 1: Prepare Your Butternut Squash and Vegetables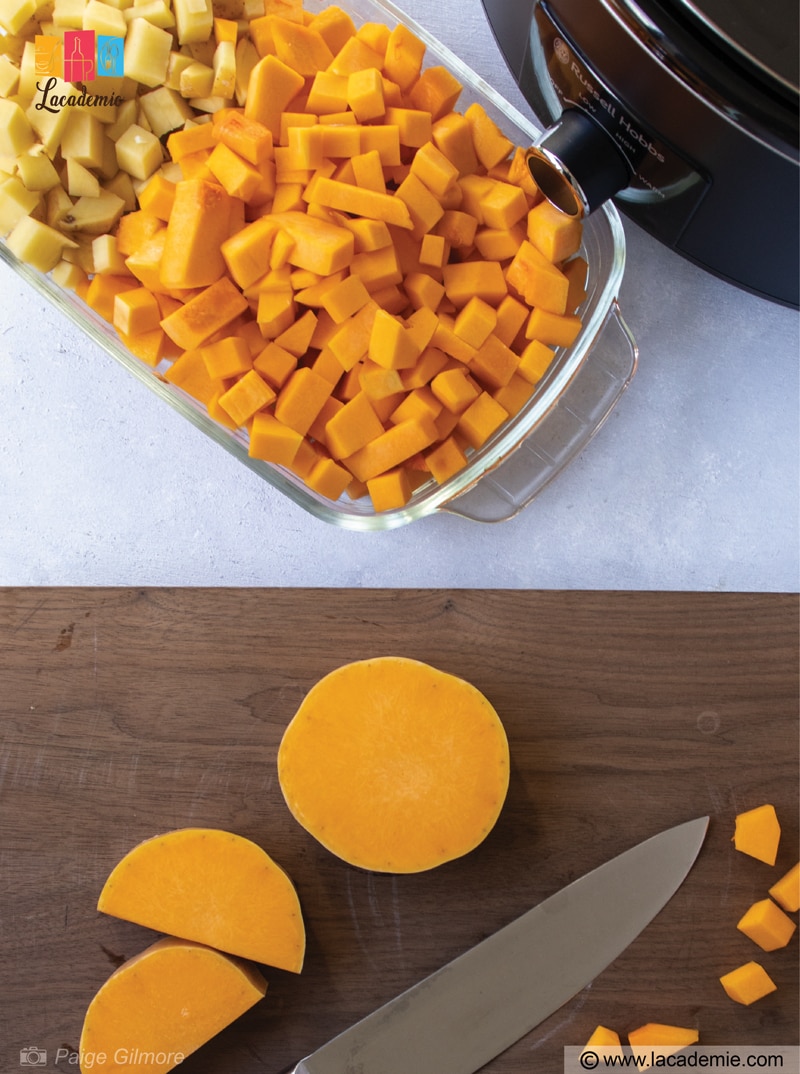 On a chopping board, use a sharp knife to remove the waxy skin on your butternut squash. Cut the squash in half just above the rounded end, then cut the round end in half and scoop out the seeds with a metal spoon.
Cut the squash into ½-inch chunks. Dice the rest of your vegetables; potatoes, onions, and garlic.
Step 2: Set Up Your Crockpot / Slow Cooker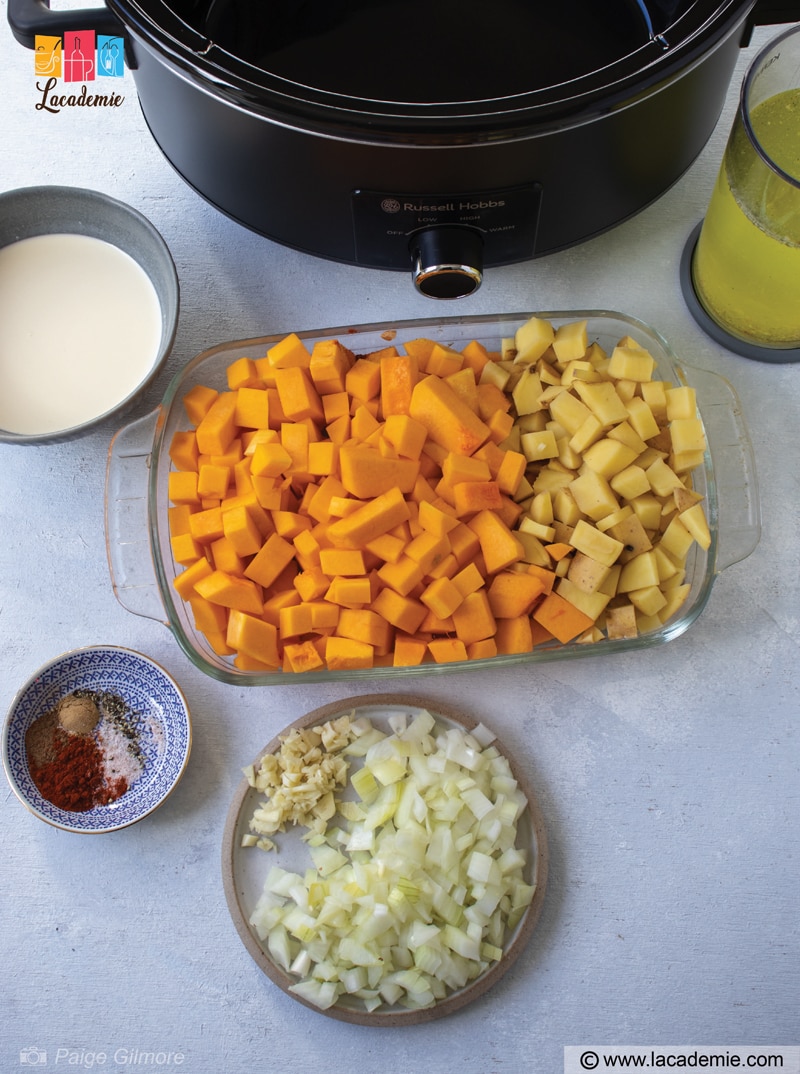 Set up your crockpot appliance on a kitchen counter as per instructions.
Step 3: Add Your Butternut Squash Soup Ingredients And Cook
Add all your ingredients, including spices, to the crockpot but withhold the cream, this will be added once the soup is ready to be blended. Cook your soup on a low setting for 4 hours or a high setting for approximately 8 hours.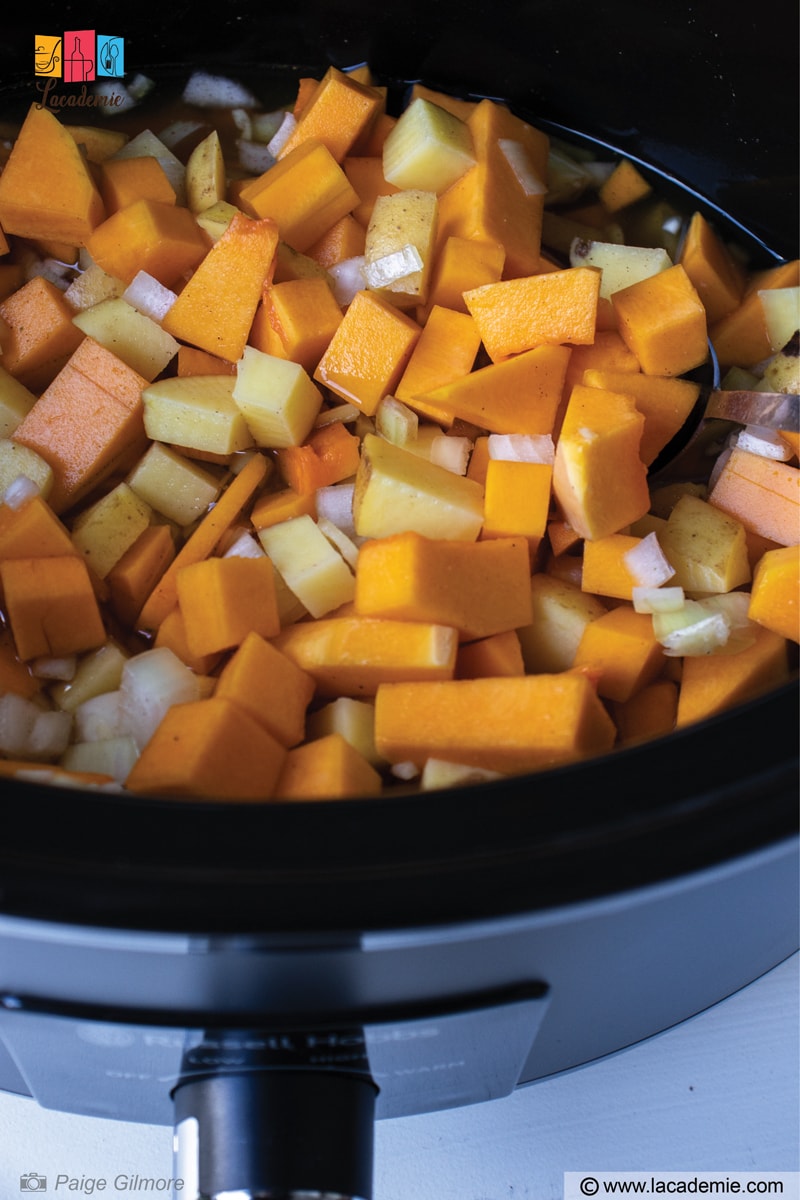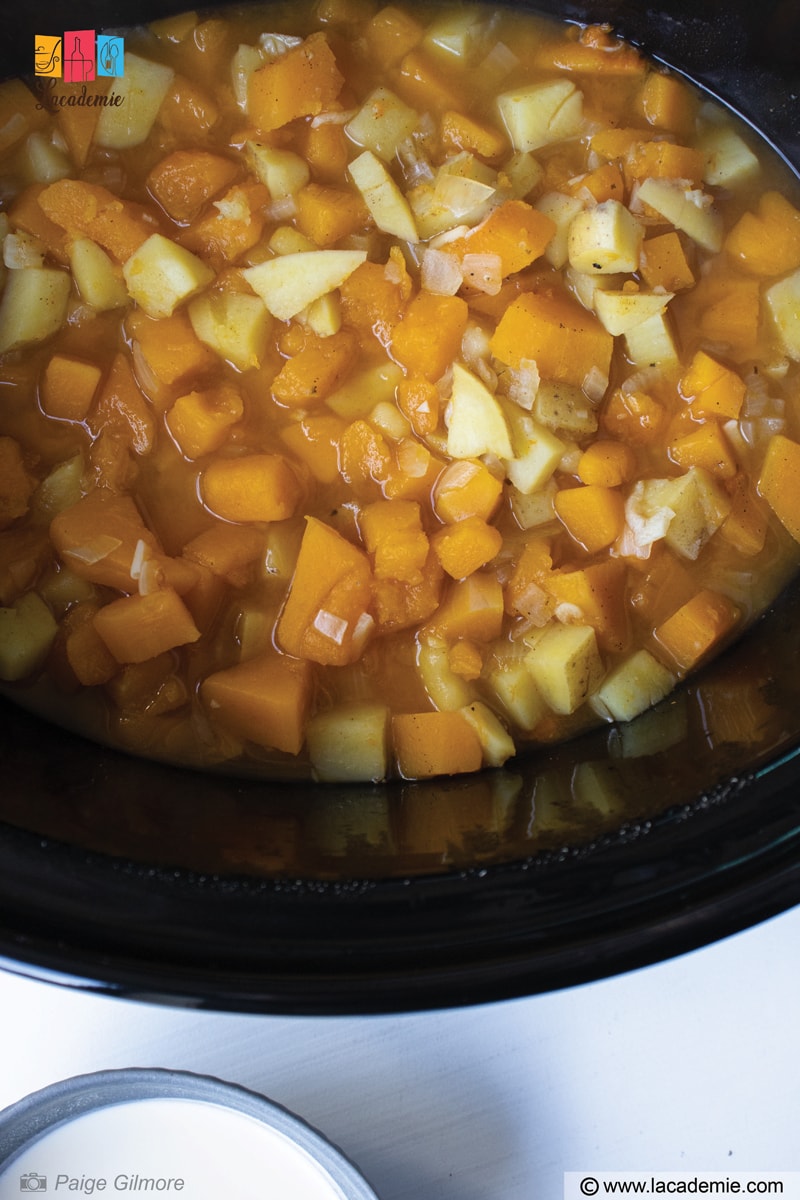 Step 4: Pour Cream and Then Puree Your Soup
Once all the ingredients in your soup have cooked, pour cream into the soup, and use an hand blending stick to puree your soup. Ladle into your favorite bowl and enjoy while it's still hot! Garnish with some freshly ground black pepper and toasted pumpkin seeds.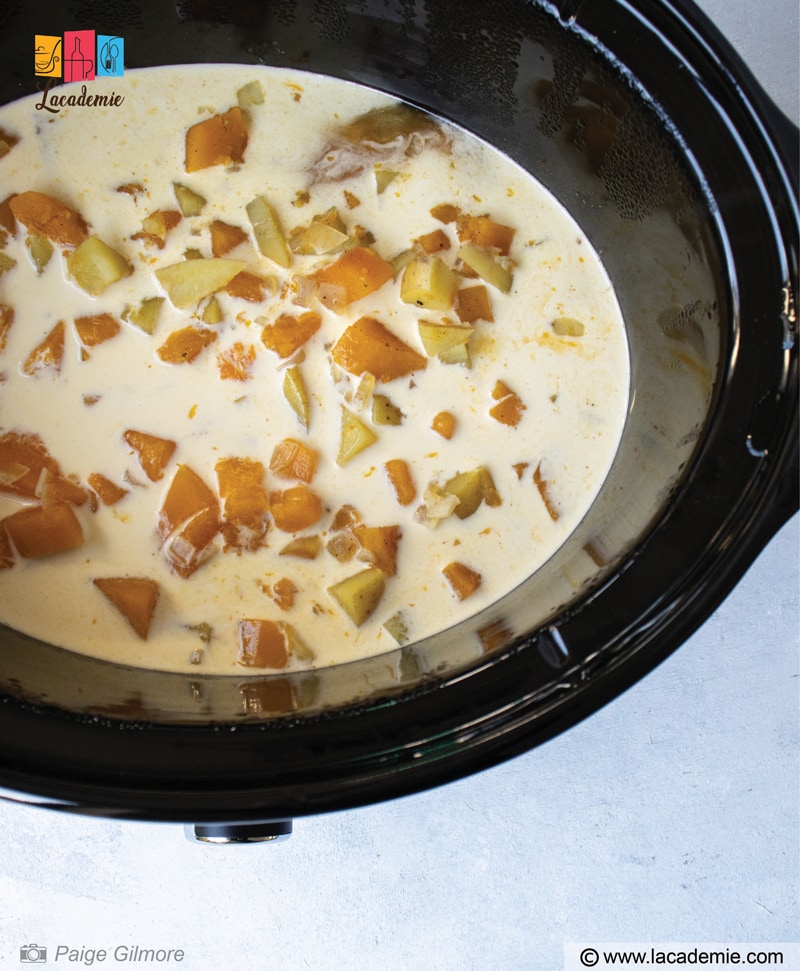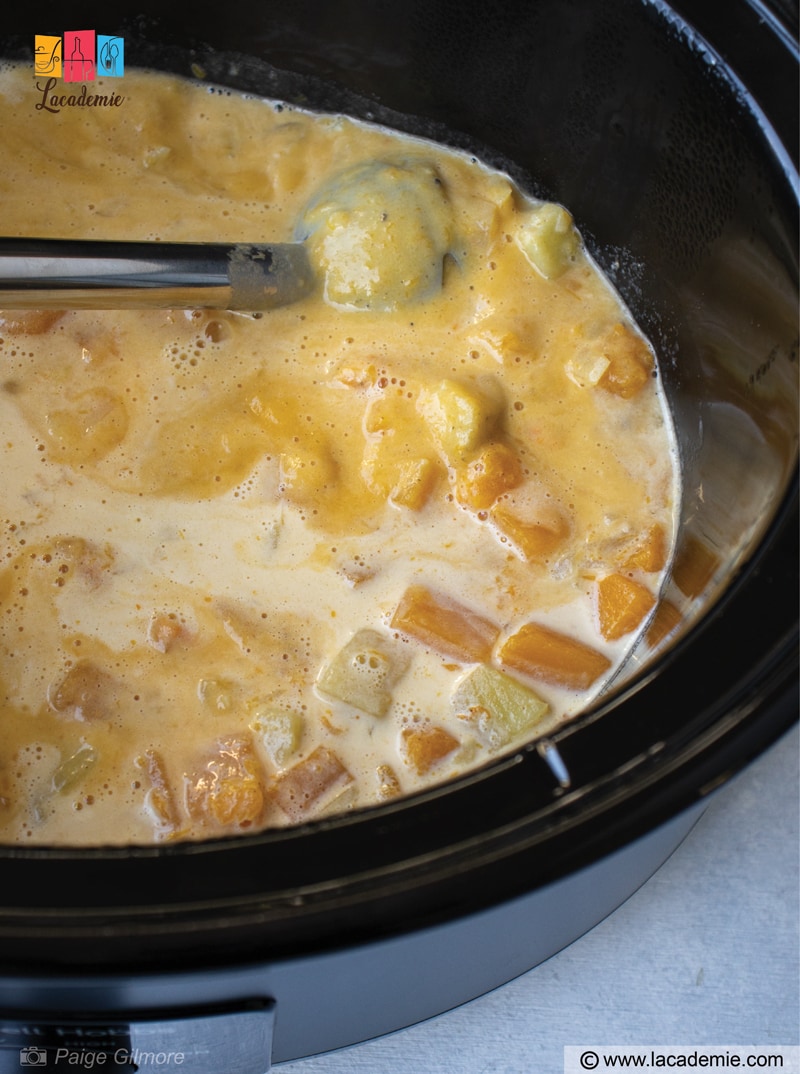 Tips And Serving Suggestions
This recipe is super simple to follow, and the pumpkin soup tastes amazing! But just in case you want to go the extra mile, some of my tips and serving suggestions will really take this soup to the next level.
Tips for Perfect Crockpot Butternut Squash Soup
Here's my go-to list of tips for making this crockpot butternut squash soup!
Can't find butternut squash? Crown pumpkins are a great substitute, or canned pumpkins can be used in a pinch. Just make sure you get one that hasn't had added extra seasonings.
When you cut the vegetables, remember to cut them into equal pieces to ensure even cooking.
Make sure you remove all the waxy skin from your squash. Otherwise, it won't blend into a smooth consistency when it cooks down in your crockpot.
If you want your soup to be dairy-free, swap the cream for coconut cream.
For extra flavor, you can spare a little time to roast all the vegetables before cooking.
How about frozen butternut squash? You can defrost the frozen butternut squash overnight in the fridge and follow the instructions. Another option is to place the frozen butternut squash cubes in the crockpot but don't forget to extend the cooking time.
What To Serve With My Crockpot Butternut Squash Soup?
This soup is so full of flavor, and there are so many delicious additions that go well with it! If you need an idea for fall side dish, you should make this soup.
This type of soup is usually quite thick, and garnishes are like accessories for it. Add cooked chopped bacon, crumbled Italian sausages, or shredded chicken if you want to have meat in your soup. Moreover, toasted pita pit chips, walnuts, pine nuts, and toasted almonds are also good choices.
Toasted ciabatta bread slices are perfect for dipping in this soup!
Cheese toast cut into strips can be used as dipping sticks.
Top the soup with Greek yogurt or coconut yogurt to give your dish more protein and creamy taste.
Adding some greens such as kale, spinach, or arugula at the end of the cooking process is also a nice option, or place some roasted vegetables like zucchini or brussels sprouts on top.
Storing and Reheating Recommendations
If you already know different ways to keep your butter squash fresh, then storing this soup will be a piece of cake. Remember to let it completely cool down before storing it in the fridge or freezer.
In The Fridge
If you want to store the leftover for further use, place the remaining soup in an airtight container and in the fridge. It can last about 5 days.
In The Freezer
Butternut squash soup will last even longer when freezing, with a shelf life of up to 3 months. For freezing, you will need to place the soup into a freezer-safe bag and defrost it for a night before reheating.
How To Reheat
You can reheat the soup with the microwave or the stove. If you are in a hurry, the microwave is a good option. Make sure to place the soup in the microwave-safe bowl and gently reheat it until it becomes warm.
On the stove, reheat the soup under medium-low heat until thoroughly warmed. If you find that the soup is too thick, you can add a little amount of broth.
Nutrition Facts
6 servings per container
---
Amount Per ServingCalories159
% Daily Value *
Total Fat 4.4g

7

%
Cholesterol 8mg

3

%
Sodium 624mg

26

%
Potassium 839mg

24

%
Total Carbohydrate 32.9g

11

%

Dietary Fiber 5g

20

%
Sugars 7.2g

Protein 3.4g

6

%
---
* The % Daily Value tells you how much a nutrient in a serving of food contributes to a daily diet. 2,000 calories a day is used for general nutrition advice.
Crockpot Butternut Squash Soup – Classic, Yet Tasty
This soup is the most luscious pumpkin soup you will make! When the cooked pumpkin is pureed till it becomes velvety, this is then combined with a little cooked potato, aromatics in the form of onion and garlic, flavorful spices ginger, smoked paprika, and nutmeg.
After that, it's topped off with indulgent fresh cream. Serving pumpkin soup for dinner is so versatile for adding different components from crusty garlic bread to your many different soup toppings.
Have you ever tried this delicious crockpot butternut squash soup recipe? Do you know other variations of this cozy dish? Feel free to comment below with any serving suggestions you've tried, and please share this post with your loved ones. Have a nice day and stay safe.