Learning how to store kiwi will help you last the lifespan of your kiwis after taking them home and enjoy the fruits whenever you want.
Also, you can learn more helpful information about kiwi, such as how it is beneficial, how to choose, and further needed information.
Keep reading this article to find out all your questions.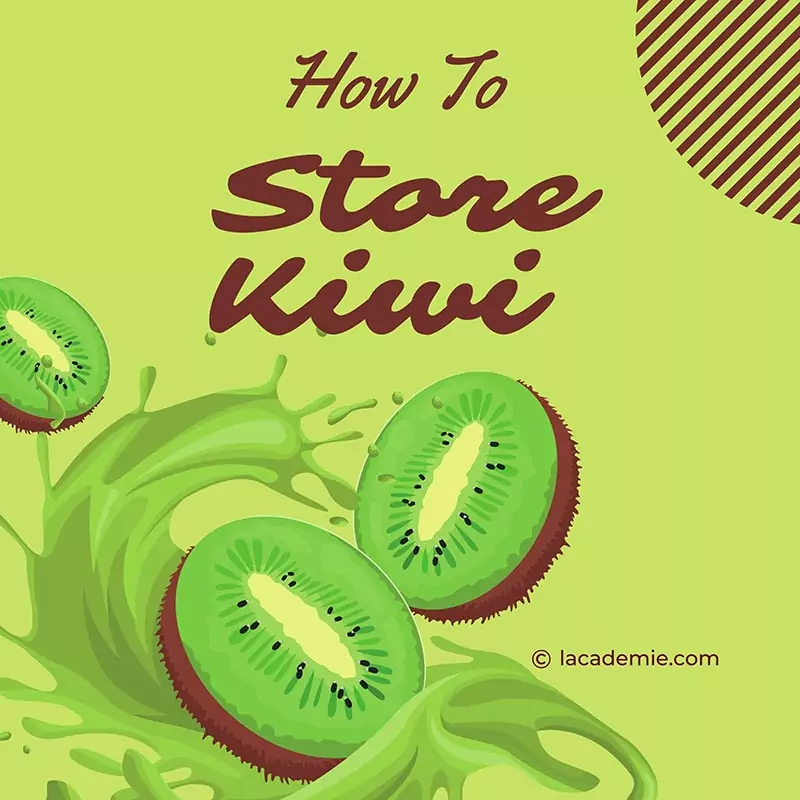 Origin Of Kiwis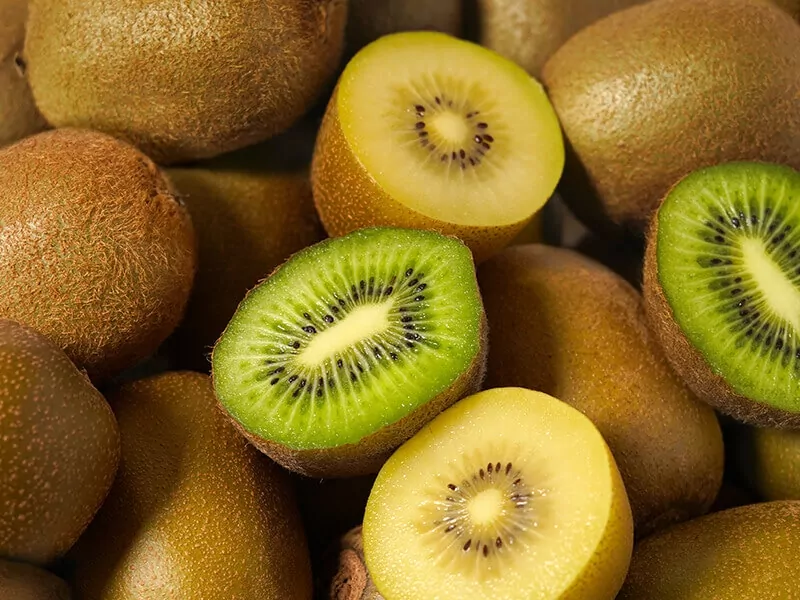 Kiwi (also called kiwifruit) originated from China, then it is cultivated in New Zealand, California and is grown in many countries these days. Kiwi has an oval shape (yes, kiwi is one of the few fruits that are not round in shape) and is the same size as an egg.
This delicious fruit that begins with "K" is covered by thin edible light skin. You can see inside a green or yellow flesh with tiny, black seeds when slicing it. In addition to the juicy texture, the fruit has a mild sweet and sour flavor.
The two most common kinds are Green kiwi and Yellow kiwi ( known as Golden kiwis). In general, both of them have unique tastes.
However, green kiwi and Yellow kiwi have slight differences in appearance, taste, and nutritional values.
Differences Between Green Kiwi And Golden Kiwi:
Let's have a look at the table and see how each kind of kiwi is different:
Differences in
Green kiwi
Golden kiwi
Appearance

Fuzzy brown skin
Green flesh and black seeds

Smooth, hairless skin
Yellow flesh and fewer seeds

Taste
Tangy- sweet
Tropical sweet
Nutritional values

Low in calories
Excellent source of vitamin C
Rich in fiber

Higher in calories
More vitamin C
Lower in fiber
Benefits Of Kiwis
Kiwi is considered a nutrient-dense fruit due to its high proportion of nutrients like vitamin C, Lutein and zeaxanthin, Calcium, fiber, etc.(1)
Eating kiwis bring enormous benefits:
Boost your immune system and lessen the chances of cold flu or fever because of vitamin C contained in kiwis.(2)
Assist in losing weight: The high water content and fiber in kiwis, which keeps you full for hours, make kiwis become the best fruits to eat for weight loss.
Enhance skin health: Kiwis are rich in vitamin C, which helps the production of collagen for skin and bone. Also, kiwis support your skin framework and keep it hydrated.
Provide a good source of Vitamins and Minerals: Kiwis have essential Vitamins and minerals such as vitamin A, B6, B12, potassium, calcium, and iron. All work together and help in blood circulation, absorbing iron for strong bones, fighting against stress.
Diminish insomnia: Antioxidants and serotonin in the fruit can help to treat sleep disorders.
Let's see how beneficial a kiwi is:
Helpful Tips To Choose Excellent Kiwis
To store kiwis for a longer time: up to a week or even more, you need to choose kiwis in good condition. Let's follow the super-easy tips below:
Ripe Or Unripe Kiwis?
It depends on the number of kiwis you buy and your demand.
Firm and unripe kiwis are the best if you buy in bulk and want to ripen and use them gradually. Unripe kiwis can be stored for a week or more. You can utilize a few methods to make kiwis ripe faster, should the needs suddenly arise.
In case that you want to eat kiwis right after taking them home, you should buy just in small amounts and choose the soft and ripe ones.
Appearance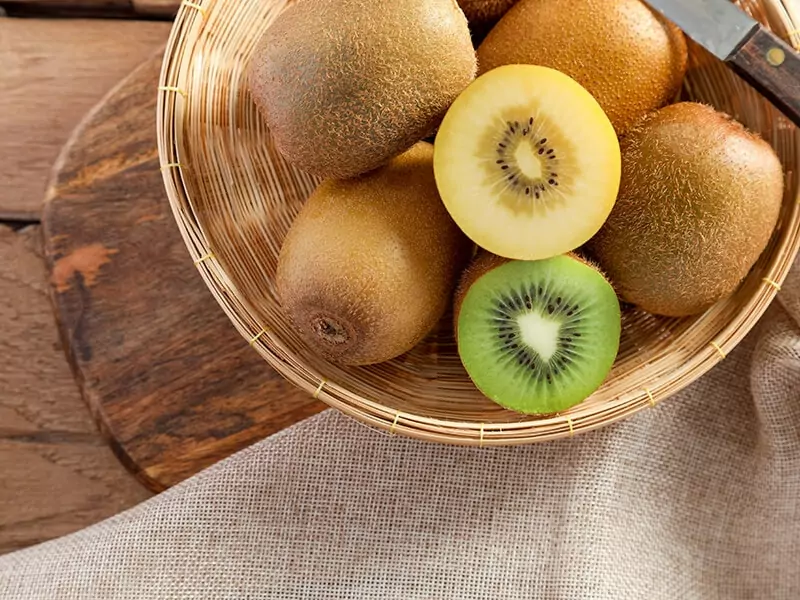 When buying a kiwi, you should pick a kiwi that is plump with a particular curvature. Make sure that the skin is not bruised or not wrinkled.
You should check around the kiwis and choose the smooth and not scratched ones. Moreover, you probably should leave the fruits to have traces of insect bites or have an unusual color.
Texture
When touching the fruit stem, you should gently press it with your thumbs. If you feel the softness of the stem, it is a ripe and sweet fruit. In other words, it's ready to be earned or incorporated into luscious dishes that require kiwis.
If the stem is still hard, the fruit is not ripe yet. So it will have a sour taste when eaten.
Another tip to choose excellent kiwis is based on the aroma. Unripe kiwi has no scent. In contrast, bring the kiwi to your nose and inhale deeply; if it has a mild fragrant smell, it is ripe and ready to eat.
How To Store Kiwis?
Once you take kiwis home, you may wonder where is the best place to store kiwifruits. You should base it on the kiwis' condition and how you use them and choose one of the best ways below to preserve your kiwis.
Store The Whole Kiwis
To keep kiwis fresh and prevent them from moisture loss, you should store entire kiwis. Here are some ways to store them:
At Room Temperature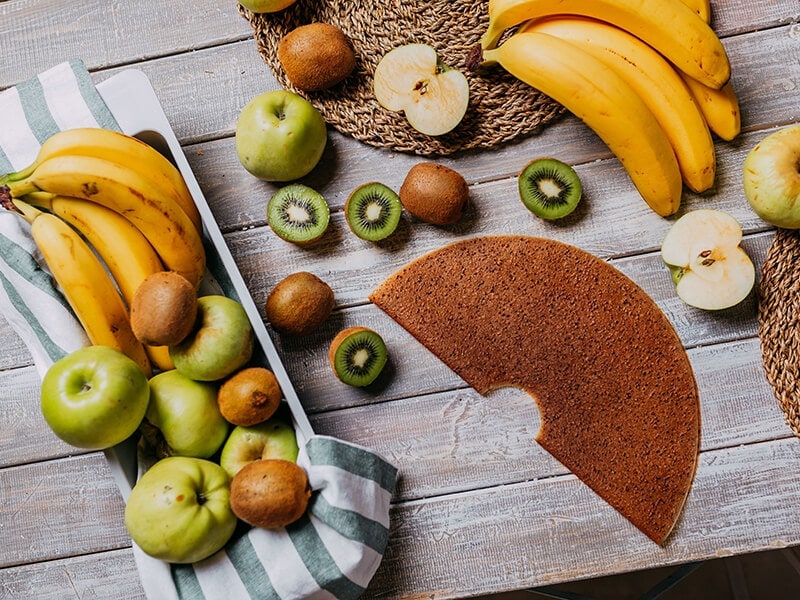 The best way to store kiwis is to place them at room temperature, at 32-35 degrees Fahrenheit. You should keep them away from direct heat or sunlight.
Suppose you need to speed up the ripening process. In that case, you should store kiwis at room temperature in a paper bag or plastic box and be near or together with ethylene-producing fruits ( apples, bananas, avocados, tomatoes).
Just in case you place kiwis with all your fruits in a fruit bowl or counter, keep in mind to not layer too much and put kiwis on the top of them.
In The Fridge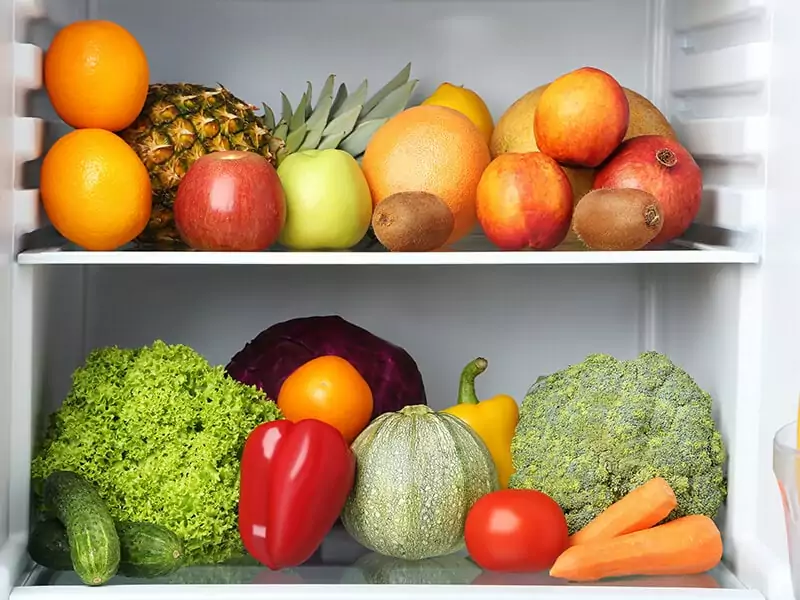 When your kiwis ripen enough or you do not want to eat them for the next couple of days, think of storing them in your fridge.
Putting the ripe kiwis in the refrigerator, you can keep them fresh for 5 to 10 days and up to 4 weeks with unripe kiwis without changing their taste.
It is a good idea if you store kiwis in sealable bags or containers and then put them in the fridge.
The bags can reduce moisture loss and keep your kiwis juicy, and therefore prolong the storage period.
In case that your fridge does not have enough space, you can place kiwis with fragile items like tomatoes or lettuce to prevent them from getting crushed or spoiled.
In The Freezer
Unfortunately, freezing kiwis or any fresh fruits is not recommended. Because when you thaw kiwis, their texture will be changed. Frozen kiwis will become mushy and no longer juicy and fresh.
Store Sliced Kiwis
It will be better if you slice or dice kiwis before storing them. Coincidentally, it's also what is recommended when storing mangoes, especially in the freezer. If stored this way, kiwi can last up to several months.
At Room Temperature
Ensure that your kiwis are thoroughly ripe before cutting because they can not continue to ripen. Once cutting kiwis, you should keep them in an airtight container or a plastic box and stay away from high or direct heat. Ensure you use them within hours.
In The Fridge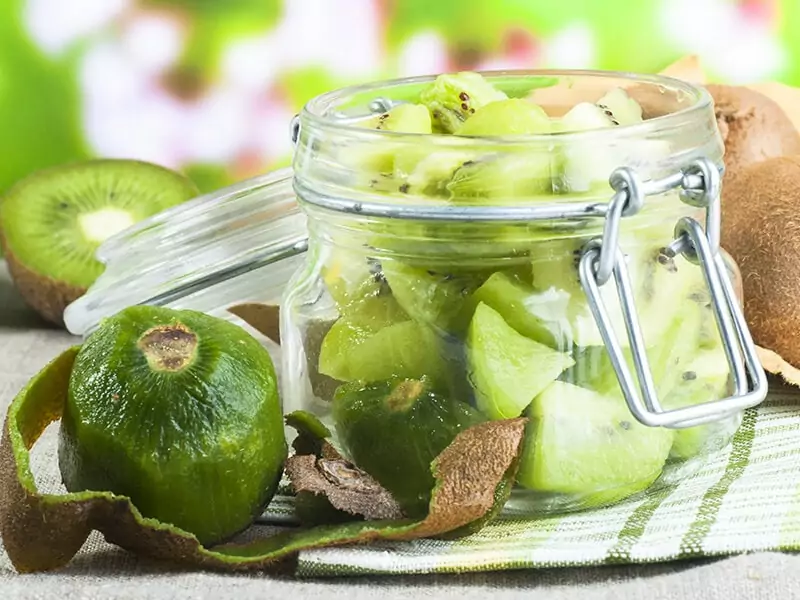 A refrigerator is the best way to store kiwis after cutting. Here is the way to refrigerate cut kiwis:
Step 1: Wash your kiwis under running water
Step 2: Peel their skin and slice or dice them into small pieces
Step 3: Put them into airtight containers to prevent kiwis from moisture loss.
Step 4: Place the containers into the fridge
Putting sliced kiwis in the fridge can keep them fresh for 2 to 3 days.
In The Freezer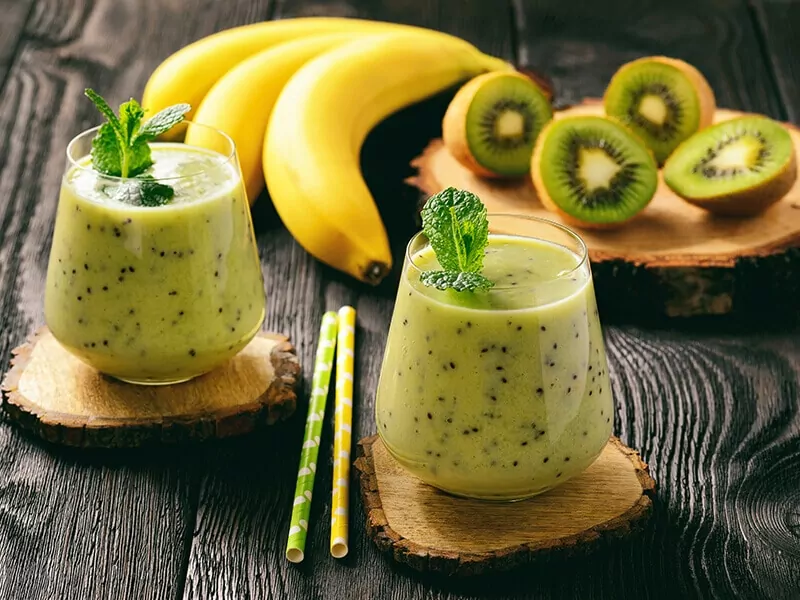 Frozen kiwis are fine for making smoothies, juices, or blended dishes, but eating raw or mixing with salad is iffy.
Below are the most effective ways to freeze kiwifruits. It takes only a few minutes then you can get a surprising result. Here are two options for you:
Freeze Sliced Or Diced Kiwis
Step 1: Peel the kiwis and slice or dice them. If you plan to make a smoothie or a fruit salad, dicing kiwis might be the way to go. Thinking of how you could use your kiwis, then cut them accordingly. I prefer to dice kiwis because it saves lots of time when thawing.
Step 2: Line a cookie sheet with baking paper or a freezer-safe silicone mat. It is easier when you take the frozen kiwis from the surface.
Step 3: Move these slices onto the sheet. Make sure that you put them in only one layer and ensure they do not touch each other so that you can prevent them from being frozen together.
Step 4: Put the sheet in your freezer and leave it there until the fruits are frozen thoroughly. Leaving it overnight may be an optimal method.
Step 5: Take the frozen slices out of the dish, put them into a freezer bag or container, and place them back into the freezer. Make sure you fasten the zip firmly to prevent unhygienic viruses from entering.
Let's see the optimal way to freeze kiwis to prevent them from touching each other.
Freeze Pureed Kiwis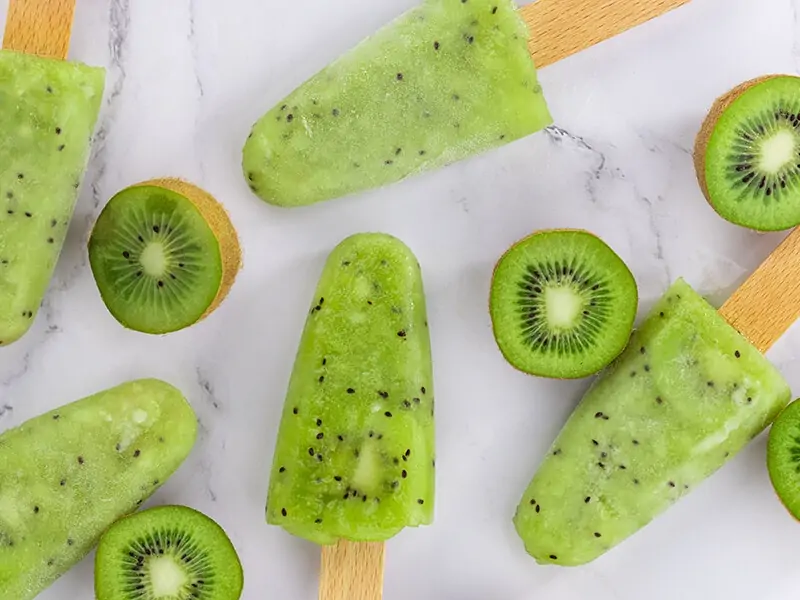 Moreover, you can freeze kiwis puree. For this, it is more convenient to take them out. All you need are cube trays, and follow these tips:
Step 1: First, you puree sliced kiwis and put them into cube trays. Wait for hours till they are wholly solidified in the freezer.
Step 2: Take out solid cubes from the trays and transfer them into airtight containers.
Step 3: Return the bags to the freezer.
How Long Can Kiwi Last?
The shelf life of kiwis depends on when you pick them and which storage condition they are in.
Placing unripe kiwis, both cut or not, is acceptable in the fridge and will last the longest. Ensure you follow mentioned tips to minimize moisture loss and keep them flavorful as long as possible.
Another option is putting unripe kiwis at room temperature, and their shelf life will last for a week. Keep in mind, storing them in whole.
Ripe and cut-up kiwis must be preserved in the fridge. If not, they will last only hours and will be spoiled. They will not be bursting with flavor as the original ones.
Generally, you should select the best kiwis first before taking them home so that storing kiwi will be an effortless task.
Below is the summary table of the shelf life of kiwis. You can refer to and opt to pick up a proper way to store them based on storage conditions.
| Kiwi Expiration Date | Counter | Refrigerator | Freezer |
| --- | --- | --- | --- |
| Unripe whole kiwi | Up to 7 days | Up to 1 month | Not recommended |
| Ripe whole kiwi | Up to 3 days | Up to 10 days | Not recommended |
| Cut kiwi | 12 hours | Up to 3 days | 8- 12 months |
How To Ripen Kiwi At Home?
You can not ensure that all kiwis you purchase are ripe. Sometimes, some of them are still unripe. And you can not wait for their natural ripening process.
In this case, ways to ripen kiwis are what you are looking for.
Follow the easy tips below, and you can enjoy delicious ripe kiwis:
Place kiwis somewhere warm: a countertop or table is acceptable. Make sure you keep them at room temperature and do not expose them to direct heat. It takes 3-4 days to ripen.
Store kiwis near or together with ethylene-producing fruits (apples, bananas, avocados, tomatoes). In other words, you can put all of them into a plastic bag. There's and leave them at room temperature. They can ripen for a couple of days.
Bury the fruits in a rice tub. Under airtight conditions, kiwis can produce ethylene and accelerate their ripening process.
Microwave unripe kiwis at medium temperature for 15 seconds, then put them into paper bags together with other fruits.
How To Eat Kiwis?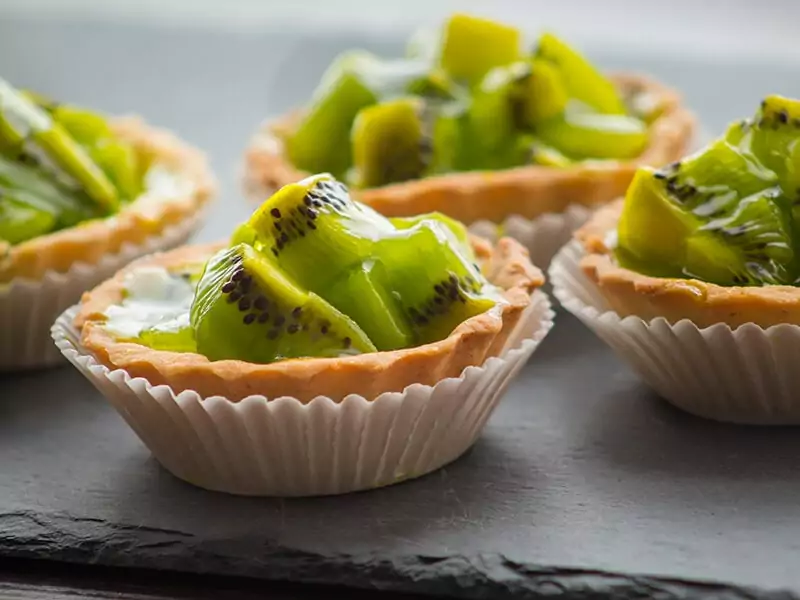 As I mentioned in the previous part, there are two common types of kiwi, yellow and green kiwi. Green kiwis have appealing green flesh and black seeds. Many purchase them because of their mild sour taste.
Yellow kiwis have yellow flesh and have a distinctive taste like a mix between mango and peach. In particular, you can eat without waiting for them to ripen.
There are various ways to enjoy this unique and nutritious fruit. I usually use a spoon to take out the flesh and then eat directly. Sometimes, I mix kiwis with other attractive dishes.
Kiwi is an indispensable ingredient used for decorating yogurt or nutritious salads.
Actually, in kiwi, there is an enzyme that can soften food. Therefore, when preparing food, you should add kiwi last to not affect the quality of the dishes.
The first thing to enjoy with your kiwis is finding out how to cut them. Let's see to check out the most straightforward ways:
Signs Of Bad Kiwis
It is unfortunate if a rotten kiwi appears in a basket full of fruits. How terrible if you store these kiwis together for days; the bruised one will spoil the rest.
So you must know how to identify rotten kiwis and then toss them away or cut the bad part off.
A noticeable sign of a lousy kiwi being too soft when pressing and is mushy inside. You should pay attention to the kiwi's odor. Bruised kiwis will have a strong smell, and you can even smell it right after picking it up. Remember to check the router, and you should leave kiwi that has an awful look like wrinkling skin, brown spots, or even oozes water.
What Happens If You Eat Rotten Kiwis?
If a kiwi starts to rot, only its taste will change. So, when you are unintentionally eating a spoiled kiwi, nothing will happen.
However, some people who are sensitive or get sick from eating moldy fruits may experience food poisoning symptoms. Therefore, you should check carefully whether your kiwis are in good condition before eating. Use the mentioned tips.
FAQs:
If you are still looking for further information, let's have a look at these frequently asked questions below:
Some Surprising Facts, You May Not Know About Kiwis
Besides the previous parts, here are some points that you may never think about kiwis
Kiwi has the same name as " Kiwi bird," a famous bird in New Zealand because of their appearance.
Orange is famous for its high proportion of vitamin C; however, kiwi contains two times that than orange.
Like a grape, a kiwi grows as a vine, reaching the length of 33 feet.
A kiwi tree can produce kiwifruit for 30 years and can survive up to 50 years.
With all information provided, I hope this article can answer all of your questions about kiwi fruits, concluding the best ways to store kiwis, how to choose the best, and how to prepare delicious dishes from kiwis.
If you find the article helpful, give me a thumbs up and share it with your friends.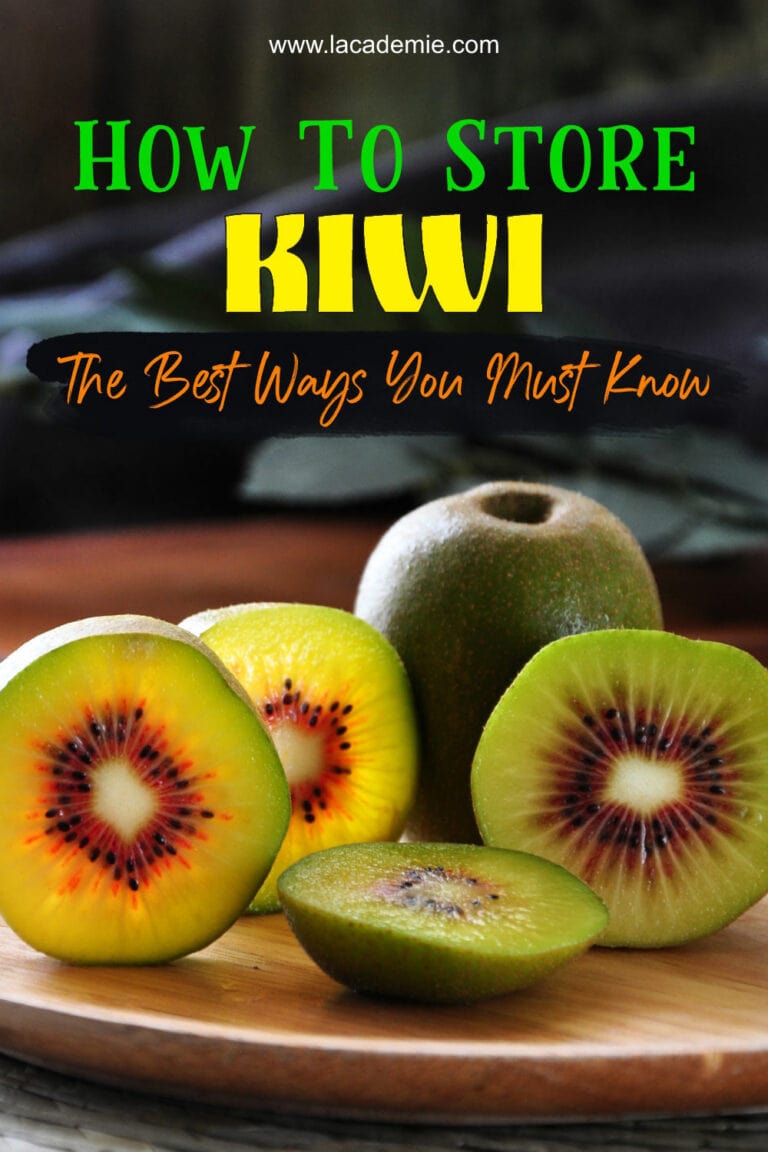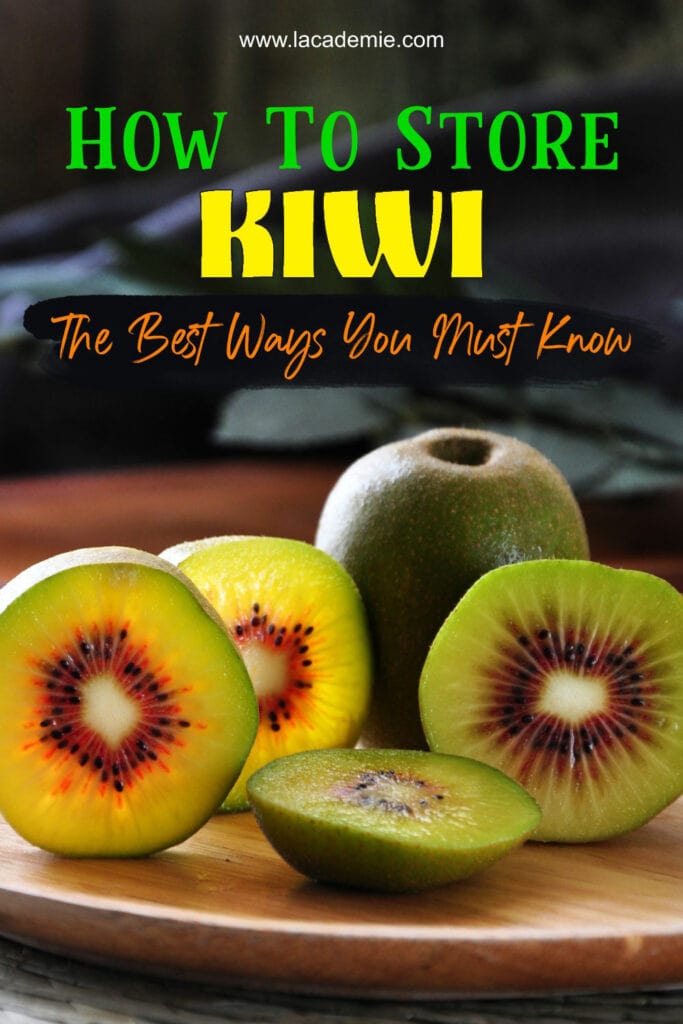 References:
Richardson, D. P., Ansell, J., & Drummond, L. N. (2018). The nutritional and health attributes of kiwifruit.
The Nutrition Source. 2021. Vitamin C.