Initially, I was skeptical about these kiwi recipes, as I don't really like how the fruit tastes. Well, forgive me for jumping too quickly to conclusions – after a few hours experimenting with it, I have to say that kiwi is one of the most spectacular fruits ever.
Among various fruits with non-round shape, kiwi seems to be easier to buy in the US. And did you know that kiwi has even more vitamin C than an orange?
The superfruit is also rich in fiber and antioxidants; if consumed every day, your heart and digestive health are likely to be significantly improved. Have you eaten one today?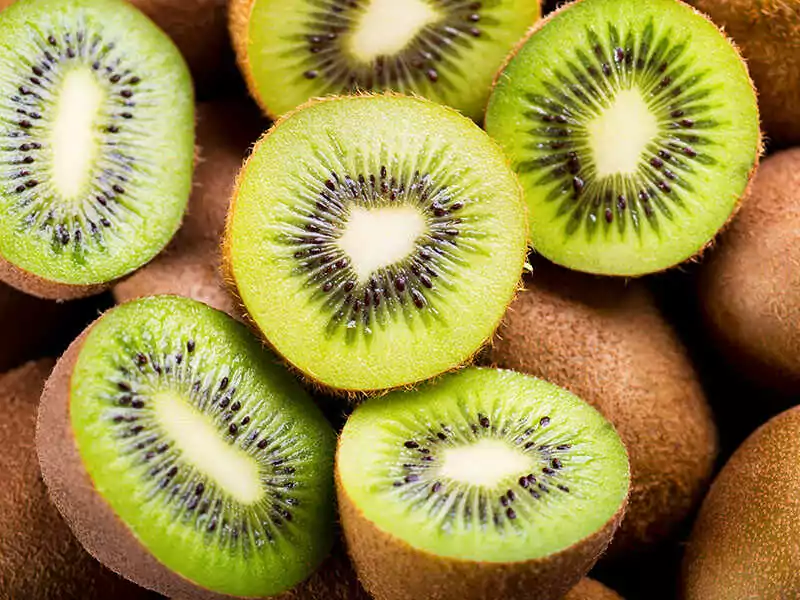 28 Easy And Delicious Recipes With The Fuzzy Fruit
If you haven't, save your kiwi for these recipes. There are various things you can make with this tart fruit, from salad to dessert and drinks. Make sure you store kiwis correctly so that your dish will taste as delicious and refreshing as possible.
Kiwi Salads
Kiwi Avocado Salad
Kiwi Cucumber Salad
Rainbow Fruit Salad
Kiwi Chicken Salad
Kiwi Desserts
Baked Kiwi Desserts
Kiwi Bread
Kiwi Muffin
Kiwi Coconut Tart
Kiwi Passionfruit Pavlova
Strawberry, Kiwi, and "watermelon" Pizza
Kiwi Brownies
Kiwi Lime Loaf Cake
No-Bake Kiwi Desserts
Kiwi Chia Pudding
Kiwi Parfait
Kiwi Lime Sorbet
Watermelon Kiwi Popsicles
Grilled Kiwi With Coconut Whipped Cream
Kiwi Cheesecake
Peanut Butter Kiwi Oatmeal
Nutella Kiwi Crepes
Dehydrated Kiwi Chips
Kiwi Beverages
Kiwi Lime Mojito
Apple Kiwi Smoothie
Kiwi Lemonade
Kiwi Juice
Strawberry Kiwi Sangria
Kiwi Caipiroska
Other Kiwi Recipes
Kiwi Jalapeno Salsa
Pork Braised in Kiwi-coconut Sauce With White Beans
Where are all those kiwis at? Grab them, and let's get cooking!
Healthy Kiwi Salad That Encapsulates The Whole Summer
Sandy beaches, crashing waves, and cheerful rays of sunshine are now in the form of salad. What ingredients go best with kiwi?
Surprisingly, this famous fruit starting with "K" is not intrusive at all when paired with something subtle like avocado. The two fruits have successfully created a combo perfect for a light summer supper, and you'll love how the mustard dressing jazzs up everything with a slight kick.
Apart from fruits, kiwi also takes kindly to any vegetable, such as cucumber. You can serve them as a healthy and fresh cucumber starter in any summer potluck. And surely, no one can refuse it.
Due to the high water content, cucumber is an excellent choice for making refreshing salad; kiwi, on the other hand, brightens your senses with its refreshing tartness.
Don't worry about stepping on the scales with this kiwi cucumber salad.
Here's a summer-ready treat for any fruit cohort, and if it were put on your Instagram, it would definitely go viral. Assemble the fruits by the rainbow color order (strawberries, cantaloupe, pineapple, kiwi, blueberries, grapes) and drizzle with syrup if preferred.
It's never a bad idea to sneak in some protein in your salad. If you still have some leftover chicken in the fridge, take advantage of it. Toss the kiwi, avocado, scallions, and a simple Greek yogurt dressing in the bowl and start mixing. Scatter some almonds and serve.
For the best-tasting flavors, you should use ripe kiwis. Don't worry if your kiwis haven't done so yet, there are quite a few tips to speed up kiwis' ripening process. Only go for unripe kiwis if you prefer your dish to have a tart and astringent taste.
Delectable Kiwi Desserts That Stimulate Your Appetite
After a filling meal, your guests are likely to skip the dessert. Well, maybe they don't if it's a kiwi dessert. From muffin, tart, to sorbet, what are you planning to treat your guests?
Baked Kiwi Desserts That Are Completely Worth The Wait
Sometimes, an hour feels like a year, and this is especially true when you are waiting for your food. However, with these amazing baking kiwi desserts, you'll see that waiting comes with a prize.
For the time-starved, quick bread recipes are a miracle. This kiwi bread is ready after about an hour, and rest assured its moist texture will get everyone hooked. Make the taste extra special by slathering some cream cheese and serving with tea.
These golden, lightly sweet muffins are ultra-moist and surprisingly crumbly. They are perfect for a quickie meal or a picnic snack, and you only have to wait twenty minutes for them to puff up with pride. And yes, they freeze well in a month.
This decent tart has everything I look for in a dish to finish a meal – in other words, it does not know how to disappoint. So I've tried this dessert with coconut and kiwi to see how wonderful it is. Spoiler alert: it is a spectacular dessert.
The taste is deeply satisfying, with a delicate balance between kiwi and coconut that guarantees to send your taste buds straight to a summer paradise.
With double tartness comes double fun! Instead of strawberries, this rendition of pavlova is completed with kiwi and passionfruit, providing a startling flavor contrast to the lightly sweet meringue. Here's a tip: it's best to make pavlova when the humidity is low.
Here's a creative idea for making a dessert that excites a crowd. There's no need to call for expensive ingredients or skillful techniques – just an eye for creativity. Here, strawberries and kiwi slices are meticulously arranged to look like a watermelon from afar.
Kiwi and brownies – don't sound like a match, right? However, don't let that idea get into your head; pick up one brownie and give it a try. Can you feel the rich chocolate harmonize with the juicy slices?
This is the elaborate version of your favorite key lime cake, and I'm confident that it's a billion times better than its antecedent. Not only is it incredibly moist and crumbly, but it also surprises you with vibrant flavors of pureed kiwi and lime zest. Dust with icing sugar.
Quick And Effortless No-Bake Kiwi Desserts For The Slackers
Don't be shy if I call you out – I'm also a lazybone, and the idea of spending hours whipping up a dessert always seems tiring to me. That said, these no-bake desserts made with kiwi are my savior – little effort, big flavors.
Chia pudding is your best bet whenever you are in a breakfast rut. The balanced treat can be pretty plain in the flavor department when served on its own, so I add some fresh slices of kiwi, creamy coconut milk, and syrup to enhance the flavor.
Losing weight is not a challenge with this yummy kiwi chia pudding. Let's watch this video:
Parfait is an easy no-bake dessert that grabs people's attention with its sumptuous look made with layers of Greek yogurt and fresh fruits. Besides kiwis, you can also use grapes to make these desserts. Or feel free to try with your favorite fruits.
So here's my humble take on the classic morning treat with sliced bananas, kiwis, plain yogurt, and granola. Of course, it is so easy to make.
How many ingredients do you need for a summer sorbet? Five? Close, but not quite – you only need three components to make this refreshing treat. The mouth-puckering taste is toned down with icing sugar, and if that's not enough, enjoy it with a glass of Prosecco.
Watermelon is refreshing, and it's a blessing to have this gigantic fruit on the table during the summer. Do you want to take it to another notch? Pair it with kiwi to make popsicles! If it's too sour, balance the taste with any sweetener you have.
Summer's here, and so are these watermelon kiwi popsicles.
16. Grilled Kiwi With Coconut Whipped Cream
What does grilled kiwi taste like? Figuratively, it tastes like sunshine and happiness; literally, its distinctive tropical flavors lean a bit towards the sweet side when the brown sugar begins to caramelize. Serve with coconut whipped cream for a to-die-for dessert.
I love to whip up this kiwi cheesecake for any celebration. It's straightforward, and there's no need to wait hours for the oven to go ting. Like every other cheesecake, you'll start with the graham crust, followed by the rich cream cheese, and finish with a layer of kiwi jelly.
A slim waistline is no longer a distant dream with this delicious breakfast or dessert bowl. Warm oatmeal is tossed with fresh kiwi and banana slices, gooey peanut butter, Greek yogurt, and granola. For a final touch, add a sprinkling of chia seeds.
Who doesn't like Nutella? The spreadable cream has satiated millions of sweet tooth since 1964, and it's not too surprising since it tastes like heaven.
So here is a brilliant recipe for Nutella dessert and kiwi. When slathered on crepes and combined with kiwi, you'll love Nutella even more.
Dehydrated food has made my life so much easier, and I'm so thankful. Of course, kiwi can be dehydrated as well, and it's ludicrously easy. They make a great snack during lunchtime or any camp trip, and they are even more nutritious than the fresh ones.
Watch this video to know more:
Thirst-Quenching Beverages Made With Your Kiwi Haul
Did you happen to buy more kiwis than you need? If so, you know what to do – power up your blender at total capacity!
When it's summer, I'm always down for a mojito, particularly one made with kiwi and lime. Preparing this world-renowned Cuban drink is only a matter of minutes, but a great one is indeed more than that. Here are two quick tips: avoid using regular syrup and over-shaking.
Apple and kiwi are the duos you didn't know you needed in your life. The two fruits complement each other impeccably, and of course, there's always room for Greek yogurt, the backbone of every smoothie. No more sluggish mornings!
Are you looking for refreshments for your next summer cookout? Here's an excellent suggestion: lemonade. Indeed, it's not the regular kind but one with kiwi, which revives your spirit with zesty notes that scream summer. Garnish with a kiwi slice.
Let your skin glow with this easy-peasy kiwi lemonade. Watch this video to know more:
Packed with many essential nutrients, kiwi is a gift to humankind. Whenever I feel unwell, my mom will head to the kitchen and make me some kiwi juice. For an extra flavor, she adds a sweet gala apple and some celery stalks or fresh kale.
What else is juicy at a girls' night out besides the gossip? Sangria it is. The summer cocktail is inherently sweet, so it's recommended to start with a dry red wine to lower the sugar content or pair with any fruit with high acidities, such as kiwi. Cheers to endless fun!
There's no better way to treat yourself rather than a glass of kiwi caipiroska. The name means "country little girl," and it originated from the countryside of São Paulo. The summer cocktail is sure to perk up your mood with a funky punch from vodka.
Other Creative Recipes With Kiwi You Cannot Miss
Kiwi is destined to be in your drinks and desserts, but there are no rules against using it in condiments or savory dishes. Cooking has no limits, my friend.
Jalapeno salsa is a wonderful cold hors d'oeuvre that can be mixed with different kinds of fruits. As much as I like pico de gallo, I'm hoping to have a new accompaniment with chips.
Fortunately, I came across this one, and it's more than perfect. Fresh, spicy, and tangy, this kiwi salsa goes with almost anything: chicken, pork chops, or baked potatoes.
Impress your guests with this restaurant-quality dish made with tenderly grilled pork with a flair from the Far Eastern. However, the real star of the plate is the creamy sauce made with kiwi and coconut. It's irresistible, and people will be dying to have some more.
These Recipes Hold The Kiwi To Your Heart
You have to agree with me that these kiwi recipes have two things in common. One, they are super easy, and even the beginners can succeed after the first attempt. Two, they are so addictive that you can see yourself making them repeatedly in the next few months. It sounds like good news to me.
Well, since you are done with the theory, it's time for a little practice. What are you going to make? Don't be shy to share your recreations with other readers and me in the comment section below. Of course, tips and tricks for cooking with this fuzzy fruit are welcome, too. Thanks!
Nutrition Facts
4 servings per container
---
Amount Per ServingCalories282
% Daily Value *
Total Fat 19.6g

30

%
Sodium 10mg

1

%
Potassium 597mg

18

%
Total Carbohydrate 25g

9

%

Dietary Fiber 5.2g

20

%
Sugars 14.7g

Protein 4.5g

8

%
---
* The % Daily Value tells you how much a nutrient in a serving of food contributes to a daily diet. 2,000 calories a day is used for general nutrition advice.