Knowing how long cooked shrimp can stay in the fridge is essential for everyone, especially when you're still practicing calculating the right amount of shrimp for one person. As a seafood lover, I never want to throw away my leftover foods, and I know you feel the same.
You can choose as many kinds of shrimp as you want, but if your shrimps aren't fresh, your dish will end up failing. Thus, I'll give you how to have a perfectly cooked shrimp dish, even after taking them out of the fridge. And it retains not only the tasty flavor but also nutrients.
Thus, there is no reason not to read this article to learn about the shelf life of your favorite shellfish and prevent any unexpected food poisoning as well. Let's get started.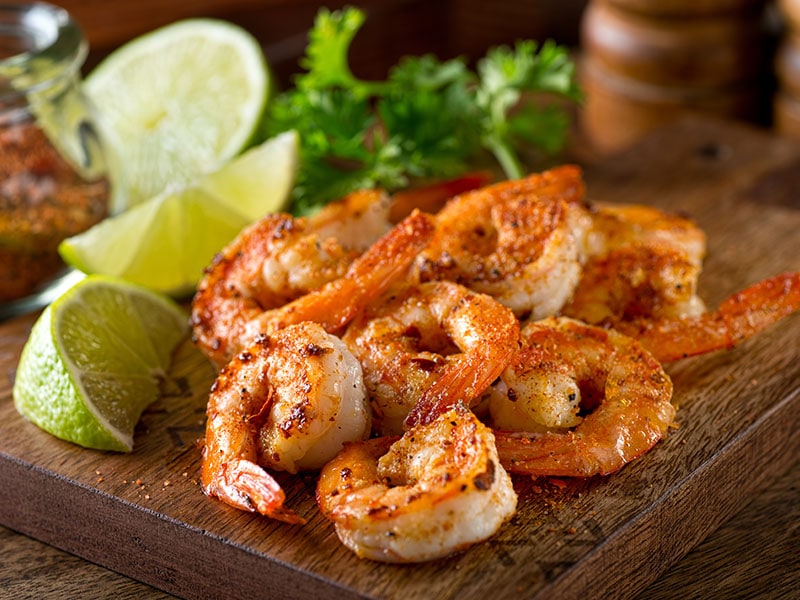 So, How Long Can Cooked Shrimp Stay Fresh In The Fridge?
The primary reason for understanding the shelf life of cooked foods in the fridge, in this case, of cooked shrimp, is for your safety in consuming foods. So let's find out how they work.
Normal Cooked Shrimp In The Fridge
Refrigerating is a fantastic way to extend the average shelf-life of cooked shrimp when you cannot eat all of them at once. And if they are properly stored, cooked shrimp can be safe for the next 3 to 4 days in the fridge.
Allow them a maximum of 2 hours to cool off outside. Therefore, if they sit out for too long (more than 2 hours), your shrimp might be contaminated.
According to the Food and Drug Administration (FDA), ready-to-eat foods, like cooked shrimp, should be stored in the fridge at 40 F degrees (around 4 C degrees) or below to avoid the development of bacteria, like Listeria, which causes foodborne illness (1).
Here is the time frame for storing cooked and raw shrimp in general. Let's have a look.
| Item | In The Fridge | In The Freezer |
| --- | --- | --- |
| Cooked Shrimp | 3 to 4 days | Up to 9 months |
| Store-bought Shrimp | Up to 4 days | Up to 9 months |
| Canned Shrimp | 6 to 8 months | 9 to 12  months (remove the can) |
| Thawed Shrimp | Up to 4 days | (once thawed, you cannot put them back in the freezer) |
| Frozen Shrimp | 4 to 5 days | 9 to 12 months |
| Fresh Shrimp (Shelled) | 1 to 2 days | 6 to 9 months |
| Fresh Shrimp (Shell On) | 2 to 3 days | 9 to 12 months |
Store-Bought Cooked Shrimp In The Fridge
Ready-to-eat shrimp that you buy in the supermarket usually have the label with a sell-by-date, not a best-by date. Therefore, assuming that you store them properly in the fridge, you can keep them for up to 4 days.
But if there is the date for best-by on the label, you should follow it to safely consume your store-bought shrimp.
Canned Shrimp In The Fridge
As canned shrimp is already cooked and preserved, therefore it has a longer shelf life in the fridge. You can refrigerate them safely for 6 to 8 months.
One tiny note: When it comes to the freezer, you should remove the can before putting the shrimp in since canned shrimp might blow up when frozen.
Thawed Shrimp In The Fridge
Once you want to consume your frozen shrimp, then you have to thaw them first. Keep in mind that thawed shrimp can last for up to 4 days in the fridge. Therefore, you should use them within this time frame to make sure they are still safe to eat.
Not sure what to do with your unfinished cooked shrimps? Before they spoil, how about using them to whip up some delectable leftover shrimp dishes? This way, you'll get to finish all your remaining cooked shrimp and enjoy delicious food too! Two for the price of one.
Besides making sure the appropriate fridge temperature, the way you store your shrimp also matters and affects the shelf life while they are in the fridge. Let's roll down for more information regarding how to store them properly.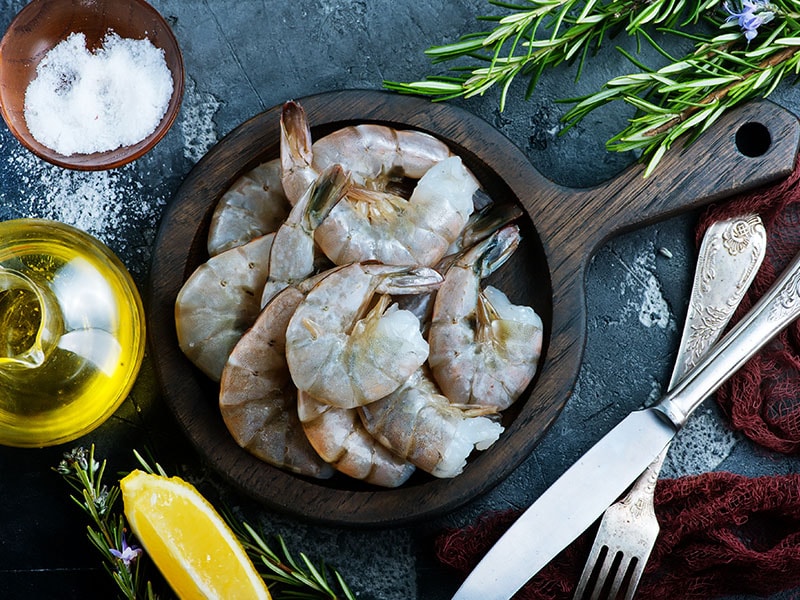 Dos and Don'ts Of Storing Cooked Shrimp In The Fridge
When it comes to storing food, especially cooked shrimp, keeping them in the fridge is obviously the best way to preserve them.
There are some critical notes that you should not ignore if you want your shrimp to stay fresh and long in the fridge for up to 4 days.
What You Should Do In Storing Cooked Shrimp
Here are some tips that you can implement to ensure you store your cooked shrimp properly and effectively as these tips can optimize the quality as well as the shelf life of your food in the fridge.
Store them in shallow airtight food containers and make sure the lid is thoroughly closed.
Ziplock bags are also a good option for storing them, be sure to remove air.
Or you can wrap them tightly in aluminum foil.
What You Should Not Do In Storing Cooked Shrimp
Do not put

your shrimp in the fridge when they are still

warm

.

Do not leave them to sit out for longer than 2 hours at room temperature.
In hot climate countries, 1 hour is the maximum time for them to wait before refrigerating.
The reason for that is during their sit-out time, the harmful bacteria already multiplied, causing food poisoning.
How Long Can You Keep Cooked Shrimp In The Freezer?
If you do not plan to eat your cooked shrimp in the next 4 days, freezing them is the alternative option for storing food. And, of course, you can extend their shelf life way more than the refrigerated ones.
Shelf Life And Storing Cooked Shrimp In The Freezer
With a proper storage method, both cooked and uncooked shrimp that have never been frozen can keep for 3 months in the freezer with the finest taste and protein quality.
Or if you really do not care or you are not too picky about the taste of cooked shrimp after removing them from the freezer, they are still safe to consume for up to 9 months. Make sure you store the cooked shrimp in high-quality containers for freezers only.
During the freezing process, your cooked shrimp flavor will be changed and will not be as good as the first time you eat them. Also, defrosting frozen shrimp can reduce their nutrients and tasty taste.
Similar to storing cooked shrimp in the fridge, you can use airtight containers, freezer bags to put them in or fully cover them with aluminum foil.
Remove as much air out as possible if you choose to store them in the bags. Then place them in the freezer and label the date you freeze them.
Plus, make sure the temperature of your freezer is at 0 F degrees (minus 18 C degrees) or below as it is the ideal temperature to store foods in the freezer. Otherwise, it will negatively affect the shelf life, resulting in a shorter preservation time.
So, comparing the timeframe for storing cooked shrimp, obviously, they can last longer in the freezer. However, if you are concerned about the taste more than their maximum shelf life, stick with refrigerating cooked shrimp.
Thawing Frozen Cooked Shrimp Guidance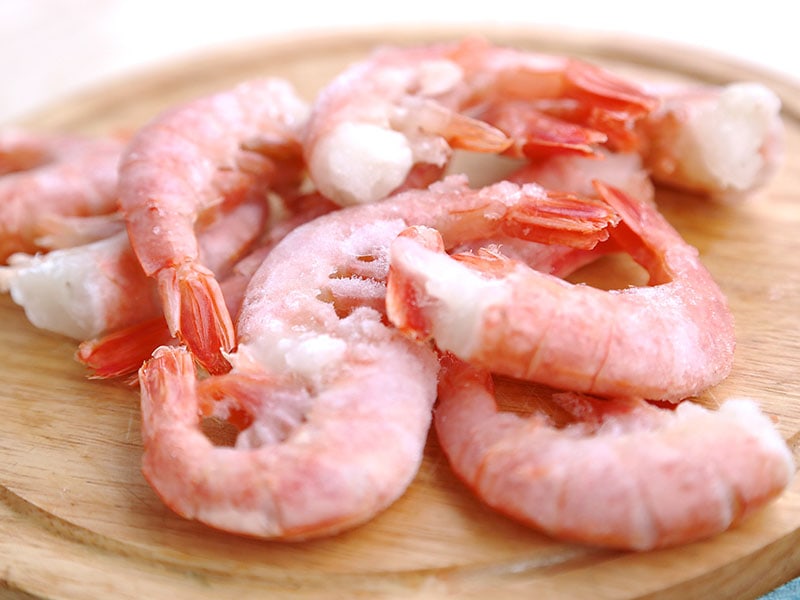 Defrosting is the first step to turning frozen shrimp into yummy dishes. The effective and safe way to thaw frozen shrimp is to put them in the fridge overnight (or at least 12 hours).
In case you do not want to wait that long, you can use a microwave to reheat. You can also let them thaw at room temperature or put the bags of frozen shrimp in hot water to thaw them.
However, it is not ideal for thawing them at room temperature because the exterior shell will defrost first, then the bacteria will attack your shrimp quickly.
Even with the shell-off shrimp, the bacteria still affect and make your food contaminated. The temperature that harmful bacteria can maximize work is between 40 F degrees to 140 F degrees.
Once your frozen shrimp have thawed, you can not put them back in the freezer again. And you must consume them as soon as possible. In case you can not eat them right away, your frozen shrimp can still be safe in the fridge for an additional 4 days.
Quick and easy defrosting frozen shrimp to save your time. Watch this video to know more:
Reheat Cooked Shrimp With 2 Simple Ways
After thawing, now you must reheat them before serving. There are 2 ways to reheat cooked shrimp yet still retain the delicious flavor and safety. You can use:
1. Microwave
Place them in the microwave-safe container or dish, cover them with a lid and reheat them in 1 to 2 minutes. This method is pretty fast and convenient.
However, the drawback of using a microwave is that it might not fully reheat your cool shrimp, resulting in uneven temperature conditions of your food.
2. Skillet or Steamer
Set the medium heat to reheat them. Depend on the quantity of your cooked shrimp to regulate the reheat timing and to prevent overheating them. This way can be seen as the best way to reheat cooked shrimp.
If you want to be able to serve cooked shrimp right after you reheat them, I highly recommend using a premium bamboo steamer. The simple beauty of a bamboo steamer will make it fit right on your dinner table.
One more thing to be noted, no matter what tools or techniques you choose to reheat your cooked shrimp, the internal temperature of your food must reach 145 F degrees to ensure they are safe for you to consume (2).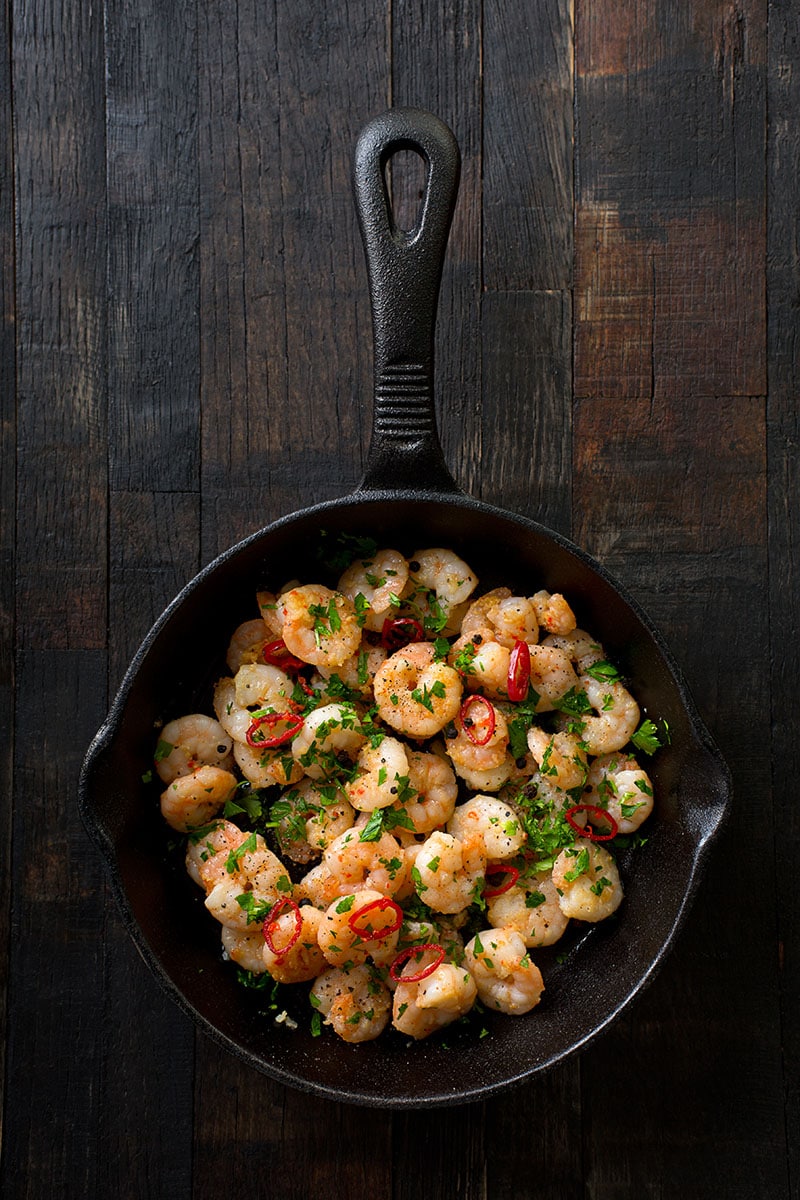 Signs of Spoiled Cooked Shrimp To Avoid
Like other foods, you can use your senses to detect whether your cooked shrimp goes bad or not. However, some of you might feel it is quite difficult to check. For your better comprehension, the spoiled cooked shrimp will have some signs regarding:
Smell
This is the quickest and easier way to know rotten cooked shrimp. If you find some unpleasant smell or strong fishy smell, or somewhat ammonia or sour, then you have no choice but to throw it away.
Appearance
Good-quality cooked shrimp has nice colors of white and orange (or pink). Once you spot any dark and black marks on cooked shrimp or they are discolored, it means your shrimp are likely to be spoiled.
Texture
Finely cooked shrimp is firm, while rotten shrimp is soft. You can also feel sticky or slimy with spoiled shrimp on your fingers, causing slipperiness when you touch them.
Once you have already found these spoilage signs, do not try to taste them because there is no way to save your cooked shrimp.
What Will Happen If I Consume Spoiled Cooked Shrimp?
Contaminated shrimp can cause shellfish poisoning. In the next 4 to 48 hours after consuming bad shrimp, you might expect some symptoms like:
Nausea
Vomiting
Diarrhea
Stomach pain
Cramps
Fever
Or worse, you can see blood in your stool.
With minor symptoms that you can bear, ensure that your body is still in well-hydration by drinking more water to replace the lost fluid. Avoid eating other foods because your stomach does not work fine at this point.
But if it comes with serious symptoms, you must check your condition in the hospital to have the appropriate treatments like using IV fluids or medicines.
Moreover, it is not recommended to use common medicines for regulating diarrhea or vomiting. Before using any medication for shellfish poisoning treatment, it is best to consult your doctor.
Health Benefit That Shrimp Offer
With high protein content (13.61 gram per 100-gram serving), omega-3, and other nutrients, generally, they are healthy food for your cooking recipes.
Apart from nutrients, they are also low in carbs and calories. So if you are on a diet and want to lose some pounds, shrimp must be the perfect seafood for you.
According to Eric et al. (3), consumption of shellfish, like shrimp, can reduce the risks of cardiovascular problems, enhancing the functions of the heart.
As they are high in omega-3 and antioxidants, you can improve your skin condition, decreasing the appearance of wrinkles. Plus, these nutrients are also good for your brain.
Mind-blowing shrimp benefits that you should know to improve your health. Watch this video:
Is there anything that you still question about cooked shrimp? With these below common questions, I hope you can have sufficient information for your cooking knowledge with shrimp.
Do You Love Shrimp As Much As I Do?
Shrimp indeed is an amazing shellfish that is so easy to cook and eat. They are, however, readily perishable. Therefore, this article highlights the safety of consuming shrimp, particularly after removing your cooked ones from the fridge.
No one wants to get sick after eating food, so everything that is covered in this post will help you to understand the importance of proper shrimp consumption in order to have better health.
So if you like my post, please give me a thumbs-up and share it with your family and friends to show them how much you care about their health as well as how much you love them. Thanks for reading.
Nutrition Facts
1 servings per container
---
Amount Per ServingCalories80
% Daily Value *
Total Fat 1g

2

%
Cholesterol 110mg

37

%
Sodium 480mg

20

%
Potassium 145mg

5

%
Protein 18g

36

%
---
* The % Daily Value tells you how much a nutrient in a serving of food contributes to a daily diet. 2,000 calories a day is used for general nutrition advice.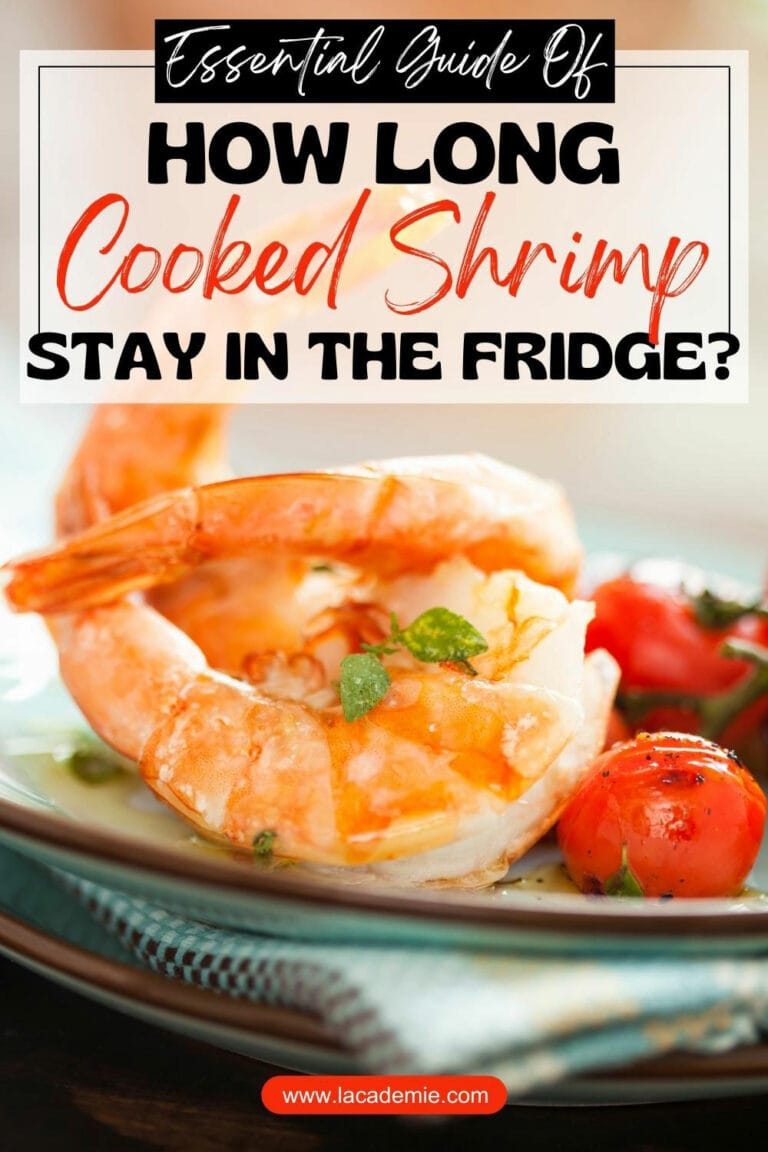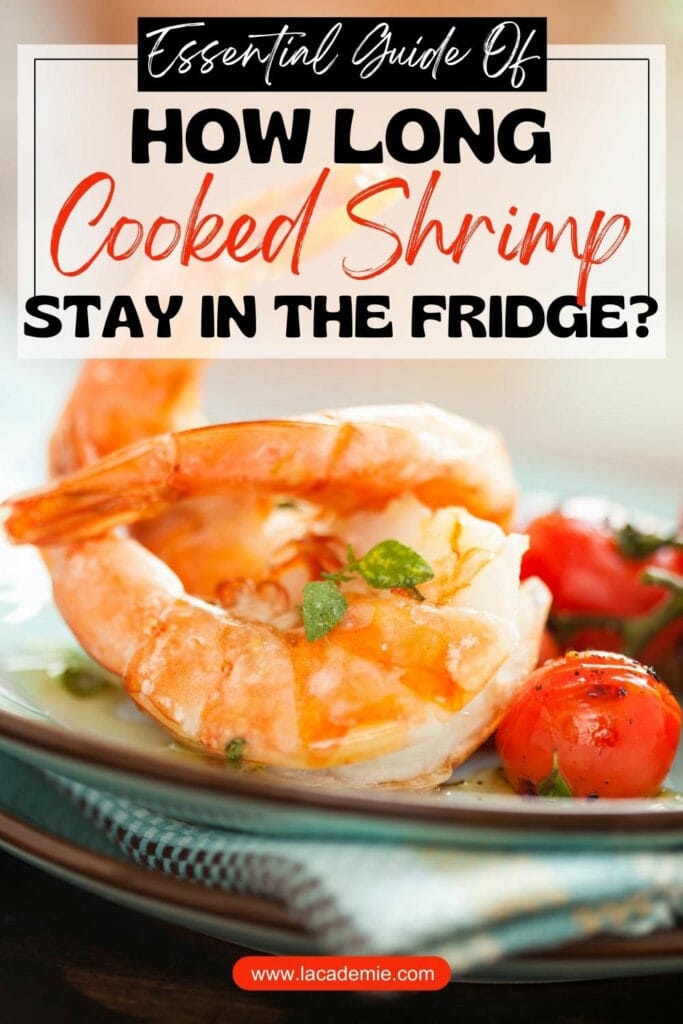 References
Fda.gov. 2021. Are You Storing Food Safely?
Fda.gov. 2021. Meat, Poultry & Seafood from Food Safety for Moms to Be.
Eric, M., Arch, G., Elizabeth, G., Mark, C. 2009, Shellfish Consumption And Risk Of Coronary Heart Disease, J Am Diet Assoc, 109(8):1422-6.