Mandarin chicken vs. orange chicken – what are the differences between them? You are not the only one who has that question in mind. Since both of the chicken entrees are popular at Chinese restaurants in the US, understandably, the confusion and comparison are evitable.
As Asian foods have gained a strong fan base in the US, ordering a Chinese take-out is no strange to foodies. You may have once or twice ordered mandarin or orange chicken. But can you tell their dissimilarities right away?
If not, this article will help you know the right option to order next time. Not only that, you'll learn the similarities and differences between these famous take-outs, as well as how to make them at home.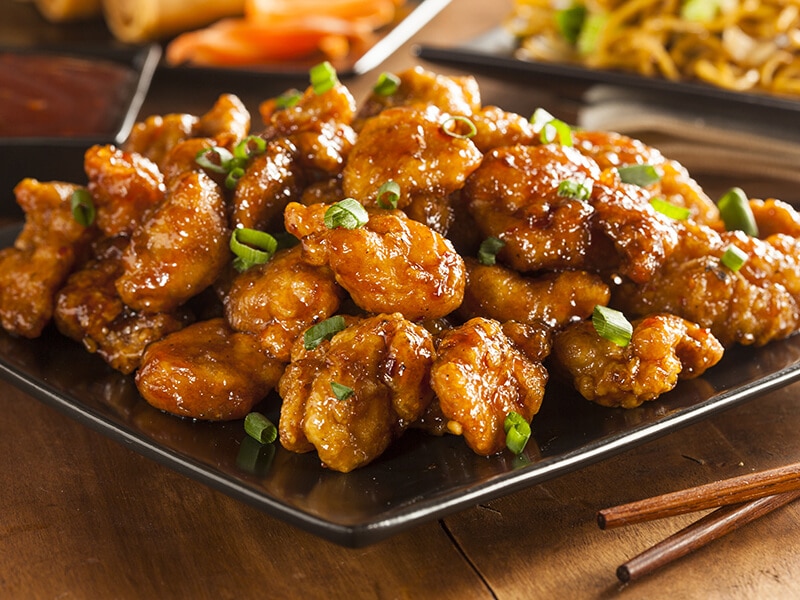 The Delicious History Of Mandarin Chicken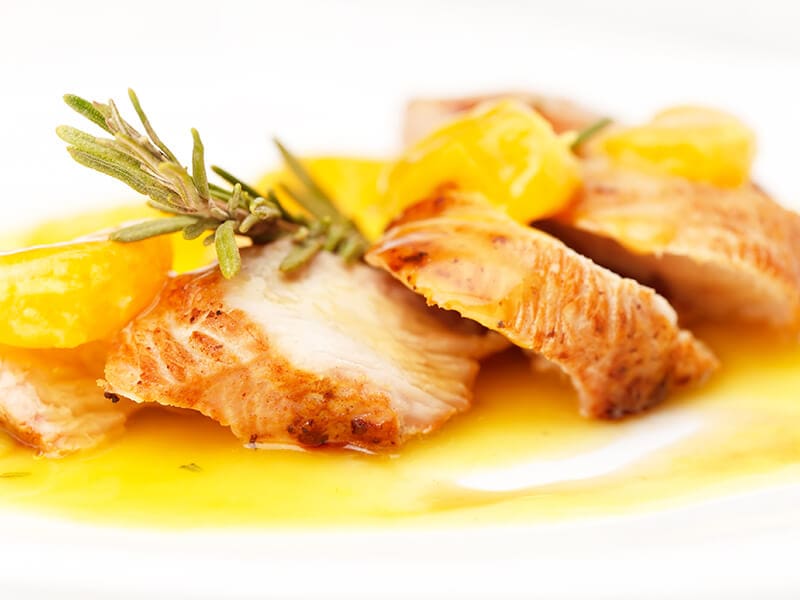 Originating in China, mandarin chicken has traveled a long way to become a part of Western culinary culture. Landed in the New World by Portuguese traders in the early 16th century, it had to wait two centuries later to enter the menus of the mainstream US.
This delicacy took its name after the main ingredients, mandarins or mandarin oranges, imported from China. At its simplest, it consists of tender chicken chunks with mandarin-styled sauce. However, the modern version isn't settled precisely as it used to be.
In the US, mandarin oranges are imported products, so their price may make you tighten your budget. A solution comes up: instead of using fresh mandarins and oranges as in the original recipes, many cooks prefer processed orange juices to get the work done.
Though the preparation technique of mandarin chicken varies based on households and restaurants, there is a famous version from Panda Express, a well-known Asian fast-food chain. It takes this dish to another level with sweet teriyaki sauce.
Many consider this mandarin chicken a nutritious dish. The high levels of vitamin C in orange juice and/ or mandarin oranges can give you many health benefits (1).
Are you curious about how to duplicate Panda Express mandarin teriyaki chicken? Check it out here!
A Thing Or Two About Orange Chicken
Without a doubt, orange chicken is a Chinese-restaurant favorite. Many may be familiar with its Chinese name Chen pi ji on the menus. In its most basic sense, it is technically chunks of battered chicken with orange-flavored and tongue-tingling spicy sauce.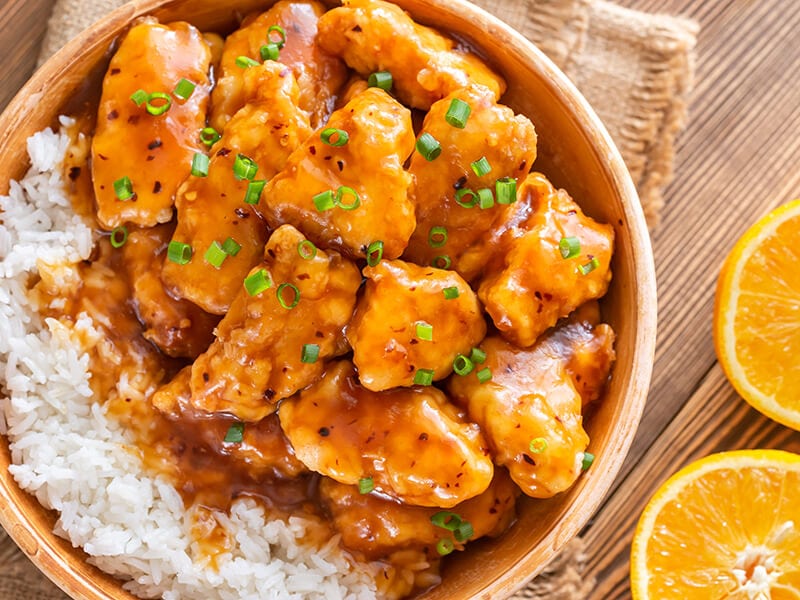 The Story Behind Of Orange Chicken
Surprisingly, orange chicken is the work of Americans. Again, the chain restaurant Panda Express credits itself with the invention of this food. Inspired by a Chinese dish called General Tso's chicken, this delicacy became an American thing in 1987 thanks to chef Andy Kho (2).
Similar to its counterpart, home cooks and restaurant chefs prepare orange chicken in various ways. But the version of Panda Express always stands out since this adaptation is more suitable for American palates, which favor bolder flavors with more sweetness.
Strictly speaking, though it's known as an iconic Chinese food in North America, it has little to do with authentic Chinese cuisine. Don't be surprised if you can't find it at any dining establishments in mainland China.
Let's unveil the secrets behind the enormous success of Panda Express orange chicken!
Orange Chicken Vs. Sesame Chicken
One dish that is often confused with orange chicken is sesame chicken. To be fair, these two entrees are pretty much alike since both recipes call for boneless chicken meat with crispy breading and covered in thick sauces.
However, their base sauce ingredients are markedly different. Sesame chicken highlights soy sauce and sesame oil with sugar. On the contrary, sticking with its namesake, orange chicken uses orange juice-based sauce.
In terms of flavors, while sesame chicken is more on the sweet side, orange chicken has more dimensions of flavor with sweetness, tanginess, and a bit of heat.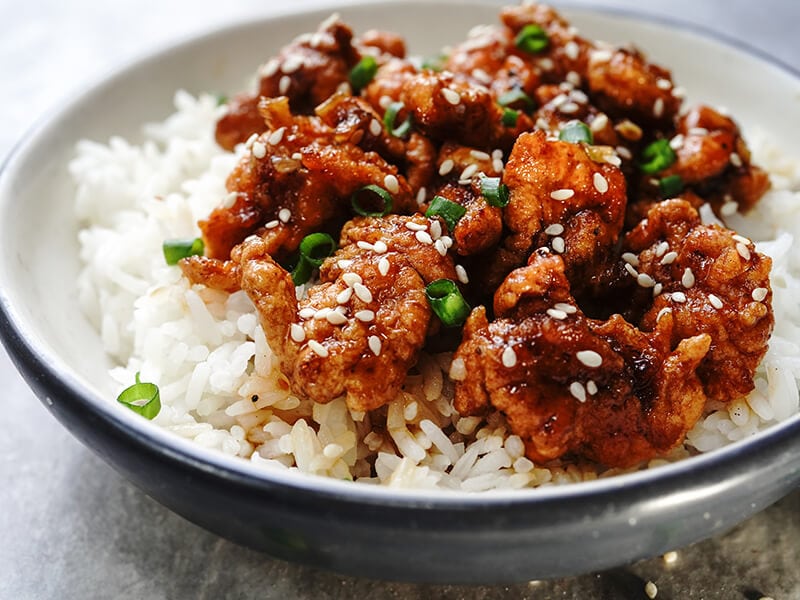 Orange Chicken Vs. Sweet-And-Sour Chicken
Sweet-and-sour chicken shares many similarities with orange chicken since they are both fried chickens with sweet-and-sour glaze. No wonder many confuse them with each other. But let me put this straight one and for all: these foods are not the same, so be careful when you order.
One of the key differences lies in the presence of orange juice. While orange juice and zest are the main stars of the orange chicken sauce, these ingredients are unavailable in sweet-and-sour sauces.
Another obvious dissimilarity is the spicy level. Restaurant-style orange chicken contains some chili flakes. Meanwhile, the original sweet-and-sauce dish has zero heat. That's why between the two, orange chicken is decidedly spicier.
From this step-by-step tutorial for sweet-and-sour chicken, can you see how it differs from orange chicken?
Mandarin Chicken Vs. Orange Chicken – Head To Head Comparison
No doubt these two dishes are among the most ordered items at any Asian fast food. However, they are different in many ways. To learn more about their distinct characteristics, look at some key differences between mandarin and orange chicken.
Factor
Mandarin chicken
Orange chicken
Cuisine
Chinese
American-Chinese
Main ingredients
Mandarin oranges
Chicken breasts
Chicken breasts or thighs
Orange juiceChili flakes
Color
Darker
Lighter
Texture
Softer
Crispier
Consistency
Thicker
Thinner
Flavor
Complex flavor with solid sweetness and a strong orange flavor
Not spicy
Simpler flavor with a lightly sweet taste and mild orange flavor
Spicy and savory
Preparation Technique
No breading for chicken
Stir-frying
Simmering with sauce until thickens
Breading required
Deep frying
Tossing with sauce
Accessibility
Available in both China and the US
Mainly available in the US
Calorie
310 kcal/ per 1 serving
490 kcal/ per 1 serving
Serving style
With steamed rice or vegetables
With steamed rice or vegetables
Point Out The Differences
For years, people have mistaken orange chicken and mandarin chicken together due to the almost-alike taste and texture. The only way to distinguish them is to understand their characteristics thoroughly. Let's go into detail to see how they differ from one another.
Ingredients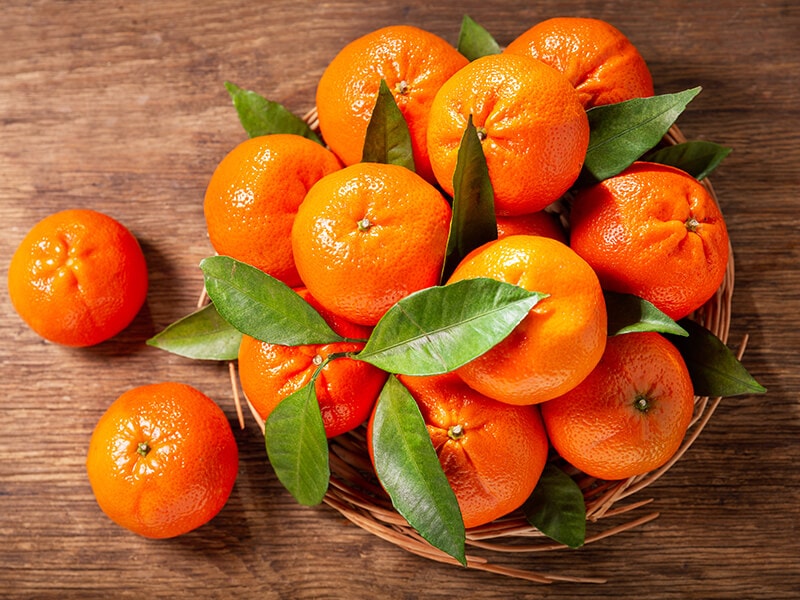 As its name implies, the original version of mandarin chicken consists of mandarin oranges. Still, since these products need to be imported from China, people often switch to orange juice as a more economical option.
However, these imported fruits are utterly absent from the orange chicken's ingredient lists. Its recipe calls for orange juice and/ or orange zest for the hint of citrus flavor. Originally, the orange chicken had chili flakes, while the mandarin chicken didn't.
Moreover, although both these items feature chicken in their recipes, they differ in which part of the used meat cuts. Chicken breast pieces are primarily utilized in mandarin chicken recipes. At the same time, its counterpart's meat also comes from the bird's breasts or boneless thighs.
Color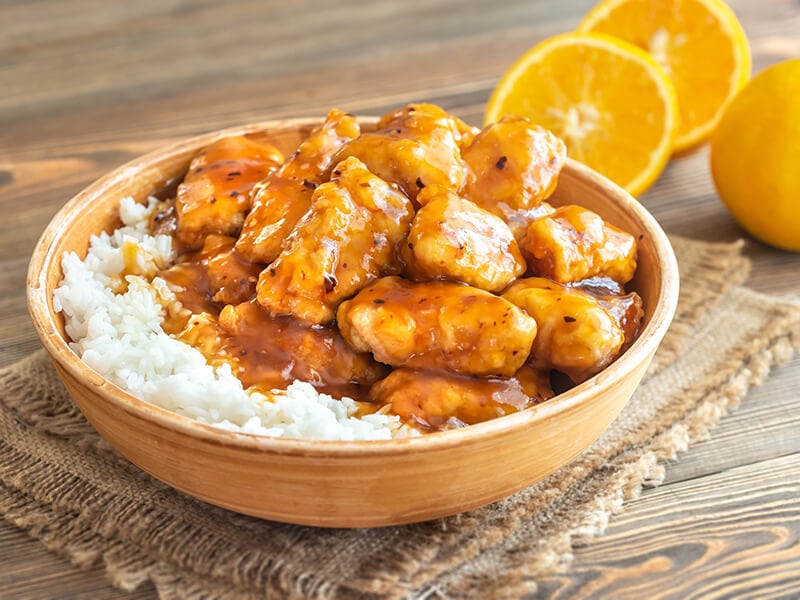 To the untrained eye, the color variation may be subtle. Still, you can tell the difference between them by observing their color closely. Visually, orange chicken hints towards the orange color, whereas mandarin chicken is more on the brown shade on the palette.
Compared to its components, mandarin has a darker hue. After a long-time of roasting, the sauce will darken in color due to the caramelization of sugar ingredients. In the meantime, the orange entree is lighter due to its light-colored ingredients.
Texture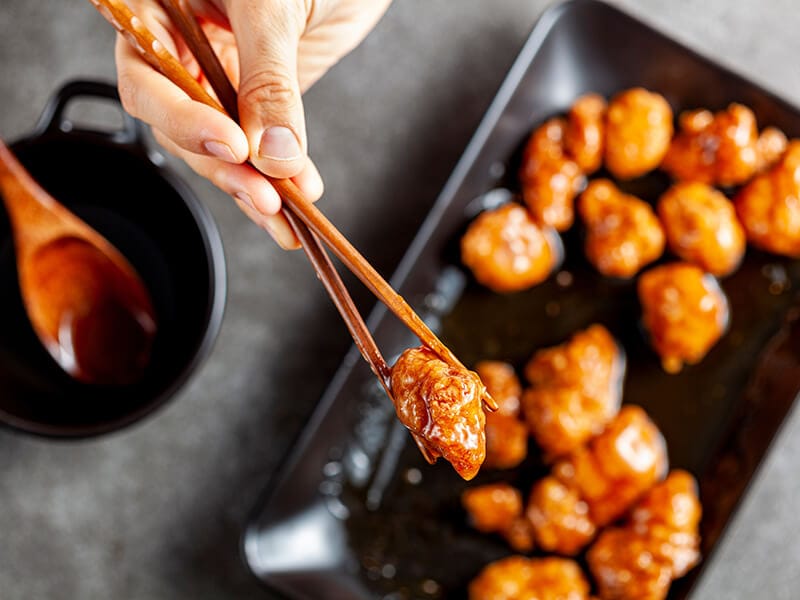 Texture-wise, mandarin chicken is softer since it's simmered and cooked at a lower temperature. On the contrary, its counterpart is crispy on the outside and tender on the inside because the meat has undergone a breading and deep-fried process.
Another criterion that is worth discussing is sauce consistency. Remarkably, the sauce of mandarin chicken is thicker due to the simmering process; meanwhile, the orange chicken sauce is thinner and lighter.
Flavor Profile
Set aside the appearance, their differences in flavors may be easier to notice. The orange taste will be the first thing to hit your palate since orange juice is present in both recipes. But the more you devour them, the more differences you will find in the aftertaste.
Orange Chicken
For the most part, the orange flavor got a thumbs up from those who love the mild orange taste and simpler flavor. Besides, it has a lightly sweet taste and is more savory since people usually fry the chicken meat in oil prior to covering the chicken in a sweet sauce.
Additionally, since one of the essential ingredients in the orange chicken recipe is chili flakes, this gives the tangy meat a kick of heat. The level of spiciness in your orange chicken dish may vary from place to place, but that is still enough to make it spicier than the mandarin-based dish.
Mandarin Chicken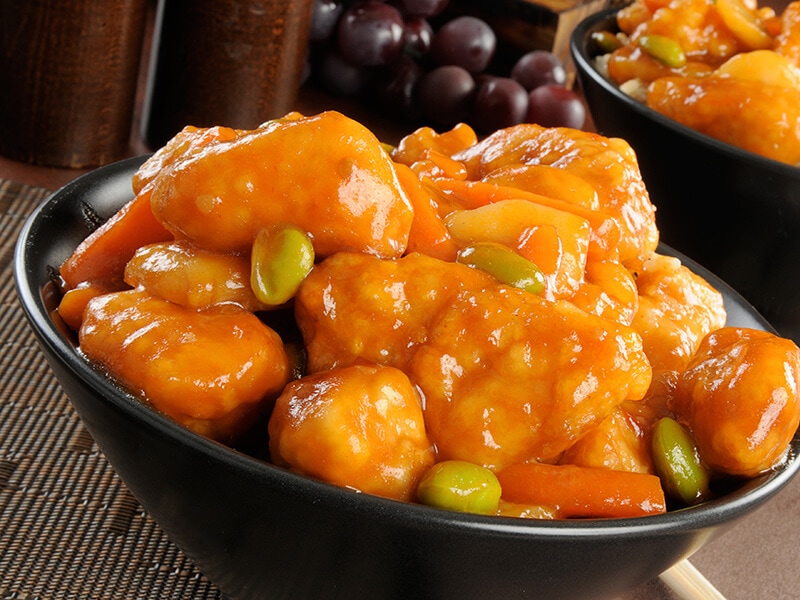 Conversely, if you prefer a more intense and strong taste, that's where mandarin chicken reigns. Thanks to a wide range of different-flavored ingredients, it has a wonderfully complex taste. Another plus point is that this delicacy does not contain spicy heat.
It is sweeter and has a robust orange flavor since the sauce has orange juice, mandarin orange pieces, and sweeteners such as sugar and honey. Moreover, it also has an intense flavor of garlic and ginger, so when the sauce thickens, some might find its taste too strong.
Cooking Technique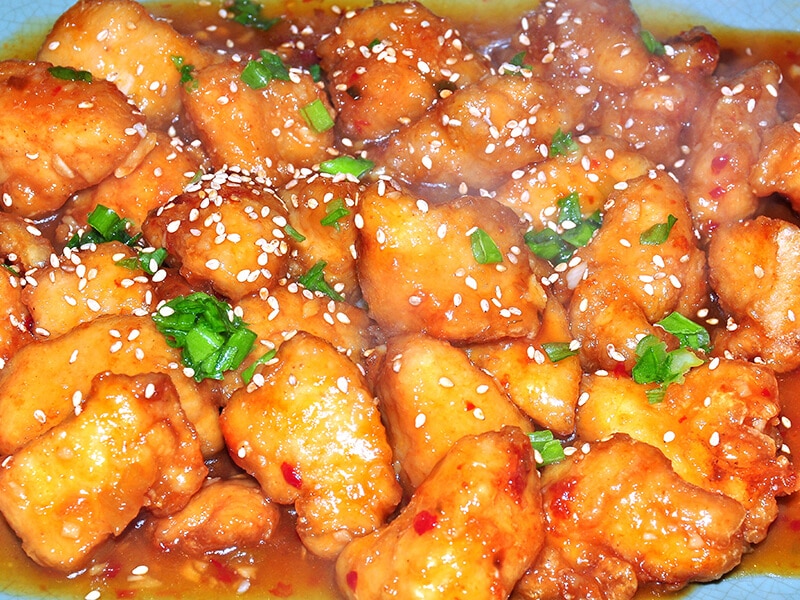 These two have started differently from the beginning of the cooking process. While orange chicken is breaded with cornstarch and egg, then deep-fried, the mandarin-based delicacy calls for stir-frying the chicken cubes.
Also, you'll have to simmer the meat with the sauce for a few minutes until it thickens. The more straightforward orange chicken recipe calls for no simmering, and one round of deep frying is enough.
Accessibility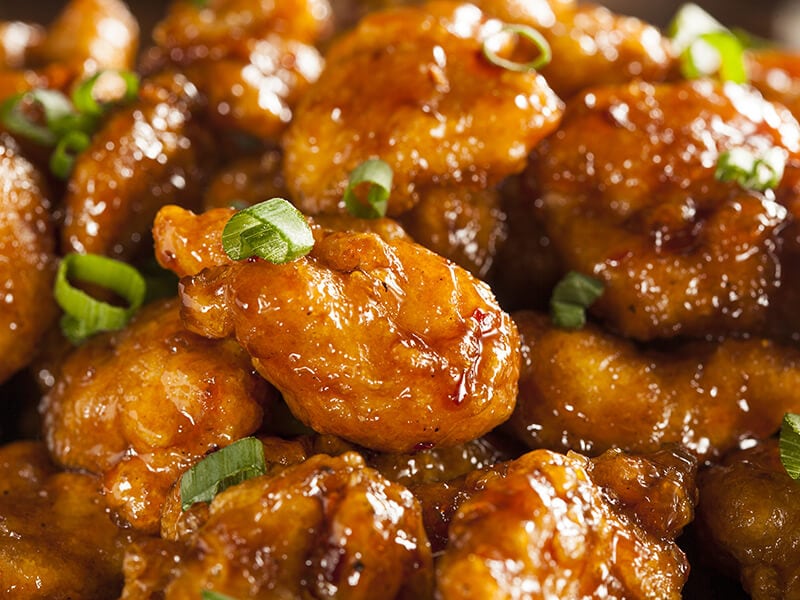 Mandarin chicken is an actual Chinese dish, available as a take-out and dine-in dish in China and the US. On the contrary, orange chicken is an American-Chinese dish that is only popular in the States.
In other words, this dish is Americanized, adapting the available ingredients to suit the American palate. Understandably, it's almost unknown at authentic Chinese restaurants or any restaurant in motherland China.
Calorie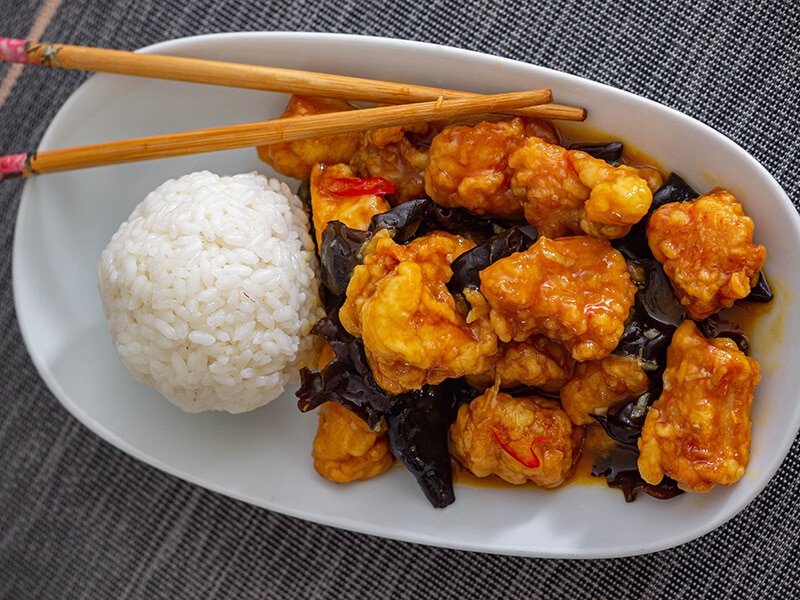 If you worry about your waistline, the calorie intake between these two is another thing you should be aware of. While one serving of mandarin chicken (5.8 oz) at Panda Express is 310 kcal, they offer 420 kcal for one serving of orange chicken (5.7 oz).
On a related note, since these two chicken dishes are relatively high in saturated fat and cholesterol, consuming them in moderation is a wiser move.
Similarities Between Mandarin Chicken And Orange Chicken
Differences aside, there is no denying that mandarin chicken and orange chicken bear some striking resemblances. Scroll down, and you will find out their similarities.
Sugar And Soy Sauce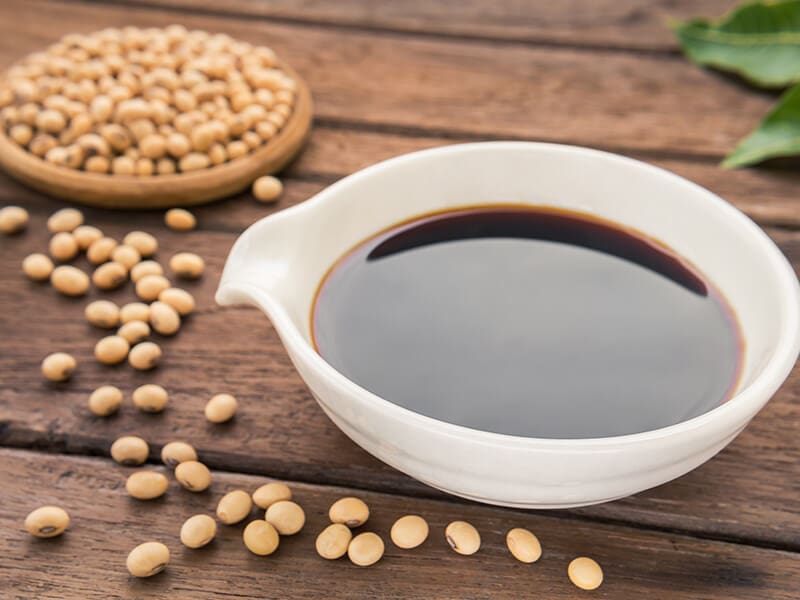 Their ingredients are almost identical, though orange chicken might go beyond with some extra additions. Most noticeably, sugar and soy sauce are the foundations for both recipes.
Since these two dishes carry a hint of sweetness, sugar, or brown sugar, is essential. Moreover, soy sauce is a typical Asian condiment, so it also plays an indispensable role in any Chinese-style sauce.
Serving Style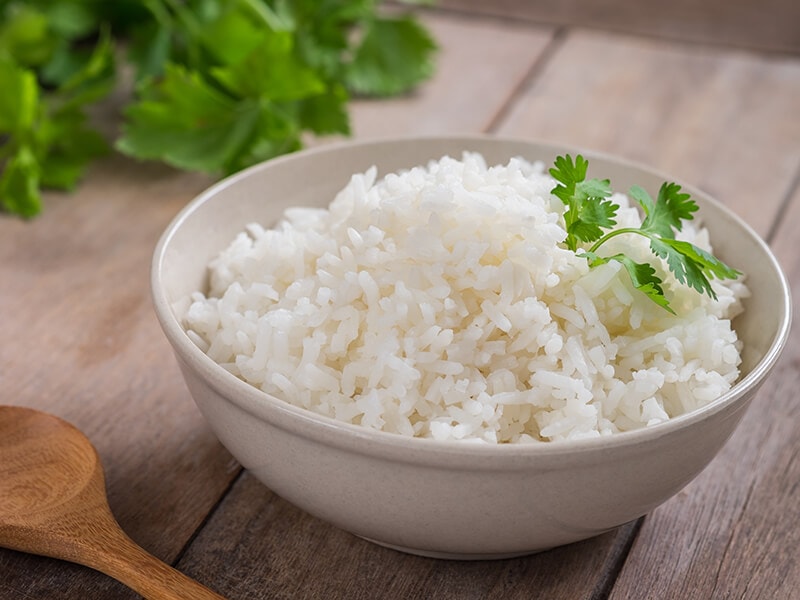 As they are both Chinese-styled main courses, these dishes' serving methods are synonymous with the eating style in China. Some elements may differ, but the traditional way to enjoy them is on a bed of steamed white rice. Fresh vegetables can also accompany them on the side.
Which One Will Rule? – Mandarin Chicken Or Orange Chicken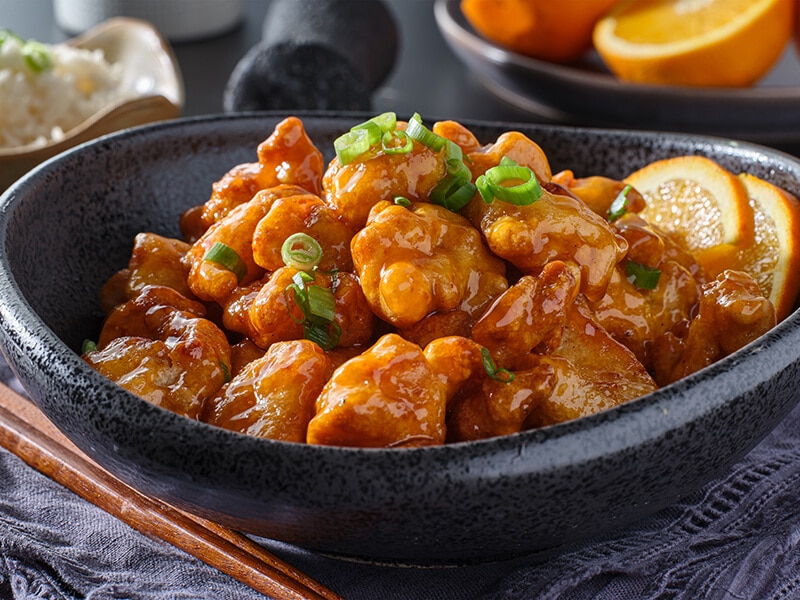 It's not easy to give an ultimate answer for all because there are no rules for good food. Ultimately, since each chicken dish has pros and cons, the choice relies on your preferences.
As mandarin chicken is sweeter and has a robust taste, this dish would be perfect for people with a sweet tooth who prefer a stronger orange flavor. On the other hand, orange chicken is a go-to for diners interested in a simpler dish with a mild orangey note.
Another thing worth mentioning is that since orange chicken is an American-Chinese dish, foodies into authentic Chinese cuisine will find this dish, well, too Westernized.
In conclusion, there is no winning or losing, as it's up to each one's palate. Since these sauce-covered entrees offer great flavor combinations, it won't hurt to try them both.
Mandarin Chicken – Tastes Better From Scratch
Warning alert: you won't be able to resist the tender chicken and the sweet & tangy sauce of this mandarin chicken dish. I know it's easier to get take-out from restaurants. Yet, this at-home version gives you the same tastiness with complete control over the ingredients.
Gather Your Ingredients
The great point of a mandarin chicken dish is its complex flavor from different elements. Therefore, don't be shocked when you see its long ingredient list. Spend a little effort to gather the items below, and the final result will surprise you. This recipe is enough for 4 servings.
1 pound boneless, skinless chicken breasts; cut into bite-sized pieces
¼ cup orange juice
¼ cup soy sauce
¼ cup water
⅔ cup brown sugar
1 tablespoon vegetable oil
½ teaspoon minced fresh garlic
½ teaspoon minced fresh ginger
½ tablespoon cornstarch
Green onions (optional)
Sesame seeds (optional)
1 can of mandarin oranges (optional)
In the original version, mandarin oranges are a must for the most authentic taste. However, due to the difficulty of delivery and price, I use orange juice. Cook with the real thing if you can get it.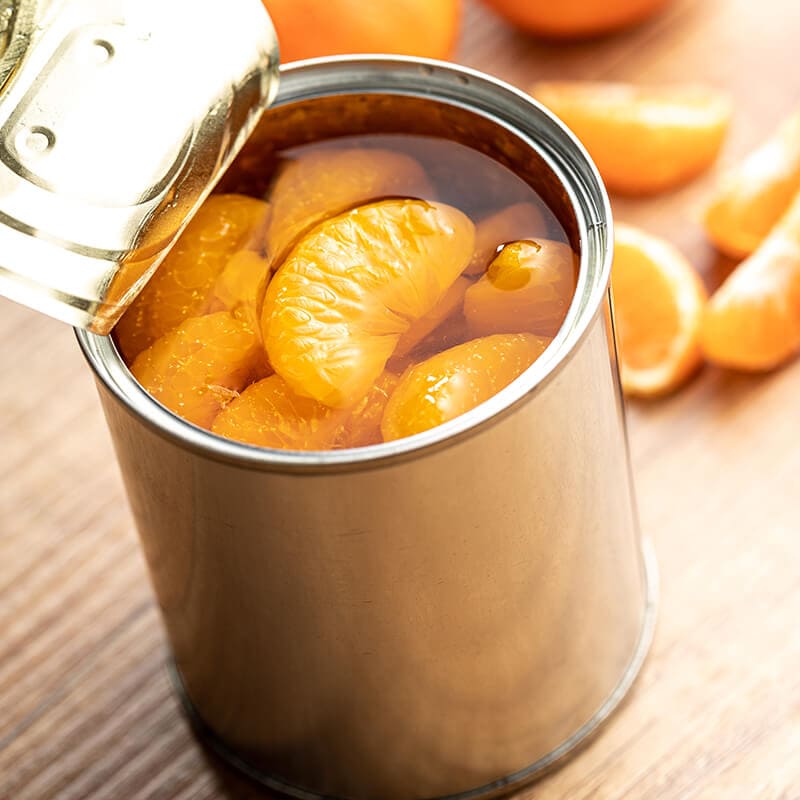 Let's Cook Mandarin Chicken!
Cooking is fun, so feel free to adjust the ratios and ingredients until you find what works best for you. Also, you can take a shortcut with the readymade mandarin Teriyaki sauce by Panda Express.
Step 1: Prepare The Sauce
In a small bowl, combine brown sugar, orange juice, soy sauce, and water together. Next, add cornstarch, garlic, and ginger into the mixture and whisk them together until everything is combined. Set the mixed sauce aside.
Step 2: Brown The Chicken
Spray the large skillet with vegetable oil and heat over medium-high heat. When the skillet is hot enough, add the chicken chunks and stir for one to two minutes on each side until they turn brown on both sides. Remember not to overcrowd the skillet. Work in batches if necessary.
Step 3: Add The Sauce
Pour the sauce over the chicken and stir everything with mandarin orange pieces until coated well. When the sauce bubbles, turn the heat down to low and simmer for ten more minutes.
Once the sauce thickens and the chicken chunks are cooked through, remove them from the heat source.
Step 4: Garnish And Serve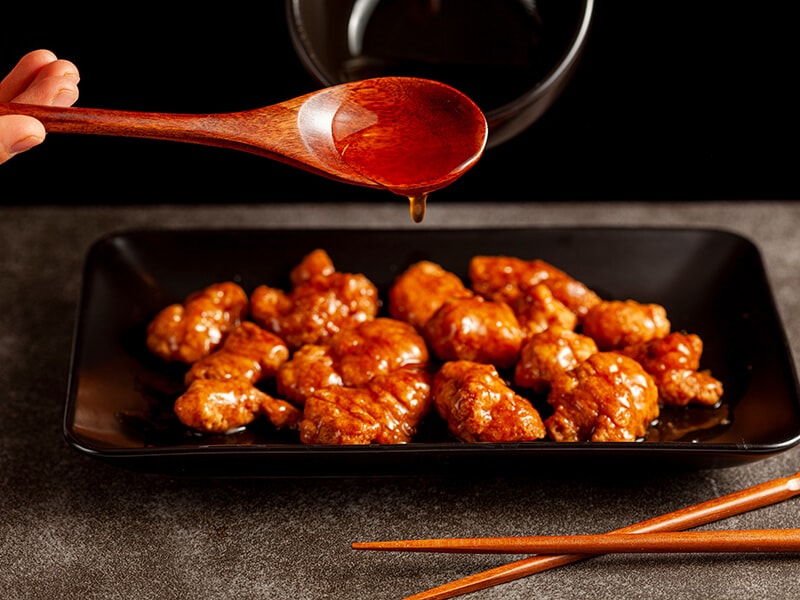 Garnish with green onions and sesame seeds (optional) on top, and serve immediately with white rice or your favorite vegetable.
Easy Tutorials For Orange Chicken
Making this orange chicken couldn't get any easier. You won't get enough of this crispy fried chicken in a spicy, sweet orange-flavored glaze. Follow the guidance below, and you'll have a successful batch.
Ingredient List
Similar to mandarin chicken, orange chicken doesn't need fancy ingredients but requires a bunch of items for more dimensions of flavors. This recipe is suitable to serve 4 people, but feel free to double or triple the ingredient quantity if necessary.
Chicken
1 pound of boneless and skinless chicken breast; cut into bite-size chunks
3 eggs, whisked
⅓ cup flour
⅓ cup cornstarch
Oil
Orange Sauce
1 cup orange juice
2 cloves garlic
1 teaspoon ginger
2 tablespoons soy sauce
2 tablespoons rice vinegar
1 tablespoon honey or ½ cup sugar
⅓ teaspoon red chili flakes
1 tablespoon cornstarch
Orange zest
Garnish
Green onions (optional)
Grated orange zest (optional)
As you can see, the signature taste of orange chicken is sweet and tangy due to the presence of orange juice, sweeteners, and rice vinegar. Also, this dish calls for a subtle kick of heat, so you will need some chili flakes. But if you're not into spicy things, feel free to omit this item.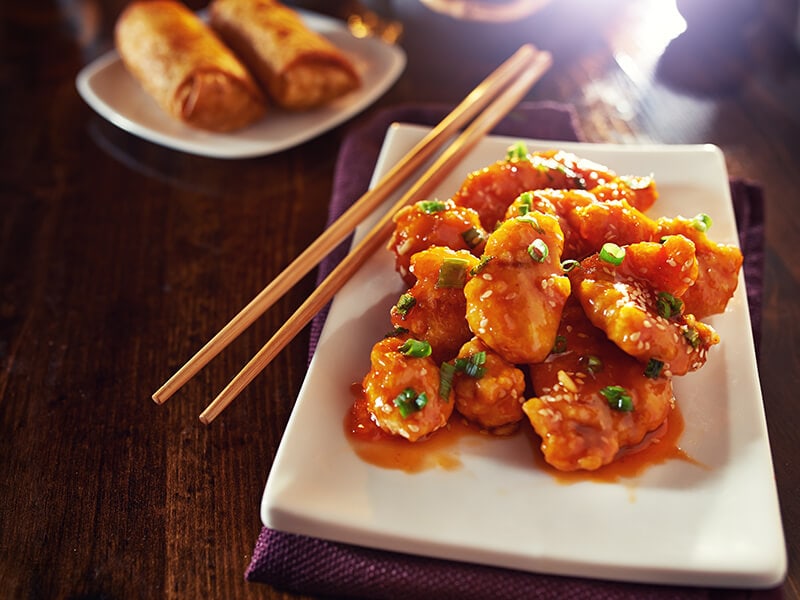 Bring Your Dream Orange Chicken To Life
Who needs a take-out of orange chicken when the homemade version is more delicious and can save you tons of money? This dish is ready in no time, so it's an easy go-to meal on busy weekdays when you must balance work and housework.
Step 1: Dredge And Rest The Chicken
Dip the chicken pieces into a mixture of eggs, cornstarch, and salt. After the meat has been fully covered in flour, place it on a clean plate and move on to the next step.
Step 2: Make The Orange Sauce
Start by mixing orange juice, vinegar, sugar, and soy sauce in a separate bowl. Next, add red chili flakes, ginger, and garlic to the mixture. After stirring it well, heat the sauce at medium-high temperature for three minutes.
Add cornstarch and water to the mix and whisk them together to thicken the consistency. Continue stirring for five minutes. Then turn the heat off, add the orange zest, and set the sauce aside.
Step 3: Fry The Chicken
Set a deep, heavy-bottomed pot over medium-high heat and add 2 – 3 inches of oil. Once the temperature hits 350°F, add the chicken and deep fry it for 2 – 3 minutes. But if the exterior turns golden brown before that time, you can take the meat out earlier.
Step 4: Drain And Mix The Chicken With The Sauce
To drain oil from the chicken, let it sit on a paper-towel-lined plate. The towels will absorb the drips that may still cling to the meat. Next, toss them in the orange sauce until all the meat pieces are nicely covered.
Step 5: Garnish And Serve
Move the chicken into a clean dish and spread the sauce over again. Lastly, sprinkle the grated orange zest and green onions for garnish. Serve hot with white rice.
Let's learn how to make the original orange chicken of Panda Express here!
Other Mandarin And Orange Chicken Recipes That You Should Try
Forget the Chinese take-outs and treat your family to these deliciously homemade chicken dishes. I guarantee that you can succeed with these easy recipes on the first try with a restaurant-like flavor.
You'll feel much relieved looking at the short ingredient list of this version of mandarin chicken. Even better, this recipe uses instant pot, so the making steps are shortened and a lot easier. Toss in the ingredients, and you'll have a home-cooked chicken dish in no time.
Fed up with the same serving style for mandarin chicken? Go for this sesame mandarin chicken salad instead. The presence of veggies increases the quality of nutrients and adds a beautiful burst of colors to your dish. Plus, homemade candied cashews will add a satisfying crunch.
Say goodbye to the deep-fried version because this baked orange chicken is healthier. It can cut down grease but still maintain the signature crispness and deliciousness. Don't mind making a big batch, as you're free to store the leftovers and reheat them in a microwave for the next meal.
Let's impress your guests with this crispy orange chicken. It's hard to say no to boneless marinated chicken chunks covered in an Asian-styled citrusy sauce. Instead of orange juice, the secret weapon of this recipe is orange marmalade, a new twist to your familiar chicken dish.
FAQs
I have just walked you through the similarities and differences between these two famous dishes. If you still want to know more about the two sauce-covered entrees, feel free to read the additional questions below.
Mandarin Chicken Vs. Orange Chicken – An Endless Battle
Frankly, choosing a winner between these two dishes is challenging since they are both utterly delicious. It's best to experience them by yourself before picking sides. If you haven't tried these delicacies, order take-outs at Chinese eateries nearby and let them indulge your palate.
Suppose you have tasted these chicken entrees at any worth-recommended restaurant. Comment and share the address with other readers and me. Also, since your likes and sharing mean a lot to me, please be generous with them. Thank you!
Paragraph
Wartenberg, L. (2020) Mandarin Orange: Nutrition Facts, benefits, and types, Healthline. Healthline Media.
Orange Chicken (no date) Omeka RSS.