When it comes near to every Thursday, I usually run out of Thursday night dinner ideas. Although I sometimes feel tired of and even exhausted from work overload, I still crave something enjoyable and yummy for my dinners.
They can be a stir-fried beef or shrimp and veggie dish that will be served with a bright salad or other beautiful pairings.
On Thursday evenings, I love quick homemade meals that do not take me much time and effort to prepare.
All I need is just to finish cooking, have my dinner soon, and then do the necessary clean-up before being ready for bedtime! It seems to be a boring life, but I guess some of you will feel what I say!
Hence, to help you not spend much time coming up with dinner recipes, I will provide you with simple but super addictive dinner dishes for your Thursday evenings. Let's check it out!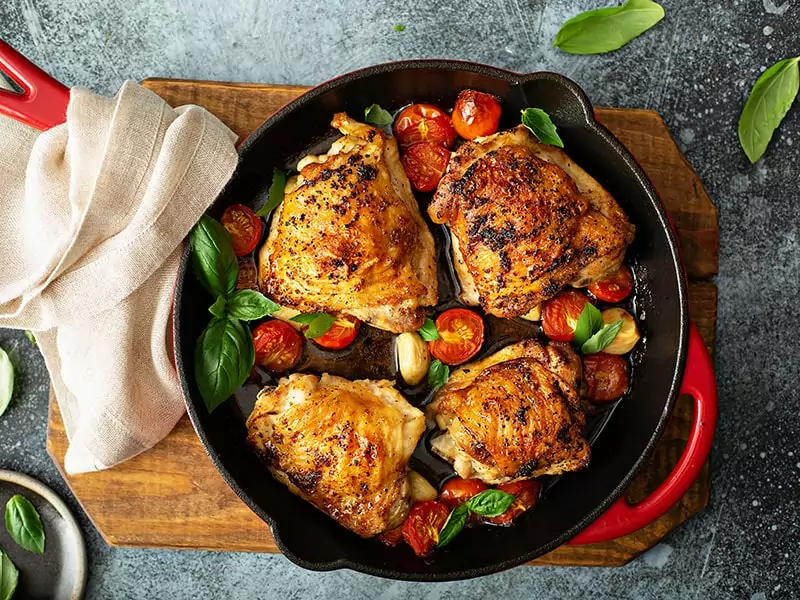 Now, Perfect Your Day With The 35 Thursday Night Dinner Ideas!
If you need some easy Thursday night dinner recipes, you will not go wrong with these offered dishes that are categorized into groups of different ingredients. Time to jump into the beautiful recipes!
Vegetable Recipes
Greek Salad
Easy Vegetable Stir Fry
Hearty Vegetable Stews
Shredded Zucchini And Fontina Casserole
Scalloped Potatoes Recipe
Sheet Pan Oven Roasted Vegetables
Chicken Dishes For Dinner
Air Fryer Chicken Thighs
Easy Chicken Stir-Fry
Melt In Your Mouth Chicken
Ritz Cracker Chicken
Creamy Lemon Parmesan Chicken
Chicken Fajita Stuffed Peppers
Dinner Recipes Cooked With Seafood
Salmon Cakes With Lemon Garlic Asparagus
One-Pan Salmon and Veggie Dinner
Pan-Fried Cod
Easy Shrimp and Broccoli Stir Fry
Shrimp With Minty Couscous Salad
Easy Tuna Casserole
Beef And Pork Dinner Recipes
Pork And Bok Choy Stir Fry
Easy Honey Garlic Baked Pork Chops
Cream of Mushroom Pork Chops
Beef and Broccoli
Malaysian Beef Satay
Steak and Sweet Potato Skillet
Dishes Made Of Rice And Tortillas
Kale And Roasted Cashew Fried Rice
Easy Chicken Fried Rice
20-Minute Tempeh Taco Meat
Huevos Rancheros
10-Minute Quesadillas
How About Having Dinner With Pizza And Pasta?
Baked Goat Cheese Mac and Cheese With Roasted Broccoli
Creamy Lemon Basil Pasta
Pasta Pomodoro
Pumpkin Pasta Sauce With Penne
15-Minute Easy Margherita Flatbread Pizza
Easy Homemade Calzone Recipe
Let's Discover The 35 Mouth-Watering Thursday Night Dinner Recipes!
Whether you are veggie or meat lovers, I have various Thursday night dinner ideas for you to choose ranging from fresh salads to 15-minute pizzas. Just dive into the details!
Top 6 Veggie Dinner Recipes Easy To Make
For those who love nutritious vegetable dishes, I believe the following Thursday dinner treats will surely satisfy your veggie craving.
In order to start your perfect Thursday meal, a bright and refreshing Greek salad will be a great idea. This healthy and delicious Greek appetizer will make your meal a lot more nutritious and balanced. You can also use skewers to prepare this dish for a fun bite that will attract even the kids.
All the chopped veggies, commonly including Roam tomatoes, red onions, cucumber, bell pepper, avocado, and feta cheese, will be coated with sweet and citrus Greek dressing.
The oily and colorful appearance of each salad piece will make your mouth water a lot!
A quick and easy vegetable stir fry will be one of the best side dishes going well with savory chicken or meat main courses. The more veggies presented in this recipe, the more appealing and delicious the dish is.
It is because you can taste various veggies simultaneously. In addition, the sauteed vegetables coated with a sweet and palatable stir-fry sauce will satisfy you a lot. In case you don't have all the offered ingredients, it is fine for you to omit some of them and use what you have on hand or your favorites.
I am always amazed by healthy hot stews served at dinners. It is not only the savory taste of soup but also the lovely heat that warms me up on cold nights.
Besides main dishes containing high protein levels, a rich vegetable stew will be a side dish that anyone will love to try!
For the ultimate taste and texture, all the veggies will be chopped into square pieces before they are popped in the pot for simmering. This also helps shorten the stewing time in comparison with cooking large pieces of vegetables.
This green casserole recipe is an eggy and cheesy treat that you should not ignore if you want to perfect your simple dinner! It is a nice combination of cheese, eggs, zucchini, and a crispy breadcrumb topping.
And if you have enough spare time at the beginning of the week, then this casserole recipe also makes for a fantastic Monday dinner meal course. What's better than starting a new week with a nutrition-packed meal, right?
Each of your bites will be packed with the soft egg and cheese texture, crunchy and tender zucchini, and flaky topping. Serving the dish with some zucchini bread will surely rock your world!
There is no doubt that scalloped potato casserole is the big hit of all time! When it comes to preparing a quick but worthy meal in the evenings, the potato recipe also works really well.
All you need is just prepare a buttery, garlicky, and creamy sauce to drizzle on layers of diced potatoes lined in a casserole before baking. Another way to prepare this dish is with an electric skillet. Just like any dish prepared with electric skillets, the scalloped potatoes will turn out heavenly.
When you see its cream sauce surface turn golden brown, the dish is ready to be removed from the oven. The soft, rich, tender pieces of potatoes folded with super creamy sauce will surely bring you to heaven!
It's time for cooking some scalloped potatoes. You can see this video to know more:
For those who love the smoky flavor of food, try this recipe, and you will never go wrong with it!
Now, just take out the vegetables you have in the fridge, such as potatoes, carrots, zucchini, summer squash, and other ones you prefer.
You just simply toss bite-sized vegetables with a herbal mustard sauce and then bake the veggies until they become tender with a light brown color.
Sprinkling some favorite fresh herbs on the baked veggies will make your dish more appealing.
Have Your Thursday Night Dinners With 6 Palatable Chicken Recipes
If you do not know what to cook for your dinner after coming back home from the office, just remove some chicken thighs or breasts from your fridge and transform them into one of these below chicken dishes!
You have some chicken thighs in the freezer, but you are running out of ideas for what to do with them.
Just let me help you with this luscious chicken recipe! In this recipe, the chicken will be cooked with an air fryer, which makes the chicken moist from the inside while quite crispy from the outside without too much oil and fat resistance.
The fried chicken coated with a mixture of Italian seasoning, brown sugar, salt, pepper, and paprika will be a yummy dish that everybody wants to try at least once!
The chicken stir-fry is a delightful combo of veggies, chicken, and peanut sauce with a hint of spiciness. Despite the cooking method, the dish is not greasy at all.
Instead, the mixing of savory vegetables and chicken meat will bring you a balanced meal between fiber and proteins.
In addition, it is also a perfect vegetarian dish with tasty soy sauce when you eliminate chicken and fish sauce from the recipe. That's easy!
Do you feel excited about the food title? I think it sounds nice with the sense of chicken pieces melting in my mouth. However, do not misunderstand that the chicken is so soft and soggy that it can melt easily in each bite.
In contrast, it is tender and flavorful chicken breasts coated with the sour cream mixture before you step into the baking process.
The baked chicken with a super cheesy coating and juicy texture from the inside will be one of the worthiest dishes you and your whole family should try at least once!
The recipe's name indicates that this is a crispy chicken recipe that fast food lovers should not miss! The seasoned chicken breasts will be covered with a flaky mixture of Ritz Crackers and butter that allows the chicken to remain moist during the baking time.
The tender baked chicken can be served with refreshing salads or other main courses to bring you a full dinner.
But wait! You need a lovely dip to enhance the chicken flavor, so do not forget to dip your crispy baked chicken into a sweet and creamy mayonnaise sauce. I believe that this is a stunning treat for everyone, especially children!
It is easy for you to make Ritz cracker chicken! You can see this video to know more:
Chicken and cheese are the best-ever combos that no one can turn down! And lemon parmesan chicken is a typical example of this. The chicken coated with Parmesan cheese mixture will be fried until it becomes golden.
And then, the fried chicken will be simmered in the creamy lemon sauce for soaking up the sauce flavors. Finally, serve the chicken with steamed veggies or pasta for a better result!
Bell pepper is commonly used in sauteed recipes when it is combined with beef or shrimp. However, you can enjoy the healthy veggie in a different way with chicken fajita stuffed peppers.
To be more specific, the pepper in halves will be loaded with chicken, onions, garlic, and spices. All the chopped ingredients are folded with melted cheese that is also the special note of the dish.
The baking process allows the pepper to be tender and charred. When being mixed with the meaty and cheesy filling, it would be a heaven-sent treat for your dinner!
Even in the rare cases that some of this irresistible dish is left unfinished, you can put the leftovers in the fridge for the following meal. With a few tips to rewarm stuffed peppers, this dish will become just as delicious.
Let's cook mouth-watering chicken Fajita stuffed peppers!
Brighten Your Thursday Dinners With Fresh Seafood
Talking about choosing ingredients for fast meals, seafood like shrimp or fish is always among the top choices. Pick up some mouth-watering seafood cooking ideas for your perfect dinners!
Now, let's prepare your quick dinner with canned salmon available in your pantry! In this recipe, the salmon will be transformed into crispy cakes in golden brown color.
To do this, you will beat the salmon with other ingredients, including arrowroot flour, minced onions, garlic, seasonings, fresh herbs, and lemon juice and zest.
When all of them mix well and bind together, the round-shaped salmon cakes will be fried until they reach the desired color and crispness.
When it comes to serving, you just need to drizzle creamy green sauce with a touch of citrus over the cakes. Some sauteed lemon asparagus accompanied with the cakes will satisfy you a lot!
This video will provide you with the detailed instruction for making flavorful salmon cakes.
The most convenient feature when making this recipe is that you will need no more than a single pan. This will help you save time for cleaning up after cooking. That's great!
Talking about the recipe, the seasoned salmon with a hint of honey and mustard will be baked with other veggies such as potatoes, asparagus, and tomatoes.
You can add various vegetables to the baking pan, but remember to keep the veggie amounts enough for your family consumption to avoid leftovers after dinners. So fresh, healthy, but not greasy at all!
Despite the simple cooking method, the deliciousness of pan-seared cod fillets will go beyond your imagination! You need only one pan for searing the cob fillets and then cooking them with butter until the fish becomes tender.
Topping the seared fish with some herb sprinkles and lemon juice will brighten your dish's taste a lot!
When checking your fridge, you see shrimp and broccoli left a few days ago. Provide that the way you store broccoli and shrimps is correct, they will be an essential ingredient for an easy but super appetizing meal.
In case you have other veggies like cabbage or spinach rather than broccoli, you can also transform them into a beautiful stir-fry dish with your shrimp.
The grated broccoli and shrimp will be cooked with sour-sweet soy sauce that will give your dish a light and refreshing flavor.
The tender, savory shrimp and broccoli will be a perfect side dish going well with different main courses in your dinner!
It's time to perfect your pan-seared shrimp with peas and fluffy couscous! It is a simple dish in terms of ingredients and cooking method. However, you will never feel bored with its unique flavor.
The peas and couscous will be cooked in chicken broth so that they can turn softer and especially absorb the broth's flavor.
When everything is done, the pan-seared shrimps will sit on the mixture of cooked peas and couscous with a touch of mint. No sharp taste here, but you still find it lovely for your light dinner!
I first came across tuna casserole when I was looking for ideas to cook up leftover fish, and I have to admit that I can't get any more satisfied with the results.
With only 30 minutes required, this recipe will make your favorite tuna more glorious when the fish is combined with egg noodles and a slightly sweet and cheesy pea soup mixture.
In case you do not need a big dinner, this will be great for a light one with fish, veggies, and noodles.
After baking time, what you receive is moist and cheesy pieces of tuna put together with crispy breadcrumb topping. Some sprinkles of fresh parsley also help the dish brighter in your mouth!
How About 6 Hearty Beef And Pork Dinner Recipes?
There is no doubt that some proteins will replenish the energy you lose after a hectic day. Available ground beef and pork chops will bring you the six following addictive main courses for your dinners.
With a handful of ingredients, including pork loin or chops and baby bok choy, you can make a quick but super tasty pork stir-fry with chili garlic sauce made of vinegar, ground chilis, and garlic.
In case you do have pork on hand, chicken, beef, or tofu can be acceptable alternatives. When it comes to serving time, the pork stir fry will go well with steamed white or brown rice. Such a simple but appealing dish for your fast dinner!
Sweet and aromatic honey is a common ingredient in many pan-seared, grilled, and baked recipes. If you still doubt what I say, just test it with this pork recipe!
To start the simple cooking, seasoned bone or boneless pork chops will be seared in a pan with olive oil and butter to reach a light brown color.
Then the honey garlic sauce will be cooked with the pan-seared chops until the caramelized pork meat turns tender and juicy from the inside.
Enjoying the savory pork chops with some sauteed green beans or asparagus will surely blow your mind!
For those who don't like the sweet flavor of honey pork chops, you have another option with earthy and rich cream mushroom soup.
In this recipe, the seasoned pork chops will be applied a thin layer of flour before they are seared in the pan.
The flour will prevent the pork meat from drying and also form a crispy outside for the pork chops. This will bring you tender and juicy stuff after frying.
The cream mushroom sauce coating the chops also brings additional moisture and creaminess to your dish.
Are you ready to prepare some cream of mushroom pork chops? You can see this video to know more:
This is a mouth-watering beef stir fry that just takes about 17 minutes for every ingredient to be cooked evenly in a single pan.
The tender and savory beef and broccoli are soaked up in a garlicky and ginger stir fry sauce.
This would be a perfect dish to eat with cooked white rice in which the rice will balance the flavorful beef and sauce.
When you venture out to discover more about beginner-friendly Malaysian dishes, you'll likely come across this beef satay recipe. Boasting a huge difference from daily baked or stir-fried beef, the dish will be a great chance for you to bring some new flavor to your home cooking.
The bite-size beef portions marinated with lemon zest, satay sauce, turmeric, cumin, and seasonings will be skewered into bamboo or metal sticks.
Then, they will be seared in a hot pan until the beef becomes tender with a brown color. If you like a smoky meat taste, you can grill the beef over the charcoal grill.
Despite the charred taste, this method of preparing this signature Malaysian dish seems to be inconvenient for late dinners. When everything is done, just serve the satay beef with green lettuce or salads. It would be great with some beer!
After a hectic day, I guess you will not have enough energy to make a big dinner.
However, you still have one of the best choices for a rich nutrition meal with some handful of ingredients, including steak, sweet potatoes, shallots, bell peppers, green onions, or your preferred veggies.
Everything will be cut into small pieces that will be stir-fried with seasonings and soy sauce with a touch of butter, garlic, and herbs.
The pairing of tender and moist steak with slightly sweet and crunchy veggies will be a wonderful dish that you won't want to miss!
5 Selective Quick Rice And Tortilla Meals
Some rice or tortillas will definitely bring you a big dinner with a variety of accompaniments. Let's see what you can do with the starchy stuff!
I must say that the flavorful and semi-crispy fried rice is never outdated over time because it is so simple and easy to make. This rice recipe calls for some main ingredients, including veggies, cooked brown rice, and cashews.
The veggies like onions, carrots, and red peppers will be sauteed with a touch of gingery, garlicky, and spicy flavor.
After that, they are combined with fried rice flavored with soy sauce. Drizzling some sesame oil over the rice will create Chinese-styled fried rice!
Chicken fried rice is always a big hit for my parents and me. It is because this recipe is a great chance for me to use up leftover rice. I would say that this is one of the most versatile dishes I have ever seen.
In case you do not have shrimp or chicken, some ground beef or shredded pork is still fine! In addition, you can use either brown or white rice.
In terms of veggies, if frozen mixed veggie packages are out, you can add chopped carrots, broccoli, green beans, or peas as effective alternatives.
When you are too lazy to thaw frozen chicken or shrimp, some plant-based tacos are definitely right for you!
Corn tortillas contain the filling of sauteed peppers and jalapenos, grated cherry tomatoes, and some sprinkles of cilantro, which are folded with sour cashew cream, and drizzles of hot sauce.
The fresh flavor of veggies will be mixed well with the herbal and savory sauce. If you like a richer flavor for the tacos, adding some diced avocado to the filling will fulfill your wish!
So, what to do when you have many fillings and toppings that a single tortilla can not cover all? The simple answer will be a huevos rancheros plate.
A charred corn tortilla will be topped with tons of delicious things such as fried eggs, cooked salsa, warmed black beans, and cheese. This Mexican-inspired dish will never betray your food taste!
Want visual guidance on making huevos rancheros? This video is right for you!
At first glance, the folded quesadillas seem to be simple with a thin filling, but it actually has a cheesy, rich, and yummy explosion from the inside.
The secret and powerful ingredient of this recipe is the cheese that complements the veggies and blanch tortillas. No pounds of meat is required in this recipe, so it is a perfectly healthy vegan treat!
6 Homestyle Pasta And Pizza Ideas For Your Desired Dinners
If you want a tasty dinner without too much clean-up, pasta dishes and pizzas should be your top choices.
Pasta dishes are always on the list of quick and comforting meals. You just spend about 10 minutes boiling the pasta, or you can even skip this step if you have some leftover mac.
It is a simple combination of seasoned-roasted broccoli and Cavatappi noodles, which are tossed with a mixture of butter, goat cheese, and pasta boiled water.
The mac and cheese contain a little protein, so you can serve it as a side dish for main meat recipes. This would be greater than your imagination!
If you feel bored with ordinary creamy mac and cheese, it's time to upgrade it into an aromatic and refreshing dish with a touch of lemon.
In this pasta dish, the cooked pasta will be soaked up with cheesy and lemony sauce made of sauteed onions, cream cheese, Italian seasoning, and lemon juice.
You can see that no creamy and cheesy flavor is lost here. Instead, the normal mac and cheese becomes much brighter with herbs and lemon.
Sometimes, you are overwhelmed with time-consuming dishes and forget favorite Italian-style spaghetti. I must say that this simple but delicious pasta recipe doesn't get old over time.
The tender spaghetti is folded with tomato sauce. Now, it is good enough for the savory pasta flavor.
However, it will be a big mistake when you forget some fresh basil and Parmesan cheese topping for a perfect spaghetti dish.
If you love some meaty flavor, topping the pasta with meatballs cooked with tomato sauce would be the best suggestion I can give you now!
There is no doubt that pumpkin has an aromatic, sweet, and rich flavor. So, taking advantage of these nice features to make a pasta sauce with a pumpkin would be a unique cooking idea worthy of a try!
To make the pumpkin sauce, canned pumpkin puree will be simmered with vegetable broth, nutmeg, chili powder, and seasonings.
To increase the cheesy and creamy level of the sauce, some Greek yogurt and grated Parmesan will be added. That's enough for a special dressing of your pasta!
This creative pizza recipe allows you to transform leftover naan bread into hot and crispy flatbread pizza. However, this is just an imitated and quick pizza version with simple toppings compared to the classic pizzas.
All you need to do is bake the naan bread with toppings of cheese, sliced tomatoes, and seasonings. As a final step before serving, you will drizzle some balsamic vinegar sauce on the baked flatbread.
Do you need a detailed direction in making Margherita flatbread pizza?
When you want to surprise everyone with a weird shape of pizza, this recipe will help you with this. The pizza dough will be filled with ingredients just like the toppings of a normal pizza.
What you need for this version is pizza sauce for spreading, pepperoni, chopped onions, green pepper, and shredded mozzarella cheese.
All of them will be covered fully in a baked pizza crust that will even keep the filling warm longer than flat pizzas. The moist and cheesy filling combined with a flaky crust will surely be loved!
Get Together For Merry And Cozy Thursday Dinners!
Dinners are valuable moments when every family member finishes their work and unites for cooking and eating.
The happy time allows you to forget the depression of daily life, which makes you more comfortable, and just want to come back home as soon as possible after work. This is family bonding that I believe all humans love to have!
If you do not have much time, you do not have to prepare big dinners. Just utilize a handful of ingredients like veggies, chicken, steak, or pork, and then wow your whole family with hot meals.
Finally, do not forget to put your ultimate creativity and passion into the dishes you prepare. That would be great!
You have listened to my thoughts about Thursday night dinners. And how about you?
Please feel free to share with me the dishes you usually cook on Thursday dinners by leaving your replies in the comment section below. When finding this post useful, drop me a like or share as giant support for me!
Nutrition Facts
4 servings per container
---
Amount Per ServingCalories449
% Daily Value *
Total Fat 41.2g

64

%
Cholesterol 110mg

37

%
Sodium 642mg

27

%
Potassium 40mg

2

%
Total Carbohydrate 3.1g

2

%

Dietary Fiber 0.6g

3

%
Sugars 2g

Protein 17.3g

35

%
---
* The % Daily Value tells you how much a nutrient in a serving of food contributes to a daily diet. 2,000 calories a day is used for general nutrition advice.