These winter dinner recipes will make it easy to decide what you should cook to serve yourself or your family on cold days. Besides, sometimes you're confused about what you can cook with available ingredients in your fridge. Reading these recipes will help you much.
In this post, I'll let you know the best recipes to serve in winter evenings and then give you basic information to help you get a better grasp of their ingredients, taste, and aroma. From the given information, deciding what to cook is not difficult anymore.
Now, let's scroll down to get the ideas.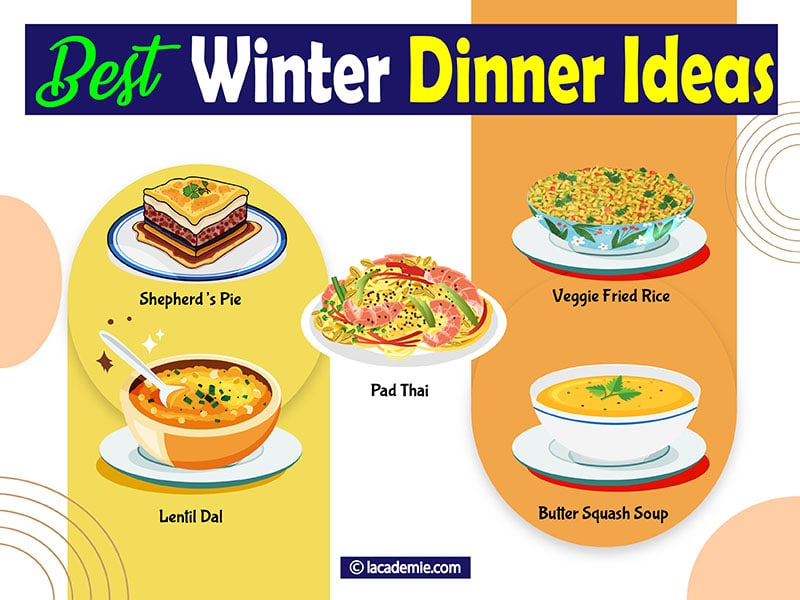 Let's Get Ideas About Winter Dinners
The list of winter dinner ideas is categorized into four groups: hot soup, bakes, pasta with meat, and others. These groups help you easily and quickly get your favorite ideas to make for your weeknight meals. Let's go through to know!
Warm Soup For Dinner Ideas
Crockpot Chicken Tortilla Soup
Wendy's Chili
Italian Wedding Soup
Sweet Potato Chili
Creamy Crab Bisque
Slow-Cooker Chicken Tortilla Soup
Sausage And White Bean Soup
Split Pea Soup
French Onion Soup
Butter Squash Soup
Lentil Dal
Starches For Winter Dinner Meals
Ramen Chicken Noodle
Easy Pad Thai
Caprese Chicken Pasta
Shrimp Boil Pasta
Veggie Fried Rice
Creamy Chicken And Mushroom Pasta
Chicken Noodle Soup
Chicken And Creamy Garlic Rigatoni
Ideal Bakes For Cold Evenings
Chicken Lasagna
Shepherd's Pie
Cheat's Cauliflower Cheese
Sausage And Vegetable Bake
Ham And Potato Casserole
Chicken And Artichoke Casserole
Other Ideas For Winter Dinner
Glazed Lemon Salmon
Curried Sausages
Traditional Roast Lamb
Fried Pork Chop And Apple
27 Ways To Warm Your Winter Evenings
Check this section to get better knowledge about the best winter dinner recipes. The overall description of these over 27 winter ideas will let you know how the dish tastes, how it looks, and what to serve with it to get the best flavor.
Warm Soup For Dinner Ideas
There is no better suggestion for serving warm soup on the winter nights. The soup with meat broth and veggies is naturally sweet, full-flavored, and heavenly to enjoy. Let's go with me to know some awesome recipes for your winter dinner now.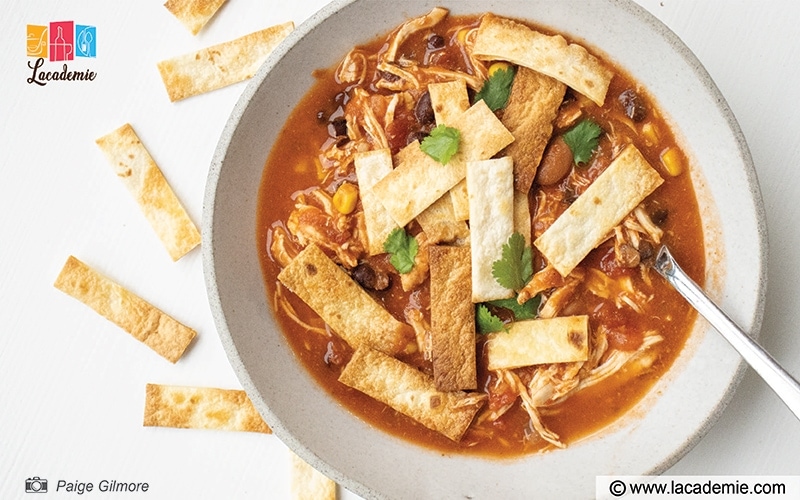 Another healthy soup recipe is this crockpot chicken tortilla soup. It's full of chicken, veggies, and many other spices. These ingredients form an aromatic and flavorful broth.
They will also provide your body with high calories. Also, this recipe will warm you on cold days.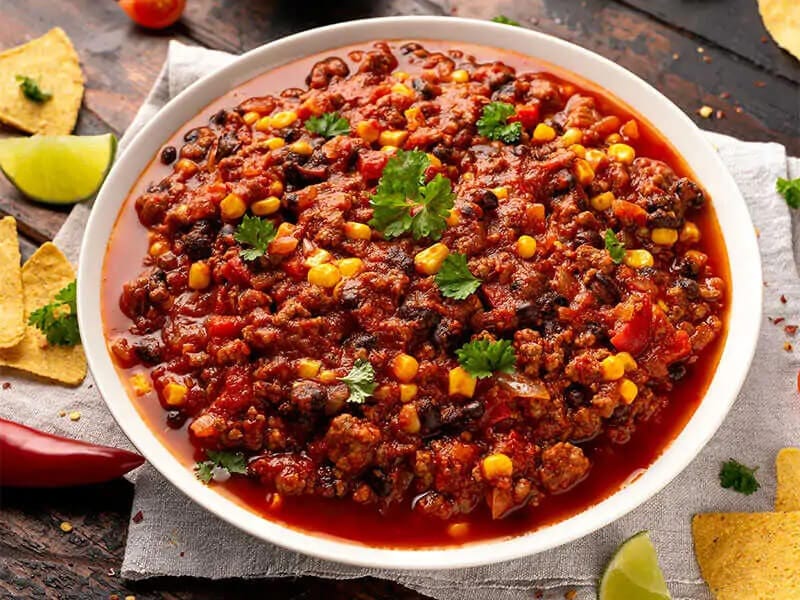 Recreating a famous restaurant's dish sounds more economical, right? And this recipe doesn't require special skills or ingredients. You can complete this comforting chili in about 2 hours.
To save time, I recommend using canned beans. This way, you don't have to spend much time soaking and draining them. The same goes for canned tomato sauce and chopped tomatoes.
Like the name, Italian wedding soup is commonly served at wedding parties in Italy; however, taking the soup to enjoy as a daily dish is also ok.
The sweetness and delight from veggies and meat will make the soup more delicious and appealing to eat.
The diversification of veggies also brings your soup a colorful appearance.
Let's satisfy your taste with Italian wedding soup! Watch this video:
Sweet potato chili is a healthy but easy and quick meal for regular Thursday nights, when all you want is to lay down and rest! Being loaded with various veggies, the dish is incredible to help you recover your health on cold days.
It often takes you around 20 minutes to get the recipes done. You need to bring all ingredients to a boil, season the mixture, and then stir it until it gets a thick texture and everything gets tender.
You can use the dish to go with sliced avocado, tortilla chips, or whatever you like to have the best taste.
Nothing is better than creamy crab bisque if you want to satisfy all family members with a filling dinner. Its creamy and full-flavored texture was harmonizing with an unforgettable aroma from herbs and cheese.
Besides, you can also use shrimp or lobster to replace the crab in this recipe with almost similar features.
It's best to pair the seafood soup with baked biscuits, crusty bread, and salad.
This sausage and white bean soup are also made in Italian style. The soup is loaded with bacon and many other veggies, making the soup naturally sweet and comforting. Besides, if you like the thick and tangier texture, just add the soup with some cheese.
The soup can be served as the whole meal as it contains all necessary nutrients that are good for your body, from protein, vitamins to iron.
How about enjoying hot sausage and white bean soup on cold evenings? Watch this video:
You have no reason to refuse to eat the soup of pea and ham because of its delight and attractiveness. Besides, the recipe seems indispensable in a big holiday dinner like Christmas eve and Easter.
Being rich in protein, fiber, vitamins, and minerals, split pea is a good ingredient to cook soup together with ham, creating a texture of aromatics and well-marinated stock.
The traditional French onion soup starts from caramelizing the onion to form a rich base of the soup and ends with baking the mixture under 5 minutes to get the creamy, tangy, and full-flavored texture.
Just serve the soup hot or warm to get a better flavor. Moreover, enjoying the soup with green or fruit salad, roasted artichokes, and roasted cauliflower is a good combination to get a higher level of tastiness.
The butter squash soup had gone with me when I was a child. My mother often cooked it as dinner soup for my family members on winter days. I still remember the good flavor, light yellow color, and also creamy texture.
Cooking butter squash soup is never complex and time-consuming with a food processor. You just need to spend 20 minutes cooking to get everything done.
Another recipe for a dense soup to top over your rice or roti is lentil soup. Lentil is a good bean that can lower cholesterol and aid the digestive system.
The addition of other fresh herbs or spices contributes to the deliciousness of the dish.
To make the dish easier and quicker, just cook the lentils in advance and store it in airtight containers for up to 3 days to keep them safe to use.
Starches For Winter Dinner Meals
If you don't like to finish your winter days with warm soup, you can choose other recipes from starches like rice, pasta, noodles, and grains. Pair them with some sweet treats to satisfy your hunger in winter evenings. You will never want to stop at just one bite!
An easy ramen chicken noodle is ready on your meal table about an hour after pouring the roasted chicken and then fresh veggies into the boiling chicken broth.
Smoky grilled chicken will add your soup with natural sweetness and good flavor, making the soup one of the most hearty recipes to warm the inside out.
Ramen chicken noodle is known as a traditional Japanese soup, so if you want to discover Asian food, just cook ramen chicken noodle for your family.
Japanese ramen chicken soup will warm you in winter evenings! Watch this video:
It takes you around half an hour to finish some bowls of an approachable pad Thai. The recipe is amazing but also striking with the strange combination of rice and noodles in one bowl. For the most authentic experience, opt for Thai-originated noodle types.
The sauce with shrimp makes the pasta plate more elegant and delicious. Also, the pasta with shrimp tossed with some golden brown and tangy peanuts is undoubtedly irresistible.
Caprese chicken pasta will make your winter dinner easier and quicker than ever. Chicken, pasta, and veggies come together to create a dense and full-flavored texture.
The chicken turns the pasta salad into a satisfying and appealing dinner meal. It can supply your body with tons of essential nutrients like protein, vitamins, minerals, etc.
Your marinated and cooked shrimp will be added to the mixture of creamy salad with fresh vegetables to create a bowl of incredibly wonderful shrimp boil pasta.
The shrimp boil pasta is good to be a whole meal as the dish contains full of necessary nutrients, especially protein and starch.
The pasta is best to serve immediately after being cooked to warm your cold evenings.
There is no doubt that fried rice is also good to be an excellent winter dinner recipe that is good for your health as it contains a wide range of nutrients.
Green peas are a rich source of protein, vitamins C, E, and other antioxidants, making them a great added ingredient to support your immune system.
The veggie fried rice is an easy-making recipe in which you need to fry the mixture of veggies, add the white rice, and then season to get full-flavored fried rice.
Adding shredded chicken to the cooked creamy mushroom pasta is another way to create a perfect winter dinner recipe for your family members.
What you need to do is fry the chicken first until it gets well-cooked and the outside skin turns out to be golden-brown and crispy; shred the chicken, and then mix them to the blend of flavorful, creamy pasta to get the dish finished.
Adding chopped and well-seasoned mushroom is to make the dish more delightful and appealing to eat.
Noodles are an alternative for you if you don't want to consume much starch in the evenings. A warm bowl of chicken, noodles and various veggies will create an insanely good soup that is naturally sweet, aromatic, and heavenly.
Chicken noodle soup is always the best but the easiest option for winter holiday meals, especially on Christmas day.
Chicken and cheese loaded with rigatoni and then topped with garlic cream sauce will create a dish with heavenly flavor, tasty chicken, and long-lasting aroma.
Enjoying the dish with juicy and fresh salads is to make your meals more comforting and appealing. Moreover, pairing the dish with many other side dishes will support each other and supply your body with enough essential nutrients.
Ideal Bakes For Cold Evenings
If you love warm bakes to serve with salad or others, this zone is for you. Ideas about warm bakes never disappoint you with their taste and delight. Let's check the section below to know what you can use to get decent winter dinner ideas.
Warm cheesy and saucy chicken lasagna is another good dinner meal to welcome autumn and winter to your house. Many layers of chicken, veggies, and herbs will make a dense, thick, creamy, and tangy texture.
Serving the comforting texture alongside salad and garlic bread is to take the dish to a new level of deliciousness.
You can use up the leftover roasted or grilled chicken to form another good dish with this recipe.
Make the best version of chicken lasagna with this guiding video!
Making the Shepherd's Pie is not as complicated as you think. You just need to go through a few steps to get the dish done because this recipe requires many ingredients to form a dense, thick, and very tangy base.
Both preparing and cooking time is about an hour, so manage your time to cook the dish in advance to serve the recipe right after taking it out from the oven to get the best taste.
Another baking recipe is Cheat's cauliflower cheese. Cooking this recipe doesn't require a lot of time, like Shepherd's Pie. The estimated time to get the dish done is about half an hour with simple ingredients.
Compared with Shepherd' Pie, this bake is less creamy, so it's a fantastic idea for those who love a tender, thicken, and well-seasoned base with a flavor of cauliflower and breadcrumbs.
The dish is nothing but the perfect winter dinner idea for your children's interest. The hot-baked and marinated sausages harmonize well with baked veggies, creating a dish full of protein and vitamins for your body.
Moreover, the juiciness and delight from vegetables add hearty flavor to your whole dish. You can choose any veggies you like, from baby potatoes, brussels sprouts, broccoli, and carrots.
Mix cooked chicken, potato, and some seasonings, and then bake the mixture for about 25 minutes is what you do to get the bake finished, making the dish a perfect simple winter weeknight dinner.
Everyone will love your incredible recipe when you treat it to your family members together with green veggies or salads.
If your children don't like eating fresh veggies, try taking the use of veggies and chicken to create another favorite version.
The hot, creamy, and aromatic base make the casserole an excellent idea to serve in cold evenings.
Like another casserole, you should serve this bake with crispy fritters, potato chips, or salads if you desire.
Baking casserole with chicken and artichoke and spinach becomes easy and appealing with this guide:
Other Ideas For Winter Dinner
What else to eat on cold evenings besides warm soup, dishes full of starch, and bakes? Other recipes from salmon, pork chops, sausage, or lamb are also appropriate to serve on winter days.
Being rich in omega-3 fatty acids and protein, salmon always plays an important role in making flavorful and healthy recipes. Serve glazed lemon salmon fillets right after taking them out from the skillet.
Hot cooked salmon fillets with green or fruit salads will form a good meal for winter days in which you can get enough nutrients from protein, vitamins, and iron.
I think that no one dislikes this recipe when it comes to winter dinner ideas because the curry flavor is one of the most appealing flavors I've ever known.
The dish is loaded with various ingredients to form a dense and flavored texture. You can serve the recipe with white rice to raise the deliciousness of the whole meal.
Can't find any dinner ideas for your next romantic night? Just roast the lamb with potatoes and pair it with veggies or salad; you'll get yourself a restaurant-quality dish.
The roasted lamb is one of the traditional Italian recipes with a marinade of garlic and lemon. The fact is that the simpler the marinade, the better the flavor. I mean that when you marinate the lamb with simple seasonings, you'll get the naturally flavorful taste from fresh lamb.
Being a traditional dish in Spanish and British specialties, fried pork chops simmered with tender sliced apples give you another idea for cold dinner days.
Some pork chops with juicy applesauce by the side of a bowl of salad are all that you need for a meal in the evenings.
Is There Anything Fantastic To Serve As A Winter Dinner?
The article above gives you the 27 ideas to get wonderful dinners for cold days. Basically, they are classified into hot soup, bakes, pasta, and many other ideas. You can choose some options from the list to diversify your meals.
Do you have any other ideas for winter dinners? If the answer is yes, don't hesitate to share them with me by leaving the comments below. And if you think that my post gives you essential information, help me to spread it out.
Nutrition Facts
8 servings per container
---
Amount Per ServingCalories439
% Daily Value *
Total Fat 2.8g

5

%
Cholesterol 24mg

8

%
Sodium 340mg

15

%
Potassium 1784mg

51

%
Total Carbohydrate 72.4g

25

%

Dietary Fiber 17.1g

69

%
Sugars 4.3g

Protein 32.3g

65

%
---
* The % Daily Value tells you how much a nutrient in a serving of food contributes to a daily diet. 2,000 calories a day is used for general nutrition advice.