On a Wednesday night, people often just want to relax in front of their TV. But comfort should come with a warm dinner. And here I have for you 25 Wednesday dinner ideas that can get rid of all accumulated stress in your body and mind.
Some of those ideas are familiar recipes with a twist to liven things up, while others are dishes you may have never heard of. But, no matter what idea you choose, they can all blow your mind with their flavors!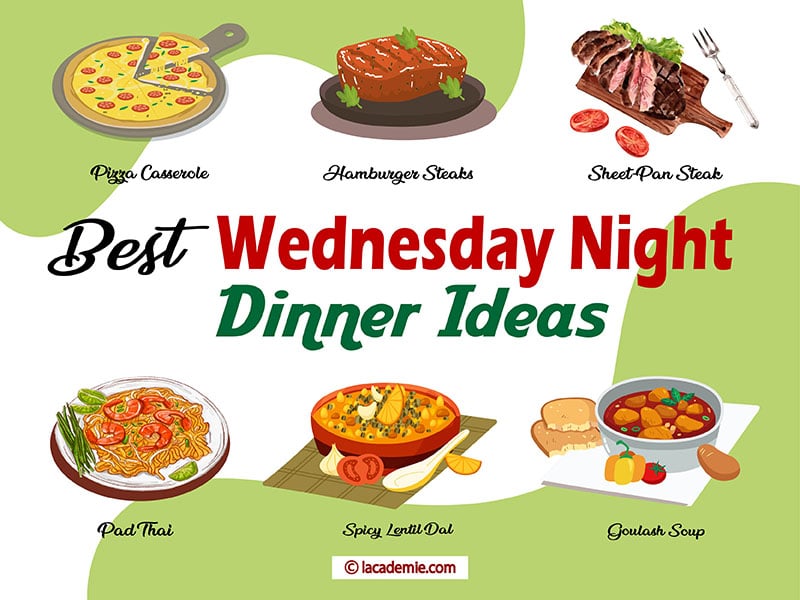 Here Are Top 25 Wednesday Dinner Recipes That You Should Try
I promise you these dinner ideas are all convenient for Wednesday night's slump. You can use them to get rid of all leftover foods in your fridge, or you can make more of them for other nights in the week.
Mac and Cheese
Goulash Soup
Butternut Squash Chili
Ribollita Soup
Spicy Lentil Dal
Sausage Stroganoff
Chicken Parmesan
Chicken Pot Pie
Chicken Ratatouille
Mughlai Chicken
Baked Pork Chops
Pork Schnitzel
Sheet-Pan Steak
Hamburger Steaks
Fried Ravioli
Pizza Casserole
Chicken Tetrazzini
Calzones
Swedish Meatballs
Tostadas
Taco Tomatoes
Moqueca
Eggs In Purgatory
Pad Thai
Pineapple Fried Rice
Why are you still hesitating? Keep on reading for detailed information!
5 Toothsome Wednesday Dinner Recipes Using Chicken
When it comes to convenient dinner, one of my first choices is always chicken. Why? It's because chicken is fast to cook, and you can season it to your liking. Not to mention, there are thousands of recipes having chicken in them.
Chicken Parmesan is probably a dish everyone is family with. Featuring fried chicken and marinara sauce with cheese, this staple food from Australian cuisine will capture everyone's heart. Who can say no to such an enticing dish?
For the chicken, the secret of a crispy coating is a double-dip in the egg mixture. The first is before coating chicken with flour, and the second is before the breadcrumbs. That ensures the flour and panko will stick to the meat.
As for the sauce, you can change the traditional marinara one with a rich lemon cream sauce for a tangy flavor, balancing the richness from fried chicken and melted cheese. Serve this with pasta or brown rice, and you'll have a filling dinner.
I know it's tempting to buy a frozen chicken pot pie and throw it in the microwave for your dinner. But with extra effort, you can have a much more delicious pot pie that the store-bought can't compare with.
However, making the crust from scratch is a real challenge if you are not a baker. So I recommend you buy a ready-made one for this part. For the filling, you can use anything, even the leftover chicken from the last dinner. Combine it with some vegetables in your fridge, and you have enough for your chicken pot pie.
Watch this video to know more:
If you don't feel like following the classic recipe for traditional Ratatouille, you should change it into a hearty dinner meal by adding chicken to the mix. Follow the recipe correctly, and the chicken meat will elevate the flavor of the original ratatouille instead of ruining it.
Despite being a French recipe, this chicken ratatouille doesn't require any luxury ingredients. Eggplants, zucchinis, bell peppers, tomatoes, onions, garlic, you can easily find all of them in any regular supermarket.
Sometimes you don't need to make your dinner right on the spot. Instead, you can prepare the nights before and just finish the last steps when you want to eat them. Mughlai chicken is one good recipe on this basis.
Mughlai chicken is a creamy curry from North India. For the best flavor, people often marinate chicken with Indian spices mixture overnight. However, if you don't have time or forgot to do so, you can just let the meat sit for half an hour.
Also, Mughlai chicken can taste even more delicious on the second day. So if you can't finish it in one go, make sure to refrigerate it properly.
Not sure what to have for dinner? How does chicken tetrazzini sound to you? Pasta, chicken, and cheese, those ingredients may sound weird together. However, you can never go wrong with them as they are all everyday foods that everyone has already cooked at least once.
And this chicken tetrazzini can't be any more simple since all you need to do is stir chicken, cheese, and pasta together. To enhance its flavor, you can use different cheese and sour cream in the cream sauce.
You should see the video below:
5 Simple Beef Dinner Ideas That Will Recharge You Immediately
After a long day working or studying, you must want some nutritious dishes to take back the used energy. And these ideas with beef are exactly the answer you're looking for.
Nothing can relieve you from the working stress as well as a hearty soup like this Goulash one. Consisting of all the simplest ingredients: meat, peppers, root vegetables, this soup has become a Hungarian signature dish thanks to its heat coming from paprika.
Original Goulash recipe uses beef, but you can replace it with either pork or chicken. Also, according to Hungarian traditions, Goulash soup tastes the most delicious if you cook it with your friends. So, why don't you invite some mates over and share stories while making this?
Another interesting fact about Goulash soup is that in Hungary, it is usually made by men. So husbands and fathers, don't be afraid. Let's get into the kitchen and try to cook this hot soup for your family!
You should see the video below:
You have to admit, cleaning all those dishes and pots and pans after eating can be more tiresome than cooking. But with this recipe, you don't need to worry about it because, you know, all is cooked in one pan only, which is easier to clean up.
Common choices to go with this mouthwatering type of steak are potatoes and asparagus. However, you can cook any ingredients you want, like green beans, onions, carrots, rosemary, or cheese. Then, eat them right when they're still piping hot.
Do you know Japanese people often make hamburgers for their dinner? Not those fast-food hamburgers, they're more like hamburger steaks. So, how about trying them in your dinner tonight? They match perfectly with rice and a simple soup.
What makes this dish so delicious is the gravy sauce coating the whole steak. With a bit of smoked paprika sprinkled in the beef patty, onions, and mushrooms in the sauce, these steaks can satisfy you to no end!
Watch this video to know more:
When talking about "meatballs", most people would think of the Italian version with rich tomato sauce. It's pretty decent for a dinner meal. But how about spicing things up with a new meatballs recipe – Swedish type?
Unlike their Italian partner, these meatballs are flavored with warm spices like nutmeg and allspice. I recommend cooking them on the skillet for an even brown look, but you can use a slow cooker to make them softer.
But these delicious foods from Swedish cuisine can't complete without their creamy gravy made with beef broth. You can serve them on pasta like regular meatballs. Other perfect choices are salads or steamed vegetables since they can soak up the gravy.
If you're on a low-carb diet, this dish is for you, especially when you want something fresh as a meal for a summer night. Leave out the tortillas, you have tomatoes as their substitute. Make sure you pick the large ones instead of cherry tomatoes.
For the rest of this recipe, you can do the same as when making a taco. Fill your tomatoes with ground beef, taco spices, and top with cheese or salsa. Those tomatoes are much healthier than regular tacos. And guess what, you don't have to clean any bowls or dishes.
6 Must-Try Pork Dishes For You To Cook On Wednesdays
While beef is pretty pricey to some people, pork is more budget-friendly. So when you want to limit your spending for a bit, pork is a decent choice. Not to mention, it's a versatile ingredient that can appear in different recipes.
Many know Stroganoff as a Russian dish with beef slices sauteed with a sour cream kind called smetana. However, in this recipe, I will replace beef with sausages for less time-consuming. You can either fresh or leftover ones.
As the main ingredient of this Stroganoff becomes sausages, make sure you choose ones with your favorite flavor. Slice them, then add mushrooms, bacon, tomato paste, and paprika into a sour cream sauce. That's it, your sausage Stroganoff is done!
Consider this dish if you are too tired to cook any complicated meal. It takes only five minutes to prepare and 10-15 minutes to complete. Pretty fast for a savoring dish, right? It's because these baked pork chops only require simple ingredients and seasonings.
After coating pork chops with your favorite spice mixture, put them in the oven to bake until they are thoroughly cooked. Remember that those with bones will take longer than boneless ones. You can eat this dish with a salad or mashed potatoes for dinner.
Don't hesitate anymore. Click right here to see:
What is schnitzel? Simply put, it's a side dish originating from German cuisine, consisting of fried meat. Usually, people will use a meat tenderizer to pound the meat and coat it with bread crumbs before frying. You can use any meat to make schnitzel. And in this recipe, I'll use pork.
After done frying, pork schnitzel will be served with potato salad, mashed potatoes, or rice. You can level up this simple dish by adding other seasonings to the bread crumbs, such as garlic powder, paprika, dried herbs, and so on.
Those bite-sized fried ravioli are suitable when you just want something to nip on while watching television at dinner. And no, it doesn't take long to make them, especially if you have prepared ravioli beforehand. One small note, just refrigerate these ravioli instead of freezing so that you don't have to waste time defrosting them.
For an authentic flavor, you should use Italian seasoned bread crumbs for the coating. However, regular bread crumbs mixed with Italian seasonings are a decent substitute if you can't find them.
Everyone loves pizza. Everyone loves pasta. So why not combine them for your dinner? With this recipe, even your children couldn't stop devouring. And you can even make more than your family's portion to freeze it for future use.
The standard choice for pizza casserole is rotini pasta, but you can change it with other pasta to your preference. Then, add your favorite pizza topping to this casserole, like sausages, bacon, dried tomatoes, mushrooms, etc.
Once in a while, a whole pizza is too much for one person. If that happens, let's try its cousin, calzones, for a change. Nothing changes in terms of ingredients. For calzones' filling, you can use the same pizza topping components: meat, tomatoes, olives, etc.
Prepare the dough just like making a pizza. However, put all the filling on only one-half of the dough. Then, fold the dough over, seal and coat it with an egg wash or olive oil. Now you only have to wait until all calzones in the oven turn brown for a delicious meal.
A Seafood Recipe For A Luxurious Wednesday Dinner
You've tried chicken, beef, and pork. But that list can't complete without mentioning seafood. With their lighter texture, seafood is suitable on nights you don't want something too heavy for your stomach.
After all the beef, pork, and chicken dishes, it's time to change to something new with this Brazilian fish stew called "moqueca". You just need to simmer any local fish quickly, in this case, whitefish will be the best choice, coconut milk, peppers, and tomatoes together to make this dish.
For a more complex version, you can search for the moqueca baiana, which is influenced by African cuisine. This recipe requires more ingredients like cilantro, bell peppers, palm oil, and so on. Whatever version, moqueca still tastes the best with a bit of lime juice and rice.
8 Vegetarian Midweek Meals That Are Delicious No Less Than Meat
When talking about vegetarian foods, some still think they are inferior to meat dishes. But I beg to differ. With these ideas, your dinner will attract even meat lovers.
Why reduce to using boxed mac and cheese when you can bake it yourself with just several minutes? And compared to the ready-made, the homemade sauce tastes so much better. Also, make sure you buy a fresh cheese block and grate it for your dish instead of using the pre-shredded.
It's because the latter contains various powders that prevent it from melting thoroughly, making your cheese sauce grainy. And you can elevate this humble mac and cheese by adding more ingredients. For example, a sprinkle of panko crumbs can make a crunchy topping.
When autumn comes, you are likely to be tired after long days at work. A butternut squash chili is a decent way to warm you up and recharge your energy. Meaty chilly may sound charming, but a chili pot full of vegetables can ensure your health in the long run.
And butternuts and squashes are as satisfying as any meat you can find. You can add various toppings to this dish for more flavors, like avocado chunks, cheese, or scallions. Reward yourself with a bowl of this chili and a wine glass.
It's already half a week, and you realize your fridge is full of leftover foods. You don't want to eat them again but throwing all the dishes away sounds wasteful. So, what can you do now? Let me help you with this Ribollita soup.
Classic Ribollita contains onions, carrots, celery, tomatoes, and leafy greens. From that, you can create your own version to your liking. It's also an excellent way to get rid of your day-old bread in the cupboard.
If you want a convenient dinner, take a look at this recipe! Dhal is an Indian soup, and you can prepare it quickly with your pressure cooker or stovetop. Remember to use the red lentils as you don't need to pre-soak them, reducing cooking time.
With all the warm spices, this lentil dhal is suitable for those who love the heat. However, if you can't handle the spiciness, add some yogurt, sour cream, or coconut milk into the broth to balance the flavor.
You should see the video below:
If you don't want to stick with all these fixed recipes, let's try tostadas! This Mexican dish can light up your weeknight dinner with its bright color. In case you don't know, tostadas are a dish containing toasted tortillas with various fillings.
You can see them like tacos with tortillas as a bowl. There are no precise rules for tostadas. You may make them in vegetarian style with beans, cheese, sour cream, lettuce, and onions. If you are a meat-lover, add any type of meat you like to this dish like chicken, pork, beef, shrimp, crab, tuna, and many more.
You can also make tostadas for a party with your friends and let them make all the versions to their likings.
You will like it!:
This dish may sound gruesome, but its taste is like heaven on Earth. Actually, this name comes from its appearance as Italians think the poached eggs in tomato sauce represent human souls in purgatory.
Though tomatoes play a crucial role in this dish, you don't need to buy the most expensive ones. Either fresh or canned ones will do just fine. In addition, you can add chickpeas or spinach to this dish for a more satisfying feeling.
You should see the video below:
If you've ever tried pad Thai, you can't easily forget it. And though various Thais restaurants offer take-aways, it's a better choice to save that money and make one yourself. Why? It's because you can choose whatever you want to put in the pad Thai.
Aside from some traditional ingredients like dried shrimp, tamarind, bean sprouts, and fish sauce, you can make pad Thai with any toppings, from meat to veggies. Fish sauce is pretty hard to find, but you can buy it in Asian grocery stores.
Rice is a typical Asian dinner dish, but regular fried rice can turn dull after eating the same recipe numerous times. So why don't you make a twist by adding fruit, pineapple in this case, to it? Sour-and-sweet pineapple chunks will complement other foods in the fried rice.
Use the pineapple shell as a bowl for an impressive look. It also helps you get away with cleaning bowls and dishes afterward. If you can't buy a fresh pineapple, a canned one is a decent replacement, though its sourness can be a bit lower.
Watch this video to know more:
What Are You Going To Make For Dinner This Wednesday?
Although it's only in the middle of the week, you can still invite your friends over and serve them with these dishes. Foods taste better with someone else, and you feel more comfortable after sharing all the stressful stuff with your mates. And it doesn't hurt to have some extra helping hands.
So what dishes do you want to try the most? Do you have any other ideas for Wednesday dinner? Feel free to share all your thoughts in the comment section below. And if you think this article helpful, please share it with your relatives.
Nutrition Facts
4 servings per container
---
Amount Per ServingCalories531
% Daily Value *
Total Fat 32.5g

50

%
Cholesterol 109mg

37

%
Sodium 1486mg

62

%
Potassium 146mg

5

%
Total Carbohydrate 28.7g

10

%

Dietary Fiber 1.7g

4

%
Sugars 2.4g

Protein 32.2g

64

%
---
Calcium

106

%
Iron

2

%
Vitamin D

4

%
* The % Daily Value tells you how much a nutrient in a serving of food contributes to a daily diet. 2,000 calories a day is used for general nutrition advice.