The question of what fancy dinner recipes to cook for tonight will no longer be a challenge for you anymore. Every time you want to treat your family to a restaurant-quality dish, there will be tons of ideal options coming into your head after reading this article.
From simple and easy-to-prepare meals to complicated ones, you can find all your needs in the below list. They will meet all your needs. You can have 100% confidence that what you acquire from this post will be useful enough to enrich your dinner menu.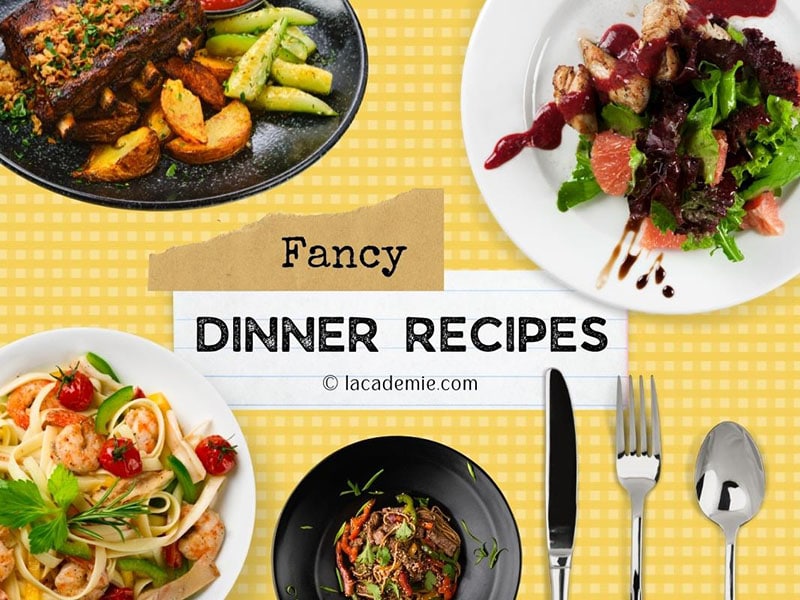 32 Delightful Recipes To Make Your Dinners Fancier Than Ever
If you are struggling every night to find a good option for your next dinner, you have come to the right place because everything you need is in this post. Delicious, flavorful, luxurious, these below delicacies will delight you magnificently.
Total time: 14 minutes.
Known for its rich and flavorful taste, Chilean sea bass is a high-quality fish coming from Southern Ocean water. Because this type of fish is so expensive, it often appears on the menu of fancy seafood restaurants.
Chilean sea bass gives this dish a flaky and pleasantly firm texture. Moreover, it offers some great health benefits thanks to the content of protein and Omega-3 fatty acids.
While honey adds a slightly sweet flavor to this delight, red crushed pepper gives it a spicy taste. As you know, Chilean sea bass pairs well with spices, so the taste of this fancy air fryer recipe will please you.
If you want to acquire the best quality of this dish, you should let your fish be at room temperature for about 20 minutes before cooking. This step will help your fish cook more evenly.
Total time: 1 hour 5 minutes.
Do you want to enjoy a French-style dinner? If yes, Julia Child's Coq Au Vin is the best choice for you. Coq Au Vin simply means "rooster in wine" and that's why chicken and red wine are the indispensable ingredients in this recipe.
Besides the two above components, you need to prepare bacon, brandy, and a variety of fresh herbs. Although the recipe contains many ingredients, it just requires 1 hour and 5 minutes to complete.
The inclusion of red wine keeps your chicken moist and gives your dish a robust and distinct taste. Moreover, this delicacy acquires an amazingly aromatic flavor from fresh herbs, creating a luscious dinner.
This guide will help you have a perfect Julia Child's Coq Au Vin dish for dinner.
Total time: About 1 hour 40 minutes.
Risotto is a traditional Northern Italian dish made with short-grain rice varieties. The word "Risotto" takes from the Italian word "riso," meaning "rice." In this version, you will create a fancy dinner from creamy Risotto and other ingredients.
To get the best taste of this delight, you have to succeed in making Risotto. You will cook rice with white wine and some other spices. During the cooking, gradually add warm water to the rice until the rice has completely absorbed the liquid.
Keep in mind that you shouldn't add too much water at one time or turn up the heat too high to quickly run out of liquid. This will break the texture of your dish, and the Risotto can't achieve a deliciously creamy consistency.
After the Risotto is ready, just top your dish with juicy and sweet roasted shrimp and parmesan. Parmesan gives your dish a fruity and nutty taste. Parsley adds a peppery hint to this treat. Enjoying it with a glass of white wine will make it more addictive.
Total time: 30 minutes.
Piccata describes a cooking method in which you have to slice your meat (chicken or veal), and then dredge it in flour, and finish your delight by sauteing the meat. It sounds simple, right? And the way you make this Chicken Piccata is also simple as described.
Besides the chicken as the main protein, the lemon butter sauce with capers will give your dish a tart flavor, creamy texture, and a buttery hint. Regarding which side dishes to accompany chicken Piccata, pasta and salad are the best choices.
Total time: 1 hour 35 minutes.
If you are looking for a hearty dish for Monday dinner, don't hesitate to give Eggplant Parmesan a chance. The cheesy gloriousness of this delight will make you want to stay in the kitchen for longer.
Absorbing the moisture of eggplants before frying is the key to getting this delight's best quality. You just need to sprinkle a little salt over your eggplants and place them on the baking sheet.
After about 1 hour, you will see the moisture breeding up on the surface of your eggplants. Your task right now is to dry them and brush off excess salt. Instead of a slimy and soggy texture, these eggplants will give you an almost meaty consistency.
However, I don't encourage you to make this delight in advance because the liquid left in the eggplants will make your dish mealy and soggy over time. You should fry your coated eggplants as soon as possible.
You will get to know how to make the perfect Eggplant Parmesan through this guide.
Total time: 15 minutes.
Go to the restaurant for a hearty seafood delight or enjoy a fancy dinner at home with your beloved ones? This is your choice but you should make the decision after learning about this Broiled Lobster Tails With Garlic Butter Sauce recipe.
Butterflying the lobster tails and making the sauce are what you need to finish for this delicacy. Creamy butter on top offers your lobsters a buttery and sweet flavor. However, butterflying the tails will neglect the flavor and moisture that the shells provide.
Therefore, you can also cut the middle of the shell but keep the meat inside to maintain the moist texture of your lobsters. This way will take you a little bit longer. Don't forget to make the buttery and spicy sauce with garlic, and butter to enhance the flavor of your treat.
Total time: 30 minutes.
Impress your friends with this Italian Flank Steak Pinwheels delight! This is a nice combination of flank steak, pepper, and salami (a cured sausage originating from Italy), and provolone cheese (an Italian cheese made from cow's milk).
All you need to do is to stuff your flank steak with salami and provolone, then roll the steak into a log. The next step is to tie the roll tightly and bake your steak.
While parsley brings a peppery taste with a hint of earthiness to your dish, provolone cheese lends your dinner a rich and salty taste. These flavors will blend together and create a perfect flank steak when baking.
Total time: 15 minutes.
Want to enjoy a restaurant-quality delight at home in just a few minutes, call for Pan-Seared Lemon Garlic Butter Scallops and they will satisfy your hard-to-meet needs. This delicacy is flavorful, easy to make, and delicious.
All you need to do is fry your scallops until they are golden on both sides and remain opaque in the center. Next, create the sauce with melted butter, tart lemon juice, and rosemary.
Add your scallops to the sauce and you can enjoy your fancy dinner. White wine also imparts a citrus taste and an aromatic hint of florals to your dish, making it more irresistible.
Total time: 30 minutes.
A Cordon Bleu is a dish of meat stuffed with cheese. Chicken Cordon Bleu uses chicken for meat and I'm sure that this delight will become a new family favorite dinner for you. It's crispy, creamy, and delicious.
Tender chicken breast, savory ham, Swiss and Parmesan cheese, and bread crumbs come together in this recipe. If you are following a gluten-free diet, you should consider choosing gluten-free bread crumbs and deli ham for this delight and don't need to worry about other ingredients.
You can use an air fryer or an oven to bake your Chicken Cordon Bleu. Remember to adjust the temperature and time to get the best quality of chicken. However, if you want to get a perfectly crispy bread crumb, an air fryer is the best choice for you.
How to make this Chicken Cordon Bleu? Check this for the answer.
Total time: 5 hours 15 minutes.
Have you ever heard about Beef Bourguignon? If not, this recipe is a real twist for you. Beef Bourguignon or Beef Burgundy is simply the perfect blend of beef, carrots, and bacon, in rich red wine gravy.
Using the slow cooker will help you have a delicious version of this dish with minimal effort. It's meth-in-your-mouth, comforting, and healthy. It is a good partner with rice and mashed potatoes or you can use crusty bread to utilize your delicious gravy.
Remember that red wine is the key factor in this recipe. Therefore, you should choose a high-quality type of wine. It's best if you can use Burgundy as in the traditional version. However, you can also use a Merlot (a type of popular red wine in America) instead.
For a chunkier stew, you can add mushrooms and reduce the amount of beef. Moreover, you can add your favorite veggies like bell pepper, aubergine, and courgette to create a more colorful stew.
Total time: 35 minutes.
Mustard And Herb Crusted Rack Of Lamb is tender, juicy, and herbaceous. Moreover, it is a perfect option for those following a gluten-free diet or a keto-friendly diet. This delight goes well with mashed potatoes, roasted cauliflowers, and green beans.
As the pivotal ingredient of this dish, the rack of lamb plays an important role. If you buy a low-quality lamb rack, this will ruin your delight. Therefore, you should buy ones with a brilliant red hue and firm white fat throughout. Don't choose lamb rack old with the dark red.
While dijon mustard gives your lamb a unique and savory taste, the inclusion of rosemary adds an aromatic and pungent flavor to your dish. What are you waiting for? Give this fancy treat a chance to refresh your dinner!
Total time: 30 minutes.
In just 30 minutes, you will have an ideal dish for a summer dinner to treat your family or even to wow your friends. You should prepare salmon filets, creamy spinach artichoke dip, and mozzarella cheese (a smooth-textured Italian cheese).
As you might know, salmon is one of the healthiest fish in the world. It is packed with a good source of protein and Omega-3 fatty acids. Therefore, this dish is a good option for a healthy lifestyle.
Never forget to prepare the lemon garlic sauce for this delight. It's spicy with a tart flavor. You just need to pour it over your salmon when your salmon is ready to serve.
The pairings for this Spinach Artichoke Stuffed Salmon are countless. You can serve it with steamed rice, sauteéd green beans, steamed asparagus, and cheddar mashed potatoes to enhance your experience.
Total time: 3 hours 20 minutes.
Red Wine Braised Short Ribs contain bone-in short ribs, tomato paste, wine, and beef broth. Although bone-in short ribs are the ideal ingredient in this recipe, you can completely replace them with beef tips or boneless short ribs.
When finishing cooking, if your sauce is too watery, you can use cornstarch to improve its texture, making it more balanced and thicker. From its name, you can guess that red wine is necessary for this recipe.
However, it is a fact that most alcohol evaporates while cooking and it only helps your dish have a richer flavor. Therefore, you can omit red wine if you don't like it and replace it with beef broth.
Your result is perfectly tender and flavorful. To keep your taste buds happier, you can pair the dish with mashed potatoes, bread, or fresh veggies.
This instruction will show you the best way to make Red Wine Braised Short Ribs.
Total time: 2 hours.
Beef Wellington is a steak dish of English origin made to honor the first Duke of Wellington, Arther Wellesly, and his victory at the Battle of Waterloo in 1815.
To make this delicious dish for a hearty Sunday dinner, you have to prepare beef tenderloin, duxelles, prosciutto, and puff pastry. They are in order of the 4 layers of this delight. They work well with each other to keep your beef moist and flavorful.
For those unfamiliar with the terms, duxelles is a finely chopped mixture of mushrooms, onions, and butter, giving your dish a buttery taste. Prosciutto is an Italian word indicating any kind of ham.
You can make Beef Wellington ahead of time (up to 24 hours) by completing all the steps except for rolling out the puff pastry. If you do it, your dish can go soggy while storing and you can't get the best taste of this dish.
Total time: 1 hour 35 minutes.
Are you interested in a crispy Honey Roast Duck served with vegetable mash, roast potatoes, or cauliflower cheese? Just imagine this scene is enough to make your mouth water, right?
Let's start with squeezing a little orange juice inside the duck. This step will help your meat acquire a natural balance of sweetness and acidity from orange juice. After that, you can begin to bake your duck.
However, you should bake the duck at a high temperature first (430 degrees F) to get a perfectly nice and crispy texture. Then decrease the temperature to 370 degrees F and bake for 40 minutes more.
Finally, you can sprinkle honey and thyme leaves over your meat and continue to bake until the duck is fully cooked.
Remember that honey gives your dish a sweet taste and helps your duck's skin get crispy. You can also substitute thyme for rosemary in this recipe. Both of them work equally well in this case.
Total time: 2 hours 45 minutes (excluding the marinating time).
When mentioning a beef dish for a fancy dinner, Texas Roadhouse Prime Rib is a must. Although this delight takes you a long time to make ahead, trust me, the result will deserve your time and effort.
For making the marinade itself, you just need to mix kosher salt, garlic, soy sauce, and pepper, and then place it in the fridge overnight. Next, marinate your ribeye and continue to store it in the fridge for a night.
When your meat has evenly absorbed the seasonings, baking is, of course, the final step to finishing this delicious treat. Your result is juicy, tender, and amazingly delectable.
Keep in mind that don't cut your ribeye right after taking it out of the oven. This will help the juice inside settle, and the taste will be better.
Total time: 40 minutes.
This Bacon-Wrapped Pork Tenderloin recipe uses pork tenderloin, bacon, jalapenos, and honey. Jalapenos give your dish a slightly smoky and richer taste. However, you can skip this ingredient and this won't affect the quality of this delight much.
The inclusion of honey adds a sweet flavor to your pork. Furthermore, it provides your dish with a nice glaze. Maple syrup is also suitable but it won't leave a beautiful effect like honey.
To make sure your pork is completely cooked, you can use a thermometer to check the inside temperature. When the inner temperature reaches 145 degrees F, it means your pork is ready to serve. Remember to let the result rest for about 10 minutes for the best taste.
This dish is crispy on the outside but retains a soft and juicy texture in the center. You can serve this wonderful delight with rice, beans, mashed potatoes, and mashed cauliflowers to suit your taste better.
Make this Bacon-Wrapped Pork Tenderloin to treat your family right now.
Total time: 1 hour 30 minutes.
Fresh or pasteurized lump crab meat is the best option for this recipe, but you can replace it with frozen lump crab meat. However, you need to frost it completely before making this delight. I don't encourage you to use canned crab meat as the texture and flavor will disappoint you.
The combination of eggs and mayonnaise act as a binding ingredient to hole crab cakes together. Moreover, mayonnaise helps your cakes creamier and adds a bit of tang to your results.
These deep golden brown cakes are very easy to prepare. You can also make them ahead and store them in the refrigerator for a maximum of 4 hours before baking. These baked goods go well with potato salad, rice pilaf, or coleslaws for a more fancy dinner.
Total time: 1 hour.
Inspired by Caprese salad, an Italian salad, this Baked Caprese Chicken recipe is filling, juicy, and melt-in-your-mouth. It is an ideal option for a romantic and fancy dinner for two. Is it interesting, right?
When it comes to cooking this delight, you need to marinate the chicken with Italian seasoning, balsamic vinegar (a slightly sweet, dark, and rich vinegar), and olive oil. Next, let your chicken absorb the flavor for at least 15 minutes.
All that remains is to bake your chicken with tomatoes and mozzarella balls until you get a juicy and tender texture. Don't forget to prepare a glaze with balsamic vinegar to add more flavors and colors to your delicacy.
You can store it in the fridge for 4 days. Just reheat your dish at 350 degrees F for about 10-15 minutes and it will be ready for you to serve.
Total time: 30 minutes (plus 1 day of marinade time).
The name Fajitas comes from the Spanish word "faja," which means "belt." Therefore, you can understand that "Fajitas" refers to "little strips." This Grilled Chicken Fajita is a nice combination of juicy chicken breasts with a tasty chipotle marinade.
It's not exaggerating if you say chipotle marinade is the heart of this dish. However, the way to make it is even easier than what you might think. You need to combine all the ingredients such as chipotle peppers in adobo sauce, garlic, tomato sauce, etc. in a food processor.
This creamy sauce lends your delight a smoky, and slightly spicy taste. After finishing this sauce, just marinate your chicken and bake it. A crispy fruit rosé like a fruit Grenache or a fruity Beaujolais is the perfect accompaniment for this delight.
Total time: 1 hour.
Whether you are cooking with someone special or for your whole family, this homemade Pasta will lend itself to some togetherness in the kitchen. All-purpose flour, olive oil, salt, and eggs come together in this delight.
Eggs and olive oil are very important because their combination will keep the dough moist and hold it together. During the process of making Pasta, if your dough is dry, add a little water. On the other hand, add more flour to balance the texture.
This homemade paste is even more delicious than any other type of pasta sold at the store. Give it a try and serve your chewy and al dente result with parmesan cheese, marinara sauce (a tomato sauce), and pesto (a green sauce in Italy).
Follow this guide to have the perfect homemade pasta for your next dinner.
Total time: 35 minutes.
Marry Me Chicken derives its name from the way the ingredients included in this recipe "marry one another " and their harmonious blend among them. Consisting of chicken breasts, sun-dried tomatoes, and parmesan cheese, this delicacy is delicious, juicy, and flavorful.
This recipe uses chicken breasts but you can choose boneless chicken thighs or bone-in chicken thighs as a replacement. However, remember to adjust the baking time because they will take more time to cook.
If you don't have chicken stock, you can replace it with vegetable stock or white wine. Moreover, adding your favorite veggies like mushrooms and spinach is acceptable in this recipe.
Total time: 20 minutes.
There is nothing better than a quick yet restaurant-quality dinner made at home! And Sirloin Steak With Fresh Herbs is a typical example. In just 20 minutes, it will bring a delicious dinner from the restaurant to your home.
First of all, you need to make the sauce with parsley leaves, rosemary leaves, and red wine vinegar. While red wine vinegar lends a distinct tangy and slightly sweet flavor to your sauce, parsley gives it a peppery note, incorporating it well with your steak.
The next step is to cook a boneless sirloin in a non-stick skillet until you get the desired doneness of your steak. Everything is ready and now you can enjoy your luscious dish.
Total time: 40 minutes.
To achieve the best texture of this delight, you should choose the pig loin or rib chops with a thickness of 1 inch to 1.5 inches. This size range will help the meat have the desired moisture and not dry out after cooking.
When it comes to cooking this dish, you need to fry your pork chops until they turn golden brown. After that, you can make the gravy with mushrooms, onions, and flour. Onions add a depth of flavor to your gravy. Your resulting gravy is rich and creamy.
At this time, you can add chicken broth and your pork chops to the gravy and simmer for a few more minutes. Your completed dish is juicy and delicious, making a suitable pairing for rice, cornbread, or veggies such as salads, and peas.
Total time: 1 hour 5 minutes.
Originating among the Muslims of the Indian subcontinent, Biryani is a popular dish in South Asia made with rice, meat, and Indian spices. This Chicken Biryani recipe will help you experience the wonderfully aromatic and flavorful note of Biryani.
Basmati rice (a variety of long, slender-grained aromatic rice in India) is, of course, the most important component in this recipe. Preparing rice is also very easy but don't forget to salt your rice before cooking. This step will help your rice get the best quality.
An interesting thing about this recipe is that you can make any variations you like without worrying about the taste. Just add a bit of green chili, raisins, or cumin seeds depending on your preference. You will fall in love with this delight at the first bite, trust me!
Total time: 40 minutes.
Known as a Swiss melted cheese dish, Cheese Fondue contains Swiss cheese, flour, dry white wine, and kirsch (a clear colorless brandy made from distilling sour cherries). It is delicious, creamy, and extremely easy to prepare.
First of all, you need to coat your cheese with flour. Next, heat your white wine and gradually add lemon juice and your prepared cheese mix to the wine mixture. Remember that you have to simmer your fondue sauce over low heat.
If your sauce is too thick, you can add a little heated wine to balance the texture and acquire a smooth consistency. White wine plays a key role in making this dish, improving the texture of your sauce.
Don't miss the combination of this Cheese Fondue with a piece of nice sourdough bread, any of your favorite veggies, pears, or even apples. This will bring your experience to a new height.
These instructions will help you have a mouthwatering Cheese Fondue to enjoy.
Total time: About 45 minutes (excluding the chilling time).
Instead of going to the restaurants to savor these Roasted Oysters, you can make them with your loved ones at home to create a warmer dinner. You should soak your horseradish with vinegar and store this mixture for at least 2 hours before preparing this dish.
After that, you should create the bacon mixture with ground bacon, panko (a Japanese style of breadcrumbs), and other spices. Use a portion of this bacon mixture to make small round butterballs.
Broiling your oysters is, of course, the final step, right? Remember to top your oysters with your prepared butter and bacon strips. When the butter forms a dark, crispy crust, your dish is ready to serve. Let's enjoy your rich and briny delight!
Have you ever heard about sous vide? Sous vide is a low-temperature cooking method that literally translates into "under vacuum" in English. In this method, you have to place your meat in a vacuum-sealed bag and cook it slowly in temperature-controlled water.
Yes, you will use this cooking method to make this Classic Beef Chateaubriand. Simply put, Chateaubriand is a delicious dish that will impress you with a mild, delicate beef flavor and incredible tenderness. Interesting, right?
Thyme gives your Chateaubriand a minty hint. Besides, garlic boosts the spicy taste of your dish. The perfect blend of the two herbs helps your beef not only have a wonderful texture but also possesses an amazing flavor.
Total time: 2 hours 25 minutes.
Let's continue the culinary discovery journey today with one of the most popular specialties in India, Chicken Tikka Masala. It's easy to prepare and brings you a perfect taste. Chicken Tikka Masala is tender, spicy, and perfectly creamy.
You should begin by marinating your chicken for at least 1 hour to make sure your chicken is well seasoned. Next, make the sauce with garlic, ginger, and tomato sauce, and simmer for 30 minutes on low medium heat.
When your rich and creamy orange-colored sauce is ready, you can add your cooked chicken to the sauce and enjoy it with basmati rice. Don't skip the caramelization process if you want to enhance your dish in both appearance and flavors.
Total time: 2 hours.
Do you like the feeling of sitting in a luscious restaurant to enjoy a delicious dish and sip a glass of wine? This Instant Pot Lamb Shanks recipe will make your dream come true. It's juicy, tender, and amazingly flavorful.
Red wine is the main flavor booster, intensifying the flavor and aroma of your dish. Although it's important, if you don't like using alcohol in this recipe, you can replace it with beef broth and Worcestershire sauce (a fermented condiment made from a base of vinegar).
Before cooking, you should remove the excess fat left in your shanks to make sure your sauce won't be fatty. If your sauce can't get the thick texture as desired, you can add more water slurry or cornstarch to enhance it.
Feel free to add some other veggies such as baby potatoes, celery, carrots, and mushrooms to make a fun twist for your dish. Serving this treat with creamy mashed potatoes or veggies to suit your appetite better.
To make the best Instant Pot Lamb Shanks, check this tutorial.
Total time: About 1 hour 30 minutes.
As you know, lasagna is a type of pasta made of very wide, flat sheets. Let's see how this ingredient works well with other components to create a fancy dinner. This recipe uses beef but you can utilize pork or turkey left in your kitchen.
Moreover, you can make a meatless version of this Lasagna by replacing meat with any of your favorite veggies, such as frozen spinach.
Ricotta cheese, mozzarella cheese, and parmesan cheese come together to provide a rich and layered flavor. The blend of these cheese with pasta sauce keeps your delight moist and delectable.
As the name suggests, you don't need to boil lasagna before cooking. To complete this dish, you simply assemble your lasagna with the prepared ingredients and bake your dish until bubbly.
Total time: 35 minutes.
Chicken Scarpariello, also called shoemaker's chicken (because the word "Scarpariello" means "shoemaker-style"), is an Italian-American dish. This is a savory delight that goes perfectly with pasta and a slice of rustic bread.
Let's start with searing the chicken until it gets a brown crust. I choose skinless and boneless chicken thighs instead of chicken breast in this recipe because these parts will be more juicy and flavorful after cooking.
Make a briny, sweet, and sour pan sauce with lemon juice, butter, oregano, and garlic for your chicken. All that's left is to add cooked chicken and sausage. Serve your wonderful dish with pasta and a slice of rustic bread to keep your taste buds happy.
Make A Fancy Dinner To Wow Your Taste Buds Right Now!
When you have great cooking ideas, cooking will become more enjoyable for you than ever, right? And I hope that the delicacies I have shared with you in this post will help you be more excited about this job. You deserve to enjoy scrumptious food to end a long day.
Finding a good option for dinner is not your own problem. So, why don't you share this post to help those around you get more ideas for their dinner? Remember to leave a comment to let me know your thoughts about these recipes. Thank you!
Nutrition Facts
2 servings per container
---
Amount Per ServingCalories530
% Daily Value *
Total Fat 21g

33

%
Sodium 453mg

19

%
Potassium 64mg

2

%
Total Carbohydrate 36.8g

13

%

Dietary Fiber 1.5g

6

%
Sugars 35.3g

Protein 51.1g

103

%
---
* The % Daily Value tells you how much a nutrient in a serving of food contributes to a daily diet. 2,000 calories a day is used for general nutrition advice.