There are many different types of steak with various flavors and textures. If you like a melt-in-a-mouth texture or a bit of chewiness in your meal, all the following kinds of steak will suit your taste.
Each part of a cow requires a unique culinary method to process it, such as seasoning or tenderizing. The outcome is the best savory experience for you and your beloved ones. It's time to unfold the myth of all steak types. Here are some of the most common steak types globally.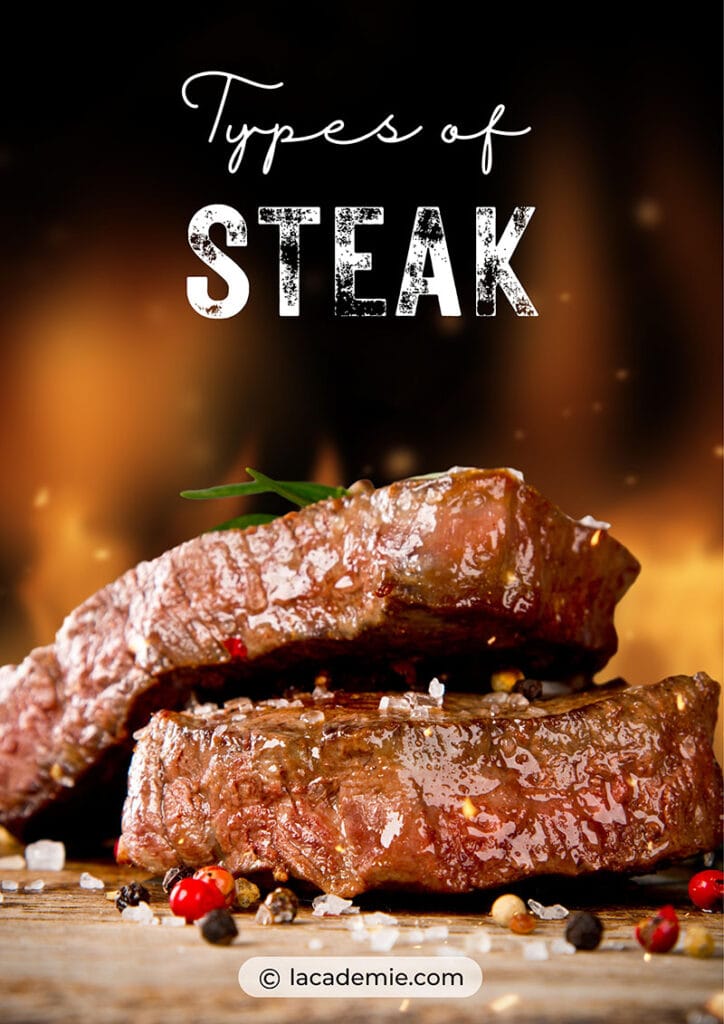 18 Types Of Steak For A Juicy And Tasty Meal
Although beef and steak have some gaps between them, people often categorize steak according to beef cuts. And the list below also does the same.
You don't have to wait any longer, the upcoming steaks are coming for you! Sit tight and keep scrolling to explore them!
1. Ribeye Steak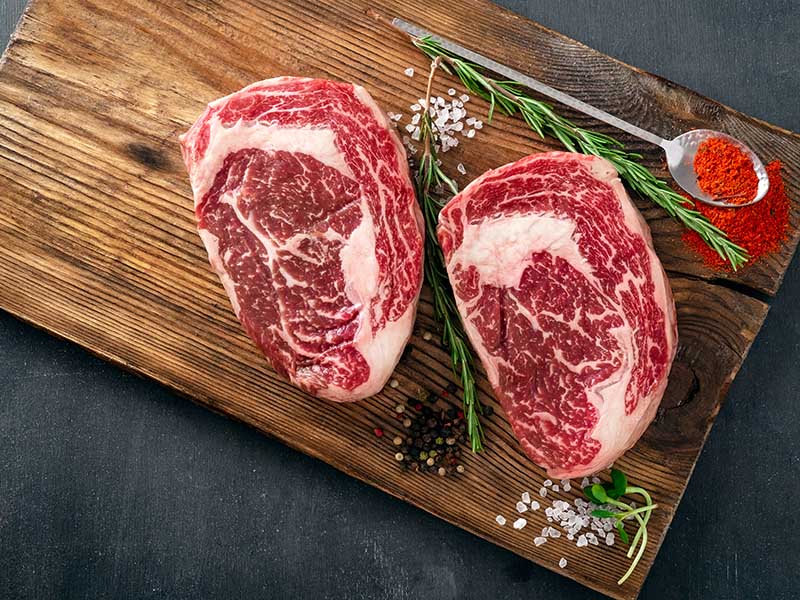 Beef is a popular kind of red meat often processed to have a fantastic steak dish. Ribeye steak is a boneless rib steak sliced from the cow's rib section. This section is located from the hip bone to the shoulder blade of the beef animal.
A fun fact is that the term Ribeye is a boneless steak in the US, but in other countries, it is a bone-in cut.
Ribeye steak is made from the soft muscle on the back of the cow, a part that doesn't move a lot. This part also has marbling, a type of fat that gives the steak moisture and a rich taste. In fact, this steak is one of the richest cuts available.
The chef often cooks Ribeye steak quickly on high heat (grill, cast-iron skillet, or broiler). This way, your steak will have a crispy brown outer layer with a juicy and tender interior. The fat content of the steak helps avoid it from drying even when you overcook it.
If the Ribeye cut is around 3 to 4 inches across with muscle blobs covering it, it must come from the chuck end. When the cut is about 6 or 7 inches across that has a crescent-shaped cap, it is from the rib's loin end of the rib's center.
When the Ribeye cut is from the area underneath rib bones, it has a triangular muscle strip and is often called 'the lip'.
Here is how to have a perfect Ribeye steak cut.
2. Sirloin Steak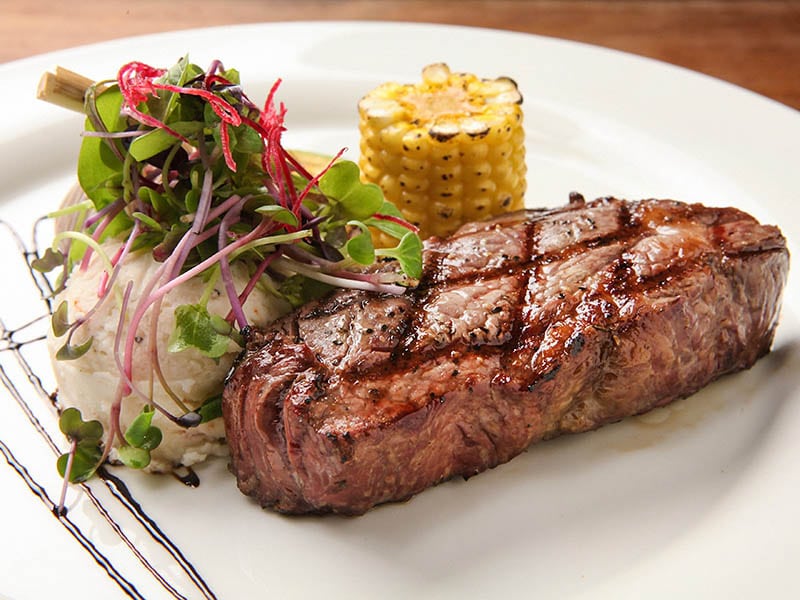 Sirloin steak is a tasty cut from the subprimal posterior toward the short loin part. The two most common boneless cuts of the Sirloin part are the Top Sirloin and the Bottom Sirloin.
The Top Sirloin is highly prized for its soft texture with less quantity. In contrast, the Bottom Sirloin is cheaper with a less tender texture and larger available amount.
In British, Australia, and South Africa, Sirloin refers to the cut from the American short loin. The American Sirloin is usually called 'the Rump'.
Sirloin Steak is an excellent choice for high-heat grilling. However, you should not over-cooked the meat because it could turn tough and dry when the temperature is over 145oF. Just marinate the meat and cook to perfection; the juicy interior will wow you.
3. Hanger Steak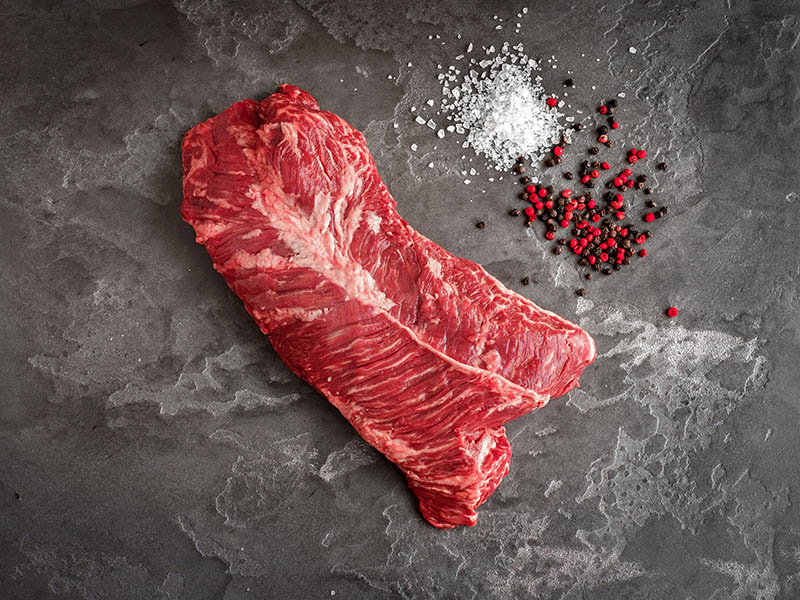 Hanger steak belongs to the flat steak type, just like the flank and skirt steaks but tender. This steak 'hangs' between the beef loin and ribs. The steak has an incredible amount of marbling fat, making the meat richer, tender and juicy.
People often cook the meat (grill or pan-fry) to medium-rare at around 125 and 130oF in a short amount of time. Before cooking, you can tenderize Hanger Steak with a strong-acidic content marinade (vinegar, wine, or citrus juice) and boost the entire dish's flavor.
You should also sear the steak on high heat for a perfect texture and taste. The steak has a great reddish color when it is fresh. But if you wonder whether your steak is bad, you can touch the steak to see if it has a slimy cover or not. If yes, the steak is appropriately in bad condition.
You can store Hanger Steak in the freezer for up to three months without any sign of deterioration. The meat can stay fresh for around three days in the refrigerator with an additional day if marinated.
4. Chuck Eye Steak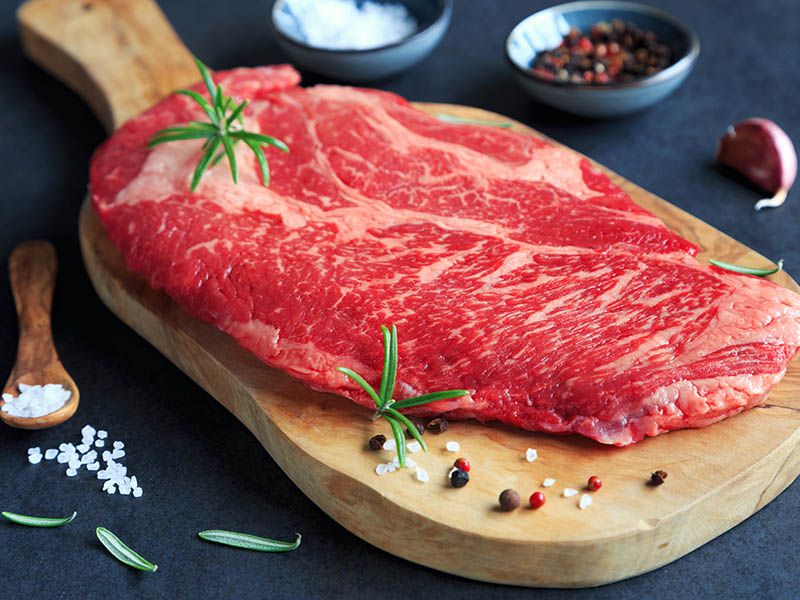 On the upper shoulder of the cow, there is delicious meat cut into a Chuck Eye. This meat comes from the fifth ribs of cow tender Ribeyes. Therefore, the Chuck Eye has many features of a Ribeye.
This steak was considered a 'poor man's Ribeye' as it is cheap with balanced juiciness and beefy flavor. A steer (bullock) only gives one or two Chuck Eye steaks.
You can sear, grill, or broil the steak at 140 to 145oF. Don't cook the steak past the medium level of doneness as the texture will be really tough and chewy.
What is exactly a Chuck Eye steak? Let's find out!
5. London Broil Steak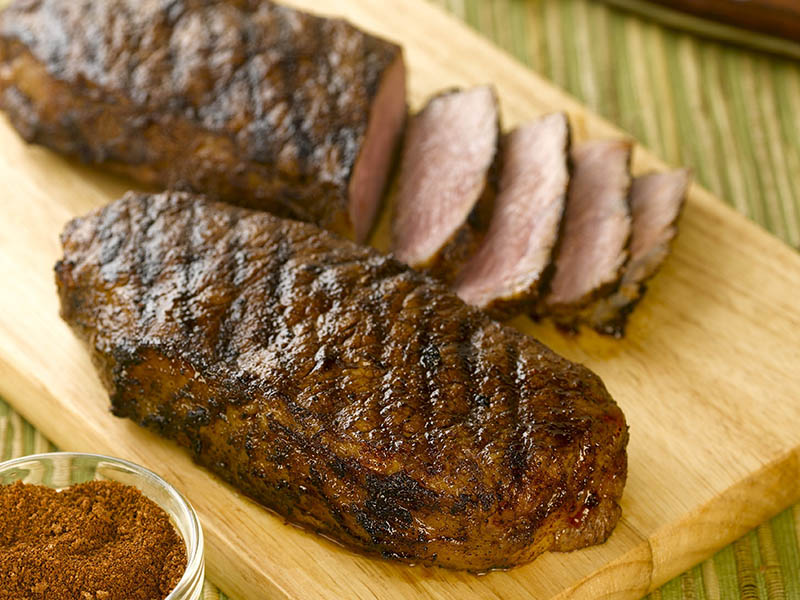 Unlike what its name suggests, this is a specialty from America. London Broil steak is a cooking style by broiling the well-marinated beef, in which the chef cuts the steak into tasty slices.
The steak is the top-round cut from the cow's rear. Some butchers sell Flank steaks under the London Broil steak label, so you need to clarify this with the seller.
This is a perfect leftover steak dish to use up any frozen meat in your freezer. The steak should be lean with a sufficiently tough texture to marinate (use acidic marinade for tenderizing the meat).
Then, the chef will grill or broil the steak depending on the order. It is often cooked to medium rare for the best savory experience. Before serving, the chef will slice across the grain for a perfect softness in each piece.
6. Tomahawk Steak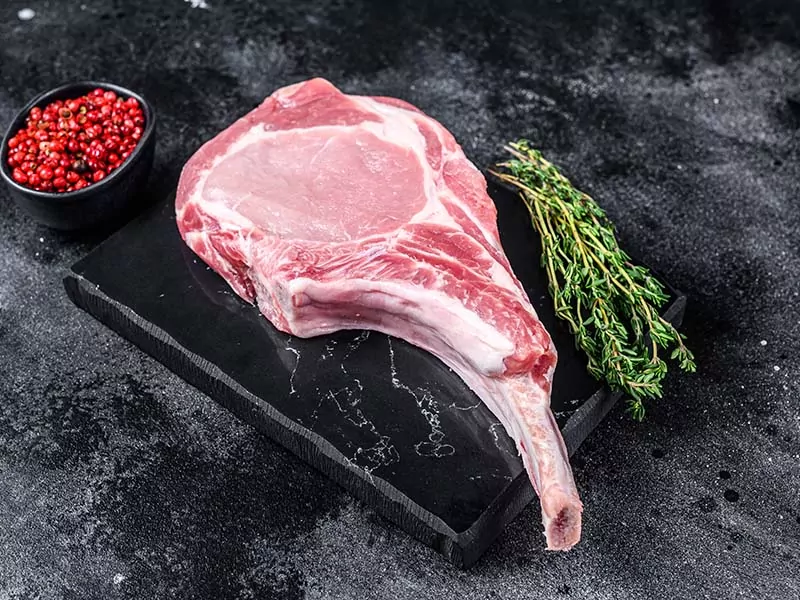 This steak is a superb choice for your upcoming meal. Tomahawk Steak is a bone-in Ribeye Steak that weighs around one to two kilograms. This steak has its bold flavor from the bone, but it requires more steps to process and cook.
Tomahawk Steak is large with a thick body that can feed around three to four people, depending on the cut. The dish is a wonderful choice to light up a dinner party or an exploding dinner table.
Tomahawk Steakis quite large, so you might ask if you can store the steak in the freezer. Well, you just need an airtight container, and the steak will stay fresh for three months in the freezer.
The steak is highly marbled with a melty texture from the loin of the steer. This part is often the softest part of the cow as the animal doesn't use this muscle frequently. Grilling and pan-searing with high heat are brilliant approaches for cooking the meat.
7. Porterhouse Steak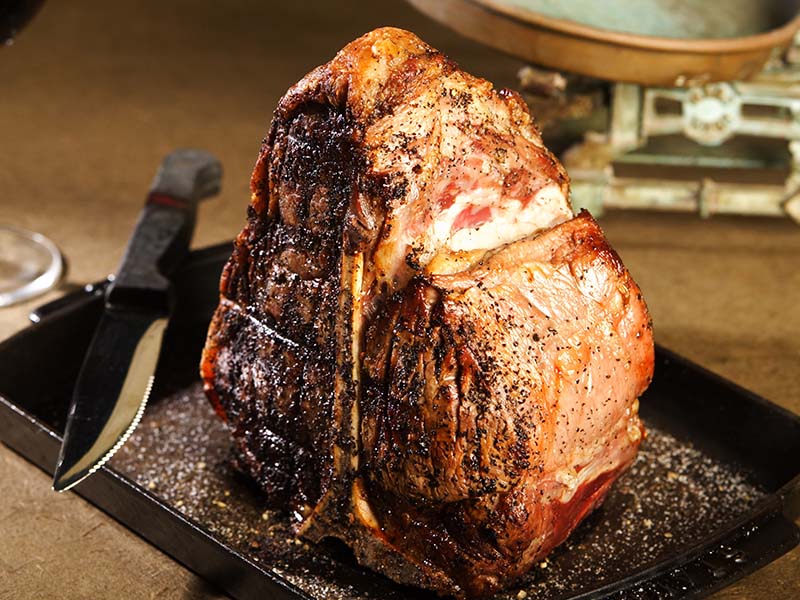 This lovely steak has the best feature from the tenderloin and top loin as it is a cut from the area between these parts. Porterhouse steak often comes in a large portion to fill your empty stomach.
This steak will score your heart with a beefy flavor and tender filets. You can have this steak as a whole big steak or thinly sliced. The dish is a special meal to indulge in on many occasions.
It is suggested that you should not cook the steak over medium-well. The chef often starts with high heat to give the surface a good burn. Then, flip the dish to the other side until the steak turns brown on both sides.
People often cook this steak under a broiler (or a grill) or use a combination of oven and stovetop for the best flavor. The tenderloin side of Porterhouse steak should be exposed to less heat to avoid over-cooking it.
The best way to cook Porterhouse steak is right here!
8. T-bone Steak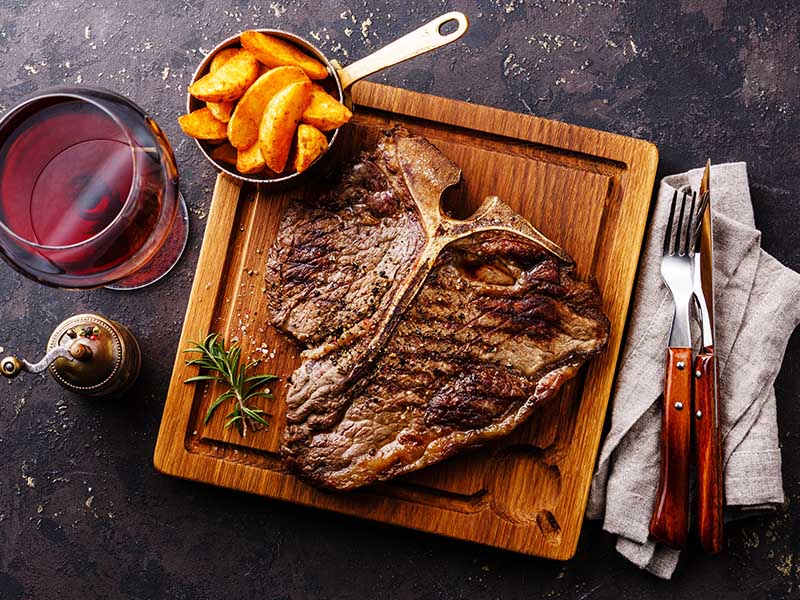 Speaking of Porterhouse steak, it would be a mistake not to mention the tasty T-bone. This steak is the cross-cut of the front section from the short loin. T-bone steak is a smaller version of Porterhouse steak with tender filets and beefy flavor from the strip loin.
You should cook this steak at a high temperature for a short duration. If you can master the perfect timing for cooking steak at 400 degrees F, T-bone steaks will taste out of this world. To enjoy the freshest flavor of a T-bone steak, people often season it simply. A pinch of salt or a typical marinate sauce will give you a one-of-a-kind meal.
When choosing a T-bone on the market, you should avoid selecting a 'thin-cut' label on the package as the ideal T-bone is around 1.5 inches thick. You should ask the butcher to cut the steak for you if you can't find any suggested T-bone.
9. Cube Steak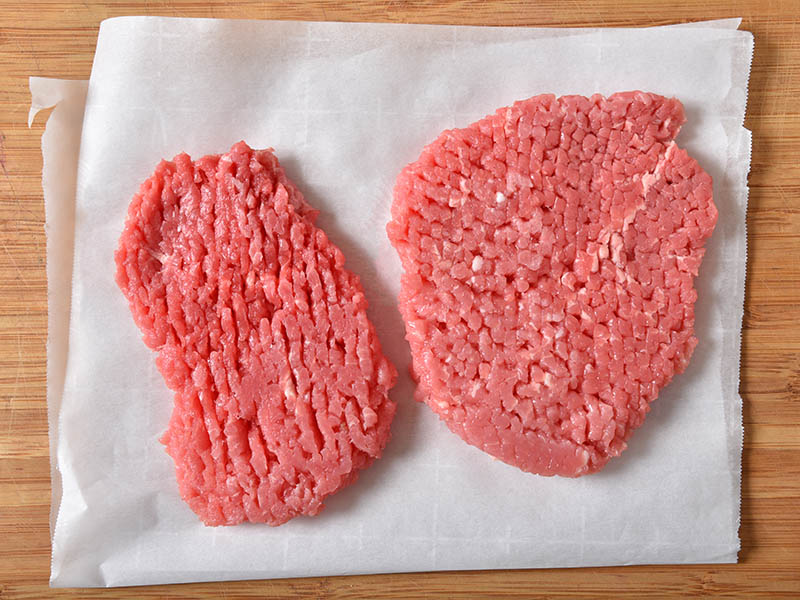 Cube steak is a common term used to indicate the meat has undergone a mechanical tenderizer (a swissing machine or a meat cuber). This results in a cubed steak that looks like ground beef ready to add to your meal.
This steak is often made from Top Sirloin or top round with less fat or marbling compared to other steaks. As a result, cubed steak is often used for stews, soups, or any recipe with juicy and savory gravy.
People usually sautée, pan-fry, or braise cube steak. You can bake it in a casserole or slow-cook it for a hearty dish. If you don't use the steak in recipes with sauces or liquids, you should cook it fast to avoid creating a dry dish.
10. Denver Steak
Denver steak is a great idea for a family dinner table. The steak is cut from beef chuck primal cut (mostly serratus ventralis muscle). This is the shoulder part of the cow, which the animal doesn't use much. This results in the soft profile of the entire dish.
The steak is boneless with a generous amount of marbling. You can make the steak even more tender by pounding it. You will need a skillful butcher to cut the meat properly to get this steak.
The steak has its best flavor when served medium-rare. You should cook the meat on high heat (on the heat's indirect side) before searing again at the end for a tasty result. Some chefs also use sous vide for a perfect meal. Denver steak is among the softest cuts of meat.
11. Short Ribs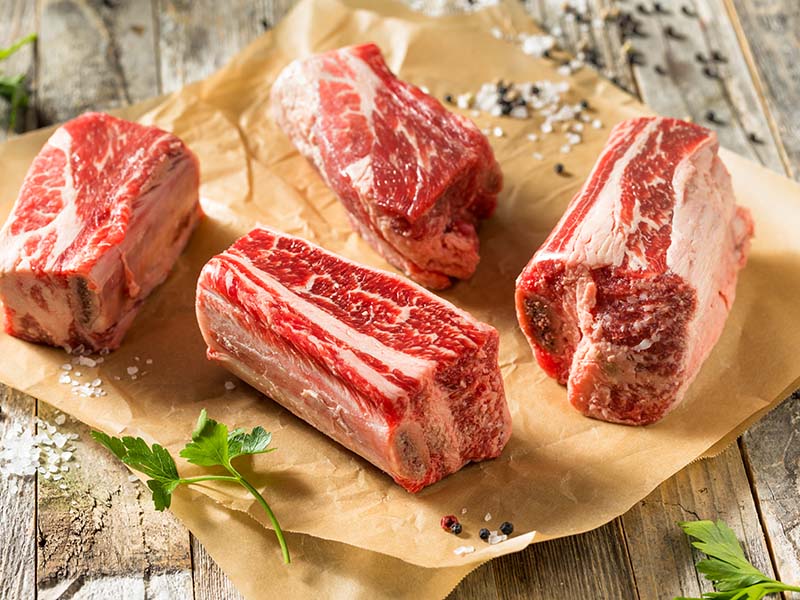 Cut the plate, brisket, chuck, or rib areas of a cow, and you will have beautiful Short ribs. This part often has the rib bone covered with meat. The thickness of short ribs depends on the butcher if they want to cut more meat or not.
Two common types of short ribs are the 'Flanken' (the bone is cut to have one to two inches in length) and the 'English' (the bone is cut parallel to have 6 inches in length).
The 'English' cut is often served alone or in 'plate' style (three or four short ribs connected together). Short ribs have a rich taste from the fat marbling from rib steak. This style of steak is famous worldwide.
You can braise or grill Short ribs on moderate heat to avoid the tough texture. You should season the meat with salt and pepper and cook to medium-rare for a best meal. People often enrich the meat with bright chimichurri sauce for an excellent flavor.
People often enrich the meat with bright chimichurri sauce for an excellent flavor. Remember to slice against the grain to form a delicate softness.
Is it easy to have a perfect Short rib? Explore now!
12. Tri-Tip Steak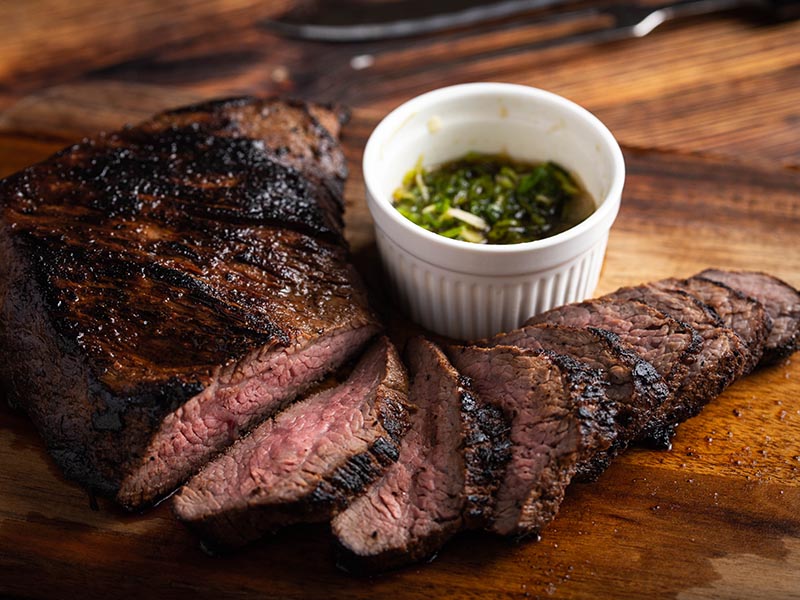 You need to explore the taste of this Tri-Tip steak as soon as possible! The steak comes from the Bottom Sirloin subprimal area at an affordable price but is almost the same quality as the Ribeye Steak. The steak has a beautiful marbling content for a rich and soft flavor.
The original name of Tri-Tip steak is California cut (created in the town of Santa Maria), which is well-known for its triangular shape. The steak is often boneless with a 1-inch thickness, perfect for a barbecue party or making grilled dishes.
You should enjoy Tri-Tip steak medium-rare or medium to have the best texture. When you want to cook it beyond medium, you must marinate the steak for around three to four hours before grilling.
13. Rump Steak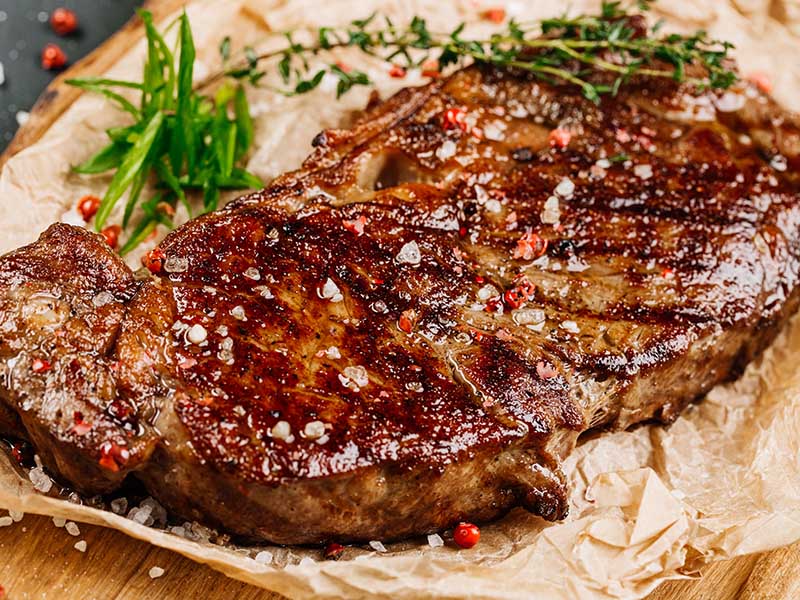 Rump steak is a beef cut from the beef round primal (the part of the steer's back leg). Muscle from this part is quite lean, but you might find it a little tough because the leg and rump are often used for movement.
In America, Rump Steak is the part between the chine cut and the leg. However, in England and Australia, Rump Steak goes by the name American Sirloin. This steak is perfect for stew or braising recipes to form a softness for the meat.
Rump steak is a type of lean and tough meat perfect for marinating (the recommended marinating time for this steak is at least four to five hours before cooking). You can broil, sautee, or pan-fry the steak to make your favorite meal.
14. Strip Steak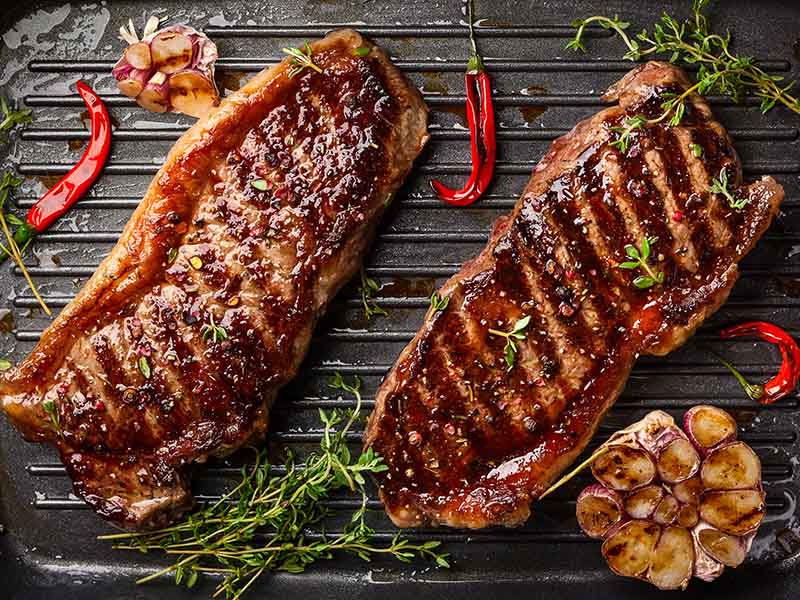 Another type of beef cut from the cow's short loin, Strip Steak is extremely tender. You can adjust the size of the cut, depending on your preference.
The steak is also known as a Kansas City strip or a New York strip. The tenderloin in the short loin is removed to form a bone-in strip loin (also called club steak). You can have the bone removed as the signature taste mostly comes from the longissimus muscle.
You can use a grill, cast-iron skillet, or broiler to cook strip steak. Some people sear the steak on a skillet and then finish it in a preheated oven (425oF). You can add butter to this lean steak for a richer taste
The steak has a low fat content, so you should cook it for a shorter period of time than other meat. The outcome is a soft and slightly chewy texture that you will love.
15. Flap Steak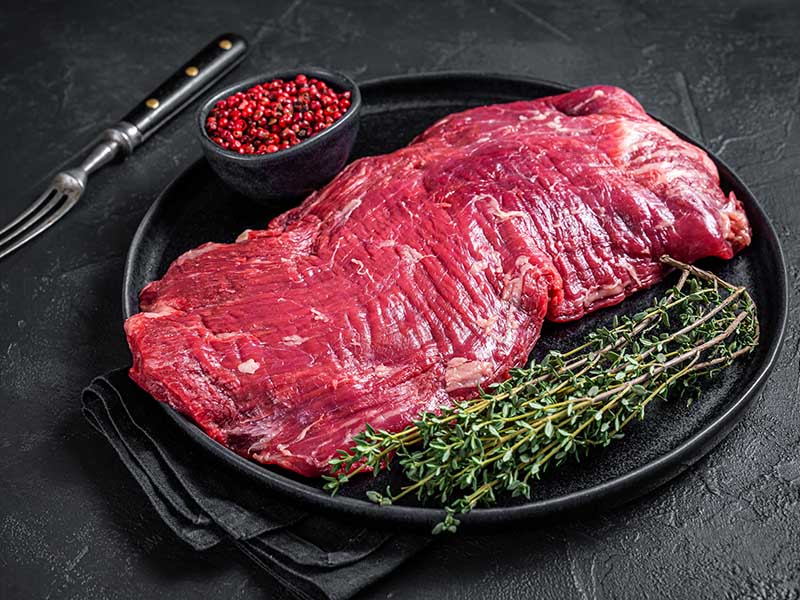 In the Bottom Sirloin part of the cow, a tasty beef steak cut with obliquus Internus Abdominis muscle will amaze your taste buds. Flap steak has a chewy and fibrous muscle that gives a flavorful taste.
You can grill it at medium or high heat and slice it across the grain for a perfect tenderness.. Then the meat is thinly sliced and served for a dazzling meal. Some recipes require grounding flap steak to make sausage or hamburger meat.
In New England, local people often cut the steak into tiny pieces; this type is known as 'steak tips'. The steak is quite cheap and a common choice for some bistro owners.
16. Filet Mignon (Tenderloin Steak)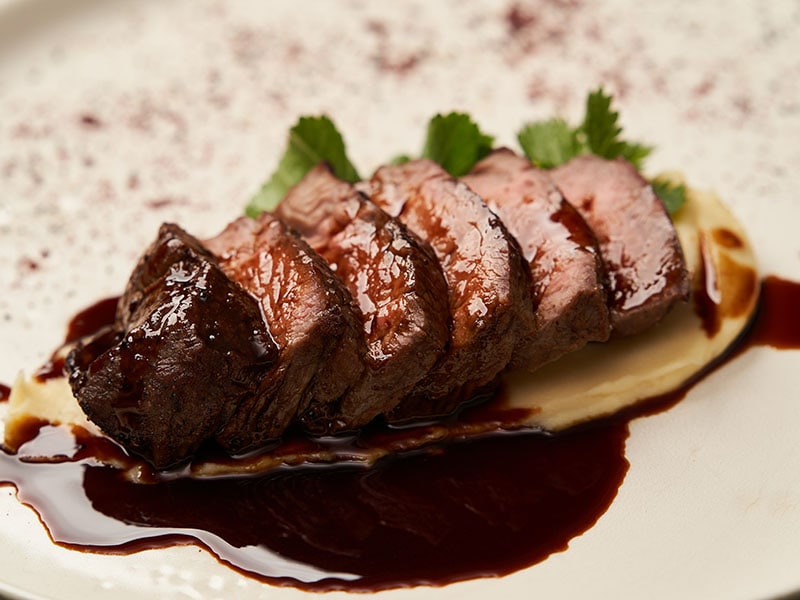 Let me treat you to one of the tastiest and most expensive steaks globally, Filet Mignon (also known as Tenderloin steak). This steak is cut from the middle of the short loin (or tenderloin).
The muscle of this part is 'psoas major', which is known for its delicate tenderness and melty texture. The commercial Filet Mignon slices are roughly two inches thick with around 3 inches in diameter.
However, the traditional Filet Mignon is less than one inch in diameter. People usually pair compound butter or sauce with this steak. You can smoke, wrap it in bacon, or marinate the steak for a mesmerizing meal.
Chefs usually use the stovetop or a broiler (or both) for cooking Filet Mignon. As it has low-fat content, you can sear it fast on high heat quickly; then, lower the temperature before serving and pair it with sauce.
17. Skirt Steak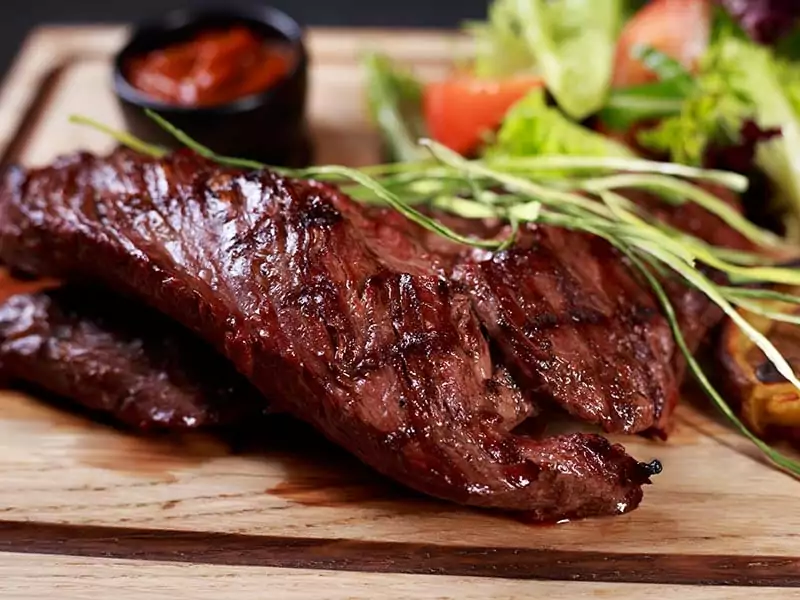 Skirt steak is a great cut of beef from the cow's plate. The cut is flat and long with a beautiful tenderness and delicate flavor. The steak has lots of connective tissue, making it challenging for the butcher to cut the meat out.
The steak has two major types of muscle: the diaphragm muscle (the outside skirt) and the transversus abdominis muscle (the inside skirt). You can purchase either one of the mentioned types.
The outside skirt requires its membrane to be trimmed before cooking. Both types of this Skirt Steak have a great amount of fat that maintains the moisture level for the steak.
The steak is a perfect choice for making tasty griddle dishes. Grill it fast in an extremely hot griddle until medium-rare to medium. Remember to cut it across the grain for excellent tenderness.
18. Coulotte Steak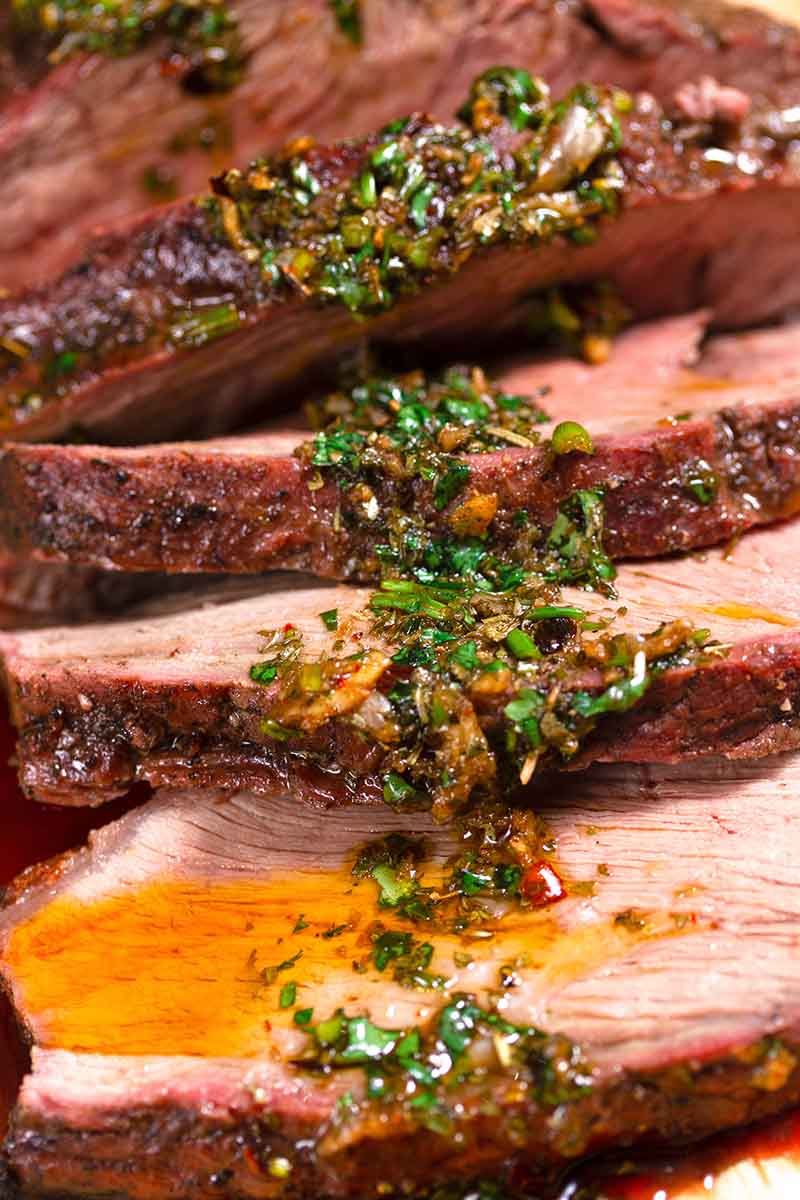 Coulotte steak is a beef cut from the top and the bottom of the Sirloin Butt. This steak is also known as the Top Sirloin cap with a rich and tasty flavor. It is lean and boneless, which is perfect for a pan-seared recipe.
This steak is really versatile and perfect for grilling, which you can slice or keep the whole cut for BBQ. Finish the steak with a pinch of salt and amaze your family members. It is an affordable choice for a lovely meal.
What you should do to turn Coulotte steak into a fantastic meal.
Don't Forget To Try These Mouthwatering Steak Recipes
Are you ready for some delectable steak recipes? The following steak dishes will be a hit at your family dinner table.
Bath your Ribeyes Steak with creamy butter and fragrant garlic aroma; I'm sure your family will love it. The edge of the steak is crispy, hiding a juicy and savory interior. A touch of thyme or rosemary will give this steak an enchanting scent.
You have to try this instant pot round steak as the steak has excellent moisture and sophisticated flavor from the sauce. You can pair this breathtaking dish with cooked egg noodles or canned corn.
Grilled Asian Marinated Flat Iron Steak – Grilled Flat Iron Steak RecipeTable for Two® by Julie ChiouGrilled Asian Marinated Flat Iron Steak – Grilled Flat Iron Steak Recipe
This steak can be an amazingly scrumptious dinner recipe for couples from Asia. The steak is well-marinated and then fried until perfection. Just take a bite, and you will lose your head over this fantastic recipe.
Air Fryer Cube SteakAir Fryer EatsMake this savory marinated cube steak in your air fryer in a flash! We'll show you how to turn an inexpensive beef cut into a delicious dinner.
Do you know that an air fryer can make a delectable steak recipe? This cube steak has a savory marinade that maintains the moisture for the meat. You can have the dish stand-alone or pair it with white rice for a warming meal.
Reverse Seared Tomahawk Steak With Garlic Butter Mushrooms and Grilled AsparagusSmoked BBQ Source
This Tomahawk Steak has a melty texture with a fantastic creaminess from butter. Garlic and pepper boost the outer layer flavor with a charming aroma. The rare to the medium-rare interior will dissolve immediately in your mouth with a delicate after-taste.
Different Styles Of Steak Doneness
Processing the steak differently also leads to various outcomes for you. Let's have a look at how people often serve their steak.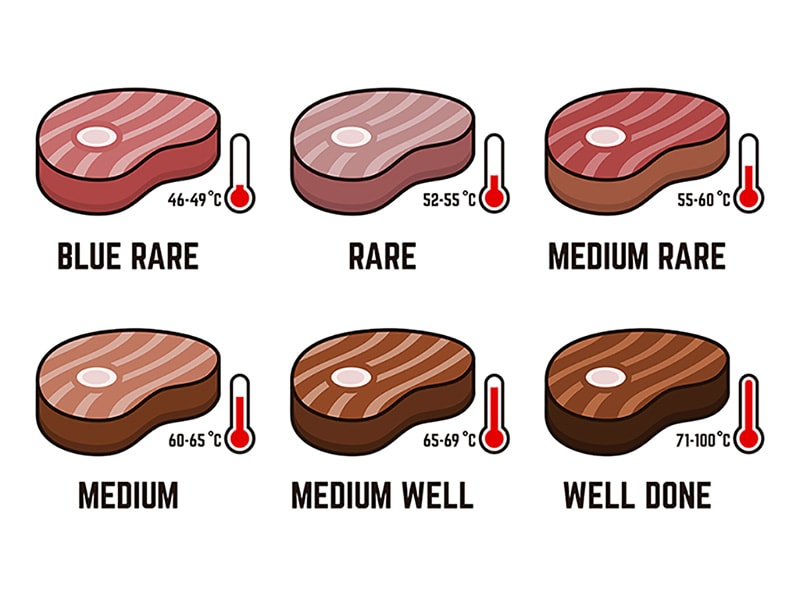 | Doneness Style | Time | Temperature | Pull Off Grill Temperature |
| --- | --- | --- | --- |
| Blue Rare | 115oF | 1 minute each side | max 120oF |
| Rare | 120 to 130oF | 5 minutes then 3 minutes per side | max 125oF |
| Medium Rare | 130 to 135oF | 5 minutes then 4 minutes per side | max 130oF |
| Medium | 140 to 150oF | 6 minutes then 4 minutes per side | max 145oF |
| Medium Well | 155 to 165oF | 7 minutes then 5 minutes per side | max 160oF |
| Well Done | 170oF or more | 12 minutes then 10 minutes per side | max 165oF |
You can use a meat thermometer to measure the steak's internal temperature. Just stick the thermometer on the thickest part of the steak (avoid bone, fat, or gristle).
The residue heat will keep on cooking the meat, so you should remove the steak from the heat before it reaches the desired temperature (the desired temperature minus 5 degrees).
A Bite To Heaven
Hey, beef fans! I bet you love the juicy and melty texture of a well-cooked steak. Just a tiny bite of a steak can bring you to heaven with savory meat. Choose the best steak to treat your loved ones, and I'm sure they will enjoy the meal.
What is your favorite steak? How do you like your meat to be done? Feel free to like and share your opinions in the comment section; I really appreciate your contribution. I will see you next time.