If you're still thinking beef vs steak are the same, that's a big problem. So, what exactly are beef and steak? How are they different in origins, characteristics, or nutrition facts? This post will provide you with a clear border between them.
Beef and steak are no longer uncommon foods for everyone. However, not many people can clearly distinguish between beef and steak. Keep scrolling to acquire in-depth knowledge about beef vs. steak.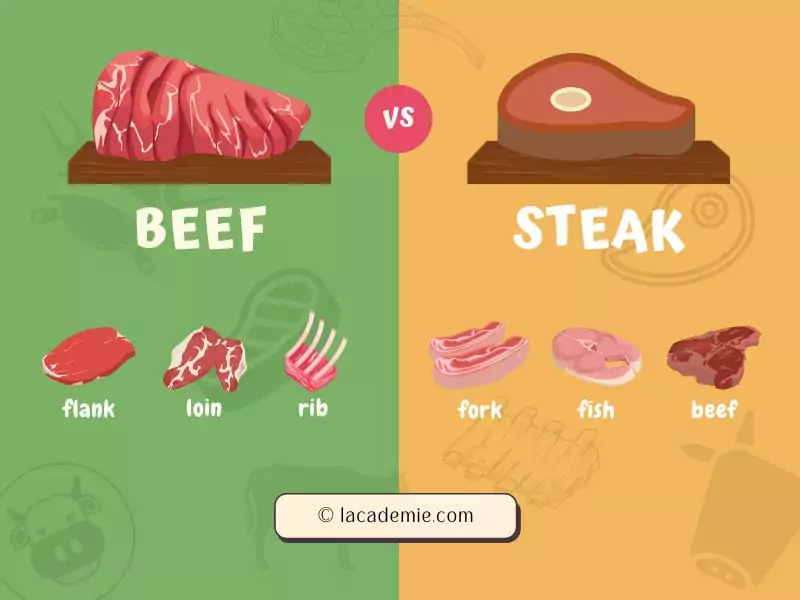 Common Knowledge About Beef
Beef has universally become an essential type of meat for many dishes, from Asian to Western foods. However, what exactly beef is and common cuts of beef may be little known to someone. Let's discover together!
What Is Beef?
Beef is the meat from large bovines, particularly cows or bulls. A long time ago, humans hunted them for meat. Now, they commonly become domesticated castles across the world. Beef, pork, and poultry are three of the most popular meats on the planet.
Common Cuts Of Beef That You Might Not Know
What cuts of beef are you eating every day? I'll provide an overview of some well-known types of beef and the main features of each type.
Flank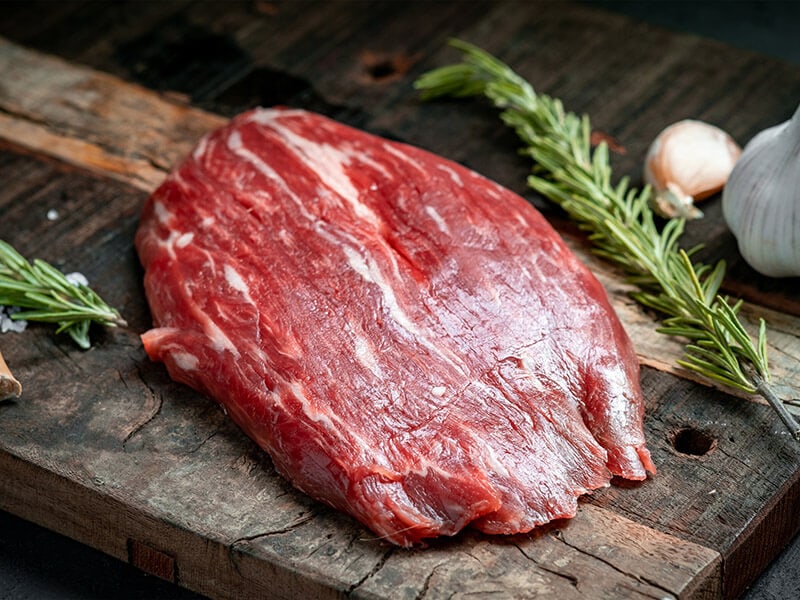 Flank is the thin cut that comes from below a cow's loin and sirloin. These cuts sit in the abdominal area, where the muscles work intensively. Therefore, flank cuts have long and thick muscle fibers, one of the toughest cuts in the cow.
Because of their toughness, flank cuts are quite affordable. You can find flank cuts in flank steaks or skirt steaks. When you grill them at high heat, they can become as yummy as other expensive cuts.
Rib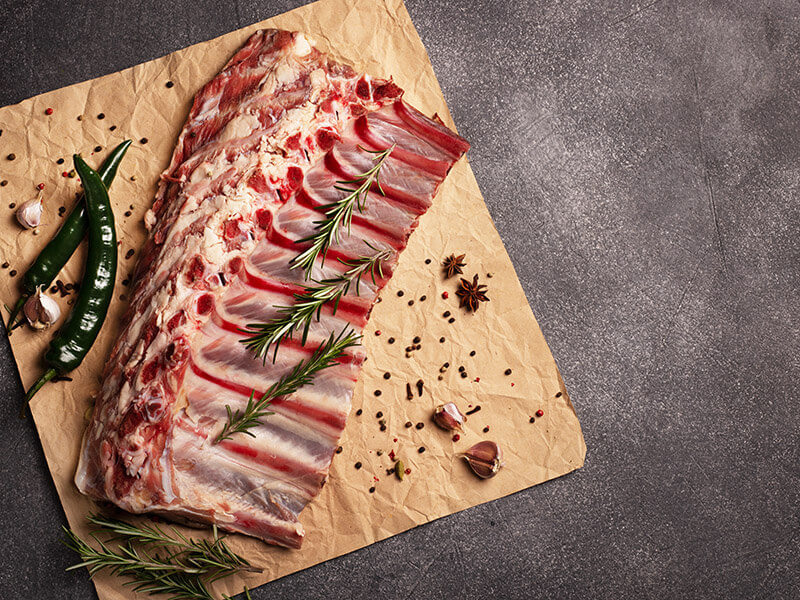 The rib is the primal rib cut and comes from the ribs and backbones of a cow, particularly the last six pairs of ribs. Rib cuts are popular because they contain the perfect amount of marbling, which means they have a high number of intramuscular fat cells.
Ribs are one of the high-quality cuts, so they're more costly than others. Ribeye steak, ribeye filet, back ribs, and ribeye filet are some of the rib cuts. You can cook rib cuts in various ways, such as searing on a cast-iron skillet, slow roasting, grilling, etc.
Loin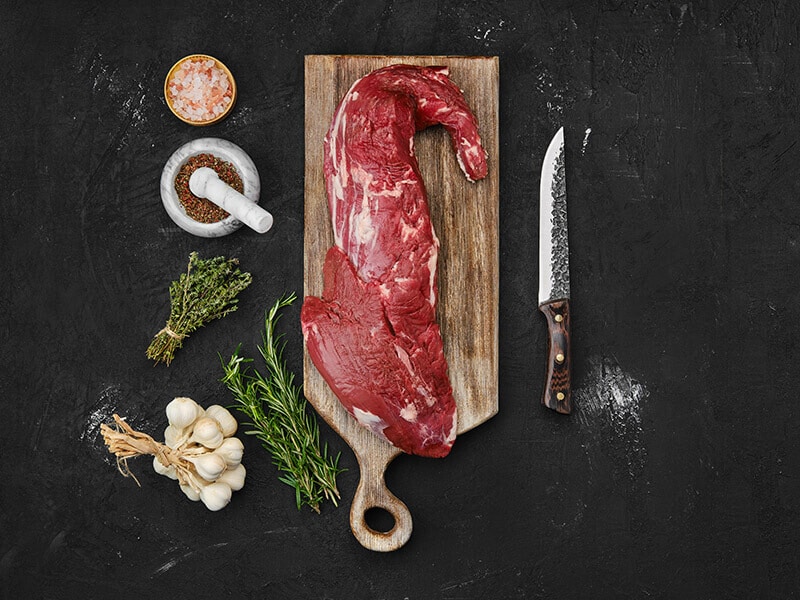 The loin, right behind the ribs, is one of the pricey cuts for its famous tenderness. Loin consists of two parts: sirloin and short loin.
Sirloin also comprises several cuts: tri-tip, top sirloin, bottom sirloin, etc. Sirloin cuts are usually tougher than the loin and are perfect for stir-frying or grilling.
For meat lovers, cuts from the short loin are the best quality because of their meaty flavor and flawless tenderness. Typical sirloin cuts are filet mignon, T-bone, tenderloin, strip loin, etc.
Things You Need To Know About Steak
Steak isn't an unfamiliar concept, but many people frequently misinterpret steak. There are more facts about steaks that may surprise you. Let me untie your knot!
What Is Exactly A Steak?
In short, a steak is a thick and large slice of meat from animals or vegetables, particularly beef. The slice is mostly from the fleshy part. You can usually grill or broil it and eat it with many side dishes.
What Can Be Steak?
There may be many types of steak you haven't expected. The misunderstanding among them can lead to unintentional errors in cooking. Keep reading and check them out!
Beef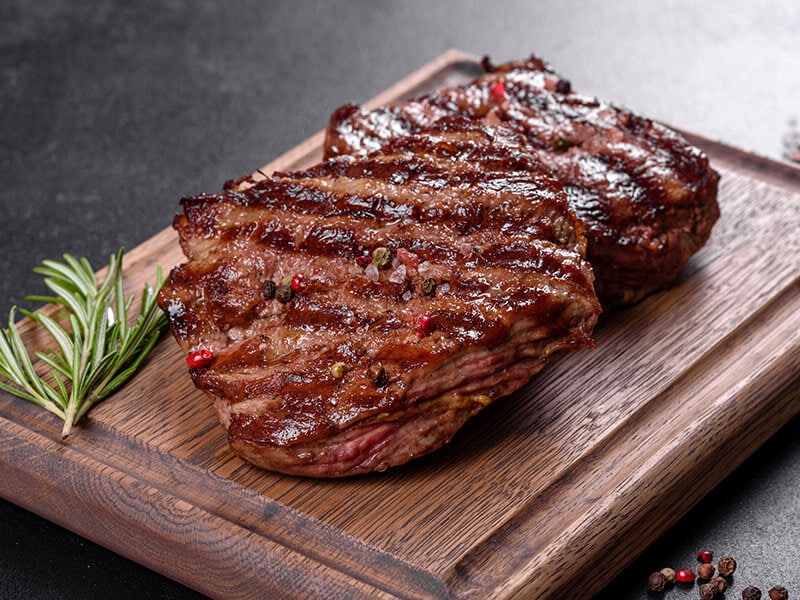 Beef steak comprises several different cuts, but it is often the meat cut against the grain from various parts of the cow. There are tender cuts like tenderloin, top sirloin, or T-bone steak, whereas slightly tougher cuts can be a chuck or round steak.
In addition, you can make beef steak with different levels of doneness, rare, medium rare, medium, medium done, and well done.
Pork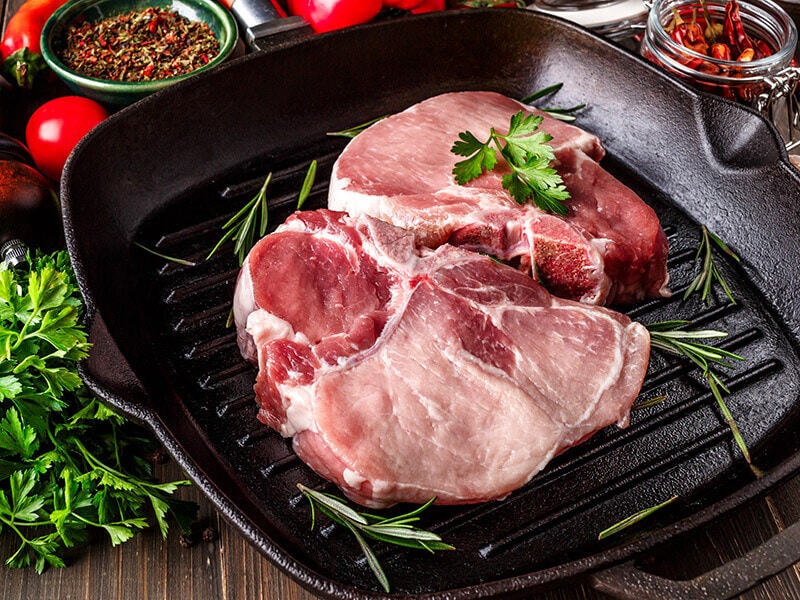 Not only is beef steak famous, but pork steak also has its own place on the list of savory dishes. Most pork steaks come from the shoulders of the pig. The muscle fibers here are quite tough, so pork steaks take longer to cook than beef ones.
You can find an abundance of yummy homemade pork steak recipes. Here are several famous ones: grilled pork steak, garlic butter baked pork steak, creamy garlic pork steak, etc.
Fish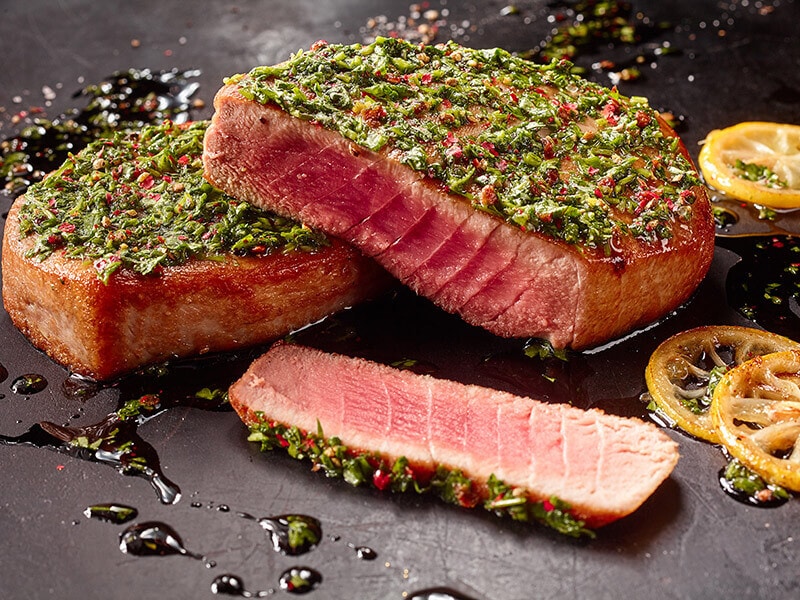 Fish steaks are a cut of fish that is perpendicular to the spine. You can buy fish steaks with skin or skinless and cook them in a shorter amount of time than filets. You can cook fish steak with some types of fish like tuna, mahi-mahi, swordfish, etc.
Fish steaks bring you a fresh, sweet, and sour flavor, combined with the salty taste of the sea. Unlike beef steak, fish steak is always tender and faster when cooking. Moreover, fish steak isn't easy to fall apart like fish filets.
Vegetables And Fruits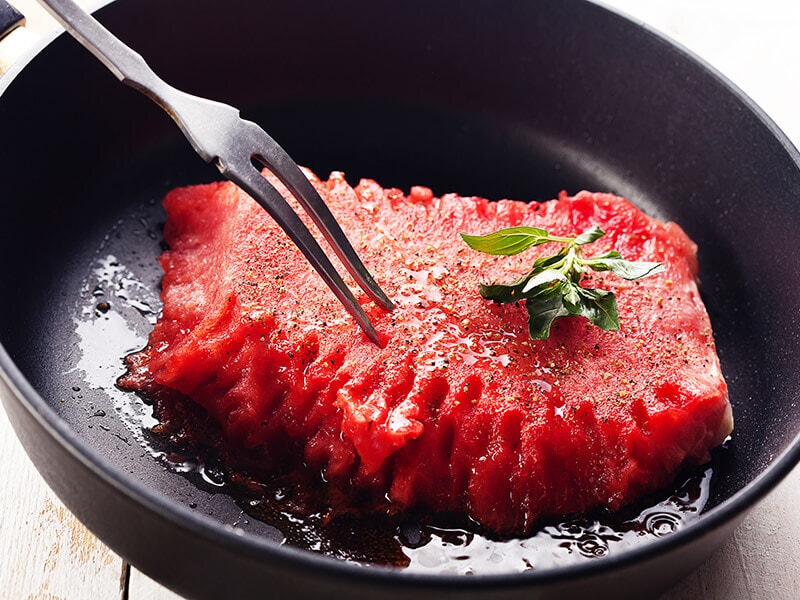 You're not mistaken; vegetable and fruit steaks do exist. As mentioned above, sliced vegetables and fruits can be the "steak" alternatives for vegetarians. However, vegetable steak has recently become famous for its health benefits and fresh and juicy taste.
Some typical vegetables and fruits can be steaks such as eggplants, mushrooms, cauliflowers, beans, watermelons, etc.
Beef Vs. Steak – See The Whole Picture
In this section, I'll give you intensive knowledge about beef and steak to help you disambiguate between them, providing differences in origins, features, and nutritional values.
| Types | Beef | Steak |
| --- | --- | --- |
| Origins | The first castle domesticated event occurred 10,500 years ago. | Humans have known "steak" since the 15th century. |
| Features | Meat that is from all parts of the cow or bovines is beef. | Steaks come from the muscles in some areas such as ribs, short loin, chuck, etc. |
| Nutritional Values | Vitamin B12, B3, D, K, iron, zinc, calcium, etc. | Vitamin B6, B17, D, A, omega 3, etc. |
The History Of Beef And Steak
The origins of beef and steak are quite little-known. Beef and steak have their own long history associated with evolutionary history.
Where Does Beef Come From?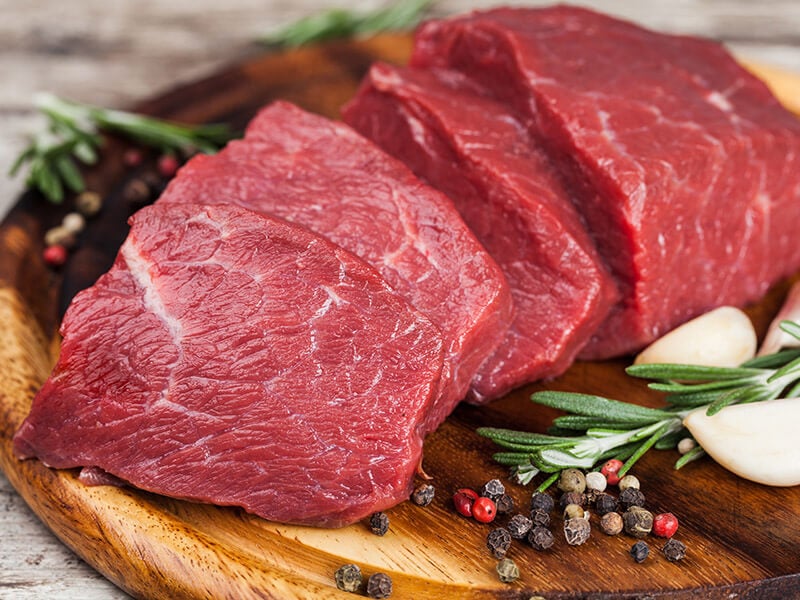 Humans have known bovines as a source of eaten meat for thousands of years. Before widely breeding them as domesticated castles, our ancestors mostly hunted them. Apart from eating the flesh, people also breed castles to get milk and leather.
Research indicates that several castle domestication events occurred. The first happened 10,500 years ago, starting with Bos Taurus, a large domesticated bovine.
What Is The History Of Steak?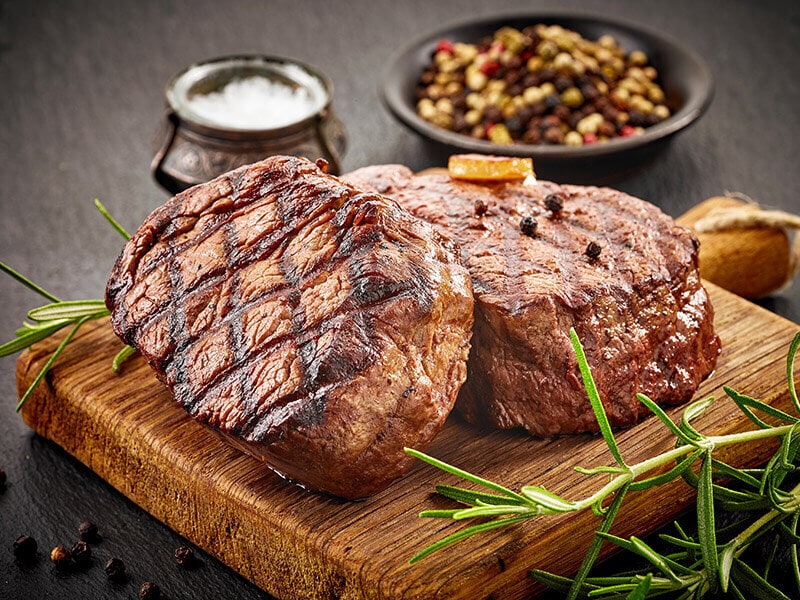 Also knowns as "steik", a Scandinavian word, steak started in the second half of the 15th century. There were many names before people started to call it "steak", for example, "stickna" or "steikja". (1)
The hidden story of the steak invention is still mysterious. However, there are some hypotheses mentioned that Italy is steak's origin of steak.
Differentiating Between The Characteristics Of Beef And Steak
Beef vs. steak has some marked differences in the features, and nutrition facts, especially in how we cook them. You can cook beef into hundreds of savory dishes, while steak is less diverse.
Characteristics Of Beef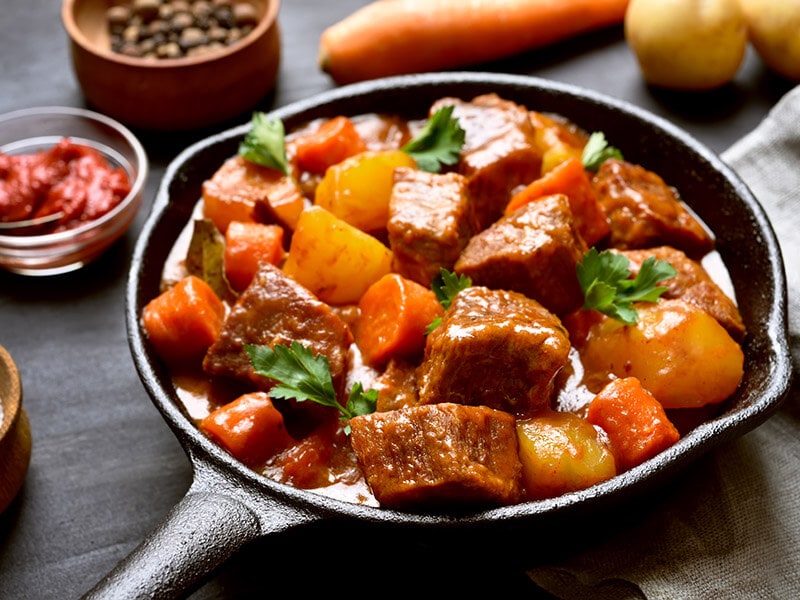 Without a doubt, beef is the raw meat and an ingredient in an infinite number of main dishes. I can assume that meat from all parts of the cow or bovine is beef.
Some typical beef cooking techniques include dry heat (grilling, barbecue, broiling, roasting), frying (shallow frying, deep-frying, stir-frying), and moist heat (stewing, braising).
The best beef is usually highly marbled, bright red, and firm. There is a high amount of intramuscular fat, which is smooth and milky white. The bones of young beef are red and soft, whereas the bones of mature beef are white and hard.
You can cook beef in countless different dishes.
Characteristics Of Steak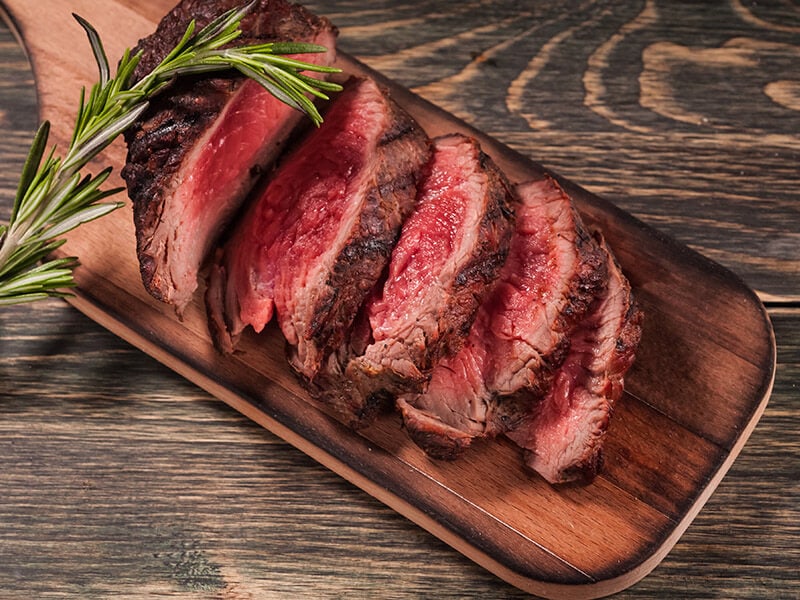 Cuts of steaks and cutting methods apparently differ from one country to another. Mostly, steaks come from the muscles in some areas of the steer, such as ribs, short loin, chuck, etc. High quality cuts are tender and fast to cook.
However, these premium cuts are expensive because there is just a small percentage of them. Cooked steaks often appear with brown color on the outside, whereas the center can be red, pink, or slightly pink, based on the level of doneness.
Blow Your Mind With The Nutrition Facts Between Beef Vs. Steak
The difference in nutritional facts between beef and steak may be your big question mark. In fact, the nutritional values of beef are distinctive from those of steak. While beef is a huge source of protein and fat, steak contains various different nutrients.
What Will Your Body Gain From Beef?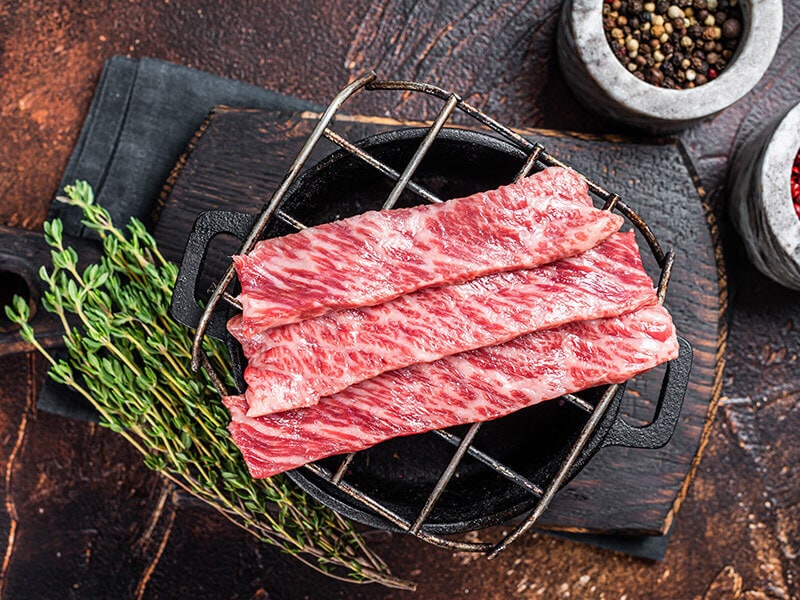 Beef is red meat and is well-known as a huge source of protein, fat, vitamin B12, B3, D, and K, as well as other minerals such as iron, zinc, calcium, phosphorus, etc.
However, research shows that consuming a large amount of red meat can increase the risk of some negative health impacts on your body. (2)
What Will Steak Do For Your Body?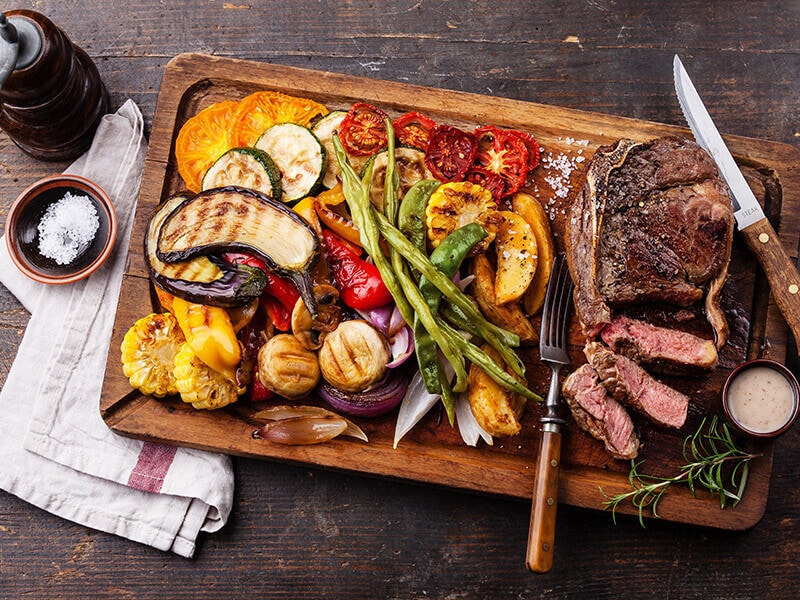 Steaks can be beef, pork, chicken, fish, or vegetables, so the nutritional content of steaks can be more varied than that of beef. You can also change the ingredients used to cook a steak to change the taste.
Besides the nutritional values of beef mentioned above, pork or chicken steaks contain a rich amount of protein, fat, and a wide range of essential minerals such as vitamin B6, B17, D, A, etc. (3)
What's more, fish and vegetable steaks also have many benefits for your health. Fish products are rich in nutrients, especially omega 3. Vegetables are famous for supplying important minerals, trace elements, and vitamins.
Does Steak Equal To Beef And Vice Versa?
Steak and beef can not be equal together. Beef is the ingredient of infinite dishes, while steak can be pork, lamb, chicken, and fish, besides beef. There are many types of beef, including short ribs, chuck, neck, round, etc., but only a few can be steaks.
How To Cook Beef For Beginners
You've clearly seen the boundary between steak and beef. Now, let me introduce the easiest and tastiest cooking methods, so you can try with your beef. You can follow these instructions, and don't forget to share your results.
Stewing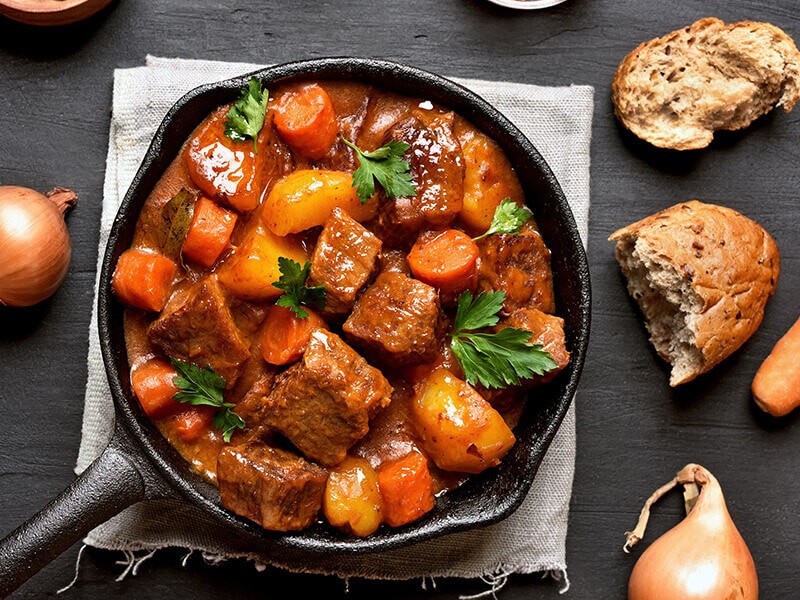 One of the perfect ways to cook beef for your dinner is to stew it. Stewing is slow-cooking meat combined with a wide range of different ingredients and vegetables in liquid. This cooking provides you with the combined flavors of beef and vegetables.
It's better to choose the least tender cuts of beef to stew. After cooking for a long time, the tough cuts of beef will be as tender as you wish. There any many dishes to go along with beef stew. The only downside to this method is the long cooking time.
Cooking beef stew isn't as hard as you think.
Braising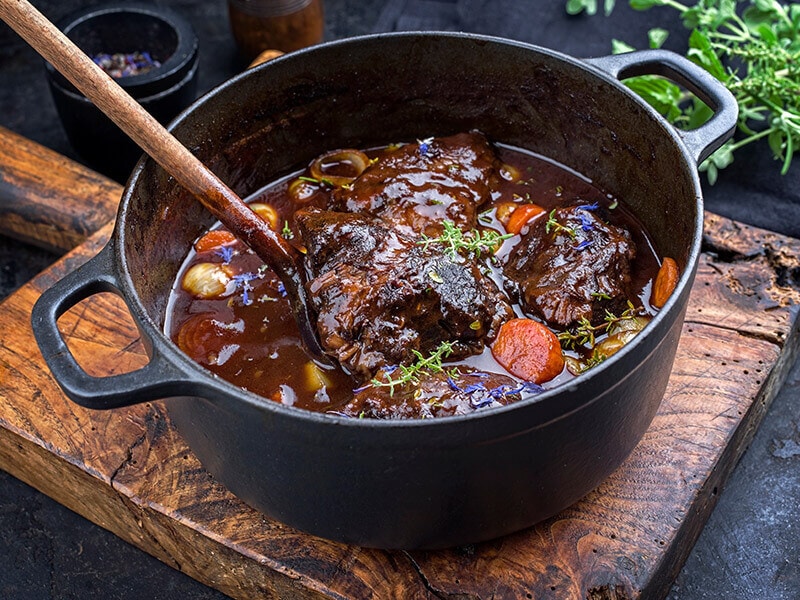 Like stewing, braising is a cooking technique that requires low heat and a long cooking time. This method refers to cooking tough beef cuts mixed with vegetables, particularly cabbage, carrots, potatoes, etc.
There are some primary differences between stewing and braising. Braising uses less liquid, which is only halfway to three-quarters of the way up the meat. When stewing, the meat sinks below the liquid's surface.
The size of the meat is also different. When braising, you should use a whole cut of meat, while stewing requires smaller pieces of meat.
Grilling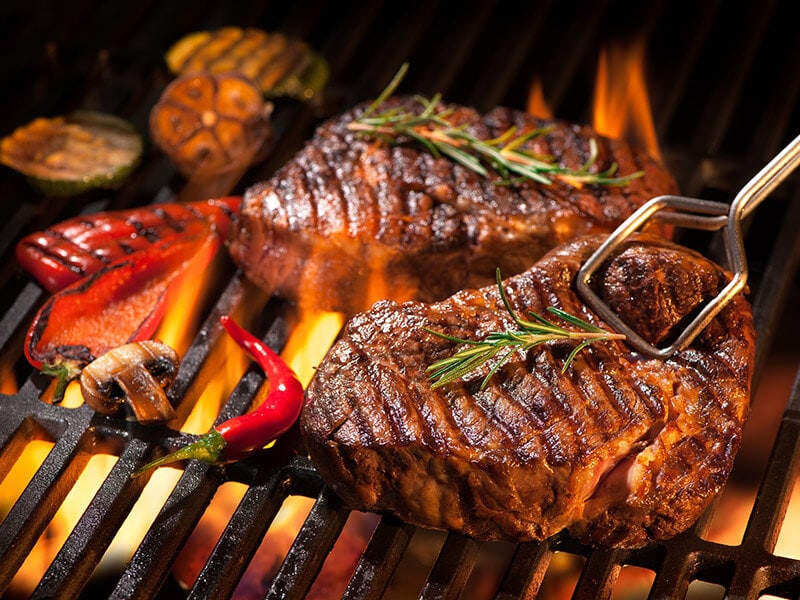 Grilling beef is never a bad choice for outdoor picnics. By using dry heat to cook the food from the surface of the food, grilling is a form of cooking that makes your meat moist enough and keeps all of the original meaty taste.
If you're planning to have a grilling picnic, charcoal grilling is ideal. Charcoal grilling is a little trickier. Make sure to adjust the appropriate temperature by frequently adding coals.
Cooking beef over charcoal heat always has a strong beef flavor. Besides, you can use other processes to grill beef easily indoors without creating too much smoke, like searing, stove-top pan grilling, or grill-baking.
Guide To Cooking Steak Like A Master
Cooking steaks is as easy as a pie if you know the right techniques. I'll tell you all you need to do to cook juicy steaks and mouth-watering like in top steakhouses.
Step 1: Choose The Right Steak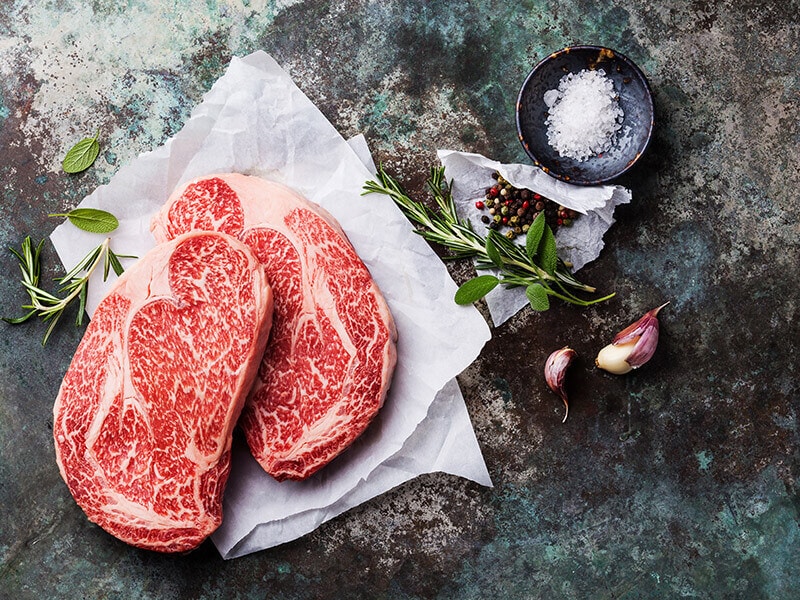 Each type of steak has its own unique characteristics in terms of thickness, marbling, and grade. Here are a few tips for you to choose the best steaks.
A good steak can't be too thin or too thick. You can easily overcook thin steaks while having to wait a long time to get the thick steaks cooked. The recommended thickness of a steak should be one inch.
The higher the amount of marbling, the more tender the steak is. Let's look for creamy fat extending through the steak. That's a high-quality cut.
The USDA grades beef into prime, choice, and select. Prime steaks are the best ones, which come from the meat of young cows and contain abundant marbling.
Step 2: Keep An Eye On The Temperature And Time
Cooking steak requires different temperatures and times. For example, the required time when cooking steak in the oven at 400°F will differ from when cooking at 350°F.
And it also depends on the thickness and your desired degree of doneness. Below is how the time and internal temperature differ when cooking steaks in the oven.
| Degree Of Doneness | Cooking Time (minute) | Internal Temperature (°F) |
| --- | --- | --- |
| Rare | 5 | 120-130 |
| Medium Rare | 7-10 | 130-135 |
| Medium Done | 8-10 | 145 |
| Well Done | 13-15 | 155-160 |
Step 3: Examine Your Steaks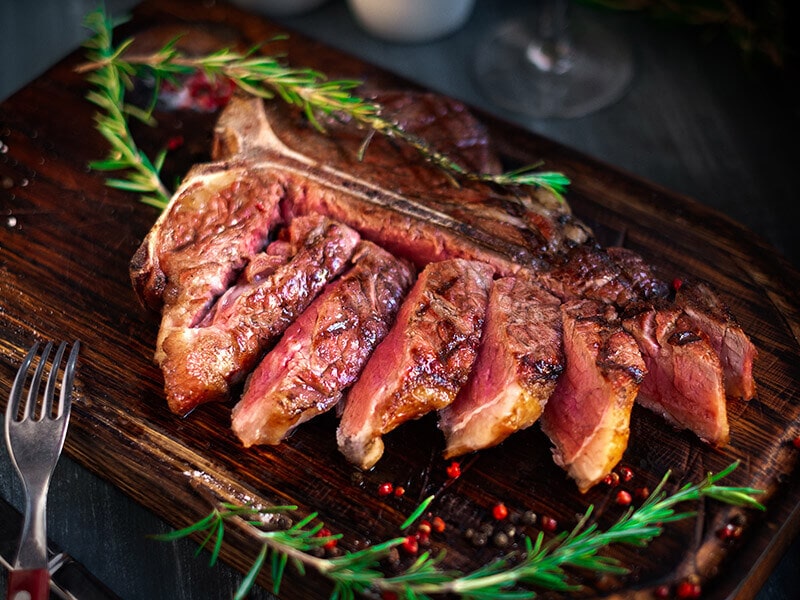 What can you do to check your steak's desired degree of doneness? I'll give you a short but concise answer. Using a meat thermometer and using your finger are two simple ways to check the degree of doneness.
A meat thermometer is an easiest but most accurate way to check your steak. To check your steak, let's place the thermometer into the center or the thickest point of the meat, and read the result.
If you don't own a meat thermometer, use a finger test instead. Using your finger, poking at the steak, and comparing the different feeling to the flesh of the other hand. The steak will go from soft to firm, from rare to well done.
Cooking steak can be as easy and tasty as in steakhouses.
Tasty But Simple Beef Recipes
If you're wondering what to have for dinner, I suggest some tasty beef recipes that will make your taste buds dance. Keep scrolling to find out!
Without a doubt, beef stew is an ideal savory dish for dinner. I'm sure this classic beef stew will satisfy your taste buds with its tender flavor. If you don't prefer carrots or potatoes, you can optionally alter other vegetables to suit your taste.
Braising beef in a red wine sauce is the best combination ever. I believe that the flavorful and tender taste of the red wine pot roast will instantly comfort your stomach. Chuck beef would be the wise choice for this tasty dish.
Do you want to make an impressive dish at a family potluck gathering? Don't skip this. Beef tri-tip is famous for its tender and juicy taste that certainly melts in your mouth. You can even serve beef tri-tip with tacos, sandwiches, or burritos.
This is how to cook the best beef tri-tip in the oven.
Perfect And Easy Steak Recipes
Here is what you are waiting for: easy homemade steak recipes. You can always enjoy the highest quality steak right at home without going any further. Homemade steaks can be as good as those at a steakhouse but are more affordable.
Pan-seared ribeye steak is an ideal choice for those who are fans of ribeyes. Pan-seared ribeye steak has a strong meaty and distinct flavor that you will never mistake for anything else.
Making pan-seared ribeye steak like a 5-star restaurant right at home.
Never miss this if you're a flank steak lover. A grilled flank steak will be a quick dinner, which takes about 15 minutes to finish. Grilled flank steak can go well with different side dishes, such as mashed potatoes, grilled sweet potatoes, or salad.
Let's upgrade the classic T-bone steak with a marinated herb butter t-bone steak! This is one of the best dinner dishes to serve your guests. Marinated herbs just take a few simple steps to cook, but the result won't disappoint you.
FAQs
Here are some frequently asked questions that will help you gain intensive information about beef and steak. Scroll down to find out now!
Beef Or Steak? It's Your Choice
I've provided you with a clear boundary between beef and steak. I believe you can be confident in distinguishing these two terms from now on. Besides, there are various helpful tips and recipes for cooking beef and steak just for you.
Thanks for walking through this journey with me. Let's share this post with your beloved ones, and let me know what you think in the comment section.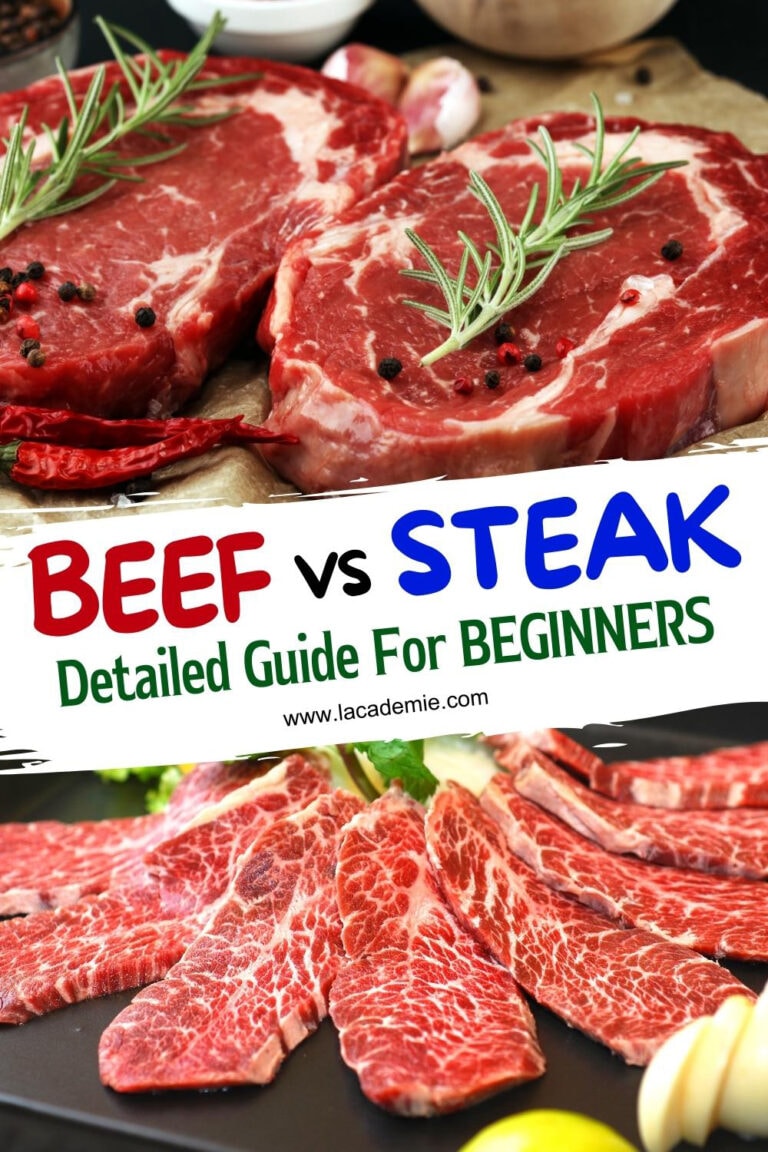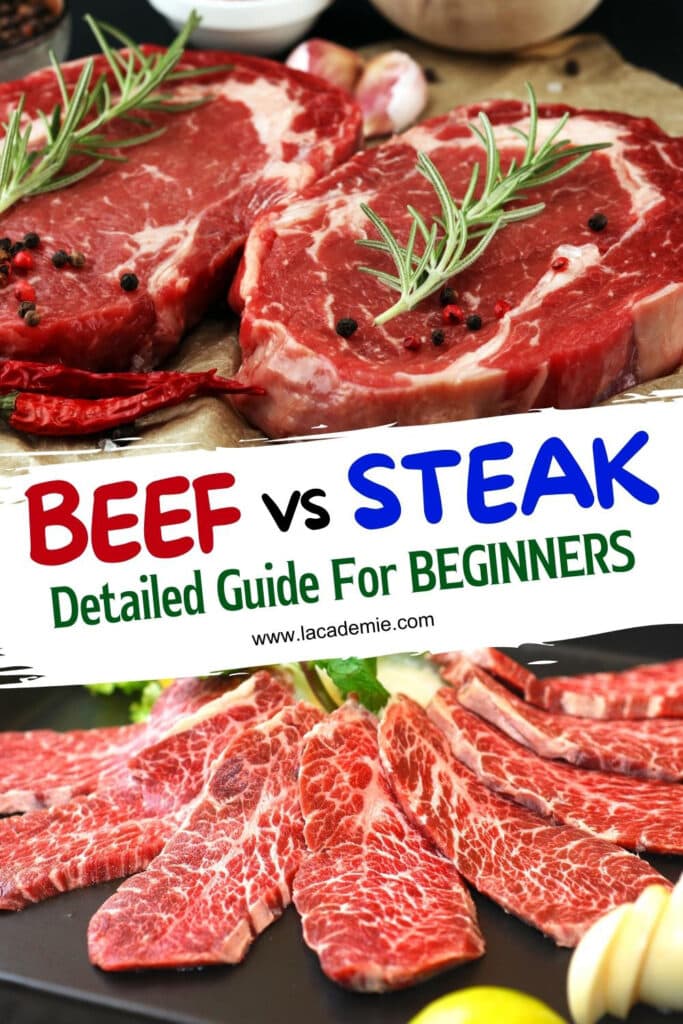 References
Steak – Wikipedia. (2022). Retrieved from https://en.wikipedia.org/wiki/Steak#Etymology
Beef – Wikipedia. (2022). Retrieved from https://en.wikipedia.org/wiki/Beef#
Pork – Wikipedia. (2022). Retrieved from https://en.wikipedia.org/wiki/Pork