Breakfast for dinner recipes seem to be tempting to anyone because I know, in our hearts, breakfast always tastes good, and obviously, no one can stop us from having it once again in the evening.
As far as I can tell, breakfast for dinner is so common that it has its own term for it, known as "brinner."
Chicken and waffles, blueberry dutch baby pancakes, French toast casserole, to name a few. I can't have enough of them. They're delicious and comforting, which usually pop up in my head whenever I want a hearty meal as a treat for my rough day at work.
Most of my recipes are a combination of energizing breakfast and decadent dinner, so feel free to use them as a way to indulge yourself once in a while.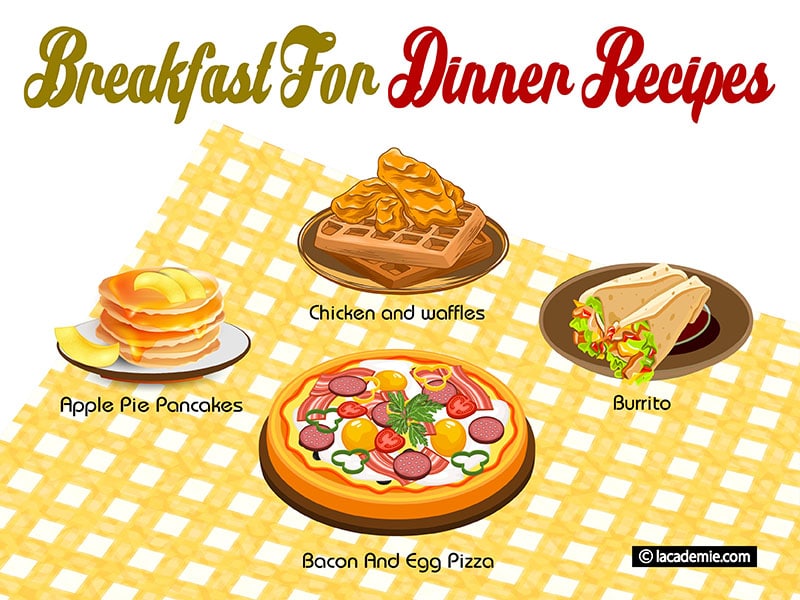 Appetizing Breakfast For Dinner Recipes You Dream Of
These breakfast for dinner recipes are so tasty that they might bring water to your mouth just by reading about them.
Waffle and Pancake Recipes
Chicken & Waffles
Omelet Waffles
Maple Bacon Waffles
Savory Parsnip Waffles
Apple Pie Pancakes
Sweet Potato Pancakes
Okonomiyaki
Blueberry Dutch Baby Pancake
Casserole Recipes
French Toast Casserole
Sausage, Egg & Cheese Breakfast Bake Casserole
Everything Bagel Breakfast Casserole
Scalloped Potato and Ham Casserole
Vegetarian Breakfast Casserole
Tater Tot Pizza Casserole
Sandwich, Burger, and Burrito Recipes
Smoked Salmon Eggs Benedict Burger
Bacon, Scrambled Egg, and Grilled Cheese Sandwich
Breakfast Burrito
Peanut Butter Bacon Sandwich
Egg, Avocado and Kale Toast
Egg in a Hole Toast
Croque Monsieur (French Hot Ham And Cheese Sandwich)
Others
Cauliflower Crust Breakfast Pizza
Bacon & Egg Pizza
Italian Baked Eggs
Bacon Fried Rice
Bacon and Egg Spaghetti
Chicken Hash with Eggs
27 Breakfast for Dinner Recipes For Pleasure-Seeking Diners
Breakfast recipes are quick and nutritious to provide you with energy to start an active day; they are easy to make and flavorful to enjoy, so why don't you turn breakfast recipes into dinner.
It will be an ideal choice for busy people or those who cannot wait for the following day to taste a delightful breakfast. Let's explore what I bring you in this post.
Flavoursome Waffle and Pancake Dishes For Any Time of Day
Can I have waffles and pancakes for dinner? The answer is a big Yes. Let's elaborate on each recipe and find out a plenty of surprising combinations I've prepared for you
Chicken and waffles is an amazing recipe which definitely serves you well. You can have it at any time of the day, whether it's breakfast, brunch, lunch, or dinner, as long as you want a hearty meal.
Simply put, it's an odd but delicious combination of sweet, buttery Belgian waffles and seasoned crispy fried chicken.
I love to drizzle a generous amount of syrup on top of waffles and chicken when they are still warm, then savor each bite.
Let's make perfect homemade chicken and waffles together:
Spotting leftover ham in the fridge, I immediately decided to make my new favorite dish called omelet waffle. This recipe is super easy and super delicious, which you can complete in a few minutes.
The beauty of this dish is that you can have it whenever you want, which means it could be both your breakfast and dinner.
Besides two main ingredients as ham and eggs, you can toss any vegetables you like including carrots, bell peppers, and more. If possible, a handful of grated cheddar cheese will be necessary to upgrade the flavor.
You can't go wrong with bacon because it seems to pair well with most things on the dining table. Maple bacon waffles are yet another proof of what I have just said.
Imagine your morning waffles are stuffed with a lot of yummy chopped candied bacon, and you can taste them in every bite. What is more, they're covered with a lot of maple syrup and a dollop of whipped cream.
Feel free to top the dish with some extra bacon. It's a safe bet that your kids will love their meals more than ever.
These yummy parsnip waffles are a perfect recipe for those starting a Paleo, vegatarian diet. With just one bite, you can feel the fluffy texture and savory flavor. It might be challenging to resist having waffles after waffles.
Thanks to the fact that they're made mainly from parsnips, they're an excellent source of soluble fiber and vitamin C.
The good news is there is no right time to enjoy this dish, and you can eat when you're in the mood for energizing and wholesome foods.
Have you ever thought about making apple pie in the form of a pancake? I'm telling you, this recipe tastes heavenly and seems to be extremely simple.
One part of the finely grated apple is added to the pancake batter, and the rest is used to decorate the dish. To save extra time, you can also buy apple pie filling instead.
I'd like to add a pinch of nutmeg and cinnamon for more autumn-like flavors.
Needless to say, apple pie pancakes are a superb fall breakfast or dinner that I often make to welcome a new season of the year.
To round up, drizzle maple syrup all over the plate and start gobbling. Bon appétit!
Enjoy a yummy breakfast for dinner with apple pie pancakes tonight! Watch this video:
I guess you've made sweet potato pancakes in the morning more than once in your life because they're toothsome and are a great way to use up leftover sweet potatoes in the fridge. What's not to love about these simple yet filling pancakes.
And the secret of great pancakes is that you should avoid over mixing the batter, keep it a bit lumpy so that your homemade pancakes might have a fluffy texture, instead of a chewy one.
The best part about this recipe is that it can make a satisfying dinner. You can pile it up with various toppings depending on your taste preference, such as fruits, candied bacon, or even eggs.
Okonomiyaki is a popular Japanese street food that originates in Osaka. This frittata-like pancake can make your mouth water just by looking at it.
Basically, it consists of batter, cabbage, and meat or seafood of your choice. That's why it's a blend of different flavors which have been combined perfectly by the sauce. It seems to be savory, salty, sweet with a hint of sourness from okonomiyaki sauce.
If you visit a Japanese restaurant, there are many chances that you will find okonomiyaki served on a teppan iron griddle, and there are also three main styles of cooking, including Osaka, Hiroshima, and Tokyo style.
By changing some ingredients, you can experiment with okonomiyaki every time you're in the kitchen, and that's a reason why I love it.
Blueberry Dutch baby pancake is jam-packed with deliciously fresh blueberries, so it's perfect for people with a sweet tooth. You might have known it under various names, including David Eyre's pancakes, German pancakes, or Dutch puffs.
This delectable blueberry-based breakfast is straightforward to make with a handful of basic ingredients. It's worth noting that a cast iron skillet is essential to achieve the best result.
Blueberry Dutch baby pancakes are fruity, light and incredible to share with your family members and friends.
The batter of this delectable pancake can be prepared ahead of time and kept fresh in the fridge for the next day's use.
How About Enjoying An Exquisite Casserole For Brinner With Friends?
These casserole recipes are an ideal candidate for brinner because they're both hearty and simple. Once you put them in the oven, everything seems to be done.
Moreover, if you're planning to cook for a crowd, there's nothing better than these dishes.
Make French toast casserole at the subsequent dinner gatherings for your family. It's guaranteed that they will love it.
This golden and caramelized casserole has a warm and inviting aroma, which you can describe as a buttery, sweet and cinnamon flavor.
To my surprise, this dish is simple to make and most of the hard work is taken care of by the oven. It also doesn't require refrigerating time; therefore, it obviously saves you some waiting hours before enjoying your casserole.
With this dish, you can easily increase its nutrition by adding fruits like blueberries, strawberries, or chocolate chips.
French toast casserole is always a good idea for a hearty dinner. Let's see this video to know:
This traditional breakfast idea could turn out an excellent dinner which you should try in your kitchen as soon as possible.
It has almost everything you need to boost your energy and satisfy your taste buds. The reason why I said so is that it consists of cheese, sausage, eggs, spinach, and mushrooms. You see?
Sausage, egg & cheese breakfast baked casserole features a cheesy, rich and appetizing flavor which you'll crave.
Let's pass it around the dining table and be ready to receive a ton of praise from your guests because no one is going to resist such a tempting dish.
I always appreciate effortless breakfast, especially some dishes that could be prepared ahead of time, because I'm crazily busy at this time.
I tend to fall in love with everything bagel breakfast casserole. Literally, all you have to do is throw things in the baking tray and wait.
This dish is loaded with hearty ingredients and is supposed to serve a group of people. To be specific, it's a cheesy, creamy, flavor-packed and protein-rich morning meal.
For me, everything bagel seasoning adds a bit of crunchiness to the whole dish and makes it become more attractive. If you're a fan of this delicious type of bagel, this dish is a must-try!
The leftovers can be warmed up beautifully in the microwave or oven for the next meal. But most of the time, there is none left.
Another delicious and filling casserole you can refer to when looking for a breakfast for dinner option is scalloped potato and ham casserole. If potato is your favorite starch, this dish should be top of the list.
It's straightforward to prepare, yet tastes incredible with a rich flavor and creamy, cheesy texture. You can serve it as a main course with a lot of vegetables on the side. Don't be surprised if it's always a hit, no matter how you cook it.
Here's a simple yet stunning scalloped potato and ham casserole recipe you could consult:
How about a yummy breakfast casserole for vegetarian family members and guests? This recipe might be your answer. It tastes so fantastic and can be tailored to fit your veggie preference.
If you follow my recommended recipe, you will realize that each ingredient plays an important role in creating unique flavors and texture of the dish. Hash browns and eggs make it bulky and filling while mushrooms and bell peppers produce sweet and umami aroma.
You can have it for breakfast and reheat the rest for dinner or vice versa. Either way, it's definitely filling and satiating.
As the name implies, it's a hybrid of tater tot and pizza. What a fantastic pizza substitute for kids. How cannot love golden and crispy tater tot covered generously with gooey mozzarella cheese and smoky pepperoni.
This recipe is quite versatile because you can end up adding various ingredients to it. I'm talking about leftover bacon, mushrooms, or tomatoes in your fridge. It's obviously a quick meal for busy weeknights.
This classic version of tater tot pizza casserole is so comforting and clearly rocks your taste buds.
Awesome Breakfast Sandwich, Burger, and Burrito Recipes For Dinner Time
What do you think about enjoying a sandwich, burger, and burrito at night? It sounds so exciting to me. Have a look at some recipes below before sharing your thoughts.
Add some nutrition to your weeknight rotation by trying out smoked salmon eggs benedict. So yummy, healthy, and easy to prepare.
This gooey burger seems to be created from the idea of a famous Wall Street broker based on his order when visiting a restaurant.
In this recipe, you can use store-bought hollandaise sauce instead of making it at home to save extra time. This creamy, tangy sauce combines savory salmon, buttery avocado slices, and silky eggs very well.
When it comes to toppings, there are various options you can choose from, such as ham, shrimps, prosciutto, arugula, chives, mushrooms, and more.
Smoked salmon eggs benedict is my all-time favorite, and I can have it two or three times a week without hesitation.
This bacon, scrambled egg, and grilled cheese sandwich is my family's go-to dish at any time of day. Try it, and I bet you will agree with me. With a touch of avocado, it becomes healthier and more enjoyable to taste.
This sandwich will be your decadent meal for Friday night with tons of energy packed in, to help you back up after a working week. It's also a perfect meal prep idea that helps you access your favorite food quickly when you have a sudden craving.
If you aim for a freezer-friendly meal, a breakfast burrito is what you need. This recipe allows you to make a huge batch ahead of time which is perfect for a busy weeknight family meal.
Moreover, it's possible for you to change what you put into a burrito every time you make it. There's a limitless option for how your burrito can taste.
In this recipe, the burrito contains everything you need from sausage, bacon, baked potatoes, ham, eggs to cheese. Therefore, it features a rich and satisfying taste.
Let's prepare a large batch of breakfast burrito with me:
Let's whip up your breakfast, brunch, or dinner with peanut butter bacon sandwiches. This recipe takes a couple of simple steps to complete, and your meal will be ready in no time.
It's perfect for an extended, tiring weeknight when you don't feel like cooking and prefer a light, comforting and effortless dinner.
Or it will be a fantastic eggless breakfast after a boozy night out. Either way, this dish is savory, sweet, nutty, and protein-rich.
I like the idea of incorporating greens into meals because they are always good for your health. Kale seems to be a good candidate since it is an excellent source of fiber and vitamins.
In this recipe, kale is sauteed with olive oil, salt, and balsamic; this way, it becomes softer and easier to eat. If you don't want heat involved, a good massage can do the job pretty well.
The toast is smeared generously with mashed avocado, which contains healthy fats your brain needs. Moreover, eggs keep you full and give you protein.
This quick toast takes you about 10 minutes to prepare, so it's perfect if you're short of time and still want a nourishing meal for yourself.
With just a twist, you now have a whole new dish from eggs called egg in a hole. As its name implies, you need to create a small hole in the center of the bread slice and crack an egg into it.
This dish also comes with various names, up to 66 names to be specific, such as egg in the basket, toad in a hole, one-eyed jack, egg in a nest, and more.
It's up to you to cook the egg to the desired doneness. For me, I prefer sunny-side-up fried eggs so that I can enjoy using cut bread to sop up the juicy egg yolk from the plate.
This French recipe is one of these iconic sandwiches made with ham and cheese. You'd best enjoy it with a glass of wine. In French restaurants, it's usually served with fries and salads.
You can consider this recipe as a hearty brunch or dinner; moreover, it's a great way to use up leftover ham in the fridge.
For the ultimate treat, don't ever think of adding skimmed milk instead of the whole version because it will make it less appealing than it should. Good croque monsieurs taste salty, rich, and cheesy.
Other Breakfast For Dinner Dishes Which Are Beyond Delicious
These recipes are loaded with wholesome ingredients and creative twists which you might want to experiment with. Keep reading to find out more.
Cauliflower crust pizza will soon be your favorite breakfast, brunch, or dinner. You don't have to compromise the deliciousness of regular pizzas when following this recipe because it tastes terrific and wholesome.
You can use a frozen store-bought crust or go the extra mile by making it at home. Either way, you're making progress on the way to healthier cooking.
The toppings of the pizza vary depending on your own family's preference, and there's no strict rule about what you can put on it. Feel free to use leftover ham, bacon, eggs, cheddar cheese, red onions, and more.
No matter what you toss in it, it surely has a cheese and savory flavor which my family falls in love with.
What's in a wholesome cauliflower crust breakfast pizza? Let's find out:
Crack some eggs on the pizza crust and sprinkle it with a ton of bacon bits, it seems to be a perfect pizza for a quick and delicious dinner.
This bacon and egg pizza tastes incredibly good with a comforting and relishing aroma, and definitely suitable for all ages. No one is going to deny such a lovely piece of goodness like that.
For extra flavor, I highly recommend that you should keep eggs slightly undercooked. This way, you can enjoy a buttery aroma from them in each slice of warm pizza.
Italian baked eggs, or eggs in Purgatory, or shakshuka, is a popular dish that is great to indulge yourself whenever you want. If you use store-bought tomato sauce, this recipe will come together in under 15 minutes.
It's often served with Italian bread, French bread, sourdough, or rye. This one-pan meal is savory, creamy, and fun to eat. Don't worry if you don't like runny egg yolk; eggs will continue to be cooked in the cast iron skillet after it's removed from heat and soon achieve perfect doneness.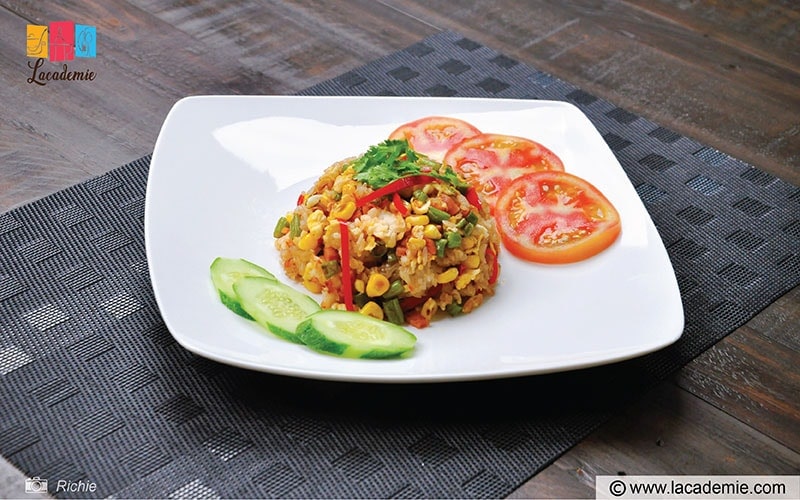 This one-pot, savory and protein-packed fried rice is guaranteed to be way better than your takeout. So are you ready to make it at home? It's quick, simple to cook, and can become a fantastic weeknight meal, incredibly when you're rushed.
The secret is that day-old rice is more suitable to fry than freshly cooked rice because it tends to be firmer, so it will stay in shape and won't clump when being heated. And other ingredients are easy to find in any supermarket.
This is the best dish you can keep in the back of your pocket in case you're running out of the idea.
Bacon and egg spaghetti is a perfect brinner idea that I've ever come across. Although you might find the combination of bacon, egg and spaghetti is kind of weird; I think this recipe rocks.
Eggs, especially egg yolks, play an essential role as an effective emulsifier that creates the dish's desired texture: smooth and velvety. At the same time, smoky bacon makes it rich and savory.
For this reason, every single time I cook it for my family, the plate full of spaghetti will disappear in less than a few minutes.
Chicken hash with eggs is a great way to use up leftover chicken from yesterday's meal. Moreover, you can whip it up in no time so it's super convenient if you are kind of busy in the evening.
In this recipe, chicken and potatoes are sauteed with a lot of herbs and spices which make them taste better than ever. To be more specific, this dish is fragrant and inviting.
You're welcome to add some heat to the dish by switching the pepper for jalapeño.
Breakfast For Dinner Recipes Are Always Epic
I like eggs, and I find that I not only crave them for breakfast but also for dinner, which I consider as a main meal during the day. That's how breakfast for dinner recipes come in.
I hope my list can be helpful and inspire you to feel excited looking at the dining table.
It's a safe bet that these above dishes really comfort your body and mind and make you feel better at the end of the meal. It's your privilege to treat yourself sometimes, especially for hectic weeknights.
In another context, when you're pushed for time, you're more than welcomed to reach for some quick and simple breakfast for dinner recipes here so that you can save extra hours and still have a decadent meal.
Keep in touch and tell me if you try one of my above recipes. I'm happy to answer all of your comments.
Nutrition Facts
12 servings per container
---
Amount Per ServingCalories341
% Daily Value *
Total Fat 14g

22

%
Cholesterol 140mg

47

%
Sodium 414mg

18

%
Potassium 143mg

5

%
Total Carbohydrate 44.2g

15

%

Dietary Fiber 1.4g

6

%
Sugars 19.1g

Protein 10.2g

21

%
---
Calcium

103

%
Iron

2

%
Vitamin D

18

%
* The % Daily Value tells you how much a nutrient in a serving of food contributes to a daily diet. 2,000 calories a day is used for general nutrition advice.