If you're a big fan of fruity breakfasts, blueberry breakfast recipes will definitely please you to the last bite! Blueberries can be easy-fitting with many dishes such as oatmeal, waffles, yogurt, pancakes, and almost everything.
Blueberry is widely known as the king of antioxidant kinds of food! This delicious fruit with a blue hue also helps the heart function well and prevents your body from cancer or moderate blood pressure.
For a bunch of practical reasons, I proudly introduce you to a list of blueberry breakfast ideas so you can make them yourself at home. Quick, yummy, healthy, and affordable!
And right now, no more outside talking. Let's dive into these lovely dishes!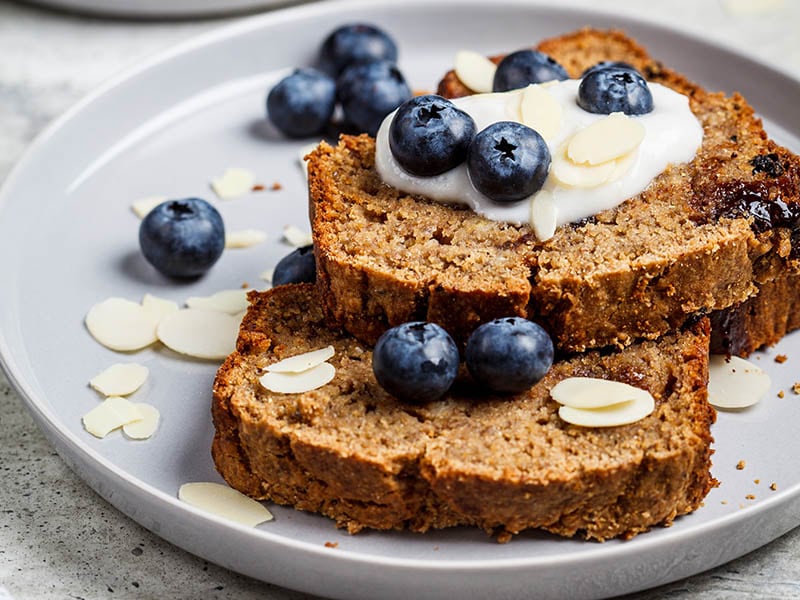 These Blueberry Breakfast Recipes Will Swing Your Mood To Heavenly Happy!
Do you need some recommendations for your morning meals? A bunch of blueberry breakfast recipes below will be more than enough to satisfy your needs.
Total time: 5 minutes
Say hello to the ultimate summer breakfast recipe that indeed saves you a lot of time: blueberry peach smoothie.
The delicate and floral sweetness of the peach mixed up with the juiciness of the blueberries in one smoothie is more than a fantastic flavor.
The naturally sweetened fruits create this flavorful and fabulous breakfast without any eggs. Also, I really enjoy how its fresh, smooth, and fruity taste pairs well with nutty almond milk. Give it a try! It only takes 5 minutes to make, and you will have a yummy smoothie glass.
Starting a new day with Blueberry And Peach Smoothie will freshen up your mood!
Total time: 15 minutes
Everyone loves pudding! Pudding has many flavors and recipes, but let's say that there's a vegan, dairy-free, and gluten-free pudding. Will you take a chance to taste a delicate piece of it?
With almond butter and vanilla appearing in this cutie, the taste is creamy, nutty, and rich at the same time. The unique half-sweet and half-tart of blueberries provides the chia pudding with a mildly earthy flavor. It has also done an excellent job balancing everything perfectly.
Fast, healthy, and amazingly tasty for those who want to start a new day with a quick and refreshing breakfast.
Total time: 10 minutes
Are you getting bored of the regular waffles? Do you want to try another combination of waffles? Bacon and blueberry waffles sound engaging enough to make, right?
Let the maple syrup be in charge of all the sweetness. Then comes the slightly sour and sweet flavor from the blueberries, and bacon will be the balancing element of the whole dish.
Seriously, the nutty pecans sprinkled on top, the sweet maple syrup, mildly floral blueberries, and salty and crispy bacon make every bite delicious.
Total time: 30 to 35 minutes
Your kids want breakfast, but they are all tired of those plain and ordinary pancakes? Well, sure things after this recipe, they only crave the sour and sweet taste from these lemon and blueberry muffins for breakfast.
These tender, light, moist, and utterly juicy muffins are all you want for every breakfast. The sour flavor of the lemon does the trick for stimulating all the other flavors, especially the mild and buttery of the muffins.
It's not difficult to make, and besides being an excellent breakfast potluck, you can make it for brunch or snacks. Perfect for all! One more important thing is that you don't defrost frozen blueberries (if you use them), or else your muffins will turn out soggy.
Let's find out how yummy those Lemon And Blueberry Muffins are!
Total time: 5 minutes
I know the summer heat has always been a nightmare. No one wants to have some hot skillet ideas for their morning. With that being said, waking up with a cool smoothie bowl is the best way to refresh.
This special smoothie mixed with blueberries and banana gives you not only the most natural sweetness but also fresh and healthy. Also, the bowl is more engaging with the earthy acai which is famous for its high in healthy fats and fibers.
I think this recipe will go straight to the top of the summer breakfast list. It's a quick, easy, fresh, and yummy all-in-one bowl!
Total time: 40 minutes
You want to surprise your lover by sending some flavors from French served on a bed? Well, I'm here to give you a hand! Blueberry and cream cheese stuffed French toast will not let you down.
Different from other typical French toasts, this one has an attractive appearance made more appealing with blueberries. Combining the fruits' glittering juiciness with the toasts' slight crunchiness together, even the pickiest person can't say no to the dish.
Don't forget the creamy whipped cream cheese! The dish will not be itself without the sweet taste and a pleasant tang of cream cheese.
Also, soft and rich butter with the ultimately traditional maple syrup is one big plus in enhancing the overall flavors of this culinary delight.
Total time: 45 minutes
You find the regular chocolate biscuits boring and tame? Let me introduce these fruity biscuits to brighten up your dreary morning.
Well, it may not be lovely; but trust me, once you taste it, you will nibble on it on end. The fluffy, soft, and little crispy texture work well with the chewy, tender, and juicy blueberries.
That creates a great combination between buttery, fatty taste and half-sweet, half-sour flavor! Easy to make with basic ingredients, you've got yourself some out-of-this-world biscuits!
I highly recommend you a hot cup of coffee, or you can choose many types of breakfast beverages to finish the meal.
I know you're going to fall for those little Blueberry Biscuits!
Total time: 30 minutes
If you need a Muffin that gives you full of blueberries each bite, this recipe is a perfect option for you! They are fabulous not only for snack time but also for a morning meal.
The special thing in those little muffins is using honey instead of sugar, which imparts a natural sweetness to the dish. Also, replacing other sauces with Greek yogurt will provide you with a high source of protein and healthy nutrients.
Especially, juicy and sweet blueberries are tossed up in the batter as a great way to further up the flavor. Every bite is delightful and yummy with these all-in-one muffins!
Total time: 40 minutes
Oatmeal is a friendly food that can go along well with nearly any breakfast recipe. And fresh blueberries are one of them. Baked oatmeal bars with blueberries are suitable for busy people because you can make it ahead.
I sometimes use this one especially when I need breakfast recipes for camping owing to its convenience.
You just need to pour the wet ingredients including milk, eggs, and melted butter into the combination of rolled oats, almonds, cinnamon, and other components. Then you fold those lovely blueberries into that mixture and leave it in the oven for around 35 minutes.
These bars feature an excellent texture of chewiness and crunchiness. Not only that, the dish has a slight caramel flavor with a decent sweetness from the blueberries and almonds. So delicious for a simple takeaway breakfast!
Total time: 35 minutes
You have some puff pastry left in the freezer and don't know how to deal with it? Puff pastry blueberry turnovers will handle them for you.
The process requires only some basic kneading skills. You will boil the mixture of blueberries, granulated sugar, and lemon juice with medium heat until it gets thicker. Then, place the mixture in the center of the puff pastry and fold it.
When this tasty puff pastry breakfast gets straight out of the oven, you will be surprised with the result. It contains crispy baked yellow crusts outside stuffed with sweet and juicy blueberries inside. These babies will wake every olfactory nerve up with their crisp yet juicy texture and fruity flavor.
Total time: 50 minutes
This recipe sounds like a dessert, but you still can save it for breakfast. Let's give a big round of applause for this oatmeal breakfast delight with blueberries!
It's hard to believe why on earth this dish has such creamy, crunchy, naturally sweet, and unbelievably fruity flavors! The texture is filled with almond butter and lots of oatmeal, making it extremely buttery, nutty, and crumbly.
And it doesn't stop there. The plate is full of juicy blueberries, which adds more fruity and mild sweetness to the dish.
As much as healthy and flavorful as it is, it only takes you more than half an hour to cook. That's so worth it when you have a super healthy and delicious breakfast to start a day.
Total time: 4 hours
This dish is a well-known morning recipe prepared in advance. It might not seem comforting and warm, but it can be your life-saver on hot days.
To make this one, you need to know certain rules for soaking chia seeds. Overall, it is a combination of blueberry, oats, chia seeds, almond milk, and plain Greek yogurt all in one jar. If you want it to have an extra sweetness, you can add vanilla.
Cold oats already have a hearty taste and spoonable texture. Adding fresh blueberry helps balance the flavor perfectly. The next step is to give the jar to your kids to shake up. I'm sure they are obsessed with the shaking-up part as much as the oats themselves.
Then, leave it in the fridge for the absorbing process. Whenever you wake up, no more worries about being busy in the kitchen while you're late for your meeting.
Total time: 40 minutes
Looking at those flaky, fluffy blueberry danish! How beautiful and organized it is! I think you will be stuck with this dish for a couple of weeks (at least).
This is one of the easiest sweet breakfast treats that you can make for the whole family.
It's just like a soft pillow that has blueberry pie on the top of it. When you sink your teeth into those, you will find all of the flavors put together.
You can see juicy, sweet, and glittering blueberry pie oozing over the crescent that balances the buttery and creamy texture. This dish will wake everybody up with joyfulness.
By the way, you can replace any pie filling you crave to create new flavors of danish. If you want to turn it into a lovely dessert, just gently add ice cream on top. And in case you can't use up the dish, cover it tightly and leave it in the refrigerator.
How does Blueberry Danish taste so good? Let's find out the answer together!
Total time: 20 minutes
Donuts for breakfast, why not? Your kids will cling to those beautiful blueberry rings forever! To be honest, how can you shake your head at the unbelievably satisfying look of these donuts? And not just beautiful outside, but yummy inside.
The texture is outstanding with softness and fluffiness. It contains a mixture of coconut milk, apple cider vinegar, baked potato, and other dry ingredients. Depending on your kneadings, it will have a little sticky, chewy, and moist texture (I really like that!).
Also, the blueberry glaze is a viscid combination of blueberries, sugar, and unsweetened coconut milk. Drizzling it on the donuts gives you a wonderful experience that you ever have.
Total time: 25 minutes
There are some types of breakfast you just can't get enough, and pancakes in one of them. I can't blame why everyone is obsessed with this meal. But with blueberries and almonds, the flavors will be more fabulous.
These pancakes are not only moist, buttery, and fluffy. They also have a chunk of juicy blueberries filled inside so that it will melt down gently and beautifully. The texture is extra thick and smooth, all thanks to the great Greek yogurt.
Don't forget those almonds! They will give you pleasant and satisfying crumbles every bite. Besides, adding lemon zest on the plate probably balances the overall flavors.
Total time: 1 hour
French toast has always been an all-time favorite choice for French-style breakfast, but what if you combine it with blueberries in a casserole? This recipe will place a solid position on your breakfast menu.
The name reveals itself. The host of the dish probably is the blueberries. But surprisingly, you have to use not only fresh blueberries but also blueberry sauce.
It would be a mistake if I didn't mention those French toast cubes! Well, blueberries may seem over taste in the dish, but trust me, the buttery French toast with tangy and creamy cream cheese will balance them all.
Although this one takes an hour to be ready on the table, it is worth giving a shot! You will be amazed by its beautiful purple color of blueberry sauce and soft, fluffy casserole texture.
Total time: 12 minutes
When it comes to healthy eating, the salad will have numerous votes. And if you ask me whether blueberries turn out great with salad, the answer is a big yes!
The process is simple. You add blueberries to the scrambled eggs and cook them until the fruits burst in the skillet. After that, pistachios and baby arugula join the combination.
With the crispy texture of the salad, adding juicy blueberries will make it more flavorful. Also, pistachios having a subtle flavor of the nuts is the way to balance the peppery and slightly spicy baby arugula. The recipe requires a few ìngredients, but the result is exceptionally surprising.
Total time: 35 minutes
Want some German-style breakfast recipes to broaden your morning meal options? Blueberry Dutch Baby Oven Pancakes will not disappoint you to the last bite.
This gorgeous baked oven pancake has a puffy surface yet crispy edges. The juicy and sweet blueberries add a more naturally sweet and fruity flavor to the chewable pancake! Also, it brings harmony to the dish, so you won't get bored while enjoying it.
The dish is different from other pancakes because of the blueberries and the crispy edges. I believe your family will eat up before you catch up with a new batch!
This Blueberry Dutch Baby Oven Pancake is going to be your next breakfast privilege!
Total time: 1 hour
It doesn't have to be super greasy and loaded with unhealthy toppings to make a good pizza. Yes, you heard me. Pizza can be healthy but incredibly delicious with fruity toppings like blueberry and honey caramelized onion, as evident in this Naan pizza recipe.
This baby here mixes with honey, olive oil, and nutrient blueberries. The blend of indisputable sweetness of the blueberries and the mild, creamy taste of Ricotta cheese is so charming for a bite.
It's savory, creamy, juicy, utterly delicious, and a divine healthy pizza for those who couldn't swallow the unhealthy one. It might take you more time to finish, but it will give you a more exciting experience than the regular one.
Total time: 28 minutes
To be honest, blueberry jam, toasted sourdough bread, and Brie grilled cheese sounds like the combination you would never want to taste. But trust me, this recipe will rock up your morning with its fancy and fabulous flavor.
You might already know about Brie grilled cheese's rich, buttery, and earthy taste. That's more than enough when combined with blueberries and ham. The savory and salty ham go well along with sweet blueberries, making the dish more satisfying and put together.
Total time: 28 minutes
Today is your birthday and you want to make something special yet easy and quick? I've got you! These blueberry cream cheese Danish crescent rolls will be a wonderful starter for a memorable breakfast on your birthday.
Put a spoon of softened cream cheese on top of the rolled crescent, followed by blueberry pie filling. Other than the buttery, fluffy, and pillow-soft texture, this recipe offers you a combination of sweet blueberries and creamy stinky Danish cheese.
It takes you half an hour to ideally make these endearing crescent rolls. By the way, you can use some side dishes to enjoy with crescent for breakfast, like a bowl of colorful salad.
I know your mouth is watering, so let's learn to make this Blueberry Cream Cheese Danish Crescent Rolls.
Total time: 10 minutes
You are following a gluten-free diet, so you crave some morning dishes without any gluten? Well, let's get to know the new recipe: blueberry muffin oatmeal.
The dish features nutty, buttery, and crispy pecans along with almond butter. They are already a great combination. But the highlight of the whole bowl is mildly sweet frozen blueberries and bananas. This pair is like best friends forever. I can't get enough of them!
This creamy and spoonable texture with all the needed flavors will wake up your stomach. And importantly, gluten-free food lovers, remember to use non-gluten rolled oats and nut milk (I prefer the unsweetened almond) for this recipe.
Total time: 20 minutes
It's freezing outside, so no doubt you need a cozy meal to warm up your stomach. A bowl of hot blueberry honey quinoa will be the optimal option. Although quinoa is technically a seed, it is still classified as a grain that has a good source of plant protein and fiber.
To make the bowl, you just need to toss up quinoa, blueberries, and other ingredients into the non-stick pan. Then, cook with medium-low heat until it gets the texture you want.
Simple, healthy, and super yummy! This thick hot quinoa includes juicy and fresh blueberries. Adding a drizzle of honey glaze also makes the bowl smoky, earthy, tender, and sweet.
Serve this delight with crispy almonds, but you can add any ingredients you want on the top. The bowl is delicious and flavorful in any way.
Total time: 40 minutes
These muffins don't include matcha, but they still have that lovely green. How is it possible? I will tell you the secret, which is the spinach and blueberry muffins! Well, I know what you're thinking, but trust me, this unique combination deserves the chef kiss.
Just adding spinach leaves to the muffins making process, you will be surprised with the result! Usually, no one ever wants to put veggies into muffins. But give it a try, and these muffins will appear on top of your breakfast ideas list.
The fluffy, light and soft texture accompanying the sour and mild sweet blueberries will give you an incredible experience. I bet your kids and your family will love it as much as I do!
Total time: 20 minutes
I've got you this mellow yogurt parfait recipe if you don't want to nibble on any salty and piquant morning dishes.
This one encompasses chunks of fresh blueberries, strawberries, and crunchy granola on top of plain Greek yogurt (optional). The dish includes all the creamy, nutty, fruity, and floral flavors in one cup.
The recipe is versatile and healthy, so if you are following a vegan diet, just pick up the vegan granola and yogurt. You can do the same with a gluten-free diet.
That's Enough For Wandering Around, Let's Get Busy In The Kitchen!
Are you ready to make one? Those blueberry recipes above are delicious and quick but still offer enough nutrients for a healthy body. Besides, blueberries are famous for their stress-free element, so every time you feel down, call for blueberries!
If you find those recipes helpful, you can spread them to your loved ones and put those recipes into practice together. Also, if you have any interesting experiences or some wonderful results, please let me know in the comment section below.
Nutrition Facts
1 servings per container
---
Amount Per ServingCalories472
% Daily Value *
Total Fat 15.6g

24

%
Cholesterol 5mg

2

%
Sodium 130mg

6

%
Potassium 611mg

18

%
Total Carbohydrate 65.2g

22

%

Dietary Fiber 17.7g

71

%
Sugars 19.1g

Protein 21.6g

44

%
---
Calcium

452

%
Iron

6

%
Vitamin D

1

%
* The % Daily Value tells you how much a nutrient in a serving of food contributes to a daily diet. 2,000 calories a day is used for general nutrition advice.