I have tried many different types of bagels because every one of them is so tasty and unique. If you are also crazy about their amazing flavor, let's learn about the features and various storage methods of these bagels.
Bagels are not only delicious. They are also very versatile. You can serve them for breakfast or as a fantastic mid-day snack. Another astounding thing about bagels is that they are easy to make.
This food is also diversified in variety. With 21 different types, I will show you a comprehensive view of them with several facts that you might not know before.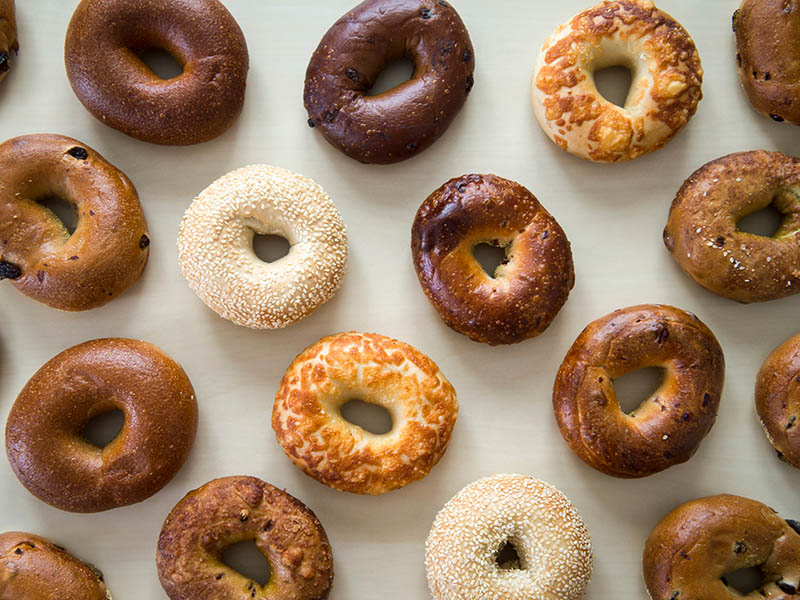 21 Heaven-Sent Types Of Bagels To Explore
I bet that you don't want to wait anymore, so I will go immediately into the main topic. This section will give you the most detailed information about the 21 most delicious types of bagels. Read on!
4 Main Types Of Bagels With Distinctive Characteristics
There are 4 primary categories of bagels. You will be amazed by their distinctive features. Let me introduce all of them in the section below.
| | |
| --- | --- |
| Type of bagels | Characteristics |
| Montreal Style | Cooked in a wood-fired oven, topped with poppy seeds or sesame seeds |
| New York Style | Crispy exterior and chewy interior, topping includes sesame seeds, poppy seeds, dried onions, or garlic |
| St. Louis Style | Have verticals cuts of ¼ to ⅛ inches thick |
| Asiago Bagel | Rich and salty, topped with grilled zucchini, sun dried tomatoes, and fresh mozzarella. |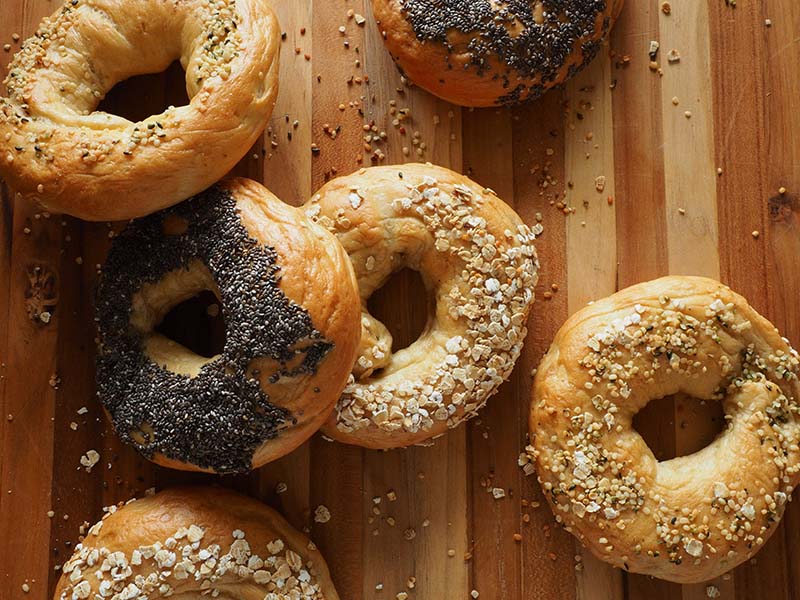 Montreal-style bagels are prepared differently from other types. People bake them in a wood-fired oven rather than a common oven. In addition, they cook the dough in honey-sweetened water before baking it.
The dough consists of flour, egg, malt, and honey. As the name indicates, this variety came from Montreal, Quebec. There are 2 varieties, namely, one containing sesame seeds and one consisting of poppy seeds.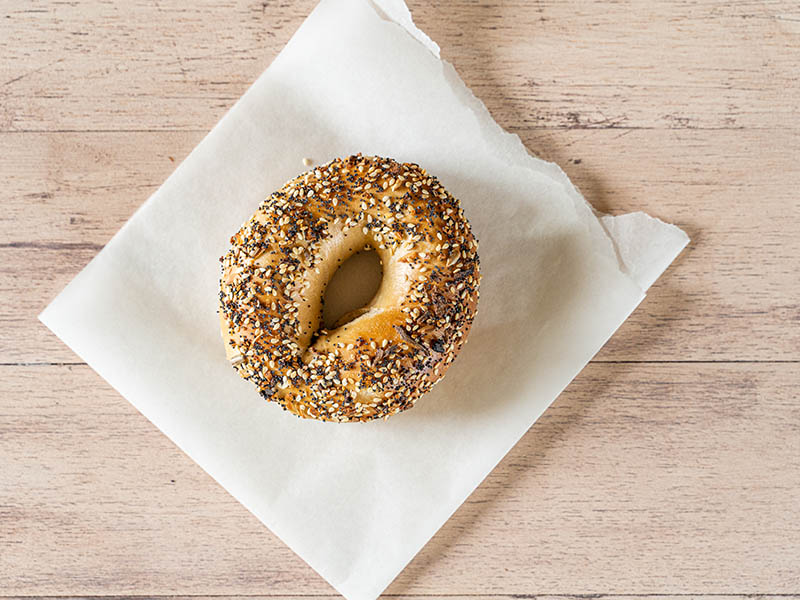 New York-style bagels are a classic dish of American cuisine. They are known to have a crispy exterior and chewy interior, thanks to the tap water, which has a low mineral concentration.
Compared to the water of other states, New York's tap water is one of the softest water in America.
Another component of New York-style bagels includes sesame seeds, poppy seeds, dried onions, or garlic. Compared to Montreal-style bagels, New York-style bagels are bigger and airier. Notably, people never toast them.
3. St. Louis Style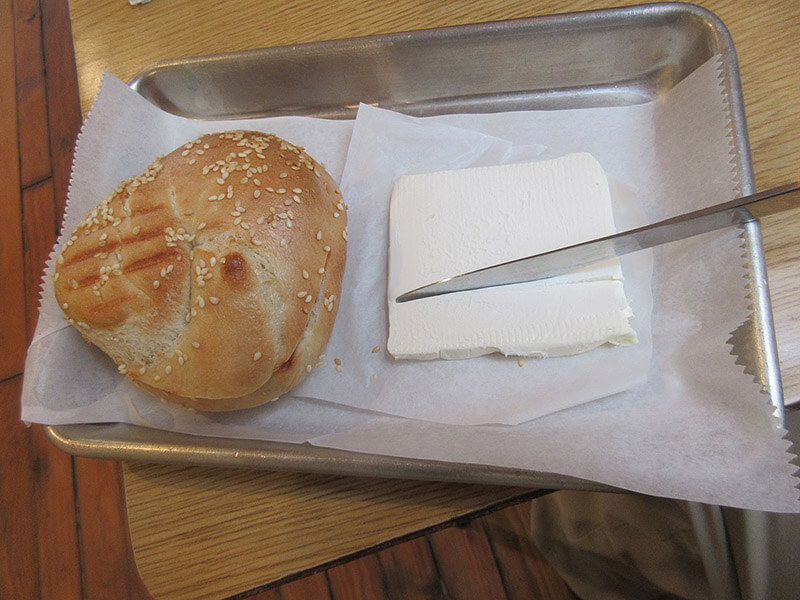 St.Louis style bagels belong to a bread company called "St. Louis Bread Company" or "Panera Bread". This type of bagel is different from the others due to its slicing style. For other types of bagels, people slice them horizontally. But St. Louis style only has vertical cuts.
Every slice of St. Louis style bagels is about ¼ to ⅛ inches thick. And there are usually 8 slices. This cutting method aims to help the bagels absorb the spread better. But it is hard to serve them as sandwiches.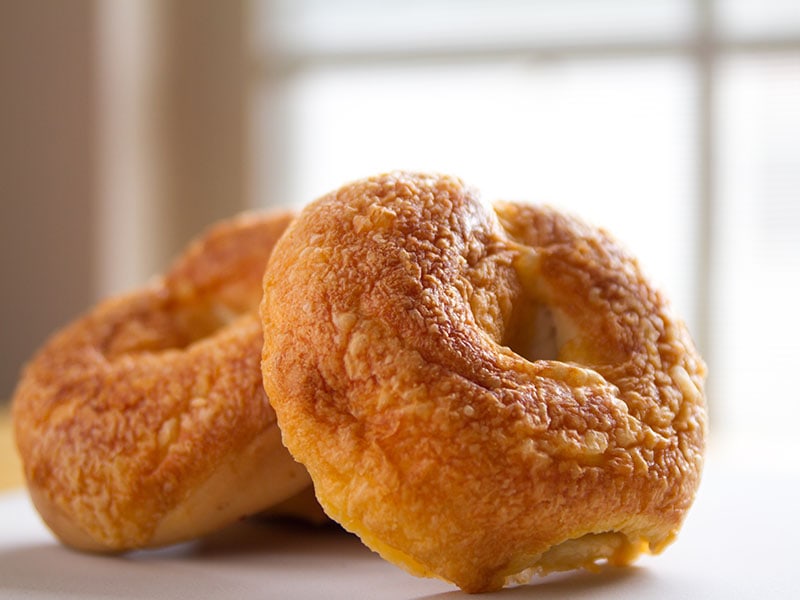 Asiago is the name of a type of Italian cheese produced from cow milk. It has a very rich and salty flavor. People make it on the Asiago plateau in Veneto, Italy.
To make Asiago bagels, the cook sprinkles some shredded Asiago cheese on the top of the bagel when it has just been boiled. Then they bake the bagel in the oven. The result is tasty, aromatic, and golden-brown bagels. Spread some butter on them for a perfect flavor.
Asiago bagels go best with Mediterranean savory fillings like grilled zucchini, sun dried tomatoes, and fresh mozzarella.
If you want to find a bagel that tastes like Asiago bagels, cheddar cheese bagels are the best choice.
This Asiago bagel recipe will be your next favorite.
17 Incredibly Tasty Subtypes Of Bagels
Besides the 4 main types, there are also more varieties with different flavors and textures. Keep reading to learn more!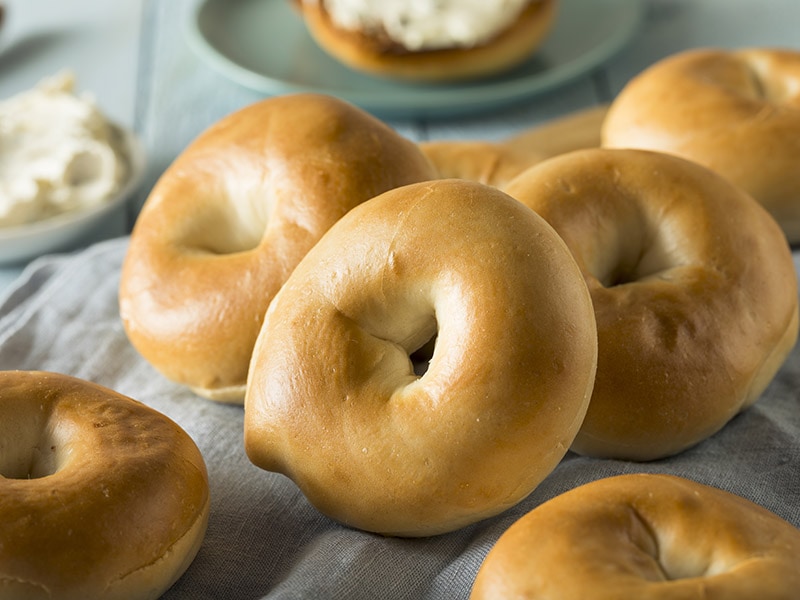 This is the most basic form of bagel, which consists of basic baking ingredients such as bread flour and yeast. However, even though these bagels do not have any flavorings, they taste excellent by themself.
The outside texture is crusty, while the inside is chewy and soft. Compared to common bread, plain bagels are sweeter and denser.
To enhance the flavor of plain bagels, you can top them with cream cheese and salted butter. This seemingly simple type of bagel will win your heart.
Plain bagels are very easy to make. But this recipe makes it even easier.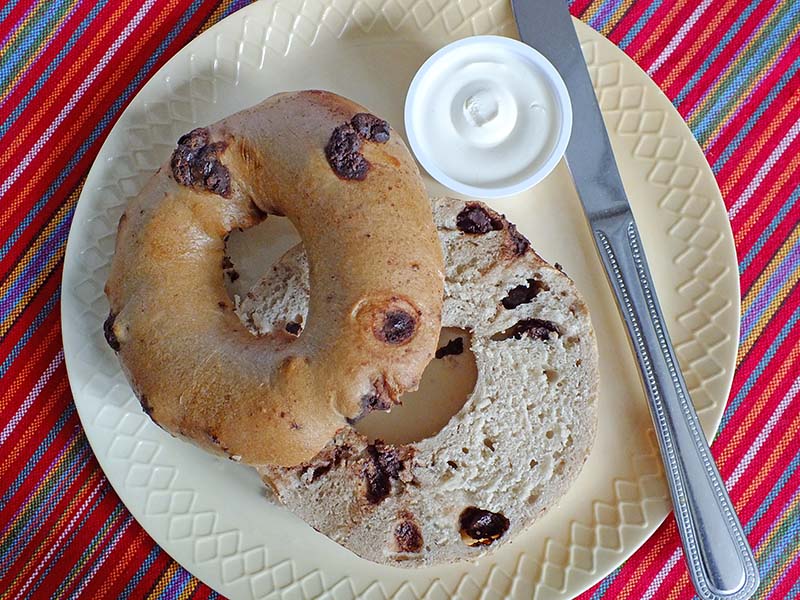 Who doesn't love the sweetness of chocolate? Chocolate chip bagels are one of the most loved bagels, especially among children. They have a delicious melted chocolate filling, which will win your heart after the first bite.
Chocolate chip bagels taste best when they are warm or toasted. The exterior will be cracked and will have a beautiful golden color.
If you cannot finish chocolate chip bagels in one sitting, don't worry! By learning the proper method to store bagels, you can feel free to enjoy them later.
Regarding the toppings, people love to top this bagel with both sweet and savory ingredients such as peanut butter, cream cheese, mashed bananas, deli meats, and bacon.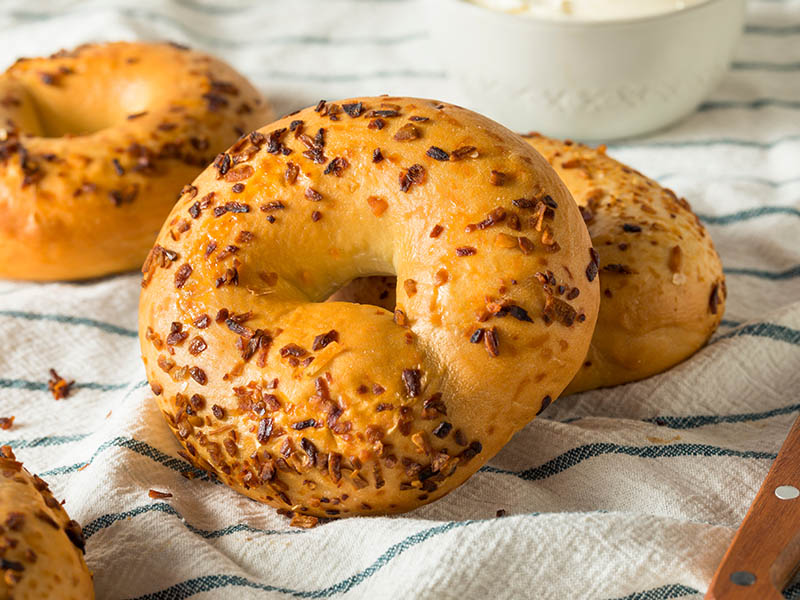 Onion bagels have an amazingly rich and strong taste. The dough is crunchy and packed with the flavor of onions and garlic. This type of bagel goes extremely well with glistening butter or scallion cream cheese.
I have a small tip for you when making onion bagels. You should add either dehydrated or chopped onions to the batter before adding the flour. This way, the bagels will become more aromatic.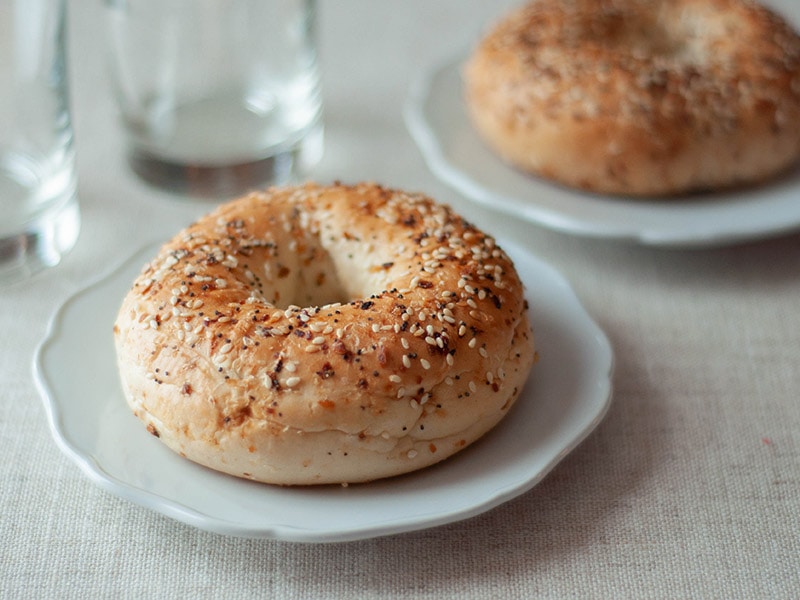 The prominent flavor of everything bagel comes from onion, seeds, and garlic. They provide an excellent flavor profile and a crunchy texture. The recipe for everything bagels varies depending on the cooks.
You can enjoy everything bagels with your favorite toppings, such as butter. A very popular choice is sweet ingredients such as cream cheese or strawberry jam because they can complement the savory taste pretty well.
For breakfast, you can have everything bagels as delicious sweet and savory sandwiches. Their nutty, garlicky, and oniony flavor is absolutely amazing.
This recipe will help you make the best everything bagels.
9. Chocolate Vanilla Bean Bagel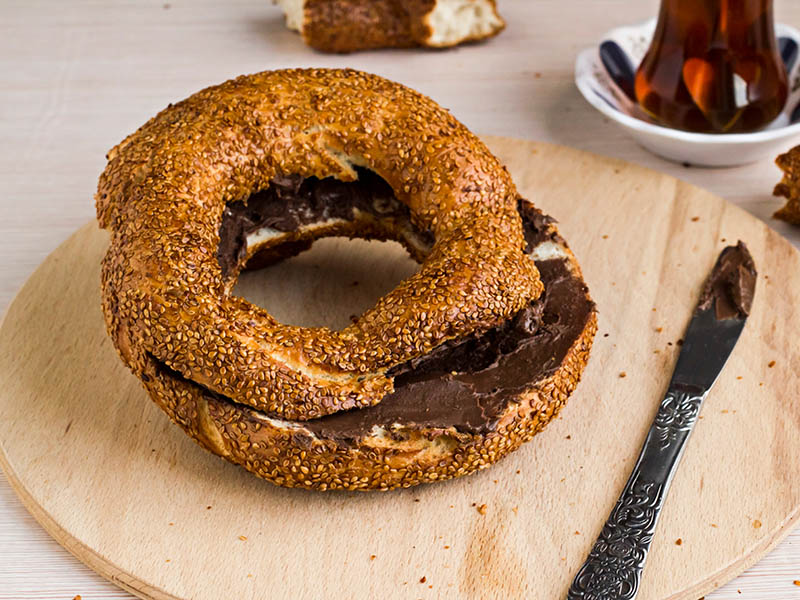 Chocolate and vanilla beans make a perfect flavor combination. They are sweet, nutritious, and very tasty. This type of bagel is an ideal choice for summer breakfast. I strongly recommend you top them with Nutella or honey.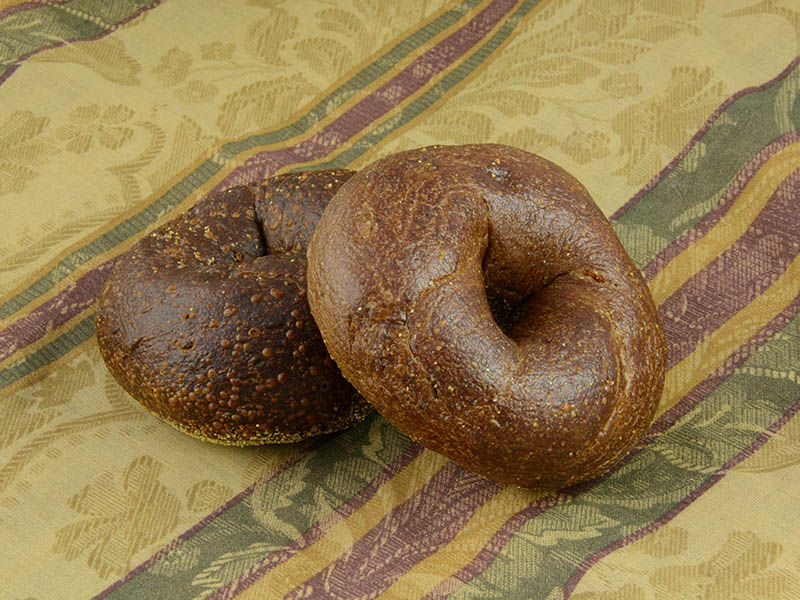 This is a German variety of bagels. People create it from sourdough starter and coarsely ground rye. Sometimes they make it from rye flour and whole rye berries. The bagels have a slightly sweet and sour taste and a soft, chewy texture.
In some versions, people also add coffee, molasses, and caraway seeds. The American version often has caraway seeds. Another version is marble rye bagels, which feature marbles of light and dark rye dough.
"Pumpernickel" is an old Bavarian word that means "hard". It refers to the dense texture of the bagels. Some people also say it reflects the complicated process of transforming Pumpernickel grain into flour.
You can top Pumpernickel bagels with anything you like. But the best choice is definitely chopped onions. These are the Jewish-style Pumpernickel bagels. Other options include cream cheese, pastrami, and a mixture of tomato, onion, and cheese.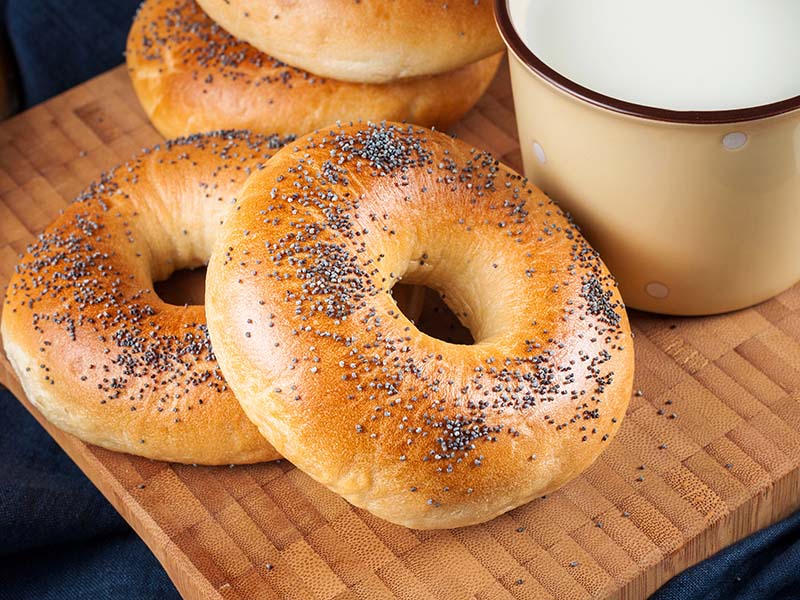 If you love poppy seed's distinctive nutty and crunchy taste, you should never miss poppy bagels. They have a crispy exterior and a soft, chewy interior.
The ideal toppings for them are cream cheese and butter. However, you should not top it with peanut butter because it can alter the flavor.
The only disadvantage of poppy bagels is that the poppy seeds may get stuck in your teeth. You should brush your teeth carefully after enjoying them.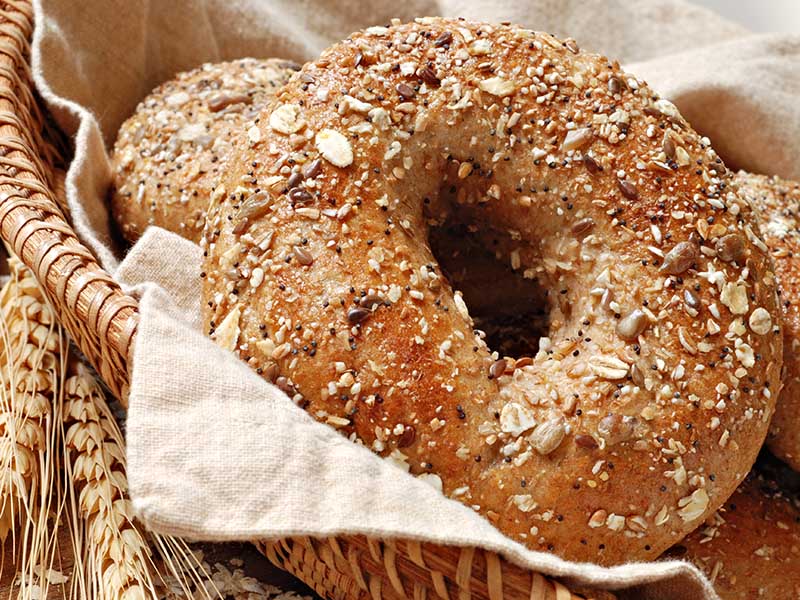 If you are looking for a healthy variety of bagels, I recommend that you try whole wheat bagels. People make it from whole grain flour and whole grains instead of the common refined grain flour. These ingredients contain a lot of beneficial minerals and fiber.
To add more flavors to your whole wheat bagel, simply slice the bagels into 2 halves using a sharp bagel slicer and add some unsalted butter or low-fat cream cheese.
If you are a huge fan of pumpkins, you should never miss pumpkin bagels. People make them by adding pumpkin spice to the dough and sprinkling some sesame seeds on the top of the bagels.
The flavor of pumpkin bagel can easily pair with standard bagel toppings, such as peanut butter, cream cheese, and almond butter.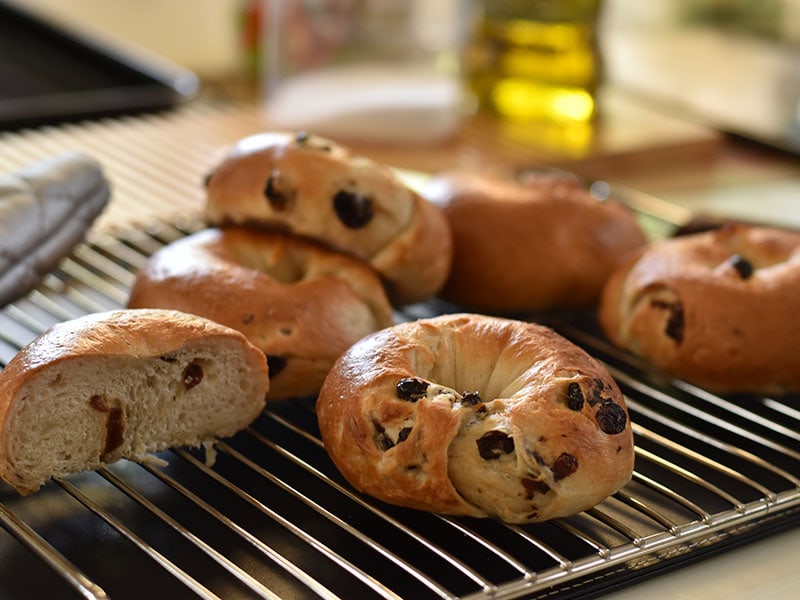 How wonderful it is to have some raisins incorporated in the bagel dough. You will get intense sweetness in every bite. In addition, raisins are very nutritious. They are loaded with potassium, iron, and vitamin C. You can pair these bagels with peanut butter or cream cheese.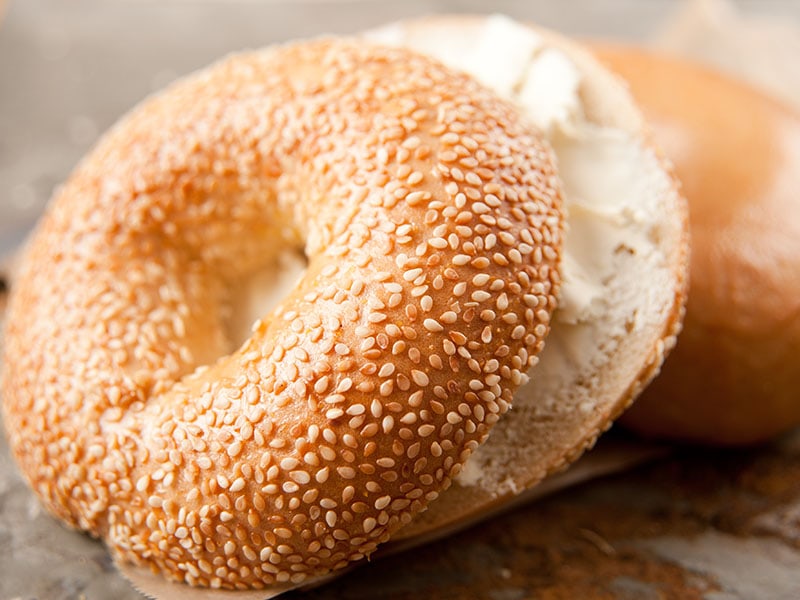 Top your bagels with sesame seeds is another way to add a crunchy texture and nutty taste. You can pair them with some salted butter or plain or flavored cream cheese. To turn them into savory bagels, serve them with smoked salmon with capers.
You can grill sesame bagels and serve them with some olive oil. Given their mild sweet taste, you can also toast them and serve them with butter.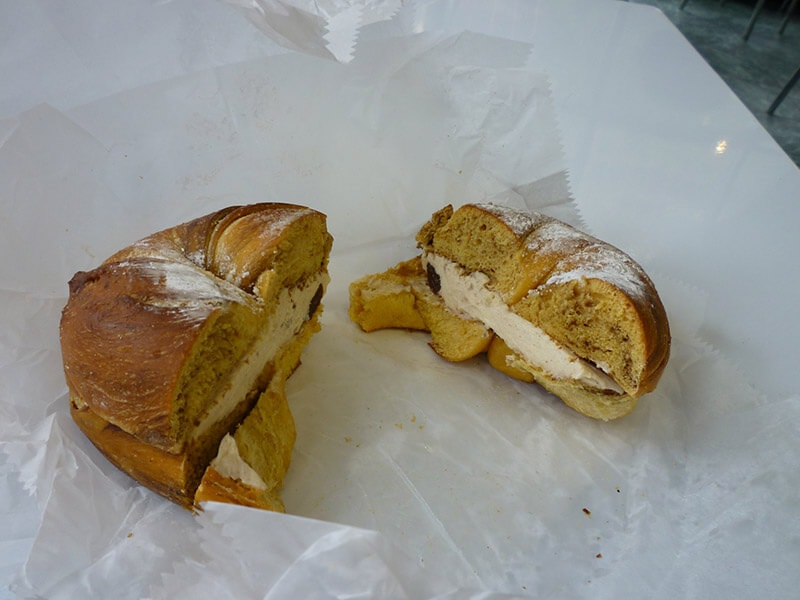 French Toast bagels feature bagel bread infused with the tasty flavor of French custard. Every bite will be incredibly soft and sweet. These bagels make a perfect sweet breakfast dish. Top it with some whipped cream cheese for more richness.
Making French Toast bagels is an art. To incorporate as much French toast as possible into the bagels, you should immerse the bagel dough in the French toast mixture and put it in the fridge for several hours. Make sure you place the cut side of the bagel dough down.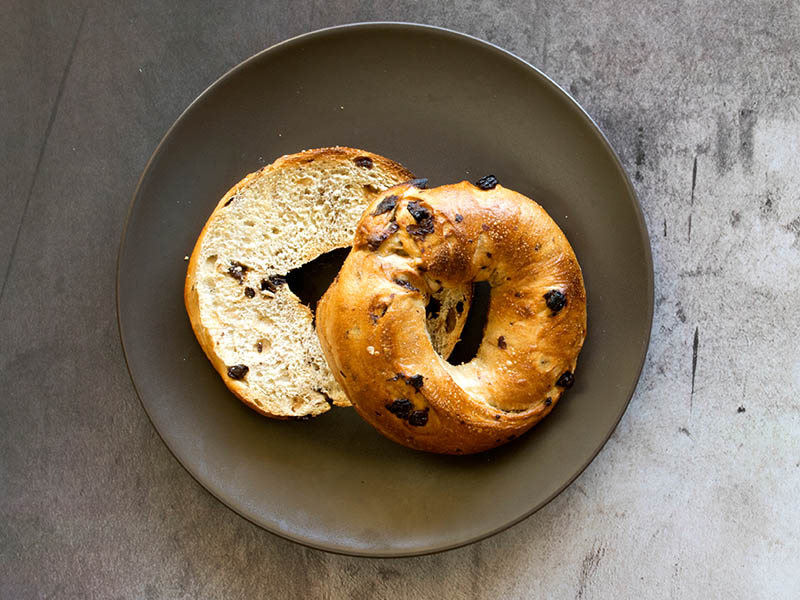 Cinnamon raisin bagels have a lot of sweetness. They have the intense sweetness and crispiness of raisins and the subtle flavor of cinnamon. They also have a chewy and stringy texture.
People love to toast them and serve them for breakfast. They are also a great companion for coffee. The best time to enjoy them is fall and winter. Common topping options include cream cheese, peanut butter, or butter.
With this excellent recipe, you can effortlessly make cinnamon raisin bagels.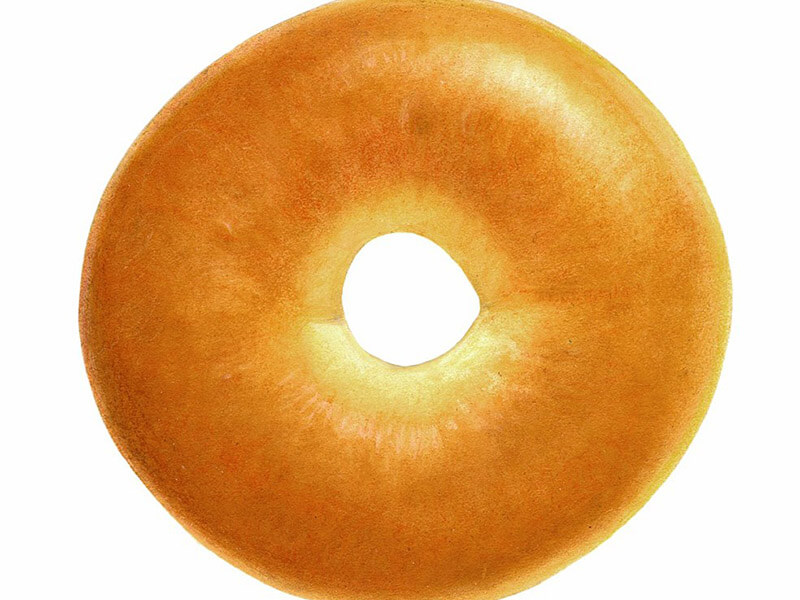 By adding egg yolks into bagel dough, you will have delicate egg bagels with additional sweetness and a soft texture. Although egg bagels rarely have the crunchy texture of common bagels, their flavors and appearance are excellent.
The outside has a brown color. But when you slice it, you will see a beautiful deep yellow center that tastes both sweet and savory. They have excellent color, texture, consistency, and flavor.
As for the toppings, egg bagels go best with fried eggs if you want a fulfilling breakfast. You can also top it with cream cheese and lox.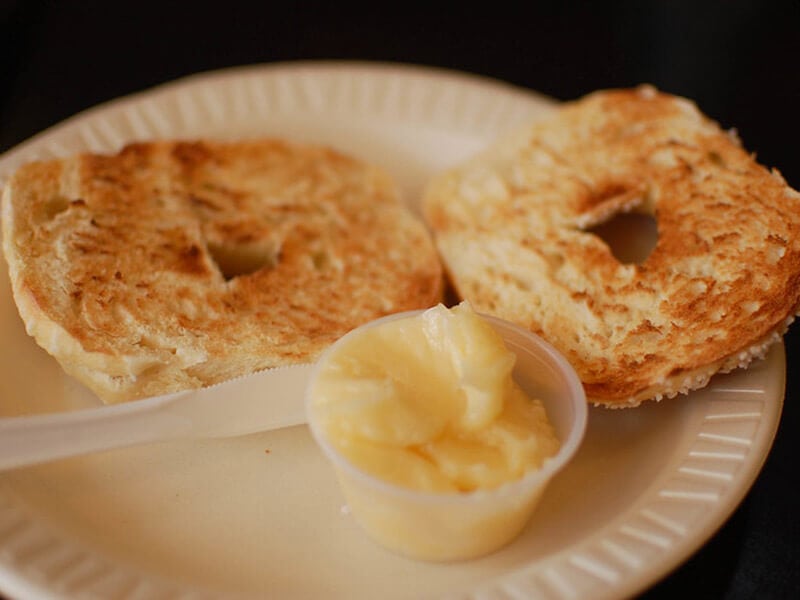 If you have tried all of the bagels mentioned above, why not try salt bagels? They are not as popular as other types. Yet their flavor is also very excellent. People make it by sprinkling a lot of salt on the top of the bagels. Inside the bagel is a delicious cream cheese filling.
If you think that salt bagels are a little bit salty, you can pair them with smoked salmon, poached eggs, or scrambled eggs. You can also top them with tomato, avocado, or full-fat cheese.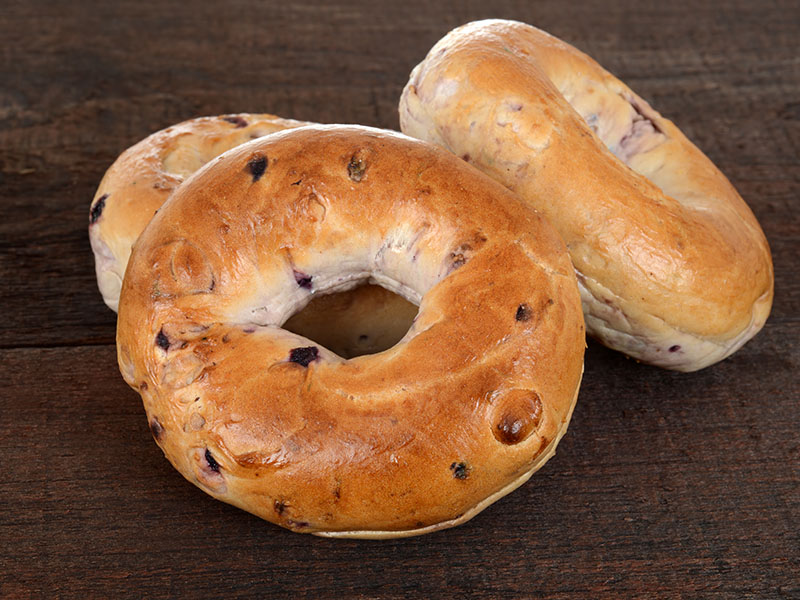 The procedure to make blueberry bagels is just the same as plain bagels. However, they add blueberries while mixing the dough in the mixer. This results in a beautiful purple color, a distinctive sweet taste, and a wonderful aroma. Sometimes you will see marbles.
Compared to other varieties, blueberry bagels are much healthier. They contain a lot of fiber, vitamin K, and antioxidants. Toast your blue bagels and serve them with coffee!
Why not learn the excellent technique to make blueberry bagels?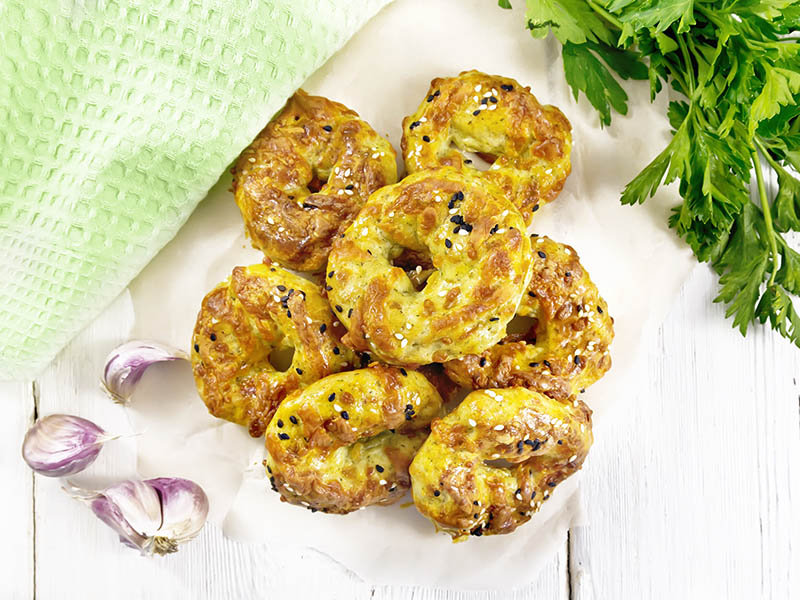 I am always crazy about the uniquely pungent taste of garlic. If you also love it, you should try garlic bagels. They have a crispy exterior with a delicious punchy garlicky taste.
There are several ways that you can add garlic to bagels. You can add a layer of garlic-olive oil to the bagels or add chopped garlic cloves or garlic powder.
As for the toppings, garlic bagels go best with savory fillings such as brined salmon (lox) and butter. You can also top them with mild sweet ingredients such as cream cheese.
Bagel Vs. Bread: What Are The Differences?
Have you ever wondered how a bagel is different from bread? Both feature crusty and puffy dough and are made of baking ingredients such as flour and water, yet they are different. Bagels are a variety of bread.
This section will show you some basic dissimilarities between bread and bagels.
| Features | Bagels | Bread |
| --- | --- | --- |
| Shape | Doughnut | Vary |
| Preparation Method | Involve boiling before baking | Do not involve boiling |
| Number of calories | More calories | Fewer calories |
The most noticeable difference is that bagels always come in medium doughnut shapes. In contrast, bread can come in various shapes and sizes. In addition, bagels tend to be sweeter because the dough may contain barley, sugar, or honey.
However, the most distinguishing difference between them is the preparation method. People make bread by shaping the dough and then baking it directly. But when making bagels, they boil the dough in water before baking. This aims to create a chewy and crispy texture.
Another dissimilarity between them is the number of calories they contain. Bagels have way more calories than bread. On average, a bagel consists of 260 calories. It will have more if you add toppings to it. On the other hand, a slice of white bread only has 70 calories.
Whole wheat bagels, seed bagels, or pumpernickel bagels are healthier options. They are low in calories and high in fiber.
4 Bagel Toppings You Can Choose From
Bagel toppings are my favorite topping to talk about. You have countless choices. However, you may not know the classic and most delicious ones. Read on! I will provide you with some best options.
1. Cream Cheese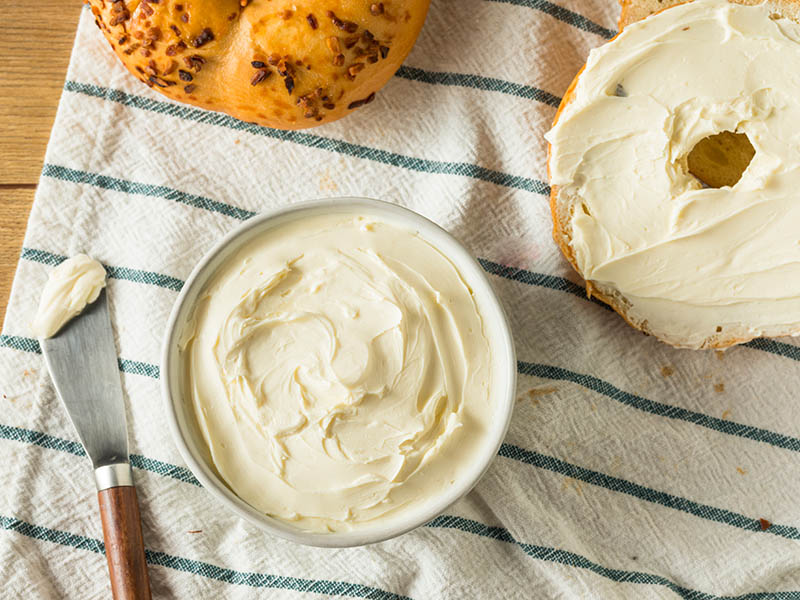 Cream cheese is undoubtedly the most common topping for bagels. They are so rich and can complement any bagel flavor. Try various different styles of cream cheese to find out your favorite.
In case you want a new experience with your bagels but still want to keep this classic combination. Add more flavors to your cream cheese, such as chopped onions, blackberries, pumpkin puree, or brown sugar.
This excellent cream cheese topping idea will elevate your bagels.
2. Smoked Salmon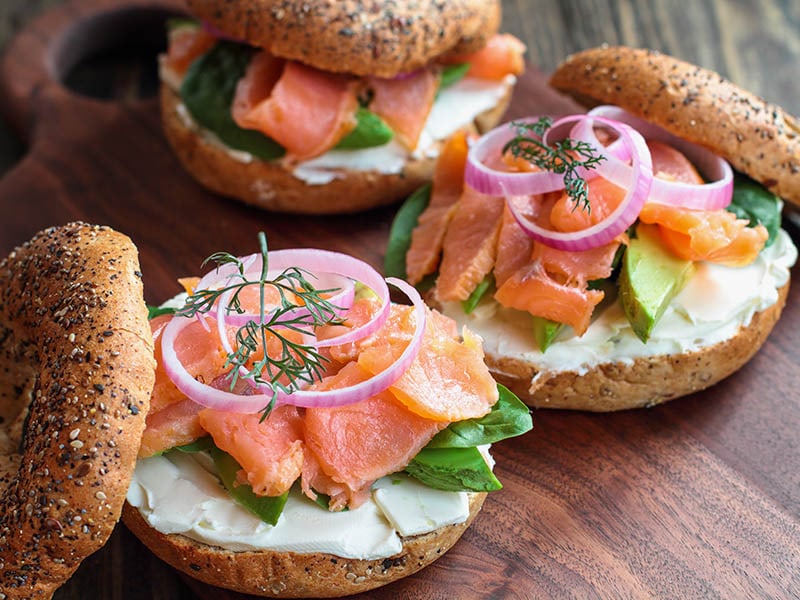 For savory bagels, smoked salmon is one of the best toppings. By adding it to your bagels, they will become a fulfilling and delicious snack. To enjoy their best taste, spread some cream cheese on top of smoked salmon.
3. Peanut Butter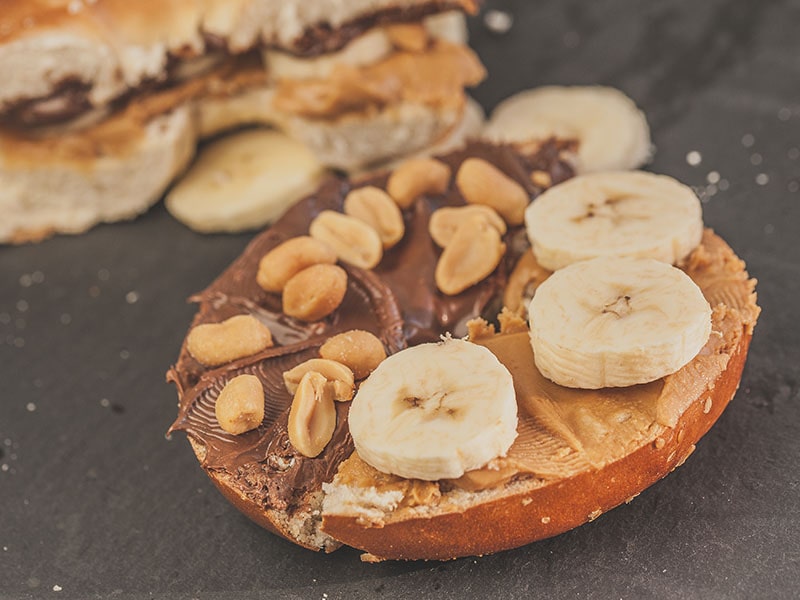 Peanut butter brings a nutty, creamy, and sweet taste to your bagels. I highly recommend that you serve your bagels with bananas in addition to peanut butter. They are a killing combo. If you want them to be even tastier, add some bacon.
4. Avocado And Fried Eggs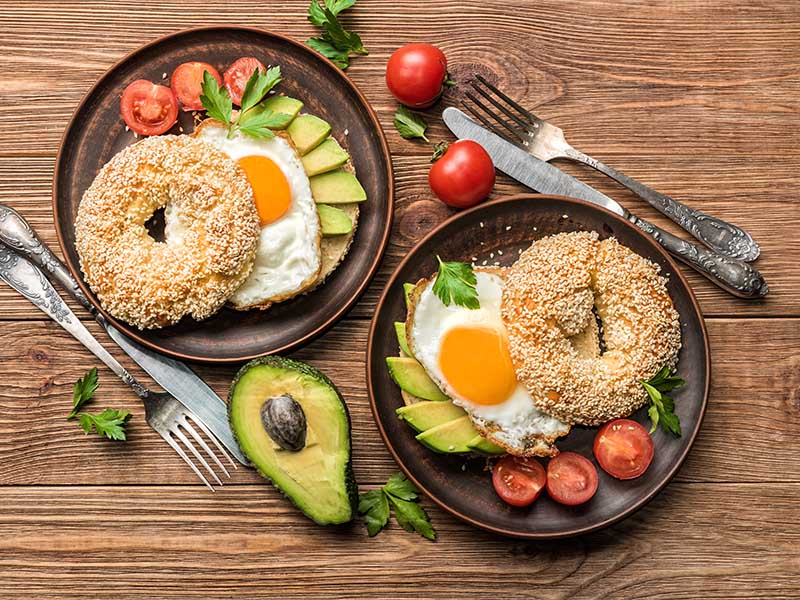 Another delicate combo for bagels is avocado and fried eggs. These 2 ingredients offer a rich, sweet, and creamy flavor that no one can resist. Once you try them, I am sure they will become your favorite topping.
Bagels Are A Tasty Breakfast Dish
It is hard to resist the adorable appearance and the delicious taste of bagels. Thanks to their abundant varieties, every time you enjoy them, you will have a different amazing experience.
If you have tried or made any of the types of bagels that are listed above, please kindly share your experience in the comment box so I can get more insights about these varieties of bagels. Finally, don't forget to like and share this article if you find it helpful.