How to store broccoli – A question looks simple but it is not easy to answer. These days, the effective methods to store broccoli are concerned a lot because many people choose broccoli to make their nutritious dishes.
One of the reasons is the excellent benefits that broccoli brings to the human body. In addition, broccoli has a great taste that many have fallen in love with. Let's discover all the secrets behind storing this healthy and delicious vegetable!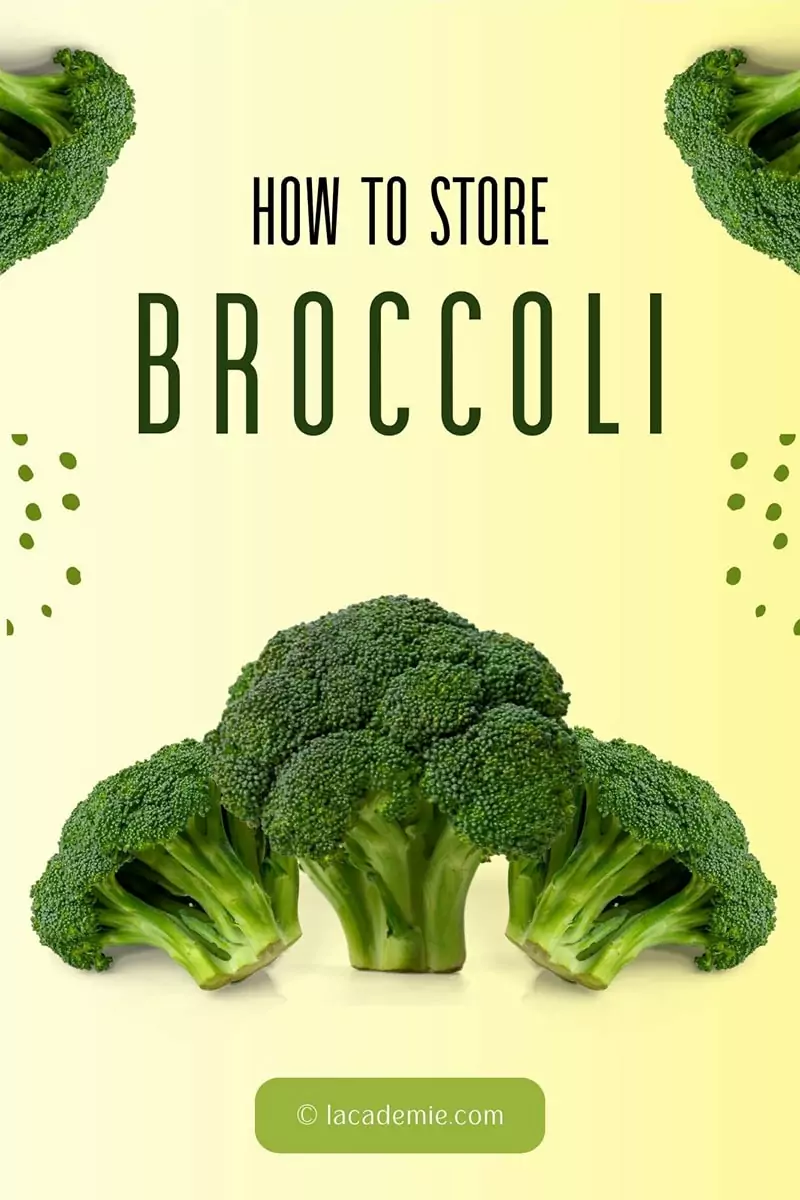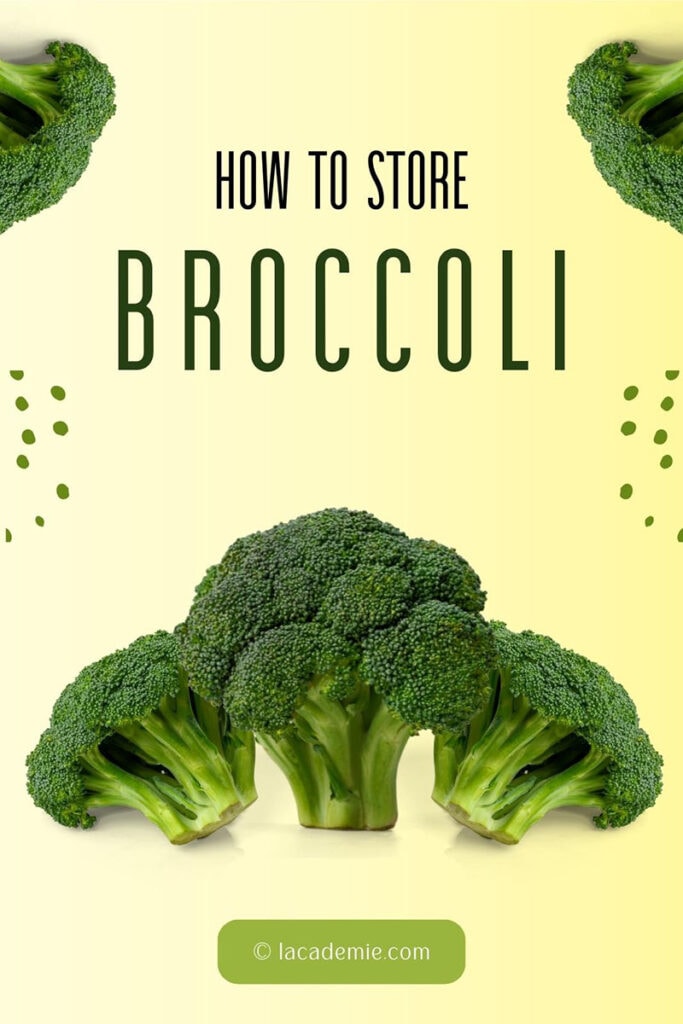 Why Should You Know How To Store Broccoli?
Broccoli is a great vegetable that is rich in vitamins, minerals, and antioxidants. Studies have shown a lot of valuable properties of broccoli in the prevention and treatment of diseases.
Reducing the risk of cancer, strengthening the immune system are typical examples. Thus, many people have lots of concerns about the problems of how to store broccoli. (1)
There is no doubt that every housewife used to have a headache once about the troubles of storing the food and keeping them fresh as long as possible. Are you sure that you are storing your broccoli in the right way before you read this article?
Many people know how to cook broccoli in a variety of delicious dishes, but they do not know how to store this plant to keep them fresh for a long time.
Storing broccoli in the right way can slow down the spoiling process, so nutrients in broccoli will not lose, then it helps to reduce the risk of poisoning.
Which Methods Are Used To Store Broccoli?
To help you have an overview of broccoli storing methods, I will briefly answer the topic question of this article. With these below ways, you can keep your broccoli fresh for a few days or even for a year.
Firstly, buy fresh broccoli to ensure the most effective storage. These factors will help you to choose the best broccoli:
Looking at the color of broccoli surface
Looking for broccoli with small florets
Notice the stalks of the broccoli
The advice on harvest time for people growing broccoli at home
Secondly, find out how to store broccoli.
Thirdly, for long-term preservation, you should freeze your broccoli.
Do you know how to store broccoli for weeks? This guide might help you a lot.
Now let's read more about this article immediately since I will provide you with a great deal of interesting and useful knowledge. An enormous amount of surprising information is waiting for you to discover below.
What Is Broccoli And Its Benefits?
Broccoli is a kind of vegetable which contains a great deal of nutrients, vitamins especially vitamin C and vitamin A. This plant is suitable and good for vegetarians and people on a diet.
It is eaten either raw or cooked. Its nutrients are diminished by boiling but are better preserved by steaming, microwaving, or stir-frying. (2)
Broccoli contains a wealth of nutrients and is low in calories, so it is suitable for people eating on a diet and who want to lose weight. Besides, it will also help human health such as improving bone and skin health, reducing the risk of diabetes, aiding digestion, etc. (3)
How Long Does Broccoli Last?
The shelf life of broccoli depends on the method that you choose to store your broccoli. Certainly, storing in the freezer will keep broccoli last longer than storing in the fridge.
It is different based on which place you store, which method you use, how fresh level broccoli is. All factors affect the expiration of broccoli.
The table below is taken from both my research and experience.
| Methods | Raw broccoli | Cut broccoli | Cooked broccoli |
| --- | --- | --- | --- |
| At normal temperature | 1-2 days | 1-2 days | - |
| In the refrigerator | 2-3 days | 3-4 days | 4-5 days |
| Storing in a plastic bag and refrigerate | 2-3 days | 3-4 days | 4-5 days |
| Wrapping a damp paper towel and refrigerate | 3-4 days | - | - |
| Applying broccoli bouquet and refrigerate | 5-7 days | - | - |
| In the freezer | A year | A year | A year |
How To Store Broccoli: 5 Proven Methods To Keep It Fresh
After choosing the best and freshest bunch of broccoli in the first place, the next step is discovering the tips for storing broccoli. Here are some useful tips for you. Let's take notes together.
It is unavoidable that you need to put broccoli in the fridge if you want to store it, regardless of how you choose to preserve your broccoli. The faster you keep it refrigerated, the longer it will last before being rotten.
According to some research, broccoli should be refrigerated within 30 minutes from the time you bought it from the supermarket.
Method 1: At Room Temperature
If you want to keep your broccoli for a short time and you do not have a refrigerator. Do not worry because you can leave your broccoli at room temperature for up to 2 days.
However, you need to remember not to wash your broccoli after buying since the moisture can make broccoli spoil quickly. Simply put your broccoli on a shelf and it can keep for about 1-2 days.
You can also put the broccoli's stalk in a jar with water to rehydrate it. In this way, your broccoli should stay fresh for more than 2 days.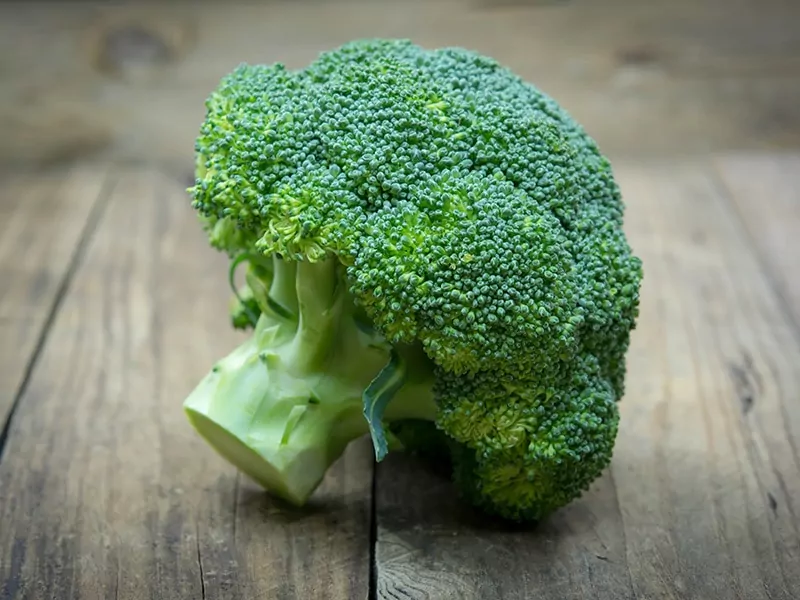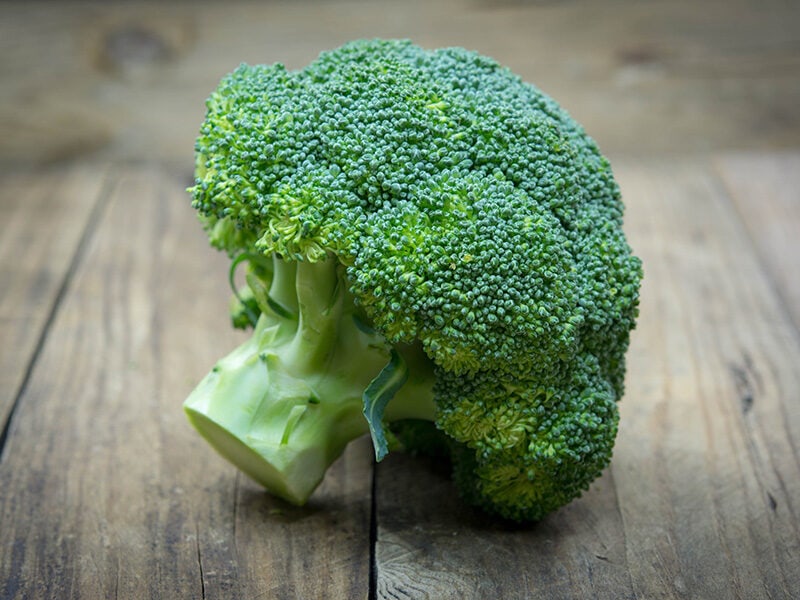 Method 2: In The Water
One of the simplest options is to leave the broccoli in a water jar. This is also one of the most popular ways to store fresh basil, asparagus, and many other types of veggies. I can guarantee that the results will leave you speechless with sheer satisfaction.
Do you know how to use water to help your broccoli stay fresh for about five to seven days? Follow the steps below and see a surprising result:
Step 1: Pour some water into a jar or bowl of suitable size (just enough to cover 1/8 inch of the broccoli's stalk).
Step 2: Broccoli is placed so that the florets are on the outside. That means the head of broccoli should point up.
Step 3: Cover the head of broccoli with a plastic bag. Poke some holes for air circulation.
Step 4: Keep this state and put the product into the refrigerator. Remember to change the water daily.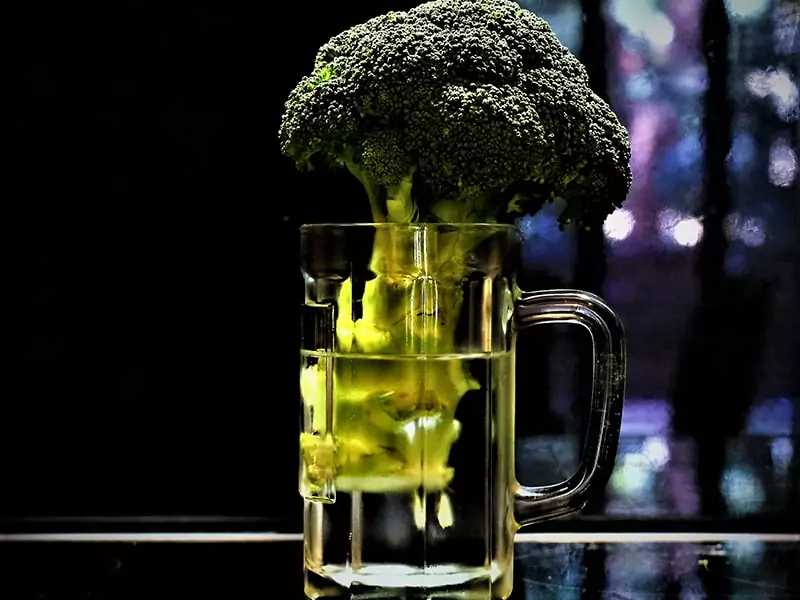 Method 3: In A Damp Paper Towel
Another choice is storing broccoli in damp paper towels. If you want to store broccoli in about three days, this method may be a good option for you.
Step 1: Firstly, you need to prepare a spray bottle filled with cold water, a fork, and a paper towel.
Step 2: Then, you need to mist your broccoli's head by spraying cold water. After that, use a paper towel to wrap the head loosely.
Step 3: Finally, keep the broccoli in the fridge and check regularly.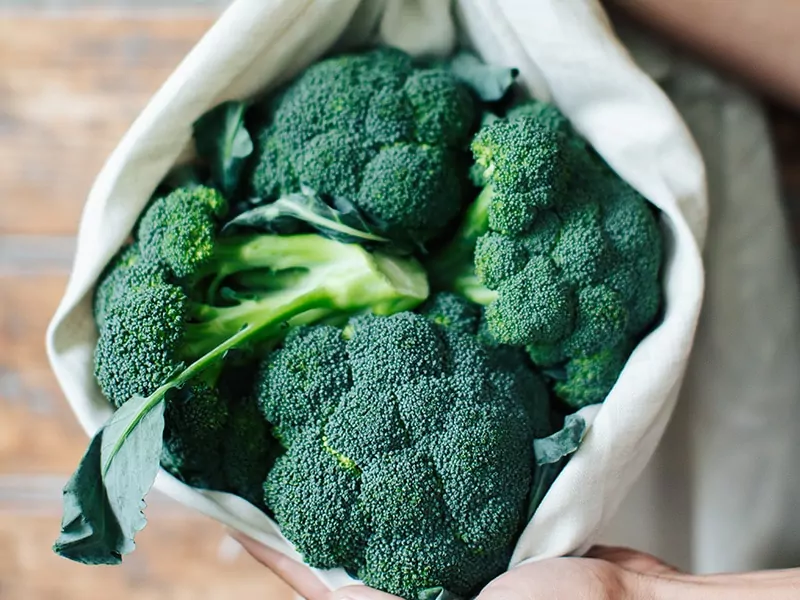 Method 4: In A Plastic Bag
If your demand is to store broccoli and you can consume it in just a few days but you do not have more time to check regularly or you do not have enough patience to do the above method, trust me, this simple option will be suitable for you.
Step 1: Take a plastic bag or poke a few holes for ventilation.
Step 2: Put the broccoli in the bag, seal it, then send your broccoli to the refrigerator.
This method is not suitable for long-term storage, as steam gradually accumulates in the bag, despite the holes. It also leads to rapid decomposition of the product.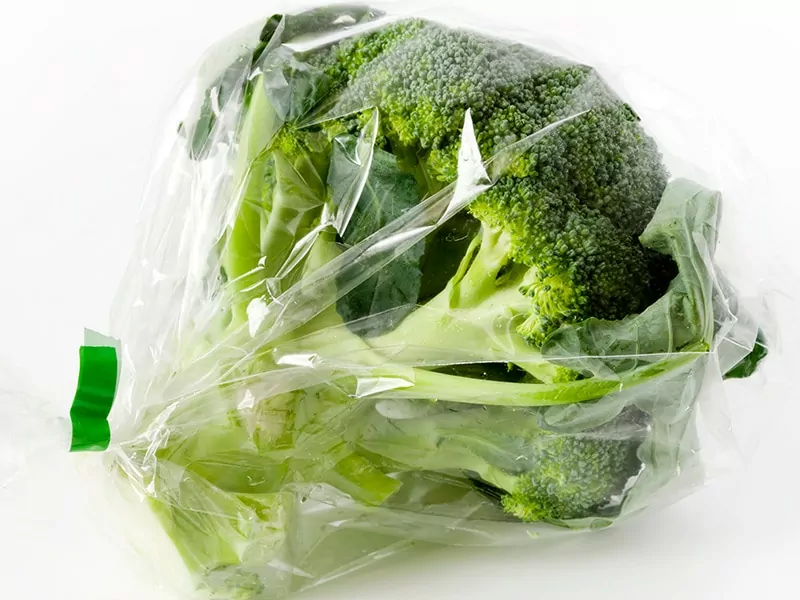 Method 5: In The Freezer
If you have lots of broccoli and you can not eat it all in a short time. Try considering freezing it. This is the best method for long-term storage.
Do you know how to freeze broccoli properly? It is easier than you think. Do not worry about that because I will share it with you right now. Continue reading to prepare yourself with useful tips so that you can store broccoli for up to 12 months.
The freezing methods to store broccoli might be the thing you are looking for now.
Here is a process to freeze your broccoli:
Step 1: Choose the sharpest knife from your trusted knife block and cut washed broccoli into florets and stalks into pieces.
Step 2: The broccoli pieces are placed in a saline solution for 30 minutes and then rinse with clean water.
Step 3: Put in separate broccoli pieces in boiling water, blanch for about three minutes or steam it for five minutes and then remove it to a plate.
Blanching is an essential step to the freezing process. If you do not blanch your broccoli, it will turn color and not maintain its original delicious properties.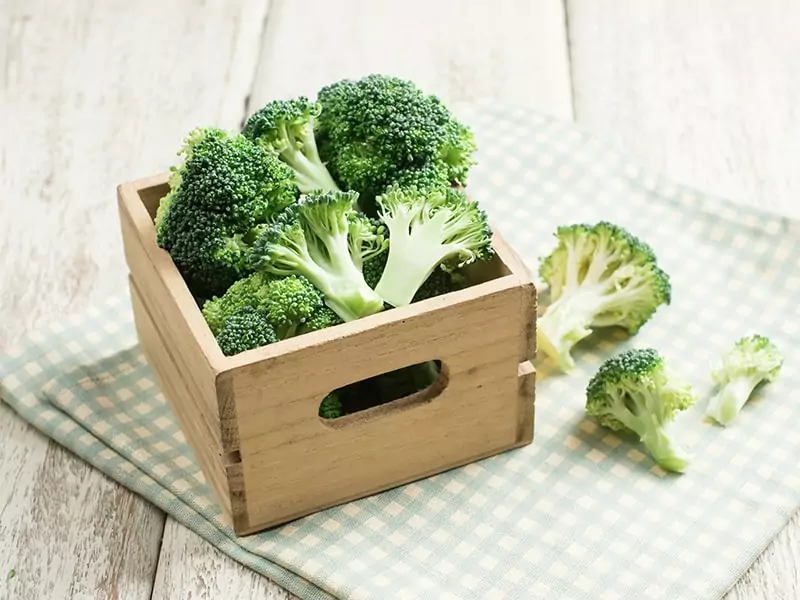 Step 4: Once done, immediately put the broccoli in a bowl of ice water for 5 minutes.
Make sure that the water and the ice cubes are clean, especially if you're using an ice maker. There are quite a few easy methods to clean an ice maker, so it's better that you maintain the machine in a constantly pristine state, lest you contaminate your food and drink.
Step 5: Drain your broccoli with a colander or strainer to remove any excess moisture. Likewise, a well-reviewed salad spinner can also help you remove moisture from broccoli at an astounding speed. After a minute, pat them dry with paper towels or a cloth.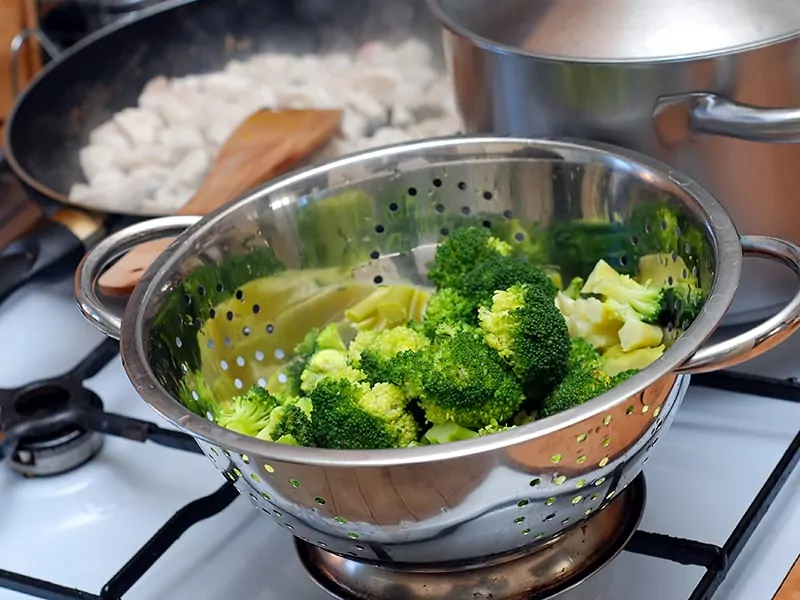 Step 6: Line a baking tray with parchment paper and arrange the broccoli on top. Flash freeze the vegetable for about 1 hour.
Step 7: Transfer your broccoli pieces into sealed bags or containers. Frozen broccoli should be packed in portions. Then, put it in the freezer.
It is better to enable quick freeze mode, if available, to freeze broccoli immediately. Do not refreeze broccoli. After completing this step, you have done. Your broccoli should be stored for up to a year, so you will have plenty of time to enjoy this nutritious vegetable.
Once you get all that down, remember to put the tiny broccoli pieces into a garbage disposal. Don't know whether to pick between a batch feed or continuous feed garbage disposal? If you prefer your disposal type to work fast, the continuous feed is your best bet.
Bonus Method (Only For Homegrown Broccoli): Washing Method
This option is just for homegrown broccoli. For homegrown broccoli, even when you buy broccoli from outside, you should keep your broccoli dry before keeping it refrigerated.
You can not let your broccoli wet because this condition is easy to make mold grow. A little moisture can be good, but do not let your broccoli spread excess moisture.
Based on my experience, homegrown broccoli should be washed if you do not want the insects to live in your broccoli when you store it.
Soak to kill insects and remove debris. Over 15 minutes, wash your broccoli with clean water and dry carefully before putting it in the refrigerator.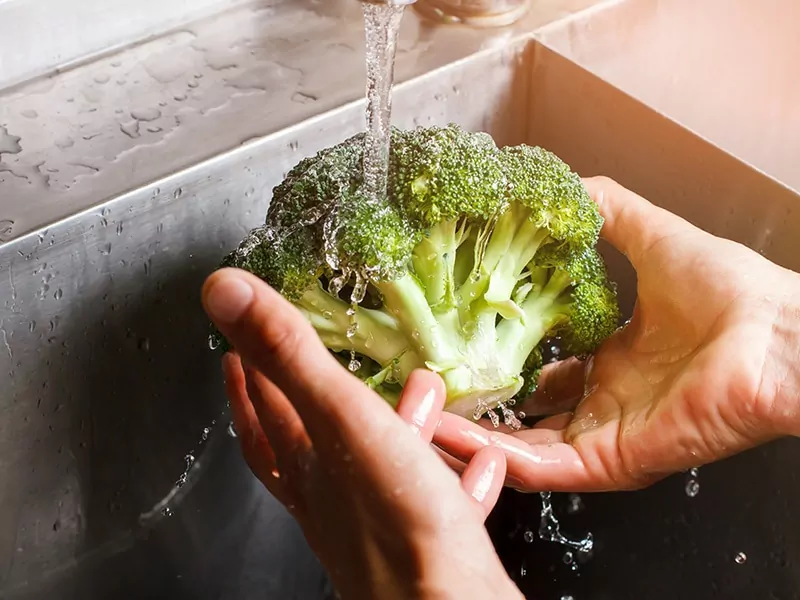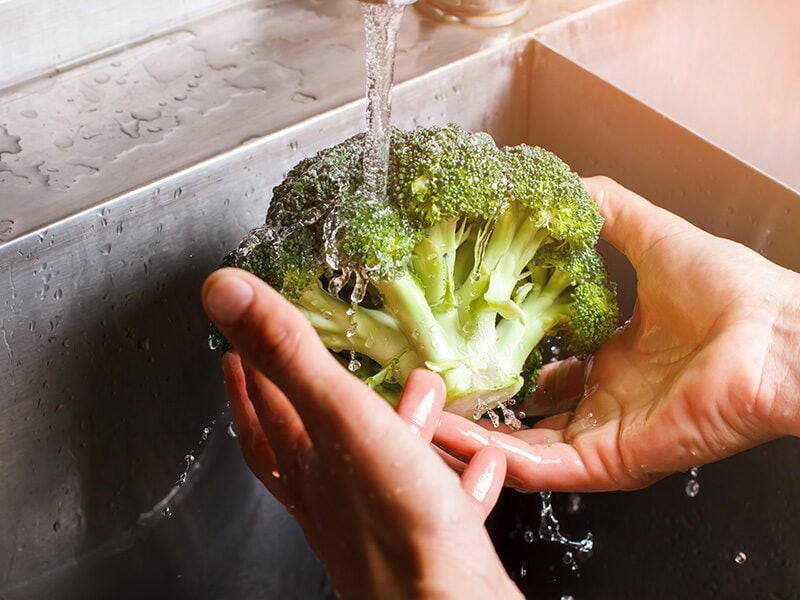 How To Store Cut Broccoli
Generally, cut broccoli can be stored in a sealed container. It is simple that you just need to cut your broccoli into small pieces and put it in a container which the air can not get in.
Remember to rinse your broccoli with clean water before cutting it into florets. If you do not have any container in your house, you can simply utilize a plastic bag and make sure to limit the air in the plastic bag.
By this method, your broccoli can keep fresh and crisp for about 5 days. To store it longer, freezing is the only choice for you. Bring your cut broccoli in the freezer so that it should stay even for a year.
The secrets to prepare and store broccoli you should not miss. You can see this video to know more:
How To Store Cooked Broccoli
Besides raw broccoli, you can store it after you have cooked it with an appropriate method. There are still two ways for you if you would like to preserve cooked broccoli.
Some tips to keep your broccoli bright green after cooking will surprise you. You can see this video to know more:
In The Refrigerator
Using an aluminum foil is a good option for you, as the standard thickness of aluminum foil is enough to protect the broccoli from contaminants. Do not worry if you do not have any aluminum foil, since you can use a plastic bag instead.
Taking advantage of a plastic bag in your house to wrap your cooked broccoli. Then, put it in the refrigerator.
In this way, you should eat your broccoli as early as you can because some studies show that it is not good for your health when you eat cooked dishes stored in the fridge for a few days. It is better to store raw broccoli than cooked broccoli.
In The Freezer
Similarly, the freezing method is made the same as in the refrigerator. Put your cooked broccoli in an airtight container and bring it to the freezer. You can keep cooked broccoli in the freezer longer than just storing it in the fridge.
How To Choose Fresh Broccoli
There are many ways to store broccoli depending on the purpose of use and the use period. However, you should consume fresh broccoli as soon as you can.
If you want to preserve broccoli, you should choose the freshest broccoli when buying it from the market or supermarket.
I will not let you wait for a second more. Now I will show you some tips to choose fresh broccoli so that you can preserve it longer.
You have to know some tips to choose the best broccoli if you want to preserve fresh broccoli in your refrigerator. This is the first step that I would like to share with you. There are three ways to look for fresh broccoli: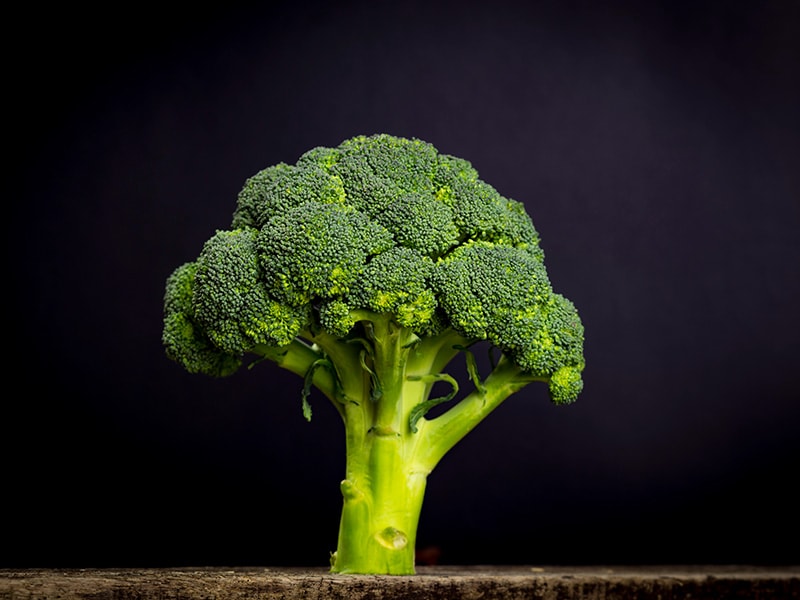 Looking At The Color Of Broccoli Surface
To be able to choose delicious and fresh broccoli, you need to recognize some factors such as the color, the texture of fresh vegetables. This is useful knowledge when you buy any vegetables.
The first sign is the color of the vegetables. If the color is turning yellow, it can be stored for a few days before you buy them. Therefore, remember to choose deep green vegetables with no spots.
When you are picking broccoli at a local supermarket, try to look for broccoli with green heads. The fresh broccoli's head should be covered by green and dark florets. Do not buy broccoli with yellow florets since it may wilt or these florets are going to bloom.
Looking For A Broccoli With Small Florets
The second thing you should consider is the size of the florets. You have to examine whether the florets are tiny or large. If you are picking broccoli with exclusively small florets in the market, you are performing in the right way.
Do not forget to look at the color of the florets. If there is just a hint of yellow, the florets are starting to bloom.
Notice The Stalks Of The Broccoli
When choosing broccoli through your eyes, you could not feel its texture – one of the important factors to decide on crisp and delicious broccoli.
Thus, feel free to hold in your hands to feel firm and heavy. If the broccoli plant is soft and light, do not buy it because it may wilt.
The Advice On Harvest Time For People Growing Broccoli At Home
For people growing broccoli at home, the morning time is the most ideal period to harvest broccoli as broccoli should be harvested when it is cool. This will help your broccoli fresher and more delicious.
When you have your homegrown broccoli, take advantage of this condition so that you can store it longer and more effectively.
The Signs To Recognize When Broccoli Has Gone Bad
This is an important tip that everyone should know to protect their health because broccoli going bad may cause the risk of poisoning. If you do not know the signs when broccoli has gone bad, maybe you eat it and incur terrible results.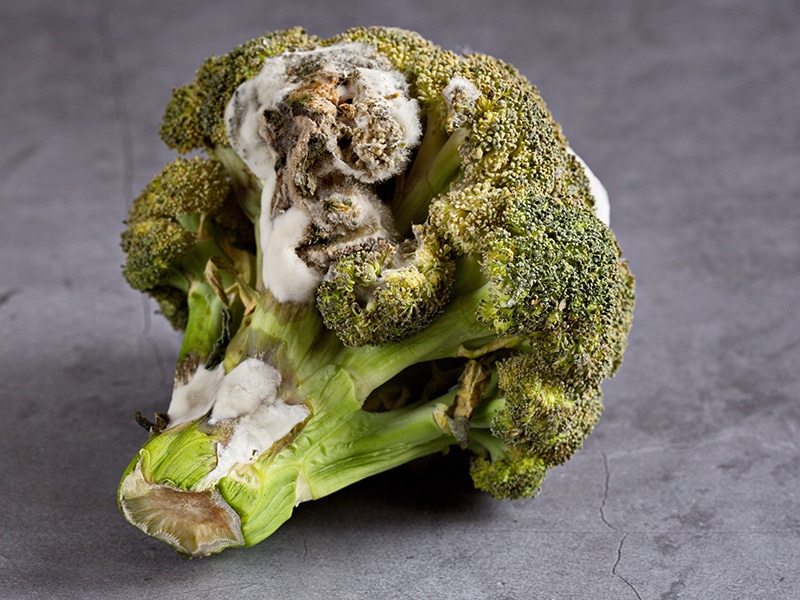 Through Eyes
Check the color of your broccoli. If the broccoli's florets have turned yellow from its typical dark green color, it may be starting to spoil.
You should not eat it when you see the broccoli's color has changed into yellow because, at this point, your broccoli may lose its nutrients and is not fit for consumption.
In addition, if you see brown spots on the broccoli's head, it means your broccoli may grow mold. Get rid of it since it is inedible.
Through Smell
The smell is an easy and simple sign to recognize. When you smell a strong odor from your broccoli or you feel more bitter than normal when eating it, throw it away.
Through Touching
Another sign to prove your broccoli is spoiling is that its stalk becomes soft and light. You can feel that when you touch it. In this situation, your broccoli is still edible if it does not smell a strong odor or changes the floret's color.
FAQs
If you still feel confused, the frequently asked questions below may help you to make your problem clear.
Bonus Tips
After reading all methods to store broccoli, keep reading this post since I am going to show you some bonus tips that you need to know to increase the efficiency of storage.
Tip 1: Eating Both The Florets And The Stems Of Broccoli.
Some people just eat the floret part of the broccoli. They do not know that the broccoli's stems contain lots of vital nutrients which are good for human health.
Tip 2: How To Prevent Broccoli's Florets From Changing Into Yellow?
This situation happens when you do not store it properly. When your broccoli turns yellow, it shows the sign of wilting. If you want to prevent this problem, try to remember and follow the above methods.
I highly recommend that you should use damp paper towels to wrap your broccoli loosely. The important thing that I would like to remind you is not to wash your broccoli before you refrigerate it since the excess moisture can make your broccoli go moldy and inedible.
Tip 3: Fact That You May Not Know
Florets part is the most perishable part of the broccoli. Although you store broccoli properly, you can not keep it long. You should eat your broccoli as soon as possible to guarantee its nutrients and its taste.
It is necessary that you consume your broccoli not over four days from the time you store it in the refrigerator.
Tip 4: Adding Salt When Washing Broccoli
Before cooking broccoli, it is advisable that you soak your broccoli in salt solution for about 30 minutes.
Broccoli usually has little worms. Even though this worm is not harmful, it is difficult to accept if you accidentally find it when you are cooking.
This worm often dies in salt water, so when you wash broccoli, you need to soak it in salt water, the worm will float to the surface and you can easily remove it.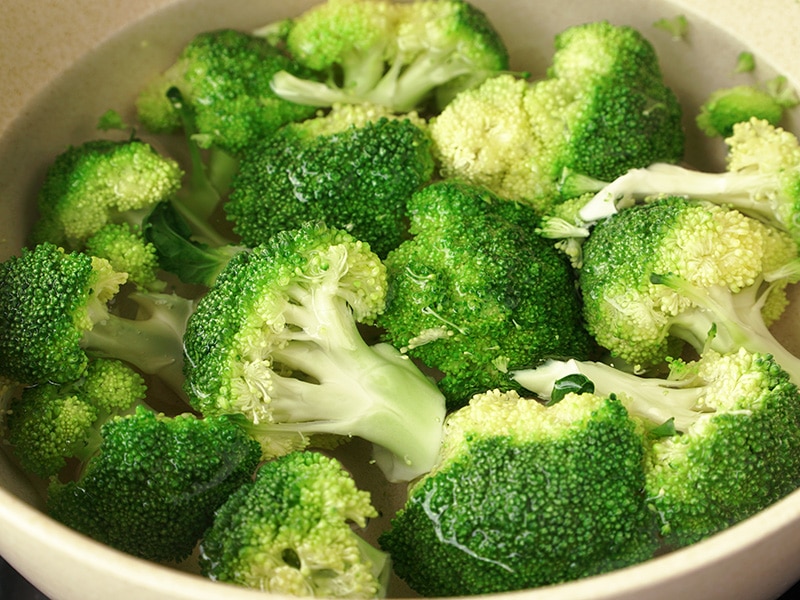 Time To Take Action
Not only can the florets go bad quickly, but broccoli itself is also a highly perishable vegetable.
Therefore, choose for yourself a suitable and effective method to store broccoli to maintain its nutrients. Then, you will not have to throw any broccoli away and this may help you to save the cost of living.
After going through the post, which methods will you choose to store your broccoli? Did this post help you to solve your problem and enhance your knowledge?
Do you have any effective way to store broccoli but it is not mentioned in this post? Have you ever stored your broccoli in the refrigerator but it still went bad and inedible?
Do not hesitate to share with me your thoughts and experience in the comment section below. I appreciate all of your comments and I hope you will be successful in storing broccoli after reading this article.
Nutrition Facts
1 servings per container
Serving Size1 cup (156g)
---
Amount Per ServingCalories55
% Daily Value *
Total Fat 0.6g

0

%
Sodium 64mg

3

%
Potassium 457mg

14

%
Total Carbohydrate 11g

4

%

Dietary Fiber 5.1g

20

%
Sugars 2.2g

Protein 3.7g

6

%
---
Vitamin A

48

%
Vitamin C

169

%
Calcium

4.8

%
Iron

5.8

%
* The % Daily Value tells you how much a nutrient in a serving of food contributes to a daily diet. 2,000 calories a day is used for general nutrition advice.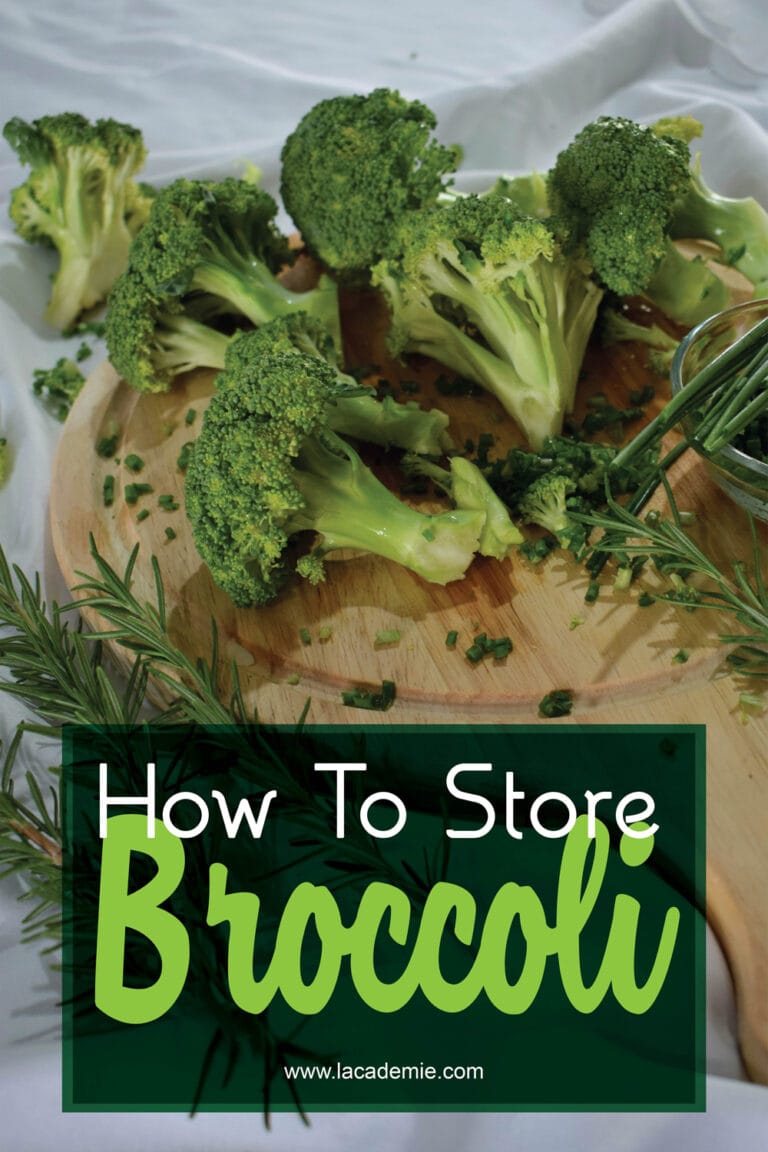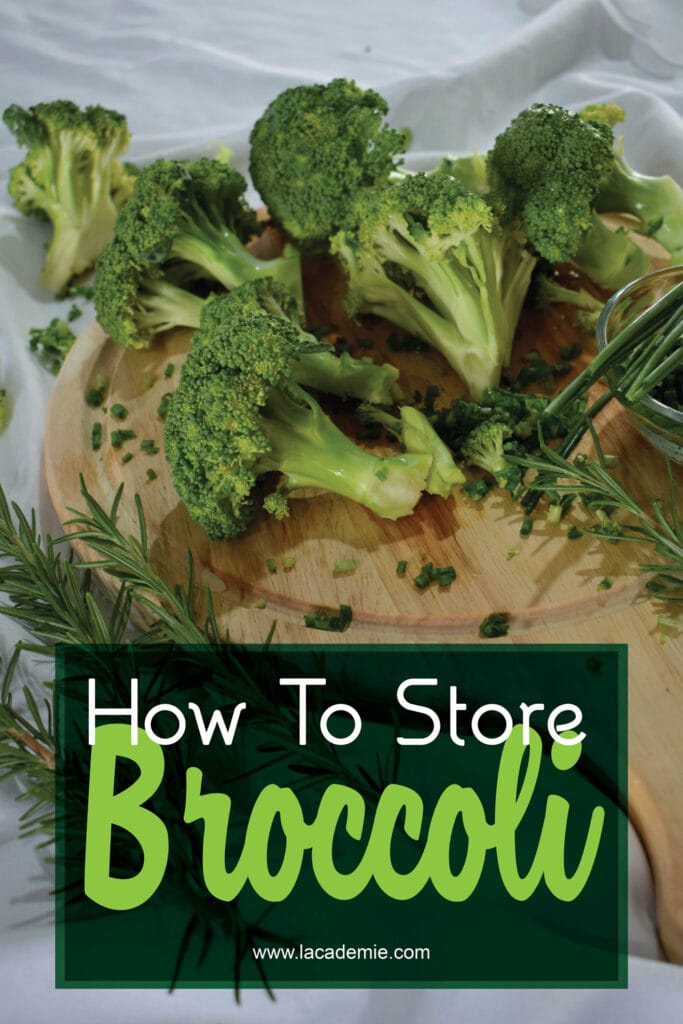 References
com. 2021. Broccoli: Health benefits, nutrition, and tips.
qld.gov.au. 2021. Does how you cook veggies change how good they are for you?.
Facts, 8., 2021. 23 Incredible Benefits of Broccoli | Organic Facts