Hong Kong foods offer a diverse array of options that cater to every budget, from humble roadside stalls to lavish world-class restaurants. With a rich culinary heritage, Hong Kong presents an enticing blend of classic recipes and unique dishes that reflect its history as an international port and former British colony.
Boasting a delightful fusion of flavors and cultures, Hong Kong has earned the titles of "World's Fair of Food" and "Gourmet Paradise." Intrigued? Don't wait any longer, book your ticket to Hong Kong and enjoy a tantalizing culinary adventure that you're sure to fall in love with, just as I did.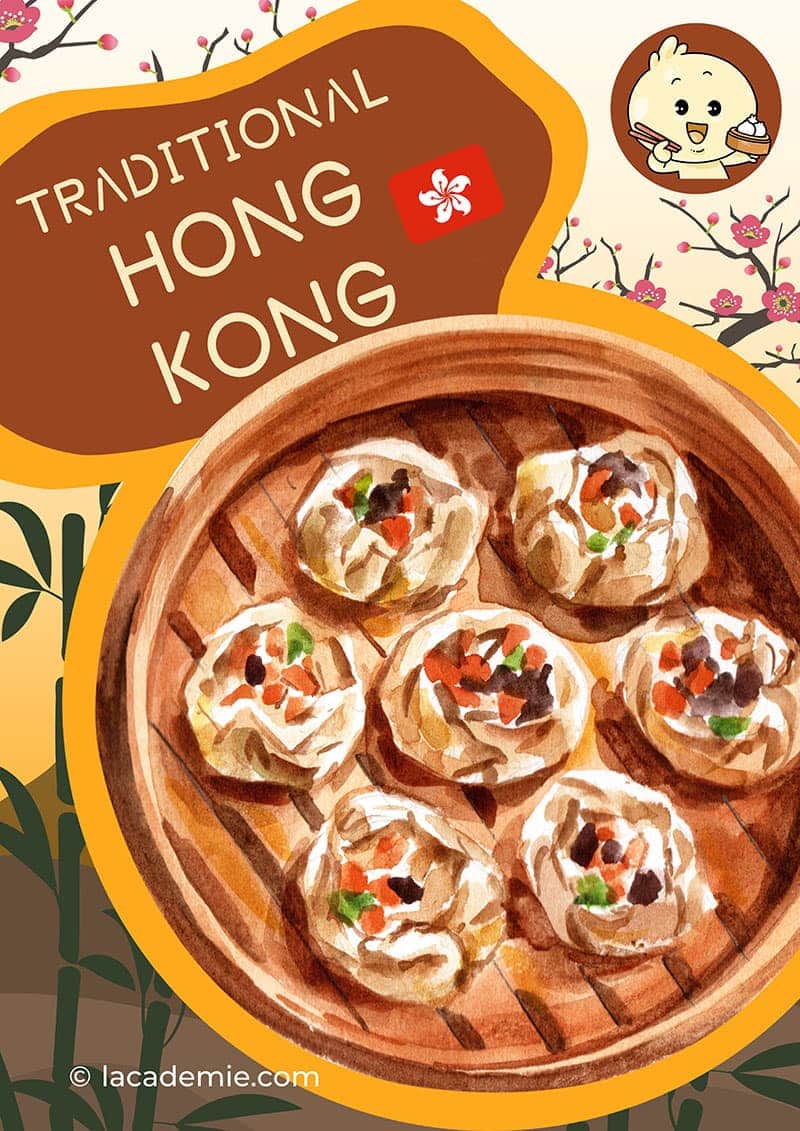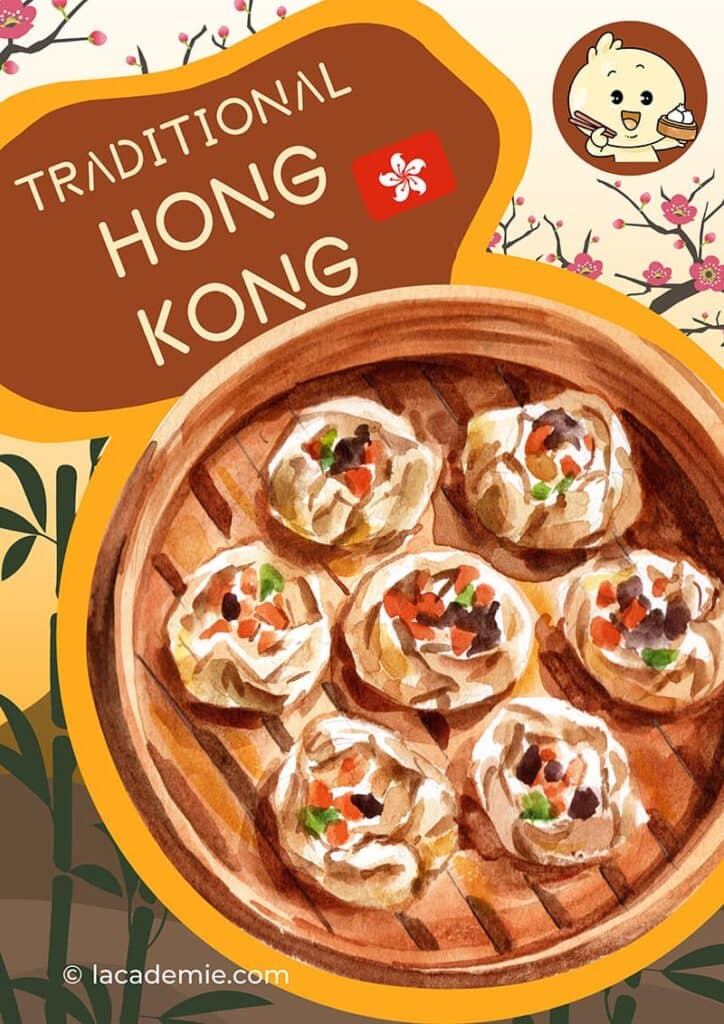 Overview Of Hong Kong's Diverse Culinary Scene
Discover the captivating world of Hong Kong's diverse culinary scene, where a fusion of flavors and traditions come together to create a unique gastronomic experience. This overview explores the city's rich food culture, shaped by Cantonese, British, and other international influences.
A Melting Pot of Flavors and Traditions
Hong Kong's cuisine is a captivating fusion of flavors and culinary traditions, reflecting the city's unique history and cosmopolitan character. This dynamic blend of East and West showcases the diverse aspects of Hong Kong's rich cultural heritage and love for food.
Cantonese Cuisine As The Foundation
At the heart of Hong Kong's cuisine lies rich and diverse Cantonese cooking. Emphasizing fresh ingredients, delicate flavors, and a variety of cooking techniques such as steaming, stir-frying, and roasting, Cantonese dishes form the cornerstone of Hong Kong's culinary identity.
From dim sum and wonton noodles to roast goose and congee, these traditional dishes pay homage to the city's Chinese heritage.
British Colonial Influences
The British colonial period left an indelible mark on Hong Kong's food culture, giving rise to unique culinary hybrids and establishments such as Cha Chaan Tengs. These Hong Kong-style cafes offer a fusion of Cantonese and Western-style dishes, illustrating the city's creative adaptation of British culinary influences.
Hong Kong-style milk tea, pineapple buns, and egg tarts exemplify this blending of traditions, making them an integral part of the city's gastronomic landscape.
Tea Culture In Hong Kong
Tea holds a significant place in Hong Kong's culinary landscape, deeply embedded in the city's food culture and social customs. Premium aged or new pu erh cakes, oolong tea, jasmine tea, white tea, and green tea are among their most sought-after offerings by patrons.
Dim Sum and Hong Kong Noodles
Don't miss trying Dim Sum and noodles when in Hong Kong. Dim Sum is a popular breakfast dish served from morning till afternoon, while noodles can be ordered anytime. They offer a wide variety of options and are a must-try for anyone visiting Hong Kong.
1. Dim Sum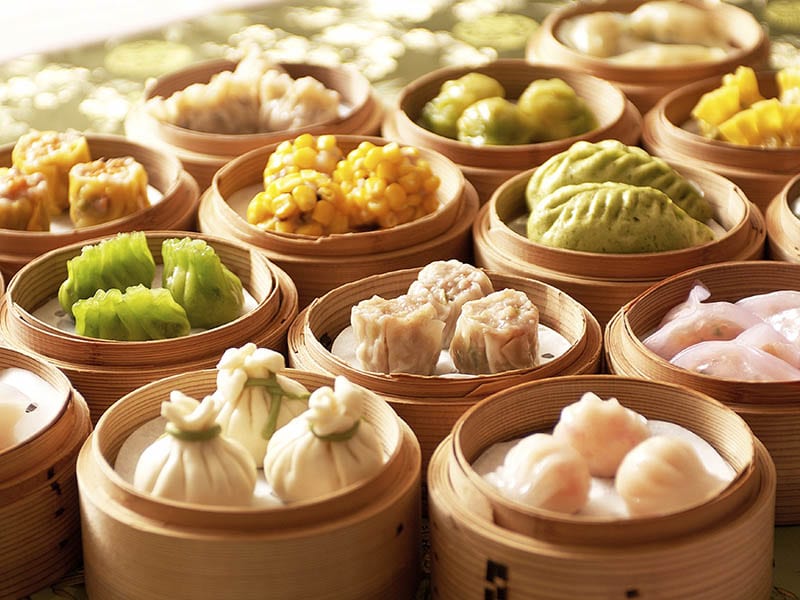 The People's Republic of China controls Hong Kong according to the "one country, 2 systems" principle. That's why Hong Kong cuisine has several similarities to some of the most well-known Chinese dishes.
Before becoming popular in this region, Dim Sum was famous in its hometown – Guangdong, a state in the South of China. It is also a staple food in Cantonese cuisine that you might want to try someday. 
In the 19th century, due to the development of Silky Road, travelers stopped at tea houses to charge their energy with a cup of tea. These houses also serve some small dishes called Yum Cha, meaning "drink tea" meals in Cantonese.
These words refer to 2 concepts, and Dim Sum is one of them. Dim Sum is usually served in bamboo steamer baskets or plates, yet I prefer the former choice. I can experience a rustic feeling, and Dim Sum is still steaming heat after being placed on the table.
Dim Sum can be translated loosely as "touch the heart" for those who haven't known yet. Therefore, no matter which versions you order: steamed, fried, or baked recipes, these bite-sized pieces will win your heart.
Their reasonable sizes also allow you to enjoy numerous variants in a meal.
2. Wanton Mee/Wanton Mein – Wonton Noodles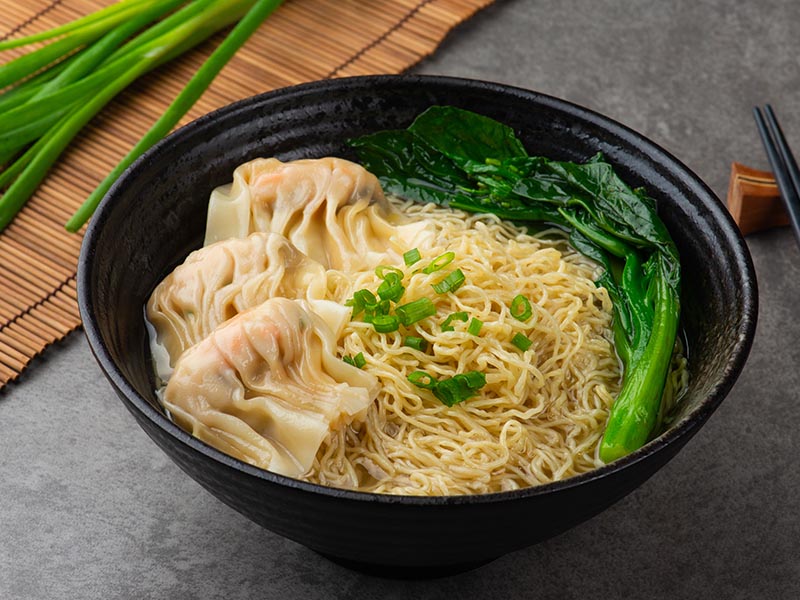 Combine 2 types of Wonton in a dish; what's a more wonderful idea than that? Besides egg noodles, this recipe also includes wonton dumplings with some leafy vegetables. In Hong Kong, you can find various versions of dishes with different toppings.
The chefs' secret to preserving the texture of noodles is to place the spoon at the bottom and then arrange the dumplings and noodles above. During the Qing Dynasty, Wonton was born in Guangzhou.
However, after the 1940s, it became a dish in Hong Kong cuisine. Wontons made in the Hong Kong style feature a paper-thin wrapper that encases a savory blend of pork and shrimp.
The important point making the Hong Kong wonton noodles different from the others is shrimp. With the ideal geographical location, the locals can fish a lot of shrimp and add it to the recipe.
You can try 2 variants: broth or dry. Broth wonton noodles are served in a piping hot bouillon, while the other looks like Lo mein – a delicious appetizer from China. Both of them are worthwhile to try.
3. Wantan – Wonton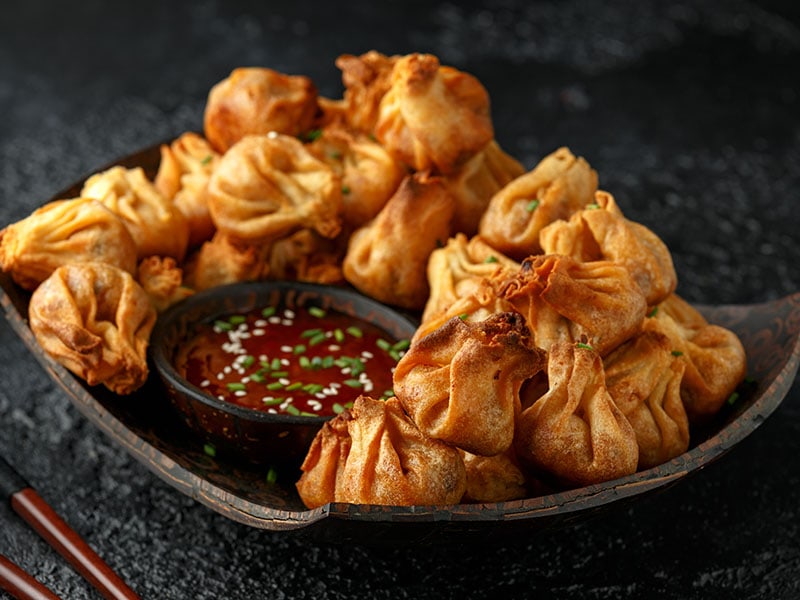 You can mistake between Wonton and Dumplings because of the similar looks; nevertheless, Wonton is shaped from square wrappers while the other is round. Thanks to the thinner cover, even if you are not a fan of flour wrappers, you will fall in love with Wonton.
The Chinese created Wontons during the Qing Dynasty (1644). However, with a heavenly flavor and after WWII, its fame spread to Hong Kong and has appeared in the list of favorite dishes for tourists and locals.
Although it was a luxury dish for high-class people in China, it is different when coming to Hong Kong. You can easily purchase a bowl of Wontons from hawker stalls.
You can taste many kinds of stuffing in Wonton. Zhang Zhongjing, a Chinese doctor, stuffed medical ingredients in wrappers to treat frostbite in the past. Different cuisines have different styles of cooking Wonton, and Hong Kongers choose to fry it.
4. Rickshaw Noodles/Trishaw Noodles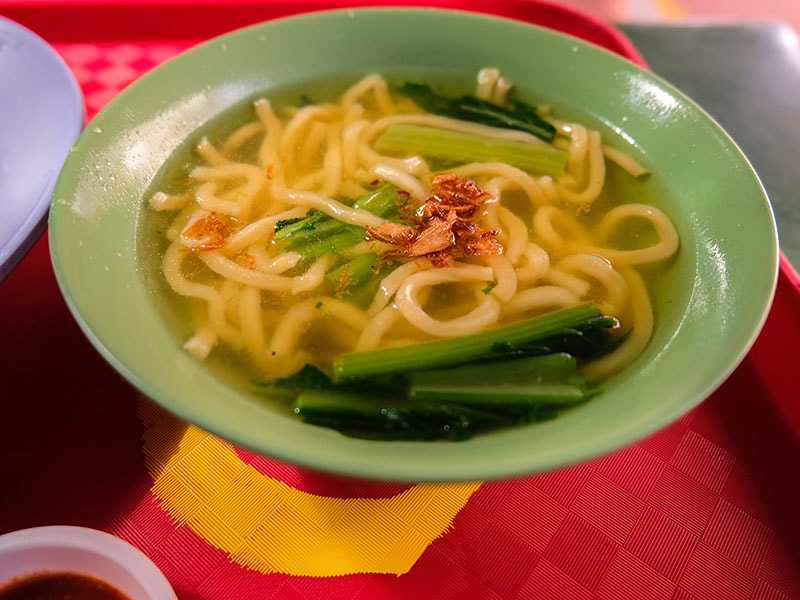 Simple but gold are 3 words I can use to describe Rickshaw noodles. Do you know why this food is "Rickshaw"? From the 1880s to 1940s, these rickshaw pullers were quite popular in Singapore streets, and the recipe is named after them.
This fast food consists of instant noodles mixed with a variety of ingredients like hogskin, fish balls, sirloin, and carrots, served in a soup and enhanced with delicious sauces.
Although it contains yellow noodles soaked in pork broth, it still provides enough energy for the pullers. The cooks usually add the fried garlic and shallots to level up their taste. Rickshaw noodles were imported to Hong Kong in the 1960s and quickly became the locals' favorite dish.
This food was originally a low-price dish, and you just needed several cents to enjoy it. Thus, you can order it from many staples and eateries.
However, the living standards have developed, and many restaurants add high-quality ingredients to this dish resulting in the changing price.
5. Har Gow – Steamed Shrimp Dumplings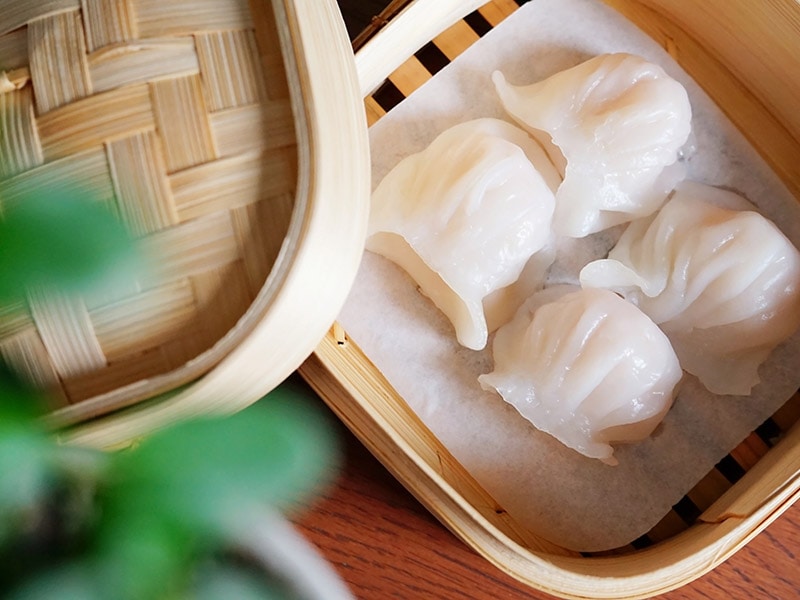 Cantonese makes up approximately 94% of the population of Hong Kong. Therefore, you can realize that almost dishes in this list belong to Cantonese cuisine, and Har Gow is in the same situation.
The signature filling in this dumpling is shrimp; you can see an eye-catching coral color after the translucent wrappers.
Har Gow is also an essential part of The Four Heavenly Kings, including Siu Mai, Egg Tarts, and Char Siu Bao (Barbecued-Pork-Filled Bun). You can order Siu Mai and Har Gow since they are a classic combination.
The most interesting thing I explored when coming to Hong Kong is that its name means "wedding gown". The pleated shape is reminiscent of the gown for brides.
It was born in a suburban area of Guangzhou, Wucu village, and became popular in tea houses in the 19th century. The perfect Har Gow has 9-13 pleats folded in a particular way.
6. Cheung Fun – Rice Noodle Roll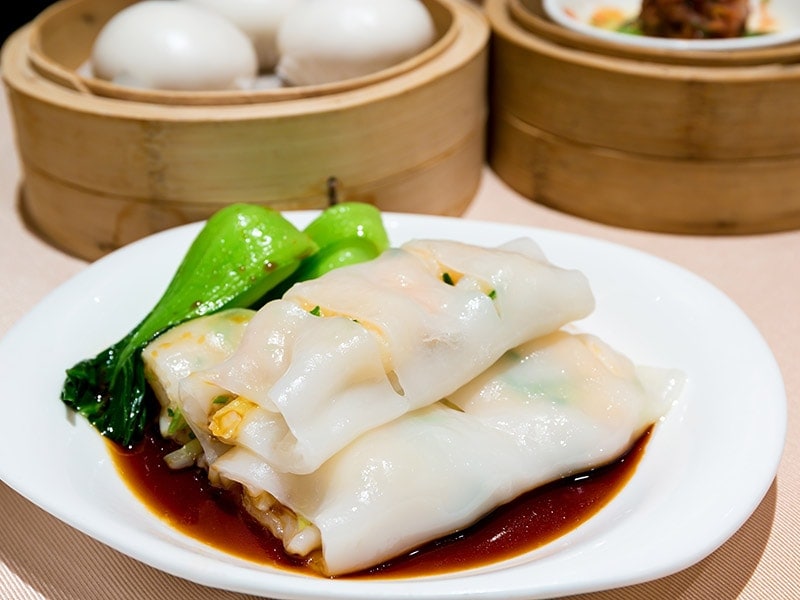 Several dishes in Hong Kong cuisine originated from Guangdong, and rice noodle roll is not an exception. However, its birthday is still a controversial topic.
Some people said it was born at the end of the Qing Dynasty, while others argued the Pantanf Hexian Pavilion created the dish during the Anti-Japanese War.
It will draw your attention at first sight due to its transparent and jelly-like texture. You can choose a filled roll or a plain one. The latter version is Jyu Cheung Fan, translated as the pig intestine noodle roll.
It is easy to understand due to its appearance. Jyu Cheung Fan has appeared in many cooking books since the 1930s. If you choose the former, you can opt for beef, shrimp, and more for the filling.
The restaurants usually serve it as a snack, a kind of Dim Sum, or a small meal. Before tasting, don't forget to drizzle soy sauce over the rolls to level up the overall flavor. The moderate sweetness of this sauce will make you unforgettable.
7. Ngau Lam Mein – Beef Brisket Noodles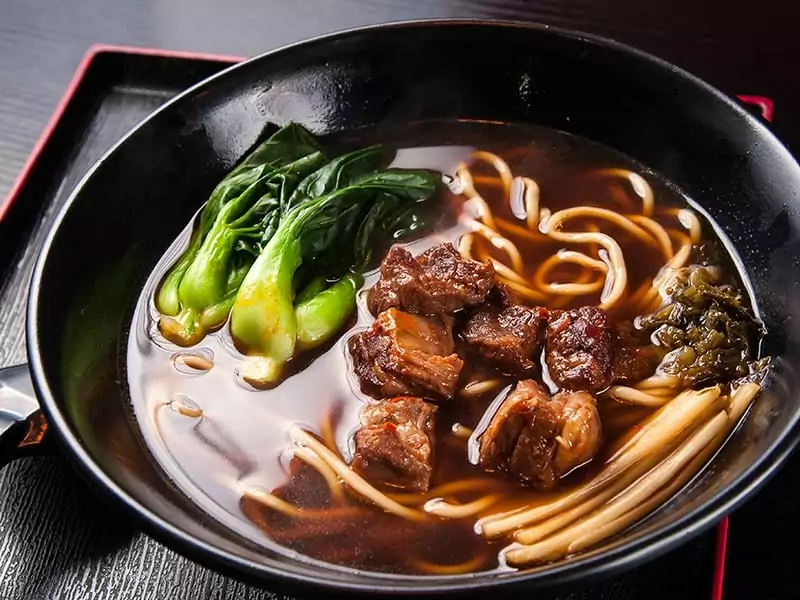 Beef Brisket Noodles are famous in Hong Kong, but their aroma and flavor also fly out to mainland China. As its name implies, the main components are braised beef, noodles, beef broth, and vegetables.
If you are a foodie, you will find it quite similar to Pho Bo or Beef Ramen made from the same basic ingredients. And yes, you are right; these dishes can be considered variations of Beef Brisket noodles.
This beef noodle dish stands out from the rest thanks to its signature blend of spices. Aromatic cinnamon, star anise, and cardamom seeds meld together to create a one-of-a-kind flavor that is both captivating and delicious.
It was created by the Hui Muslims living in Lanzhou during the Tang Dynasty, and the oldest dish is Lanzhou beef noodle soup.
It is so delicious that many companies have produced instant noodles, yet I think no place can give you an authentic feeling like enjoying it in Hong Kong or other mainlands.
8. Siew Mai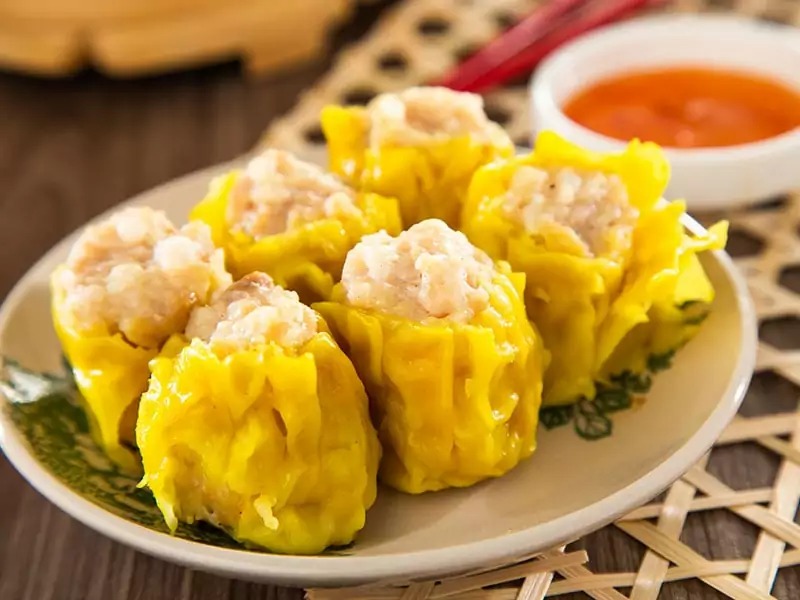 I have mentioned Siew Mai in a few dishes, yet I will tell you a story about this food in this section.
You will taste many street recipes, and Siew Mai is one of the must-try dishes. You can order it in any eateries you enter, from stalls to luxury restaurants. Your eyes will twinkle when seeing the yellow outer with some orange decorations: carrots or crab roe.
Although it is a part of Hong Kong's life, a few people know it is traced from China's Inner Mongolia, particularly in Hohhot. People called it "Suumai" instead of Siew Mai in the past. The original recipe was prepared from scallion and ginger with a mutation filling.
Siu Mai in Hong Kong is distinguished from other varieties by its filling of shrimp and its distinctive wrapping of yellow lye water dough.
The chefs always serve Siew Mai in a bamboo basket when it is still hot since its name means "without being cooled down" in the Mongolian language.
9. Lo Mai Gai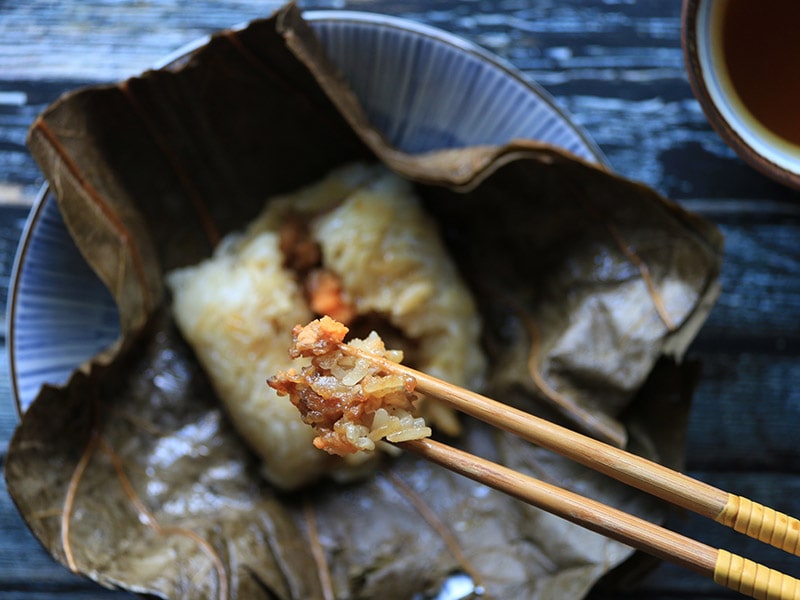 You might be surprised when seeing Lo Mai Gai in the Dim Sum list for its unique appearance. The cooks use dried lotus leaf to cover the filling. The natural outer offers the dish a special aroma and rustic feeling.
If you have searched for the Cantonese language, you will understand its meaning is chicken glutinous rice. The name also demonstrates the basic components. According to a theory, it comes from the night market of Guangzhou, an area in Southern China.
An upgraded version of Lo Mai Gai can contain egg yolks, sausage, and more. Each ingredient will bring you different experiences, and I recommend you try all of them if you can.
Its fame is not limited to Hong Kong or China; you can find various variants in other countries. However, people can replace lotus leaves with banana or grape leaves.
10. Cart Noodles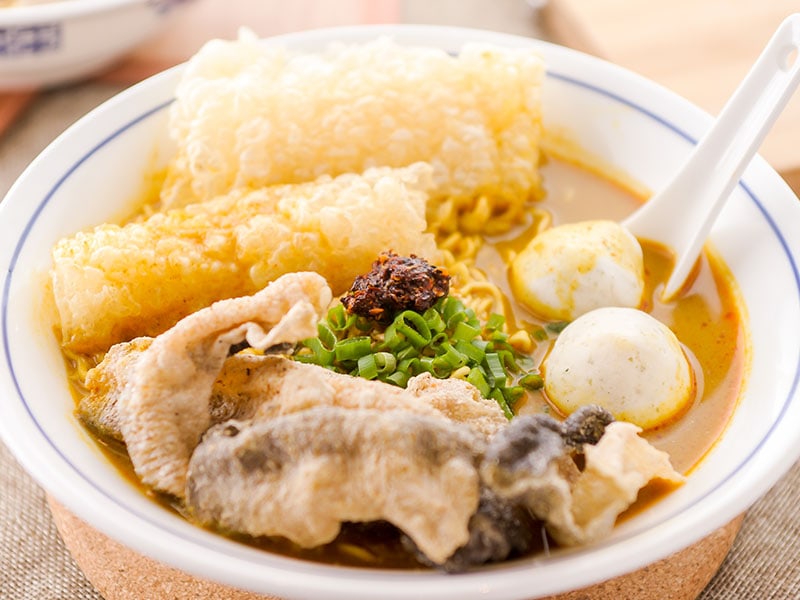 Although Cart noodles and Rickshaw noodles have a few similarities, they are different foods. Cart noodles have become a cultural icon on Hong Kong streets after the habitants moved to mainland China in the 1950s. 
Once upon a time, it was not hard to order a bowl of Cart noodles from hawkers. However, time flies and this scenery has vanished to make room for restaurants. Not only Hong Kong, but the Macau people also love this food.
Unlike other dishes that don't really belong to Hong Kong cuisine, Cart noodles are an exception.
Nowadays, you can always find suitable Cart noodles versions for you from low-price to high-end restaurants without hurting your wallet. Don't forget to enjoy it before leaving this region.
11. Fu Pi Juan – Tofu Skin Roll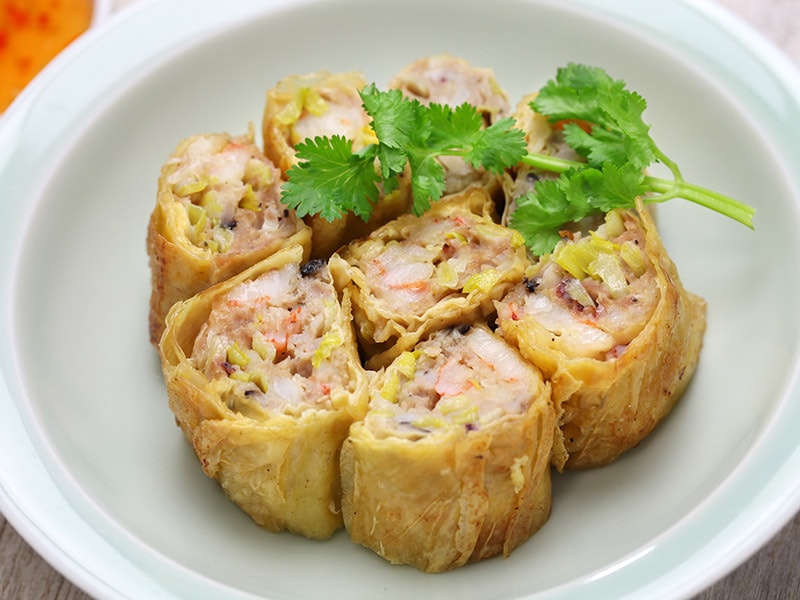 Stop! Don't go anywhere if you haven't tasted Tofu Skin Roll. This is one of the side dishes with a Chinese vibe. The top layer of soy milk is tofu skin. It has been a familiar ingredient in Chinese cuisine since the 14th century.
Tofu skin is a good source of vegan protein for vegetarians to substitute meat-based protein. The chefs will add more "colors" to the dish by rolling the skin with pork, beef, fish, and veggies, then steam it to have a mouth-watering plate.
This dish is really well-known in Hong Kong and even outside China. The locals usually serve steamed tofu skin rolls in Yum Cha and whenever you want. People usually use dried tofu skin as it features a tender and soft texture.
12. Spring Rolls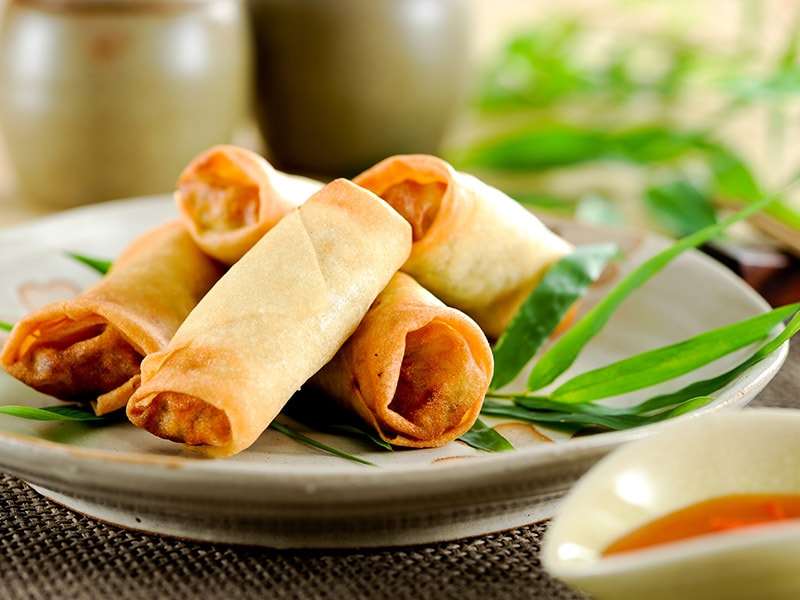 Spring rolls are a common starter in Asian cuisine, especially in Southeast Asia and East Asia. In Hong Kong, you can order it easily as Dim Sum. As its name implies, Spring Rolls are filled and rolled carefully to have an eye-catching appearance.
Hong Kongers usually mix minced pork, bean sprouts, shredded carrots, and other veggies to create the filling. In each region, people can use different wrappers, fillings and have various ways to cook them.
While you can certainly savor Spring Rolls on their own, I highly recommend trying them with a dipping sauce. With so many options to choose from, you can pick a sauce that best complements your personal taste. The combination of the savory filling and crispy exterior creates an ideal harmony of flavors and textures that you won't want to miss.
Meat-Based Hong Kong Dishes
For Hong Kongers, a meal without meat is like a day without sunshine – incomplete! They view meat as a protein powerhouse, essential for recharging after a long day of hard work.
13. Char Siu – Barbecued Pork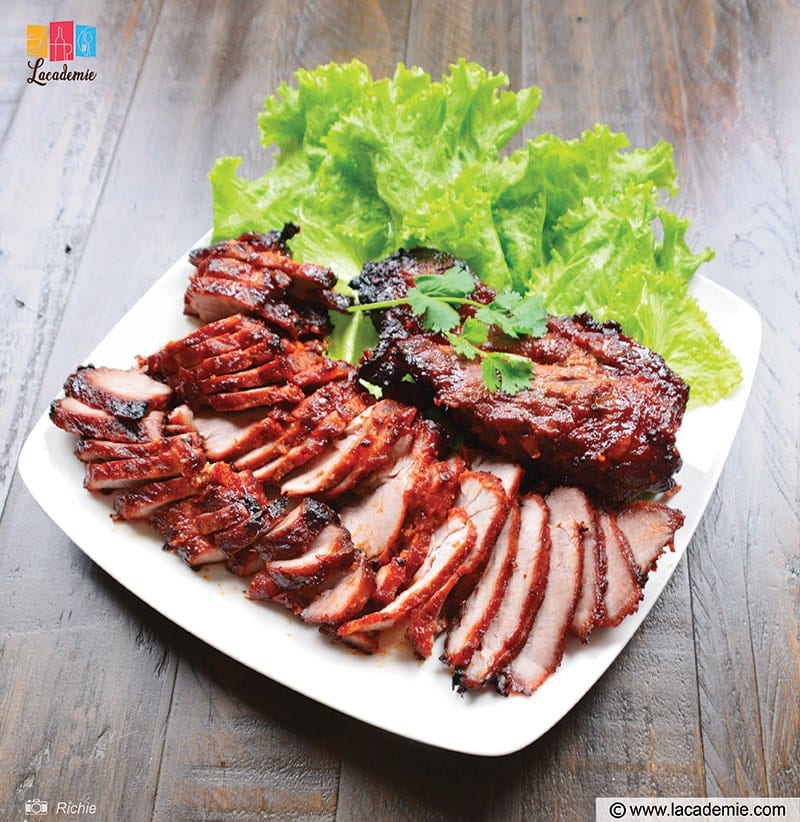 Are you looking for a Hong Kong dish for dinner that you can eat with rice? I will introduce you to Char Siu. Maybe you don't know, it was listed in the World's 50 Most Delicious Foods in 2011, so these words are enough to prove my suggestion.
Char Siu is barbecued pork cooked in Cantonese style using standard pork meat, yet the special flavors depend mostly on spices: five-spice powder, honey, red yeast rice, and more.
You can order rice and buns to enjoy with Char Siu. It is also a filling in Char Siu Bao (Cantonese Barbecued-Pork-Filled Bun). Another option is to pair char siu with dried noodles for a quick and tasty meal.
Nowadays, many people are too familiar with "Char Siu" words, yet rarely know that its name means fork-roasted. The old-day chefs skewed any kind of meat to forks and roasted it slowly over the embers.
To know which places sell Char Siu, you can choose those that hang large Char Siu pieces in the window or enter Siu Mei restaurants.
14. Snake Soup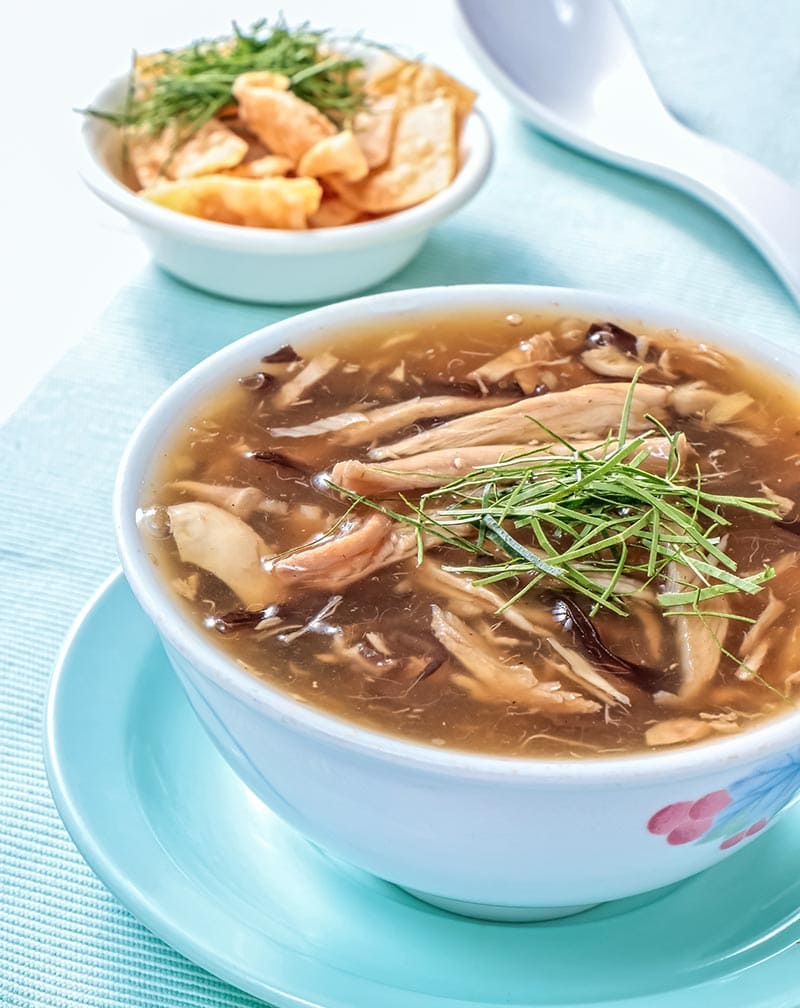 Behind the thrilling name – Snack soup, it has an umami flavor with medical effects. It used to be a high-end dish for the upper class. People commonly enjoy this dish during the winter as they believe snake meat has a "yang" feature (hot) that can fight against "yin" (cold) in the winter.
Moreover, it also helps circulate blood well for your skin. A bowl of soup can consist of 2-5 kinds of snake meat, and you just find this recipe in specialized restaurants called "Shea Wang" or "Snake King".
Its birthplace was Southern China in the 3rd century BCE, yet its fame spread through China in the 1700s. You have to pay a quite high price to enjoy this food since just a few chefs can skillfully handle snake meat.
Snake shops in Hong Kong often boast stacks of wooden drawers, housing an array of wriggling reptiles that will soon be transformed into culinary masterpieces.
Meanwhile, other eateries serve up snake soup alongside other hearty Cantonese winter dishes like claypot rice and sticky rice, adorned with exotic toppings like frog legs and eel.
Handling and preparing snakes requires specialized skills, making these shops typically family-run and passed down through generations.
However, with older snake chefs retiring, these unique establishments are slowly disappearing. To experience this flavor for yourself, check out these three shops at varying price points: Ser Wong Fun, She Wong Yee, and Se Wong Sun.
15. Gu Lo Yuk – Sweet and Sour Pork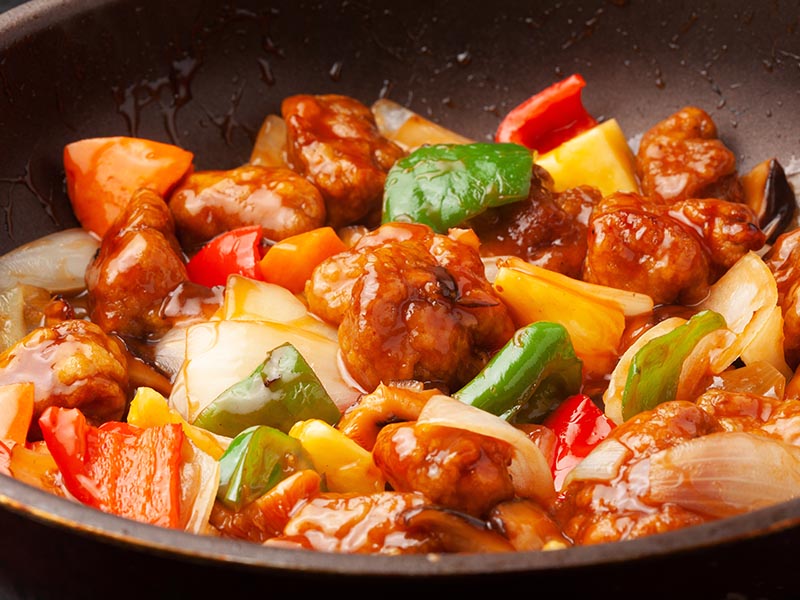 Sweet and sour pork is undoubtedly one of the most iconic Hong Kong dishes, beloved by locals and visitors alike. Its widespread popularity has even earned it a place on Chinese takeout menus across the globe.
It originates from Canton and has gradually become popular in China. The balance of sweetness and sourness will captivate many hearts.
The first version of this food is Jiangsu, translated loosely as pork in sugar and vinegar sauce. It was created by the Long family in the 18th century. However, the latter version is updated with some foreign components: pineapple, bell peppers, and more.
Thanks to the convenient location, the Canton region, including Hong Kong and Guangdong, has many opportunities to import overseas products, and cuisine is one of them.
The original recipe used pork loin and fried it to have a crunchy texture, yet the Hong Kongers use spare ribs instead.
16. Fishball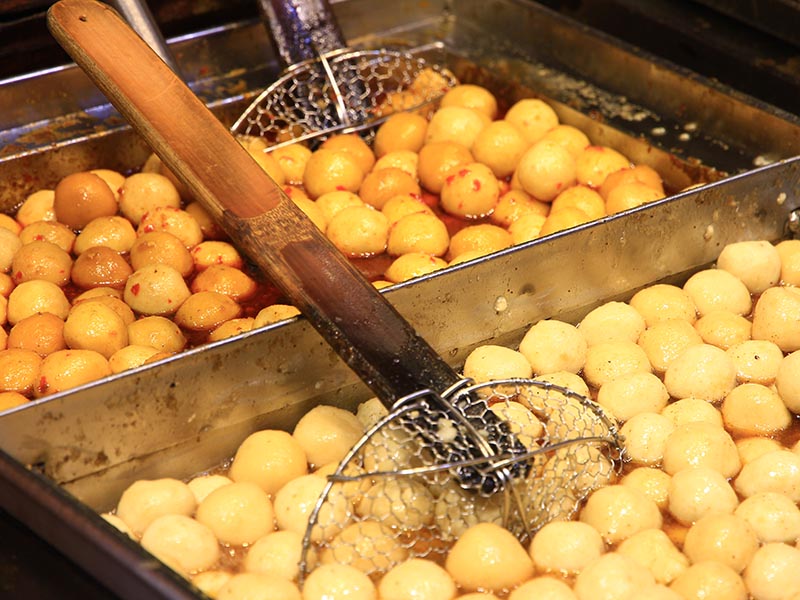 It is a nonsense trip when you visit Hong Kong yet don't enjoy Fishball, an iconic staple on Hong Kong streets. You can order this food wherever you go, from small vendors or restaurants.
These delectable balls boast a delightful bounce and a rich umami flavor that's simply unforgettable.
Fishball was served in Chiu Chow style during the Qing Dynasty for the first time. The folks boiled it and added it to noodle soup.
This version was not as famous as the present-day one. The chefs fry it until these balls have an eye-catching color, and you can eat it alone or dip it into the curry sauce.
There are 3 kinds of Fishballs you can find in Macau and Hong Kong belonging to Southern China: yellow, golden, and white. The yellow one is the most common type as it is sold as street food.
The cooks have to use fresh white fish to produce white Fishball. This type has a chewy and fluffy texture with a bold fish flavor.
People frequently add it to noodles served in Cha Chaan Tengs and Chaozhou-style restaurants. 
Plus, most of the stalls on Cheung Chau Island whip up their own authentic homemade recipes, adding an extra touch of love and care to these culinary treats.
17. Siu-Ngoh – Roast Goose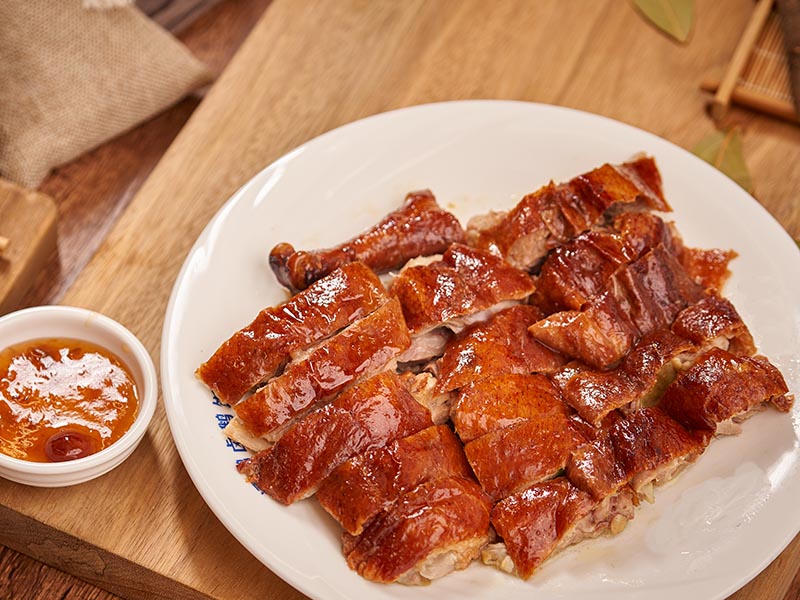 If the Chinese have Beijing Roast Duck, the Hong Kongers have Roast Goose. Even though you can taste Roast Goose in some places, no place can beat Hong Kong.
Besides crispy skin and tender meat, you should dip it into a plum sauce to feel the harmonious symphony in your mouth.
If you have a chance, you should try charcoal-roasted goose instead of the oven since the oven cannot bring you smokey and aromatic flavors. However, not many places use charcoal, so ovens seem to be an excellent substitute.
The perfectly salty, sweet, and sour taste will make you wow after the first bite. If you consider the best restaurants serving excellent roast goose, I highly recommend Kam's and Yung Kee Roast Goose.
18. Lap Cheong – Cantonese Preserved Sausage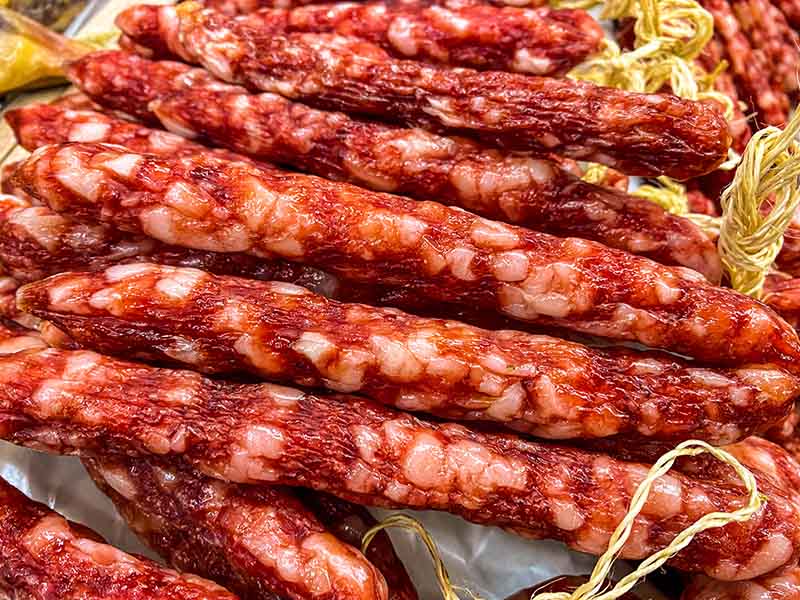 Lap Cheong is a long-established Chinese recipe served in New Year meals. You can find a wide range of variations of this sausage, yet each area has specific preparation methods. In Hong Kong, you can request fried rice or Lo Mai Gai to enjoy.
The word "lap" stands for the last month of the Lunar Year and winter sacrifice. That's why it always appears in the final month and new year meals. This food is not too complicated to make, so many households prepare it by themselves.
Using a wok is the traditional way of cooking Lap Cheong, a type of Chinese sausage that can be enjoyed both hot and cold. If you're looking to bring home a taste of Hong Kong, head to the wet markets or street markets where you can purchase traditional unpackaged Lap Cheong.
It will have an especially pink-red color, sweet and savory taste that you cannot stop eating.
19. Feng Zhua – Chickens' Feet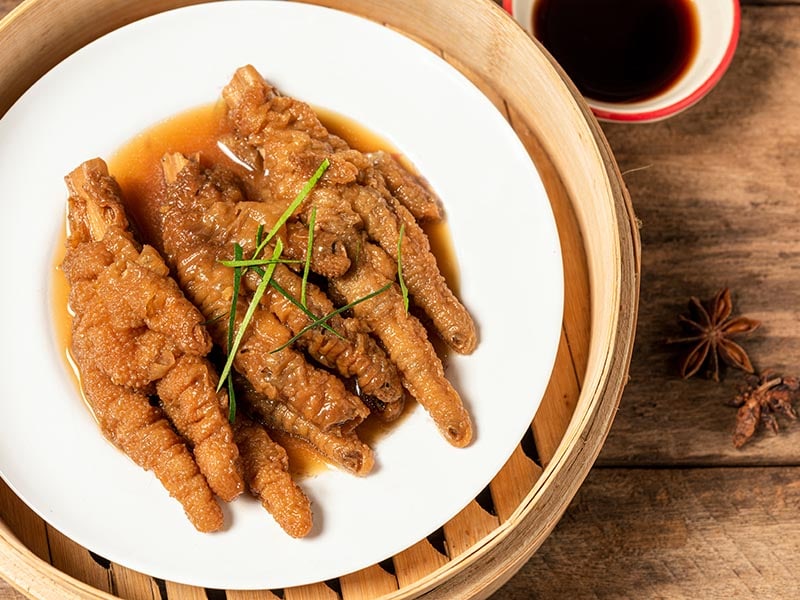 Chicken feet are one of the most versatile dishes I have ever known, as you can eat them as a beer snack, soup, or main dish. Almost all chicken feet in Hong Kong are imported from China; thus, the citizens in these areas know many methods to transform them into tasty dishes.
The cooks in Hong Kong usually fry and steam chicken feet in advance to make them puffy. The next step can decide the flavor of the whole dish since they stew and simmer feet in a special sauce.
The texture of the feet is not the same as any part of a chicken. They are chewy and gelatinous because of their skin and tendons. In addition to chicken feet, the chefs also process duck feet to diversify your choices.
20. Char Siu Bao – Barbecued Pork-Filled Bun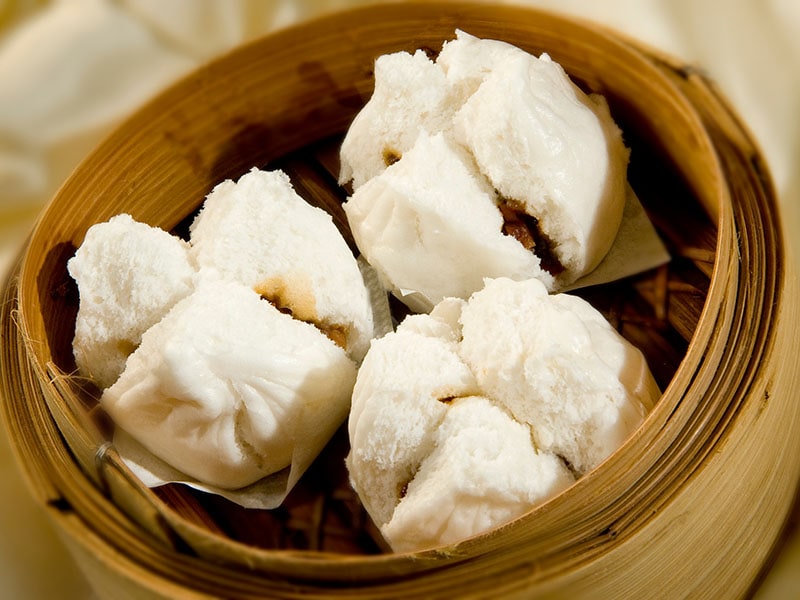 Char Siu Bao is simply a steamed bun with Char Siu filling. However, it has a rich flavor that you will surely be surprised when trying it. You can purchase it from Chinese bakeries, and it plays an essential role during the Yum Cha ceremony.
Many people claimed Bao was invented by Zhuge Liang, one of the genius minds living in the 3rd century. He was a brilliant strategist in the Three Kingdoms period.
When the living standards were improved, people working on the Silk Road started stuffing roast pork into the Bao.
In Hong Kong, you can find multiple restaurants serving different types of Char Siu Bao. The cooks always try to twist the flavor to leave marks on your mind. The special feature of Char Siu Bao is the yeast combination.
The chefs mix baking powder and yeast to create a unique texture that is slightly dense yet soft enough to seduce your heart. Don't skip Tim Ho Wan, a traditional and well-known eatery in Hong Kong if you are a big fan of melt-in buns.
21. Zhu Jiao Jiang – Pork Knuckles And Ginger Stew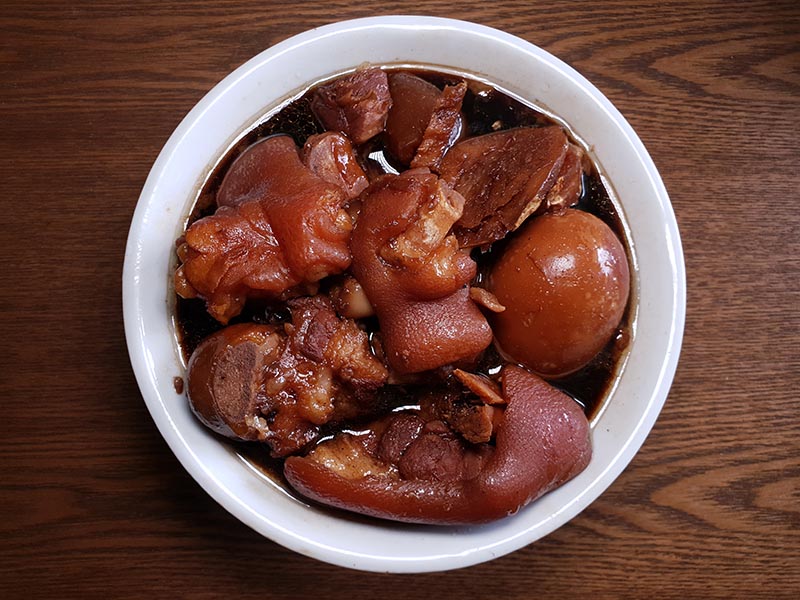 Do you wonder what Hong Kong new moms eat during their postpartum periods? The answer is Pork Knuckles And Ginger Stew. Traditionally, it is usually eaten by Guangzhou women to boost their health.
There is a sad and happy story behind the dish. In the Ming Dynasty, a couple must divorce since the wife didn't have a kid after a few years of marriage. However, after this event, the wife was pregnant and gave birth on a hill.
The husband prepared Pork Knuckles And Ginger Stew to recover the wife's health. Then, they married again and lived happily forever. The Chinese doctors believed this food could warm the blood and restore the woman's vitality.
Women love pork knuckles since the collagen in them can add more nutrients and smoothen their skin. Moreover, the warm feature of ginger supports blood circulation. Therefore, if you are not pregnant yet and still want to take in these benefits, don't miss this food.
22. Steamed Meatballs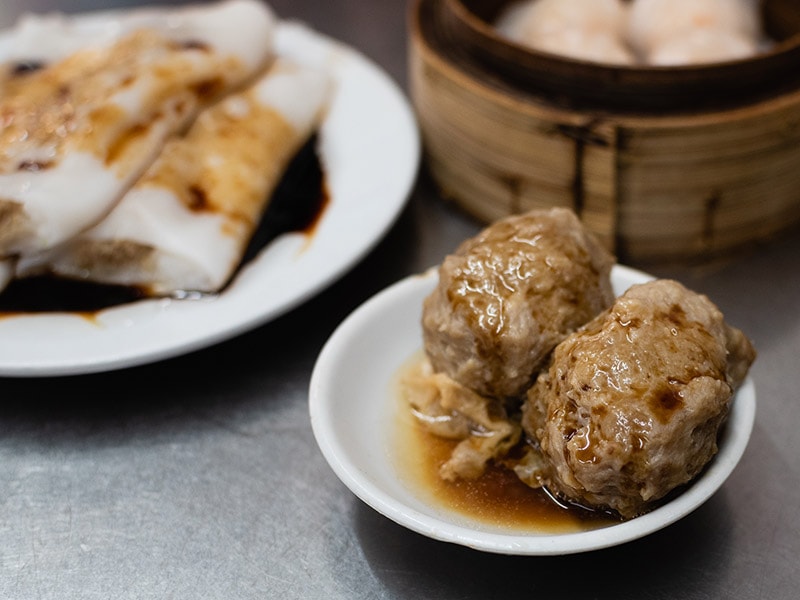 Another Dim Sum dish I am excited to introduce is Steamed Meatball. Meatballs appeared for centuries from the Tang and Song Dynasties. The Muslims were the first chefs to prepare this dish.
After that, the Hui Muslims moved to Guangzhou, bringing meatballs along; that's why Steamed Meatball is a popular dish in Hong Kong and other Cantonese areas. Besides, in case you visit some Chinatowns, you can easily get this food from restaurants here.
The cooks use tofu skin or peas to level up the meatball. You can enjoy this Hong Kong dish in your lunch. And don't forget to drizzle some Worcestershire sauce.
Despite its name – meatball, the chefs also add more components: water chestnut, coriander, dried orange peel, or Cheung Pei to create a twist for the food. If you are a detail-oriented person, you will realize the meatballs never touch the juice on the plate.
Mealball's flavor is not simple as its name. It has a rich and umami taste.
Other Savory Hong Kong Dishes
Hong Kong cuisine is more diverse than the 2 previous categories. People also love eating seafood, rice – a fundamental food, and more. Almost all of them have existed for a long time, yet their flavor still wins any heart.
23. Seafood Bird Nest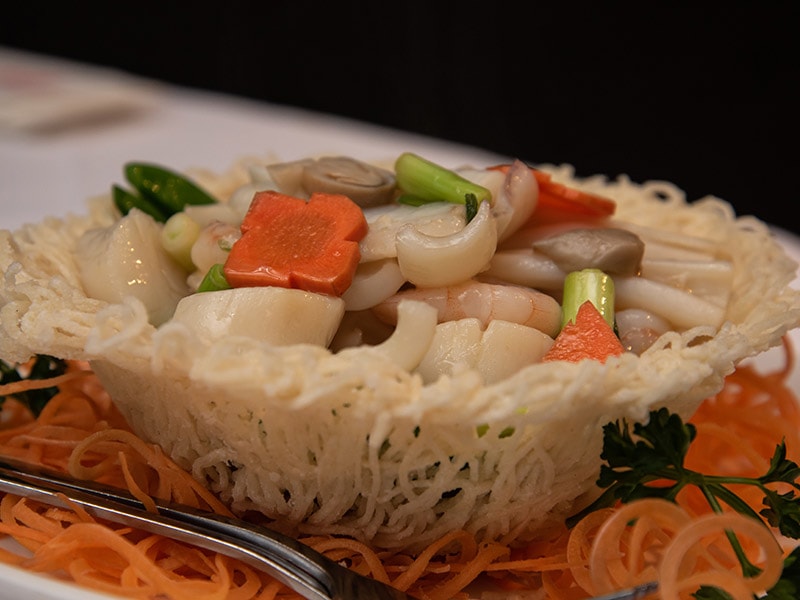 You should order it immediately if you see Seafood Bird Nest in any Hong Kong restaurant. Why? Because of its heavenly flavor and special appearance. Like other recipes, Seafood Bird Nest originated from China and has become famous in Hong Kong for a long time.
The dish has 2 parts: basket and fillings. The basket is mostly made from fried noodles and taro. It is shaped into a bird nest-like look to hold the fillings. Thus, its texture is usually crispy and tough.
The other is the fillings. You will always find a friendly recipe within your budget as it is mid-to-high-end food. The price will fluctuate depending on seafood: scallops, fish filet, shrimp, and more. Although it doesn't contain any component of bird, it is worth trying.
24. Bou Zai Faan – Claypot Rice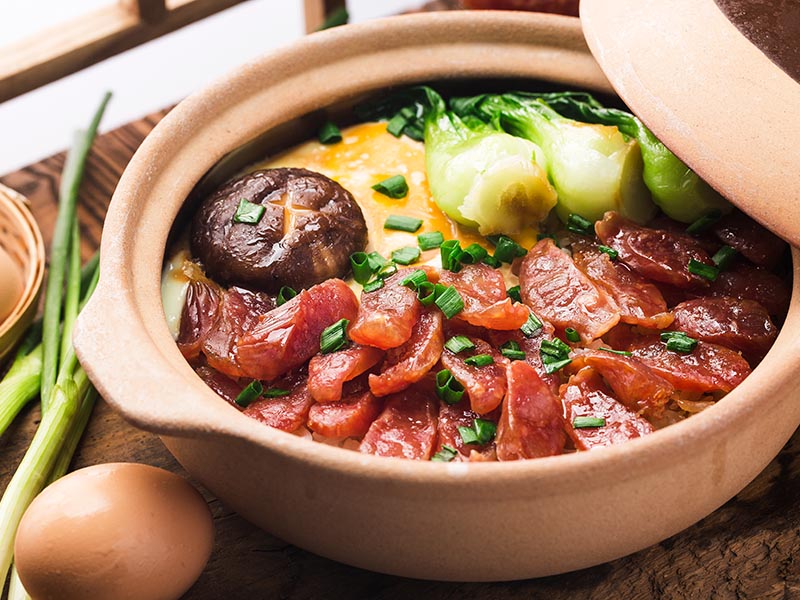 When coming to Hong Kong, make sure you have tried several restaurants on Temple Street, and remember to enjoy Claypot Rice here. Some places just sell Claypot Rice and offer you over 60 toppings to satisfy your taste buds.
This is a classic food in Southern Chinese and Southeast Asian dinners. The claypot was used for cooking rice 5000 years ago, and the Guangdong citizen created a one-pot dish from it. To have an authentic feeling, the cooks use a charcoal flame to have an ancient experience.
The rice is pre-soaked or par-cooked, and the cooks arrange some ingredients on the top, such as chicken, Lap Cheong, and veggies. In this way, you can take enough nutrients for a day. It is also a smart way to save water and dishwashing liquid, right? (Just kidding!)
Claypot Rice is not a high-end meal. Thus, it is not hard to see it in family meals and working-class restaurants. If you want to enjoy luxury Claypot Rice, let's change the toppings.
25. Fake Shark Fin Soup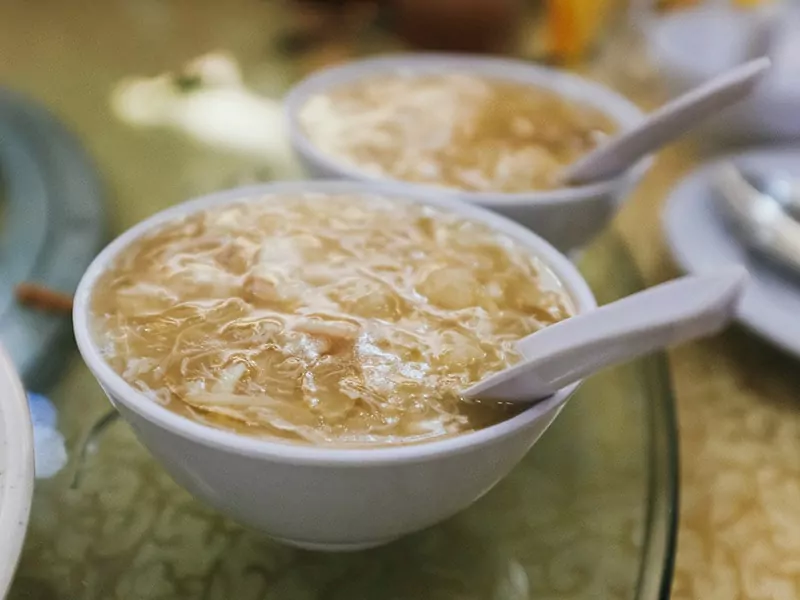 A beloved street food in Hong Kong, Fake Shark's Fin Soup is a cleverly crafted dish that swaps traditional shark's fin for vermicelli noodles. Despite the absence of the real thing, this dish still boasts a delicious and satisfying taste that has made it an enduring favorite among locals and visitors
Song Dynasty is one of the most developed Dynasties in Chinese history, so the wealthy hunted for high-end dishes, and Shake Fin Soup is one of them.
Once a symbol of wealth and influence, Shark Fin Soup was a highly sought-after delicacy, often served at prestigious events like weddings. Despite its popularity, the fishing and hunting of sharks for their fins have led to a devastating decline in their population, putting these magnificent creatures at risk of extinction.
Therefore, in the 1970s, Hong Kongers introduced Fake Shark Fin Soup, yet the locals on Temple Street had started experimenting with this dish in the 1950s and 1960s.
This recipe consists of konjac gel, different noodle forms, and more. Thanks to them, the price is easy to afford, and you can buy it from street vendors.
Support the "Say no to Shark Fin Soup" movement; many Chinese tried eating the imitation version, which became popular in the 1990s. Nowadays, tasting Shark Fin Soup (of course, the fake one) is not an imaginary thought, right?
26. Chou Doufu – Stinky Tofu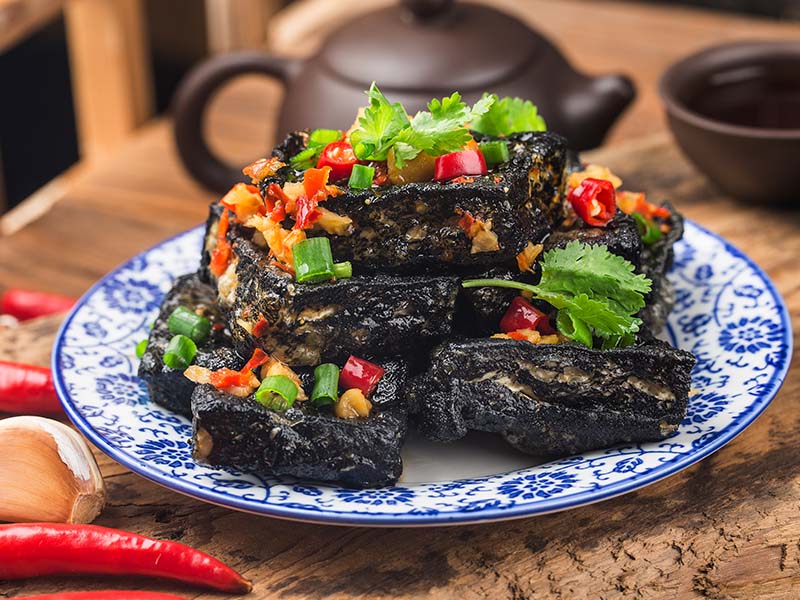 If you're wandering the streets of Hong Kong, keep an eye out for a unique snack that's beloved by locals: stinky tofu. This pungent street food is freshly deep-fried at hawker stalls and dai pai dongs, then sold by the bag.
Although some people claim that the Shanghainese brought it to Hong Kong in the 1930s, this legend is more persuasive.
During the Qing Dynasty, Wang Zhihe, living in Anhui Province, forgot Tofu for a long time; therefore, it had a smelly and green substance. Then, he fried it and found it super delicious. He decided to sell it, and Stinky Tofu has gained popularity in other Chinese places.
In Hong Kong, this dish is usually served as street food rather than appearing in restaurants. To create the unique odor, traditional chefs marinate it in vegetables and meat brine for a month, while modern cooks reduce it to 1-2 days.
In Hong Kong, stinky tofu is traditionally served crispy and golden-brown, with a generous dollop of hoisin sauce to balance out the dish's bold flavor.
Sweet Hong Kong Dishes
A savory meal cannot finish without sweet treats, or you will need some snacks to restore your energy after hanging out. Let's explore these signature desserts that you should try at least once in your life.
27. Bo Lo Baau – Pineapple Bun/Bread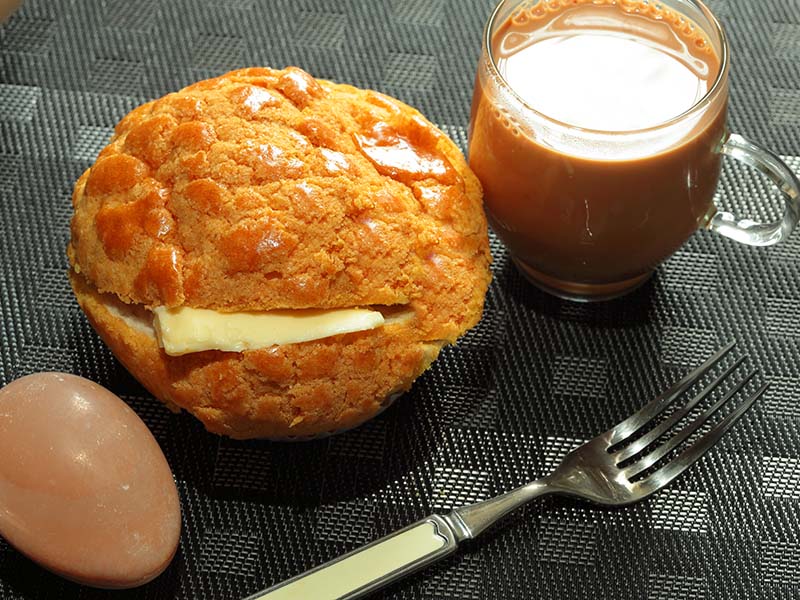 You should not mistake this Hong Kong pineapple bun for the version found in Taiwanese gastronomy, as the ingredients and shapes are different. The Hong Kong bun looks like pineapple with epicure and golden brown color and doesn't have any pineapple-related ingredients.
Guangdong immigrated to the US and Mexico in the 19th century. However, in the 1930s, the US government forced the Guangdong citizens to go back home due to immigration bans.
After returning (1946), the Ng family introduced this food to Hong Kong through a Hong Kong-style cafe. The chefs cover the outside of the buns with a sweet and crumbly crust.
You can also find the appearance quite messy, but the soft and fluffy texture on the inside can make your stomach growl. The locals usually enjoy it for breakfast and afternoon snacks. The best friend of this bun is milk tea.
28. Danta – Egg Tart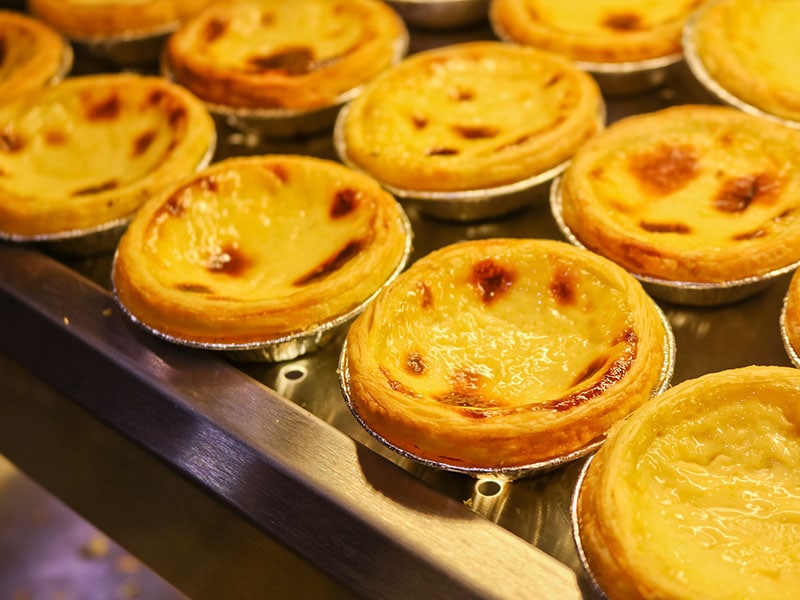 The hometown of Egg tart is Guangdong, and its recipe is based on English custard tart. These English variants appeared from medieval times, and people provided this beautiful treat at the coronation of Henry IV.
The first time Egg tart appeared in Hong Kong was in the 1940s, thanks to the Guangzhou people. However, the only upper class had enough money to taste this tasty Hong Kong sweet at this time. The Hong Kong version has a smaller size and is served in 2-3 tarts.
The chefs in Hong Kong teahouses began selling this in the 1960s, so the working class had a chance to enjoy it. The Hong Kong egg tarts are so well-known that their cooking technique is recorded in the Intangible Cultural Heritage Inventory of Hong Kong.
29. Hong Kong-Style Milk Tea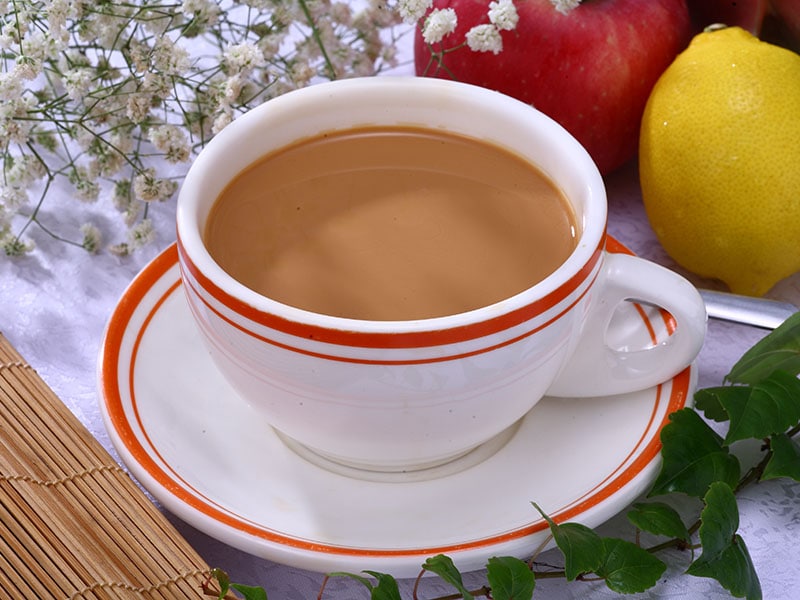 Have you ever watched the top Eat 100 show? Do you know that Hong Kong-Style Milk Tea is one of the most common beverages in this list, and the Intangible Cultural Heritage Inventory of Hong Kong also includes it?
Since the British used to rule Hong Kong, the locals formed drinking tea habits. This drink consists of black tea and condensed or evaporated milk instead of fresh milk like the British. It usually appears in Hong Kong lunches.
According to research, Hong Kongers can consume nearly 900 million cups of milk tea per year. Although it contains a pretty high percentage of caffeine, all-age people love to enjoy it.
Only wealthy Western restaurants served it during the colonial period, but now, you can order it in any teahouses.
The milk tea usually has white frothy inside the cup lip. It indicates the butterfat in milk is high enough, and the chefs use high-quality ingredients. You should remember this feature to choose a perfect cup of milk tea.
30. Ginger Milk Curd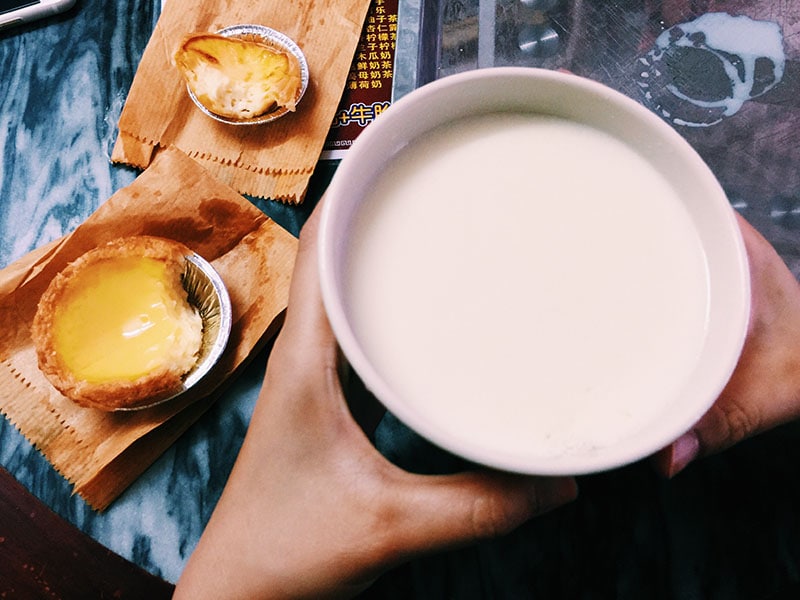 Ginger Milk Curd is a well-loved Chinese sweet treat with a delicate and silky texture from Shawan town in Guangdong province.
For the Cantonese people, it is the most beloved treat. Instead of using gelatin, the locals add ginger juice to hot milk and wait for a while; they have a bowl of milk curd.
Traditionally, people used water buffalo milk to make this dish. The cooking method is not hard, but the process is truly tricky. The perfect temperature that allows milk to curd is 158F, and the chefs use a thermometer to determine the proper time.
The restaurants can serve it cold or warm, depending on your request. The milk curd is already sweet, yet you can pour some honey and add fresh fruits to elevate the overall taste.
31. Hong Kong Style French Toast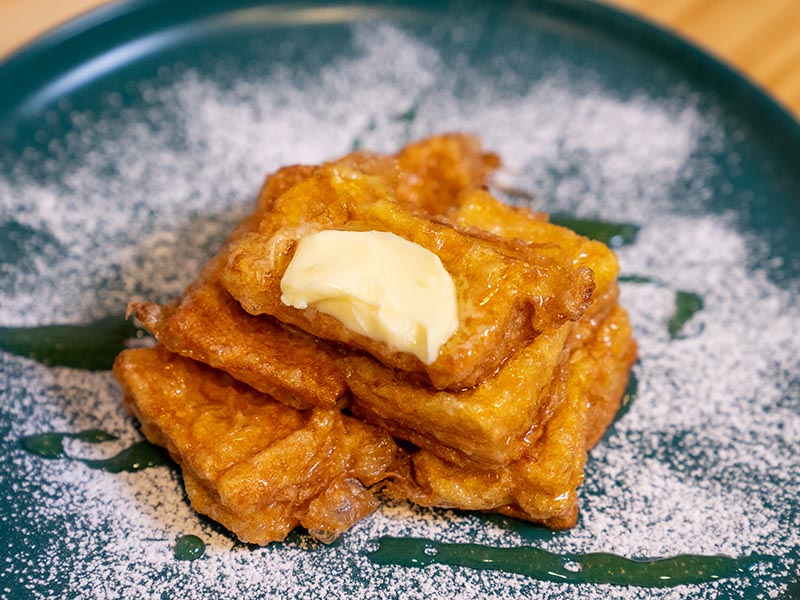 As a bustling international port, Hong Kong attracts a steady stream of foreign traders and visitors from all over the world. Therefore, you will find some Hong Kong dishes having Western colors, and Hong Kong Style French Toast is one of them.
When you enter teahouses or Cha Chaan Teng in Hong Kong, this is one of the most common dishes you can see. Despite its name, this food is influenced by European and North American cuisine.
The cooking method of common French toast mentioned in a Roman cookbook in the 4th or 5th century is pan-frying, yet the Hong Kongers deep-fry it. Between 2 slices of sandwiches, the chefs usually stuff sweet condiments such as peanut butter or fruit jam.
You can order some butter, honey, or golden syrup when enjoying this dish to add more sweetness. If you love savory versions, you can order toast with ham, meat floss, or beef satay filings.
32. Gai Daan Jai – Egg Waffles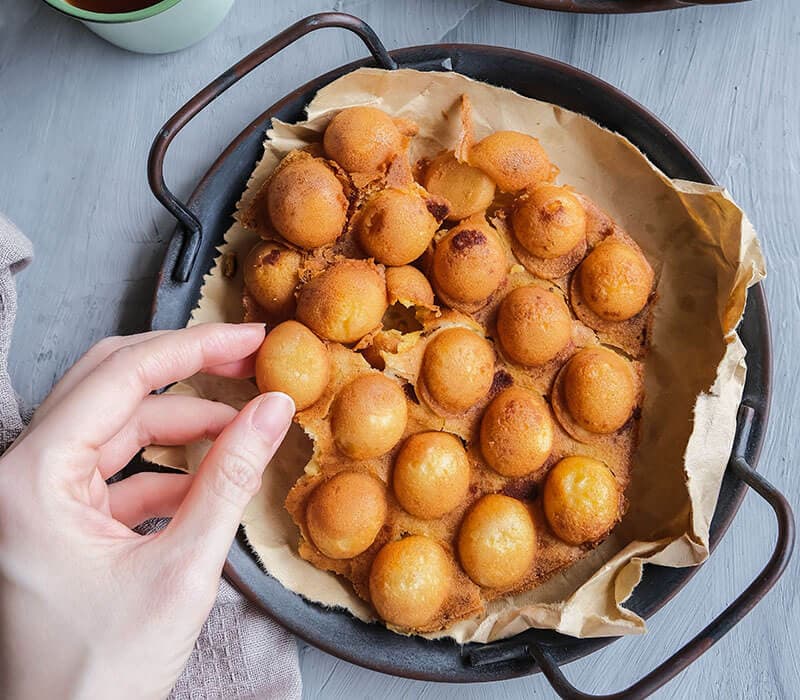 Gai Daan Jai, or Egg Waffles is a beloved street snack hailing from the bustling streets of Hong Kong and Macau. These golden, crispy-on-the-outside, and soft-on-the-inside waffles boast a unique texture, thanks to their charming bubble-like pattern created by a special mold.
These scrumptious Egg Waffles, also known as egg puffs or bubble waffles, can be enjoyed plain, hot off the griddle, or adorned with a variety of toppings like fresh fruit, chocolate, or coconut shavings.
With 20 to 35 little round "balls" in one piece, they're perfect for on-the-go snacking or sharing with friends.
As a true symbol of Hong Kong's vibrant food culture, Egg Waffles have been delighting taste buds since the 1950s, when they were first prepared over coal fire stoves at street kiosks.
Today, they continue to reign supreme as the number-one street snack in the city, captivating locals and tourists alike with their irresistible taste and playful appearance.
FAQs
It's time to dive into our frequently asked questions (FAQs) section to uncover answers to some of the most common inquiries about Hong Kong cuisine.
---
Don't Miss Out The Magic of Hong Kong's Night Time Streets
Hong Kong truly comes alive at night, as people finish work and head to local restaurants or street stalls for a bite. To truly experience the city's vibrant atmosphere, consider exploring its bustling streets after dark.
There are countless dishes to savor in this region, but the above recommendations are particularly popular among locals. Give them a try, and share your thoughts in the comments.
Remember to spread culinary love to friends and family. If you enjoyed this post, please like it to encourage more content. Thank you for your support!