As you may already know, there are different types of forks with distinctive functions. As a result, it's essential to understand their role and improve your table manners. If you don't know where to begin, read my article, and I'll point you in the right direction.
Simply put, a fork is a piece of kitchenware used to eat various foods such as meat, vegetables, noodles, and other things. This utensil will help you solve any problem arising when you consume food. Take a look at these kinds of forks below.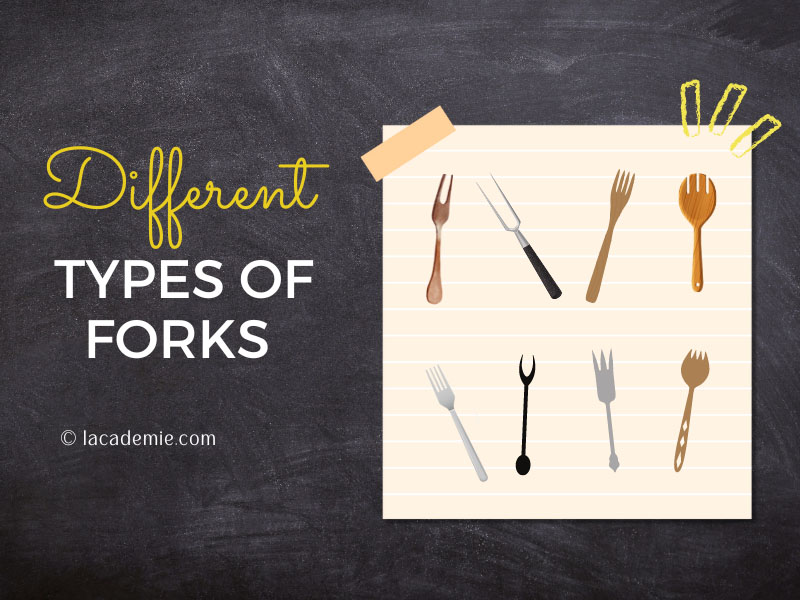 5 Different Kinds of Two-Tine Forks
Let's start today's list with varieties of forks that only have two tines. What are their applications, and should you purchase them? Discover the answer now!
Types Of Forks
Number Of Tines
Used For
Snail Fork
2
Pry and poke the snail meat
Cheese Fork
2
Help you hold the cheese in place
Pick up and transfer cheeses
Carving Fork
2
Keep large chunks of meat while cutting
Help to slice the meat more precisely and visually satisfying
Chip Fork
2
Help eat chips and fish
Keep your fingers clean
Deli Fork
2
Pick up slices of prosciutto
Spear deli meat and cheese
1. Snail Fork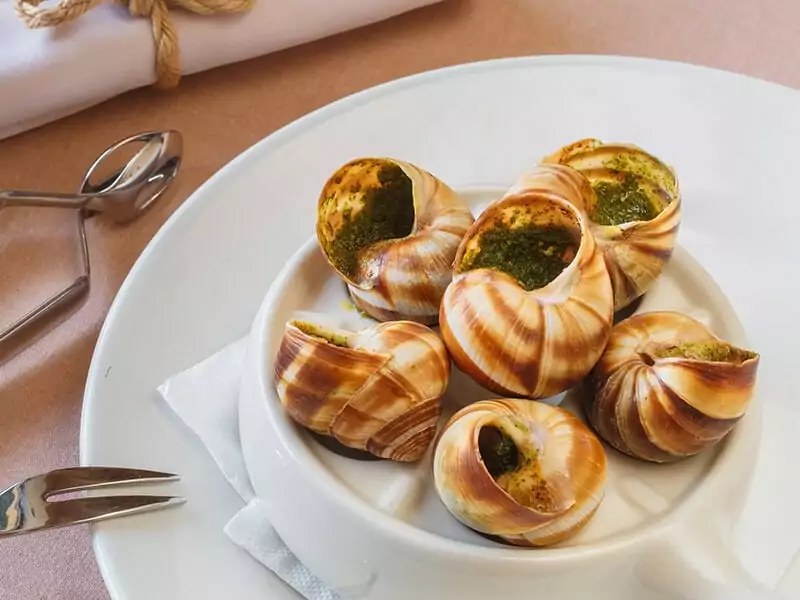 Snail forks, also known as escargot forks, are specialized forks used for prying and poking snail meat from its shell or a snail dish. This fork also has two long and pointed tines.
The sharp and small tines make removing the meat from the nails easier without missing any part. The length of a normal snail fork is around 4-½ inches.
Many people confuse this type of fork with a 2-tine cocktail fork due to their similar physical characteristics. You can use them interchangeably in some cases.
2. Cheese Fork
Let's continue today's fork-exploring journey with a type of fork that helps eating cheeses easier. Including two piercing tines, cheese forks have chunky wooden handles to assist you in keeping the fork in place.
The major function of this fork is to help you hold cheeses in place when cutting them with a knife. Moreover, you can utilize this fork variety to pick up and transfer pre-cut cheese slices to the dishes.
A cheese fork is also proper when you need to poke harder cheeses such as feta cheese, blue cheese, and provolone (an Italian semi-hard cheese). Many people also use a cheese fork to make it easier when eating fruits.
3. Carving Fork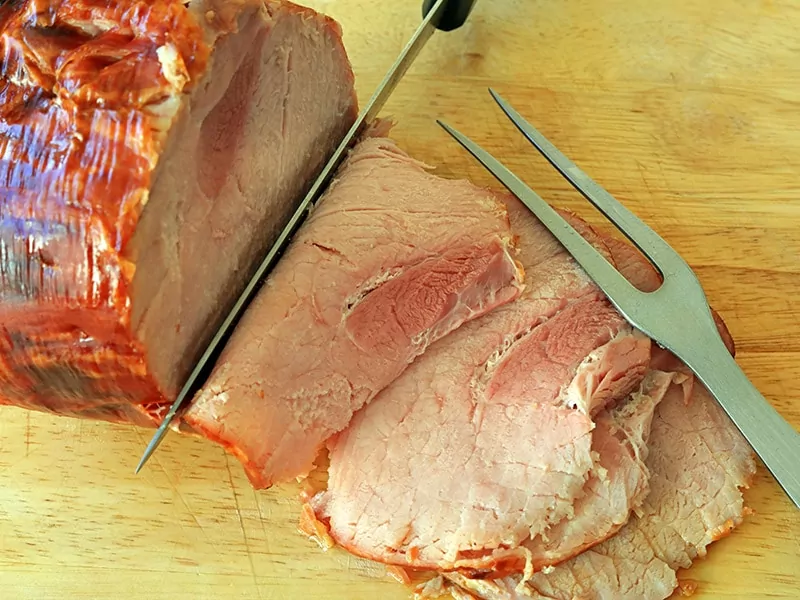 Have you ever seen a carving fork before? Although carving forks are a common utensil in a fine-dining restaurant, it's beneficial if you can store one in your kitchen. This fork's primary purpose is to help you keep large chunks of meat while cutting.
A carving fork comes out with two tines which are very long and sharp, making it more functional in holding the meat. Some dishes you need to use this fork are roast, ham, and poultry. People normally use this utensil in Thanksgiving dinner for carving the turkey.
This shape helps your fork go deeper into large pieces of meat and hold your meat in place while slicing. You don't need to worry about your hands being hurt by the knives' sharp blades. Moreover, carving forks allow you to slice the meat more precisely and visually satisfyingly.
How sharp a carving fork can be! Have a look at two types of carving forks.
4. Chip Fork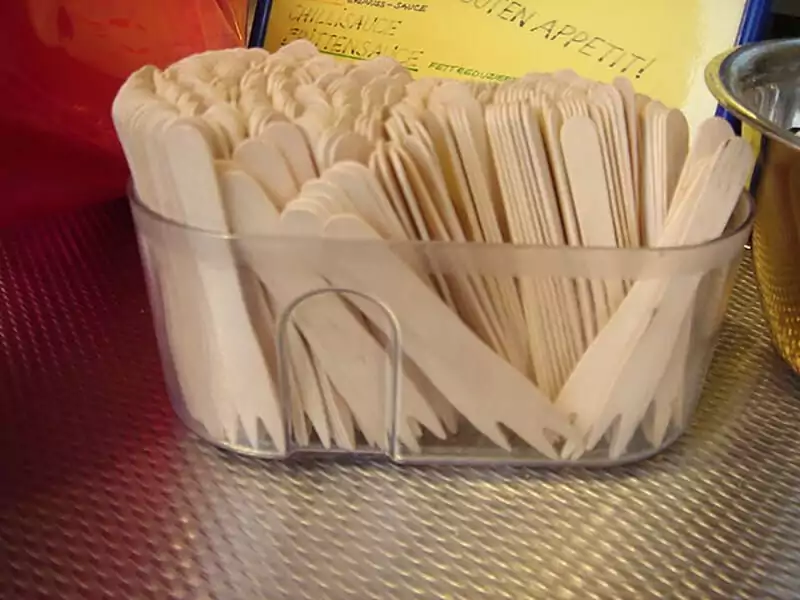 A chip fork is one of the cheapest forks because it is frequently used for takeaway chips and fish. You will probably throw it away right after each use. This fork style consists of two tines and is often made from plastic or wood.
You will mostly find a chip fork attached to your fast food servings, such as chips, French fries, and currywurst. It assists in keeping your fingers clean when serving your foods with sauces, mayonnaises, or even grease.
5. Deli Fork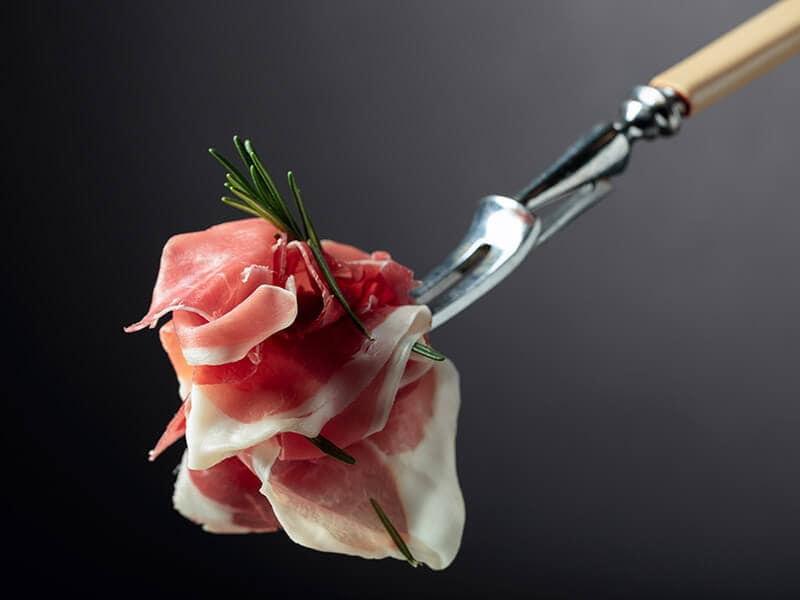 Have you ever heard of a fork designed only for serving a single dish? Deli forks are a typical example of this situation. They are a specialized type of fork used for picking up pieces of prosciutto (a thinly sliced Italian ham that is uncooked, unsmoked, and uncured).
This type of fork has two piercing tines, similar to a cocktail fork. The fork's sharpness makes it simple to spear this ham. Although deli forks are explicitly designed to serve prosciutto, you can use them to eat deli meat and cheese.
5 Types of Three-Tine and Four-Tine Forks
There should always be some 3 and 4-pronged forks in your kitchen because this type of fork is very popular. However, do you know their exact names? Check this out now!
| Types Of Forks | Number Of Tines | Used For |
| --- | --- | --- |
| Serving Fork | 3 | Pick up side dishes |
| Salad Fork | 4 | Stab veggies in a salad |
| Table Fork | 4 | Help to eat main courses easier |
| Dinner Fork | 4 | Spear foods on the main course |
6. Serving Fork
If a table fork is created to help you eat main courses with less effort, a serving fork will give you a hand in consuming side dishes. A serving fork comes out with three tines, slightly larger than a table fork.
You can consider buying various types of serving forks, including plastic forks, wooden forks, and stainless steel forks. If you prefer a long-lasting kind, go for a stainless steel one. A plastic one is only suitable for one-time use.
You can use this fork to pick up different side dishes such as salads, thin slices of meat, or other cold cuts. Combine this fork with a serving spoon to help you consume the food quickly.
7. Salad Fork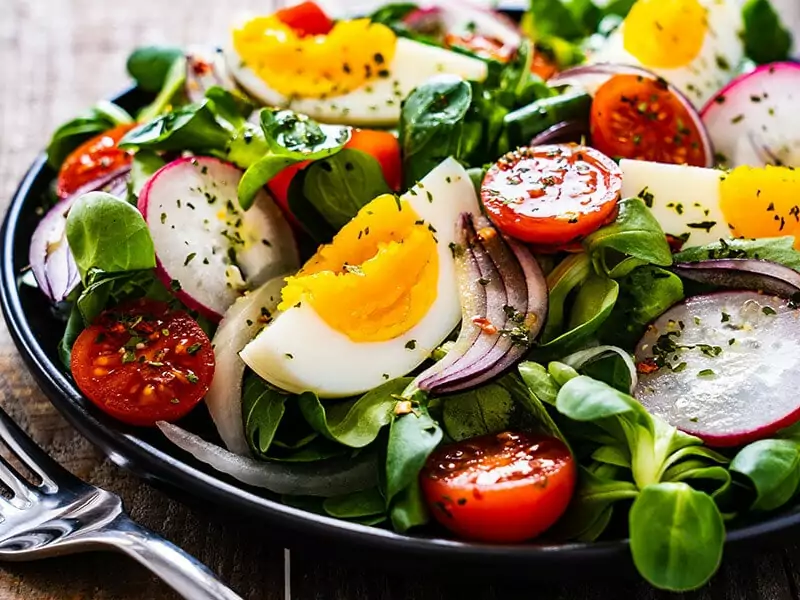 A salad fork is a small fork featuring four tines, but these tines are not equal. The leftmost tine tends to be thicker and broader than the rest tines to help the fork have leverage for cutting hard vegetables.
With a salad fork, you can easily stab lettuce and spear other vegetables easier while making a salad recipe for meal prep. Many people confuse a salad fork with a dinner fork because their appearance looks similar.
However, look closely, and you will notice significant differences between them. First, dinner forks tend to be longer than this variety. Secondly, dinner forks' four tines are all the same; there is no difference like those of salad forks.
Moreover, a salad fork's tines are broader and flatter. These are the essential characteristics that will assist you in selecting the right fork without difficulty.
8. Table Fork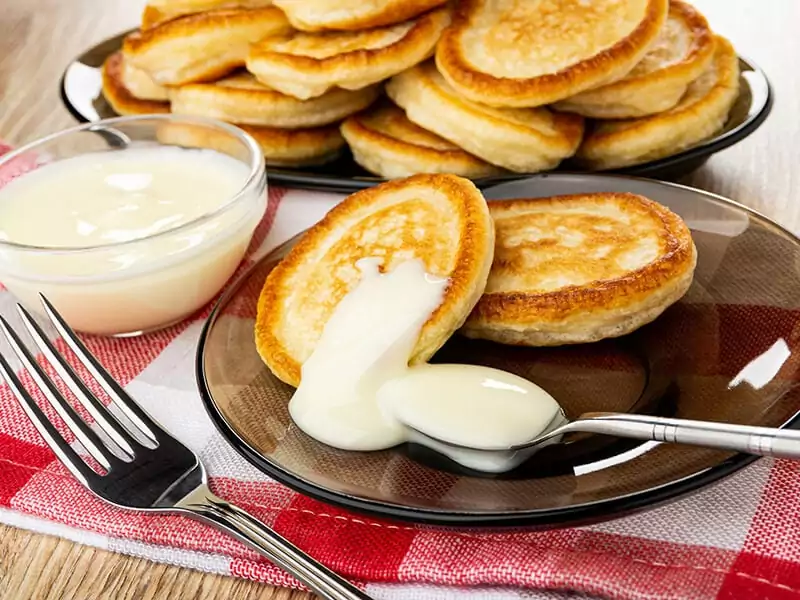 One of the most common forks in the kitchen, table forks, often come out with four tines, similar to a dinner fork. They are designed that way to make it easier for you to enjoy the main course.
You can utilize a table fork for multi-purposes. It will be helpful when you require assistance eating various dishes, including meat, rice, vegetables, or even pasta and desserts. These features also result in several different sizes of table forks.
You will find them in the market in the form of mid-to-large sized in length. Depending on your requirement, choose the appropriately sized table fork for your kitchen. This utensil is more suitable for an informal dining table.
9. Dinner Fork
A dinner fork is a silverware piece with four long, equal-length tines. This fork style is also the largest fork in the collection of tableware on the dining table. Many people also refer to this dinner fork as the place fork.
Compared to salad forks and table forks, dinner forks are bigger. They are also considered one of the largest used forks on the fine dining table. They can reach a maximum length of 7 inches.
The main function of dinner forks is to spear foods on the main courses, especially meat dishes such as steak, beef, and chicken. This fork is very easy to find; it appears in most silverware sets on the market. You can utilize dinner forks in both informal and formal settings.
Where should your dinner fork be on a formal dining table?
10. Extendable Fork
At first glance, you can make a mistake when distinguishing an extendable fork from a table fork because they are very similar. However, a remarkable thing about setting this fork style apart from others is that you can extend it.
Extendable forks feature four long tines and an extendable shaft. They are often made with stainless steel. You can use this fork to toast marshmallows on the burner or even pass the BBQ without having to get out of your seat.
Due to their funny characteristics, you can't equip this fork with a fine dining table. Bring extendable forks to your picnics or camping trips to create a more memorable experience with your friends.
11 Types of Forks with Variable Number of Tines
To wrap up today's list, I would like to introduce several types of forks whose number prongs can vary. You just need to choose the one that suits your needs best.
Types Of Forks
Number Of Tines
Used For
Fish Fork
3 or 4
Remove the skins and bones of fish
Oyster Fork
3 or 4
Help to eat shellfish
Toasting Fork
2 or 3
Keep the meat in place
Protect your hands from the open flame
Crab Fork
1 or 2
Remove the flesh of crab
Pickle Fork
2 or 3
Spear pickles out of the jar
Keep your hands clean
Spaghetti Fork
3 or 4
Hold the pasta strands in place
Help to eat various types of pasta
Dessert Fork
3 or 4
Spear and slice your desserts
Fruit Fork
2, 3, or 4
Keep small and round fruits
Spear cut pieces of fruits
Ice Cream Fork
3 or 4
Scoop ice cream
Dig into hard ice cream
Fondue Fork
2, 3, or 4
Help to dip your foods in a fondue pot
Cocktail Fork
2 or 3
Handle garnishes in your drinks
Stab seafood
11. Fish Fork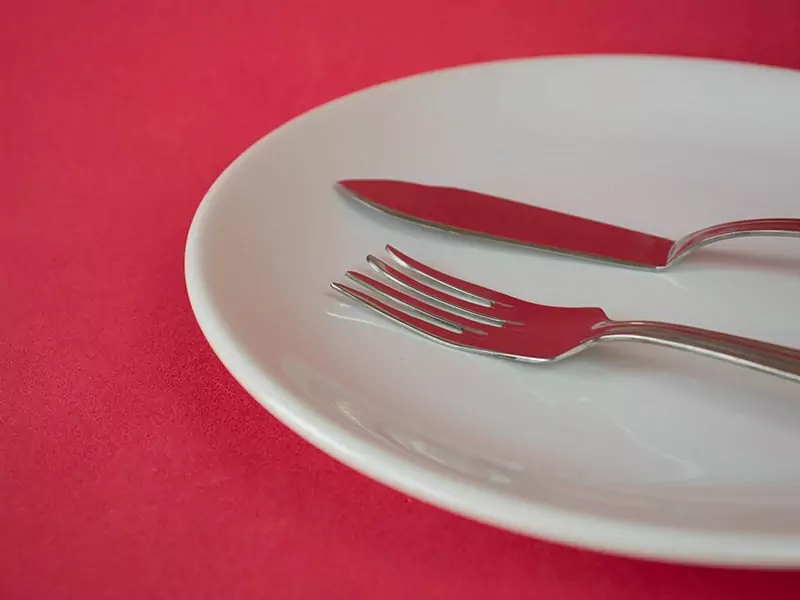 Have you ever had trouble with the bones when eating fish? If yes, a fish fork is here to help you solve this problem. A fish fork often contains three or four tines depending on the flatware set's style. You will often find a fish fork beside a knife in a formal table setting.
The left tine of a fish fork is often slightly larger than others, creating favorable conditions for you to remove the skin and bones from the fish's flesh. Whether you are eating a fish fillet or a whole fish, a fish fork will give you a hand.
A fish fork is smaller than a meat fork but larger than a salad fork. Many people use a salad fork to replace a fish fork when they don't have this flatware.
You can buy a fish fork made from silver or steel. However, you should wash it and dry it as soon as possible to protect your fish fork from tarnishing and spotting.
12. Oyster Fork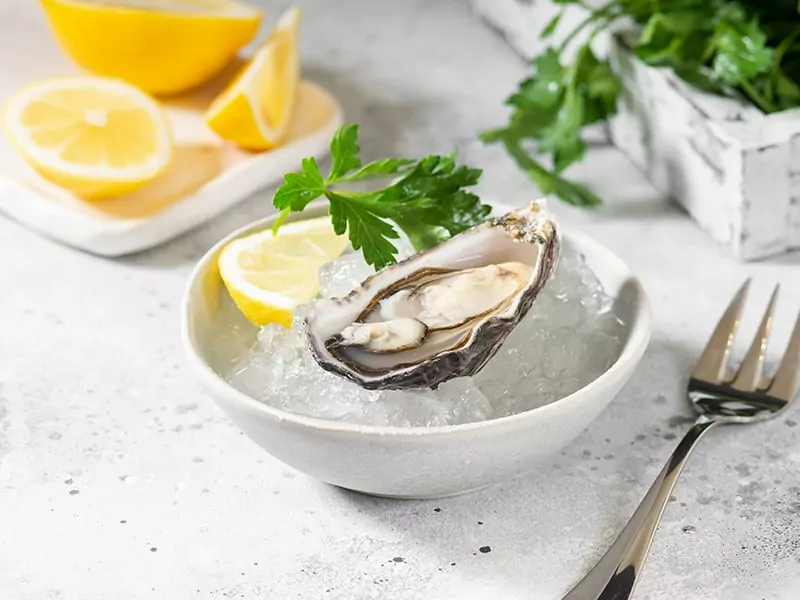 Oyster forks are small forks made with three or four tines. These tines are short, wide, and cure. They are a little wider and rounder than a standard fork.
Oyster forks are not widespread as other forks, and they are only used in casual dining situations. This fork type is also the only utensil placed on the right of the plate.
You can use oyster forks for eating a variety of shellfish such as lobster, shrimp, different varieties of oyster, and other seafood. Using them to pry meat from lobster tails or crack open shellfish will enhance your experience with seafood.
13. Toasting Fork
Do you need a suitable fork to cook meals over a campfire or an open flame? If yes, a toasting fork is an ideal option to solve your problem. This fork has a very long handle attached to two or three slender prongs.
You can use these toasting forks to keep the meat in place in front of a fireplace or live coals while toasting it. A toasting fork is also helpful for toasting marshmallows, bread, or any other kind of food.
The long handle of this fork will protect your hands from the open flame. You can freely poke the meat or turn it when necessary without confusion. Carrying this fork on camping vacations will make your trip more pleasurable.
Do you want to discover more about a toasting fork? Check here for the answer.
14. Crab Fork
Are you a lover of crab? If yes, you have come to the right place because a crab fork will improve your experience with crabs. This utensil is a long and narrow fork with one or two sharp tines, helping you to remove the flesh of crabs out of the leg shells.
Getting all of the crab's meaty pieces is tough, but as long as your shellfish has a crevice, crab forks will provide valuable assistance in pulling out the meat. Besides crabs, you can also utilize this fork to extract the meat of lobster.
Crab forks are specialized utensils; therefore, you won't often see them on the dining table. Only restaurants specializing in serving seafood have this type of fork. However, they are not expensive, and you can buy one to give you a hand while eating crabs.
15. Pickle Fork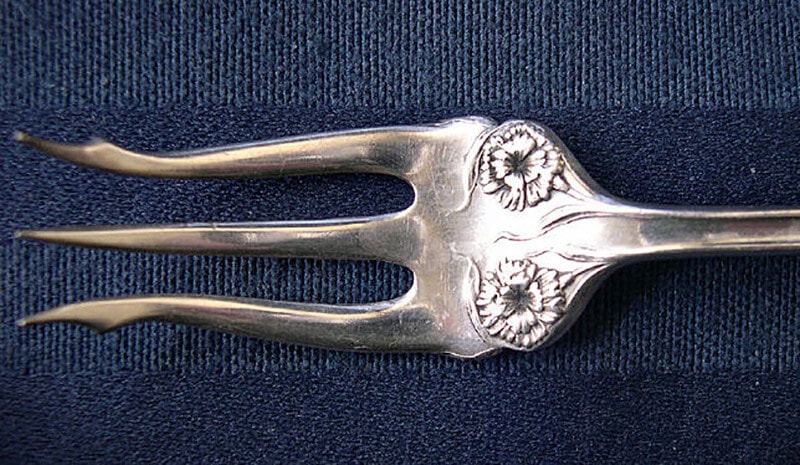 A pickle fork is specifically used for spearing pickles out of the jar. It often has two or three sharp tines and features a thin and long handle. These pickle forks are smaller than a table fork yet slightly bigger than a cocktail fork.
With the help of this pickle fork, you can easily pick your favorite pickles up without any difficulty. Using this utensil also prevents your fingers from touching the brine of pickles, keeping your hands clean after finishing the food.
16. Spaghetti Fork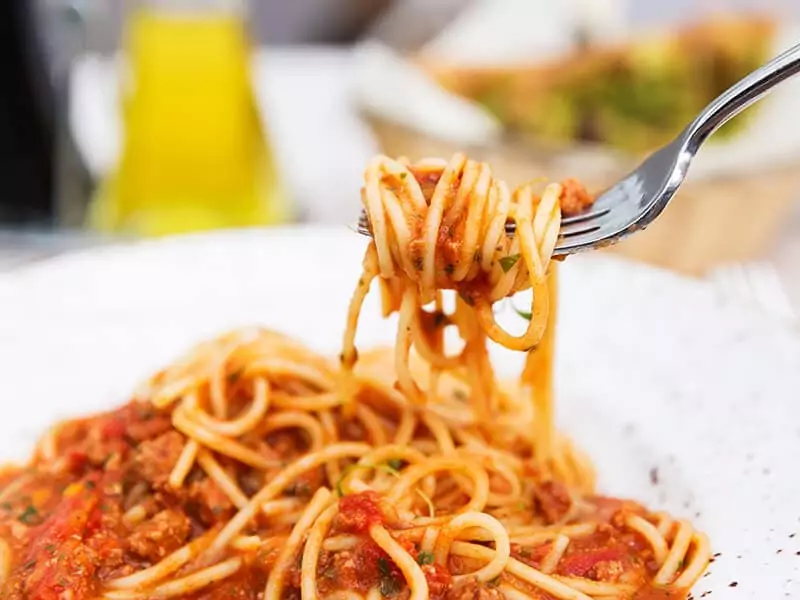 Which utensil is the best to help you have a complete dining experience with spaghetti? While many people will think about a dinner fork, a spaghetti fork does it even better.
Designed with three or four tines, each of which bears ridges, spaghetti forks play a crucial role in holding the pasta strands in place. You don't have to struggle or suffer from pasta sliding off your fork. Your pasta will be easy to twirl around the edges of the fork.
You can utilize this utensil every time you eat a variety of pasta such as spaghetti, fettuccine, capellini, or even linguine to make everything simpler and easier.
This kind of fork is not very common because many people think that it's unnecessary. You should purchase it online because this type of fork isn't usually found in local grocery stores.
17. Dessert Fork
As you can guess from its name, a dessert fork is mainly used for many kinds of desserts such as pies, cakes, or pastries. You will often find this fork style above the dinner plate. Many people also call it a pastry fork or pie fork.
A dessert fork features three or four tines like a salad fork. However, the left tine differs slightly from others. It is thicker with a flattened edge, creating favorable conditions for you to cut through firm desserts. Dessert forks are also the shortest of the most used forks.
You can use a dessert fork to spear and slice any of your easy sweets. Although it's similar to a salad fork, a dessert fork will be narrower. Don't mistake these two types to create an embarrassing dining table situation.
What utensils do you choose to eat cake? It should be a fork, right? So check here for how to use it properly.
18. Fruit Fork
You often feel frustrated whenever you eat cut fruits because you can't get them to your lips. That's why you should store a fruit fork in this case. A fruit fork often appears with two, three, or even four narrow tines.
You can utilize this fork for eating a variety of fruits such as strawberries, blueberries, or grapes. It will help you hold these small round fruits until you put them in your mouth.
This fruit fork also works well when enjoying a fruit cup or a bowl of fruit salad with many cut fruits. Although this fork is very convenient, it's not popular in America because people here prefer to use their hands to eat fruits.
On the other hand, using a fork to consume fruits will be very familiar in European countries. A fruit fork is often displayed with a fruit spoon or a fruit knife on the side, making eating fruits easier than ever.
19. Ice Cream Fork
Popular in the 1800s, ice cream forks are not as weird as you think. You can describe them as the combination of a spoon and a fork. Although they have a spoon-like bowl, they also feature three or four short tines at the ends.
This type of fork is suitable for you to scoop ice cream and dig into hard ice cream while consuming it. These ice cream forks are sometimes mentioned as sporks; however, they are slightly different from each other.
If you look at the appearance, it's difficult for you to distinguish an ice cream fork from a spork. They are very similar. The only gap between them is the material. While an ice cream fork is mostly made of silver, a spork is primarily a product of wood or plastic.
20. Fondue Fork
If you are serving a fondue pot, you will almost certainly require a fondue fork. It plays a crucial role in assisting you in cooking this type of food. You frequently need this fork to dip your meat, fruit, or bread into a fondue.
Many kinds of fondue forks are designed slightly differently from others to suit better the fondue you are eating. Some of the typical ones include:
Meat fondue forks (also called broth-based fondue forks or oil-based fondue forks) have two tines.
Cheese fondue forks usually have three tines.
Chocolate fondue forks have two tines.
These types of fondue forks will help you keep your food when dipping. Most of them stand the heat and protect you from being burnt due to their long handles. Only chocolate fondue forks are designed shorter than others to fit into a small chocolate fondue pot.
The best way to use a fondue fork is here.
21. Cocktail Fork
A cocktail fork is a small fork style coming out with two or three-pointed tines. As the name implies, cocktail forks work well whenever you have exciting cocktail ideas. They play an essential role in handling garnishes in your drink.
Olives, cherries, or any other types of garnishes will be placed perfectly in your beverages. Actually, cocktail forks were only typical in bars used for cocktails and other beverages in the past.
However, as many people take advantage of them to eat seafood these days, you can use a cocktail fork to stab different varieties of seafood such as shrimp (in shrimp cocktail), scallops, or crabs. Overall, a cocktail fork is suitable for both informal and formal settings.
Grab The Right Forks and Start Organizing Your Dining Table!
I hope the information I've provided has given you a more complete and accurate picture of the popular forks. You are already familiar with their essential features and know when to utilize them for the best result, right?
Do you have any questions about the characteristics of these forks? Feel free to leave a comment, and I will help you explain more. Thank you for reading, and if this article is helpful, please share it to help more people know about this valuable knowledge.