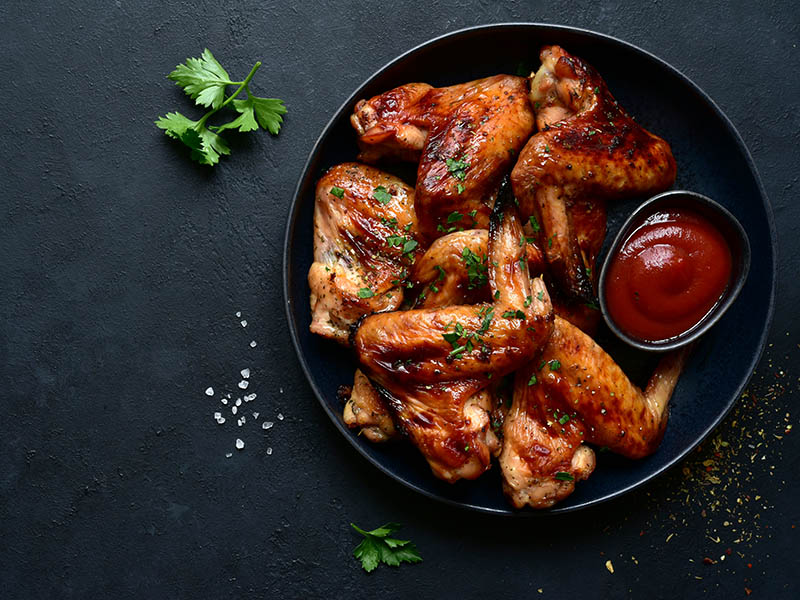 How long to bake chicken wings at 450⁰F is probably the question that many chicken lovers frequently ask. In this article, I will provide answers and extra information provided that are going to surprise you.
Do not freak out! Because I'm going to tell you everything you need to know about experts' tips for making mouth-watering baked chicken wings at 450⁰F and various ways of baking chicken.
How Long To Bake Chicken Wings at 450ºF
There are many temperature choices when it comes to cooking chicken wings. Some people like to bake their chicken wings at 400ºF for some time to make it juicy.
Baking chicken wings at 450ºF allows the juice to be sealed, making chicken crunchier. Although you can also bake chicken wings at 375ºF for the right duration, the cooking process will take longer. Read on to discover all the essential information about baking chicken wings at 450ºF.
The Optimal Time To Bake Chicken Wings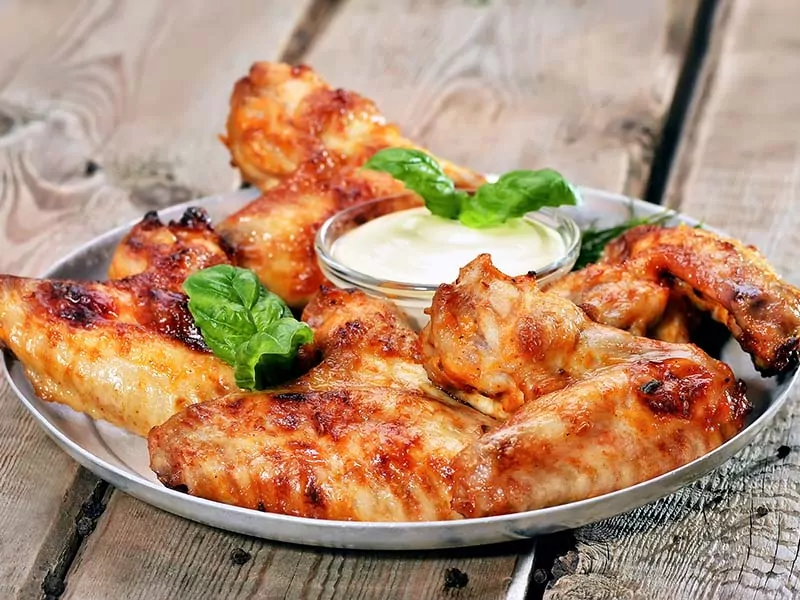 Generally, you should bake chicken wings for around 30 minutes at 450⁰F, which is a little less than the ideal time for baking chicken wings at 425. However, the answers to this question could still vary. It would depend on the thickness of chicken wings or the size of your chicken wings.
If you want them to be extra-crispy, leave them in a warm oven for 30-60 minutes.
How Long To Bake Bone In The Chicken Wings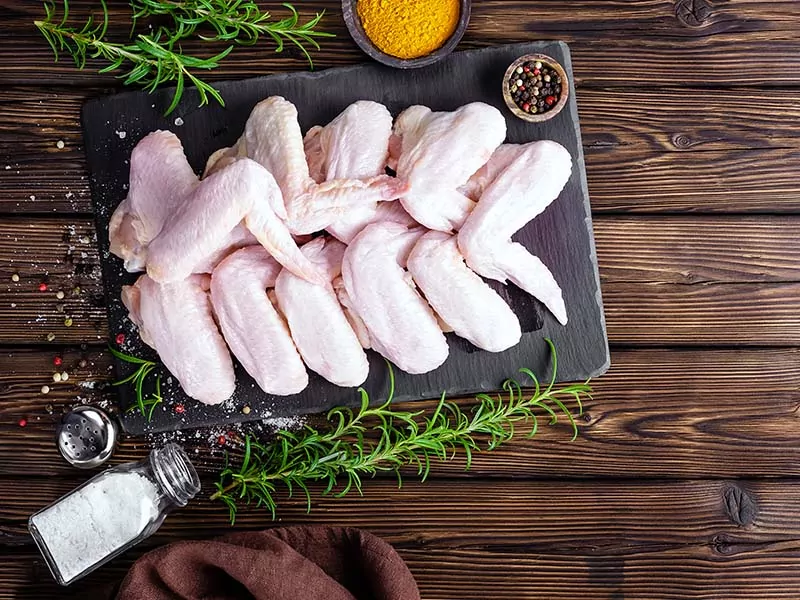 Bone-in chicken wings do take longer to cook. Baking bone-in chicken wings requires around 35-45 minutes. However, the upside is that chicken wings with the bone inside can be baked more evenly, and having bone makes the chicken wings juicier.
When Baking, Do I Need To Flip Chicken?
Baking does not require you to carefully take care of your chicken pieces; however, to make sure your chicken is cooked evenly, you can flip the chicken wings once or twice. When chicken pieces change their colors to golden, you can take them out and enjoy them.
Can You Overcook Chicken Wings?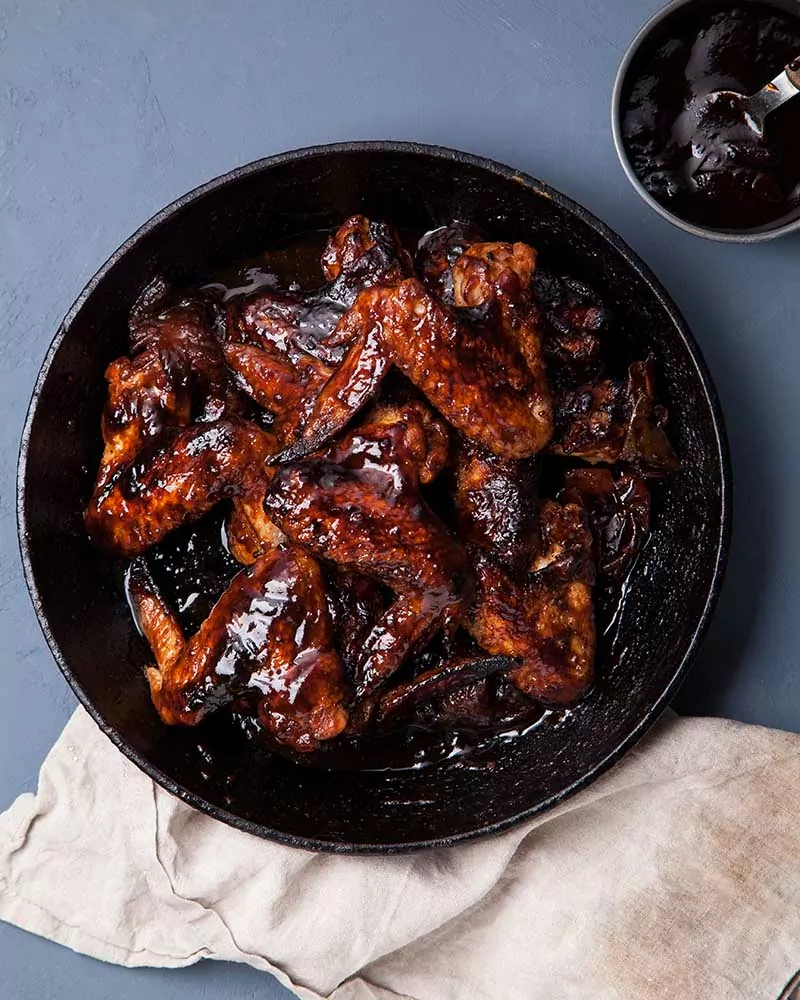 If you want your chicken more crispy, stop overcooking your chicken wings because the wings will dry out when being cooked for more than one hour.
Remember to check the temperature of the meat frequently as the temperature is one of the factors that affect the cooking time. The higher the temperature you cook, the sooner your chicken will be done.
How To Know If The Chicken Wings Are Done?
There are several ways you can use to know whether your chicken wings are fully cooked or not. Firstly, you should check the internal temperature using a trust-worthy wireless meat thermometer. The safe internal temperature for cooking poultry – in whole and ground form – is 165ºF (75ºC) (1).
Secondly, you can check its color. At first, your chicken has a light pink color that will gradually change. Once our chicken is fully cooked, its meat has a white color.
Thirdly, examine its texture. Adequately cooked chicken meat would become firmer, and its skin is crispier, while an undercooked chicken is more rubbery and has a shiny appearance.
Fourthly, you can observe the color of the juice that comes out of it. If the color you see is clear, then your chicken is good to eat.
Benefits Of Baking Chicken Wings At 450ºF
There are several benefits of baking chicken wings at 450ºF. Let's find out the reason why you'd better choose to bake chicken wings at 450ºF.
Sealing The Juice
Sealing the juice happens when you bake or fry your meat in a short amount of time. Sealing makes the outside of the meat nearly impenetrable; therefore, the chicken juice inside can not escape. It can keep your chicken wings from being dried and firmed.
Baking chicken wings for a short time in a hot 450ºF oven will make your chicken seal the juice more easily. In comparison, 450ºF is much hotter than other temperatures but is still suitable for your chicken meat.
Creating The Best Skin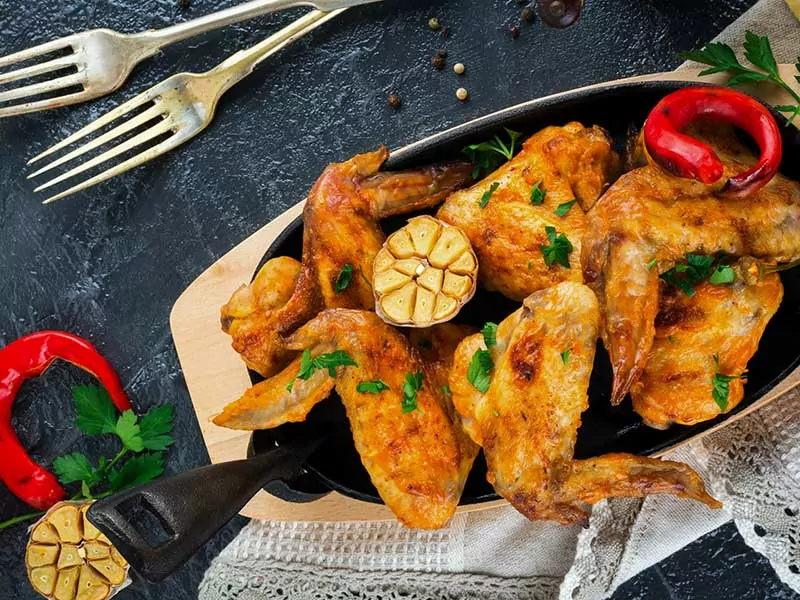 Baking chicken wings at 450ºF certainly helps you save the best skin. When you preheat the oven to that temperature, chicken skin will become crispier and nicely brown.
The chicken skin is the outer layer first affected by temperature. If the oven is not hot enough, the chicken skin will soon be overcooked until it can brown. Therefore, to keep it juicy, preheat the oven to 450ºF.
Preventing Drying out
When you bake your chicken wings at 450ºF for a relatively short time, your meat will be softer and juicier. As a result, that temperature protects the meat from drying out. Meanwhile, your chicken will be parched if it is cooked at a lower temperature for hours.
Saving Time
The oven will take approximately two hours for baking chicken wings at 250ºF. For the temperature at 300ºF, you need to cook the chicken wings for 30 minutes. The average time for baking chicken wings at 450ºF is 23 minutes. So, it saves lots of time!
Some Expert Tips When Baking Chickens Wings at 450
With some benefits of chickens grilled at 450ºF, baking chicken wings is not an easy task. You would need some expert advice to be skillful at baking chicken wings at 450ºF; below are the five tips that you can take.
Use Paper Towels To Crisp Up Your Chicken
One of the common ways to make your chicken wings crispy is to dry them out. Apply paper towels firmly to them to remove all the moisture on the surface. Some people also use baking powder to make the chicken skin alkaline, keeping it soft and moist when baked.
Be careful. It's essential to use baking powder and not baking soda. Baking soda can also draw moisture from the meat. However, too much baking soda on the chicken would affect the chicken taste once baked. That's why many people would opt for baking powder instead.
And in case you want to cover your chicken in aluminum foil, you should uncover it 10 minutes before it is done, making the skin crispy.
Check it out to find ways to crispy up your chicken wings!
Dry Out Each Chicken Piece
Any moisture on the chicken could lead to soggy skin once the chicken is baked. One way to prevent this is to wipe off any remaining water on the chicken meat by applying towel papers. Drying out the meat reduces the extra time for water to evaporate inside the oven.
Another reason you should drive off the water is to marinate each chicken piece thoroughly. When your chicken is too wet, you can not evenly season the chicken plate. Then, your chicken will not be equally delicious!
Avoid Burning For Fresh And Frozen Chicken
When it comes to protecting chicken skin from burning, there are two types of skin you should consider: fresh skin wings and frozen ones.
One tip for preserving the skin of new chicken wings is not to let any excess moisture on the chicken skin, including the marinating. You can try to pull out its skin to cover the chicken meat, protecting each piece from the high heat.
For frozen chicken, the first thing you have to do is to thaw them thoroughly before cooking. Then you can apply seasoning without any added salt.
Another tip for fresh as well as frozen chicken to get crispy skin is to place a piece of foil over the top to protect the skin from the high temperature.
The Slower You Cook Chicken Wings, The Better
The general rule for cooking protein is to cook slowly. You can start by having the heat medium-high when you put the chicken wings in the oven. Though your oven may get splattered, you may receive tender chicken wings as long as you keep the skin on.
Olive Oil And Ghee Are Highly Recommended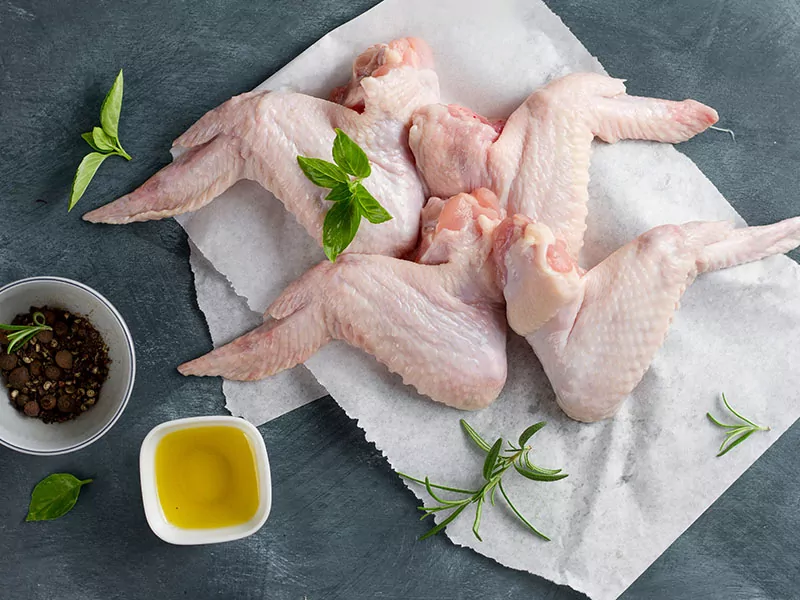 Olive oil and ghee are no doubt healthy fat sources (2). Also, the vitamin E in olive oil is believed to help keep chicken wings fresher and longer. Use olive oil to cut down on ''bad" cholesterol and saturated fat in your baking.
You should only use enough oil to coat the bottom of the pan lightly. If you use a nonstick pan or a well-seasoned pan, there is no need to require much fat. Before adding the chicken, the pan and oven should be ready so that you can cook chicken wings in the oven immediately.
Different Ways To Bake Chicken Wings
If you think the only way to bake chicken wings is to use the oven, you must definitely read the list below. Because I will show you five methods for baking chicken wings at 450ºF, so please sit still!
Method 1: How To Bake Chicken Wings In The Oven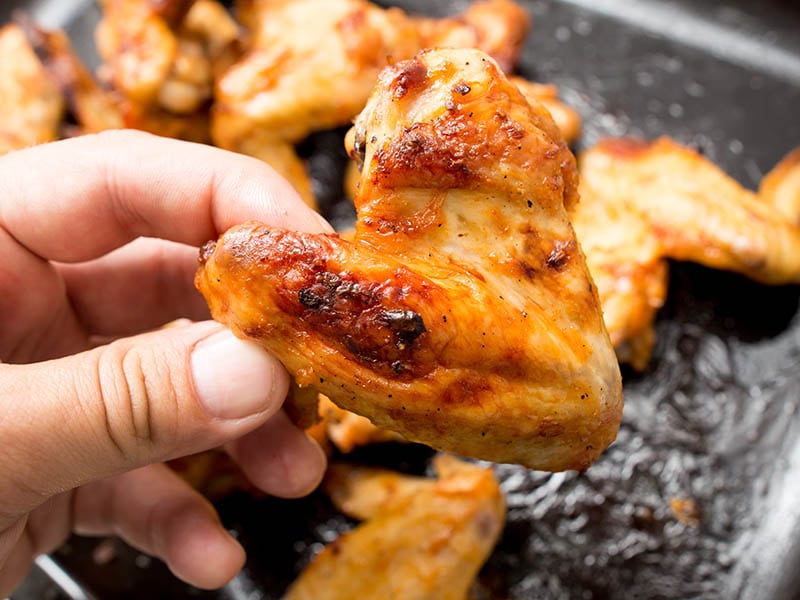 Using an oven to bake your chicken wings is probably one of the most effective methods. The three steps are my recommendations for baking chicken wings in the oven at 450ºF.
Step 1: Toss The Chicken
Firstly, you should toss the chicken wings in melted butter or olive oil. At this stage, you should add some spices, making its taster more delicious. Before moving to the next step, you should use a rimmed baking sheet and place it on a wire rack.
Step 2: Bake The Wings
Set the timer for approximately 30 minutes and bake the chicken wings at 450ºF. Make sure to check the timer several times; otherwise, you may miss out on a delicious dish. And all of your efforts would become a waste.
Step 3: Crisp Up Chicken Wings
If you want them super crispy, once the chicken wings are done, you can lower the temperature to 170ºF. Then you keep the chicken wings in the oven for the next 30-60 minutes. You would be amazed!
Learn how to bake chicken wings in the oven here!
Method 2: How To Bake Chicken Wings In Air Fryer
An air fryer is a kitchen appliance that makes cooking much more accessible. Once you've mastered how to properly use an air fryer, baking chicken wings will be smooth-sailing!
For this method, you can add a hint of salt and pepper to chicken wings before putting them onto the air fryer, enhancing the dish's taste. These steps below could show you how.
Step 1: Dry Out Your Chicken Wings
Firstly, it is necessary to dry out the chicken wings with paper towels. Your chicken wings will be crispier and tastier once they do not have any moisture before you place them on the rack.
Step 2: Season Your Chicken Wings
You can season anything you want that best suits you. Whether you make buffalo or Thai dipping sauce is still compatible with your chicken wings.
Then you can toss chicken wings several times to evenly distribute the marinade. It is crucial that the sauce covers each piece equally so that each chicken wing would taste as delicious as the others.
Step 3: Air Fry The Chicken Wings
Preheat the air fryer to 450ºF and put the chicken wings in. Remember to toss the wings every 30 minutes until they have a stunning brown color. You should check whether your chicken is done or not before taking them out.
This guide is going to show you some steps for air frying your chicken wings.
Method 3: How To Bake Frozen Chicken Wings
To extend shelf life without sacrificing quality, you might put chicken wings into a freezer. And now, you want to take them out to prepare the following dishes. I am sure you would wonder how to bake frozen chicken wings that are super savory.
Step 1: Defrost Chicken Wings
Your frozen chicken should be defrosted first. There are several ways of defrosting that you can apply. You can place your chicken in the fridge and wait for 24 hours until there is no ice sticking on its skin.
Or else, you can place them at room temperature. It would take around 1 to 2 hours for the chicken to be fully defrosted. Some people who do not have enough time can also thaw frozen chicken in a frying pan and wait 30 minutes for the ice to disappear.
Step 2: Season Your Chicken
This step would depend on you. You should know which recipe you are going for, then decide which marinade you will make. I would recommend some well-known but never-out-of-date sauces like buffalo sauce, spicy Korean sauce, or Thai dipping sauce, etc.
Step 3: Preheat The Oven
After the marinating process, it is time for baking chicken wings. The very first thing you are going to do is to crack the oven to 450ºF meanwhile, arrange frozen chicken wings in a single layer in a shallow baking dish.
The flat plate would allow your chicken wings to cook quickly and brown evenly. You have to wait for approximately 25 minutes until the chicken wings are fully cooked.
Method 4: How To Bake Chicken Wings Without A Rack
Some air fryers often add a rack that lets you have a second layer of food above the basket. It can help a lot but isn't really necessary. I am going to show you four steps to follow when baking chicken wings without a rack.
Step 1: Dry Out Chicken Wings
Firstly, you need to pat your chicken wings with paper sheets. This would drain excess water from the chicken meat, allowing it to crisp up once being placed in the basket.
Step 2: Coat Some Corn Starch
Next, you can lightly coat corn starch on the wings. The starch would retain the juice and protect your meat from the highest heat. Another well-known option to keep the juice is to pat baking powder onto the wings.
Step 3: Bake The Chicken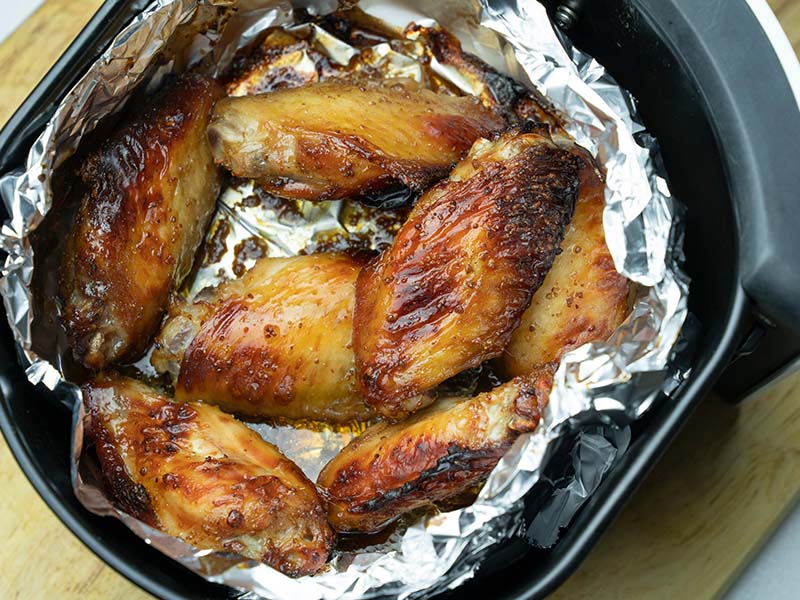 When the chicken wings are made ready, you should place aluminum foil at the bottom of your basket to prepare for baking. After that, you reheat the air fryer to 450ºF for around 30 minutes, and remember to flip each wing once.
When the chicken wings brown nicely and their skin becomes crusty, you'll know that it is done. To enjoy the dish to the fullest, I highly recommend making yourself a glass of wine and cheers!
Most-Chosen Recipes To Bake Chicken Wings at 450ºF
Sometimes, baked chicken wings get an unfortunate reputation for being boring and bland. But do you know there are different ways of baking chicken wings that make our dish more stunning? Keep reading the article, and I promise you will not waste your time.
Grilled chicken wings with honey is a fantastic dish to enjoy with. The Asian dish is a combination of spices, honey, sweetness, and chicken meat. Chicken wings then would be covered in a beautiful honey layer and sprinkled with some herb, cilantro, for example.
In case you are looking for a crispy, and flavorful keto dish to make with an air fryer, check out these chicken wings with buffalo sauce. You may wonder why it is buffalo sauce? The concept of cooking chicken wings in peppery hot sauce was born in 1964 at the Anchor Bar in Buffalo, New York (3).
That is where the dish got its name and fame. So essentially, the dish is a combination of air-fried chicken wings and hot sauce. If you are not a fan of spiciness, I recommend you not to overdo the dressing.
Korea is famous for its spicy food, including baked spicy chicken wings. While American cuisine is usually covered in flour and butter mixture, Korean baked chicken has tender and thin skin. This Asian baking technique has become so famous that KFC has a term for it on its menu.
Discover more about baked spicy chicken wings with Korean-style in this video.
Have you tried homemade air-fried Thai chicken wings? Unlike Korean or American chicken wings dishes, air-fried Thai chicken wings are crispy, salty, and sour in one bite. However, the dish is not complete without its state-of-the-art dipping sauce, made by gluten and grain-free.
Foods That Go With Baked Chicken Wings
After baking your chicken wings, what are you going to do? Yes, it would be best to prepare some side dishes with your chicken wings. I would recommend some food that makes your chicken so irresistible!
Raw Carrots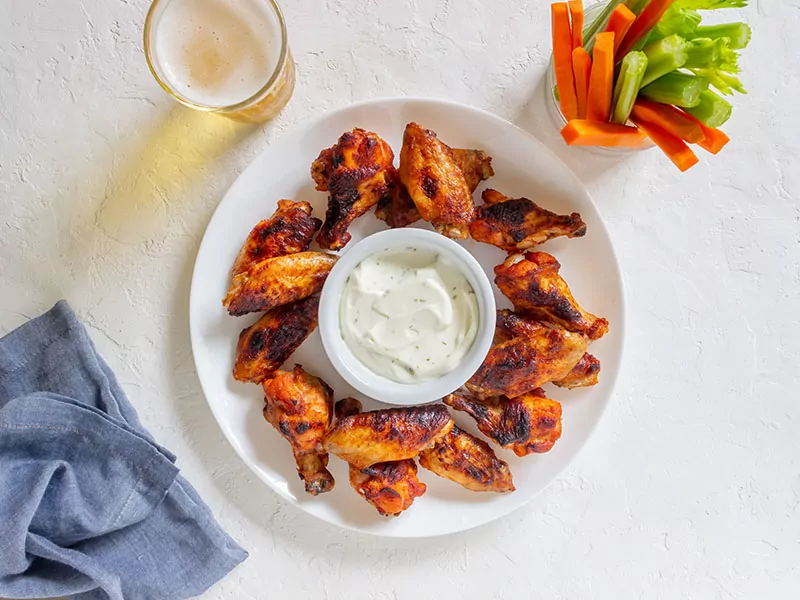 Raw carrots are super easy and simple to make. And it absolutely pairs perfectly well with your baked chicken wings. All you need would be essential ingredients: peeled carrots, green onions, fresh parsley, and cooked chickpeas. Mix them and have some fun with your chicken.
Potatoes
Yep! Sweet potatoes are one of the dishes that pair perfectly with chicken wings. While various kinds of sweet potatoes already make a fantastic side dish to your chicken wings, you can also stuff potatoes with other ingredients such as cilantro or scallions. That would make your plate splendid!
Stuffed Mini Peppers
If you are a big fan of spicy food, why don't you try to put some peppers? However, I highly recommend you to pre-cook the peppers since pre-baking peppers for 30 minutes makes them perfectly tenders. Add to your dish a fantastic taste!
Avocado Fries
Avoca fries are genuinely a simple side dish for a fantastic meal at home. And, of course, your baked chicken wings are also included! Though your avocado is fried, it is still crispy and creamy on the inside. It would be fun to enjoy the meal with your family and friends!
You will know how to make avocado fries after watching this video.
Onion Rings
Onion rings are my favorite crispy side. They are delicious alongside baked food, including baked chicken wings. One of the things that I am so into is that it is easy to make and saves lots of my time. All you need is to fry your onion rings and place them on your chicken wings.
Cornbread
The two primary ingredients for making cornbread are cornmeal and baking powder. Some people may prefer coarse wheat flour, the best substitute for cornbread. It would take around 20 minutes from start to finish, but I am sure it is worth your efforts.
FAQs
If you have gotten this far, I believe you may still have some concerns about baking chicken wings at 450ºF. So why don't you spend an extra time to equip yourself with more information included in the section below.
Baked Chicken Wings Get You Happier!
Are you afraid of making mistakes when baking chicken wings and thinking it would become disastrous? All the information provided in this article is enough for you to take action. After reading this, why don't you visit your kitchen and apply your new knowledge?
Before you go, please share your thoughts and ideas with our beloved readers if you know any secret recipes for baking chicken wings at 450ºF. I can't wait to hear from you.
And if you find the provided information interesting, please spread the article to your friends and family who may need it. And are there any details or information that you want to add? Let me know in the comment section below.
Nutrition Facts
6 servings per container
---
Amount Per ServingCalories468
% Daily Value *
Total Fat 20.7g

31

%
Cholesterol 212mg

71

%
Sodium 614mg

26

%
Potassium 568mg

17

%
Total Carbohydrate 0.7g

0

%

Dietary Fiber 0.3g

0

%
Sugars 0.1g

Protein 65.8g

130

%
---
Calcium

38

%
Iron

3

%
Vitamin D

3

%
* The % Daily Value tells you how much a nutrient in a serving of food contributes to a daily diet. 2,000 calories a day is used for general nutrition advice.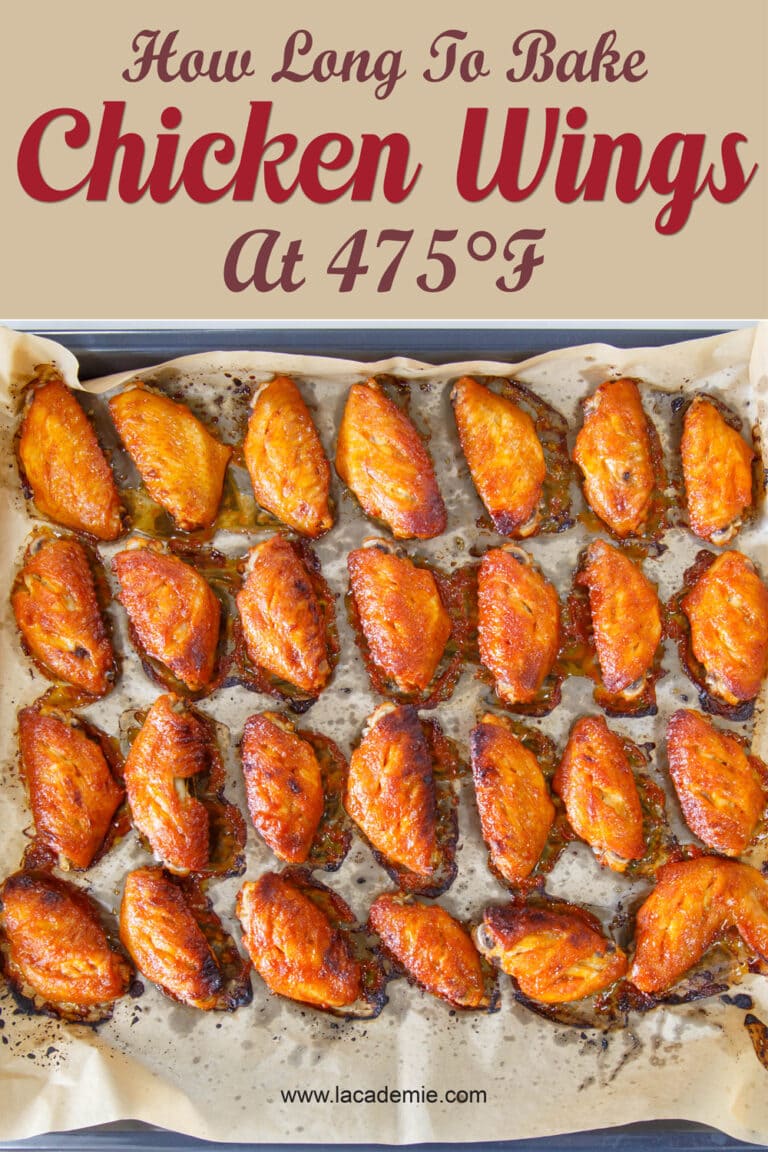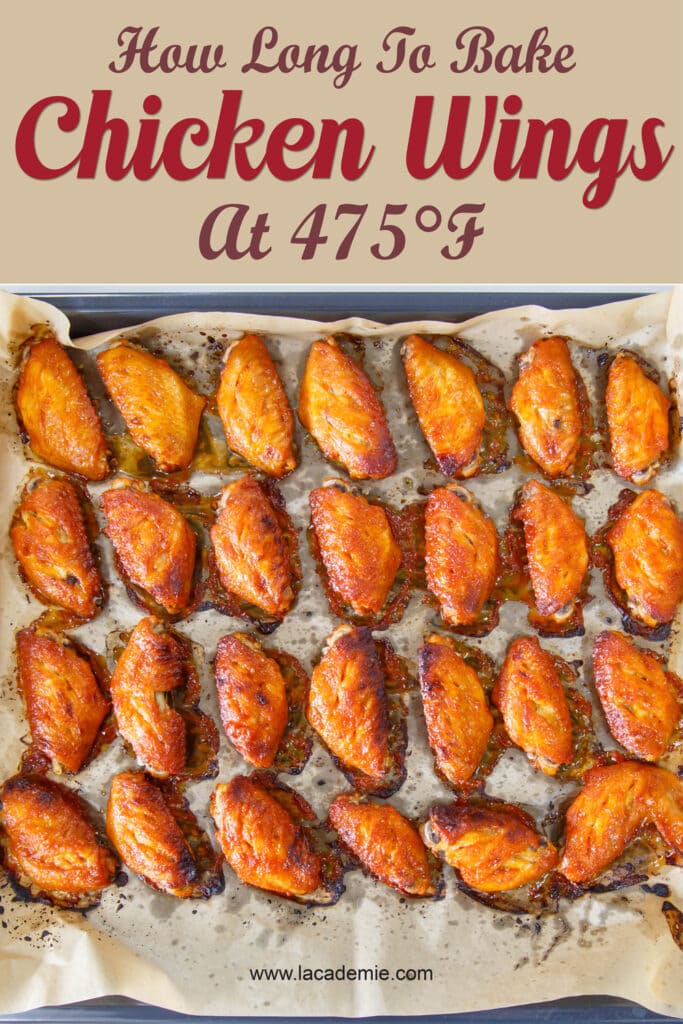 References
healthline.com. 2019. Meat Temperature: A Guide To Safe Cooking.
timesofindia.indietimes.com. 2021. Ghee Vs Butter Vs Olive Oil: Which Down Which Is Healthier And Better For Weight Loss.
nationalchickencouncil.org. 2017. Chicken Wing History.