"How long to bake chicken wings at 375°F?" – you ask yourself that riddle. Super Bowl is around the corner, and you want to bake chicken wings for the opening night. You don't care which team will win this season, but you need to know everything about baking chicken.
What are the ingredients for this dish? What are the suitable side dishes that you should prepare? You are not a great cook, but you want your boys' night to be satisfied. Don't panic! This post is here, and it will help you figure everything out.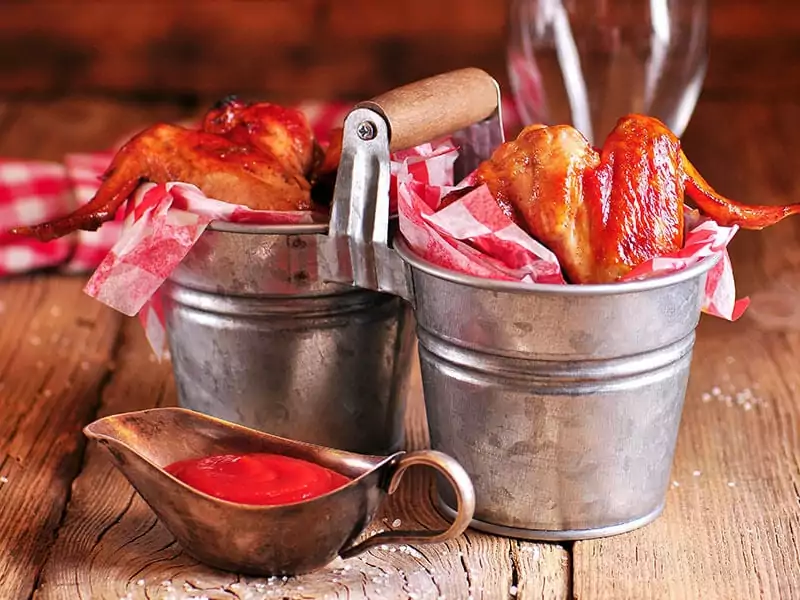 Why Should You Bake Chicken Wings At 375°F?
Do you know before 1964, chicken wings were the worst part of the chicken, and people only used them for soup? Until the owner of the Anchor Bar in New York State, America, made a delicious dish out of them and introduced it to the world.
Today, people are still very into chicken wings' voodoo-worthy magical taste. (1) Therefore, you should learn some information about why and how to make baked chicken wings.
Why Baked Chicken Wings?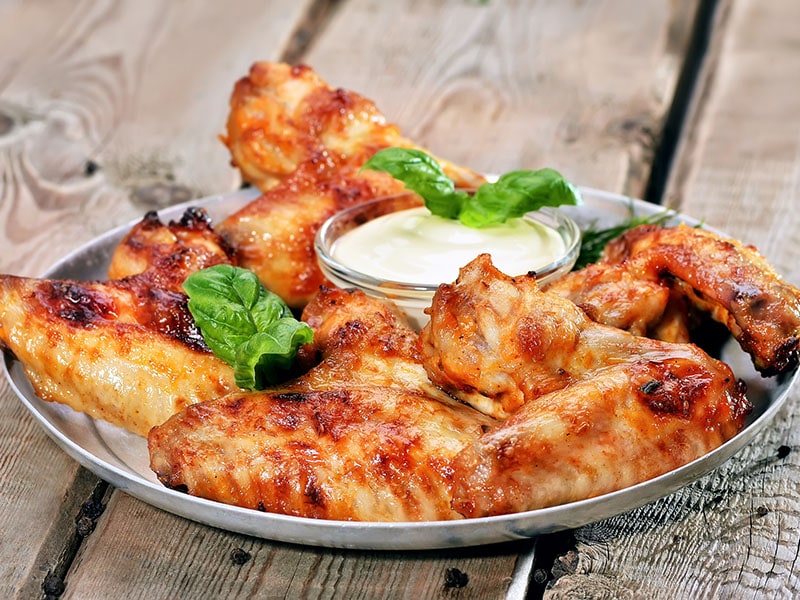 The problem with most chicken wings dishes is how unhealthy they are. Chicken wings alone don't contain too much calories and fat. They can even be part of your healthy diet. (2)
However, after being processed, a portion of six Buffalo wings can give you 360 – 450 calories, and that number is almost ⅓ of calories intake when you are on a diet. If you still want to enjoy chicken wings without gaining weight, baking is the answer.
Baking has fewer calories than any other method (280-320 cal). You don't have to bread your wings or flour them. Coating them like that increases the load of unnecessary carbs and fat. Baking complements how naturally crispy chicken wings can be.
You don't need tons of cheese and sauce to keep your wings overwhelmed with fat and salt that will affect your heart negatively later. Baked wings only demand you some spices and condiments to keep the dish amazing. You can taste how sweet the meat is with this dish.
Another benefit of baking wings: If you intend to prepare for a lot of people, baking is the perfect method. You can bake 10 wings (with drumette and wingette separated) in one tray. Usually, an oven can handle two trays. So you can quickly bake 20 wings in one batch.
Why at 375°F?
So now you are wondering, "why must it be 375°F (190°C)?" Of course, you can bake chicken wings at 425°F with different times or even 450°F, but 375°F is the perfect heat that encourages and allows your chicken wings to develop crunchiness. The wings can still keep all the juice inside.
As for cooking at higher temperatures, it's important to learn the proper baking time for chicken wings at 450 so that you don't overcook the bird.
Additionally, people also bake their chicken at 400°F. However, you'll need to master the right duration for baking chicken wings at 400 to get the ideal meal.
With chicken wings, many people have problems with keeping them well cooked. Most of them come out too raw or too dry (overcooked) because of high heat. Knowing the best temperature influences your baked wings more than you think it is.
In addition, 375°F is also a good enough temperature that will not burn your sauce. You can marinate or coat your wings in sauce, but if your temperature is too high, your coating will be burned and form an annoying bitter taste.
What Are The Ingredients?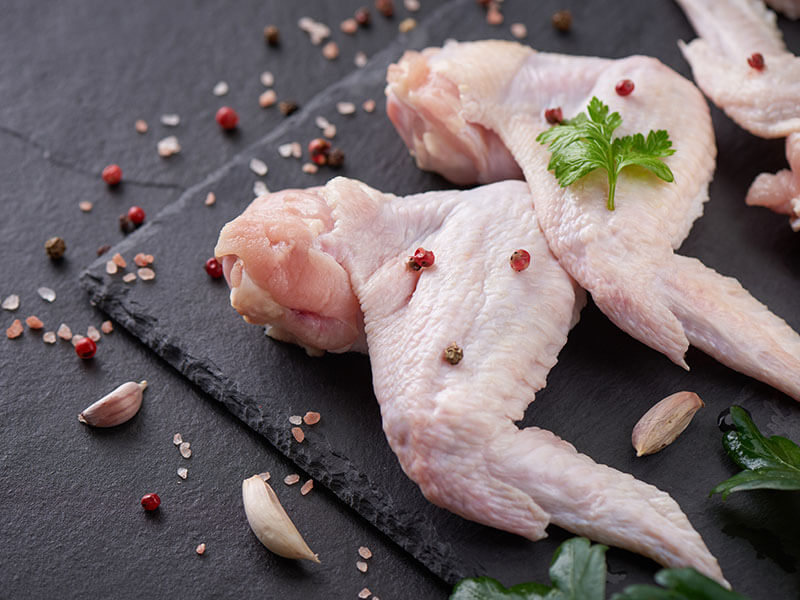 As I mentioned earlier, baked chicken wings don't ask for too much. With just a few main ingredients and an oven, you are ready to bake your wings.
Three chicken wings. This is an average portion for one. And I mean a whole wing that has two main parts: drumette and wingette. In total, you will have six pieces of wings. Chicken tips are optional.
Two teaspoons of salt.
½ teaspoon of black pepper.
One tablespoon of melted butter.
½ teaspoon of any kind of spice that you like. Usually, people pick garlic powder, chili powder, and onion powder for the spicy wings.
The recipe can change, depending on your preference. If you like sweetness on the tongue, adding sugar or honey is an option. Paprika or liquid smoke can be the choice for smoky taste fans. In case you're keen on sourness, you can brine your wings with wine and lemon.
You might want to improve your knowledge of buying the best chicken wings.
How Long Does It Take To Bake Chicken Wings At 375°F?
So, it is time to dive into the main point: How long it takes to bake your batch of chicken wings at 375°F.
There are many possibilities with your chicken wings. You might prefer foiling them; you might bake them uncovered; or they are frozen and need baking frozen. Therefore, this section is where I give you the time of each scenario.
Regular Chicken Wings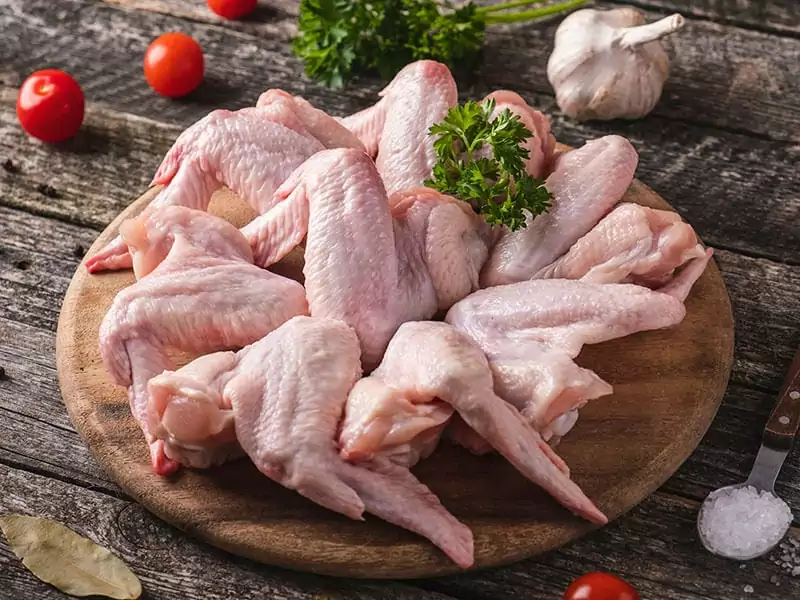 Your wings are dry and ready to be baked, and they will be ready after 50-60 minutes in the oven. To check if your wings are edible or not, you can use the instant-thermometer and expect any number that is higher than 165°F (74°C).
If you see any noticeable signs of undercooked chickens, you can bake them for another 5-10 minutes. Don't bake your wings for too long. Your wings can end up super dry and very boring to bite.
Using the air fryer to bake the wings will take you 25-30 minutes at 375°F.
Chicken Wings In Foil
To ensure that your chicken wings turn out moist, you can bake them in foil. The drawback of this method is how long it takes. Since the foil will keep all the water inside, your wings will keep their juiciness, but it will also make the cooking time extend.
Baking chicken wings in foil at 375°F will take you 60-70 minutes with your oven. Your wings will also not be as crispy as uncovered baking, but I promise they won't be overcooked. With the air fryer, you will need 25-30 minutes.
Since aluminum foil has two faces, you need to ensure that the shiny face turns into food and the dull side turns out.
Frozen Chicken Wings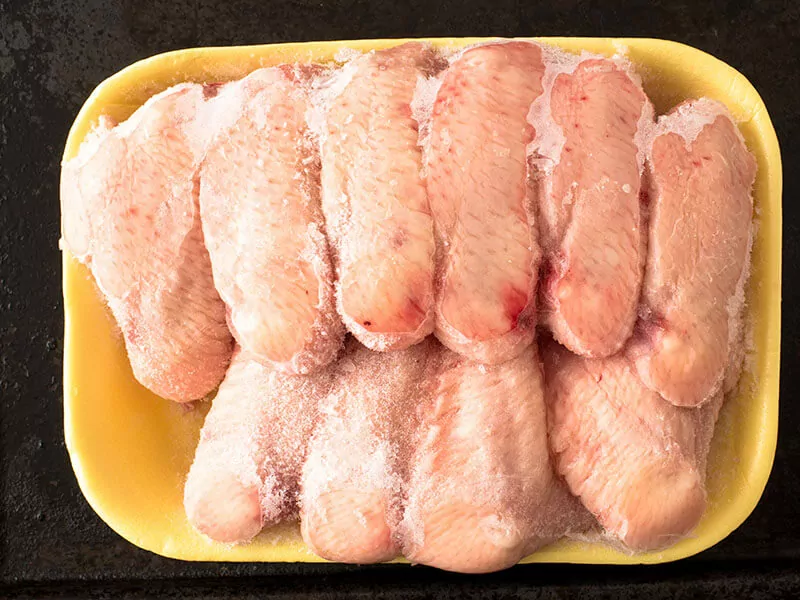 Sometimes you are too busy to buy groceries daily, so you take chicken wings and toss them inside the freezer. When you want to use it, your chicken wings have turned frozen. Or you decided to buy high-quality frozen chicken wings just for the convenience.
You can solve this matter by thawing it. Just let it submerge in the water for several hours, and you can treat your frozen wings like regular wings.
In case you don't have time to thaw, you can bake your wings right away. It might take you some more time, but after 60-70 minutes in the oven at 375°F, your chicken wings should be ready. In the air fryer, your wings will need 25-35 minutes.
To make sure about the edibility since frozen food is kind of unpredictable, you should check the internal temperature. Above 165°F will be enough. If your chicken still needs more time but the skin is already brown, you can cover it with a layer of foil.
Marinated Chicken Wings
You can marinate your chicken wings with sour-and-sweet brine from red wine and lemon. Or, since Asian dressing is your style, you can try the soy and honey marinade. You need to let your wings rest with the liquid for at least 2 hours, depending on the marinade.
After marinating, your wings will be so much more tender. Therefore, you won't have to spend too much time baking your wings. The oven will only take 40-50 minutes to bake at 375°F. The air fryer will take you 20 minutes to bake the wings.
If you are afraid that your wings are still raw, you can shred a wing to check the inner meat. Pink meat means your wings need more time, and you should bake them for an extra 10 minutes.
Learn more chicken marinade recipes to change the flavor of your wings.
How To Bake Chicken Wings At 375°F
I think, at this point, you are ready to turn on your oven or air fryer. Here is the procedure of how to bake chicken wings at 375°F. You can now take your chicken wings from the refrigerator and start working on them.
In The Oven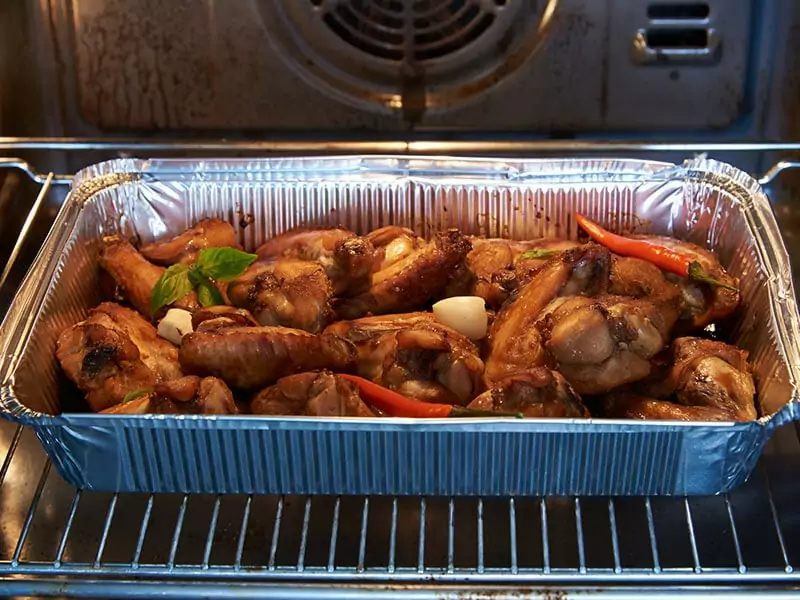 This is the classic equipment of every modern kitchen. An oven with its chamber makes sure that your food is constantly heating in controlled conditions.
Since the oven is an isolated environment, it is important to reheat your oven before cooking anything. Every recipe that needs the stove's service has time that doesn't count the stove heating process. Without preheating, your food might come out undercooked.
To bake chicken wings, you can follow the below steps:
Step 1: Preheat Your Oven
As I just said, this step is unskippable, except you are a fan of undercooked chicken (which is pretty dangerous with Salmonella contamination). You will want to preheat the oven to 375°F, which takes about 15 minutes.
Step 2: Season Your Wings
While waiting for your stove to get ready, you can work on your season. With all the ingredients besides the wings that have been listed above, you mix them all together.
You can do the mixing with a big bowl and a whisk, or you can put everything in a sealable plastic bag and shake it like you're doing a Cha-cha dance. I mean, the latter option sounds more fun to me.
After all the ingredients blend with each other, put your wings in the bowl or the bag. With the bowl, you need to rub your wings nicely until they have a good coat outside.
If you choose the bag method, you can shake that bag again with the wings inside. Just be careful with the shaking; you don't want that zip to unlock because of your excitement during the dance.
Step 3: Put Your Wings In And Turn The Heat Up
Bring out your dry and clean baking tray. You can cover it with a layer of foil if you want your cleaning easier after the cooking. Arrange your chicken wings on the tray and try to separate them.
Put them in a heated oven, close the oven door, and turn it on at 375°F for 1 hour. After 25 minutes, you should pause the process and bring the tray out. You will want to turn all the wings so both sides receive even care from the heat.
Step 4: Check The Internal Temperature And Get Ready To Serve The Wings
In the last 10 minutes, you will want to check whether the wings are ready or not with an instant-thermometer (totally recommended to have one at home). When your wings reach an internal temperature above 165°F, then they are good to go.
If you want your wings to develop a more crispy texture, you can continue to bake them for the last 10 minutes. 180°F is the number you want to stop. Your wings now are ready to be served.
In The Air Fryer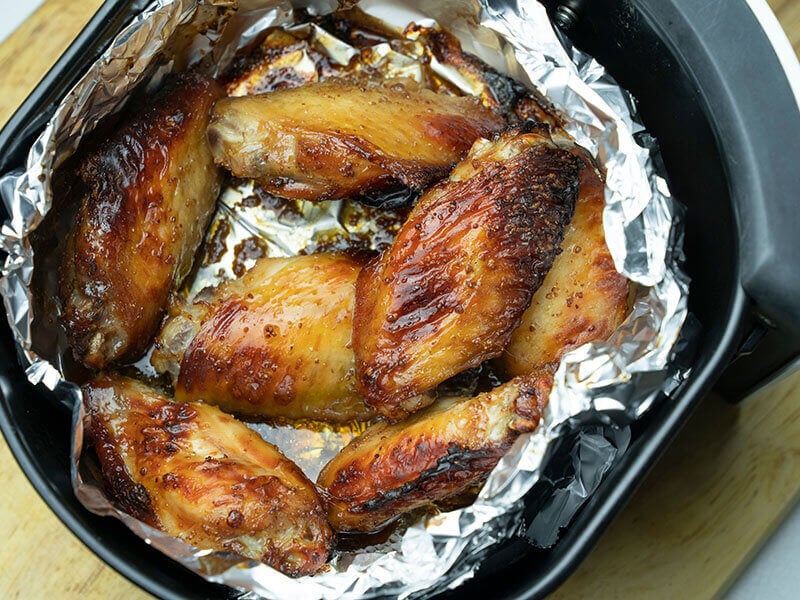 The process with an air fryer is almost the same with the oven. Not everyone has an air fryer at home, but if you want to reduce the fat intake, you should get one for yourself. The air fryer is exactly like a deep fryer, but it cooks with air instead of oil.
The only teeny-weeny unfavorable thing about the air fryer is how small its chamber is. You can't bake a large batch with it, but the good buff is how fast it is. So you can make a multi-batch in a short time. Chicken wings are one of the best keto dishes to make with an air fryer.
Learning the right way to use an air fryer is easy, and you can bake your chicken wings in the air fryer. The procedure can be interpreted in these three simple steps:
Here are three baked chicken recipes that you can try with your air fryer.
Step 1: Preheat Your Air Fryer
Not just the stove, anything with the cooking chamber will demand good heat circulation before putting the food inside. The air fryer is not an exception. You will want to preheat your air fryer at 375°F for 5 minutes.
Step 2: Make The Season And Season The Wings
Before putting your seasoned chicken wings inside the chamber, you will need to coat the chamber with a layer of cooking spray or vegetable oil. After laying out the wings, you can set the temperature at 375°F for 25 minutes.
Step 3: Take Your Wings Out
Your chicken should be ready after that time. To be more certain, you can check the internal heat. Any temperature that is higher than 165°F will be good to go.
In the air fryer, chicken wings tend to develop a crispy skin. If your chicken is not ready, another 10 minutes to go is necessary.
How To Bake Other Chicken Part At 375°F
Maybe you want to have a variety of chicken parts at your party. I can cover you in this territory also. Chicken breasts are for the gym dudes. Drumsticks are full of juiciness. And a whole chicken makes an impressive sight at your dining table.
Chicken Breast At 375°F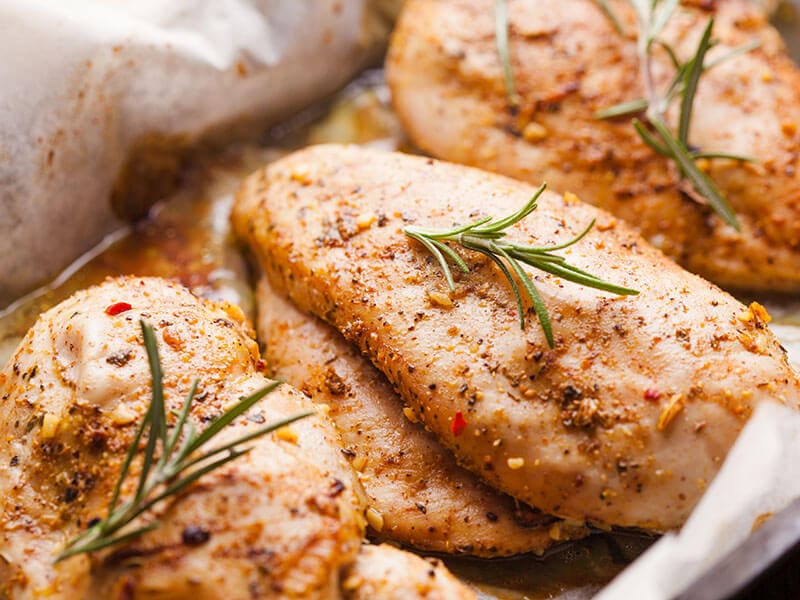 The breast is the leanest part of the chicken. It is super helpful if you want to lose weight, increase muscle mass, or recover your energy. And you can bake your chicken breast to reduce the fat compared to other cooking methods.
With chicken breast that has skin on it, you will need 35-40 minutes to cook it in the oven at 375°F. Skinless chicken breast only takes 20-25 minutes.
With the air fryer, you will only need 15-20 minutes for the skin-on and 10-15 minutes for the skinless. Just remember that an instant-thermometer is useful to check the food. 160°F or any higher number is what you want to see.
Chicken Drumsticks At 375°F
This part is probably the second favorite of everybody after the chicken wings. Drumstick is the part that sticks with the chicken thigh. This part is rich in flavor and fat, and it takes slightly longer to bake since this is the dark meat part of the chicken.
With your oven, it will take you 35-45 minutes to bake at 375°F. At the same temperature, the air fryer will ask you to give it 15-20 minutes. Besides, if you know the proper timespan to bake chicken thighs at 350°F, the result will also be juicy. Your drumsticks and thighs should stay at 175°F internally if it is perfectly cooked.
A Whole Chicken At 375°F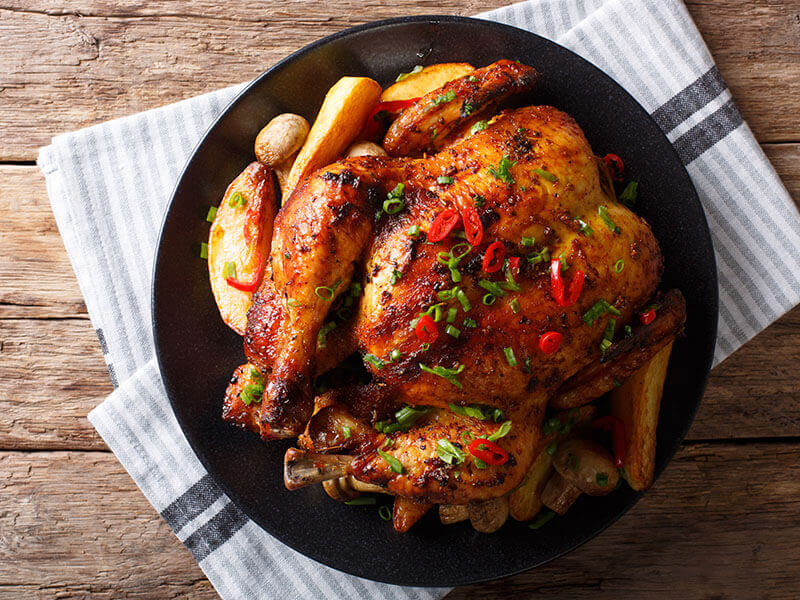 And this is the biggest challenge with your oven. You can't bake your chicken with your air fryer since its chamber is not big enough. Baking a whole chicken will take you more time and demand more caution.
You will need 70-80 minutes to bake your chicken at 375°F. Your instant-thermometer should show 180°F or above. Check the temperature in the deep part of the thighs for the most accurate result.
Visually, you should see pink meat, and the chicken juice should run clear in the tray. The chicken legs will also be more loose compared to the raw chicken.
How To Tell That Your Chicken Is Ready?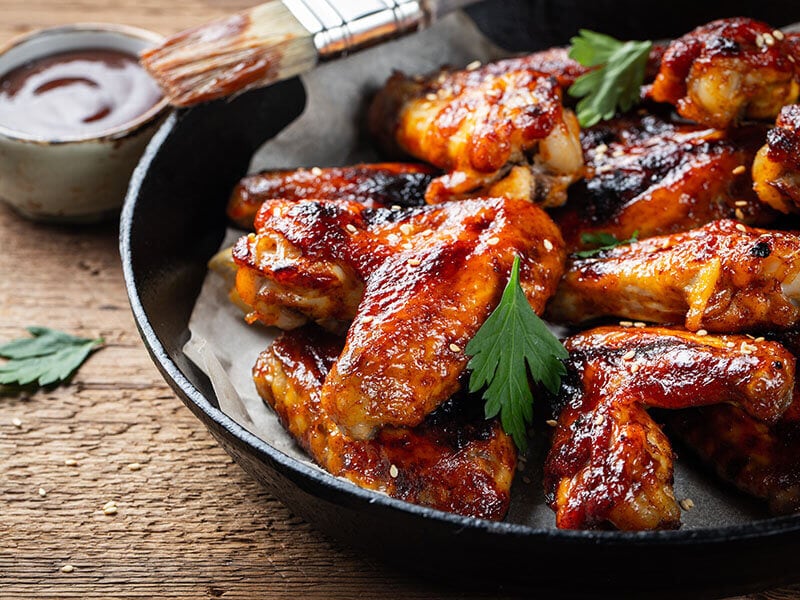 There are some signs that you can use to check on your wings. The most reliable proof is the internal temperature. Any number that is higher than 165°F means your wings are quite ready. Some people say 165°F is perfect if they like juicy wings. 180°F is for fans of crispiness.
Another sign is the look after baking, but it also depends on how you marinate or season your wings.
With the seasoning, like this post has introduced, your wings would develop a crispy skin and a delightful brown color. The season should not be burned on the surface.
You can also see clear juice running out from your wings. And to be more certain, you can cut out a piece and check the inner meat. Pink means your wings need more baking time.
Tips From The Expert For Your Baked Wings
There are still some tips here and there that I want to share with you. These tips and tricks might come out in handy during your cooking journey in the long run. After all, some of these you can apply to other baked dishes.
Parboil Chicken Wings Before Baking Them
Many people might not know this but parboiling your wings before the baking is extremely helpful in developing a nice crispy skin. Parboiling will also remove all the surplus fat in the wings.
Parboiling means you only submerge your wings in the pot for 5 minutes. After that, you should dry your wings properly. This process will promise you good crunchy bites on your wings later.
Dry Your Wings
This is extremely important since you desire the wings' crispiness. A wet surface makes it difficult for the seasoning to stick on.
You should dry your wings in the refrigerator for several hours before seasoning them. After that, you should use a paper towel to clean the wings' surface. This will remove all the moisture on your wings and get them ready to be crispy.
Do Not Jam Your Wings Together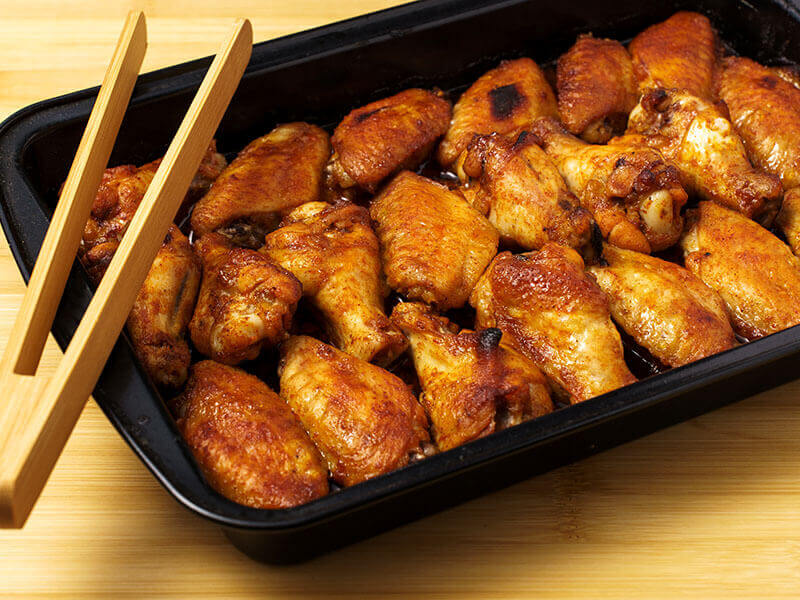 Heat circulation in the oven is very important if you want to cook your wings evenly. This tip can apply to any baking dish. You don't want to stuff them in a tight space. And one layer of chicken wings is enough for one tray.
Wings' skin can stick together when you don't keep them separate. It will also be hard for you to turn them over after half the baking time.
Allow The Wings To Rest
Not giving your wings enough rest time is almost the worst mistake that you can make. Allowing your wings to rest will make sure they come out juicy.
And when your wings are resting, they are still cooking inside with the maintaining heat. Let it rest on the baking tray for about 10 minutes before moving them to a clean plate.
Prepare Dipping Sauce To Eat With Your Wings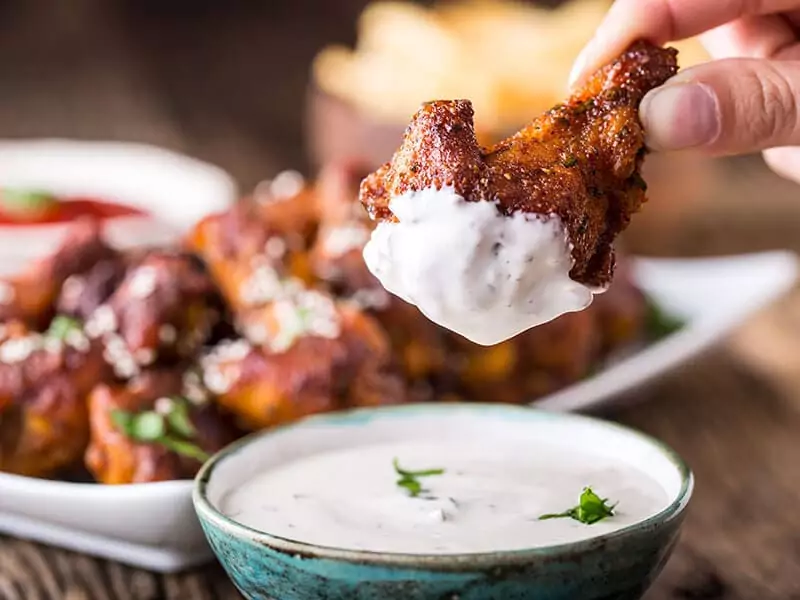 Eating chicken wings without a proper dip is a crime. You don't know what you have missed out on. There are many sauce recipes that you can try to make, and each sauce can give you a different flavor journey.
I will give you four sauce recipes that I think will go best with your wings. You can try it, then come back and tell me which one is your favorite.
Ranch sauce is the most common dip that you can see. People dip everything with this sauce. With a tangy taste from herbs and the sweet-and-sour flavor from mayonnaise, you definitely can't resist a second bite.
Another classic goes along the chicken wings. Honey mustard is a sweet comfort dip for everyone. This sauce can work as a dressing if you desire to enhance your wings with honey and mustard taste.
Jack Daniel's is one of the most popular whiskeys in the world. With the right ingredients and some instructions, you can add alcohol to the dipping sauce. Dipping chicken wings in this sauce with your friends on game night is utterly everyone's dream.
This sauce is a balance of savory and sweetness. It is rich and flavorful and very good at complimenting your chicken wings. Children also love this sauce.
One little note about this sauce is its peanut content. If you are allergic to peanuts, you should skip this dip.
Side Dishes That You Should Make To Combine With Baked Chicken Wings
Since baked chicken wings are a heavy dish, you will want to have some delicious side dishes to go with your chicken wings. These side dishes can promise you a full tummy and still guarantee a healthy balanced diet.
Dip the same sauce with your chicken wings, and help your stomach to feel pleasantly full. You can prepare this dish with your oven or your air fryer as well. I think it is very convenient.
It is almost the same as french fries but better with fewer carbs and fat while giving you more fiber and vitamins.
Learn how to make keto-friendly avocado fries with the air fryer.
A refreshing bowl of macaroni salad next to a dish of baked chicken wings is the perfect lunch for summer days. You can easily make a big batch with this recipe for a backyard barbecue party if you want to.
This recipe gives vitamins to balance out the meal here. Coleslaw doesn't have the fragrant smell from herbs that many people abhor. The combination of vinegar, mayonnaise, and cabbage makes this dish tasty even for people who don't want to eat vegetables.
Just like broccoli, some people can't stand Brussels sprouts. However, for people who are into bitterness, Brussels sprouts are their favorite. With honey, this dish eases Brussels sprouts' bitterness. It is a clever choice to eat with your baked wings.
FAQs
After absorbing a lot of knowledge, you are probably tired but you made it and got to this part of the post. There is no way that you don't have any questions that you want to ask. So go on; you can continue to scroll and check if these answers can satisfy you.
You Are Now An Expert At Baking Chicken Wings
Baked chicken wings with dipping sauce and some side dishes are such a perfect meal for a game night. Baking chicken wings at the perfect temperature is no longer a challenge to you. You know what to do to get the crispiness. And you know how to make dishes to go along.
It is even better when you show off your culinary skills with your friends. Don't forget to tell them that this post has given you some good knowledge about baked chicken wings. And tell us what you think about the post, too. I would be glad to see your comment.
Until next time, take care!
Nutrition Facts
1 servings per container
---
Amount Per ServingCalories399
% Daily Value *
Total Fat 30.8g

47

%
Cholesterol 99mg

33

%
Sodium 5026mg

210

%
Potassium 189mg

6

%
Total Carbohydrate 12.9g

4

%

Dietary Fiber 1.2g

4

%
Sugars 0.9g

Protein 18g

36

%
---
Calcium

37

%
Iron

2

%
Vitamin D

8

%
* The % Daily Value tells you how much a nutrient in a serving of food contributes to a daily diet. 2,000 calories a day is used for general nutrition advice.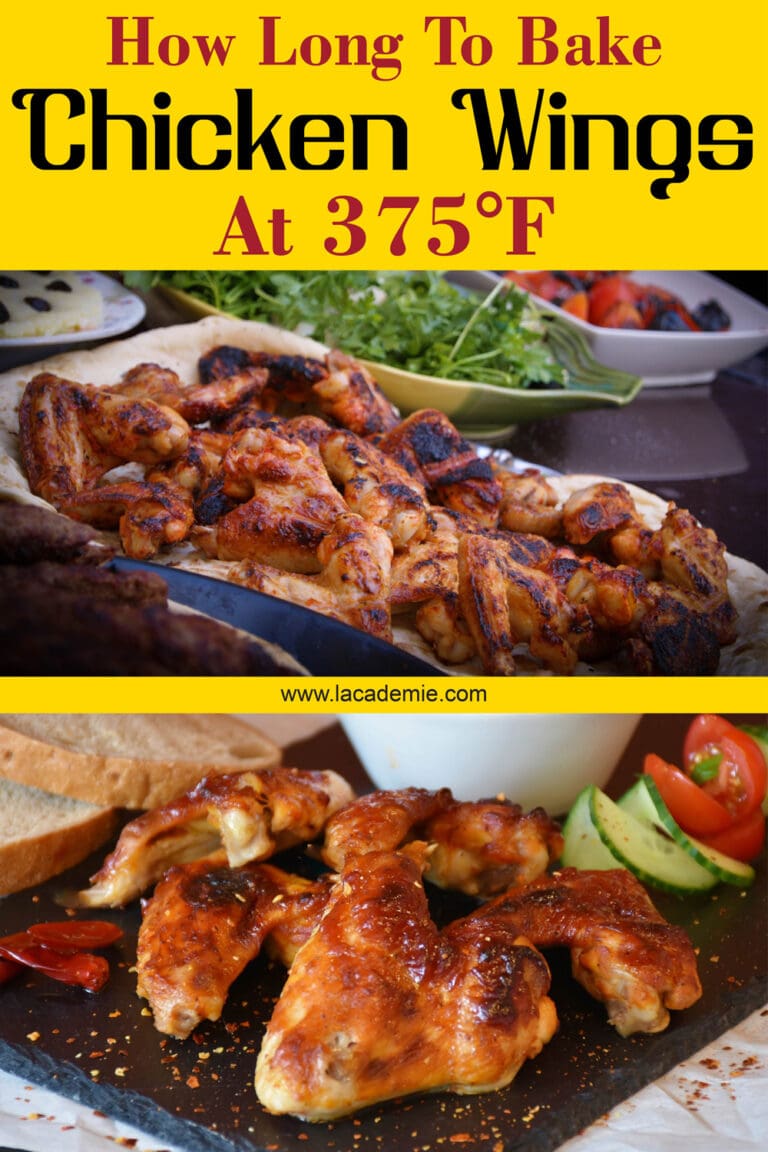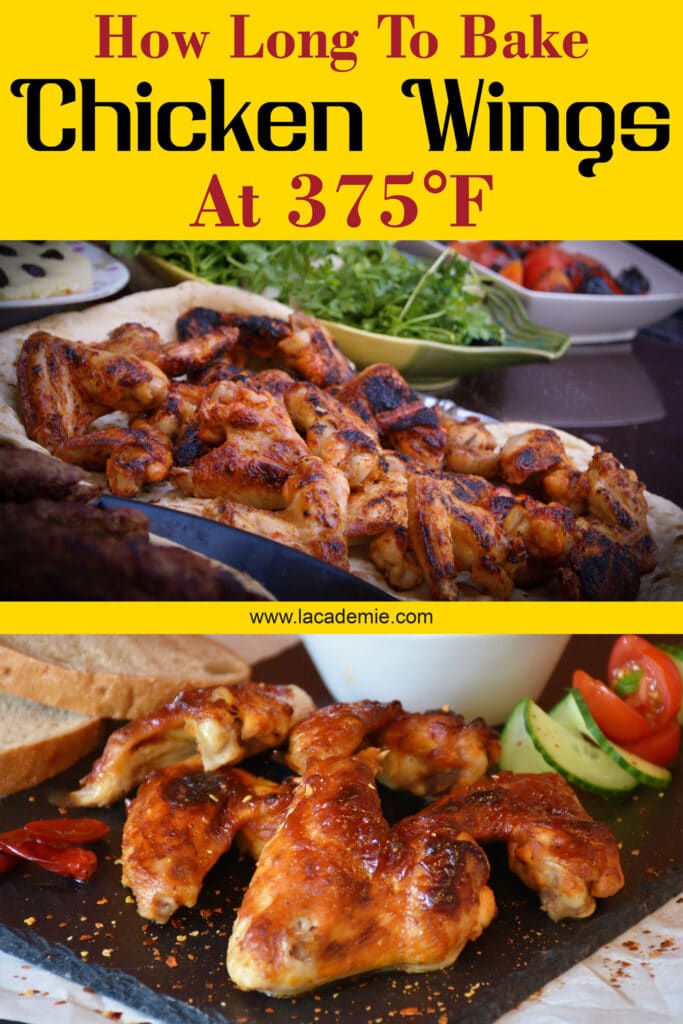 References
Harris, K., 2022. The Accidental Invention of Chicken Wings, America's Favorite Bar Food.
Groves, M., 2022. How Many Calories in Chicken? Breast, Thigh, Wing and More.