How long to bake chicken wings at 400°F is the question of great importance when making this dish. In this article, you will find how to bake chicken wings at that temperature properly so that you can achieve the right caramelized color and tender texture for your chicken wing dish.
And while you're here, I'm going to share some of the best-baked chicken wings recipes so you can surprise your friends and family next time you decide to serve this dish. So just sit back and join me in this amazing ride!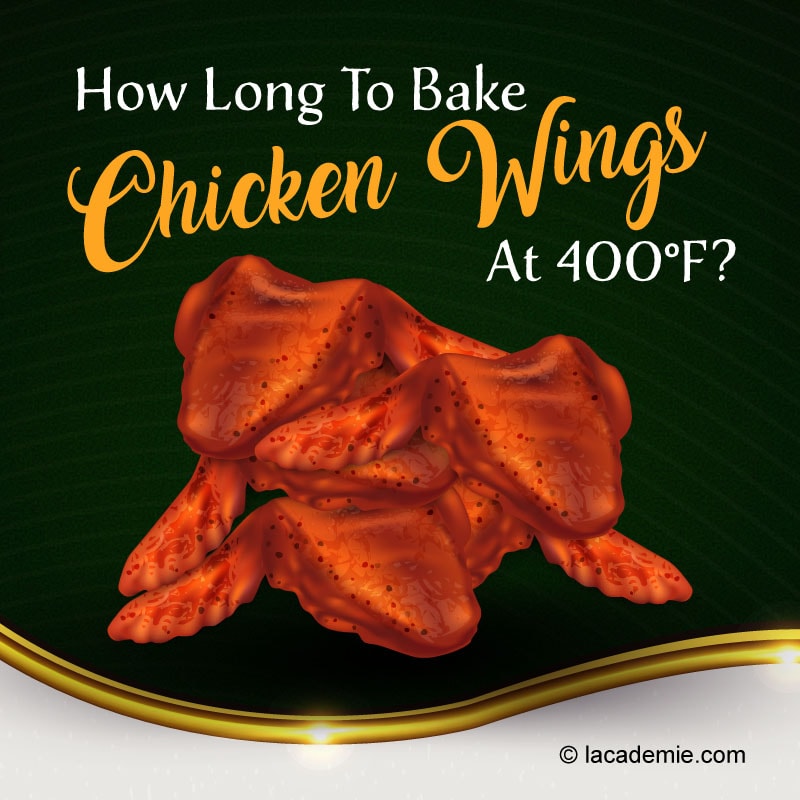 Interesting Facts About Chicken Wings
As much as you love eating chicken wings, there are some general facts about this dish that you may not know about. Care to find out more?
What Are Chicken Wings?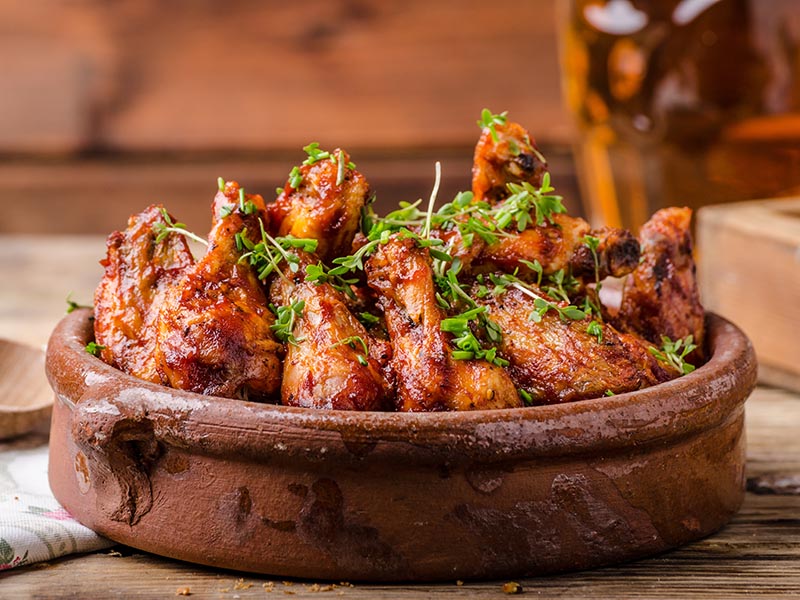 Ever since the chicken wings heatwave in the South, the dish itself has been considered one of the most popular and favorable snacks in the US.
If you are a big-time fan of American cuisine, you must once come across chicken wings in the name of hot wings, buffalo chicken wings, American-style chicken wings, and so on. They are referred to as chicken wings dishes in general.
When Did People Start Eating Chicken Wings?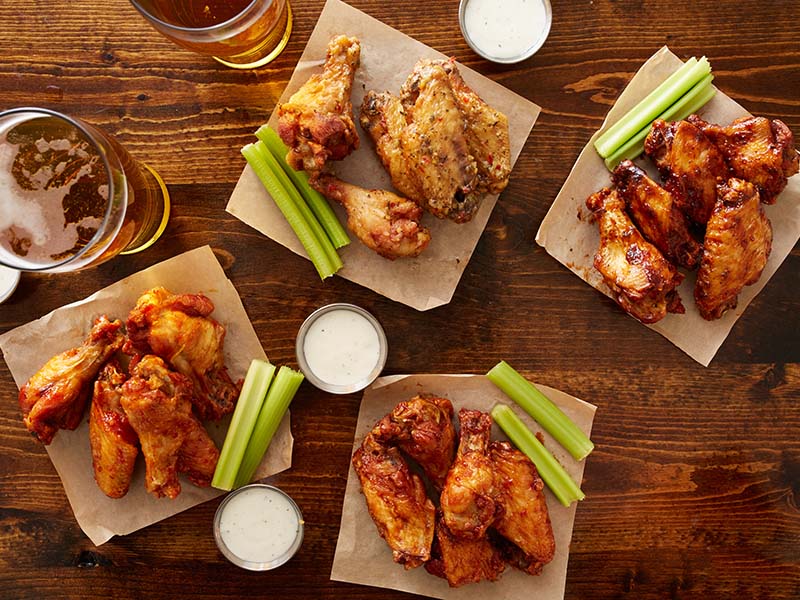 In the 1960s, it was a trend to eat a whole chicken. Therefore, very few people knew how to cook chicken wings and what to do with them, so they were considered fairly inexpensive.
Due to its cost-efficient value, when chicken wings were added to the menu of a local bar in New York for the first time, its sale surprisingly went to the roof.
The heat of chicken wings started to spread, and it was known as a bar snack or sports bar's special. Picky eaters soon discovered the suitable side dishes to serve with chicken wings. Gradually, people began to accept the concept that chicken wings can be edible and very tasty.
Here is a glimpse into the history of the famous Buffalo chicken wing recipe.
What Do People Love About Baked Chicken Wings?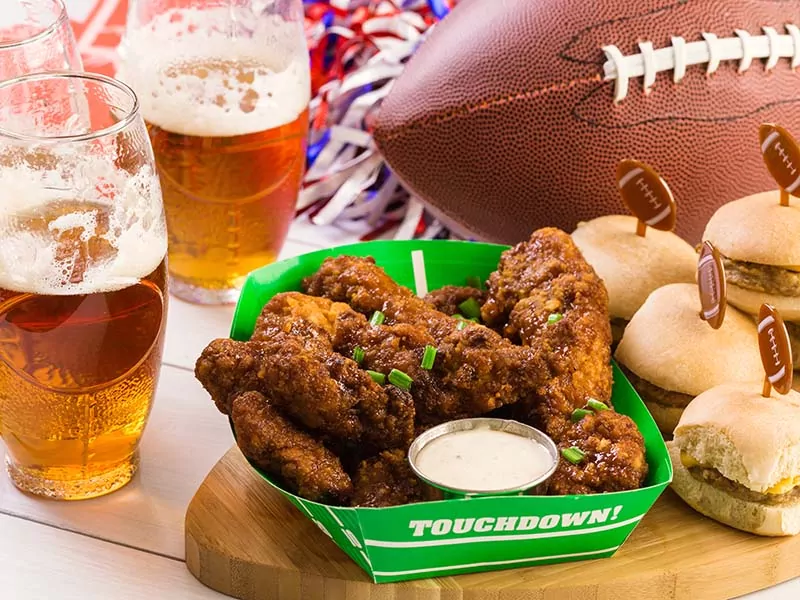 Because it's delicious and healthier than most chicken wings! Do you know that baked chicken wings are also much healthier than deep-fried chicken wings? With no oil added in the process, tons of calories are shaken off of the dish in comparison to traditional deep-fried wings.
This dish is not only tasty but also very easy to make. All you need is chicken wings, some seasoning, dippings sauces (especially those from Wingstop), and one hour of your time.
Baked chicken wings are indeed a highly shareable food, and I am not just talking about the Super Bowl! If you go out with a group of friends and don't know what to eat, ordering chicken wings to share is a choice no one would say no to, as long as they eat meat.
Baked chicken wings are also perfect when paired with cold beers. Backyard BBQ is becoming extremely popular in the summertime. Who doesn't love to have a cold beer on one hand, a chicken wing on the other hand, and some good laughter with their friends?
Are you curious about what will happen if you eat chicken wings every day?
Health Benefits Of Baked Chicken Wings
You must be thinking to yourself: what is so healthy about chicken wings? Chicken wings, with the right cooking method, can be a healthy snack high in protein and low in calories.
Moreover, this product contains a large amount of vitamin B6, A, E, D, K, and more, which is crucial to support our immune system.
Chicken wings also carry a few essential minerals for human body function, which are selenium, iron, magnesium, and zinc. The main duty of these two minerals is to keep vitamins active and metabolized for the body.
Chicken wings are very high in protein. Each wing has from10 to 20 grams of protein. Their fat percentage is about 30% per wing, which makes it a useful natural source of fat to rejuvenate the human body.
Different Temperatures To Bake Chicken Wing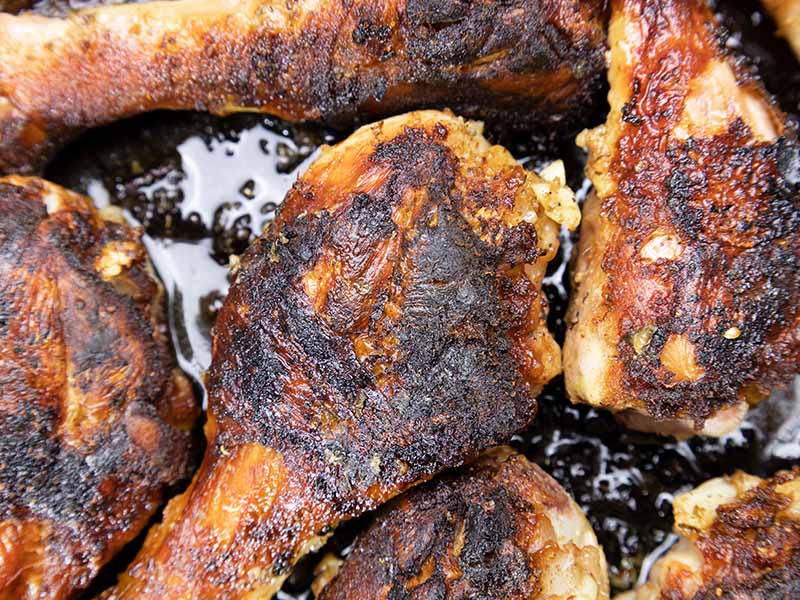 To be completely honest with you, it is acceptable to bake chicken wings at 350°F to 425°F. If you are aiming for thick-coated sauce chicken wings, then definitely go for the lower range of temperature from 350-375 °F.
This temperature range is optimal for preventing sauce burnout. However, it will take a little more time for chicken wings to be fully baked at 375.
Not to mention, with the variety of baking settings on ovens, the lower temperature range can result in uncooked chicken wings, which is a headache since you will have to recook the dish and spend more time on it.
When chicken wings have simpler seasoning, dry powder seasoning, or no seasoning at all, baking at 400°F to 425°F can better guarantee well-done and crispy wings. This temperature range is especially great once you've learned the proper baking time for chicken wings at 425.
Another solid choice for baking chicken is 450 degrees F. Since this temperature is quite high, you need to know the optimal time for baking chicken wings at 450 so as not to accidentally burn your poultry.
With all that said, the best and most optimal temperature is baking at 400°F. Baking wings at this temperature, you will have the perfect juicy and tender wings with no fear of raw meat or wings being burned and turning bitter.
On a side note, baking chicken tenders at 400 for the right timespan is also a great choice. With proper timing, your chicken will be tender inside while crispy on the outside.
How Long To Bake Different Types Of Chicken Wings At 400°F?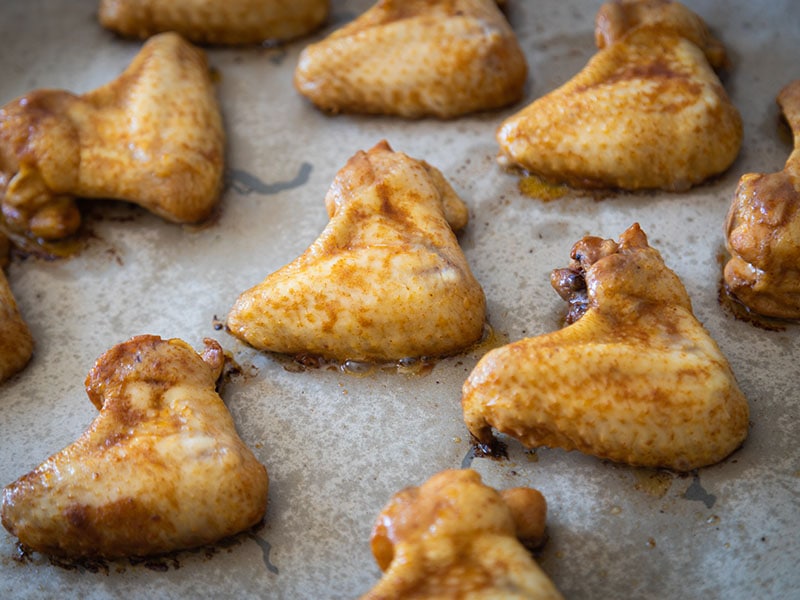 It's time to get to the most important question of the day: how long does it take to bake chicken wings at 400°F?. Allow me to walk you through the details.
There are some small tweaks for different chicken wings styles, depending on the cuts, how you prep the meat, the level of desired crispiness, and so on.
Generally, the baking time for standard chicken wings at 400°F varies between 40 and 50 minutes, not to mention 15 to 20 minutes to preheat the oven and about 5 to 10 minutes to prepare the chicken wings.
After halftime into the baking, you can flip the wings over to make sure both sides are baked evenly.
Fresh Chicken Wings And Defrosted Chicken Wings
Fresh chicken wings, chicken wings that stay in the cooler for only a few hours, or completely defrosted chicken wings are the easiest to deal with. Simply bake them at 400°F in an oven for 40 minutes.
Tip for an extra crisp: After 40 minutes of baking, you can leave the chicken wings still in the warm oven for another 30 to 35 minutes to get that extra crispy and crunchy taste on their skin.
Semi Defrosted Chicken Wings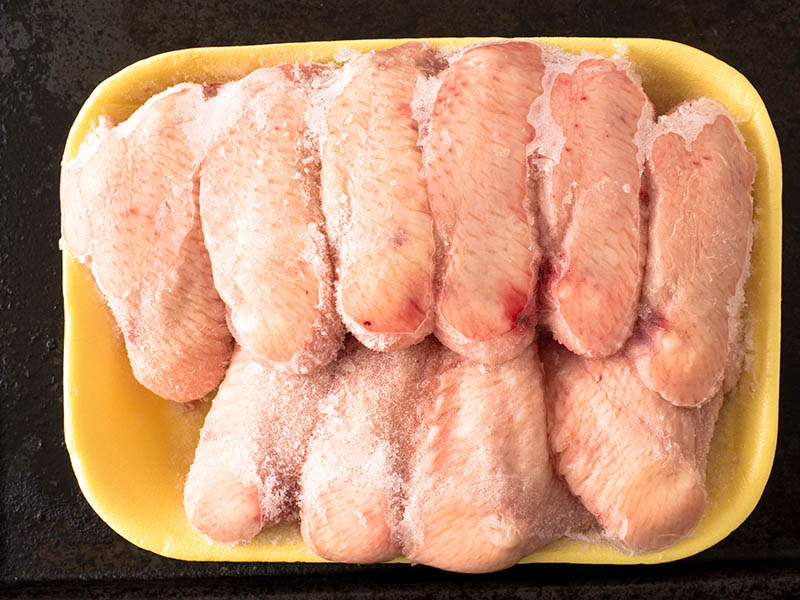 Beside choosing the best frozen chicken wing product, the most important thing is never bake your chicken wings when they are still frozen. This could ruin your chicken wings dish completely.
For those with a busy schedule, you can cheat by defrosting the wings for at least 6 hours in the refrigerator or 2 to 3 hours at room temperatures. This is what I call semi defrosted to make sure that chicken wings can be baked thoroughly.
The standard baking time for semi-defrosted chicken wings is from 65 to 70 minutes, which is about 20%-30% more time at 400°F.
To defrost chicken wings completely, it might take 12 to 24 hours. After this period, you can treat those chicken wings as how you would with the fresh chicken wings. 40-50 minutes in the oven at 400°F.
| | |
| --- | --- |
| Type of chicken wings | Time to bake |
| Fresh chicken wings | 40 minutes |
| Completely defrosted wings | 40 minutes |
| Semi defrosted wings | 65 to 70 minutes |
What's the best way to thaw your chicken? Find out in this detailed explanation.
Baking A Whole Wing And Individual Pieces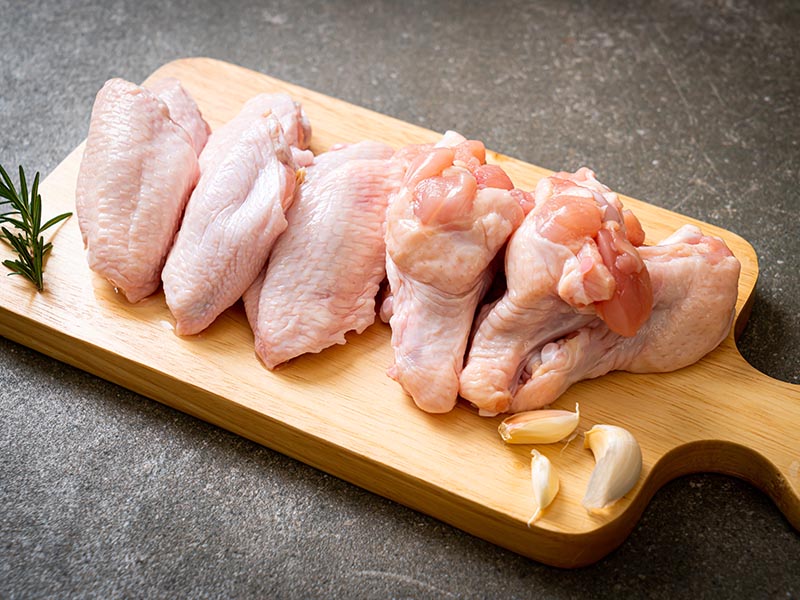 Typically a chicken wing has three parts:
Drumette
Wingette
Wingtip
Each section of the wing has a special flavor to it; you can choose to eat a whole wing or separate the pieces to create more variety and have fun while creating your version of the dish.
Learn to cut chicken wings in 2 minutes with this awesome guide.
Baking A Whole Wing
Baking the whole wing is a great way to keep the juiciness and tenderness of the chicken wings. However, a whole wing would take longer to be baked, especially the drumette part since it's thicker and bigger.
Therefore, you're looking at 50 minutes of baking time at 400°F, and don't forget to flip the wings around halftime. This timeframe will give your chicken wings a crispy skin and tender meat.
Baking Individual Pieces
Cutting the wings into two or three separate pieces has its advantages. This is the shortest way to achieve the perfect crispiness, as well as to add more flavor to the dish.
Since the pieces are now smaller, the cooking times are also shorte. A standard 40-minute period in the oven at 400°F is fine. Just a reminder, please flip the wings batch after 20 minutes to ensure evenly baked wings.
| | |
| --- | --- |
| Type of chicken wing | Time to bake |
| A whole wing | 50 minutes |
| In small pieces | 40 minutes |
How To Bake Chicken Wings At 400 °F Properly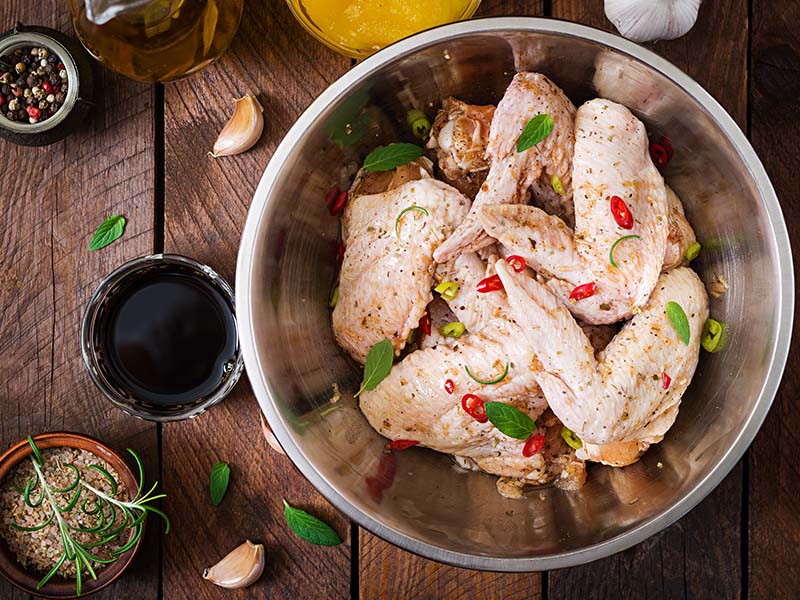 It's time for you to show me how good you are in the kitchen. Before I dive into cooking, here are a few things you need to prepare.
Although chicken wings are the star of the dish, there are some basic ingredients you need to evoke the taste of wings.
Ingredient List
Like I said earlier, it takes more than plain chicken to whip up a spectacular serving of baked chicken wings. You will need the following herbs and condiments to bring out the best in your food.
8 chicken wings
Salt: 2 teaspoon
Peper: ⅕ teaspoon
Butter (salted or unsalted): 5 tablespoons
Minced garlic: 1 teaspoon
Chili sauce: 1 cup
Herbs: Rosemary, bay leaf, etc.
Your favorite spices: ½ cup
In An Oven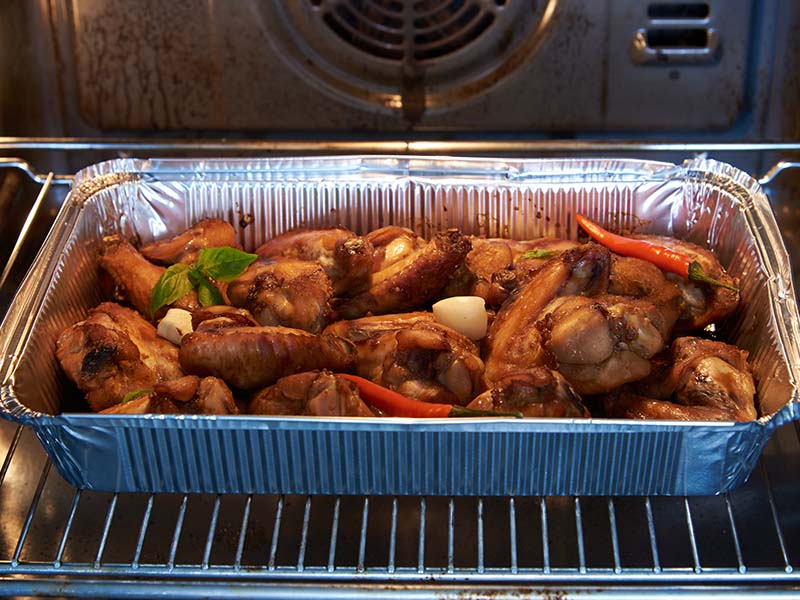 Eight chicken wings can be a good meal for 2 people. The ingredient list above is specifically designed for that number of wings. If you feel like having extra or fewer wings, please feel free to adjust the seasoning.
Step 1: Preheat Your Oven
Doing this at the very beginning can save you a lot of time. Preheat your oven to 375°F for 15 minutes. Then prepare a baking sheet.
Step 2: Season The Chicken Wings
While waiting for the oven to heat up, mix the chicken wings in a large bowl and slowly add the ingredient listabove. Stir the chicken wings 10-20 times and let them sit so the wings can absorb the seasoning.
Step 3: Bake The Chicken Wings
At this point, you will transfer the pre-seasoned chicken wings to the baking sheet and bake the chicken wings for 10 minutes at 375°F. Then raise the oven temperature to 400°F and continue to bake for 20 minutes.
After that, flip over the chicken wings batch to the other side to make evenly cooked wings. Continue to bake at 400°F for another 20 minutes. To add an extra layer of crispiness, leave the chicken wings in a warm oven for 30 minutes if possible.
Step 4: Final Step
Use a food thermometer to check if the internal temperature of chicken wings has reached 165 °F. This step is to ensure the chicken wings are cooked thoroughly. Then take them out slowly and enjoy them with your favorite dipping sauce. Vola, there you have it!
In An Air Fryer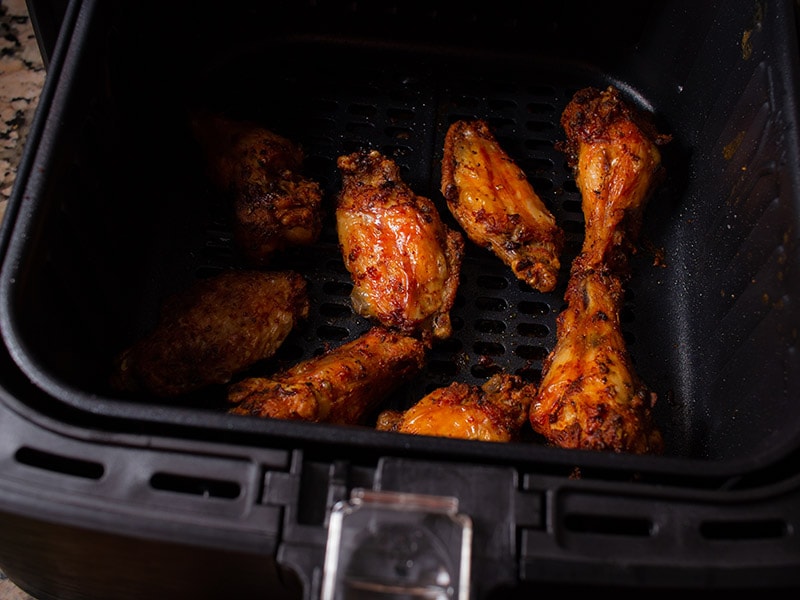 Cooking equipment such as air fryers is slowly replacing ovens in modern houses and apartments where the kitchen space is not suitable for an oven.
The air fryer is great for chicken wings. You will be surprised how much of a good job this kitchen appliance can do when it comes to making chicken wings.
Cooking with an air fryer is healthy because no grease and oil is needed. Also, the wings are as good as oven-baked chicken wings, if not better.
Step 1: Preheat Your Air Fryer
An air fryer needs very little time to heat up. Turn it on at 400°F for 5 minutes, and you are ready to go.
Step 2: Season The Chicken Wings
While waiting for the oven to heat up, mix the chicken wings in a large bowl and slowly add the ingredient list above. Stir the chicken wings 10-20 times and let them sit so the wings can absorb the seasoning.
Step 3: Bake The Chicken Wings
Open the drawer and put the chicken wings in nicely without stacking them on top of each other. Afterward, cook them for 20 minutes at 400°F.
At this point, you will pause and turn the chicken wings batch to the other side. Then continue to cook at 400°F for another 10-15 minutes.
Step 4: Check The Chicken Doneness
Even with an air fryer, you need to check the internal temperature using a food thermometer; make sure it's at 165°F. Take the chicken wings out of the air fryer slowly and carefully, then serve with your favorite sauces.
Make your air-fried chicken wings extra crispy with this tutorial now!
On a Frying Pan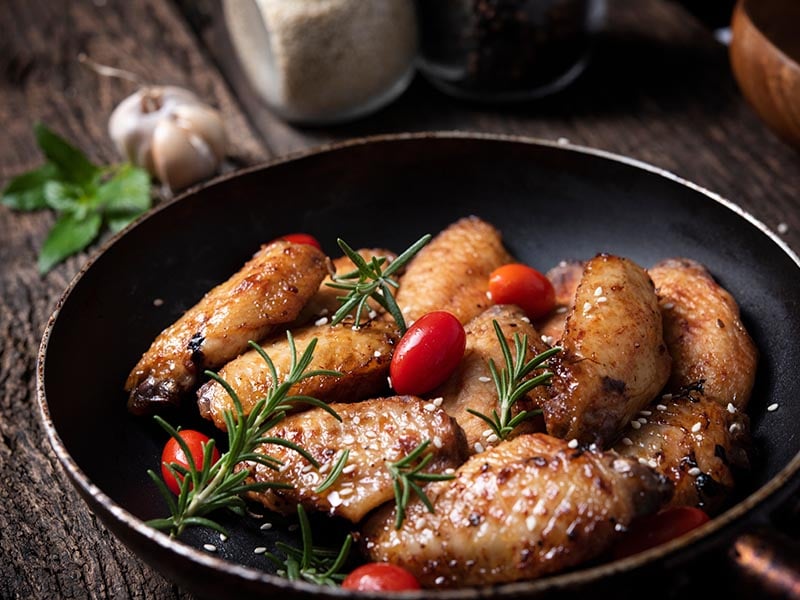 If an oven or an air fryer it's not an option for you, you can get creative and make chicken wings on a frying pan. Let me walk you through the steps.
For your information, frying pan chicken wings are less time-consuming than oven-bake or air fryer chicken wings. If you're in a rush to make chicken wings for dinner, a frying pan is an option for you to make it in time.
All you need is 10 minutes to prepare the wings and 20 minutes for frying.
Step 1: Season The Chicken Wings
While waiting for the oven to heat up, mix the chicken wings in a large bowl and slowly add the listed ingredients. Stir the chicken wings 10-20 times and let them sit for 10 minutes so the wings can absorb the seasoning.
Step 2: Heat The Pan
Get a large skillet pan and turn it on medium heat. Add cooking oil, olive oil, coconut oil, or any kind of cooking oil you have at home.
Then lay the pre-seasoned chicken wings flat on the frying pan. Fry for 10 minutes on one side before turning to the other side and trying for another 10 minutes.
Step 3: Final Steps
Turn off the heat and let the meat rest. Check if the meat is well cooked with a food thermometer, or you can pierce through the thickest part of the wing with a fork or knife to see if the juice is clear. Enjoy the chicken wing with your favorite dipping sauce.
Learn the best way to bake chicken wings with a frying pan here!
Learn Those Easy Ways To Tell If The Chicken Wings Are Done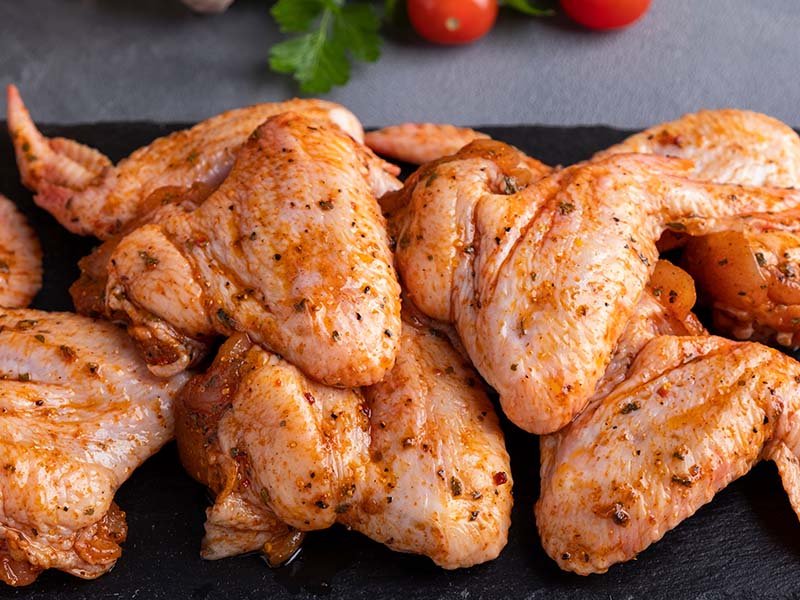 To eliminate your concern about eating undercooked chicken wings, I'll point out a few ways to help you determine if the chicken wings are cooked. Besides setting the temperature right, there are several factors you can look at.
Check With A Food Thermometer
Getting a food thermometer has been a game-changer for my cooking. I do recommend you to get one for yourself. You can use it with pretty much any kind of meat to check its internal temperature and determine whether they are cooked.
With chicken wings, when inserting the food thermometer into the largest and thickest part of the wing and it reads 165°F, you know that the chicken wings are well done.
Notice the Visual Cues
Check The Texture And Color
A good example is to press into the wings and feel if it is as firm as the middle part of your palm. If you can see clearly that the wings have shrunk in size, that's also a good sign the wings are set and done.
When you set the temperature right, you can also tell if the chicken wings are done by their caramelized brown color spread evenly on the wing's skin.
When piercing a knife through the meat, if you see a white color than pink, that's how you can tell the meat is decently cooked.
Clear Juices From The Meat
Run a small knife or pierce through the thickest meat part of a random chicken wing. You either see a clear juice drifting down or some pinker juice.
Clear juice means the chicken is done, while the pink one indicates you need to cook the chicken wings a bit longer. Don't hesitate to recook it for another 5 to 10 minutes. We all get better through experiences.
Benefits When Baking Chicken Wings at 400 °F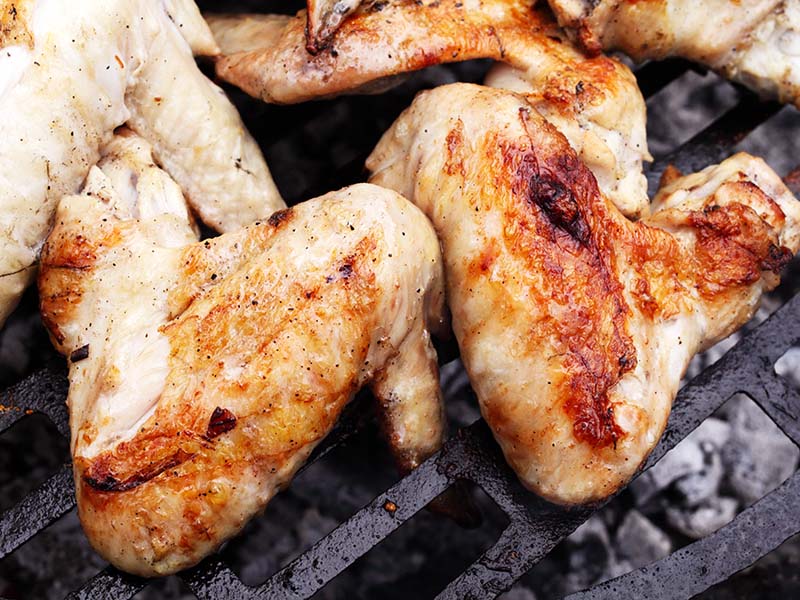 Food Safety
Many people have a fear of eating raw meat, especially when it comes to chicken with bones. Chicken can carry certain bacterias and viruses that cause trouble for your digestion when eaten raw. (1)
I understand that it can be tricky to check if the chicken wings are well done if you don't have a standard cooking temperature to compare with.
Chicken in general (including whole chicken, chicken wings, and chicken thighs) is well done if the food thermometer shows an internal temperature of 165 °F. You can check by inserting the food thermometer into the thickest part of the meat.
This internal temperature implies the meat is cooked thoroughly and is safe to eat. To achieve such a temperature, you should bake chicken wings at 400°F.
A Crispy Texture
Choosing the right temperature is crucial in ensuring your dish's crispiness. For example, baking chicken thighs at 350°F for the right duration is the key to a perfectly juicy and crispy meal. As for chicken wings, the crispiness is what makes them irresistible.
Baking chicken wings at 400°F is ideal for helping you achieve the perfect amount of crispiness on the wings, as well as to guarantee the juiciness inside the chicken wings.
Besides setting the temperature at 400°F, you can also use baking powder to coat the wings to add an extra crispy layer.
Food Presentation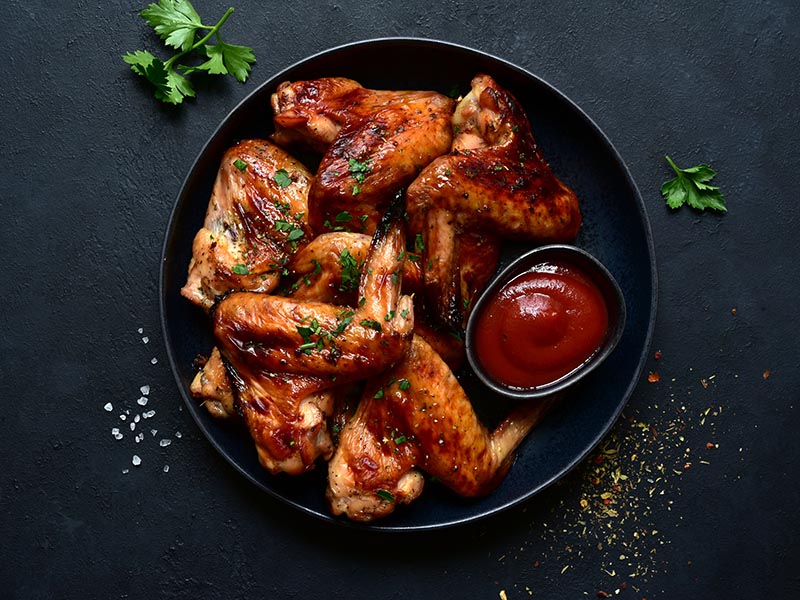 When eating out, I tend to pay attention to 3 things. The food quality, the flavor of the dishes, and the food presentation. At the end of the day, how you present the food decides whether the dish looks desirable to the consumers or not.
At home, I apply the same theory. If the food is well presented, chances are the people are more attracted to it, and the dish is finished the soonest.
When it comes to baking your chicken wings, 400°F never disappoints me. This temperature gets me the most beautiful caramelized golden brown color every time.
Don't forget to serve it with your favorite vegetables, whether raw or cooked, to add touches of colors and freshness to the dish.
How to Store Chicken Wings Efficiently
400°F-baked chicken wings tend to keep their flavor well long after you cook them. Most of the time, I would buy extra wings and make a huge batch, which often leads to leftovers.
It's important to also have some ziplock bags or air-tight containers for leftover food in case you need it. Ziplock or air-tight containers help keep the chicken wings cool or cold without being interfered with by the smell of the other foods or the other way around.
After you place the chicken wings nicely into the ziplock bags or containers, chicken wings can be stored in the refrigerator for about 3 to 4 days.
If you think you won't be eating them again in a few weeks or months, you can store the chicken wings in the freezer. The day before serving them again, you can defrost the wings for 24 hours in advance and reheat them in an oven, a pan, or a microwave.
There are many different ways to reheat chicken wings. Generally speaking, it takes about 5-7 minutes to reheat the wings in a frying pan, around 12-15 minutes in an oven, and just about 3 minutes in the microwave.
Find out how to best store leftover chicken wings from this informative tutorial.
Try These 4 Simple and Tasty Recipes To Bake Chicken Wings
With this recipe, it is important to pay attention to your baking powder and spices for the crispy outer layer of the wings. Then the famous buffalo sauce is made of honey, hot chili sauce, and butter.
Learn the best way to make Buffalo chicken wings with this guide!
Honey mustard chicken is a great dish for parties, using only simple ingredients such as honey, mustard, some spices, and your cooking skill.
Sweet and sour baked chicken wings are famous for the juicy sauce achieved after baking. The sauce is made out of honey and ketchup, brown sugar, soy sauce, ginger, and orange juice. This is a perfect dish to go with rice or stir-fried noodles.
People say everything tastes better with cheese, and I can confirm it. If you are a fan of chicken wings and Parmesan cheese, this dish is something you should not miss.
FAQs
I'm sure with the amount of information you and I went through together, you must be thinking of some relevant questions. Don't worry; I'm here to give you some brief answers to your curiosity.
Now You Know How To Bake Chicken Wings Like A Pro
I believe, at this point, you are more confident with your chicken wing baking skills. You now have a guide in your pocket for how to cut your chicken wings, how to choose the right temperature and period to bake the wings at, as well as some great tips while baking them.
If you have great success with the chicken wings dish with my tips and tricks, I would suggest you share it with your loved ones and show them how you do it. Also, let me know what you like about this post or think can be improved with these recipes or temperature settings.
I look forward to your comments and love! Until the next time!
Nutrition Facts
4 servings per container
---
Amount Per ServingCalories370
% Daily Value *
Total Fat 27.7g

42

%
Cholesterol 84mg

29

%
Sodium 2065mg

87

%
Potassium 198mg

6

%
Total Carbohydrate 17.8g

6

%

Dietary Fiber 0.6g

0

%
Sugars 0.4g

Protein 12.4g

24

%
---
Calcium

22

%
Iron

1

%
Vitamin D

10

%
* The % Daily Value tells you how much a nutrient in a serving of food contributes to a daily diet. 2,000 calories a day is used for general nutrition advice.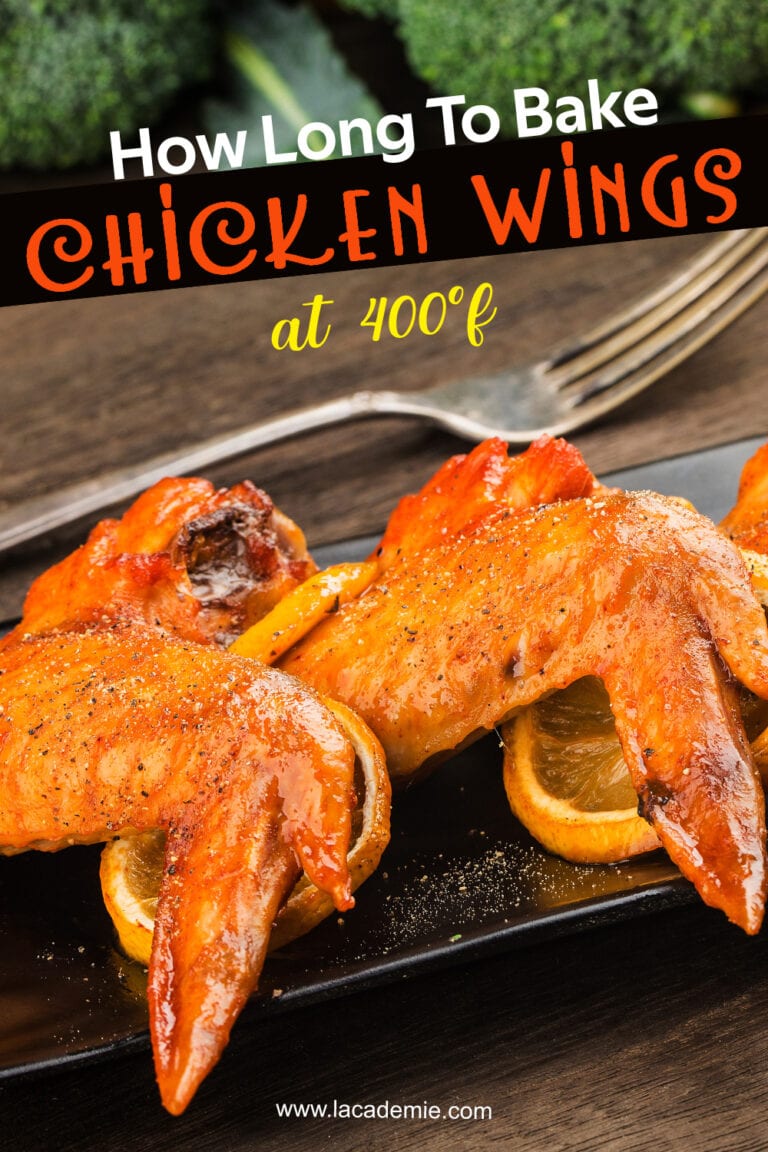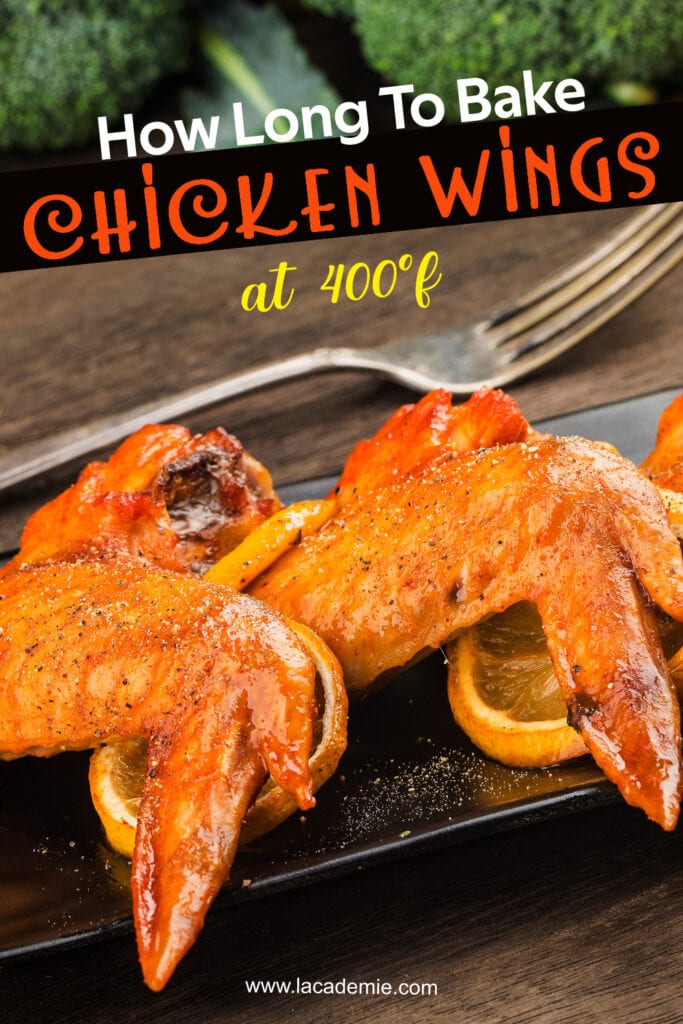 References
FoodSafety.gov. 2022. Bacteria and Viruses.
Health.state.mn.us. 2022. Use Proper Cooking Temperatures to Ensure Safe Food – Food Safety – Minnesota Dept. of Health.