How to reheat chicken wings without softening the cover? This is properly the most frustrating question when it comes to reusing the leftover chicken wings.
Indeed, no one wants to waste food, and there are too many ideas to use up leftover chicken for other amazing dishes. That's why mastering the reheating technique is essential.
You might think the answer is easy, but believe me, there are plenty of criteria that you need to look at before reheating the leftover wings. "Isn't cold chicken edible?" – you might ask. Well, although properly refrigerated chicken is safe to eat, it'll taste better once reheated.
I will show you the perfect method to process those cold chicken wings with different kinds of tools in your kitchen. From the basic oven to the new air fryer, with my instruction, your favorite frozen chicken wings will be as delicious as the new ones.
Now, come with me and find out the secret methods, shall we?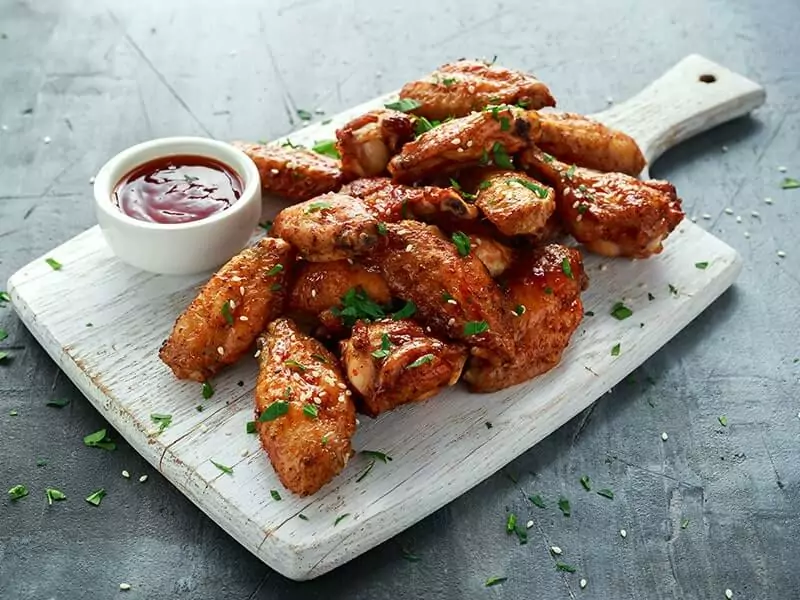 How To Reheat Chicken Wings
Regarding reheating chicken wings, some people will wonder if boiling is suitable for frozen chicken. But there are plenty of ways you can reheat chicken wings; I will show you how to reheat them with some of the most common techniques. Let's go now.
With an oven: An oven is an incredible tool for making delicious chicken dishes. To ensure a mouth-watering meal, you can bake chicken wings at 400 for the right period. In addition, using the oven to reheat your chicken wings is a great idea.
Defrost the wings and reheat them at 350F for 5 to 6 minutes each side. Then check the internal temperature. After that, just dig in.
How about a toaster oven? Can you use it to reheat? The answer is yes. They provide gentle heating to make sure your leftovers come out perfectly. There are dissimilarities between toaster ovens and microwaves, but overall, you can use either of them to warm your food.
With a microwave: After thawing the wings, place a damp towel along with the chicken and heat them in the microwave for 2 minutes (350F)
With a frying pan: Prepare the pan with heated oil, then put the thawed chicken wings in the pan and keep flipping them until both sides are well-fried. If you have a skillet, you can use it too. If you need to decide between using frying pans or skillets, both work fine in this case.
With an air fryer: Place the chicken wings in the air fryer, heat them at 400F for 5 minutes on one side and 3 minutes for the other side.
With a BBQ grill: Prepare the BBQ Grill at 350F and grill the wings for 8 minutes, switch sides and grill for 8 minutes more.
If you want to have a look at further information, don't be shy, just keep scrolling down!
Can You Reheat Chicken Wings In The Oven?
Sure, with the oven, you can reheat your chicken wings in just some simple steps. This is the fasted method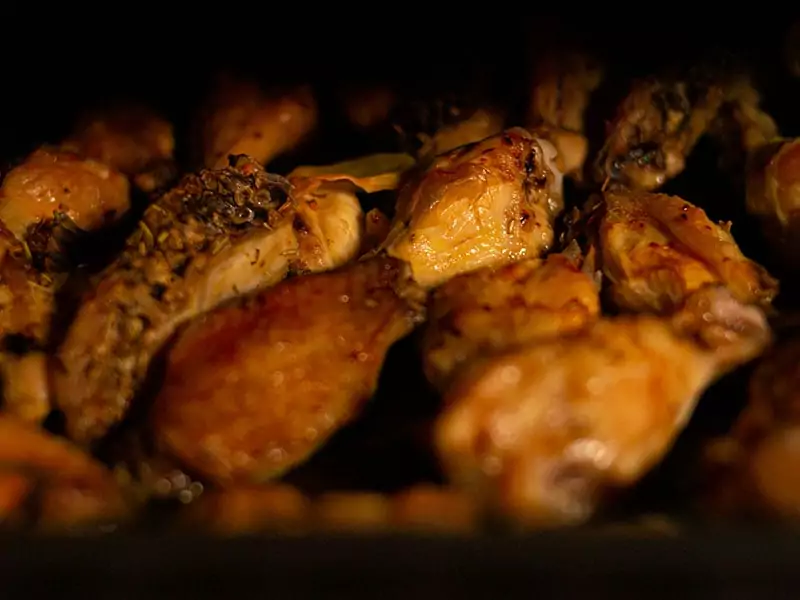 Step 1: Preheat The Oven To 350F
Make sure the oven is heated before you start other steps. Unlike some common thinking, preheating is not a way of wasting your energy. The oven needs time to warm the area inside it.
Furthermore, food like meats, roasts, and poultry can not have a nice brown skin color when cooked in a cold oven. Therefore, preheat the oven at 350F for 5 to 10 minutes to let the oven reach the right temperature.
Step 2: Defrost Them At Room Temperature For 15 Minutes.
If you don't thaw the chicken wings properly, the food will likely be overcooked outside and unheated inside. The cold temperature of the inside will ruin the reheating process.
Take your refrigerated leftover wings out, place them on a bowl and let them thaw at room temperature for about 15 minutes. For frozen wings, thaw them in the fridge overnight.
Step 3: Place Your Chicken Wings On The Cooking Tray And Arrange Them About An Inch Apart.
After thawing the frozen wings, put them on the cooking tray and remember to separate them. I suggest the distance is about one inch.
If you let the wings too close together, the oven might not heat the covered parts, and as a result, that part of your heated chicken wings will not be well-warmed.
Step 4: Reheat The Chicken Wings On Each Side For About 5 To 6 Minutes.
Now, let the oven do its work. Heat one side of the wings for 5 to 6 minutes to perfectly warm them. After that, switch the sides of all the wings and continue heating them for 5 more minutes.
Be careful while switching sides because at this time, the oven is hot, and you might get burnt. Now, after reheating the other side, your chicken wings are super yummy to serve now.
Step 5: Check The Internal Temperature (1)
Just to make sure that the wings are well-heated, you should check the temperature inside the chicken wings with the thermometer. If the temperature reaches 165F, they are good to use now.
If you don't have a thermometer for food, just use a knife to spread the heated wings. If they are warm inside, place them on a dish and dig in.
This method can retain the crispy texture and the initial appearance as much as it can. And do you know what is better? Try to make some side dishes for your chicken wings to make your meal more delightful.
How To Reheat Chicken Wings In The Microwave?
In case that there is no available oven in your house, you can try to reheat your chicken wings in the microwave. Moreover, it is the fastest way to reheat chicken wings.
Step 1: Prepare chicken wings at room temperature
Step 2: Place damp paper towels on the wings to preserve the moisture.
Step 3: Put them on a microwave-safe plate.
Step 4: Reheat them on 350F in the microwave for 1 to 2 minutes
Step 5: Check the wings' texture. Microwave in 20 to 30-second intervals until fully heated.
Step 6: Enjoy the reheated chicken wings
Reheating the wings with this method will dry them out and can not retain the wings' crispy texture. Therefore, trying to access as much sauce as possible while reheating is considered to be the best way to save the chicken wings flavor.
Another suggestion to reheat the wings in the microwave is placing damp paper towels on top of the wings and on the microwave-safe plate. The technique not only helped to reheat but also tender them too.
Always remember to check the internal temperature of the wings, if they reach 165F, they are perfect to use.
Plus, if your chicken wings were covered with oil or butter for the first time, you could reapply a little bit of butter or vegetable oil on the surface of the wings. This action will help retain the moisture of the wings and keep them juicy.
Look at how this chef reheats the chicken wings! Watch this video to know more:
Can I Use A Frying Pan To Reheat Chicken Wings?
If you don't have an oven or a microwave, this method should be the suitable option for you. Like other recommended methods, this one is also simple and takes a short time for preparation.
Step 1: Make sure that the wings have already rested at room temperature.
Step 2: Preheat the frying pan on high heat and add oil or butter.
Step 3: Cook the wings in the heated pan for 2 to 3 minutes until golden. Flip them halfway to make sure both sides are warmed.
Step 4: Display them out and enjoy.
Keep in mind that you need to preheat the pan and make the oil hot. If the oil is cold, your chicken wings will take more time on the frying pan; therefore, absorb more oil. Absorbing too much oil will decrease the crunchy texture of your wings.
This method is super simple and only takes a few minutes. Plus, you can add some extra spices in case the original flavor has changed. And there are various delectable dishes to pair with leftovers fried chicken.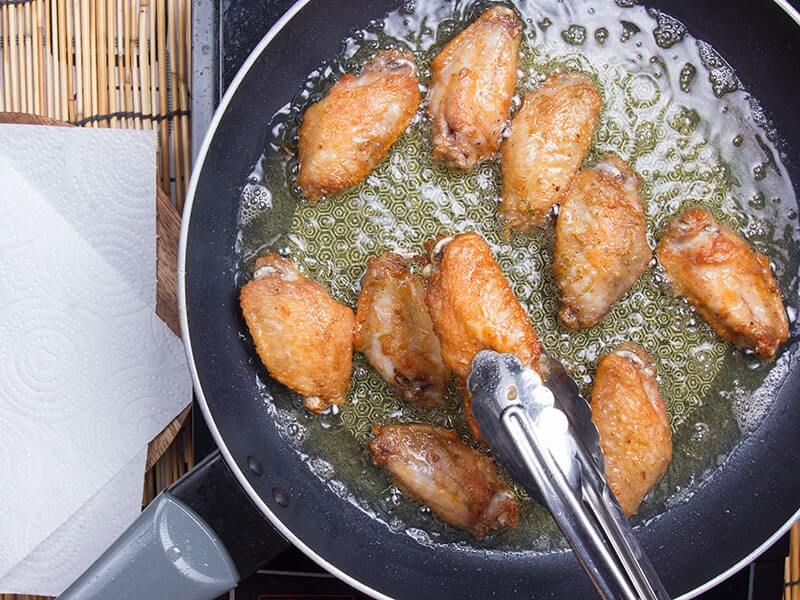 How To Reheat Chicken Wings With An Air Fryer?
Besides reheating chicken wings in the oven, this one is also a great method to reheat leftover wings. In my perspective, it can retain its best performance as it can.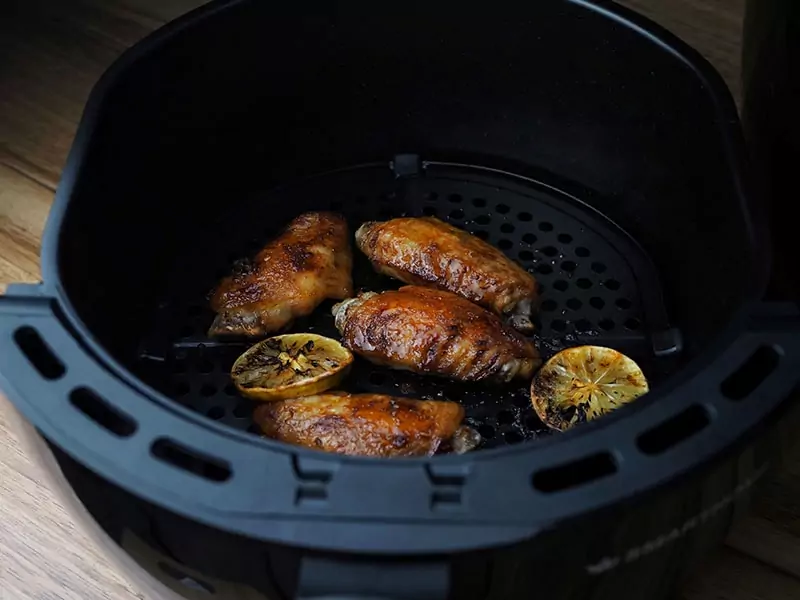 Those chicken wings after being cooked in the air fryer are intensely crispy and juicy as well. To be honest, it looks like the original. In addition, cooking with an air fryer can also cut down some harmful effects instead of cooking in oil.
Step 1: Defrost the leftover chicken wings; make sure that you have already removed all the moisture.
Step 2: Place all the wings in the air fryer an inch apart and set the temperature at 400F for 5 minutes.
Step 3: Then switch sides and heat at 400F for an extra 3 minutes.
Step 4: Take the wings out and enjoy.
Reheating with an air fryer is fast, and the final products will not be too dry. You can apply a similar technique to reheat pizza in an air fryer as well, but do not forget to set the appropriate temperature. Try the mentioned steps and let me know the result.
Check this out! This home chef makes the reheating process so simple.
How About Reheating Chicken Wings On a Grill?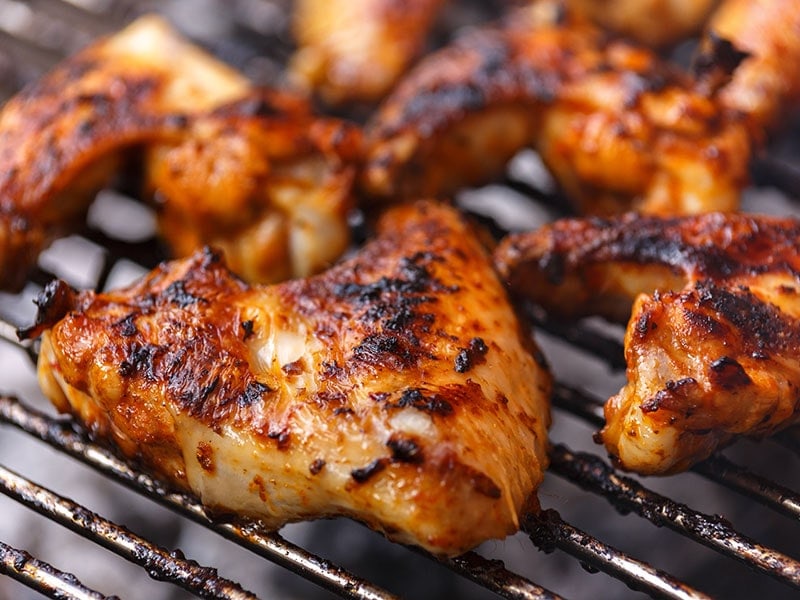 An additional method that you can use to reheat those leftover wings! Especially when they were made with this. So let's take a look at how you can do it.
Step 1: Start heating up the BBQ grill at 350F
Step 2: Put the wings on the grill.
Step 3: Apply oil or butter to prevent them from drying out
Step 4: Grill the wings for 8 minutes and switch sides when the skins are crispy.
Step 5: Check the internal temperature (recommended 165F)
Step 6: Place them on a dish and enjoy.
This method takes quite some time to prepare the burners on the BBQ grill. However, the signature smell from smoke and burning charcoal is irresistible.
If you are looking for a significant flavor from grilling, you have to try this one. If it takes too much time from you, feel free to skip it.
Remember to keep applying the butter or oil because the wings are heated directly on fire so there is a great chance they will lose the juicy taste or even burn out.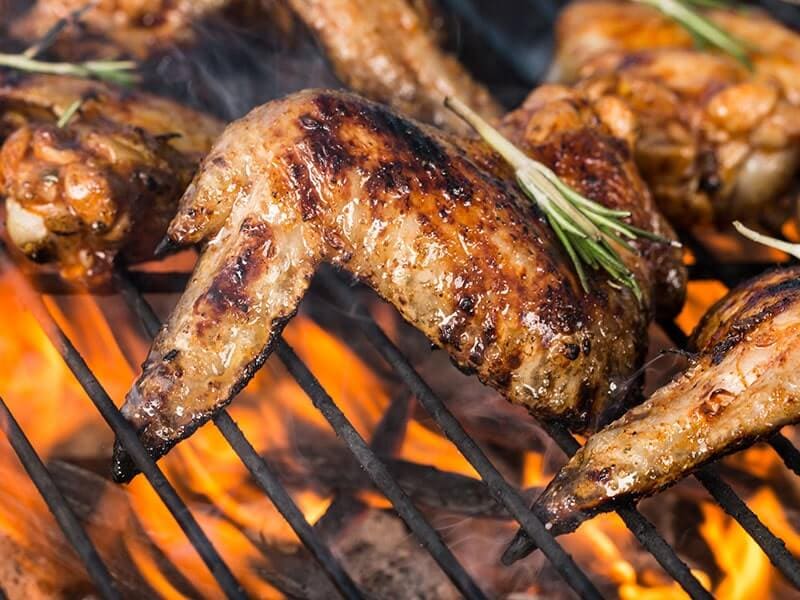 Useful Tips To Reheat Chicken Wings
After successfully reheating some batches of frozen chicken wings, here are some of my useful tips for making them tasty.
Oven Should Be The Priority
In my viewpoint, the best method to reheat chicken wings and avoid drying them out is to do it with the oven. Moreover, it can also limit the moisture to be drained out.
Apply Extra Chicken Fat, Oil, or Butter
It is suggested that you apply extra fat from chicken to keep the juicy taste of your chicken wings. Vegetable oil or butter is also recommended; however, due to the unique smell, you need to pick the suitable one for your dish.
Use A Damp Paper Towel
To sustain the moisture, you can put a damp paper towel on the top of the leftover wings before reheating them. This action adds sufficient water to keep the wings juicy and tender
Also, you can use a sprayer and apply fresh water on the surface of the paper towel. This way is faster and avoids adding too much water when you soak the whole towel into water.
Can You Reheat Chicken Wings Twice Or More?
To be honest, you can reheat the chicken wings many times. However, the quality will unfortunately decrease, and it can affect people with weak intestinal systems.
But when it comes to frozen chicken wings, they have been stored in the freezer for months for later use. Then it is safest to reheat them just once after defrosting.
Furthermore, it is also essential that you properly heat it the whole way through. Therefore, the wings will be entirely cooked, avoiding any bad invading bacteria.
How Long Can You Store Leftover Chicken Wings?
I think you will wonder about the duration and some notes while storing the leftover chicken wings, right? Don't worry, the process is very simple.
If those chicken wings can be used on the same day and you just need to store them for hours. Then, storing them in a fridge and reheating them whenever required. The duration that chicken can stay in the fridge is not too long. In fact, storing in the fridge is only possible for 3 to 4 days, so remember to notice it.
On the other hand, if the chicken wings are going to be stored for weeks or more, then you have to freeze them. Freezing fried chicken properly can lengthen its shelf life significantly.
The packaging is an important step that can decide the quality and the wings' expiry date.
You have to airtight or seal them in storage containers or airtight plastic bags. Once the chicken wings are ready to be placed in the freezer, you should keep them at minus -4oC or below.
Cooked chicken wings are recommended to be stored in the freezer for a maximum duration of 6 months. I usually just finish the rest at the first week to enjoy the best quality.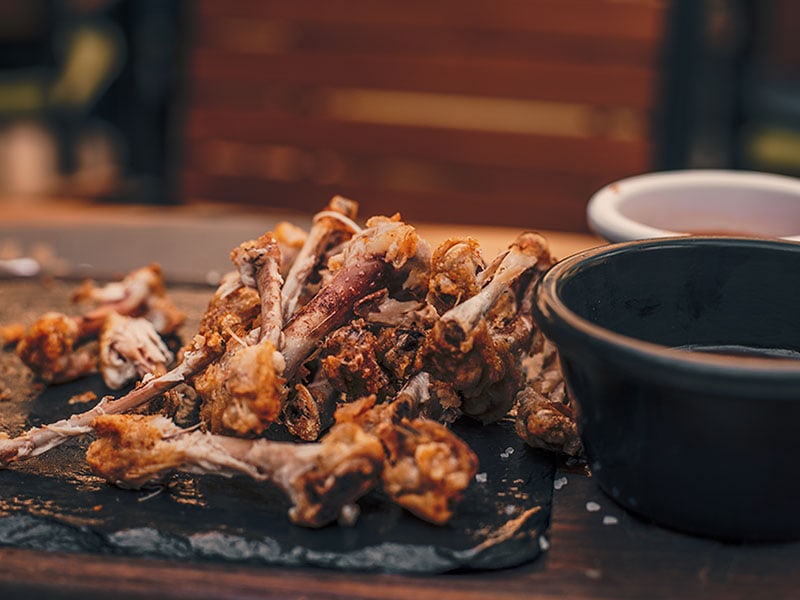 As a matter of fact, while the chicken wings are stored in the freezer, their taste will decrease. Therefore, the longer you store them, the worse the taste will be.
FAQs
I have covered some of the significant notes that you should consider while reheating these crispy chicken wings. Here, I will address more concerns related to this topic, let's have a look at them, shall we?
What Are You Waiting For?
If you accidentally make too many chicken wings and there are some leftovers in the fridge, try my instructions above; I am sure the result will be amazing.
As a matter of fact, the reheated chicken wings may reduce their quality, flavor, and the crispas well. So try to use them all as soon as possible.
I hope you have a great experience when reheating your leftover chicken wings. Let me know if you have some cool tips to make those wings more delicious. Have a nice day!
Nutrition Facts
1 servings per container
Serving Size1 wing (51g)
---
Amount Per ServingCalories131
% Daily Value *
Total Fat 9.2g

14

%

Saturated Fat 2.4g

10

%
Trans Fat 0.1g

Cholesterol 66mg

22

%
Sodium 295mg

13

%
Potassium 145mg

5

%
Total Carbohydrate 0.3g

0

%

Dietary Fiber g

0

%
Sugars 0.3g

Protein 12g

24

%
---
Vitamin A

0.9

%
Calcium

1.3

%
Iron

2.6

%
* The % Daily Value tells you how much a nutrient in a serving of food contributes to a daily diet. 2,000 calories a day is used for general nutrition advice.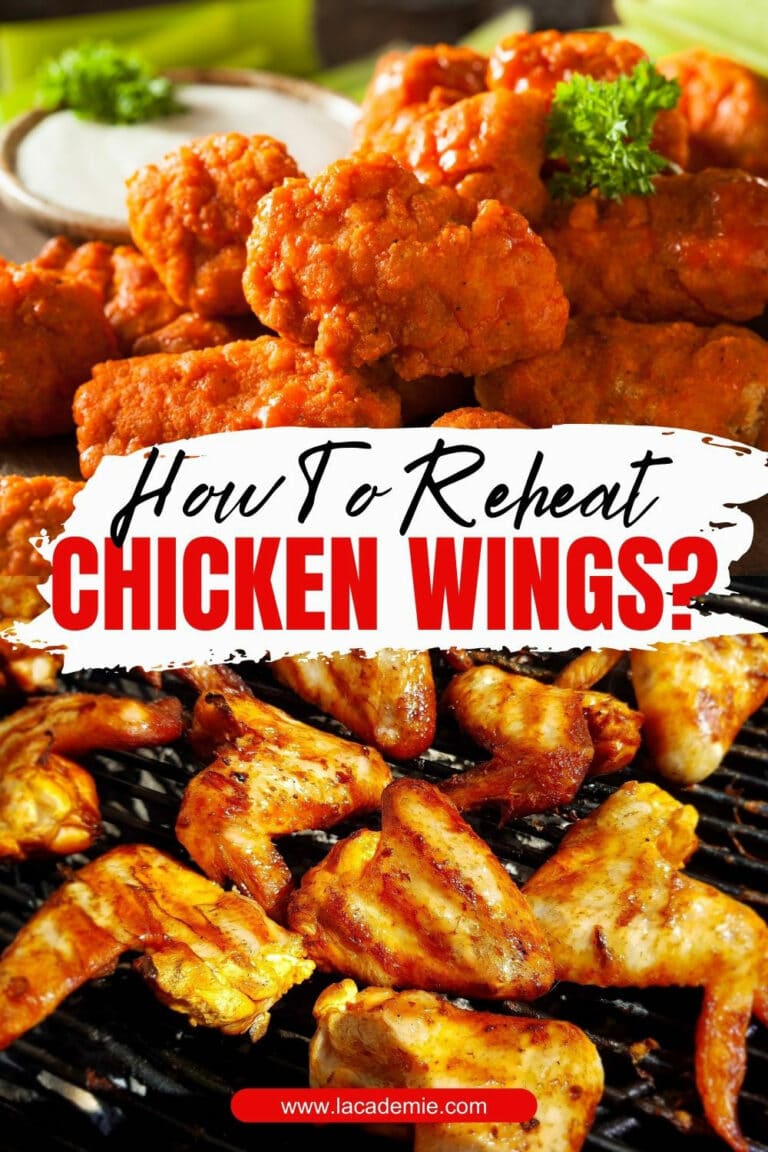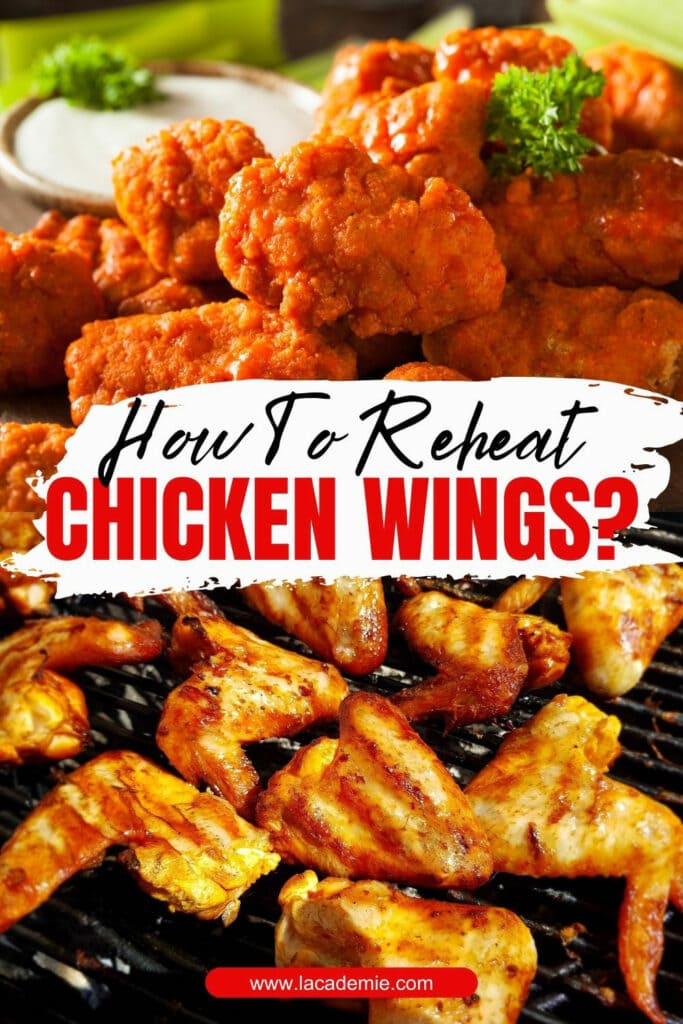 Reference:
Centers for Disease Control and Prevention. 2021. 10 Dangerous Food Safety Mistakes.