The best flour for fried chicken is one of the most important and decisive factors for fried chicken. No one wants to eat a piece of fried chicken that is not crispy and mushy. The reason fried chicken fails so miserably is that you choose the wrong flour for it.
Don't worry. This post is the savior to dispel your worries. Now, I will take you to the world of flour so that you might make the right decisions and cook the ultimate fried chicken on Earth.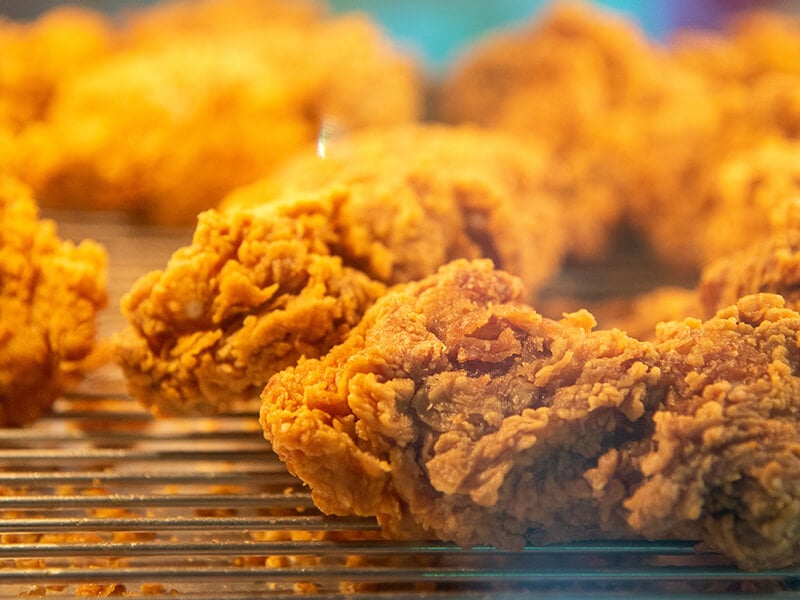 What Is The Origin Of Fried Chicken?
Crispy, golden fried chicken is familiar to people through a series of fast food brands worldwide. Still, not everyone knows the story behind this long thrilling story of this American dish.
When it comes to fried chicken, people often immediately think of fast food restaurants with a menu full of modern dishes, reflecting the development of the food industry. However, breaded fried chicken is a famous specialty of the American South. (1)
People use "Southern fried chicken" to refer to all golden fried chicken recipes and distinguish the typical American version from European grilled and stewed chicken.
Although it is a long-standing specialty, the Southern fried chicken recipe originated from other countries. The first foundation for this recipe was developed from the migration of the Scots to the American South, bringing their crispy cuisine to new lands.
The development of fried chicken is associated with slavery in the 19th and 20th centuries in the United States. Gradually, this delicious recipe won people's hearts throughout the United States. It is also affectionately known as American soul food.
You can learn more about how people raise chickens for fried chicken.
How To Choose The Best Flour For Fried Chicken?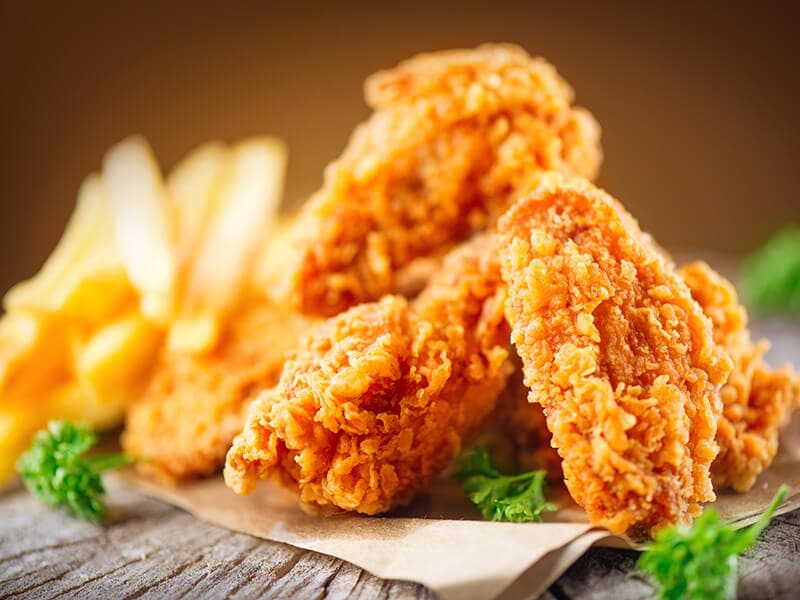 To have excellent fried chicken, one of the most important steps is to choose suitable flour. Here are some principles for choosing the best flour for fried chicken. Go on reading to get useful information.
Flour's Texture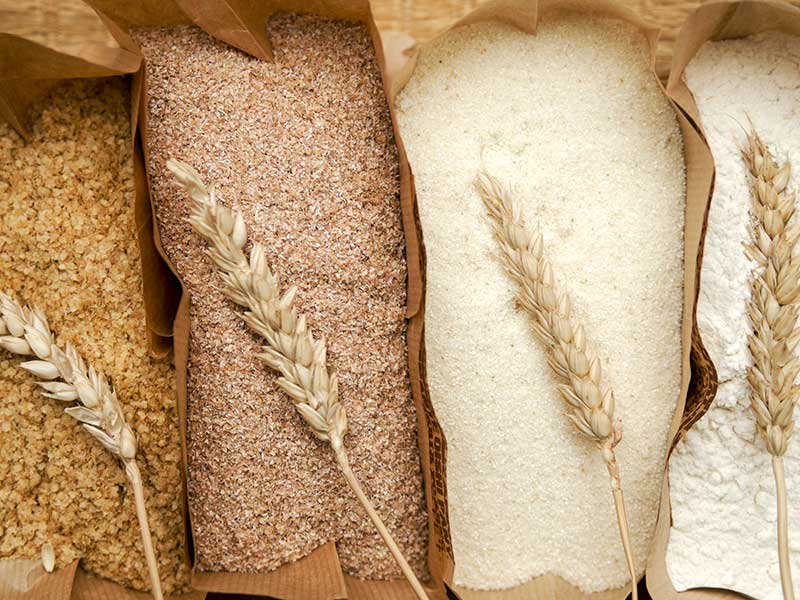 The flour's texture plays the most decisive role in your fried chicken. Because each type of flour has a distinct texture, their batter ratio is also slightly different. Hence, the dough texture used for frying chicken is also different.
The perfect flour is fluffy and clean without clumpiness when touching it. Moreover, the flour must be soft to ensure your fried chicken is crunchy.
Flour's Color
Moreover, choosing the right flour color is also essential for fried chicken and helps your dish be more attractive and tastier, making people engage in eating it. Most flour for making fried chicken is usually white or light brown.
Flour's Price
Nowadays, you can easily find it everywhere with different price ranges, and you can choose whatever type of flour fits your pocket to make brilliant fried chicken on your own at home. Therefore, don't worry about the prices of flour.
Flour's Flavor
A delicious fried chicken plate needs to include many flavors. One flavor that makes your fried chicken successful is the flour base. Since flours come in various flavors, you need to pick the right kind to give your fried chicken the desired taste.
Therefore, it is hard to taste the flour. However, you can probably ensure that the flour doesn't smell weird or sour since it can be rancid.
Best Flour Brands To Select From
Here are some famous brands in the USA market. They all have various kinds of flour for fried chicken with unique features. Therefore, choosing the best suitable flour depends on your needs and budget. No matter what you opt for, the brands below are high-ranking ones.
The King Arthur Baking Company, formerly The King Arthur Flour Company, is an American brand with a wide range of healthy products such as flour, ingredients, cookbooks, etc. Henry Wood founded this brand in 1790.
With over two hundred years of establishment, the company's manufacturers always upgraded the quality of its goods, especially flour. More importantly, its all-purpose flour is from 100% US hard red wheat and is a mild-flavored white flour.
When it comes to Semolina flour, the renowned brand first coming to consumers' minds is Mulino Caputo. Carmine Caputo set up this brand in 1924, and its products are manufactured and imported from Italy.
The reason why Caputo Semolina Flour is famous is that it's all natural and has no additives. Moreover, they manufactured a wide range of various types of flour, serving different personal needs. Especially Semolina flour of this brand which has a yellowish color and is finely ground.
Naturevibe Botanicals was officially launched in 2017 by Mr. Rishabh Chokhani and mainly produced and sold the best organic products available anywhere in the world.
This brand is founded in the USA and aims to encourage inhabitants to choose a nourishing, healthy, and chemical-free lifestyle.
Furthermore, it is gluten-free for fried chicken since it's 100% natural. This brand is famous for its white rice flour, which has a neutral taste and soft texture.
Food To Live stands out because it has a wide range of healthy, natural products. Especially if you are those who are pursuing a healthy lifestyle, then this is the best choice for you. This brand has produced various healthy products, including flour, nuts, spices, grain, etc.
This brand's rye flour is black and rich in nutrients, vitamins, proteins, and irons. Moreover, it is popular for its slightly bitter and nutty taste and its ability to turn brown when cooked.
Among all the brands of chickpea flour, Anthony's Chickpea flour is one of the most famous brands. People have tested and verified its products to be gluten-free. Furthermore, they also supply the vast majority of natural and organic products at an affordable price.
This brand is well-known for its pale yellow chickpea flour, naturally dense flour with a high iron and protein content.
The Outstanding Flours For Frying Chicken
There are many kinds of flour in the market, making you confused about which flour is the most suitable for frying chicken. Don't worry; this part will provide detailed flour varieties you can use for frying chicken with their pros and cons.
| Best Flour For Fried Chicken | Texture | Color | Price | Flavor |
| --- | --- | --- | --- | --- |
| All-Purpose Flour | Coarse and grainy texture (2) | Originally white color | Very affordable | Neutral flavor |
| Semolina | Smooth and slightly sandy | Deep yellow color | Expensive | Slightly nutty and sweet |
| Rice Flour | Slightly leathery and springy | Range from white to brown | Affordable | Brown rice flour is slightly nutty, and white rice flour is tasteless |
| Rye Or Barley Flour | Chewy-yet-tender | Light gray | Affordable | Mild, nutty, earthy, and slightly malty flavor. |
| Chickpea Flour | Dense | Pale yellow | Affordable | Fairly neutral and slightly nutty. |
All-Purpose Flour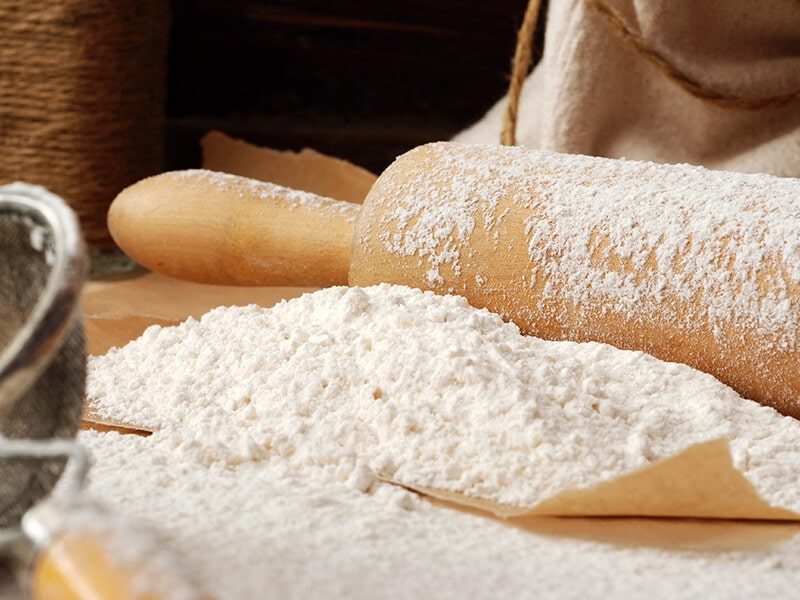 All-purpose flour might be the most suitable for fried chicken, and it is easy to find in all stores, markets, and supermarkets globally. Using it to fry chicken will create a golden-brown coating with a fantastic taste for your fried chicken.
Since its flavor is slightly neutral, you can season it with any herbs, peppers, or ingredients you like. It can also tolerate high cooking temperatures while keeping the fried chicken's taste and quality.
With an affordable price, you can possess good flour for fried chicken. Furthermore, to opt for a wonderful all-purpose flour among various products in the market, King Arthur All Purpose Unbleached Flour is one of the best options for your pocket because it has a low price and a tasty flavor.
Moreover, this brand's all-purpose flour is golden, giving your fried chicken a fancy golden-brown color.
Semolina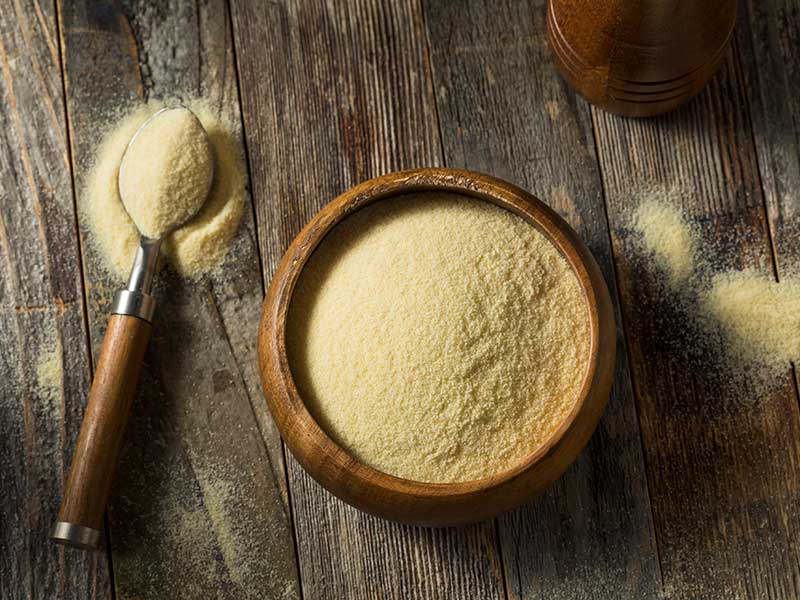 If you prefer your fried chicken to have a crunchy and non-grainy texture, then Semolina is the best choice. It is a kind of coarse flour made from durum wheat. You can combine it with your favorite ingredients and herbs that suit your taste.
Moreover, it is fairly affordable with your purchase and can create an attractive golden-brown outer layer for your fried chicken.
When you use it to fry chicken, semolina will deliver a crunchy texture on the first bite. This kind of flour will enhance your fried chicken to a higher level, making your fried chicken the same as the stores'.
Semolina and ground wheat flour are quite similar, so many people think they can replace them with wheat flour. However, if you do so, your finished fried chicken will be different from what you expected.
Both flours are types of wheat flour, but their textures are entirely distinct. Semolina is more grainy because it is not as finely ground as wheat flour.
If you sink your fried chicken in sauce, the crunchy batter texture won't fall off and will hold together. Mulino Caputo will be an excellent option to start frying chicken.
Rice Flour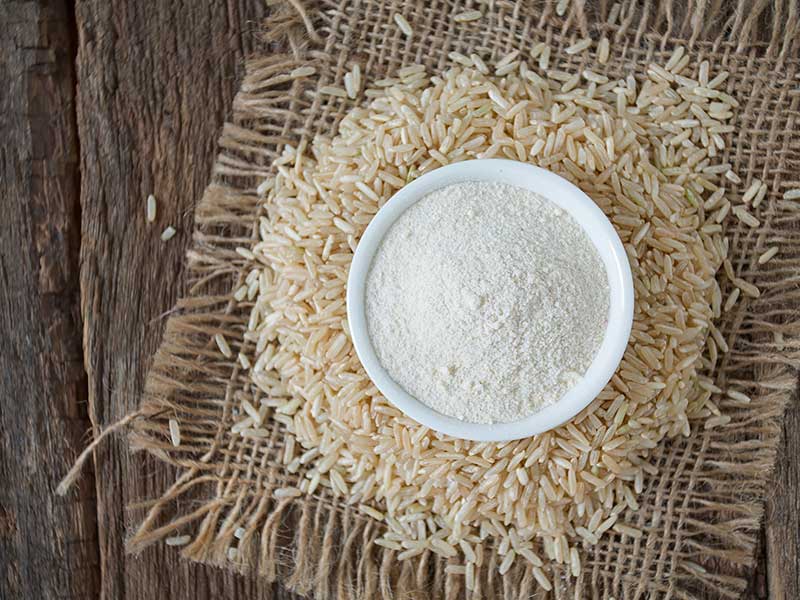 For those who want healthy and gluten-free flour, rice flour will be the top priority for frying chicken. Its slightly leathery and springy texture can help your fried chicken be crunchy on the outer yet moist inside.
Furthermore, rice flour is softer than all-purpose flour, so it crisps up your chicken more than other flour when fried.
If you are trying to decrease the content of calories, you can try using Naturevibe Botanicals White Rice Flour to fry chicken. I believe that its flavor will not disappoint you.
Using this brand's rice flour to fry chicken can help create an excellent coating for fried chicken, stimulate your healthy digestion and supply the best energy source for you.
Rye Or Barley Flour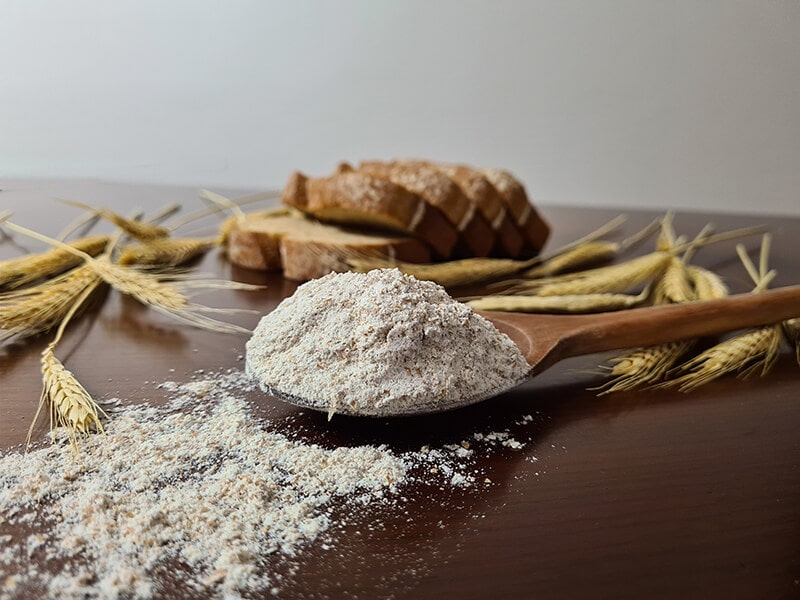 Both of these flours have a nutty flavor to fry chicken. They enrich the recipe's flavor if you want to make every ingredient recognizable. However, it pairs excellently with meat that is darker in color.
Therefore, rye and barley flours can pair with chicken drumsticks or thighs. People recognize both of them for their subtly sweet and nutty flavors. If fried for the appropriate amount of time, they yield a golden-brown layer for the chicken and provide an added fiber boost.
Barley Flour Non-GMO Verified might be an ideal option among a wealth of Rye or Barley flour worldwide with its reasonable price and high quality. Furthermore, this barley flour is made from finely ground whole-grain barley and has a nutty taste.
The sweet and rich flavor adds a new taste to your fried chicken and gives it a more decadent flavor.
Chickpea Flour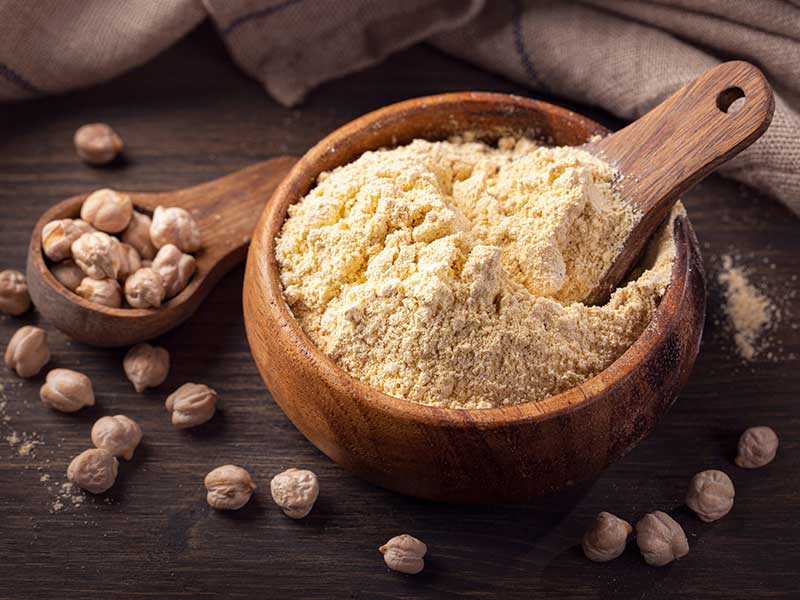 Chickpea flour is flour made from ground chickpeas, as its name indicates. Furthermore, it is a finely ground flour that gives the fried chicken an earthy, rich, warm scent and is also full of nutrients.
In addition, compared to other types of flour in the market, it has fewer calories and carbohydrates, which is advantageous for individuals monitoring their weight.
Correspondingly, you can make your own chickpea flour by grinding up some dried chickpeas. Although chickpea flour has a thick consistency, adding some soda makes for a gorgeously light batter.
Among numerous chickpea flours, Anthony's Organic Chickpea Flour is a good and economical choice for many great fried chicken recipes.
Can I Fry Chicken Without Flour?
What can you do if you don't have any flour for fried chicken at home? Here are some useful tips for frying chicken without flour with just a few steps.
There are many ways to make fried chicken, but using eggs and breadcrumbs as coating ingredients is smart if you don't have flour for coating. Eggs and breadcrumbs can mimic the crispiness of the fried chicken. However, it will not be as crispy as using a flour batter.
You can easily learn how to fry chicken with eggs and breadcrumbs.
Use Cornstarch
Another way to make fried chicken without flour is to use cornstarch, which is quite familiar to Korean fried chicken. Following this method, you only need cornstarch, a cup of pepper, and a cup of water, then mix them all in a shallow bowl.
When the job is done, put in a tablespoon of salt. Next, roll the chicken over the cornstarch, and dip it into the mixture before rolling it over again. Then fry it with high heat, resulting in delicious fried chicken.
This method will be easier to do than using eggs and breadcrumbs. However, the chicken will not be as crispy as the one using eggs and breadcrumbs for coating.
Within a few steps, your fried chicken will be so crispy with cornstarch coating.
Popular Mistakes To Avoid When Cooking Fried Chicken
Although fried chicken is not difficult, you need to know some common mistakes to make a successful fried chicken.
Frying Fridge-Cold Chicken
Frying fridge-cold chicken won't give you a good result. At a low temperature, bringing the cold chicken directly to the frying pan at a high temperature will lead to lots of problems, such as longer cooking time and uneven cooking.
Therefore, you need to let the chicken leave at room temperature for about half an hour before frying to ensure it returns to its original texture.
Skipping The Breading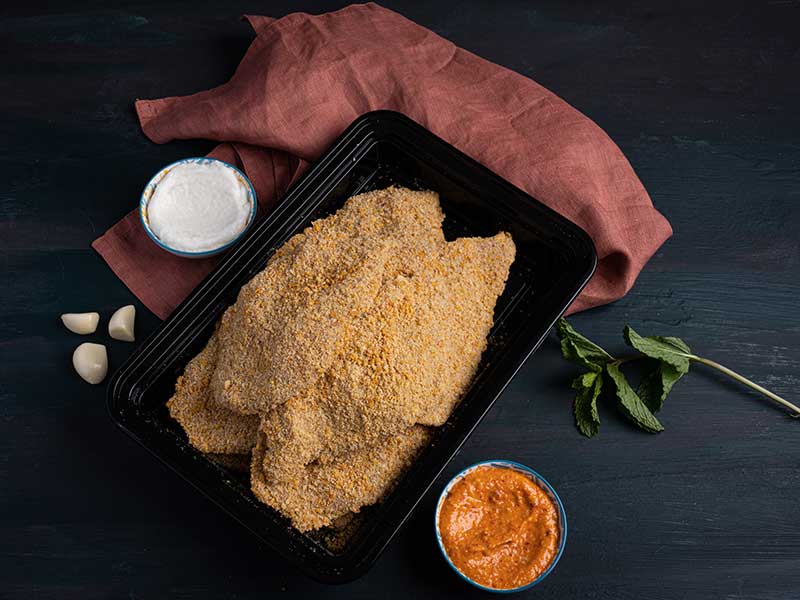 Trying to omit the breading to make fried chicken would be silly. How can your fried chicken be without a crispy crust with an intense taste covered outside? The breading helps form a delicious brown coating for fried chicken.
Moreover, it also creates a flaky crust outside while keeping the meat juicy and tender by sealing the moisture. Therefore, you shouldn't skip the breading process if you want to eat a perfect fried chicken.
Using Wrong Types Of Oil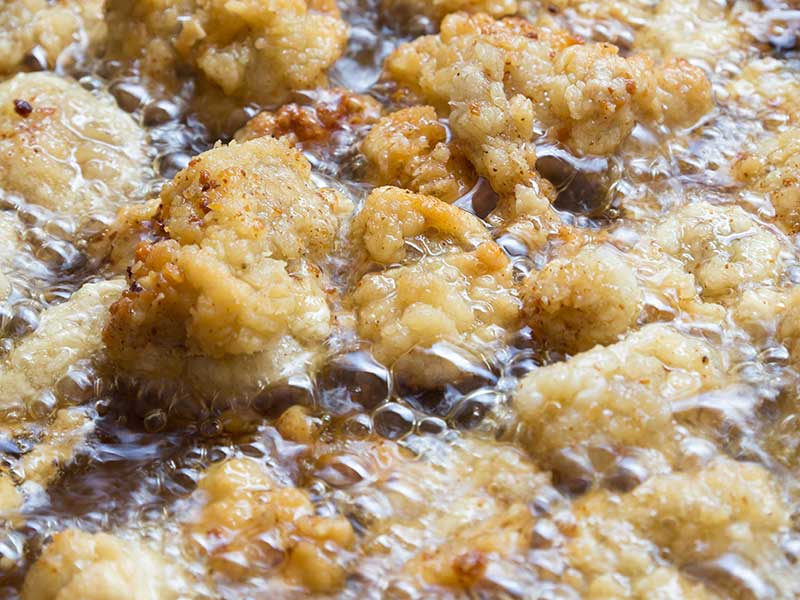 Not all types of oil can reach the high temperature needed for fried chicken, which is about 325 degrees Fahrenheit. Even so, it is typical for the temperature of the oil to change while cooking. Your chicken should cook perfectly if your oil is between 300 and 350 degrees Fahrenheit. (3)
The inaccurate cooking oil can prevent you from making successful fried chicken. Peanut oil, canola oil, safflower oil, vegetable oil, and corn oil are popular choices. Furthermore, the oil I want to recommend for deep frying is vegetable oil.
It has a high smoke point at 428 degrees Fahrenheit (220 degrees Celsius), and you can reuse it after frying. Allow the oil to cool, strain it, and then put it back in the storage container.
Only Using The Drumsticks
A fried drumstick has undoubtedly been so familiar to you that you have seen them in every advertisement about fried chicken. Nonetheless, there are other chicken parts that you can try. You can use thighs, wings, breasts, or even a whole chicken.
Each piece of chicken has a good feature, so don't just think that only drumsticks can make delicious fried chicken.
Not Seasoning Your Flour
Spices are inevitable when it comes to cooking. Thus, adding seasoning, such as salt or pepper, to your flour before the breading process will make the crust outside the chicken more intense in flavor.
Therefore, you must remember to put seasoning into the flour for frying chicken. Otherwise, you will taste nothing but a bland crust.
Learn more about the common mistakes you may make while frying chicken.
Other Irresistible Fried Chicken Recipes
There are a variety of tasty fried chicken recipes with a few simple steps. Depending on your preference and needs, you can pick up one of the fancy ones below for a successful fried chicken.
Suppose you are a lover of sandwiches and the delicious crispy taste of fried chicken. You are looking for a fantastic recipe with the perfect combination of these two dishes. Fried chicken sandwiches with sauce Aioli will satisfy you.
As mentioned before, it is essential to brine chicken before you fry it. With this recipe, you can enhance your fried chicken to a higher level of scent. Chicken brined in lemon brine will create an extremely crispy result.
You will make this tasty recipe with a few simple steps.
Collard is one of the most nutrient-dense vegetables in the world. When combined with the sweet taste of chicken and the fatty flavor of coconut milk, fried chicken is not only crispy and delicious but also very beneficial for your health.
FAQs
Choosing the best flour is very important for fried chicken. To help you know the best flour for frying chickens, allow me to answer several questions people usually ask about it.
Choose Your Best Flour And Start Frying Chicken
Fried chicken is always by far the most favorite dish among all aged social groups worldwide. While making fried chicken is extremely simple, choosing the best flour is the decisive factor in whether your fried chicken will be successful.
However, you need to note that you should not eat too many fried chickens since it can wreak havoc on your health. Last but least, why not like, comment, and share this post? So many people can also know the key to making successful fried chicken.
Paragraph
Miller, A. and *, N. (2021) Fried Chicken's special place in African American culture, American View.
Choose the right flour when baking (2022) UNL Food.
Food Safety and Inspection Service (no date) Deep Fat Frying and Food Safety | Food Safety and Inspection Service.