So, can you boil frozen chicken? Is it good or bad to do that? You can, but the good or bad foods entirely depend on how you prepare them. In this post, I will briefly introduce you to the safe steps to do that.
One notice before diving into the post, when I tell you how to boil frozen chicken, it is not actually that you are going to boil them, but it is more like steaming these frozen chicken. As long as you follow the right cooking rules, you can safely consume boiling frozen chicken.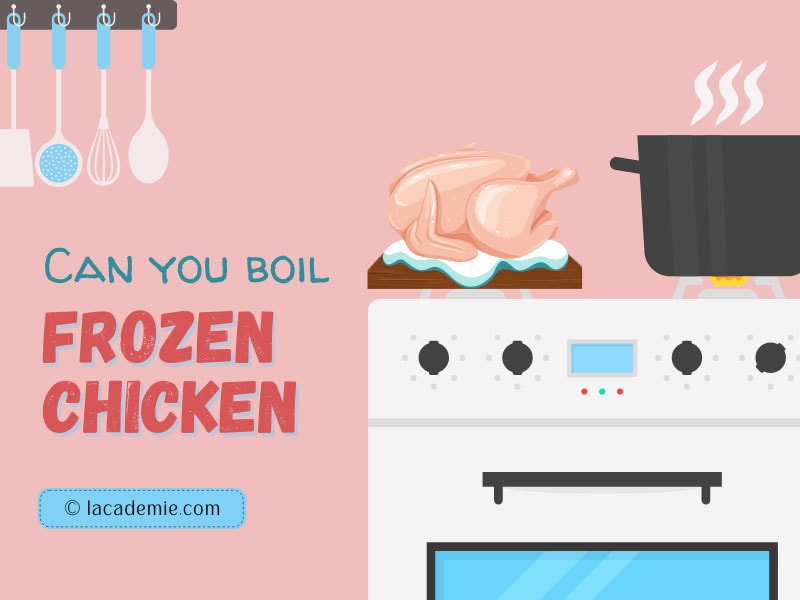 Yes, You Can Boil Frozen Chicken!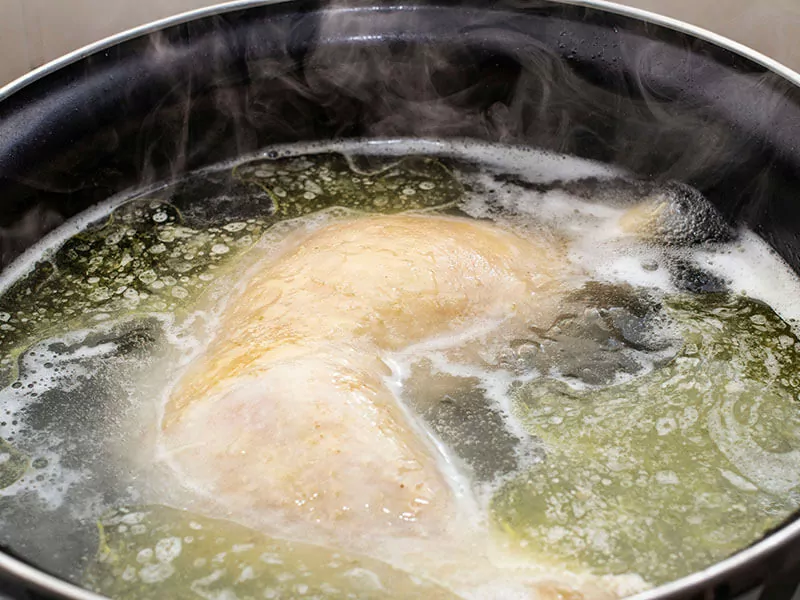 While there are some arguments about whether eating cold chicken is possible, according to the USDA, you should boil frozen chicken to keep your health safe. You don't need to stick with this guideline, but it can protect you from having food-related negative issues in many ways.
Out of the methods you can do about chicken, boiling is the fastest, easiest, and most healthy way to prepare. However, it requires you to take the right cooking time to boil the chicken because either overcooked or undercooked chicken can be bad for your health.
Remember that frozen chicken takes 50% longer to cook. You may want to thaw frozen chicken first to save more time for your meal. However, there are circumstances where you have to make a rush meal with frozen chicken, so let's jump to the next section to find your way.
Thawing And Cooking Frozen: Which One Do You Choose?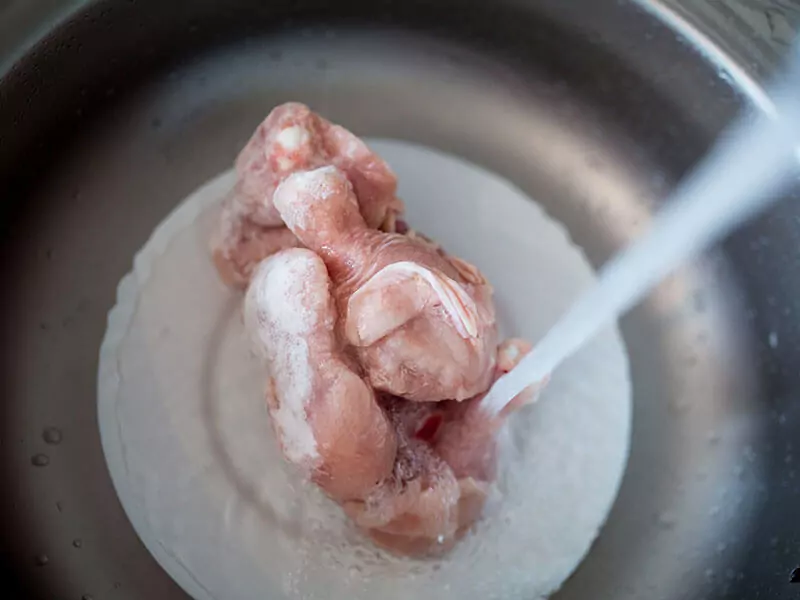 There are arguments on straightly cooking frozen chicken or thawing them before cooking. Let's dive into the details between cooking a thawed chicken and an unthawed one to find out what is more proper to choose.
Thawing Before Cooking
It is a norm for people to thaw the frozen chicken first before cooking. Obviously, doing so will reduce the cooking time. Also, it is easier to cook thawed chicken evenly from the inside out, ensuring the perfect quality chicken meat.
However, the defrosting process can lead to the reproduction of salmonella bacteria when the chicken stays in the danger zone (around 4°F – 140°F). Freezing only sends germs into hibernation, not killing them, so the bacteria will reactivate when you defrost the chicken.
Thinking you're in a dilemma? Not really! As long as you defrost the frozen chicken in the right and safe ways, which I will mention later in this post, you will feel assured to cook them.
Cooking An Unthawed Chicken
If you suddenly find yourself in need of a quick meal without time to thaw the frozen chicken, cooking it directly is totally safe. You can do so with an instant pot or a stove, preferably with low-to-medium heat.
However, this way sometimes can lead to the situation where the exterior is well cooked whereas the interior is still raw or frozen. This kind of chicken is very unhealthy to consume, which leads to Salmonella infection. (1)
In return, you don't have to worry about bacterial growth during the defrosting process. Anyway, follow me to the next section to learn how to boil a frozen chicken without getting it cooked on the outside yet raw on the inside.
How Long To Boil Frozen Chicken
As mentioned above, cooking frozen chicken will take 50% more time than the fresh one. For example, if the recipe requires 20 minutes to cook the fresh chicken meat, it will be 30 minutes to cook frozen chicken meat.
Take into account that it also depends on the size as the time may vary differently for each size. Let's check out the timetable below to boil a frozen chicken.
| | |
| --- | --- |
| Type of frozen chicken | Time to boil |
| A whole chicken < 4 pounds | 60 minutes |
| A whole chicken > 4 pounds | 60 – 90 minutes |
| Chicken wings | 15 minutes |
| Chicken drumsticks | 30 minutes |
| Bone-in breasts and thighs | 30 – 40 minutes |
| Boneless chicken thighs | 30 – 35 minutes |
| Boneless chicken breasts | 15 – 20 minutes |
Let's get into the details of the specific parts of frozen chicken to find the best cooking time for the boiling method:
Whole Chickens
Depending on their sizes, boiling whole chickens will have different boiling times. Make sure to check your chicken weight before putting it under the boiling process.
The medium and small chicken (< 4 lbs) will take about an hour for you to cook.
Meanwhile, you will spend longer on boiling chickens of larger size (> 4 lbs). About 60 – 90 minutes for cooking large chicken.
Chicken Wings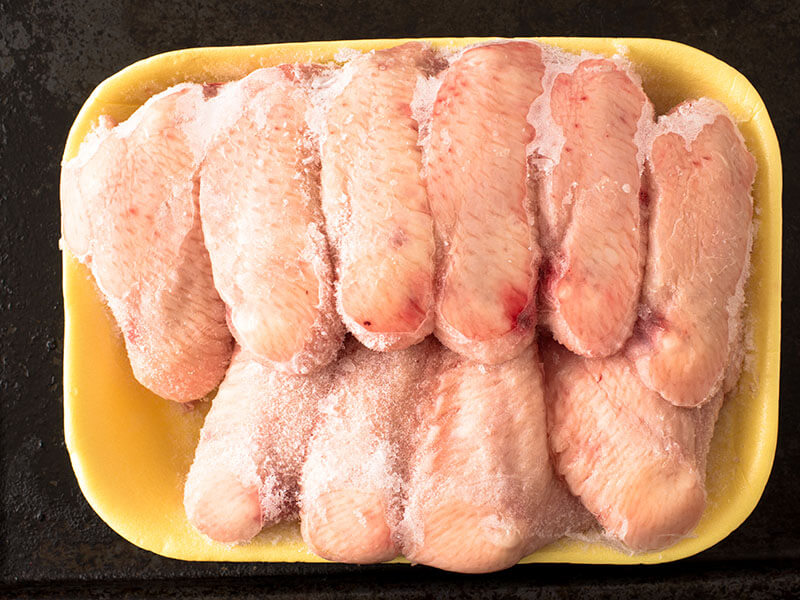 Even the highest-quality frozen chicken wings will take about 15 minutes or a few more to boil. Under freezing, they often assemble as a plump, so make sure to separate them during boiling with a fork.
And although there are different methods to reheat chicken wings, including baking, grilling, or frying, boiling is a necessary step. It makes the later preparation easier.
Chicken Drumsticks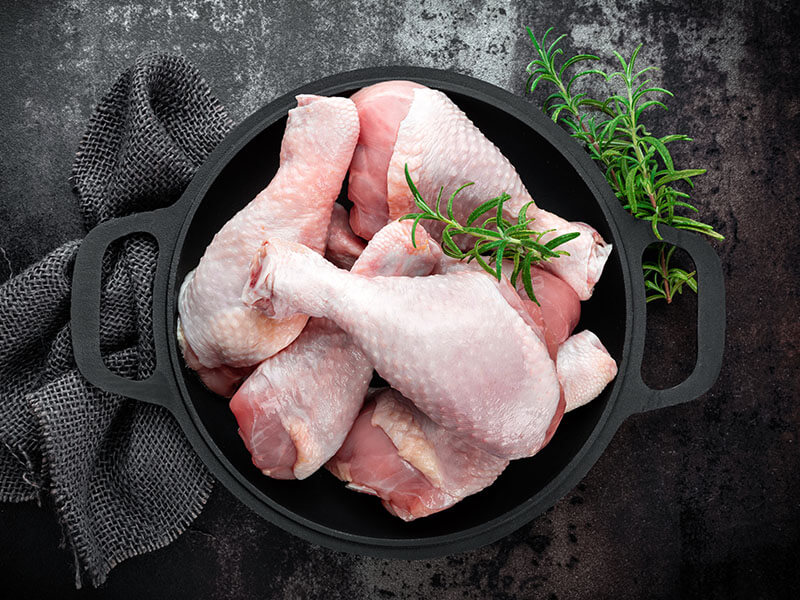 This lower part of the chicken legs requires about 30 minutes to boil. While you have to spend more time boiling chicken drumsticks, you will be rewarded with a sweeter and more savory flavor.
Frozen Chicken Breasts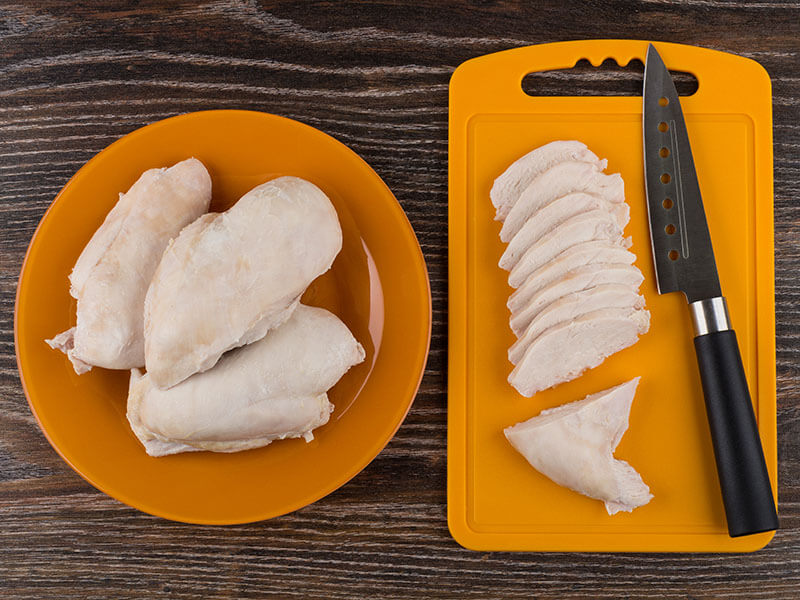 There are two types of chicken breasts: bone-in, skin-on breast, and boneless, skinless ones. The time difference between these two types is not that much, only about 5 – 10 minutes.
Bone-In, Skin-On Breasts
It takes about 30 minutes to cook frozen chicken breasts with bones and skin. You can boil for a few extra minutes if they are larger and vice versa.
Boneless, Skinless Breasts
Cooking frozen boneless and skinless chicken breasts cost less time than the bone-in, skin-on type. It takes about 20 minutes to get this universally favorite cut done. Make sure you do not overcook chicken breasts, or they will become overly tough to chew.
As the breast meat is sweet and aromatic flavorful, you can add some vegetables, seasonings, or dried herbs to make the stock for later use.
Chicken Thighs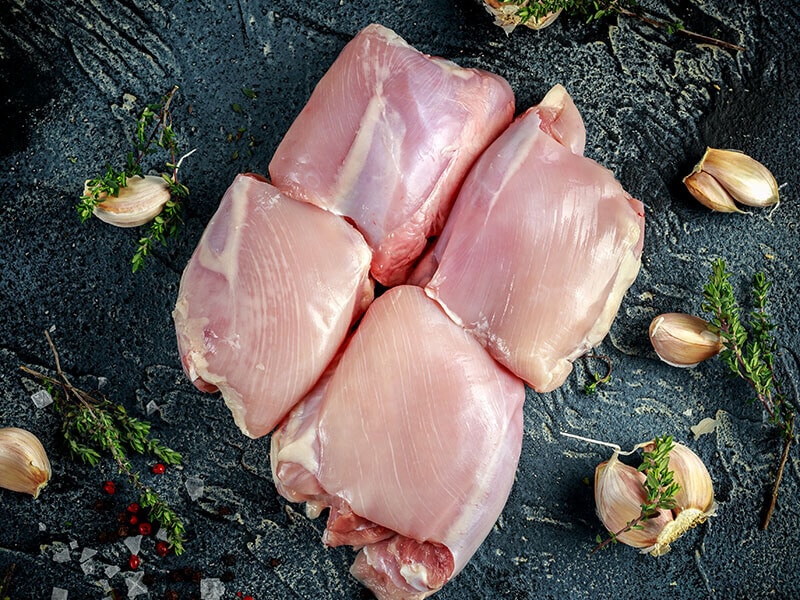 Deboned chicken thighs take less time than those with bones. If you prefer lean meat for your diet, then the boneless type is perfect for you. At the same time, some people pick over bone-in thighs for the sweet juice that runs out from the bones.
Bone-On, Skin-On Thighs
People often compare dark and white chicken meat to different criteria. But one thing for sure: The former will take longer to cook due to the high content of fat and density, so frozen bone-in and skin-on chicken thighs take 45 – 50 minutes to get completely done.
Boneless, Skinless Thighs
The boneless and skinless version of chicken thighs takes about 30 – 35 minutes to cook. When you have the meat done, you can shred or chop it into small pieces to add to many quick recipes such as salad, soup, or sandwiches.
Always Check The Internal Temperature
Any type of chicken cut is fully done when its internal temperature reaches 165°F. You can check by inserting a thermometer into the thickest parts of the meat. If you don't have one, slice the meat to see if the juice runs clear and without streaks of pink.
How to Boil Frozen Chicken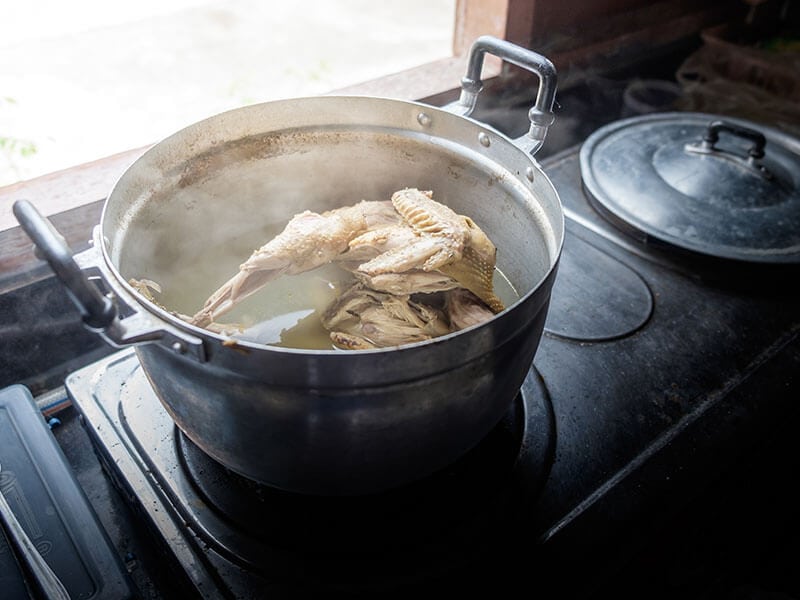 Boiling is a good and safe technique for cooking frozen chicken. Boiled chicken meat tastes a bit bland but still tasty to those who love the flavor and mild sweetness of the boiled chicken meat. Let's get on with the instructions.
Step 1: Prepare The Boiling Liquid
Some people call it a poaching liquid, but the two terms are the same. It can be simply water, chicken broth, or white wine. Then add more flavor by mixing with some spices or stock cubes. After boiling, you can use this liquid as a chicken broth to make other dishes.
Step 2: Boil The Chicken
Add chicken to your pot or pan and pour the liquid in later. A little hack on this process: let the chicken boil to the fullest, then turn the heat down and simmer on medium-high until it gets completely done.
Step 3: Let The Chicken Rest And Enjoy The Food
After boiling, let it rest to cool down for about 10 minutes. You can directly eat the boiled chicken or add them to another recipe. Now you can enjoy your favorite chicken with such easy prep and process.
Having difficulties with boiling chicken breast? Check out this helpful guide!
Some Helpful Tips To Boil Frozen Chicken
Anyone can cook, but not many people know some hacks to make the dish better. Help yourself with these useful tips to enrich your cooking knowledge.
Choose Same-Sized Chicken Pieces
A whole chicken will take longer to cook. Similar-sized pieces of boneless chicken are faster to cook and a preferable option if you have a rush meal. When purchasing a whole chicken, you can cut them into equally small pieces and start cooking them.
Save The Broth For Later Use
You may add seasoning to the broth during the boiling process to use later. Store the broth in the refrigerator for up to 3 – 4 days. If you put it in a freezer, you can save the broth for up to 2 – 6 months.(2)
Simmer Frozen Chicken
Remember the small reminder at the beginning? Don't boil the frozen chicken but rather simmer it away. Leave the chicken and the broth to boil to the fullest, then turn down to medium heat and simmer for a long time.
Avoid boiling them in high heat for a long time, as the chicken meat may risk losing nutrients and becoming too tough to consume.
Skim The White Foam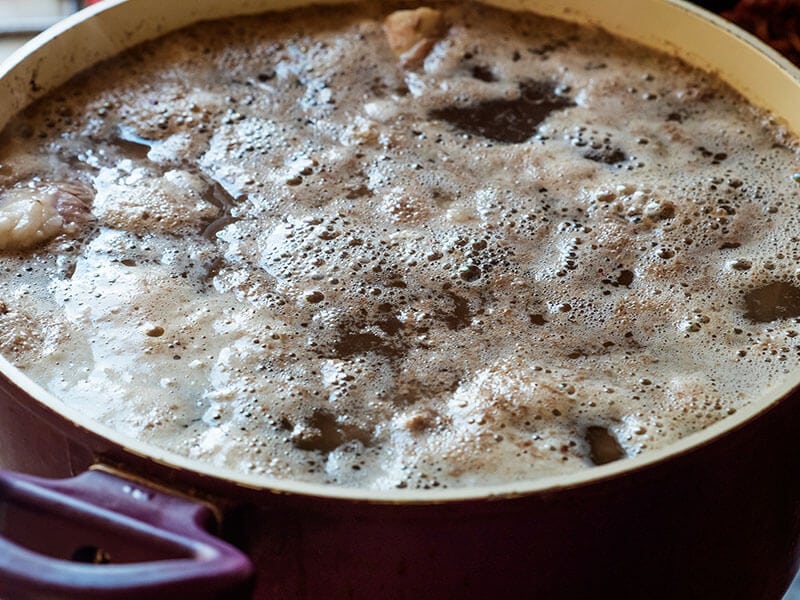 During the simmering, white or brownish foamy stuff appears on the surface. This happens because when the proteins in chicken dissolve in the water, they congeal and rise on the surface, usually mixing with dirt and scum in the broth.
While those foams are nothing harmful, you should gently skim this foamy stuff with a spoon. This act helps improve the clarity of the broth and makes it cleaner to savor.
Improper Way To Cook Frozen Chicken
There are many ways to boil frozen chicken, but some of them are not improper to cook due to the bad effect on the chicken's quality as well as your health.
In A Slow-Cooker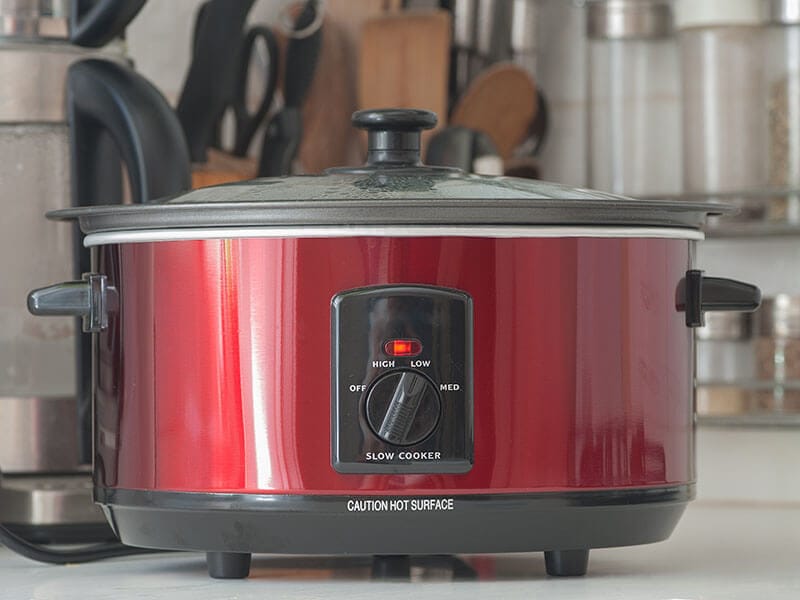 Some people choose to boil frozen chicken as this is the easiest and go-to way. However, it is not a good idea as its temperature is not high enough, which causes the bacteria to multiply under such lower heat for a long time.
It is fine to use a slow cooker for the fresh raw chicken. But frozen chicken? That will be an unwise idea. The device may take about 4 – 5 hours to cook on low heat. I mean, unless you are a busy person, this method is kind of inconvenient.
In An Microwave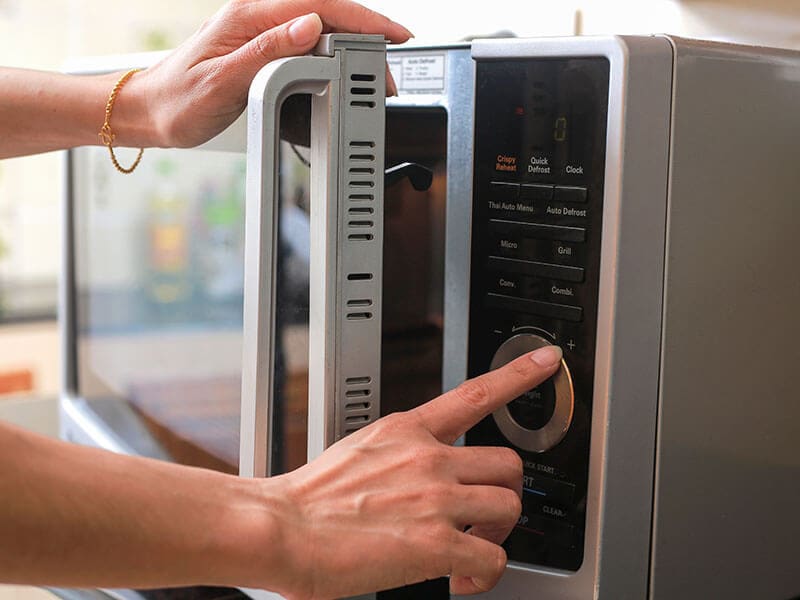 As same as a slow cooker, a microwave cannot provide enough heat to evenly cook frozen chicken. The maximum temperature of a microwave is 212°F (100°C), while most recipes require an average of 350°F to cook a frozen chicken.
For that reason, it takes a very long time for the frozen chicken to reach the doneness. You will have to leave the chicken at an unsafe temperature at which bacteria can multiply. So, in this case, a microwave is not the best choice for you.
In A Grill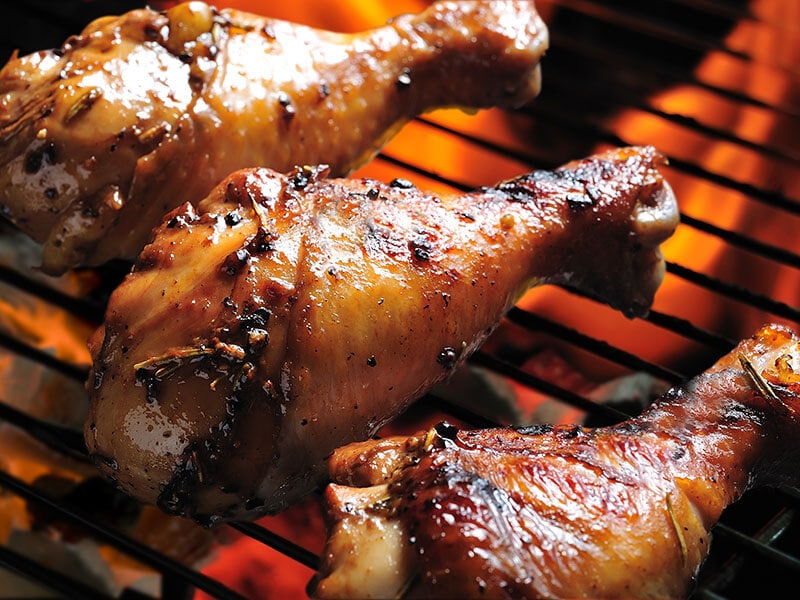 I am sure you will hear this advice at least once, you should not cook frozen products with a grill. And if you cook it without thawing it properly, it can be even worse!
Grilling will have the frozen meat approached directly with high heat, and the following release of excess moisture can make the chicken texture rubbery to consume.
Moreover, such a rapid thawing process can cause the frozen chicken exterior to be overcooked or even burnt, while the inside remains raw.
Must-Know Ways To Safely Thaw Frozen Chicken
There are 3 safe ways to thaw frozen chicken. Make sure to follow these step-by-step instructions to get the best result for your dish (3).
In The Fridge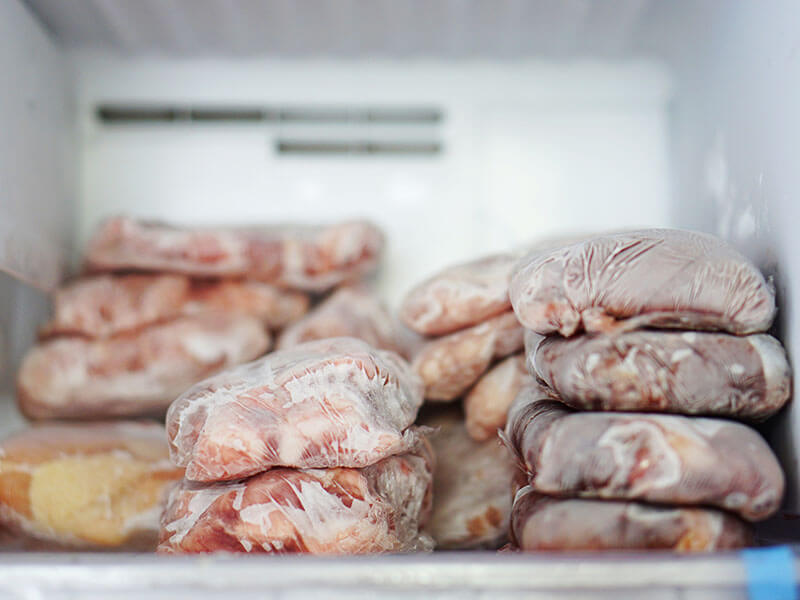 Remove from the freezer and let the chicken be at least 9 – 24 hours in advance in the fridge. Place them in a plastic zip or container before putting them in. The cool temperature can lower the risk of bacteria reproduction.
As it takes a day for you to thaw frozen chicken, make sure to prepare ahead so it will not ruin your planned meal for the next day.
In Cold Water
This second method is much faster than thawing in the fridge. According to USDA, it takes about 2 – 3 hours for frozen chicken to be fully thawed this way.
After removing frozen chickens from the freezer, keep them in an airtight bag or a plastic zip bag to avoid contamination. Leave the bag in a deep bowl of cold water until they are completely defrosted.
Make sure to replace the water frequently (at half-hour intervals) to keep it cold.
In The Microwave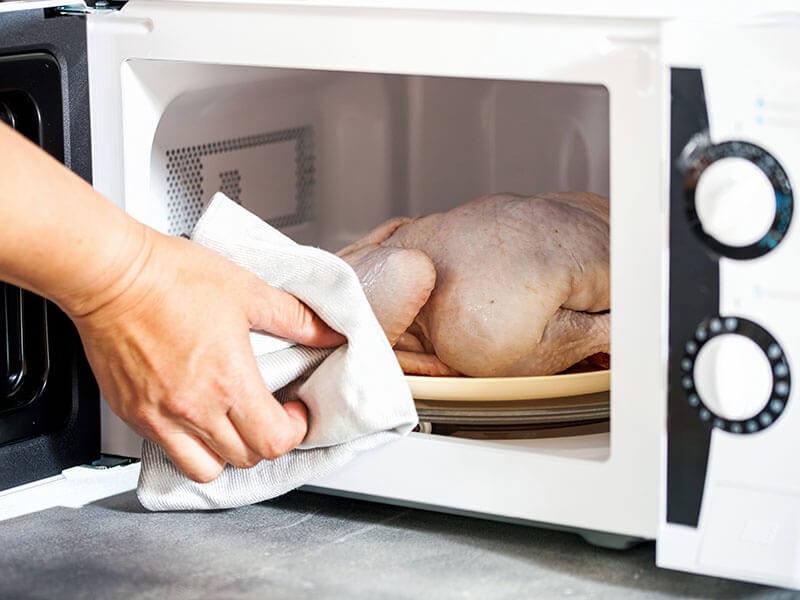 This last method is the easy and quick way to defrost the frozen chicken. Place them on a microwave-safe plate and set the timer for about 8 – 10 minutes per pound.
This method is relatively safe, but you should use the product immediately right after thawing them in a microwave to prevent bacteria growth.
Learn more in detail about the defrosting process by the three methods.
Let's Show You Varied Ways To Cook Thawed Chicken
After you successfully defrost the frozen chicken and want to add other dishes. Here are some ways for you to make chicken tastier.
In An Air Fryer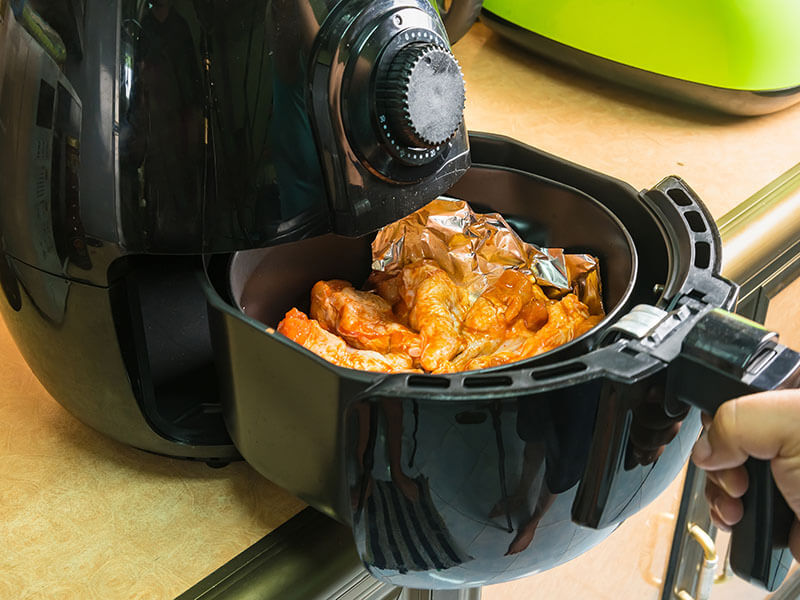 If you have an air fryer at home, make use of this equipment to cook your favorite chicken dish, with some easy steps to follow.
Preheat the machine to 180°C (360°F)
Rub chicken with oil (olive oil, soy-bean oil, sesame oil, etc.)
Sprinkle seasoning (salt, pepper, garlic powder, etc.)
Cook for 15 minutes
Flip and cook for another 5 minutes
Make sure to arrange them in a single layer so all the pieces can be heated evenly.
In An Instant Pot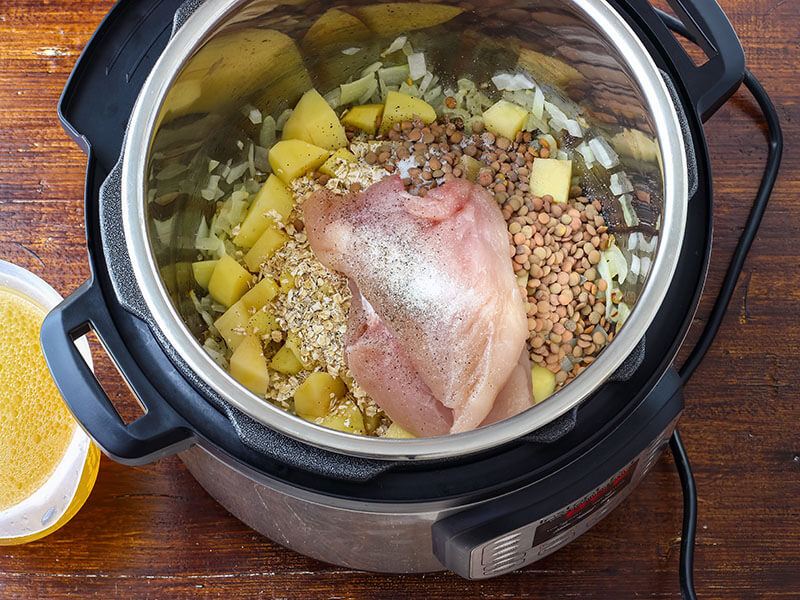 Although the argument between an air fryer and an instant pot hasn't ended, to some people, the latter is a convenient way to cook defrosted chicken. An instant pot is usually cooked for the broth, so if you want to make a hot pot for dinner, use the steps below:
Place it on the pot
Add broth, water, or any liquid mixture that you make
Season with salt and pepper, dried herbs, or broth cube
Cover with the lid, and press the cook button for 10 – 12 minutes
When the time is up, turn off the heat and let it be in the pot for about 10 more minutes
You should use the thermometer to check the temperature before consuming them.
Check out for more easy chicken recipes with an instant pot.
In An Oven
An oven is also one of the essential and easy-to-find kitchen tools. If you wonder how long it takes to cook your chicken legs in the oven at 350°F, you should consider these steps below. They are easy to follow and promise perfect chicken dishes.
Preheat the oven to 350°F.
Arrange a rack in the middle of the oven
Line a baking sheet with foil.
Brush the chicken with your sauces or seasoning.
Put in the oven and start roasting
After time's up, check the meat to see if it's done with a thermometer
Rest it in 10 minutes before cutting
In A Frying Pan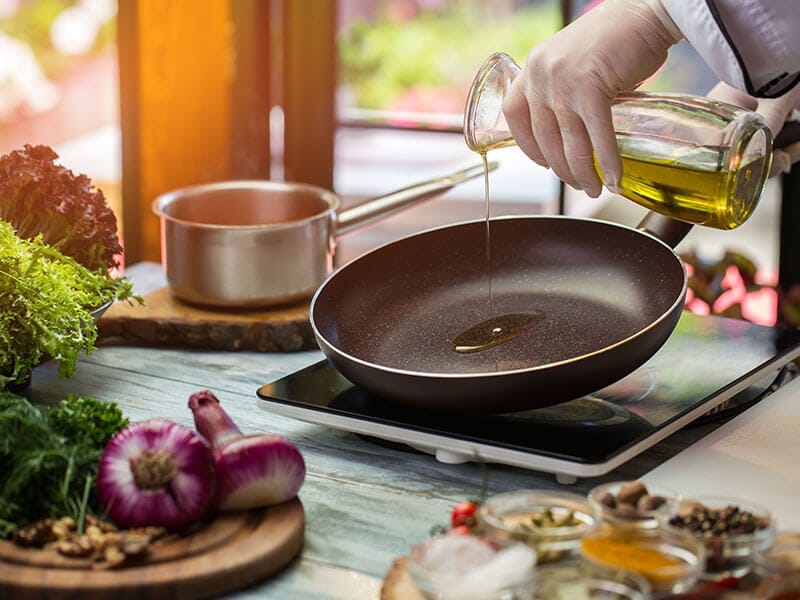 If you are not keen on the time and temperature adjustment in cooking, use a frying pan instead. This every-house-has-one tool can make a great skillet of chicken meat or saute them with butter sauce. But first, you need to follow the basic steps below:
Preheat the frying pan to medium heat
Coat the pan with cooking oil, then place the chicken on
Sprinkle with seasoning
Add ½ cup of water
Then cover with a lid and wait for about 20 minutes in medium heat
After 20 mins, flip the chicken for about 15 more minutes
Have some slight cuts on the chicken so it can cook fully and faster.
Make a fry-pan chicken dish with these easy steps.
FAQs
If you still have any questions about boiling frozen chicken, let's check the section below to help you clear your doubts.
Feel Free To Boil Frozen Chicken Without Concerns!
Chicken is the easiest to cook with various methods and recipes. Nowadays, frozen chicken has become more popular to consume, and boiling is one of the fastest and most convenient ways to well-prepare the chicken for other recipes.
Generally, you can boil frozen chicken. The cooking process is the same as for the fresh one, but you need to extend the cooking time for the best quality and safety for your health.
Now you know what to do in the right way to eat your favorite chicken. Good luck with your cooking! If you find this post helpful, please share it with your friends!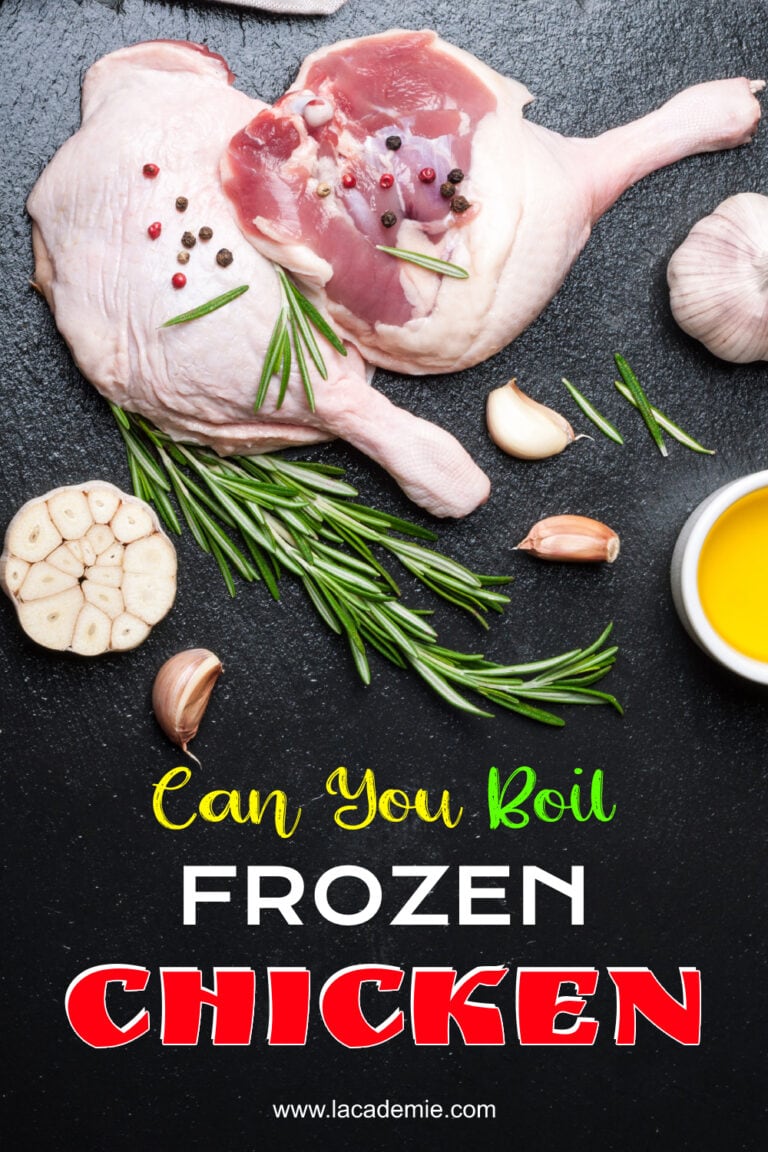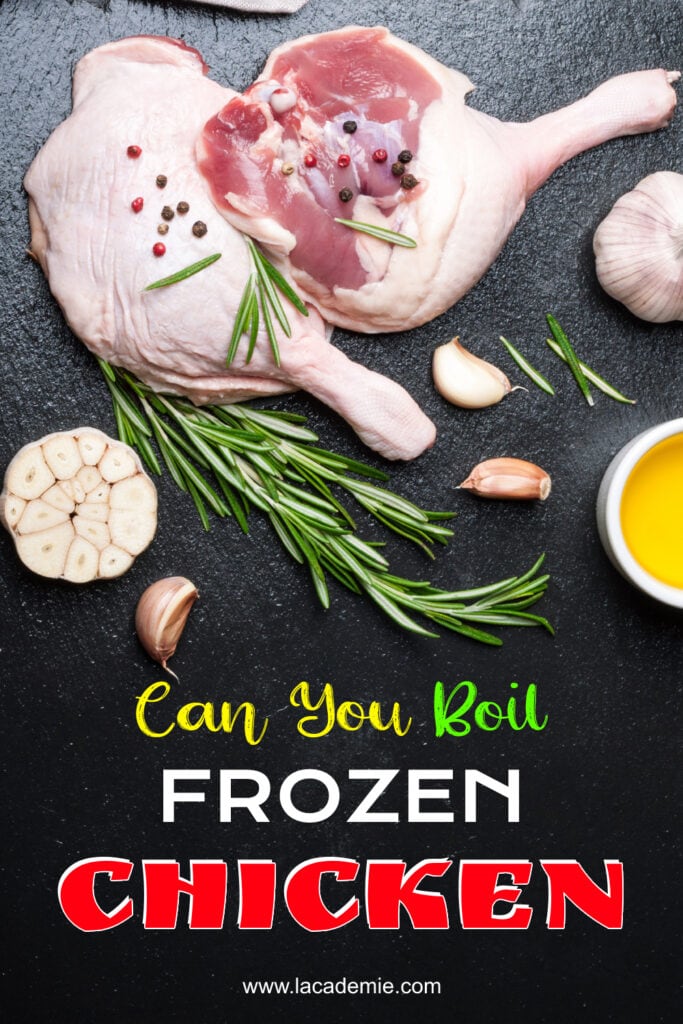 References
fsis.usda.gov. 2019. Chicken from Farm to Table.
foodsafety.gov. 2021. Cold Food Storage Chart.
nea.gov.sg. 2016. Guidelines on Thawing of food.