Now if say, you have a lot of leftover chicken salad. What are you going to do with it? Can you freeze chicken salad?
When it comes to party food ideas, chicken salad is the way to go if you want a simple and filling dish that is perfect for everyone. It also comes with various recipes so that you can easily choose the right one for your taste. Sometimes you can make your own chicken salad by switching a popularly-used ingredient to another one.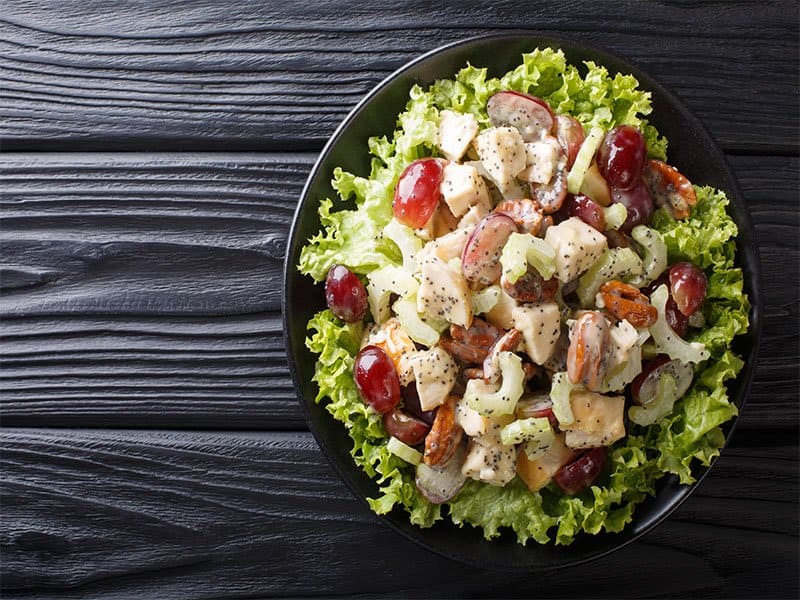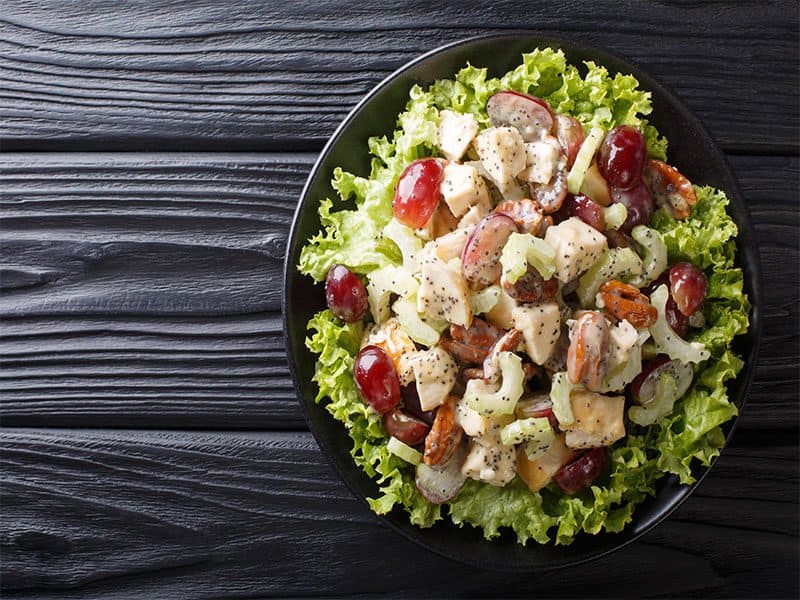 Back to the above question, freeze or not freeze chicken salad depends on what is included on your plate. Mayo? Eggs? Miracle Whipping? Grapes? Or Anything else?
This article will dig deep into this question and find you the most satisfying answer. Let's start!
Can You Freeze Chicken Salad? Where To Begin?
Before deciding to freeze chicken salad or not, you need to be aware of what is going to happen to your dish once thawed.
The good news is that you can still freeze your salads and be successful as long as you do it properly.
Factors to Consider Before Freezing Chicken Salad
Due to mayonnaise-based dressing, chicken salad tends to change the texture considerably after thawing. Because mayonnaise is not a good candidate for freezing. It will split and separate.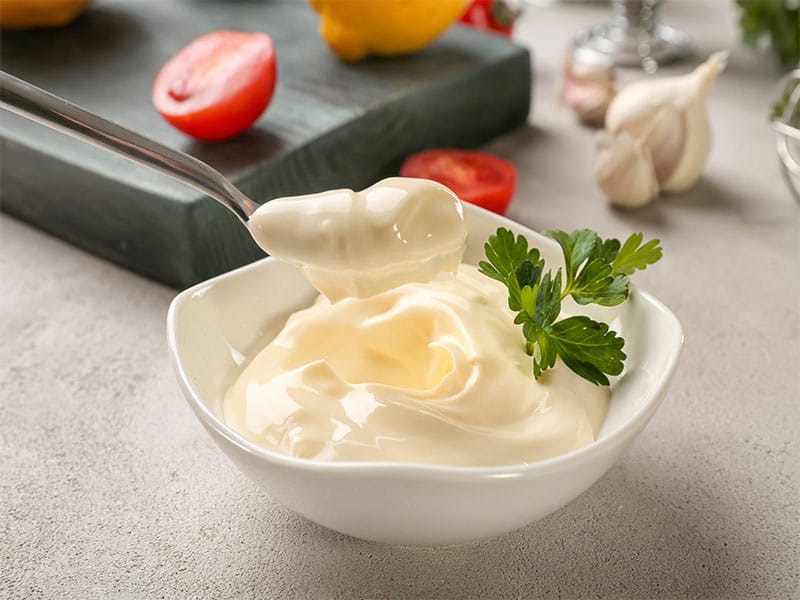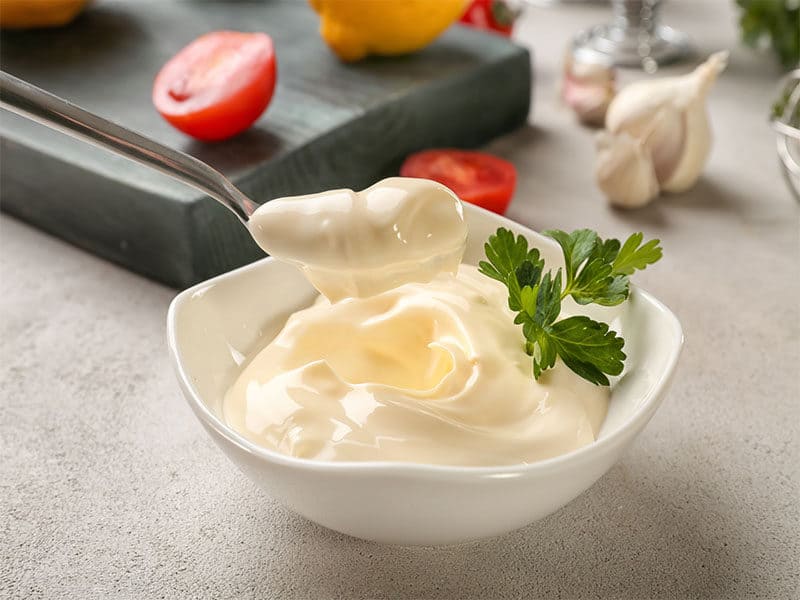 Scallions and celery, which might be included in many chicken salad recipes, also lose their flavors over time.
Eggs also tend to produce excess moisture when they are frozen. As a result, they seem not to be palatable anymore.
Consequently, if you plan to make a large batch of chicken salad, you've better leave some foods that don't freeze well out from the part you're going to freeze.
It's also important to point out that whipped salad dressing could be a good replacement for mayonnaise.
How To Freeze Chicken Salad
The first rule of thumb is that you should never leave your chicken salad at room temperature for more than 2 hours. This might create a chance for bacteria growth which leads to food poisoning.
Then, follow this below step-by-step guidance to freeze your chicken salad appropriately:
Step 1: Pick some high-quality containers that are freezer-safe. And write down the date you start freezing chicken on these containers.
This can remind you how long the dish has been kept there. Any chicken salad that has been stored for more than 3 months should be discarded.
Step 2: Use 2 large spoons to mix the salad all up so that every ingredient is well-separated.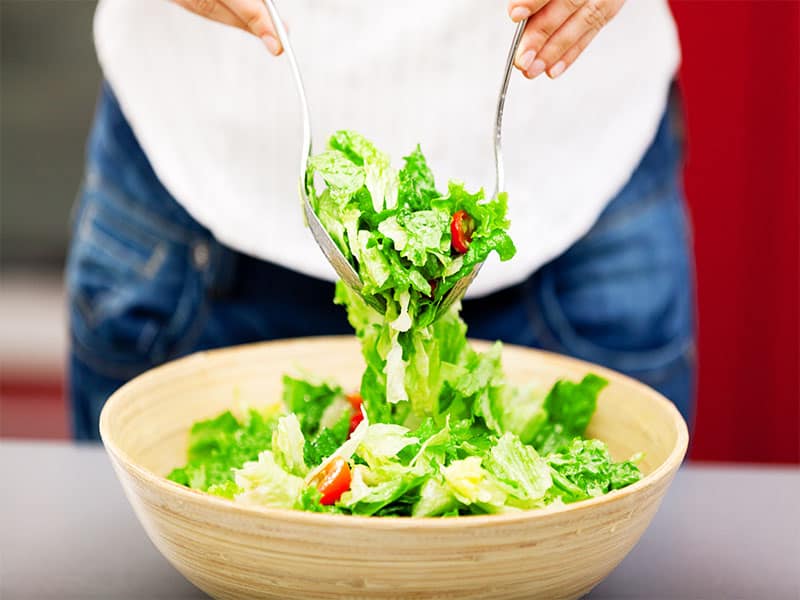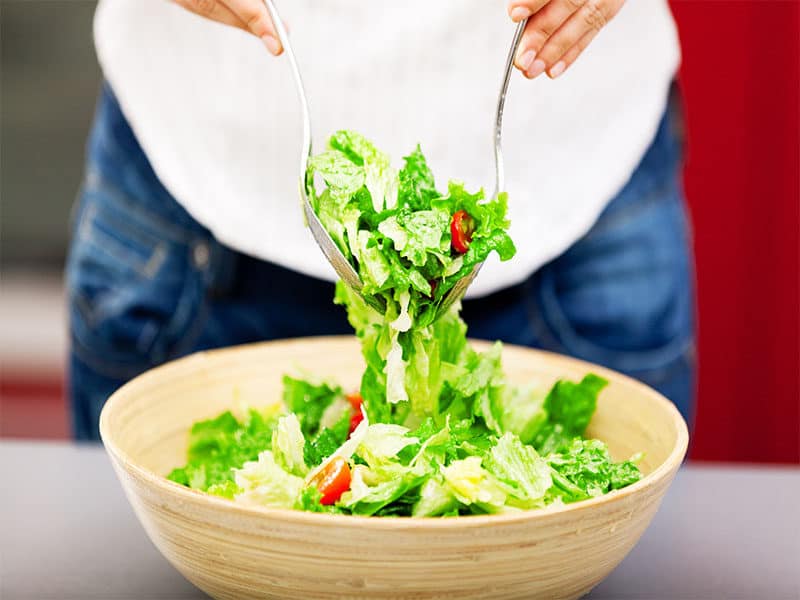 Step 3: Scoop the salad into containers or plastic bags. Remember not to jam-pack too much food at one time. Fill them halfway. As such, it will take less time to thaw the salad when you need.
Step 4: Before sealing the bag, press down gently to remove any excess air. A vacuum sealer might be an excellent home appliance in this case. This way, you can reduce the chance of bacteria growth due to excess air.
Step 5: Place them one by one in the freezer, and everything is done.
Can You Freeze Chicken Salad With Mayo?
Yes, you might be able to freeze chicken salad with mayo. As I mentioned previously, you have to be aware that mayo doesn't freeze well and could separate when thawing. It's important to note that mayo could affect the quality of your chicken salad considerably.
In my opinion, you should avoid freezing chicken salad with mayo and find another way to deal with leftover salads. If you don't want to throw them out, use Miracle Whip instead of mayonnaise because this dressing could stay quite well in the freezer.
Let's discover how to make chicken salad without mayo:
Can You Freeze Chicken Salad With Greek Yogurt?
Greek yogurt might be a top pick for people who love delicious and healthy foods because they are ideal alternatives for mayonnaise. As you might know, yogurt is an excellent source of protein, calcium and also adds unique flavors to your salads.
You can choose store-bought or homemade Greek yogurt which is both delicious and nutritious. However, if you have an excellent machine designed to make Greek yogurt, you'd better go with the latter option. This way, you can avoid any artificial ingredients and fillers.
Like mayonnaise, yogurt will separate once defrosted. The texture of the salad will become inconsistent and even inedible. You might need to consider carefully before deciding to freeze your leftover with Greek yogurt.
Can You Freeze Chicken Salad With Miracle Whip?
It's perfectly safe for you to put your chicken salad, which uses Miracle Whip as a dressing, into the freezer because this product is a freezer-friendly ingredient that you can easily find in any grocery store.
Miracle Whip is made from cornstarch and egg yolks, and it doesn't separate when thawing; therefore, this condiment doesn't turn your salad into a mess as mayonnaise does.
Can You Freeze Chicken Salad With Eggs?
On the list of the things that should never be frozen are hard-boiled eggs because the cooked whites will become hard to chew. Simultaneously, they also release a significant amount of water and make the dish appear less attractive.
You might want to remove eggs before freezing so that you can reduce the risk of spoiling the whole bowl of salad.
Can You Freeze Chicken Salad With Grapes In It?
There are several ways to preserve grapes, each comes with different instructions. Luckily, freezing grapes isn't so hard to do, and frozen grapes are enjoyable homemade snacks that are easy to make and healthy to consume.
However, if you defrost grapes, they tend to become mushy, and it's just no fun eating them anymore.
So, it's highly recommended that you've better not freezing chicken salads with grapes in them.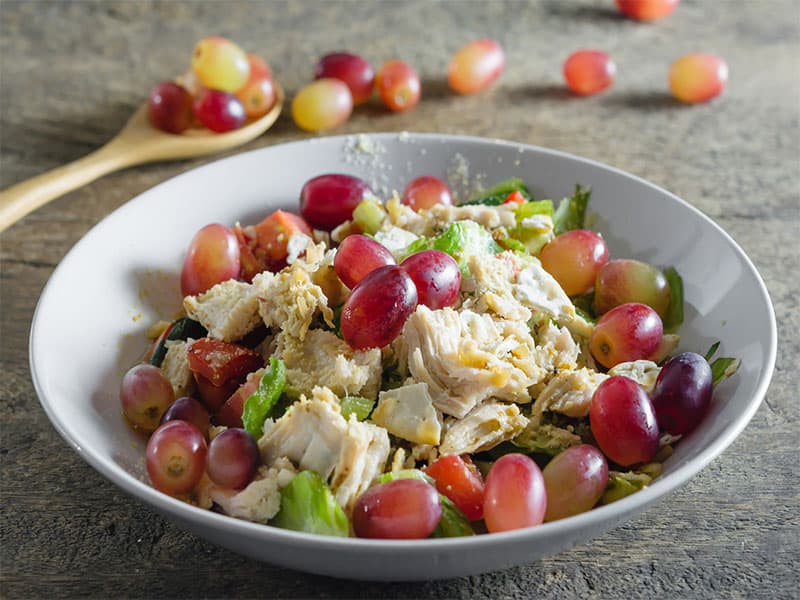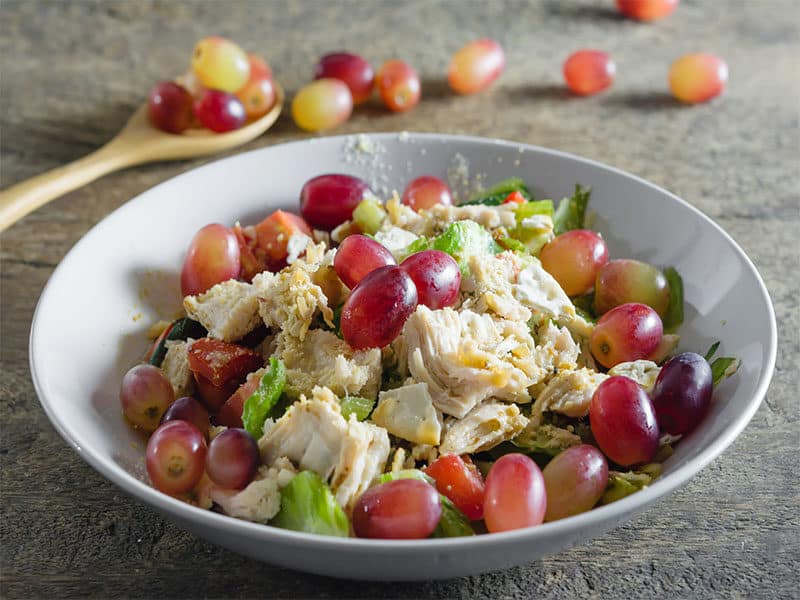 Can You Freeze Chicken Salad With Celery?
These crunchy vegetables like celery can be kept in the freezer. However, the process to freeze celery without losing its flavors and crispness is quite tricky. People often blanch this vegetable first. Therefore, frozen celery is more suitable for soup and hot dishes rather than salads.
However, due to high water content, the stalks might become mushy when thawed. Thus, frozen celery is more suitable for soup and hot dishes rather than salads. You might want to give it a try, but the result is predictable.
Here's how you can make chicken salad without celery. Let's watch now:
Can You Freeze Chicken Salad Sandwiches?
It's best to wrap your sandwiches in plastic wrap and put them into the freezer-friendly plastic ziplock bags so that you can slow down the spoiling of food.
As with chicken salad, you should use Miracle Whip instead of mayonnaise. You also avoid adding celery, grapes, and eggs into the salad. This way, your sandwich can be frozen successfully.
How To Defrost Chicken Salad?
Thawing chicken salad is not quite easy as you might think. Below is the defrosting instruction which you can refer to
Step 1: Move frozen chicken salad from the freezer to the refrigerator. Don't ever leave the freezer bags at room temperature, as this can increase the development of dangerous bacteria.
Step 2: If you're not in a rush, let it sit overnight so that your salad is entirely unfrozen. As I mentioned above, do not remove the salad from the fridge too soon; wait until it's totally thawed.
Step 3: Next, empty the bag into a large container or bowl and drain all the water from your salad. It's a safe bet that once the liquid is removed entirely, the taste of your salad could be much better.
Step 4: Use a spoon to stir your chicken salad slowly and thoroughly. If it appears soggy, add a bit of salad dressing, vegetables, nuts, or fruits to improve the overall texture. Some people might add cornstarch to thicken the salad.
Step 5: You can enjoy your chicken salad alone or use it as a filling for sandwiches. Remember to consume it as soon as possible in a day or two.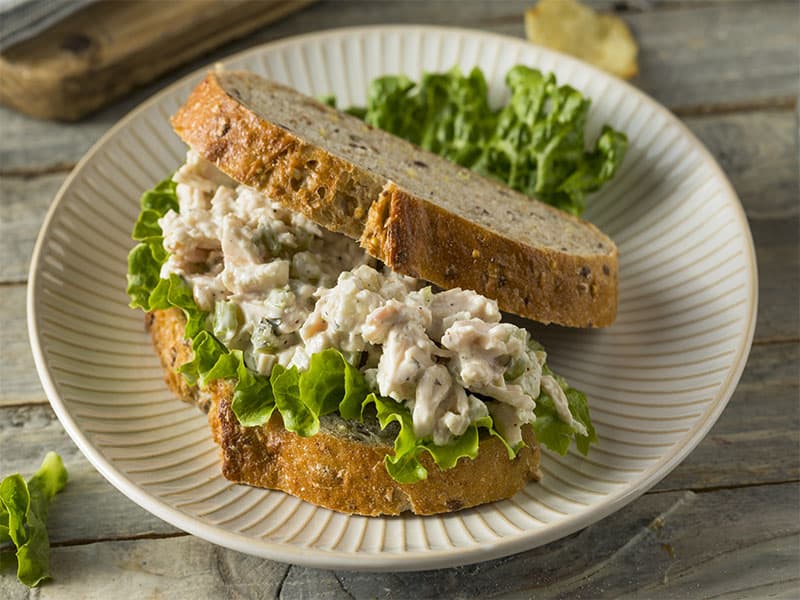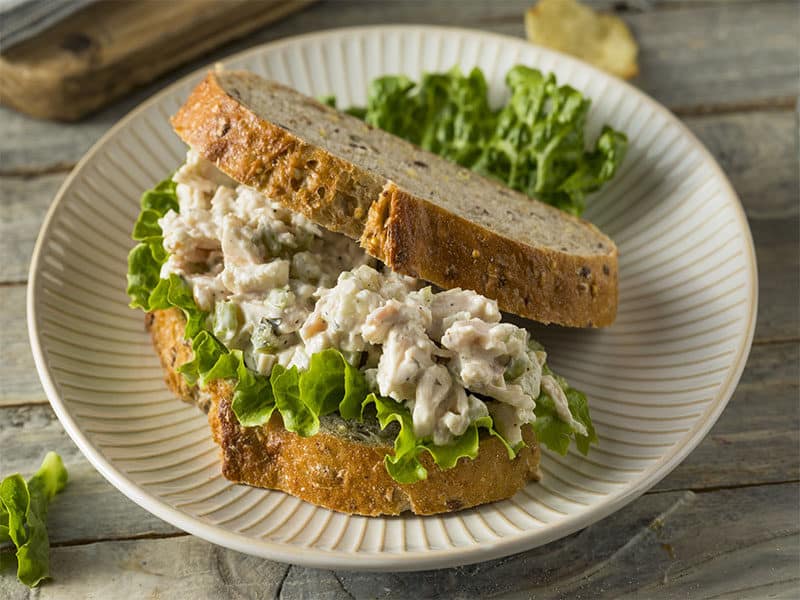 Useful Tips When Freezing Chicken Salad
Chicken salad can easily be spoiled, so it's important to follow some bonus tips to make sure your salad is kept safe until you're ready to consume
Pour off any excess liquid before freezing.
After thawing, if the salad loses its taste, you might want to add a bit of salt and pepper to enhance the flavor. More mayonnaise is also a good idea.
As soon as your salad is done, put it into the fridge and only serve a fair amount of this dish on the table.
Do not leave the food at room temperature for a long time. If it has been placed outside more than 2 hours, I suggest you avoid freezing it.
You could serve chicken salad as a pasta dressing or sandwich filling.
Frozen salad might take more than 6 hours to thaw completely.
Never use a microwave to soften the chicken salad.
Throw away any chicken salad that has been thawed for more than 3 days or left unrefrigerated for two hours.
How To Tell If Chicken Salad Has Gone Stale?
There are some sure signs which tell you clearly whether chicken salad has gone bad and should be avoided at all cost
If you notice any white, black, or green spots, this might be a sign of mold growing on food surfaces that are common in some foods that absorb moisture. If you continue to eat them, you risk a stomach infection.
The color of your chicken salad has changed, and it doesn't look like it's supposed to be.
If your chicken salad becomes tasteless or gives off a rancid smell, this is a sign that the leftover need to be thrown away.
After checking for mold, discoloration and strange odors: if you are still unsure about the condition of the leftovers, check the texture of the food.
If the dish looks sticky or has a drastic change in texture, it is more likely to go rancid.
Discard the salad if you have kept it in the fridge for more than three days or at room temperature for more than 2 hours.
FAQs
When it comes to freezing chicken salads, I've listed some popular questions which you might find helpful and can improve the quality of your frozen dish
Can You Freeze Chicken Salad – The Truth
Can you freeze chicken salad? Yes, you can, but without mayonnaise. Although it's possible to freeze chicken salad with mayonnaise, it won't taste much palatable.
You also need to consider carefully before choosing some perishable ingredients as parts of your salad because these foods can make your freezing process unsuccessful.
If you don't want to ruin a whole batch, test with a small amount of salad first, then continue with a larger quantity.
In my opinion, I don't find freezing chicken salad a good idea. I might prefer to keep it in the fridge and consume it in an allowed time.