How to freeze celery? The need to freeze celery is now high because celery has long been a familiar vegetable in many families' daily meals. However, you are unsure about the best way to do so.
Are you also worried that the nutritional content and taste of celery will change after thawing? My article will give you the best method.
As you go through this article, you will learn how to freeze, thaw, preserve and use celery and enjoy its flavor and nutrition to the fullest. Keep on reading if you want to use your celery most optimally!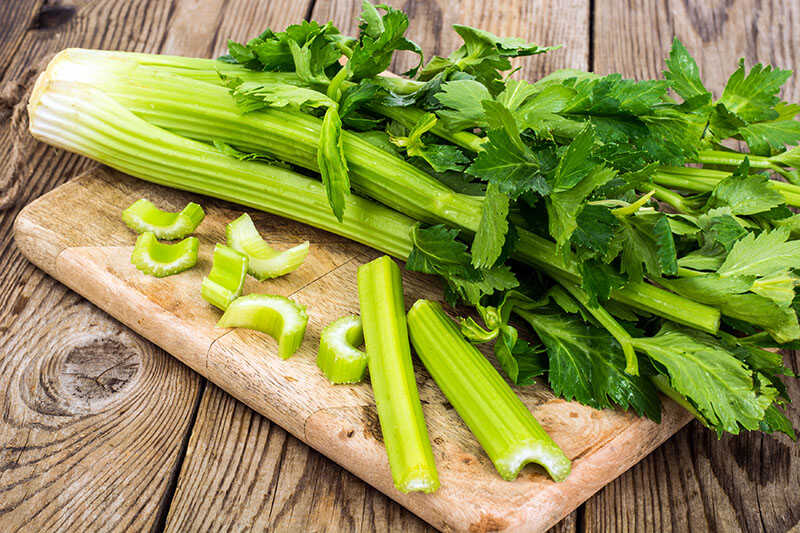 What Is Celery?
Why do many people choose celery? Celery in any type is a miracle food with powerful improvements in health. That is also why millions of people around the world pursue and see it as part of their lifestyle.
So why is celery so popular? What nutrition does it have, and what are the benefits to your health and well-being? Please continue reading!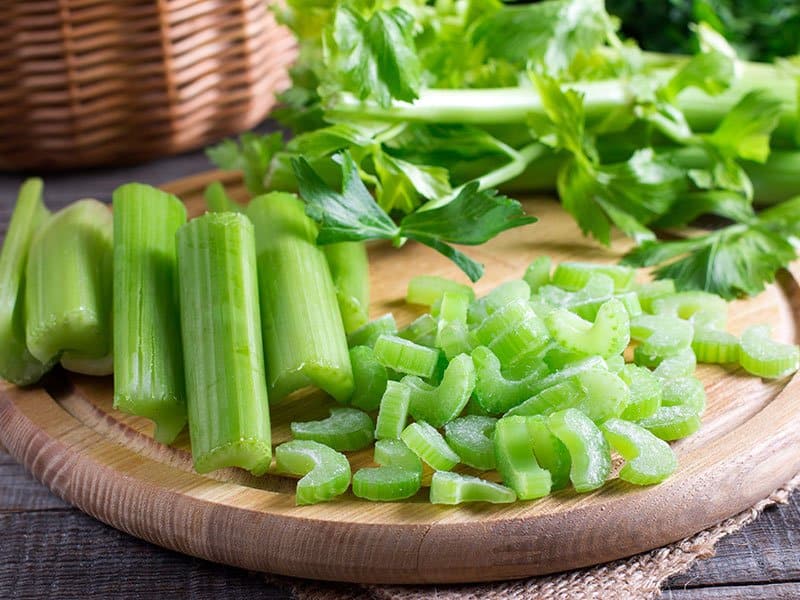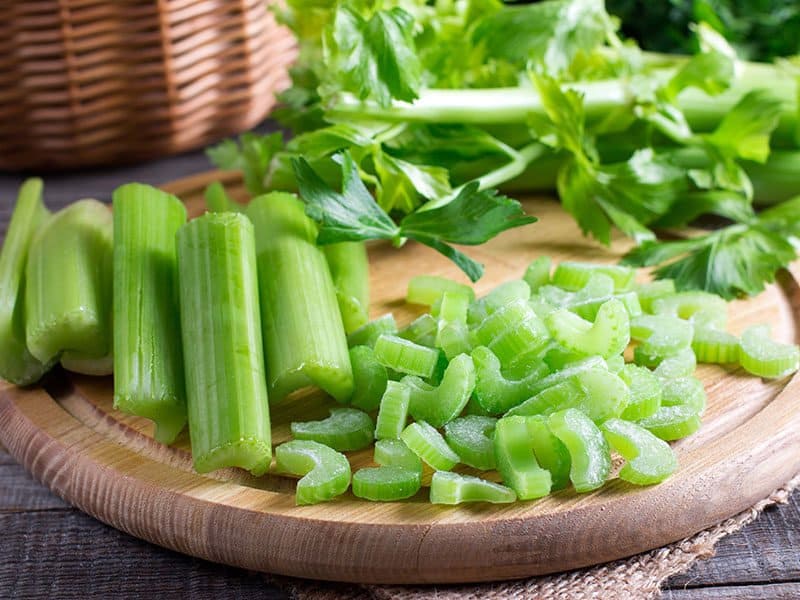 Nutrients In Celery
According to nutritionist Megan Ware, 100g of celery contains nearly 95% water and many vitamins, proteins, and minerals. In particular, the vitamin K content in celery is very high. According to the FDA, 250 grams of celery contains up to 30% of vitamin K that the body needs each day.
Celery is low in calories and starches. 40g of celery contains 6 calories, and 1.2 grams of starch mainly comes from fiber. It contains no fat and is rich in vitamins and fluids such as Vitamin K, A, potassium, and folate (vitamin B9).
In addition, the rich fiber content in celery will support the human body to maximize the absorption of nutrients, limit the harmful effects of toxins and bring a feeling of fullness for a long time, reducing appetite because It has a very effective weight loss effect.
Should You Freeze Celery?
Since celery has so many benefits for the body, you need to add it to your daily meals immediately! And to do this best, you need to freeze it. However, you wonder if you should.
The answer is you can freeze celery. Once frozen, however, the celery loses its crispness. This means that eating raw is no longer a good choice, and neither are dishes that call for celery's crunchiness.
For this reason, you should only use frozen celery in hot dishes like soups and stews. You can also use it to make a smoothie or juice. If these restrictions do not matter to you, then continue to learn how to freeze celery properly!
How To Freeze Celery
So, are you impatient to know how to freeze and properly store so that you can extend the maximum time celery can stay fresh? Please follow 7 simple steps below:
Step 1: Prepare
You need to prepare some simple kitchen tools before freezing celery: A large water pot, a bowl of ice, a baking sheet and parchment paper, a zip freezer bag, or a good freezer box, a baking sheet, and parchment paper. You can also use other heat-resistant and non-stick sheets as replacements for parchment paper.
Step 2: Wash Celery
Cut off the root of celery. Rinse the celery body thoroughly by gently rinsing each branch under clean, running water. Use your fingers to rub along the side of the celery to remove any remaining dirt.
Wash one branch at a time. Do not wash together in a basin of water. Wash the celery gently so as not to break or crush it.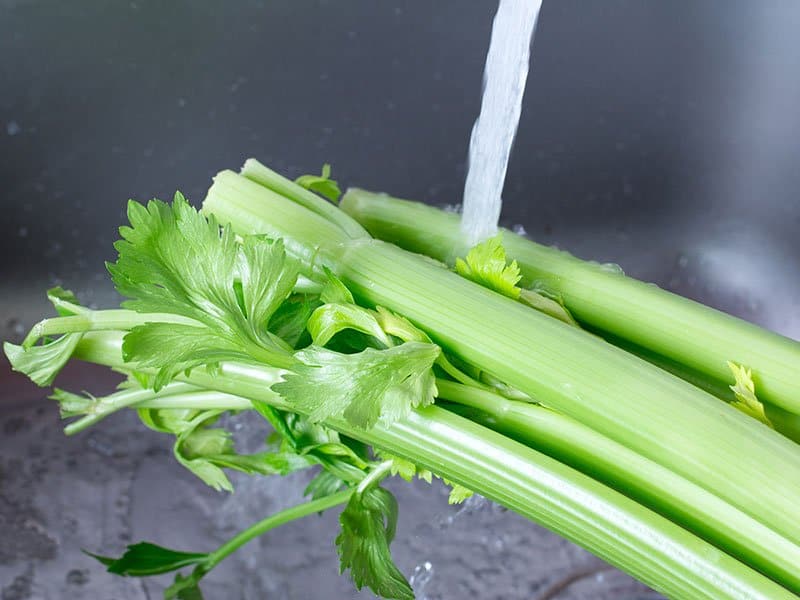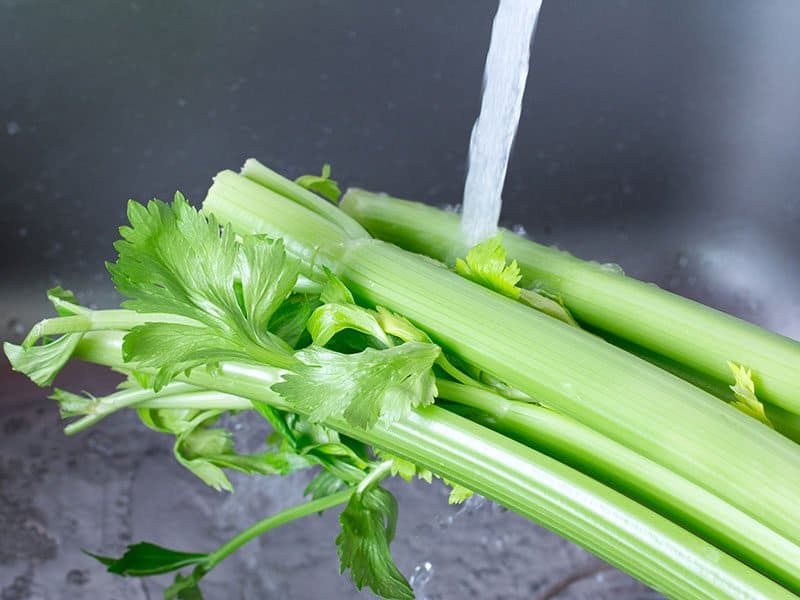 Step 3: Preliminary Processing
Use a knife to cut off the white bottom part of each celery stalk. You can use a good Chinese cleaver to cut the hard part. If celery is a bit old and too chewy, you can use a vegetable peeler to remove the threads. Likewise, you can use high-grade vegetable choppers to process large celery batches.
Cut each piece of celery into the desired shape you plan to use in your recipe. The way of this shape can be an elongated cut, a cube, or a half-moon slice.
If you don't know what to do after thawing, then rest assured, you can always cut larger pieces into smaller pieces while celery remains frozen if necessary. Save the young portions, tops, and leaves for other dishes.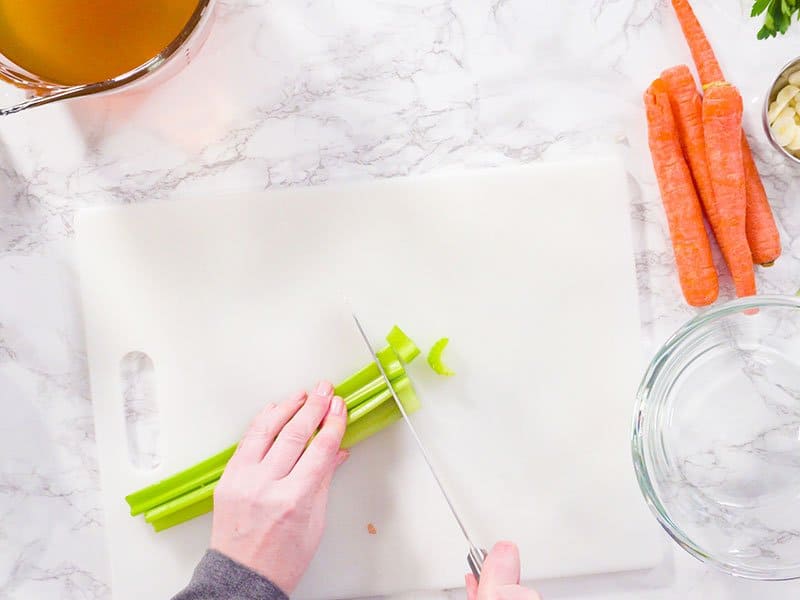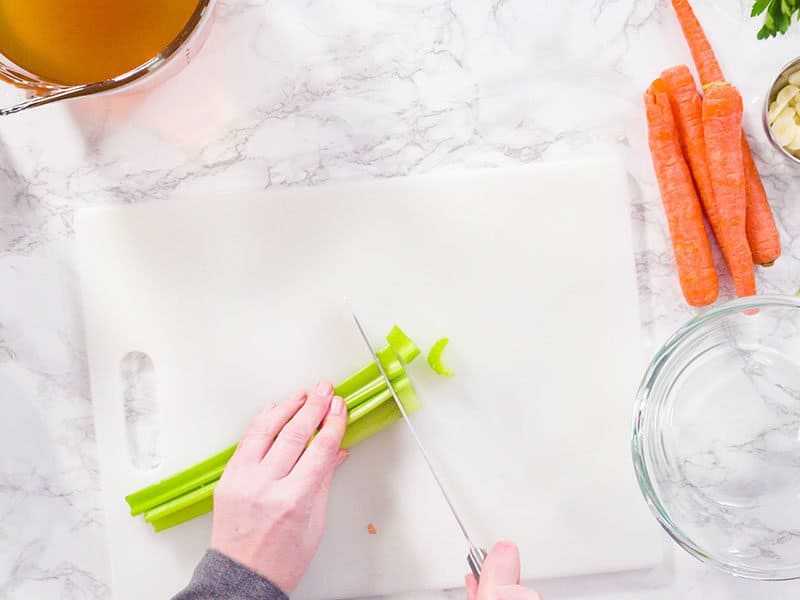 Step 4: Blanch The Celery
Boil the large pot of water that you have prepared. After the water has boiled, put the celery you've chopped into the pot and blanch for about 3 minutes.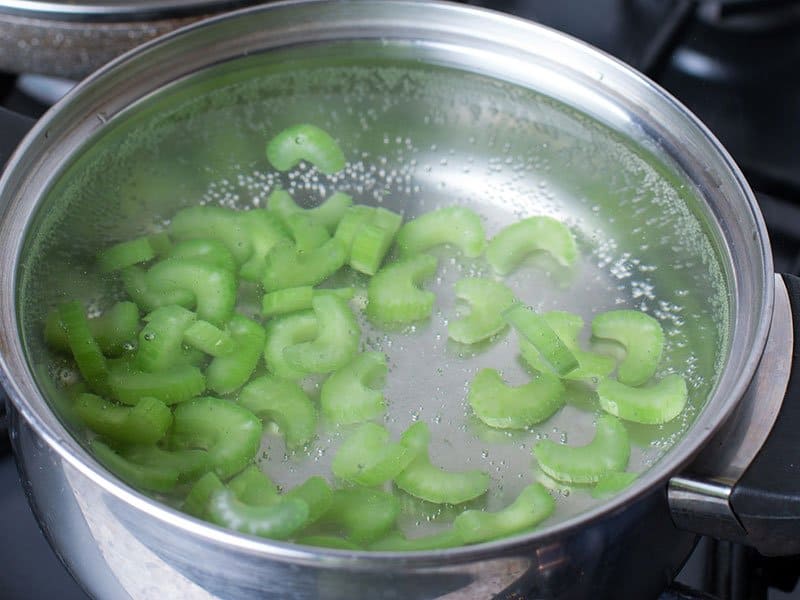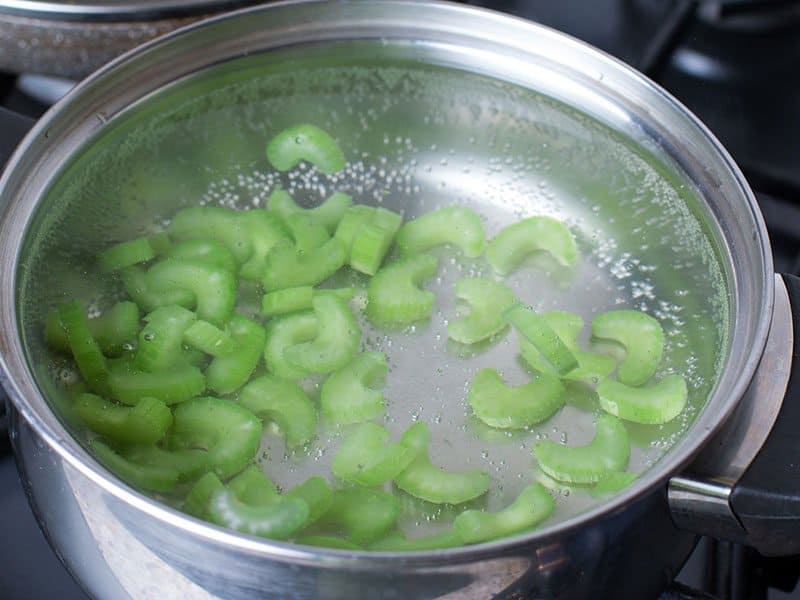 Step 5: Soak Celery In The Ice Bowl
After blanching with boiling water, remove the celery and soak it in the ice water bowl that you have prepared. Wait about 5 minutes for the celery to cool. Then, take it out and keep it in the basket to drain.
Step 6: Flash Freeze Celery On The Baking Sheet
Flash freezing the celery will prevent them from sticking to each other. Line parchment paper on your baking sheet and arrange the pieces of celery evenly on it in a single layer. Then, put the whole baking sheet in the freezer.
Then just wait for a few hours until the celery is frozen. You can let them freeze overnight.
Step 7: Put The Frozen Celery In A Freezer Bag
Once the celery on the tray has frozen, put it in a freezer bag or an airtight container. If it's a bag, remove the air, then seal the top of the bag.
If necessary, label the date on the box/bag for proper family use. Finally, freeze the celery again. You can use frozen celery for up to 12 months.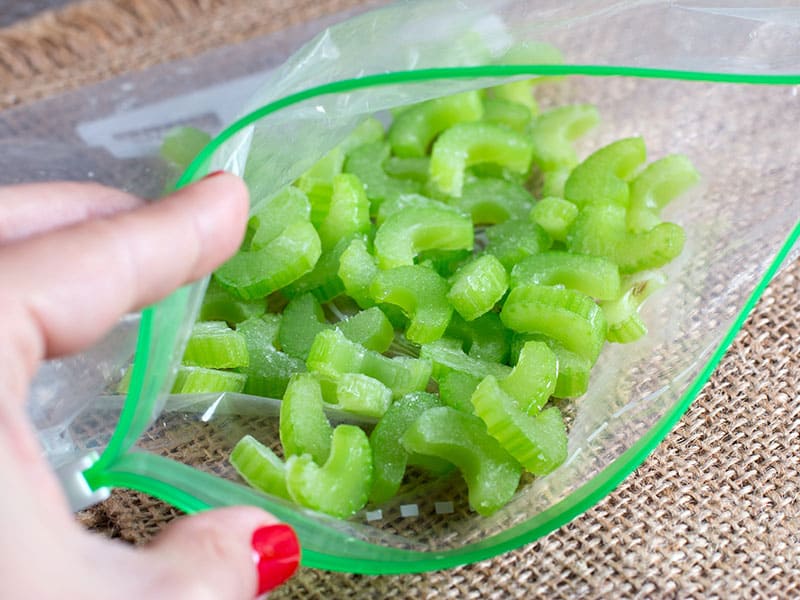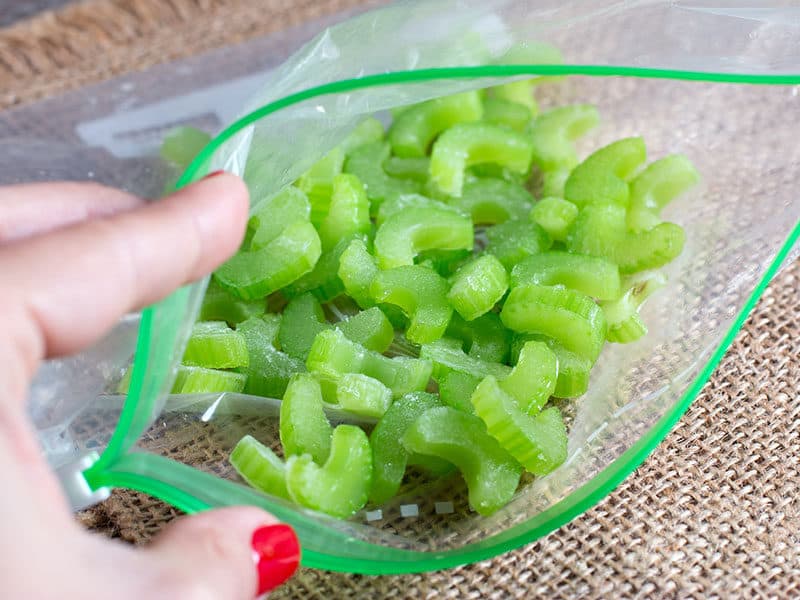 Delicious And Nutritious Celery Recipes
The great thing about cooking frozen celery is that you don't thaw it before you use it. You simply need to add it right from the freezer to whatever you're cooking. This is a great basic vegetable for many dishes.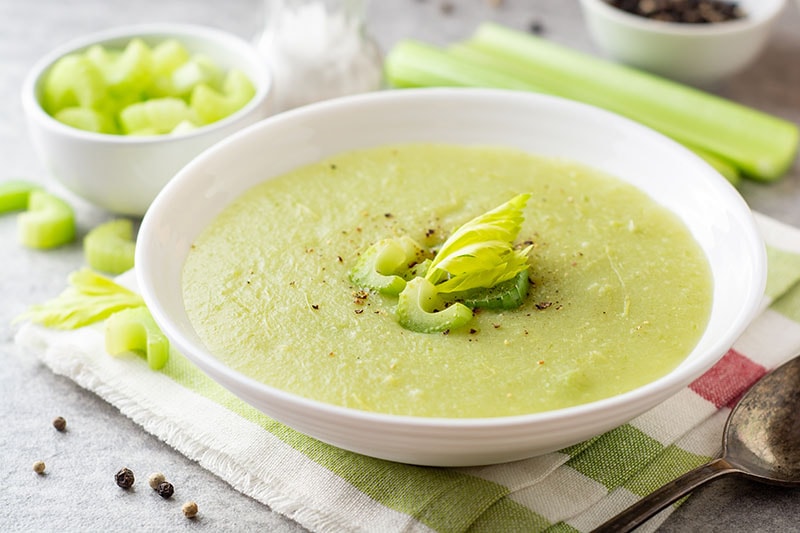 Soup
Combine frozen celery with potatoes and garlic, and you'll get a fragrant celery soup. This dish is suitable for vegetarians, and you can enjoy it with crispy bread.
Salad
If you make a salad, celery is an indispensable ingredient. A little celery adds a refreshing touch to this classic dish. If not used up, you can store the dish in the refrigerator for up to three days. Note that frozen celery won't taste as good as fresh ones in a salad.
Braised Dishes
You can use celery for added flavor when making braised meat, fish, or vegetables. Frozen celery can withstand cooking for several hours. You should use large cuttings when making this dish.
Spaghetti Sauce
Combined with sausages and beans, celery can make a great sauce for your true pasta recipe.
Creamy Baked Gratin
Using celery in creamy gratin is a very good idea. You can use both nutritious celery tops and stems for this recipe.
Celery Juice And Smoothies
Celery juice and smoothies are attractive and trendy drinks recently, to purify the body as well as lose weight. You can refer to more juicing books to find a great recipe for yourself.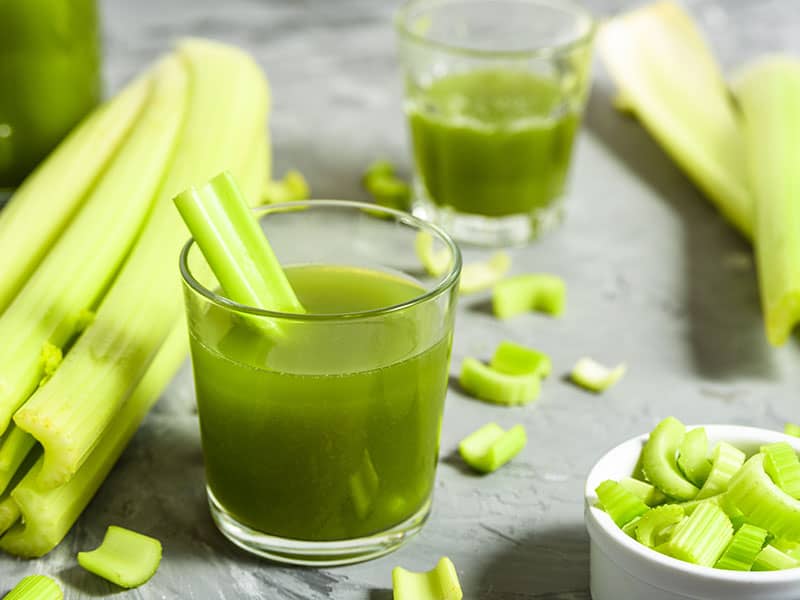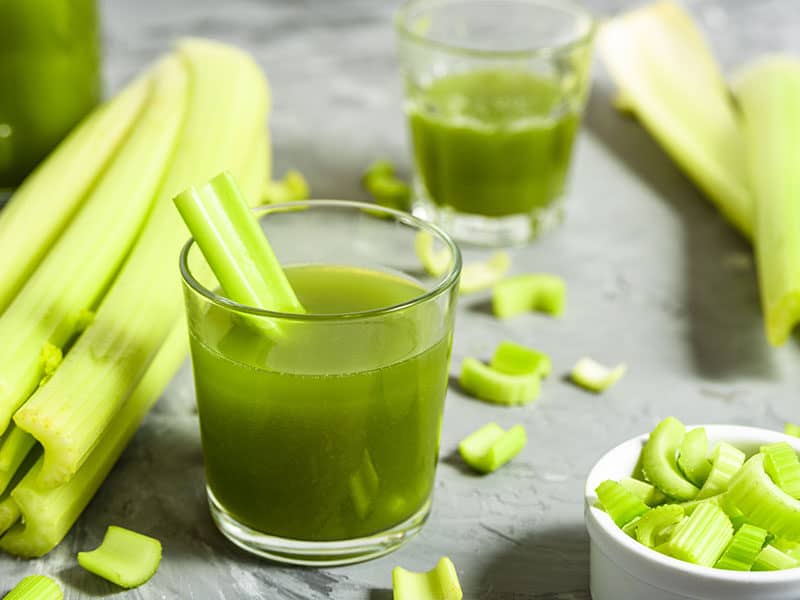 Celery is a vegetable that has a strong smell for some people, so to keep celery juice from becoming uncomfortable, you can combine this vegetable with a number of other fruits and vegetables such as:
This juice formula is great for the eyes and skin. The plentiful amount of vitamin A from celery and tomatoes improves and enhances vision effectively. Besides, nutrients from tomatoes also help you have healthy and bright skin.
This juice recipe is quite cool on hot summer days. The effects of celery on our health are indisputable. Besides, cucumber is also extremely nutritious when it contains many minerals and vitamins.
Use the compact juicer to create nutritious celery, apple, and honey juice in the morning. The sweet and fragrant flavors of apples and honey drown out the strong scent of celery.
In addition, the fiber and nutrients from celery and apples help you feel full for a long time while supporting digestion and elimination of toxins, purifying the body, and stabilizing blood pressure and cholesterol.
Pineapples are sweet, fragrant, and very nutritious. Using pineapple juice with celery produces delicious and nutritious smoothies.
The Benefits Of Celery
You should eat celery regularly because celery brings many benefits to the body. Here are the most notable ones.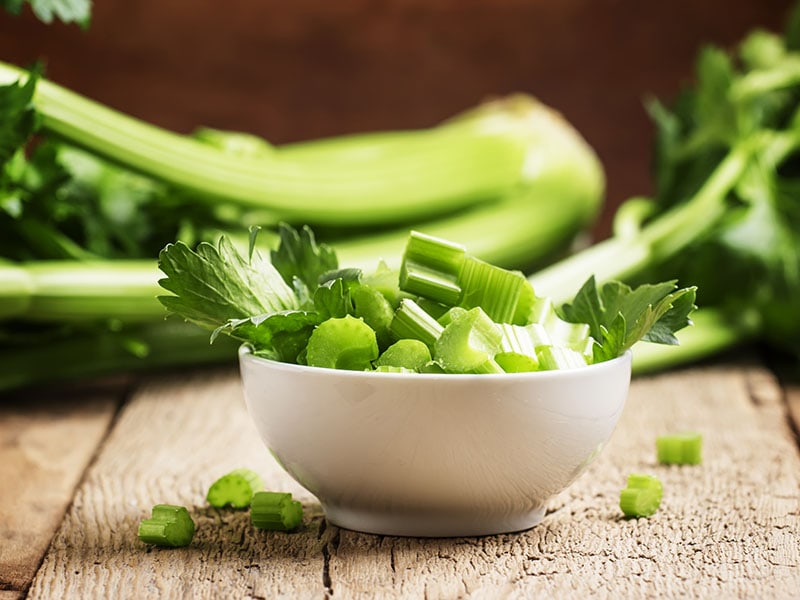 Prevention And Treatment Of High Blood Pressure
High blood pressure is a concern for many people, especially the elderly. Their doctors often advise people with high blood pressure to eat and drink celery juice, as well as cranberry juice.
Celery reduces the level of stimulation and stress in the blood vessels and expands blood vessels for easy circulation, thereby reducing blood pressure. Stabilizing blood pressure also helps reduce the risk of atherosclerosis or heart attack, or stroke.
Strengthen The Cardiovascular System
Celery works to help muscles and capillaries, helping blood pressure in the body to be kept at a stable level. Besides, celery can regulate the amount of cortisol in the body, helping to reduce blood clots.
Anti-Bacteria To Fight Inflammation
Celery contains luteolin – an enzyme inhibitor that induces an inflammatory response in the body. On the other hand, celery contains polyacetylene – substances that have analgesic effects on arthritis.
These substances support overall health, especially for the elderly, by fighting the damaging effects of free radicals (also known as oxidative stress) that cause inflammation in the body. Inflammation is often the cause of chronic diseases such as cancer, heart disease, arthritis, etc.
Keep Healthy Joints
Celery is really a very good drink for people with arthritis and rheumatism because it contains quite high calcium and silicon content. These two substances work to strengthen bones and joints.
Reduce High Cholesterol
The ability to lower cholesterol makes celery useful in improving and maintaining heart health.
Laxative
The celery enzymes help strengthen the hydrochloric acid in the stomach, making it easy to digest food. The microfibers in celery contain many nutrients that stimulate the digestive system to help make a natural laxative.
Improved Eyesight
Celery is rich in vitamins, including vitamin A, which helps brighten the eyes. Drinking more celery can help you reduce the risk of cataracts and protect your eyes against macular degeneration.
Celery is a great drink for young children and the elderly suffering from vision impairment symptoms.
Prevent Sores
This is one of the lesser-known benefits of celery: it can help prevent and reduce the formation of painful ulcers.
A 2010 study found that celery contains an ethanol extract that is especially helpful in protecting the digestive tract wall from ulcers.
Protect The Liver
A study in Egypt revealed that when rats were fed red celery, their bodies reduced the liver's dangerous fat accumulation. The more celery rats eat, the healthier their liver is. Scientists also confirmed that celery has a similar function in the human body.
Diuretic And Detoxification
The potassium and sodium in celery stimulate the body to produce urine and regulate the amount of fluid in the body by removing excess water, which will help improve bladder function and diuretics.
The effect of celery is interesting. It is truly a healthy medicine. You should increase the addition of celery in the family meal as well as perform celery remedies. Just be persistent, and you will get extremely good results.
Celery seeds have an odorless oil compound called NBP with a diuretic and detoxifying effect that helps purify the body.
Prevent Urinary Tract Infection
Celery stimulates urine production, so it is beneficial in fighting infections caused by bacteria in the digestive tract and reproductive organs. Celery also helps the body prevent bladder disorders, urinary tract infections, kidney disease, and cysts.
Preventing Cancer
Celery contains anti-cancer compounds that help prevent the growth and formation of cancer cells. It also helps increase the activity of white blood cells and prevents cancer.
Besides, celery is a plant in the same family as the anti-cancer plants, known as turmeric tea, that you probably already know.
Celery contains compounds that prevent cell damage. This compound reduces toxins and fights other causes of cancer, especially breast cancer, colon cancer, and leukemia.
Body Rejuvenation
Like pineapple juice, the amount of antioxidants in celery is quite high, enhancing elasticity and keeping the skin healthy. Along with that is high potassium to help fight skin aging, helping the skin stay young and smooth.
Help To Sleep Well
According to scientific studies, when the body lacks magnesium, it leads to fatigue and difficulty sleeping. The alkaline content of celery helps people suffering from insomnia can sleep better.
This substance works to help the nervous system rebalance, and reduce stress and anxiety. Drinking celery helps to add a significant amount of magnesium to help soothe cells and muscle tissue, thereby helping you relax your mind and easily fall asleep.
Support Weight Loss
Celery is exceptionally low in calories and is a valuable weight loss aid. It helps the body regulate lipid fat metabolism, is nutritious, and is very low in calories.
The fiber content in celery, along with an abundant amount of water, brings a feeling of fullness for a long time, limiting appetite. So drinking celery will help you lose weight safely and effectively.
Cautions About Celery
Although the benefits of this vegetable are known and used by many people to lose weight and beautify the skin, be aware that contrary to the benefits it brings, celery also has potential health risks if overused.
Not Good For People With Low Blood Pressure
Lowering blood pressure is a prominent effect of celery. Therefore, people with low blood pressure should limit eating this vegetable to avoid unwanted side effects.
Risk Of Food Allergy
Celery is a portion of good food with many great health benefits, but there are still some cases where the body is allergic to celery.
In rare cases, celery can cause various symptoms such as an itchy or swollen rash, difficulty breathing, tightness in the throat, nausea, stomach pain, diarrhea, heart palpitations, low blood pressure, etc.
Causes Skin Sensitivity In The Sun
Celery contains the chemical psoralen, which reacts significantly with the sun. Consuming celery or other foods high in psoralen can increase the skin's sensitivity to ultraviolet rays, increase the risk of dermatitis, cause the skin to burn, and receive more damage when exposed to the sun.
Risk Of Goiter
Studies show that regular consumption of large amounts of undercooked celery has the potential to cause goiter.
Because celery contains goitrogens that can interfere with the iodine activity in the thyroid gland, increasing the risk of iodine deficiency and causing goiter. Goiter can cause swelling in the neck, leading to respiratory problems and possible hypothyroidism.
Not Suitable For People Suffering From Skin Diseases
Because celery contains Arachidonic fatty acid (a catalyst for the inflammatory response). Therefore, celery is absolutely not the right vegetable for people suffering from itchy skin, sores, or psoriasis.
Pregnant Women
This is not a good vegetable for pregnant women, as it can stimulate the uterus to contract, thereby detrimental to the birth later.
For those who have difficulty conceiving or pregnant women that has some symptoms of potential miscarriage, it is necessary to stay away from this vegetable.
Bloating After Drinking Celery
Celery does not cause bloating. However, some people experience temporary gas symptoms.
Once consumed, celery helps speed up digestion. It does this by promoting the liver to increase bile production and immediately boosting gastric hydrochloric acid production.
It then begins to break down old undigested rotten protein, old rancid fat that gets stuck on the bottom of the stomach and in the small intestinal tract that has been there for decades in people. Once these fats and proteins are dissolved, the gas tends to disappear.
Have Stomach Pain After Drinking Celery
This happens when you have sensitive stomach nerves. When you drink celery, it begins to clear nerve toxins from the small nerve ends inside the stomach lining. This may cause a mild reaction.
Decreased Fertility
Research experts point out that celery contains chemicals like apigenin that can damage spermatozoa in men, leading to a decrease in fertility when consumed in large quantities.
FAQs
Bonus
Celery is almost a good medicinal food and is very low in calories. It is also known as a healing plant. The healing effects of celery begin to work when it enters the body. The process can be slow or fast. Please be patient!
You can completely freeze celery for long-term use. When you consume celery in the right way, you will see great effects on your health!
If you find this article helpful, do not forget to share it so that those around you can freeze celery properly. Also, please leave your comments below. Thank you so much!
Nutrition Facts
1 servings per container
---
Amount Per ServingCalories81
% Daily Value *
Total Fat 0.9g

0

%
Sodium 404mg

17

%
Potassium 1313mg

38

%
Total Carbohydrate 15g

5

%

Dietary Fiber 8.1g

32

%
Sugars 6.8g

Protein 3.5g

6

%
---
* The % Daily Value tells you how much a nutrient in a serving of food contributes to a daily diet. 2,000 calories a day is used for general nutrition advice.