Finding curry leaves substitutes is the common task for most Americans who fall in love with their South Indian "pungent lemony flavor" (1). These aromatic additions are not widely available in the US. However, they play an indispensable role in many Asian cuisines, including India, Malaysia, and Thailand.
Besides adding a unique Indian taste to the food, curry leaves also contain great nutritional values. Research shows that these herbs can boost digestion, metabolism, and even hair growth.
So, what happens if you run out of them at critical times that you need them the most to complete your Asian dishes? Don't worry, as I have here a comprehensive list of 8 curry leaves substitutes for you. So, let's check out these versatile herbs together!
Your Helpful List Of Top 8 Best Curry Leaves Substitutes
What would you do when you are unable to find curry leaves in the US or running out of them? Do not worry, as I am here to provide you with the following list of their top 8 substitutes.
Bay Leaves
Makrut Lime Leaves
Lemon Balm Leaves
Basil Leaves
Lime Leaves
Daun Salam Leaves
Lemon Zest
Lime Zest
Fundamental Information About Curry Leaves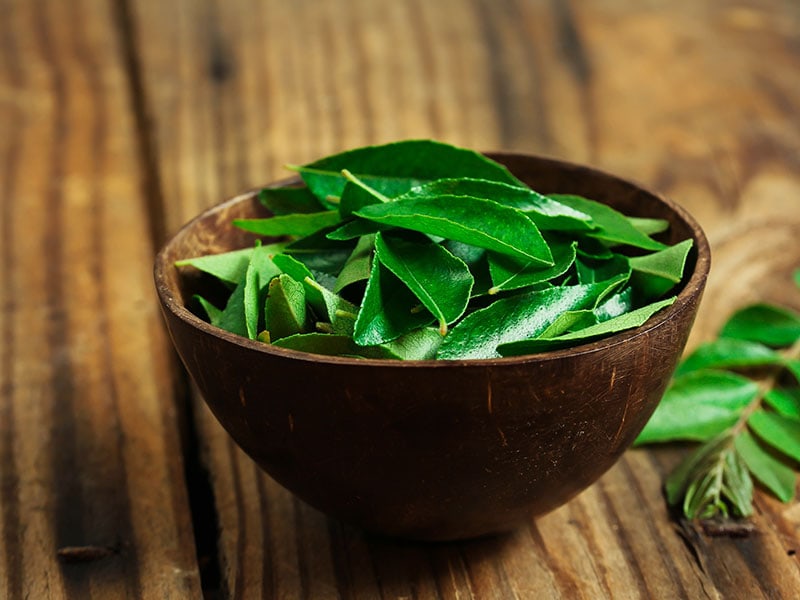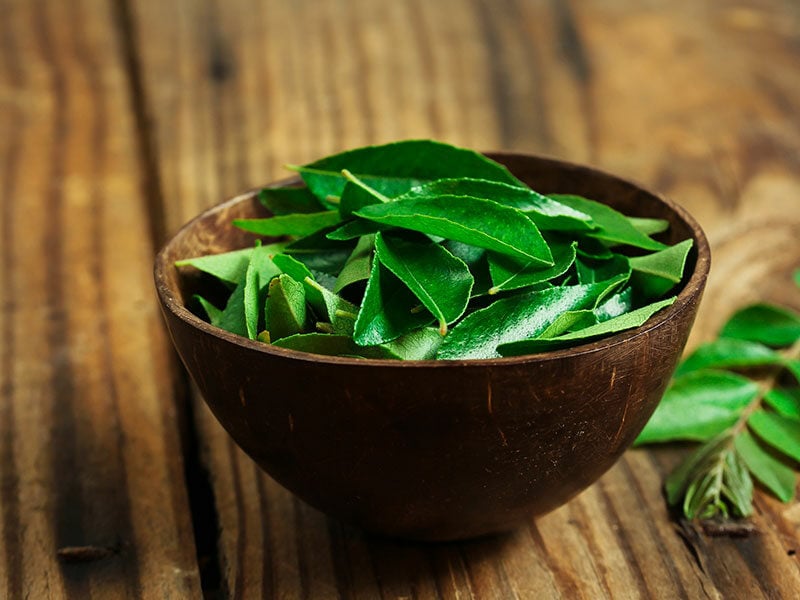 Before diving into my eight options for curry leaves substitutes, it would be great to have a general understanding of these flavorful herbs.
1. Originality
Curry leaves are a special herb that belongs to the curry leaf tree (Murraya Koenigii). This Indian native plant is often cultivated in the nation's tropical region. Besides, the tree is also popular in other countries, such as China, Australia, Nigeria, Ceylon, etc.
This herb is the common ingredient in many Asian recipes, especially Indian, Thai, Sri-Lankan, and Malaysian cuisines' dishes. People add it to give their dishes a unique citrusy aroma and provide more nutrients to their daily intake.
Depending on the various areas in India, curry leaves have very different names, such as Mitho Limdo (Gujrati), Karibevu (Kannada), Kadi Patta (Marathi), Karuvepillai (Tamil), etc.
2. Flavor
I would describe the unique flavor that curry leaves offer as pungent, citrusy, and tangy. Their aroma is relatively similar to that of kaffir lime, basil leaves, and lemongrass.
You can enjoy curry leaves either when raw or when it is cooked. Be aware that when cooked, they have an additional nutty taste to the original citrusy aroma.
To further boost its intense flavor, a good practice is to saute them in high-quality cooking sesame oil. It is a great option to combine curry leaves with infusions, sauces, and broths. Whether it is meat or vegetables, adding this herb will significantly enhance your dish flavors.
3. Appearance
Curry leaves have an almond shape with a shiny, dark green appearance. They are attached to a very long stem, which should be removed before adding to your favorite dish. To some extent, they look akin to bay leaves.
4. Nutritional Information
As mentioned in the introduction part, apart from its flavor addition role, curry leaves also have diverse nutritional values.
Consuming curry leaves will strengthen your hair and revitalize your skin. This benefit is possible, thanks to the rich content of vitamins (A, B, C, E), fiber, calcium, iron, and carbohydrates in the leaves.
Moreover, the high levels of antioxidants and phytonutrients in curry leaves can prevent the formation of bad cholesterol (LDL cholesterol)(2). Thus, the proportion of good cholesterol (HDL cholesterol) in your body increases, allowing you to keep heart diseases away.
The help of such antioxidants and phytonutrients also provide better protection for your nervous system, contributing to a more balanced level of blood sugar and cancer fight-off.
You will be less likely to have anemia if you incorporate curry leaves into your daily food regularly. The duo nutrients of iron and folic acid contained abundantly in the herb offer massive support for your body to absorb iron more effectively and fight against anemia.
Curry Leaves Vs. Curry Powder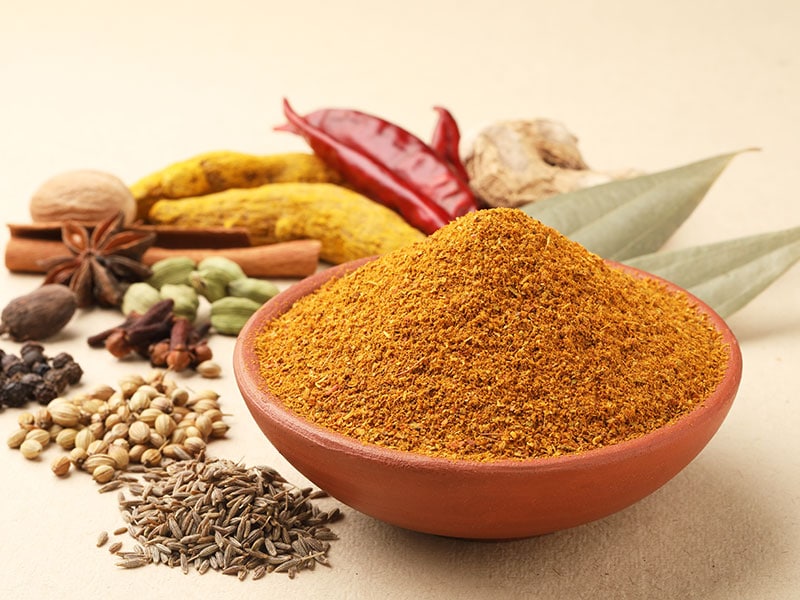 When it comes to curry leaves, there is a huge misconception. Most people believe this Indian herb is similar to curry powder, which is also a common spice used in Indian dishes. By similar, I mean both curry leaves and curry powder are treated as substitutes for each other.
If you still have that thinking in mind, you are completely mistaken. The two ingredients offer completely different tastes when added to your dishes.
As mentioned in the previous part, curry leaves are a type of herb obtained from curry leaf plants with a strong citrusy flavor. On the other hand, curry powder is a spice blend made from combining various herbs like cumin, turmeric, fenugreek, red pepper, coriander, and cinnamon.
Due to the reason stated above, curry powder is a great substitute for many ingredients. For instance, the best alternative for turmeric is curry powder. It can also be a stand-in for saffron and fenugreek as well. Curry leaves, on the other hand, cannot substitute these ingredients.
Another difference between the two ingredients is their culinary applications. Curry leaves are utilized to temper the food and convey a lemony aroma, whereas curry powder is added to flavor the whole dish.
One more interesting divergence lies in the original nation that comes up with these ingredients. Surprisingly, curry powder does not originate from India like curry leaves. The spice mixture is actually a British idea. British people imitated the flavor of their North Indian spice mix called "garam masala" to create curry powder.
The following table will sum up this comparison between curry leaves and curry powder.
| Criteria | Curry Leaves | Curry Powder |
| --- | --- | --- |
| Definition | Leaves from curry leaf plants | A mixture of various spices |
| Culinary Application | Temper and convey a lemony flavor to the dishes | Added to flavor the entire dish |
| Originality | India | Britain |
Curry Leaf Plants Vs. Curry Plants
Another common misconception lies between curry leaf plants and curry plants. Despite the similar names, they are two completely different species.
If you take a look at their scientific names, you will spot the first distinction. Curry leaf plants are scientifically referred to as Murraya Koenigii (3), while curry plants' official name is Helichrysum Italicum.
Moreover, you can easily distinguish between the two plant types from their appearances. Normally, curry leaf plants (Murraya Koenigii) are tall species that can reach up to 9 meters high. On the other hand, curry plants (Helichrysum Italicum) are mounding species whose height ranges only around 0.5 meters.
The most divergent aspect lies in their applications. Curry leaf plants have edible leaves. Thus, these plants are grown to supply curry leaves for culinary applications. However, curry plants are not edible. They are mainly utilized for ornamental purposes.
Once again, let's summarize the differences between curry leaf plants and curry plants via the below table.
| Criteria | Curry Leaf Plants | Curry Plants |
| --- | --- | --- |
| Scientific Names | Murraya Koenigii | Helichrysum Italicum |
| Plant Height | Higher (up to 9 meters) | Shorter (around 0.5 meters) |
| Edibility | Yes | No |
| Application | Culinary purposes | Ornamental purposes |
Quick Rundown Of Top 8 Best Curry Leaves Substitutes
You will find a table below offering a brief overview of my top 8 list for curry leaves substitutes. You can use it before or after reading all the details, as its main function is to gather all essential information into one place for a better recap.
| Curry Leaves Substitutes | Flavor | Culinary Application | Quantity |
| --- | --- | --- | --- |
| Bay leaves | Sweet, citrusy, earthy | Soups, casseroles, sauces, stew, stir-fry veggies, curries, salad | 1 leaf for 1/2 cup of curry leaves |
| Makrut lime leaves | Citrusy | Soups, steamed meats, and fish dishes, stir-fries, salads, Thai curries, rice, coconut milk | 6 leaves for 10 curry leaves |
| Lemon balm leaves | Minty, fresh, citrusy | Almost all dishes that use curry leaves (soups, stuffing, salads) | 2 leaves for 3 curry leaves |
| Basil leaves | Fresh, sweet, floral | Asian, Thai, and Mediterranean cuisines | 1 leaf for 1 curry leaf |
| Lime leaves | Intensely citrusy | Stir-fry Asian dishes involving seafood, rice, or curries | 6 leaves for 10 curry leaves |
| Daun Salam leaves | Cinnamon-like (mint, earthy, spicy, sweet) | Dishes containing meat | 2-4 leaves for a cup of curry leaves |
| Lemon zest | Tangy, citrusy | Fresh salads, dips, veggie, and meaty stews, curries, other Asian cuisines | 1 thick zest for 8 curry leaves |
| Lime zest | Pungent citrusy (closest to curry leaves) | Soups, curries, stews, and other sauces and dips | 1 zest for 8 curry leaves |
No More Headache With This Top 8 Substitutes For Curry Leaves
After understanding what curry leaves are, it is high time to go over my list of 8 curry leaves substitutes. This list will be beneficial in case you have a shortage of this flavorful herb.
Be aware that no replacement in this world can render the exact taste that curry leaves to your dishes. However, the following alternative options can infuse their own aroma while not messing up your food taste.
Ready to say goodbye to your headache? Let's read on!
Option 1: Bay Leaves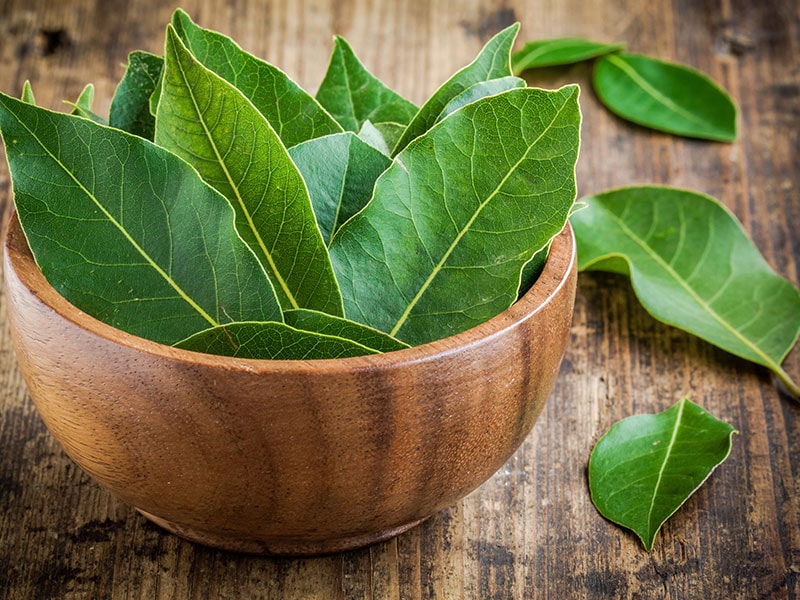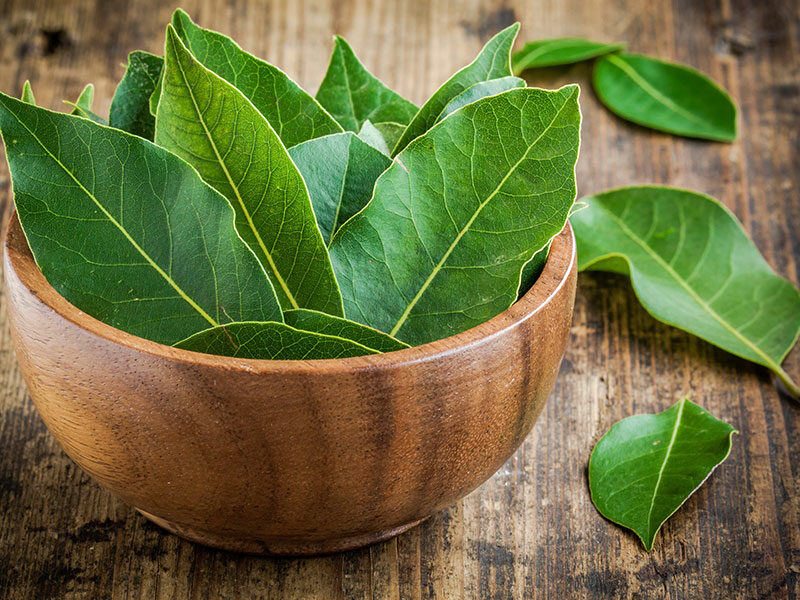 The first alternative option is bay leaf, which is a staple herb in Indian and Mediterranean cuisines. They originate from laurel plants and are often available in dried forms.
Besides the similar sweet and citrusy taste of curry leaves, bay leaves exert an additional sweet, minty and earthy twist to your dish. Thus, bay leaves are ideal substitutes for curry leaves.
Moreover, they are stuffed with health benefits, such as fighting against muscle pains and dandruff. Also, the polyphenol contents in bay leaves help regulate and even prevent diabetes and other cardiovascular diseases.(4)
You should add this flavorful herb to rich soups, casseroles, sauces, stew, and other comfort foods. They also pair up perfectly with stir-fry veggies, curries, salad, and the water used for boiling seafood (shrimp, crabs, etc.).
In terms of quantity, you should replace half a cup of curry leaves with a single bay leaf due to its strong flavor. This practice helps stabilize the accentuated aroma of some of your ingredients in the dish. Eventually, you will end up having a dish with a more balanced taste.
When opting for this substitute, it's important to not mistake bay leaf with basil. Although these two herbs taste somewhat similar, they will still lead to two vastly different flavor profiles.
If you are interested in this particular herb, let's explore the following video:
Option 2: Makrut Lime Leaves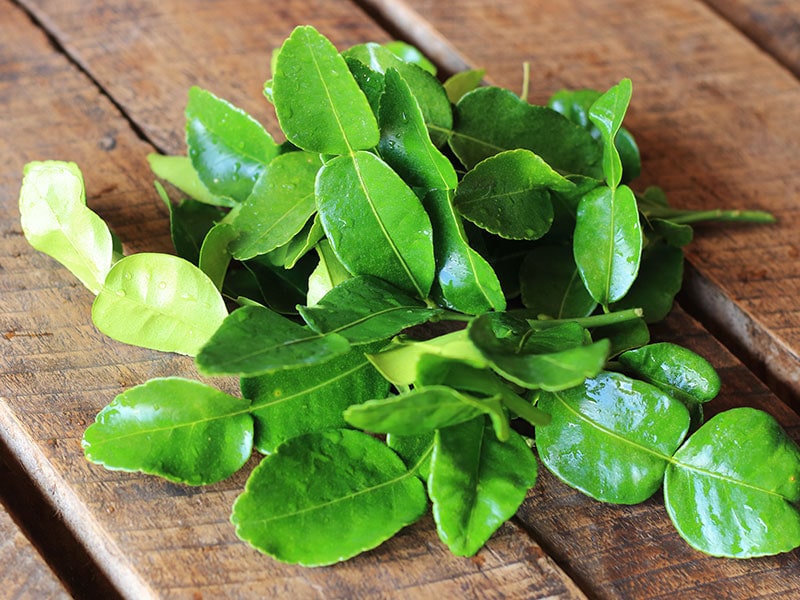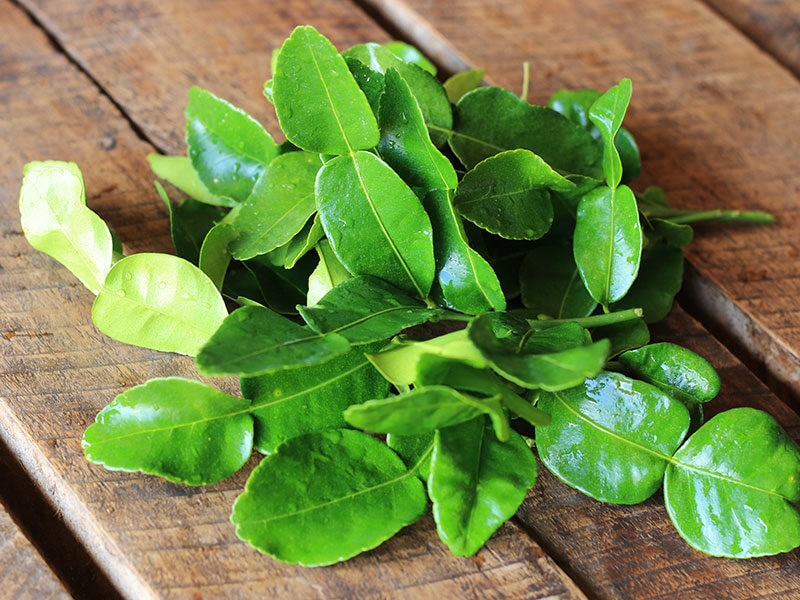 Makrut lime leaves are very close to curry leaves in terms of the similar citrusy flavor. This South Asian leaf species has another name in its popular North American market, which is Kaffir.
Unlike curry leaves which are edible, Makrut lime leaves are solely used for flavor addition and should not be consumed. Thus, make sure to inform your family members and guests about this information.
There are three ways to apply this herb to your dish: (1) crushing with a mortar and pestle; (2) slicing with a sharp knife; or (3) adding them entirely to the dish.
It is highly advised to put Makrut lime leaves in soups, steamed meats, stir-fries, salads, Thai curries, rice, and especially coconut milk! You can even add Makrut lime leaves in fish dishes. Nevertheless, watch out for signs to tell if fish is bad.
Regarding quantity, you should substitute 10 curry leaves with 6 Makrut lime leaves to bring about the best flavor to your dishes.
Option 3: Lemon Balm Leaves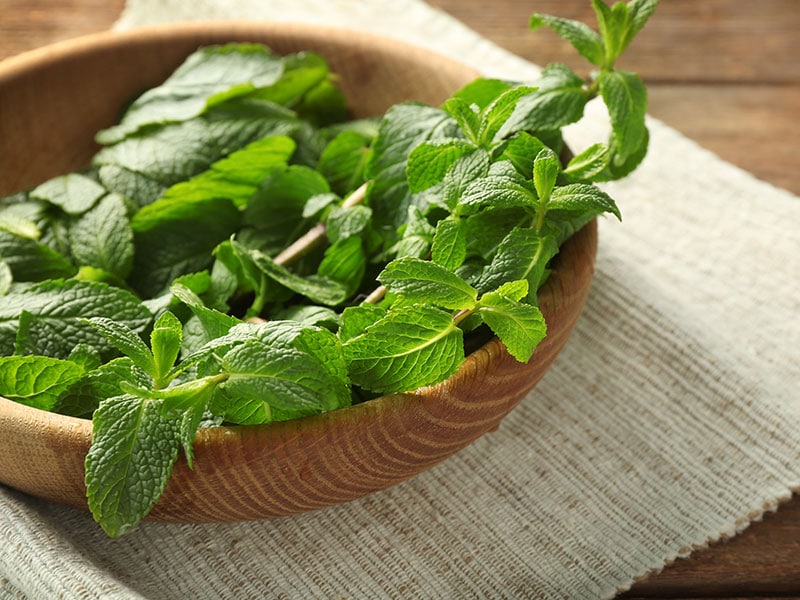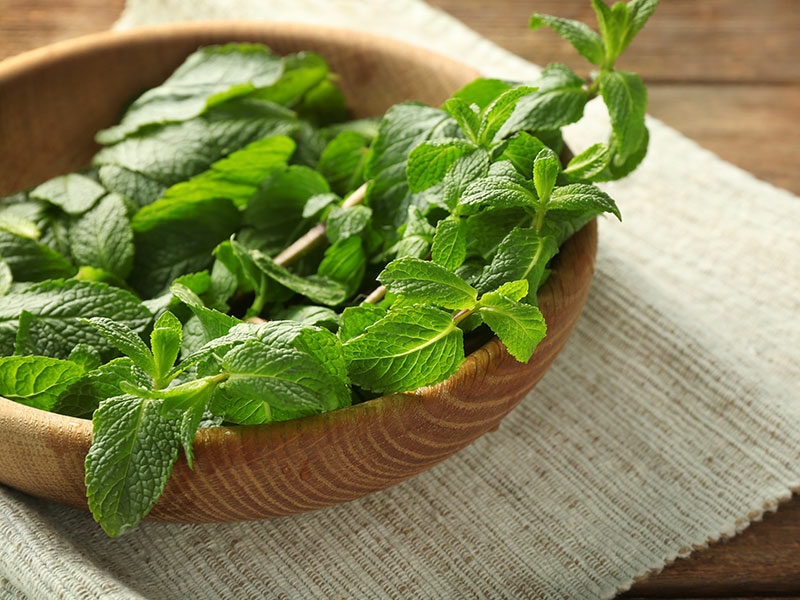 Also known as melissa (or Melissa Officinalis, the full scientific name), lemon balm is loved for its quintessential minty flavor. Despite belonging to the mint family, its fresh and citrusy aroma will remind you of the pungent lemony taste of curry leaves, making lemon balm an ideal substitute option.
This perennial mint herb can replace curry leaves in almost all dishes, especially in soups, stuffing, and salads. Unlike Makrut lime leaves, lemon balm is edible. In fact, eating this herb helps release stress, insomnia, and anxiety, owing to its calming effects. Lemon balm also deals well with indigestion, from bloating to an upset tummy and even hysteria.
Furthermore, it contains antibacterial agents, offering better prevention for heart diseases and diabetes. Consuming lemon balm leaves regularly also boosts your sleep quality and concentration ability.
You should employ 2 lemon balm leaves to substitute 3 curry leaves. This ratio guarantees the best flavor infusion that melissa can offer to your dishes. Make sure to put the root away and use lemon balm leaves only.
If you still have some leftover leaves after flavoring your dishes, use them for making tea. Best of both worlds, right?
Option 4: Basil Leaves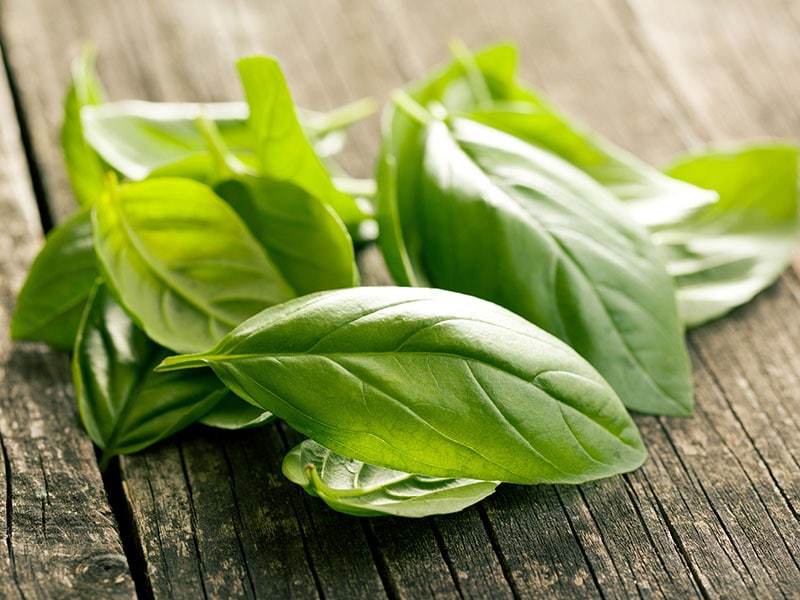 If you are missing curry leaves for your food, another great substitute is basil leaves. This popular Mediterranean herb renders a fresh and floral twist to your recipes, which is quite the opposite flavor offered by curry leaves.
Therefore, to make it work, you should combine basil leaves with other herb types. The most typical mixture includes basil leaves, lime juice, and lime zest. The fresh and minty flavor of basil leaves, the tangy taste of some lime juice, and the distinctive citrus aroma of lime zest will make the best rendition of curry leaves' fragrances.
It is advised to use this combination in Asian, Thai, and Mediterranean cuisines and salads (when eaten with yogurt). But you're free to explore, there are many dishes that feature basil leaves, and I believe the trial and error method will soon let you know how to utilize them.
You should substitute curry leaves with the same amount of basil leaves, plus a few drops of lime juice and some lime zest. One tip in using this Mediterranean herb is not to cut it up but to tear it well instead. This practice helps preserve its flavor at the highest quality.
Option 5: Lime Leaves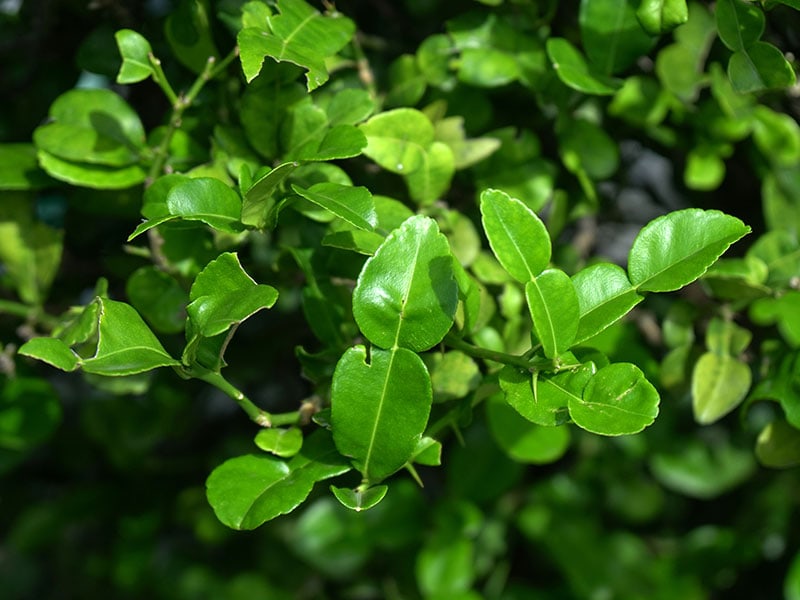 Despite the difficulty in finding lime leaves, they are the perfect selection to replace curry leaves for food flavoring. This herb exerts a very intense and pungent aroma with a high emphasis on the citrusy taste, which is very near to the taste of curry leaves.
However, lime leaves are inedible and should not be consumed entirely. Like Makrut species, you can grind them with a mortar and pestle or slice them using a knife (or a scissor).
If you are preparing stir-fry Asian dishes involving seafood, rice, or curries, you are safe to add some of this condiment to replace curry leaves. The optimal rate is 6 lime leaves for every 10 curry leaves.
Option 6: Daun Salam Leaves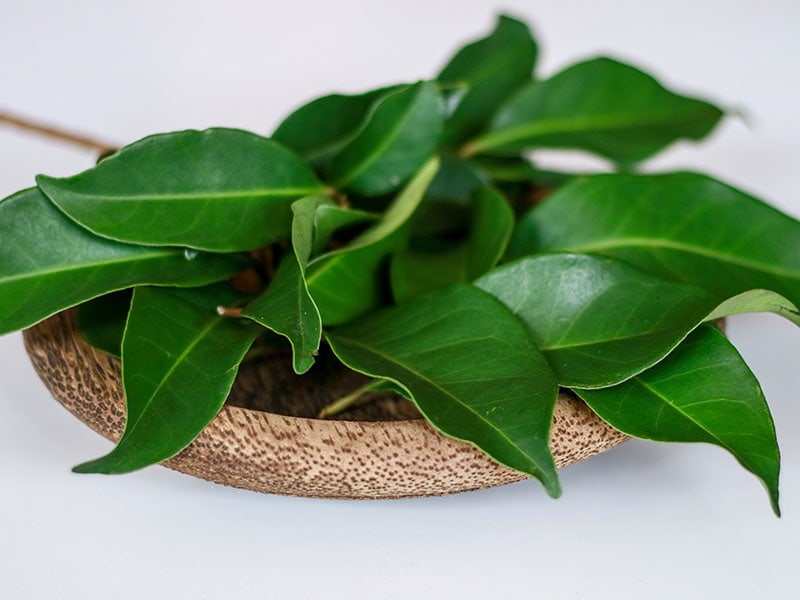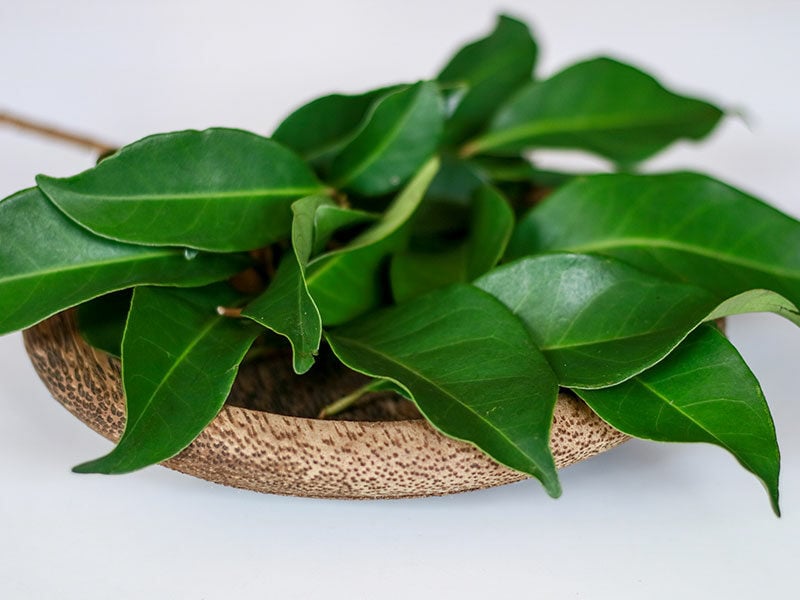 Within the bay leaf family, this Indonesian species is one special case. It has a distinct aroma that is unlike all other bay leaf types. Do not worry if you haven't heard of this species' name, as it is not very popular on the herbal map. However, Daun Salam leaves fulfill wonderfully the substitute role for curry leaves.
Despite the same appearance with curry leaves, this Indonesian condiment has a more cinnamon-like taste, which is a combination of many flavors like mint, earthy, spicy, and also sweet. However, it will be much milder than cinnamon.
Daun Salam leaves pair up nicely with dishes containing meat. You can add them into veggies, but the taste might not be matched and compatible. A good practice is to replace a cup of curry leaves with 2-4 Daun Salam leaves.
Option 7: Lemon Zest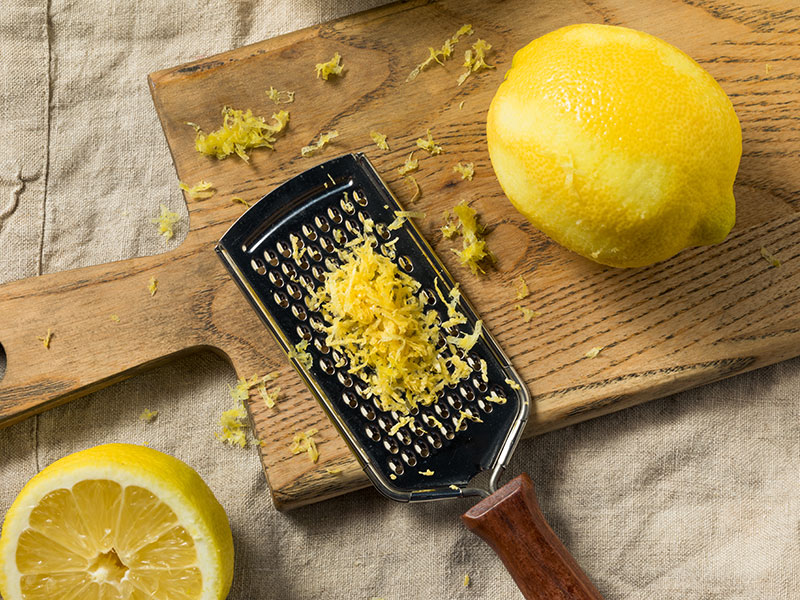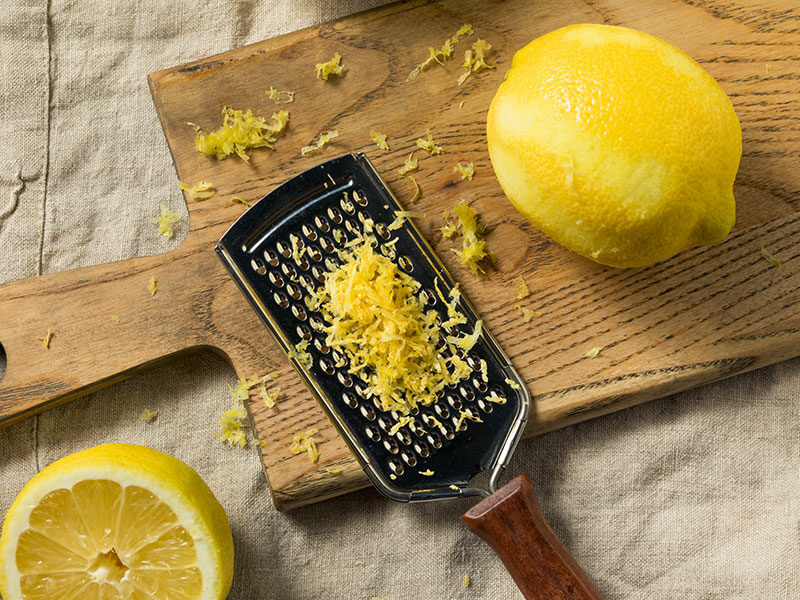 If the first six options are leaves, the last two choices involve fruit zests. Specifically, this seventh candidate is lemon zest, an oiled rind with exceptional tangy and citrusy tastes. It is located at the upper layer of the lemon's rind.
This flavorful material clearly fits the role of replacing curry leaves in many dishes, including fresh salads, dips, veggie, meaty stews, curries, and other Asian cuisines.
A good substitute ratio is 1 thick lemon zest for every 8 curry leaves.
Option 8: Lime Zest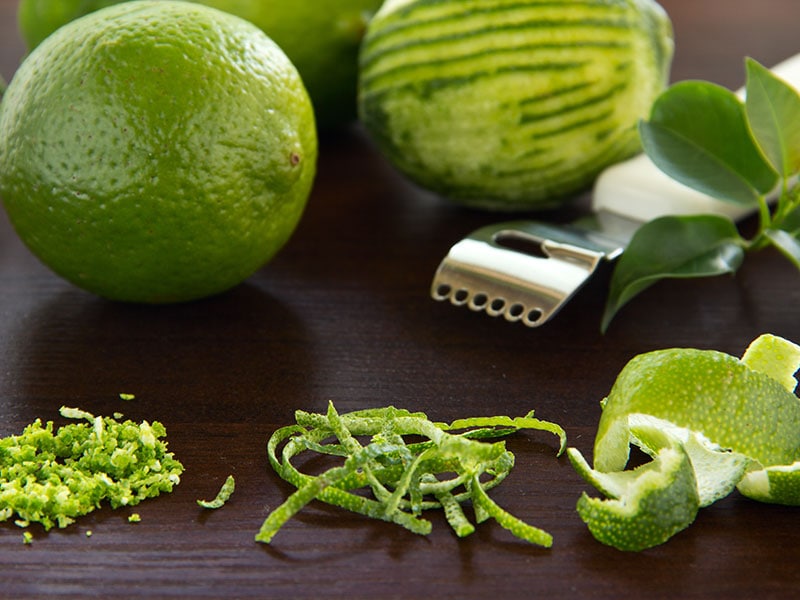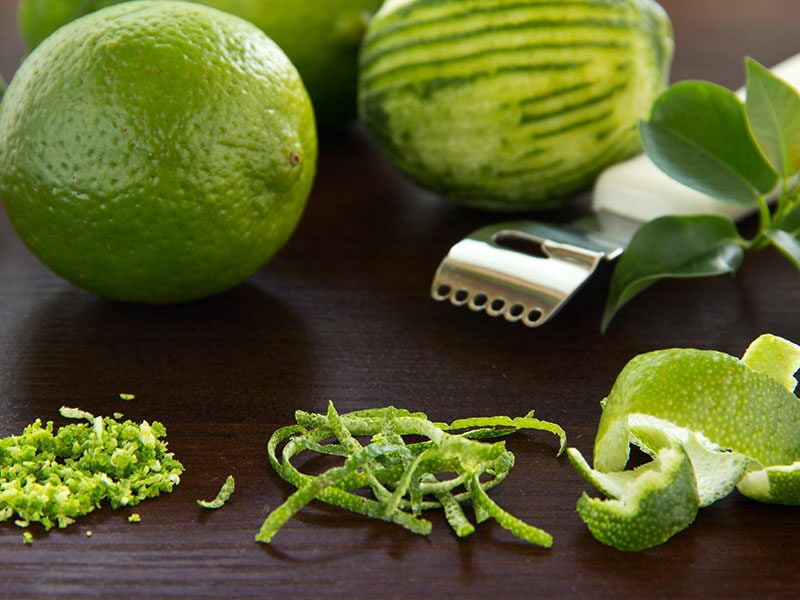 Lime zest will conclude my list of curry leaves substitutes. People often say "Save the best for last". Thus, you can expect this last option offers the closest taste to curry leaves. Like lemon zest, lime zest is located at the lime's uppermost rind. The oil in this part delivers the same pungent and citrusy flavor (but a bit deeper) as curry leaves.
A nice thing about lime zest is its wide availability. You can buy this inexpensive material easily. All you have to do is get some limes at the grocery store and zest them at home.
As mentioned in the section on basil leaves, people often combine lime zest with them to get full advantage of their citrusy taste and balance the strong flavor of basil leaves.
It is optimal to add some lime zest to seafood dishes and soups, curries, stews, and other sauces and dips. Yogurt-based dips pair wonderfully with lime zest. You should follow the ratio of 1 lime zest for every 8 curry leaves for the optimal flavoring effects.
Follow this brief tutorial on how to zest the fruit:
Freeze Your Curry Leaves: Best Storing Method. You'll Never Run Out Of Curry Leaves Again!
The following section will introduce you to the best storing method for your curry leaves, which is to freeze them. Interesting, right? Let's find out about this amazing practice together!
1. Reasons For Storing Curry Leaves
It would be unconvincing to jump straight in the tutorial on how to freeze your curry leaves. I believe you need to understand why there is a need to store them in the first place.
In my opinion, there are three (03) reasons to justify the need for storing curry leaves.
Firstly, saving curry leaves for future use helps you avoid emergencies where you have no more of this ingredient for cooking. Next, you may turn to my list of curry leaves substitutes. However, there is no guarantee that these replacements can deliver the exact aroma that curry leaves offer.
Secondly, curry leaves are seasonal. You cannot just go to Asian food stores and buy them. They will be hard to find during winter and early spring.
Last but not least, as curry leaves play a huge role in Asian cuisines (Thailand, Malaysia, and India), you will have a tough time searching for it in the US. Your best shot is to go to Asian food stores in the right season. Thus, stocking and storing it for later use is a wise strategy.
2. Tutorial On Freezing Curry Leaves
One of the best ways to store curry leaves is to freeze them. You can carry this task by following these three sequential steps:
Step 1: Place your curry leaves in thick freezer bags. Using thick and high-quality bags helps contain the strong and pungent odor of those ingredients. Airtight containers are a good alternative solution if you have one.
Step 2: Seal the freezer bags up. Make sure to suck out all the air inside prior to sealing. Utilizing a straw is a good practice to pull the air out of these freezer bags.
Step 3: Label each freezer bag. Curry leaves are not the only freezable materials. Without proper labeling, it will be challenging to distinguish between a freezer bag of curry leaves and a freezer bag of bay leaves or other similar leaf types. After labeling, put your bags into the freezer.
If you want to follow a more visual instruction on how to freeze curry leaves, have a look at this video:
Frequently Asked Questions About Curry Leaves Substitutes
As usual, I will dedicate this part to answer all your inquiries about curry leaf and its substitutes.
Important Advice On Curry Leaves Substitutes
I want to emphasize that no matter what you use as curry leaves substitute, it cannot render the exact flavor of the Indian herb. These recommended options in my list only offer the closest aroma possible while making sure your dishes will not be ruined.
Hopefully, knowing these substitutes will relieve you from all the worries of preparing your favorite dish without curry leaves. Now, let's have a look around your house to see if you have any of these substitutes in place for your upcoming cooking session.
If I miss out on any potential alternative, please let us know by dropping a comment in the below section. Thank you for reading!
Nutrition Facts
1 servings per container
---
Amount Per ServingCalories0.6
% Daily Value *
Sodium 0.1mg

0

%
Potassium 1.1mg

1

%
Total Carbohydrate 0.2g

0

%
---
Vitamin A

0.3

%
Vitamin C

0.2

%
Calcium

0.1

%
Iron

0.5

%
* The % Daily Value tells you how much a nutrient in a serving of food contributes to a daily diet. 2,000 calories a day is used for general nutrition advice.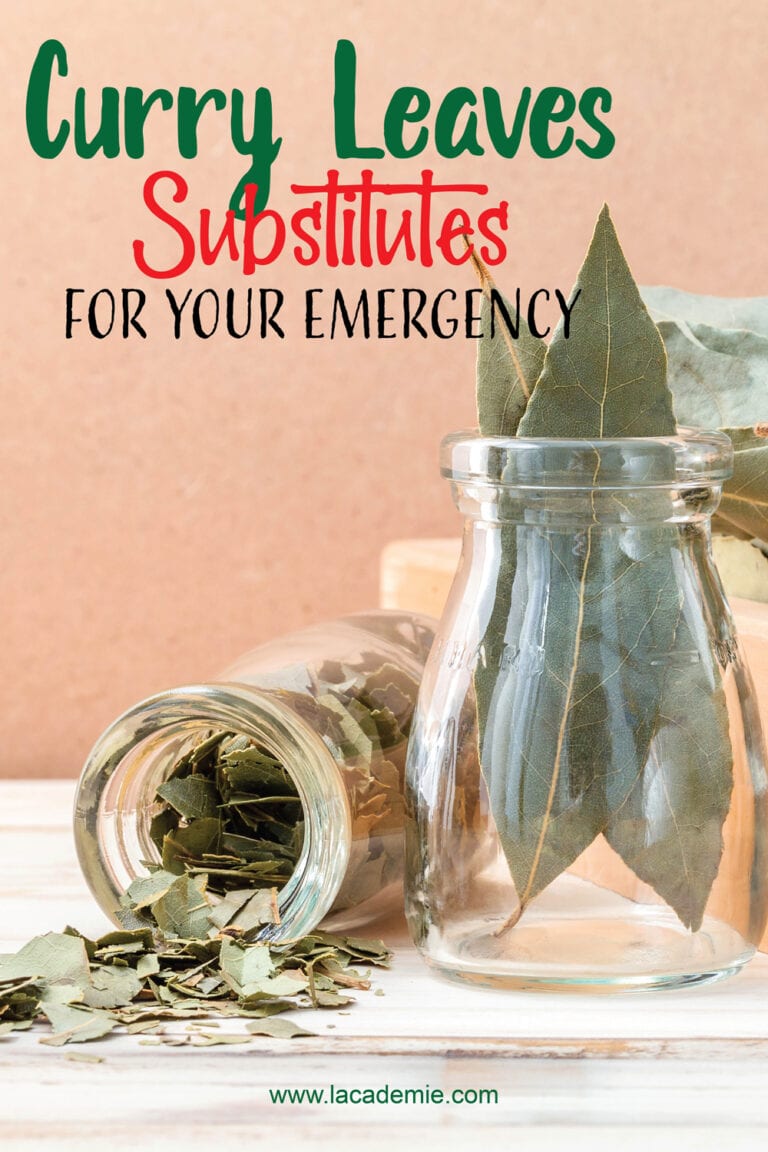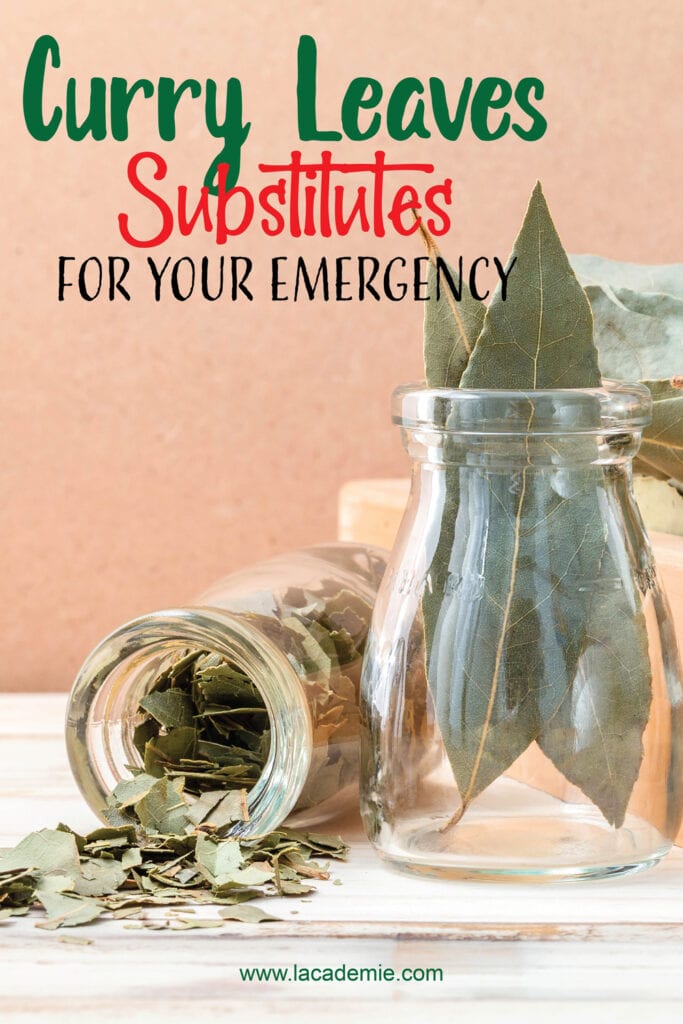 References
Npr.org. 2021. NPR Cookie Consent and Choices.
Medlineplus.gov. 2021. LDL: The "Bad" Cholesterol: MedlinePlus.
HuffPost UK. 2021. Everything You Thought You Knew About Curry Is Probably Wrong.
Healthline. 2021. 5 Possible Uses for the Bay Leaf.