Are you curious about marjoram substitutes when you cannot find any marjoram in the stores? Marjoram can pair well with either meats, fish, or vegetables to increase the flavor; that's why many people would like to use them to make their meals more delicious.
However, it would be better for you to know about other herbs that can replace marjoram to diversify your cooking recipes. So, if you are excited to try new things, get ready to figure out the greatest alternatives for marjoram.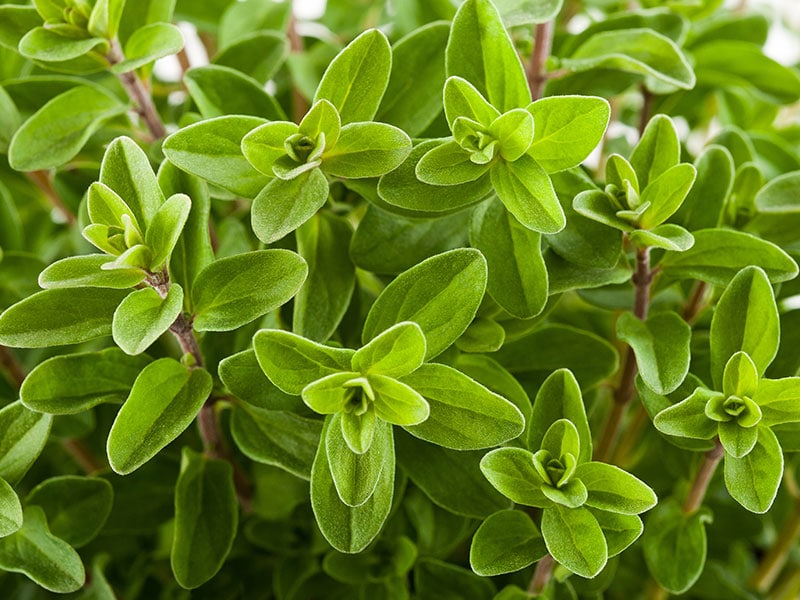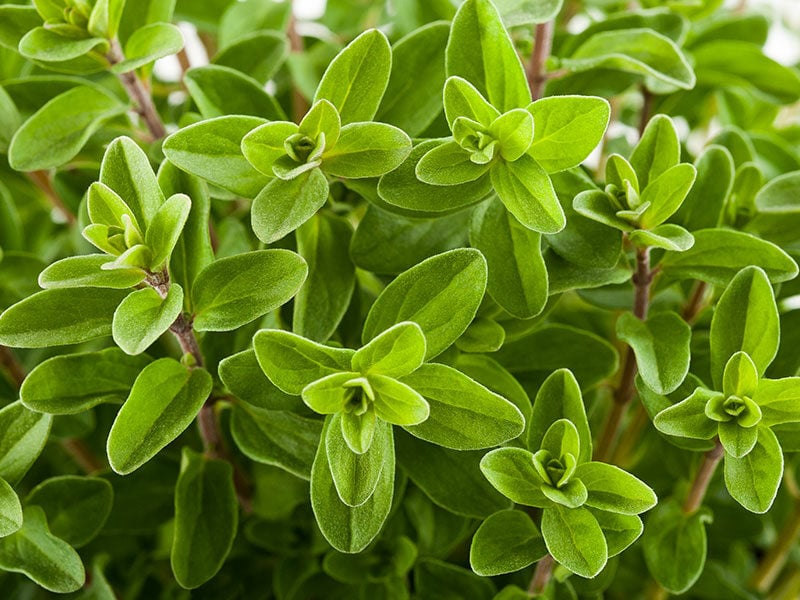 Is It Hard To Find Marjoram Substitutes?
You are planning to cook a meal that includes marjoram, but you do not have it on hand, do not panic; there are 10 other options for you, some of which are extremely easy to find.
They are all aromatic culinary herbs that complement your food's natural flavor. And based on their popularity, here is a list of 6 common herbs and four uncommon herbs to substitute marjoram.
Common Substitutes
Oregano
Thyme
Sage
Basil
Tarragon
Lemon Thyme
Uncommon Substitutes
Summer Savory
Za'atar
Herbes De Provence
Dried Lemon Grass
Marjoram – A Delicate Culinary Herb
First of all, let's find out the characteristics of marjoram and the reason why people love them.
What Is Marjoram?
Marjoram (also known as sweet marjoram) is an aromatic herb that has been used in Mediterranean cooking for centuries. Their popularity is widespread across the world due to their distinct flavor that goes well with various meals.
Marjoram has a delicate flavor that is woodsy, citrusy, and floral. They also have a slight sweetness and bitterness. Plus, marjoram is a versatile herb that can be used to season a variety of foods, and it may combine with other herbs to produce a stronger taste.
Marjoram, both fresh and dried, is a well-known culinary herb that is used in a wide range of cuisines in the world. However, there is a taste difference between fresh and dried marjoram, with the dried version having a more concentrated flavor than the fresh ones.
Marjoram is also a great kind of garnish herb to grow if you enjoy gardening. They are simple to cultivate and do not take up much room in your backyard or even your home.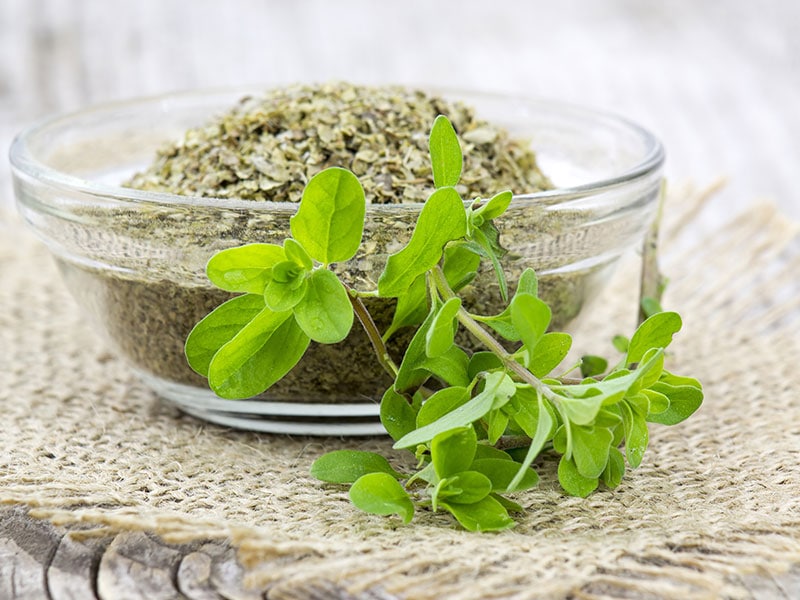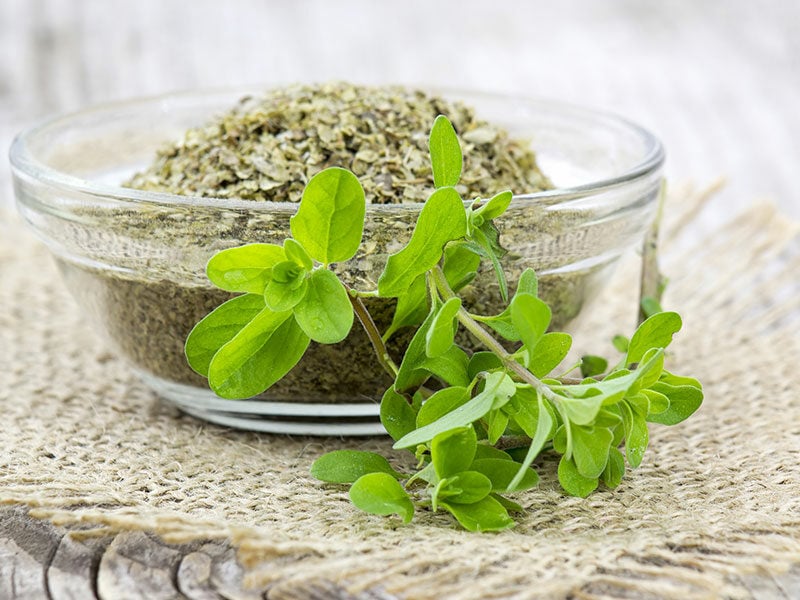 Marjoram Benefit – A Package of Healthy Compound and Nutrition
Besides their culinary usage, people also use marjoram to make medicine from their flowers, leaves, and oil.
Indeed, they provide various health benefits as marjoram contains antioxidant, anti-inflammatory, and antimicrobial content. That's why they can help you (1) (2):
Improve your hormonal function: Marjoram tea helps women improve their hormonal health.
Enhance heart health: the antioxidant found in marjoram benefits your health to prevent cardiovascular diseases.
May relieve your anxiety: Marjoram, especially in oil form, can be used as a treatment to reduce your anxiety.
May limit digestive problems: Marjoram can prevent some stomach issues and food-borne illnesses.
May improve antimicrobial activity: With antimicrobial content, marjoram can be a good treatment for your skin infections, preventing it from bacteria growth.
More information on the health advantages of marjoram may be found here.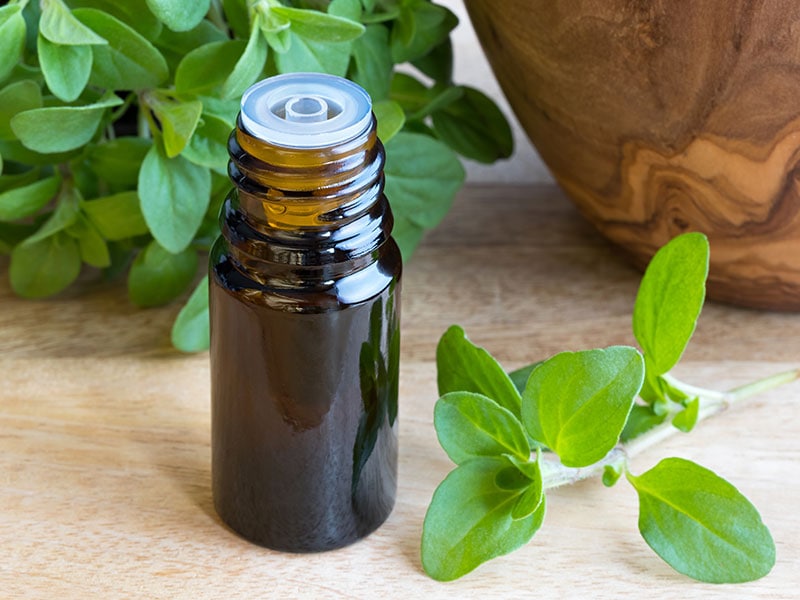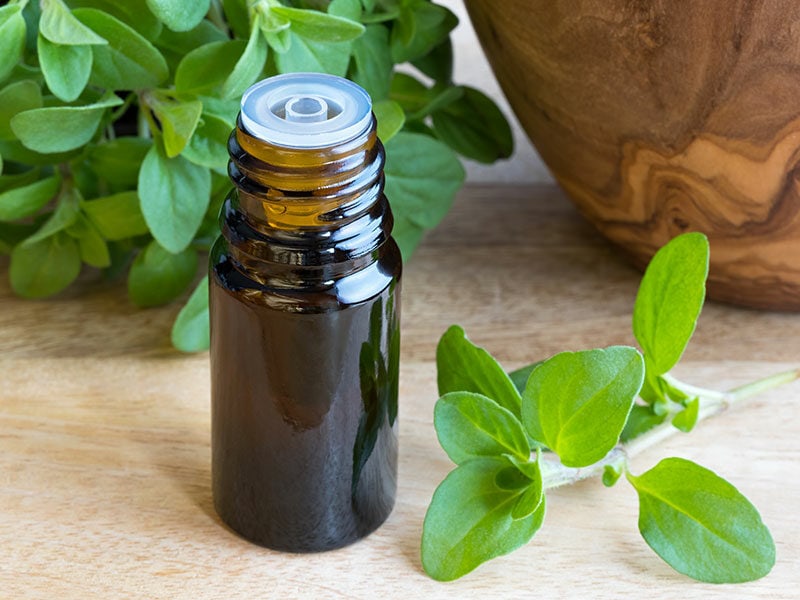 10 Marjoram Substitutes To Save Your Dishes
There are 10 different varieties of herbs that can be used as substitutes for marjoram. I will put them into two groups based on their popularity in cooking recipes, which are common herbs and uncommon ones.
Widely-Used Marjoram Alternatives
Here are 5 substitute herbs for marjoram that you can easily find in supermarkets or even in your garden if you are a plant lover.
Oregano – The Best Choice For Marjoram Replacement
Oregano, like marjoram, has a Mediterranean origin. They are also marjoram's relatives. Overall, I think oregano is the herb that most closely resembles marjoram. That's why they are referred to as wild marjoram.
Since they have the same plant family, their flavor, size and texture are very similar. However, oregano has a stronger flavor compared to marjoram.
Although oregano's flavor is slightly stronger than marjoram, it's possible to use these two interchangeably. That's why marjoram can also be used as an alternative ingredient to replace oregano and vice versa. Most of the time, the slight flavor difference is not that noticeable.
In fact, oregano comes in either fresh or dried, which are both acceptable substitutes for marjoram; however, the dried oregano has a stronger flavor. Therefore, you should consider whether you use dried or fresh oregano to adjust the amount in your culinary recipe.
Because marjoram has a milder flavor than oregano, if you use fresh oregano to replace marjoram, just use 2/3. For better understanding, 1 teaspoon of marjoram equals 2/3 teaspoon of fresh oregano. With dried oregano, only use 1/3. But ideally, fresh oregano is better to substitute for fresh marjoram.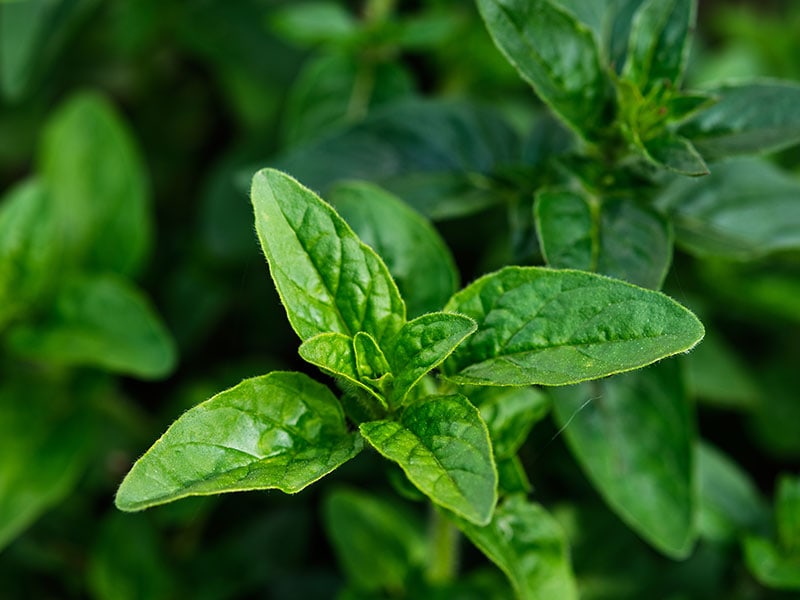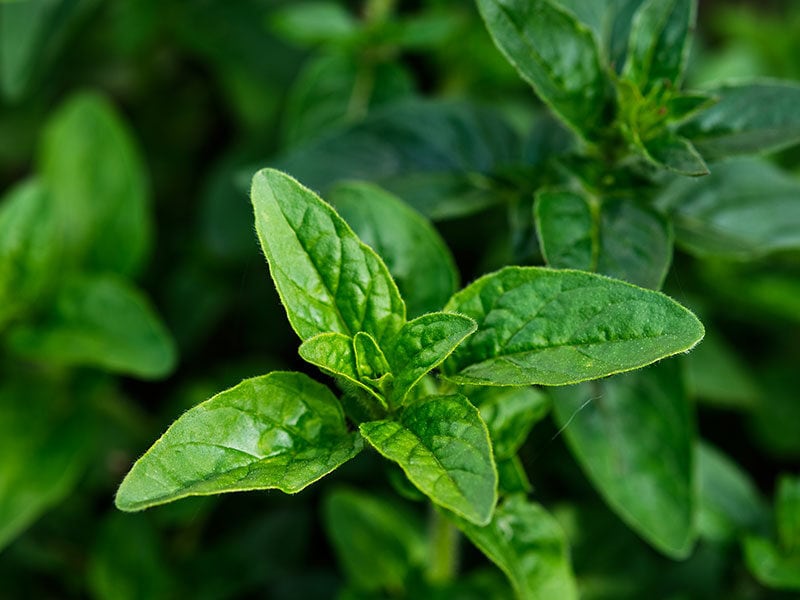 Thyme – The Multi-Benefit Herb As The Alternative Of Marjoram
Because they belong to the same plant family, marjoram and thyme's flavors are comparable. They are widely used as culinary herbs throughout Europe. Thyme is also a well-known herb that is utilized for medical and ornamental purposes in addition to culinary.
They have a pleasant scent, mildly sweet and earthy aromas. They go well with soups, stews, and casseroles. Dried thyme is also an excellent complement to meats and vegetables cooked on the grill or in a roasting pan.
Besides, there are many different types of thyme, but the most typical ones to use as a substitute for marjoram are French and English variants. Because their flavor is as mild as marjoram, you can use the same amount you would go with marjoram for seasoning.
Use a 1:1 ratio to substitute, for example, 1 fresh thyme leaf for 1 fresh marjoram leaf; or 1 teaspoon of dried thyme for 1 teaspoon of dried thyme.
The differences between fresh and dried thyme on the steak that you should know. You can see this video to know more: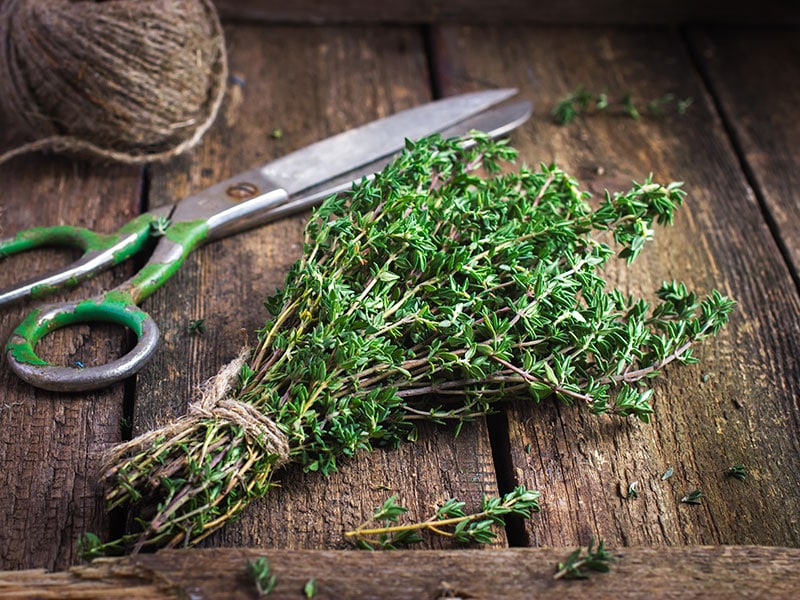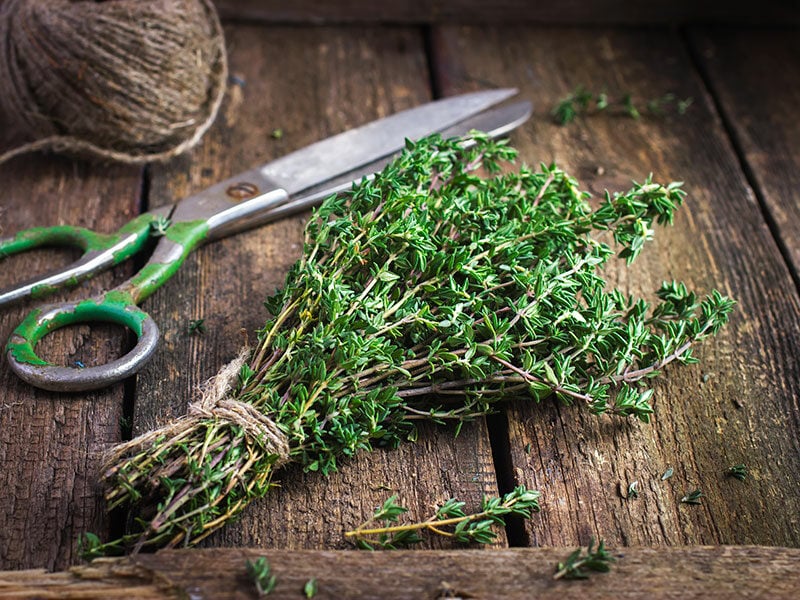 Sage – An Excellent Poultry Seasoning To Substitute Marjoram
Sage is not a bad choice for a marjoram substitute. They do not taste exactly the same as marjoram, yet their strong herbal and earthy flavors resemble marjoram. Like thyme, sage can be used for medical treatments.
As I've already pointed out, sage is fantastic for seasoning poultry. So if you run out of poultry seasoning, along with marjoram, you can definitely use sage as a stand-in for poultry seasoning. Throw in some black peppercorn if you want your meat to have a slight spicy flavor.
Sage is a critical plant in the essential herb list in Britain. Besides, in America, they are an important ingredient for stuffing dishes on Thanksgiving and Christmas occasions.
You can use the same amount of sage to replace marjoram without changing too much the overall flavor of the food. For example, a teaspoon of dried sage can be used for a teaspoon of marjoram, or a teaspoon of fresh sage can be substituted for a teaspoon of dried marjoram.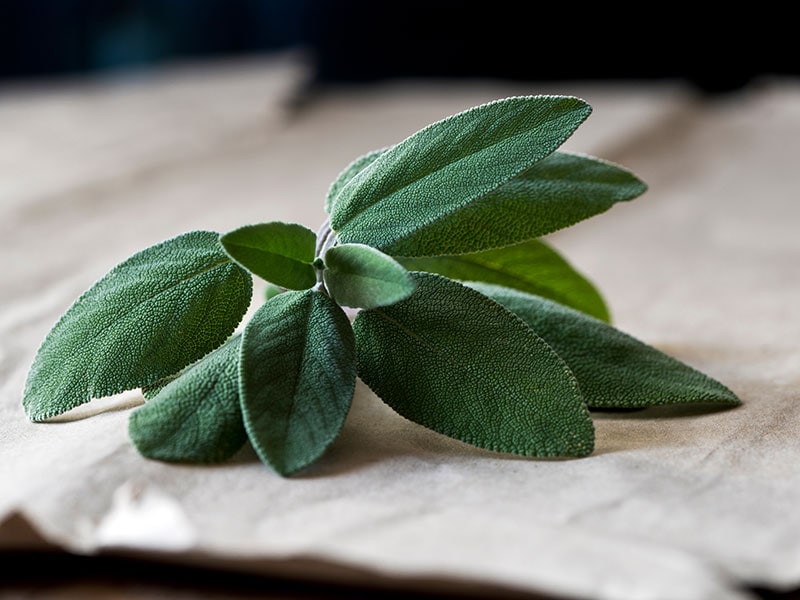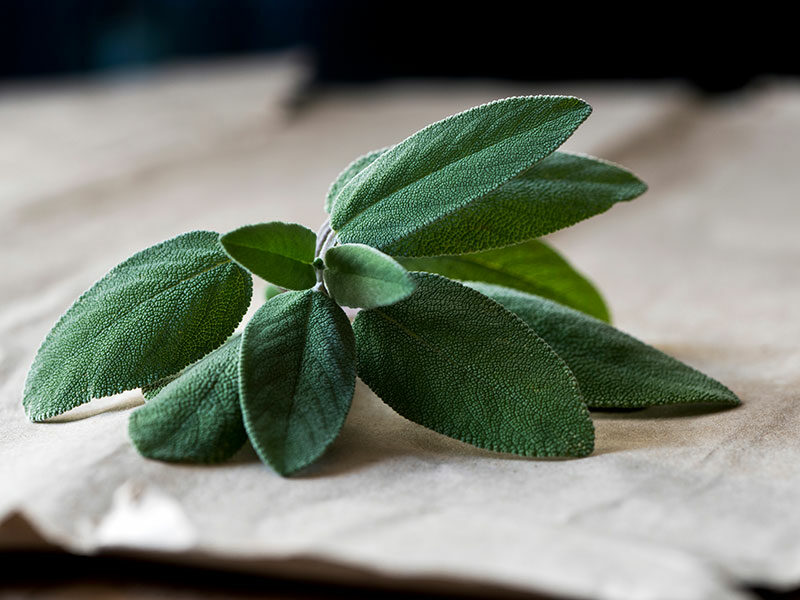 Basil – Not-Really-Similar But Still Ok To In Place Of Marjoram
Basil is native to tropical climates. They are a common culinary herb used in many nations, so you can readily buy them in food stores.
Fresh basil is also an aromatic herb that has a distinct, sweet, and peppery taste. They do not have the same citrus flavor as marjoram, but they still work fine to substitute marjoram in some dishes.
To maximize the flavor boost from basils, you should use ones that are still fresh. Wilted leaves might look unappetizing and their flavor might not be as good. A few tips and tricks to store fresh basils will easily extend their shelf-life without taking too much of your time and effort.
Both basil and marjoram are perfect for sausage soup or stew dishes. However, if you use fresh basil, remember to add them at the end of your cooking. In contrast, add dried basil to your food before cooking.
Also, when substituting fresh basil for fresh marjoram, be sure to use an equivalent amount of fresh basil as a 1:1 ratio.
Fun fact: In Italy, a pot of basil can be seen as a means of signaling your lover. However, some people in Rome think that this plant only thrives in places where there is hostility and cruelty.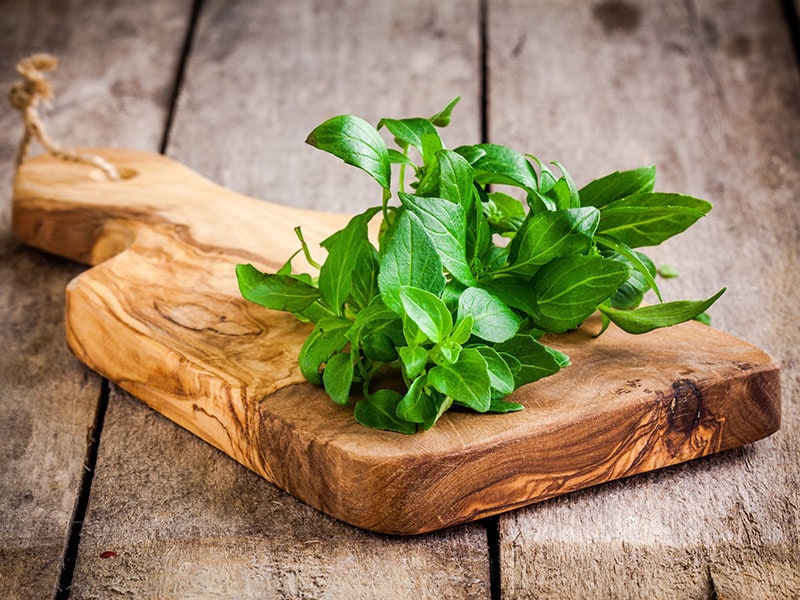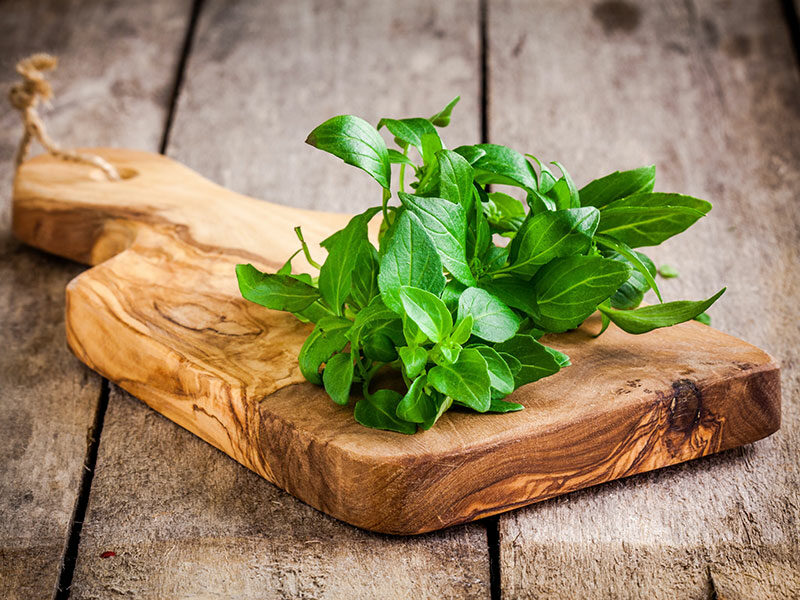 Tarragon – A King-Of-Herbs In French Cuisine That Can Replace Marjoram
Another name of tarragon is estragon. They are easily spotted in Eurasia and North America areas. In French and Mediterranean dishes, tarragon can be used as the substitute for marjoram.
But there are so many different kinds of tarragon, which one should I choose for marjoram substitute? If that is the question you're asking yourself, the answer is simple: you should opt for the French variety.
Tarragon has a strong flavor and hints of pepper and anise taste. If you want to replace marjoram with tarragon, just use a 1:1 ratio for replacement.
Similar to basil, tarragon is not going to taste like marjoram; however, its earthy and aromatic flavor somehow still fits well to replace marjoram in many dishes.
Let's learn more about tarragon and how to use them properly with other ingredients here.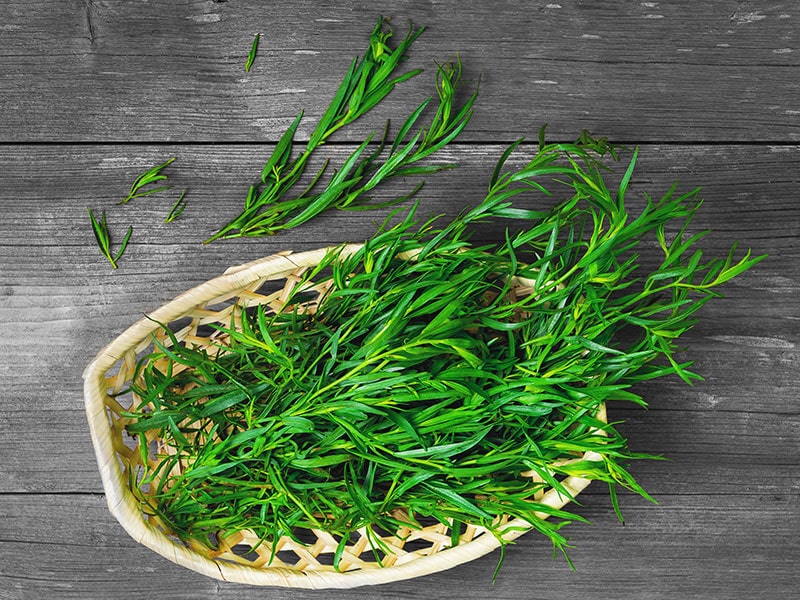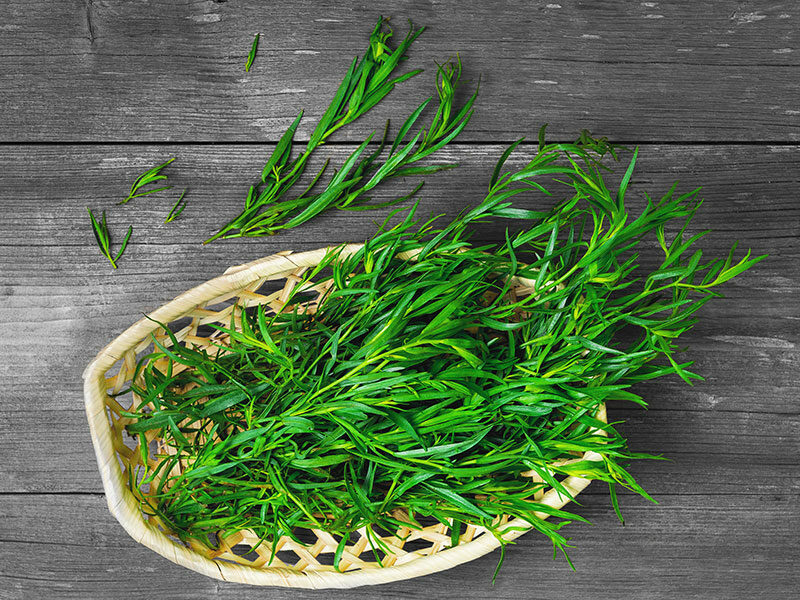 Lemon Thyme – A Citrusy Taste To Resemble Marjoram
Lemon thyme (aka citrus thyme) has a soft herbal taste which is also similar to thyme taste, yet a stronger citrusy and less bitter flavor. Therefore, you can consider using them to replace marjoram. Or, if you want to add a little bit of sweet-and-sour and herbal flavors to your food, just try them.
You can eat them raw or use dried lemon thyme to season. They also fit well in herbal teas. Besides, their versatile usages are not only for cooking but also for aromatic products like deodorants, perfumes or cosmetics…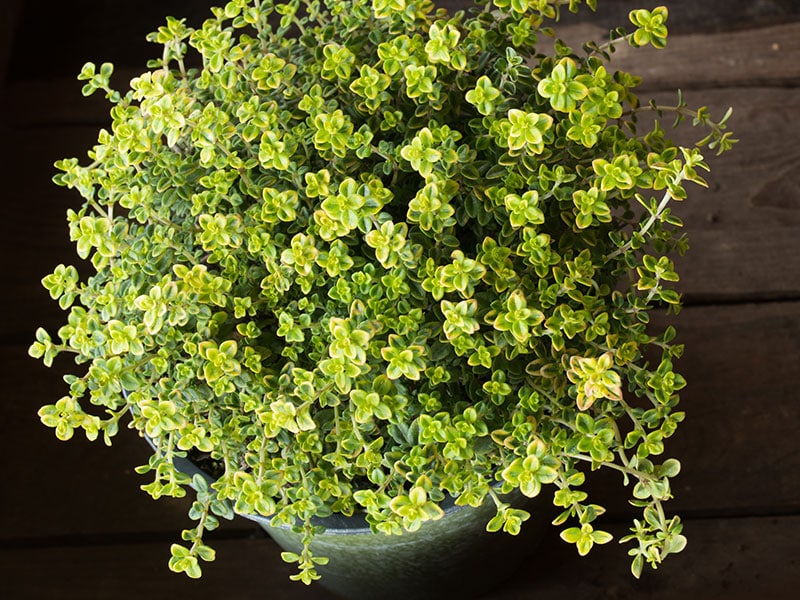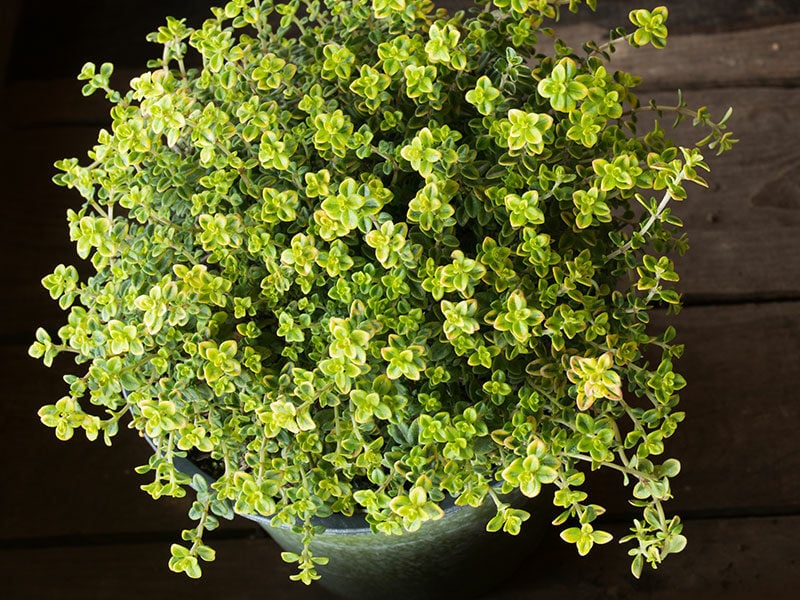 Uncommon Herbs That Substitute For Marjoram
It might be the first time you hear about them (or some of them) as they are only popular in some regions, not worldwide.
Summer Savory – A Hint Of Marjoram Flavor
Summer savory is a famous herb that is widely used in Canada, though its origin is also from the Mediterranean. They belong to the mint family, so it is also an aromatic herb.
They also have a winter version, called winter savory, which is a little bit bitter compared to summer savory, so they are less popular than the summer ones. Moreover, summer savory is called the herb of love.
Their flavor is sweet, peppery, and has a hint of marjoram's taste. So if you cannot find marjoram, try summer savory. Both dried or fresh ones are perfect for seasoning or sprinkling over meats for grilling.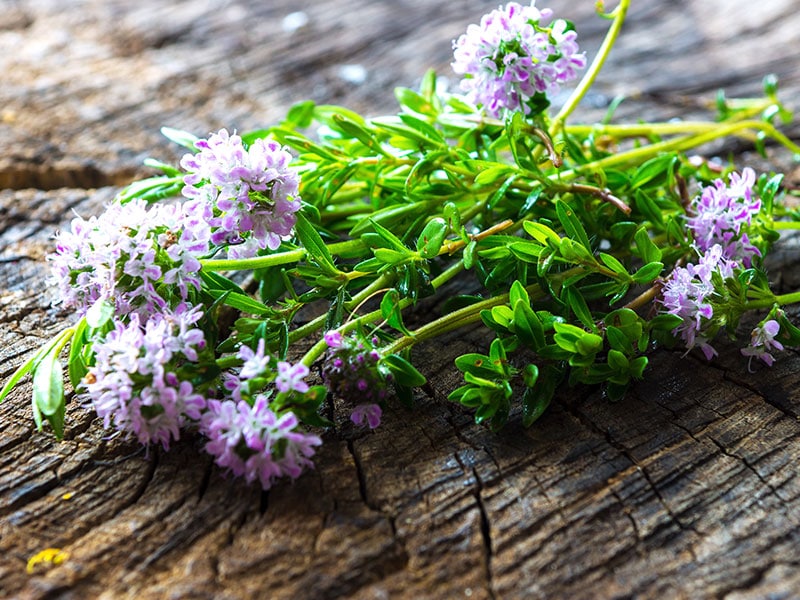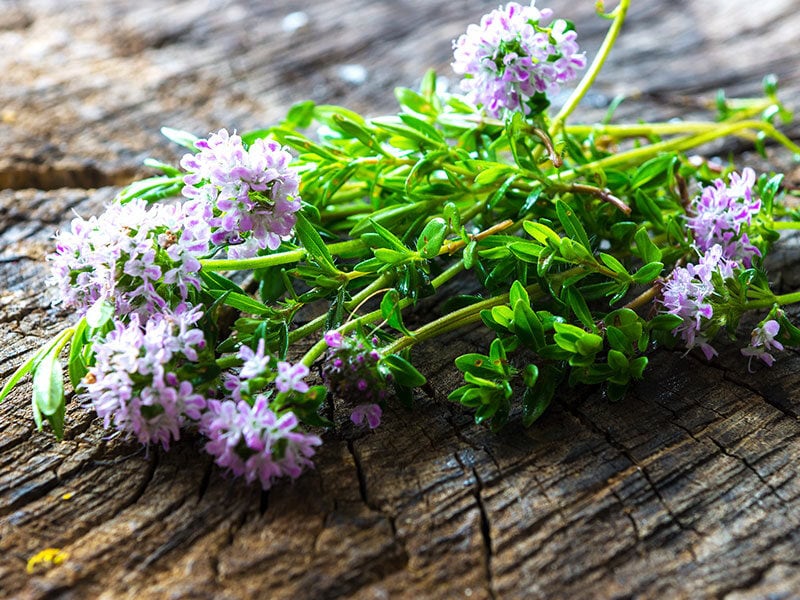 Za'atar – Marjoram Is A Part Of Them
In the Mediterranean, za'atar is also a popular culinary herb. In fact, za'atar is a term that refers to both the herb and a mixture of spices that includes dry thyme, savory, oregano, marjoram, sesame seeds, sumac, and salt.
Therefore, they can be used as a substitute for marjoram. People also use it in place of Italian seasoning. They work well with pita, a classic Middle Eastern dish that takes the form of a round flatbread, as an ingredient for pita's dipping sauce
Plus, you can use za'atar to season meats and vegetables. Overall, za'atar usage is versatile. These foods beginning with "Z" are even used to make a drink in Oman(3).
You can see this video to know more: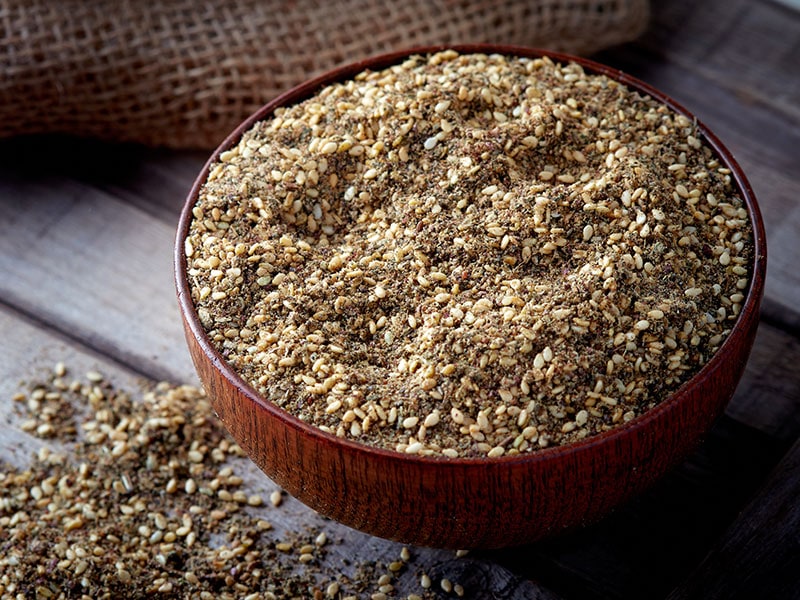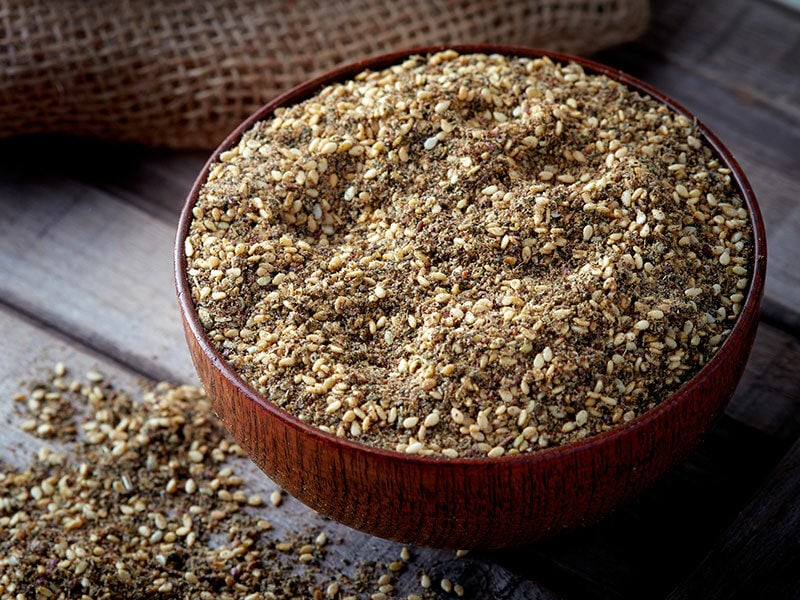 Herbes De Provence – French Herb Mixture That Includes Marjoram
I bet that you can guess the origin of this herb from its name. Yes, they are native to the Provence region in France. Similar to za'atar, marjoram is included in the herbes de Provence mixtures with herbs and spices so that you can get the marjoram flavor from this one for your recipe.
Apart from marjoram, they also contain other ingredients like savory, tarragon, thyme, basil, oregano, etc. Basically, they are all aromatic herbs, thereby, making sure the amount of herbs de Provence you are using is appropriate; otherwise, your food's flavor might be too strong to eat.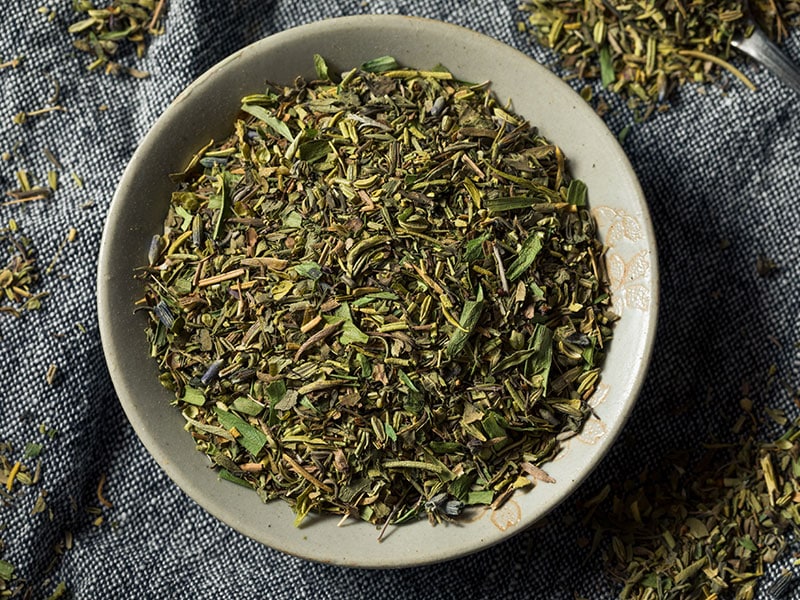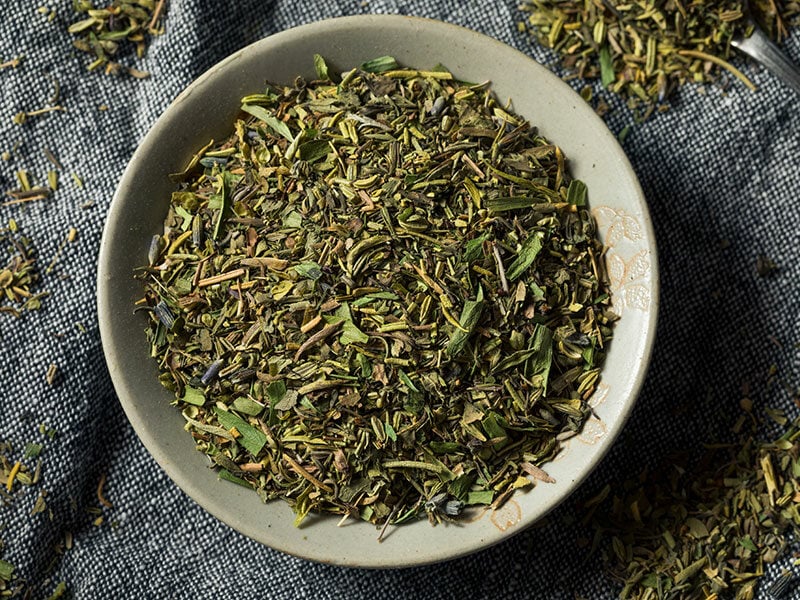 Dried Lemongrass – The Last Substitute Choice Of Marjoram
This one might be the last option of a marjoram substitute.
They are included in this list because dried lemongrass has a citrus flavor that is similar to marjoram. As a marjoram alternative, they can enhance the citrusy and herbal flavors that go well with your meals.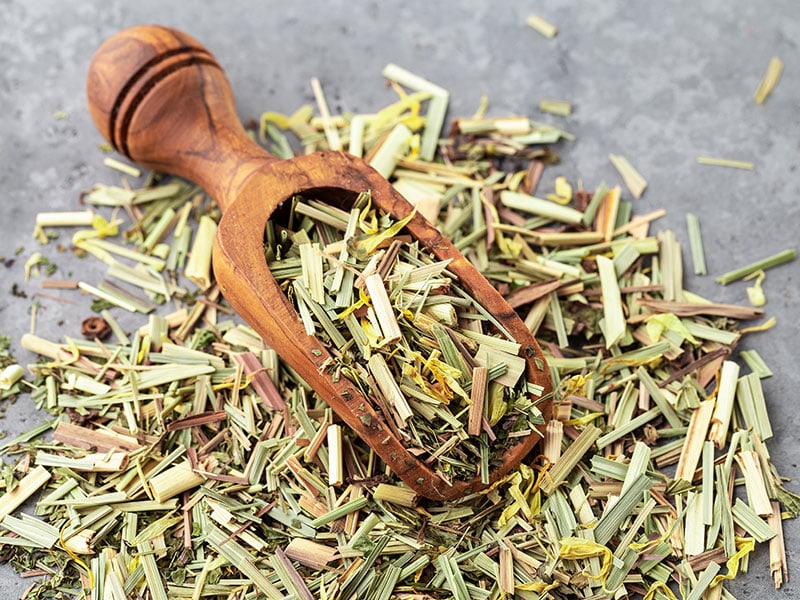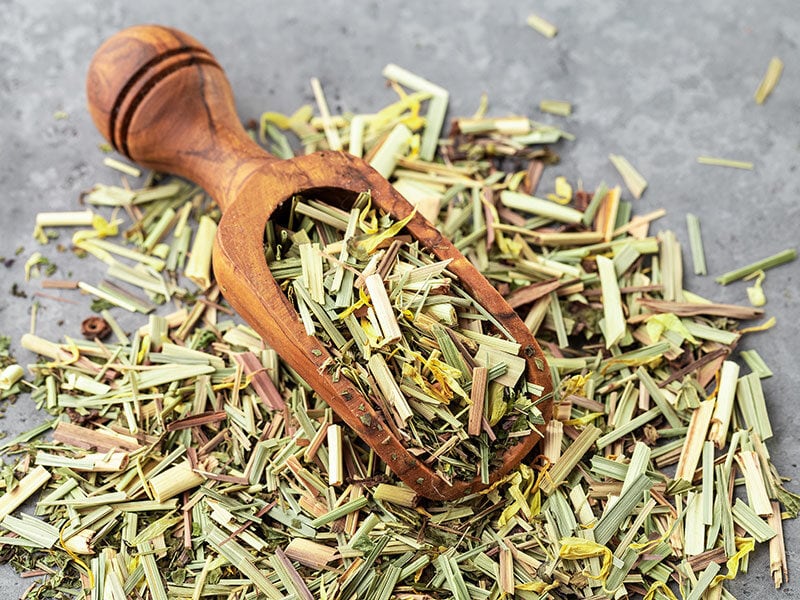 Each herb has its own particular flavor. Therefore, trying to substitute one herb for the other could be difficult for you. But with the list of marjoram substitutes here, I hope you can find the finest marjoram alternative for your new cooking recipe.
Also, just one minor suggestion to ensure that you do not overseason your meal: when cooking one dish with marjoram, try to remember this original flavor so that when you use its substitute, you can adjust the flavors as you expected.
Or, if you are not too picky, you might come up with a new recipe that is way better than the previous ones when you cook them with marjoram.
Finally, if you find this post useful, and if you have different alternatives for marjoram, please do not hesitate to share your ideas. I would love to hear that from you. Thanks for reading.
Nutrition Facts
1 servings per container
---
Amount Per ServingCalories2.7
% Daily Value *
Sodium 0.3mg

0

%
Potassium 13mg

1

%
Total Carbohydrate 0.7g

0

%
Protein 0.1g

0

%
---
* The % Daily Value tells you how much a nutrient in a serving of food contributes to a daily diet. 2,000 calories a day is used for general nutrition advice.
References
com. 2021. Health Benefits of Marjoram – webmd.
Daniel, P. 2019. What Is Marjoram? Benefits, Side Effects, and Uses – healthline.com.
wikipedia.org. 2021. Za'atar – wikipedia.