What oregano substitutes can you think of? There are various answers for you to consider. Besides basil, there's thyme, parsley, and many more, all capable of elevating the taste with a natural freshness.
So, what are you waiting for? Your dishes cannot wait any longer! Scroll down and be surprised with the perfect stand-ins for oregano. I'm positive that you will not feel disappointed.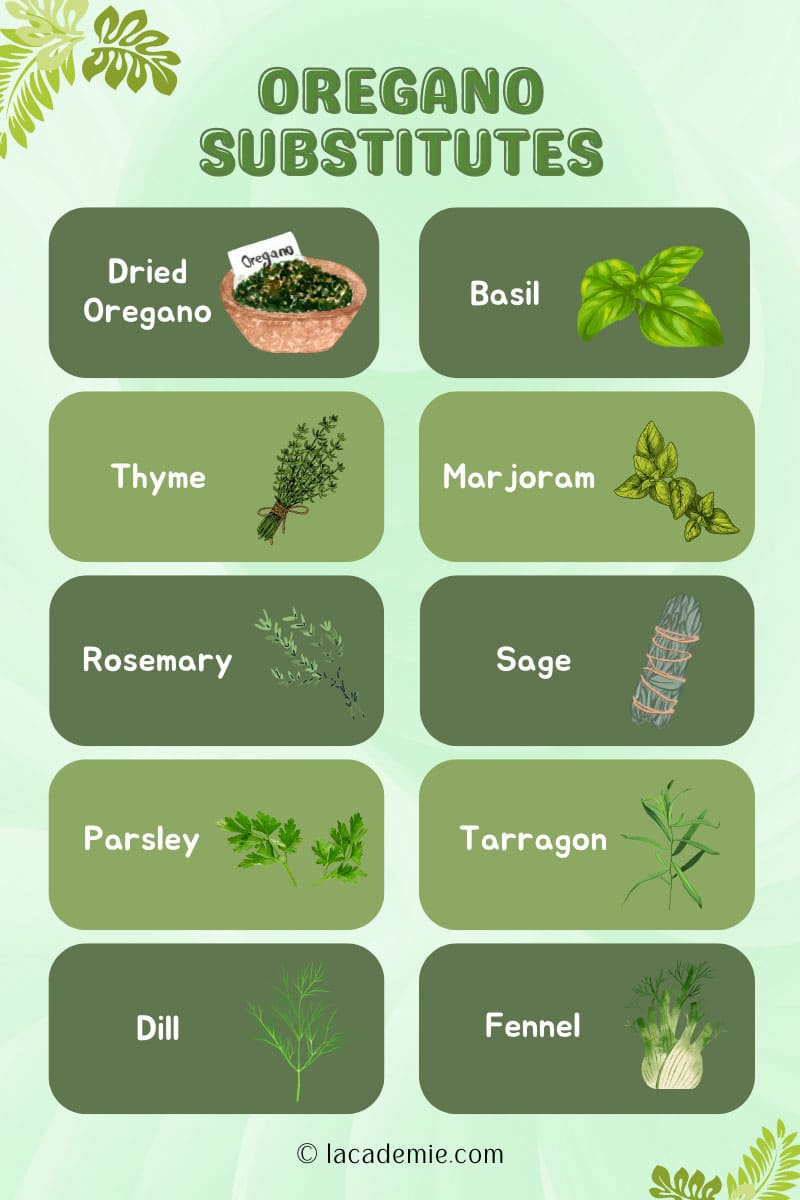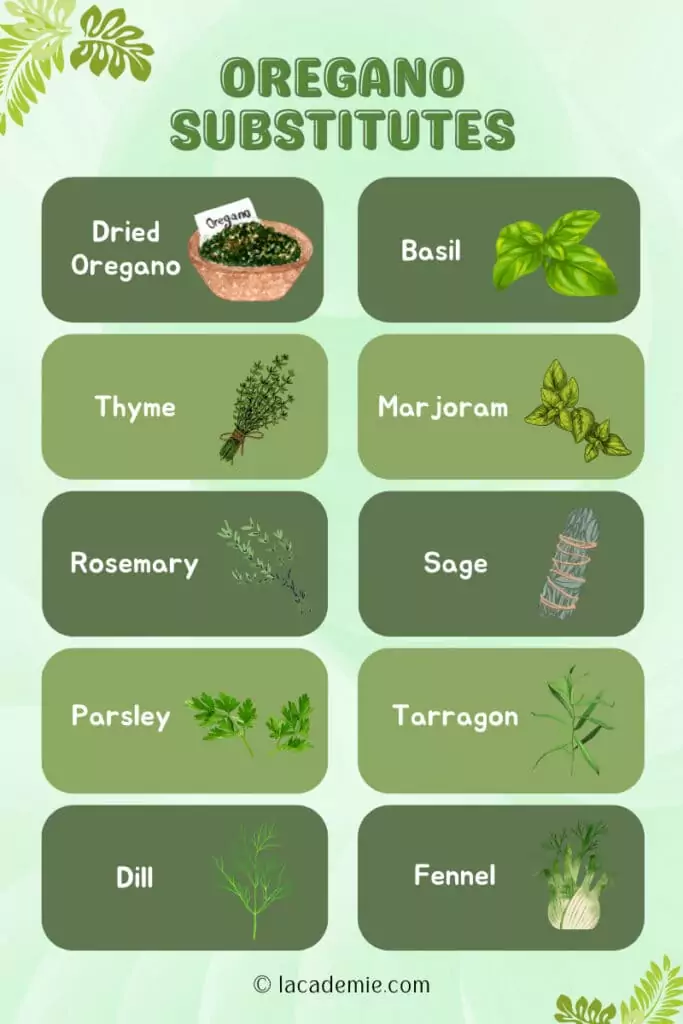 17 Excellent Alternatives When Oregano Has Gone Away
Oregano, you will be missed. Meanwhile, take this opportunity to experiment with some herbs that you have never gotten the chance to use. They will do a wonderful job in replacing oregano without altering the final taste. Check out the list below!
Herb Substitutes For Oregano That Belongs To The Mint Family
Dried Oregano
Basil
Thyme
Marjoram
Rosemary
Sage
Summer Savory
Other Herb Substitutes For Oregano
Mexican Oregano
Parsley
Tarragon
Dill
Fennel
Bay Leaf
Fenugreek
Fresh Chives
Carom (Ajwain leaves)
Herb Blend Substitute For Oregano
Italian Seasoning
Let's get cooking with these aromatic herbs!
Oregano, The Superpower Herb
Oregano – a food that begins with letter O, is no stranger in the kitchen. Also known as wild marjoram, the perennial herb is a member of the mint family. Its applications in cooking are well-known, but this herb has also been treated as a panacea for trivial illnesses since the 18th century.
Besides marjoram, oregano has a multitude of varieties. Syrian oregano is packed with a slight kick; Golden oregano, grown chiefly for decorative purposes, and many more. Until now, there are around forty kinds of oregano,
However, the origanum vulgare (common oregano) is the most popular variety. The herb is incredibly pungent, slightly bitter, and cleans your palate with minty nuances.
Their versatility is wonderful. You can even use oregano to make chili powder replacements. And this herb is also prominently featured in Mediterranean, Greek, and Spanish cuisines.
Oregano Substitutes You Did Not Know You Need
That said, it would be so sad to rush into the kitchen only to see you have run out of oregano. Well, that doesn't mean you cannot knock up a meal without it. The herbs listed in the table below will come to the rescue right away, so cheer up!
| Substitute | Substitute Ratio | Best for |
| --- | --- | --- |
| Dried oregano | 1 tbsp fresh oregano = 1 tsp dried oregano | Meat marinades, tomato, and olive oil-based dishes |
| Basil | 1 tsp fresh oregano = 1 tsp fresh basil | Breads, beef and potato dishes |
| | 1 tbsp fresh oregano = 1 tsp dried basil | |
| Thyme | 1 tsp fresh oregano = 1 tsp thyme | Breads, salad dressings, beef, potato, bean, and tomato-based dishes |
| Marjoram | 2 tsps fresh oregano = 3 tsps fresh marjoram | Pork and chicken dishes |
| | 1 tsp fresh oregano = ¾ tsp dried marjoram | |
| Rosemary | 1 tsp fresh oregano = a pinch of fresh/dried rosemary | Soups or casserole, lamb, poultry, and tomato-based dishes |
| Sage | 1 tsp fresh oregano = ½ tsp sage | Pork, beef, and poultry dishes |
| Summer savory | 1 tsp fresh oregano = 1 tsp summer savory | Sausage, beans, and grilled meat dishes, salads, sauces |
| Mexican oregano | 1 tsp fresh oregano = ½ tsp Mexican oregano | Mexican dishes like tacos or chilis |
| Parsley | 1 tsp fresh oregano = 1 tsp fresh parsley | Tomato-based dishes |
| | 1 tbsp fresh oregano = 1 tsp dried parsley | |
| Tarragon | 1 tsp fresh oregano = 1 tsp tarragon (French tarragon is preferred) | Chicken or tomato-based dishes, salad dressings |
| Dill | 2 tsps fresh oregano = 1 ½ tsps fresh dill | Soups, fish and tomato-based dishes, salad dressings |
| Fennel | 1 tsp fresh oregano = 1 ½ tsps fennel herb | Soups, roasted meat and tomato-based dishes, salad dressings |
| Bay leaf | 1/4 tsp dried oregano = 1 bay leaf or ¼ tbsp crushed bay leaf | Stews, sauces, and soups |
| Fenugreek | 1 tsp oregano = 1 tsp fenugreek | Can be used in any recipe |
| Fresh chives | Adjust to taste | Egg, tomato, and cheese-based dishes |
| Carom (Ajwain leaves) | 1 tsp fresh oregano = 1 tsp carom herb | Indian dishes like curries |
| Italian seasoning | 1 tsp fresh oregano = ½ tsp Italian seasoning | Italian dishes like pizzas |
Refreshing Oregano Substitutes That Belongs To The Mint Family
There's nothing as invigorating as a breath of minty flavor. If oregano is absent, seek help from other members of its family, Lamiaceae. Just a pinch, and these herbs will transport your taste buds to paradise.
1. Dried Oregano
If you cannot find the fresh stuff, seek dried oregano. It has deep, earthy flavors with a hint of bitterness. The texture is crumbly, reminiscent of autumn leaves but instead in different hues of dull green.
Dried oregano can be dominant in your recipes, so make sure to decrease the amount you use. Swap one teaspoon of dried oregano for one tablespoon of fresh oregano and use it in marinades or tomato and olive-based dishes for the best result.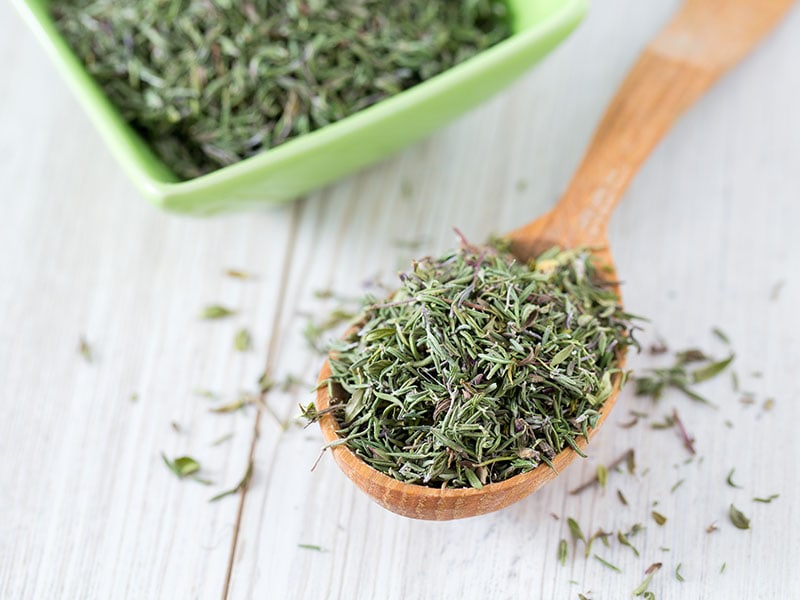 2. Basil
Basil offers amazing versatility in the kitchen. It is a key element in pesto, tossed in salads, topped on pizza, or used as a garnish for ice cream. The herb is believed to have been brought to Italy by the Greeks.
Although basil is a strong-flavored herb, it does not overwhelm other ingredients. It is packed with a slight peppery kick and refreshes your palate with undertones of mint and anise. Thus, the aromatic herb is more than welcome in Italian recipes or dishes with beef and potatoes.
There are various choices to replace basil, including oregano. Thus, whenever you do not have either of them on hand, use one to substitute another.
So you can use fresh basil as a 1:1 substitute for oregano. You can also swap a teaspoon of dried basil for a tablespoon of fresh oregano if you wish.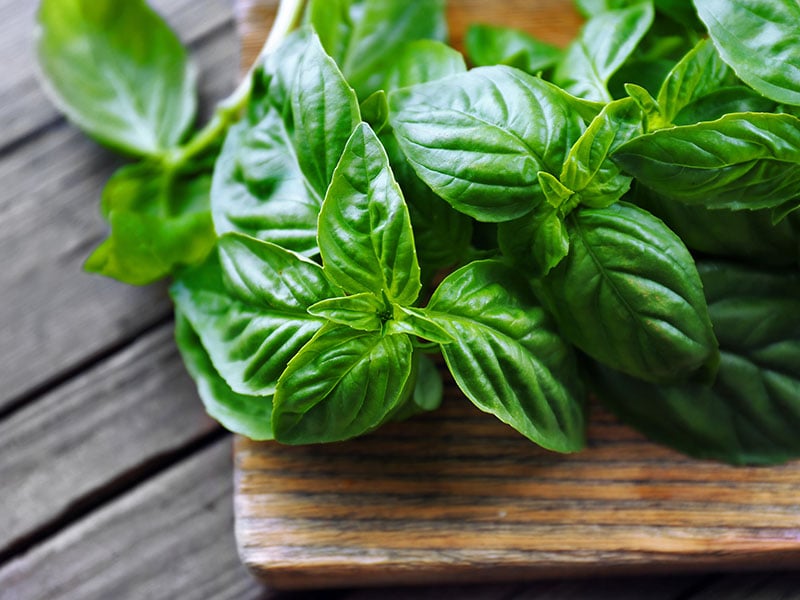 3. Thyme
Thyme is another herb that comes from the Mediterranean region. In reality, many people barely recognize the difference between thyme and oregano. But if you look closer, you will spot some distinctions in their appearances.
Thyme often grows in clusters and has approximately 300 varieties named after the flavor: orange thyme, caraway thyme, and so on. They can all step up your flavor game with no effort.
However, when using thyme as an oregano substitute, your best bet is the common kind (T. Vulgaris). It has a pretty sharp taste, with notes redolent of mint and lemons, but overall still blends well with other elements with your dishes.
To make the swap happen, replace one teaspoon of thyme with an equal part of oregano.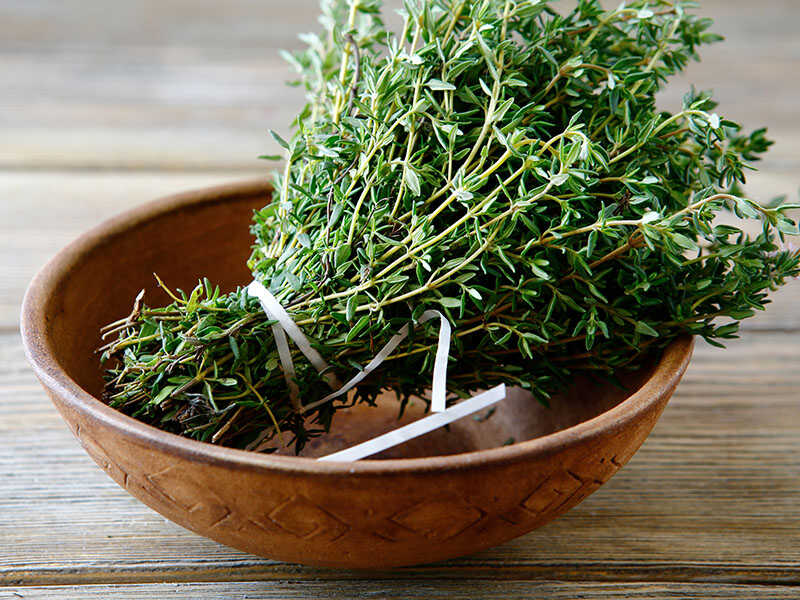 4. Marjoram
Marjoram is a notable addition to Mediterranean cuisine. It is typically paired with vegetables, particularly tomatoes, game, sausages, and fish.
Besides wild marjoram, which is the most common type, there are sweet and pot marjoram. Plus, marjoram alternatives are varied, and oregano is one of them too!
Marjoram has an earthy flavor, overall not too strong, with woody, citrusy, and floral hints that show your recipes the shortcut to perfection. It can be used to make a soothing cup of tea as well. The applications are countless.
You can use either fresh or dried marjoram as a replacement for oregano. For the former, the swap ratio will be 3:2. For the latter, use every teaspoon for ¾ teaspoon of dried oregano.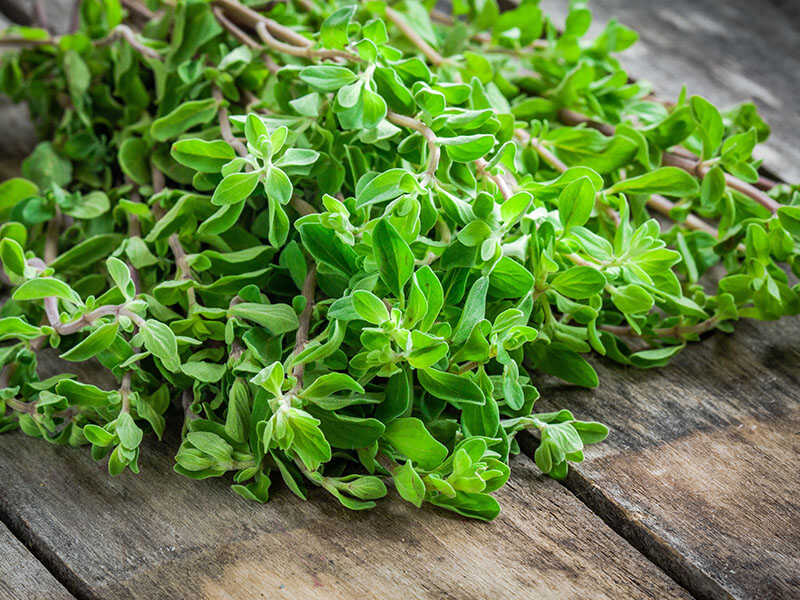 Take your cooking game to the new level with this roasted chicken recipe!
5. Rosemary
What can you do with a sprig of rosemary? There are way too many approaches. Let it swim in your hearty stew, garnish it in your soup, or use it to brew some tea and soother your soul. It can be purchased conveniently at any supermarket or grown at home.
Rosemary possesses quite a strong taste, which is a blend between pines and lemon. That said, use a light hand, even with fresh or dried stuff. It will be an ideal oregano substitute if you plan to cook up some French or Spanish dishes for tonight's dinner.
Due to its robust flavor, you will only need a pinch of rosemary for one teaspoon of oregano. No more, no less.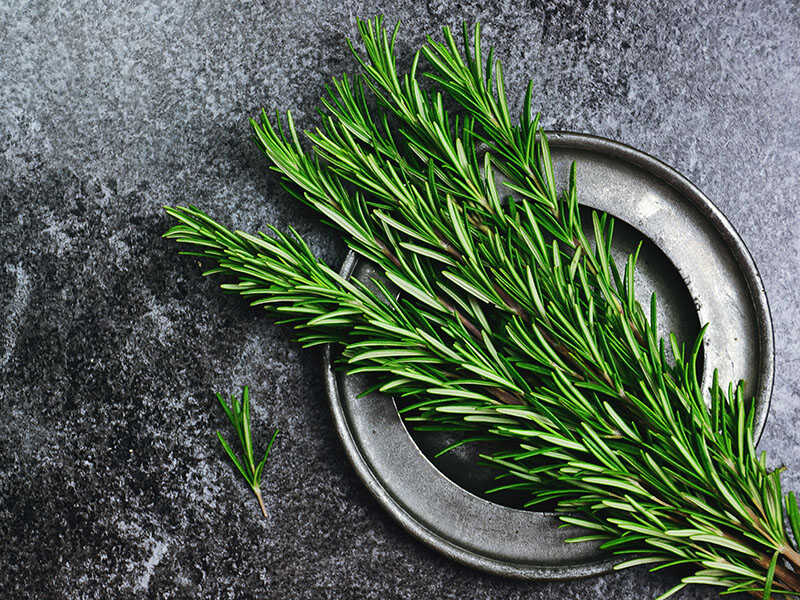 6. Sage
These days, sage is incorporated into stuffings, sprinkled on salad, or used to make a glass of refreshing cocktails. Back then, it was highly prized not for its culinary uses but instead for the health benefits it brings, including aiding oral health and improving memory. (1)
With a herbal fragrant and somewhat deep, earthy flavor, sage is one of the most versatile herbs in your kitchen. It pairs impeccably with bold flavors, namely sausage and cured meat, but can also join hands with something lighter such as creamy pasta or tea.
And similar to above herbs, there is a long list of sage's substitutions that includes oregano. But in case you use sage to be in place of oregano, use it in a ½:1 ratio (1/2 part of sage for 1 part of oregano).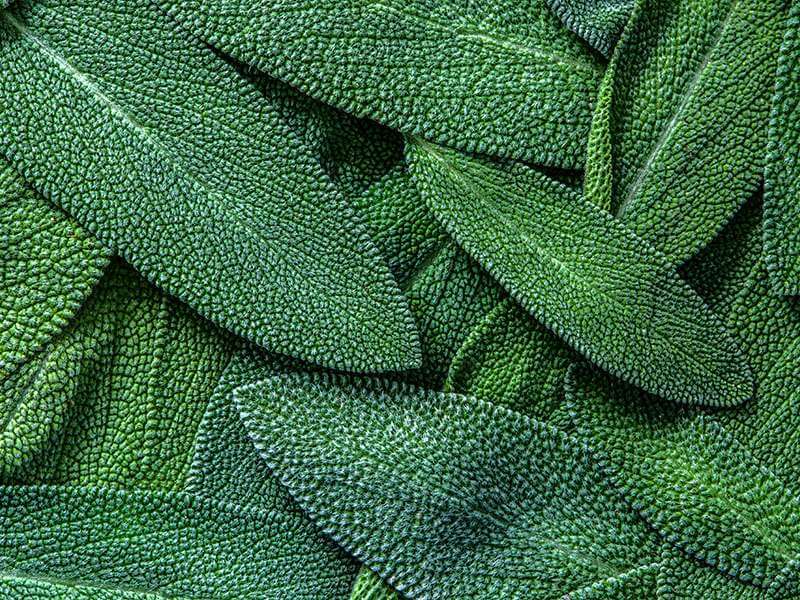 7. Summer Savory
Mark my words: summer savory will become the game changer of your delicious dishes. It is more favored than its seasonal counterpart, winter savory, thanks to its wonderful smell and versatility in cooking.
Summer savory has a mild, subtly sweet flavor, and can tickle your nose with a spicy aroma. There are numerous ways to play with this herb, but perhaps it is best known for its ability to eliminate the strong odor of foods like sauerkraut.
The replacement ratio is 1:1.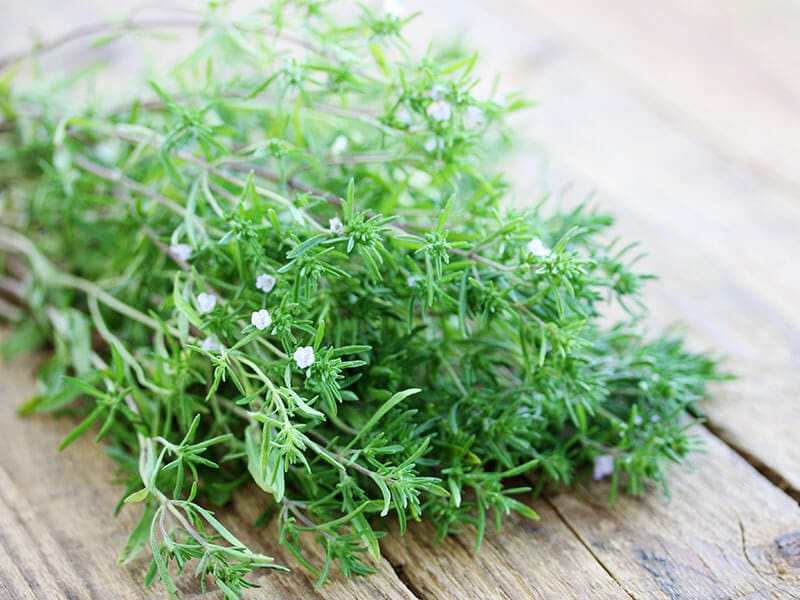 Aromatic Herb Alternatives For Oregano To Wake Up The Flavors
Turn to these fragrant herbs if oregano goes missing without notice. Some are almost akin to oregano in taste, whereas others will vary slightly. Overall, they are just the ticket, so rest assured that your final result will still notch up a success.
8. Mexican Oregano
The regular oregano is of Italian and Mediterranean origin, while this leafy herb first emerged in Mexico and can now be found easily in America. These two oreganos have no relation and have somewhat slightly different flavor profiles.
That said, if you are making some traditional Mexican dishes like tacos, chilis, or bean-based dishes, Mexican oregano is a perfect match. Unlike its Italian counterpart, which leaves your palate with minty undertones, this herb has bright notes of citrus and licorice.
Use half a teaspoon of Mexican oregano for one teaspoon of fresh Italian oregano.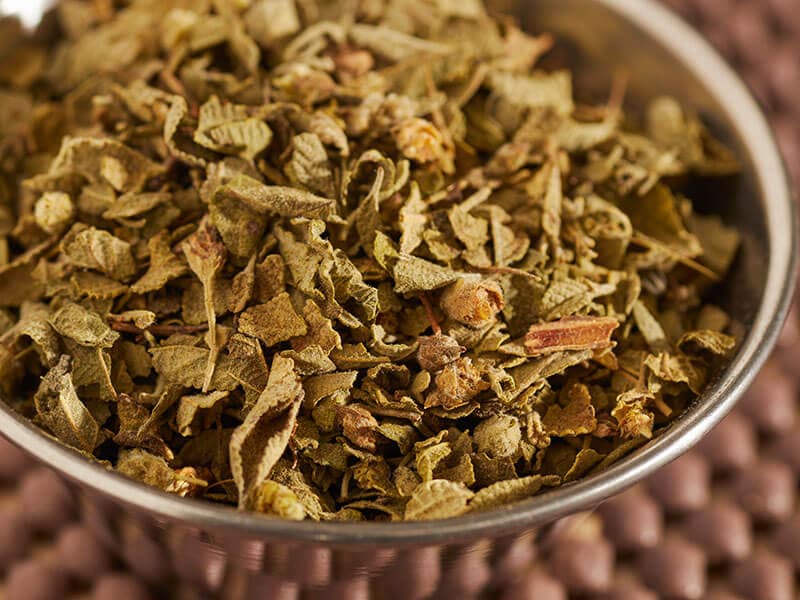 9. Parsley
Another herb you can pick when oregano is not available is parsley, a fragrant herb that has been around for about 2,000 years. Similar to oregano, it has various culinary uses, but you may not know that it's also treated as a natural remedy for coughing or asthma. (2)
With a delicate, somewhat bitter taste, parsley is beloved by many home cooks. This herb is served in cooking recipes and for decorative purposes.
There are many options to swap parsley for other ingredients as well. And all of them work great with many dishes, like tomato-based treats, citrus fruits, or seafood.
Like marjoram, fresh or dried parsley can be used without problems, although you may come across the fresh stuff more often. Substitute parsley for oregano as you do it with basil.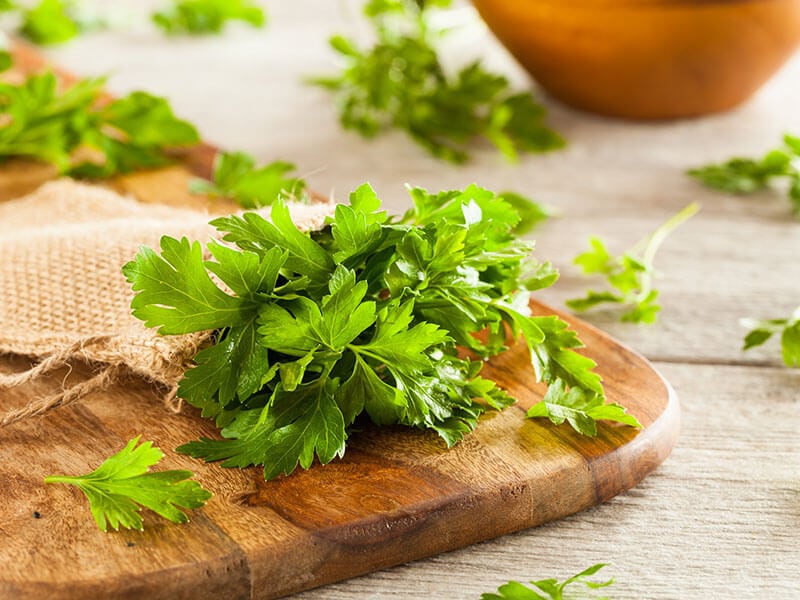 10. Tarragon
There are no other herbs like tarragon, and you know it. It has three variants, French, Russian, and Mexican, but the first option enjoys total supremacy. It has a distinctive taste and can be found almost everywhere, unlike the other two variants.
What makes French tarragon special? Thanks to estragole, the herb has a sweet flavor that reminds you of licorice or anise. As the name suggests, it is mainly associated with French delicacies like béarnaise sauce, but it's also just the thing for your Italian recipes.
However, you'll need to be mindful. Tarragon comes in 2 forms: fresh and dried. You'll need to know the differences between fresh and dried tarragon to choose accordingly. Otherwise, your recipe might end up tasting too strong or too weak.
The replacement ratio is 1:1.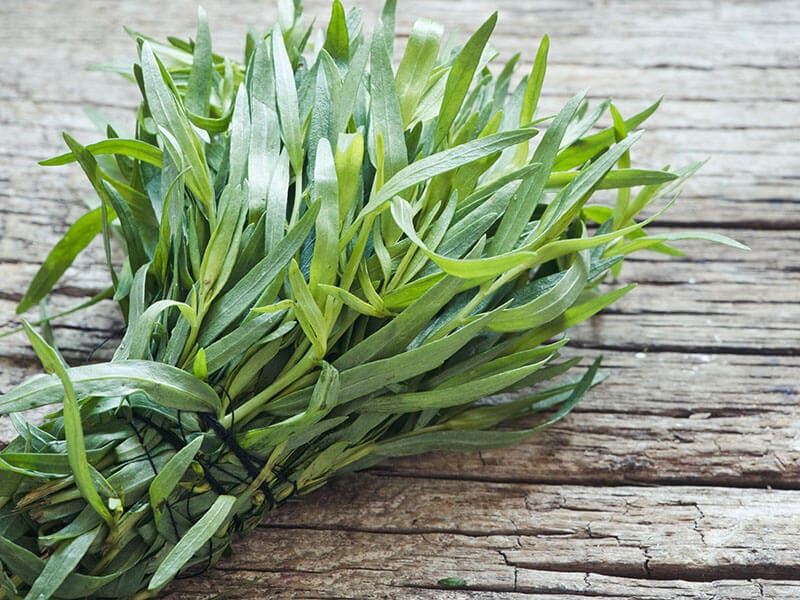 11. Dill
Dill was initially used as a medicine, but gradually, it has found its way to your lip-smacking pickles, potato salad, and tartar sauce. Although dried dill can work, if you know how to keep your dill fresh, I suggest going with fresh dill since it is more flavorful.
Dill has a very refreshing taste likened to tarragon, but not as intense. It also tastes slightly sweet, with pronounced grassy undertones going well with mint, lemon, or garlic. If you haven't been cooking with dill for a while, now is the time.
With two teaspoons of fresh oregano, use one and a half teaspoons of fresh dill.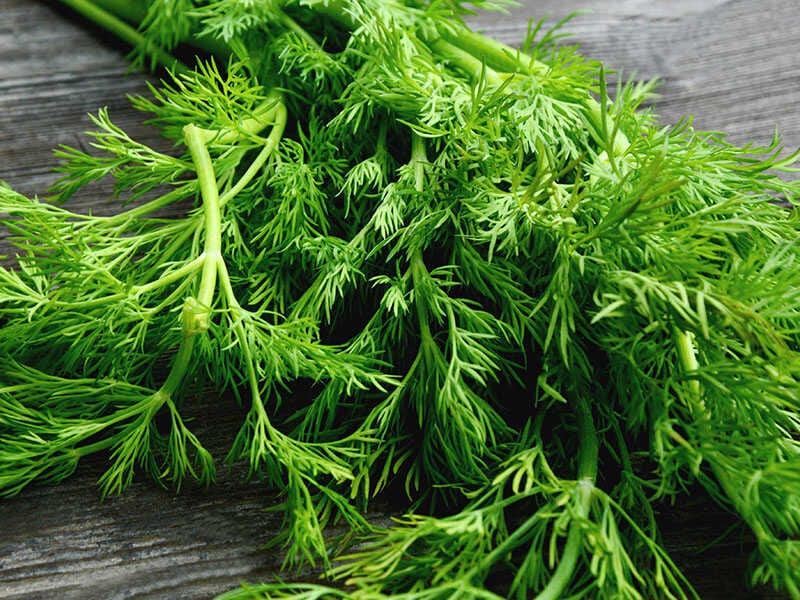 12. Fennel
Don't fret if oregano is out of stock at the nearest supermarket. If you happen to see fresh fennel (the herb type, not to be confused with the heart-shaped vegetable), put it in your trolley. Native to southern Europe, the aromatic herb is now cultivated worldwide.
Half part sweet, half part bitter, fennel has an unmistakable taste that also makes it a great replacement for fennel seeds. Its subtle sweetness is like licorice, which gets stronger as you cook it. Like other herbs, fennel takes kindly to tomato-based dishes, salads, and roast items.
Substitute fennel for oregano like how you would with dill.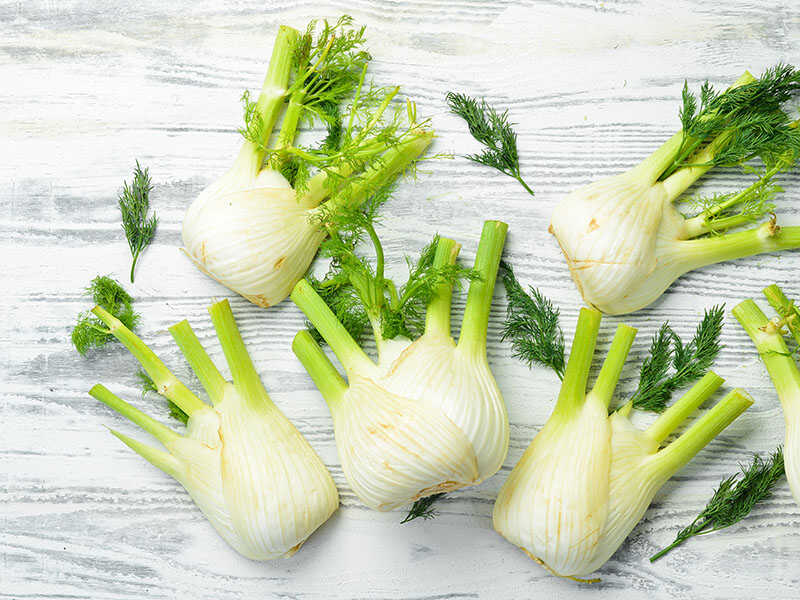 13. Bay Leaf
Love cooking with bay leaves? Here comes the great news: you can grow them indoors in just a small pot! Bay leaf is a perennial favorite in many households and can last for about three months, although it is highly recommended to use it while it's still fresh.
A thing about bay leaf is that it has a very sharp flavor, so it's mainly added to cooking liquids (stew, soup, broth, etc.), simmered, and removed before serving. The final result is certain to be more pleasant on your tongue with an extra pop of mint.
Many people tend to confuse between bay leaf and basil. However, worry not, since bay leaf and basil are both viable alternatives for oregano with the same substitute ratio, mistaking between bay leaf and basil will not result in disastrous consequences.
Add one bay leaf or ¼ tablespoon crushed bay leaf for ¼ teaspoon of dried oregano.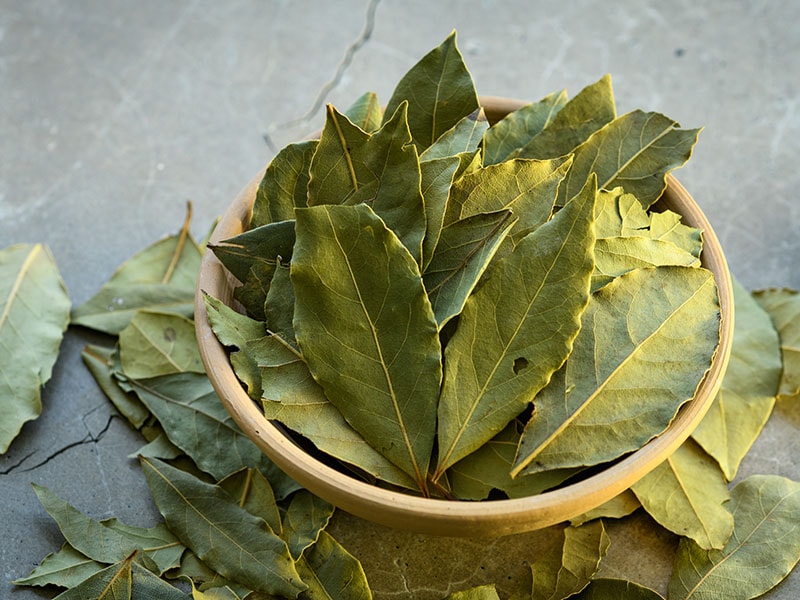 Watch this video to know more:
14. Fenugreek
Also known as methi, fenugreek is one of the most herb staples in India. The herb has slowly made its entrance in other cuisines, from North African to Middle Eastern, and the secret lies behind its wonderful flavor.
Despite its assuming appearance, fenugreek is incredibly sweet. Its taste will give you heavy licorice vibes, but some say it's similar to maple syrup. It will contribute significantly to many of your favorite recipes, such as curries or gamey meats.
Use fenugreek in lieu of oregano as a 1:1 substitute.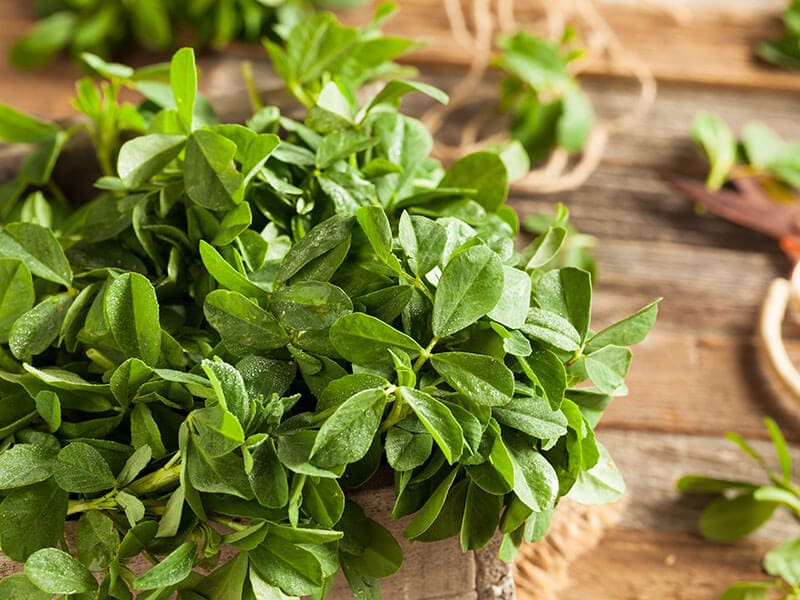 15. Fresh Chives
As winter comes to an end, chives are one of the first herbs that spring up in your garden. It grows in hearty clumps and can be harvested after a month after transplant or two after you plant the seeds.
Fresh chives are commonly used as a variant of garnish, but they are also added to cheese, tomato, or egg-based dishes for an extra onion-like flavor. There's also a herb called garlic chives, which packs a heavy garlicky flavor.
There's no straight ratio for this, so I suggest adding a tiny amount first, then work up until a desired taste is achieved.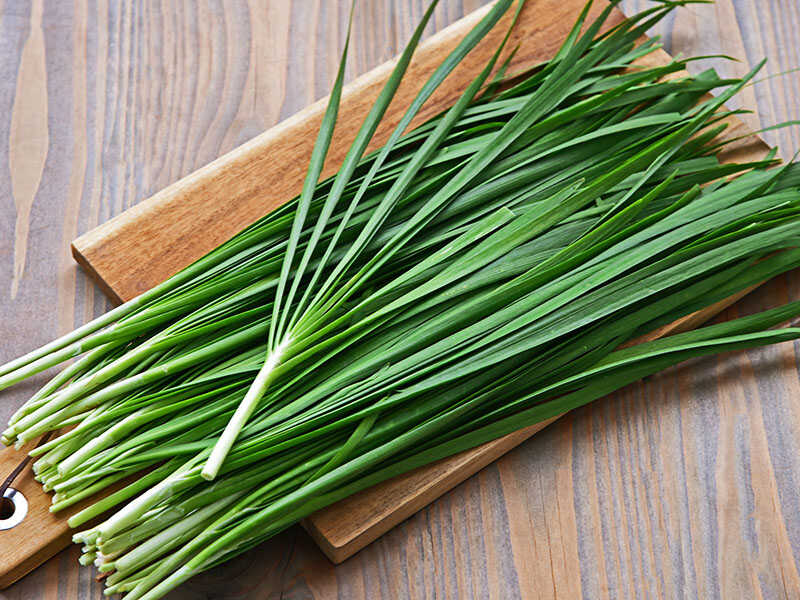 16. Carom (Ajwain Leaves)
When in a pinch, carom seeds are an excellent alternative for oregano. Both seasonings are closely related and share many similar qualities, including the flavor. The herb is also known by other names like thymol seeds or bishop's weed.
As mentioned earlier, carom bears a striking resemblance to oregano regarding taste. It's pungent, sort of bitter, with heavy notes of oregano and a hint of anise. You can also find it in the seed form, which tastes slightly stronger and is an apt match with chutney.
With many similarities in taste, trade one teaspoon of oregano for an equal part of carom.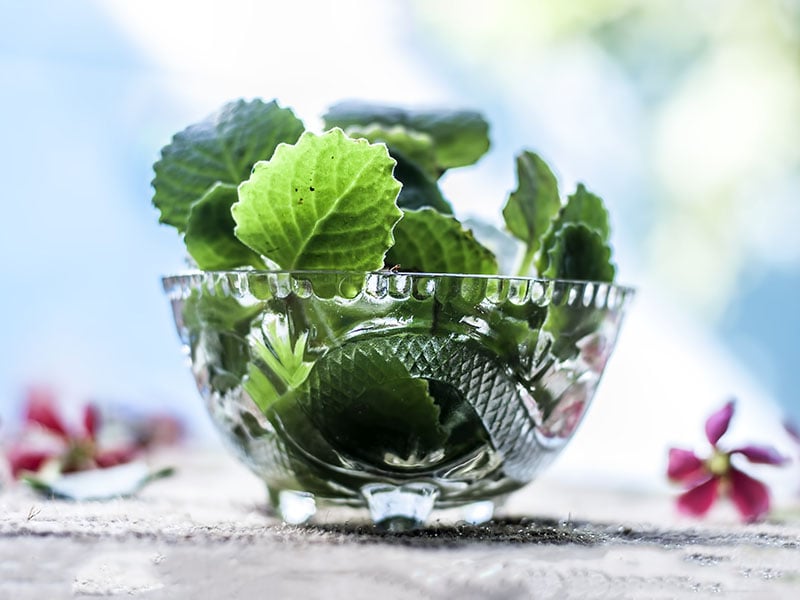 Spice Blend Substitute For Oregano
If you can't find these fresh (and dried) herbs anywhere, your last resort is Italian seasoning, a delightful blend of some of the herbs above. You can purchase it at any supermarket for a reasonable price.
17. Italian Seasoning
Dried Italian seasoning is a mix of some of the substitutes listed above. Typically, it consists of oregano, thyme, rosemary, marjoram, and any other herb of choice. The recipe is a loose format, so you can bring in or leave out anything you don't have at hand.
Stop by your local spice purveyor, and you can easily find this flavorful mix. If you wish, you can make it at home, too, although it's more convenient to use a single herb. Still, it's one of the greatest options if you want more depths of flavors.
Substitute one part of Italian seasoning with two parts of fresh oregano.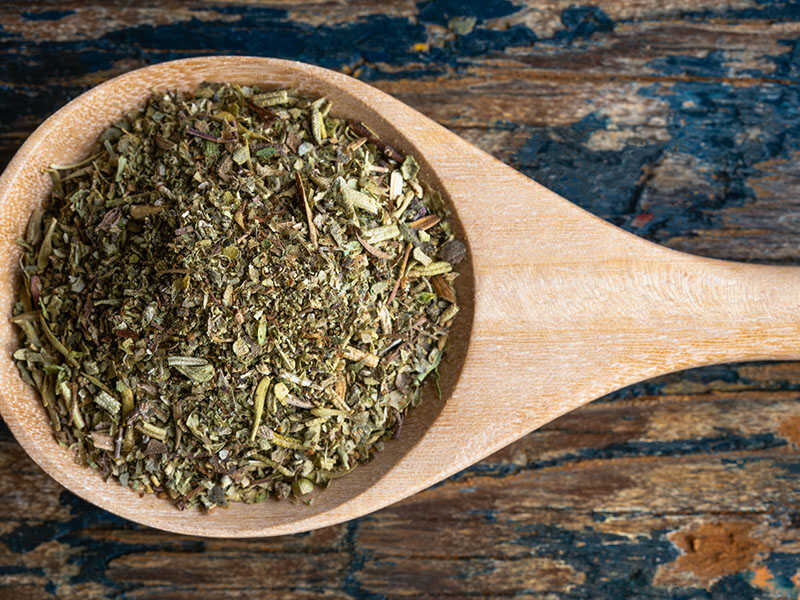 Let's make this Italian seasoning and use it in whatever you are cooking:
Let The Substitutes Team Up
Do you feel like a single herb cannot do the job well? Here's a brilliant hack: combine these substitutes, and let them bring out the best of each other in your recipes. Two is always better than one!
Here are a few suggestions you would love to try for your next cooking project. Note that the amount you see below is a substitute for two teaspoons of oregano.
Basil and marjoram, each one teaspoon
Basil and parsley, each one teaspoon
Marjoram and thyme, each one teaspoon
Feel free to work with other herbs, too – you are now the herb matchmaker!
Fantastic Cooking Ideas With Oregano And Its Substitutes
Don't know what to cook with oregano or its substitutes? These fantastic recipes are here to get you inspired!
With an exquisite lemony and herbaceous flavor combo, these chicken breasts will certainly make you drool. They are grilled to perfect tenderness and served warm with fruit salsa or mashed potatoes for an easy midweek dinner.
If you run out of oregano but happen to have some sage leaves left in your cupboard, these succulent pork chops are an ideal option. What makes this dish an instant hit is the sauce made with fresh sage, shallots, and a splash of full-bodied white wine.
Treat your family with these juicy sage pork chops.
Did the red meat cravings just hit you out of nowhere? Well then, try steak au poivre, which loosely translates to "steak and coarsely ground peppers." The taste is perfected with fresh thyme, heavy thyme, and cognac. You are obsessed with just a bite.
Scorching summer days just get a little better thanks to this refreshing salad. It's a jumble of flavors and textures in every spoonful, with freshly chopped tomatoes, basil leaves, and salt and pepper. Finish your bowl with a drizzling of balsamic vinegar, and you're good to go!
Knock up this salad and serve it with your roasted or grilled items.
No, pickles are not the only recipe you can make with a bunch of fresh dill. Take this yummy sauce recipe as an example. It will bring a zesty flavor to your palate owing to the addition of creamy Greek yogurt and lemon juice. Serve with some salmon fillets and thank me later.
Sit back and take a sip of this fizzy cocktail. Feeling better? If you ask me what's the secret behind this bracing cocktail, the answer is a sweet rosemary syrup. This is the new gin and tonic you are searching highs and lows for – cheers!
FAQs
Don't skip the next section if you still have some questions about how to use oregano and its substitutes. It won't take you long.
Handy Tips For Cooking With Fresh Herbs
Were you amazed by these oregano substitutes? I bet you were. It's fascinating how these little green leaves hold such enormous power in our meal's success. If you have long been cooking without them, it's about time to see them again.
Before I bring my post to an end, here are a few tips for beginners (you too, experts) when playing with herbs:
Know the right timing: dried herbs are added during the cooking process, whereas fresh herbs are added at the end.
Grow your herbs: with the right amount of water, temperature, and sunlight, your little herb garden will flourish. It's more straightforward than you can think.
Pinch your pennies: fresh herbs are overall inexpensive, but if you are on a really tight budget, dried herbs will suit your needs better. The price is even lower in bulk!
Keep it fresh: wrap your herbs in a damp paper towel or store them in an airtight container. Make sure that the bottom stems and brown leaves are removed.
So, what substitutes do you plan to try first? Share with other readers and me your results, and I'll make sure that everyone sees them. As always, any helpful tips or tricks are more than welcome. Have fun cooking with herbs!
Nutrition Facts
1 servings per container
---
Amount Per ServingCalories2.7
% Daily Value *
Sodium 0.3mg

0

%
Potassium 13mg

1

%
Total Carbohydrate 0.7g

0

%
Protein 0.1g

0

%
---
* The % Daily Value tells you how much a nutrient in a serving of food contributes to a daily diet. 2,000 calories a day is used for general nutrition advice.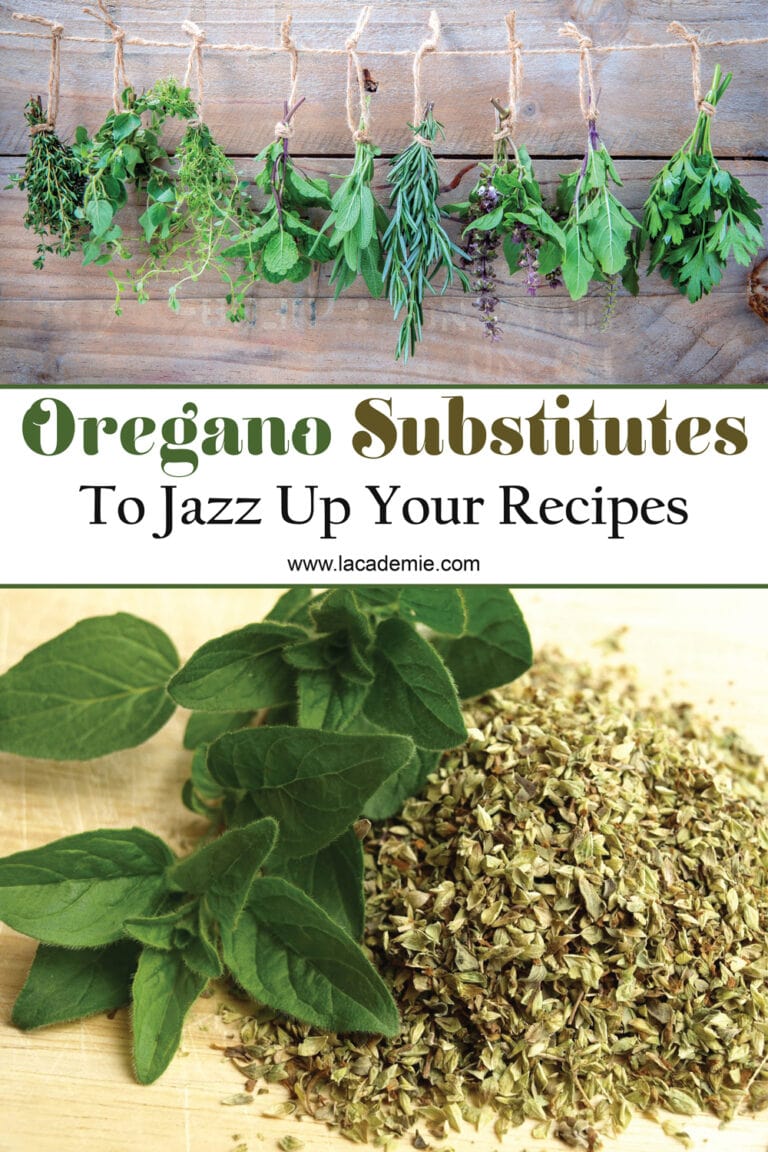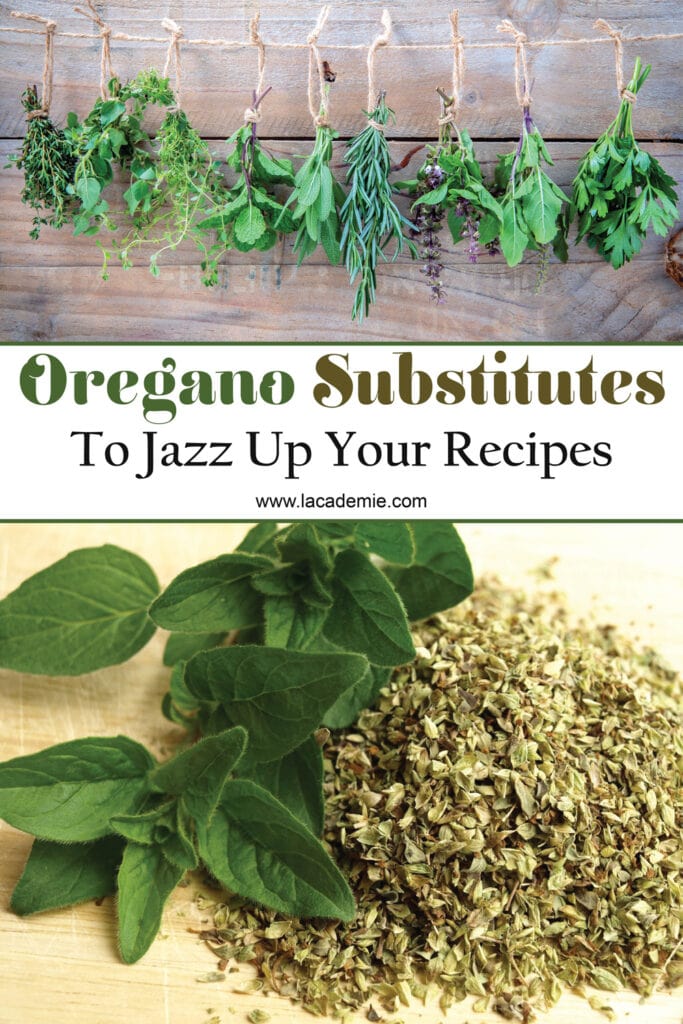 References
Healthline. 2021. 12 Health Benefits and Uses of Sage.
Webmd.com. 2021. PARSLEY: Overview, Uses, Side Effects, Precautions, Interactions, Dosing and Reviews.