I've received many questions about what to serve with quiche, so I'll tackle them with this article. Quiche is a familiar and tasty snack in many coffee shops. And you can even make a spectacular quiche with ham, potato, cheese, or other ingredients at home.
Moreover, quiche can last for a few days in the fridge, hence a perfect food for a busy family. But eating only quiche can get boring over time. So, with all the ideas below, you can turn quiche into a full, healthy, and delicious meal. Dive into the article and cook smarter!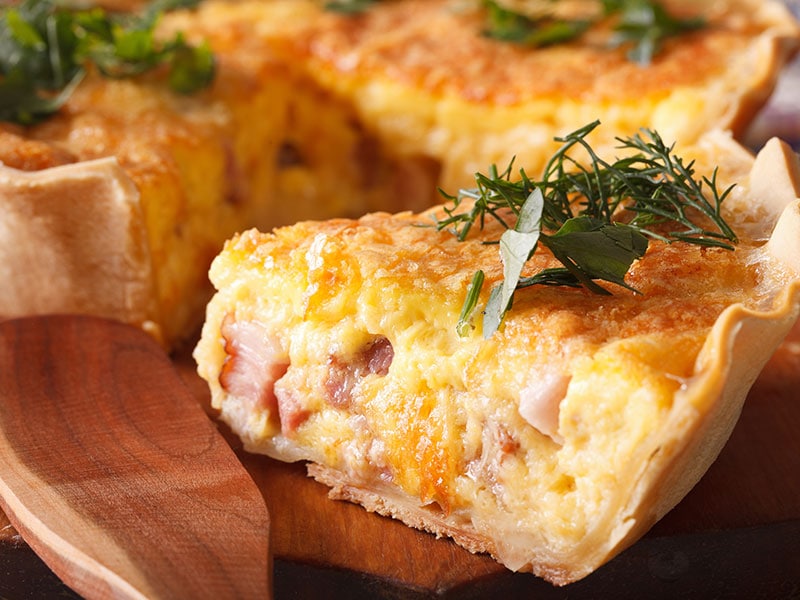 Different Types Of Quiche
When it comes to food, the French are certainly not lazy and can get extremely creative. Having a well-balanced, variated diet with qualitative and tasty food, in fact, is the top priority among most French people.
This credo is also found in their quiches. Apart from combining well-selected ingredients wrapped up in a slightly savory dough, there are many different options with what you can fill a quiche. Let me introduce you to the most common ones.
In general, a quiche looks like a tart, which is usually about one inch high, and it is prepared in a premium tart pan dish as well. It is made from a savory dough at the bottom and the edges and filled with meat, seafood, and vegetables, covered by a savory custard and gratinated with cheese
Quiche Lorraine
Lorraine, a region in France, is probably most famous for this quiche and many people mean exactly this one if they just speak of quiche. The filling contains bacon cubes, grilled onions, and leek, in addition to the custard created from whipping cream and butter.
As it does not contain much meat or vegetables, it offers a lot of possibilities to combine with, so make sure to read on to get the best serving suggestions.
Salmon And Spinach Quiche
Instead of filling with leek, you can also use sauteed spinach, combine it with grilled tomatoes and salmon. The fat from the fish will allow you to feel more taste while the mild traces of spinach balance it off perfectly and also add a healthy touch.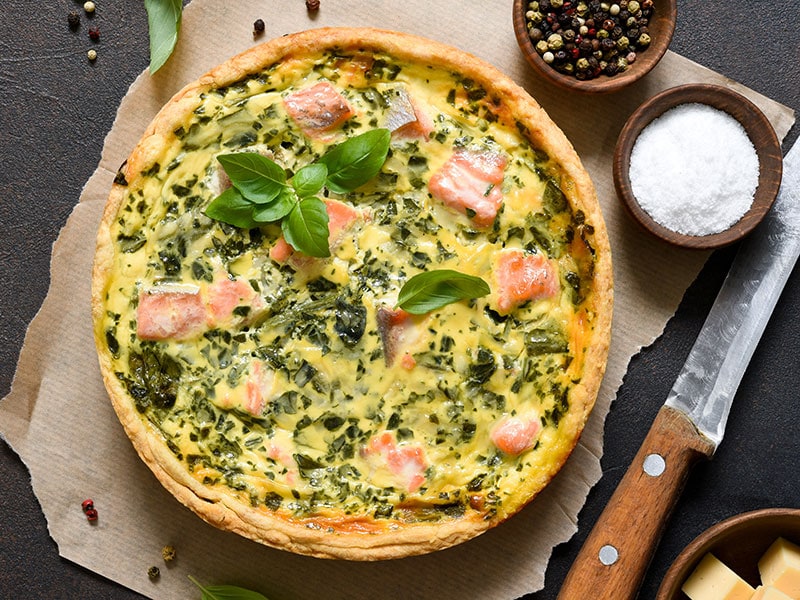 Spinach And Goat Cheese Quiche
Yes, spinach became very popular to cook or bake with recently, and one of the trending quiches right now is pairing the sweet green with goat cheese. Some gourmets will add traces of honey on the top after baking to round off the taste.
Farmers' Market Quiche
With the trend of eating more vegetables, a fully vegetarian version has been created as well. It basically contains whatever local vegetables you can get but tastes well if you get some Mediterranean flavor inside, using sun-dried tomatoes, zucchini, paprika, eggplant, and garnish with fresh basil. Your guests will not be able to resist asking for a second piece.
Sweet Quiche
In addition to filling or garnishing a quiche with savory items such as meat, vegetables, or seafood, you can go the sweet way and turn a quiche into a sweet dessert. There are again various options, such as having a sweet custard base topped with fresh fruits. Alternatively, you can also make a bar of chocolate or cinnamon custard and fill it with crushed nuts.
Different Sides To Serve With Quiche
When serving quiche, make sure that the dish is still steaming hot. There are various ways to reheat quiche, so never serve it cold. No matter how delicious the side dish is, it'll not be able to elevate the whole meal if the main star, quiche, is cold. Let's check out what you can pair with it.
Maybe it was Panera Bread who made the bread and soup combo popular; maybe not. However, as a quiche contains crusty dough and ingredients you would put on a sandwich, you can perfectly pair it with a hot soup and make it a really warm meal.
This way, you can perfectly make it a meal for cold winter days as both parts are served hot. As the primary item is the quiche, choose a soup whose taste is not stronger than the quiche.
In case you're not sure what to go for, I suggest making hot soups with crockpots. These will allow you to prepare several different soup recipes without spending too much time and effort.
Your best try is butternut squash soup as it is rather mild, and the yellow, creamy tone gives it a wonderful color. In addition, other cream soups work well also, such as mushroom, cheese, or tomato soup.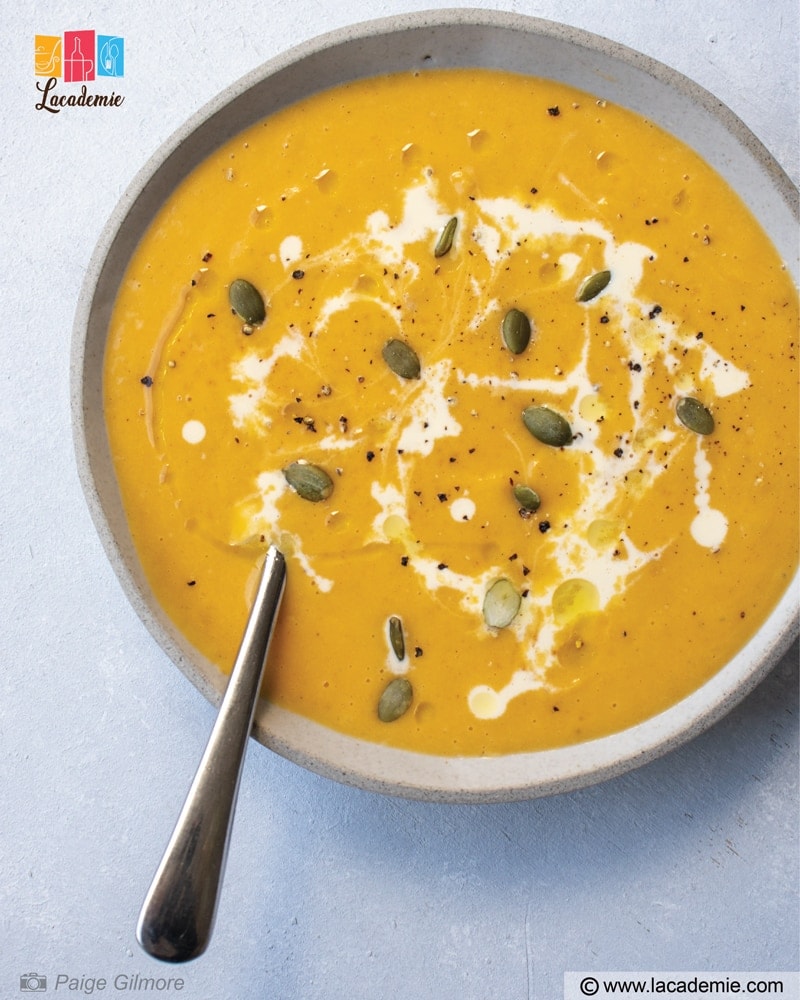 Side 2: Salad
I know, in this article, you expected something else than salad, and we will get to the more exotic things first. However, salad is and most likely will ever be highly appreciated as the green color matches well on a lot of plates.
Considered a healthy side dish, salad comes in various shapes and forms. With one quick search, you'll come across several recommendations for preparing meals with salad. That's right; there are so many recipes that you can easily go far beyond a Caesar salad.
To spice it up, instead of lettuce or Romana, choose other leaves such as lollo rosso, spinach, or fresh lamb's lettuce.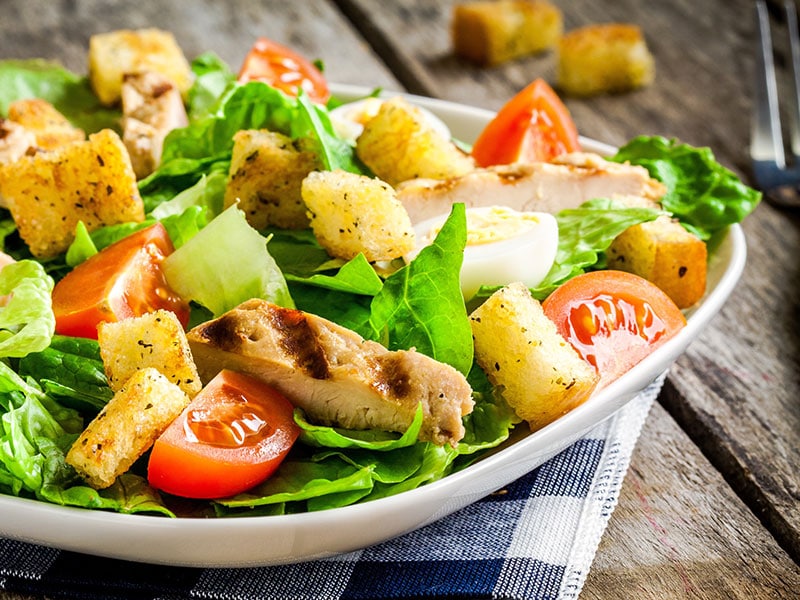 Side 3: Bread
If you are not a fan of the healthy options, or you are very hungry, you can pair it with bread. As the dough of the quiche can be a little heavy already, I recommend therefore serving it with dark, wholegrain bread, which will make it easier to digest and also a little healthier.
Furthermore, you have a color contrast on the plate, which is always important if you plan to make your food creation ready for Instagram. As a bonus, I recommend serving the bread with slightly salted, soft butter.
For the best results possible, prepare homemade bread. Trust me, serving quiche with steaming hot bread fresh out of the oven makes a perfect meal. All you need is a high-quality bread loaf pan, some essential ingredients, and a foolproof recipe for fluffy, irresistible homemade bread loaves.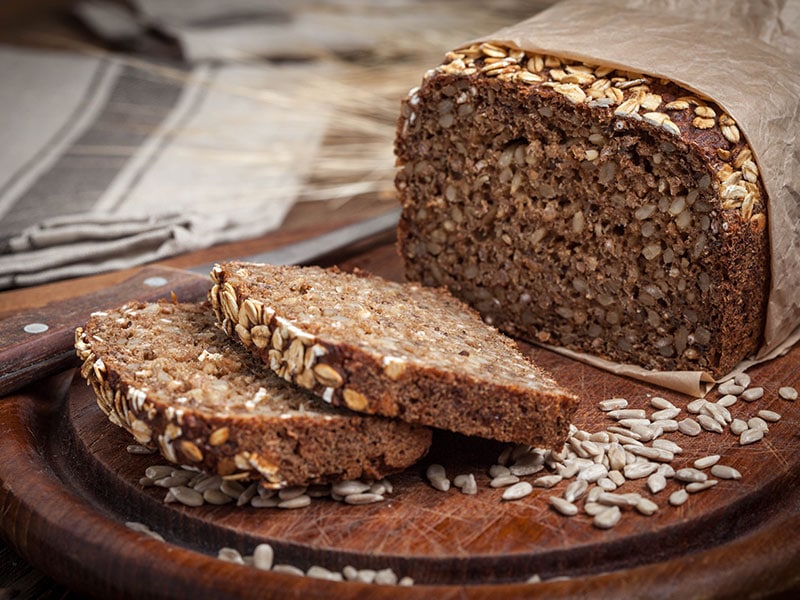 Side 4: Add An Egg
In addition to a plain slice of bread, you can add a sunny-side-up fried egg on a roasted slice of wholegrain bread. If your quiche contains meat and vegetables, then your plate contains everything you need, from vitamins, healthy grains, and proteins.
Side 5: Fruit Cup
Going back to the rather healthy options, you can consider pairing it with a cup of fresh, seasonal fruits. This is a perfect way to not only make it healthy and nutritious but also turn your quiche snack into a meal.
The sweet fruits will come in as a dessert, which means that you finish off with a fresh and sweet taste instead of a savory one. Hence, it is a perfect lunch for in between work, as the fruits will prevent you from having a spicy smell or flavor in your mouth.
If you want to prepare it in advance, I recommend using berries, melon, pineapple, mandarin, or oranges. Apples and pears get brown quickly and soon do not look appealing anymore.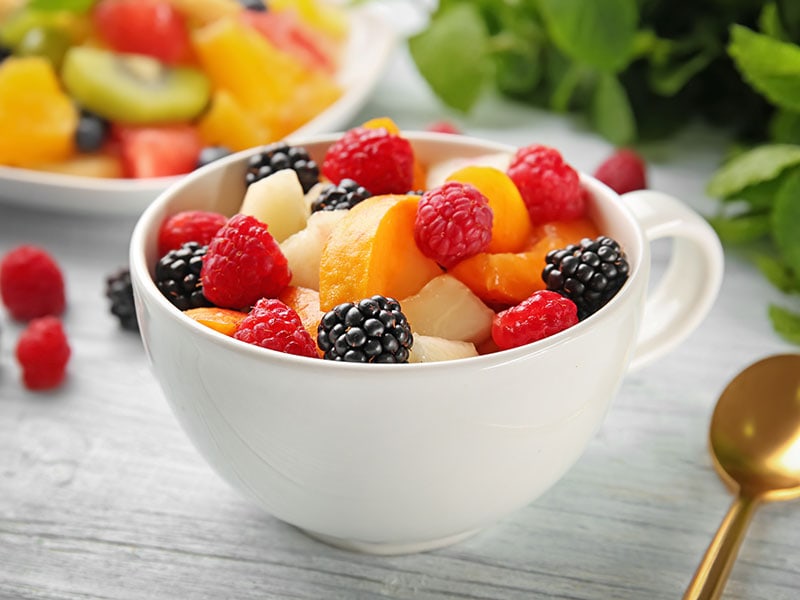 Side 6: Sauteed Spinach
Not really salad anymore, but still kind of. Using sauteed spinach, you catch the nutrition and the green color from the salad leaves, but you are going further than that. When you sautee spinach, you can add some small cubes of onion and garlic to give it a more intensive taste.
Especially in southern and Mediterranean countries, sauteed spinach is a highly appreciated side as it is a hot dish providing energy and well-being to your body while having a very delicious, distinctive taste.
Furthermore, it is light and therefore fits perfectly to a heavy quiche with lots of custard and cheese.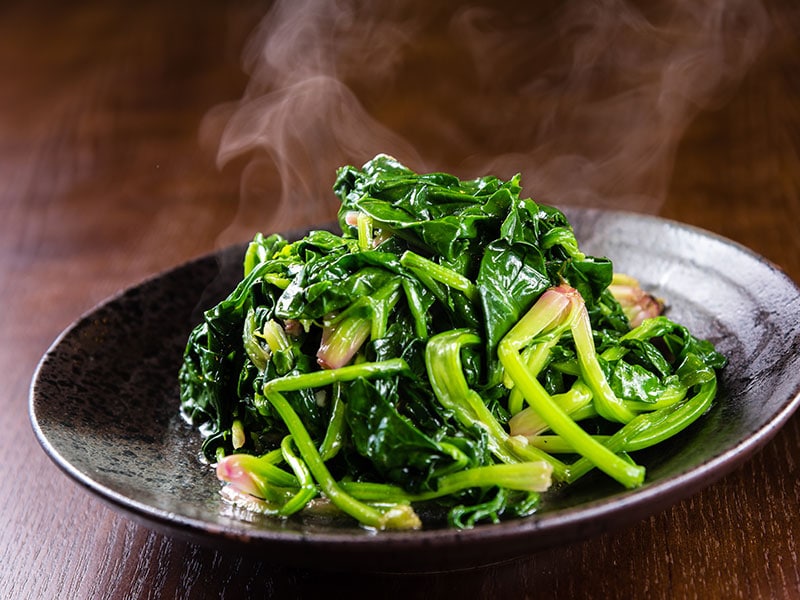 Side 7: Grilled Vegetables
If your quiche contains vegetables already, then, of course, I would not bring vegetables on the plate aside again. But pairing a seafood quiche or quiche Lorraine works perfectly. Cut zucchini, paprika, and carrots in wide stripes and grill it either on a BBQ or in a pan.
Again, this is the most popular choice in Mediterranean dishes, as the grilled vegetables add a somehow sweet taste, making a perfect pair for the savory bacon and the creamy custard.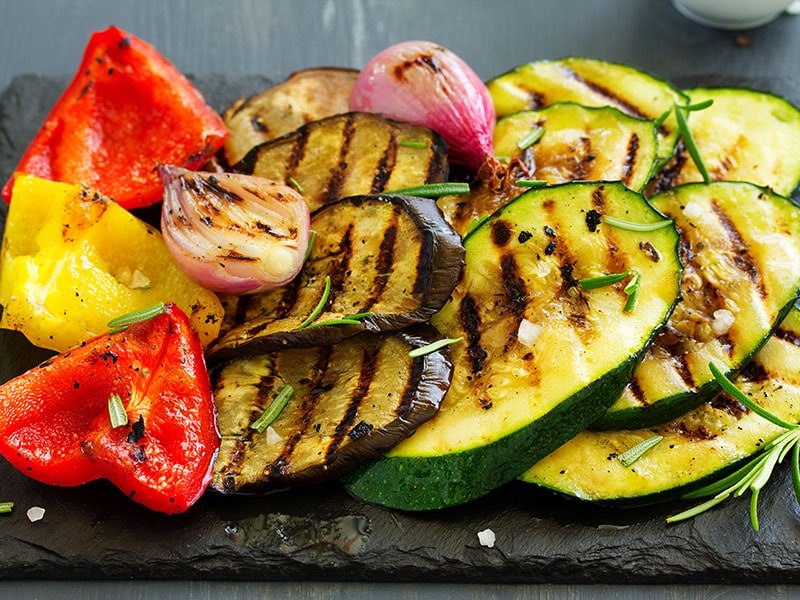 Side 8: French Potato Salad
In case you have made a rather light quiche containing not that much dough, cheese, or custard, you can pair it with something heavier as well. A French potato salad, in this case, can bring the necessary carbohydrates to make sure you and your guests will feel full after eating.
Important, however, is to really pair it with the French version using a vinegar and oil dressing and not a mayonnaise or yogurt sauce as you already have plenty of dairy ingredients in your quiche. As you can freeze potato salad, it is a perfect side for the quiche as you are able to preserve both for a very long time in your freezer, unlike green salads.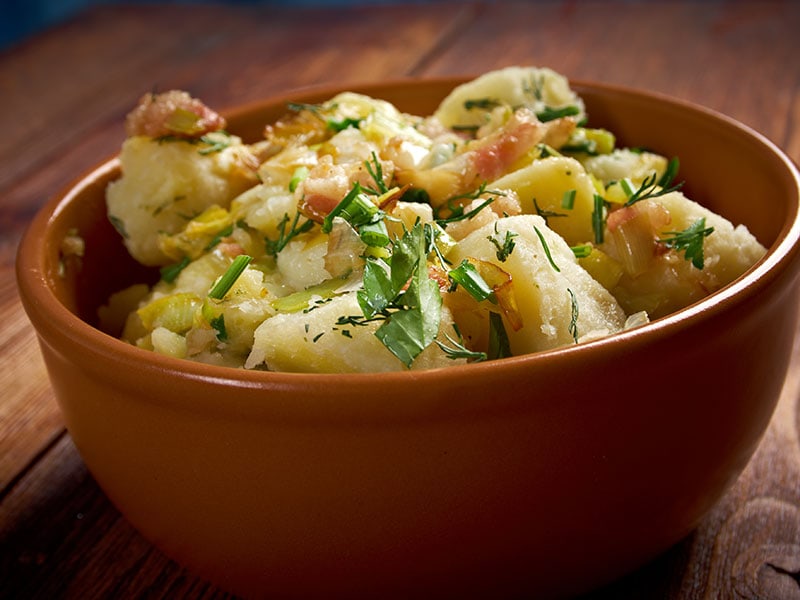 Side 9: Smoothies
In the summertime, when the weather is hot, smoothies make our day. They are fresh, cool down, and are very healthy, especially in contrast to the sugary lemonades.
Hence, if you are looking for an easy-to-digest lunch for such a hot day, serve a slightly warm quiche together with a freshly blended smoothie. As the quiche contains custard already, cut low on the amount of milk, yogurt, or ice cream you would add to your shake.
Instead, try to keep the natural taste of the fruits and vegetables and only throw those into your blender with very few additional ingredients or spices.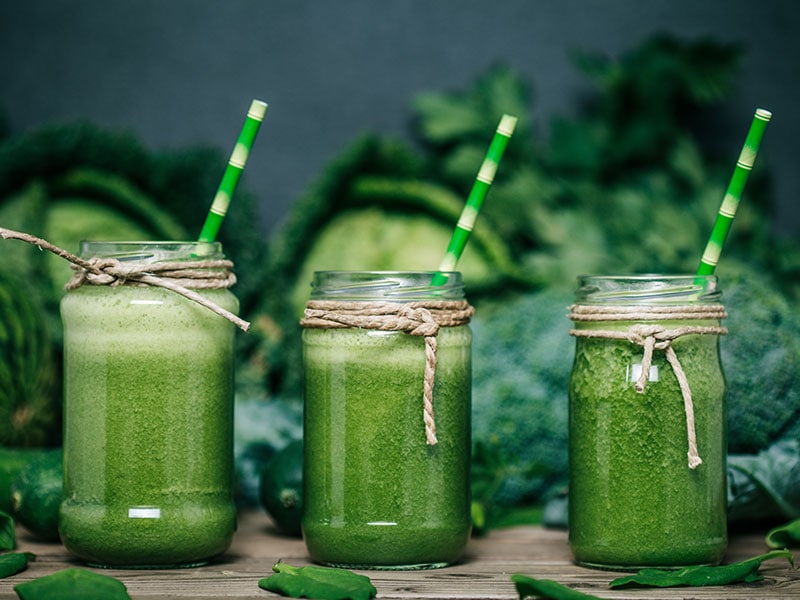 Quick And Easy Quiche Recipe
In the event you suddenly have visitors coming for lunch, watch this video and see how to make a delicious quiche without much time:
Storing Quiche The Right Way
When you make one yourself, I doubt you will finish it in one day. Quiche is a great food to prepare for a couple of days ahead as you can keep it for several days and just cut and reheat the piece you want to eat at that time.
So, learn how to keep your fresh quiche appealing for a couple of days, to enjoy it as long as you can.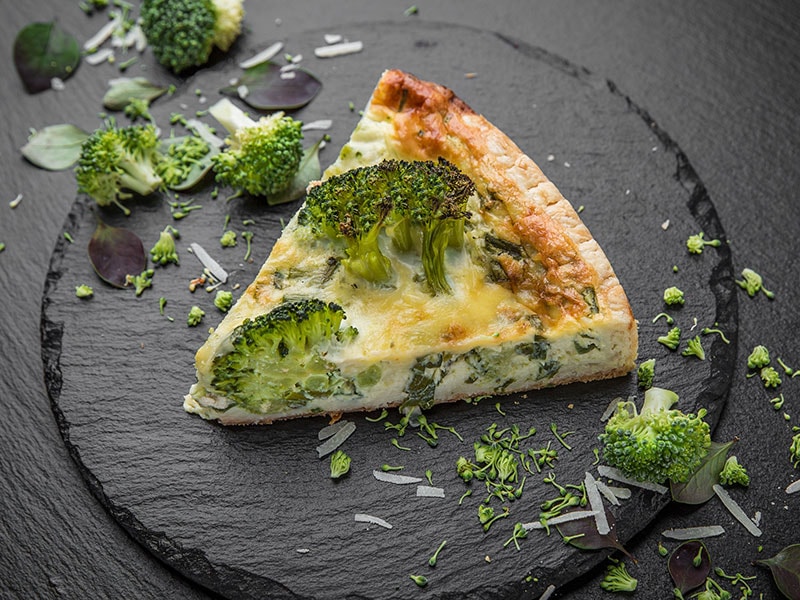 Let It Cool Down First
Once fully baked, let the whole quiche cool down first. Try to place it somewhere with good access to air from all sides, so that it does not stay hot for too long. If you box it immediately, it will stay too humid and warm for too long, providing ideal conditions for bacteria and mold to grow.
Airtight Container
Once fully cold, it is important to place the quiche into an airtight container. Avoid cutting it as small pieces are drying out quicker than a whole piece. However, if you do not have a large container, you can cut the quiche in half or use sealable plastic bags.
Fridge For 2 To 3 Days
If you are confident that you can eat the quiche completely within two or three days, then you can place it now into your fridge. If you open the container frequently, such as for lunch and dinner each to take out one piece, make sure to wipe it out to remove any excess moisture.
Freezer If You Eat Eventually
On the other hand, if you are not sure whether you can eat your quiche that quickly, it is better to freeze it right away. This way, you are freezing it when it still has the sense of freshness rather than waiting until three days have passed.
Furthermore, it is much more hygienic as well as in a fresh quiche, and bacteria did not have the chance yet to reproduce. In the fridge, you can pretty much keep it there for at least half a year. In most cases, it is still safe to keep it frozen for an even longer time, but then the quality starts to suffer.
Defrost In Advance
Almost no type of food likes sudden and huge temperature changes. Hence, it is not a good idea to take your quiche straight from the freezer into the microwave. It is better to take it out the evening before and place it into the fridge.
Do not rush with reheating your quiche either if you can. Once you want to use it, take it from the fridge and let it sit at room temperature for a few minutes. Then, either uses the microwave or reheat it using convection air in your oven.
Expectation Vs. Reality
Many ways lead to Rome, and so are plenty of side dishes, a great option for your quiche. Depending on the season, the availability of ingredients, the time you want to invest in cooking, and your hunger, you can choose from lighter to heavier options.
As taste differs, an option that you very like might not find much approval from your friend. You cannot make it perfect for everyone, so I suggest you listen to your gut feeling and pick the side that you love the most.
Good Luck!
Nutrition Facts
6 servings per container
---
Amount Per ServingCalories159
% Daily Value *
Total Fat 4.4g

7

%
Cholesterol 8mg

3

%
Sodium 624mg

26

%
Potassium 839mg

24

%
Total Carbohydrate 32.9g

11

%

Dietary Fiber 5g

20

%
Sugars 7.2g

Protein 3.4g

7

%
---
* The % Daily Value tells you how much a nutrient in a serving of food contributes to a daily diet. 2,000 calories a day is used for general nutrition advice.