Salmon is worldwide famous as a healthy kind of fish, but what does salmon taste like? I believe that many of you have already tasted salmon once in your life because it is available all around the world and most general types of it are affordable to purchase.
However, some people still have not had a chance to eat this fish, or maybe because they are allergic to it. (1) Moreover, salmon's taste varies based on which type it is. So, this post is here to help!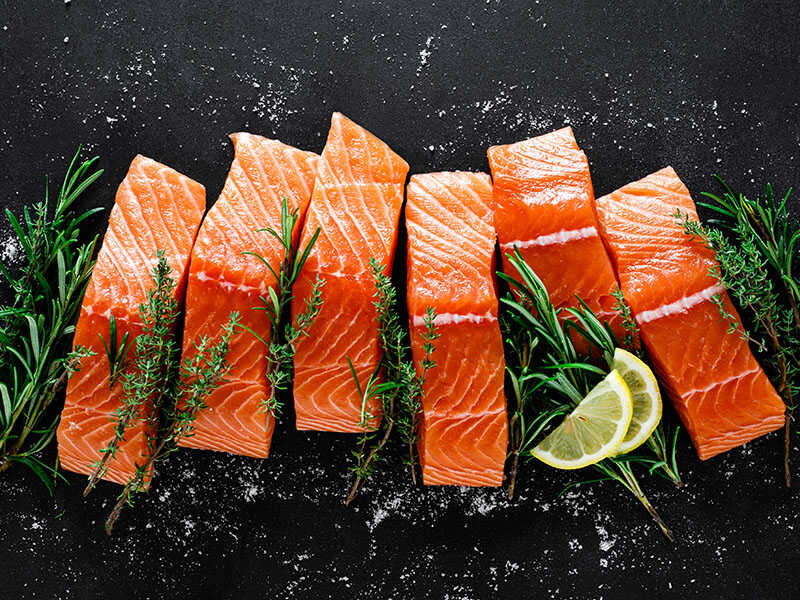 But first of all, let me answer your biggest curiosity:
What Does Salmon Taste Like?
Surprisingly, salmon tastes refreshing and milder than other types of fish that are available in the market. However, the taste varies based on what type of salmon it is.
Here are the flavors of some typical types of salmon:
Pink Salmon: Tastes mildest in the five common Pacific types.
Chum Salmon: Tastes neutral and delicate, not very fatty.
Coho Salmon: Tastes subtle, gamy, fatty.
Sockeye Salmon: Taste refreshing and flavorful.
King Salmon: Tastes really rich and fatty.
Canned Salmon: Tastes vibrant and fatty.
Smoked Salmon: Tastes smoky and salty.
Pre-Packaged Salmon: Tastes fatty, but not very fresh.
Has this answer satisfied you? If it hasn't, stay here for more about salmon as well as information on what it tastes like!
Salmon – An Incredibly Healthy Fish
You may have heard of salmon before, even though you have yet tasted it. Salmon is such a famous and typical type of fish! But what exactly is salmon, and what benefits does it bring? Let's find out!
What Kind Of Fish Is Salmon?
Salmon are a very typical species of fish from the Pacific Northwest. They are both freshwater and saltwater fish since they are anadromous. They are hatched in freshwater, grow in the ocean, and then return to the streams where they were born to spawn.
In America, salmon is one of the most favorite fish of all time. This fish is widely famous for its no-fishy, buttery, and pretty mild taste, which is one of the gaps between salmon and trout or other varieties of fish. Even people who hate the fishy taste may also love salmon.
Wild salmon in America can be found in the Pacific Northwest – where they come from, Alaska, and also California. Most of the consumed salmon in America is farm-hasted. They are also intensively farmed in many different parts of the world.
Health Benefits From Consuming Salmon
Do you know that salmon is one of the healthiest foods in the entire world? Here are some health benefits that salmon can bring to your body.
Salmon is a Great Source of Nutrients
Salmon include omega-3 fats, potassium, protein, vitamin B, selenium, etc. Eating just a small amount of salmon can help you absorb a lot of nutrients and minerals that improve your immune system.
Salmon Can Improve Your Brain Functions
Salmon contain a lot of healthy fat and oil. Eating salmon frequently may help reduce anxiety and protect brain health, decreasing the percentage of having memory-related diseases when you get older.
Salmon Support the Progress of Losing Weight
Having salmon in your dietary meal is brilliant. Salmon are low in calories with around 200 calories in 100 grams serving. Also, omega-3 fats in salmon may reduce your belly fat.
Salmon May Help Decrease Heart Disease Risk
Eating salmon regularly may also lower the risk of having heart-related illnesses. Why can this possibly happen? Salmon helps to increase the amount of omega-3 fatty acids streaming in your blood that can help your heart stay healthier. (2)
Find more other amazing health benefits that salmon brings to your body! Watch this video:
Different Types Of Salmon With Diverse Tastes
As I mentioned before, salmon varies in taste based on what kind it is. Each type of salmon has a signature flavor. And there are tons of different salmon types in the world! So I will take the five most common species of Pacific salmon as examples.
| Types of Salmon | Texture & Color | Taste |
| --- | --- | --- |
| Pink/Humpback | Almost white, soft | Very mild |
| Chum/Keta/Dog | Meaty, firm | Delicate, neutral, not fatty |
| Coho/Silver | Bright red, firm | Subtle, gamy, fatty |
| Sockeye/Red/Kokanee | Dark red-orange, dense | Flavorful, fresh |
| King/Chinook | Very soft | Rich, very fatty |
| Canned salmon | Soft, not as tender as fresh salmon | Fatty, vibrant |
| Smoked salmon | Smooth, silky | Smoky, mostly salty |
| Prepackaged salmon | Firm | Fatty, not so fresh |
Pink Salmon
Pink salmon is the smallest and most common type of salmon found in the Pacific. Some pink salmon weigh only 4 to 5 pounds. It is also called Humpback salmon because when it is spawning, it has a special hump on the back.
Pink salmon is the most abundant in the oceans. It has the lightest colored flesh and also tastes the mildest in the five common Pacific species. It also has more oil than chum salmon.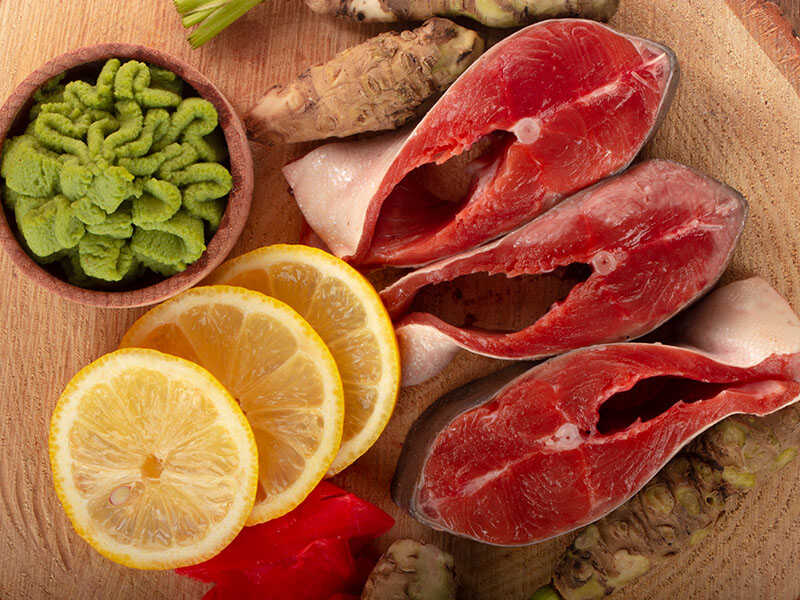 Chum Salmon
Chum salmon, also called Keta or dog salmon, is an excellent salmon option for people who dislike fish's intense and fishy taste in general. It is low-fat, thereby tastes delicate, subtle, and neutral.
There's a fact that chum salmon is often farmed by human beings and when it is large enough, it will be released to the natural freshwater or saltwater environment. This action can be considered as a solution to protect wildlife.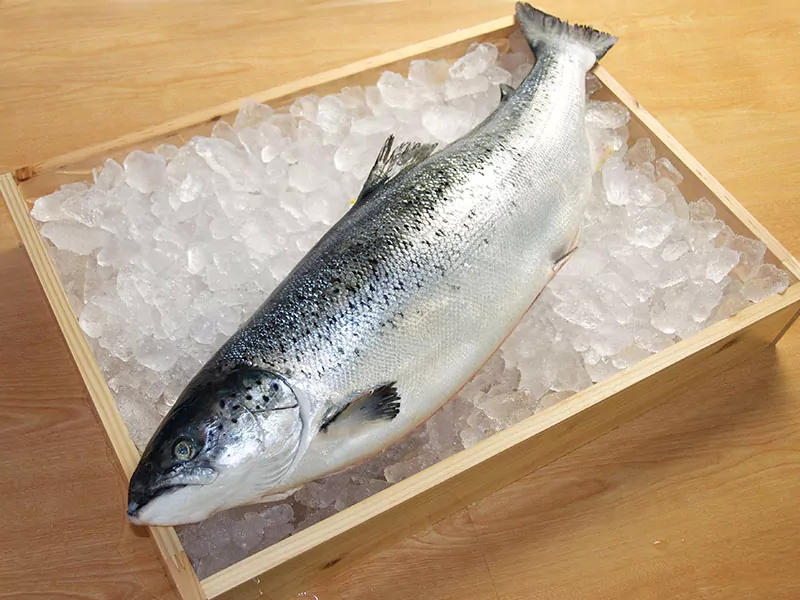 Coho Salmon
Coho salmon is also called silver salmon for its skin color. It is famous for its very dense flesh and distinctive subtle, fatty taste. This type of salmon is often found in Southern Alaska.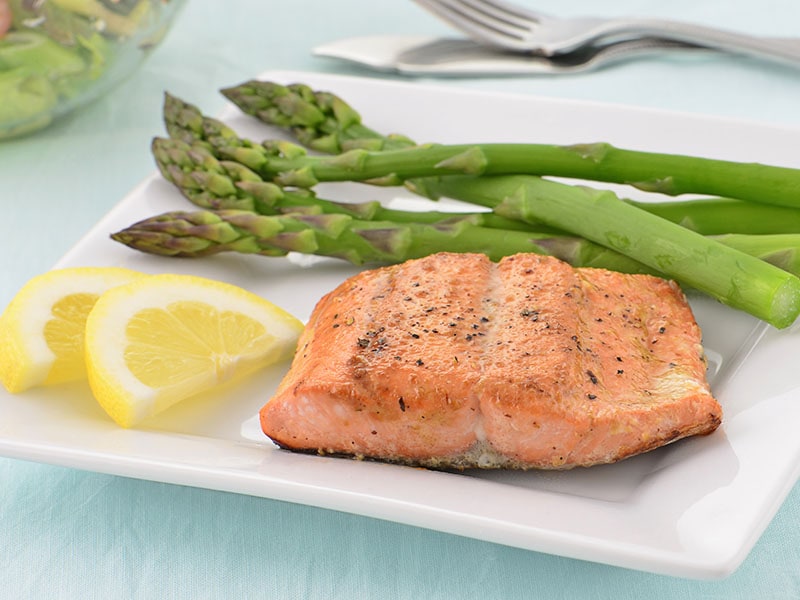 Sockeye Salmon
Sockeye salmon, known as red or Kokanee salmon, is one of the fattiest types of salmon with a rich omega-3 acid content. It has a distinctive dark red-orange color. It is mostly found in Alaska and British Columbia regions.
Sockeye salmon is dense in texture and provides a flavorful, rich, fresh taste.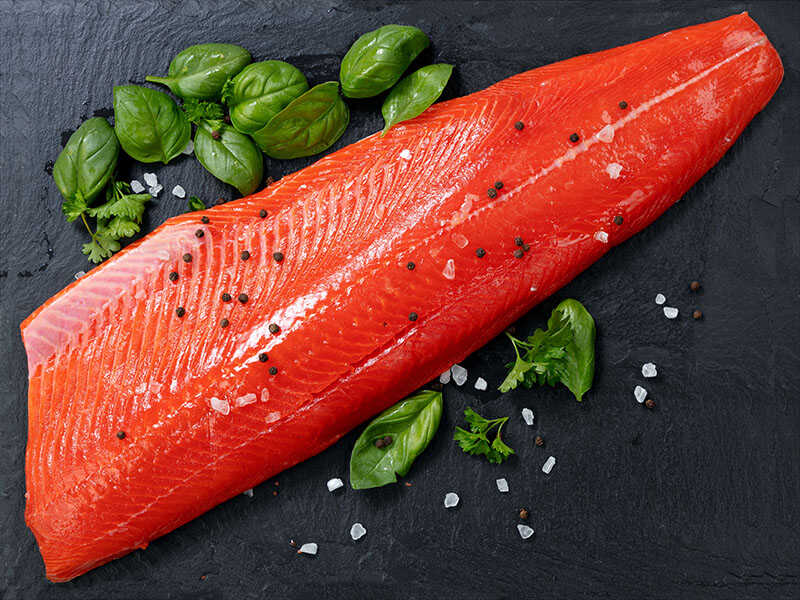 King Salmon
King salmon is really the "King" in size! It has the largest length and weight, reaching up to more than 4 ft and over 100 pounds! It is also well-known as Chinook salmon. It can be found in the range from southern California to northern Alaska.
King salmon is super pure, rich, fatty in flavor with the highest fat content. Because of its size and taste, king salmon is also the most expensive one out of the five common Pacific salmon species.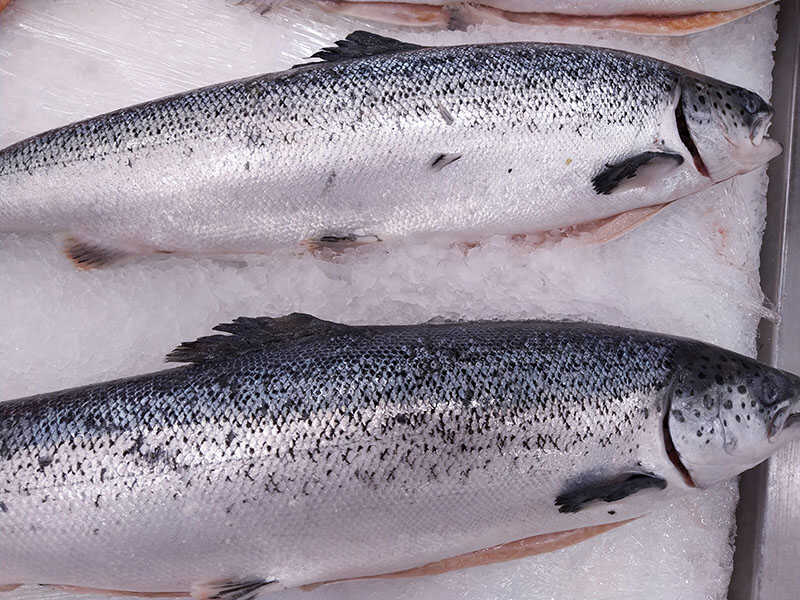 Canned Salmon
Canned salmon actually lacks fresh fish's smooth and tender texture, but its taste is still as fatty and vibrant as the fresh one. Both of them are full of protein, nutrients and have the same amount of calories.
Canned salmon is more convenient because it is already cooked and you can eat it immediately, while fresh salmon has to be carefully prepared before consuming.
You can even use it to make salmon patties and serve with some appropriate accompaniments. Canned salmon is also apparently cheaper than the fresh one.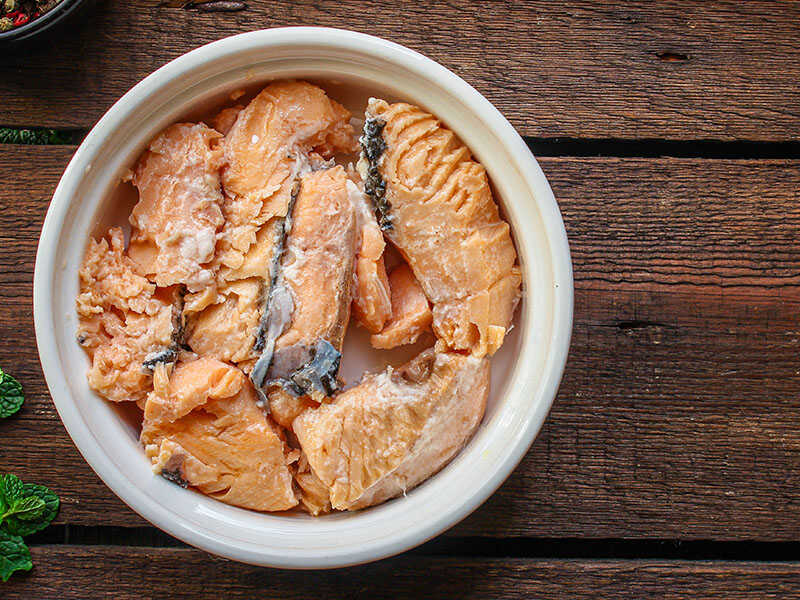 Smoked Salmon
Smoked salmon varies in taste because of the saline type used in the cooking process. Most premium smoked salmon on the market has soy sauce as the main ingredient of their saline. Salmon will be marinated in saline for at least a day before being smoked.
There are types of smoked salmon based on the temperature when they are cooked, which are hot- and cold-smoked salmon.
Hot-smoked salmon is smoked at approximately 120oF or more. It tastes just like baked salmon but includes a smokier flavor; while cold-smoked salmon is smoked at below 90oF and tastes less smoky with a smoother texture.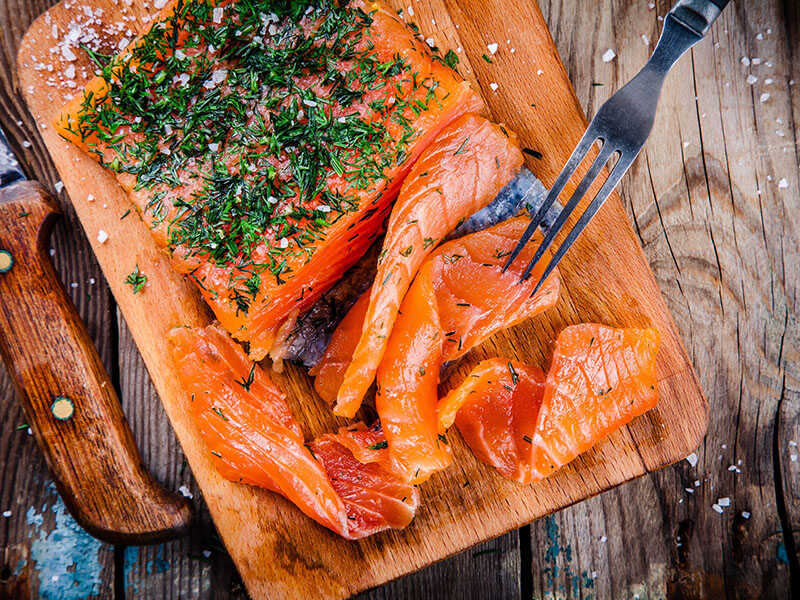 Learn about the process of smoking salmon to understand more about this type. Watch this video to know more:
Pre-Packaged Salmon
When you use pre-packaged salmon for your dish, be aware that its taste can be different from using fresh salmon. The taste of this salmon type may vary due to the added preservatives and the way the manufacturer sliced it during the whole making process.
Pre-packaged salmon may still taste fatty with a firm texture, but of course, can not be as fresh and delicious as the fresh ones. Consider using it to substitute for the fresh in your dish.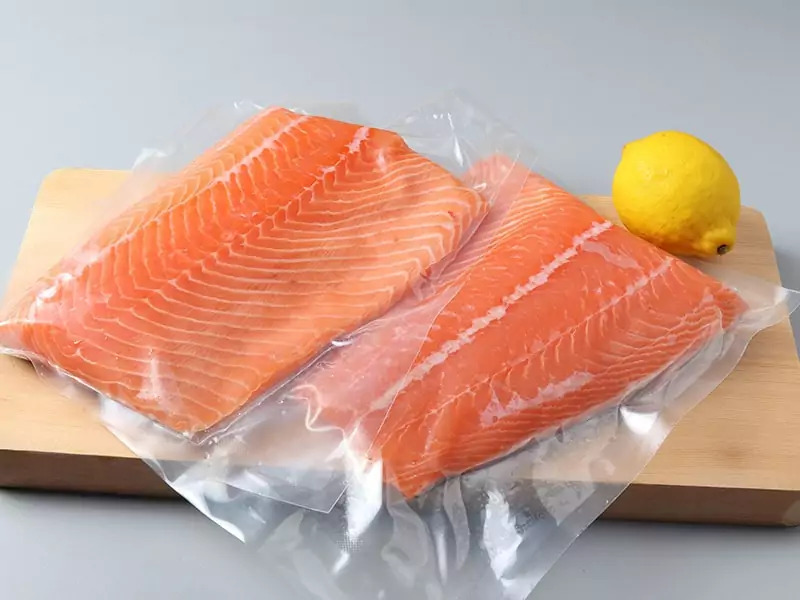 How To Tell If Your Salmon Is Bad?
Fresh salmon can only last for 1 to 2 days in the refrigerator. Be careful before choosing the salmon to cook for your meals! These signs below are some of the most convincing symptoms showing your salmon has spoiled. If your salmon has one of those, just throw it away!
Salmon Smells Odd
The easiest way to determine the freshness of your fish. Smell your raw salmon to see if it has a bad odor. If the fish smells very fishy, sour, pungent, or ammonia-like, it may have gone terrible and you should discard it right away.
Salmon Has Cloudiness in the Eyes
The salmon's eyes should be clear without any suspicious spots inside. Carefully look into its eyes! If it has cloudy eyes, it is probably caught a long time ago (roughly 5 days or more) and has turned bad.
Salmon is Slimy
When you touch your salmon, if it contains a slimy cover, maybe it's a huge sign telling you that your fish starts to spoil and needs to be eliminated immediately. So don't bother to spend all the required time to properly cook salmon at 400F, it's just not worth it anymore.
How Can You Eat Salmon?
As a well-known type of fish, salmon from different parts of the world can be eaten in thousands of ways, from raw to cooked!
Just Eat Raw Salmon!
Salmon can definitely be eaten raw. In fact, eating raw salmon is popular in many cuisine cultures around the world. The most typical dish with raw salmon as the main ingredient is sashimi, a famous Japanese dish.
However, be careful with your salmon! Check it considerably before eating it. If you eat salmon that has an unreliable origin, it may cause some unexpected health risks. (2)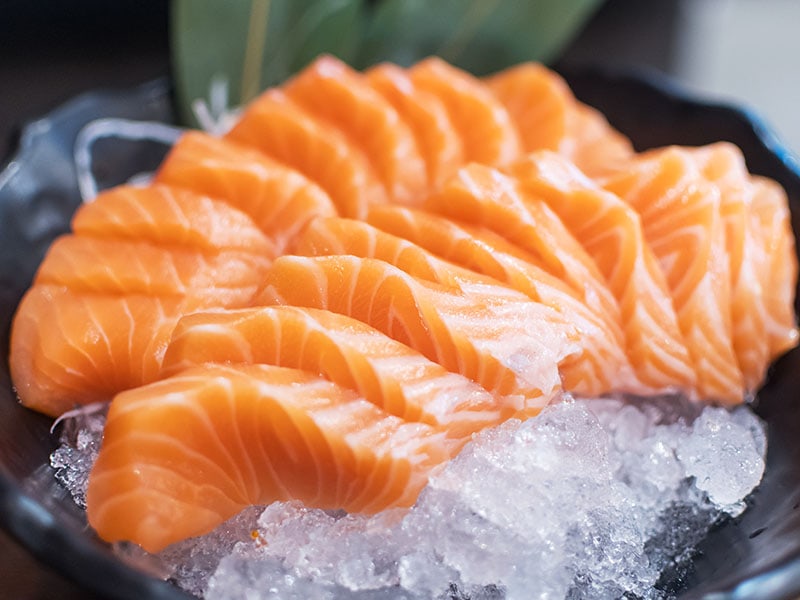 Cook Salmon Properly For The Best Taste
A lot of creative methods in cooking salmon have been revealed, but I will provide you with the most basic and typical ways to deal with salmon.
Sautéing
The most proper way to cook salmon fillet is sautéing, or pan-searing. It is not only the quickest but also the easiest way to cook salmon. It is also a common way to deal with many other meat and vegetables.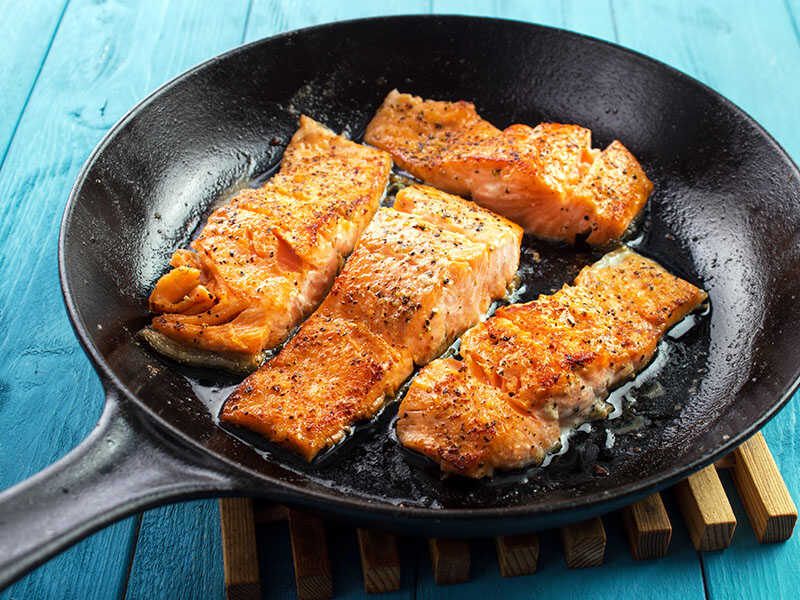 All you may need is a salmon fillet, some oil, butter, and basic spices. First, season your fillet with some salt and pepper. Then, pour some olive oil into the hot pan. Always add the skin-side down of the fish to the pan first; adjust the heat regularly.
Then you should wait. The most important thing to do when sautéing salmon is to wait. Don't touch or move the fillet around. After a while, the flesh part will change its color. If the different color reaches more than half of the fillet from the bottom, it's the right time to flip.
After flipping, cook your salmon for more minutes with butter. If this is your first time cooking this fish, you might need these hints to ensure your salmon is edible. One of those is looking at the color of the whole fillet.
Baking
Baking is also a great way to cook salmon, especially when you put salmon in your dietary meals. This method won't add any extra calories to your dish because the oil is unnecessary in the recipe, so it can help you make a nutritious dish from salmon.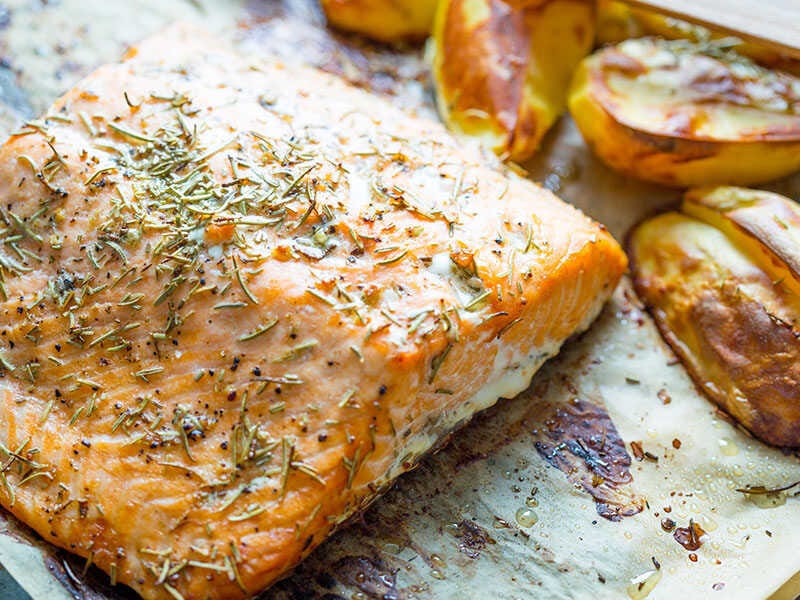 First and foremost, preheat your oven to 330-350oF. You can also increase the temperature a little if you know the right duration to bake salmon at 375 degrees F. Place a large cooking foil sheet on a tray. Arrange sliced lemon on top of the sheet. Marinate your salmon with salt and pepper.
Prepare the baking sauce mixture in a bowl with melted butter, garlic, honey, thyme, and anything that suits your favorite taste. Whisk the mixture, then pour all of it onto the salmon. Put the tray with the prepared piece of salmon in the oven.
There is no guarantee on how much time needed to bake salmon at 350°F since it varies based on the size of the salmon fillet. You can set the oven to cook in about 25-30 minutes at first.
After that, turn your oven to broil mode and continue to broil until the covered mixture becomes dense in texture. It's ready to serve. Decorate the dish with some parsley on top.
See how they bake salmon and share their best recipe to bake salmon! You should see the video below:
Grilling
Grilling is ideal for cooking your salmon if you want the dish to have a little burned taste. How to grill your salmon?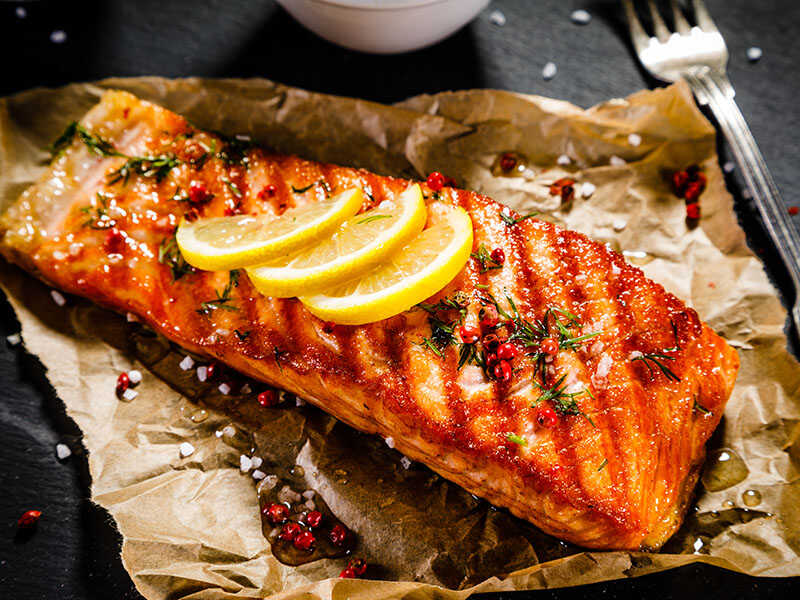 Prepare a charcoal or gas grill. Any of these two will do, but I recommend you to use a charcoal grill for better final taste. Remember to reheat your grill. Next, prepare the salmon, make sure that it is dry. Note that you should marinate your salmon for the recommended timespan.
Open the grill lid, put the salmon fillet onto the hot area, with the skin-side down. Wait for about 5 to 7 minutes, then flip it. If it is still sticky, leave it grilled for a little bit until the skin side goes off quickly. Cook the other side for 2-3 minutes, then it's good to go.
Remember to rest your salmon for some more minutes before serving. A successful grilled salmon dish has crispy skin and moist flesh with little burned flavor.
There are a lot more methods to cook salmon! Watch this video to know more:
FAQs
Have the above information about the taste of salmon satisfied you? But it is not everything. Here are the answers replying to some more frequently asked questions related to salmon, its taste, and the ways to cook it. Enjoy!
Is Salmon Your Favorite Fish Now?
After reading this post, I bet you want to take a salmon bite right now! It is super delicious food and a great source of nutrients for your body, especially the brain. With all of those benefits, don't hesitate to find yourself a chance to taste salmon!
If you have any experience with eating salmon as well as salmon-included dishes or any more concerns, feel free to leave some of your words in the comment section below. I'm looking forward to hearing your stories!
References
Research.bmh.manchester.ac.uk. 2021. Salmon – allergy information (InformAll: Communicating about Food Allergies – University of Manchester).
Healthline. 2021. Can You Eat Raw Salmon, and Should You?
3. Keck Medicine of USC. 2021. Are You Eating Too Much Fish? | Keck Medicine of USC.