How long can you marinate salmon? Being one of the most consumed kinds of fish around the world, salmon is both versatile and fragile. It means you may want to know how to marinate them properly and avoid wasting this beautiful filet.
Marinating salmon is a culinary lesson combined with a touch of science. If this sounds scary to you, don't panic just yet!
In this post, I'll guide you through how to choose a good marinade for salmon, how to marinate salmon perfectly, plus some of the most delicious salmon dishes and sides. Sounds good? Let's wait no more and jump right in right now.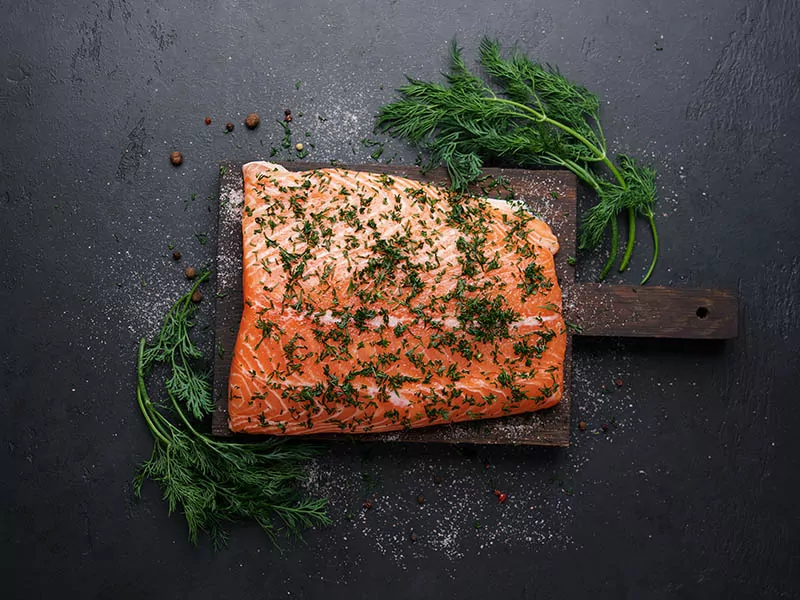 Why Should You Marinate Salmon?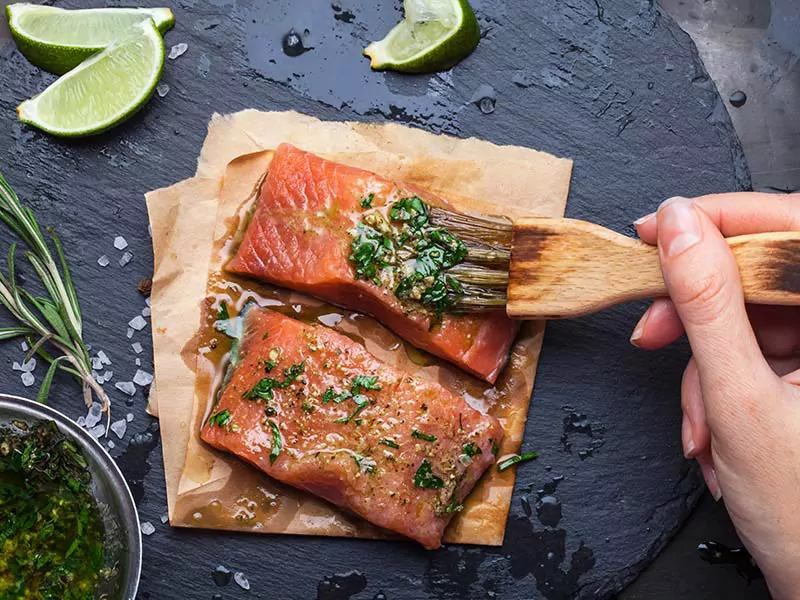 Salmon tastes great just on its own: sweet, juicy, moist, and fragrant. It is no coincidence that salmon has been widely consumed around the world thanks to its ability to level up any dish, from simple and cozy meals to scrumptious and restaurant-quality main courses.
However, the heat in the cooking process tends to dry out the fish, not to mention that salmon is such a delicate fish that it is easy to lose its moisture during cooking. This is exactly what you don't want in your salmon.
Once cooked, marinated salmon will have more moisture and tons of tasty flavors, especially when you know the correct baking time for salmon at 375 degrees F. The herbs and spices in the marinade mixture have time to penetrate every fiber of the fish, making it so tender and flavorful.
Therefore, marinating salmon is crucial to preserving the precious moisture in the fish, making it even more delicious, and helping to keep the fish meat from sticking to the pan or grill.
Nutritional Value Of Salmon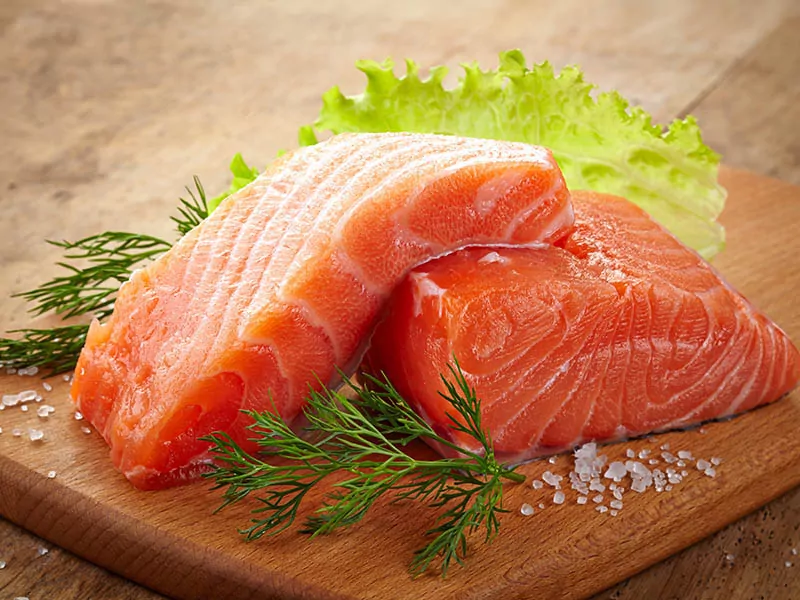 There is another question that may be nagging in the back of your mind: why should I eat salmon in the first place? The answer is that salmon is an extremely scrumptious superfood.
It is one of the healthiest foods of all. It's low in saturated fat, high in good protein, and is one of the richest sources of vitamin B12, potassium, iron, and vitamin D (1).
In addition, most salmon varieties contain a lot of omega-3 fatty acids, which are essential to the body, helping to reduce the risks of cardiovascular diseases (including heart attacks and strokes), cancer, dementia, Alzheimer's disease, etc.
Experts recommend that adults should consume salmon at least twice a week, especially pregnant women and children, since salmon's vitamin B12 helps to repair DNA and optimize brain formation.
You may want to add salmon to your weekly shopping cart after watching this video.
What Affects The Marinating Time For Salmon?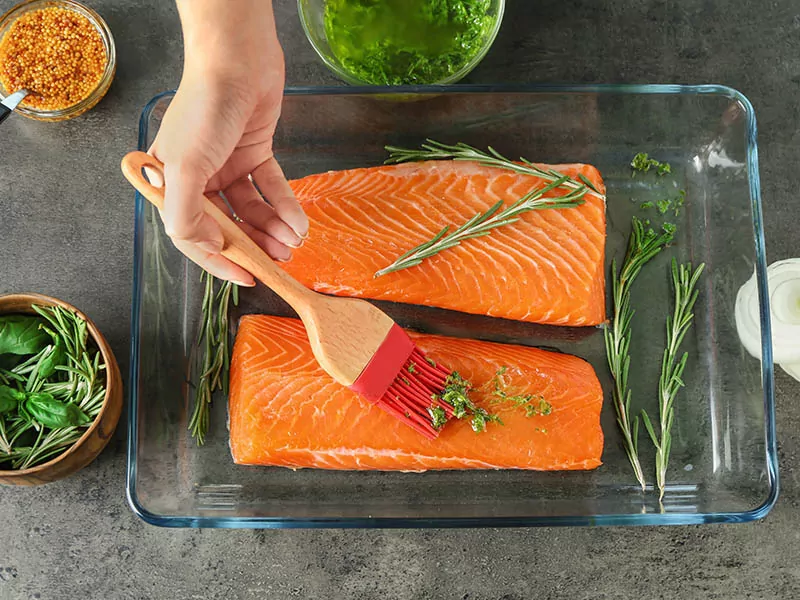 The best thing about cooking (including marinating salmon) is that you don't have to follow any specific rules. However, this can only be applied to those that already have some experience.
For newbies, you should follow (or at least take into consideration) these factors to make your salmon cooking easier.
Filet's Size
After finding out the ideal portion of salmon per person, you need to marinate them before cooking. And the size of the filet affects the marinating time for salmon.
Simply put, the bigger the size, the longer it takes (not so hard, right?). On average, a salmon filet weighing 1 – 1.5 lbs needs at least 30-45 minutes to be marinated entirely.
Texture
Fish are divided into 2 categories in terms of texture: firm and flaky.
Firmer fish (think about salmon, monkfish, tuna, yellowtail, halibut, etc.) requires a longer marinating time, which can last from 30 minutes up to 6 hours at most.
For flaky fish (bass, pollock, cod, etc.), on the other hand, a fish filet takes less time to completely absorb the marinade. The usual duration can be around 30 minutes.
Acidic Content
Depending on what kind of dish you're making and the flavor you prefer in your salmon, the marinade's ingredients may vary from acidic and salty to dairy-based.
For acidic marinades such as lemon juice, lime, or balsamic, you shouldn't marinate for too long because the acid can decompose the fish, making it too mushy and poorly textured.
How Long Can You Marinate Salmon Before Cooking?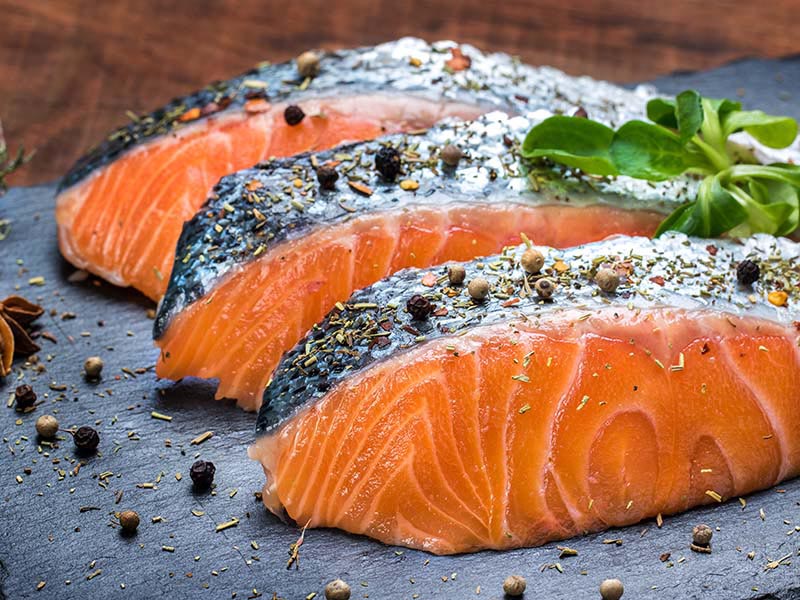 As mentioned above, the time you marinate salmon is based on the filet's size, how intense you'd like your salmon to taste, or if there are any acidic ingredients in the marinade.
In general, salmon can be marinated for 30 minutes to several hours before cooking. That is the standard time for salmon to absorb the seasoning, but it can change according to the size or the ingredients you put into the marinade.
For the best result, you should let the marinated salmon rest for 30 minutes to 1 hour. This will allow the fish to be irresistibly tender and succulent.
The longest time that you should marinate salmon is 24 hours, though this is not the best option if you ask me. Letting the fish be marinated too long can make it go bad and not safe to eat, not to mention the horrible taste and texture.
Marinating salmon overnight is a viable option if there's no time for preparation before cooking on the next day. However, for acidic marinades, the marinating time should never be longer than 6 hours. The acid can break down the fish even more strongly and make it terribly mushy.
Why Should You Store Marinated Salmon In The Fridge And How Long Is Too Long?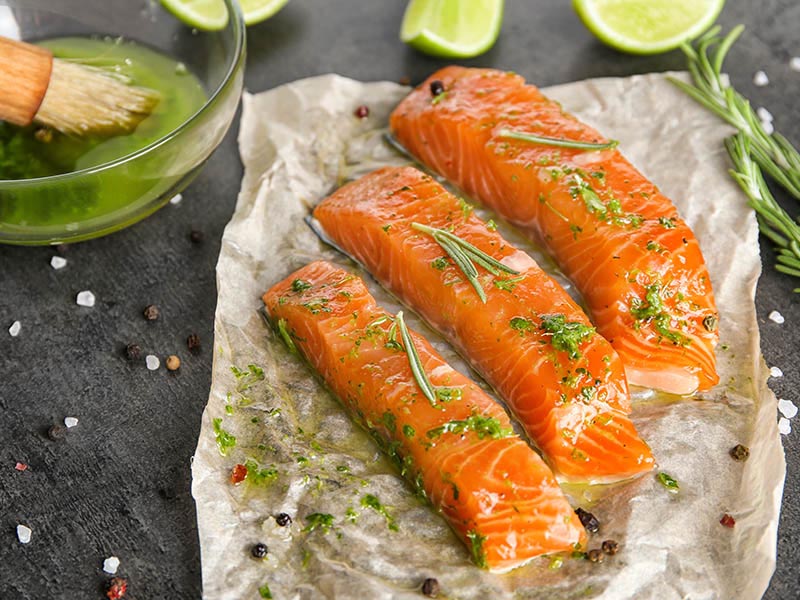 When it comes to marinating, it's best to always keep the food in the fridge. For marinated fish, room temperature can change its texture and cause a bad odor.
That being said, you shouldn't refrigerate it too long either. Particularly with acidic marinade, leaving the fish for such a long period can ruin its flavor and texture. As mentioned, 30 minutes to 1 hour for marinating is a general standard.
Storing marinated salmon in the fridge for up to 24 hours is seemingly acceptable, in case you need a lot of time to cook your meals and there's no other choice than to keep the fish prepared long beforehand.
Technically, fresh fish can be stored in the fridge for a maximum of 2 days. But in the case of marinated salmon, the period mustn't pass 24 hours, or it'll be rotten and can not be used. Throw the salmon away if its shows any of the following signs:
Dull, gray-ish color
A foul and fishy smell
You can't see the white stripes clearly
The flesh doesn't bounce back when you press it
Top 5 Marinade Recipes For Salmon
Salmon is a very versatile fish and can work with many different spices/herbs. Here are the top 5 salmon marinade recipes that you can try. Just remember some of them use a liberal amount of acidic ingredients, so you shouldn't immerse your salmon in them for more than 6 hours.
Soy Sauce And Ginger Marinade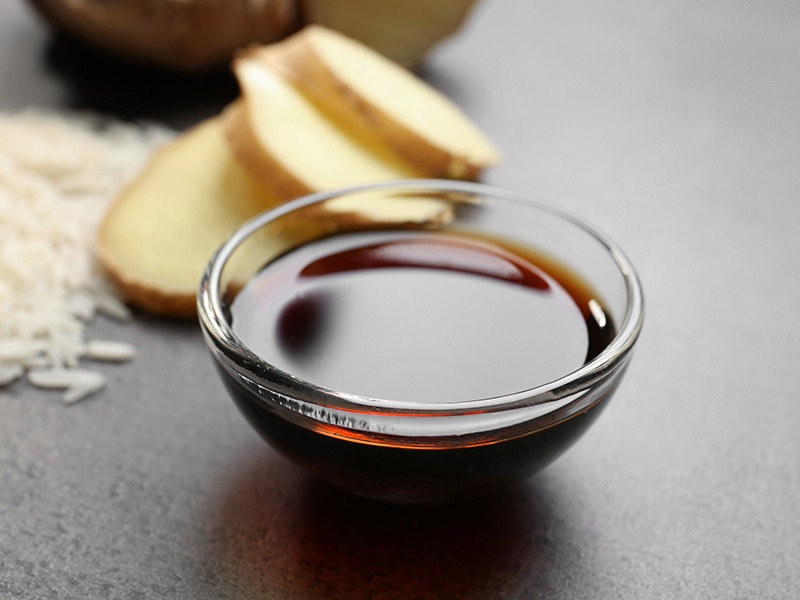 This Asian-rooted marinade is one of the most delicious and simple marinades that you can make for salmon. The combination of the fragrance from ginger, the signature saltiness of soy sauce, and a little bit tangy, spicy taste of chili flakes give your salmon dish an unforgettable flavor.
Ingredients:
Garlic (2 gloves, minced)
Ginger (2 teaspoons, grated)
Low sodium soy sauce (3 tablespoons)
Rice vinegar (1 tablespoon)
Honey (1 teaspoon)
Chili paste (sriracha) OR red chili flakes (¼ teaspoon)
Extra virgin olive oil (2 teaspoons)
How to make: Just simply stir everything together, and you're good to go! In case you don't have extra virgin olive oil on hand, then vegetable oil would be just fine.
Olive Oil, Fresh Herbs, And Lemon Juice Marinade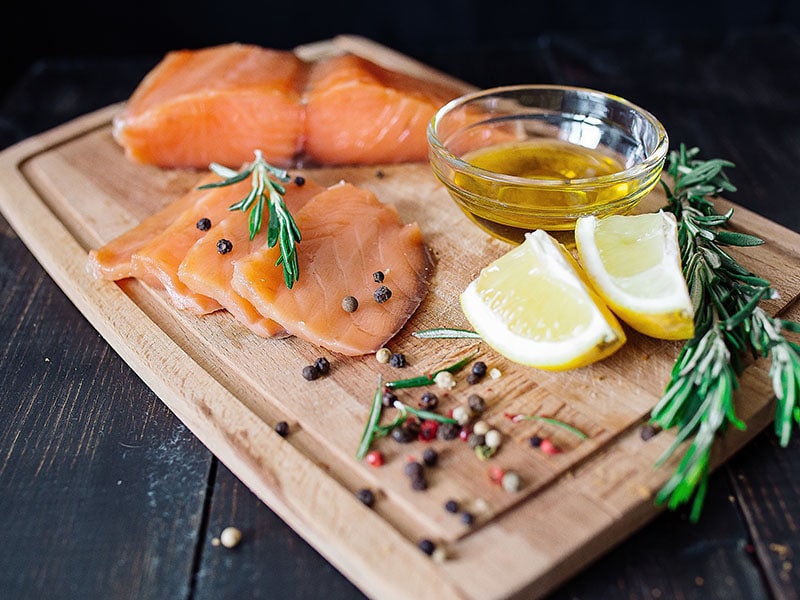 Olive oil, lemon juice, and salmon are such a classic combo! Lemon juice helps to enhance the salmon's flavor so well while giving it a fresh and vibrant aroma. Fresh herbs used in this recipe bring an exquisite fragrance to the dish.
Ingredients:
Olive oil (⅓ cup)
Lemon juice (¼ cup)
Honey or brown sugar (1 teaspoon)
Fresh thyme, rosemary, basil (1 teaspoon each, finely chopped)
Salt and pepper (¼ teaspoon each)
How to make: Mix everything and make sure the brown sugar is dissolved completely. Remember to use fresh herbs since they make a better scent for salmon than dried ones.
Mediterranean Marinade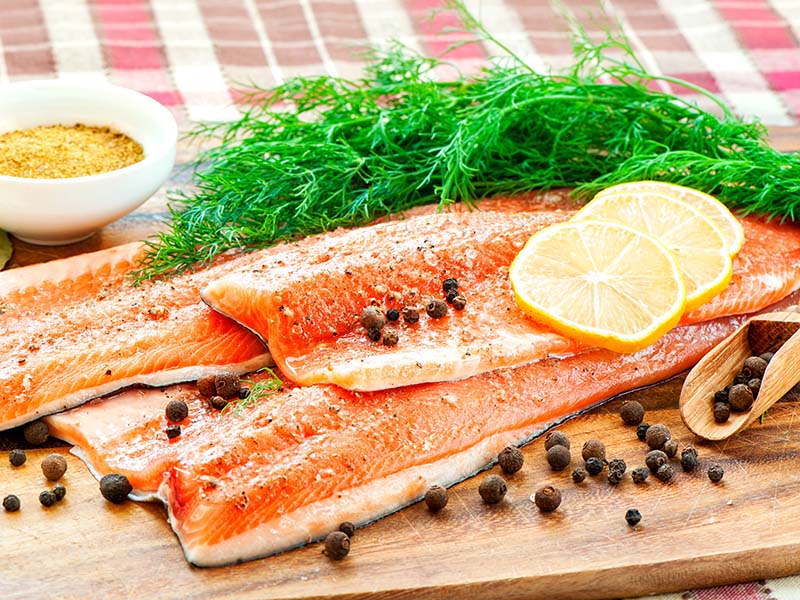 This marinade recipe takes you straight to beautiful, sunny, and gorgeous Mediterranean sea coaches! With just a few simple ingredients that you're probably having on hand, now it costs next to nothing to enjoy a gourmet, European-style main course.
Ingredients:
4 cloves of garlic (pressed)
½ cup of extra virgin olive oil
¼ cup of balsamic vinegar
1 teaspoon of fresh cilantro (finely chopped)
1 teaspoon of fresh basil (finely chopped)
1 ½ teaspoon of salt
How to make: First, put the garlic aside and combine all of the ingredients until they blend well. Rub the minced garlic on the surface of the fish filet before placing it into the marinade.
Teriyaki Marinade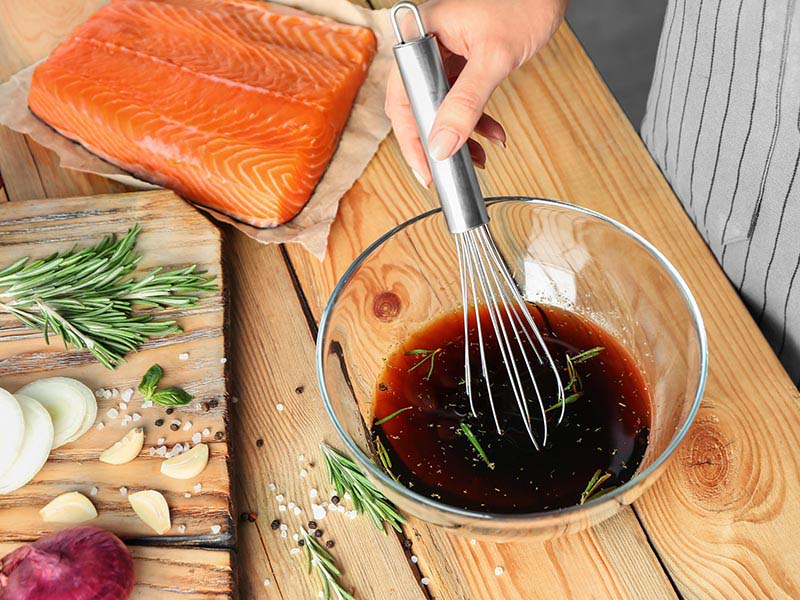 Teriyaki sauce is one of the most loved marinades in Japanese dishes. You can easily find many great teriyaki sauce products in the supermarket, but it is not too hard to make the sauce at home.
Overall, this soy-based marinade not only gives salmon a signature harmonious sweet-salty flavor with a seductive fragrance. But when cooked, it imparts an iridescent, glossy golden brown color to the food.
Ingredients:
Gluten-free Teriyaki sauce (3 tablespoons)
Hoisin sauce (3 tablespoons)
Sesame oil (1 tablespoon)
Soy sauce (1 tablespoon)
Rice vinegar (1 tablespoon)
Brown sugar (⅓ cup)
Fresh, grated ginger (2 teaspoons)
Garlic (2-3 gloves, minced)
How to make: After putting all of the ingredients inside a bowl, use a whisk to mix everything nicely. Fresh minced garlic is preferred here, and you can use ordinary Teriyaki sauce if you can't find the gluten-free version.
Making the signature Teriyaki marinade has never been easier.
Maple Syrup And Fresh Herb Marinade
Maple syrup isn't just for pancakes or waffles! While both maple syrup and honey give your salmon a mild sweetness that isn't so overwhelming, maple syrup also brings a light vanilla, caramel note.
This marinade is best for grilled salmon, but it goes well with any kind of salmon dish if you ask me. Salty and slightly sweet with a mild caramelized scent – it's super simple yet so delicious.
Ingredients:
Keto-friendly maple syrup
Any fresh herbs you have on hand (basil/thyme/rosemary)
Extra virgin olive oil
Lemon juice
Salt and pepper
Minced garlic
How to make: Whisk the ingredients until mixed well. You can replace extra virgin olive oil with vegetable oil and use regular maple syrup instead.
Try These 2 Common Methods Of Marinating Salmon
After you have selected a favorite marinade for your salmon, it's time to give that beautiful filet the delicious seasonings it deserves! There are two main ways that you can marinate salmon:
With A Ziplock Bag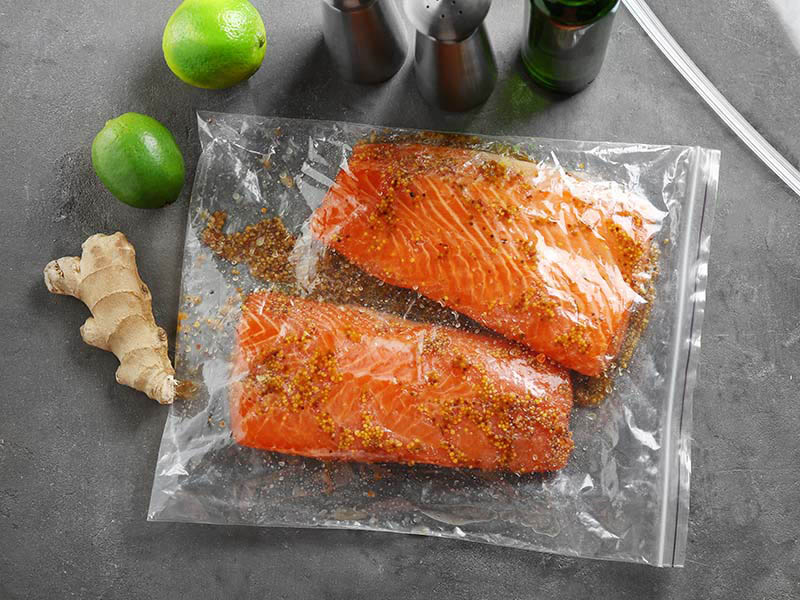 This method is the most widely used since the zip bag helps you keep your salmon completely soaked in the marinade mixture.No air in and no liquid out! Here's how to do it:
Step 1: Pour The Mixture
After mixing all of the marinade ingredients, carefully pour the marinade into the zip bag. Make sure you don't leave any herb leftovers!
Step 2: Pat Dry
Do not wash the fish before marinating. Washing fish or meat with water would only let the bacteria spread all over the sink. The heat in the cooking process already does a good job of killing harmful bacteria.
Instead, pat the fish dry with a clean towel. This would help to absorb any excess water from the fish skin, which may into steam and prevent the fish from being crispy.
Step 3: Place The Salmon Inside
Place the salmon filet inside. Make sure the fish is completely submerged and covered by the marinade. You can use your hand to rub the marinade to help the fish absorb even more.
Step 4: Zip The Bag
Zip the bag! Remove as much air as possible. Remember, you don't want any gaps here.
Step 5: Refrigerate And Let It Rest
Put the bag into the refrigerator and leave it there for at least 30 minutes. The cool temperature helps to stabilize the fish and protect it from spoilage.
After taking the fish out for cooking, now you realize that there's still a lot of marinade leftover and don't know what to do with it. Throwing it away seems a reasonable choice yet sounds a bit wasteful. Is it safe to reuse?
According to the USDA, meat or fish marinade leftovers are only safe to use when they're processed with heat (2). So, that means you shouldn't use it to marinate again. If you want to minimize food waste, boil it properly in a pan to make a delicious sauce.
Check out this guide for the best way to marinate salmon with a Ziplock bag.
With A Bowl And Food Wrap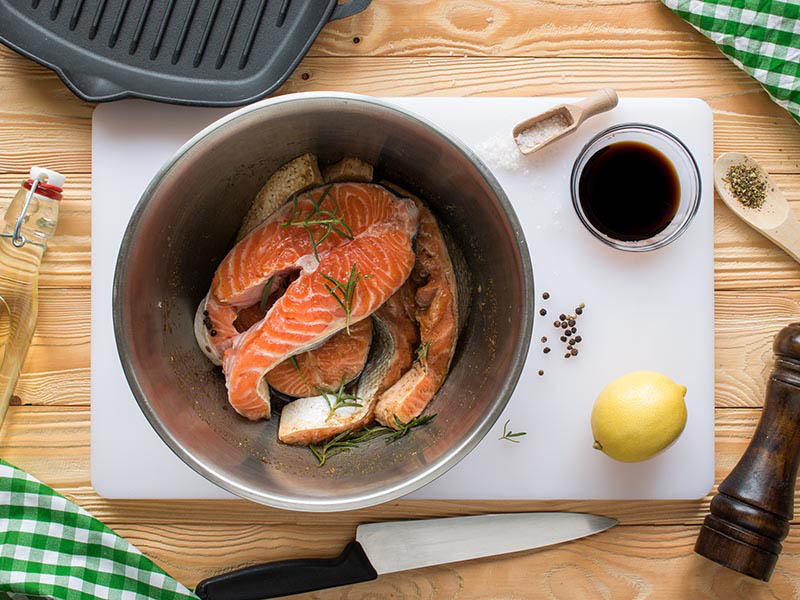 This method is an excellent alternative when you can't find any ziplock bags. It's good at submerging the fish in the marinades but not so great at preventing the air from infiltrating.
Step 1: Pour The Mixture
Select a bow or plate that has a deep basin and pour the marinade mixture in. This helps to keep the fish covered up completely.
Step 2: Pat Dry
Use a clean towel or tissue to pat dry the filet, especially the skin area. Getting out all of the remaining water is necessary if you want your salmon to turn out crispy.
Step 3: Lay The Fish Into The Bowl Or Plate
Place the salmon pieces one at a time into the marinade bowl/plate. Be sure that the fish pieces do not overlap, but spread out evenly.
Step 4: Cover With Food Wrap And Store In The Refrigerator
Cover the bowl/plate with food wrap and lightly stroke the rim so that there's no air coming in. Then, place it in the refrigerator to rest.
Step 5: Turn Over
Sometimes, the fish pieces aren't covered completely. Make sure you turn over the fish after 15 or 30 minutes to let the fish soak everything in.
Other Tips To Marinate Salmon Perfectly
You're coming to the end of this salmon-marinating session. Just to ensure that your salmon can be as good as possible, here are some bonus tips that are used by chefs around the world:
Balance In Flavors Is A Must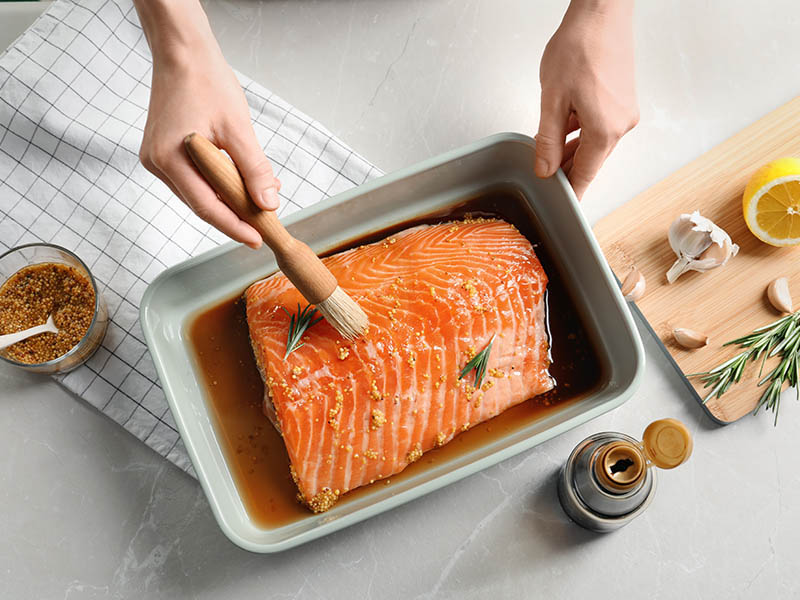 Like other fish, salmon can absorb salty flavor pretty well. You should balance it with some kind of sweeteners like honey, brown sugar, or maple syrup.
Always Use Fresh Garlic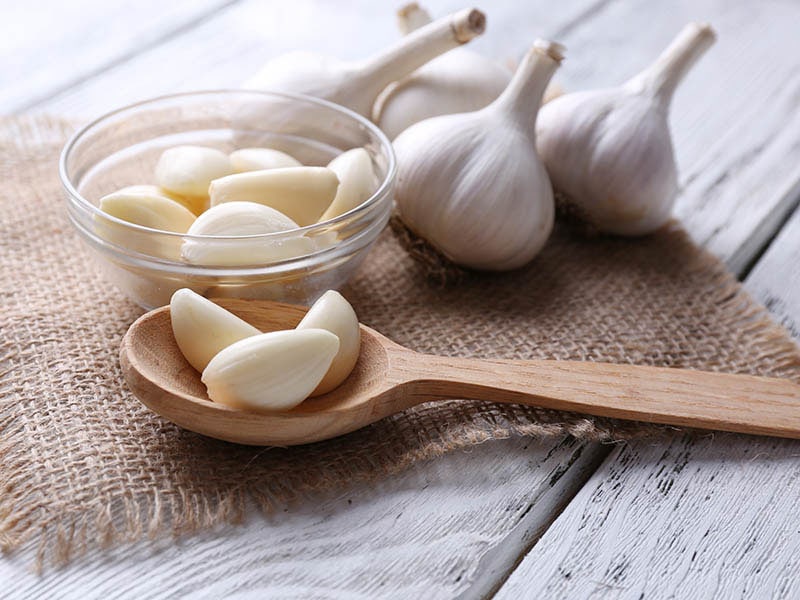 Many people don't like to get the fresh garlic smell on their hands, so they prefer using garlic powder. But for marinating fish (salmon in particular), fresh minced garlic enhances their flavor the best and also covers up the "fishy" smell.
Ground Spices Are Preferable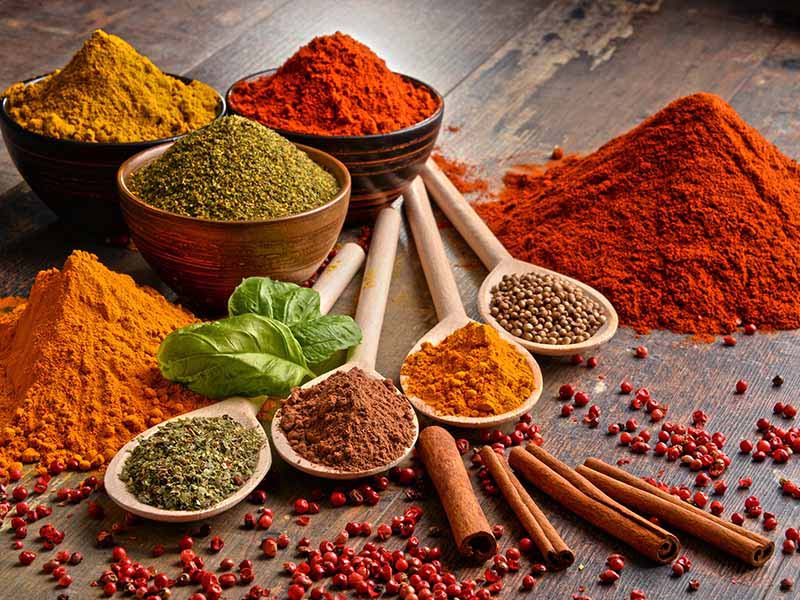 Among different sorts of spices, ground spices are better at penetrating every fiber of the fish compared to whole spices. Best ground spices for marinating salmon include cayenne pepper, paprika, onion powder, chili powder, etc.
Don't Use Aluminum Containers
You shouldn't use aluminum containers to marinate salmon, especially with highly acidic marinades. The acid in the marinade will chemically react to aluminum, causing your salmon to smell metallic. Instead, opt for glass, plastic, or stainless containers for the best results.
4 Easy And Delicious Salmon Recipes That Anyone Can Make
Isn't it beautiful that with just a piece of salmon filet, you can make an unlimited number of delicious dishes? The best thing about cooking salmon is that there are very few skills required, simple ingredients, and just under 30 minutes in total cooking time.
Below are some of the most loved salmon dishes that (almost) anyone can make!
Total time: 25 minutes.
This warm, cozy, sticky, and sweet salmon dish is a perfect treat for a Saturday night to enjoy with your spouse, family, or just on your own!
Made with simple, humble ingredients (but I promise, the taste is not humble at all!), this keeper is filling and so delicious with rice or stir-fried vegetables. The honey glaze gives the dish a golden crust and lovely aroma, which can make anyone hungry.
The secret to enjoying this dish is to assemble it in a bowl of steamed rice, lay the fish on top and drizzle lots of sauce with scallions or green onions.
Total time: 20 minutes.
Still haven't figured out what to cook for dinner? Try this nutritious and keto-friendly dish that anyone can make and love!
This Asian fusion brings out the most in salmon in terms of color, flavor, and texture. Salmon and broccoli are cooked at the perfect temperature, with a fair scent of soy sauce and ginger. You can have this dish with rice or noodles as dinner or as a satisfying lunch.
Total time: 25 minutes.
Salmon with butter? This mouth-watering dish can conquer anyone, even those who are not a fan of salmon. This classic salmon recipe is the most ideal for newbies who are often afraid of screwing the fish. It's no exaggeration that you can nail it on the first try!
The key to achieving perfection in this dish is to bake it in foil. The foil acts like a "seal" that locks all the moisture and delicious flavors inside. Your salmon dish will turn out so butter, soft and flaky.
It's creamy, it's wholesome, it's affordable – it's salmon risotto!
Risotto is such an Italian comfort dish that can warm up your stomach on a cold weeknight. Combined with salmon and some spring veggies, you don't need to have crazy cooking skills to prepare for yourself a delicious, nutrition-balanced meal.
When it comes to making risotto, the broth acts like a deal-breaker, which means it can make or break your risotto. The best way is to make your broth from scratch – which is pork bones or chicken bones.
How to make super creamy and luscious salmon risotto with just a few simple ingredients.
What To Serve With Salmon?
One of the most asked questions about cooking salmon is what side dish is compatible. Well, it's safe to say that salmon can go well with tons of side dishes, from pasta, stir-fried vegetables, salads, and more. Here are some of the best side dishes for salmon that I've handpicked for you.
Total time: 15 minutes.
I know we've mentioned Italian dishes a lot of times since the beginning, but no one can deny the compatibility of pesto and salmon.
The original pesto is made from basil, olive oil, and a touch of sea salt. Even though it sounds so simple, the mixture can elevate salmon's flavor so well. Pesto sauce is a great pair to a variety of salmon dishes: grilled, baked, or pan-seared.
This simple side dish can be a good match for pretty much every main course, especially during holiday seasons. It's healthy and smells really good. Thanks to the green beans' crunchy texture, be prepared that everyone is going to ask to fill their plates over and over again!
Golden, crispy on the outside, soft and creamy on the inside – this roasted melting potato dish does melt in your mouth! Humble, cozy, comforting – this Southern side dish goes well with roasted and baked proteins.
How to make mouth-watering Southern roasted melting potatoes.
FAQs
Like anything else, marinating salmon requires doing some research and practicing. Just to ensure that you're not confused about anything, take a look at these answers.
Now That You've Known How Long You Can Marinate Salmon
As you can see, marinating salmon is not a rule that you have to follow strictly. It is flexible and only requires some notice.
I hope this post has given you the answer you're looking for. Wait no more and make some delicious salmon dishes to wow your friends and family.
Like and share this post if you find it helpful, and you're welcome to leave comments in case of having any questions!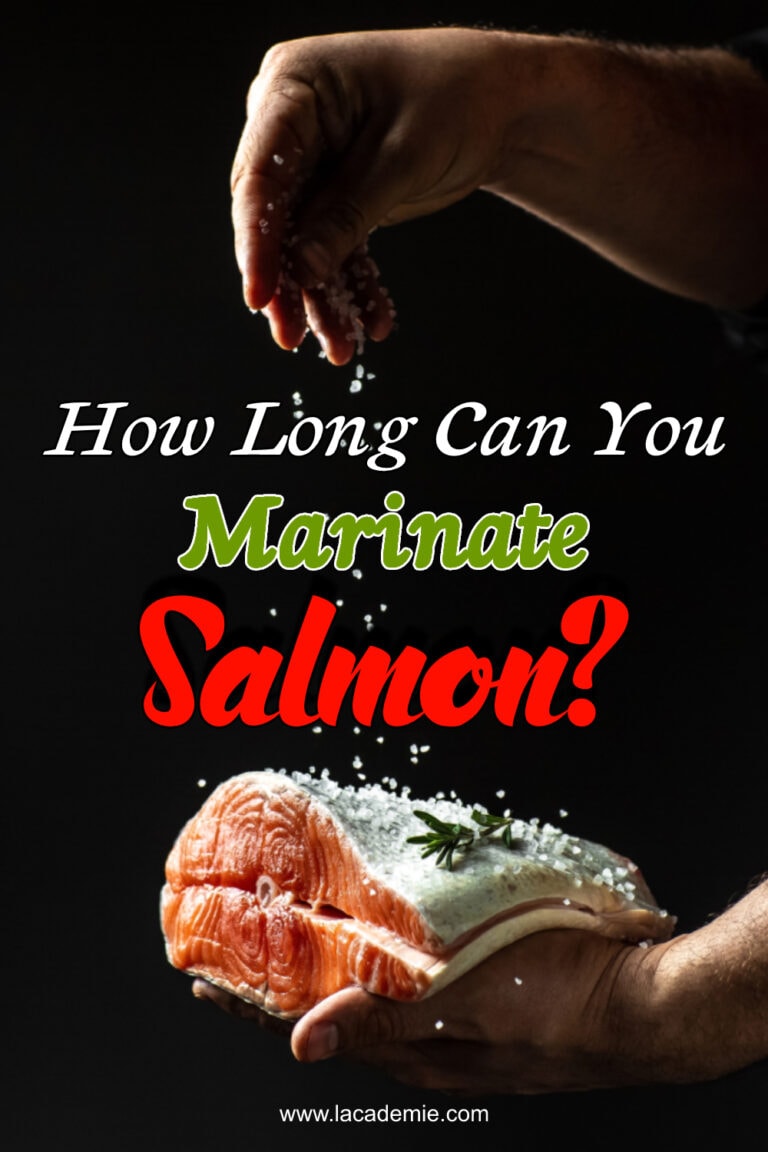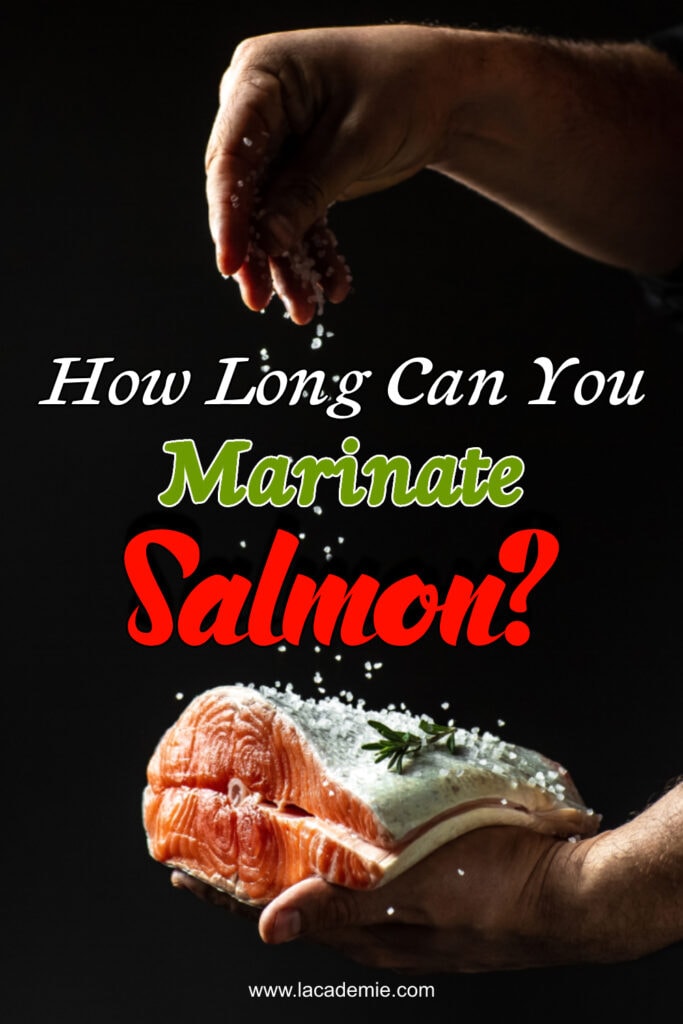 References
globalsalmoninitiative.org. 2022. Nutrition.
ask.usda.gov. 2022. AskUSDA.
usda.org. 2022.