The question "Can you eat cooked salmon cold?" might pop into your mind whenever you are faced with a bunch of leftover fish in the fridge. No one wants to waste this deliciousness. But at the same time, the worry is reasonable since you don't know if it is safe to eat.
Beyond food safety, the real struggle of foodies is if the cooked salmon cold is still as delicious as when it's freshly cooked. Understanding that mentality, I have come up with this article so that you'll know what to do with your leftover filet.
Tag along and learn when the previously cooked salmon is safe to eat and signs to discard it. Moreover, you will pocket many tips to turn this fantastic ingredient into a new delectable dish.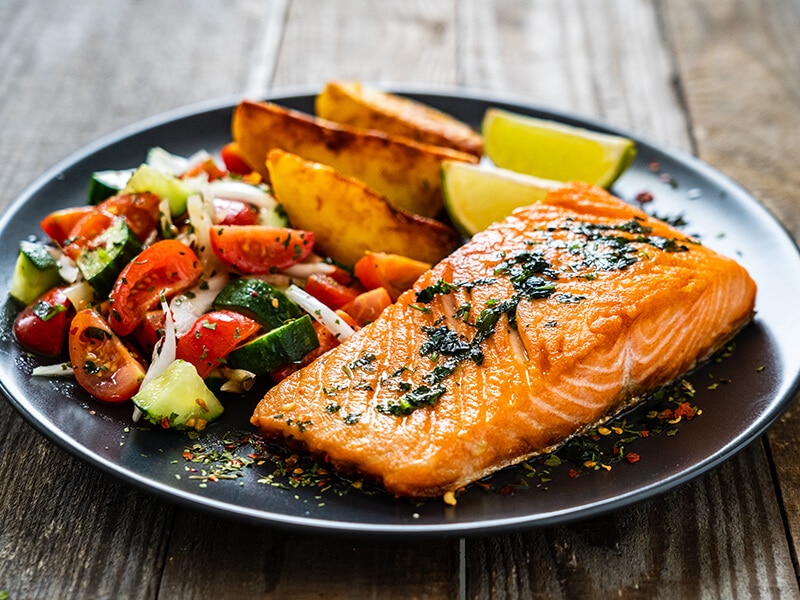 Let's Talk About Salmon!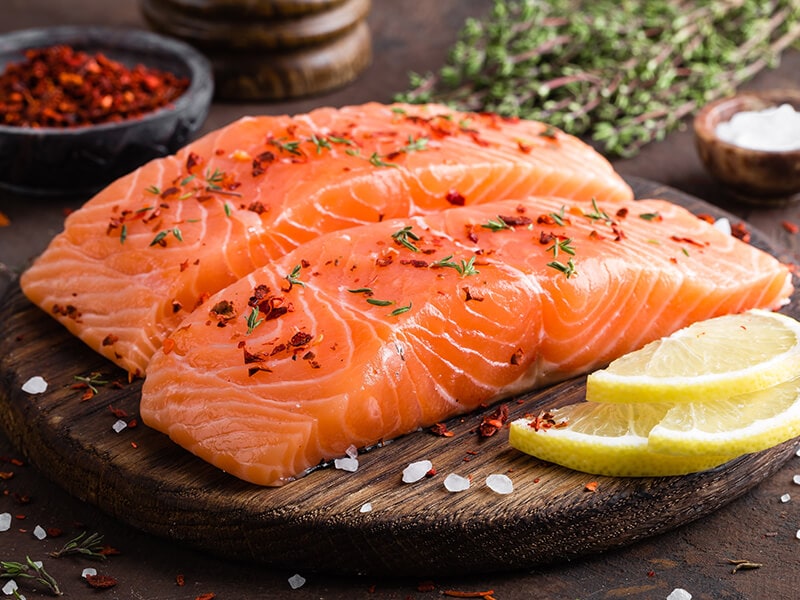 Native to the North Atlantic and North Pacific regions, salmon is versatile, tasty, and highly accessible. This superfood is a big name on the market due to its nutritional content and absolute deliciousness. It is a powerhouse of B vitamins, selenium, and niacin (1).
In terms of taste and texture, salmon is undoubtedly phenomenal. Its flavor is one of the big gaps between salmon and other fish varieties. However, it still depends significantly on farming methods, harvest time, species, and cooking approach.
In Japanese cuisine, raw salmon is valuable in making sushi and sashimi since it gives a buttery and salty taste with no fishy smell. Take a bite, and it will melt right in your mouth.
This form is undeniably tasty but wait until you cook it. Poached, baked, and grilled salmon delivers a buttery flavor. Meanwhile, smoked fish will hit your palate with a smokey and subtly fishy taste. Even canned salmon will sweep you off your feet with its strong flavor.
After knowing about these health benefits of salmon, you may want to buy it right away.
Can You Eat Cooked Salmon Cold?
It's time to move on to the main topic. In this section, you'll know why cold-cooked salmon should or shouldn't be consumed. Are you ready? Let's jump right in!
Cold Cooked Salmon – Friend Or Foe?
In short, your leftover salmon is safe to eat cold as long as it has been stored correctly and shows no spoilage. Getting cold doesn't negatively influence the meat's flavor, and it remains the same deliciousness and nutritional value.
Despite popular belief, cooked salmon isn't spoiled when the flesh turns cold. In contrast, cold salmon maintains its shape, consistency, and rich flavor. It even has a better-concentrated flavor when the meat temperature reduces.
Still, since the food will eventually expire, checking signs of spoiling before consuming it is best. Also, the leftovers can go rancid at room temperature quickly if you don't process or finish them in time. Avoid eating food that stays unrefrigerated for more than a few hours.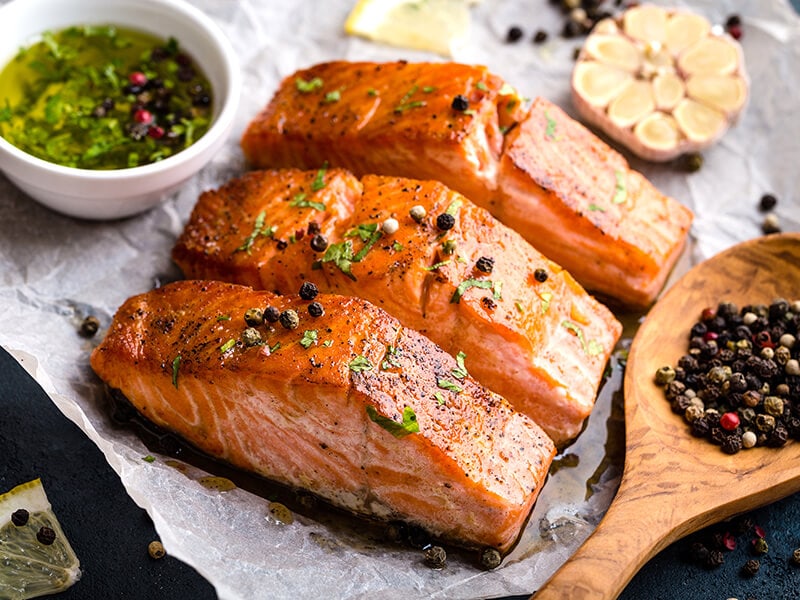 Pregnancy And Cold Cooked Salmon
Cold-cooked fish is often frowned upon by expectant mothers due to its potential bacteria. In contrast, it gets support from salmon fans thanks to its nutrient content. Thus, the question is if pregnant women can consume cold-cooked salmon. And the answer is it depends.
There is a high chance that cold-prepared salmon can expose pregnant women to listeria, a bacteria that can lead to premature birth or miscarriage (2). Conversely, many believe it's safe to consume during any trimester as long as it has been carefully preserved.
Nevertheless, if you're unsure what to do, avoid cold cooked fish or reheat it properly. The baby's health should be your priority, so sticking with hot, fully cooked salmon is better. Nevertheless, you can consult with your doctors for the safest options.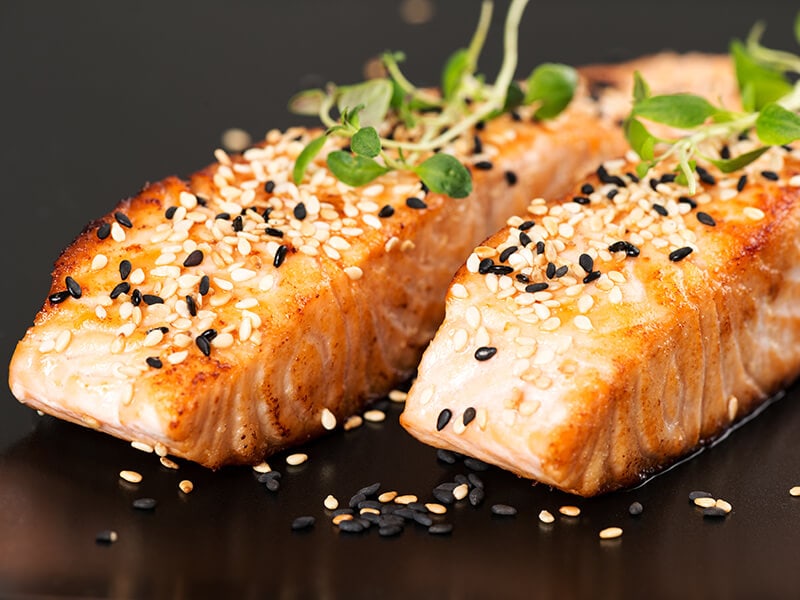 What Is Cold Cooked Salmon Like?
A very famous and well-loved ingredient, salmon is renowned for its rich flavors. But can this superfood still keep its reputation when the meat is cold after cooking? Let's find out now!
Texture
Texture-wise, this fish becomes more compact, stable, and somewhat rubbery after it has been prepared and cooled. When cooked properly, the cooled meat's texture will be tender but flaky and firm enough to serve along with crunchy vegetables, pasta, or acid-tinged dressings.
The degree of moistness and dryness of your cooled cooked salmon relies on how it's previously prepared. Besides, even though salmon is a fatty fish, there will be no layer of hardened fat on the meat's surface when the temperature drops.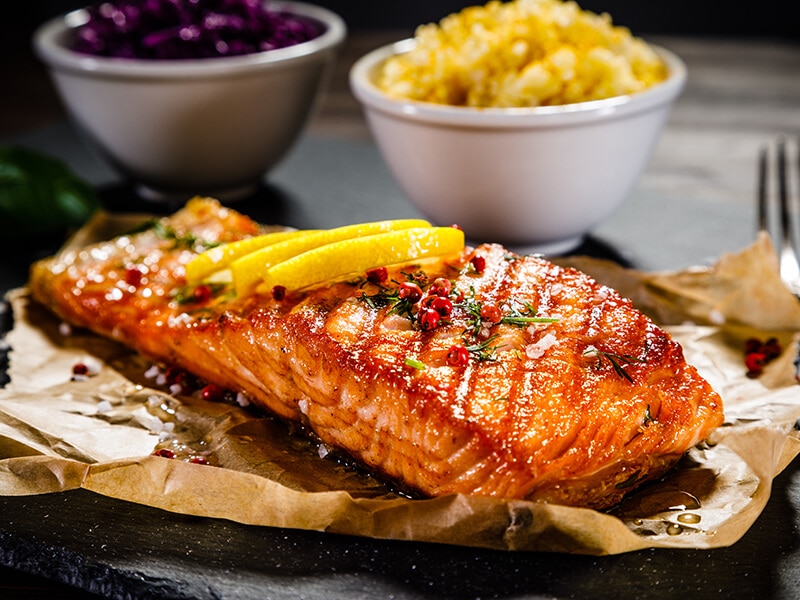 Taste
Since salmon has a robust taste from the beginning, its taste isn't less yummy as the flesh turns cold. In fact, the flavor is even more concentrated at cold temperatures to the point that some describe it as delicate, buttery, and creamy, with a hint of nuttiness.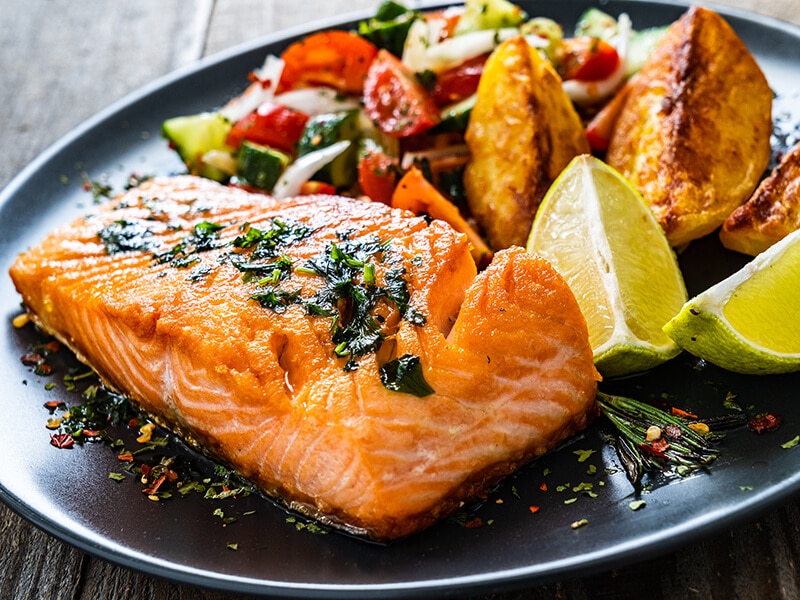 Color
Depending on the cooking approach and species, the fish's flesh will change from translucent (red, raw) to opaque (pink, orange, brown, or beige) on the outside. As such, once it cools, the processed flesh should be a paler version of freshly cooked salmon.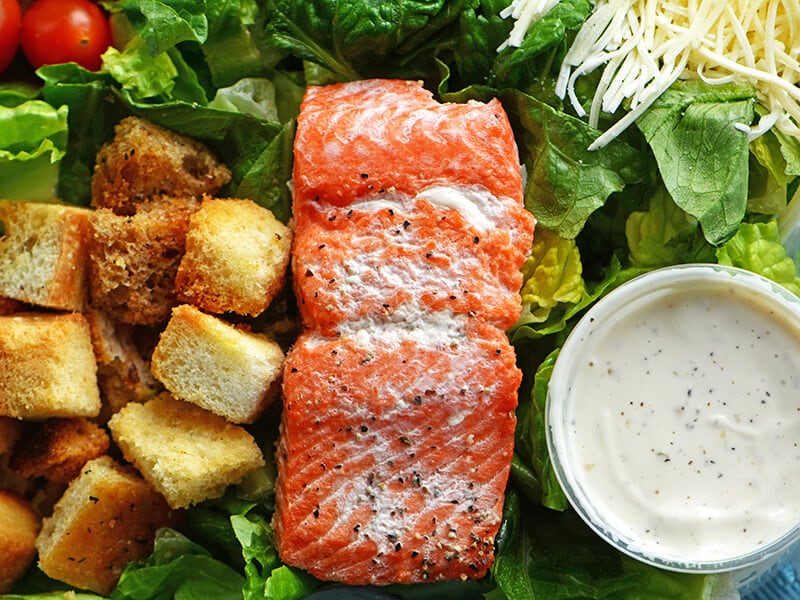 Smell
While some cooked fish have a naturally strong odor when they cool down, salmon doesn't. Unflavored cooked salmon has a mild scent with a light fish smell.
But with the flavored filets, the seasoned ingredients with aromatics or marinade also influence the fish's aroma to some extent.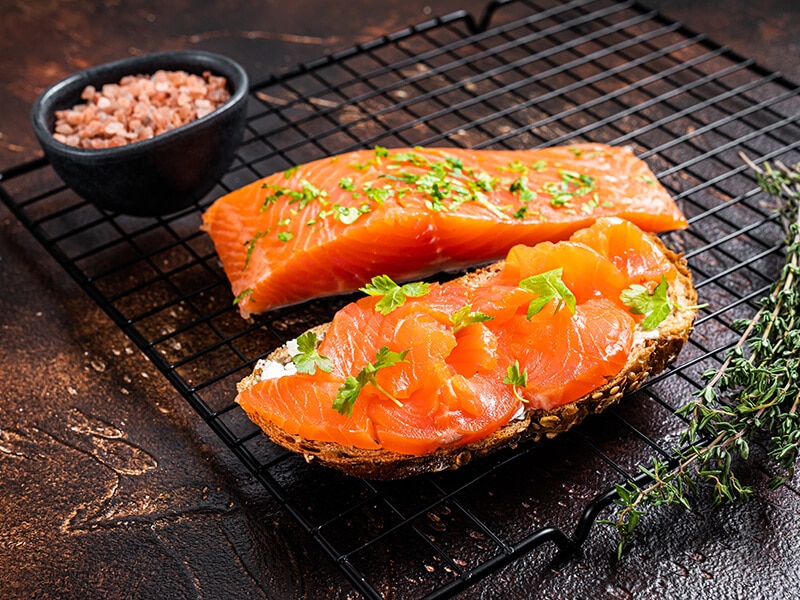 Break Down The Shelf Life Of Leftover Cooked Salmon
Finishing the cooked salmon the same day you make it is the best. Still, it'd be a waste to discard your leftovers the next day because they are still edible for an extended period. Precisely, leftovers of cooked salmon can last 2 to 3 days in refrigerated conditions.
In some cases, your prepared fish can stay in the fridge for up to 5 days. At the very most, freezing can prolong this food from four to nine months. However, the downside of this method is the flavor and texture of salmon will be less appealing after defrosting.
After these periods, the risk of food poisoning goes up. Even if the fish doesn't exhibit any telltale signs that it has passed its prime, it's best to follow the rule of thumb above and throw your salmon away when the time comes.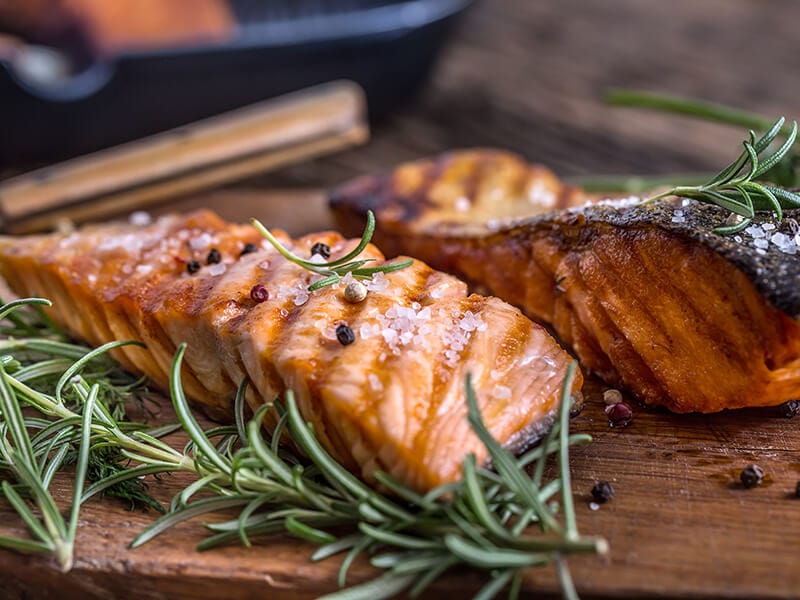 Signs That Cold Cooked Salmon Is Unsafe To Eat
When you forget to label leftover salmon and don't know what has stayed for a while and what doesn't, I'm here to help. If your fish has all the signs below, it has to go.
Texture
It's simple to assume that the slimy forming film or a sticky consistency is the immediate indicator of your fish's freshness. Don't wash them off because your fish has reached its endpoint.
Another sure sign is that it no longer holds well and tends to fall apart or sometimes gives a mushy feel. Discard this rotten item immediately for your safety.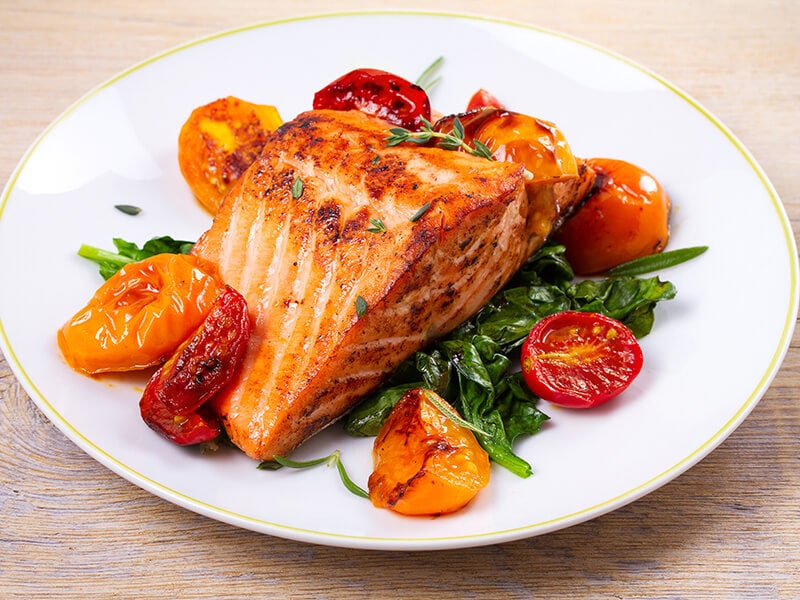 Appearance
Beyond the texture of the flesh, discoloration is another key giveaway that your fish is bad. Spoiled cooked salmon will often look dull or grayish compared to the faded pink shade of freshly cooked fish.
In addition to an overall unappetizing appearance, if you're examining the whole meat, molds, dark spots, or white residues are other definite indicators that your food has turned inedible.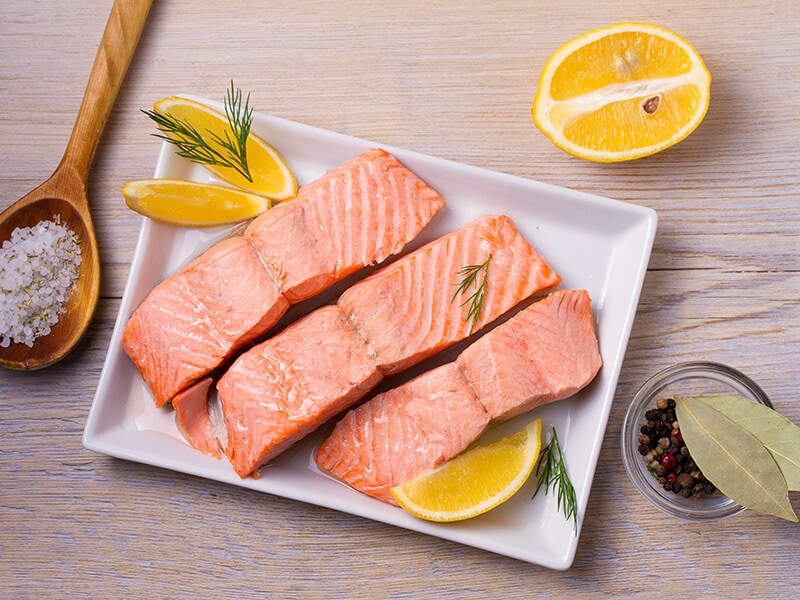 Odors
If the appearance of your fish is not enough to convince you, take a whiff of it and judge the smell. Bear in mind that fresh-cooked salmon should have little to no scent. By contrast, besides the fishy odors, rotten fish will also emit hints of ammonia or a sour and awful smell.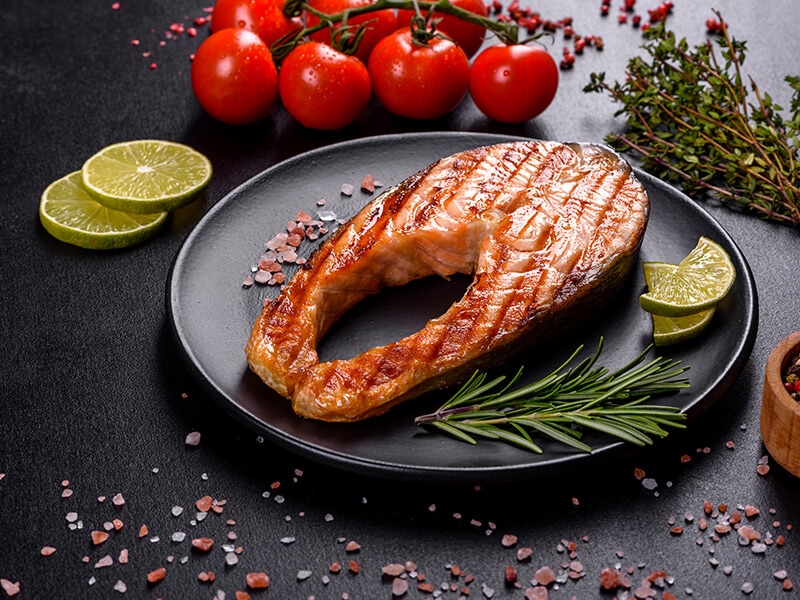 Food Safety Precautions With Cold Cooked Salmon
Though cold-cooked salmon is safe to eat after the examination, you still can open yourself up to the risk of being infected with some diseases. It's best to guarantee that you have done everything right to prevent as many health risks as possible.
Before Cooking
Like other fish, raw salmon is perishable with environmental changes, so keeping it refrigerated is a must, and never let it sit out for more than two hours. Here is a word of advice: take the fish right before you purchase and refrigerate it as soon as you return home.
On the same note, ensure that your equipment and work area are clean and sanitized before preparing salmon to avoid cross-contamination.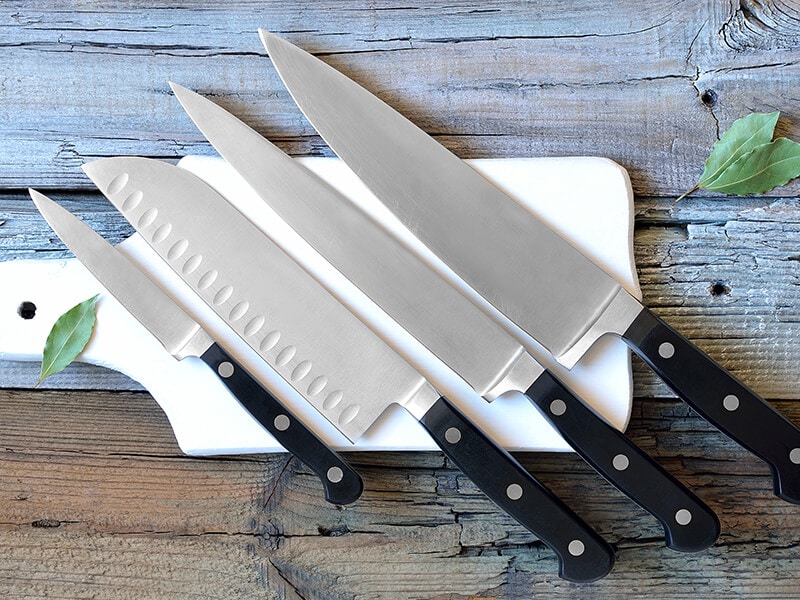 During Cooking
Raw or uncooked salmon may be overflowing with parasites and bacteria. At a bare minimum, thoroughly cooking the fish to 145°F for at least 15 seconds is the best way to get rid of these pathogens immediately. Check the temperature regularly, with a food thermometer, preferably.
Furthermore, keep your used tools away from the salmon containers since this action can trigger cross-contamination and accelerate your fish's spoiling rate.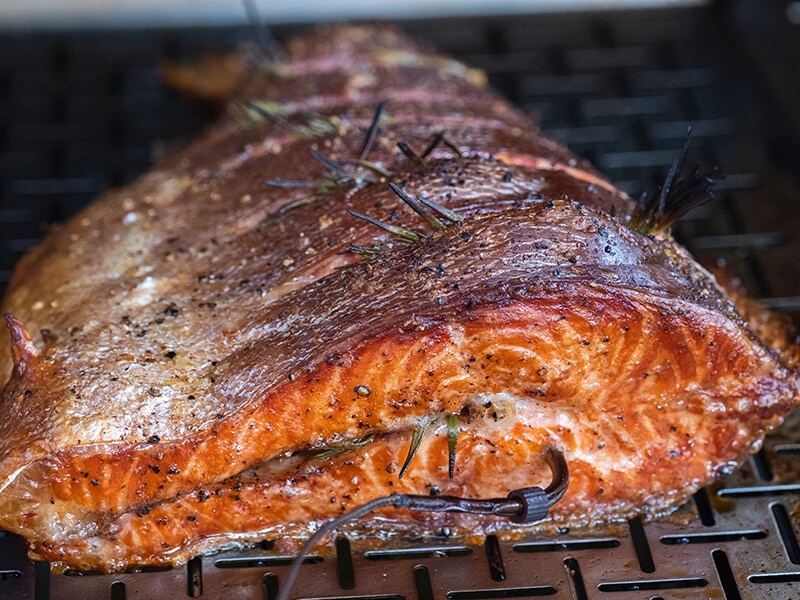 After Cooking
If you don't intend to serve it immediately, it would be best to refrigerate your favorite fish as soon as you finish cooking it, ideally within two to three hours later. Remember to place it on a plate or in a container, and cover it with plastic wrap for the best protection.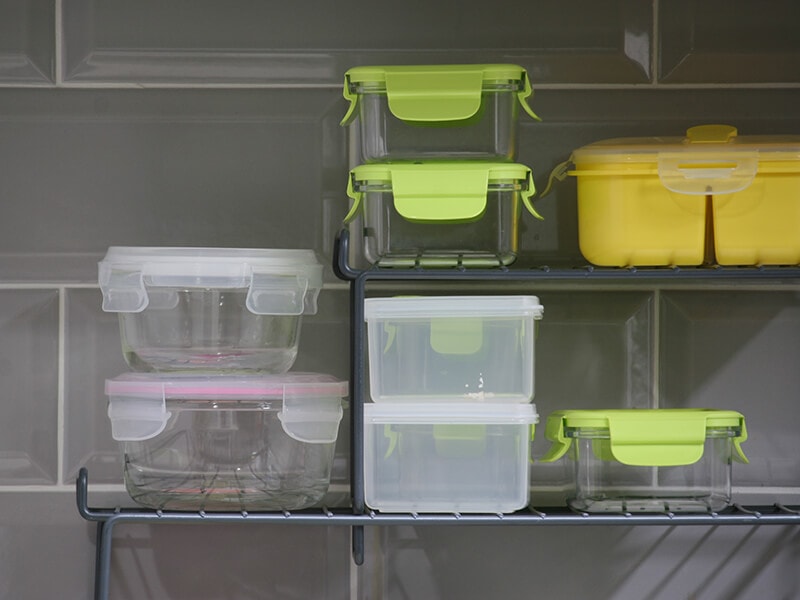 Things To Know About Reheating Cold Cooked Salmon
One of the headaches in eating cold-cooked salmon is whether it should be reheated. On the one hand, reheating can eliminate other bacteria during storage time. Contrarily, many are afraid that another round of heating will lessen the flavor and texture of their food.
Reheat Cooked Salmon – Safe Or Not?
The answer to this question is a solid Yes. Cook as much salmon as you want since you're welcome to reheat the leftovers later. Best of all, as bacteria can multiply when the cooked fish sits at 40°F – 140°F, reheating the food will stop this from happening.
But that's only the case with salmon that has been well cooked, appropriately stored, and within its expiry date. Reheating won't ensure safety when the fish misses any of the mentioned boxes.
Still, in recipes designed especially for cold leftover salmon, nothing is better than non-reheated fish. Plus, if cold salmon is present in a recipe requiring heat treatment, you don't need to rewarm it beforehand.
Overall, previously cooked salmon is fine to reheat, but you don't have to warm it up if it's unnecessary. Suppose you still want to do it; remember that no matter what appliance you use, 165°F is the ideal internal temperature your food should achieve (3).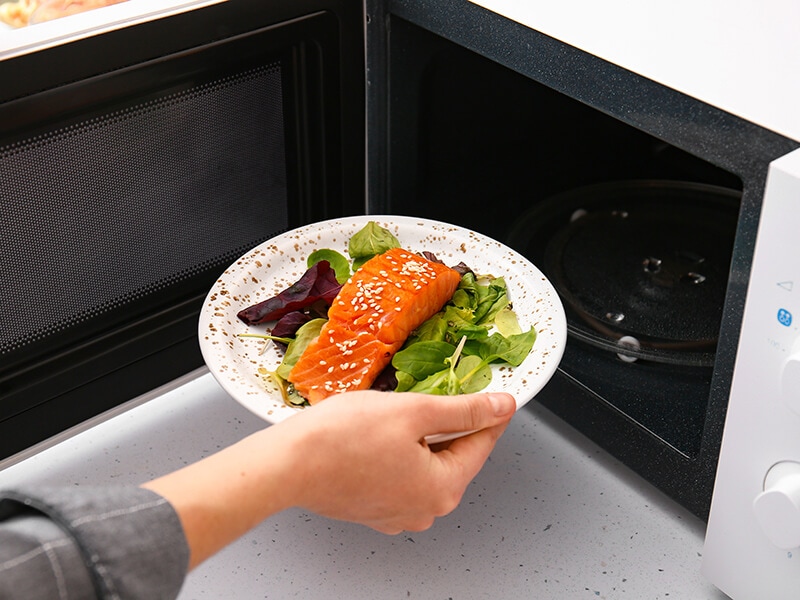 Secrets To Reheat Cooked Salmon Like A Chef
Either heating up the leftover filet in a microwave or an oven is acceptable. It is essential to be patient and go low and slow with the temperature. Doing so will preserve your cooked salmon's juiciness and flaky texture. By contrast, throwing it into high heat only dries it out.
Oven
Although the oven is a never-fail method to reheat cold salmon, you should never put it in the machine and walk away. Keep an eye on your salmon until it's done.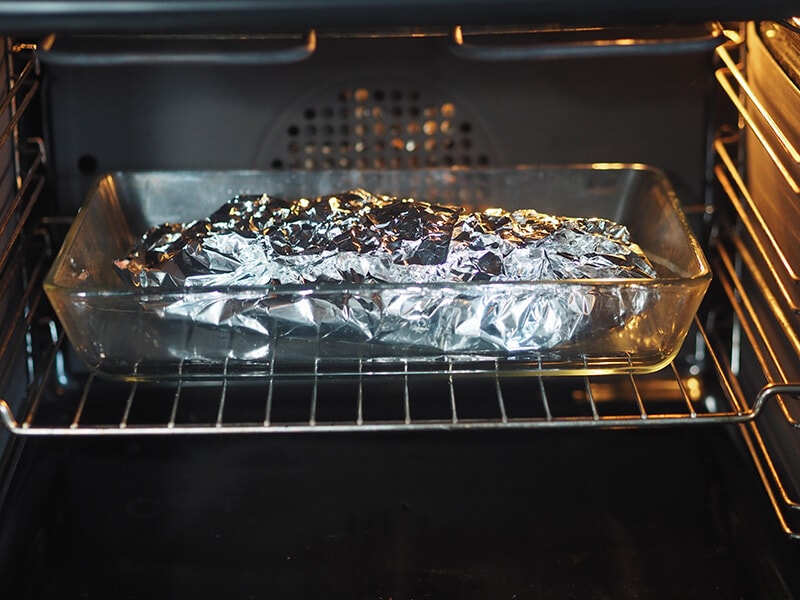 Step 1: Add Moisture
Before you pop the leftovers in the oven, rub a tablespoon of olive oil or add half of the squeezed lemon over the surface of the filets. Doing so will help preserve the flavor and freshness of the food.
Step 2: Enclose The Salmon
Cut a long, wide piece of foil to fold around the salmon for secondary protection. Create a pouch with no holes and completely sealed to restrict the fishy smell from escaping the oven as well as to prevent burning at the edges of the filets.
Step 3: Reheat The Salmon
Set your oven to 275°F and arrange the folded salmon on the prepared baking sheet. Leave the pouch there for about 15 minutes and take it out once the internal temperature hits at least 145°F. If not, come back after five more minutes.
If you need to learn how to warm up cooked salmon in the oven, here is how to do it.
Microwave
In truth, reheating salmon in the microwave is not advisable since it might cause unpleasant fishiness. Or worse, the meat will be bland, dry, and lose its flavor. Yet, the efficiency of this equipment comes in handy in a pinch, and the result will be pleasing if you follow my guideline.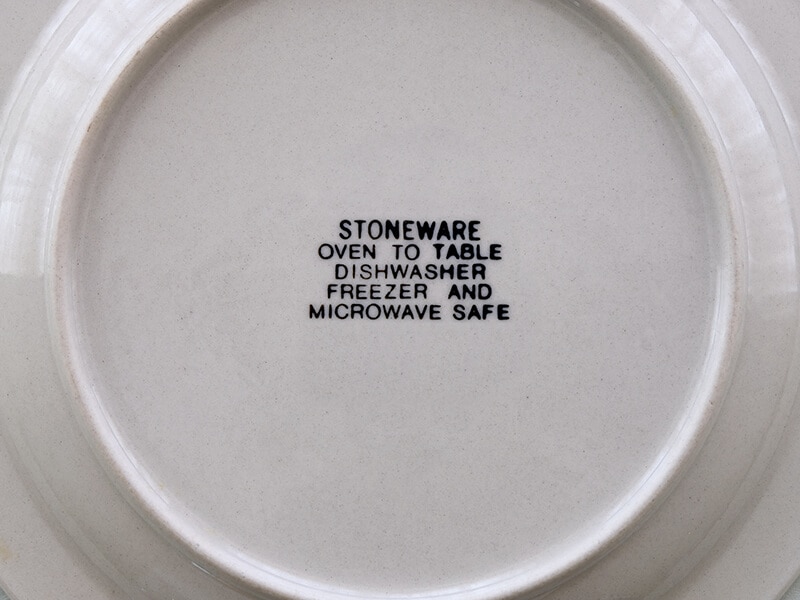 Step 1: Prepare Your Salmon
After putting your leftovers in a microwave-safe dish, cover them with a paper towel or a lid to keep the moisture locked in. When heating salmon in the microwave, this food is bound to lose some steam. Accordingly, add a tablespoon of water to avoid overdrying.
Step 2: Microwave The Filets
Turn on the microwave at a low setting, at about 30% or so. Microwave the salmon for 30 seconds or until it's hot. After that, take the fish out and stir it with a fork. Then move it back to the microwave, heat it for another 30 seconds, and enjoy!
Storage Of Cooked Salmon 101
Many deem that prepared salmon faces no health risk as the bacteria have been killed during previous cooking. But that's not true. Your cooked fish can still be a host of many diseases under incorrect preservations. Follow the storage guideline below if you want to do it right.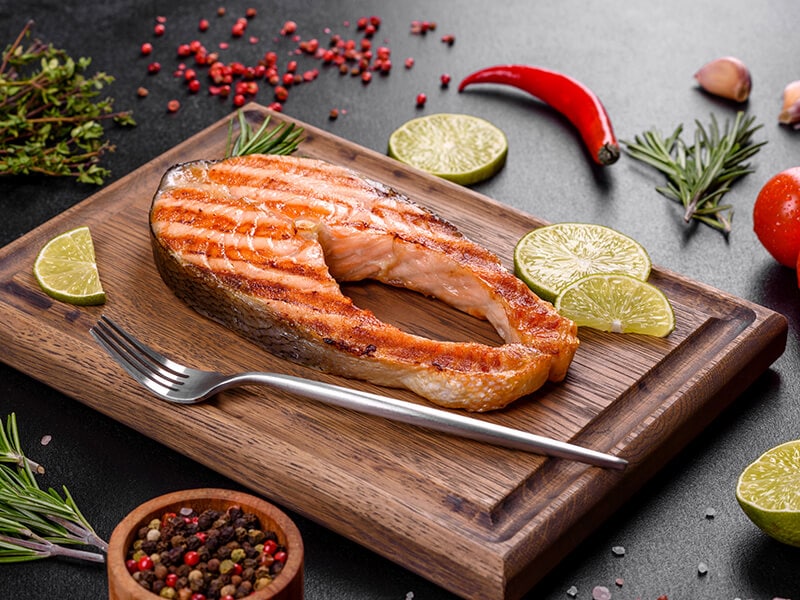 Cooling
No cooked fish sitting out for more than two hours is safe to eat anymore. Therefore, once your prepared salmon has cooled down, seal it in an airtight container or plastic wrap and move it to the storage space immediately.
Regardless of what methods you use for preserving salmon, remember to place the current date on the package, so you'll know how long it has been there.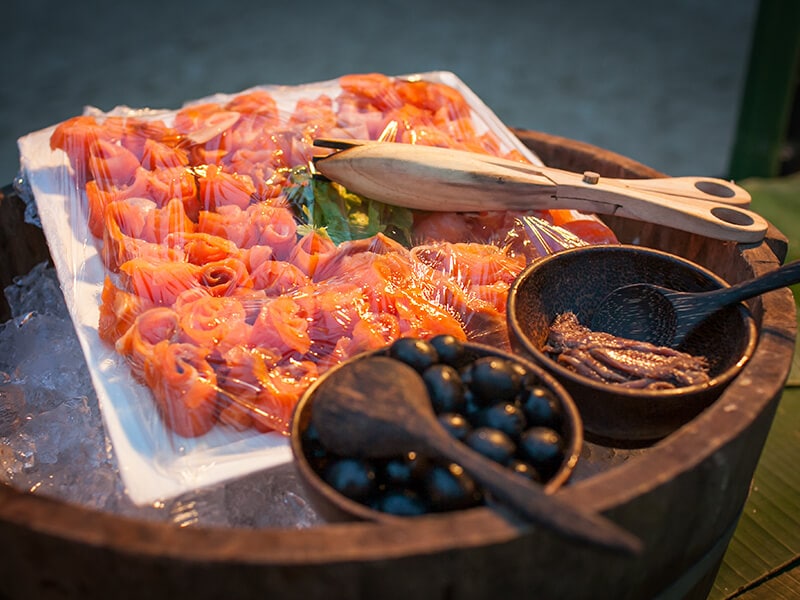 Refrigerating
After cooking, refrigerated leftover salmon, like other seafood, is safe to eat within 2 to 3 days. Note that refrigeration can't kill bacteria but only slow down its growth rate. Thus, it may be wise to finish your food within the given time before it becomes poisonous.
To ensure that your refrigerator is safe for salmon storage, keep its temperature stable at or below 40°F. Besides, since bacteria can spread when raw or dairy items come in contact with ready-to-eat filets, placing them separately is better.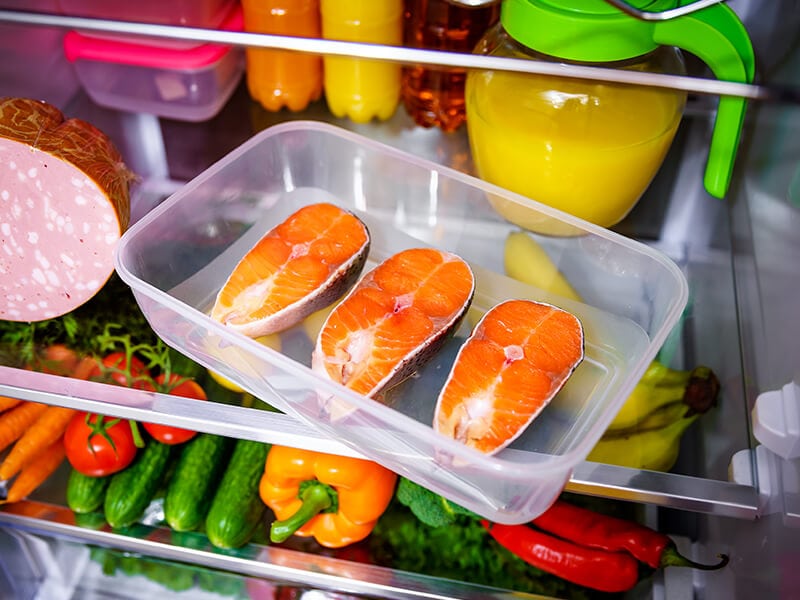 Freezing
Freezing salmon is ideal for long-term storage since frozen fish stays well for up to 6 to 9 months. Carry the same steps as you would for refrigeration but be extra cautious to ensure your food sits still in a sealed wrap or airtight container.
Also, it would help if you put the cooked filets in the bottom of the freezer. Avoid storing them on the sides since they will face constant temperature changes when you open the freezer. Proper handling will prevent the fish's juice from leaking and crystallization during freezing.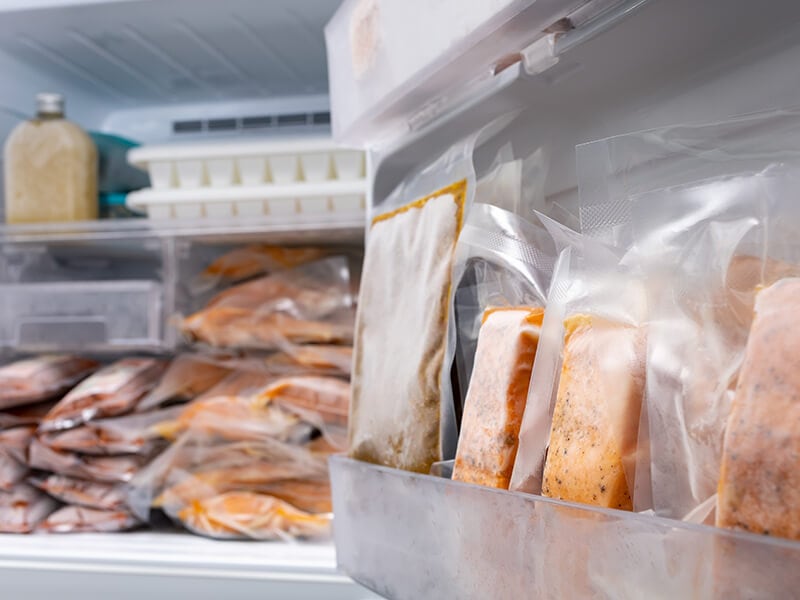 Check Out These Mouth-Watering Cold Cooked Salmon Recipes
There are endless ways to use up your leftover filets. Since this ingredient is tasty and prepared once, you don't need to add more magic touches. Paring it with a few simple ingredients, and your leftover salmon dish will steal all the attention.
Frying makes everything taste better, and these salmon patties with lemon garlic sauce are no exception. You won't sense any fishy smell from the yesterday-cooked fish, and this creamy and savory sauce is to die for.
If you're tired of the same treatments of leftover filets, why don't you make it into this salmon taco with avocado yogurt crema? Since your day-old salmon is previously cooked, the prep time will be shorter, and a delicious dinner will be ready in approximately ten minutes.
Wait, rice and salmon? If you say yes to this combination, this salmon fried rice may be your new go-to main dish. Your beloved fatty fish aside, sesame oil, mixed veggies, and soy sauce also join forces to create this masterpiece. Take this chance to clear up items in your freezer.
This salmon pate will make your guests compete to get the very last bites. With only five ingredients, you'll have a creamy and flavorful spread for mini crackers and slices of bread or a yummy dip for raw vegetables.
Quick to prepare and 100% delectable, salmon pate will be a last-minute savior to your party.
FAQs
At this point, you already know if the cooked salmon cold is safe to eat or not. But the more you understand the subject, the better it is for you. Take a look at the extra information below if you're interested.
Don't Waste Your Leftover Salmon!
Now you know that cold-cooked salmon is still edible for a while. There is no need to panic when you can't finish all the cooked fish in one go. It can be a great ingredient for the upcoming days' hearty meals. Even better, you totally can devour the leftover cold straight from the fridge.
Have you ever tried eating cooked salmon cold without reheating before? I hope you can share your thoughts with me in the comment section. Also, please introduce this post to anyone passionate about salmon because they might have the same question.
References
Spritzler, F. (2022) Salmon: Nutrition, health benefits, and more, Healthline.
Listeria may be serious miscarriage threat early in pregnancy (2017) News.
Initial and renewal process Minnesota Certified Food Protection Manager (CFPM) (no date) Initial and Renewal Process Minnesota Certified Food Protection Manager (CFPM) – MN Dept. of Health.