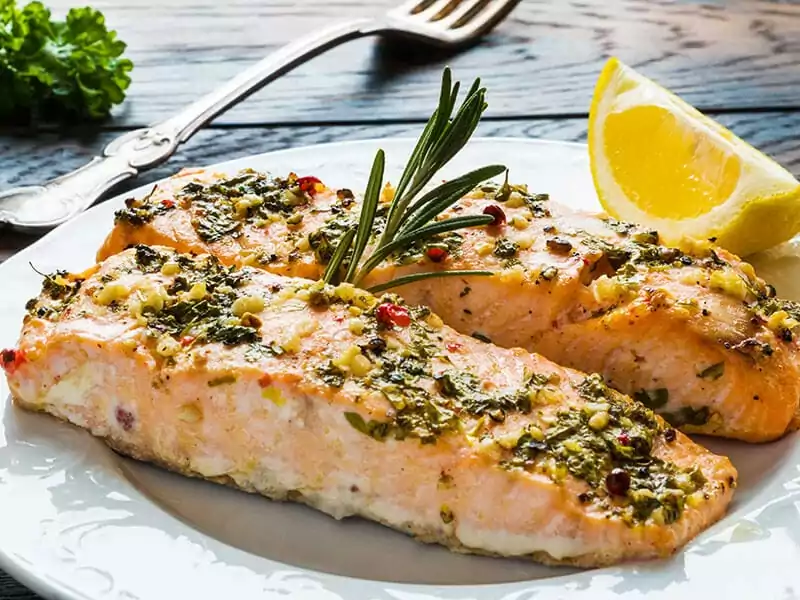 How long to cook salmon at 400 degrees matters to you because cooking salmon is not as easy as you think. With salmon, you need a suitable cooking method and exact cooking where you can enjoy a tender and moist flavor but maintain the intact taste from fresh salmon fillets.
First made over two hundred years ago, now salmon has been popularizing as one of the most common recipes across the world because of its delight. With salmon fillets, you can create many recipes to feed your family or treat your guests.
Let's dive into the post here to understand more about cooking salmon at high temperatures so that you can cook salmon to reach the highest level of deliciousness.
Length Of Time To Cook Salmon
How long to cook salmon depends on the thickness and the cut size of the salmon, as well as the cooking temperature. For example, the right duration to bake salmon at 450 is different from that of 400 degrees F. In general, it will take you about 15 minutes to fully cook average-sized salmon fillets at 400.
If your salmon is cooked en papillote, you should let them in the oven for 10 to 15 minutes, depending on how you want to serve it.
Another way to cook salmon is searing and roasting with the support of a cast-iron skillet and the oven. You had better cook from 11 to 13 minutes to get salmon done. Roasting, grilling in foil and cooking salmon in an air fryer require different time.
Is Cooked Salmon A Healthy Recipe?
Salmon is considered a healthy dish because it contains a rich source of protein, vitamin B12, iron, omega-3 fatty acids, and vitamin D, making it the best recipe for your kids.(1)
Containing many nutrients, salmon can help you support bone development and improve cardiovascular and cognitive health.
Although salmon is known across the world for being eaten raw with sushi or sashimi, that doesn't mean that you can use any salmon fillets to eat raw. Inappropriate handling ways will cause the development of bacteria in raw salmon.
For these reasons, raw salmon is not safe for those who are pregnant, have compromised immune systems, young children, and old ones.
Salmon seems to be one of the most nutritious fish in the world with many health benefits. Watch this video to know more:
What Is The Best Salmon To Eat?
Choosing salmon is a demanding job as you need to have the ability or experience to select fresh and highly qualified salmon fillets. Not to mention that salmon's taste also depends a lot on its quality and freshness as well. Go with me to opt for the best salmon ever!
What You Choose, Wild Or Farmed Salmon?
Suppose you are offered two options with wild and farmed salmon, which one you should choose and why. I'll let you know how to select the better option for your meals.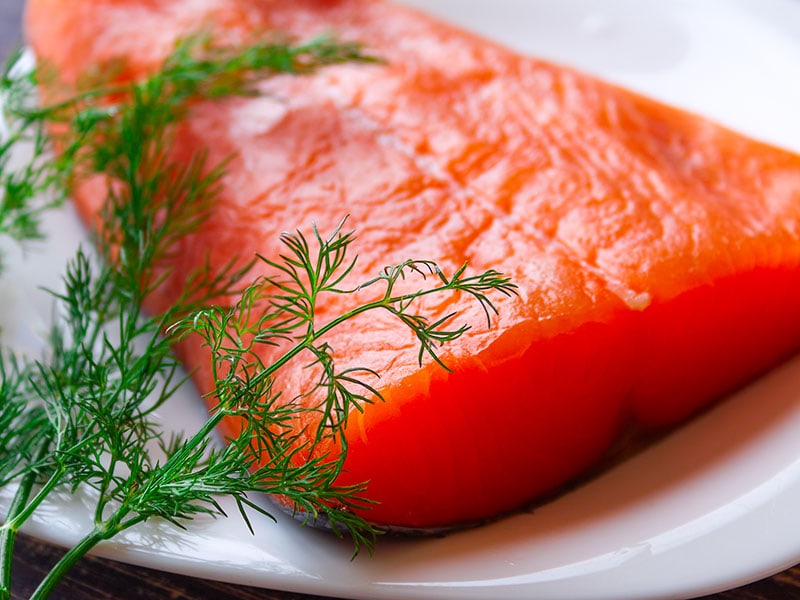 Wild Salmon
What are they: Pink salmon, King salmon, Sockeye, Coho, silver salmon.
What they eat for survival: Capelin, Atlantic herring, sand lance, barracudina, and lanternfish
Flesh Color
Pink salmon: pale pink
King salmon: soft, delicate, and melt in the mouth
Sockeye: orange to deep red
Copper River Sockeye: natural deep red
Coho: from orange to red
Texture
Pink salmon: soft texture with a small flake
King salmon: dense meaty flavor and rich fatty consistency
Sockeye: firm and medium flakes
Copper River Sockeye: a firm texture
Coho: comparatively dense and firm
Availability
Pink salmon: July to September:
King salmon: May to September
Sockeye: May to August
Copper River Sockeye: Early May to June
Coho: June to September
Taste
Pink salmon: not fishy and slightly sweet
King salmon: a hint of sweetness
Sockeye: a pure and fishy flavor
Copper River Sockeye: rich and nutty.
Coho: mild salmon taste
Nutrition Values: Fewer calories and less than farmed salmon
Price
Rare and expensive
The most prized: Chinook and King Salmon
Farmed Salmon
What are they: Atlantic salmon, Arctic char, Genetically modified salmon.
What they eat for survival: Pellets made with fish oil, sam
Flesh Color
Atlantic salmon: white to light orange
Arctic char: pink but turn white when cooked
Texture
Atlantic salmon: a medium-firm texture with large flakes
Arctic char: meaty texture with small flakes
Availability
Atlantic salmon: all-year-round
Arctic char: all-year-round
Taste
Atlantic salmon: a milder flavor than wild salmon
Arctic char: rich and flavorful taste
Nutrition values: Lighter color and contain less fat
Price: More plentiful and cheaper
There are numerous types of salmon for both wild and farm-raised salmon. Wild salmon types that are often served for your meals come from pink salmon, king salmon, sockeye, copper river sockeye, and coho.
On the contrary, the two most used farmed salmon are Atlantic salmon and arctic char salmon.
Wild salmon will be caught by nets or lines, and they live in the wild and eat smaller species, whereas; farmed salmon is raised on a farm and fed with pellets made with smaller fish, ground-up chicken feathers, or poultry litter.(2)
For this reason, some hypotheses show that farm-raised salmon is sometimes harmful to your health with a lot of contaminants or biological waste in the river where they live.
Living in two totally different environments, wild and farmed salmon will bring you distinctly different features in relation to color, texture, taste, or availability.
Wild and farmed salmon have a difference in color in which you can identify them easily. Wild salmon has a lighter color, fewer calories, and less fat than farm-raised ones.
The flesh color of wild salmon ranges from orange to deep red, while that of farmed ones is from pink to orange and often transformed into white when being cooked.
When it comes to taste and texture, wild salmon's texture is much more firm than the farmed ones'; however, the farmed salmon is milder and thicker. Besides, wild salmon is firm and meaty, while farmed one contains a soft and buttery flavor.
In another aspect, wild salmon is caught in certain seasons. For example, if you would like to eat King salmon, I must buy it from May to September while the farmed ones will offer you all year round.
In terms of price, wild salmon is certainly more expensive than any kind of farmed salmon, as farm-raised salmon is more plentiful than wild-caught salmon.
In short, no matter what, you select wild or farmed salmon; remember to check the original supply for better products.
Fresh Or Frozen Salmon?
Fresh is always better than frozen, but in some cases, fresh or frozen doesn't matter anymore because you need to choose salmon based on its appearance and flavors. For good raw salmon should have a bright color instead of getting pale.
Another note for you is just don't choose any fish that looks dried out or has a brown color instead of red and pink colors.
If you choose to use frozen salmon, don't forget to check the frozen salmon's shelf life, and remember to defrost it 15 minutes before cooking. After getting salmon, just cut them into smaller pieces to cook quicker and marinate them easily.
Some of you are not into eating salmon skin and then remove it out of fillets, but salmon skin is a really rich source of minerals and nutrients in salmon. Thus, if you are questioning whether you should eat salmon skin, the answer must be a big "Yes."
Watch this video to know more:
How Long To Cook Salmon At 400 Degrees?
Continue reading to know how to finish your salmon in your favorite ways. You can choose one of three ways of searing and roasting, roasting, baking in the parchment, grilling, frying with an air fryer, or even pan-frying.
Before you start, it's also a good idea to determine how much salmon you need to cook based on the average amount of salmon a person eats. This will prevent you from cooking too much or too little. After all, it's never pleasant when the main course runs out before everyone is full.
Method 1: Searing And Roasting
Following the steps below will help you finish cooking salmon with high satisfaction and convenience. If you love to eat salmon fillets with crispy edges but a juicy core, this method is the best choice for you.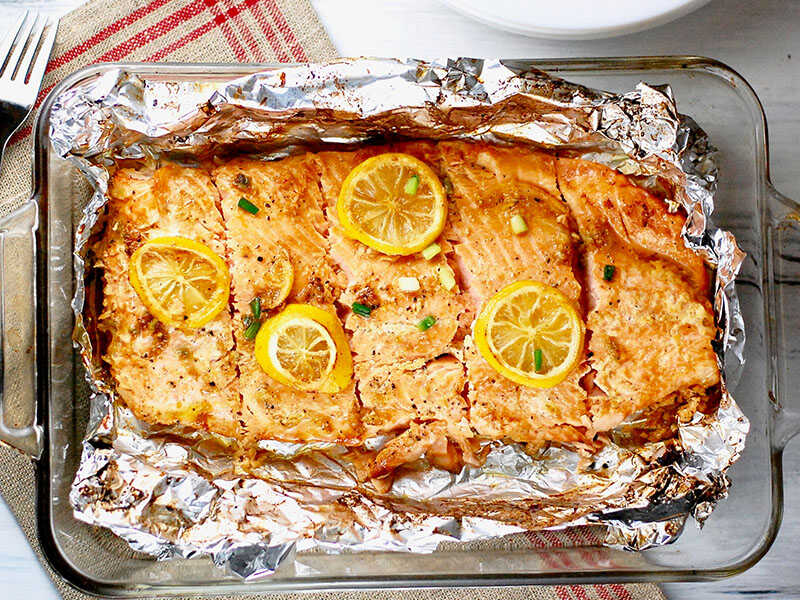 Step 1: Preheat the cast-iron skillet to 400 degrees F
Step 2: You should learn the right marinating time for salmon, then marinate it with a mixture of seasonings. For a newbie, I suggest this recipe. Melted butter with lemon juice; top the salmon fillets with chopped garlic, salt, and cracked black pepper to raise the flavor of the fish; and then add some lemon slices around the fillets to add flavor.
Step 3: In the cast-iron skillet, melt unsalted butter, and the melting butter gives your salmon fillets a golden brown outer but moist texture. Add the salmon fillets with the skin side down.
Step 4: Cook these fillets at high heat for about 3 minutes and spoon the melting butter over the fillets as they are cooked.
Step 5: Transfer the skillet into your oven and roast for another 8-10 minutes before serving.
Note: For getting crisper skin, you should cover the fillets with some flour.
Method 2: Roasting
Roasting or baking salmon fillets is the easiest way you do for your dinner meals, and you can finish the meal within 20 minutes.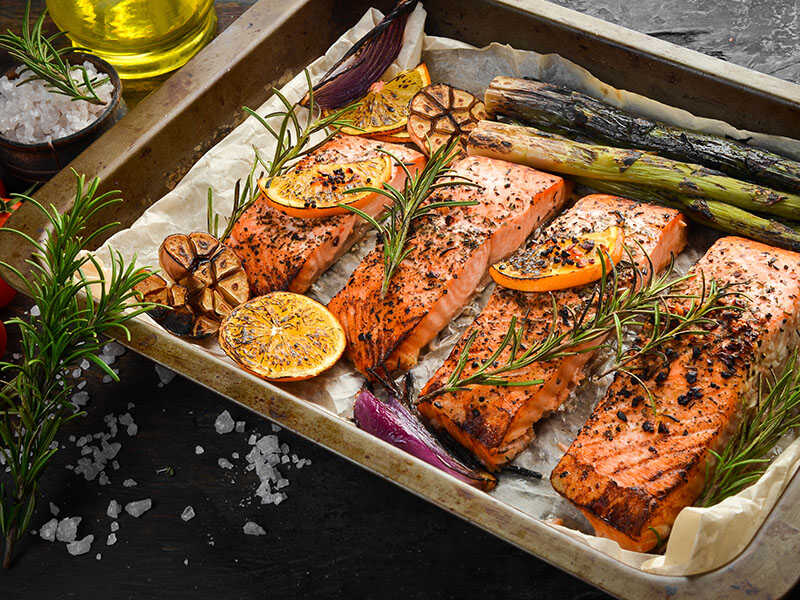 Step 1: Preheat the oven to 400 degrees F before cooking from 5 to 10 minutes, depending on your device.
Step 2: Cover the salmon fillets with some spices you like and then put them in the oven for about 12 minutes for medium doneness. You can decide how long to cook salmon, depending on the thickness of the salmon.
A good rule of thumb that you should add 4-6 minutes per extra ½ inch of thickness. 4 minutes for those who love eating salmon with a rare side and 6 minutes will make your salmon cooked fully.
Method 3: En Papillote (Salmon In Parchment)
This method is somehow like roasting salmon, but the support of foil or a packet of parchment will make the salmon slices more versatile.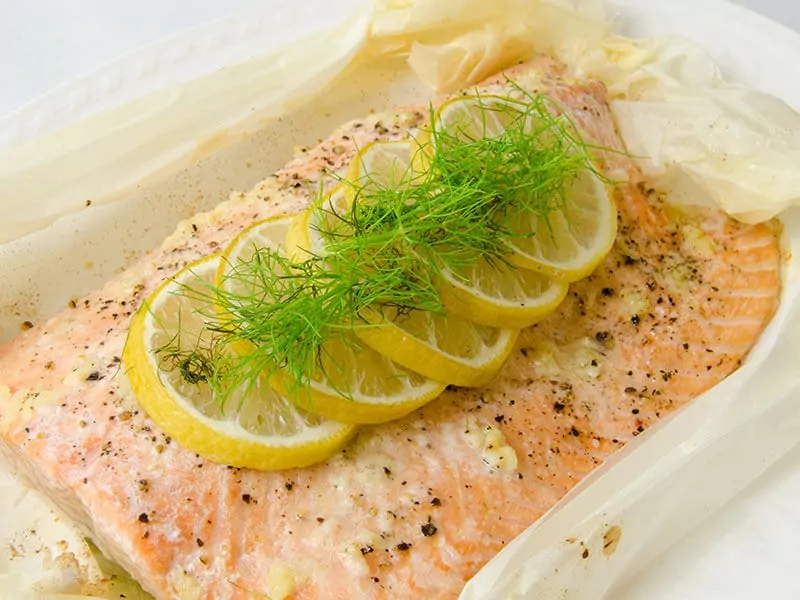 Step 1: Preheat the oven to 400 degrees.
Step 2: After sprinkling seasons on salmon, wrap them with a piece of foil or parchment and place them in a sheet pan.
Step 3: Put the salmon package in the oven and bake it until done; the time ranges from 10 to 15 minutes. The stream from the wrapper will make the salmon cooked with moisture.
Note: With this cooking method, you can add veggies and some fresh herbs by the side of salmon for better taste.
Parchment-baked salmon is more incredible than you think. You should see the video below:
Method 4: Grilling In The Foil
Another way you can apply for cooking salmon at 400 degrees is by grilling them with a foil packet. Grilling can create salmon fillets with deep and smoky flavors and make them more marinated to eat.
Step 1: Prepare your oven and heat it up at 400F
Step 2: Seal the salmon fillets with some spices by a piece of foil.
Step 3: Grill the package for about 14 to 18 minutes until the thickest parts are also cooked as you prefer. If your salmon is large, you need to add more time and vice versa.
Method 5: Using An Air Fryer To Cook Salmon
Cooking salmon with an air fryer will make it more flaky and delicious. Salmon fillets will be juicy and tangy with this method. Not sure whether aluminum foil is compatible with air fryers? Don't worry; for this method, you don't need to wrap aluminum foil around the salmon fillets.
Step 1: Season the salmon with some basic seasonings. For a keto-friendly air fryer dish, I suggest opting for garlic and butter, which can boost your salmon's flavor while retaining its moisture at the same time.
Step 2: The cooking time will vary depending on what types of air fryer you use. If you use an oven air fryer, 10-15 minutes at 400F is a perfect time. At least 12 minutes is a period for a basket air fryer. Of course, the thicker the salmon is, the longer you need.
Golden brown edges, tender texture, and comforting taste must be what you need for a good meal. Watch this video:
Method 6: Pan Frying
Pan-frying will offer you the easiest way to cook salmon at a very high temperature with crispy skin and surface. For this recipe, you had better keep the salmon skin for a better result.
The rule is to cook the skin-on side of salmon for up to 1 minute at 425F, then reduce to 400F and continue cooking until your salmon is done.
Mistakes Everyone Makes When Cooking Salmon
Cooking cannot avoid all mistakes; the best is to note them and be careful during the preparation and cooking process. Let's see what these mistakes are.
Buying Bad Salmon. Choosing high-quality salmon seems to be one of the most important steps to get perfect recipes. Salmon must be fresh or stored in an appropriate way to ensure a good flavor after cooking.
Defrost Salmon The Right Way. Thawing salmon by high heat will cause overcooked salmon; thus, you can defrost frozen salmon by letting them overnight in the fridge or put them under cold running water with a sealed bag.
Not Removing The Pin Bones. Forgetting to remove salmon bones or deboning salmon in the wrong ways will destroy the salmon's surface and texture. Just use clean needle-nose pliers to remove the bone with ease.
Overcooking. The cooked salmon fillets are dried and lose the flavor, thus setting the alarm during cooking.
Add The Salt Too Early. Sprinkling salt to salmon fillets right before taking them to the oven as the salt is often used to preserve fish, and adding it too early will make your fresh fish lose flavors.
Turning The Salmon Fillets Many Times. You had better cover the fillets during cooking and avoid turning them many times to make them beautiful. Besides, your salmon will be cooked best with extremely high temperatures to get opaque.
How To Know Your Salmon Is Cooked?
There are some ways and signals letting you know salmon is cooked. Based on them, you can know when to stop cooking as overcooking salmon will make them lose moisture and flavor.
Salmon fillets will get cooked when their flesh is opaque, and you can flake it easily. Just use a fork to twist the fish to test the doneness.
Another easy way to know your salmon fillets are done is by using a probe thermometer. The salmon fillets will be ready to eat when their internal temperature reaches from 110°F to 145°F or from 43°C to 63°C, depending on how doneness you would like to eat.
Some of you might be super into eating medium-rare, medium, or well done. And these are several notes between three forms of salmon. When the internal fillets surpass 145°F or 63°C, they will become dry.
| Types | Medium-rare | Medium | Well Done |
| --- | --- | --- | --- |
| Degrees Fahrenheit | 110 - 115 | 120 - 125 | 145 |
| Celsius | 43 - 46 | 49 - 52 | 63 |
When To Remove Salmon From The Heat
The previous section tells you how to know your salmon is cooked, but it doesn't mean that you should just let the salmon fillets out of the heat when they reach a certain temperature.
| Period | Medium - rare | Medium | Well done |
| --- | --- | --- | --- |
| Cooking temperature (F) | 100 - 110 | 110 - 115 | 135 |
| Time to remove (F) | 110-115 | 120-125 | 145 |
When you take the salmon off the heat, they continue being cooked afterward with the heat inside, leading to the raising of inside temperature even if you take them out.
On average, the temperature will increase from 10°F to 15°F; thus, before the internal temperature reaches your preferred status, let salmon out.
If you plan to store some pre-cooked salmon in the fridge for a later meal, it's important that you remember the shelf-life of cooked salmon in the fridge. Usually, you only have a few days to eat cooked salmon after storing it in the fridge.
What To Serve With Cooked Salmon?
The right side dishes will elevate the dish's deliciousness level, and below are some highly recommended recipes to pair with your cooked salmon.
Stunning Wines To Pair With Cooked Salmon
If you prefer wines, these are some highly recommended wines that pair well with your baked salmon recipes: Marsanne, Viognier, White Rioja, White Pinot Noir, White Burgundy, and oak-aged Chardonnay.
A glass of wine by the side of cooked salmon and veggies will make your meals nothing except perfect!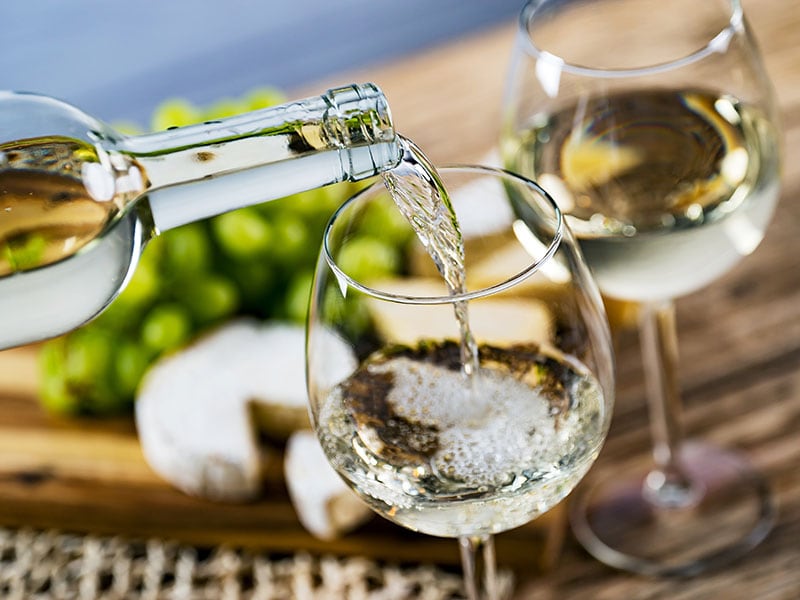 Versatile Side Dishes With Cooked Salmon
Side dishes will define what level your cooked salmon is at; thus, I'll recommend some brilliant side dishes for raising the salmon flavors.
With pan-fried salmon fillets, the recipe of green beans is a fancy option as baked green beans, after seasoned with butter and garlic, will be juicy and tender. By the side of salmon, the recipe will raise the deliciousness level and also the catchiness for your whole meal.
Green beans are slightly salty, sweet, and buttery, adding flavors to your meals. Cooking salmon and green beans is quick; thus, consider these recipes when you're busy.
Roasted potatoes with parmesan cheese offer you one recipe for accompanying cooked salmon. Salmon is flavored with basic spices to maintain the natural flavors, so I think it's good to serve it with side dishes owing to the saltiness, slight sweetness, and bitterness to increase flavor.
Moreover, cooked salmon is tender and juicy; combining it with medium-firm potatoes must be a good choice.
Pair your cooked salmon with this easy but delicious potato dish.
Broccolini is young broccoli that contains a naturally sweet and crunchy texture. When it comes to nutritional values, broccoli is also a nutritious veggie that will provide your body with a great source of fiber, protein, and minerals.
Broccolini is seasoned with butter, lemon, and some other spices to create a full-flavored and tangy dish by the side of cooked salmon.
Coming from an Asian country, noodle salad will promisingly impress you with good taste, fabulous texture, and even good color. The salad is flavored with fresh herbs and spices and loaded with various veggies to create a nutritious recipe.
The juicy and catchy salad combined with cooked salmon will create a balanced and appealing meal.
Like many other veggies, roasting brussels sprouts doesn't need much seasoning, but its flavor combined with basic marinade still can create a recipe with crunchiness and good flavor.
Cooking the brussels sprouts also doesn't require much effort; what you need is trimming brussels sprouts, seasoning them with olive oil and salt, and then roasting them in the oven for about 20 to 25 minutes.
Take this good side dish idea to brighten up your salmon party!
FAQs
Below are some questions that are asked very often related to cooking salmon at 400 degrees. You can read them and get a lot of good information so that you can finish your salmon recipes with perfection.
Additional Advice For Baking Salmon
I will give you some beneficial tips to avoid making mistakes and to cook salmon perfectly. Go with me to know now!
Use the foil to cover salmon fillets to avoid overcooking and keep moisture and flavor from the fish.
Just marinate the salmon fillets with simple seasonings like pepper and salt to get wonderful dishes.
When you put the salmon in the heat, just let them alone; turning the fillets many times will destroy the excellent appearance of the flesh.
Cooking time. Always check your fish in the middle of baking time to avoid overcooking.
The article here brings you all information related to cooking salmon at 400 degrees F. If you have any constructive ideas, please show me in the comment section below.
Nutrition Facts
2 servings per container
---
Amount Per ServingCalories382
% Daily Value *
Total Fat 23.4g

36

%
Cholesterol 91mg

31

%
Sodium 500mg

21

%
Potassium 64mg

2

%
Total Carbohydrate 1.2g

1

%

Dietary Fiber 0.5g

0

%
Sugars 0.7g

Protein 40.8g

80

%
---
* The % Daily Value tells you how much a nutrient in a serving of food contributes to a daily diet. 2,000 calories a day is used for general nutrition advice.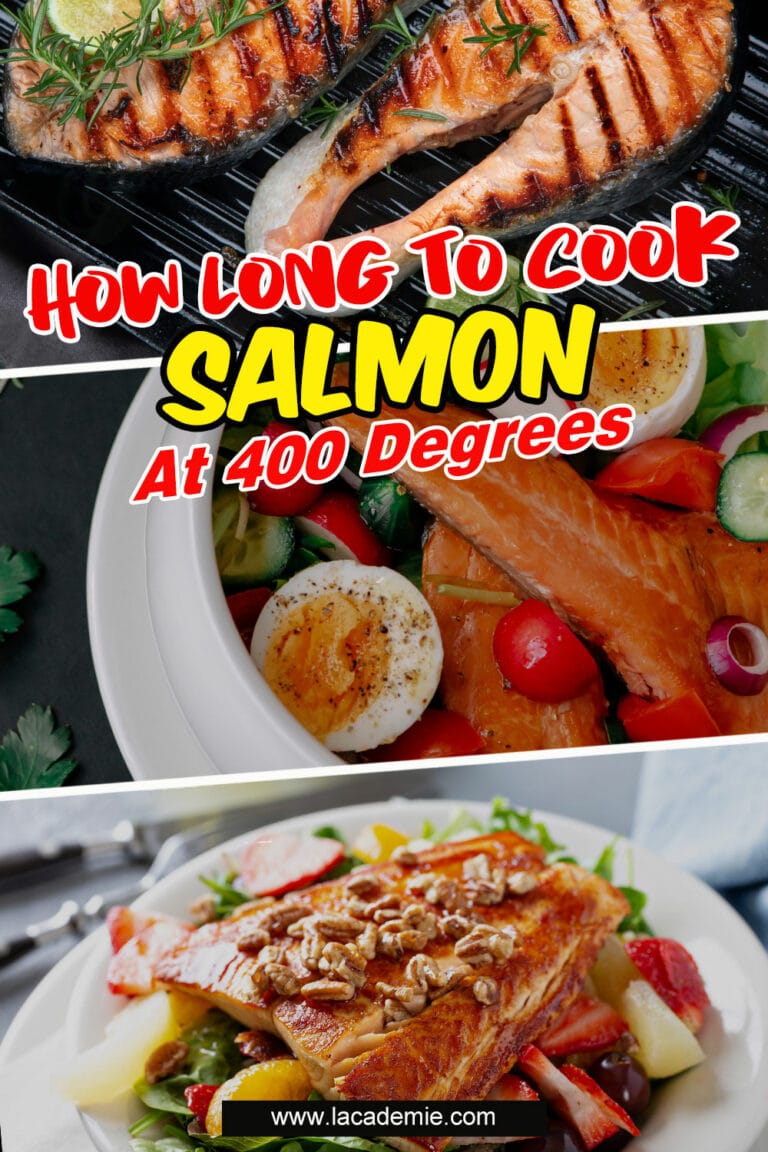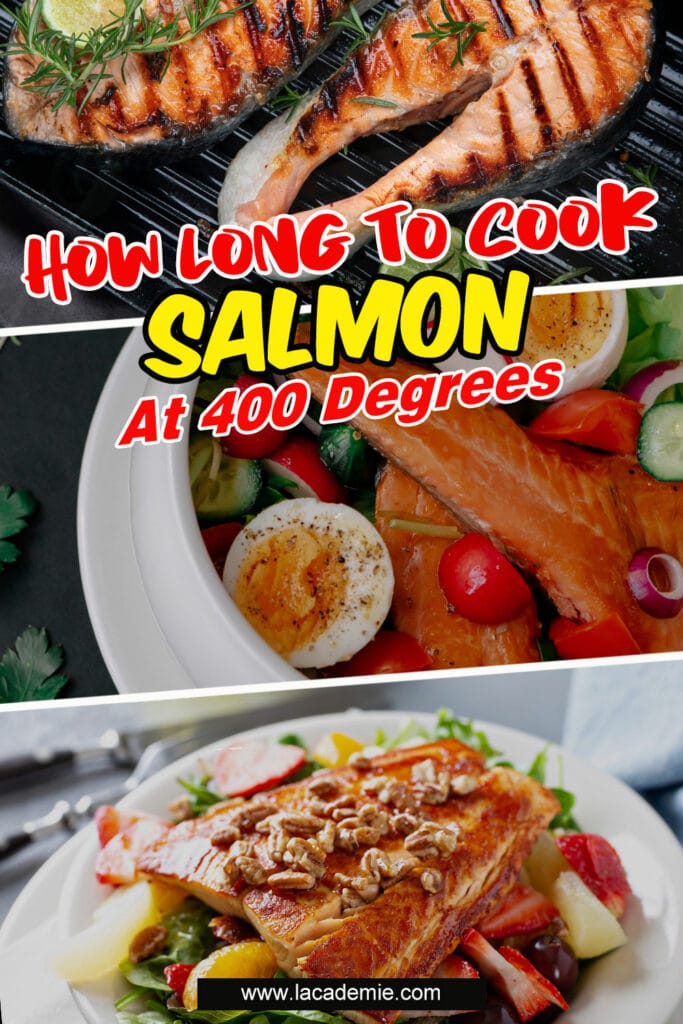 References
Healthline. 2021. 11 Impressive Health Benefits of Salmon.
NOAA. 2021. Fun Facts about Amazing Atlantic Salmon.