How long to bake salmon at 450ºF is probably the question frequently asked. Since the fish usually teeters on the edge of being overcooked or undercooked, the baking time is such an important factor. In this article, I will give answers that will prove useful to you.
Please stay tuned! This post will provide you with more details on the topic and the 5 most amazing recipes for your baked salmon. So give yourself a chance to discover more!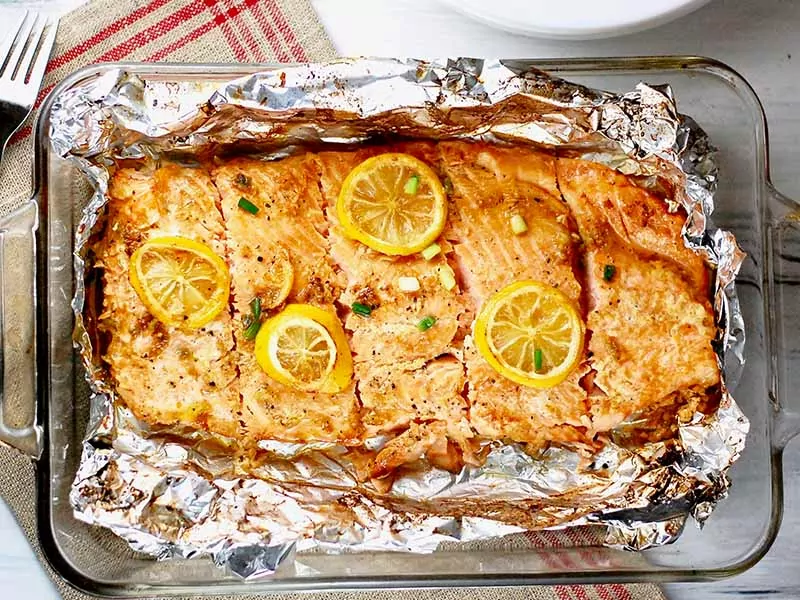 Why Should I Bake Salmon At 450ºF?
Salmon is an amazing source of proteins, vitamin A, Omega-3, etc (1). Due to these health benefits, many families have chosen salmon as one of their favorite dishes in everyday life. Among salmon dishes, baked salmon is one of the most well-known dishes.
Although baking salmon at 375 for the proper duration is a common choice, the most compatible temperature for baking salmon is 450ºF. There are several benefits of baking salmon at 450ºF. Let's find out why you should choose to bake salmon fish at 450ºF.
Nutrient Retention
Baking salmon at 450ºF is an excellent method for fish to retain as many nutrients as possible. It is shown that vitamin D can sustain during the baking process. Meanwhile, fried salmon loses half of this essential vitamin (2).
A temperature higher than 450ºF can burn the salmon skin, which stores the highest Omega-3 content, causing it to lose those vital nutrients. Furthermore, salmon will become mushy when baked at a higher temperature. This can ruin your meal.
Better Texture And Taste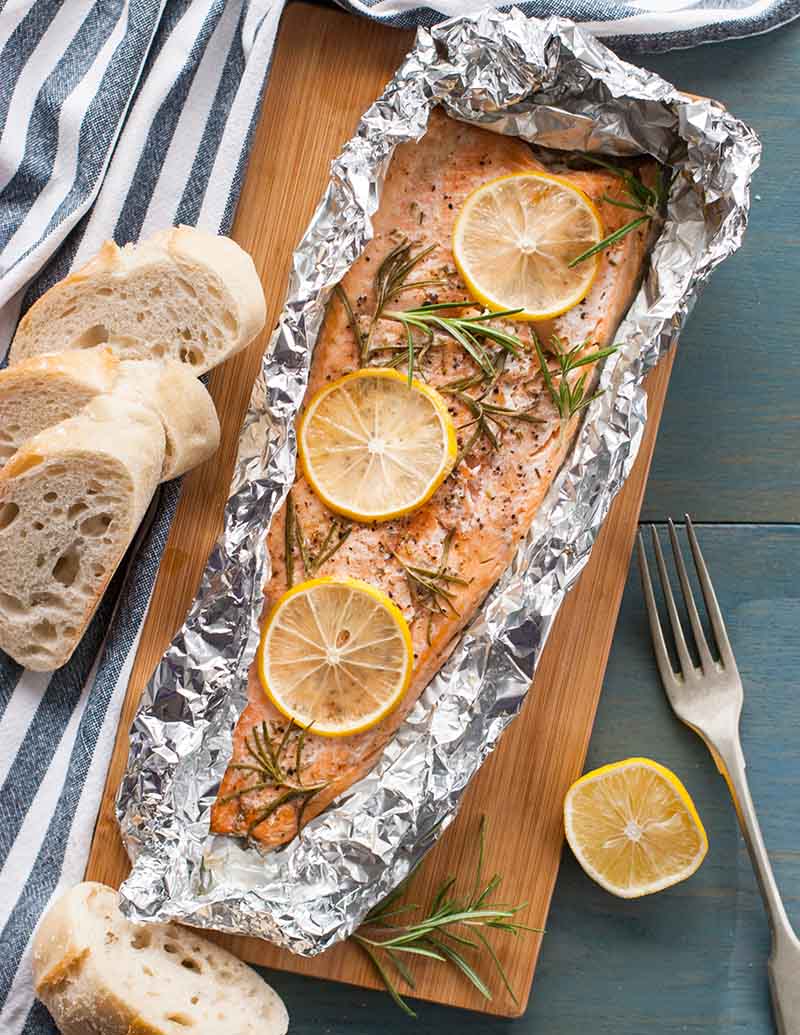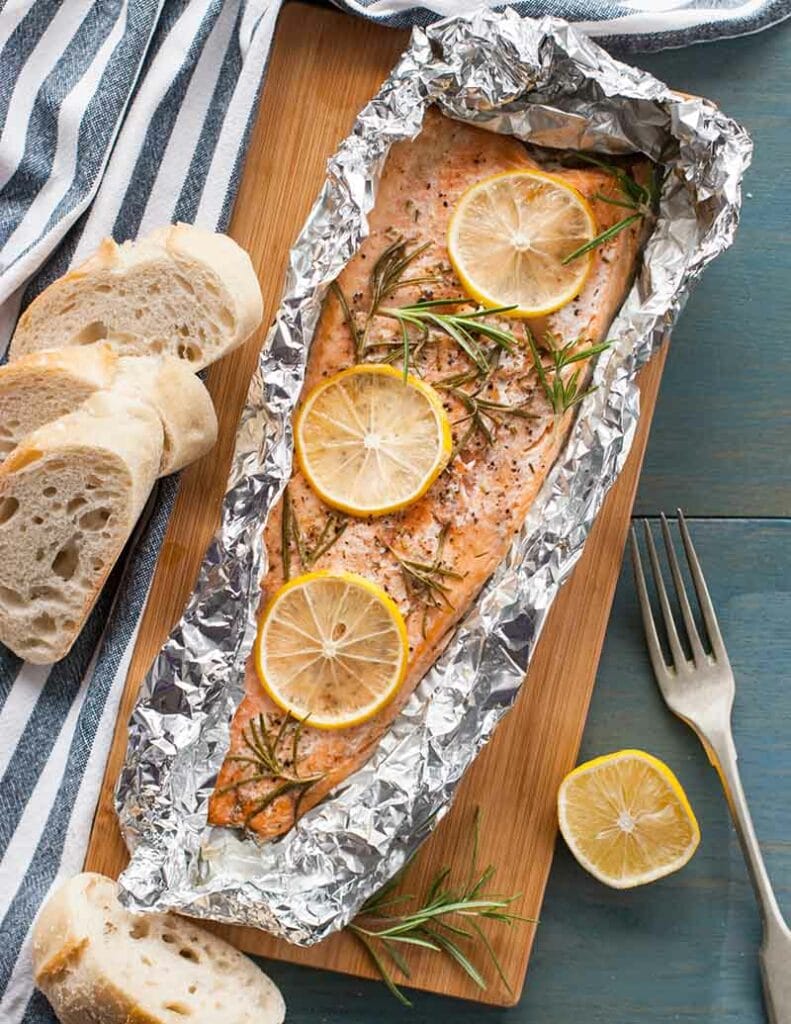 Just like when you bake chicken wings at 450 for an adequate duration, the salmon's texture and taste will reach the point of perfection. Baking at 450ºF makes the salmon a lot more tender and incredibly moist. In addition, its meat will be sweet and succulent.
Baked at 450ºF, the the flavor of salmon gets rich and nicely buttery once fully completed. Also, it will have a nice pink color inside, which shows the salmon is ready to eat.
Like other fish, salmon skin is thin and fatty. The fish can get burned quickly if it is baked at a high temperature, especially when above 450ºF. In addition, the fish will soon dry out if you bake it for a long time. No one likes charred salmon!
Saturated Fat Reduction
Baking is indeed one of the healthiest ways of cooking. For salmon, particularly, baking can help reduce saturated fat, helping you to maintain your current weight and diet.
Saturated fat is a type of fat that contains only saturated fatty acids. It comes from chiefly animal products (3). Consuming saturated fat increases the level of low-density lipoproteins, leading to an increased risk of heart disease and stroke.
How Long Does It Take To Bake Salmon at 450 ºF?
Baking salmon at 450ºF would take around 12 to 15 minutes until the salmon is finished. However, the answers may vary. It would depend on the thickness or the size of the salmon.
Steak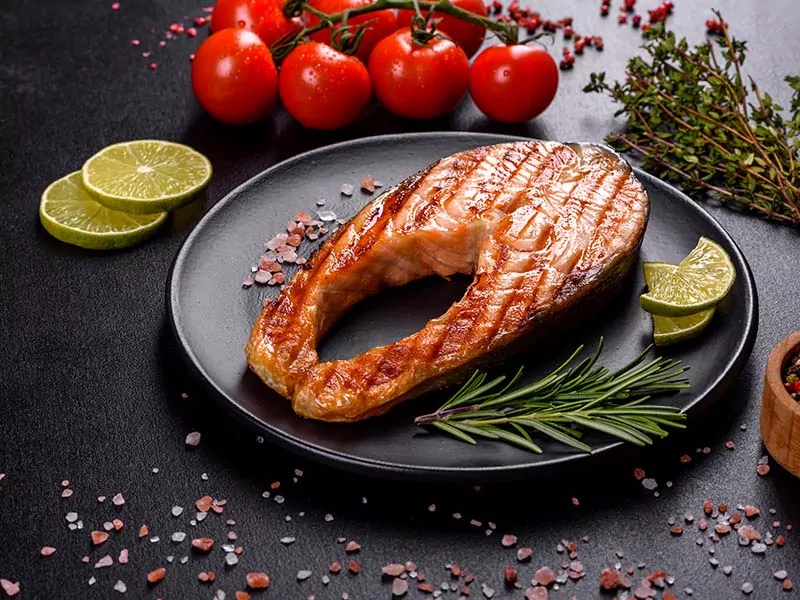 Salmon steaks are salmon parts cut at an angle of 90º to the salmon fish. These parts usually tend to be thicker than filets. Because salmon steaks typically contain bones, they require more time to cook fully.
When cooking salmon steaks for children and older people, you should carefully remove the salmon bones, which are long, thin, and sharp. Salmon steaks have a mild flavor. Their taste is fatty and a bit oily.
The duration of baking salmon steaks depends tremendously on their thickness. However, salmon steaks generally need around 10 to 12 minutes to be fully baked at 450ºF. If you prefer your meat to be a little done, you had better go for 14 minutes.
Filet
A salmon filet is a part that is cut along the bone of the fish. Most salmon filets are boneless. When you buy fresh salmon, they still have their pin bones and scales. It will take a while to remove them before your meat is ready for baking.
In addition to baking at 450ºF, you can also switch the temperature to 350ºF. The cooking process will take longer but once you figure out the correct time to bake salmon filets at 350ºF, the fish will taste just as delicious.
When baked, salmon filets take around 10 to 14 minutes at 450ºF. One tip is not to overcook them. Your filets can become less moist and rather tough to eat.
Frozen Salmon
Basically, there are two steps for baking frozen salmon. Firstly, you need to get rid of ice sticking to the fish. It will take around 5 minutes to defrost at room temperature. Next, spend another 15 minutes baking. So, it generally takes 15 to 20 minutes for a frozen salmon to be fully baked.
Salmon In Foil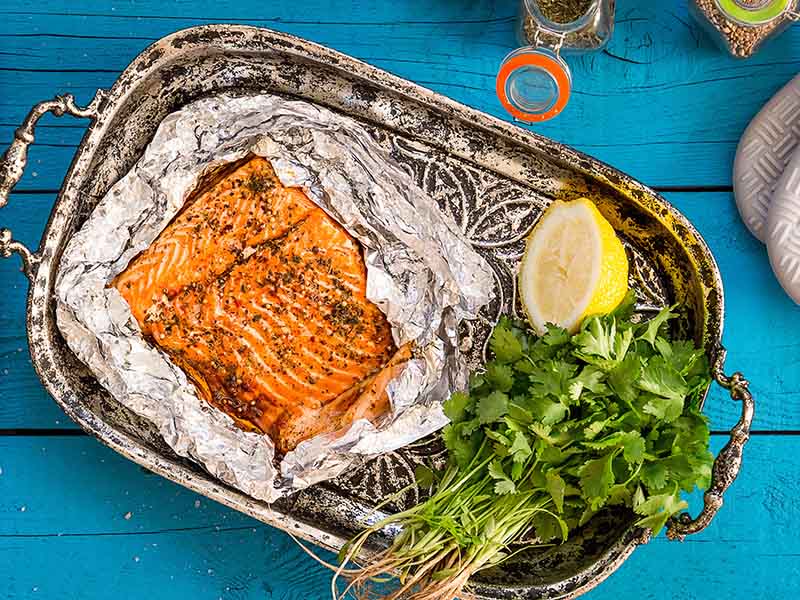 The duration for baking salmon in foil depends on how thick the steak, filet, or a whole fish is. If you bake a whole salmon at 450ºF, the fish needs around 35 minutes to be perfectly cooked.
However, most baked salmon filets or steaks in foil require approximately 8 to 10 minutes at 450ºF.
How To Check If Salmon Is Done?
Salmon is a delicious fish that can be baked for a healthy dinner. However, preparing the fish at home can be tricky due to the risk of overcooking or undercooking it. Below are the four ways to check if your salmon is perfectly cooked or not.
Using A Food Thermometer
There is no way of pointing out cooked salmon more easily than using a wireless meat thermometer with good quality. It is perhaps the simplest and most precise way to determine cooked fish.
All you need to do is place the food thermometer into the thickest part of the salmon and hold it for a minute.
The ideal internal temperature for a perfectly baked salmon ranges from 110ºF to 140ºF. You can recheck the temperature if your fish is not cooked yet.
Studying Color And Texture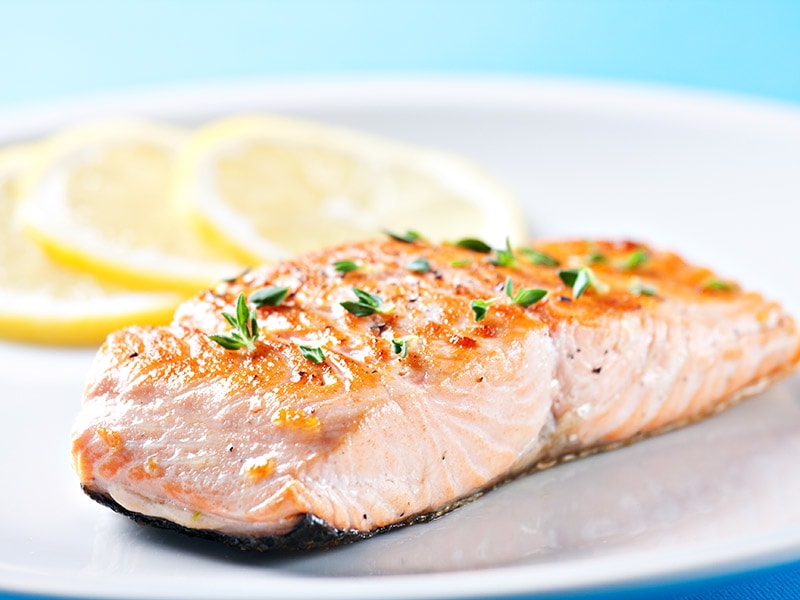 By looking at its color, you can check if your salmon is done. While raw salmon has a beautiful red color, fully baked salmon is often orange and brown on the outside.
The perfectly baked salmon has a pink color inside. If your fish has a rather dark center, it is not well-cooked. Some salmon types, such as the king salmon, are white when they reach the ideal internal temperature.
Observing its texture also helps you determine the cooked fish. Like any other fish, the surface of salmon becomes firmer and more consistent. Meanwhile, if its texture is somehow dry and easily separates, you will know it is overdone.
Using A Butter Knife
A quick way to detect whether your fish is done is to use a butter knife. With this method, you will place the butter knife into the central part of the salmon, then flake small pieces of the fish out. Use your lower lip to check whether those small pieces are warm.
The warmth of the central part of the salmon indicates that the fish is fully cooked. If it is not, your salmon needs more time to reach its perfection.
Testing With A Fork
Another effective way of inspecting a cooked salmon is to flake it with a fork. This method is relatively simple. Carefully press down on the top of the fish with your fork. If your salmon meat breaks into thin pieces, this signifies that your fish is done baking.
This tutorial will help you know more ways to identify cooked salmons.
The Most Specific Guide For Baking Salmon At 450ºF
I know that lots of you can bake salmon properly. However, a perfectly baked salmon dish requires your close attention. That is why I have provided specific instructions that you can follow and update your baking skills.
Step 1: Buy The Best Salmon
How would you describe the best salmon? Here are some prominent signs that help you identify highly-rated salmon.
Fresh Whole Fish
For a fresh whole salmon, you can point out which fish is high quality by its eyes, smell, and degree of elasticity. The eyes of a fresh salmon are rather puffy, and the fish has a natural smell.
Besides, you can inspect the firmness of the fish. If its meat feels strong and tight, the fish is certainly a good choice for your dinner.
Check it out for more information on how to buy the best salmon fish.
Salmon Filets/Steaks
For salmon filets, you can identify them by their color, surface, and natural smell. Fresh meat is usually pink or orange, while poor-quality meat has a pale color.
Besides, it is fresh if the surface of the meat is dry and does not have any unusual moisture. Every spot on its fresh salmon has the same orange or pink color without being tarnished. Salmon filets also have a pleasant natural odor that is not pungent at all.
Step 2: Remove Pin Bones
If you buy salmon at the supermarket, you can pass this stage. Only fresh fish should have pin bones removed. Following some guidelines here will help you remove fish bones quickly and effectively.
Firstly, prepare yourself with a needle-nose plier or a tweezer to help you do the job. Secondly, you should look for the pin bones by running your finger from the neck toward the tail and pulling them out. You can run your finger several times to make sure you have got them all out.
Want more details on how to remove salmon pin bones? Check out here.
Step 3: Wash The Salmon
After buying the fresh salmon, you need to clean it. Washing the fish helps take the dirt and mucus off the salmon. Also, it would partially remove the fishy smell.
You can thoroughly wash the meat with water. People that can't stand the stickiness of the fish can soak the fish in milk or lemon water for around 20 minutes to deodorize the fishy smell.
For fresh salmon, you need to remove the scales of the fish with a kitchen knife. You should try rubbing them from the opposite direction of the arches of the salmon scales. Then, clean the fish underwater until all the dirt and mucus are wiped out.
For filets and steaks, since these parts of the salmon have been cleared of salmon scales, there is no need to rub the fish anymore. All you should do is rinse steaks or filets off underwater and let them drip.
Step 4: Marinate The Fish
Marinating salmon helps the fish taste better and reduces the fishy smell. Start with some essential ingredients and pick up the type that you prefer most.
Some substances like clam juice, good-quality olive oil, dry vermouth, etc., can make salmon tastier. They will play their best role in deodorizing and enhancing the quality of your dish.
The best length of time for marinating salmon can vary, but it is best if the salmon is marinated for at least 30 minutes. Marinated salmon meat should be left for one hour only. Or your salmon will get mushy.
Step 5: Different Methods Of Baking Salmon At 450ºF
It is more enjoyable to bake your fish with different approaches. Since salmon is one of the fish that gets overcooked easily, you should pay attention to the duration and temperature. Do not leave the meat in the oven without checking it several times.
In Oven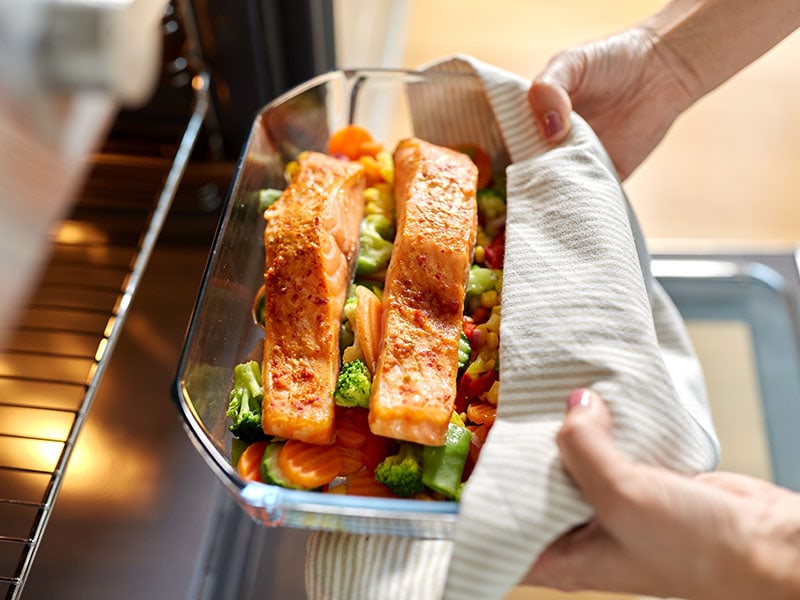 You need to reheat your oven to 450ºF. After marinating the meat, you can place it on the baking sheet. This process takes around 10 to 15 minutes.
You can check whether your salmon has been cooked several times. When there is a sign of doneness, you can bring it out and enjoy it.
Air Fryer
Baking salmon in the air fryer requires 12 minutes. Firstly, please preheat your air fryer to 450ºF. Then, rub your salmon with some oil and lemon juice to enhance its taste. Next, you should place your meat into the basket and wait until it is fully cooked.
In Foil
Baking salmon in foil is one of the smart ways to retain its moisture and ensure the fish is cooked evenly. You will spend around 10 to 14 minutes on this method.
After marinating your fish, you should place salmon meat in the aluminum foil and wrap it up. Then, preheat the oven to 450ºF. Next, place the wrapped fish in the oven and wait for several minutes. If you want to check if the fish is done, open the foil and inspect the color, smell, or texture.
5 Amazing Recipes With Baked Salmon You Can't Walk Away
It will be a waste if you are afraid of trying your salmon with various recipes. Salmon's rich and buttery taste can become a bore without adding any extra flavors of other herbs, vegetables, or other spices.
So why don't you pick up some of the recommended recipes below to refresh your taste?
Garlic and butter are available ingredients that you could always use to enhance the flavor of your baked salmon. Your job is to put garlic, butter, salmon, and some slices of lemon together and then wrap them in aluminum foil.
The combination of garlic and butter would add a unique taste of sweetness and fattiness to your baked salmon.
Learn more about this recipe with the step-by-step instruction here.
If you want a healthy and delicious dish with salmon, I bet you cannot miss this recipe: Baked salmon with lemon-herb orzo and broccoli. The mixture of sourness and mild sweetness accompanying the salmon filet's tenderness creates an unforgettable taste.
Want to make a super quick dish with your baked salmon? This recipe can suit you really well. The dish will take around 15 minutes. You will mix Dijon mustard, honey, lemon juice, and slices of lemon altogether.
After the salmon is baked, it will release a bright smell of honey and dijon blended with the buttery scent of salmon fish. Finally, slather your sauce on top of the salmon.
Baking salmon with a rich dill-based sauce is one of the classic ways to enjoy the fish. You will experience a taste of summer, pleasant and succulent, with a little bit of sweetness and sourness.
This dish is the best choice for summertime. After enjoying it, you will feel refreshed and energetic. Let's give yourself a chance to find out how.
Try this recipe with your baked salmon and see how it works.
If you are a big fan of salmon, I bet you can miss this out. The dish is an excellent combination of ginger, sesame, and baked salmon. It is super mouth-watering and beneficial to your health. Also, if you have a taste for Asian food, you will absolutely fall in love with it.
4 Side Dishes That Best Suit Your Baked Salmon
A perfectly baked salmon is sometimes not enough. If you want to think outside the box with your meal, I highly recommend trying out these side dishes below to refresh your taste and give yourself more choices.
Baked Potatoes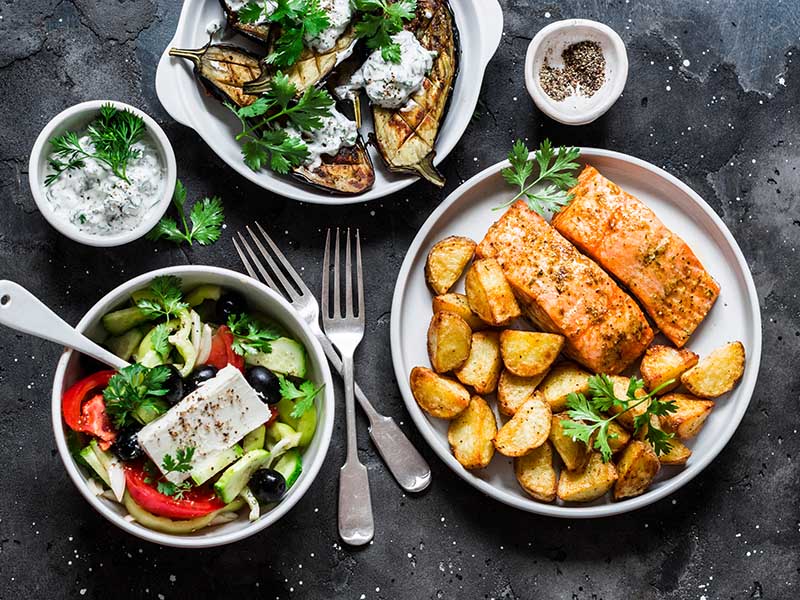 Which technique is easier than mixing your baked salmon with baked potatoes? All you need to do is to buy and bake the potatoes at 400ºF for some time. Its taste is subtly sweet, mild, and savory. You can garnish with some herbs or some sauces to enjoy with your baked salmon.
Lemony Herbs
Some lemony herbs, such as lemongrass, thyme, and lemon mist, can go perfectly with the fish. These herbs can also decorate your baked salmon. They provide a bright and citrusy taste, making your dish more flavorful.
Snap Peas
Boiled or baked snap peas, also known as sugar snap peas, are one of the lovely side dishes that are most suitable for your baked salmon. You can boil them and sprinkle them with some salt and pepper. Together, the sweet flavor and the buttery taste would make a perfect couple.
Chickpea Salad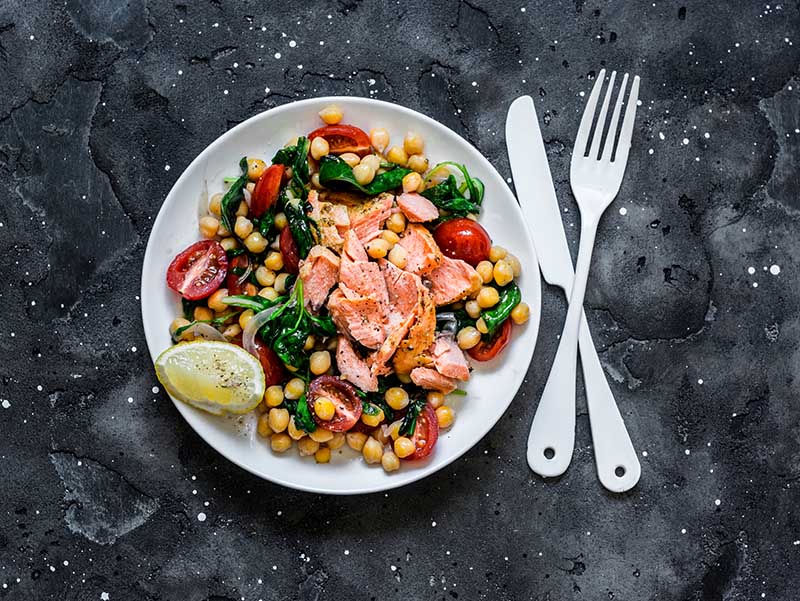 Another side dish that you can opt for is chickpea salad. Try chickpea salad and baked salmon for a fresh and wholesome combination. If you want a good dish for your health, why don't you save this idea for your future needs?
FAQs
If you are reading these lines, I assume that you are fascinated by learning more about the topic. Luckily, I have provided some frequently asked questions that you may need for your salmon. Please keep on following along to gain answers that are worth your time.
Funnier Moment With Tastier Salmon!
Baking salmon at 450ºF can be a little challenging compared to cooking other types of meat. However, I believe with the information on this topic, you can succeed in preparing a perfectly baked salmon dish.
Furthermore, once you follow the suggested ideas, you will save time and be more creative with your recipes. Try to mix and match your dishes to have more fun. And finally, do not forget to enjoy these cooking moments with your friends and family.
Wait a minute! If you think the information above is helpful, why don't you share it with everyone to let them know more about baking salmon at 450ºF? And please, if you have any tips that you want to share with the readers here, leave a note in the comment section below.
Nutrition Facts
2 servings per container
---
Amount Per ServingCalories347
% Daily Value *
Total Fat 24g

37

%
Cholesterol 0mg

0

%
Sodium 291mg

13

%
Potassium 8mg

1

%
Total Carbohydrate 0.7g

0

%

Dietary Fiber 1.2g

4

%
Sugars 0.2g

Protein 31.9g

62

%
---
* The % Daily Value tells you how much a nutrient in a serving of food contributes to a daily diet. 2,000 calories a day is used for general nutrition advice.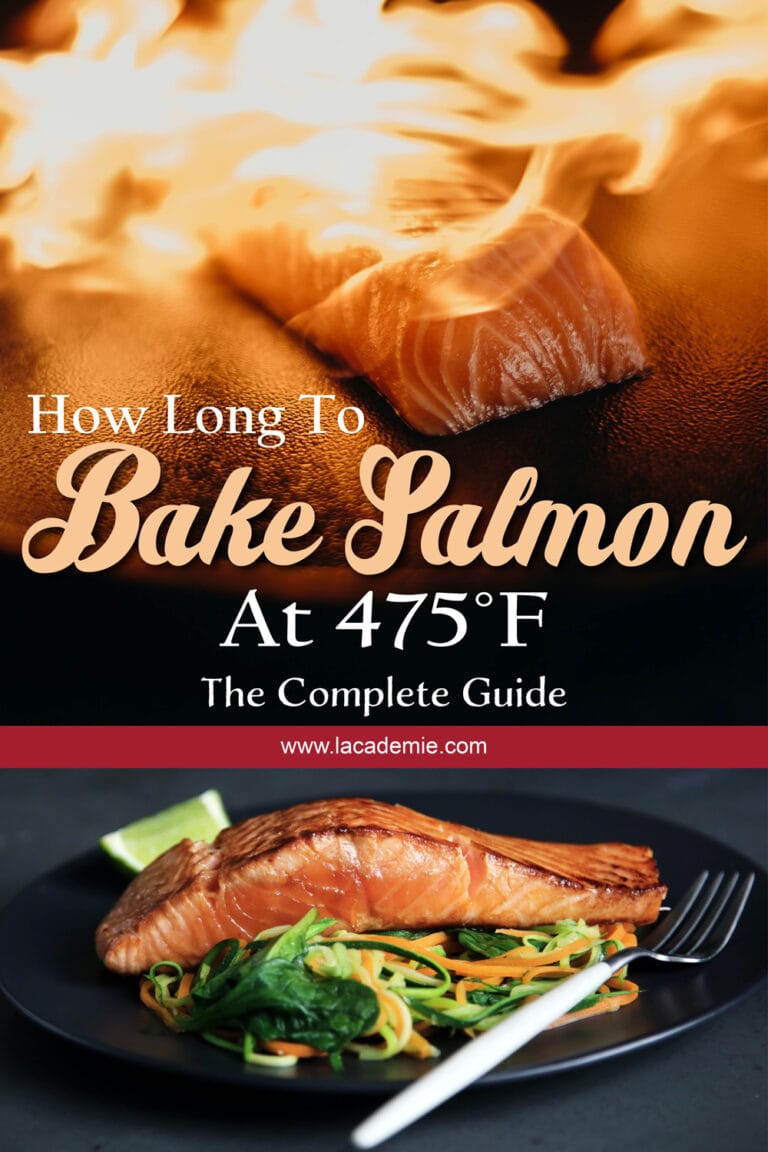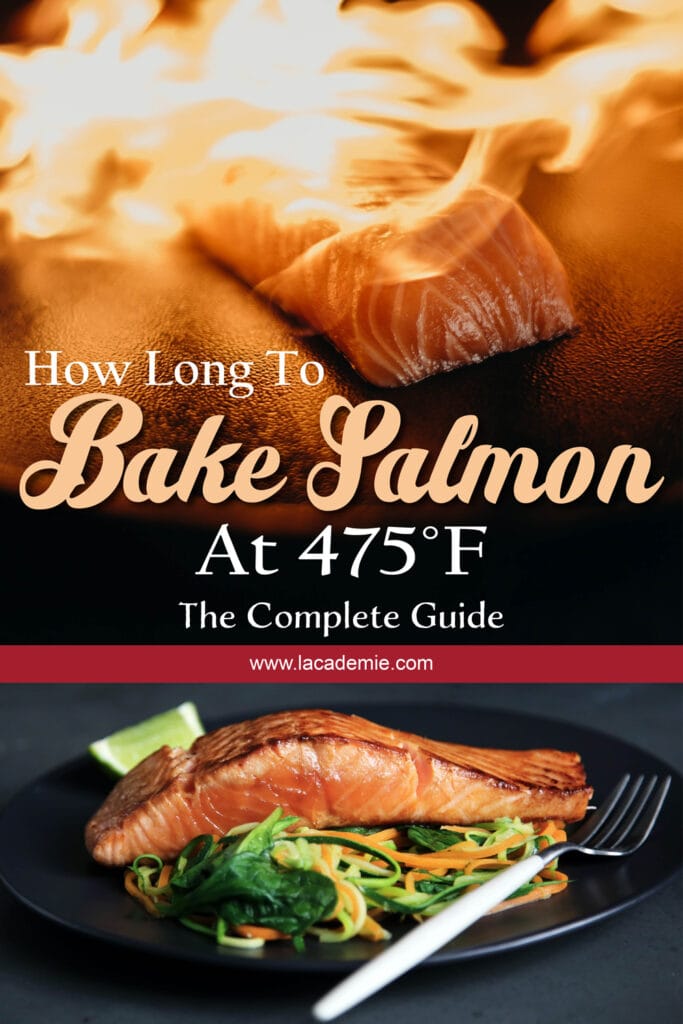 References
ods.od.nih.gov. 2021. Omega-3 Fatty Acids.
healthline.com. 2017. What Is The Healthiest Way To Cook Fish? medicinetnet.com. 2021.
Medical Definition Of Saturated Fat.