How long does it take to bake salmon fillet at 350 degrees? And what does it look like after baking? After reading this article, you can prepare many things for yourself to become a MasterChef right in your kitchen when you cook salmon.
Salmon is a costly fish compared to other fish, but their taste and health benefits are amazing. In order to improve your health, it is suggested that you should consume 3 to 4 ounces of salmon each week.
Therefore, no one wants to ruin salmon dishes due to a lack of cooking skills. So be ready to learn more about cooking salmon, particularly the timing for baking them at 350 degrees and other temperatures in this post.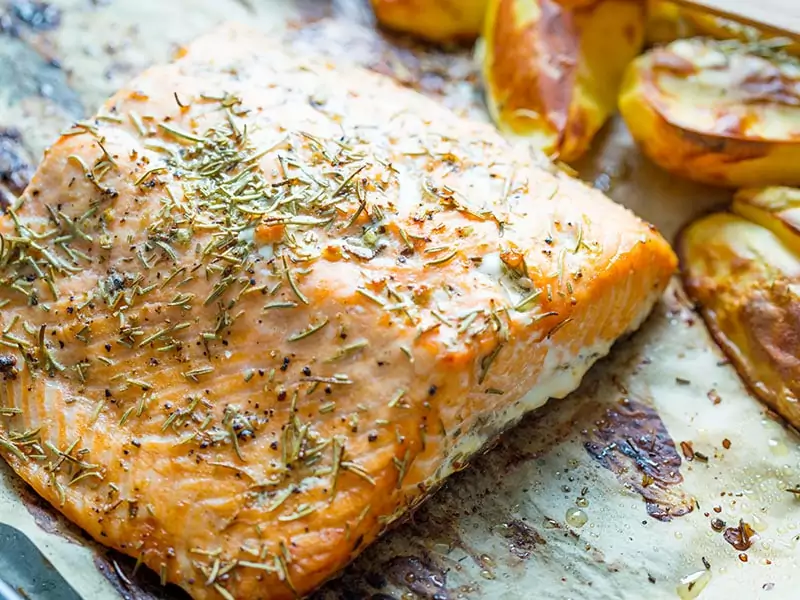 How Long Is It For Baking A Salmon At 350 Degrees?
Baking is an excellent cooking method to prepare your salmon, but how long should your salmon stay in the oven?
Generally, there is no correct answer for the duration of baking a salmon fillet in the oven at 350 degrees because there are other factors like the size and thickness of salmon that impact the timing.
Normally, it might take at least 16 minutes to bake salmon at 350 degrees. For a portion of salmon, it would be around 16 to 18 minutes; and 20 to 24 minutes for a whole salmon fillet.
Moreover, if you bake them at higher 350 degrees, you can shorten your baking time. For example, at 400 degrees, it only takes 12 to 14 minutes for a portion and 14 to 17 minutes for a whole fillet.
Now, let's start the article with some tips to choose the best salmon fillet to be sure that you can have a perfect salmon dish from the beginning.
Cooking 101 – Tips To Pick The Best Salmon Fillet
Before getting to this article's main section, you have to make sure you can choose high-quality salmon fillets. This way, you can maximize the total time cooked salmon stay fresh in the fridge. Here are some pointers to help you pick the ideal fillet.
Check Their Freshness
A fresh, high-quality fillet has a bright orange color with marbling. Remember to check for their smell to ensure they have a fresh sea smell.
Slightly push the fillet with your finger. If it springs back, your fillet is in good shape. Plus, the excellent fillets have a juicy appearance with no brown edges.
Also, check for signs of spoilage in salmon. A lot of the time, the signs might be quite subtle, so make sure to be as thorough in your examination as possible.
Frozen Salmon Is Also A Good Choice
In case you can only find frozen salmon in the supermarkets or grocery stores, they are still good for you to cook as they have already been frozen and preserved in the ice.
Although the timespan you can freeze salmon is quite impressive, it's better safe than sorry—check the best-by date. This will help you find fresher frozen salmon, ensuring that your meal is as tasty and nutritional as it can get.
Today's vacuum-packing technique also enhances the quality of frozen salmon, so you do have to worry about it being bland or lacking in nutrients.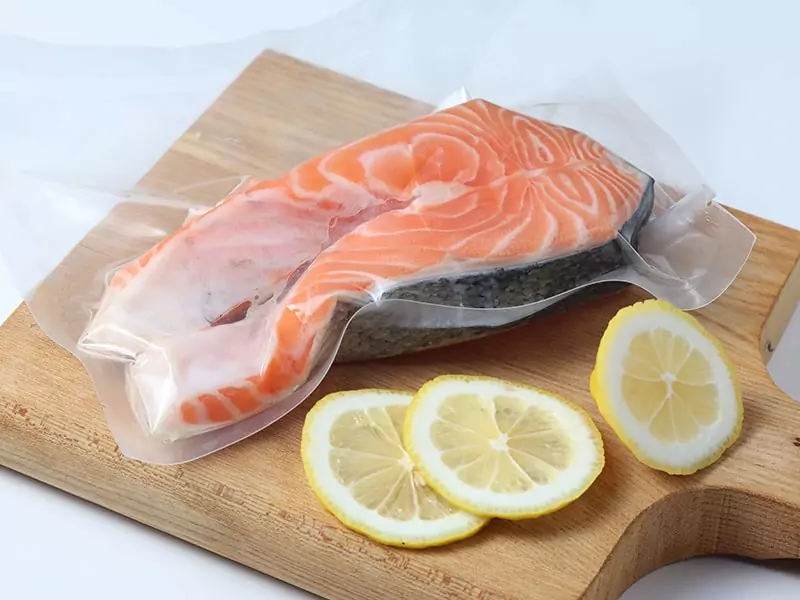 Understand Salmon Varieties
While there are various kinds of salmon, here are the most common ones you should know.
King Salmon: This is the largest and the most expensive salmon. They contain the highest oil level compared to other salmon types.
Sockeye Salmon: They have a beautiful bright-red flesh color and contain a high level of oil as well.
Coho Salmon: Coho salmon is available in many places. They also have a bright red flesh color and medium oil content.
Pink Salmon: They have the lowest oil level compared to other salmon. And they taste very mild.
Chum Salmon: Chum salmon is lower in fat and oil level, which is perfect for grilling or smoking.
Salmon Fillet Baking At 350 Degrees: Timing Measurement
To learn the duration for baking salmon, let's start with the ideal temperature that you should set for the oven to be sure that your salmon is safe to eat and best-enjoyed as well.
What Is The Best Temperature For Baking Salmon?
Actually, it is not easy to identify a precise temperature to bake salmon fillets because it also depends on the size or the thickness of this fillet, let alone whole ones.
However, the good temperature range for baking salmon is from 350 to 450 degrees. How you want to enjoy the salmon also determines the temperature and cooking time. For instance, the length of time to cook salmon at 400F varies greatly depending on how you want the salmon to be done.
Likewise, the proper time for baking salmon at 450 also varies. Do you want a medium-cooked fish or a well-done one with crunchy skin? Let's check the next part for more information.
If I Set The Temperature at 350°F, How Long Will It Be Baked?
The main point of this article is about the timing for baking a salmon fillet at 350 degrees. As mentioned in the above section, 350 degrees is the minimum oven temperature to cook them perfectly.
For Baking Salmon In The Oven
At 350 degrees, a portion of one cooked fillet will take around 16 to 18 minutes. The size and thickness of the fillet, however, have a role. The larger a salmon fillet is, the longer it takes to bake. It means if you bake a whole fish, it will take longer.
For your reference, the table below will show the estimated time for baking salmon based on the oven temperature.
| Oven Temperature | A Portion of Salmon (Baking Timing) | Whole Salmon Fillet (Baking Timing) |
| --- | --- | --- |
| 350°F (182°C) | 16 - 18 minutes | 20 -24 minutes |
| 375°F (191°C) | 14 - 16 minutes | 17 - 20 minutes |
| 400°F (204°C) | 12 - 14 minutes | 14 - 17 minutes |
| 425°F (218°C) | 10 - 12 minutes | 12 - 14 minutes |
| 450°F (232°C) | 8 -10 minutes | 10 -12 minutes |
Note: Assuming these timings for 1-inch of the thickness (in the thickest part). You might add 4 to 6 minutes per extra 1/2-inch of thickness.
As you can see, the greater the temperature, the shorter the time. But if you are still not sure what temperature is good for you, consider whether you prefer a juicy salmon fillet or a fillet with a crispy and crunchy exterior.
If you bake salmon at 375 degrees for the right timespan, it will be medium-rare and succulent. Baking at 350 degrees will also yield the same result. For a crispy one, preheat the oven to 425 to 450 degrees. It is all up to you.
For Baking Salmon With Foil In The Oven
For more information, baking salmon fillet with foil can take from 8 to 12 minutes at 350 F degrees. For a whole big fish, it will be around 40 to 50 minutes.
But if you are still confused about the timing for baking a whole fish with foil, try to estimate 15 minutes for 1 pound. If they are not cooked enough, add an additional 15 minutes. Then, look for indications that the salmon is properly cooked, such as checking its internal temperature.
Let's make your stomach happy with the moist baked salmon fillet in foil with this simple cooking guidance.
For Grilling Salmon Fillet Directly and Indirectly
For grilling salmon fillet at the range of 350 to 375 F degrees, with direct grill heating, 4 to 6 minutes is for per 1/2 inch thickness.
In case you use a pan for indirect grilling, it will be 7 to 9 minutes per 1/2 inch thickness.
To sum up, it will take:
16 to 18 minutes: for baking in the oven.
8 to 12 minutes: for baking in the oven with foil
4 to 6 minutes: for direct grilling and 7 to 9 minutes for indirect grilling.
These are the approximate timing for baking and grilling salmon fillets at 350 F degrees. The time also depends on the exact thickness of your fillet. And regardless of the cooking methods, do not forget to check the internal temperature is 145 F degrees to consume them safely.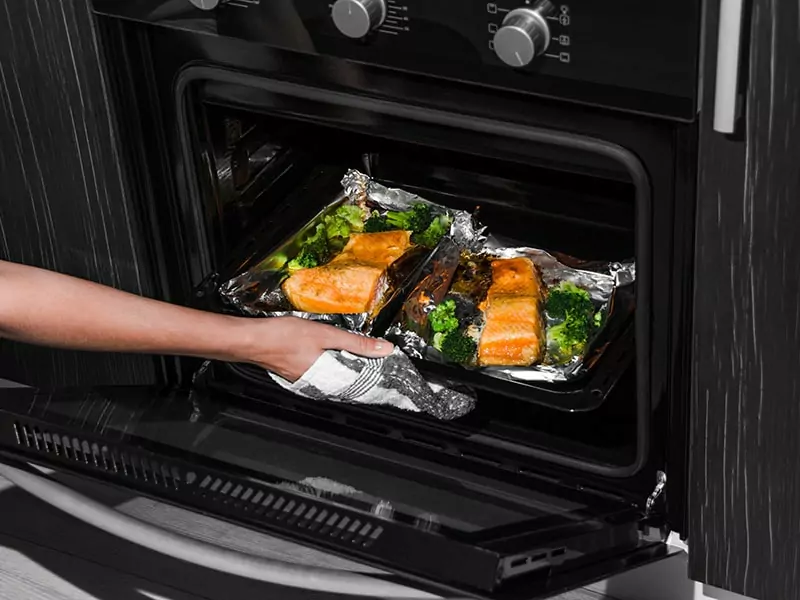 Step-by-step Instructions of Baking Salmon At 350 Degrees
If this is your first time baking a salmon fillet at your home, here are 5 steps for you to cook them effortlessly.
Step 1: Preheat the Oven To Your Desired Temperature
Set the oven at 350 degrees. Do not forget that the best range for baking salmon fillet is from 350 to 450 degrees.
Place a rack in the oven. Line a baking dish or roasting pan with parchment paper, or you can use a cast-iron skillet; they are totally fine.
Step 2: Prepare Salmon
If they are still in the fridge, take them out and dry them with a paper towel. This preparation will make oil stick on your fillet easily.
Then rub them with salt, pepper, oil, or other ingredients with your fingers or a pastry brush. Do not go overboard with the oil, as salmon itself already contains high oil content.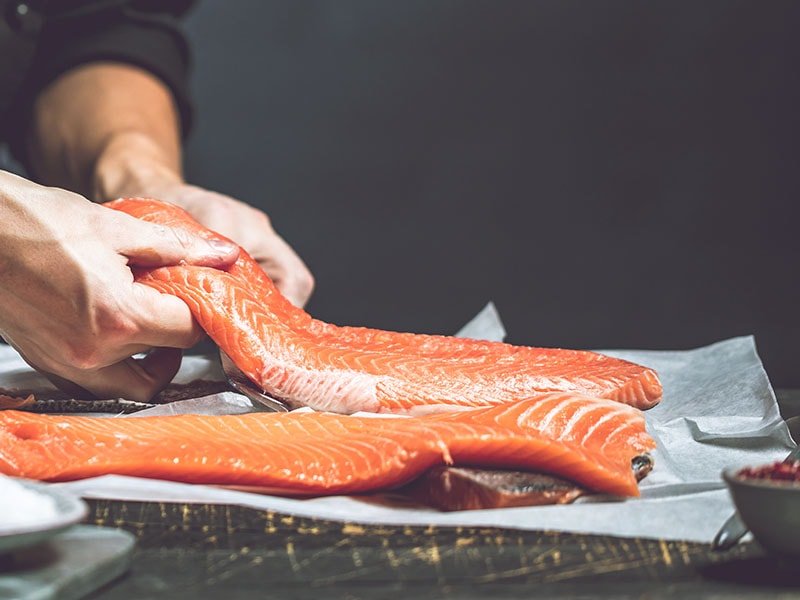 Step 3: Place Salmon in The Oven
Place your salmon fillet in a roasting pan/baking dish/cast-iron skillet. Remember to place their skin-side down, then put them in the oven.
Step 4: Bake Salmon
Bake for 20 to 25 minutes, but as I explained, their thickness will decide the correct timing for baking. So you have to check after 10 minutes, and if your salmon is not done yet, you can cook longer (for 3 to 5 minutes).
During the waiting time, you can prepare some side dishes to serve with salmon. I know, salmon is already tasty on its own, but you'll need some accompaniments to round out the meal. So how about utilizing the waiting time to whip up something nice to go with your main dish?
Step 5: Check the Doneness of Your Salmon
This step will be answered in-depth in the following section of this post, so you will not have to worry about a chewy salmon fillet ruining your dinner. So let's see what you can find out.
An in-depth demonstration of how to bake salmon fillets in the oven. Watch this video to know more:
How To Tell That Salmon Is Perfectly Done?
Regardless of cooking methods, the first rule to remember if you want a nicely done salmon is Do Not Overcook them. Some of you might find it quite tough to cook them at home; therefore, I am here to provide you 3 ways to check whether your salmon is cooked or not.
1. Using Instant-read Thermometer
This is the most precise method for determining when your salmon is done. Simply place the thermometer in the thickest area of a salmon fillet and wait 30 seconds to 1 minute for the temperature number to appear on the thermometer.
According to the Food and Drug Administration (FDA), safely cooked fish should reach an internal temperature of 145F (around 63C) (1). Many chefs have demonstrated that the best-prepared salmon fillet, which is still juicy and soft, should be reached at 125 degrees.
If the temperature rises above 140 degrees, your salmon may become dry and chewy. But it also depends on your preferred level of doneness; if you prefer a rare salmon fillet, go with 110 to 125 degrees; and for medium doneness might range between 125 and 140 degrees.
| | |
| --- | --- |
| Internal Salmon Temperature | Salmon Fillet Doneness |
| 110 to 125 F degrees | Rare to medium-rare |
| 125 to 140 F degrees | Medium to medium-well |
| 145 F degrees | Well-done |
2. Check Their Color And Texture
Insert the tip of a knife into the thickest portion of your salmon to peek and determine their doneness.
Once cooked, salmon will turn from a transparent pink (or orange) color to an opaque pink (or orange) on the outside and still has a bit of transparent pink (or orange) in the core and easily flaked.
But if you see the exterior and the center are both opaque pink (or orange), your salmon is more likely to be overcooked. If they are thoroughly transparent, put them back in the oven to cook a little bit longer as they are still undercooked.
One more tip that you should be noted, that salmon can continue to cook while they are resting on your kitchen counter, so it is perfectly fine to remove them from the oven if they appear to be slightly undercooked.
| Aspect | Color | Texture |
| --- | --- | --- |
| Raw Salmon Fillet | Bright transparent pink (or orange) | Soft |
| Undercooked Salmon Fillet | Light transparent pink (or orange) outside and completely transparent pink (or orange) inside | Slightly-firm |
| Cooked Salmon Fillet | Opaque pink (or orange) outside and a bit transparent pink (or orange) inside | Firm |
| Overcooked Salmon Fillet | Opaque pink (or orange) outside and inside | Dry and super-firm |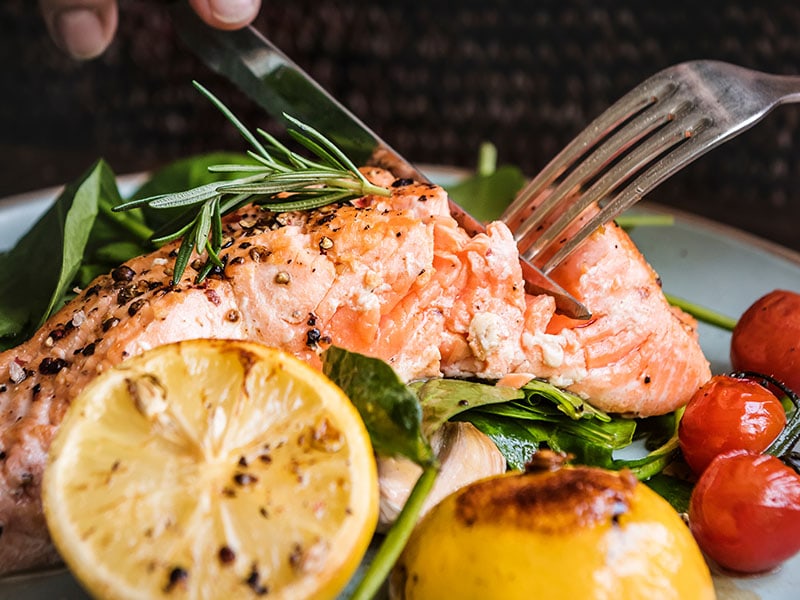 3. Using Butter Knife or Cake Tester Methods
This method might sound strange to some of you, but it actually works fine. You can use a butter knife or cake tester to check. I prefer the cake tester because it is thin and long so it will not break the overall look of the fillet.
The advantage of this method is that you can sense their doneness by the salmon's warmth. By placing a butter knife/cake tester in the thickest part of your salmon, leave them there for a few seconds, then put it to your lower lip right away after you take it out from the salmon.
The reason to use a butter knife/cake tester is that it is not too sharp or too pointy to hurt your lips. If you sense the warmth from a butter knife, your fish is ready to serve and vice versa.
The best way to tell whether your salmon is done is to follow this expert's recommendations. Watch this video:
Reasons That You Should Eat Salmon
You might have heard that salmon is a great source of vitamins and minerals, so check the below benefits for a better understanding of how good they are for your health.
Salmon – King of Omega-3 Fatty Acid
In fact, you can find omega-3 in varieties of fish. However, salmon could be seen as the most famous source for this content.
According to Kris and his colleagues research (2), omega-3 can benefit your health to prevent many cardiovascular problems, which cause "death, nonfatal heart attacks, and nonfatal strokes". By consuming omega-3, you can slow the development of atherosclerosis as well.
Rich In Proteins
Besides omega-3, salmon provides 20 to 25 grams of protein per serving (3.5 ounces or 100grams) for raw salmon and around 30 grams of protein for cooked salmon.
Protein helps you have optimal health with stronger bone and muscle mass. You also need to add protein to your body, maintaining your energy when carbohydrates and fat are not available.
Also, High In Vitamins and Minerals
Vitamin B12, which is contained in salmon, plays a crucial part in your body by ensuring that the functions of your brain, nerve cells, and blood are all working smoothly, as well as the creation of DNA.
Moreover, because salmon has a significant amount of potassium, it can help you keep track of your blood pressure and prevent strokes.
FAQs
Here are some commonly asked questions about cooking with salmon if you are still unsure. And I hope that my answers to these questions will assist you in creating delicious salmon meals during your next cooking session.
Salmon Is Your Truly Friend
Salmon is, without a doubt, the king of fishes, a delicacy with several health advantages. Salmon's omega-3 fatty acids can help you avoid various cardiac problems and keep your body in good working order.
That's why it is critical that you learn how to effectively consume them in terms of cooking temperature and duration in order to absorb all of the beneficial nutrients. With the detail of baking salmon at specific temperatures as well as the time measurement, I hope you can successfully cook and enjoy it best.
And if you find this post helpful, do not forget to follow our page for more cooking information. Plus, sharing your experience in baking salmon also helps me to improve my cooking methods, so please do not hesitate to contribute your thoughts in the comment section. Thank you.
Nutrition Facts
4 servings per container
---
Amount Per ServingCalories349
% Daily Value *
Total Fat 21.9g

33

%
Cholesterol 104mg

35

%
Sodium 370mg

16

%
Potassium 4mg

1

%
Total Carbohydrate 0.2g

0

%

Dietary Fiber 0.1g

0

%
Sugars 0g

Protein 35.8g

70

%
---
* The % Daily Value tells you how much a nutrient in a serving of food contributes to a daily diet. 2,000 calories a day is used for general nutrition advice.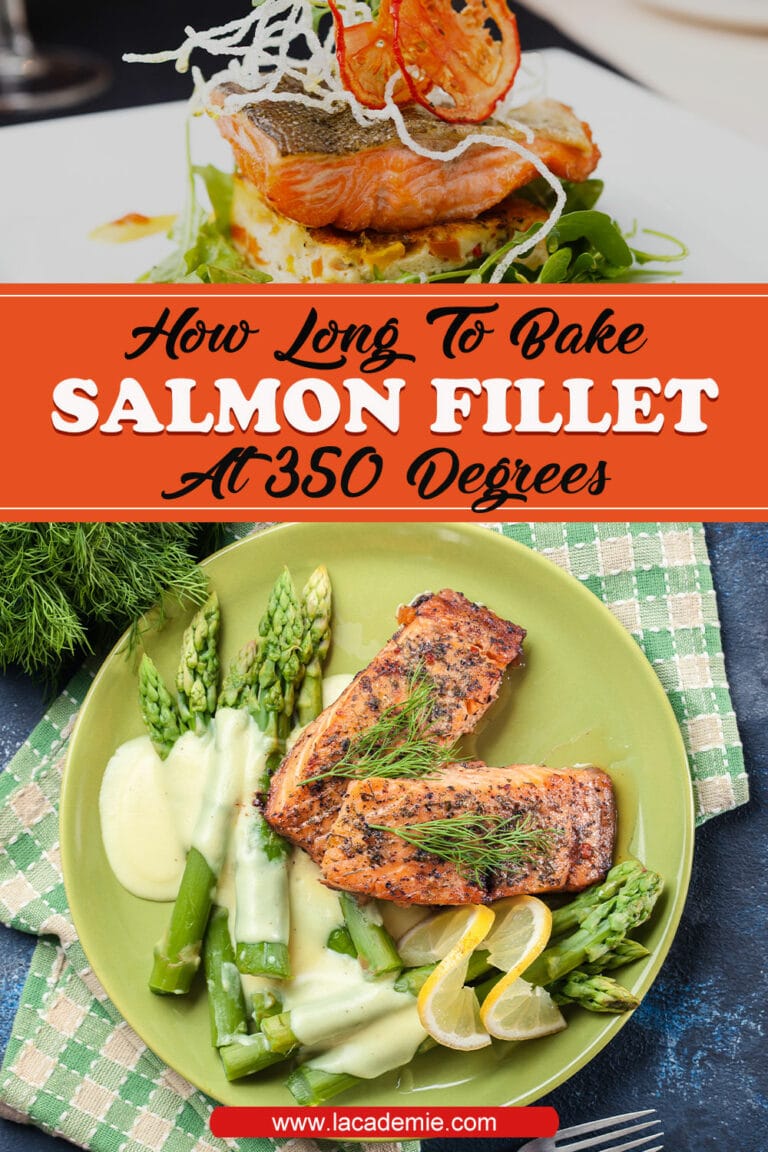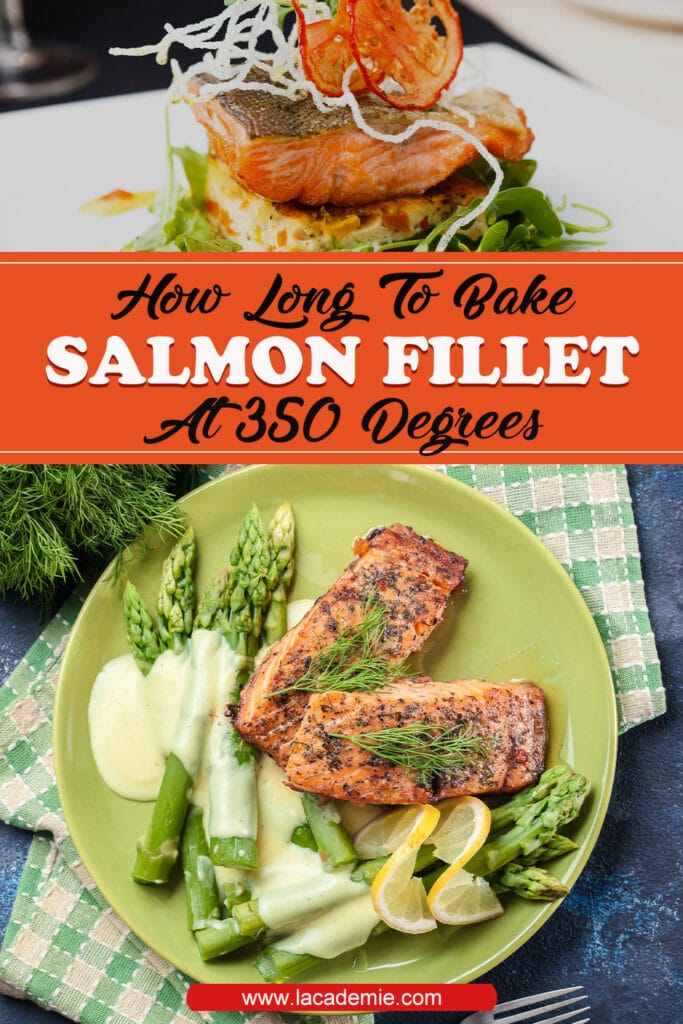 References
Fda.gov. 2021. Meat, Poultry & Seafood from Food Safety for Moms to Be.
Kris, P.M., Harris, W.S., Appel, L.J., AHA Nutrition Committee. Omega-3 Fatty Acids And Cardiovascular Disease: New Recommendations From The American Heart Association. Arterioscler Thromb Vasc Biol 2003(23):151–2.