What does salmon roe taste like? Many must have heard about this delicacy, but even a true foodie may pale at the idea of eating salmon roe. After all, due to its price and how to serve it, this specialty is not typical of a standard American diet.
Since there are a lot of mixed reviews about these orange balls, I will set the record straight once and for all. Tag along to get detailed answers about this delicacy flavor, how to eat it, and some simple recipes to try at home.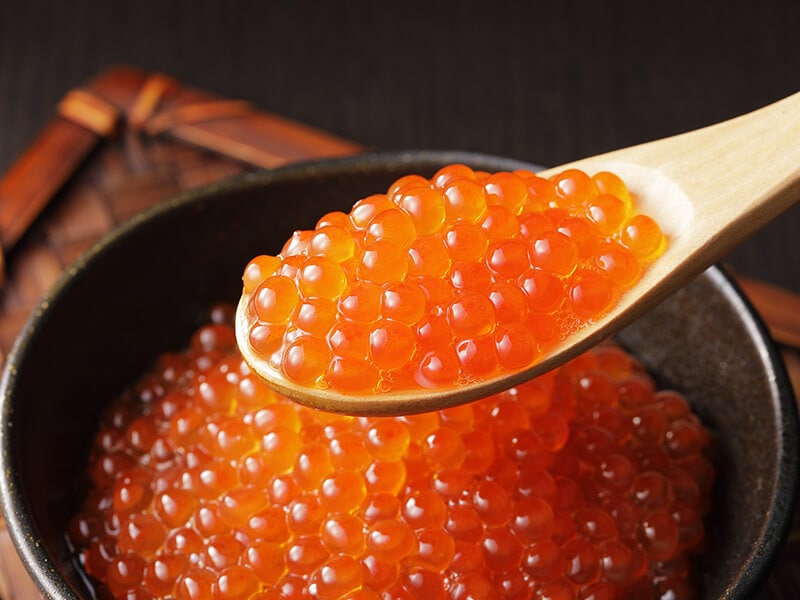 All About Salmon Roe
Not many people get a clear vision of salmon roe. After all, compared to its portion, this food may be a bit expensive and not something you eat every day. Here is your chance to learn more about these orange balls.
The Definition Of Roe
Here is a quick breakdown of roe. This term refers to mature and ready masses of particular marine creatures such as fish, squid, or sea urchins. The noticeable thing about roe is these fish eggs are mature and unfertilized.
Frequently, this delicacy is safe to eat raw, though pasteurizing or cooking it will help roe last longer. Just be aware that not all roe is edible since some species possess poisons that can make you sick.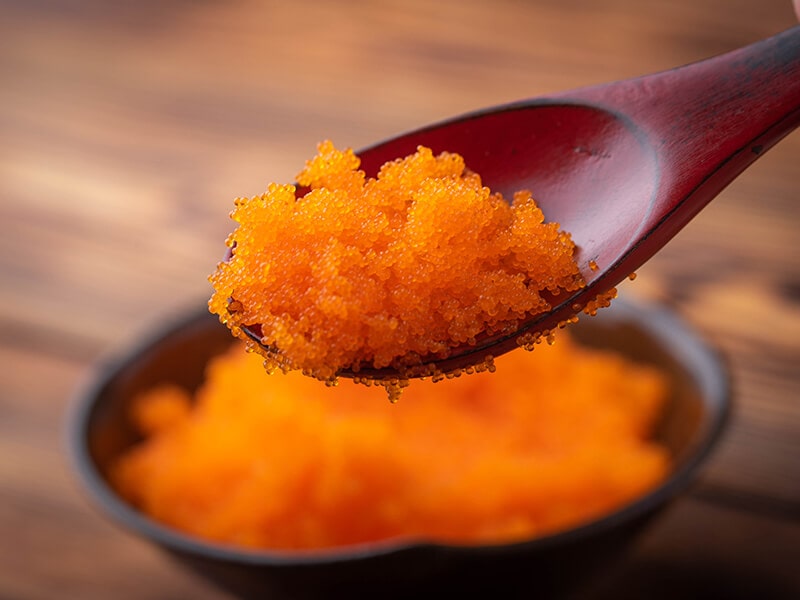 Salmon Roe – The Gift From The Ocean
On the market, salmon roe comes up with many names, including red caviar, salmon caviar, Ikura in Japanese, and Ikra in Russian. People collect them in female fish's ovaries or from an external egg mass in harvesting seasons. This term can also refer to the sperm of males.
Salmon roe is a seasonal luxury. In the USA, yield times are in a bumper-crop mode in the summer, from July to September, when the fish spawns (1). The peak of the harvest season will fall from mid-May to July.
Its color profiles can run from deep reddish-orange to a lighter yellow-orange. Most of the roe is commercially sold as separate beads. But there is one exception: in Japanese cuisine, a variety called Sujiko is still in the sack or a skein.
While most red caviar is non-pasteurizing, many manufacturers still say yes to this process to extend the product's shelf life. This process may not affect the roe's flavor. Still, its appearance might change to more delicate, paler, and less glossy than the original eggs.
The highest-grade salmon roe should have the largest sizes, lowest salt content, and no drip. Also, the higher-grade roe is supposed to be firmer to handle the pasteurization better.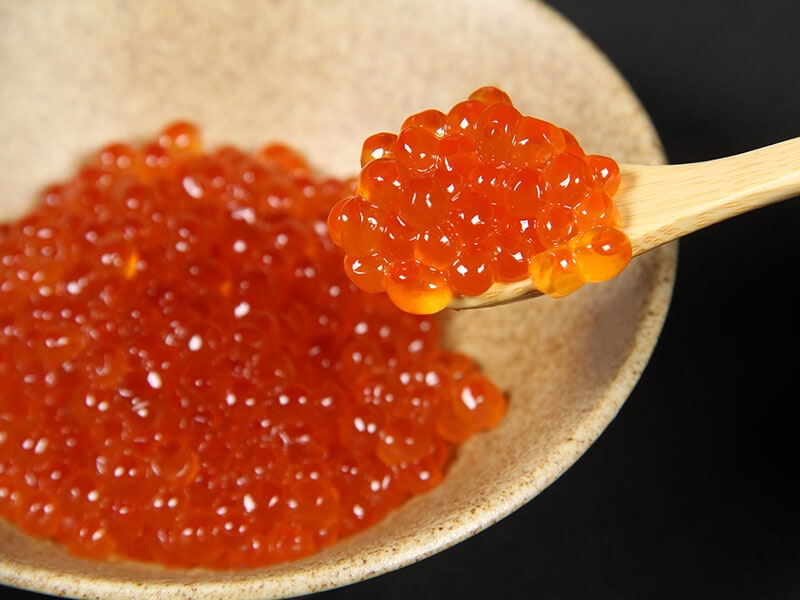 Essential Facts About The Taste Of Salmon Roe
From the information above, you may realize that these fish pearls are delicious. But is that enough to convince you to invest in this delicacy? Let's explore this food's flavor to know why it mesmerizes many foodies.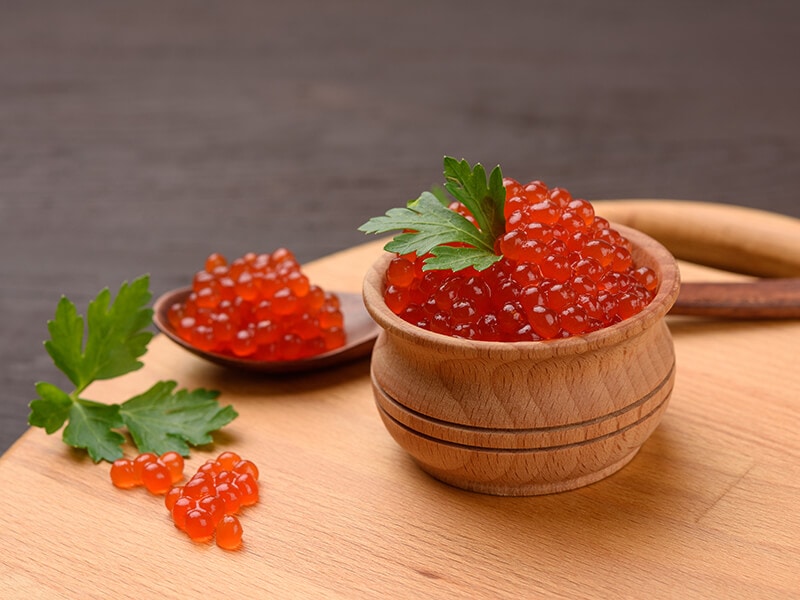 What Does Salmon Roe Taste Like?
When discussing the flavor of salmon roe, words like briny, salty, and creamy are often used. A salty flavor is the first thing to hit your palate. After the initial impression, you'll sense a subtle bitter undertone with a note of sweetness and the essence of salmon.
Understandably, the bitterness can be a challenge for a super-taster, but as soon as you get used to it, you may become addicted. More subtle palates may detect nutty, buttery, and other unique tastes.
Interestingly, it will burst with a signature "popping sound" when pressed by the tongue. Once you take the first bite, the salmon eggs start with a delicate crunchy, followed by a smooth and velvety consistency as the roe pops and melts in your mouth.
A good thing about this seasonal luxury is that it brings forward the fish's natural flavors. Accordingly, diverse breeds of salmon come with a wide range of salmon roe, so consumers will have plenty of options to choose from.
Home cooks often steam salmon eggs to keep most of the original taste. However, steamed roe's flavor will be lighter and less salty. Whether you plan to eat the roe raw or cook it, pay attention to its freshness.
Do you know how to identify spoiled salmon roe? Taste is not the best clue since the roe is already salty. However, if the beads have a more pungent fishy taste, a rancid flavor, or more bitterness than usual, you should discard them.
Improve your cooking skill with this super easy guide on how to rinse and turn salmon roe into a great homemade treat!
A Quick Look At Salmon Roe Varieties Taste
As I said already, the taste of salmon eggs also depends on the fish varieties and how it's reared. There are five common salmon species. Here is something you need to know about their egg's flavor.
| Variants | Flavor | Size | Color |
| --- | --- | --- | --- |
| Pink (Humpy) | Light sweet with a subtle fishy aftertaste | Medium | Orange |
| Silver (Coho) | Mild, briny, and slightly bitter | Medium | Deep red |
| Chum | Rich and slightly bitter | Largest | Orange |
| King (Chinook) | Mild | Large | Dark-reddish pink |
| Red (Sockeye) | Rich, spicy, and slightly bitter | Smallest | Dark red |
Pink (Humpy)
Most pink salmon roe come from the coast of Alaska and boast a vibrant orange shade. The grains of this salmon breed are medium size and have a faintly sweet flavor with a hint of fishy aftertaste.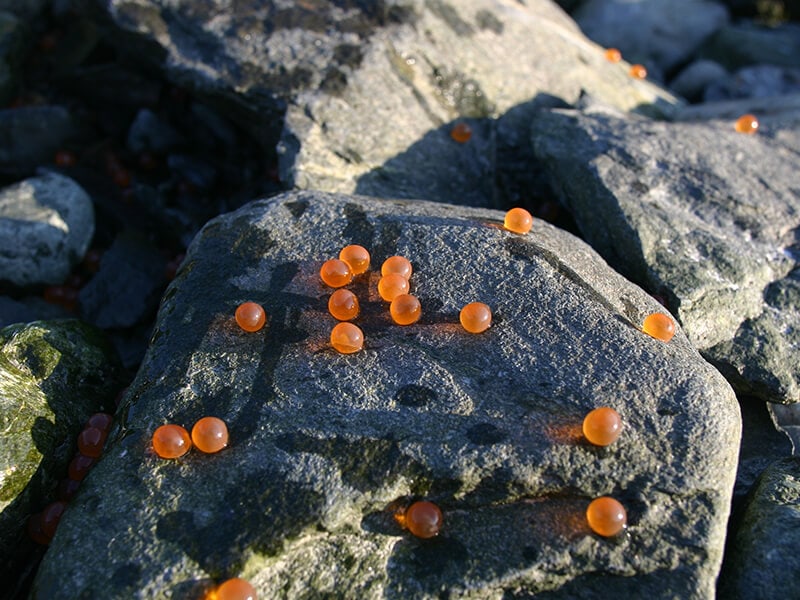 Silver (Coho)
These medium-sized pearls have a milder flavor and a light briny taste. These translucent eggs have a beautiful deep red hue. Similar to sockeye, it may have a slight bitterness.
Chum
Interestingly, though chum salmon is the least welcomed member of the family, its roe is one the best-tasting ones. On the outside, this species has the largest grains, and these balls shine in a light orange hue. Their taste also hit differently, with a rich taste and light bitterness.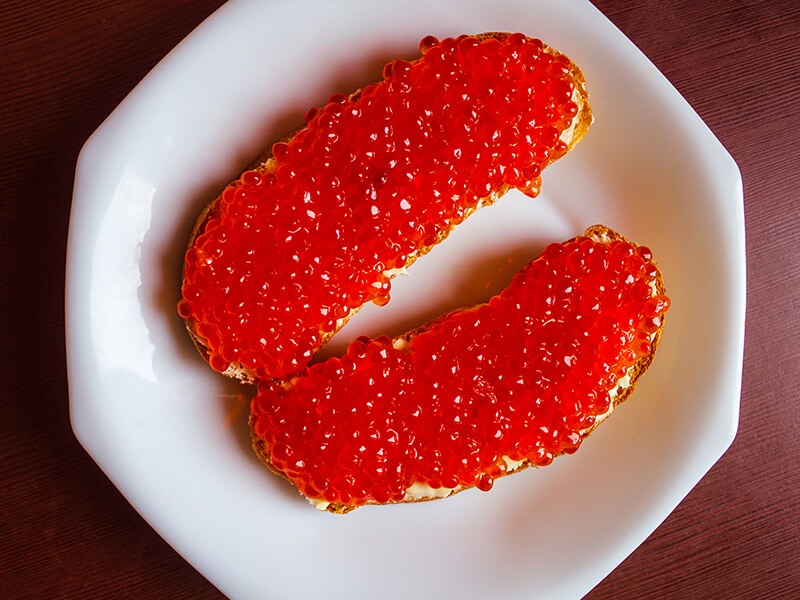 King (Chinook)
Dark reddish-pink, a clean flavor, and pleasant "pop" are what gourmets love about king salmon roe. Many said that these large-sized grains are similar to the coho variety in taste since both deliver a mild flavor.
Don't miss this simple and quick explanation about preparing Chinook salmon roe.
Red (Sockeye)
As the smallest compared to other varieties, sockeye salmon roe gets thumbs up from genuine fans. Thanks to its significantly small size, the taste becomes more concentrated. But note that these dark-red pearls might carry a spicy taste and a slightly bitter finish.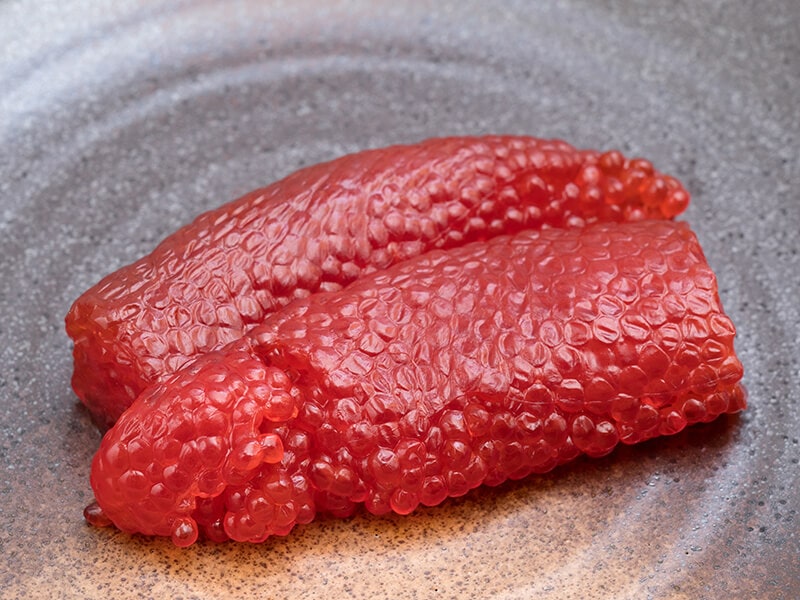 Caviar Vs. Salmon Roe – Solve Your Confusion
Often, the term "caviar" and "roe" are used interchangeably, so it's no wonder that people confuse them with each other even today. Stay tuned because this section will shed light on your uncertainties about them.
First thing first: roe is a technical term for unfertilized egg masses collected from certain marine animals, including salmon. It's completely raw and fresh with no seasoning.
On the other hand, caviar only refers to the egg mass of sturgeon fish from the family Acipenseridae. In appearance, this delicacy has a dark hue, so it's also known as "black roe" or "black caviar." It's packaged in tins to age and is much more expensive.
So how about salmon caviar, trout caviar, and the like? Well, that is a misleading label to cash in on the glory of the real caviar. In that case, the salted-cured roe of many fish varieties is called caviar or, sometimes, red caviar to distinguish it from black caviar.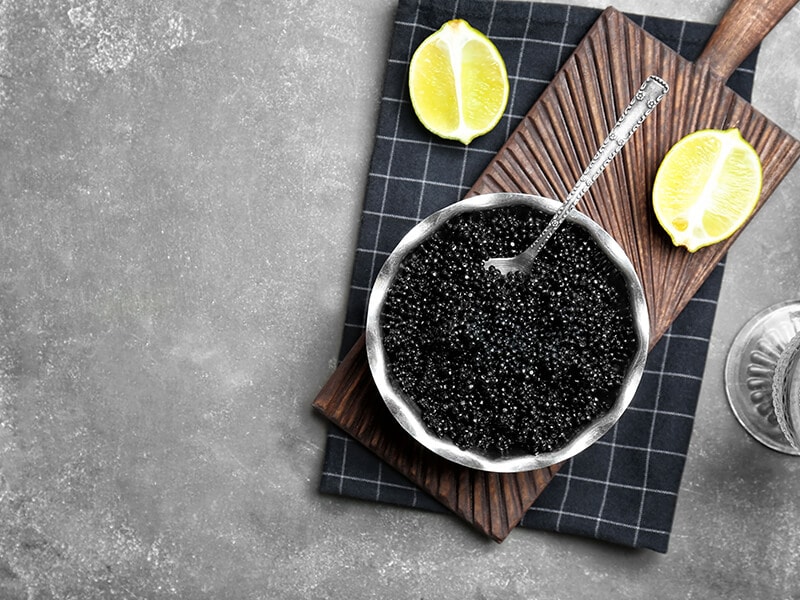 The Nutrition Of Salmon Roe
Nutritionally, salmon roe is relatively beneficial for health, as it's a nutrient-rich and keto-friendly food. This superfood is full of healthy nutrients such as calcium, iron, and various vitamins (2).
Just as impressive as these nutrients are their health benefits. The vitamin D in these eggs will protect your eyes from night blindness and enhance calcium uptake from food. Furthermore, healthy omega-3 fatty acids help reduce inflammation and aid heart health.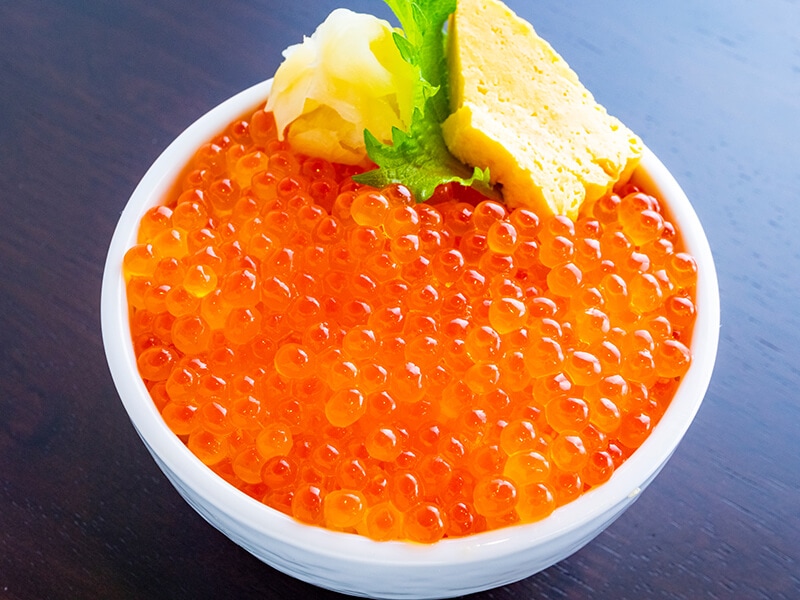 How To Eat Salmon Roe Like A Pro
Suppose that you've bought salmon roe, ready to make them for dinner, but now you're wondering what to do. Don't worry; I've got your back. Here's some information about salmon roe culinary uses and how to eat it properly.
Culinary Uses
Geographically speaking, cured or salted salmon rose is popular in Scandinavia or Russia. Likewise, the Japanese Ikura is salmon roe cured with only sea salt. On the contrary, the most common approach of Americans to this goodness may be from sushi places.
These raw shiny spheres are excellent on their own or a great topping for your favorite dishes, such as sushi, smoked salmon, or canapes. The more Asian way would be to enjoy it with rice. Otherwise, try it in the Japanese style with soy sauce.
For more creative ways, you can add these transparent balls to your pasta, omelets, frittatas, or soup. There is no limitation for salmon roe, and this item will add a touch of luxury to any meal.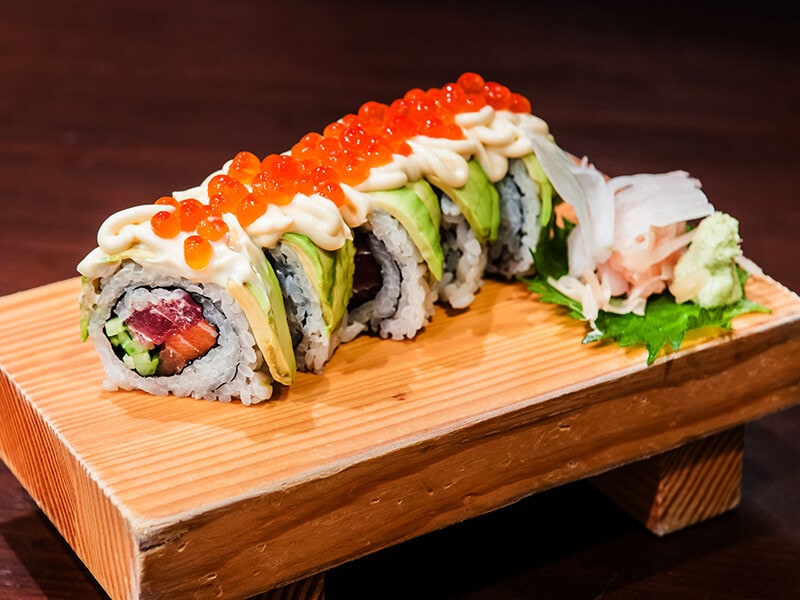 A Guideline To Salmon Roe Etiquette
As stated, salmon roe is prepared differently from region to region. This gift of nature can be eaten raw or act as an accessory ingredient in many dishes. Follow along to learn how to devour this deliciousness in the right way.
Serve It Cold
As a rule of thumb, salmon roe should be served chilled to preserve its freshness. Except for cooked roe in specific recipes, air and heat are formidable enemies to your fresh roe's quality.
Likewise, if you want to eat it raw, it's best to keep your eggs refrigerated before serving. Avoid leaving it at room temperature because the warm roe can become soft and more pungent.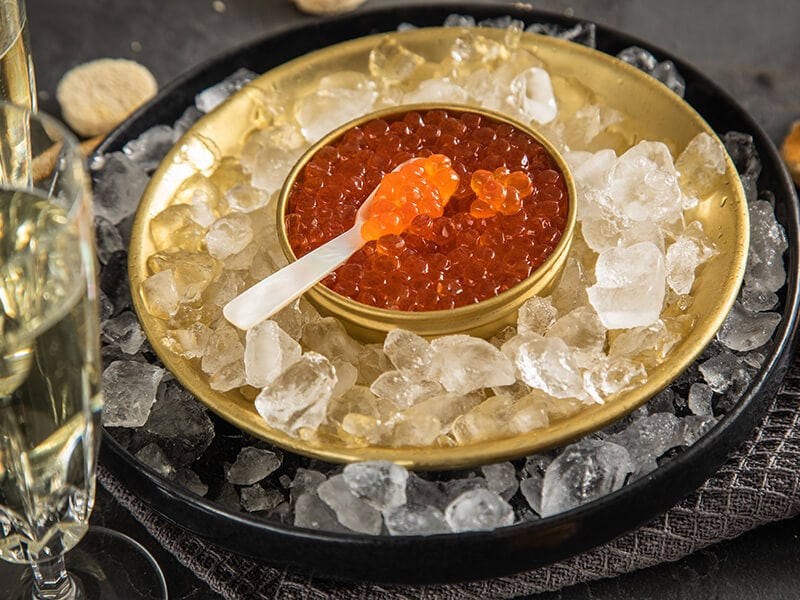 Use The Right Utensils
Using metal utensils, including silver, will oxidize and mess up the delicate flavor of salmon roe. This way, it could lose the original flavor and taste metallically instead. Wooden, bone, glass, or ceramic spoons best handle these delicacies.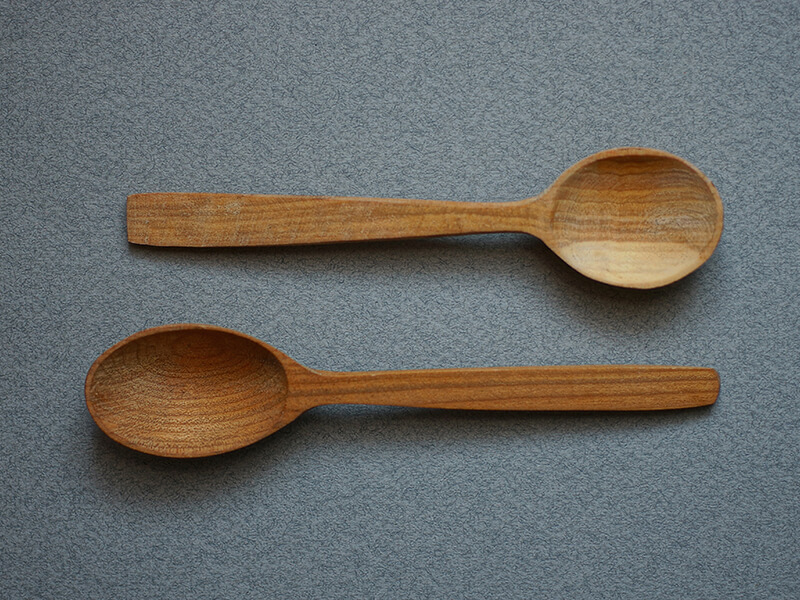 Give It A Taste Test
Before taking a big scoop of salmon roe, you should take a little quality test to ensure it's completely fine to eat. To do so, take a few grains and bite them until the little pearls burst in the mouth, releasing the juice inside.
As long as the liquid tastes slightly salty and oily, your roe is safe to consume. Otherwise, the roe is of dubious quality.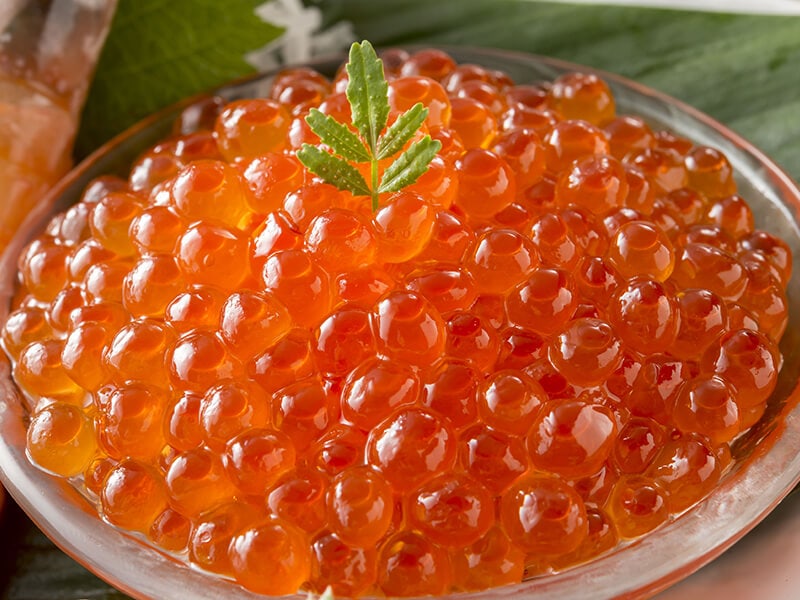 Pair With Wine
For an extra special treat, a good wine will elevate the taste of these apricot pearls. A glass of iced vodka, white wine, or champagne with salmon roe never goes out of style.
The booziness of chilled vodka will complement the salty notes of salmon roe. At the same time, the racing acidity of champagne will create an interesting contrast with the silky richness of the eggs.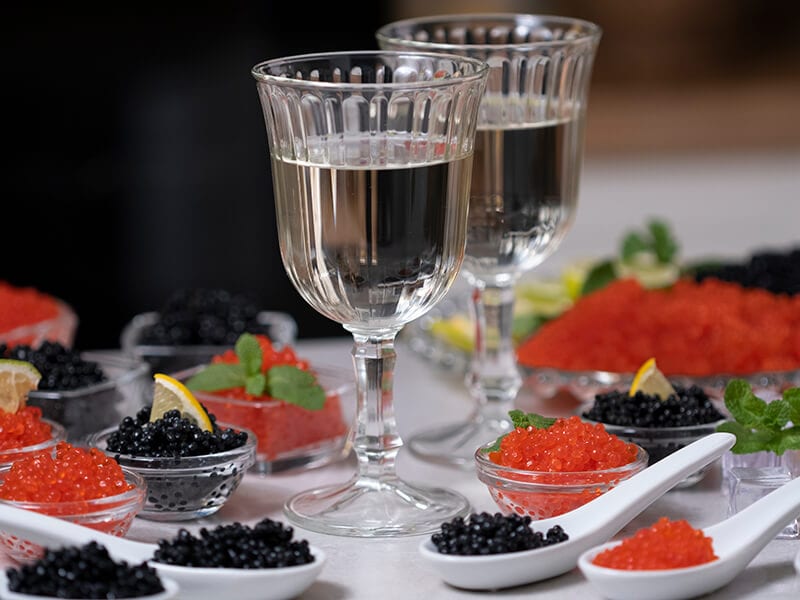 Guide To Make A Smart Salmon Roe Purchase
Salmon roe is highly appreciated for its unique "popping" experience and incredibly savory taste. Preparing for some basic considerations is best before making any financial investment.
Salmon Roe's Price And What You Need To Know
Price-wise, salmon roe is more economical than black caviar since it only costs a fraction of the price. As I said earlier, salmon roe is in a diverse price range due to the fish varieties.
In detail, the price tag of your salmon caviar depends on maturity, freshness, size, and abundance. Furthermore, the price difference also indicates how rare or hard-to-get a product may be since the frequency of harvest determines the salmon caviar bill as well.
Since the bigger the ball is, the more expensive it will cost, chum salmon roe has the highest price. In the same group is the king salmon, as they have similar flavor and size, followed by coho and pink salmon caviar. Therefore, sockeye roe, with the smallest grains, is the cheapest.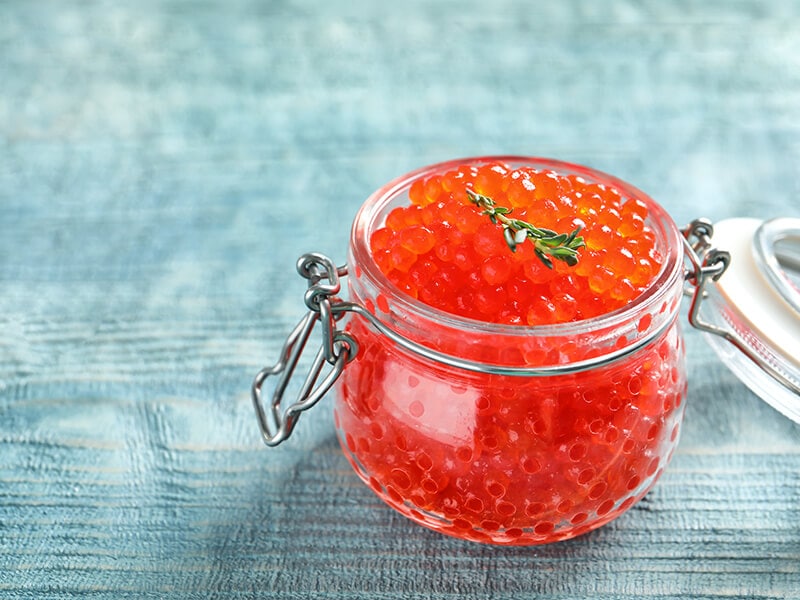 How To Buy Salmon Roe
Some of the best salmon roe products are available at quite affordable costs. Getting this item at regular stores may be challenging, so you may have to get an online order or find a reliable vendor.
For a less stressful budget, do a little research and compare products with several brands at various price tags to find your favorite. With a standard in mind, the seller can help you pick the most suitable for your budget and tastes.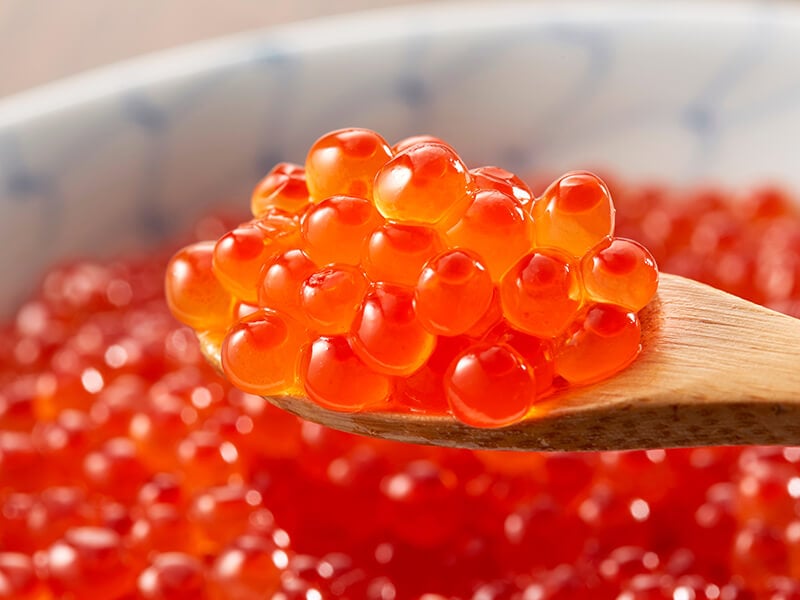 Fill Your Belly With These Yummy Salmon Roe Recipes!
Here comes my favorite part. Just so you know, salmon roe is fantastic on its own, but it can also be a spectacular ingredient with others to create a masterpiece. Let's check out how far you can go with these precious eggs!
You don't have to do anything complicated to bring this Ikura Don to life; just a few items and 35 minutes are enough. Rice is a traditional way to serve with salmon roe as it won't overshadow these yummy fish eggs. Add a few slices of salmon sashimi to double the deliciousness!
There's no way fans of Japanese food can miss this delicious Ikura Don!
This thin spaghetti with salmon roe is a flavor bomb since the pasta covered in a creamy sauce with crunchy fish eggs is a layer of sophistication. For a fancier version, use champagne instead of regular wine and serve the rest of the bottle as your beverage for dinner.
These deviled eggs with sour cream, chives, and salmon roe have everything in one bite. They are perfect to be your party's finger food. The creaminess of egg yolk with mayonnaise, the citrus note of lemon juice, and the umami flavor of salmon eggs will hit all corners of your palate.
If you want a healthy yet delicious dish, this pickled daikon and Alaska salmon & roe salad will fit the bill. Sweet, spicy, briny, and crunchy – this delicacy has everything you expect. It takes about 40 minutes from start to finish, so feel free to prepare it on busy weeknights.
FAQs
By reading the information above, you may grow interested in this oceanic delicacy. If you still want to discover more about it, keep reading the related questions below for extra exciting facts.
Enjoy Salmon Roe With Your Heart's Content!
Is the information above enough to convince you to dive into this sea of this deliciousness? Delicious and nutritious, the roe gets the best of both worlds. No wonder why this dish has a solid standing in many countries, from the East to the West.
Since the roe may have a distinct ocean taste with some bitterness, it can be imitating for first-timers. Thus, try it in a small spoon multiple times to get used to the new taste. Once you accept its flavor, this delicacy will be your repeated option for dinner or party menus.
If you have any exciting stories about these fish eggs, spoil them a bit with other readers and me. Go ahead and share this article with your friends who might be avid fans of fish eggs. I'd love to hear their (and your) thoughts. Feel free to check out other great posts on this website!
References
Salmon and trout roe – eumofa.eu (no date) EUMOFA. The European Market Observatory for fisheries and aquaculture (EUMOFA).
Alexis, A.C. (2022) Salmon roe: Nutrients, benefits, and downsides, Healthline. Healthline Media.