For the seasoned foodies, lox vs smoked salmon is not an unfamiliar comparison. These two foods, though quite different in many aspects, are somehow frequently confused.
However, this is not strange considering how, despite the clear dissimilarities between trout and salmon, these two species of fish are still mixed up. If people have trouble telling two different fishes apart, it's no wonder that they might mistake lox for smoked salmon and vice versa.
In today's post, let's put lox up against smoked salmon to find out their key differences, health benefits, and how they're used in cooking. Hopefully, you'll be able to choose the better one in the end!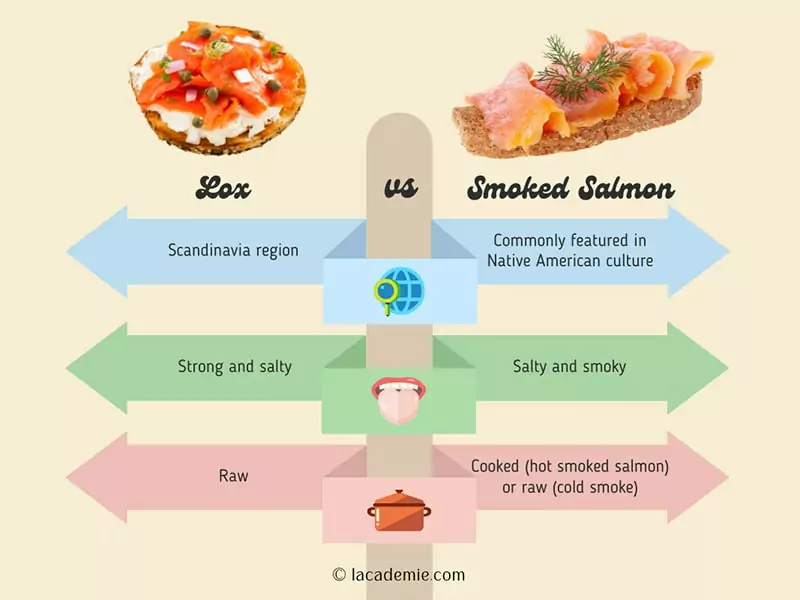 Lox And Smoked Comparison In Brief
At first sight, lox and salmon seem totally similar. Although they are both made from salmon, these two foods have plenty of unique characteristics that make them different from each other. Here's a brief comparison table between lox and smoked salmon.
Key characteristics
Lox
Smoked salmon
Origin
Scandinavia region
Commonly featured in Native American culture
Part of the salmon
Fatty belly
The whole side of the salmon
Preparation method
Curing or brining
Curing or brining then hot smoke or cold smoke
Preparation time
Can last up to 3 months
Last for a few days
Taste
Strong and salty
Salty and smoky
Texture
Smooth and silky
Flaky (hot smoked salmon) or smooth and silky (cold smoked salmon)
Finished state
Raw
Cooked (hot smoked salmon) or raw (cold smoke
Shelf life

Unopened lox: 2 months (refrigerated), 3 months (frozen)
Opened lox: 3 days (refrigerated), 3 months (frozen)

Unopened hot smoked salmon: 2 weeks (refrigerated), 2-3 months (frozen)
Opened hot smoked salmon: 1 week (refrigerated), 1 month (frozen)
Opened smoked salmon: 5-7 days (refrigerated), 2-3 months (frozen)

Cooking utilization
Best served uncooked

Hot smoked salmon: best in cooked recipes
Cold smoked salmon: best served uncooked

Nutritional value

Rich in omega-3 fatty acids, vitamins B12, A, E, astaxanthin, and several essential minerals
Low in calories, high in protein
High in sodium

Rich in omega-3 fatty acids, vitamins B12, A, E, astaxanthin, and several essential minerals
Low in calories, high in protein
High in sodium
History Of Lox And Smoked Salon
First, let's take a look at the history of lox and smoked salmon. Both of them are age-old foods that have taken roots in different cultures and regions.
History Of Lox
The origin of lox can be traced back to Scandinavian countries, where saltwater brining was frequently used as a way to preserve fish. This is reflected in their modern-day name since "lox" is actually a variant of "laks", which is the Yiddish pronunciation of salmon.(1)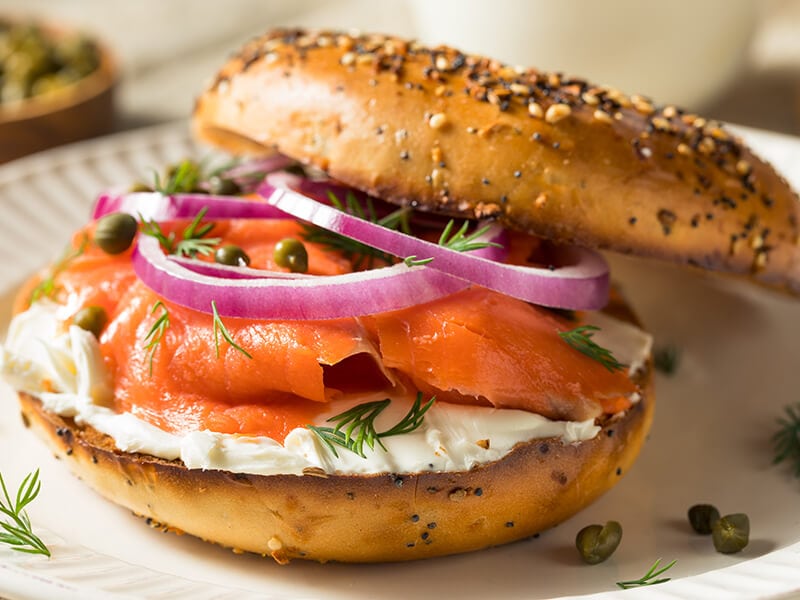 Before refrigerating techniques were invented, brining was one of the most effective ways to keep fish edible for a long time. This is why it'll take longer for you to detect clear signs indicating spoilage in salmon that has been soaking in brine.
However, the Scandinavians were not the only ones to practice brining salmon, as it was also well-known among the Jews in Eastern Europe.
Although Jewish people did keep their curing and smoking tradition when they came to America, it was not until the time of the Transcontinental Railroad that lox truly took off.
Starting from the Pacific coast, the intercontinental rail line brought lox to many other parts of the country.
Since then, the salted fish has been a big hit in the U.S, especially in diversely populated cities such as New York, where people casually enjoy a tasty combination of lox and bagel.
Let's see this video to know:
History Of Smoked Salmon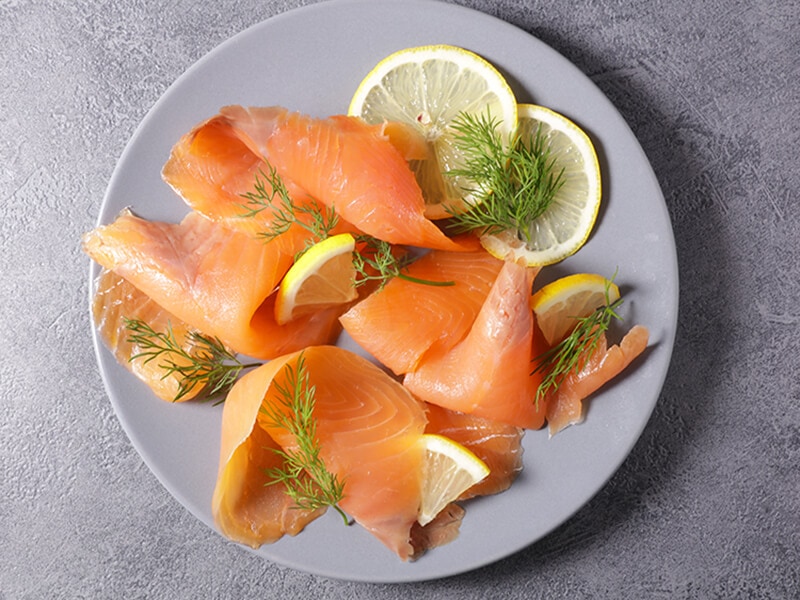 While lox found its place in the everyday meal of the Northern Europeans, smoked salmon was an age-old staple of Native American cultures. For a long time, smoked and dried fish were a popular food and trading product of the Native Americans.
It also appeared throughout Greek and Roman history as a common dish in large feasts and gatherings.(2)
Smoked salmon picked up steam during the Middle Ages as more and more people began to integrate it into their soups and salads. America then witnessed a boom in the smoked salmon industry in the 19th century, especially on the West Coast.
The Differences Between Lox And Smoked Salmon
Smoked salmon and lox are both made from fish; you already know that much. But what makes them different from each other? Well, this section will answer exactly that.
What Is Lox?
Traditionally, lox was made from salmon's fatty belly or succulents. However, other parts of the fish are also occasionally used.
To be categorized as lox, the fish will have to go through a curing process that might sometimes last up to 3 months. During this, the salmon will be cured with salt or brine (wet-cure) in order to preserve and give the lox its signature salty taste.
As a result, a true lox has an incredibly salty and strong taste. However, this lengthy curing process won't cook the lox, thus retaining its silky, buttery texture. Although it is still raw, lox can be safely consumed without any further cooking.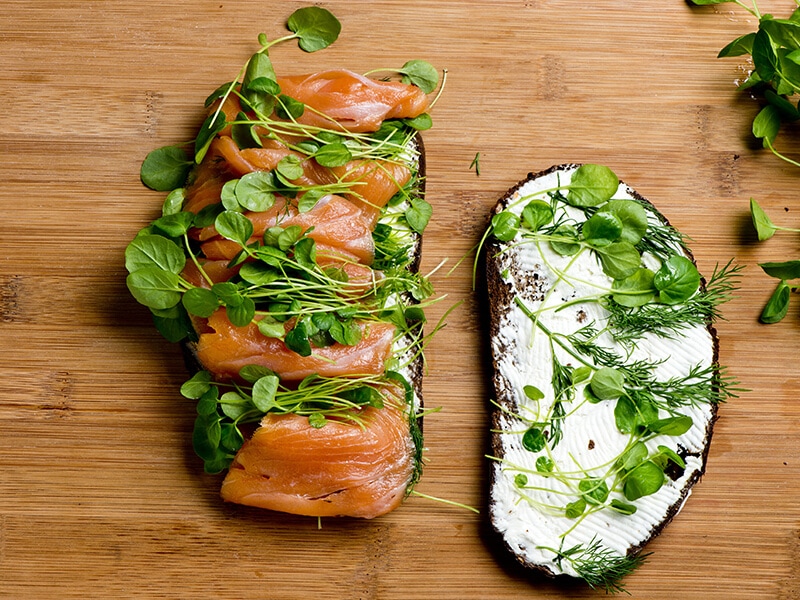 You'll often find three types of "lox" on the market: gravlax, nova lox, and Scottish salmon. Among the three, only the gravlax can be considered a "true lox" since the other two need to be cold-smoked after curing.
Gravlax
Gravlax (or Gravad lax) is the Scandinavian way to make lox, which is also a familiar dish in Norway. In this method, the fish will be dry-cured with a mixture of sugar, salt, dill, liquor, and other spices like horseradish or juniper berry. After curing, it might or might not be smoked.
Gravlax tastes the best when paired with a sweet mustard and dill sauce.
Nova Lox
Nova lox (also referred to as Nova Scotia salmon, or simply nova) is a popular type of cold-smoked salmon that is frequently confused with lox due to its name. Prior to smoking, the fish will be cured in a rather mild brine which gives it a less salty taste than a normal lox.
Scottish Salmon
Scottish-style salmon involves rubbing the fish directly with salt, spices, occasionally sugars, and some other flavorings. When this "dry brining" process has been completed, the fish will be cold smoked after rinsing off the brine.
What Is Smoked Salmon?
While lox mainly makes use of the fish's fatty belly, smoked salmon utilizes a whole side of a salmon. Similar to lox, smoked salmon also needs to be cured or brined. The distinct flavor of salmon might change slightly due to the various ingredients used to cure or brine the fish.
The salmon can either be salt-cured (for smaller fish) or cut into half and brined in saltwater (for bigger ones). The brining process might take from one to a few days. Afterward, the salmon is often seasoned or glazed with extra spices and flavors.
Following the curing (or brining) stage is the part that makes the primary difference between lox and smoked salmon: smoking.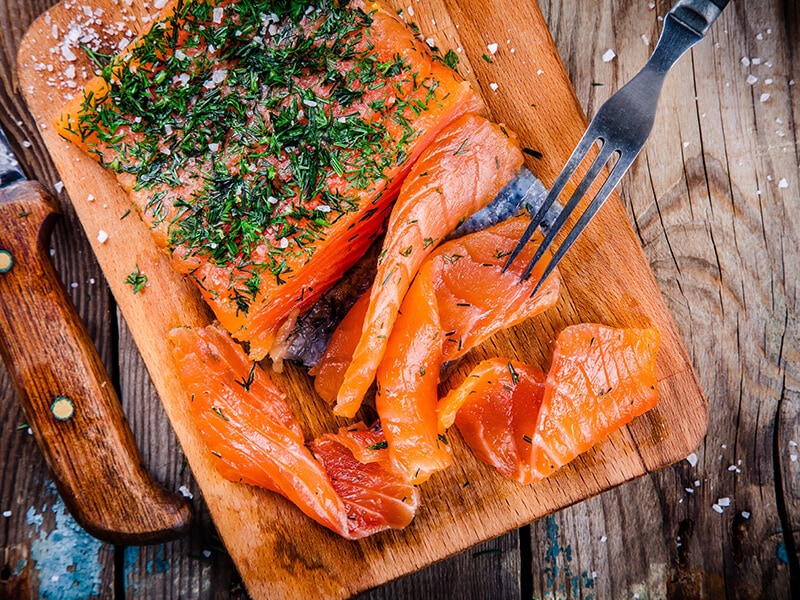 There are two methods for smoking salmon: hot smoking and cold smoking. Depending on the method, the fish might come out cooked or raw. That's why, when asking whether smoked salmon is raw or not, you might receive conflicting answers.
Hot Smoking
The salmon is brined, flavored, then smoked at 120°F to 180°F. This process usually takes around 6-12 hours.
Thanks to the high heat, the fish is fully cooked after smoking and has a flaky texture and a strong smoky taste. Hot smoked salmon is also called kippered salmon.
I know it might be hard for you to believe hot smoked salmon is not raw, especially with how pink it looks. However, with only a few easy methods to see if salmon is cooked, you'll see that I'm not lying to you. So rest assured and feel free to enjoy your hot smoked salmon.
Cold Smoking
The salmon is dry-cured with salt, seasoned, then smoked at 75°F to 85°F, a much lower temperature than hot smoking.
Cold smoking typically takes from 12 to 48 hours. As the low heat is not enough to cook the fish, it will remain raw after smoking.
Cold smoked salmon has a smooth, silky texture and is less smoky than hot smoked salmon.
Learn all you need to know about smoked salmon. Watch this video:
Lox Or Salmon – Which One Is Better For Your Health?
Lox and smoked salmon are quite similar to each other when it comes to nutritional value as they are both made from salmon. So the real question here is not whether one is healthier than the other but rather which one is more suitable for you.
Salmon has always been revered for its amazing health benefits as it's a rich source of omega-3 fatty acids, vitamins B12, A, E, astaxanthin, and several essential minerals.
Omega-3 fatty acids can reduce inflammation, decrease bad cholesterol, strengthen brain function, and even prevent heart disease. The vitamins and minerals in salmon are also vital for maintaining a healthy body.
Additionally, salmon is an excellent choice if you're trying to shed a few pounds as it is low in calories and high in protein.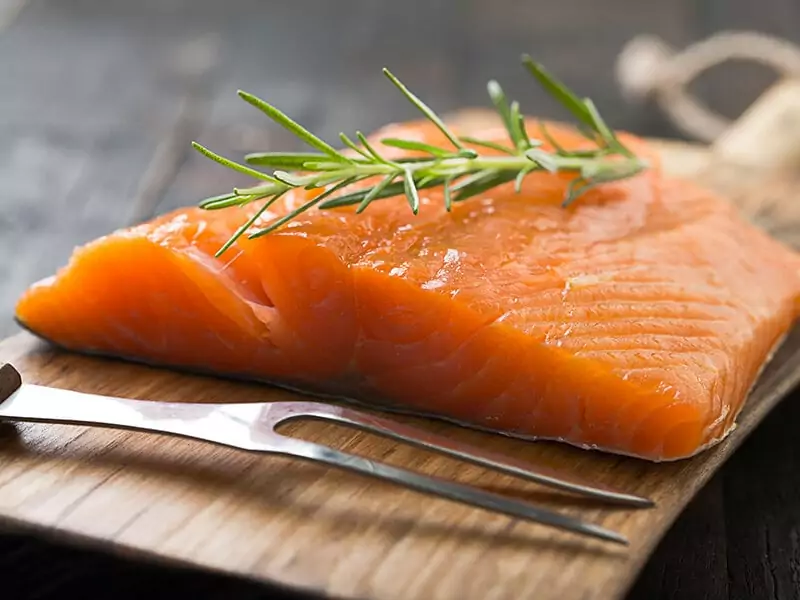 However, it isn't all rainbow and sunshine as smoked salmon and lox can be quite high in sodium. This means that overconsumption of either type can lead to a higher risk of heart disease and stroke.
Moreover, since lox and cold-smoked salmon are still raw fish, they might not be the best choice for people with a weak immune system, sensitive stomach (like young children), or pregnant women.
This doesn't necessarily mean that you can eat hot smoked salmon more freely, though, as too much smoked meat can raise the risk of colorectal cancer.
All in all, as long as you choose the right type based on your health condition and consume them in moderation, smoked salmon and lox are a healthy and tasty addition to your diet.
You'll love salmon even more after knowing all its nutritional benefits. Watch this video:
Lox And Smoked Salmon Shelf Life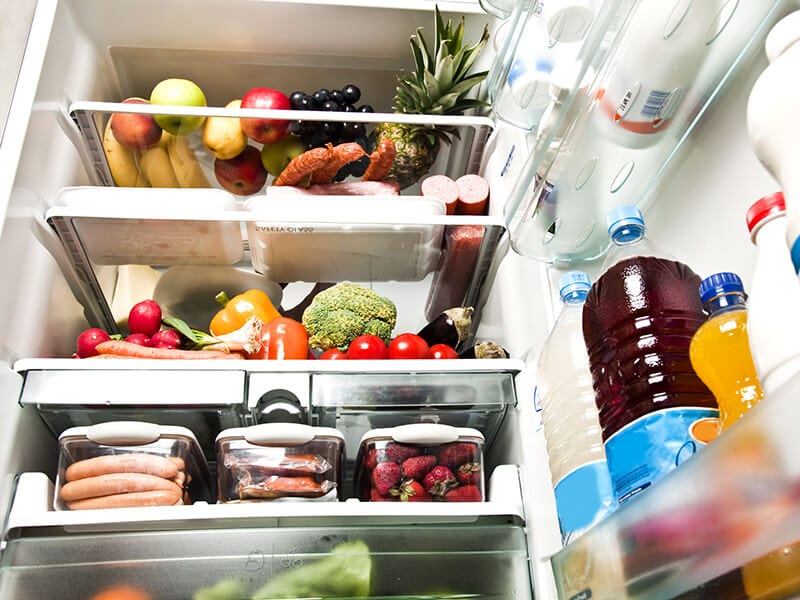 Truth to be told, the expected shelf-life of smoked salmon and lox are not too far away from each other as they're both made from the same kind of fish. The fridge and the freezer are the best places to store these salmon.
Salmon Types
Fridge
Freezer
Hot smoked salmon (unopened)

2 weeks
Use-by date + 2-3 days

2-3 months (best taste)
Cold smoked salmon (unopened)

1 week
Use-by date + 2-3 days

1 month (best taste)
Smoked salmon (opened)
5-7 days
2-3 months (best taste)
Lox (unopened)
2 months
3 months (best taste)
Lox (opened)
3 days
3 months (best taste)
The Shelf Life Of Lox
A pack of fully sealed lox can last up to 2 months if properly refrigerated. When opened, you should consume it within 3 days and refrigerate them at all times.
You can also freeze lox to lengthen its shelf life. While frozen lox can last up to 6 months, it's best to enjoy them within 3 months as the quality will degrade over time.
The Shelf Life Of Smoked Salmon
I suppose that you're concerned about the proper method to store smoked salmon. As this is a premium food, you may want to know if smoked salmon is freezable or will the process ruin the fish's taste and texture. So, what's the best way to extend smoked salmon's shelf life?
Some smoked salmon are sold unrefrigerated and can be stored at room temperature. However, most cold and hot smoked salmon are better kept in the fridge or in the freezer. The timespan to freeze salmon, nonetheless, might vary depending on the smoked salmon kind.
Unopened hot smoked salmon will stay good for about 2 weeks (or 2-3 days past the used-by date) in the fridge. When frozen, it will stay edible for an indefinite amount of time but will taste the best in the first 2-3 months.
For unopened, refrigerated cold smoked salmon, you can expect a shelf life of 1 week (or 2-3 days after its use-by date). It will retain the best quality for 1 month in the freezer.
Opened smoked salmon will have to be used within 5-7 days and have to be refrigerated. Similar to lox, you can also freeze out-of-the-package smoked salmon to keep them tasty for 2-3 months.
How These Two Are Used In Cooking
There are many ways to turn lox and smoked salmon into delicious dishes. They are great for enjoying right out of the box or adding to an array of recipes.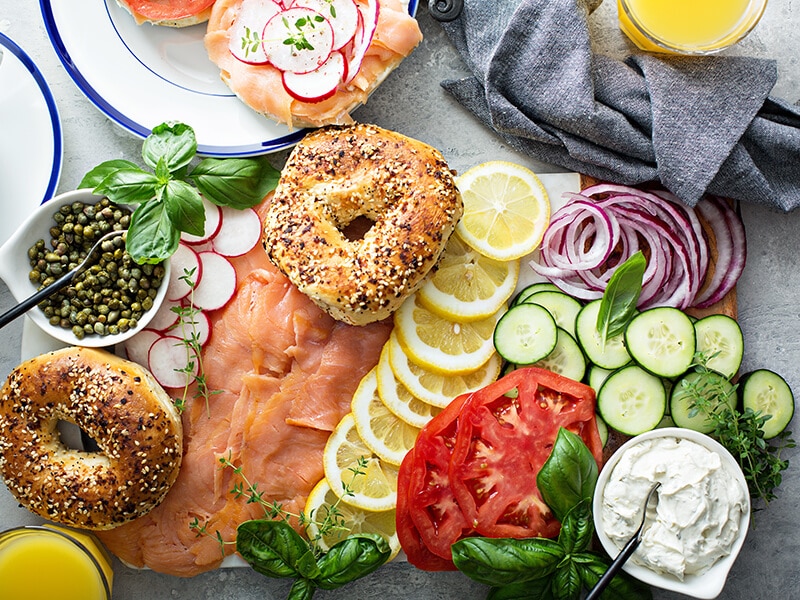 Although lox and cold-smoked salmon are still raw, you can (and should) safely enjoy them without any cooking. On the contrary, hot smoked salmon is fully cooked and is a better choice for recipes that need further cooking.
Lox and bagel with cream cheese is a classic New York dish that everyone should try. You can also put them in salads, use them as roll's fillings, or pair them with cucumber and other vegetables to make an eye-catching appetizer plate.
Similar to lox, cold-smoked salmon is an excellent choice for bagels and cream cheese. It also works great with blinis, crostinis, deviled eggs, and fresh vegetables.
While you can use cold smoked salmon or lox in cooked recipes, hot smoked salmon is simply a better choice. It fits exceptionally well in omelets, pasta, chowder, quiche, or creamy dips.
There are just countless tasty side dishes that you could combine lox or smoked salmon with, so long as you know how much salmon to prepare for each individual. And when you're in doubt, a simple sandwich with some smoked salmon/lox will never fail you.
Must-Try Lox And Smoked Salmon Recipes
If you're looking for cooking ideas, check out these irresistibly yummy lox and smoked salmon recipes.
If you haven't eaten lox and bagel, do yourself a favor and try some! In the earlier days when lox was super salty, it might be necessary to pair it with bagels to make the flavor less intense. Today, people just do so because it's just so delicious!
While lox is commonly seen with bagels, there are also other ways to enjoy it, and summer roll is one of them. For this light and refreshing snack, all you need are some lox (of course), avocado, cucumber, and rice papers.
If you're looking for a way to switch up lox and bagel, why don't you try making a bagel and lox pizza? Although there is "bagel" in the name, this recipe gives off a totally different vibe and will make for a perfect brunch option.
Smoked salmon's saltiness will pair flawlessly with scrambled eggs' mild taste and creamy texture. For a fancier breakfast, you can add some truffles into the mix for a kick of earthy, umami flavor.
Despite what people might think, making salmon risotto is quite a breeze. With just a little effort, you'll be rewarded with a creamy, silky smooth risotto. Top it off with thinly sliced smoked salmon, and you're in for a real treat.
Smoked salmon chowder is an incredible comfort food option, especially on a chilly winter day. Not only is this creamy chowder mouth-wateringly delicious, but it's also very healthy and quick to make. For the best taste, make sure to use hot smoked salmon.
FAQs
If you have any more questions about these two seemingly similar foods, don't forget to check out this FAQs section.
The Best Salmon Is The Salmon You Enjoy Best
In all honesty, smoked salmon and lox are equally delicious (and nutritious), so it's near impossible to decide which one is better. If you prefer lox over smoked salmon or vice versa, know that you're not, in any way, choosing the "inferior" salmon.
So what do you prefer, smoked salmon or lox? Let me know the answer in the comment section below. I'd also really appreciate it if you could like and share this article!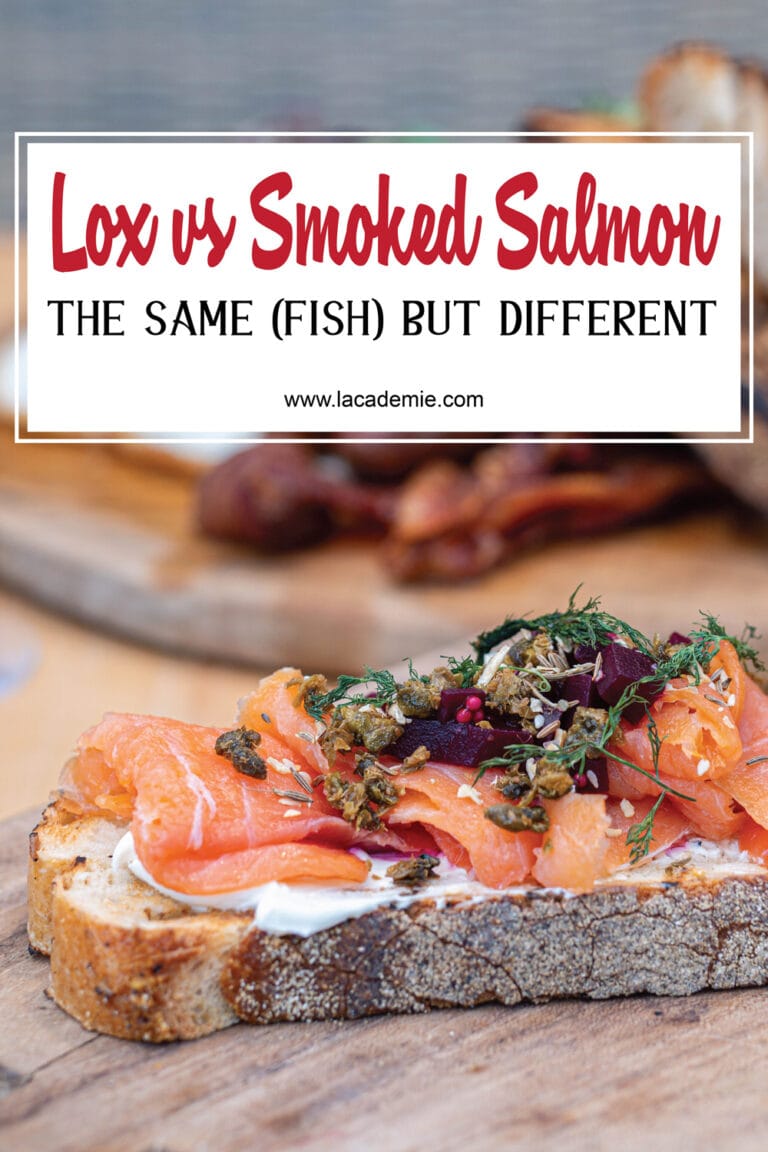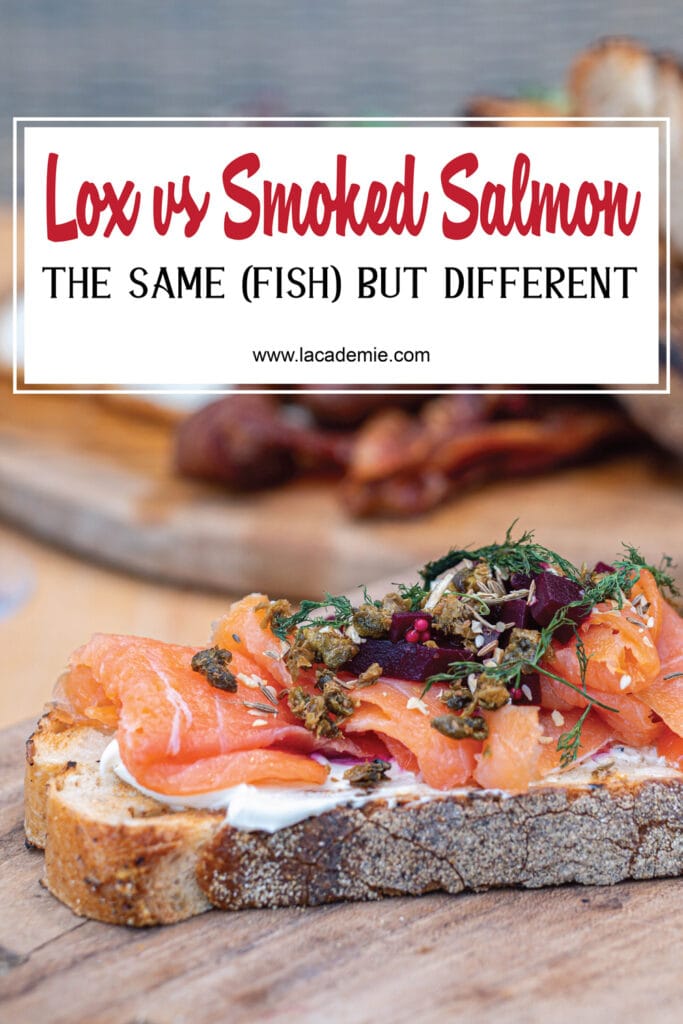 References
Contributors to Wikimedia projects, (2004). Lox – Wikipedia.
Contributors to Wikimedia projects, (2003). Smoked salmon – Wikipedia.