Can you eat salmon scales? Have you ever questioned yourself before? When cooking salmon, many individuals remove the scales because they believe it is just inedible. This is a habit of many cooks when it comes to preparing salmon.
However, in contrast to popular belief, experts agree that salmon scales can provide unexpected health advantages. In this post, I will discuss salmon scales, their benefits, and the best way to prepare and cook them. Let's dive right into it!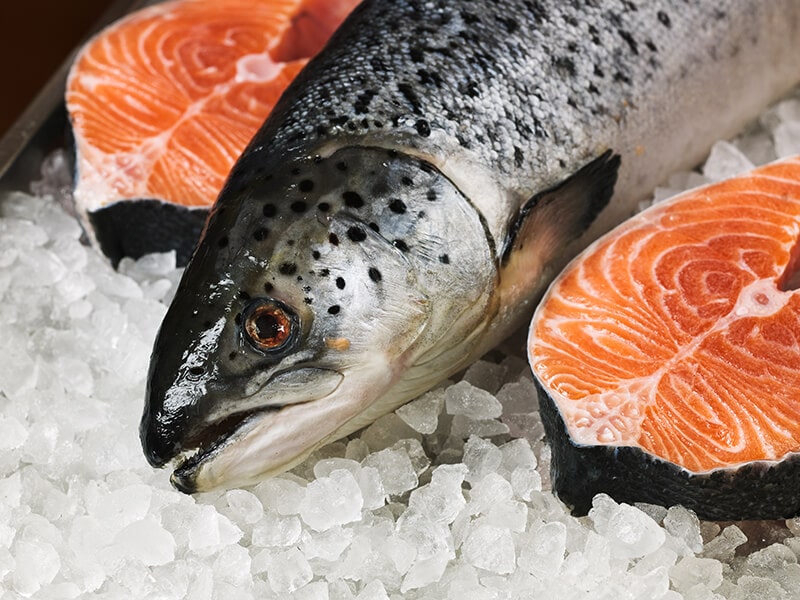 Can You Eat Salmon Scales?
It is common sense to remove the fish scales before cooking them. However, salmon scales are edible, and there are no health risks associated with eating them.
The rough and sharp texture of salmon scales is why people refuse to eat them. When these scales meet up with your tongue, you will notice that they are rough and tasteless.
Moreover, you must be careful when eating these scales because they can get stuck between your teeth, leaving small cuts on your mouth or scratching your throat. Therefore, most people believe salmon scales are unappetizing and risky to eat and often remove them before cooking.
Additionally, the scales serve as a shield to protect the flesh inside. The spices will not infuse the salmon thoroughly without removing the scales. It will make your dish tasteless and unappealing.
That layer also makes controlling the temperature during cooking difficult. You'll need to cook the scaly side longer or at a higher temperature. This means the non-scale side will likely burn unless you're skilled enough.
However, you can make salmon scales more pleasing to eat by deep frying or grilling them. In that case, they will have a crisp, crunchy texture.
Also, salmon scales have a high content of collagen (1). This protein helps slow down the aging process in the body and enhances joint elasticity and bone density (2). It also can decrease wrinkles on the skin.
As a result, salmon scales are pretty healthy and nutritious. So whether you consume salmon scales is a personal preference.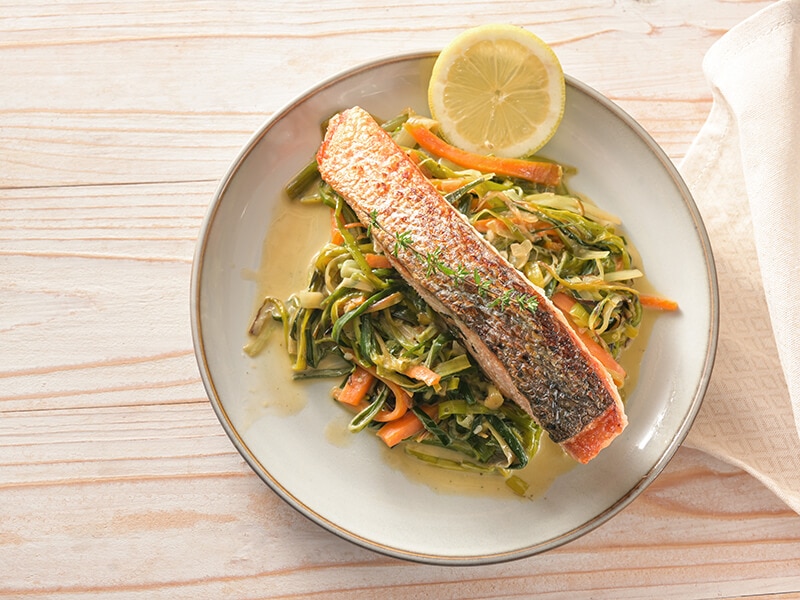 Can You Eat Salmon Skin?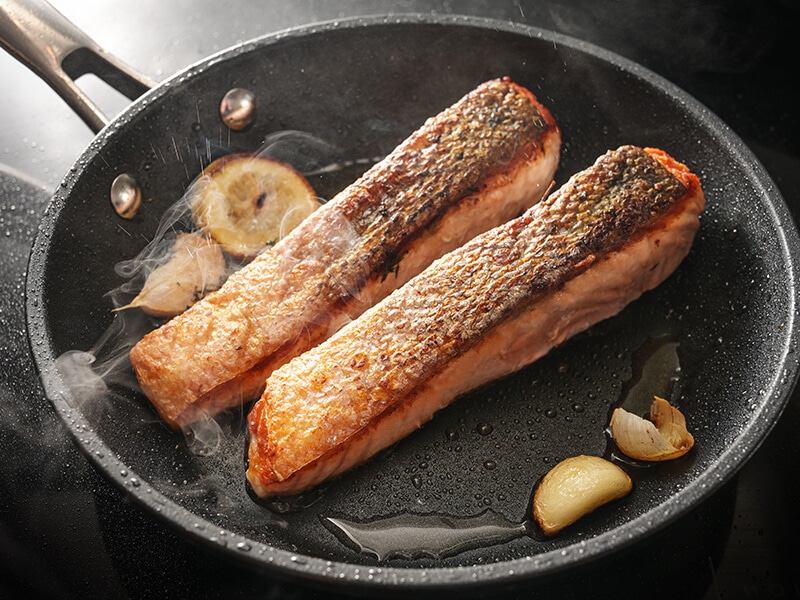 Salmon skin is entirely safe to eat. Some people remove it along with the scales. However, this is a loss of a huge nutrient source you can otherwise get from this fatty layer.
The Benefits Of Salmon Skin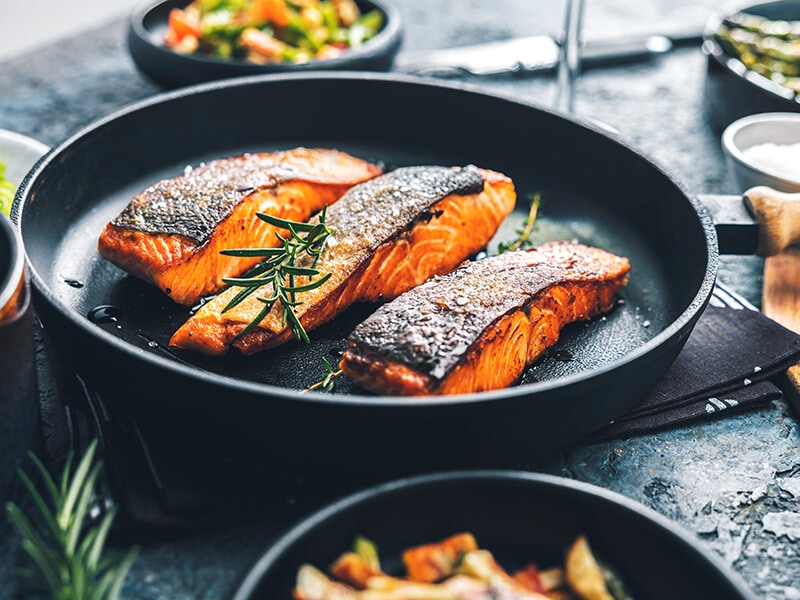 You'll get the perfect balance of flavor from the soft salmon and the delightful, crispy skin if you cook it correctly. Furthermore, salmon skin helps preserve the taste of the fish while preventing it from drying out during cooking.
Besides, salmon skin also contains various nutrients, including protein and omega-3. These substances can lower the risk of high blood pressure, the macular and brain cell degeneration.
Salmon skin also contains minerals (phosphorus, selenium, and potassium), vitamins A and E. These vitamins contain antioxidants in treating cardiovascular diseases.
The Concerns About Eating Salmon Skin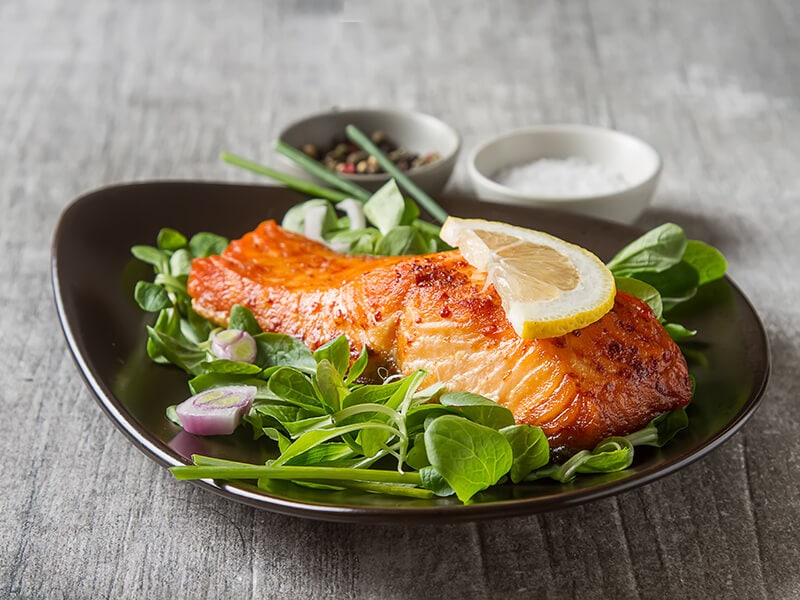 Although salmon skin has many health benefits, you should take caution when eating it. It would be best if you choose reliable and high-quality seafood suppliers. Salmon from unknown sources is likely to contain PCBs (polychlorinated biphenyls).
According to experts, this chemical is the most concentrated in salmon's skin and subcutaneous fat layer. PCBs can harm the endocrine glands or neurological and immunological systems severely. It is one of the causes of cancer.
Salmon skin provides a treat that not everyone knows about.
How To Tell Whether Salmon Is Descaled Or Not?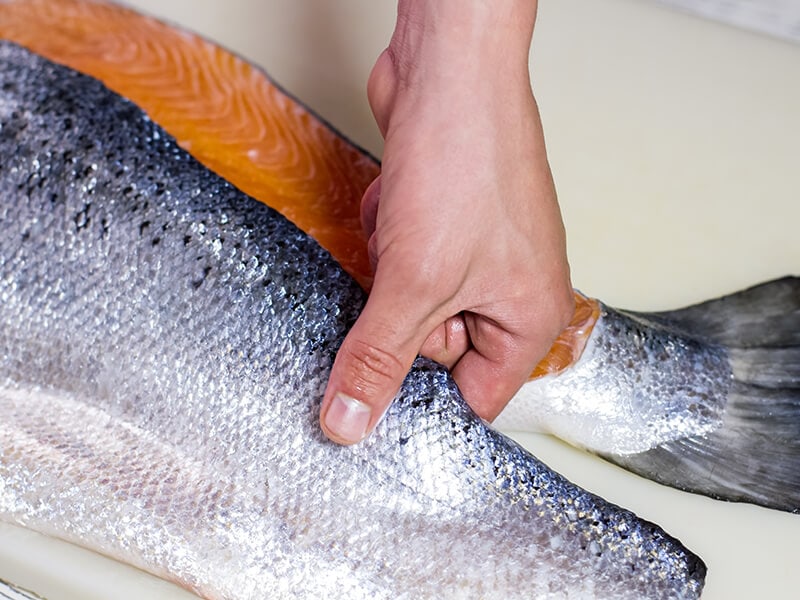 Most salmon filets sold in supermarkets are already descaled. Assuming you buy salmon chunks, the odds of it having scale are still low. Because most people don't like eating salmon scales, fish suppliers will scrape them to reduce preparation time for clients.
Take a quick look to see whether the fish still has scales. The rough scales are still there when you notice some sparkling on the top of the skin.
If you are unsure about your vision, touch the fish's skin. It is a descaled piece of salmon if the skin is smooth and has no resistance, like a bony or hard feeling. When the skin is rough and stinging, it's a salmon with scales.
When Should You Not Eat Salmon Scales?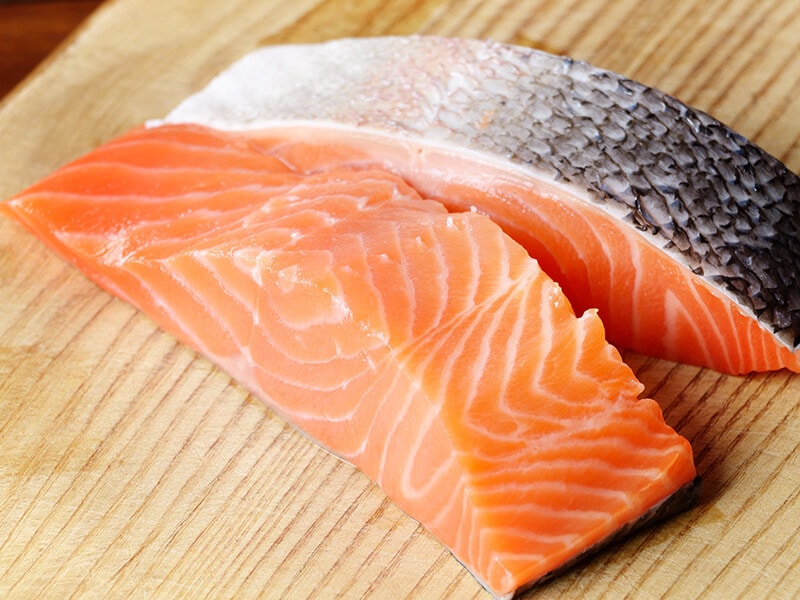 While salmon scales are rich in collagen, there are situations when you should avoid them. When the scales become entangled in your throat, they can create scratches. Those with a relatively sensitive throat should not eat salmon scales.
Besides, you should avoid keeping the scales of a large salmon. These scales are usually dense, hard, and big. It is difficult to prepare because the scales are too thick. You are unlikely to make it crispy at any chance. Also, it can hurt your throat when you eat them.
Furthermore, consider consuming salmon scales or salmon that has spoiled. Look at the salmon color to check its freshness and quality. If your fish has a darker color with strange white spots than others, it is most likely spoiled.
You can smell or touch the salmon slices to check. When the salmon is terrible, it will have a fishy odor, and its surface will be sticky. As you buy a salmon, look into its eyes. Dull eyes are typical in rotten salmon.
Lastly, if you are allergic to seafood or salmon scales, you should not eat them, no matter how good they are. Eating spoiled seafood can cause food poisoning, such as abdominal pain, nausea, vomiting, or breathing difficulty.
Do you know how to avoid spoiled salmon? Look and smell!
How To Remove Salmon Scales And Keep The Skin?
Removing salmon scales is simple, but you must do it correctly to keep the skin and flesh intact. Check out the instructions below for more details! You only need a knife, some water and towel paper.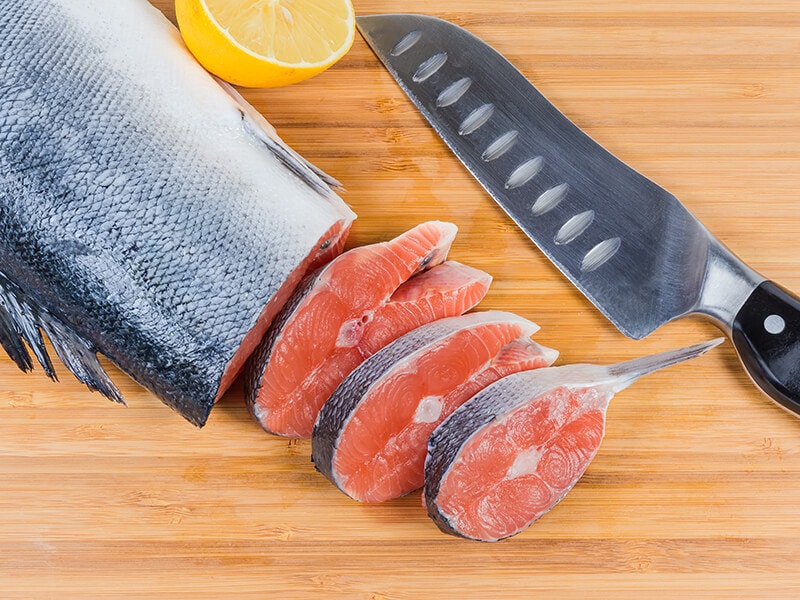 Step 1: Try To Figure Out The Scales' Direction
The first step in removing salmon scales is to determine the angle of the scale. Fish scales frequently overlap in the same direction, from the head to the tail. You may pluck the scales with your fingernail.
When descaling salmon, you should discard the scales in the opposite direction of their growth to make them fall off more easily. When they rise, you are plucking against the direction. That's what you need.
Step 2: Scrape Out The Scales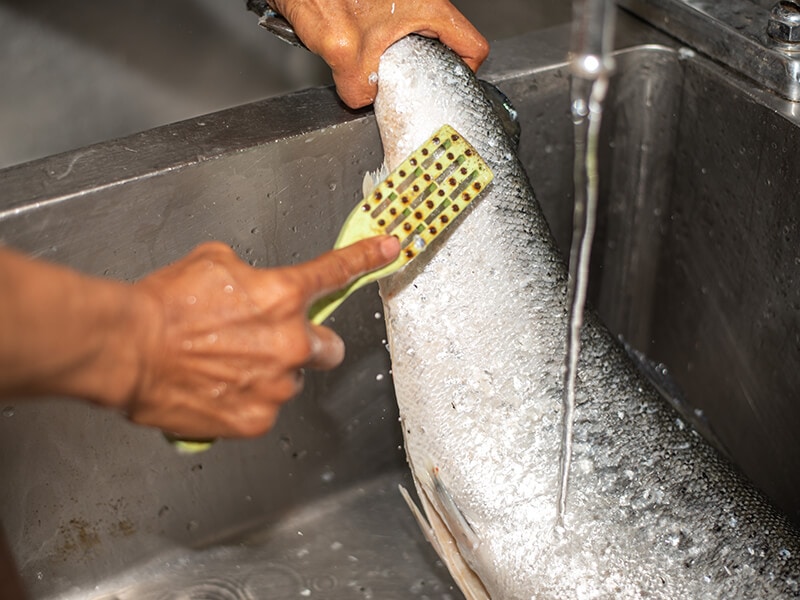 You'll need a blunt knife at this point. Assuming you don't have a dull knife, you may use your regular blade with a blunt edge. Hold the salmon piece firmly in your palm.
You don't have to be strong. If you must descale a whole fish, grab it by the tail. Use the blunt side of the knife to guide it against the direction of scale growth. Gently stroke and the scales will gradually fall off.
You can open a mild stream of water over the salmon piece. The water will help the scales slip off and prevent them from sticking to your palm. Repeat until you descale it all.
Step 3: Rinse The Salmon Under Water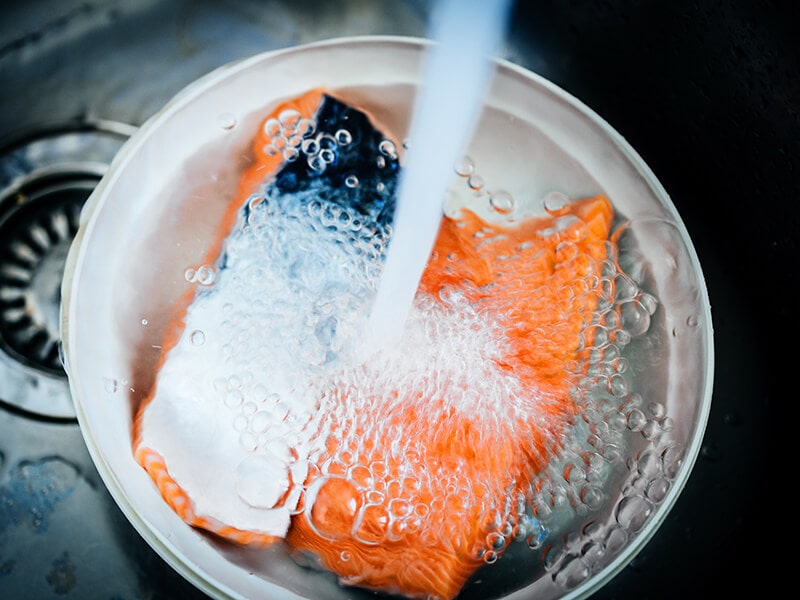 After removing the salmon scales, softly clean the fish with tissue paper. This will help remove any remaining scales on the fish's skin. Alternatively, you can wash and gently massage the salmon pieces under running water.
This is the most effective method for cleaning after descaling. However, you should dry the salmon entirely afterward. If you soak your salmon in water, it will not taste well when cooked.
Descaling salmon can be time-consuming, but the work is worth it.
How To Remove Both The Skin And Scales Of Salmon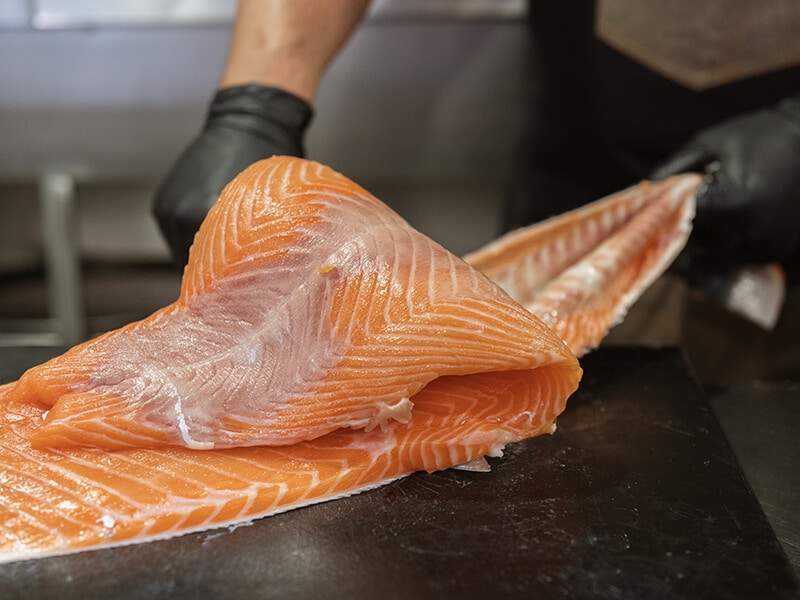 Sometimes you don't like salmon skin or need it for another recipe. In this situation, you can separate the salmon skin from the fish. Read these tips below to learn how to remove the salmon skin.
Step 1: Start With Small Cuts
You will need a sharp knife, preferably a professional kitchen knife. You should turn a filet upside down, so the filet will face the cutting board. Grab the end of the salmon, carefully making a tiny cut between the skin and the flesh.
Step 2: Remove The Skin
At this point, grip the skin you just cut, gently pull it and peel out the skin. If the skin sticks too hard with the flesh, bring the knife the rest of the way down. You may hold the knife as close as possible to the skin.
Step 3: Pull Out The Fish Bones
If you have to work with a whole salmon, you can slip your finger from the head to the tail of the salmon flesh. If you detect any hard spot under your finger, that would be the fish bones. Use tweezers to get them out.
Salmon with skin and scales on is good. Don't you want it? Feel free to remove it.
Should You Descale Salmon Before Or After Cooking?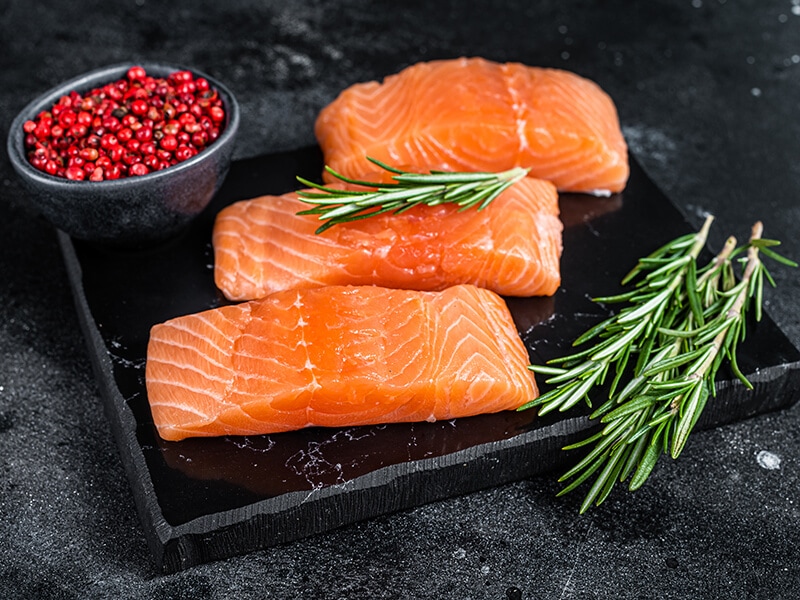 It comes down to your preferences to remove salmon scales before or after cooking. Even so, most people descale salmon before preparing it. The salmon scales will preserve the freshness of the fish but prevent spices from getting into the fish.
Therefore, I recommend removing the scales before cooking if you want all the flavors to soak into the flesh. Additionally, discarding salmon scales after cooking will make your task more complex than raw salmon.
After cooking, you need to burn the scales before eliminating them with a knife. Isn't it a lot of work? Besides, when you scrape scales after cooking, they will tend to fall off all over your meals.
How To Cook Salmon With Skin On?
As I previously stated, deep frying or grilling is the best way to enjoy salmon with skin. I've already compiled recipes that involve salmon skin. These recipes are perfect for you when you are bored with the normal method of cooking salmon.
What should you do when you only have pepper, skin-on salmon, and Kosher salt? Of course, what else except pan-seared salmon? You can easily add salt and pepper to make a lovely dish of salmon. There is no need for cooking oil in this recipe!
Do you want salmon with wasabi but with something different than sashimi or sushi? You should look at this recipe. This meal requires wasabi, honey, ginger, and salmon. You just need about 30 minutes to whip up this delicious meal.
Do you enjoy tasty, crispy fried food? Then you can't miss this meal. You may create this dish with only a little oil, salt, and skin-on salmon filets. This crispy salmon is best when served with salad or mashed potatoes.
The crispy salmon dish will make you fall for it. Why not jump right into the recipe now?
How To Cook Salmon With Scales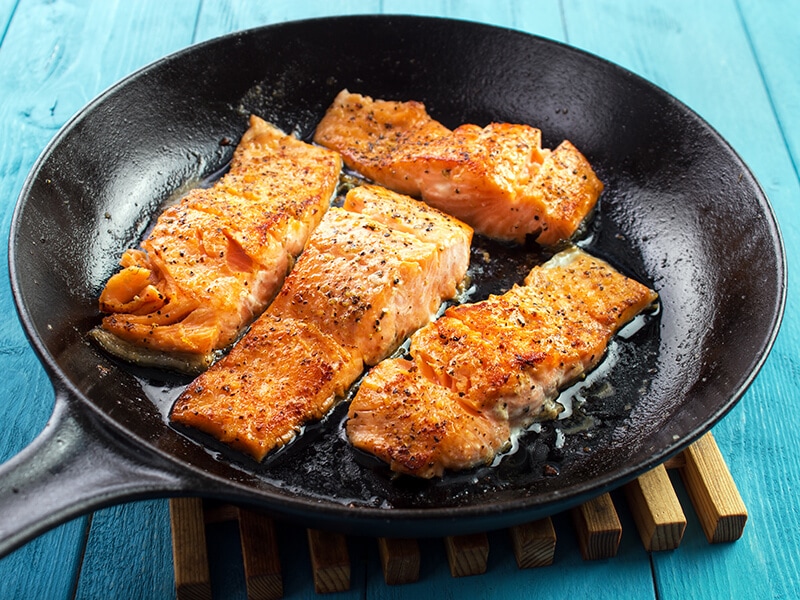 Salmon scales are high in nutrients but are frequently wasted as they require cooking effort. When you keep the scales on the salmon, they keep the flesh moist and prevent the loss of essential nutrients. When you cook salmon in this manner, the scales get wet and are difficult to chew.
The best technique to cook salmon with scales is to crisp them up. Deep-frying, grilling, or pan-frying are the best ways in this case. I advise against using techniques such as boiling or steaming.
With these cooking methods, controlling the temperature will allow the skin to be crispy and aromatic while keeping the flesh moist, tender, and tasty.
FAQs
Salmon is good as long as you know how to deal with it properly. Read the extra information below to learn more about the fish!
It's Up To You To Keep The Scales Or Not!
Salmon scales have a rough texture that might get trapped in your throat or between your teeth. They can be just as tasty as the flesh and skin when prepared properly. These scales also provide essential nutrients to your body.
It is entirely up to you whether or not to eat salmon scales. But why not give it a shot if you're comfortable with it? What do you think about this post? Tell me about your opinions in the comment section. Let's like and share this article so that it reaches more people.
References
Availability of marine collagen from Newfoundland Fisheries and Aquaculture Waste Resources (2019) Bioresource Technology Reports.
Brennan, D. (2020) Health benefits of collagen: Pros and cons, nutrition, and more, WebMD. WebMD.