How to tell if salmon is bad? Have you ever doubted the quality of your salmon when you don't remember how long you've stored it? I suppose that you've. I will help you to clear your doubt with just some simple and practical tips. Let's hope that your salmon is still edible.
Given how loved salmon is, you probably want to store plenty at home, so you don't have to go to the supermarket when you suddenly feel like having salmon for dinner. However, there is a risk in doing that. You might not know when it expires. I am here to help. Let's begin.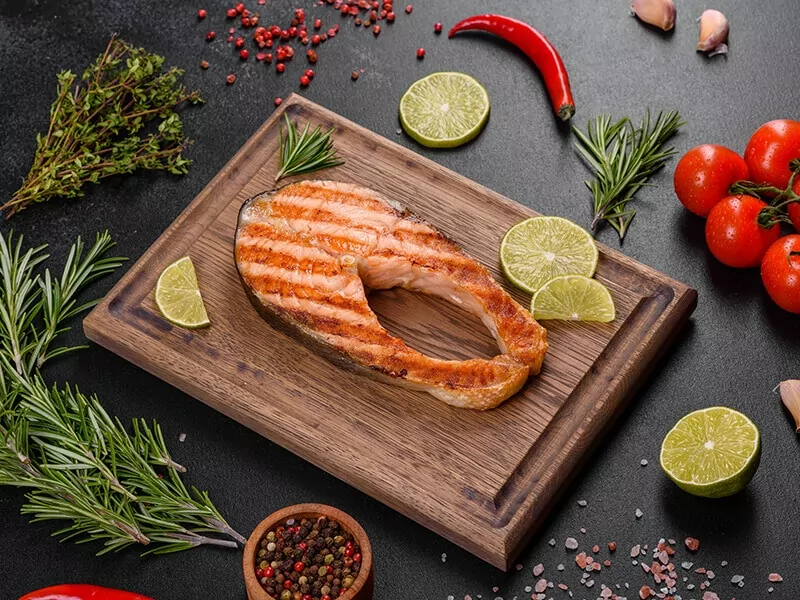 What Does "Bad" Salmon Look Like?
Once spoiled, salmon cannot maintain its original flavor and texture. Instead, some awful and unpleasant characteristics will show up. That is when you should get rid of it right away.
Sometimes, signs of spoilage may not be that obvious, thus requiring you to keep a keen eye on the fish. I'm certain you don't want to spend all that requisite time to cook salmon at 400F only to find out that the salmon is already spoiled in the first place.
In short, to detect spoiled salmon, you have to check for its look, smell, and texture. Bad smell, dull appearance, and mushy texture are the warning signs which tell you that your favorite salmon can no longer be eaten.
Amazingly, this article does not just show you when to throw salmon away. It also gives you information about its shelf life and the storage, reheating, and thawing techniques. You will not see spoiled salmon as long as you apply these methods properly.
Throw Your Salmon Away When These Symptoms Appear
Spoiled salmon will ruin your day. But it is better to know that it is rotten in advance to protect yourself from foodborne illness caused by spoiled food. Use this guide to check on your salmon whenever you feel something wrong about it.
It's Expired
Salmon always have the used-by date or sell-by date stated on the package. Salmon that pasts the sell-by and used-by date can be still safe to eat. But its quality will decrease over time.
It's Curved In Shape And Has Unlively Eyes
When you buy and store whole salmon, check its shape. Lift it in the middle with one hand. Curved salmon is less fresh than straight salmon.
You should also check its eyes. Fresh salmon should have clear and bright eyes. Discard salmon whose eyes are dull, cloudy, or have some small red areas.
It Has A Bad Smell
Smell is a very important factor to consider when you are checking for spoilage signs. Salmon with an off and rancid smell must not be eaten as it may cause foodborne illnesses.
Good salmon usually has no noticeable smell at all. If you notice that your fish has developed a fishy, sour, or ammonia-like odor, it's time to discard it.
It's Dull And Discolored
When salmon is exposed to air for too long, its color starts to change. Fresh salmon has an attractive pink, orange, or red hue. In contrast, salmon that is pale and darkened may be spoiled. You should not eat it.
In addition, salmon that looks unappetizing with uneven dark spots or milky white crust is seriously spoiled. You must get rid of it right away.
It's Mushy
You should check the texture as well. Fresh salmon is always firm to the touch. Slimy, milky, and mushy salmon is not good to eat. In contrast, dry salmon is not high-quality salmon, either.
The best way to test the firmness of fresh salmon is to press it. If it is elastic, then it is still fresh. Whenever it is not, then you should discard it. In addition, fresh salmon does not easily tear apart. Whenever that happens, toss it.
It Has Mold
Mold is the most serious spoilage symptom. It comes in white, green, or gray impurities stuck around the salmon. When mold appears, it means that too much bacteria has grown, and the salmon is no longer safe to eat.
Unlike other symptoms, mold is dangerous for you. But luckily, the sign is identifiable, and you can recognize it immediately when you look at salmon. Make sure you throw it away.
Can Eating Spoiled Salmon Make You Sick?
Salmon is among the most nutritious foods in the world. It is rich in protein and omega-3 fatty acids, which help to promote your heart health and reduce the risk of obesity and thyroid disease. (1)
This is one of the most crucial questions that any salmon lover should know to protect themselves from the consequences of eating spoiled salmon. But don't worry, as long as you know the warning signs and discard the spoiled salmon, you should be fine.
On the other hand, salmon with more serious spoilage signs, such as mold or rancid smell, is likely to make you sick. There are plenty of harmful bacteria in it that will cause foodborne symptoms such as nausea, diarrhea, stomach pain, vomiting, fever. (2)
The symptoms will develop after several hours or even several days, ranging from mild to severe conditions. They can have short-term and even long-term effects on your health. You should see a doctor if you have severe symptoms such as high fever and dehydration.
The consequences of eating spoiled salmon are vast and dangerous. You should avoid them at all costs. Better safe than sorry, you should throw salmon away even when you're not sure about its safety.
How Long Can Salmon Stay Fresh?
The shelf life of salmon is somewhat similar to other seafood and meats. It cannot stay long at room temperature but can live longer in the fridge and freezer if stored properly. See the table below to learn about the shelf life of different types of salmon.
| Type Of Salmon | Room Temperature | Fridge | Freezer |
| --- | --- | --- | --- |
| Raw Salmon | 2 hours | 1 - 2 days | 2 - 3 months (peak quality), can stay edible within 6 months |
| Cooked Salmon | 2 hours | 3 - 4 days | 2 - 3 months |
| Smoked Salmon | 2 hours | 5 - 7 days | 6 - 9 months |
| Canned Salmon (opened) | Not recommended | 3 - 4 days | 9 - 12 months |
| Canned Salmon (unopened) | 3 years | Not recommended | Not recommended |
As you can see, except for unopened premium canned salmon, other types of salmon cannot stay at room temperature for more than 2 hours. They definitely will spoil after that time.
Once you decide not to eat them at once, put them in the fridge to consume after several days. Smoked salmon has the longest shelf life, cooked salmon's estimated shelf-life in the fridge usually isn't longer than 5 days, while raw salmon and marinated salmon can only last for 1-2 days.
The freezer is a perfect environment to store salmon. The time salmon can stay fresh in freezers can be up to months. However, its quality will possibly deteriorate after half of the time stated in the table. Because of that, you should try to eat salmon as soon as possible.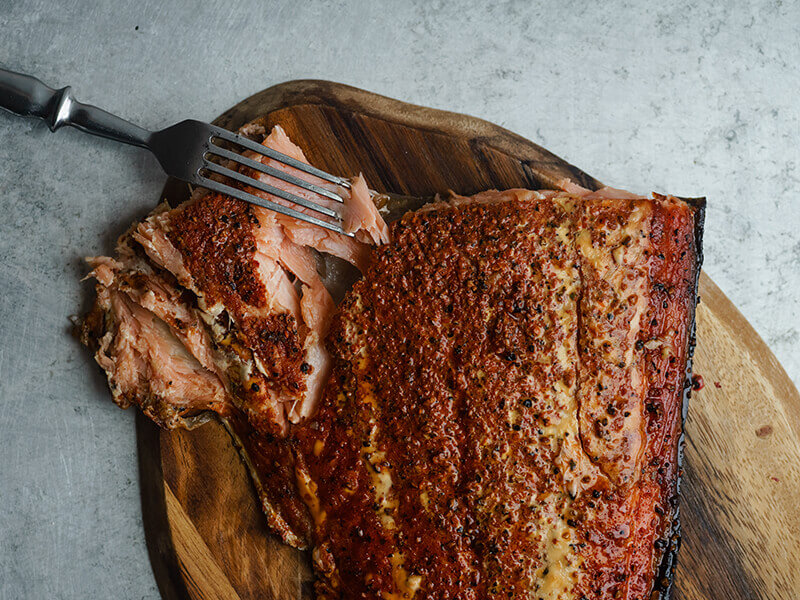 How To Store Salmon So That It Won't Spoil Quickly?
Storing salmon properly is a never-ending topic, given how popular salmon is. But actually, it is an easy task. It just requires some effort and a few minutes. Anyone can do that. Let's jump right into it.
In The Fridge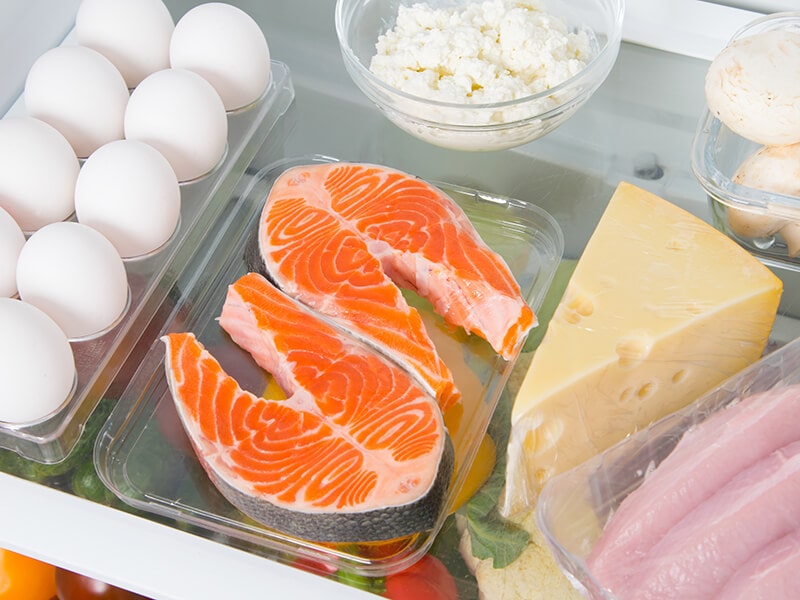 Storing salmon in the fridge helps it to last for several days. Its quality will remain the same while being refrigerated.
The fresher salmon is, the longer it will last. Therefore, you should try to refrigerate salmon as quickly as possible after buying it from the supermarket. You can ask the seller for some ice to keep the salmon at low temperature.
If the salmon is already wrapped, do not open it. Just put it in the coldest place in your fridge. Otherwise, wrap the salmon in a plastic layer, aluminum foil layer, vacuum sealer, or put it in an airtight container. The ideal temperature is 32-40°F.
Keep in mind these useful tips to store salmon, watch this video to know:
In The Freezer
By now, you probably already know the answer to whether smoked salmon is freezable. However, to maximize salmon's shelf life without compromising its overall quality, you still need to know the correct method. Make sure you rinse it well before freezing. Cut it into portions if it is too big.
Wrap the salmon with two layers, the first one is a plastic layer. And the second one can be a piece of freezer paper, an aluminum foil layer, or a vacuum sealer. You have to wrap it tightly and carefully. Make sure you squeeze out all the air in the package to prevent bacteria growth.
The recommended temperature for storing salmon in the freezer is 0°F. You should place it in the coldest area of the fridge, ideally far away from the door to prevent exposure to air.
Before freezing salmon, use a sharpie pen to write the current date so you are reminded of how long you've stored it whenever you open the freezer.
Learn more about the excellent technique to store salmon now. Watch this video to know:
Thawing Salmon Is Now An Effortless Job
Thawing salmon is rarely a struggle. It is just a matter of time. I will give you 3 methods to thaw salmon. You may choose one depending on how much time you have before the meal.
In The Fridge
This is the best way to thaw salmon. However, it takes quite a lot of time. Thawing salmon in the fridge helps to maintain its flavor and texture. Transfer the salmon from the freezer to the fridge and wait for 12-24 hours, depending on how big it is.
Do not put salmon near other sweet foods since it will make them smell fishy. To prevent the water from defrosted salmon from dripping all over your fridge, a high-quality defrosting tray is highly recommended. Alternatively, you can place the fish on a large, shallow dish.
In Cold Water
Submerging the package into cold water is another great way to thaw salmon. Given that you plan to eat salmon in the evening, then you can thaw it this way in the morning. It will need about 20 minutes to 1 hour to go back to the original state.
You just need to discard the package and put salmon in a resealable bag. Make sure you remove all the air in the bag. Next, place the salmon in a bowl of cold water.
Make sure you replace the water after 10-15 minutes to ensure that salmon always interact with cold water. It is best to keep the temperature at 40°F.
Thawing salmon in cold water is even easier with this illustrative guide. Watch this video:
In The Microwave
In case you are in a hurry, you have no way but to thaw salmon in the microwave. I wouldn't recommend this method if you still have plenty of time. The microwave may dry out the salmon.
To use this method, remove the wrapper and place the salmon on the middle of a paper towel and wrap it with another layer of paper towel. Then, put the wrapped salmon in the microwave and choose the defrost option.
Microwave it for approximately 2-3 minutes, then turn to the other side and leave it there for 1 minutes.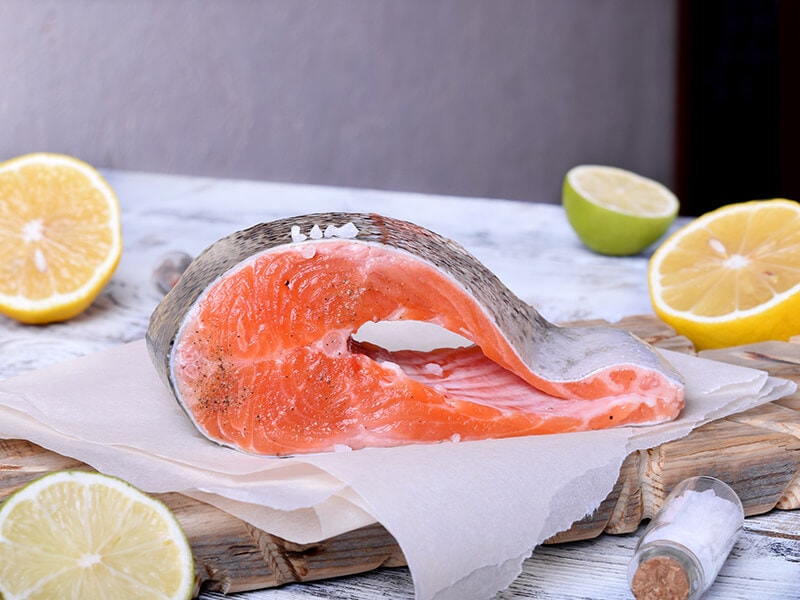 Note: No time to spare? No worries, the good news is that you can skip the thawing step. Just put the frozen steak in any heating device, such as oven, airfryer, and microwave.
Reheating Salmon Is No Longer A Daunting Task
Like storing and thawing, reheating leftover salmon is an important step. You have to do it carefully to get the best taste of it. Here are some effective methods, including the best and the worst.
See the table below for a brief summary of the reheating methods:
| Preheating Devices | Heat | Expected duration time |
| --- | --- | --- |
| Oven | 275°F | 15 minutes |
| Air Fryer | 350°F | 5-10 minutes |
| Stove Stop | Medium-low | 12 minutes |
Use The Oven
The oven is the best device to warm up salmon. You can maintain most of its texture and flavor. First, preheat the oven to 275°F. In the meantime, drizzle some lemon juice or olive oil over the salmon and wrap it in a layer of aluminum foil.
When the oven reaches the preset temperature, place the salmon on the baking sheet and put it into the oven. Wait for approximately 15 minutes, until its internal temperature is between 125°F-130°F. And your salmon is ready to serve.
In case something crops up and you're not ready to serve the reheated salmon, there are still several ways to maintain the food's warmth inside the oven. This is why I highly recommend using the oven, as it can both reheat your salmon and keep it warm for a long time.
Use The Air Fryer
You can also reheat salmon in the air fryer. This method is easy and takes less time. So it is a good option besides ovens. You just need to put salmon in the air fryer basket. Next, set the heat to 350°F and the heating time to 5 minutes.
After 5 minutes, check whether the salmon is completely heated. If it is not ready, put it back in for another 5 minutes.
Use The Stove Top
The stove stop is also a very great tool to reheat salmon. Reheating the right way can help to retain salmon's flavor and texture.
Reheating salmon on the stove stop cannot be easier. Heat the stove top at medium-low heat, and pour some olive oil in the pan. You should also use olive oil to coat the salmon to prevent moisture loss. Next, put the salmon in the pan.
Each side of salmon needs roughly 5-6 minutes to warm up.
FAQs
It's time for questions and answers. Here are questions that are most asked regarding the shelf life of salmon. You may have similar concerns in the future, so it's better to know the answer in advance.
You Will No Longer See Spoiled Salmon
How to tell if salmon is bad? Check its smell, look, and texture. Spoiled salmon is awful. You will not want to see it in your fridge. Follow the guide that I have given you, and you will never have to throw away salmon. The best tip is to store it properly and to eat it as soon as possible.
Don't forget to leave some comments! What is the storage method that you are using? How do you thaw and reheat salmon? I am very curious about that.
References
Medical News Today, 2021. Salmon: Health benefits, facts, and research. [online] Available at: <https://www.medicalnewstoday.com/articles/307811#nutritional-breakdown>
Centers for Disease Control and Prevention, 2021. Food poisoning symptoms. [online] Available at: <https://www.cdc.gov/foodsafety/symptoms.html>