How much salmon per person is enough? Although salmon is a widely-loved and consumed seafood, not everyone knows the right amount of salmon in one serving.
This can lead to overbuying and wasting this delicious and expensive fish. The worse thing is, you might be eating too much salmon, which may leave a negative effect on your well-being.
In this article, let's look at how much salmon a person should consume, several useful tips for buying the best salmon, and some myths about salmon eating.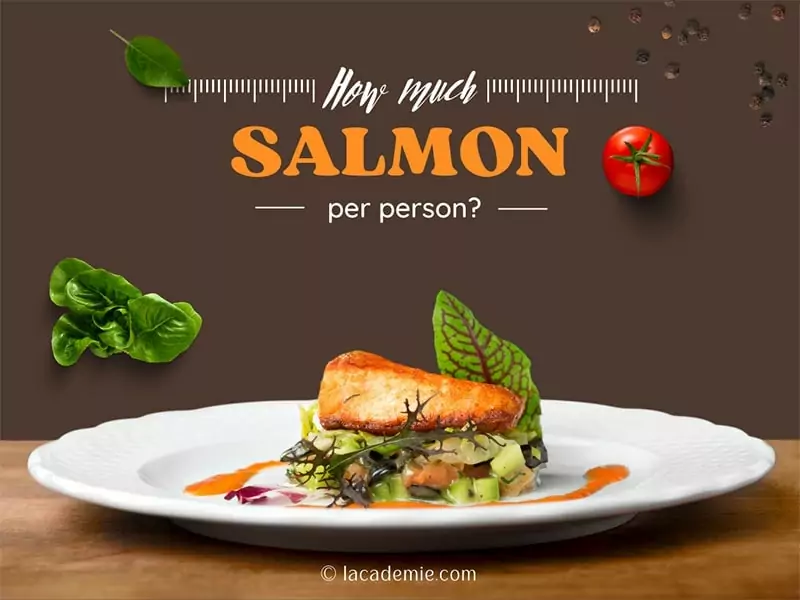 The Ideal Amount Of Salmon Per Person
Not only is the unmistakable flavor of salmon incredibly tasty, but it also makes a healthy addition to any diet. Even store-bought canned salmon are healthy and delicious. Let's take a look at the ideal amount of salmon per serving and how much salmon you should eat in a week.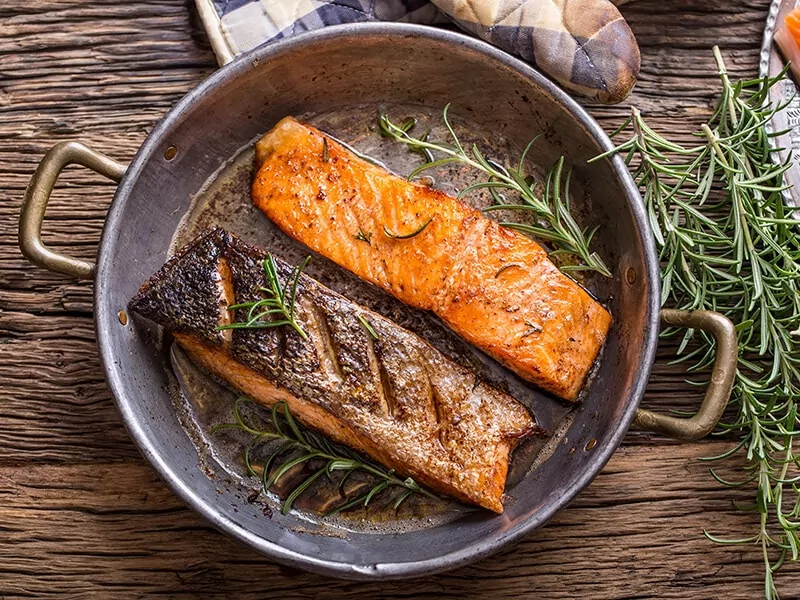 On average, a healthy one-person serving should contain about 3-4 ounces (85 grams to 113 grams) of salmon.
To reduce the risk of heart stroke, it's recommended to eat two 3.5-ounce servings of non-fried salmon or other low-mercury fish per week. This amount is equal to roughly ¾ cup of flaked fish.(1)
Ideally, an adult should consume at least 6-8 ounces of oily seafood like salmon, striped bass, mackerel, cobia, sardines, or herring a week.(2)
Children can also benefit greatly from consuming twice a week. However, the amount of salmon per serving will vary based on their age.(3)
| | |
| --- | --- |
| Children's age | Serving size |
| 1-3 years old | 1 oz |
| 4-7 years old | 2 oz |
| 8-10 years old | 3 oz |
| From 11 years old | 4 oz |
Women that are or might become pregnant and nursing mothers are advised to integrate up to 12 ounces of low-mercury fish and shellfish into their weekly diet. This amount can be divided into two 6-ounce servings.(4)
Some great examples of such seafood include salmon, shrimp, gob-smacking canned tuna, catfish, and pollock.
Although the amount above doesn't seem that high, most Americans, unfortunately, don't even come close to eating the recommended amount of seafood per week.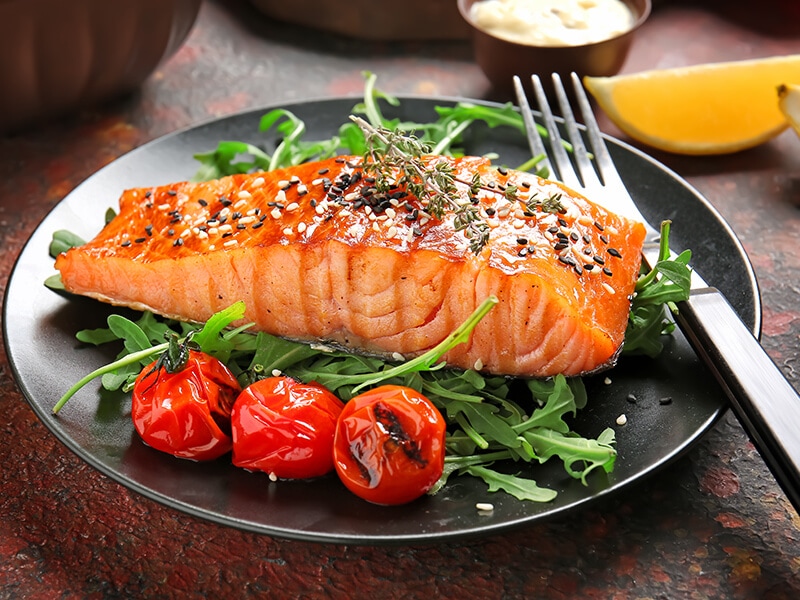 According to a national survey, only about ⅓ of Americans consume seafood once a week. At the same time, nearly half rarely eat fish or don't eat fish at all.(5)
Why Do Americans Shy Away From Fish?
Well, for some people, it's because they don't enjoy the taste of fish.
Some think that fish isn't worth the high price, while others either can't find a good seafood store or don't know the correct way to prepare and cook fish. This is totally understandable as fish like salmon can be quite expensive and a bit hard to prepare if you buy whole fish.
Another reason that might put off many from buying salmon is how complicated it can get to cook the fish. Not to mention that you'll have to remember the recommended time length to cook salmon at 400 degrees and many other trivia for a successful dish.
This is why more often than not, you'll come across dishes prepared from canned salmon rather than fresh ones. While canned salmon dishes might not have the appeal of fresh salmon, they are still delicious in their own rights, and these have the advantage of being easy to prepare.
Another reason for Americans' low fish intake is the concern over the contaminants found in fish, such as pesticide residues, mercury, and other fish toxins. Take salmon for example, some people avoid eating it for fear that the mercury content will make them sick.
But will eating seafood like salmon really harm you? I'll address this topic later in the article, so make sure to keep reading.
How Much Salmon Should You Buy
Now that you've known the ideal amount for one person, you should have no problem buying salmon for yourself. But what if you have to cook for a family of four? What if you've made so many delectable salmon side dishes that they may outshine salmon? Worry not; I've got you covered!
Note that you'll need to adjust the amount of salmon bought depending on the cut. If you don't want to cook too much salmon and worry about the time length refrigerated cooked salmon last in fridges, have a look at the concise table below.
| Serving | Whole salmon | Salmon fillet | Salmon steak | Dressed salmon |
| --- | --- | --- | --- | --- |
| 1 | ¾ to 1 lb | ⅓ to ½ lbs | ⅓ to ½ lbs | ½ to ¾ lbs |
| 4 | 4 lbs | 2 lbs | 2 lbs | 3 lbs |
| 6 | 6 lbs | 3 lbs | 3 lbs | 4.5 lbs |
| 12 | 12 lbs | 6 lbs | 6 lbs | 9 lbs |
For Whole Or "In The Round" Salmon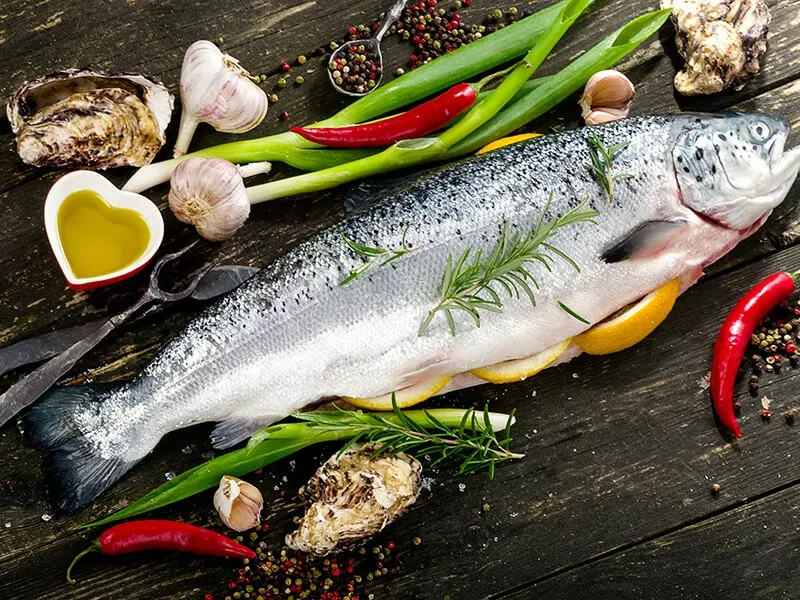 Whole salmon is sold to you exactly how they came out of the water with all the gills, skin, and eyes intact. If you're buying this type of salmon, opt for about ¾ to 1 pound per person.
Provided that one person eats 1 pound of salmon, you'll need 4 pounds of salmon for 4 people, 6 pounds for 6 people, and 12 pounds for 12 people.
For Salmon Fillets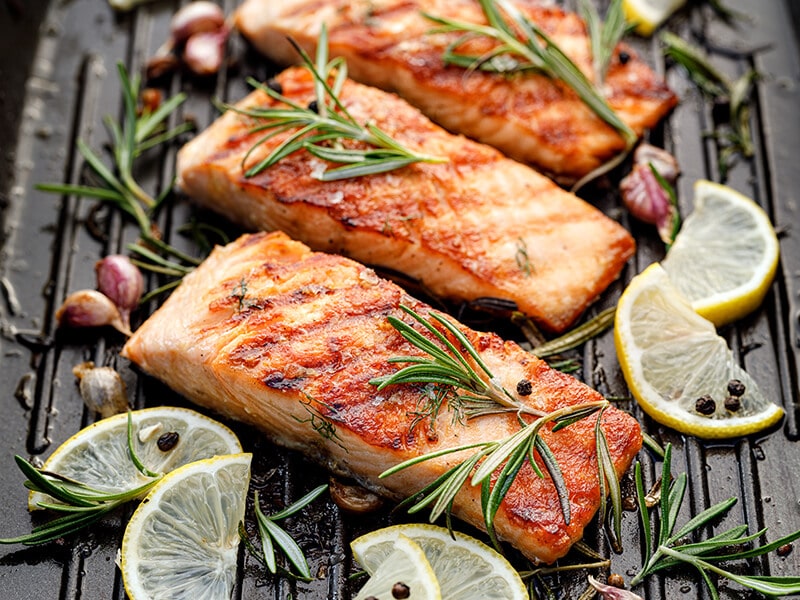 Since fillets are descaled and boneless slices of salmon, you don't need to buy as much as the whole fish. Provided that the time length you bake salmon fillet at 350 degrees is correct, usually, 1 person will eat about ⅓ to ½ pounds of salmon fillet.
So if you're serving salmon to 4 people, your safest bet is to buy 2 pounds of salmon fillet, 3 pounds for 6 people, and double that to 6 pounds for 12 people.
For Salmon Steaks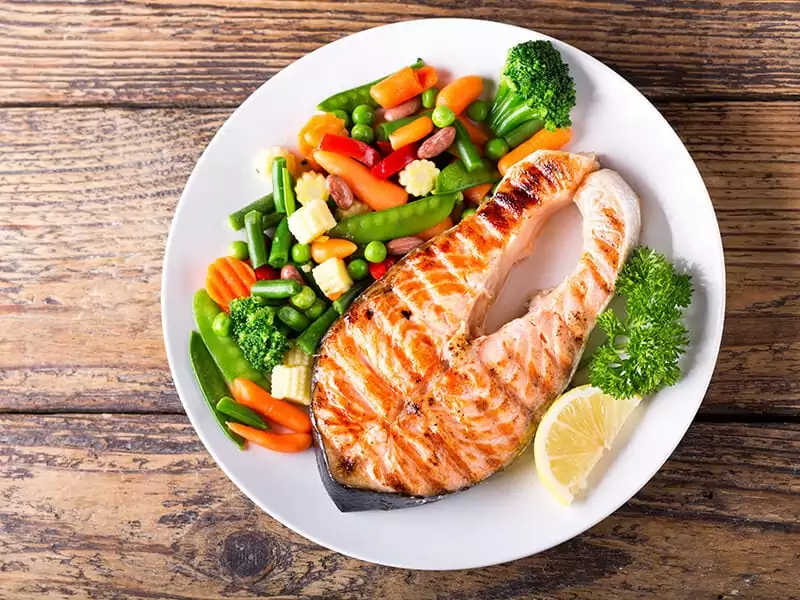 Unlike salmon fillets, where the slices are cut lengthwise and contain almost no bone, salmon steaks are sliced crosswise and might or might not include bones.
However, the amount that you need to buy for salmon steaks is similar to that of the fillets: ⅓ to ½ pound per person.
If 1 person consumes ½ pound of salmon steak, you'll need to buy 2 pounds for 4 people, 3 pounds for 6 people, and 6 pounds for 12 people.
For Dressed Or Pan Dressed Salmon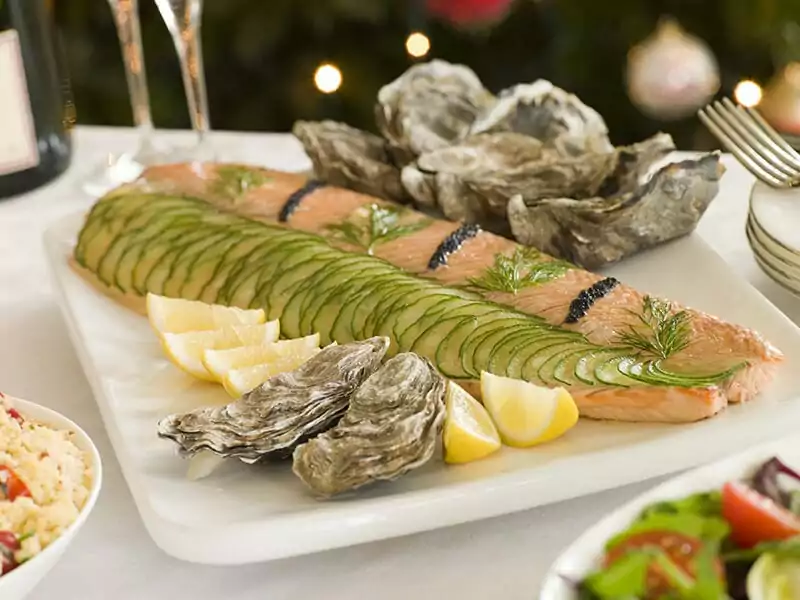 Think of dressed salmon as a whole salmon minus the viscera, head, tail, and scale. Typically, about ½ to ¾ pound of dressed or pan dressed salmon should suffice for 1 person.
If you're aiming for a ¾-pound serving per person, you'll need 3 pounds for 4 people, 4.5 pounds for 6 people, and 9 pounds for 12 people.
5 Handy Tips For Buying Salmon
Buying seafood, especially salmon, can be a bit tricky, so you might want to know by heart the indications of salmon that have gone bad first. Here are some handy tips for your salmon buying trip so that you'll be able to get the best salmon for your money.
Learn About Salmon Varieties
Not all salmon are created equal; some of them are more oily (and more pricey) than others. For instance, although they're both made from salmon, there are many distinguishing aspects between smoked salmon and lox. So it's best that you know what salmon varieties there are.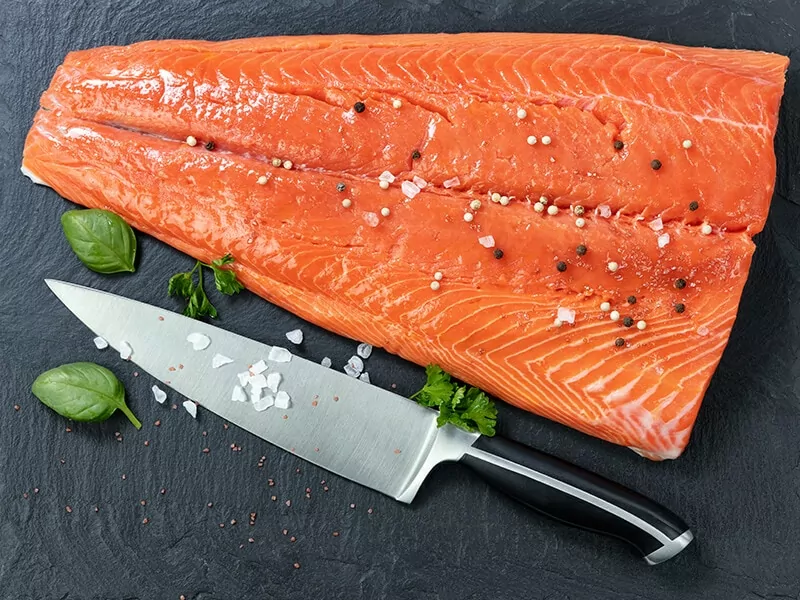 King (Chinook) salmon is considered one of the best salmon varieties as it boasts a large body, beautiful pink color, and the highest oil content.
Atlantic, Red (Sockeye), and Silver (Coho) salmon are right next to King salmon on the quality list, with Chum and Pink salmon at the bottom.
The better the salmon is, the higher the price tag will be. So if the quality is your only concern, go for King salmon. Otherwise, it's totally fine to opt for the cheaper types since they're also nutrient-packed.
Understand Where And How It Is Caught
Oftentimes, you'll see salmon marked as Pacific or Alaskan. These labels indicate where your salmon was caught. But the more important factor to consider is the way they were caught or raised, which includes wild-caught salmon and farmed salmon.
As the name implies, wild-caught salmon are caught in their natural habitats. They can be troll-caught or line-caught and are generally a bit pricier than farmed salmon. Wild salmon do have better fat contents, though, so you're not wasting your money.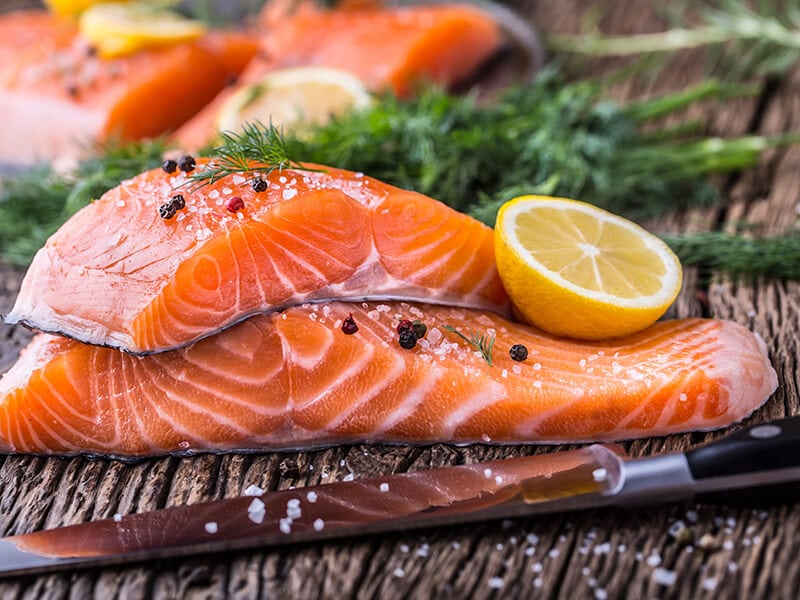 Farmed salmon is a topic of great controversy since they're considered harmful to the environment. Without getting too deep into this arguable topic, rest assured that there are now technologies to make salmon farming more sustainable.
In general, farmed salmon has a bit more omega-3 fatty acids than wild salmon but also contains more calories and saturated (or bad) fats.
Wild salmon is often considered superior to farmed salmon but is the quality really that far apart? Let's see this video to know:
Sometimes, Frozen Is Better Than Fresh
It is common knowledge that fresh food is better than frozen food. However, this rule does not always apply to salmon.
If you're living in Alaska, Maine, Oregon, or other places with access to freshly-caught salmon, then yes, fresh salmon is always the best option.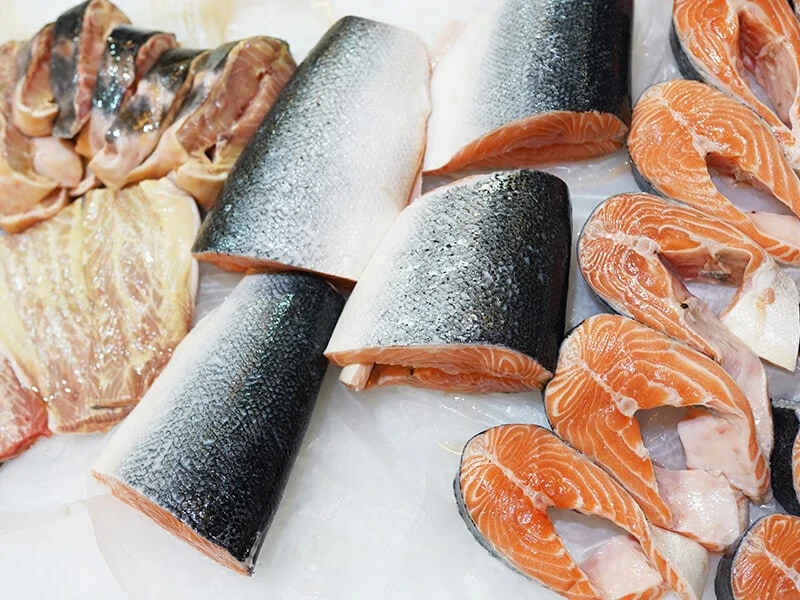 Otherwise, it's better to buy "flash-frozen" or "once-frozen" labeled salmon as these fish are frozen right after being caught, thus retaining all their flavor, texture, and nutrients.
When buying frozen salmon, choose a busy store and take notice of the fish's expiration date. It'll also help to remember the maximum time salmon can be frozen so that you can pick the freshest one for meal preparation.
You should also steer clear from salmon with old or broken packaging. Typically, frozen salmon will stay good for about 3 months.
Choose The Right Cut
Choosing the right cut of salmon for your purpose will save you plenty of time and effort in the kitchen.
If you're cooking for many people, it's best to buy a whole salmon as it will be quicker to cook the whole thing and divide it into servings later.
A whole side of salmon is also perfect for curing or smoking. Feel free to decide whether you want your salmon to be cooked or raw after smoking.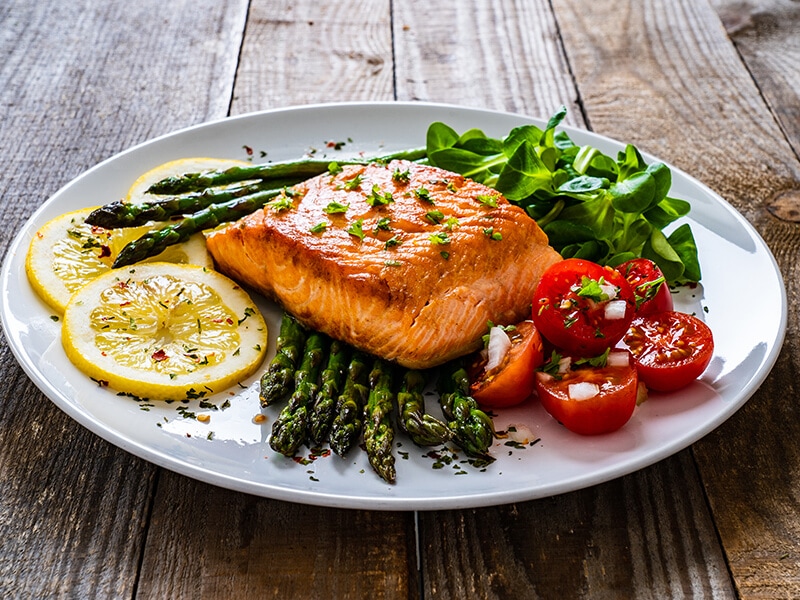 Either salmon steaks or fillets are suitable for a small family-sized meal. The fillets are perfect for roasting, grilling, poaching, or pan-searing. Their skins will turn crispy after cooking, which is one of the main reasons why so many people adore salmon fillets.
Salmon steaks will take a bit more time to prepare as there might still be bones inside of them. They will be incredibly appetizing when pan-seared or grilled, though, so your efforts will be worth it in the end.
Whatever cut you choose, don't forget to pair your delicious salmon with a fitting side dish to enjoy them to the fullest.
Pay Attention To How The Fish Look And Smell
How the salmon look is a great indication of their quality. Your salmon should be vibrant in color and contain no bruising, dark spots, or separated flakes (also known as "gaping").
If possible, you should also put your nose to work. Good salmon has a mild aroma that is reminiscent of the ocean. Avoid any salmon with a fishy, sour, or ammonia-like smell.
Learn all you need to know about choosing your salmon. Watch this video:
Health Benefits Of Salmon
Apart from its incredible taste, salmon is also revered for its amazing health benefits.
When it comes to nutritional value, salmon is best known as a rich source of omega-3 fatty acids – a kind of healthy unsaturated fats. These fatty acids will help with lowering blood pressure, triglyceride levels, and heart rate.
Studies have shown that a lack of omega-3 fats in the mother's body during pregnancy and breastfeeding will have a negative effect on the baby's neurological development.
Eating a sufficient amount of salmon may also reduce the risk of chronic conditions such as depression, stroke, and Alzheimer's disease.
Furthermore, salmon will provide you with an abundance of essential vitamins and minerals like vitamin D, vitamin B, selenium, and phosphorus. Depending on the variety, these values might differ.
Finally, since salmon is high in protein content whilst fairly low in calories, it can contribute to weight loss.
Find out how eating salmon can be beneficial for your health. Watch this video:
What Happen When You Eat Too Much Salmon
As mentioned above, one of the reasons why Americans aren't really fond of salmon, or seafood in general, is because of the harmful substances that they carry.
Among those, mercury is the element with the greatest concern. While it is true that eating seafood frequently can raise your mercury level, whether that level is safe or not depends greatly on the type of seafood you eat.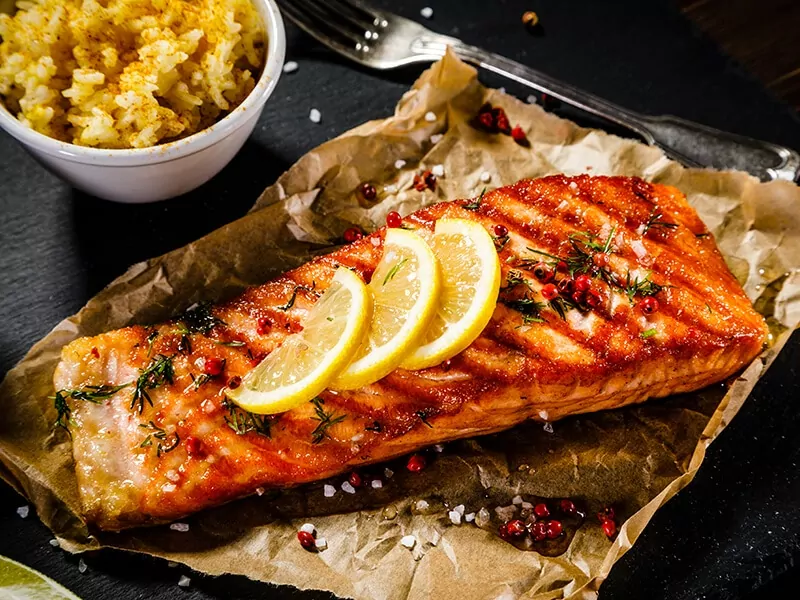 Consuming an excessive amount of high-mercury seafood such as swordfish, shark, marlin, or king mackerel can certainly lead to an unsafe level of mercury.
Salmon, on the other hand, is one of the best choices when it comes to low-mercury seafood. Therefore, it's not the main reason for the increased mercury level of frequent seafood eaters.(6)
Why you shouldn't worry about the mercury content of salmon. Let's see this video to know:
That said, over-consumption of anything, not just salmon, is never a good idea. Although salmon is low in mercury, they still contain this potentially toxic substance.
For this reason, it's best that you stick to the recommended amount of 8-12 ounces of salmon (which equals two to three 4-ounce servings) per week(7).
This is especially important for women that are or plan to become pregnant, nursing mothers, and young children as they're more vulnerable to mercury toxicity than others.
Moreover, if you're a recurrent consumer of cured or brined fish such as lox and smoked salmon, you might want to watch your salt intake as they can be a bit high in sodium.
One element contributing to the gap between lox and smoked salmon is their doneness levels, so pregnant women and young children should also be cautious when eating them.
FAQs
If you still have some further questions about salmon serving, take a look at this FAQs section.
For Your Well-Being, Don't Forget To Eat Salmon
Although American people aren't really the biggest seafood fans, this is starting to change as more people begin to notice the tremendous health benefits of salmon and other seafood. If you still haven't hopped on the seafood trend, it's time to start doing so.
Let me know what you think about salmon and other seafood in the comment down below. If you learned something useful through this post, show it some love by liking and sharing it!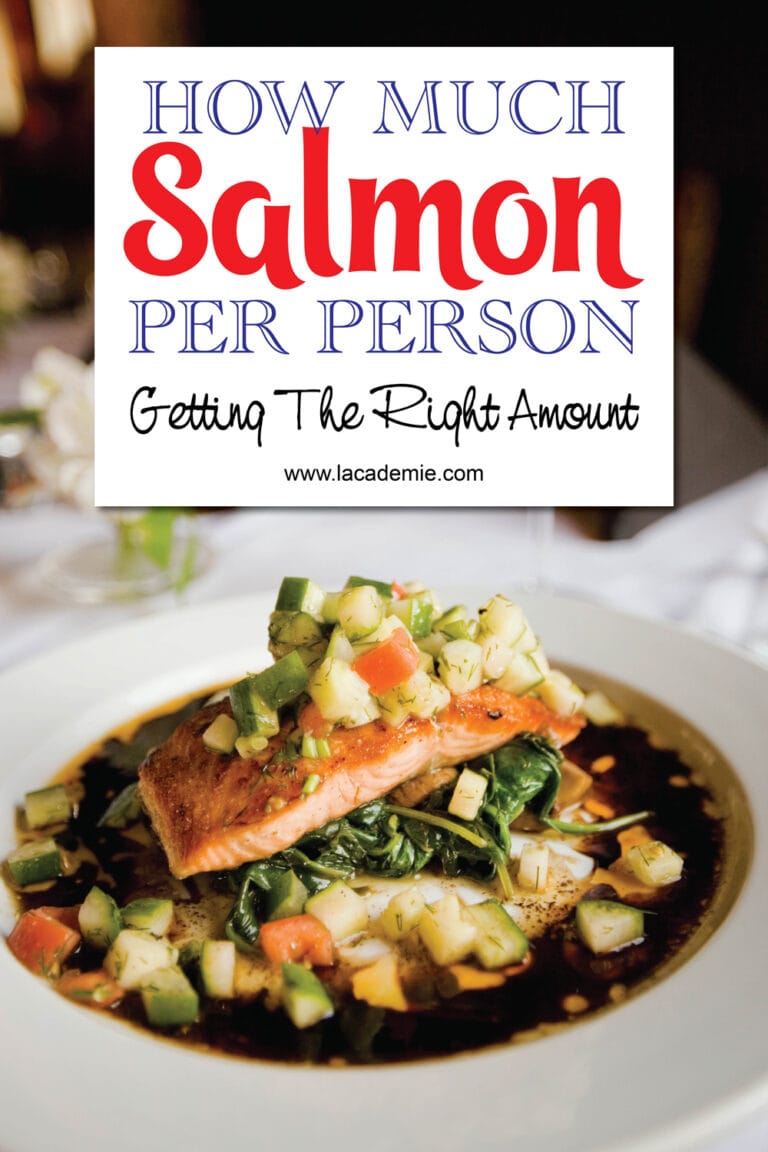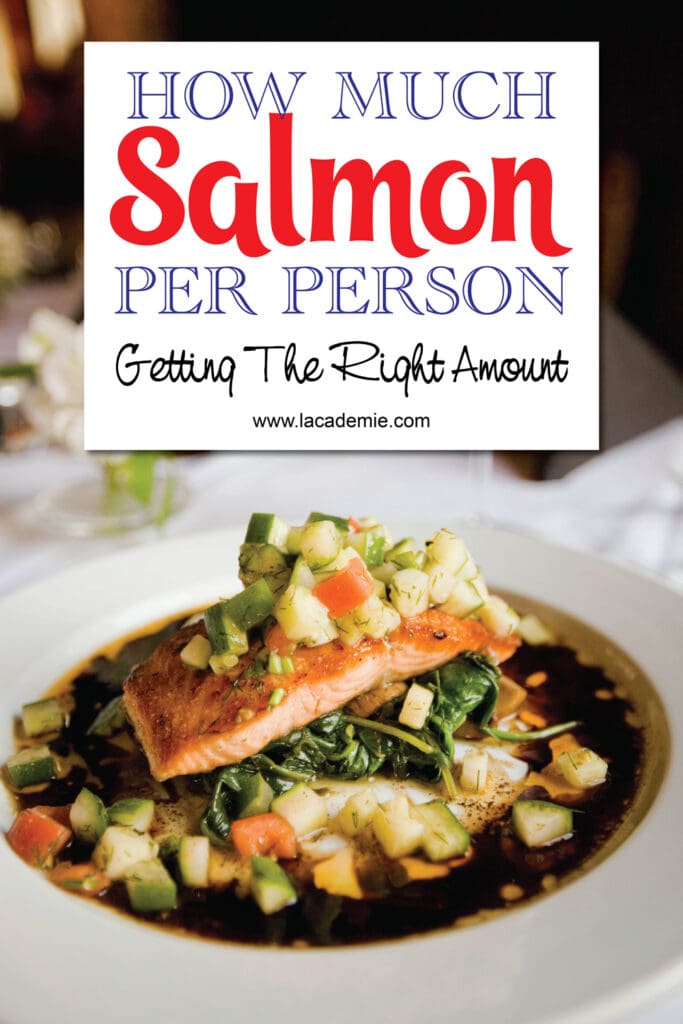 References
Eating fish twice a week reduces heart stroke risk [online]. www.heart.org.
Suggested Servings from Each Food Group [online]. www.heart.org.
Questions & Answers from the FDA/EPA Advice on Eating Fish [online]. U.S. Food and Drug Administration.
Fish intake, contaminants, and human health: evaluating the risks and the benefits – PubMed [online]. PubMed.
Fish: Friend or Foe? [online]. The Nutrition Source.
Make smart seafood choices to minimize mercury intake – Harvard Health [online]. Harvard Health.
U.S. Food and Drug Administration.