Welcome to my detailed comparison of tilapia vs. salmon! The fierce battle between these two fish has been going on for years. But only some know about the winner. I'm here to clarify it for you.
Even though you are not a pro cook or passionate gourmet, you may have at least heard about these names once. They are among the highest-sale fish in the States. Understandably, you may wonder how these fish compare and if one can be a better choice than the other.
Today's article will detail these two fish, nutritiously and culinarily, so you can decide which is more suitable for you. In this journey, you'll learn about their nutritional value, taste, and uses in many aspects of life.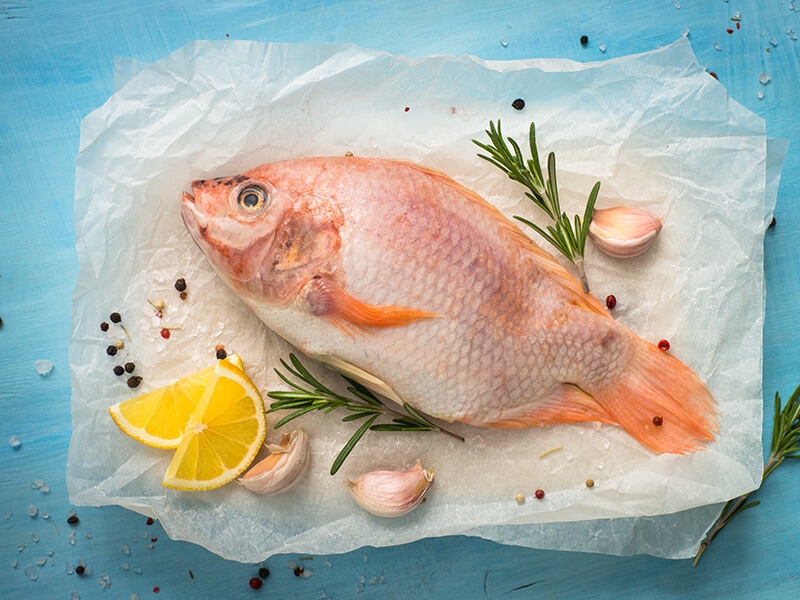 The Story Of Tilapia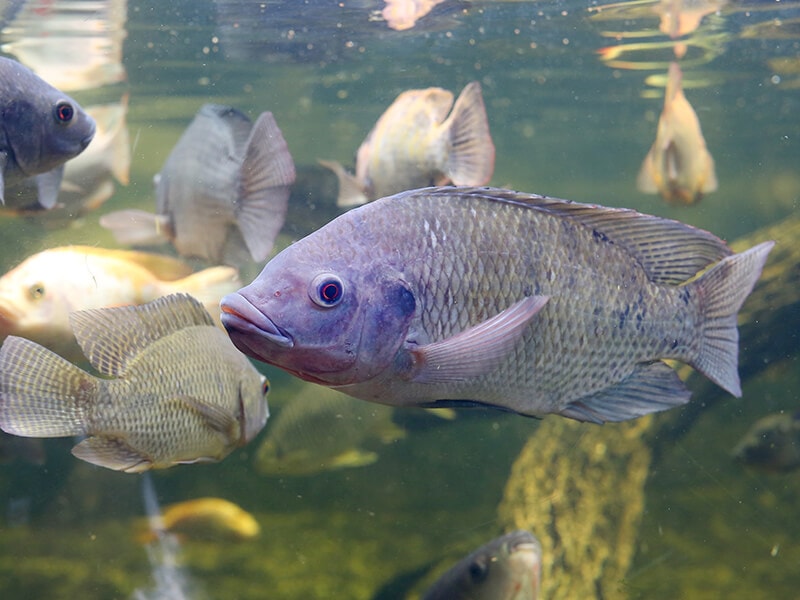 Native to the Nile River, Africa, tilapia is arguably the oldest farmed fish in the world, with earliest cultivation records dating thousands of years ago.
As a member of the Cichlid family, tilapia is present worldwide. Besides its current name, this fish is also known as St. Peter fish or sunfish.
This species has dominated global farmed production since it's highly adaptable, grows fast, feeds on a cheap vegetarian diet, and doesn't mind overcrowded conditions. Tilapia farming comes in all sizes, from extensive producers to small backyard ponds.
One thing to note is that it's a tropical freshwater fish, so tilapia cannot survive in cold water. As a result, most tilapia farms are in warmer climates like the Asian region, with China leading the pack.
It's no wonder that commercial fisheries make a massive profit since this species can live up to ten years (1) in farming conditions. Unsurprisingly, this fish is one of the cheapest protein sources on the market.
These unknowing truths about tilapia will open your eyes. Check it out now!
Salmon – The All-Time Superfood
Coming from the family Salmonidae, salmon is not an alien term with true foodies due to its extensive culinary uses. Initially found in the North Atlantic, this specimen has entered mainstream menus of different cultures worldwide.
As an anadromous fish, salmon and its varieties spend their life circle in both fresh and saltwater. One thing to notice is that the salmon caught in salt water is often bigger than freshwater salmon. The lifespan of most salmon species usually lasts 2 – 7 years (2).
It can also be farmed, but the farmed-raised fish won't be as delicious and nutritious as the wild-caught. Due to the rarity of wild salmon, most of the salmon on the market are imported farmed fish from mass production in Chile, Canada, and Norway.
You can devour this deliciousness raw in sushi and a poke salad or cook it if you like. Canned versions are also available, and it's convenient to add to your salad, pasta, or burger.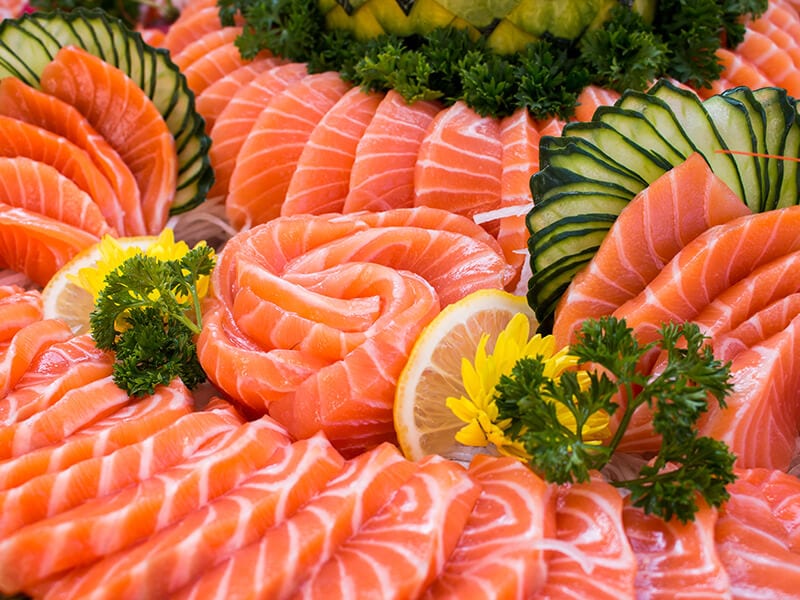 Tilapia Vs. Salmon – Detailed Nutritional Differences
From a general health perspective, these two fish are healthy, as they are nutrient-rich with high properties of protein, vitamins, and minerals. But which one is more beneficial for your diet? Check out the nutritional value of 100 g of each fish below and compare them yourself.
| Nutritional Value | Tilapia | Salmon (Atlantic, raw, wild) |
| --- | --- | --- |
| Calories | 96 kcal | 142 kcal |
| Cholesterol | 50 mg | 55 mg |
| Water | 78.1 g | 68.5 g |
| Protein | 20.1 g | 19.8 g |
| Total lipid (fat) | 1.7 g | 6.34 g |
| Monounsaturated fats | 0.498 g | 2.1 g |
| Polyunsaturated fats | 0.363 g | 2.54 g |
| Omega-3 fatty acids | 220 mg | 2018 mg |
| Omega-6 fatty acids | 210 mg | 172 mg |
| Vitamin B6 | 0.162 mg | 0.818 mg |
| Vitamin B12 | 1.58 µg | 3.18 µg |
| Vitamin D | 124 IU | 500 - 1000 IU |
| Mercury concentration mean (PPM) | 0.013 | 0.022 |
| Mercury concentration median (PPM) | 0.004 | 0.015 |
| Niacin | 3.9 mg | 7.86 mg |
| Phosphorus | 170 mg | 200 mg |
| Magnesium | 27 mg | 29 mg |
| Selenium | 41.8 µg | 36.5 µg |
A note to remember: since salmon has different varieties, each breed will have a different nutritional value. To clarify, I have breakdown details of wild Atlantic salmon, one of the most common varieties, in the table below.
Calories
Comparing salmon to tilapia, you'll first notice the calorie inequality between salmon and tilapia. The gap is significant since the calorie properties of salmon are about 32% higher than tilapia in an equal portion.
The North-Atlantic rooted fish has 142 kcal, while the St. Pete fish has 96 kcal per 100-gram portion. With the same portion intake, salmon makes you feel fuller and provides more energy than tilapia.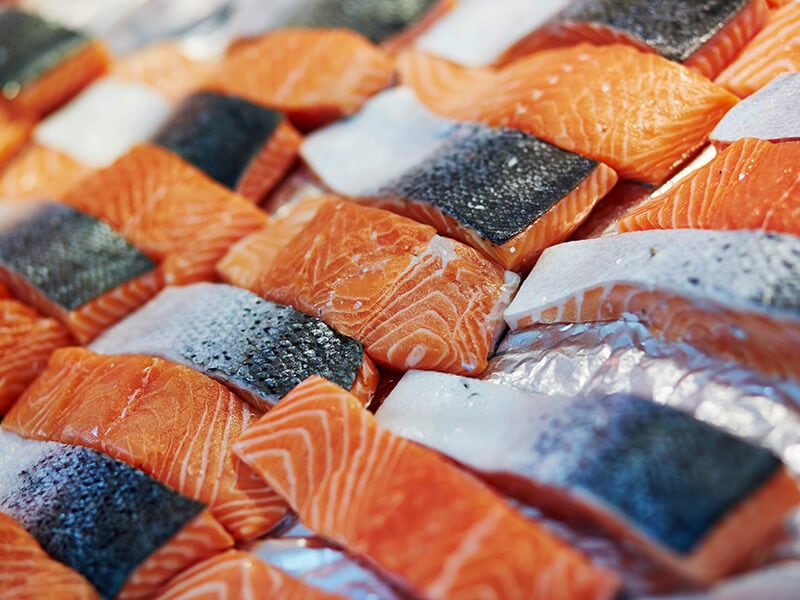 Protein
There are no considerable differences in these fish's protein content, so choose whichever you want since they are both fantastic choices. A 100-gram serving of tilapia contains 20.1 g of protein, while the same serving of salmon has 19.8 of protein.
Fats
At first glance, the North Atlantic-rooted fish may be less healthy than its rival due to its high-fat content. Tilapia has nearly six times less fat than salmon. In a 100-gram portion, the white-flesh fish contains just 1.7 g of fat, while its rival has 6.34 g of fat.
Yet, don't quickly conclude that salmon is bad for your health. In practice, the excellent types of fat, including monounsaturated and polyunsaturated, are good for your heart health, improve blood cholesterol, and hinder inflammation.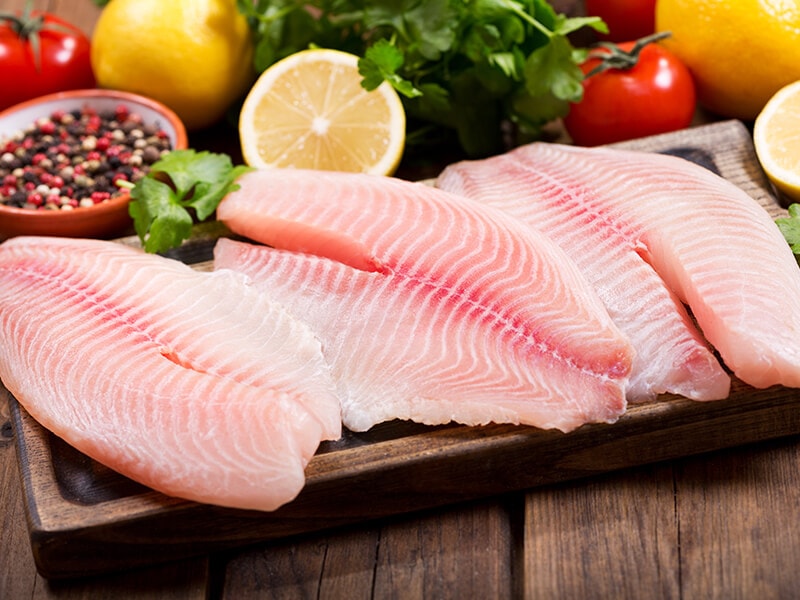 Omega-3 & Omega-6 Fatty Acids
The omega-3 and omega-6 fatty acid content is another easy-to-notice criterion between these two. Both substances are essential polyunsaturated fatty acids (PUFA), but omega-6 tends to cause inflammation, while omega-3 acts as a famous anti-inflammatory agent.
To be more specific, salmon has more omega-3 fatty acids. Meanwhile, tilapia has higher omega-6 levels than its counterpart. The winner is obvious between fish rich in good omega-3 and an omega-6-dense fish.
How much do you know about omega-3 fatty acids, the food for the brain? Find out here!
Vitamins
Looking at a side-by-side comparison of the vitamin content, you can see that the win is in the salmon's favor. The St. Peter's fish possesses a wide range of B vitamins. Still, it has only approximately 30% of the amount that salmon does.
Additionally, wild salmon has nearly three times more vitamin D than sunfish. This sunshine vitamin benefits your bone health and immune function. 100 g of this fatty fish provides 500 – 1000 IU of vitamin D, which is a huge number compared to 124 IU of tilapia.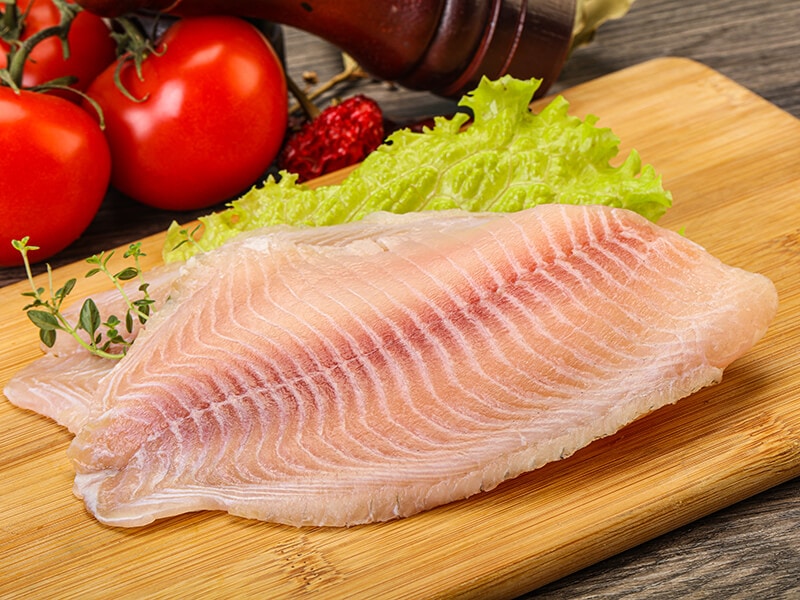 Mercury Levels
Another noteworthy concern about fish consumption is the mercury level. A large dose of mercury is toxic to the nervous system and can even be fatal. That's why high-mercury fish are often avoidable, especially in pregnant or breastfeeding women's diets.
Due to worries about mercury, both tilapia and salmon get a safe pass since they are low in this toxic component. According to the "Best Choices" category of the FDA, these two types of fish are ideal to consume 2 – 3 times a week thanks to their low mercury levels (3).
Learn why mercury levels are not the reason you should worry about when eating salmon here!
Other Micronutrients
In the micronutrient section, what salmon and tilapia have in common is the almost-identical sodium and magnesium content, with no major gaps in the data. Apart from that, their other micronutrient data is unequal.
While both are highly nutritious, salmon tops the race due to its higher content of niacin and phosphorus. By contrast, tilapia comes ahead if you're interested in more selenium and B12 vitamin content per serving.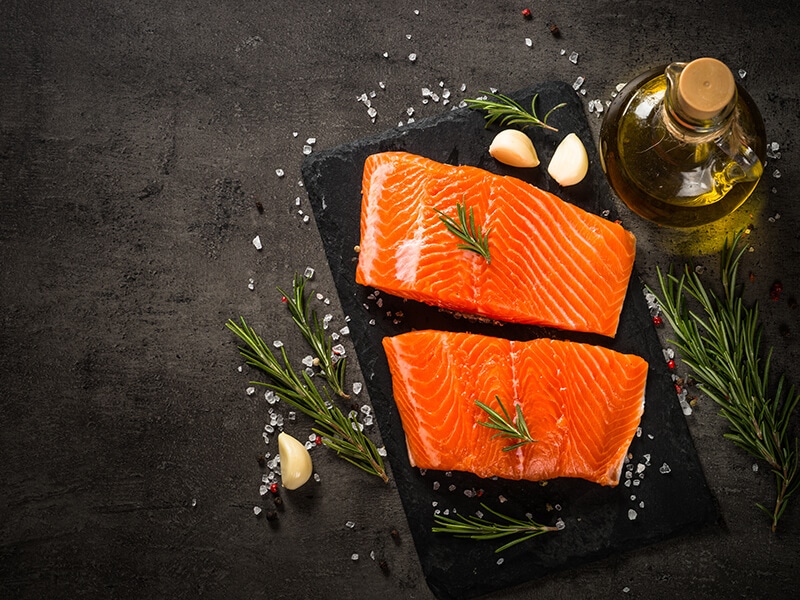 Tilapia Vs. Salmon – An In-Depth Comparison
Nutritional value is not the only factor that is worth considering, so you have to look at other criteria to decide which one to purchase for the next meal. Find the answer to the battle of these heavyweights with the comparison chart below.
| Factors | Tilapia | Salmon |
| --- | --- | --- |
| Origin | Africa | North Atlantic |
| Family | Cichlidae | Samonidade |
| Other names | St. Pete fish or sunfish | Depending on the varieties |
| Farming | Yes | Yes |
| Habitual environment | Freshwater | Freshwater and saltwater |
| Lifespan | 10 years | 2 - 7 years |
| Taste | Milder | Stronger |
| Color | White flesh | Pink flesh |
| Texture | Soft | Firm yet elastic |
| Costs | Cheaper | More expensive |
| Health benefits | Less healthy | Healthier |
| Interchangeability | Depending on recipes | No |
Habitual Environment
Since tilapia is freshwater fish, it usually lives in streams, ponds, rivers, and lakes. Meanwhile, as salmon inhabit both freshwater and saltwater, their terrestrial habitat spreads from the Atlantic and Pacific oceans to offshore rivers and streams.
On a related note, salmon fish are migratory. All the freshwater-born species will migrate to the sea when they are juveniles. They begin to migrate in April and continue through July, with the migration peaking in May.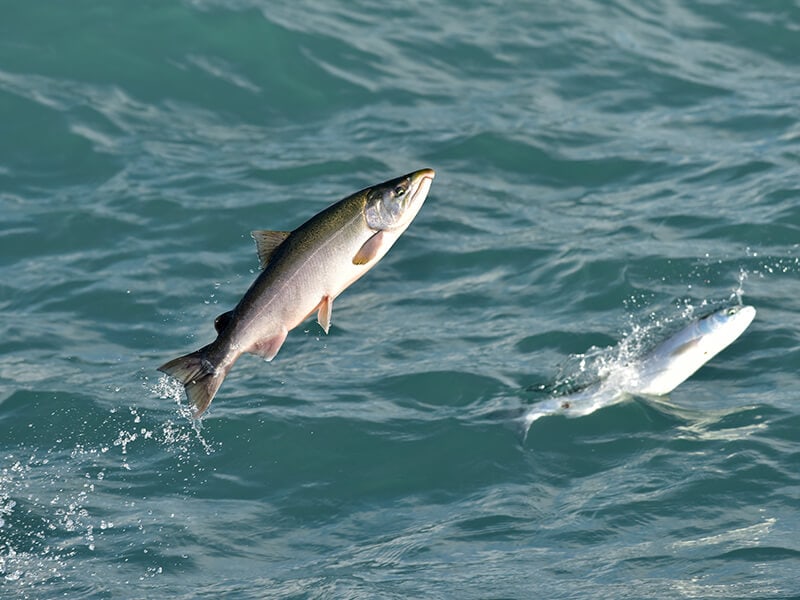 Taste
Among the top sought-after fish on the market, both are absolutely delicious. Some might prefer the flavor of salmon, while others love the neutral taste of tilapia. But after reading this section, do you still agree with that?
Tilapia
Arguably the mildest tasting fish, tilapia is a love-it-or-hate-it item. In the most basic sense, its natural flavor depends on the habitual environment, such as the water quality or the fish diet.
High-quality fish is very mild, sweet-tasting, and sometimes even virtually flavorless. Therefore, the flavor relies solely on a recipe's spices, condiments, and other ingredients.
On the bright side, the lack of flavor comes in handy with those who dislike the fishy smell and makes it easy to adapt to different cooking traditions. Still, this item is not a favorite by some chefs since it doesn't taste like fish at all.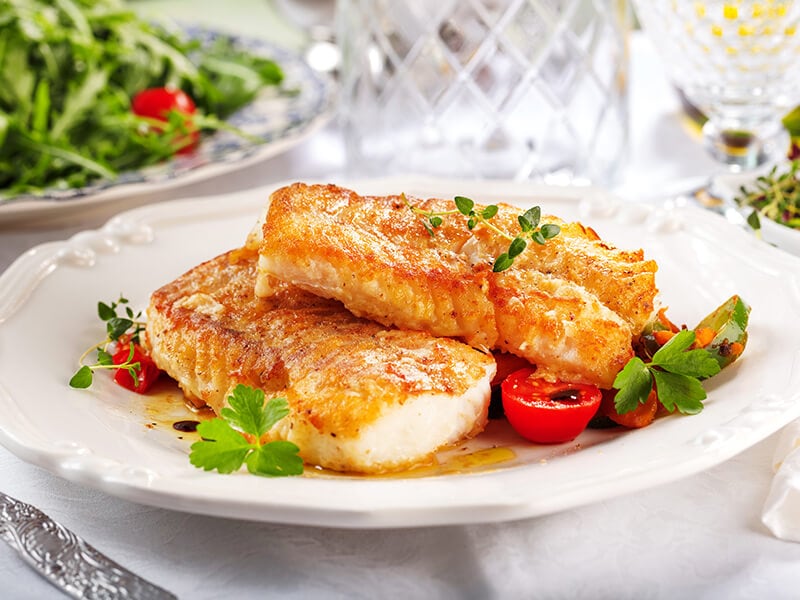 Salmon
To be fair, salmon also delivers a mild taste and earthy smell. Between the two, its flavor is still richer than tilapia. Besides, it also has a distinctly oily taste thanks to high-saturated fats. This fat content helps salmon to be compatible with any citrus element.
Another note to keep is this flavor-forward fish comes in multiple breeds, and each variety delivers a different flavor. Feel free to dive deep into the sea of salmon varieties and choose what suits best to your preferences.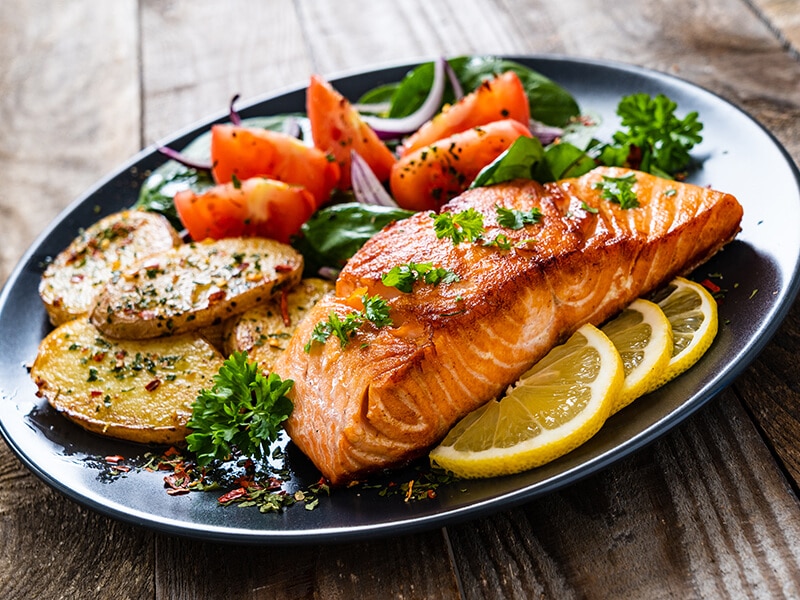 Color
The skin color of tilapia can range from black and red to gold, based on the species. However, underneath lies a lean pinkish-white flesh with a red vein or bloodline at the center. When cooked, the meat will change to completely white and opaque.
On the contrary, raw salmon filets have a more diverse palette, running from light pink to darker red. The flesh coloration of a fully cooked salmon will change from a darker pink color to a lighter version. Meanwhile, overcooked salmon may be opaque orange all the way through.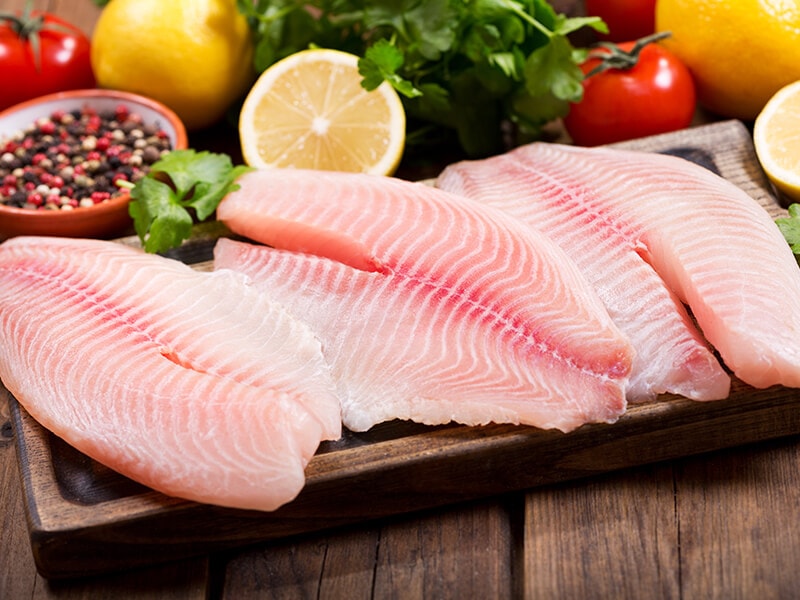 Texture
Named "the chicken of the sea", tilapia has a similar texture as the birds. In particular, the meat has a soft texture in its raw stage, while cooked fish will become a bit firmer and flakier. It can fall apart if you are not careful during cooking.
Alternatively, raw salmon should be firm yet elastic, springing back when pressed gently with a finger. As it cooks, the filet will also firm up and become flakey to the point that you can pull it apart easily with a fork or knife.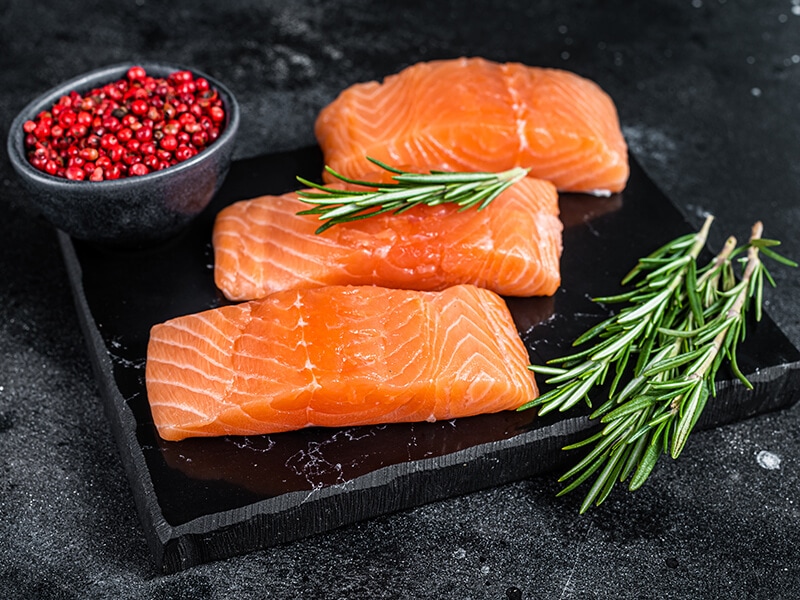 Prices
Unsurprisingly, tilapia is the winner in this round. The low price is what makes the St. Pete fish one of the most consumed fish in the US, so of course, it's more affordable than salmon, whether farmed or wild-caught.
The price discrepancies are because the white-flesh fish is simpler to maintain and more economical to raise. Besides, it takes a shorter time to harvest than salmon. It's also worth mentioning that wild-caught salmon is pricier than farmed varieties.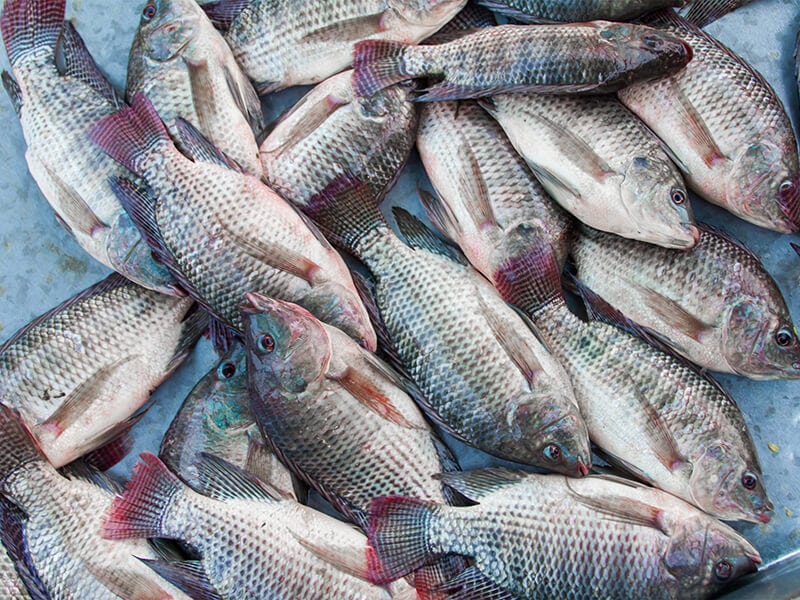 Health Benefits
Both salmon and tilapia are renowned sources of nourishment. They are full of protein and a series of vitamins and minerals. As stated earlier, salmon contains omega-3 fatty acids, vitamin B12, magnesium, and selenium.
As a result, salmon consumption will help balance body function, lower inflammation risks, and regulate cholesterol levels. The only downside of salmon is its high-fat content.
Tilapia, in opposition, has low-calorie and low-fat properties. Other than being rich in protein, it's also high in selenium, vitamin B12, and potassium. On the downside, its omega-6 to omega-3 ratio is higher than salmon, which can be harmful in excessive consumption.
From a health perspective, salmon and tilapia have good and bad points. However, considering the pros and cons, the famous pink-flesh fish is no doubt healthier than tilapia, as it has higher figures in the nutritional chart and fewer adverse outcomes.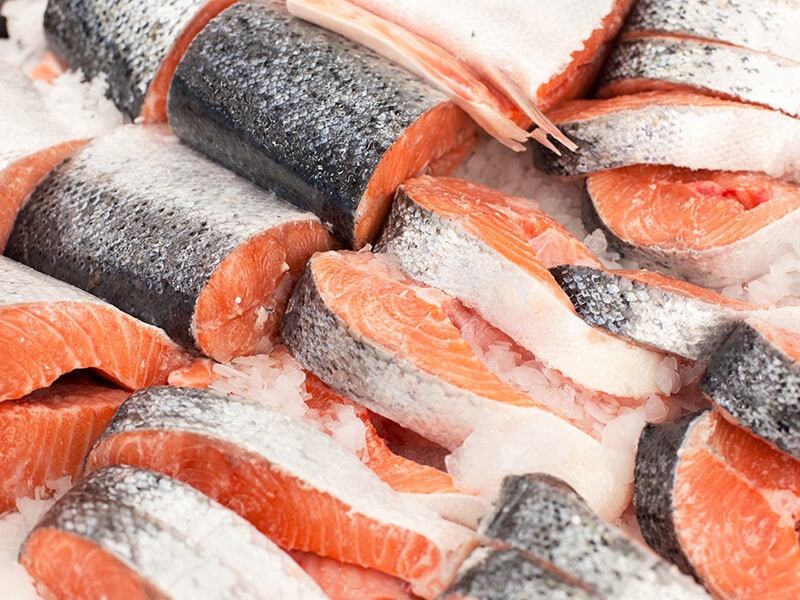 Interchangeability
Have you ever wondered whether you could use salmon and tilapia interchangeably in many cooking projects? If the answer is yes, scroll down to discover the possibility of making your dream come true.
Can Tilapia Substitute Salmon?
With low-calorie levels and high protein properties, tilapia is surely a prominent candidate to replace salmon in some recipes. Nevertheless, its bland taste, delicate texture, and lower nutritional value will make the fish struggle in certain circumstances.
Not to mention, its size is smaller than salmon, and the filets are thinner. Therefore, adjustments need to be made in the salmon recipe so that this sunfish can stay intact, especially in high-heat treatments like grilling or smoking.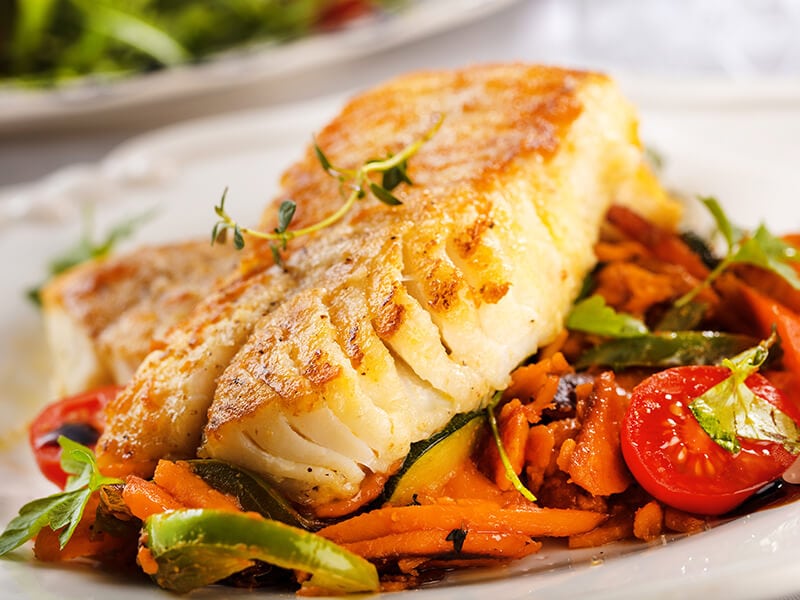 Can Salmon Replace Tilapia?
There won't be a problem with the texture or national value in this substitution, yet the distinctive flavor of salmon makes it not unsuitable to white-fish recipes like tilapia. Accordingly, you should find a more common substitution, such as striped bass, sole, or catfish.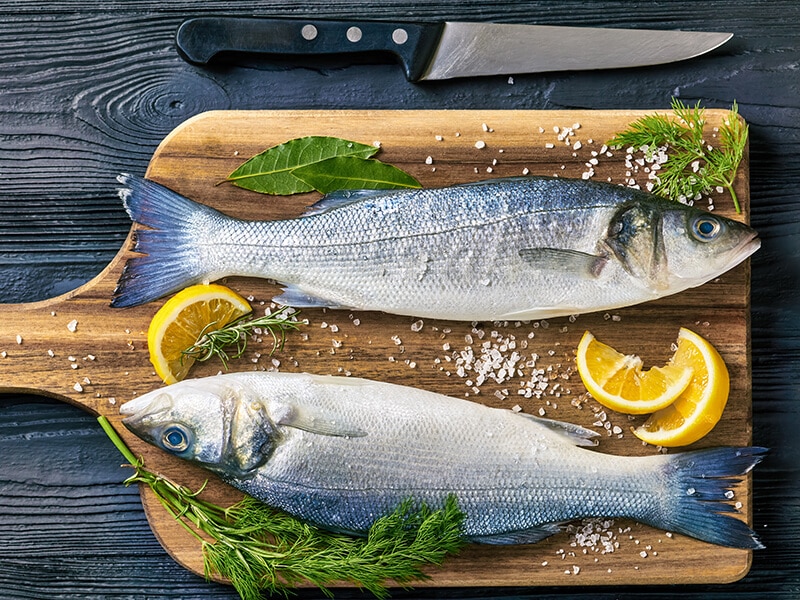 Tilapia Vs. Salmon – Pick Your Sides
Now you know about their characteristics. It's time to pick your sides in this long-going battle. In this section, I will discuss these two fish's pros and cons in some familiar aspects, like weight loss or muscle gain, so you'll know which one is better for you.
Weight-Loss Battle
Not surprisingly, tilapia is a good starting point if you want to lose belly fat. As a lean fish, it has fewer calories than the fatty kinds. Accordingly, tilapia consumption will keep you full for a long time and boost your metabolic rate during digestion.
Furthermore, tilapia's low-fat content can limit your overall fat intake, and its omega-3 fatty acids will control your appetite and promote fat loss. Better yet, the mild taste of tilapia is flexible in various recipes, so you won't feel bored eating the same dish all the time.
Winding back to salmon, it's also great to be in your diet due to its high level of omega-3 acids, proteins, and vitamin D, which are suitable for metabolism and appetite regulation. But the fish's high calories can be a cause of concern.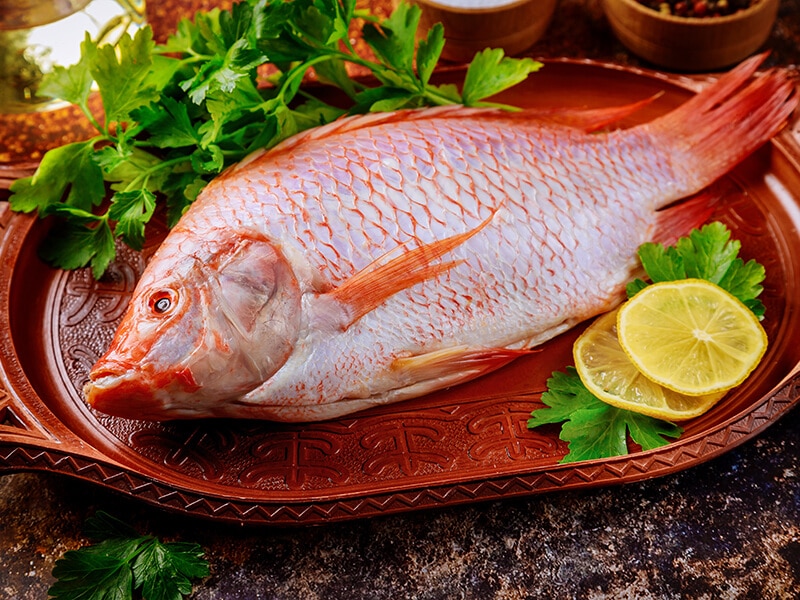 Bodybuilding Races
When it comes to muscle gain, salmon is a better choice. As a lean source of protein, salmon can help you maintain your muscle mass when trying to lose weight. The calorie-rich content of salmon shines here for gaining weight.
On the other hand, tilapia is also adequate as a muscle-building protein source. Nevertheless, since this sunfish is short of calories, add more numbers to the caloric content of your diet with more energy-rich items such as olive oil, olives, or avocado.
If you can't understand why vitamin D can help build muscle, this brief explanation will help.
The Ultimate Winner
Nutritionally, salmon and tilapia are quite equivalent, though the cold-water fish might have some higher value figures than its opponent. By and large, it all comes down to your health goals and personal taste.
If improving your cholesterol and protecting heart health are your priorities, it's wise to choose salmon more frequently due to its omega-3s fatty acids. Contrarily, tilapia is better as a protein source to add to your weight-loss diet since it won't add up too many calories.
In the end, nothing good will happen when you eat these fish in excess. For safety, consistently eating portion-controlled, nutritionally balanced, and exercising is the best. Adding either or both to your diet twice per week will bring unexpected positive results to your health.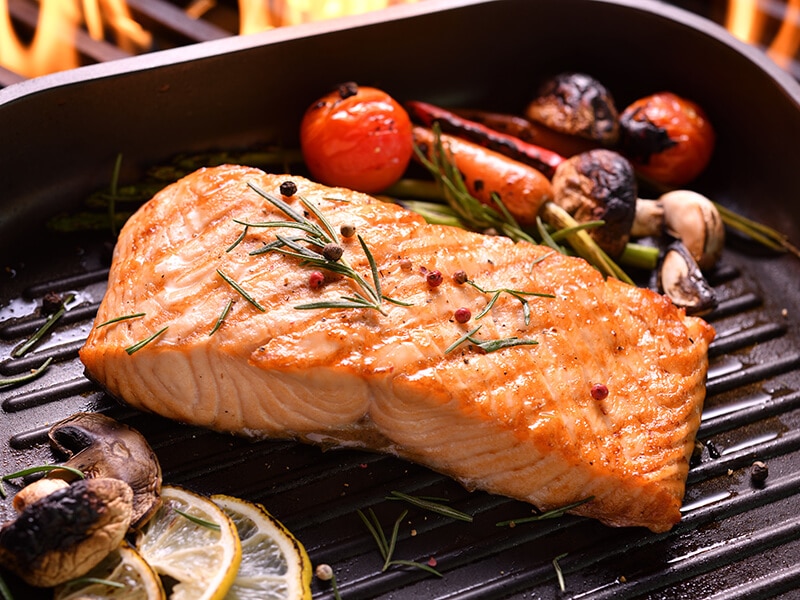 Think Twice When Eating Tilapia! Here's Why!
At best, tilapia are healthily nutritious sources and safe to eat, whether it's wild or farm-raised. But there are other negative sides of them that you need to be aware of. Join and figure out why these fish are not always a good and safe intake.
The Dangers Of Chemicals In Tilapia Farming
It's easy to realize that many commercial fish farms take advantage of pesticides, antibiotics, and other chemicals to keep fish healthy and maximize profits. Did I mention farmed tilapia have ten times as many toxins as wild-caught varieties?
Additionally, farmed fish are easily exposed to many diseases due to the cramped conditions and water pollution. Therefore, sticking to the one with a "wild-caught" label on the packaging is better.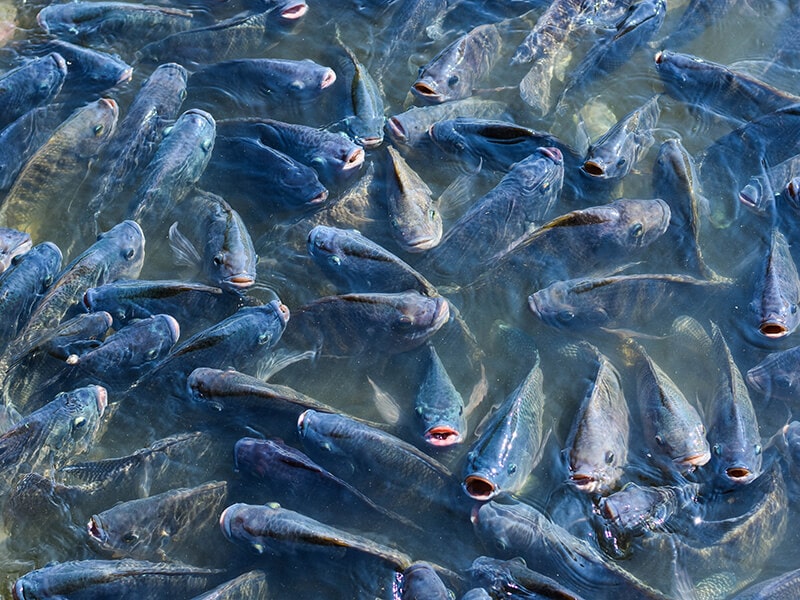 A Threat To The Environment
The aquaculture of tilapia is the topic of sustainable debate due to its far-reaching environmental damages. You must know that this fish is an invasive species, so once it settles in a water body, this aggressive breed can take over the environment of native species.
An actual danger for ecosystems is the escape of commercial tilapia from their farming plant, which can threaten the wild fish population in the area. Worse, it can spread pathogens to the new environment at unimaginable speed.
In the US, inland-tank and channel-raised tilapia might tick the environmental safety boxes, as a separate farming environment can eliminate the leakage of fish waste and disease. But note that overcrowded tanks can increase the fish's stress and susceptibility to infection.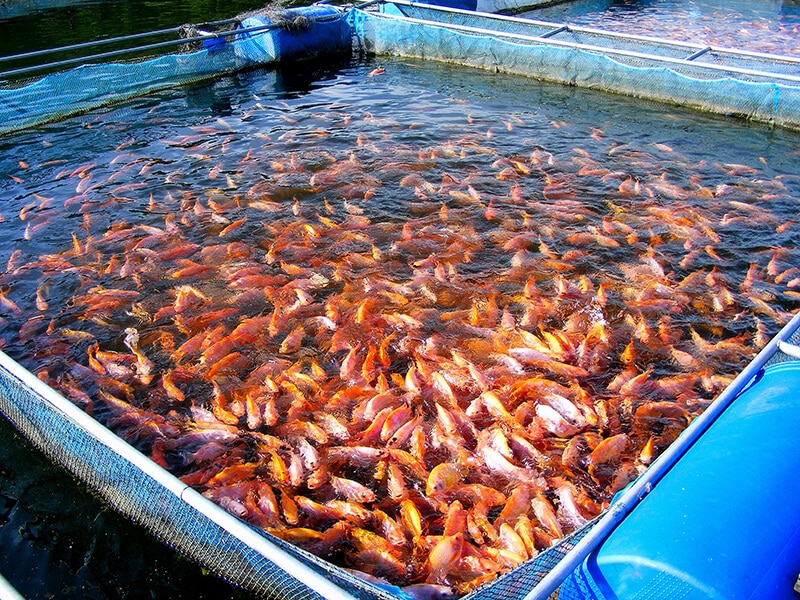 Legitimate Concerns About Eating Salmon
Though salmon is a superfood with enormous nutrients and a delicious taste, it's not always a to-go option in every case. If you are a health and environment-conscious buyer, think twice before purchasing this fish.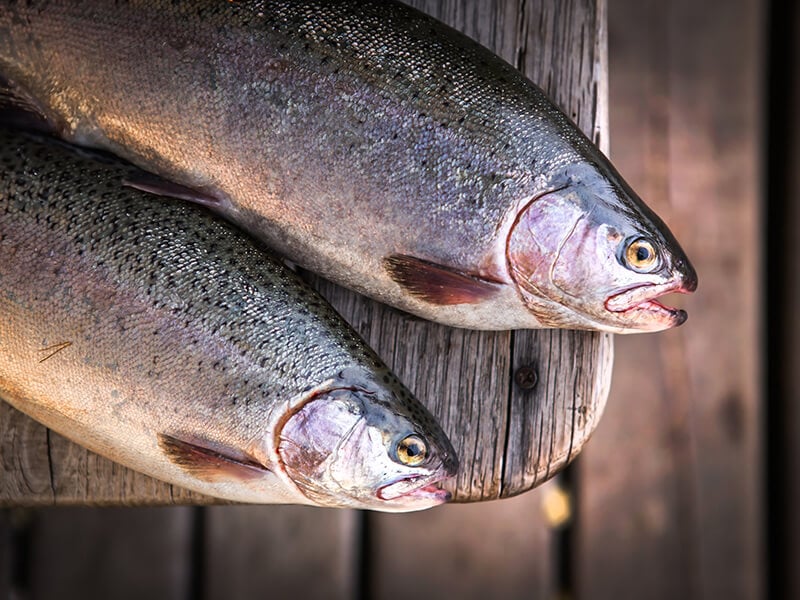 Mercury Levels
The mercury content in salmon is where many people, especially expectant women and young children, should draw the line. Though salmon has a low level of this toxin, it's possible to damage nerves in adults and destroy the nervous system in an unborn baby or young child.
Harm At The Farm
As mentioned above, people also raise salmon on farms. But the thing is that farm-grew fish is likely to have fewer omega-3 fatty acids and more unhealthy fats due to its diet. What's more is that your salmon can be doused regularly with antibiotics, pesticides, and other chemicals.
Sustainability Matters
Again, similar to tilapia, farmed salmon is not sustainable. The untreated waste from excess feeding, decomposing fish, and chemical residue from salmon farms can put local marine life at risk.
In wild-caught fish cases, as demand increases, super trawlers are pillaging the water off the coast in search of wild salmon. This action threatens the livelihood of local fishermen, and indiscriminate exploitation can deplete the salmon stock.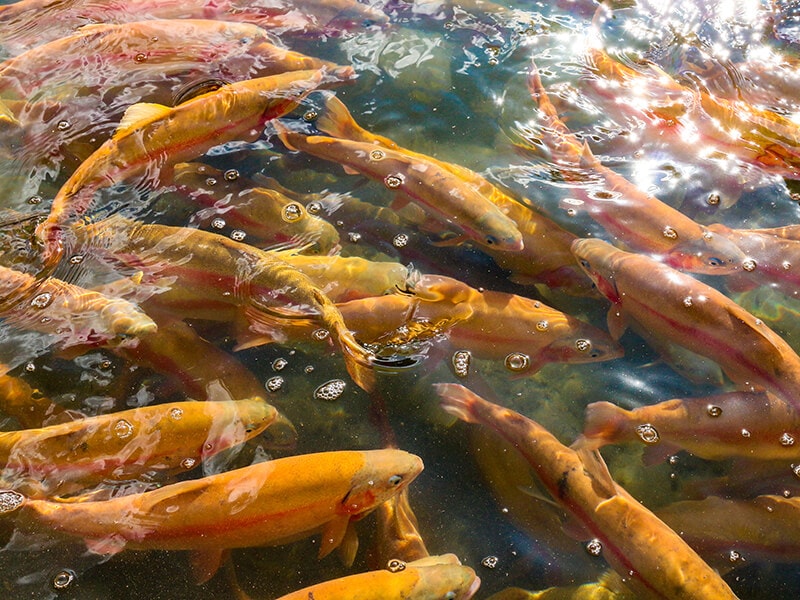 FAQs
I hope the information above is enough to give you a general picture of these two fish. But if you want to dive deeper into the world of these swimming protein sources, check out the extra questions below.
Try Both Tilapia And Salmon If You Can!
In the culinary world, tilapia and salmon are popular for their flavor and versatility. Both types of fish are nutritious and carry a wide range of nutrients. Frankly, there is no better choice between these two because it's up to your preferences.
Why do you have to stick with one option when you can try them both? "Cheat" by alternating your intake of these fish in your diet. That way, you'll get the lean protein from tilapia and the omega-4 and vitamin D boost from the pink-fleshed fish.
How do you feel about this article? Have you got your needed answers? Comment and let me know what you think. Also, please be generous with your likes and shares since doing so can help this post reach more salmon and tilapia fans. Thank you in advance! Goodbye!
References
Tilapia (2019) Aquaculture, Fisheries, & Pond Management.
How long do salmon usually live? (no date) How long do salmon usually live? | U.S. Geological Survey.
Center for Food Safety and Applied Nutrition (no date) Advice about eating fish, U.S. Food and Drug Administration. FDA.