How many different types of salmon are there? What differences do they make to your meals? How to cook, serve, and preserve salmon? Scroll down, and you will discover in-depth answers to those questions and more.
Of course, you may wonder, "Why should I know about all those things?" Because salmon is one of the most delicious and nutritious fish in existence. But not all salmon are created equally, and understanding which one is suitable for you will be of great help.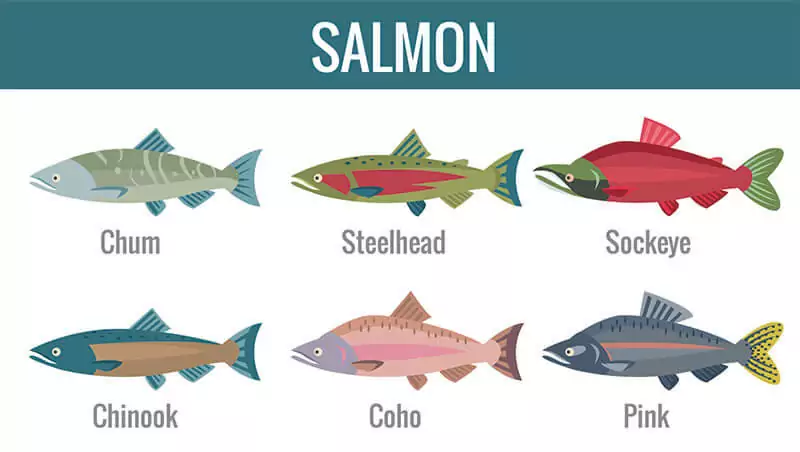 Interesting Facts To Know About Salmon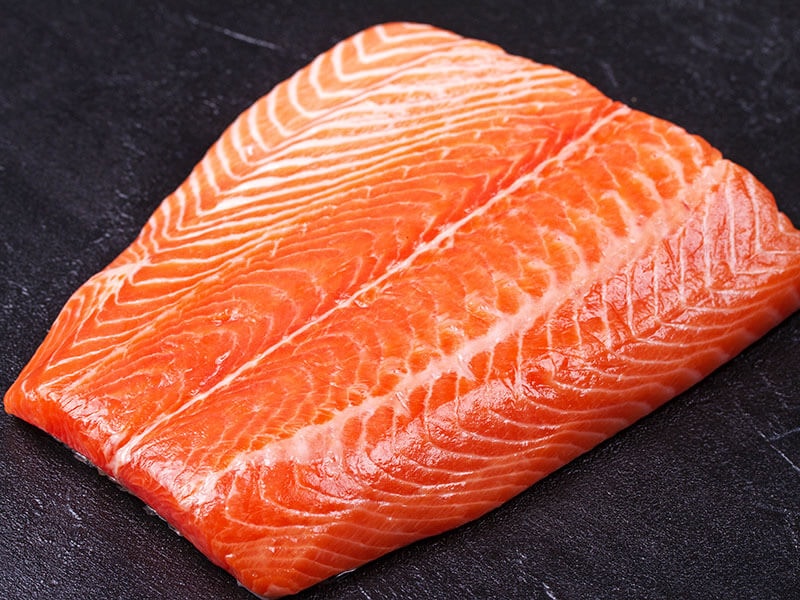 The first thing you need to know about salmon is that they are anadromous. It means they hatch and spawn in fresh water (usually lakes or rivers), but live in salt water (the oceans) during the in-between period. The latter process accounts for most of their life.
Migrating upstream to lay eggs is a dangerous business for salmon. The majority of them die after the attempt and become food for other animals, namely grizzly bears.
Salmon belong to the same family as trouts, so they share some similarities. But you can easily detect differences between salmon and trouts. For example, the former has a sweeter meatiness, a higher fat content, and a bigger size.
Any salmon you buy can be divided into either farm-raised or wild-caught varieties. Generally speaking, wild salmon contains fewer contaminants and has more healthy fats than farmed ones. The downside is that its price is understandably much steeper.
Salmon is rich in vitamins, minerals, and beneficial unsaturated fats. Weekly salmon intake of around 250 grams will work wonders on your health. However, overconsumption of this fish over a long time can result in some health conditions.
Discover the differences in flavor between wild-caught salmon and farm-raised one here.
6 Types Of Salmon You Should Look For
Let's cut to the chase and find out about various varieties of salmon right away. Generally, there are six main types of salmon living in the tributaries of the North Atlantic Ocean and the Pacific Ocean.
However, people have introduced the fish into multiple non-native environments. That trend results in salmon being found in many other places, such as the Great Lakes of North America. Besides, there are salmon farms all over the world that blur the geographical line even further.
| Type | Other names | Flesh color | Texture and flavor | Recommended cooking methods |
| --- | --- | --- | --- | --- |
| Chinook salmon | King salmon, spring salmon, tyee | Whitish to deep red, a little paler when cooked | Tender, the richest and nuttiest salmon | Pan-frying, baking, grilling, and poaching |
| Sockeye salmon | Red salmon, blue-back salmon | Scarlet to orange-red, unchanged when cooked | Firm, juicy, sweet, and delicate | Sauteing, baking, grilling, poaching, and smoking |
| Coho salmon | Silver salmon | Dark red or orange, unchanged when cooked | Firm, nutty, and subtle | Sauteing, roasting, baking, and poaching |
| Humpback salmon | Pink salmon, humpy, | Pale pinkish, lighter when cooked | Soft-texture, subtle, and mild | Poaching, baking, and canning |
| Chum salmon | Silverbrite salmon, keta salmon, dog salmon | Reddish-pink | Firm, dry, and bland | Poaching, sauteing, steaming, grilling, and canning |
| Masu salmon | Masu, cherry trout | Pink | Soft and sweet | Broiling and baking |
| Atlantic salmon | Salmo salar | Pinkish or reddish-orange with streaks of white fat | Firm, mild, and oily | Bake, pan-frying, and grilling |
1. Chinook Salmon (King Salmon)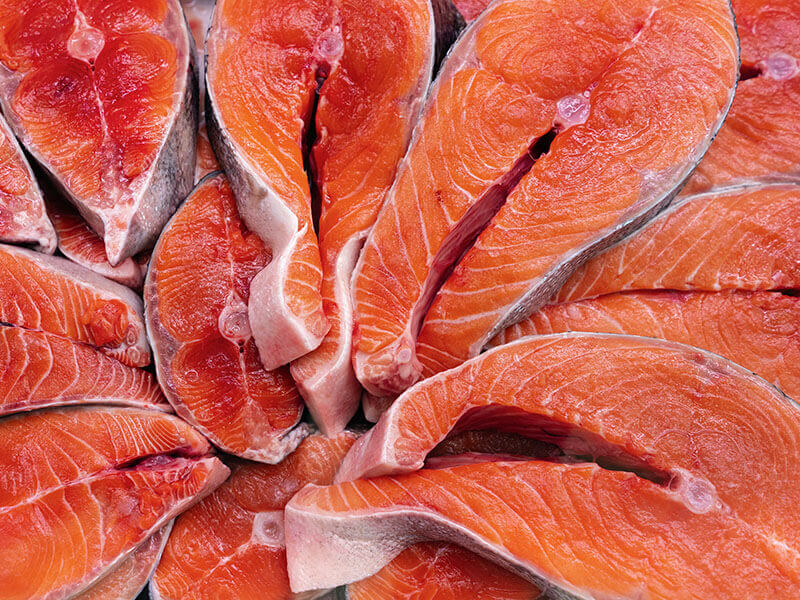 In the realm of salmon, there is only one king: King salmon. It is the largest as well as the juiciest and tastiest species of salmon. Its popular name is Chinook salmon, which came from the native Chinookan peoples of the Columbia River.
Contrary to the usual rule of life that the best things are hard to find, this optimal salmon has a wide natural range. It can show up everywhere, from the Pacific waters of southern California to the rivers in northern Alaska.
About the outer appearance, a Chinook salmon has a blue-green back, silvery sides, and a white belly. Its upper half, including the tail, is dotted with black spots. Another characteristic of this salmon is its dark gum line.
Chinook salmon is the flawless example of what salmon should taste like. It has an incredibly high fat content which imparts a rich and nutty flavor to its sweet flesh. Unsurprisingly, chefs and foodies cherish it reverently.
Another boon to this type of fish that people love to eat is that its sublime quality comes with a huge quantity. Chinook salmon dwarfs its brethren with an average size of 22 – 32 inches and a weight of about 20 lbs.
You can cook this massive amount of succulent flesh in many ways. Its tenderness and richness guarantee that whether you pan-fry, grill, bake, or poach it, the flavor of Chinook salmon will remain awesome. I highly recommend learning the correct length of time to bake salmon at 450 and make delicious meals with Chinook salmon.
This fish is rather pricey, so make sure that you savor every bit of it. The color of its filet can be quite diverse, from whitish to crimson, and tends to lighten when cooked.
See how people extract succulent filets from Chinook salmon here.
2. Sockeye Salmon (Red Salmon)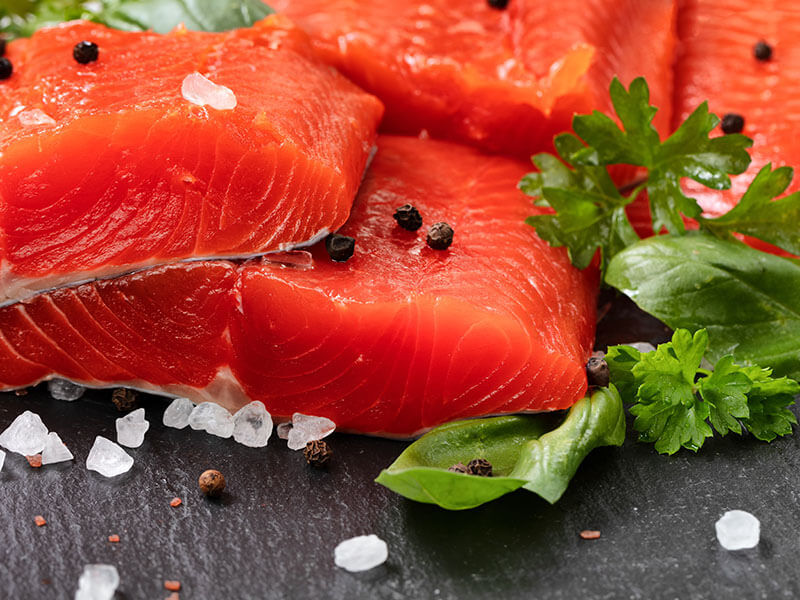 If there is a pretender to the title "king of salmon", it will certainly be Sockeye salmon. It also goes by the name of red salmon, thanks to its permanent red-orange filet. The vast expanse of sea between northern Alaska and northern California forms the habitat for this fish.
The name "Sockeye" doesn't mean the eye of the sock or something as silly as that. It is derived from "suk-kegh", a Coast Salish word for "red fish". The Coast Salish is a group of related native peoples living mainly in British Columbia and some U.S states.
A Sockeye salmon has big, golden eyes and white gums inside its mouth. Unlike other types of salmon, this species lacks black spots in its body or tail. Also, its color is changeable: blue or silver when the fish lives in salt water and bright red when it migrates upstream.
In terms of fattiness, Sockeye salmon is a little inferior to its Chinook counterpart. But its filet is still amazingly juicy and sweet, perhaps slightly more delicate than most types of salmon. Accompanying this flavor is a meatier texture as well as a fishier scent.
While Sockeye salmon is perfect for sauteing, baking, or grilling, people usually smoke it. Many best-reviewed smoked salmon products utilize this type of salmon. This is easy to understand when you look at its visually appealing rose color.
A Sockeye salmon usually ranges from 20 – 24 inches in size and around 6 lbs in weight. There is no farmed Sockeye salmon in the market, so you can rest assured about its premier quality. Besides, its price is considerably much more affordable than Chinook salmon.
3. Coho Salmon (Silver Salmon)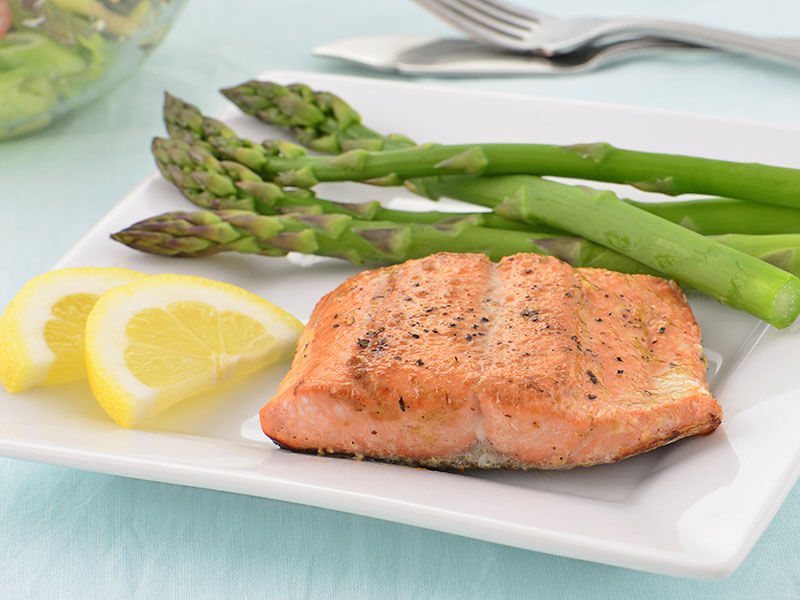 With an average size of 22 – 26 inches and a weight of 4 – 12 lbs, Coho salmon isn't likely to leave a lasting impression at first glance. But you won't be able to take your eyes off its shiny silver skin, which gives the fish its alternative name: silver salmon.
But this dashing exterior disappears when the fish migrates to freshwater rivers and lakes. Its head becomes green, while its sides turn red and black dots pop up in the back. In addition, male salmon will develop a beak-like, hooked nose called a "kype".
While this salmon is leaner than Chinook salmon, it also has a more subtle taste along with a balanced nuttiness. You can find Coho salmon on both sides of the North Pacific Ocean, in many countries such as Russia, Japan, and America (especially Alaska).
In the old days, Native Americans usually slow-smoked Coho salmon over a fire. Today, you can turn this firm-textured fish into many mouth-watering dishes by sauteing, roasting, baking, or poaching it. Its dark reddish-orange color stays the same after cooking.
4. Humpback Salmon (Pink Salmon)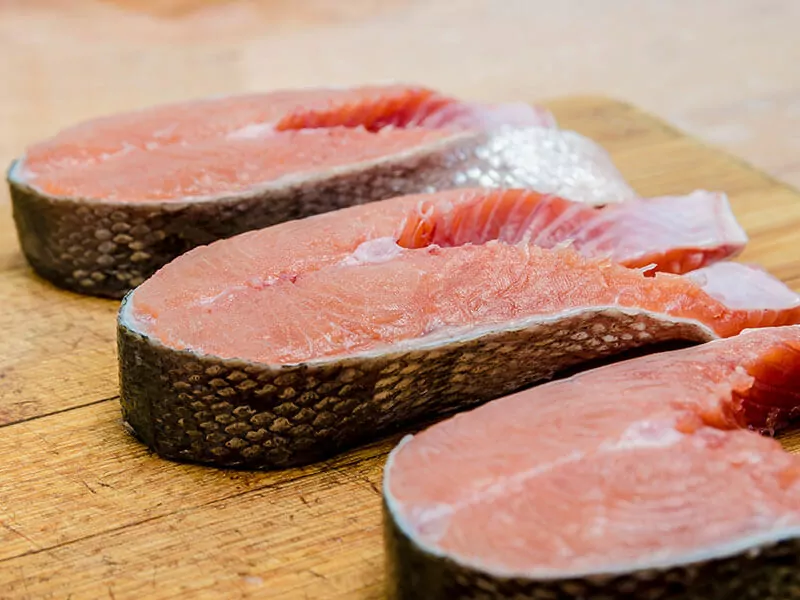 If you read the ingredient list of the most favorably-reviewed canned salmon, you will occasionally find Humpback salmon on the label. While this type of salmon is also suitable for poaching and baking, canning is the preferred way to process it.
One reason is that Humpback salmon is a low-fat, soft-textured fish with a mild flavor. Its size is insignificant, 14 – 18 inches in length and approximately 4 lbs in weight.
Plus its light pinkish color, this salmon tends to be more fitting for canning than to be cooked in other ways. But with the correct preparation, it is difficult to say no to a Humpback salmon dish.
This salmon variety changes its appearance considerably when moving from the seas to freshwater environments. Its bright silver color turns gray or white along with the emergence of black spots on its body. The mouth also develops black gums like the Chinook salmon.
Humpback salmon live in the Pacific and Arctic coastal waters and rivers. When they take part in the spawning migration, the fish develop their distinct humps on their back, hence the name. This is the most abundant and affordable type of salmon in the market.
Watch this video: It is a great pleasure to catch and cook Humpback salmon under the open sky of Alaska.
5. Chum Salmon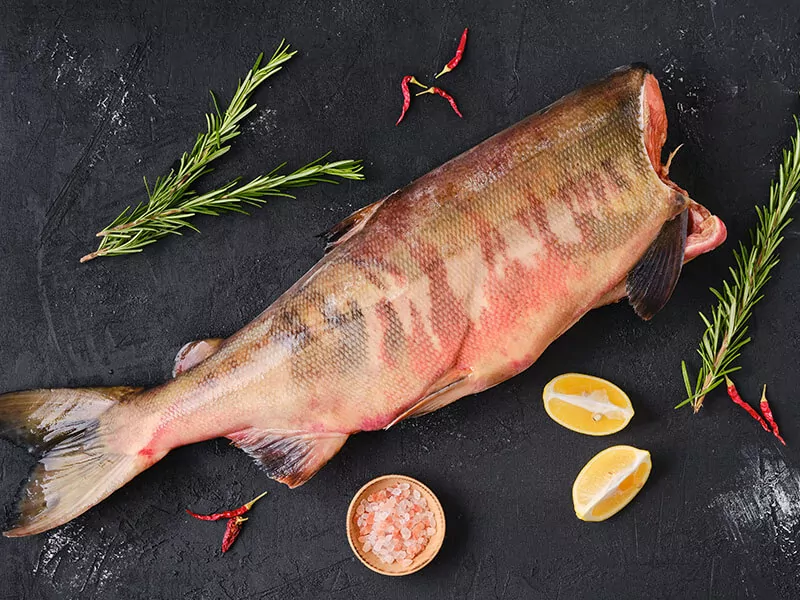 There was a time when Chum salmon was a disgrace to salmon lovers. Due to the negligible fat content, its taste is so mild to the point of bland, and the filet can go from firm to rather dry. Back then, folks only cared about its creamy and savory roe, a favorite sushi topping.
Nowadays, the situation is looking up. While many people still prefer to sell Chum salmon as canned food, more and more cooks are experimenting with the filet of this once-shunned fish. Poaching, sauteing, steaming, or grilling it with spices turn out to improve its flavor a lot.
Like Sockeye salmon, Chum salmon has white gum and no black spots on the body or tail. However, it boasts big teeth inside a hooked mouth. When the fish moves from salt water to fresh water, it will acquire a green hue with bizarre purple stripes.
Chum salmon usually amounts to 22 – 26 inches in size and 8 lbs in weight. They live all over the Pacific Ocean, from the icy coast of Canada to the coastal regions of Asia. When they migrate inland and upstream, their reddish-pink flesh tends to become lighter.
6. Masu Salmon
While this type of salmon can be found in many places in the Western Pacific, it is most identified with Japanese cuisine. The name "masu" curiously means "trout" in Japanese.
Masu salmon can grow to about 20 inches in length and from 4.4 to 5.5 pounds in weight. It is covered in beautiful patterns of red and dark brown stripes, along with dark spots on its body.
This type of salmon is renowned for its pink, tender flesh that is imbued with a subtle, refined sweetness. However, Masu salmon is a threatened fish, so your chances of enjoying it are slim. But if you come across such an opportunity, this salmon is excellent for broiling and baking.
7. Atlantic Salmon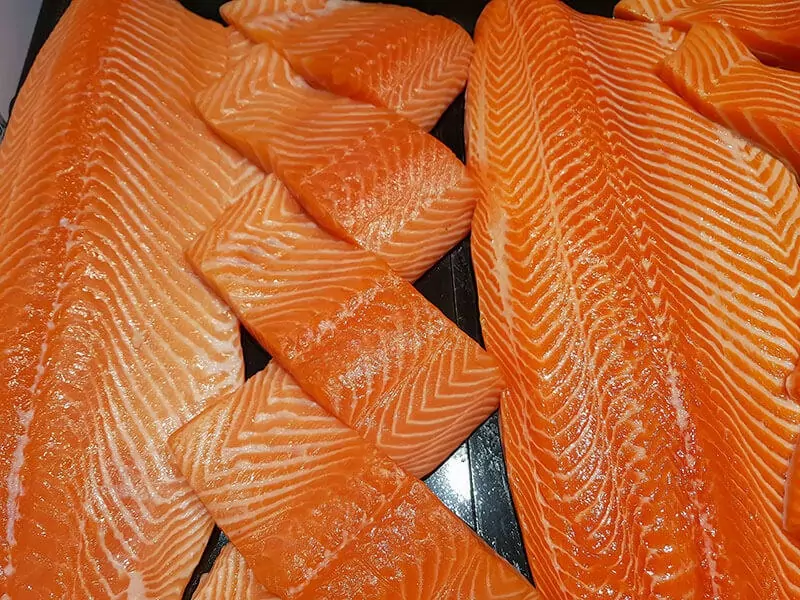 All commercially available salmon varieties come from the Pacific Ocean, except for the Atlantic salmon. This fish lives in different parts of the North Atlantic Ocean. Since this is a protected species, farm-raised Atlantic salmon is the only type you can find in the market.
Due to this significant distinction, people usually rate Atlantic salmon as milder than other types of salmon. This fish has a firm texture and an amount of fat so big that you can sometimes detect layers of white fatty streaks in the filet.
While the description doesn't sound ideal, you can turn its pinkish or reddish-orange flesh into finger-licking dishes. With the help of some herbs and spices, you can bake, pan-fry, or grill the juicy filet into flavorful, heart-warming dishes.
Atlantic salmon usually reaches 28 – 30 inches in size and 8 – 12 lbs in weight. Formerly, this fish wasn't an appealing choice because of the chemical-laden foods that fish farmers fed their salmon with.
However, as farmed salmon becomes greener and healthier, people grow more accepting of it. These days, a lot of renowned chefs have no qualms about cooking and serving Atlantic salmon.
How to tell Pacific salmon apart from its Atlantic kindred? Find out here.
3 Types Of Processed Salmon To Supplement Your Meals
Processing not only prolongs the shelf life of salmon but also improves its flavor significantly. If you are looking for more salmon ideas, check out these options.
Smoked Salmon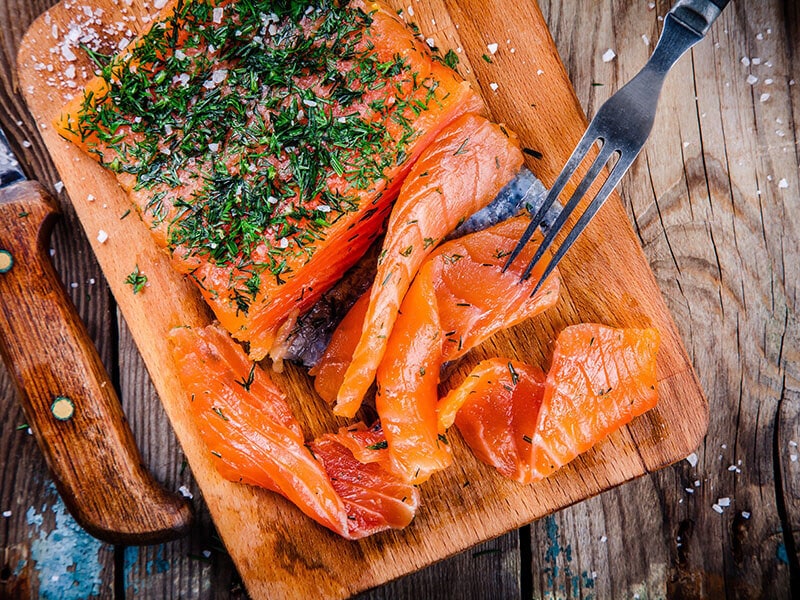 This form of cured salmon has been around at least since the time of ancient Greece. There are two principal ways of smoking salmon: hot smoking (which fully cooks the fish) and cold smoking (which doesn't).
Smoked salmon is a rather expensive delicacy. The juicy, tender texture and mouth-watering sweetness of the succulent flesh become even more tempting with pleasant smoky notes. In the case of cold smoked salmon, you will be rewarded with extra freshness.
To determine whether smoked salmon is cooked or raw is an interesting task. There is no controversy about hot smoking, while the answer with cold smoking is less clear-cut.
Obviously, cold smoked salmon isn't cooked. But it isn't raw, either, because the heat from smoking effectively kills all harmful bacteria and partly cooks the flesh. Therefore, both "cooked" and "raw" labels can't describe this food.
Check out this easy recipe to make smoked salmon at home.
Lox Salmon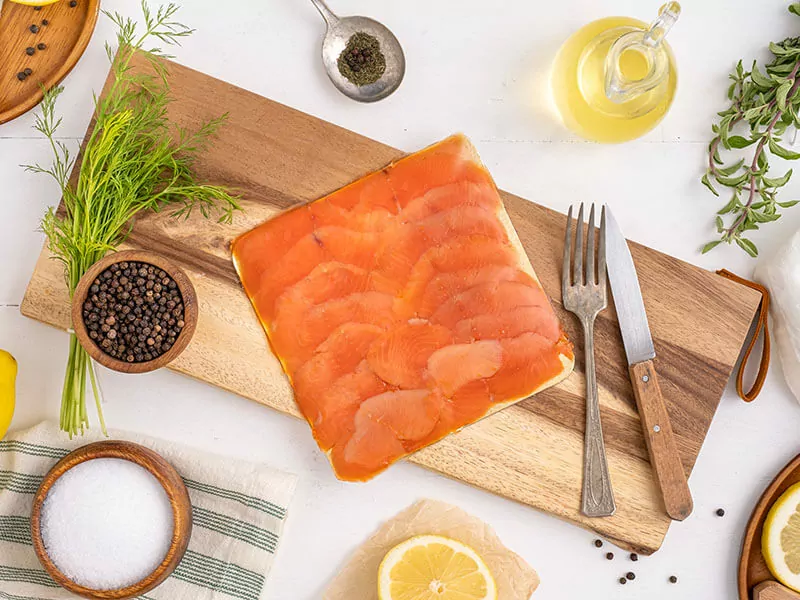 Contrary to what you may have heard, lox salmon and smoked salmon aren't the same. It takes a whole article to illustrate all the differences, so I will list only the most obvious ones.
The latter is made from salmon marinated in a briny liquid before being smoked. But if the fish is only preserved with salt and no smoking, it will become lox salmon.
Another discrepancy is that while smoked salmon can include anything, people usually utilize belly filet to make lox. This helps create a translucent, deeply tender delicacy with an unforgettably raw and salty fattiness that sets lox apart from smoked salmon.
Although "Lox" supposedly stems from a Yiddish word for "salmon", this dish seems to have originated in Scandinavia. A toasted bagel with cream cheese and lox on top is an iconic combo. You can also expand your options by pairing lox with pizza or fried eggs, among other things.
Canned Salmon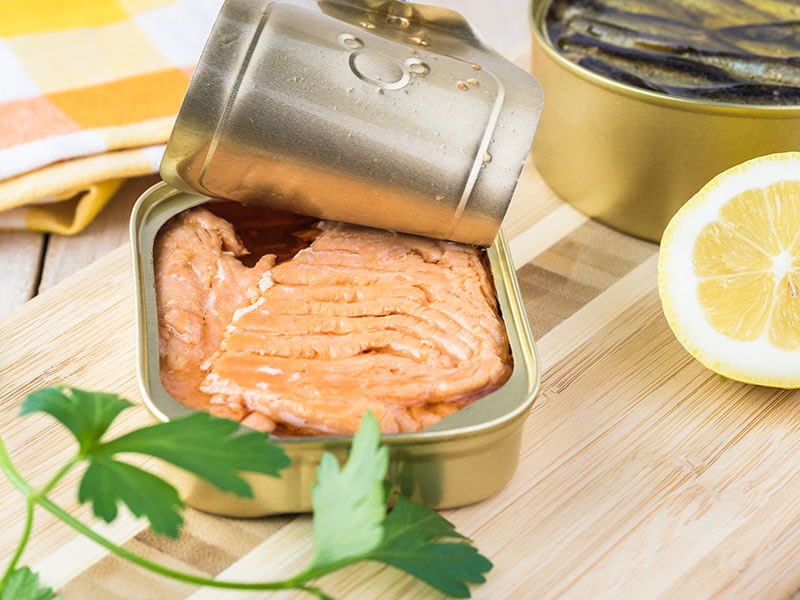 For centuries, canned salmon has played a vital role in the meals of countless people in many countries. Thanks to its excellent shelf life, it helps bring the sublime taste of the fish to families living far from the seas.
Most canned salmon products contain wild salmon, a curious fact considering that they are usually inexpensive. One more bonus point is that this food tends to retain the high nutritional value that salmon is so famous for. Therefore, it will make a nice addition to your menu.
If properly stored, unopened canned salmon can last for 3 to 5 years. By contrast, the average time smoked salmon can stay at its best for a much shorter amount of time. Even in optimal conditions, it's no match for canned salmon.
So how long can it last? Only 2 – 3 weeks. This is one more reason why to incorporate canned salmon into your shopping list.
When shopping for canned salmon, you should read the label carefully. Think twice before purchasing products that say they are produced from farmed salmon or contain a large amount of sodium. And don't forget to buy salmon cans with bones to chew for extra calcium!
5 Useful Tips To Bring Out The Best In Your Salmon
In this section, I'm going to tell you a few things that will help you store and cook this (mostly) saltwater fish better. These simple steps can have a great impact on how you enjoy salmon.
Poke Your Salmon To See If It Is Cooked
Overcooked salmon is ugly to look at and nasty to eat. They are tough, rubbery, dry, and devoid of any buttery delight that you expect from this fish. Therefore, being able to identify when your salmon is cooked just right will save your stomach and taste buds a lot of irritation.
The best way to tell if salmon is cooked is to use your fork to gently press down on the top of the filet. It is done if the flesh flakes (meaning that it can separate easily along the white lines of fat) but still maintain a little translucency in the middle.
Here is an in-depth guide on how to check if you have cooked your salmon just right or not.
How To Tell If Salmon Has Spoiled
Does your salmon have a dull gray color, an invasively fishy smell, or fragile flesh? They are a few indicators that your salmon is no longer edible. Other telltale signs are milky residues, absence of white fat lines, and discolorations as well as molds on the filet.
Always Store Your Cooked Salmon In The Refrigerator Properly
Salmon is less shelf-stable than other fish, so preserving it at cold temperatures is a must. But the amount of time you can store cooked salmon in the refrigerator isn't very long, It is usually between 3 and 4 days.
In theory, you can refrigerate cooked salmon for up to a week, although that will severely compromise the quality of this excellent food. When you preheat the salmon, remember to add some water to prevent it from drying out.
Salmon And The Freezer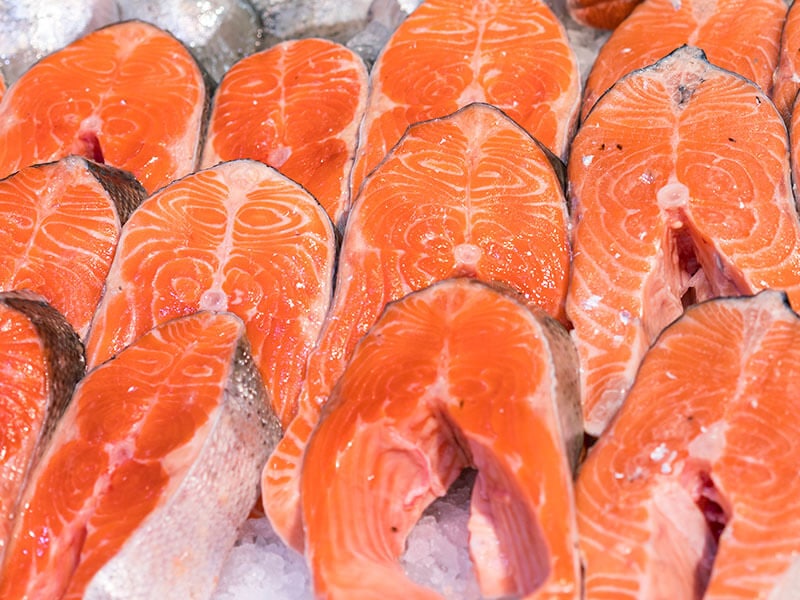 To freeze or not to freeze raw salmon? The answer is yes, although if improperly handled, this method will ruin your salmon. Pay attention that frozen salmon can't stay in its best shape forever; when past a certain mark, it will start deteriorating in quality.
Anyway, how long you can freeze salmon for storage depends on many factors. If you wrap raw salmon tightly in plastic wrap before putting it in a container or a sealed bag, the optimal time is around 2 to 3 months.
Is it possible to freeze smoked salmon?. Of course, just follow the same steps as you do with raw salmon. Smoked salmon can retain its delicate taste if frozen for less than 3 to 6 months. Beyond that, expect some loss of flavor.
400 ℉ Is The Magical Temperature
This temperature is the best mark to prepare various salmon recipes to perfection. Of course, the amount the time required to cook salmon at 400 ℉ varies from one dish to another.
Suppose that you're roasting or baking salmon filets, keep them in the oven for 4 minutes if you like rare salmon. Increase to 6 minutes to fully cook them. In terms of grilling salmon in foil, it's between 10 and 15 minutes. For pan-fried salmon, cook each side for about 3 to 4 minutes.
Can You Resist These 4 Superb Salmon Recipes?
Although this statement is kind of a cliche, salmon is yummy no matter how you cook it. The following recipes will channel its juicy deliciousness into making your mouth water incessantly.
Let's start with one of the best recipes with canned salmon. If you think of canned food as greasy, rancid, unattractive stuff, the colorful mixture of vitamin -packed veggies in this dish will help you dispel that bias. Pair this salad with crackers or bread.
Supposing that you need a quick yet fulfilling meal in half an hour, what're you going to cook? Allow me to introduce baked salmon, a savory dish packed with all kinds of flavors you can enjoy. It is equally delicious whether you use fresh or canned salmon.
There are numerous side dishes to accompany salmon patties. Those combos will give you tons of omega 3-rich pleasure to enjoy. So why cook patties from red meat while healthy salmon is around?
To bring out the appetite-provoking flavor of this dish, all you need to do is to mix salmon with herbs and breadcrumbs, divide the mixture into balls, and deep fry them. Those golden patties go extremely well with tangy salads, fresh vegetables, and fried potatoes.
Dive into this easy salmon patty recipe to improve the flavor of your canned salmon even further.
Salmon for snacks, why not? This fatty, airy delight combines flawlessly the powerful aroma of fragrant herbs with the nutty goodness of salmon. The collision of the two worlds will ignite a firework of flavors for your taste buds to enjoy.
Why Aren't Salmon On Your Dinner Table?
By now, you've probably had a good grasp of how diverse salmon can be. If you are a person of means, go for the premier wild Chinook salmon or sockeye ones, preferably their smoked filets. Otherwise, you can still find pleasure in a bite of coho or humpback salmon.
Anyway, it would be a bummer if you left this nutrient-rich, flavor-packed food out of your menu. Few things can provide your body with vitamins and all kinds of omega fatty acids as deliciously as salmon. Just go to a supermarket and pick up your favorite type.
If you find this post informative, it will be nice if you can share it with your friends as well as tell me your opinion in the comment section. Doing so will help me greatly in coming up with better articles. Many thanks and have a good day!