Identifying the best herbs for salmon will help your work much easier. There is a wide range of herbs, each of which tends to come with distinct flavors. This makes choosing them become an undoubtedly challenging task.
Many people try and fail again and again to cook a delicious salmon with herbs. Don't worry! This article can save you time and budget by taking you through the best herbs for salmon. Only a few minutes of reading, and you will handle this perfectly. Let's jump in!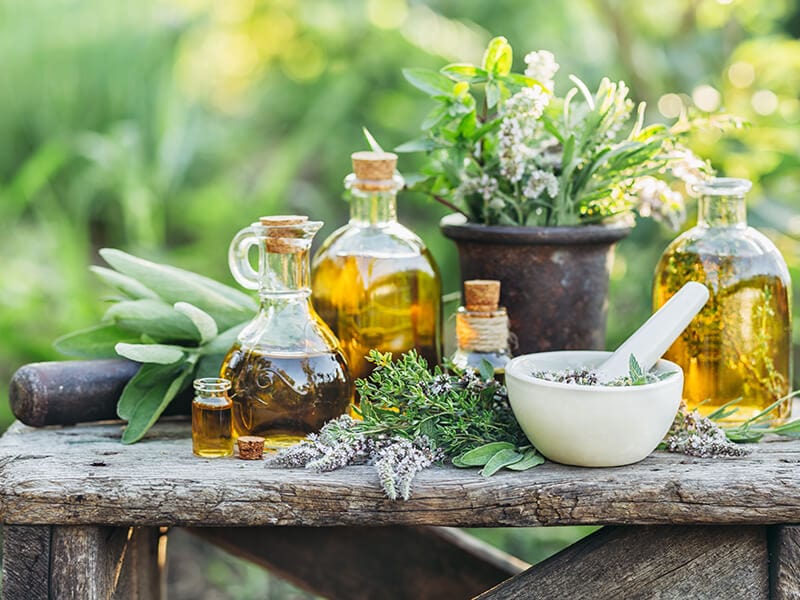 Criteria To Choose Herbs For Cooking Salmon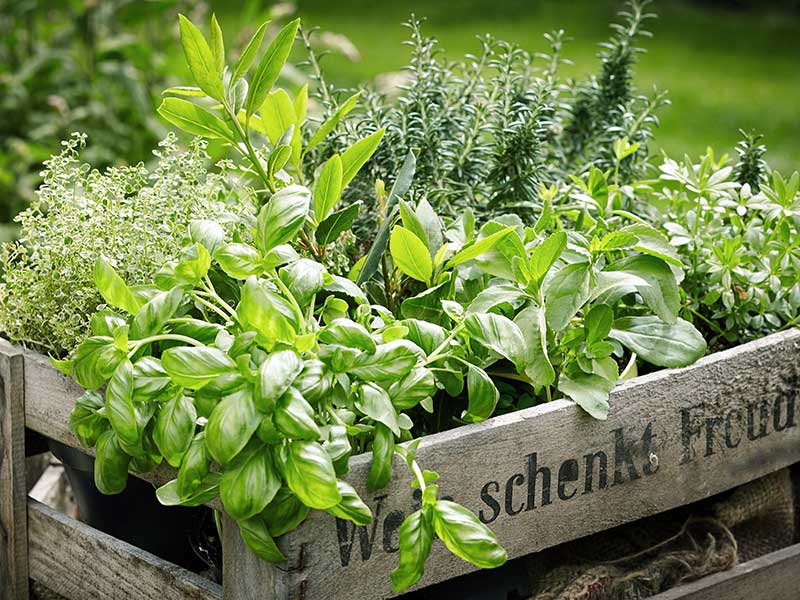 Before diving deeper into the best herbs for cooking salmon, you should know the standards set for them first. There are two things you should consider.
Flavors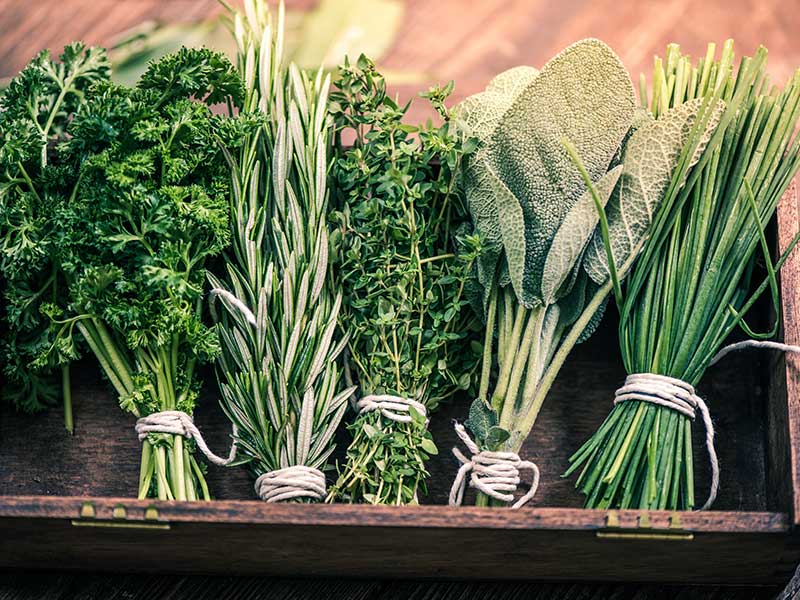 Salmon is typically described as having mild-fishy and oily flavors. However, some say that its taste is much stronger than other fish. Depending on the ingredients used in cooking, the flavor of salmon may greatly vary from recipe and recipe.
For this reason, when buying herbs for cooking, you should look at other ingredients in salmon recipes to determine if the flavors can go well together. For example, fennel, basil, mint, or dill are good herbs to use if you want to add some sweetness to your dish.
When it comes to cooking salmon, you can use various herbs to upgrade your salmon flavor. Here are some excellent combinations you may want to take notes:
Basil + parsley + thyme
Rosemary + parsley + mint
Chives + basil + tarragon
Thyme + parsley + bay leaves + rosemary
Dill + chives + parsley + tarragon
Cilantro + basil + mint
Fresh Or Dried Herbs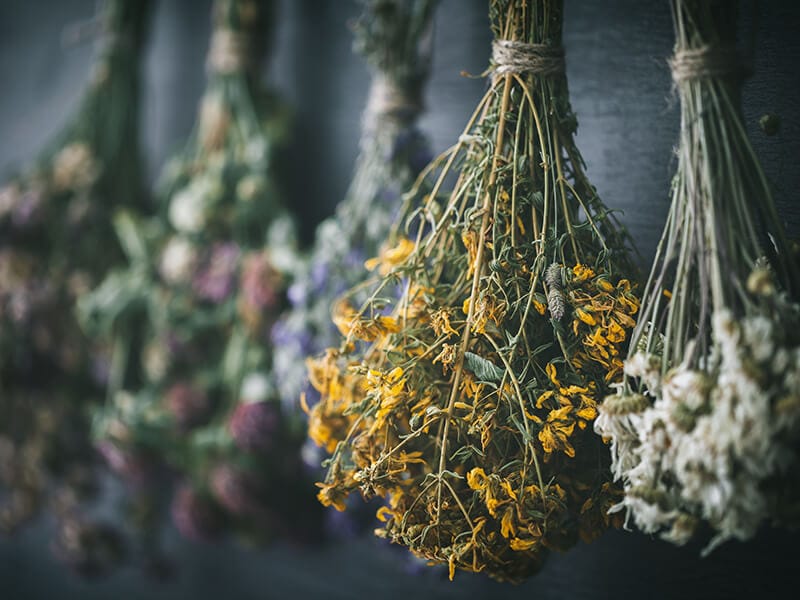 Choosing between fresh and dried herbs plays a major role in your salmon flavor. Many people often prioritize fresh herbs over dried ones because of a common thought: freshness is always better. However, this is not absolutely true in cooking.
Fresh herbs have milder and more refreshing flavors than dried herbs. This means they are a good choice for almost every meal, especially raw or quick dishes like salads. Dried herbs, on the other hand, are more common in soups and stews.
While you can use them interchangeably, in some cases, one type is better than another. For example, if you cook with parsley, basil, tarragon, or cilantro, using fresh herbs gives a better result. By contrast, dried thyme, rosemary, or fennel are better for cooking than fresh ones.
From an economic perspective, fresh herbs are often more expensive than dried herbs. Therefore, if budget is your priority, you may want to get the latter. In addition, dried herbs also come with a longer shelf life, which can last for a year or more.
Learn the 3 effective ways to keep your fresh herbs last longer.
12 Best Herbs For Cooking Salmon
There are numerous herbs for multiple uses you can find at grocery stores. However, for cooking salmon, these are the best options you can use. For a brief summary, look at the table below.
| Types | Flavor | Best For Salmon Recipes |
| --- | --- | --- |
| Parsley | Fresh, slightly bitter | Pesto, pasta, salads, sauces |
| Fennel | Sweet, mild | Stuffings, salads, sauces |
| Basil | Sweet, savory | Pesto, pasta, sauces, soups |
| Chives | Onion-like | Salads, soups |
| Mint | Subtly sweet, cool, tingling | Pesto, sauces |
| Rosemary | Aromatic, strong, pine-like | Sauces, soups |
| Sage | Aromatic, minty, and musky | Stuffings, soups |
| Bay leaves | Earthy, woody | Stews, soups |
| Thyme | Earthy, minty | Stuffings, stews, soups |
| Dill | Fresh, subtle, sweet | Salads, sauces, sour cream |
| Tarragon | Licorice, bittersweet | Salads, soups |
| Cilantro | Fresh, aromatic | Stews, salads, soups |
1. Parsley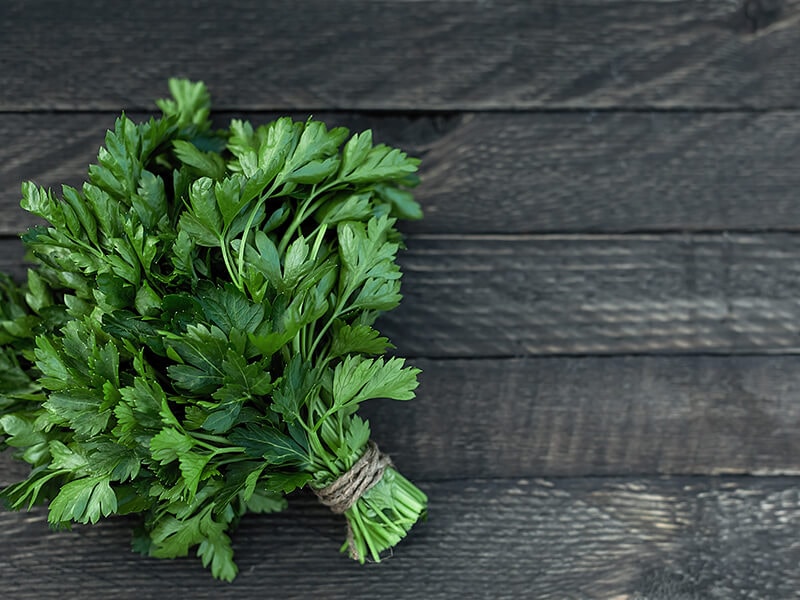 Parsley is a native plant in the Mediterranean and a common ingredient in many European and Middle Eastern dishes. While there are various types of parsley, the popular ones for cooking are flat-leaf and curly parsley.
For cooking salmon, it can add a fresh and slightly bitter flavor to your filets. This herb also brings about a little green color to make your salmon appealing. While parsley can be used for many salmon recipes, it works best in pesto, pasta, salads, and sauces.
To store fresh parsley, you should treat it the way you do with flowers. First, you need to cut its stems and remove any browned leaves. Then, put it in a jar of cold water and keep it in the fridge. To avoid parsley browning, you can cover the container with a recycled bag.
Don't forget to change the water every 2 days to keep it fresh. This will help this herb last for up to 5 – 7 days. For dried parsley, keep this herb in a tightly sealed container in a fridge. This will help it last for up to 2 – 3 years.
2. Fennel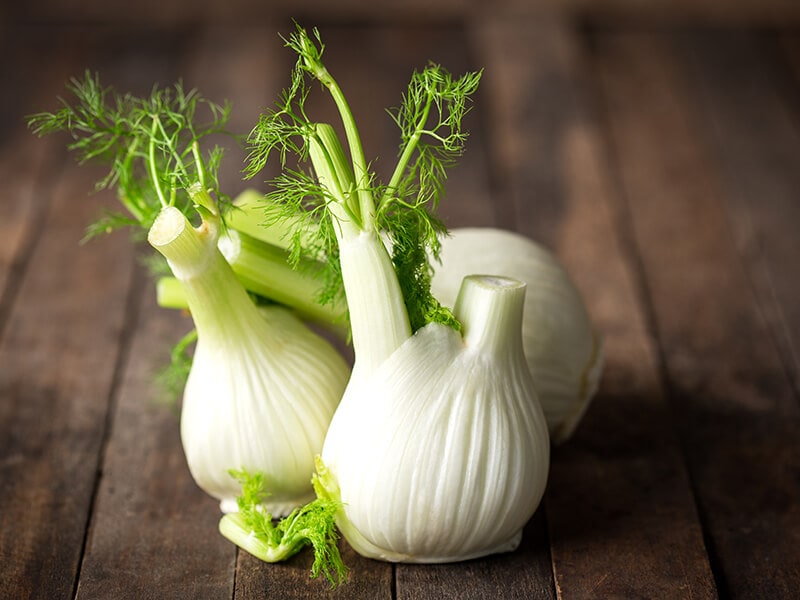 Fennel is another herb that originated from the Mediterranean. While every part of it can be used for multiple purposes, its bulbs are more popular in cooking salmon. If you want to slightly upgrade the sweetness of your stuffings, salads, and sauces, this herb will serve very well.
There are some signs to tell if fennel at a grocery store is of high quality. For cooking, you should choose one coming with green, fresh feathery fronds and bright young bulbs. By contrast, fennel with yellow feathery fronds and brown spots should be a no-go.
Besides salmon, this herb is often used for adding flavor to a variety of dishes, such as salads, pasta, soups, etc. Another great use of it is to combine with Campari (Italian alcoholic liqueur) to create a special cocktail. This delicious beverage is a good way to mitigate digestive issues.
Do you know how fennel is harvested and brought to your dinner table? Check out here.
3. Basil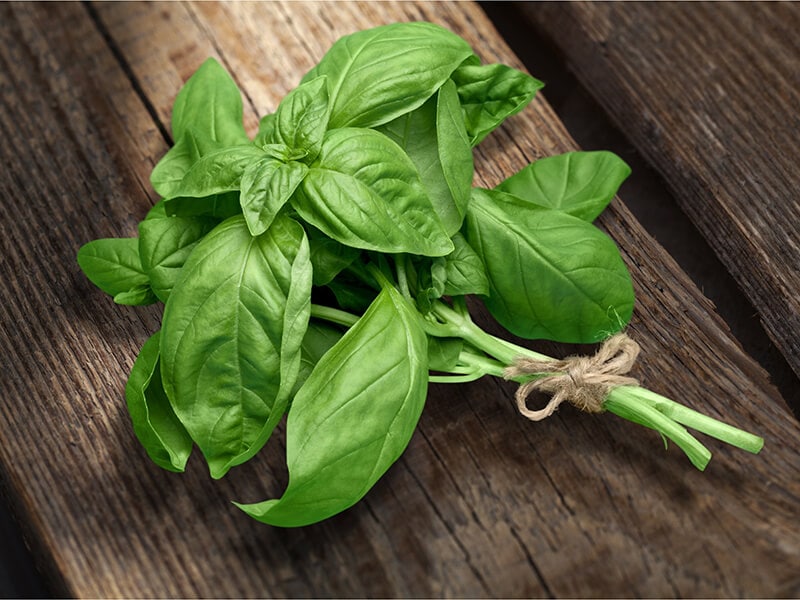 Basil is a member of the mint family. It is a tropical plant that is native to India, China, Thailand, and other parts of Asia and Africa. For this reason, this herb is commonly used in various Asian dishes as well as also a key ingredient in pesto pasta.
When it comes to types of basil, it has an impressive number. There are about 150 varieties of basil with different colors and flavors. However, the one this article refers to is sweet basil. This is the most popular variety for cooking, especially for Italian and Mediterranean dishes.
Due to its sweet and savory flavors, it is often in pesto and salads. This herb goes well with other ingredients in pasta, sauces, and soups as well. To utilize its flavor for your salmon, you should use fresh basil after cooking, while dried one is suited to add during cooking.
4. Chives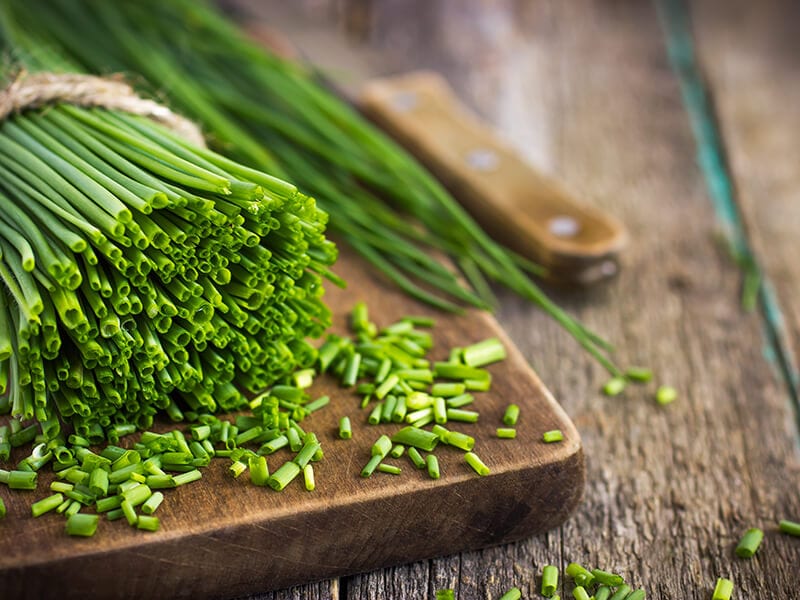 Chives are a cousin of onions, leeks, and garlic. Despite their onion-like appearance, they are not classified as vegetables but as herbs. Chives are one of the earliest herbs used by the ancient Chinese for medical purposes. In Europe, their popularity started in the Middle Ages.
Discovered and used as a medicine thousands of years ago, this herb is loaded with high amounts of vitamins, minerals, and antioxidants. Many studies show that chives intake may help reduce the risks of cancer as well as mitigate its development.
Choline and folate in this herb also help you improve memory and prevent age-related diseases such as Alzheimer's. Lutein and zeaxanthin in chives are linked to positive impacts on eyesight as well (1) .
For cooking, this herb comes with a mild onion-like flavor. As a result, it does not alter the flavor of dishes and can be used in many recipes, such as salmon salads and salmon soups.
5. Mint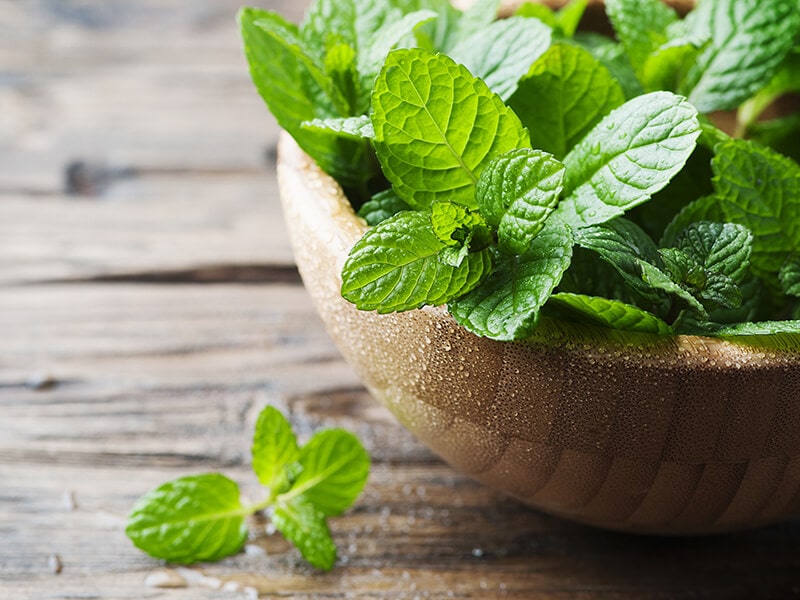 Mint has an interesting story behind the origin of its name. It is derived from the name of Minthe (an underworld nymph in Greek mythology). She used to be Hades' mistress but then was transformed into a plant by the goddess Demeter or her daughter and Hades' wife, Persephone.
In terms of flavor, it is often described as subtly sweet, cool, and tingling. As a result, mint is a common ingredient in pesto and sauces, especially for salmon. For these dishes, using fresh mint will provide the best result, while dried mint is better for teas and coffee.
Apart from cooking, mint is a necessary ingredient in oral care products. For example, toothpaste, mouthwash, and chewing gum often include this herb to bring about a breath of fresh air and bright teeth.
6. Rosemary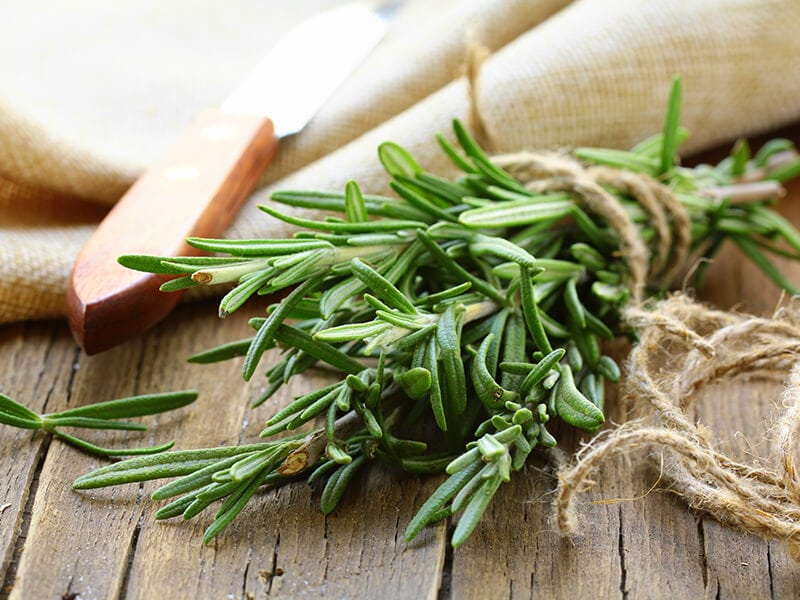 Rosemary is a herb that originated in the Mediterranean. Thanks to its aromatic, strong, and pine-like flavors, it goes very well with fish, poultry, vegetables, and other ingredients. If you want to make delicious sauces and soups, you should try this herb.
It is not just flavorful but nutritious as well. Due to its high amounts of antioxidants and inflammatory compounds, rosemary may benefit your immune system and blood circulation. Some studies also link this herb with the ability to improve mood and relieve stress.
Although rosemary offers many health benefits, overconsuming it may lead to several health risks. High doses of this herb could be associated with vomiting, coma, miscarriage, etc. (2) Therefore, you may want to avoid using too much rosemary in your salmon recipes.
7. Sage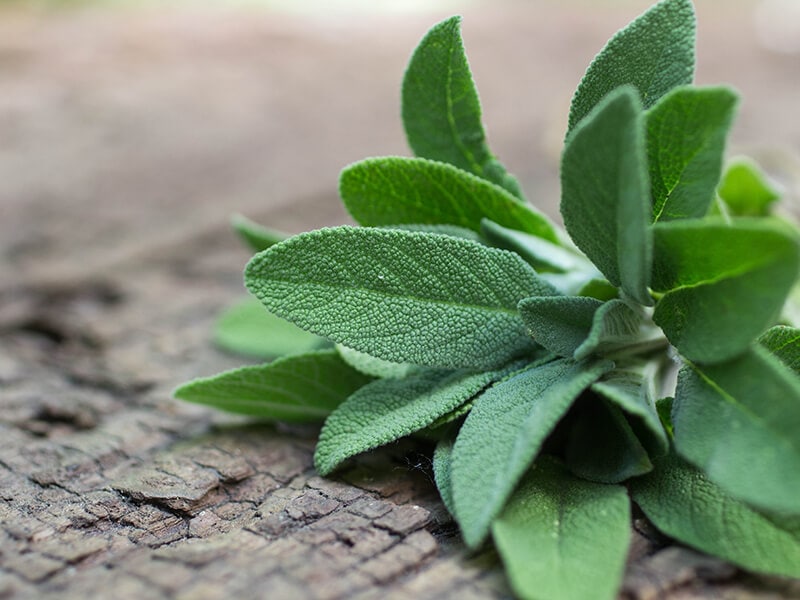 Sage is another member of the mint family with oval, light gray-green leaves. It is rich in vitamins, iron, magnesium, and other nutrients. As a result, this herb is an ideal choice for people who want to make their diets more nutritious.
If you want to add aromatic, minty, and musky flavors to your stuffings and soups, sage is the way to go. To enhance the flavor of your salmon more, you can also combine it with other herbs, such as thyme, parsley, and rosemary.
Unlike other herbs, you can add sage at the beginning of cooking to take advantage of its intense flavor. This allows your sage to have enough time to fully develop its taste. Apart from cooking, fresh sage is also used for adding a herbal flavor to certain beverages, such as cocktails and teas.
8. Bay Leaves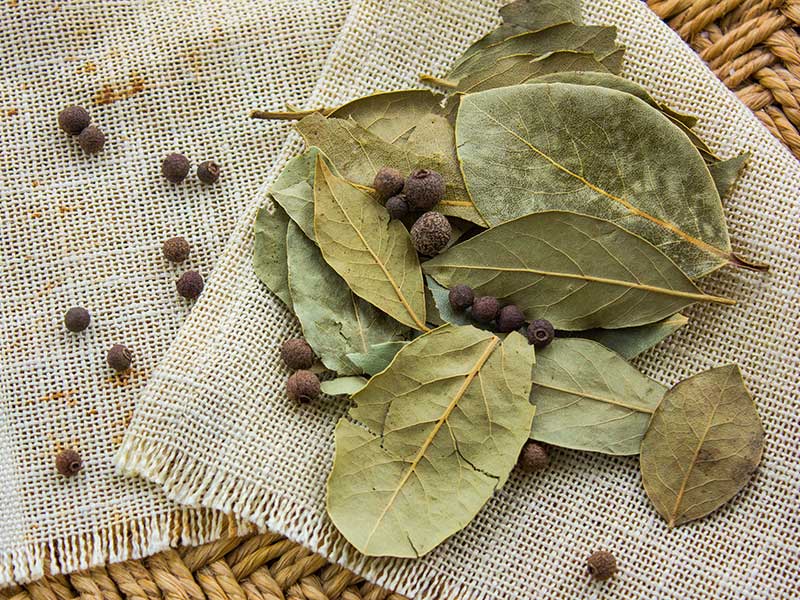 The Mediterranean region is home to bay leaves. Fresh leaves come in shiny green and dark green, while the colors for dry ones are duller and paler. Once the leaves turn brown, this means their flavor is likely to fade.
Bay leaves are divided into two major varieties: Turkish and California bay leaves. The former has short and fat leaves, while those of the latter are thinner and longer. Of the two, Turkish bay leaves are more popular and also the one most recipes refer to.
For cooking purposes, bay leaves have earthy and woody flavors. The best way to use this herb is to apply it to slowly cooked recipes, such as stews and soups. And don't forget to take them out of your dish at the end because they are inedible and may become a choking hazard.
9. Thyme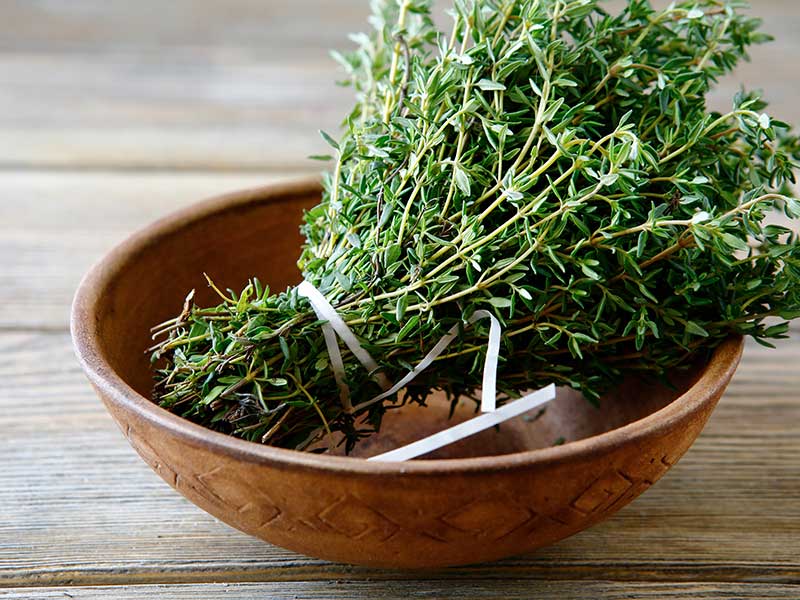 Thyme is a common herb that is used in European, British, and Central American dishes. For the flavor, it is described as earthy and minty. While this herb can be used in various recipes, it goes particularly well in dishes such as stuffings, stews, and soups.
Due to its versatility, cooking with thyme is quite easy. You can add its stems or leaves at the beginning of the process, during, or even after. If you want its flavor to fully develop in your meal, you may want to use it at the beginning of cooking.
A diet with thyme can offer several health benefits. If you are suffering from a cough or sore throat, a tea made from thyme can help you mitigate your symptoms (3) . Due to its vitamins, copper, iron, and other nutrients, thyme may boost your immunity system as well.
10. Dill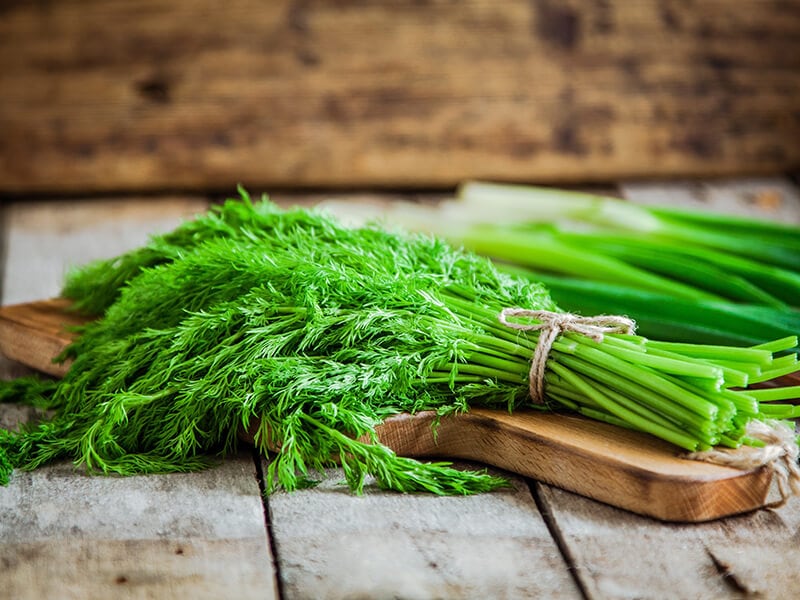 Dill (also known as dill weed) is a herb that has feathery green leaves and brown oval seeds. Being a rich source of antioxidants, it helps prevent heart disease, Alzheimer's, and cancer. It is also linked to blood sugar level reduction and positive impacts on bone and liver health.
Apart from medical use, dill is used for adding flavors to a variety of dishes. This herb has fresh, subtle, and sweet flavors and is often included in salads, sauces, and sour cream. To avoid bruising it, you should only wash it when you are about to cook.
To provide the best flavor, dill is often added at the end of cooking. It also goes well with other herbs, such as chives, parsley, and tarragon. Therefore, if salmon salads or sauces for salmon are your favorite dishes, make sure you try this combination.
11. Tarragon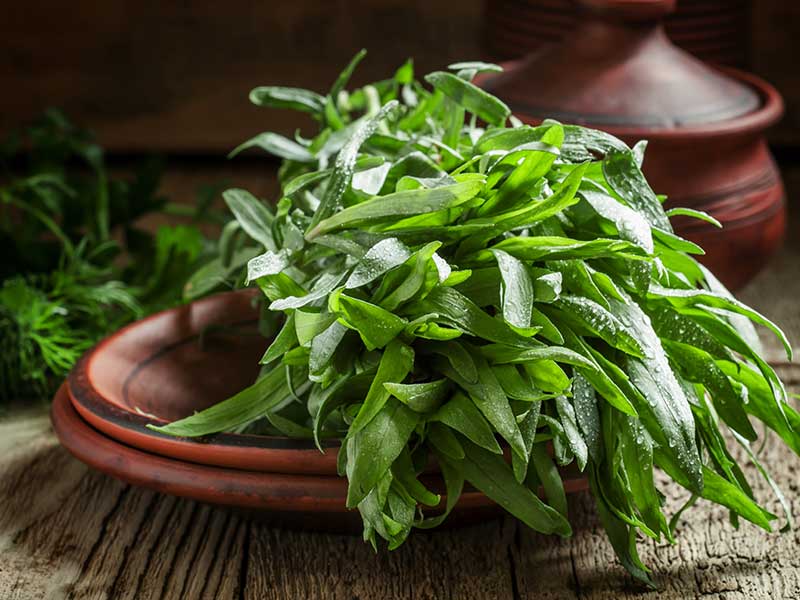 Tarragon (also known as estragon) is commonly used in France and many other countries. This herb is often regarded as "the king of herbs" by the French. Having the flavor of licorice tinged with bittersweet notes, it is common in salads and soups.
While there are several tarragon varieties, French tarragon is the most popular one for cooking. This means if your recipes do not refer to the particular kind of tarragon, you may want to go with the French variety. It is a safer way to go.
Like many herbs, the best way to store fresh tarragon is to cover it in either a paper towel or a jar in a fridge. If you want to enhance its shelf life, you may want to consider freezing it as well. This method allows your tarragon to last for up to 5 months without losing its flavor.
12. Cilantro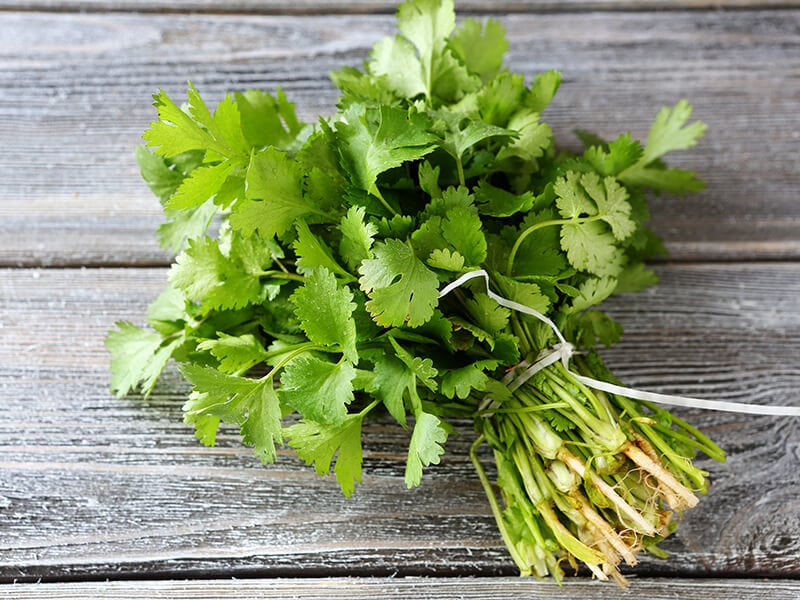 Cilantro is a herb that comes from the leaves and stems of the coriander plant. For this reason, it is also often called coriander leaves or fresh coriander in some parts of the world, such as the UK. Any part is edible, but the leaves and seeds are used most in cooking.
When it becomes an ingredient in dishes, cilantro offers fresh and aromatic flavors. This makes it a vital ingredient in stews, salads, and soups. If you want to use fresh cilantro for cooking, choose the ones with whole and bright green leaves.
Like many other herbs, cilantro is associated with numerous health benefits. The positive impacts include reducing anxiety, protecting brain health, lowering blood sugar levels, etc. However, it may come with a few potential risks, such as allergic reactions, digestive issues, and breathing problems.
Additional Tips For Cooking Salmon With Herbs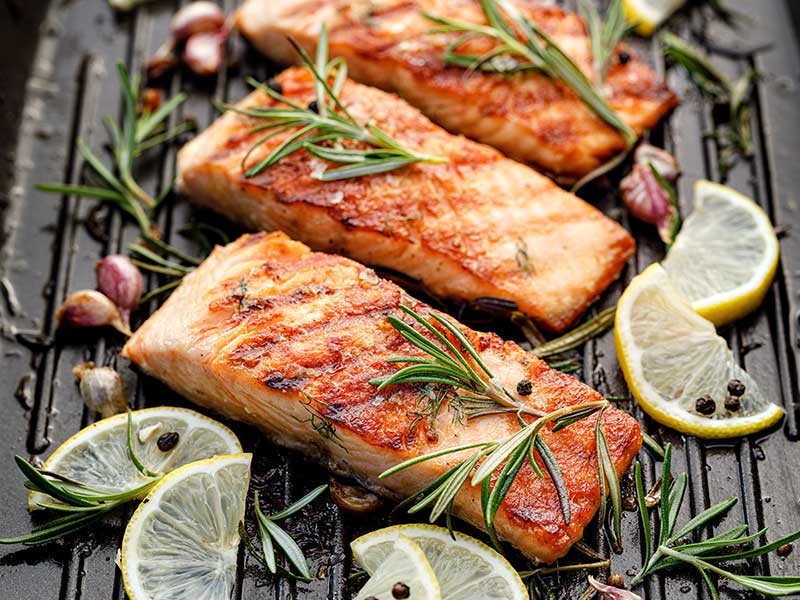 Cooking the best salmon with herbs may not be easy. However, there are some useful tips that can help you get there. Below are things you should keep in mind when using herbs for salmon:
Fresh herbs have a slighter flavor than their dried counterparts. If you often use 1 teaspoon of dried herbs for cooking, you should triple that amount for fresh herbs.
Although most fresh herbs are added at the end of cooking or after, ones with intense flavors can be used at the beginning of the process. Some examples of this case are parsley, mint, rosemary, sage, etc.
While dried herbs can last for a year or a couple of years, they are likely to lose their quality of flavor after 6 six months.
When it comes to chopping fresh herbs, a sharp knife is a way to go. It helps avoid bruising the herbs, which in turn ensures their appealing appearance and flavors.
4 Excellent Salmon With Herb Recipes You Must Know
There are countless dishes that you can make with salmon and herbs. Here are some of the best recipes you can try at home. They are easy, quick, and delicious.
If you want to make a salmon dish with fennel and rosemary or thyme, you can't go wrong with this recipe. This slow-baked salmon is quite easy and quick to cook but excellent in taste. To make your dish even more delicious, you can serve it with broccoli or sweet potatoes as well.
Another easy salmon you can cook with a few ingredients and steps. All you need for this baked salmon are some thyme, lemons, kosher salt, black pepper, and olive oil. Side dishes, such as asparagus, potatoes, and salads, go very well with the flavor of this recipe.
For busy people at work, you should give this recipe a try. It is amazingly quick, just about 15 minutes, for cooking a delicious and nutritious salmon meal. To bring out the best flavor for your dish, you should prioritize wild salmon over farm-raised ones.
This recipe is a perfect combination of salmon, cilantro, garlic, soy sauce, and olive oil. It is not only amazingly tasty but also appealing to the eyes. While olive oil is used in the recipe, you can use other high-smoke point alternatives, like avocado, canola, and vegetable oils as well.
FAQs
There are other questions about herbs and salmon that may be helpful to you as well. Let's give them some more minutes of reading. Your cooking is only getting better and better.
Choosing The Finest Herbs: Practice Makes Perfect!
There are a variety of viable herbs for salmon, which means you have unlimited ways to use them in cooking. Some are even better when mixed with others. Be creative and create the best herb salmon recipes of yours.
For beginner cooks, mistakes are bound to happen in the very first cooking attempts. If you forget any information, tips, or tricks, keep coming back to the article every now and then. It will help a lot. Practice, and you will master this!
I hope you find the article useful and insightful. Let me know your thoughts in the comment section below. Share the post with your friends to let them know too.
Paragraph
Eisenhauer, B. et al. (2017) Lutein and zeaxanthin-food sources, bioavailability and dietary variety in age-related macular degeneration protection, Nutrients. MDPI.
Editor (2022) Herbs and pregnancy, American Pregnancy Association.
Person (2018) Thyme: 12 health benefits and more, Healthline. Healthline Media.