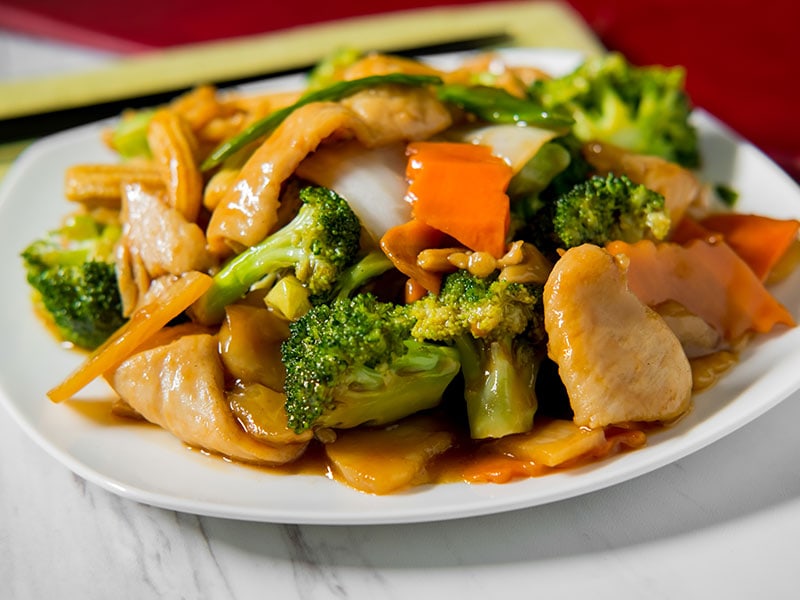 Objectively speaking, numerous dishes can go with your salmon dishes, but what you need are all the best side dishes that go together with salmon and make it fantastic to eat.
Of course, there's no denying about the great flavor of salmon but eating it alone makes you quickly get bored. With some other dishes like salads, vegetables, or rice, your salmon's deliciousness level certainly sky-rockets, leading you to get excited when you enjoy them.
In my reading, I will help you to cover all the best sides making all salmon varieties shine like the star, from veggies, salads, rice, to pasta.
Now, it's time to discover the list of the outstanding side dishes for salmon that are never outdated.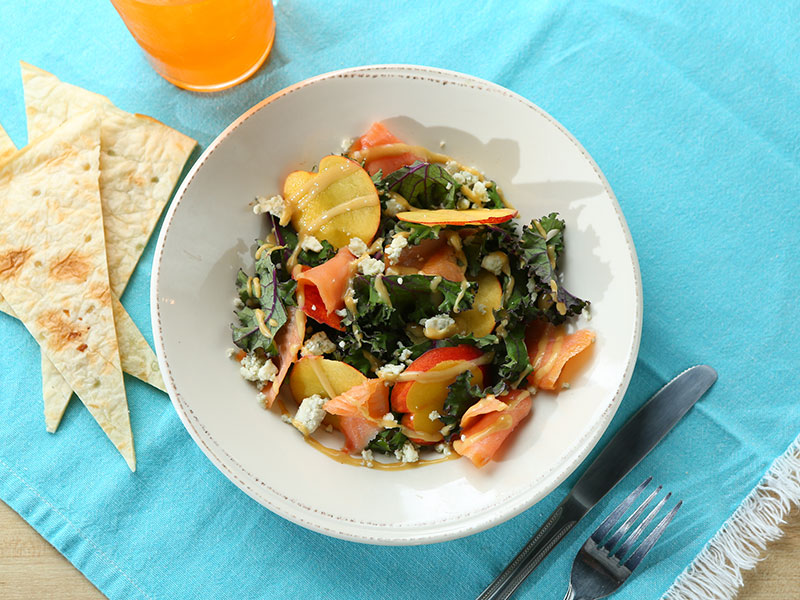 What Are Side Dishes For Salmon?
Without further ado, here is the overall list of 40 dishes going well with salmon. Let's see what they are!
Side Dishes Made With Veggies
1. Easy Vegetable Stir Fry
2. Roasted Lemon Garlic Broccoli and Cauliflowers
3. Cheesy Broccoli Gratin
4. Sauteed Tenderstem Broccoli
5. Garlic Parmesan Mashed Cauliflower
6. Slow-Cooked Brussels Sprouts
7. Slow Cooked Pineapple Glazed Carrots
8. Mashed Potato Casserole
9. Easy Creamed Spinach
10. Miso Roasted Sweet Potatoes
11. Crispy Rosemary Potatoes
12. Baked Sweet Potato
13. Easy Refrigerator Pickled Beets
14. Oven Roasted Garlic Green Beans
15. Easy Cheesy Asparagus
16. Citrus Summer Slaw With Toasted Almond And Raisins
17. Polenta Fries With Smoky Tomato Yogurt Dip
18. Herb-Buttered Baby Carrots
Salmon Side Dishes For Your Empty Stomach
19. Veggie Fried Rice
20. Coconut Rice
21. Spinach Rice Casserole
22. Keto Garlic Bread Rolls
23. Creamy Baked Lemon Pasta
24. Cool Peanut Sesame Noodles with Crunchy Vegetables
25. Simmered Lentils
26. Bacon and Blue Cheese Stuffed Dates
Salads To Go Well With Dishes Made With Salmon
27. Mexican Street Corn Potato Salad
28. Southwest Quinoa Salad
29. Southwest Quinoa Salad
30. Mixed Green Salad With Apple And Gouda
31. Basil Lime Zucchini Corn Salad
32. Weight Watcher Orzo Salad With Vegetable
33. Napa Cabbage Salad
34. Sweet Bell Pepper Salad
35. Grilled Peach, Rice, And Arugula Salad
36. Strawberry, Basil, And Arugula Salad With Lots Of Black Pepper
37. Pineapple Salsa
38. Vegetarian Pesto Gnocchi
39. Sweet and Sour Onions
40. Asparagus Salad with Fried Egg
Top 40 Brilliant Accompanying Dishes For Salmon
It's time for you to get general information about 40 salmon side dishes and choose the most favorite one to serve with your salmon today! Let's go!
Easy And Common Veggie-Based Side Dishes For Salmon
Eating dishes made from vegetables are healthy, delicious, and also nutritious. Serving them together with salmon-made foods is possible because they can help to increase the main savories' deliciousness.
If you are a veggie-lover, combine your favorite vegetables, and stir-fry them. That's all to make a yummy side dish for seafood.
Stir-frying the blend of carrots, green beans, mushrooms, and snow peas with some essential spices like salt, sugar, soy sauce, butter, pepper, and garlic is really an ideal way to make a side dish for meat or fish-based main savories.
Moreover, this colorful side dish will make a significant contribution to brighten your meals, which makes you and your family members excited to enjoy them.
I will let you know a simple but best side dish for your salmon; that is roasted lemon broccoli and cauliflower with the addition of the flavor of garlic, lemon, salt, pepper, and some olive oil. Your dish will be incredibly adorable to be sprinkled with some grated cheese.
Besides, broccoli and cauliflower are also suitable for you, as different kinds of vegetables, so combining salmon-made foods with these two veggies is a desirable idea to consider.
Rice
If you have an empty stomach, rice-based side dishes for salmon are really unique to you. Now, let's see!
Watch the video to know the best way to make roasted cauliflower and broccoli:
If you have just got broccoli available in your fridge, you can also make a perfect side dish to serve well with your dishes made from salmon. That is cheesy broccoli gratin which is a sweet dish for those who love cheese.
The sweetness of broccoli with cheese will make your dish delectable!
Another idea to make your broccoli an irresistible side dish is sauteing it in whole stems. If you have never known about this, it's time for you to try. You will be surprised by the tangy and appealing taste of the dish.
This veggie side dish can accompany roast meats to fish because it's full of flavor and easy to make.
You love cauliflower; you have no reason to reject this kind of side dish made with cauliflower with parmesan cheese as a special sauce.
Garlic parmesan mashed cauliflower is a perfect side dish for salmon because it is not only easy-cooking and great-tasting but also lovely and healthy.
Brussels sprouts simmered are the perfect healthy side dish for your salmon, I think. The dish will give you the natural sweetness of Brussels sprouts and will come out perfectly delicious and tender by the slow cooking method.
The slow cooker will make spices like olive oil, salt, balsamic vinegar, pepper, and light brown sugar permeate through young Brussels.
One more adorable dish made by the slow cooking method is slow cooker pineapple glazed carrots which are trendy side dishes for Salmon at Christmas, Thanksgiving or just typical meals.
What can make you amazed is the combination of pineapple and carrots is perfect in smoothies, cake, and even in cooking recipes like this. This side dish is sweet and a little tender because of balsamic vinegar.
Potato-based casserole is one of the must-have side dishes when autumn comes, no matter if you serve it with chicken, pork, beef, or fish. It's because this casserole has a fluffy, creamy, and light texture together with the flavors of cheddar cheese, bacon, and chives.
I think that the dish is suitable for everyone from children to aged people, and you will make it with ease even if you are not good at cooking skills.
It's not an exaggeration to say that chopped spinach dipped in a creamy cheese sauce is a fabulous side dish to serve with almost all main savories. And if you are super into cheeses, this side dish must be for you.
This is a quick, easy, but tasty side dish that is loaded with healthy fats from mascarpone, heavy whipping cream, and cream cheese, which makes the dish so indulgent!
Sweet potatoes will make your salmon dish glamorous with a light color, good taste, and tangy flavor. Believe me!
I am always super into side dishes made from sweet potatoes because its natural sweetness coupled with added spices never makes me disappointed.
And you don't have to use fresh ones, even left-over sweet potatoes can make beautiful side dishes. This way, you can get rid of your unattended potatoes and still have a delicious dinner. What can be more amazing?
If you have the same taste as me, let's try making your side dish of salmon with sweet potato!
What else can you do with potatoes to make an easy but tasty side dish for salmon? I will share an easy-cooking, and great-tasting side dish called crispy rosemary potatoes with you because complementing a lean piece of protein with a good-for-you carb makes your dish desirable to eat.
You will feel the crispiness in the inside potato slices but the soft texture on the outside. Besides, rosemary is what takes your potato taste to the next level of deliciousness. Let's try making it if you have a chance!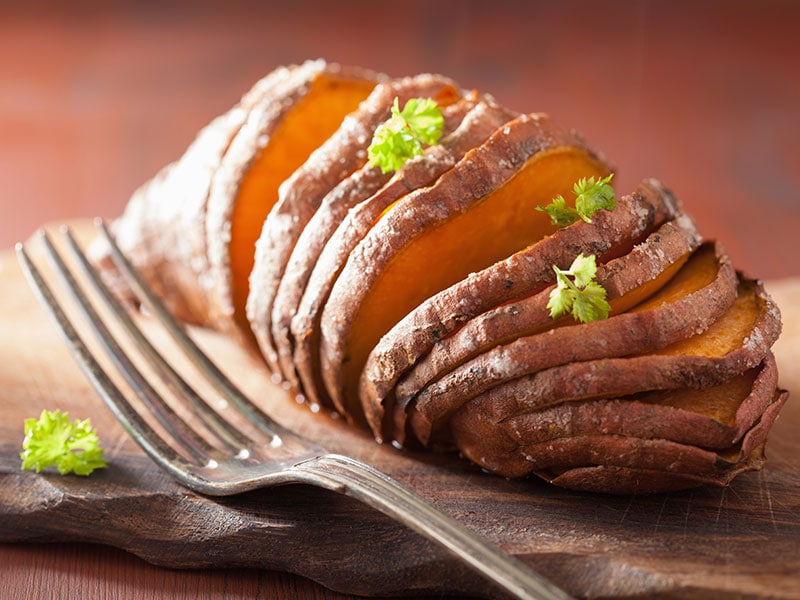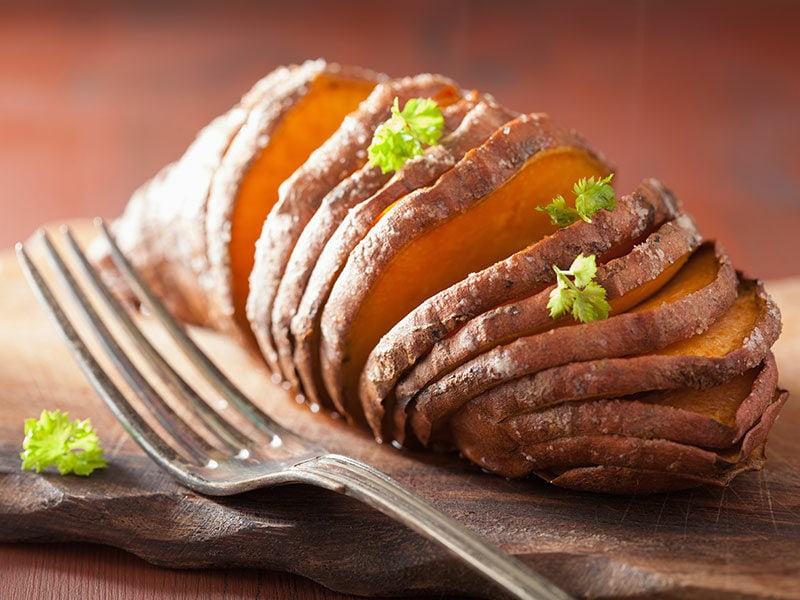 Another way to make a side dish matching well with salmon with sliced sweet potatoes is to bake them with maple and bacon.
The harmony of the natural sweetness of the sweet potatoes and the saltiness of the bacon will make this recipe a winner! You will love it, I think!
If you want to save some healthy vegan side dishes to accompany your grilled salmon immediately, easy refrigerator pickled beets are a highly recommended idea to you.
Roast the beets, slice, and submerge in a mixture of vinegar, sugar, salt, and some other spices, then just leave it for a few days or a week; you'll have tasty homemade pickled beets that you can serve whenever you want.
What can you do with green beans? Stir-fry them? No. You don't need to take much time to make a perfect salmon side dish from green beans. Just roast them with garlic in an oven.
Additionally, oven-roasted green garlic beans are a super easy-making but healthy salmon side dish that you can never stop eating.
Easy cheese asparagus is a salmon side dish that can let your hair down after days of working hard.
Asparagus with a touch of garlic, salt, some olive oil, and pepper is topped over with parmesan cheese prior to being baked in the oven. Those are what you do to make the easy cheese asparagus. So easy!
Another recipe to go with salmon for hot days is citrus summer slaw with toasted almonds and raisins.
A citrus simmer slaw with toasted almonds, pepitas, raisins, purple cabbage, green onions, cilantro and perfected with an orange and lime vinaigrette will satisfy you.
To make your dish better, choose crunchy vegetables that don't wilt quickly!
The video will let you know how to make citrus summer slaw with toasted almonds and raisins with ease!
You may be confused with such a long name, but it exactly describes the side dish I want to introduce to you. Herb and feta polenta fries with smoky tomato yogurt are a great side dish for your family.
Besides, you will be excited about the crispy exterior, soft polenta-like texture on the interior, and of course, an incredibly divine dipping sauce as a companion.
The video will let you know how to make polenta chips with simple Australian style dipping sauce.
Do you love carrots? Noone hates carrots because they are nutritious and easy to taste.
The sweetness from baby carrots together with spices makes the side dish tastier and more appealing.
You must be surprised at the effortless but extremely attractive colors and flavor.
Salmon Side Dishes For Your Empty Stomach (Rice, Bread, Pasta, Noodles)
Sometimes you are so hungry that only salmon can't fill your stomach. At those times, you'll need these recipes below. These accompaniments fit well with salmon patties, grilled salmon, and other dishes. They also work as a source for your empty stomach. Check them out!
I promise that veggie fried rice will make your table meal colorful and tangy to satisfy your whole family. The dish is easy to make but tasty to taste even if you are not skillful at cooking.
Maybe this veggie-fried rice is the very best way to use leftovers and turn them into a remarkable thing! You can choose some kind of your favorite veggies to add to your fried rice to make it delicious and nutritious, such as red bell pepper, carrots, green peas, or corn.
I promise you will love it!
If you want to try something different from your traditional rice, let's try coconut rice for a better taste. With coconut rice, you can match it well with chicken, meatballs, and of course, salmon. The tangy flavor from the rice makes your salmon dishes more amazing to enjoy.
Coconut rice will be the easiest but good to go with your salmon if you don't have much time to cook because its ingredients and steps to make it are so simple.
You love rice, but sometimes you find it boring to eat steamed rice with no fillings. Don't worry; spinach rice casserole will please your taste.
However, if you don't like spinach, don't hurry to skip it because indeed, the match of spinach and rice will win you over! Let's try it.
The name reveals that this type of rice is made with cream cheese and rice combined with red bell peppers, fresh spinach, and red onions.
Another energy source you can consider is bread, but don't think that it is boring because, with some added spices, your regular bread will turn out to be stunning.
These keto garlic bread rolls are suitable accompaniment for those who want to have gluten-free or keto-friendly choices available.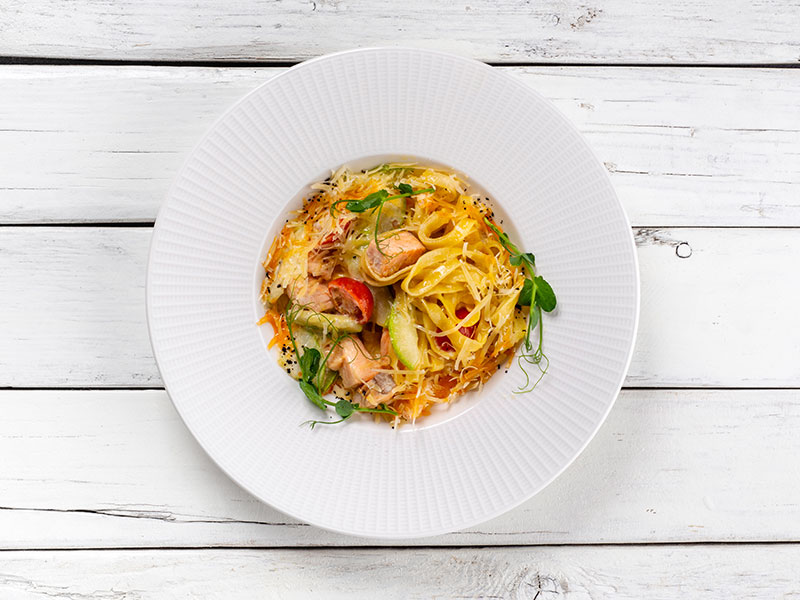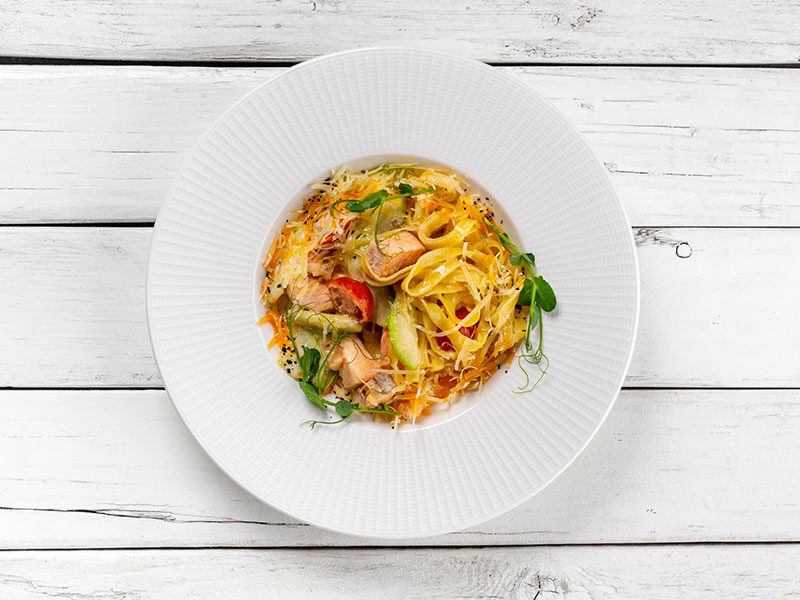 Now, one more starch source to fill your empty stomach is creamy baked lemon noodles. If you are a noodle lover, don't forget to enjoy it.
Baked noodles with cheese are easy-making, but the tasty flavor is a perfect side dish for fish, especially salmon. Besides, some lemon slices will make your dish desirable to taste.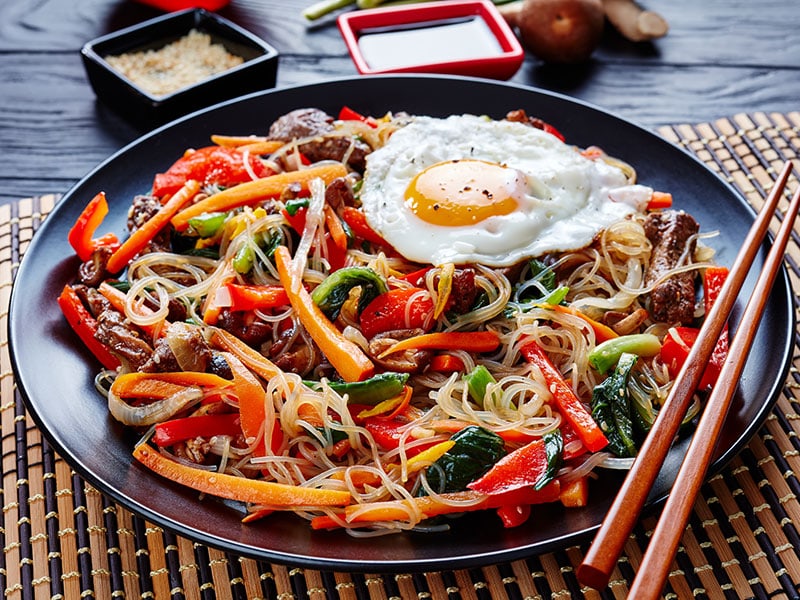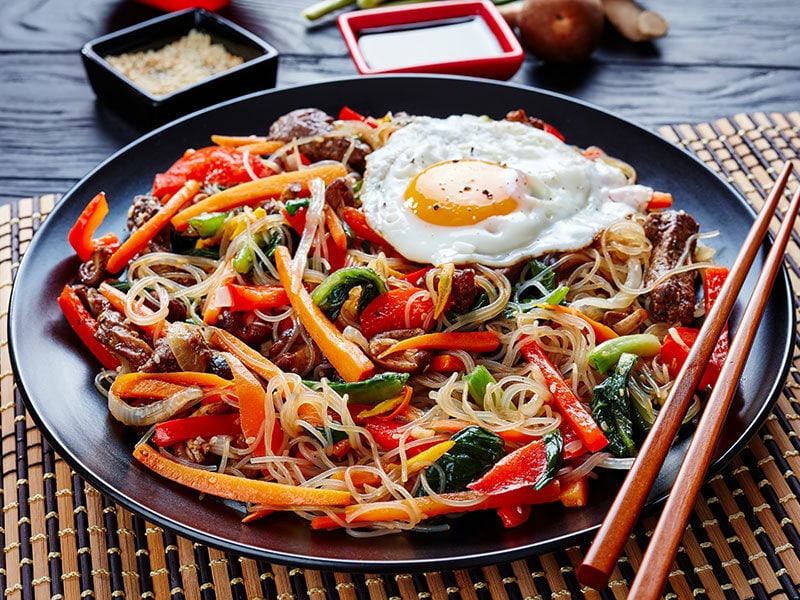 Another option of noodles you can enjoy with salmon is cool peanut sesame noodles with crunchy vegetables. A good mixture of noodles and your favorite vegetables will be an outstanding idea for those who love both of them.
Some added ingredients and spices will significantly contribute to the dish's perfection. Moreover, these sesame noodles taste much better when eaten cold. So, it could be a nice side dish for your summer party. Prepare noodles in advance and wait until dinner to serve.
You may not know about simmered lentils because this dish is a traditional recipe and is cooked rarely. You even find it difficult to find this dish in restaurants.
Lentils are loaded with protein, grains, teeming with fiber, making the dish tasty, cheap, easy to prepare, healthy, and nutritious to eat.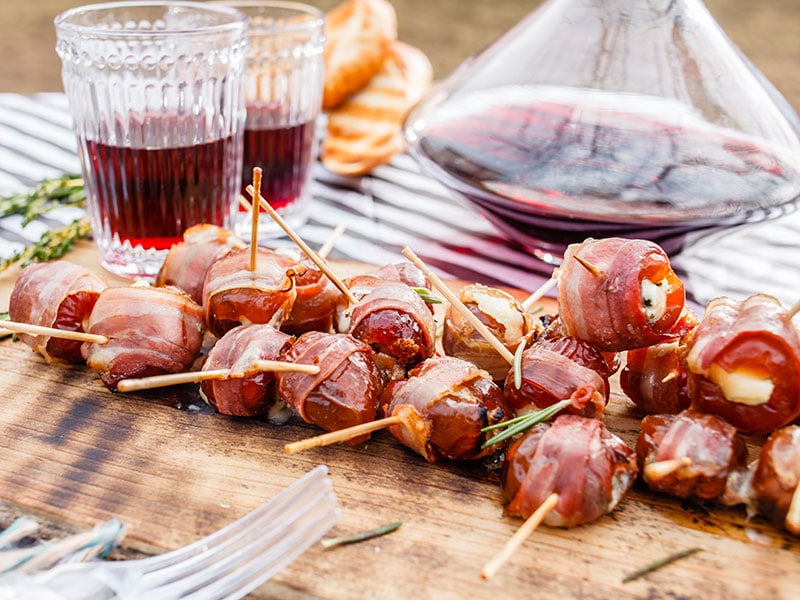 Bacon and blue cheese stuffed dates are a great appetizer and also a side to your salmon because its flavor is a combination of sweet, creamy, salty, and smoky.
Besides, this kind of salmon side dish is healthy as dates are rich in antioxidants and high in fiber which is beneficial to illness fighting and brain health.
Salads To Go Well With Dishes Made With Salmon
When it comes to side dishes for meat or fish-based dishes, salads are indispensable!
The first type of salad I want to introduce to you is an easy-making Mexican street corn potato salad. The harmonious combination of potato, corn, cheese, and some other spices will satisfy you.
What makes this wonderful is that it is served best chilled and still tasty at room temperature or slightly warmer.
Stop hiding your cauliflower in your smoothies; let it work as the star with this roasted cauliflower with pomegranate arils, feta, lemon with super easy tahini dressing.
The salad with cauliflower will blow your mind with the thought that cauliflower is tedious and difficult to incorporate with other dishes.
Like other salads, roasted cauliflower salad also lightens up your meal table, and of course, stimulates your taste during eating time.
Salad recipes to go with salmon will be more diverse with Southwest quinoa salad which is made by crunchy red bell pepper, black beans, and sweet corn. Besides, the flavors of lime and chili make a fantastic dressing for the salad.
Unlike other salads, this salad with quinoa can be a good choice to feed your stomach as well as trigger your taste while eating salmon slices.
Do you love fruit salads? If yes, mixed green salad with apple and gouda will be an ideal idea for you. Crispy apple, buttery croutons, nutty gouda, and the tasty homemade vinaigrette will hit all the right notes to go with salmon dishes. You will love it, I guarantee!
You can use whatever variety of apple you enjoy best for raising your enjoyment!
Zucchini corn salad can be one of the colorful salads you have known with the harmonious combination of corn, zucchini, tomatoes, fresh basil, and some lime slices.
Full of summer veggies, the salad is an excellent match with meat-based savories as a type of side dish. The salad will play an essential role in making you feel refreshed and energetic.
Check the video to know how to make the most delicious fresh corn, zucchini, and tomato salad.
Celebrate your weekend with your family members by eating salmon dishes with weight watcher orzo salad with vegetables.
The salad is easy, flavorful, and pretty to go with any kind of grilled meat, seafood, and chicken also, so salmon is no exception!
Besides, this salad is good to brighten up your main savories with various colors from veggies.
If you love Asian side dishes, you must have heard about napa cabbage salad, a typical side dish for meat and fish-based foods.
The salad is made with crunchy chopped napa cabbage, Asian ramen noodle salad, and toasted ramen noodles and nuts in a stunning soy dressing.
It will be much better if you use fresh cabbage for the dish, so be careful to opt for newly-harvested cabbages.
Suppose you have an assortment of colorful bell peppers in the fridge. Now, it's time for you to take them out and make a salmon dish with those kinds of peppers and some other added ingredients.
Let's try a kind of refreshing salad which is made with sweet bell pepper salad. Nothing is better than fresh tender vegetables with a fabulous homemade dressing.
Grilled peach, rice, and arugula salad must be an incredible kind of salad that you must try combining with grilled salmon dishes because the salad will raise the salmon taste to a new level of deliciousness.
Firm but ripe peach slices, baby arugula, feta cheese, chopped pistachios, vinaigrette, and mint leaves are all that you need to make a juicy, tasty, healthy, and nutritious salad for hot days.
Can you imagine how wonderful it is!
If you are super into strawberries, this kind of salad is very suitable for you. What you need to make this salad is swap spinach for arugula and basil, add black pepper to keep things balanced, and pour dressing over the vegetables.
Moreover, the dressing is not like traditional dressing because you don't need a blender or a whisk to make it. Instead, these strawberries are marinated with honey and rice vinegar, making them coated with greens.
Pineapple salsa has a digestive power that makes it a very desirable ally to various cuts of meat.
Combining a salsa is all about balancing flavor, acidity, sweetness, and heat. Besides, the color and texture also play crucial roles, making salsa a good side dish for salmon.
Who doesn't like gnocchi? Gnocchi tossed in a herb pesto is a recipe for a fantastic salad to pair well with salmon. Mix with the simplicity of pesto by adding things like cream, making the salad good, healthy, and nutritious to taste.
If you love other vegetables, such as tomatoes and green beans, feel free to throw them in the bowl to bring balance.
I will get this chance to suggest to you the easiest salad in the world, which is also appropriate to accompany salmon-made dishes.
Additionally, adding these caramelized onions to your main meal will fill you up and are much more satisfying to eat.
You know, asparagus will marry well with salmon because of both texture-wise and flavor. Salmon has a fishy taste while asparagus has an earthy one, so the combination between salmon and asparagus is perfect!
Moreover, the crunch of the toasted bread crumbs, the gentle snap of the asparagus, and the creaminess of the soft egg yolk are wonderful as companions.
What Else Served As Side Dishes For Salmon?
In the list mentioned above, I have just recommended the top 40 best dishes classified into three main groups to serve with your salmon together with some basic information so that you can choose the most suitable one.
If you find my article useful, please share it with your relatives and leave your comments in the comment section below to share with me experiences with your salmon and these side dishes.
Nutrition Facts
4 servings per container
---
Amount Per ServingCalories286
% Daily Value *
Total Fat 12.4g

19

%
Sodium 12mg

1

%
Potassium 190mg

6

%
Total Carbohydrate 40g

14

%

Dietary Fiber 1.8g

4

%
Sugars 1.8g

Protein 4.5g

8

%
---
* The % Daily Value tells you how much a nutrient in a serving of food contributes to a daily diet. 2,000 calories a day is used for general nutrition advice.