Do you know how to tell if ham is bad?
Ham is a common ingredient in many houses' fridge. With ham, you can make many tasty dishes that are good for your health. However, this meat also has a shelf life and can be spoiled if kept wrongly.
So, distinguishing the spoiled ham from a fresh one is very important because it impacts your health and food flavors.
Go with me to get more information about sour signs of ham as well as how to keep them suitably.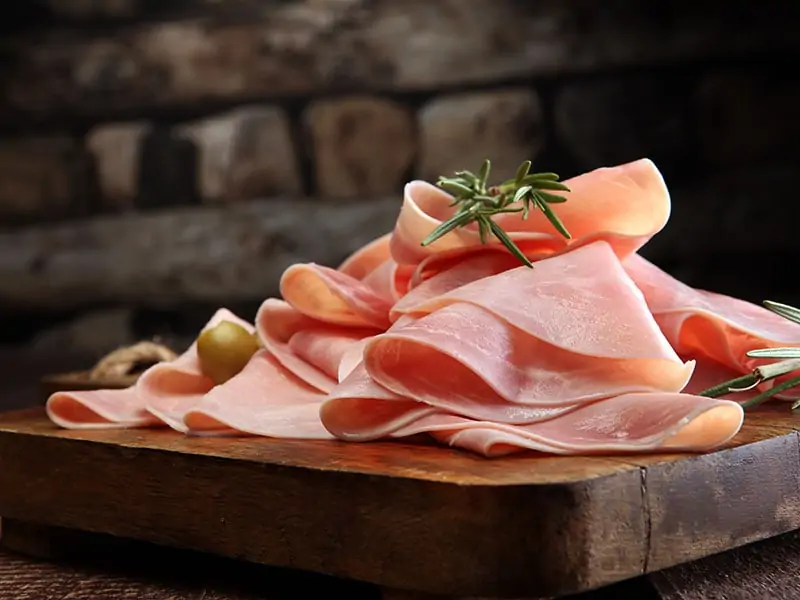 5 Distinctive Elements Of Spoiled Ham
To protect your health and save the meals, it is better to determine whether your ham is still usable or not. I have five factors here to help you check the meat properly.
Over Expiry Date
Sour Or Sulfur Smell
Green, Gray Or Weird Color
Slimy And Sticky Texture
Mold Appearance
After knowing what the factors are, I want to share with you more details about each aspect. Moreover, other exciting things are waiting for you to explore!
Everything You Should Know About Ham
Ham is meat made from porks' legs and treated by drying, smoking, or wet processes.
Ham is versatile pork meat that you can use for completing breakfasts, lunches, or even dinners.
Although ham is not recommended for those on a diet, it still has certain health benefits. Depending on what type of ham you eat, it will provide you a corresponding amount of protein and iron.
Specifically, each type of ham has its contents. For instance, cured ham does not contain a large amount of potassium but has high saturated fat.
Generally, ham provides selenium which is necessary for aiding reproduction and DNA construction. Furthermore, this food with "H" as the starter also contains a significant amount of vitamins B, iron, etc.
When eating any meal with ham, you will quickly realize that you seem to be boosted with energy. That is because it provides zinc, phosphorus, and potassium, essential nutrients to maintain daily activities.(1)
There are many types of hams, for example, fresh hams, cured hams, smoked hams, etc. If your preference is those that come in cans, you can find many full-of-flavor canned ham products on the market with ease.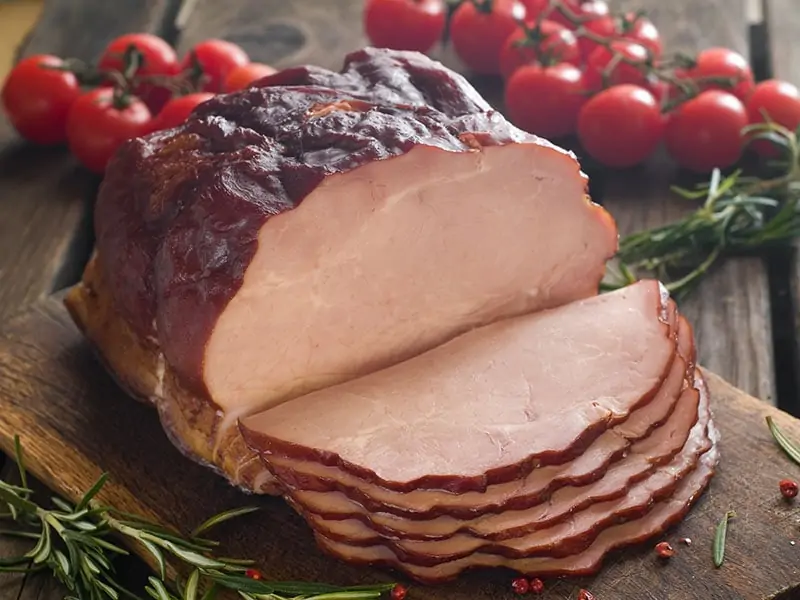 Hold a big party this weekend? Remember this easy-making ham to stir the table!
Is It Hard To Determine Spoiled Ham Before Cooking?
As you know, cooking spoiled ingredients is very dangerous for your health and making the dish not tasty anymore. Like other kinds of meat, ham has its shelf life, and you can not use it if it is terrible.
So, keep reading and check out the five signs below to realize your ham at the next cooking time.
1. Expiry Date
When you want to cook any food with already purchased ham, first check the expiry days on the label to ensure your ham is still usable.
As usual, this pork meat is used safely for 5-7 days, storing it in the refrigerator. How about freezing, is it possible to freeze ham? Short answer: yes, ham can be kept in the freezer for a longer shelf life, which is up to 6-8 months.
However, the period of fresh ham also depends on its type and the recommended usage time from the producer.
Useful Tips:
Check the expiry days on the label before buying.
If you use your package to store it, use a label or permanent pens to write down the day you begin holding.
2. Smell
Another sign of the abnormal ham is its smell. Sniff the ham as a method to check its condition before cooking. Depending on the treatment processes, you can feel a bit of a salty or smoky smell with the fresh ham.
In case of any sour smell, or especially sulfur smell that makes you uncomfortable, this is time to buy a new ham package.
3. Color
Both uncooked and cooked ham often has a pink color but distinctive shades. Specifically, the fresh, uncured ham seems to be pale and beige, while the cooked one is almost pink.
So, you have to notice if the color of ham changes from pink to green, brown, or other strange colors, don't overthink, just throw them away!
4. Texture
Not only the color and the smell, but the texture is also an element to let you know about spoiled meat. To determine it, give a touch to your ham. Unlike the stable, moist texture, rotten ham's surface becomes slimy and sticky with a disturbing smell.
5. Mold
Mold creates mycotoxin, a poisonous compound that can grow parallelly with bacteria on spoiled ham. When your ham appears mold, it means that this toxic combination is steadily increasing on it and causing many diseases.
Do not try to sniff the mold meat because it can cause diseases relating to respiratory. Instead, seal mold ham tightly and throw it into an airtight trash can to prevent the mold spores from the air and make others sick by breathing it in.
However, mold spots sometimes do not tell the ham is bad. Mold spots can appear in the dried process due to the high salt and low moisture, especially with certain kinds of ham like country ham.
Don't worry when seeing them; you should wash them with warm water and use a clean brush to remove the spots before cooking.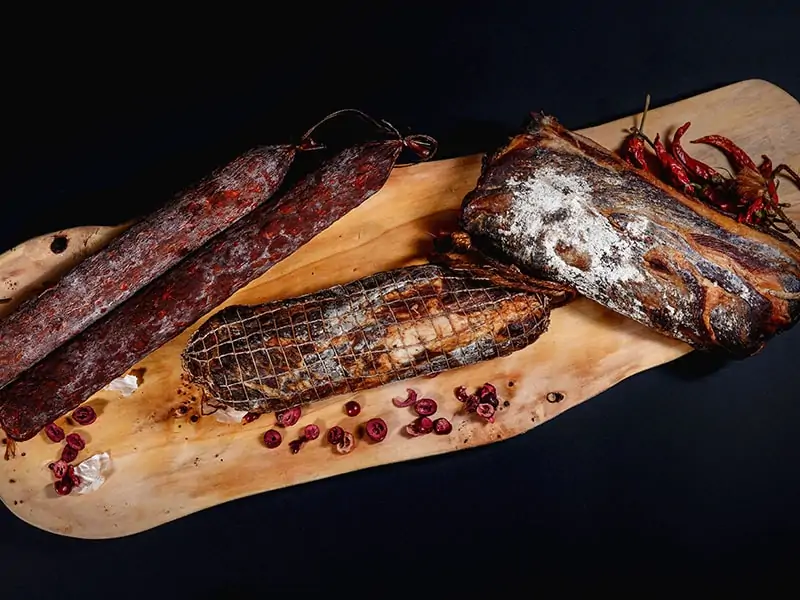 Mold on country ham is safe to eat, so do not be scared!
Storing Ham In The Fridge And Freezer Rightly Is Vital
To prolong the storage life of ham, the best option is to keep it properly. If the ham you use has not opened yet, you can keep it fresh by its original package.
Like other meats, you need to make sure of the temperature and the package when storing it. To be more specific, I will show you a shelf-life chart as well as a suitable temperature.
| Condition of Ham | Fridge (40°F or below) | Freezer (0 or below) |
| --- | --- | --- |
| Whole Ham or half Ham | 5-7 days (sell-by-date) | 1-2 months |
| Fresh, uncured Ham | 3-5 days | 6 months |
| Cooked Ham | 3-5 days | 1-2 months |
| Ham slices (Deli meat) | 3-5 days | 1-2 months |
| Uncooked, cut country Ham | 1 year (does not require keeping in the fridge) | 1 month |
| Cooked country Ham | Up to 7 days | 1 month |
| Unopened Canned Ham | 6-9 months (does not require keeping in the fridge) | Do not freeze (store in room temperature: 2 years) |
| Opened Canned Ham | 3-4 days | 1-2 months |
How to maintain the quality of ham? You do not have to wait anymore! I will show you detailed storage methods.
1. In The Fridge
The whole ham will be dry when you store it without any protection. You should use a sealed bag or aluminum foil to wrap the meat first. You do not need to change a new package for sliced ham so put it in the fridge with its already sealed bag.
Other notices for you are to check whether the temperature is around 34-40°F or not and determine how long hams should stay in the fridge based on their types.
Instead of keeping in the refrigerator, maintaining the freshness of ham with a big pack of ice is alright. However, adding more ice to the pack is necessary to prevent degrees from increasing when the ice melts.
2. In Freezer
Is it safe to freeze lunch meat like ham? Yes, it is. I usually freeze the ham when I buy too many packages or someone sends me ham as a gift. And, of course, the container and proper degree is always the key to freezing uncooked ham for up to 8 months.
Besides, you should choose a high-quality freezer container to store your foods efficiently. So now, let's check these filling steps to ensure the best result of storage in the freezer:
Step 1: Set up the freezer at 0°F or below.
Step 2: With unopened ham, put it in the freezer with its sealed bag.
Step 3: If you have unboxed the ham, cover it with aluminum foil and remember to remove air before freezing it.
Useful Tips:
Use a label pen to write the day that you begin storing ham.
Make sure to wrap the ham tightly to keep its moisture.
Bonus Information: How To Maintain Leftover Ham's Quality
What should you do when accidentally cooking too much ham? First, put it into a sealed box or bag and store it in your fridge. Try not to leave it at room temperature after 2 hours due to the rapid growth of bacteria.
Different from other food, cooked ham does not need to wait to cool down before storing. So, start to preserve it as soon as possible.
Extra Tips:
Keep a whole ham in its ham bag or a damp tea towel to avoid the ham becoming dry.
You should not cut the whole ham if you are not ready to eat to maintain the moisture.
In case the ham has bone, a foil or plastic wrap will work well instead of a standard sealed bag to maintain the freshness of the whole ham.
Learn how to prepare ham properly to serve everything you want! Watch this video:
3 Easy Methods To Thaw Ham Before Cooking
Which ways do you use to thaw your ham? I have three ideal suggestions for you to thaw ham despite emergencies. Thanks to these methods, you are able to create many best dishes without the fear of spoiled ham.
1. In The Fridge
You can change the place to keep from the freezer to the cool area of the fridge. Thawing in other cool places is fine but make sure the temperature is not over 40°F. On my own, I still recommend thawing ham in the fridge because you do not need to check it regularly like other places. Leave it for 12-24 hours before cooking.
2. Cold Water
For any emergencies, thawing ham in cold water always works. Remember always using cold water because the hot or warm water can increase the bacteria on your ham in the thawing process.
Moreover, you should wrap your meat into a tight bag to prevent thawing water from soaking through the meat. In that way, the ham will preserve its flavor on the dish.
Last but not least, do not forget to change the water every 30 minutes to keep the temperature consistent and regularly check to see if the meat has softened.
3. Microwave
Another method to thaw ham is using a microwave, but it is not recommended. Microwave thawing can make the meat cooked unevenly, especially if it is a whole ham. As a result, the meat's skin is cooked and dry while the inside is still uncooked when you cook.
My tip is to use the thawing mode in the microwave. Besides, carefully read the producer's instructions on the label to know how much time you should set to thaw. Finally, do not refreeze ham after thawing in the microwave.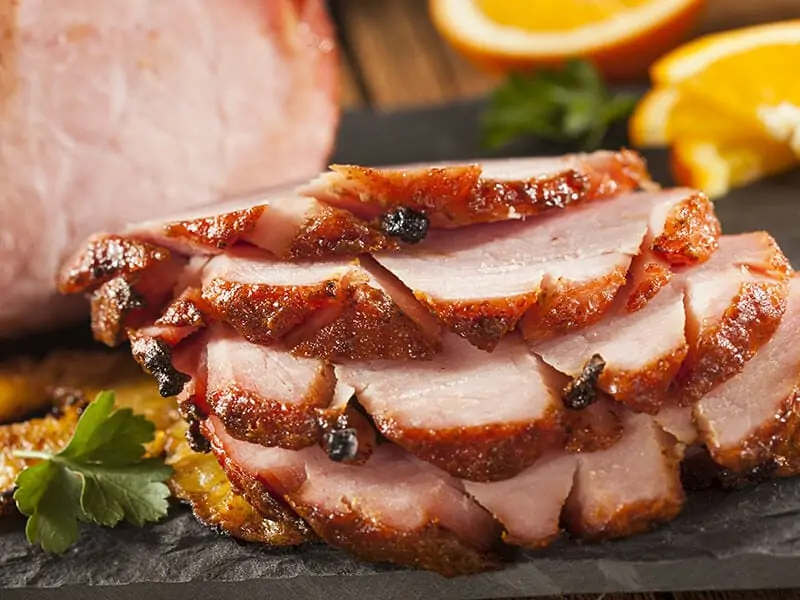 What Happens After Eating Rotten Ham?
Similar to other spoiled meat, bad ham is a terrific living- environment for harmful bacteria. As a result, you will face mild to severe food poison symptoms after eating. They include stomach aches, vomiting, diarrhea, or sometimes fever, etc.
These bad symptoms will make you feel uncomfortable, I suppose. You need a few days to overcome mild symptoms with a healthy diet. If any symptom becomes severe, it is better to meet the doctor or visit the hospital.(2)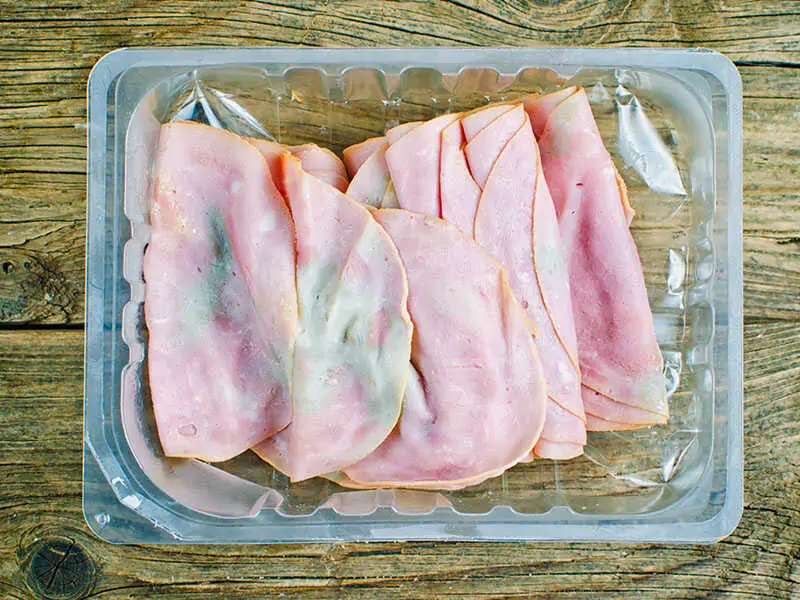 Some Cooking Tips To Make Perfect Dishes With Ham
Are you ready to show your inspiration with ham dishes? There are many delicious plates to serve with ham that you might not imagine. I can not wait to share with you some tricks to cook more flavorful dishes with ham. Let's explore them!
Country ham tastes salty than other meat. Once you want to lower the saltiness, you should soak or wash country ham with water before cooking.
Country ham should be served with thin slices because of its savory flavor.
To cook evenly, make sure the temperature of the ham reaches 140° F.
Do not try to cook the ham too long. The result is dry meat and not as good as you expect.
It is unnecessary to marinate ham with sauce because it already has its flavor.
Cooked ham can be cut more quickly when it is cool.
If possible, glaze the ham with honey or brown sugar to make the appearance more appealing.
Lastly, before cooking, you should slit the rind lengthwise down the ham and cook the slit side down. In that way, there is no difficulty in removing the skin from your finished ham.
In addition, there are many brilliant ideas for leftover hams and turning them into a whole new dish with another level of deliciousness.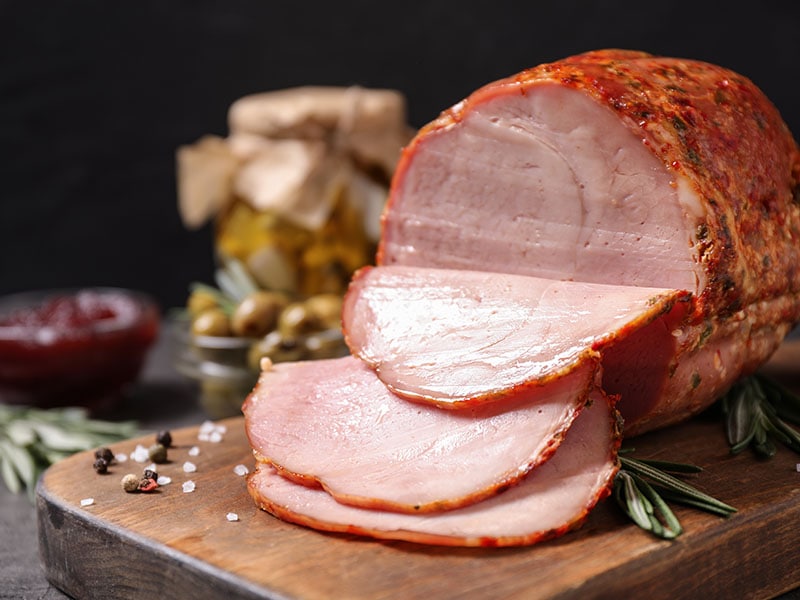 Nothing special than a big Honey Glazed Ham on Christmas. Watch this video:
FAQs
If you still have some curious questions about how to tell if ham is bad, this part belongs to you. Also, you can find out more solutions for your current matters with ham.
How To Know Rotten Ham: Further Notices For You
With all the information above, I hope you will confidently answer how to tell if ham is bad and its preservation process.
Ham is a kind of meat rich in protein and vitamins. The sooner you realize rotten signs in ham, the better dish you serve.
Besides, you should bear in mind some extended information in my post and share it with your friends is better. And, do not forget to give me your ideas in the comment section; I always appreciate that!
References
Healthline. 2021. Is Ham Healthy? Nutrition, Benefits, and Downsides. [online] Available at: <https://www.healthline.com/nutrition/is-ham-healthy>
Centers for Disease Control and Prevention. 2021. Food Poisoning Symptoms. [online] Available at: <https://www.cdc.gov/foodsafety/symptoms.html>.