Porridge vs. Oatmeal – are the nutritious dishes that many of you would choose for a simple breakfast. Regardless of age or gender, both porridge and oatmeal are beloved treats due to their affordability and health benefits.
The terms 'porridge' and 'oatmeal' are often used interchangeably. But in-depth, is it correct to refer to oatmeal as porridge and vice versa? This post will offer you all the information about porridge and oatmeal that you would be surprised by.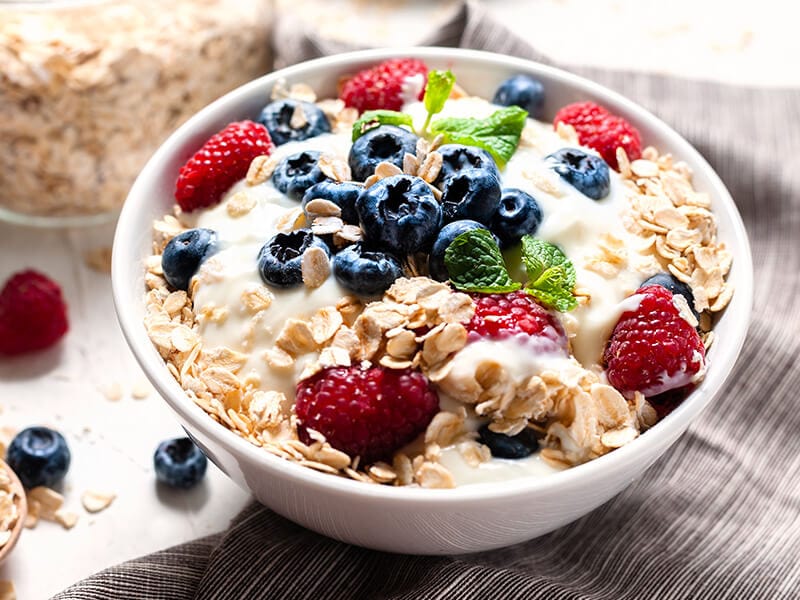 Porridge And Oatmeal – Are They The Same Or Different?
In fact, porridge is the umbrella term to refer to the creamy and consistency-texture food. There are many types of porridge, and oatmeal is one of the porridge types.
Therefore, they will have a few similarities and some differences. And the biggest difference between them is the ingredients that they use.
You can only use oats to make porridge for oatmeal, which is why oatmeal can be called porridge. However, porridge can be made of other grains, so not all porridges are oatmeal.
Let's start the article with porridge to understand how they are made and the common porridge types worldwide.
Exhaustive View Of Porridge
Porridge seems like the childhood food that your mom usually serves for your family. Now, when you are able to make them for yourself, have you ever thought about the origin of porridge and what makes a porridge a porridge? Here is the extensive knowledge about them.
How Was Porridge Introduced To Humans?
Scientists believe that porridge was first consumed by hunter-gatherers about 32,000 years ago (1). They also claim that Palaeolithic people (the Old Stone age) used wild oats and flatbread to build or bake to make the porridge at this time.
Porridge has been through many evolutions with various versions in many parts of the world, for example, rice porridge emerged in China 4,500 years ago, or porridge made of quinoa was found in other Asian countries at least 3,000 years ago.
The word 'porridge' seems unappealing, but they do have a long history. It is more likely to be formed by the French soup called 'potage' (or 'pottage').
Until the 17th century, people started to use 'porridge' to grind cereals (like wheat, oats, or corn) and boil them with liquid (like milk or water).
7 Fun Facts About Porridge
Today's porridge is a mushy food formed from any grain cooked and boiled in water or milk to have a creamy and thick texture.
They also have another name as hot cereal. And these dishes are perfect for cold weather to warm up the human body.
Sugar or syrup can be added to porridge. Scottish people also add salt. Some other places also have their special spices to flavor porridges.
You can use various kinds of grain (rice, maize, wheat, oats, buckwheat, etc.) to make porridge.
Eastern European areas and Russia use kasha – pseudocereal buckwheat while Asian people use rice to make porridge called 'congee'.
Porridge was prisoners' food; therefore, the UK slang 'doing porridge' also refers to 'in prison'.
10th October is World Porridge Day. The first celebration of this day was held in 2009.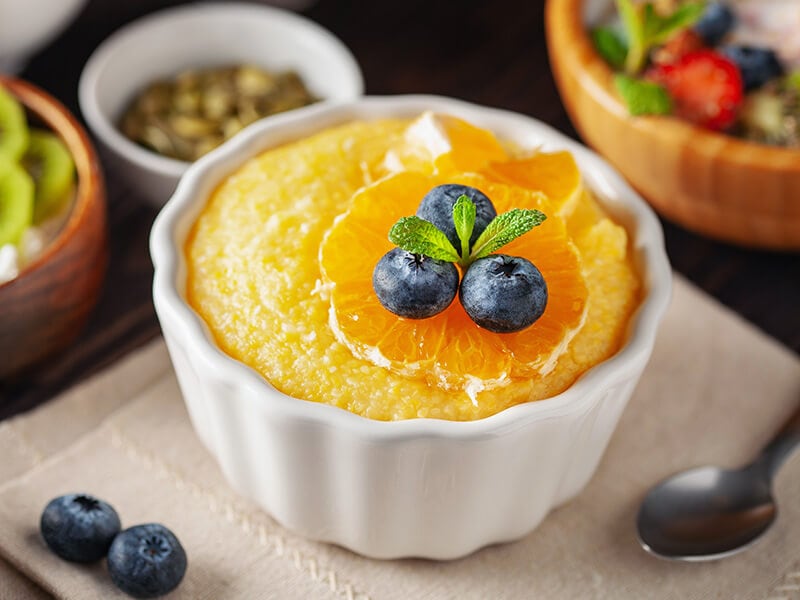 7 Popular Porridge Types That You Would Love
As porridge has various ways to prepare and cook grains with other ingredients, there are many different types of porridge around the world.
Some are served hot; some are cold. And some porridges are sweet; some are savory dishes. In this post, I'd like to introduce 7 popular types of porridge that you have tried (or haven't).
1. Congee
Congee is a famous rice porridge that many Asians love for their breakfast, especially Chinese people. They also serve congee for other meals like lunch or even dinner.
The basic congee is made of boiling rice in water until the rice breaks down and has a specific thickness with a porridge-like look. Moreover, congee is one of many instant pot Asian-styled dishes. So if you have this appliance at home, try to make congee someday.
Plus, there are a lot of congee versions as you can add with other meats and vegetables. Pretty versatile, isn't it?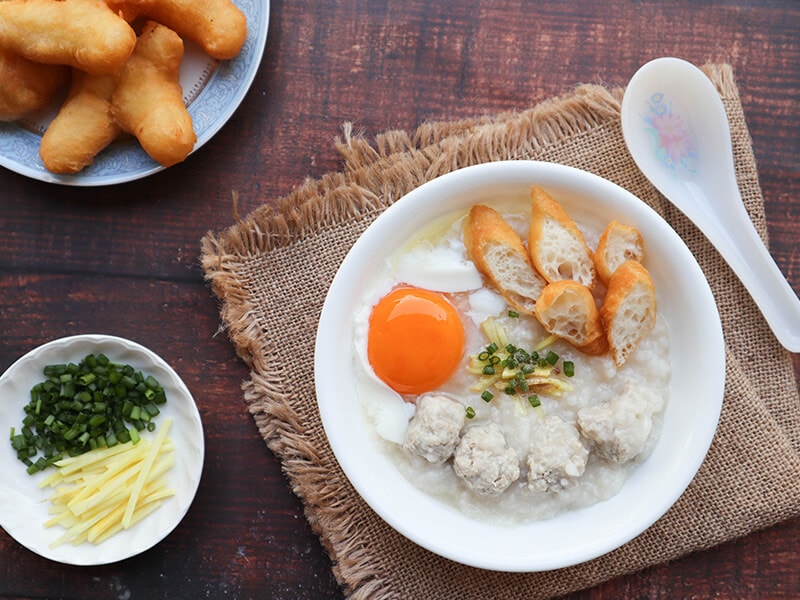 2. Oatmeal
Congee is famous in Asia, while oatmeal is a well-loved porridge breakfast in Western countries. Oatmeal is one of the finest grains for producing porridge, as it adds creamy and rich tastes to your dish, making it healthier and tastier.
Also, oatmeal comprises milk (or water) and different oats (details will be presented in the next section). Your oatmeal might be more delicious with various textures if you add some fruits, salt, sugar, syrup, or nuts.
As they can come in different styles, you can use oatmeal for dessert ideas too. They can be cookies, energy bars, pies, etc., but the key similarity is their high-in-nutrients.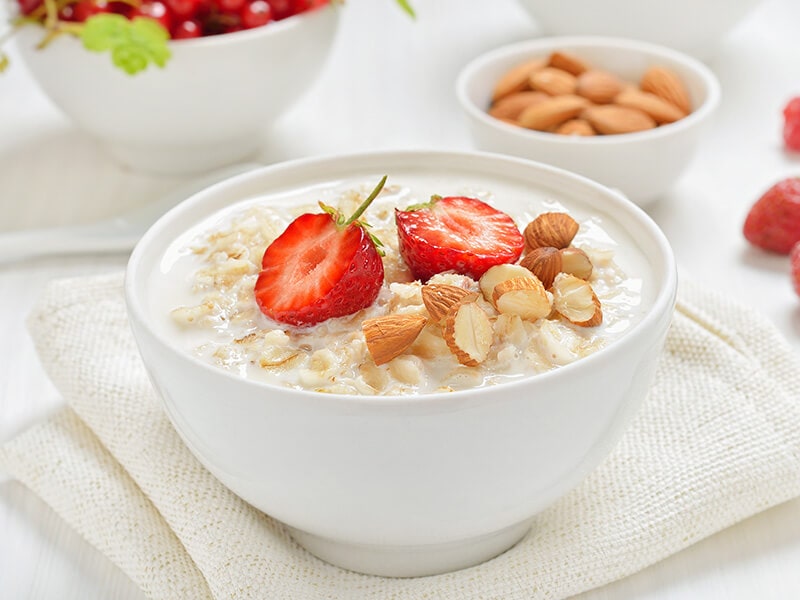 3. Grits
Grits is a porridge type made of ground dried corn that originated in Native Americans. Some Southern areas of the USA also love grits for their breakfast choice.
The corn to make grits is hominy corn or white corn, then boiled cornmeal until thick and porridge-like. Grits are seasoned with flavorings and served along with various condiments.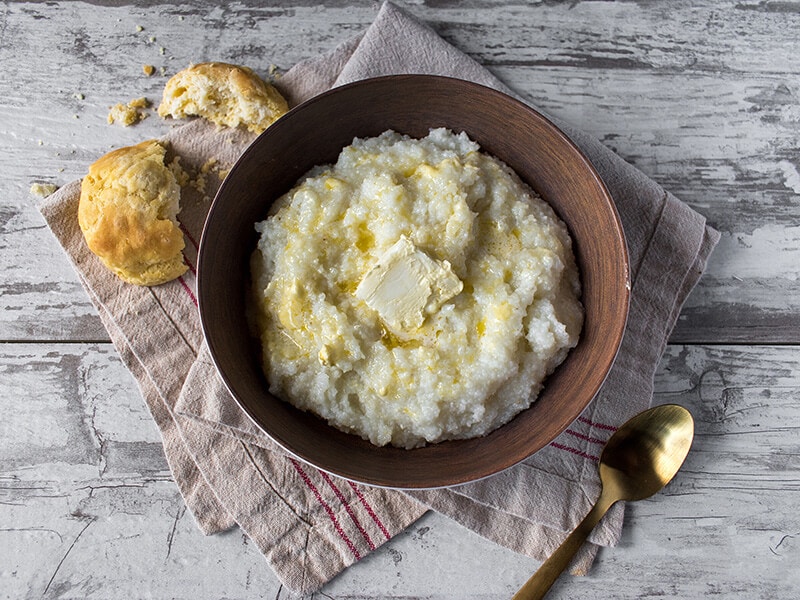 4. Harissa
Harissa originates from the Ararat plain in Armenian highlands. They are one of the traditional dishes of Armenia.
Traditionally, harissa is made of roasted or dried wheat (that also called korkot). Moreover, meat like lamb or chicken is usually accompanied in harissa. They also have the same porridge consistency.
5. Genfo
Genfo (aka ga'at) is an Ethiopia-originated thick porridge made of various grains, water, chickpeas (or other ingredients from the legume family), wheat, barley, corn, millet, and sorghum.
Compared to other porridge types, genfo has a different appearance as they are slightly stiffer with a hole in the center, but they still have smooth and thick textures. The hole can be filled with spices and herbs.
6. Polenta
Polenta is the closest resemblance to grits that are also a corn-based porridge. The origin of this porridge is Italy. In the past, polenta consisted of various grains, but today's polenta is mainly made of boiled cornmeal and served hot.
The corn that Italians use to make polenta is flint corn. Cooking polenta has to be low and slow. And polenta is a good source of protein, minerals, and vitamins.
If you love ratatouille, you can prepare some creamy polenta dishes to pair with your ratatouille and richen the whole meal's flavors. Of course, it will not take too much time to make them.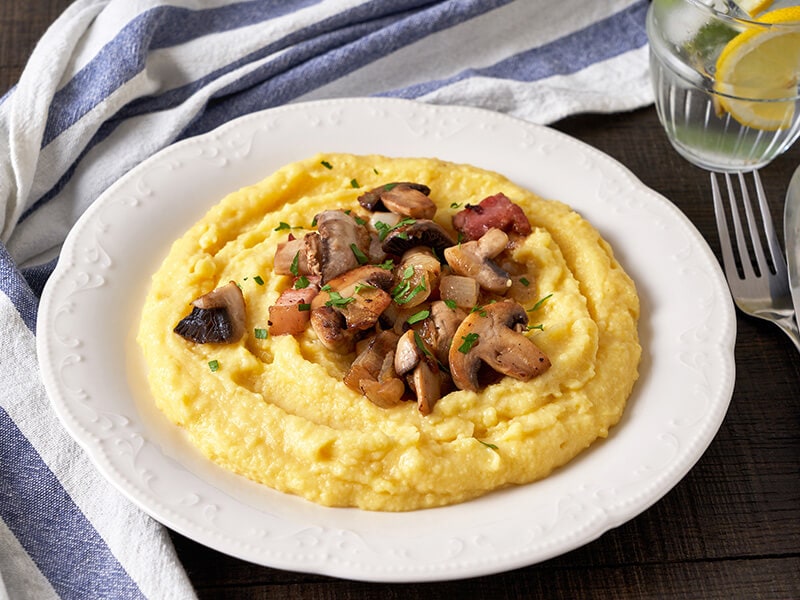 7. Hasty Pudding
Unlike other porridges usually served as breakfast, hasty pudding used to be a European dessert and now has become an American food.
Do not be fooled by its name; they are genuinely a porridge with the same thickness and consistency as other porridges. Made of wheat flour (or cornmeal) and milk (or water), hasty pudding is more delicious and appealing with various toppings like cream or ice cream.
The Overview Of Oatmeal
At this point, I believe that you already understood a bit of oatmeal. But for more information, let me begin this oatmeal section with the most confusing concept – Oat vs. Oatmeal.
Oat Vs. Oatmeal – How Are They Different?
Basically, oats are a kind of grain with a raw form. Oats also indicate steel-cut oats, which are cut oats with smaller shapes yet still unprocessed. Oat usage is mainly for livestock feed. And they are cultivated mostly in North America and Canada.
Oatmeal refers to processed oats, which are rolled oats with a thin-cut shape for faster cooking time, and they are mushier than other ro​​lled oats. Check the below table for a brief overview of oat and oatmeal.
| Elements | Oat | Oatmeal |
| --- | --- | --- |
| Characteristics | Raw or unprocessed oats | Processed oats |
| Forms | Whole oats or steel-cut oats | Oats are rolled to have a thin-cut form |
| Usages | Primary used for livestock feeding. Can use oats for human consumption but take a longer time to prepare and cook. | Often pre-cooked to produce instant oatmeal or 1-minute oats, so they are easy to prepare. |
Types Of Oat
There are 7 types of oats are Oat Groats (Oat Berries), Steel-Cut Oats (Irish Oats), Scottish Oats, Rolled Oats (Old Fashioned Oats), Instant Oats (Quick Oats), Oat Bran, and Oat Flour.
Oat Groats (Oat Berries): are hulled and cleaned whole-grain oats with the highest nutrients as they still have oat bran. They also take the longest cooking duration (around 1 hour) with a chewy texture.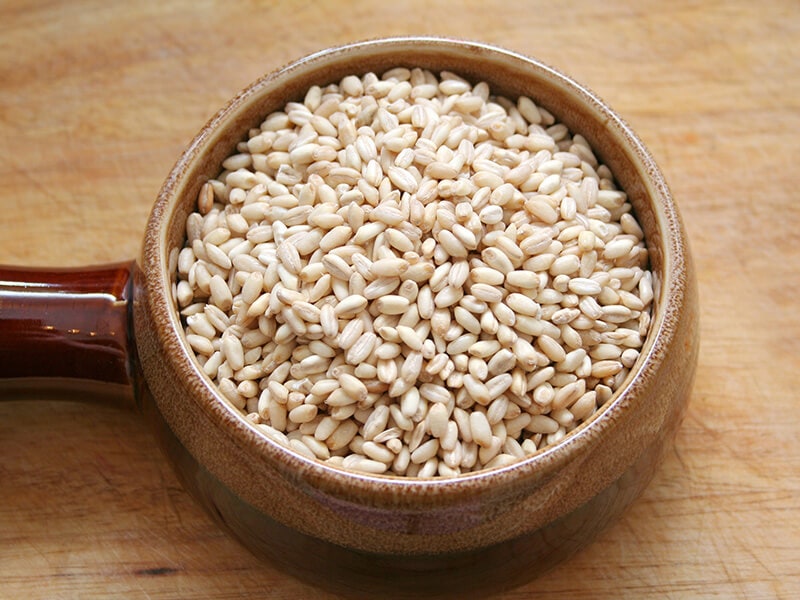 Steel-Cut Oats (Irish Oats): Made from the oat groats that are cut into smaller pieces by a blade. The average cooking time for these oats is around half an hour. Their texture is chewy, but they can also have a thick texture like porridge if you cook them longer.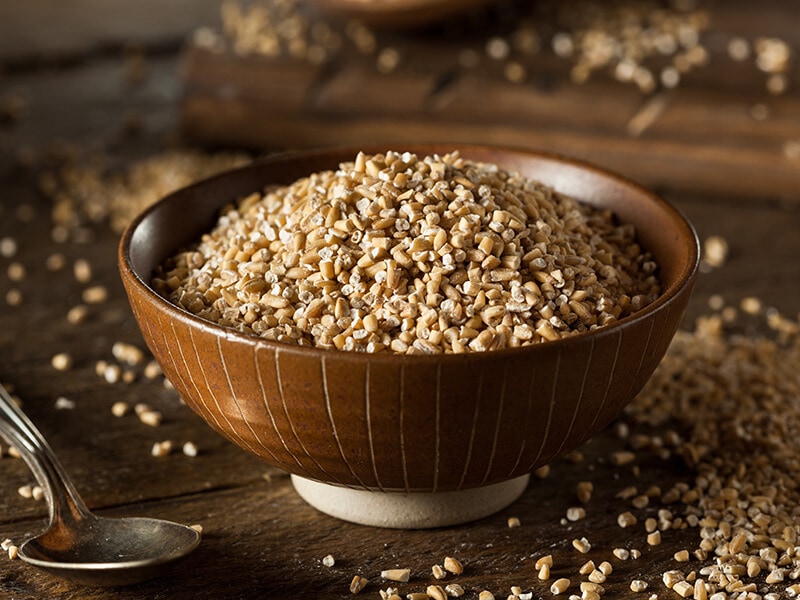 Scottish Oats: Made from stone-ground oat groats. They have a creamy texture after cooking and are less chewy than the 2 above oats. Scottish oats also take less time to cook into a porridge, just in 10 minutes.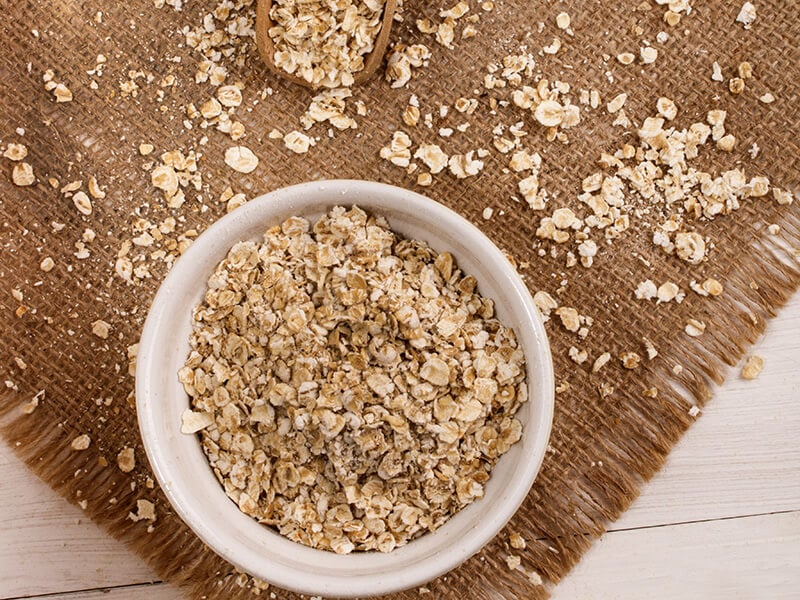 Rolled Oats (Old Fashioned Oats): The processed oat groats (steamed, rolled, and dried) from oat groats are called rolled oats. They are slightly chewy and also have slight creaminess after cooking. It would take 5 to 20 minutes to make oatmeal, depending on your expected consistency preference.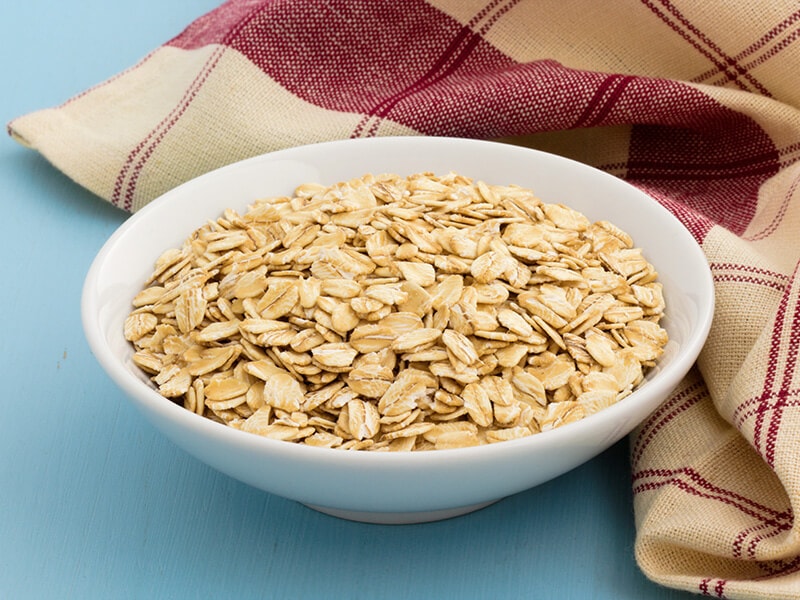 Instant Oats (Quick Oats): This oat type is similar to rolled oats but has a longer pre-processing time. That's why instant oats can be cooked very fast, just in 1 to 3 minutes.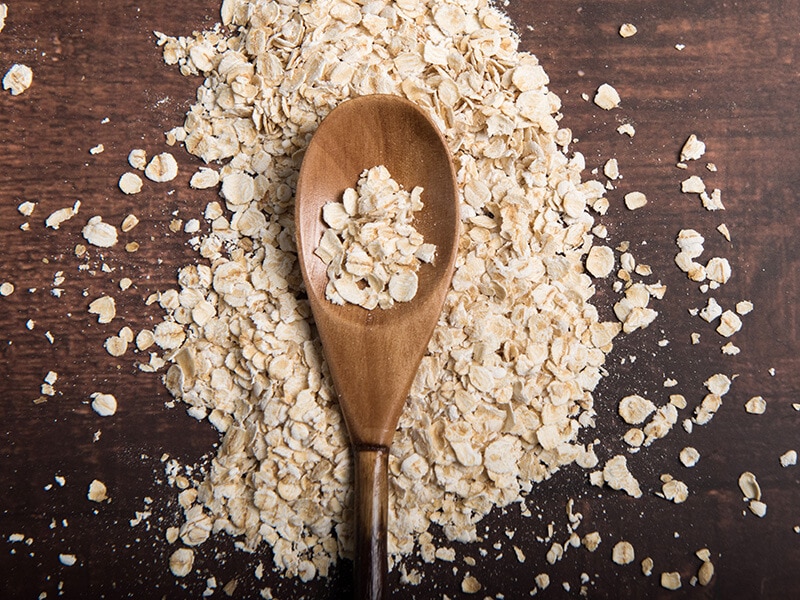 Oat Bran: have a small-flake shape that has been removed from oat groats. Oat bran has been milled as well to become a hot cereal. There are 2 ways to cook them, by stovetop or microwave in a maximum of 5 minutes.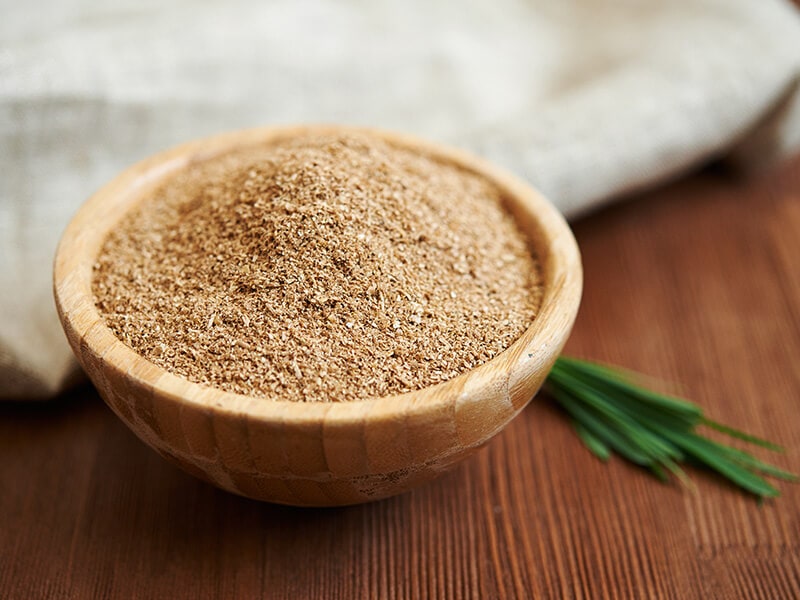 Oat Flour: Made from bran, germ, and endosperm or oat groats, and they have been milled thoroughly to make flour form. They have a tan color with a nutty flavor and can have a special consistency texture after cooking.
Another versatile use of oat flour is for the replacement of chickpea flour. So any muffin or brownie recipes call for chickpea flour; you can use oat flour instead. They will provide a dense texture to your cakes perfectly.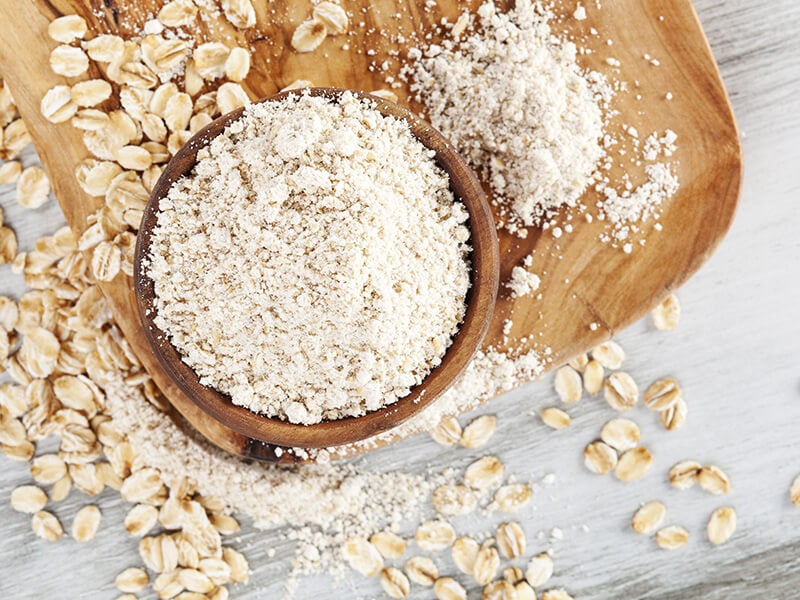 This clear information will help you remember types of oats better with their nutrition. Watch this video:
Comparison Of Porridge and Oatmeal
Back to the bottom line, what are the differences between porridge and oatmeal?
Oatmeal, actually, is a type of porridge. So that's why people use the term 'oatmeal' to refer to oat porridge in the US and Canada, but not all porridges are oatmeals because there are various porridge types made of other grains, not only oats.
Here is the comparison chart of porridge and oatmeal.
| Elements | Porridge | Oatmeal |
| --- | --- | --- |
| Preparation | Cooked or boiled grains with water or milk (mostly) | Cooked or boiled oats with water or milk |
| Texture | Thick and creamy (mostly) | Creamy and consistent but also depends on the type of oats |
| Ingredients | Made from various grains (e.g., buckwheat, quinoa, maize, rice, wheat, barley, oats. etc.) and other ingredients | Made from oats that are steel-cut, or rolled and grounded |
| Topping | Herbs, meats, spices, onions, etc. | Dried nuts, fresh or dried fruits, jam, honey, syrup, etc. |
| Served | Hot or warm | Warm or cold |
The following parts are detailed information regarding some distinct features between oatmeal and other types of porridge.
1. Basic Preparation
Regarding making porridge in general, it is the process of cooking or boiling grains in water or milk.
For congee, an Asian-style porridge, broth, or water is used to make them, and they have an extra cooking step before boiling grains in the liquid. Oatmeal also uses the same cooking techniques as cooked or boiled ingredients in water or milk as most other porridges.
2. Overall Texture
In reality, the oatmeal texture depends on oat types and cooking time. For example, steel-cut oats have a more chewy texture than instant oats, but adding more water (or milk) with a longer cooking time for steel-cut oats could have the same texture as instant oats.
So, overall, the more time you cook oats, the thicker and creamier oat porridge. Other porridges mostly have a creamy, gooey, and thick texture.
3. Main Ingredients
There are more options for choosing grain types (buckwheat, quinoa, maize, rice, wheat, barley, oats, etc.) to make porridge. Some other porridges also include meaty ingredients or vegetables. But in oatmeals, oats are the key ingredient that has been crushed, cut, or rolled.
4. Topping (Or Garnishing) Options
Since porridge has many varieties, the topping choices for them are endless. Some common topping options for savory porridges are chopped herbs, spices, diced veggies…
For more delicious and flavorful oatmeal, honey, syrup, fresh or dried fruits, dried nuts, or healthy toppings like chia seeds can be added.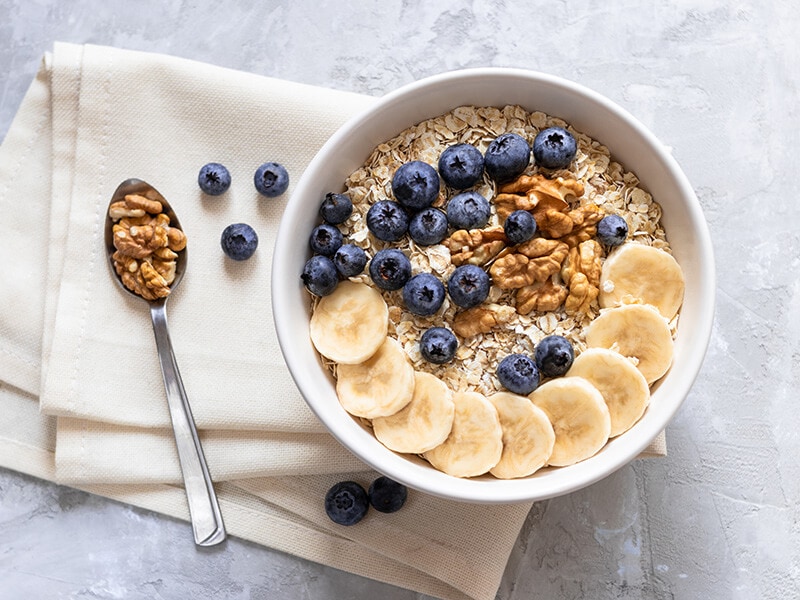 5. Best-Serving
Normally, most other porridges are served hot or warm in a bowl. However, oatmeal is usually served cold (like overnight oat porridge) or warm.
What You Can Get From A Bowl Of Oatmeal and Porridge (In General)
The similarity of oatmeal and porridge is the health aspects to financial aspects that both of them can bring. Let's see what they are with 4 key factors.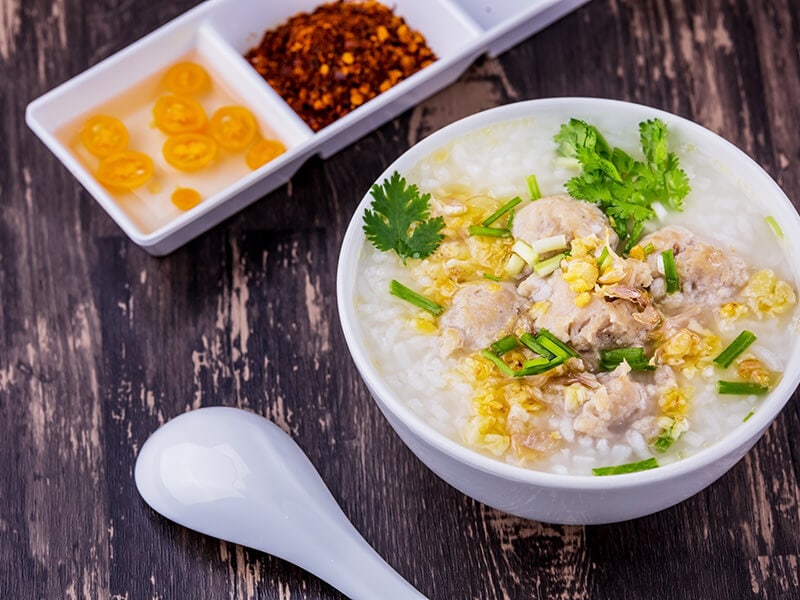 A Great Package Of Nutritions
The main ingredients of porridge and oatmeal are grains; therefore, even the basic porridge already has vitamins and minerals. Particularly oatmeal, they are high in carbs and fiber. And compared to other grains, oatmeal has a higher level of protein and fat (2) .
Good Friend For A Fit Body And Nice Skin
Easily gaining weight might be one of the biggest problems that many of you have to deal with. But with many types of porridge, you might get away with these worries as grain-based dishes are more likely to aid your lose-weight process.
You can improve your skin by eating oatmeal as its antioxidant level aids the removal of dead skin and moisturizes your dry skin.
Other Health Benefits
Porridge in general or oatmeal also reduces the possibilities of diabetes, blood pressure, and cardiovascular diseases.
Cost-Efficiency Dishes
Apparently, most ingredients for making porridge are budget-friendly, like rice, oats, milk, broth, meats, and vegetables. Therefore, you can have healthy, fulfilling, and tasty dishes that will not cost you an arm and a leg.
Still do not like oatmeal? This lively information will change your mind.
5 Most-Saved Recipes For Oatmeals And Other Porridges
Now, go to the kitchen, grab your apron and make some of these yummy porridges that are not only easy to make but also affordable.
Whenever you feel a little bit under the weather, try some chicken congee in Chinese style. A hot bowl of congee is truly a mood booster. They are delicate dishes with rice cooked in broth, chicken, and some ginger.
This recipe is also simple to make, and your congee would taste delicious. It is such an ideal choice for the cold season, isn't it?
Chicken congee in Chinese style is a comforting dish that can make you feel better even when you feel sick.
Let's mix some Western and Asian cooking styles with this turkey congee. I know there might be some leftover Thanksgiving turkey, and you do not know how to turn these meats into a new dish.
So with this recipe, you just serve yourself and your family a hearty breakfast with turkey. Though it might take around 1 hour to cook the rice, all your waiting time is worth it.
Do you want to wake up with an apple pie smell all over your house? This apple cinnamon oatmeal is something you would crave.
It is a hot breakfast that is perfect to start your day with full energy. The warm taste of cinnamon with sweet and crunchy apples is so comforting to enjoy.
How about some banana slices on top of your oatmeal? There are only 4 ingredients to make this healthy breakfast.
By cooking rolled oats in milk with some dust of cinnamon, your breakfast is ready within 5 minutes. Top your oatmeal with banana and honey. Make sure you choose ripe bananas for the best flavor.
These grits only require a few ingredients and minimal prep; then, a large pot on the stovetop will take all the cooking parts.
With heavy cream, milk, butter, and store-bought stone-ground grits made of dried corn, you can enjoy easy creamy and toothsome grits in Southern style.
FAQs
Let's wrap this profound article with some more information regarding oatmeal and porridge generally. These questions and answers here will help you gain more valuable ideas shortly.
Let's Wake Up With A Tasty Porridge Or Oatmeal
So, how do you usually start your day? What's your go-to porridge recipe, especially for oatmeal? Please remember, never skip breakfast. You'd never want to know the consequences of skipping breakfast for an extended period.
And if you still have any concerns about porridge or oatmeal, feel free to share your opinions in the comment part. I'd love to hear your thoughts as well as your contributions about these 2 topics. Thank you.
References
Mariotii Lippi et al. (2015), "Multistep Food Plant Processing At Grotta Pagliacci (Southern Italy) around 32,600 cal B.P.", Proceedings of the National Academy of Sciences, Vol.112 (39), pp. 12075–12080. doi:10.1073/pnas.1505213112.
Christina, K., Elke, K. (2012), "Proteins in Oats; their Synthesis and Changes during Germination: A Review", Critical Reviews in Food Science and Nutrition, Vol. 52 (07), pp.629-639.
Wholegrainscouncil.org (2015), U.S. Dietary Guidelines And WG.