The list of Peruvian street foods might be longer than you might think, and I'm here to help you have a successful taste experience in this beautiful country. Today's recommendations will be all toothsome and are worth trying once in a lifetime.
Peru is indeed a happy hunting ground for street food lovers. Given its beautiful culture and extraordinary geography, you can expect many foods influenced by other prominent cuisines like Latin American or Spain delicacies. Let's scroll down now to find out more!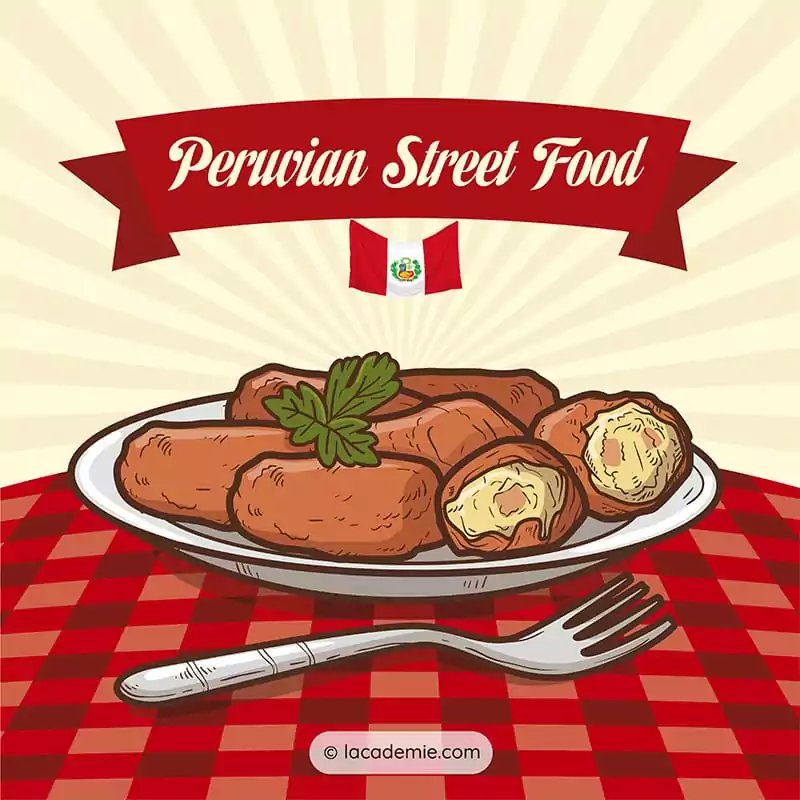 Like some other Latin American cuisines, Peruvian gastronomy offers you various hearty, flavorful and colorful dishes. Meaty delights are a culinary highlight of the land. Why don't you take a look at the food below?
1. Anticuchos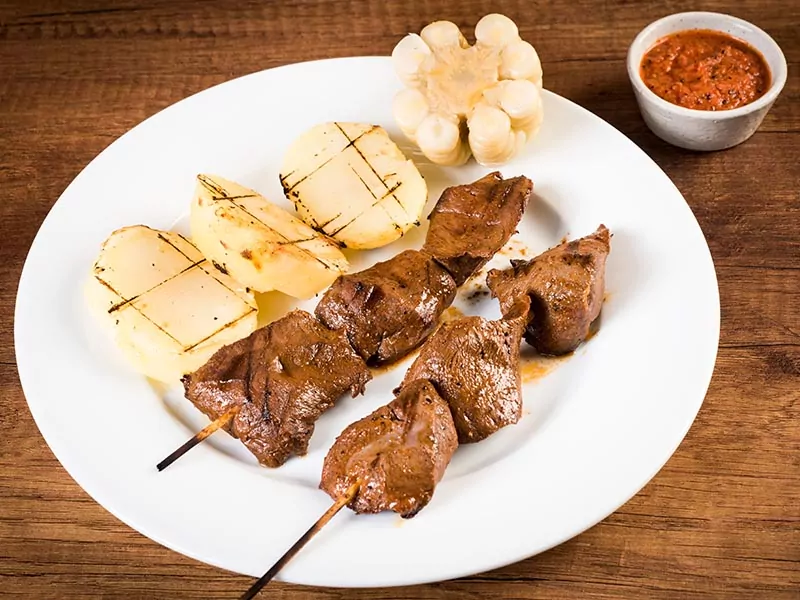 Every cuisine has its own meat skewer recipe to enjoy on hot days, and Peru is no exception. However, these Antichuchos will overwhelm you with not only their flavor but also the main ingredient.
Though most think of Anticuchos as "meat skewers", the most popular version uses beef hearts instead. Don't be scared! It may sound weird, but the beef heart has a wonderful, tender yet chewy texture that would attract you immediately.
And since Anticuchos are one of the most famous foods in Peru, you can find it at any street vendors or small restaurants. Just wait about 5-7 minutes, and you'll receive a piping hot Anticucho with aji sauce on top and boiled potatoes at the end of the stick.
After enjoying this treat, do you wonder how it was created? The answer lies with the Spanish invasion of America. The Spanish treated offal, including beef hearts, as trash and delivered to slaves as meals. No one would have thought the dihs would achieve the superstar status it enjoys now.
Are you ready to know more about this favorable Anticucho?
2. Butifarras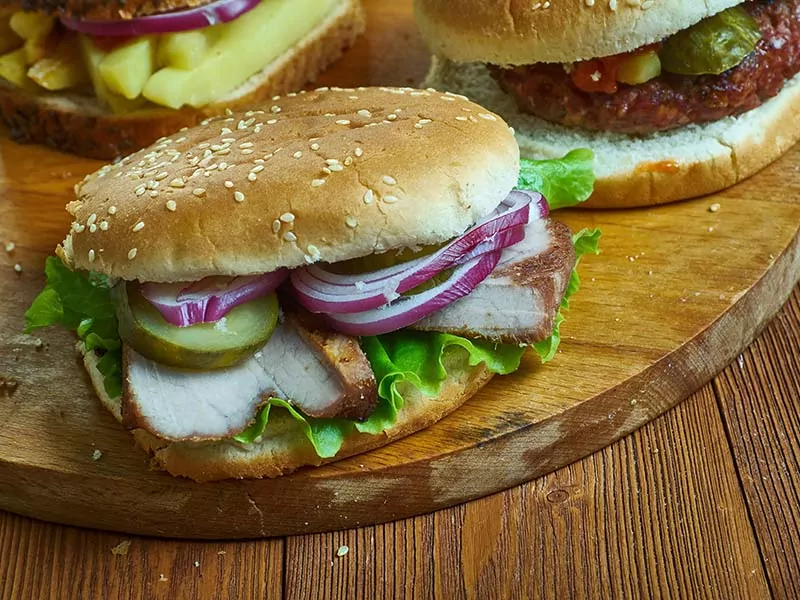 Who needs MacDonald when I have Butifarras right in my hand? This sandwich may not look too appetizing with ham (Jamon Del Pais) and some veggies (tomatoes, onions, chilies, etc.). But its flavor is top-notch as the tender ham contrasts with crispy bread buns.
However, it can be pretty challenging to find this authentic Peruvian recipe because the vendors only show up in the evening (often dinner time). So, make sure to keep your stomach empty to enjoy this sandwich to the fullest.
Also, if you don't know which sauce to go with Butifarras, just ask the sellers to try some of their example sauces and choose the most suitable ones.
3. Papa Rellena
Here comes the best combination: Potatoes and beef! Peruvian people will shape mashed potatoes into some dough and stuff it with minced beef in this dish. The last step is deep-frying them until golden.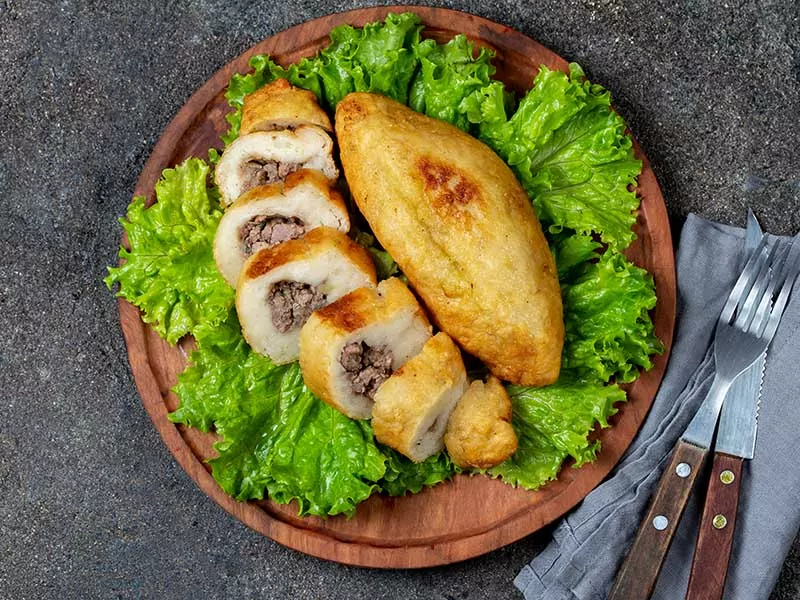 But that's not all! When serving, sellers will add some hot Creole sauce (Salsa Criolla), making this treat even more mouth-watering and is a perfect nominee for dinner in Peru. Sometimes, you can even find hard-boiled eggs or olives inside the filling as well.
Famous as it is, Papa Rellena's history still remains unclear. But the most credible theory says it was made during the War of the Pacific in the 1880s as a prepared food to keep the soldiers healthy.
4. Cuy Frito or Cuy Chactado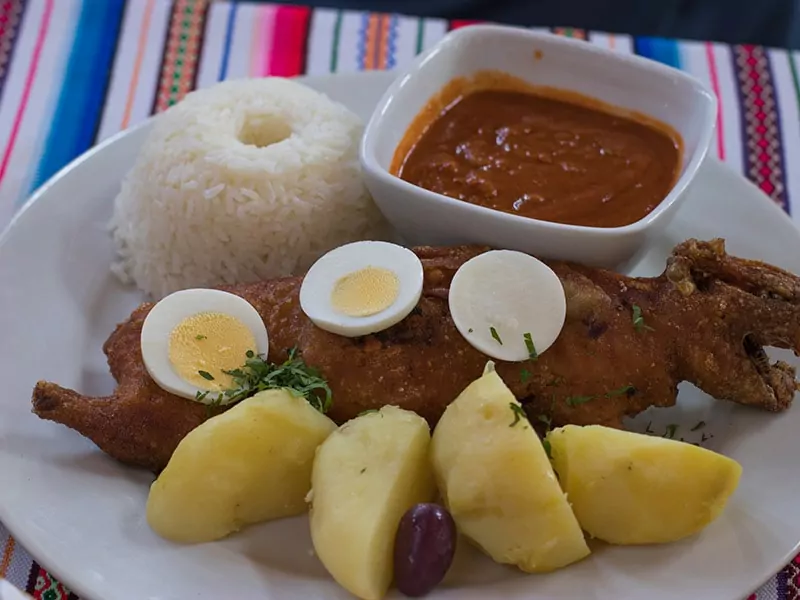 Rather than kept as a pet, Guinea pigs were initially used as a source of protein by indigenous Peruvian peoples, such as the Moche, Incas, and Quechua. Its meat has higher protein and less cholesterol than chicken, pork, or beef, making it one of the healthiest meats.
Cuy Chactado and Cuy Al Palo are Peru's two most famous Guinea pig recipes. Cuy Chactado (my suggestion) is an Arequipa dish consisting of Guinea pig that has been firmly compressed with a stone and deep-fried.
The best way to enjoy this dish is to grab the meat with your bare hands (you can wipe the oil later with napkins, so don't worry). About the taste, Guinea pig meat will remind you of something between rabbit and chicken with a bit richer/fatter notes.
Furthermore, this outstanding Peruvian side dish is so famous that it even has its own national day on the second Friday of October. Peruvians infrequently eat Cuy (Guinea pig) on weekdays, preferring to keep it for special events such as festivals and birthdays.
However, as more international visitors get interested in this dish, many Peruvian restaurants have included it in their menu.
5. Salchipapas
(Peruvian Hot Dogs And Fries)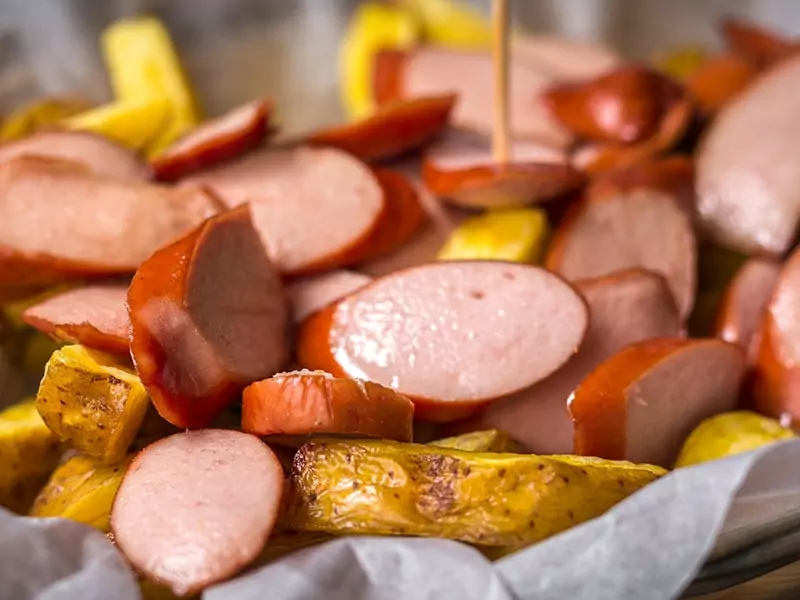 From the name, you can generally guess what Salchipapas is all about. Each serving contains some cooked sausage on a layer of French fries. This dish is particularly popular in Lima, which is the capital of Peru and also the birthplace of the delicacy.
Nowadays, you can also find it as Bolivian or Colombian street delicacy since Salchipapas is undoubtedly appealing. The best companions for this food are ketchup, hot sauce, and mayonnaise.
Otherwise, you can find another variation of Salchipapas called "Choripapas". This variety calls for Chorizo instead of regular sausages, and they are more prevalent in Chile, America, and Mexico.
6. Ceviche or Seviche
(Seafood Salad)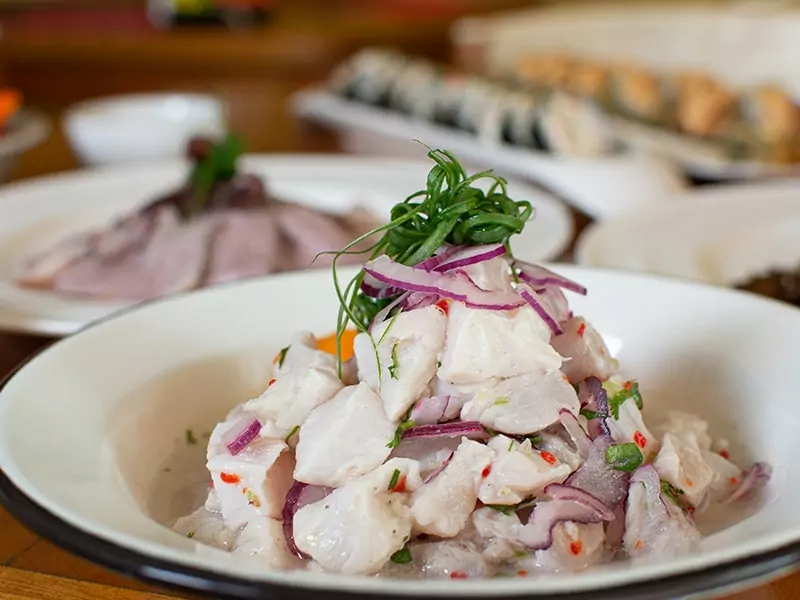 You might have read many theories about the existence of Ceviche since this food is quite prevalent in Panama and other South American countries, but Ceviche is actually native to Peru. Trust me; you will sense the most authentic taste of Peruvian culinary cuisine through this delicacy.
The name, Ceviche (or Seviche/Sebiche), was derived from a native Quechuan language' term, "siwichi" (meaning "fresh/tender fish"), another solid proof to tell about its origin. In Peru, the cooks have to marinate the freshly-caught fish used for Ceviche with key lime.
Besides, sliced onions, chili, or pepper are essential parts of this food. Although there are not many requirements of the fish types used, the more preferable ones are cebo (sea bass) and Corvina drum.
Peruvians usually pair this fresh dish with Leche De Tigre or Leche De Pantera (kinds of Peruvian appetizers). The cooks will add some additional spices to accentuate the Peruvian feelings to Ceviche.
7. Peruvian Empanadas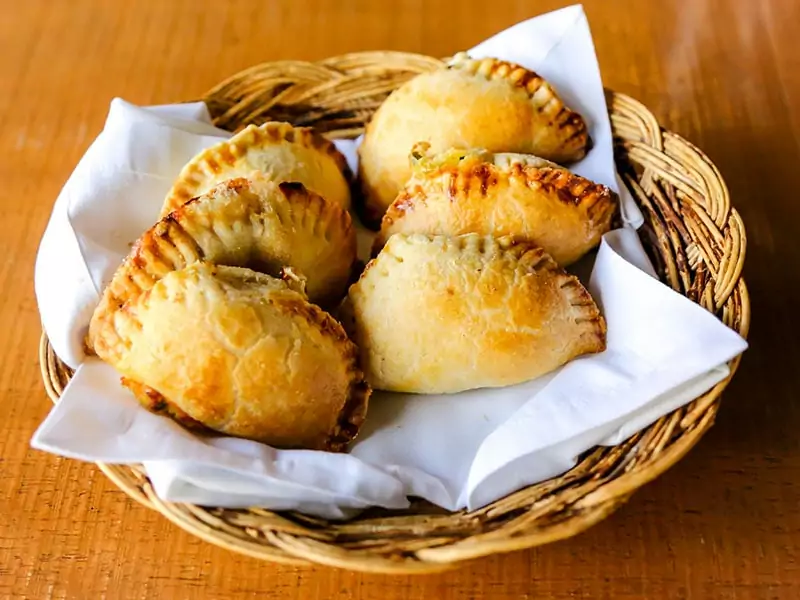 How familiar this fried treat is! You might have seen or even tasted Empanadas before as they are a prevalent dish in Latin American nations and around the world. No one can resist its favorable crunchiness exterior and the absolutely melt-in-your-mouth fillings.
Unlike other variations in Spain or nearby Latin American countries, traditional Peru-style Empanadas call for hard-boiled eggs, minced meat, olives, and raisins. Also, they are available both in deep-fried and baked forms (the latter is less oily in taste) at numerous street vendors in Peru.
8. Juanes
(Yuca Dough With Chicken)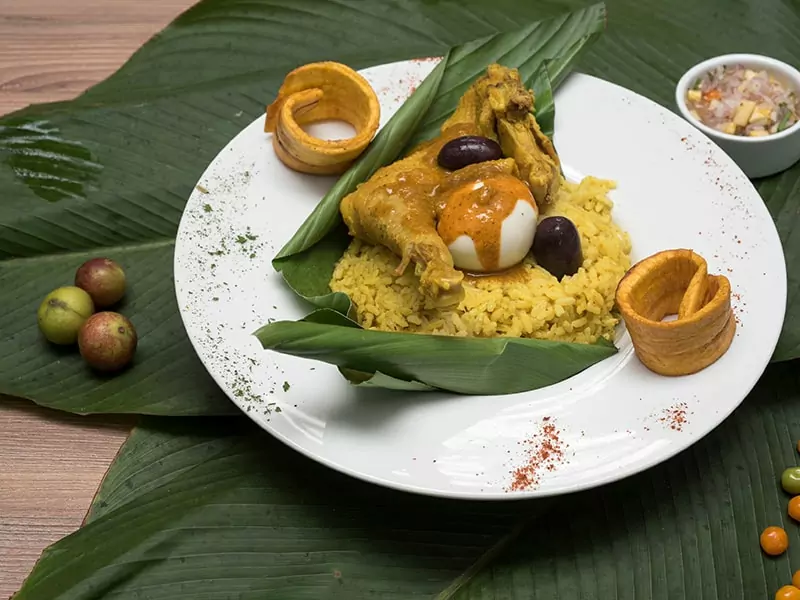 You can't know what is waiting for you until you unwrap the bjao leaves outside. But often, it will be yuca/rice dough stuffed with chicken or hen meat. Familiar seasonings like turmeric, pepper, and cumin are also available with some diced olives and boiled eggs.
Since it is wrapped with large leaves, you won't have any trouble eating Juane on the way. It's also a favorite treat for all tourists because of the hearty fillings, much more than other street foods. And Juane can retain its deliciousness even after many hours.
The name of the dish means "John" in English. To be specific, it refers to Saint John the Baptist and the famous account of his beheading. That explains why it's a must-have on St. John's feast in June.
9. Rachi (Cow Belly)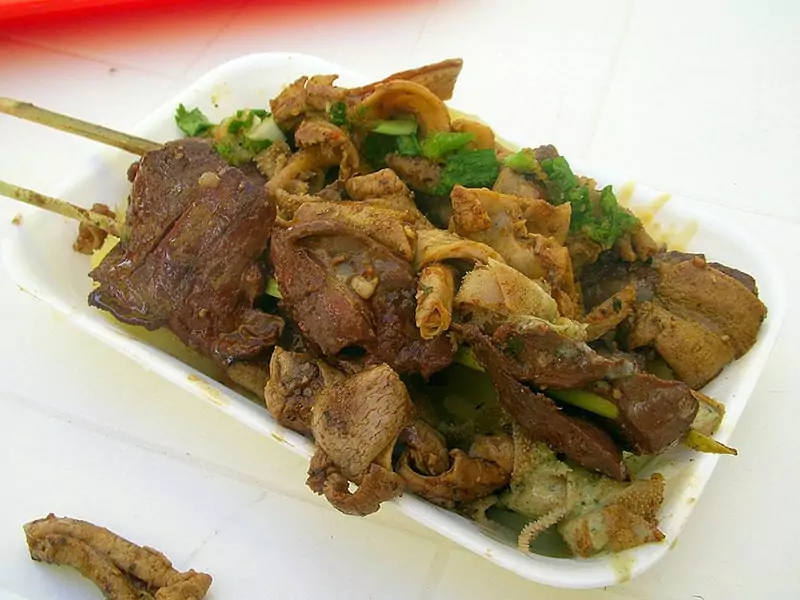 If you love Anticuchos, you should try Rachi right away! In fact, in Peru, people often serve these two together. You can easily buy a plate with both of these treats. So, what is Rachi?
Simply, it's a cow's belly mixed with Peruvian corn, garlic, pepper, and other seasonings. While Anticuchos are tender, Rachi is chewier, so combining the two of them will create a nice contrast in texture. Once getting used to it, you can't stop asking for more!
This aromatic treat appeared in the pre-Hispanic period and stayed popular even now. Even if you aren't too into cow belly, you still should eat Rachi once in your journey to experience Peruvian cuisine in its simplest form.
---
Are you curious about how versatile the Peruvian desserts are? Not only are their sweet treats varied, but Peruvians also offer you many kinds of luscious drinks or snacks. All of them are indispensable to this country's gastronomy, so why not take a look and see?
10. Arroz Con Leche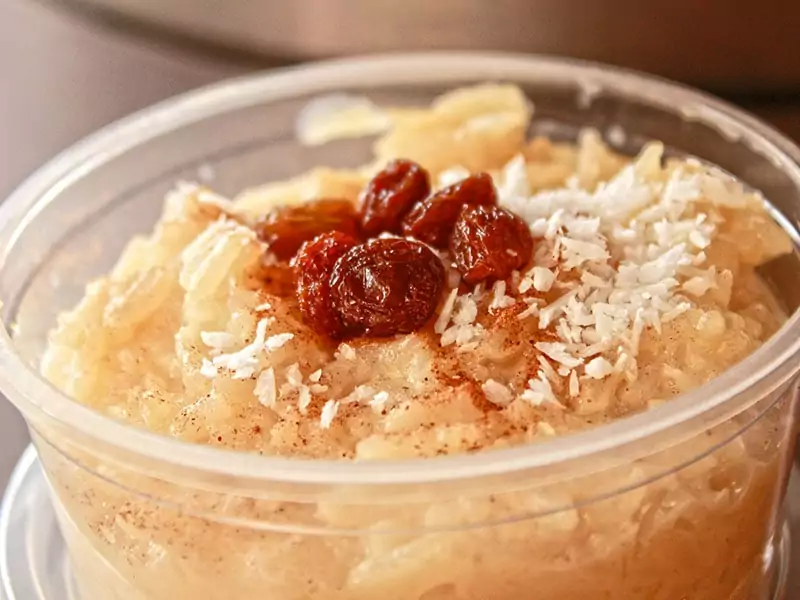 I know rice pudding is pretty over-familiar, but this one has a Peruvian twist in it. It still has the same old ingredients like rice, condensed milk, and evaporated milk.
But it's much sweeter and thicker. That's why people would use lemon peel, dried fruit, or cinnamon to balance the flavor. Or another more "adult" version would have a bit of liquor.
Still, it's pretty hard to eat this pudding alone. Thus, Peruvian usually offer it with Mazamorra Morada, another kind of pudding (which I'll describe later). It's not hard to find Arroz con Leche. Just find some dessert stores on the street when it turns dark.
11. Mazamorra Morada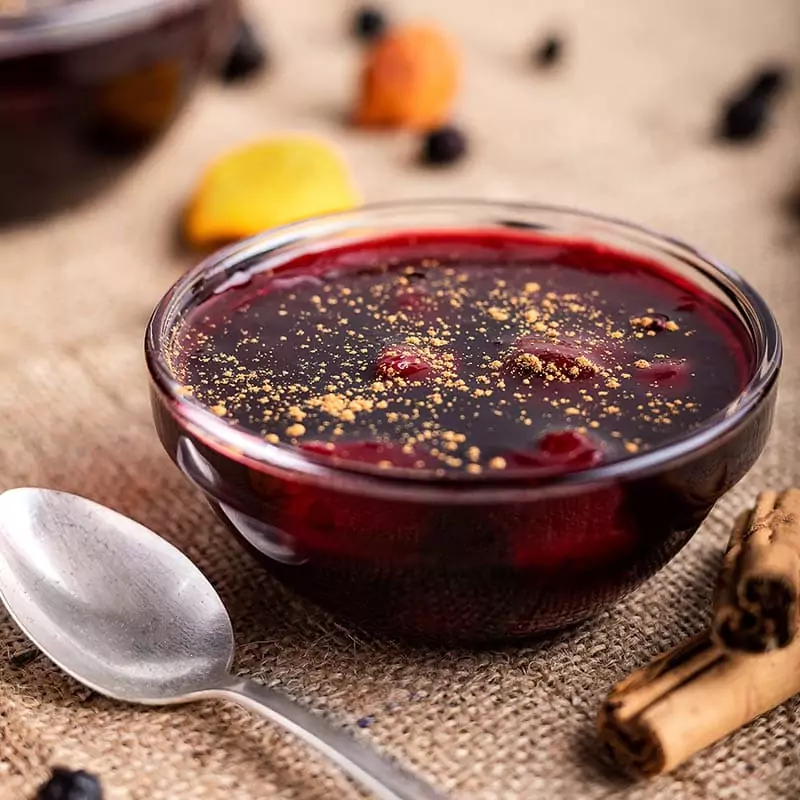 Here is what you are waiting for: the one and only Mazamorra Morada (purple corn pudding)! This eye-catching pudding dessert from Lima (Peru) deserves a place in your list of best foods to try because it is undoubtedly toothsome.
Since purple corn is a traditional crop to Peruvians (from the pre-Hispanic era), they have created many dishes based on this unique ingredient. The texture of Mazamorra Morada is not very jiggling. Instead, it will be pretty thick and has a porridge-like consistency.
Fruits (fresh/dried), cinnamon, and lime are also good toppings for this corn pudding treat. Mazamorra Morada is not just for daily life: people in Peru also prepare it for important occasions, such as celebrations or independence day.
12. Picarones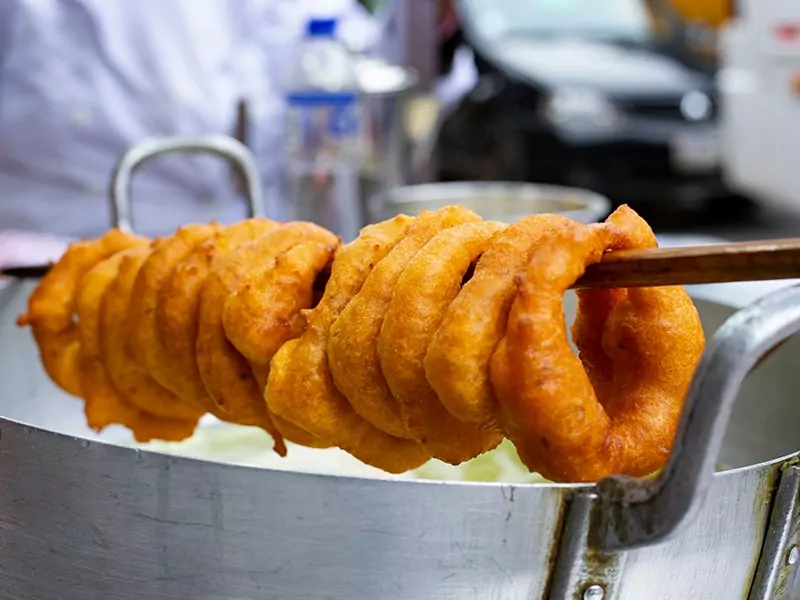 If you are trying a recommendation of non-flour dessert, Picarones might not be your top priority. But I guarantee you that these Picarones taste mind-blowing and you should try them once during your trip to Peru no matter what.
The story about the creation of this toothsome fried treat goes way, way back. After conquering the new land, Spaniards tried to make their country's Buñuelos fritters in Peru, but they lacked wheat flour. As a result, they replaced it with sweet potatoes and squash.
Those root vegetables are native to Peru and are available year-round. The result was a brand new kind of doughnut. Local people usually enjoy Picarones with Anticuchos. Another popular practice is to coat the doughnuts with Chancaca (cane syrup) or honey.
13. Chifle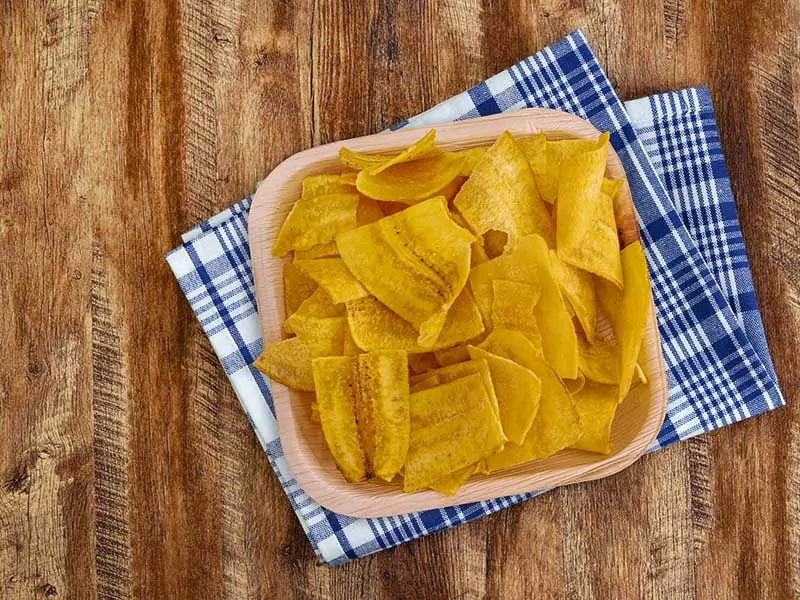 In case you are getting bored of regular potato chips, you can try these plantain chips, or Chifle, instead. These thinly sliced, crispy chips will easily crumble on your teeth. You can find them in Peru and many other Latin American countries, like Ecuador, Cuba, or Puerto Rico.
Do you know what makes the Peruvian Chifle different from the Ecuadorian delicacy? My answer is the wood used in the cooking process. Traditionally, the vendors/sellers cook Chifle on a hot pan filled with oil on a traditional stove using Algarrobo Blanco wood.
The smoky taste from the particular mesquite tree's wood will linger in every piece of Chifle, so you can experience an unforgettable flavor. If you love the food a lot and want to bring some home, you can opt for the factory-produced variations at the convenience stores here.
14. Chicha Morada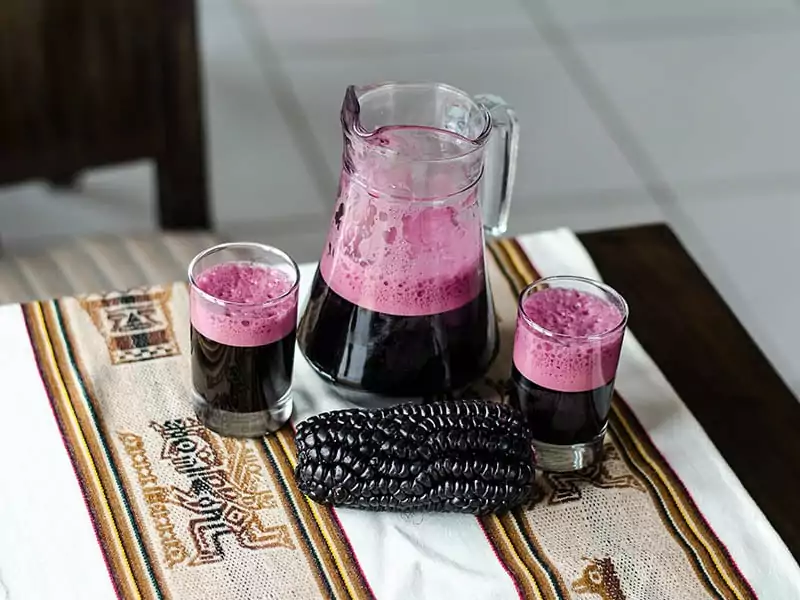 Chicha Morada is the number one local drink in Peru. I can guarantee that you will find it in every restaurant you visit, on the street, or in traditional markets. Peruvians even drink this drink to replace water.
When you take a sip, you will feel a gentle sweetness from purple corn, cloves or cinnamon, and other unique flavors. A particular advantage is that this Chicha Morada is not an alcoholic drink, so children can still drink it.
In case you want to try another variation of Chicha Morada, you can opt for the Chicha De Jora, which consists of fermented yellow corn liquid. The taste of this alcoholic drink can remind you of beer's flavor.
15. Lucuma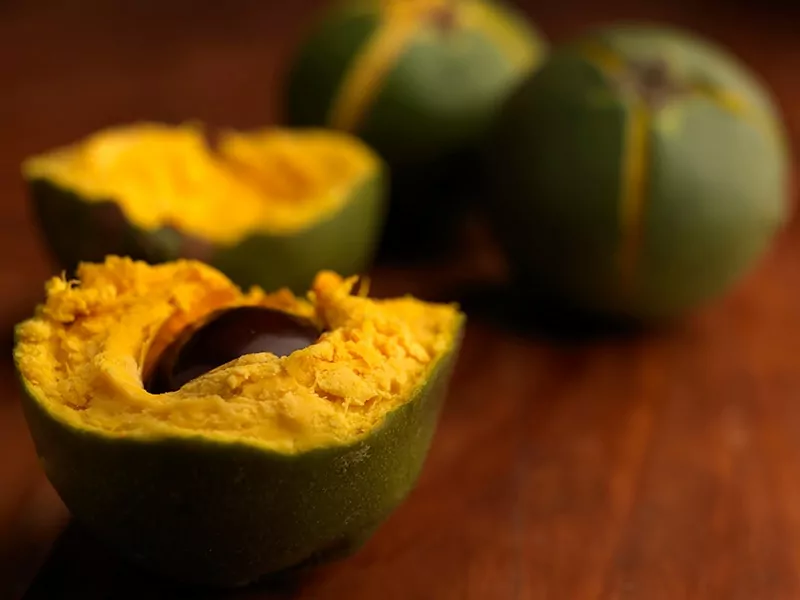 Lucuma is a native fruit of Peru from ancient times. Local people typically grow this type of plant on the highland of this country since the fruits are compatible with cool weather up the hills.
Although you can find Lucuma in Ecuador or Chile, the taste of Peruvian products is entirely different. In appearance, Lucuma looks like an unripe avocado/mango with green outer skin. Open it, and you'll find soft, golden flesh that tastes like creamy flan.
Furthermore, Peruvian residents make it into various other desserts/sweet treats like ice cream, puddings, or cookies. If you want to bring Lucuma home as a souvenir from Peru after your trip there, you can opt for dried or frozen Lucuma instead of the fresh fruits.
16. Peruvian Tamales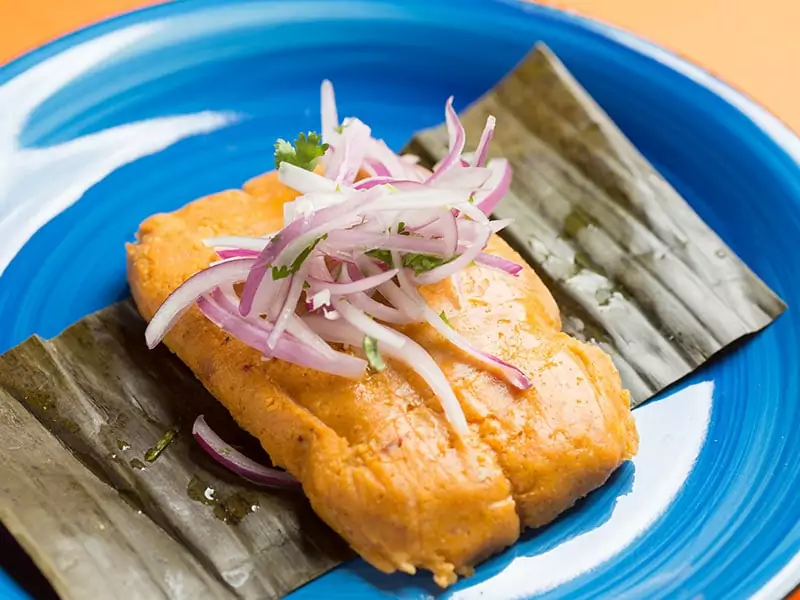 If you are into South American cuisine, you must have heard about Tamales. But these Tamales are completely different from the usual Mexican version because Peruvian people often make them with white corn instead of yellow ones.
The filling is also a bit strange. Aside from the meat (often chicken or pork), you will find boiled eggs, chili pepper (Aji Amarillo), and even black olives in these Tamales.
The rest stays the same, with these dumplings wrapped in banana leaves and steamed. But some stores would place some red ginger on top for visual effect.
When you are in a hurry and want to fill your tummy quickly, don't hesitate to stop at a vendor and ask for Tamales. Eating while walking is also an excellent way to enjoy Tamales, whether it's morning, afternoon, or midnight.
17. Causa or Causa Rellena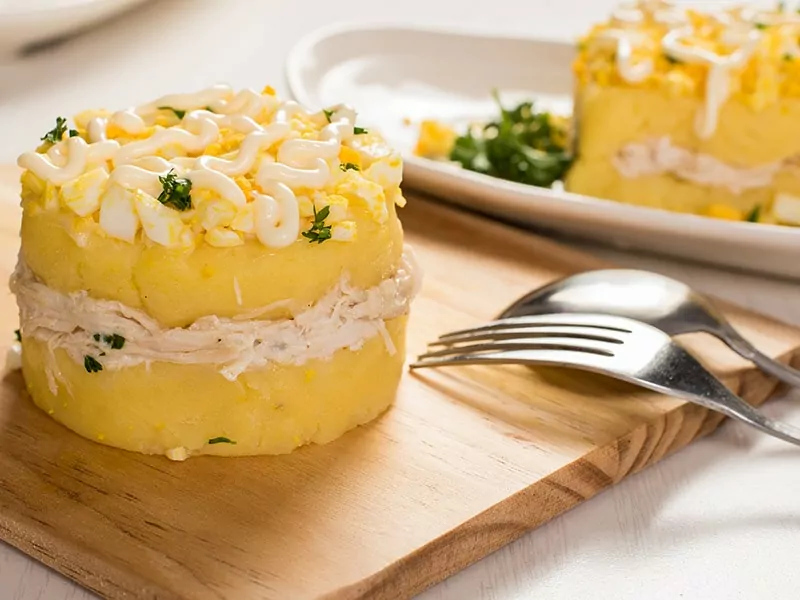 It's hard to believe this beautiful dish is just potato salad! Causa looks like a layered cake with numerous colors and flavors.
You can even order it in a restaurant as an appetizer or side dish. Normally, Causa contains potatoes and anything you want, from peas, corn, avocado to chicken, tuna, or eggs. Sometimes, a main-dish version is also available with caviar or other fancy ingredients.
For those wondering whether you could make it at home, the answer is an absolute yes! Causa is actually a perfect dish to use up all leftovers in your fridge.
Sneak peek: Here is the secret behind the deliciousness of Causa.
18. Choclo Con Queso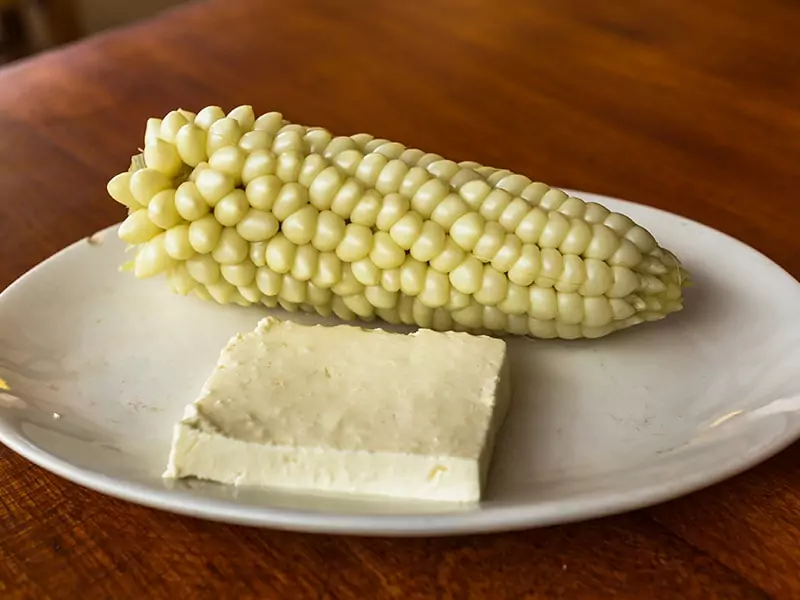 Corn with cheese, are you serious? Some of you may think like that, but this is 100% a well-loved snack in Peru. Not every corn can appear in this dish; it must be Choclo, a local corn type with large yellow kernels.
This corn tastes somewhat sweet, nutty, and tender, which goes well with the cheese's saltiness. Choclo con Queso is mainly sold on the street, but you can also enjoy it in some restaurants as well. People will serve it as an appetizer, a filling for sandwiches, or even a garnish.
Despite looking relatively small, a portion of Choclo con Queso can fill you up quickly. So, think carefully before ordering it!
These Favorable Peruvian Dishes Won't Disappoint You!
So, have you decided what to have first in today's article? They are all delicious, so you can't go wrong no matter what you choose. From the heartier dish like Butifarras to the lighter ones like Chifle, choose that that matches your taste and preferences.
If you have some reviews, comments, or recommendations, feel free to let me know. Your contribution is always welcomed here! And please support me by sharing this post with your friends and loved ones. That means a lot to me!