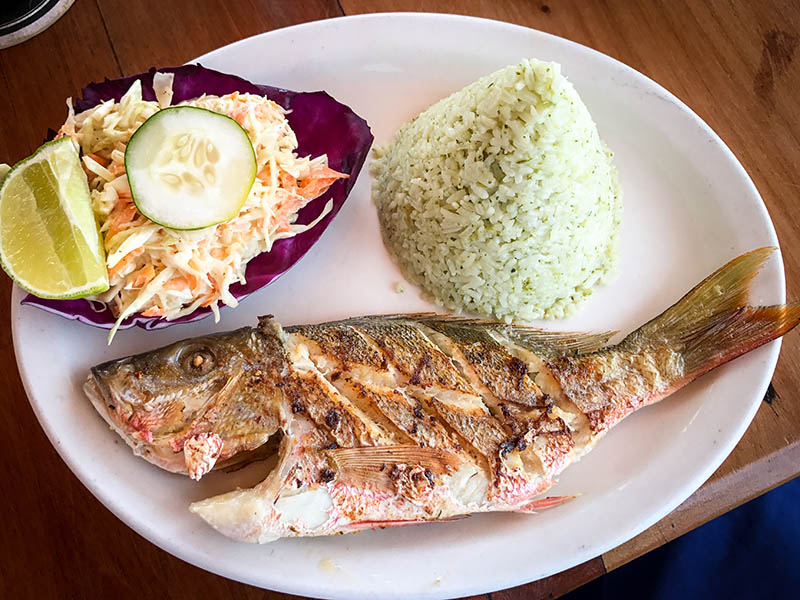 Belizean foods are authentic inspirations and well-preserved traditions of the indigenous Creole, Maya, and Garifuna civilizations living in this Caribbean country.
People often decide to visit a nation based on the exotic dishes it can offer. For example, you have Foie Gras (Goose Liver) in France, Cheeseburgers in the United States, and Pasta in Italy.
However, Belize does not follow the same pattern. The country is a culinary melting pot both literally and figuratively. That is why it takes weeks for you to explore the diversified flavor sensations of this country without repeating menu options.
Don't expect to find any fast food franchise here, as this is not how local Belizeans handle their meals. Instead, prepare yourself for a sensory adventure. A small tour around San Pedro shall reveal infinite options of scrumptious dishes.
Belizean cuisine guarantees an unforgettable excursion for food enthusiasts of all stripes, even the pickiest diner! To help you dive in and immerse yourself better in this genuine Caribbean cuisine, let me stimulate your taste buds with the following traditional meals in this food paradise!
7 Must-Try Belizean Appetizers
Unlike other cuisines, local Belizeans love to treat their appetizers as snacks rather than starters. Besides Chimole and Ceviche, there are a plethora of appetizers you can experience. Let's go over my top 7 options below.
1. Chimole – Black Soup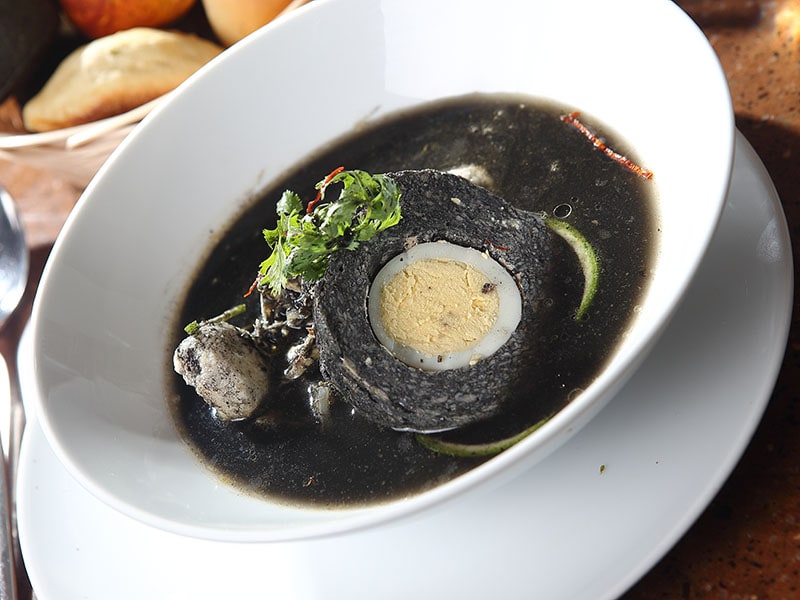 Unable to locate Chimole on the menu? Don't worry! Search for the phrase "Black Dinner" or "Relleno Negro" instead! This black soup is a tasty chunky stew inspired by Mexican and Maya heritage.
Served as an appetizer, Chimole derives its unique taste from tender chicken, nourishing vegetables, and indigenous spices like Achiote (a paste made from Annatto seeds).
This much-adored soup is distinct for its unusual dark brown color that you cannot find elsewhere in a dish. Its spicy, smokey, and robust flavor is also another element that has helped Chimole become a popular dinner in Belize.
2. Ceviche – Fish Salad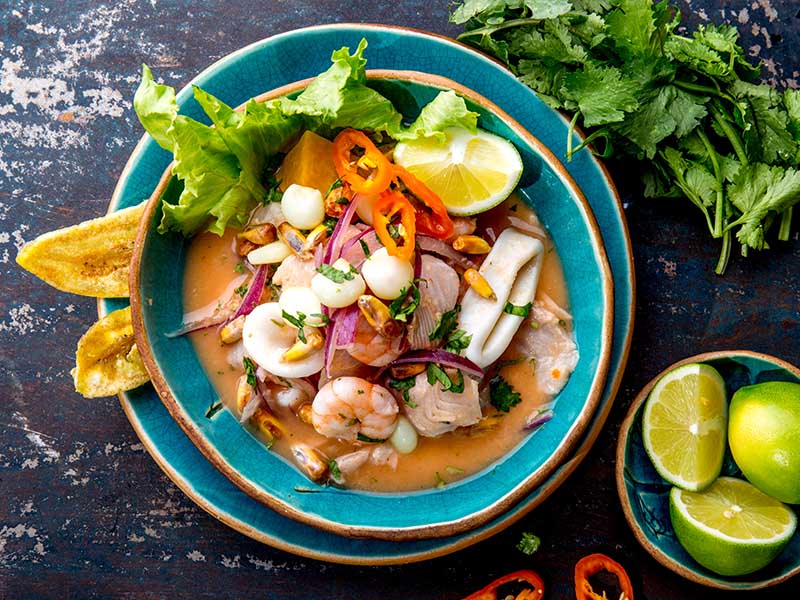 Originated in Peru and is now widespread across many regions such as Central America and Mexico, Ceviche is a unique and refreshing Belizean seafood meal featuring raw fish cured in lemon juice and Pico De Gallo.
Belizean people love to incorporate shrimp, lobster, or queen conch into Ceviche and enjoy the dish cold on the beach for a better dining experience. A nice bottle of Belikin beer is an indispensable partner in those enjoyments.
If you have encountered Ceviche once during your Belize trip, you may find the dish resembles a chunky salsa. Besides the essential ingredients above, local Belizeans often add white fish, octopus, and even chicken feet to this delightful summer meal.
Ceviche is not only popular in Belize but also a way of life in Peruvian cuisine.
3. Garnaches – Fried Corn Tortillas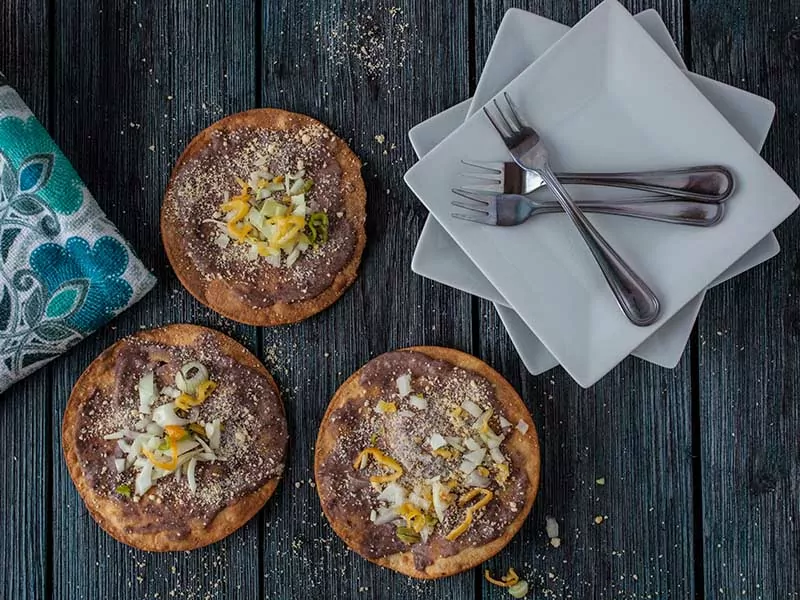 A simple Garnache is a fried corn tortilla stuffed with refried beans, lettuce, and cheese. This delicacy is a popular Mestizo meal in Belize, where both local people and tourists regard it as a brilliant fast meal or street food.
You can find Garnaches in even extremely tiny eateries, where there is only a counter for food ordering and a few tables. This kind of establishment is trendy in Belize and other inexpensive cuisines.
While the food from these street vendors is often inexpensive, rest assured that there is little to no trade-off for inferior quality. In fact, if you want to experience an authentic local atmosphere, these are the places you must go to for Garnaches.
In addition, this tortilla treat is vegetarian-friendly. So, if you are a no-meat practitioner, Garnaches are an ideal choice for you in Belize!
Garnache is a simple tortilla dish adored by both locals and tourists.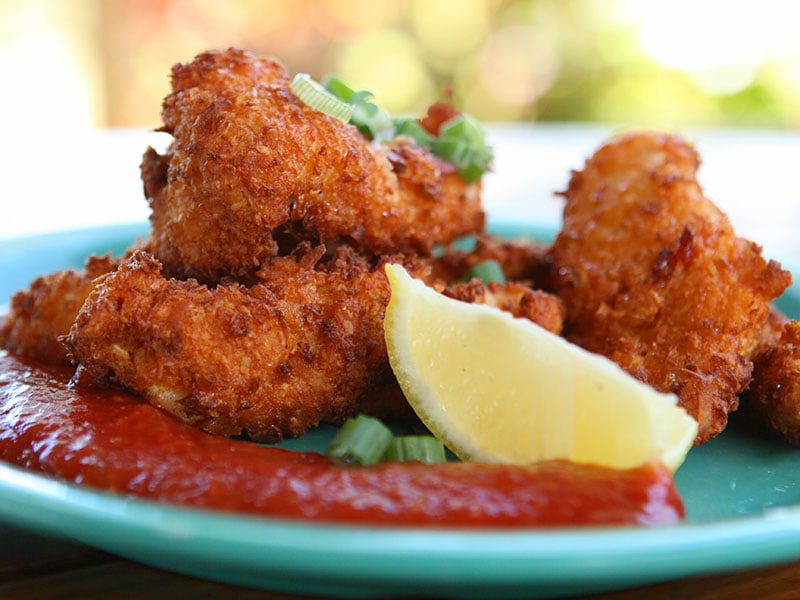 Did you know that there is a world record title related to Conch Fritters? A guy named Joe Menchetti holds such a record for eating 45 Conch Fritters in 6 minutes.
Considering the dish consists of small bites of local queen conch meat fried in a savory batter and peppery seasonings, that record is pretty impressive!
Indigenous to the Bahamas, Conch Fritters are a popular dish across many regions, including Belize. For those who have never had a conch before, it is sweet and moderate in flavor. It is similar to calamari without the fishy flavor.
This Belizean treat is ideally served with a Bahamian-style dipping sauce of lime juice, mayonnaise, and ketchup.
5. Panades – Belizean Empanadas
Numerous nations have their own version of savory dishes with robust fillings, such as gyoza, ravioli, and empanadas. Belizean cuisine follows the same pattern with its flavorful rendition called Panades.
Despite the appearance of many potential foreign peers and local counterparts, this crescent-shaped pastry is still extremely popular among Belizean families. Typically, it comprises Masa (maize flour) with a filling of fish, pork, chicken, cheese, or beans.
The dish's chameleonic composition contributes to its widespread popularity. The beauty of Panades lies in their versatility. Their fillings are changeable to fit diverse individuals with different interests.
When you bite into this beautifully fried snack stuffed with your favorite stuffings, you will actually lick your fingers. You may like to serve it warm, cold, or at room temperature. A nice tip is to pair this delight with a delectable salsa with peppers, cabbage, and onions.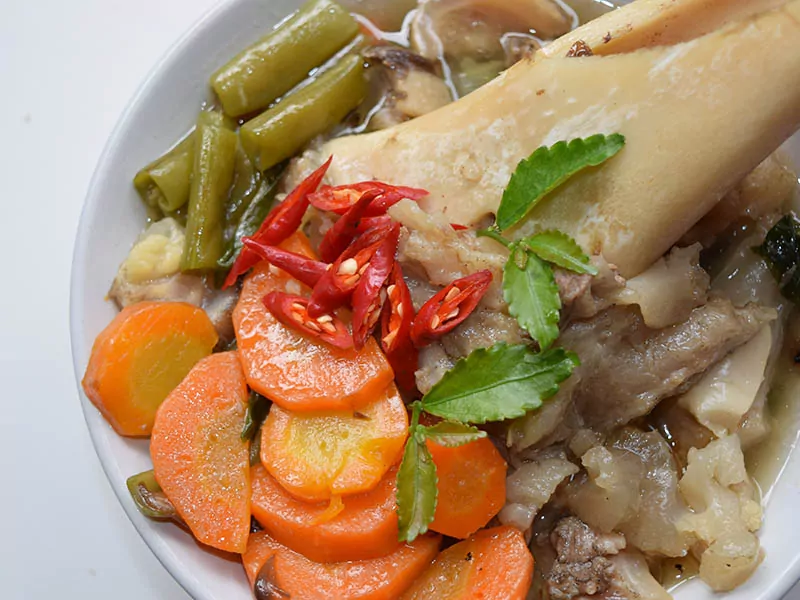 Although Cow Foot Soup is not for everyone, those who like eating cow feet will get addicted to this Caribbean's favorite delicacy. Local Belizeans love to delve into this nutrient-dense and satisfying soup during the harsh winter months.
The dish's name is pretty straightforward and self-explanatory. It comprises a cleared and shaved cow foot, including the hoof, that has been slow-cooked with a plethora of spices and vegetables.
Since cow feet contain gelatin, which will transform into collagen in the body, this robust soup brings a gel-like consistency. Not only enhances digestion and intestinal health, but this gelatinous soup also contributes to the flexibility of your skin.
What I appreciate most about this meal is that it minimizes wastage by using sections of the cow that are often overlooked or discarded. Depending on what you put into your soup, tasting Cow-Foot Soup will undoubtedly remind you of a beef broth.
Serving the hearty soup with corn tortillas, white rice, or some delectable dumplings to complete the meal!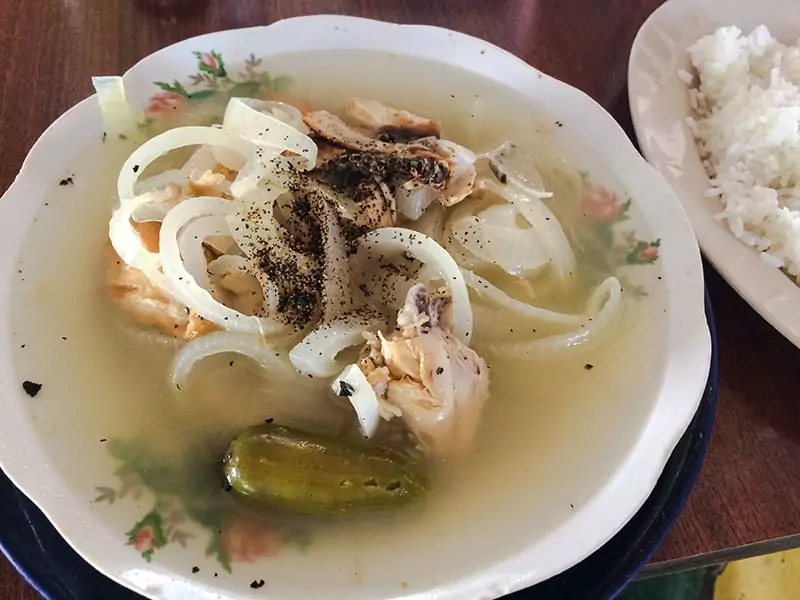 Almost every country on Earth, including Belize, has some kind of hearty, rustic soup. Escabeche is how local Belizeans adapt their own soup version by gathering inexpensive ingredients found in the kitchen.
However, the dish's core is chicken and onions. With a bit of work in cooking, you can generate additional levels of taste and richness to the meal. The chicken is marinated in coriander leaves and various spices, then cooked with onion strips and lime juice.
Escabeche falls into the "Oriental dish" of Belize and Yucatan cuisines. The reason is that the dish originates from Valladolid, the eastern part of Yucatan. Local people often serve the meal immediately with freshly cooked corn tortillas.
The addition of white wine vinegar to the soup imparts extra flavor. Additionally, you can use lime juice as a marinade for the chicken or as a soup component.
5 Scrumptious Belizean Breakfast To Kick-Start Your Day
Whether you are reminiscing about a recent Belize vacation at home or a prospective future trip, kick-start your day with these 5 traditional Belizean breakfast ideas.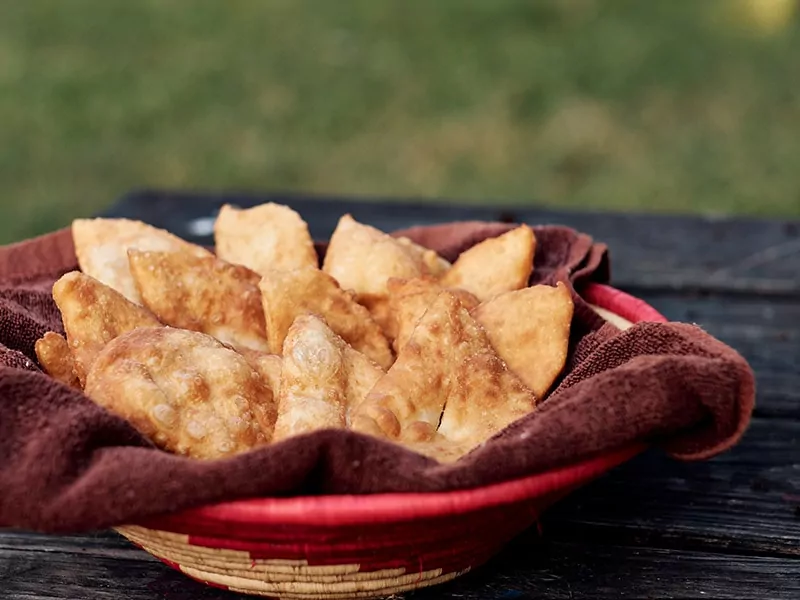 Speaking of Belizean breakfast ideas, no one can cross out Fry Jacks. They are deep-fried dough pieces offered as a must-have option in traditional Belizean breakfast or dinner meals. A good practice is to pair them with refried beans and eggs.
Fry Jacks come in a few different shapes and liquid ingredients, depending on your location and personal preferences. Certain people love their Fry Jacks in triangular shapes, while others prefer a circle dough sliced in quarters.
Some individuals adore coconut milk, whereas others like to use full milk as their liquid contents. No matter what variation you choose, it will all be a delectable treat. Besides, you also get cheese and beans in these pillowy soft tortillas.
Despite being a staple in Belizean cuisine, Fry Jacks is also popular in other nations, including Mexico (Sopaipillas), New Orleans (Beignets), and other Latin American nations (simply Fried Dough).
Fry Jacks are always the top-of-mind choice breakfast in Belize.
9. Johnny Cakes – Coconut Flour Flatbreads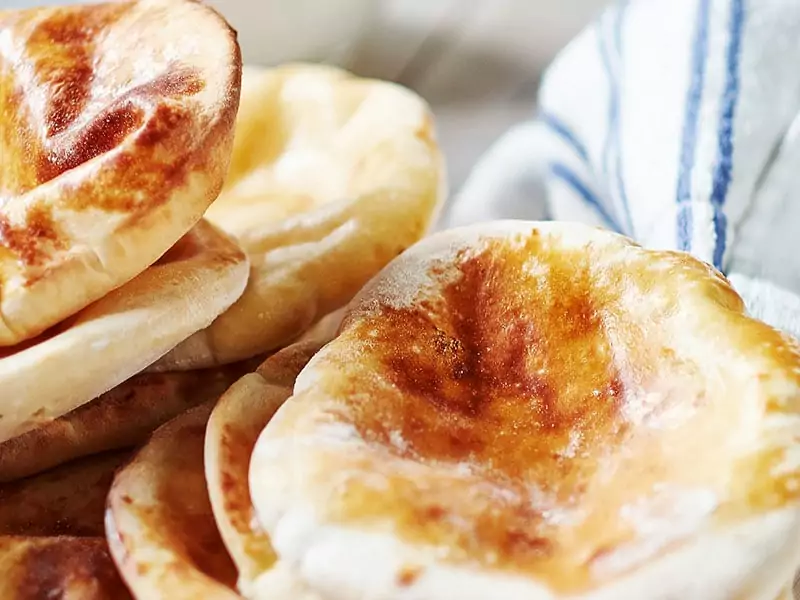 The origin of the name Johnny Cakes is unknown and most likely has nothing to do with the common name John. Some people often call it Journey Cakes due to their ability to be transported in saddlebags and cooked along the road.
Both names refer to the same little bread cakes prepared with coconut milk and flour, baked over an open fire in the traditional manner. Usually, local Belizeans slice Johnny Cakes in half and cover them with butter, refried beans, and cheese.
Yet, some people prefer stuffing them with chicken or beef and enjoying it as a Belizean lunch or supper. With the addition of stewed beef or chicken, the dish serves as a convenient, healthful, and filling meal for folks on the move.
Historically, Johnny Cakes are traditional cuisine in early America and are prepared throughout the Atlantic coast from Newfoundland to Jamaica. They are also endemic to North America's indigenous people.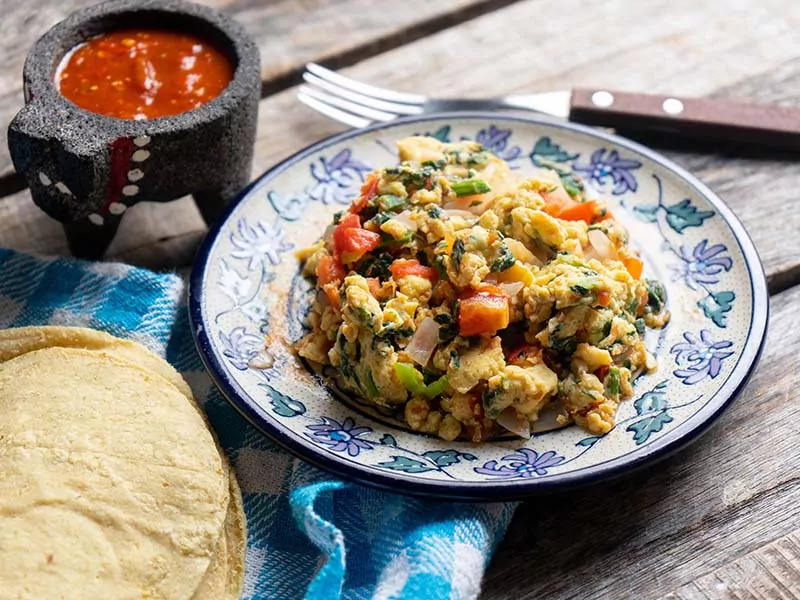 The dish name is pretty straightforward. You will taste the delectable combination of Chaya and scrambled eggs. Also known as Maya Spinach, Chaya is an integral feature of Belizean cuisine.
It is nutritionally superior to any other land-based leafy greens, with significant amounts of calcium, magnesium, iron, proteins, and antioxidants. Since pre-Hispanic times, the vegetable has been used for many medical purposes.
No matter how you see Chaya, as a tasty vegetable or a nutrient source, remember that you are enjoying a genuine Belizean item.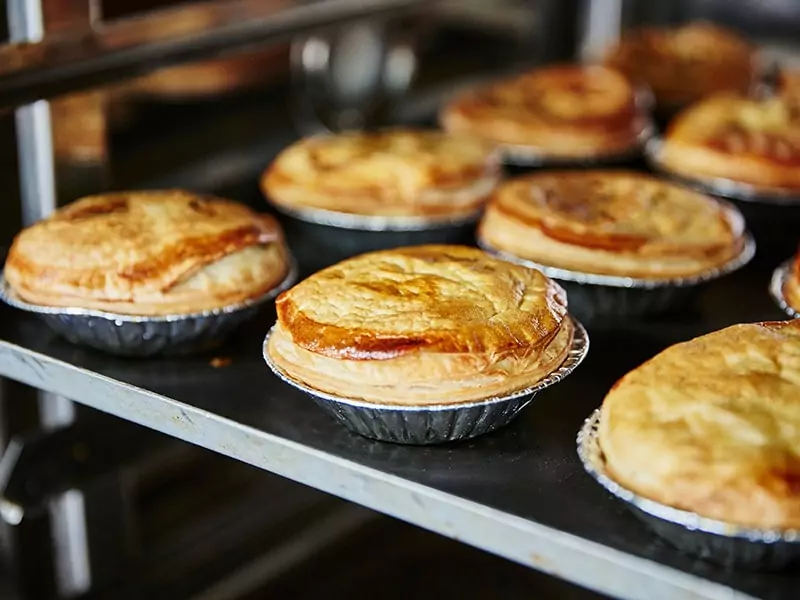 Many Belizeans often exchange the saying "Start your morning right with some meat pies!". While meat pies may not seem like a breakfast meal, they are undoubtedly the best-selling Belizean breakfast delicacy.
You will often see sellers with coolers attached to the front of their bikes riding around, selling these little pies in the morning in Belize.
Typically, meat pies are made entirely of dough and loaded with chicken or beef, as well as seasoned sauce. Their exterior is golden crisp, while their filling is soft, warm, and juicy. It is as though your tongue is exploding with a soup-like texture.
While the discussion over who produces the greatest meat pies in Belize is unsettled, here are some credible addresses you can go to for the meal: Dario's Meat Pies, Ladyville Meat Pies, and Pou's Meat Pies.
Enjoy these little pies when they are freshly baked and warm. The best time to purchase them is when they just get out of the oven. The aroma emanating from these meat pie stores will surely entice you!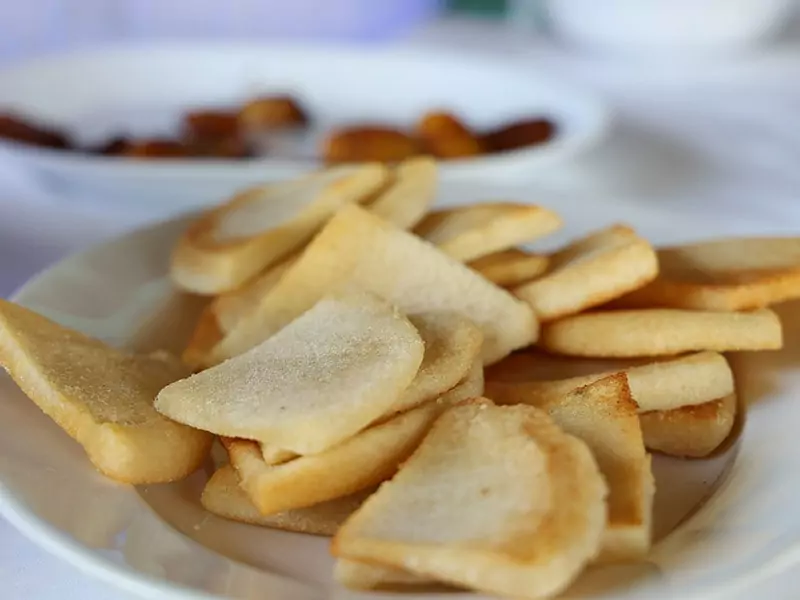 Originating all the way back to pre-Colombian times when it was consumed by the Arawaks – Jamaica's indigenous people, Cassava Bammies are now a traditional Kriol dish in Belize.
The plate features cassava, one of the most widely farmed crops in the region. It is the Belizean equivalent of Naan, Pita, and Tortilla.
To generate the distinct flavor of Cassava Bammies, you need to fry the patties first. Then, dip them in coconut milk and fry them again. To enjoy it the local way, you should serve the dish with fried fish or salt fish.
9 Belizean Lunch And Dinner
No matter how picky you are, you will always find a fit Belizean meal for either your lunch or dinner. This culinary category covers a wide array of choices. Here is a snapshot of the 9 best options you should try!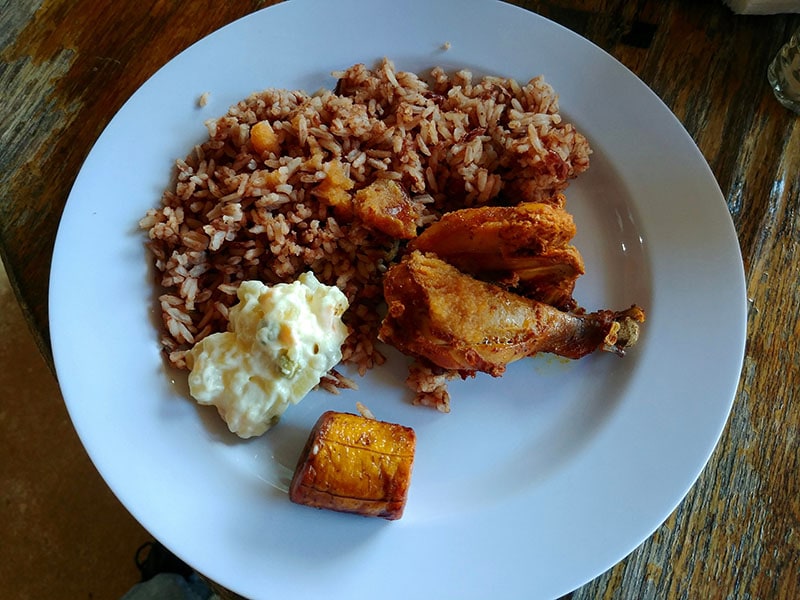 Appreciated by Belizeans from all walks of life, Rice and Beans are a true Caribbean food comprising kidney beans, rice, and a generous amount of spicy sauce. No Belize vacation is complete without experiencing this gastronomic mainstay.
Yet, don't be shocked if its taste has nothing similar to the rice and beans you have had elsewhere since this meal follows Creole style. You will often find Belizean Rice and Beans going along with meat, fish, and potato salad to make a filling lunch or supper.
If local Belizeans use Recado (a local plant with an appealing deep red color) and garlic to cook the meat, they choose coconut milk to boil the rice and beans.
The popularity of Belizean Rice and Beans is so high that many individuals regard the meal as the national dish. It occupies a particular place in the hearts of every Belizean. The dish is an ideal introduction to Belizean cuisine.
Local people often prepare RIce and Beans on Mondays by utilizing leftovers from Sunday lunch. Although people often regard the dish as a leftover, Rice and Beans is a perennial favorite at the country's Christmas dinner table.
Rice and Beans are considered to be the national dish of Belize.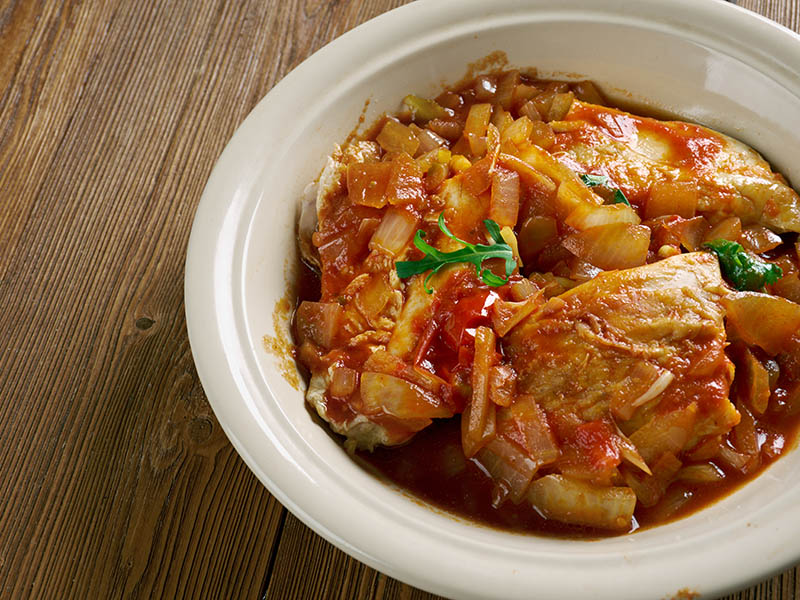 Typically eaten with Rice and Beans, Stew Chicken in Belize is prepared with a lot of gentle, loving care, plus a handful of indigenous spices. Together, they produce soft bits of delectable chicken flesh in a flavorful broth.
As is the case in many other nations, Stew Chicken is immensely popular and well-known in Belize. As the name implies, it is cooked in a gravy that gradually evaporates before serving.
Apart from basic condiments, fresh herbs such as cilantro and thyme add charm to the meal. The fragrance of these herbs enhances and elevates every element used in the dish.
In a nutshell, this Belizean dish is a warm and soothing dish that tantalizes the taste senses. If you come to Belize for the staple Rice and Beans, pair it with this delicately warm and rich Belizean Stew Chicken.
Let's tantalize your taste senses with this delectable Belizean Stew Chicken.
15. Salbutes – Puffed Deep-Fried Tortillas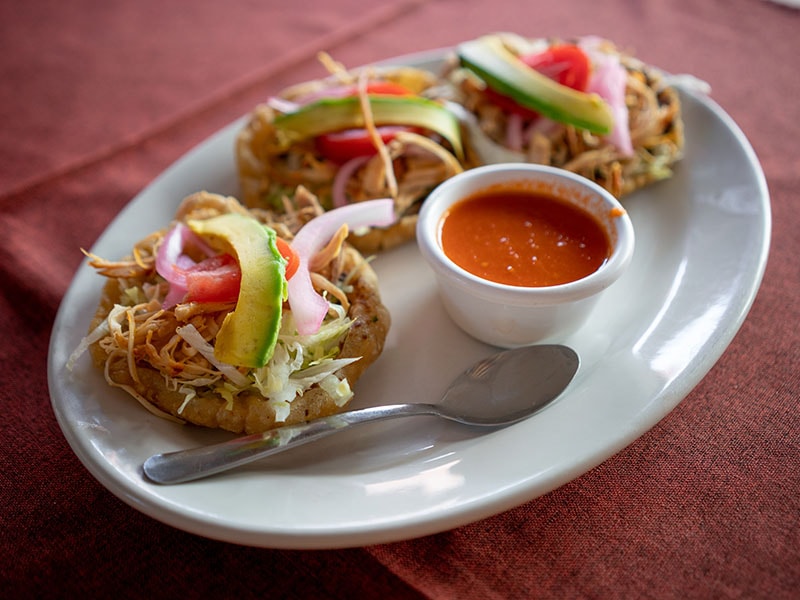 Salbutes are a beloved Belizean dinner. They are little fried tortillas topped with lettuce, chicken, or turkey and locally created spicy sauce. Typically accessible in the evenings, they cater to visitors and locals wanting a taste of the country's delicacies.
This finger food originates in the Mestizo culture and has a slightly crunchy texture, and is at its best when served hot from the oven. Bring soda or soft beverages to the table, as they pair perfectly with Salbutes.
You can easily catch the dish available on menus across the nation. I recommend going to fast food eateries called Panucherias where you can enjoy not only these delectable morsels but also other options like Panuchos, Tortas, and Caldos.
16. Tamales – Mesoamerican Steamed Wraps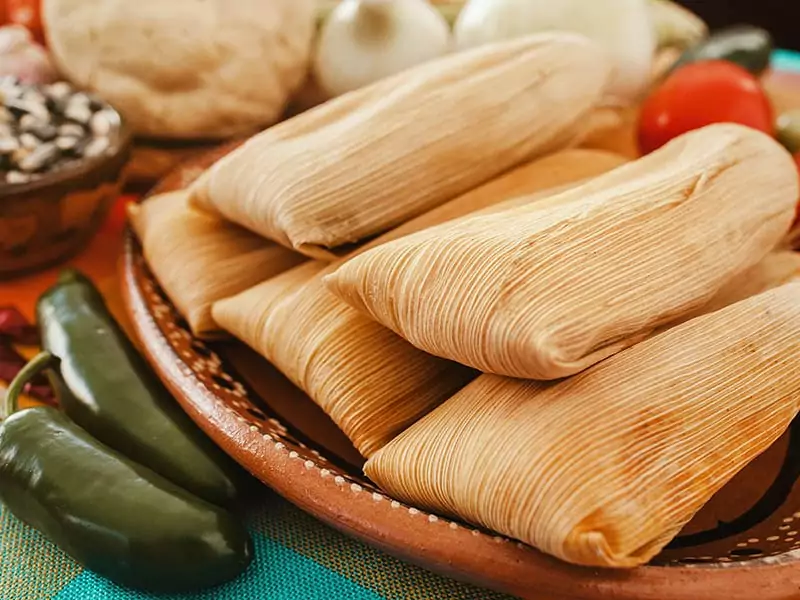 Unlike their Mexican counterpart, Belizean Tamales are creamy and silky, wrapped in plantain leaves, and packed with anything your tongue desires, including meat, cheese, and fruit. They are prehistoric meals that are favored by the Aztec and Maya cultures.
Depending on the components utilized, the dish's flavor may range from salty to sweet. Whichever way, when the Tamales are unwrapped and served hot, they are certain to steal your heart.
If you venture to Corozol or Orange Walk districts, there is a high chance that you encounter Collado and Tortaedo – two common Tamales variations in the region.
Other versions include Bollos (incredibly popular in Western Belize) and Tamalitos (remarkably similar to Mexican Tamales).
The dish is inexpensive and widely accessible across Belize, particularly in public markets. Best of all, they are a nutritious lunch for individuals on the move or on a budget constraint due to their easy-to-find ingredients and simple cooking process.
Tamales prepared properly will surely steal your heart!
17. Cochinita Pibil – Yucatán-Style Barbecued Pork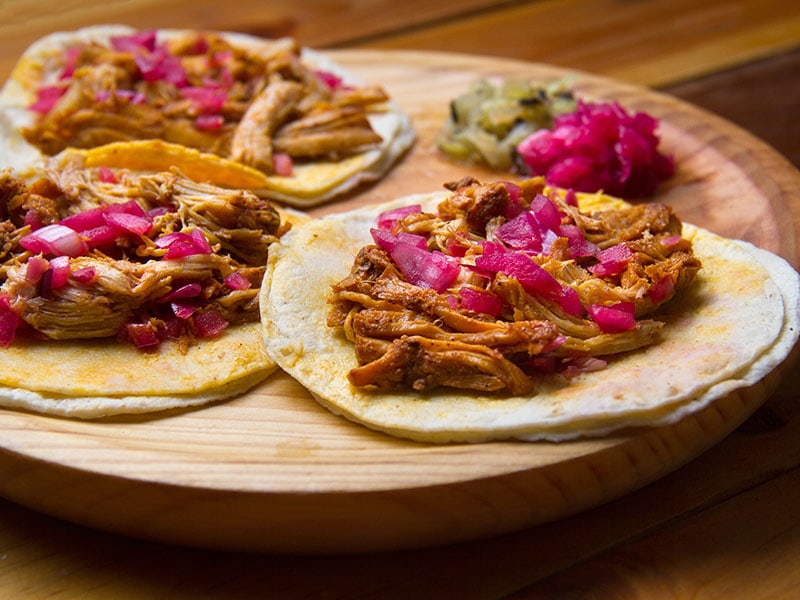 Here comes another traditional Maya dish that local Belizeans love to enjoy for their lunch and dinner: Cochinita Pibil. To describe, the meal features barbecued pork and indigenous veggie.
Cochinita Pibil is at its finest as a stand-alone meal with corn tortillas on the side. Tortillas make it faster and easier to enjoy the juicy and luscious meat. They also provide extra texture in every mouthful when enjoying this Belizean treat.
Besides, you can prepare other delectable meals to enjoy alongside this Belizean plate, such as Enchiladas, Poblano Chiles, and Empanadas. You can even serve this luscious barbecued meat in tacos or tortas with garlic rice and black beans.
For those who do not understand Spanish, Cochinita refers to a baby pig, while Pibil means food wrapped in plantain leaves before being cooked.
Thus, an authentic Cochinita Pibil requires roasting a whole suckling pig. After marinating it with sour citrus juice, Recado, and other spices, local Belizeans wrap it in plantain leaves and place it inside a clay oven for slow-roasting.
The meal is a mainstay at celebrations and get-togethers throughout the year of Belizean families.
You can get these Pibil Tacos at almost every taco stall in the country, especially in Orange Walk, which hosts the annual taco festival. These establishments provide quick and freshly-made food in only a few minutes.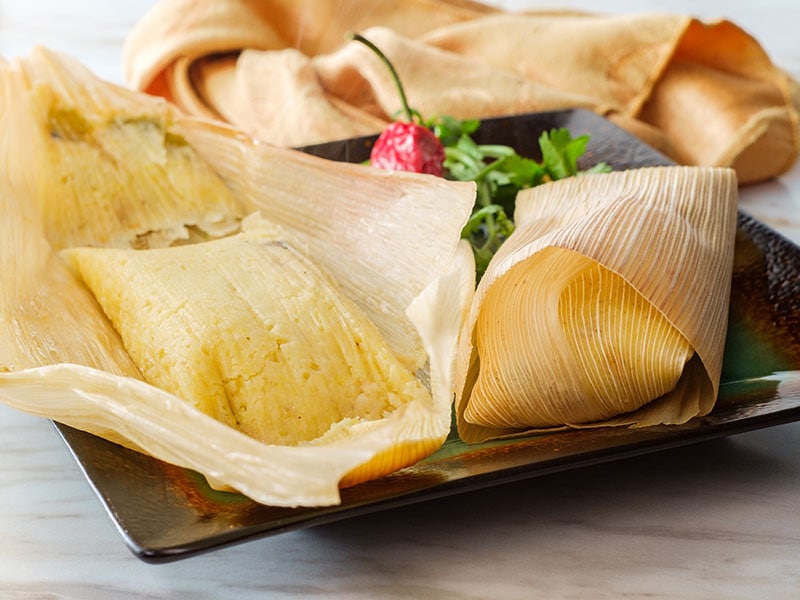 Let's picture a version of no-meat Tamales. Just that simple, you have achieved Tamalitos, another gem in Belizean cuisine.
Also known as Dukunu or Duckanoo, this renowned Belizean dish comprises cornmeal, coconut, batata, and brown sugar wrapped in a plantain leaf and cooked in boiling water.
The dish possesses a fantastic taste, particularly of fresh coconut combined with traditional African spices that will quickly win your heart at lunch or dinner.
It is the invention of African slaves sent to Barbuda, Antigua, and a few other Caribbean islands years ago. Yet, its true origin lies in West Africa. The amazing thing is that wherever Dukunu travels, it becomes an integral part of that nation's heritage.
Not only popular in Belize under the name of Dukunu, but this gem is also a massive hit in Trinidad (Payme or Paime), Barbados (Conkies), Barbuda, Antigua, and many other Caribbean nations.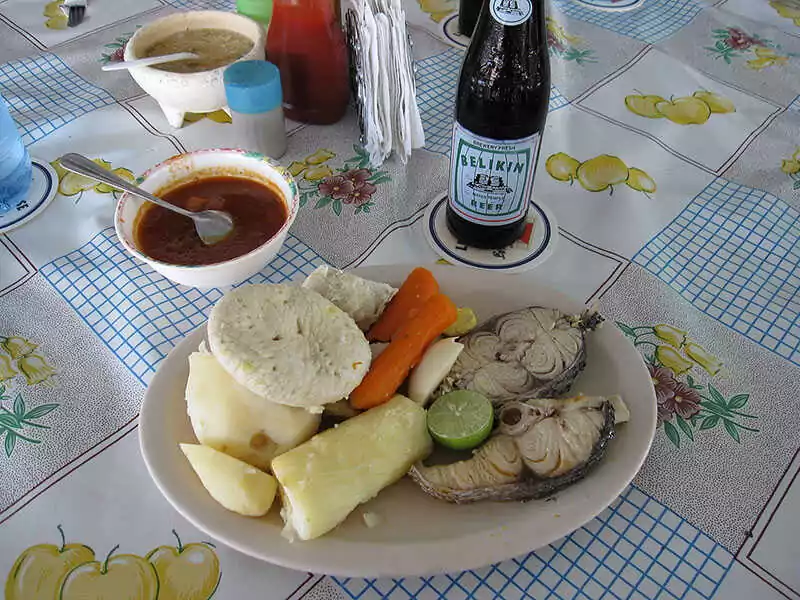 Boil-Ups are a must-try dish during your Belize trip. Prepare to see unexpected ingredients tossed in this boiling Belizean national dish, including vegetables, eggs, bread dumplings, fish, and various ground foods like Cassava, Yams, etc.
This Creole staple is a substantial lunch or supper option. Depending on where you are in Belize and the chef's preferences, you will get slightly different Boil-Ups every time. Altogether, all ingredients form a dish bursting with amazing and distinct flavors.
Boil-Ups are a customary treat to go along with tomato sauce on a shallow platter. Don't tell your families and friends about your Belize trip unless you have tasted Boil-Ups. They won't buy your story if you miss out on experiencing this national dish.
20. Sere – Mashed Plantains And Fish Stew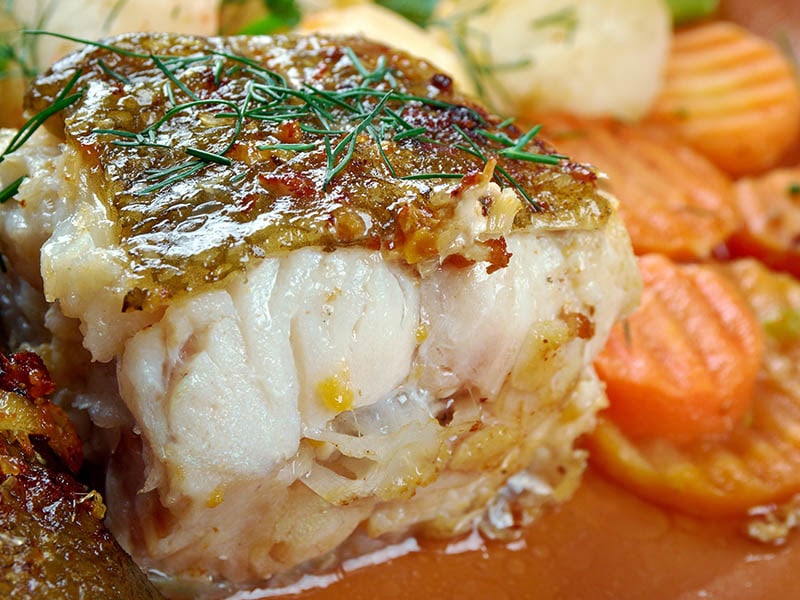 If you love a meal that embodies "tender loving care", look no further than Sere. It is the Belizean adaptation of Hudut, a staple of the Garifuna (Garinagu) people. They are a subgroup of Caribbeans who presently live in Belize, Guatemala, and Nicaragua.
Sere features ripe plantains cooked and mashed into a smooth paste-like texture called Fu-Fu and a fish coconut stew. Making Fu-Fu manually, without a food processor, is much more time-consuming. Yet, the end result is so excellent that you won't regret it!
This Belizean fish dish is a true symbol of the locals' love of water and the ocean. That explains why many nations having a coastal line always have foods comparable to Sere, including Brazil and Thailand.
It is customary to offer it on Garifuna Settlement Day, which takes place on November 19th, to commemorate the arrival of the Garinagu in Belize.
21. Pupusas – Cheese-Filled Masa Cakes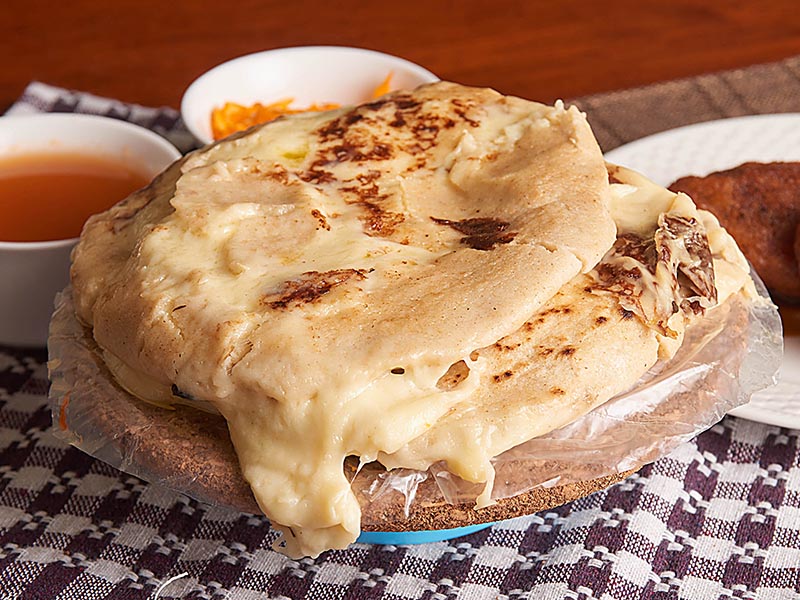 Even though Pupusas are an El Salvadorean delicacy, these Cheese-Filled Masa Cakes are a must-try meal whenever you visit Ambergris Caye – the largest island in Belize. They gain high popularity in both family kitchens and street vendors in Belize.
The dish originates from the Pipil tribe, El Salvador's ancestor, centuries ago. Prior to 1570 (Pre-Columbian time), Pupusas featured only herbs, vegetables, and flours. Yet, from 1570 onwards (Post-Columbian time), meat was added to the stuffing.
Simply speaking, you have two Masa dough pancakes, one with a filling on top and the other seals the stuffing within before frying. Besides melting cheese, there are tons of other delectable ingredients that will give your tastebuds a flavor explosion.
Serve Pupusas with Curtido, a vinegary and spicy salad for the best dining experience! It balances out the rich and cheesy taste of Pupusas, offering a refreshing and acidic aspect to the meal.
Pupusas originates from the Pipil tribe, El Salvador's ancestor, centuries ago!
10 Irresistible Belizean Desserts To Satisfy Your Tastebuds
Belizean desserts are every bit as diversified and rich as the rest of the nation's cuisine. If you are a fan of delectable British recipes, you are highly likely to recognize the following 5 Belizean desserts.
This is not your run-of-the-mill fruit cake! This classic cake is infused with rum, colored with caramel, and aged for a week. It is brimming with prunes, raisins, nuts, dates, and cherries, making it a necessary Christmas item in Belize.
Local Belizeans achieve the cake's dark color by using stout and burned brown sugar, creating an unforgettably rich festive appeal and flavor. Come to Belize in December, and you may have the opportunity to try this peculiar Christmas dessert.
Connoisseurs of Belize Fruit Cakes like a moist cake on the inside, brown crust on the surface, and free of apparent cracks. Plus, it must have matured for at least one week.
This technique transforms the different components into a genuinely outstanding fruit cake that pairs well with a glass of locally produced wine or a soft drink, ideally lemonade.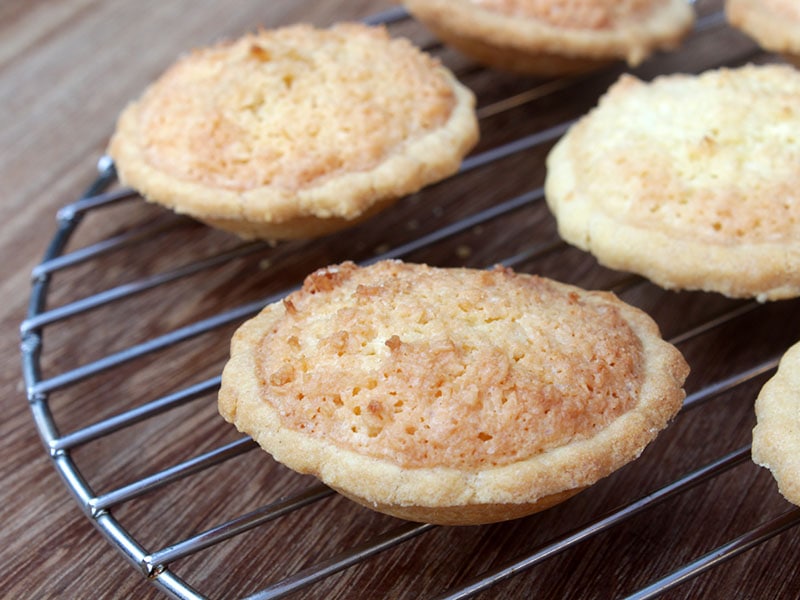 It's Challenging to resist a Belizean Coconut Tart, especially for coconut enthusiasts. These delectable bite-size delicacies made with condensed milk, shredded coconut, nutmeg, and vanilla extract will win your heart right from the first try.
Coconut Tarts are in very high demand in Belize. You can see them sold everywhere, from fundraisers, street vendors to even local gas stations. If you are hosting a party soon, consider adapting this magical Belizean treat. It is definitely fail-proof!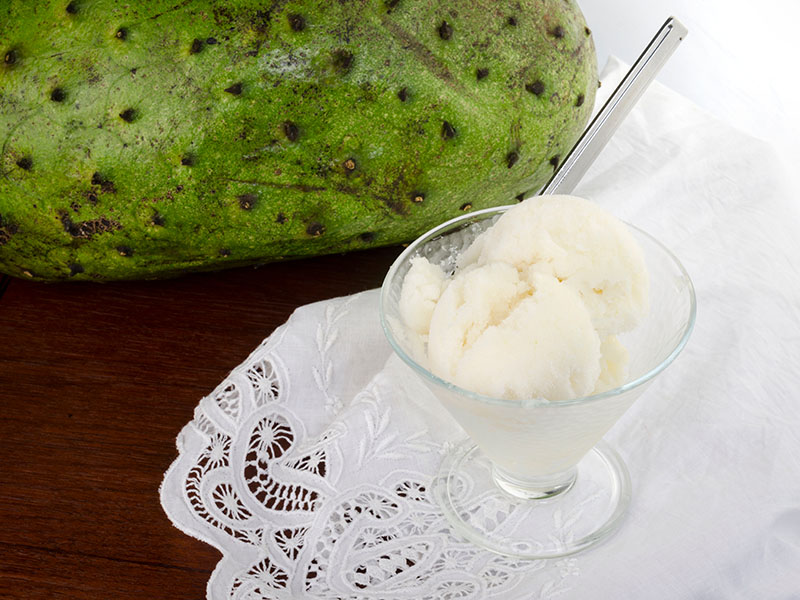 Soursop is an exotic fruit that thrives in Belize. Despite its name, it features a pretty tangy and sweet flavor. It is also a common ingredient used in various pastries and desserts, including Soursop Ice Cream.
This fascinating Caribbean dessert is extremely well-known in Trinidad and Tobago. You can achieve the ice cream by churning the mixture of ripe soursop, cornstarch, condensed milk, salt, and water. Then, freeze everything until the texture is solid.
This creamy and sweet dessert is ideal for cooling down on a sweltering day. It surely tops the list of "cannot-miss Belizean dishes". Thus, during your visit, look for this sweet no matter what!
If you need another reason to indulge in Soursop Ice Cream, the treat is high in antioxidants and very nutritious to your body.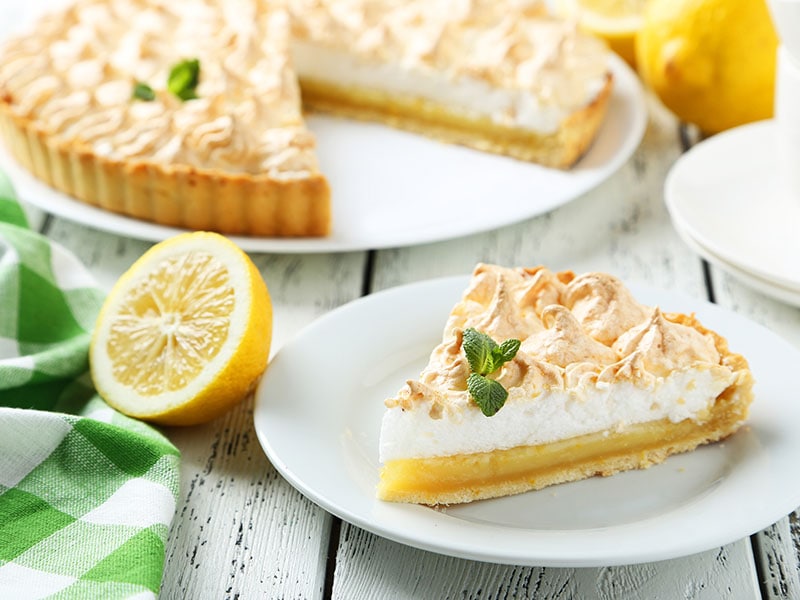 When life throws lime at you, take it and turn it into a lemon pie! That is how local people produce their staple lemon pie, promoting it to become a Belizean dessert treasured by most families.
Not only a childhood treat of local Belizeans, but lemon pie is also a brilliant, delicious, and easy-to-make meal right at home. Don't ever think a store-bought version is always better. Homemade treats are sometimes superior. This is the case with lemon pie.
It is the ideal dessert to whip up and enjoy with family and friends after a Sunday supper or during the holidays!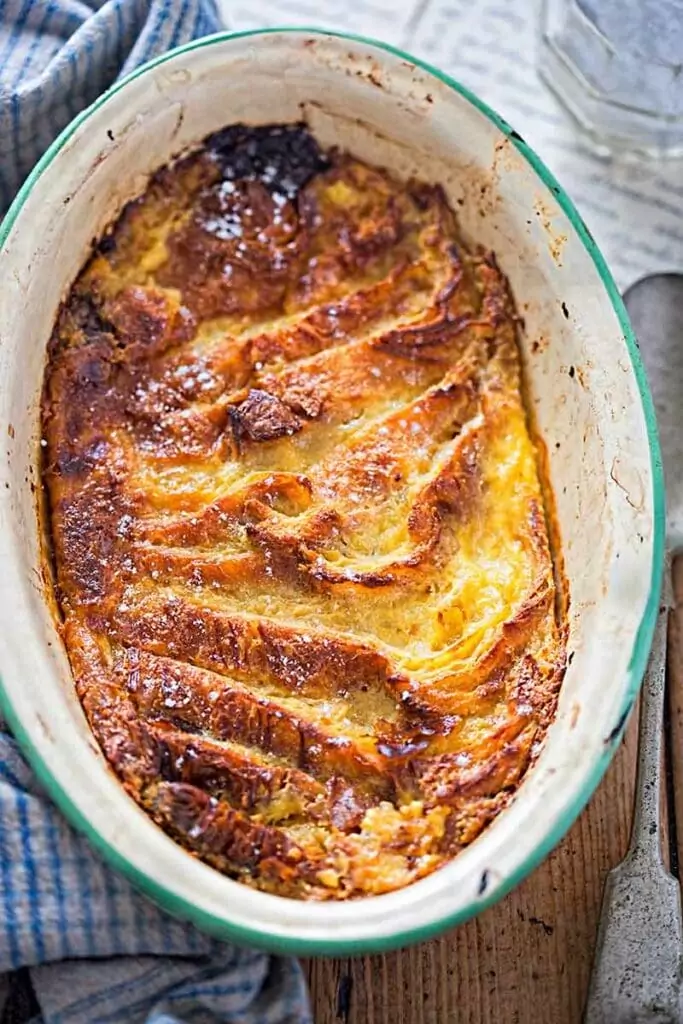 Are you looking for a method to repurpose those leftover croissants or brioche? Introduce Rum Raisin Bread Pudding: a boozy, buttery, savory-sweet dish ideal for filling your tummy throughout the autumn and winter!
This Belizean dessert guarantees to be the most delectable bread pudding you will ever eat. If you are a bread pudding skeptic like I used to be, always considering it a mushy excuse for a dessert, the taste of this treat will change your mind!
Besides an endless list of beautiful words to describe its flavor, this Belizean pudding serves a crowd, needs little preparation time, and calls for common ingredients only. It is the ideal heartwarming, comforting dessert for when the temperature begins to drop.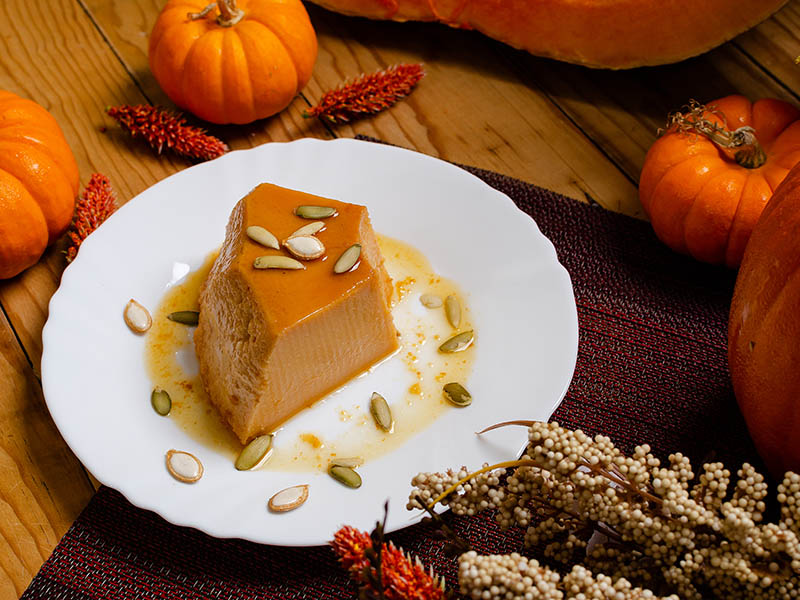 Nothing says autumn quite like pumpkin. Autumn ushers in harvest festivities and pre-holiday happiness. If you come to a Belizean family at this time around, you can feel clearly that it is the start of flan season. Every family gathering will have Pumpkin Flan.
Also known as Flan De Calabaza, this Belizean dessert is an excellent treat throughout autumn and a wonderful complement to your Thanksgiving dessert table.
This quintessential crowd-pleaser has the creamy consistency of a solid custard and the comforting flavor of pumpkin pie. Plus, you can effortlessly prepare this appealing flan many days in advance.
Put the pumpkin pie aside, as this incredible delicacy has everything you love about flan, pumpkin, and pumpkin spice. Whether you are a pumpkin pie enthusiast or a non-pumpkin pie lover, this Belizean flan dish will satisfy your tastebuds.
28. Pone – Belizean Sweet Potato Pudding
Belizean Sweet Potato Pudding, or Pone, is a traditional delicacy that has been handed down through generations. The blend of creaminess and spice makes it a delectable treat whether served hot or cold.
With shredded sweet potato, raisins, milk, ginger, and cinnamon, the final result has a texture quite similar to bread pudding. However, instead of bread, sweet potato acts as the starch that soaks up all the amazing flavors of the dish.
The smooth, creamy custard and the hard, sugary top prove to be ideal sweet ambrosia for hungry vacationers after a day of traveling!
Belize offers some really unusual but delectable desserts that you must sample during your trip. Belizean Fudge is certainly one of them.
Unlike traditional chocolate-based fudge dishes, Belizean Fudge is creamy and thick with condensed milk, peanuts, and sugar. Sometimes, you may find raisins or crushed coconuts in the dish. This twist is undoubtedly ideal for satisfying any sweet appetite!
Believe it when I say that you will not be able to stop at just one bite! This popular Belizean handmade dessert is also available on food carts and in supermarkets. So, there is no reason that you cannot find and sample these delicacies!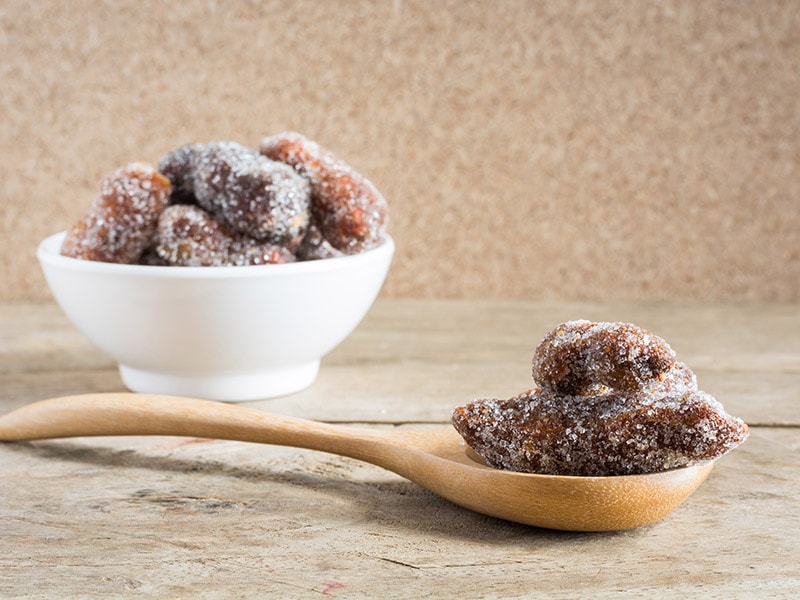 Tamarind balls are a Caribbean delicacy whose taste is both sweet and sour. They are made from fresh tamarind pulp and sprinkled with sugar. It is tamarind (a tropical fruit) that gives these bite-sized snacks their distinctive flavor.
These delicacies work best when dusted with powdered sugar. However, it is not a must, and you may prepare them without dusting them. Keep them refrigerated in cold places to prevent these Tamarind balls from becoming too sticky.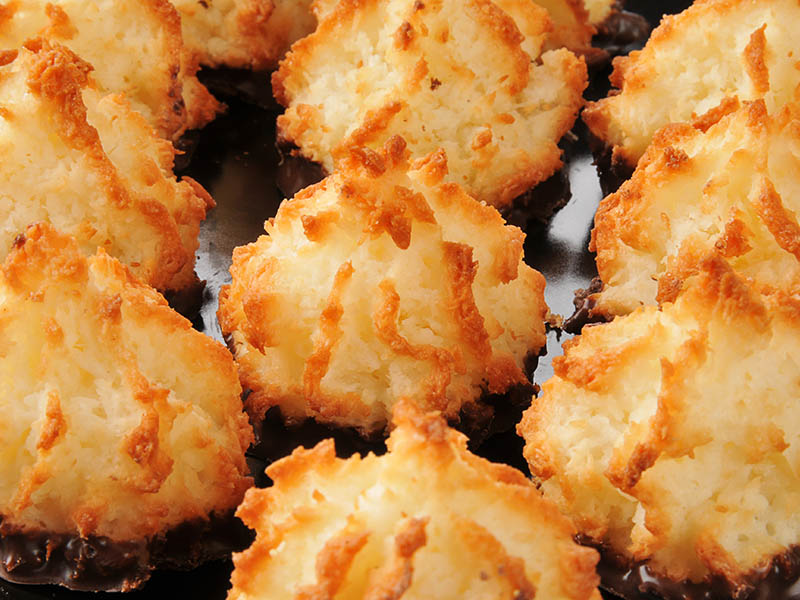 These Fresh Coconut Macaroons are incredibly delectable. Also called Besitos De Coco, these treats have a pleasant, somewhat light, and airy feel yet are abundantly sticky and sweet. This flavor profile describes exactly how a good Macaroon should be.
Don't stress out about preparing these Fresh Coconut Macaroons! You will like how simple they are! The additional sweetness from the condensed milk adds a degree of crunch to the cookie that you just cannot resist!
5 Signature Belizean Drinks That You Must Try Once In Your Life
Belize and Rum complement one another, just like what pancakes and syrup or rice and beans do to each other. However, there are many more signature Belizean drinks that form a perfect match with the local food. Let's explore what they are below!
32. Cashew Wines
In Belize, cashew wines are homemade and vary in intensity. Surprisingly, locals create the drink from fermented cashew fruit, not the popular nut of the same name. This indigenous wine provides a sweet aroma that is deceptively gentle and appealing.
Burrel Boom and Crooked Tree are the primary cashew wine production locations in Belize. Especially at Belmer Wines, a small vineyard, they provide cashew wines made from blackberry, pineapple, and mango.
Cashew wines taste best when served extremely cold. Certain individuals pour these liquors over broken ice. However, be careful of overindulgence! Otherwise, you might suffer from a severe hangover!
33. Belikin Beers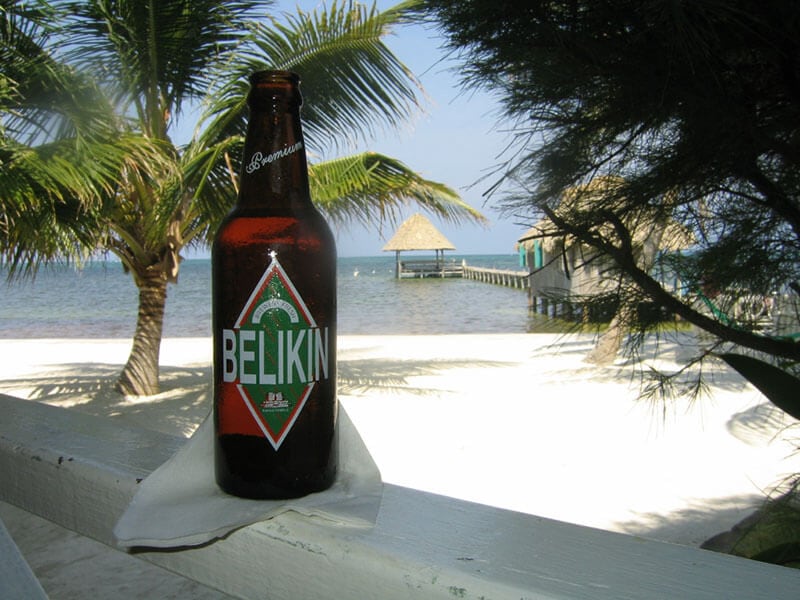 Belize and Belikin are synonymous. A keen tourist to Belize will quickly learn to request an ice-cold Belikin, which tastes like a German pilsner, to wash down a meal or get into the swing of things on a crazy night out.
According to some beer enthusiasts, Belikin is a truly indigenous beer that can proudly compete with international brews. Its name derives from an old Maya name for Belize that translates as "Road To The East".
A wise practice is to drink Belikin beer when cool and chilled, particularly after a delectable snack on a hot day. Normally, you have three options to choose from: Belikin Lager, Belikin Stout, and Belikin Premium.
The logo you see on the Belikin bottle represents the Mayan temple of Altun Ha in Northern Belize City, which symbolizes indigenous manufacturing. As imported brews face extremely high taxes from the authority, Belikin beers are the mainstay here.
34. Ginger Beers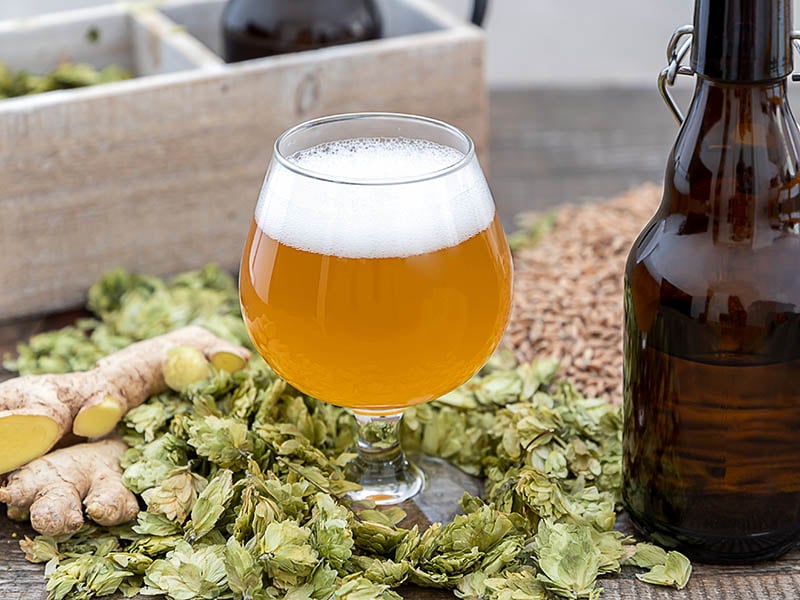 Whenever traveling to a new and exotic destination, tasting and sampling a few beers and local liquors are always on everyone's "must-do" list. If so, let's admit that Ginger Beers are also in your plan.
This delicious beverage is created by fermenting oranges and lemons together with their juices, plus ginger and other spices to provide a little kick to the drink's aftertaste.
Almost every beach shop in Belize provides this fantastic drink. Yet, many locals love to prepare it at home as well. Belizean Ginger Beer tastes best when served cold and drank directly from the bottle.
35. Rums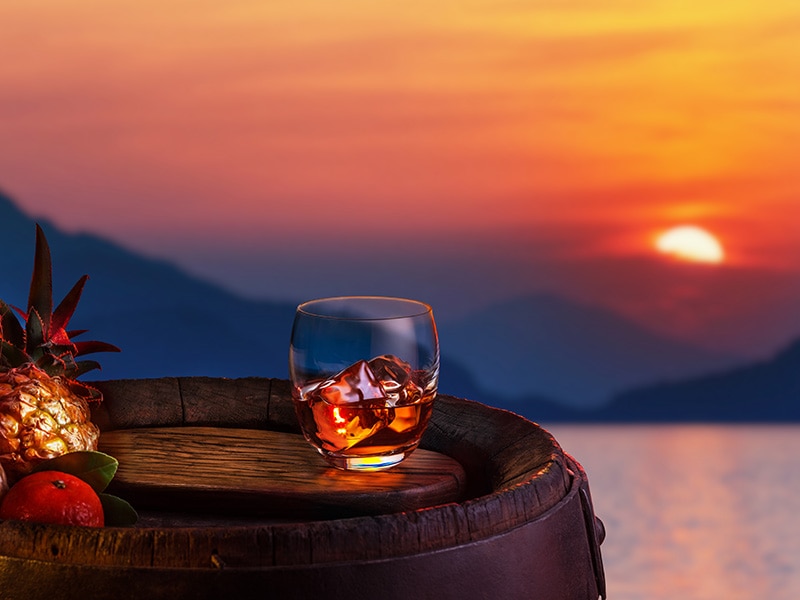 Rum is perhaps one of the most popular and recognizable beverages in Belize. It is a distilled liquor made from the vast sugar cane harvest that continues to play a significant part in the home economy.
Besides its superior quality and popularity across the nation, rum pairs beautifully with fresh, locally-grown fruits to make amazing cocktails. However, you can simply sip it plain.
Currently, there are two main local distilleries in Belize: Cuello's Distillery and Travelers Liquor. Both addresses provide an amazing assortment of premium Belizean rums.
If you are interested in experiencing traditional rum concoctions, try it at Chabil Mar resort's bar in Placencia. Or, you can try rum punch at Belize's airport. Either way, you won't regret it!
36. Sorrel (Hibiscus) Drinks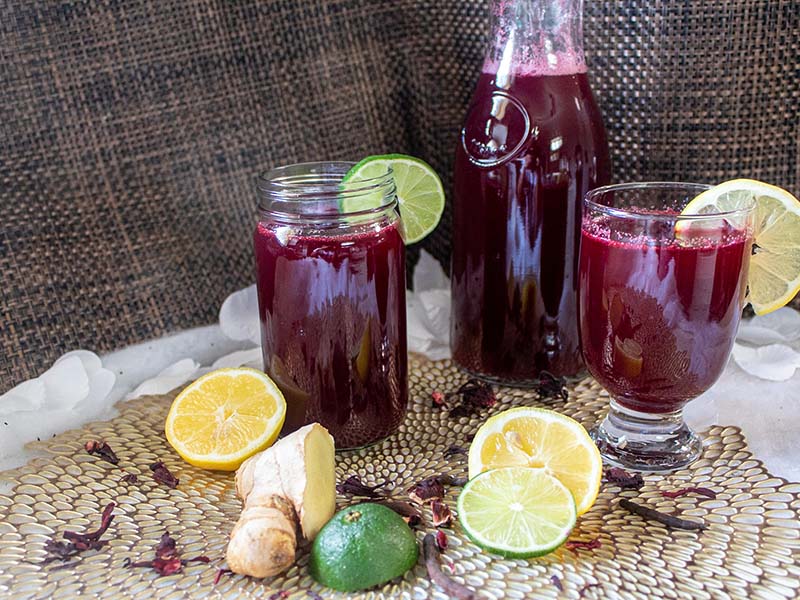 If Eggnog is the top-of-mind beverage choice for a holiday in Belize, a glass of Sorrel is a mainstay at countless home visits and festive events. It is a cool, pleasantly sweet, and warmly spicy drink made with steeped petals of Hibiscus plant.
The powerful and acidic taste of Sorrel is accentuated with toasty spices that conjure up fond memories of family gatherings and holidays, such as Christmas. Whether in the form of a cocktail or the seasonal Belikin Sorrel Stout, it is always in high demand.
You can find various tweaked versions of this festive Sorrel drink in each Caribbean country: some feature spices and other ingredients, some blended with Ginger beer, wine, rum, and other alcohol.
Spending your Christmas holiday in Belize means that you must drink Sorrel one way or another, as it is the tradition of local Belizeans during such festivity. Trust me! The drink just makes your holiday more memorable!
Finish The List? Let's Book Your Belize Trip!
My list of Belizean foods may end here. Yet, it is only a small part of this nation's diverse cuisine. If the compilation succeeds in tantalizing and enticing you to visit this lovely country to try out the meals, do not hesitate!
Besides being the best place for scuba diving, you can also enjoy wonderful dishes that give your taste buds a well-deserved treat! Before booking your flight, drop a comment below to express your excitement for the upcoming trip!
And as always, don't miss my other food list! There are a lot more culinary experiences that can hypnotize you!