Do you ever wonder how many side dishes for fried fish there are? Fried fish is a versatile food that can go well with almost anything. Besides fries and peas, there are numerous tasty side dishes you can cook up to accompany your fried fish.
Fried fish is always a good dinner option if you intend to make it for your family. Not only does the time it takes to deep-fry fish is quick, but it's also a simple yet delicious dish. The only thing you ever need to worry about is which side dish to make.
In this article, I will offer you some recipes for the most popular and delicious side dishes that are perfect for your fried fish. Be ready to receive applause from your family and friends.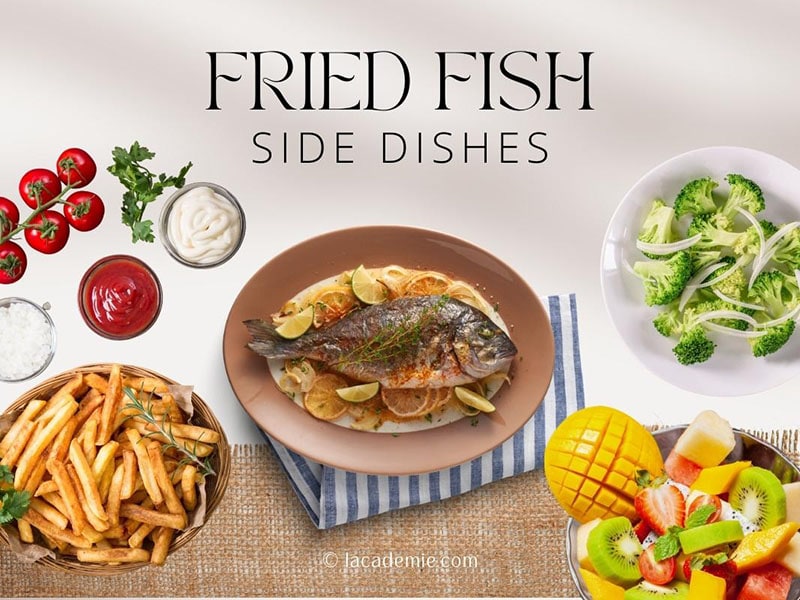 Crunchy Fried Dishes You Must Not Overlook
Fried dishes are a great addition to any type of meat, and fried fish is no exception. For these side dishes, make sure the fish is steaming hot. With only a few foolproof steps for reheating fried fish and these side dishes, your meal will soon become the embodiment of perfection.
Fish and chips have been a perfect pairing for as long as time exists. This is a filling and nostalgic combination of sweet childhood memories.
Whether you're preparing the fries for a large crowd or not, I still think it's better if you use a state-of-the-art French fry cutter. Having cooked for many years, I know how tiring it can get after extended periods of peeling and cutting the potatoes.
This is also a classic side to go with seafood. These onion rings cook fast, so you don't need any preparation before cooking.
Remember to cook them in small batches to make sure each ring doesn't stick together. After you dry them with paper towels, add some salt and other spices for more flavors.
If thin fries are not to your liking, consider this recipe instead. You can cut potatoes into thick wedges and deep-fry them in oil just like normal fries.
The difference is that you can get the best of both worlds: the crispy skin on the outside, and the fluffy texture of baked fries on the inside.
Let's make some potato wedges to pair with your fried fish.
This is one of those rare fry dishes that does not include any potatoes. Cornmeal, flour, and milk are mixed and shaped into small balls, then deep-fried at high temperatures.
The result is a perfect side that is crispy but also soft and airy on the inside. This is a great accompaniment for your fried fish.
This is one of the common sides that originated from the UK. What makes this dish a good side for fried fish is unsurprisingly vinegar. Sour food goes well with fish, and this fact has been proven in many recipes.
You can slice the potatoes as thick as you'd like. After frying, give the chips a good sprinkle of salt and vinegar.
Tasty Roasted Dishes For Your Guests To Drool Over
If you want something with less oil but still has the crispy texture of fried dishes, roasting is the alternative. There is no need for much preparation and your dish only needs a little bit of time to crisp up.
This is yet another way to cook this versatile tuber. Roasted potatoes are easy to make, and they make a hearty addition to your fried fish.
After you're done roasting the potatoes, remember to use a top-of-the-line lemon squeezer to squeeze some fresh lemon juice on them. This simple but important step is what will bring your meal to a whole new level!
Parmesan brussels sprouts are another side that is not that hard to make. All of the ingredients are in the name: parmesan and brussels sprouts.
Follow this recipe and you will get yourself a super delicious side dish that even the people who are not fond of Brussels sprouts' unmistakable flavor may change his mind. So if you have a kid who refuses to eat his veggie, this delectable dish might sway him.
Learn how to make parmesan brussels sprout by following these steps.
Cauliflower is another versatile vegetable. Its flavor is so neutral that you can season it with almost anything. I recommend this side dish if you want something that takes only a little bit of time to prepare but still tastes wonderful.
Leftover roasted cauliflower can be kept inside the fridge for a few days too. When you want to eat them again, just drizzle some oil and reheat it in the oven.
Simple Oven-Baked Dishes To Impress Your Table
For those who don't like crunchy side dishes, these recipes are for you. Baked dishes take longer to prepare, but the results will never disappoint. Here are some of the best oven-baked dishes to go along with your fried fish.
This is a rather simple recipe because baked beans are a common canned product that can be found in nearly every supermarket. When you're too busy, just grab a tasty can of pre-made baked beans for today's dinner. Most people won't be able to tell they're eating canned beans.
The supporting ingredients are varied, but here, I like to use bacon for a classic twist. Follow this recipe and you won't take longer than 2 hours to have a perfect side for your dinner table.
This dish is like roasted cauliflower but with more flare. You don't need any complicated tools, just chop the cauliflower into bite-size pieces and toss them into the batter.
They can stay in the oven to remain crispy. Only when you're about to have your meal should you toss them in the sauce. This ensures that the cauliflower still has its crispy texture when served along with your fish.
Some may argue that this is a healthier alternative for french fries, and it is not without reason. This dish is low-carb and super tasty.
It may require a bit of extra effort to wrap each of the bacon strips individually. However, the combination of texture and flavor of the bacon and avocados will be sure to blow everyone in the room away.
Bacon avocado fries are a great and healthy addition to your fried fish.
Asparagus is another candidate in the low-carb side dish category. If there is anyone in your party following a strict diet, then this side dish is the one to make.
It takes less than half an hour to make this dish, and almost half of that time is just waiting for the asparagus to cook in the oven. The creamy texture from the cheese and butter is what makes baked asparagus a great accompaniment with your fried fish.
Easy Salads To Brighten Up Your Fried Fish
If fried fish is enough filling for you and you need some salad on the side to cool down, then the following recipes are for you to try. Making salad mainly involves tossing the ìngredients, so you don't need to do any cooking at all.
This is a go-to cabbage salad that is not only very simple to make but can also complement your fried fish very well.
You can even buy pre-shredded cabbage to save some of your sweet time. Just make sure not to mix in the dressing too soon, or your coleslaw may become soggy when you eat it.
You only need 2 ingredients in this recipe: corn and tomato. The natural sweetness of corns and the umami from tomatoes make a great pair.
This is a healthy salad that can help wash away the oil when you feel the fish has made your throat too greasy.
Salsa is a great side for many dishes, and fish is not an exception. It can be prepared in less than 20 minutes, and the sweetness from the fruits is preferred by many people, from children to adults.
Fruit salsa is a vibrant combination of many different fruits like strawberry, kiwi, and mango. Choose this as a side if you want something refreshing to accompany your fried fish.
Panzanella salad can be a great pairing for any meat dish during summer. This simple recipe combines bread, cheese, and vegetables to make a tasty bowl of salad. It's also a dish you can make with leftover bread. Preparing summer meals can't get any easier than this.
The different colors of the dish and its contrasting flavors to the fish are hard for people not to glamor over. Serving this with your fried fish is guaranteed to be a wonderful experience.
The bright green color of green beans is a treat to the eyes. This is a perfect dinner party dish that goes well with fried fish in both color and texture.
The hazelnuts and lemon zest are the icing on the cake. This complexity in flavors will keep your guests tongue-tied.
Again, there is no cooking involved! This easy salad makes use of the creamy burrata cheese and sweet tropical fruits to make a perfectly balanced and healthy salad.
Add this to your dinner table along with fried fish to brighten up your meal. You can drizzle on a bit of chili oil to give it a kick before serving.
Watch this video to know more:
Delicious Dipping Sauces For Your Fried Fish
Dipping sauces are vital when it comes to fried fish. Here are 4 great sauces that you can easily make and still impress everyone at the gathering.
Tartare is the classic condiment that goes hands in hands with fried fish. The most common ingredients include shallot, garlic, mayonnaise, pickles, chives, and mustard. You can add many other herbs into the sauce to increase its level of complexity.
Homemade tartar sauce can be prepared one week ahead. If you are on a low-calorie diet, you can swap the mayonnaise with yogurt to make it less heavy.
Parsley sauce is a versatile condiment that you can dip your fried fish in, as well as use it to spread on other side dishes. It is fairly simple to make, and the exquisite flavor is nothing to scoff at.
If you are worried about the fat content of traditional English parsley sauce, consider leaving out the butter just like the recipe below. The sauce may become a little different, but it won't be less tasty.
This sauce is one of the easier ones to make on this list. Spicy mayo is just mayo with added spices. You can use any of the hot sauces to add to the mayo, based on your preferences.
You can put in additional ingredients like lime juice and garlic to enhance the flavor. A little bit of lime goes a long way when you are dipping fried fish with this sauce.
Lemon is always a great choice to go with fried fish. Use this as a dipping sauce, or you can directly pour it over the fish right before serving.
You may need some experience to make this lemon butter sauce properly. Thankfully, time is on your side as 20 minutes is all the time you need to make this rich and tasty condiment.
Other Delicious Side Dishes To Pair With Fried Fish
The following dishes are honorable mentions that don't fit into any of the categories above. However, they still make great sides for your fried fish so it would be a waste not to tell you about it.
Homemade pickles are a great palate cleanser on the dinner table. They can remove that greasy feeling on your throat so you can once again enjoy your favorite fried fish.
You can eat them separately or together to see how the flavors can change. Just like lime and lemon, the sourness of pickles gives fried fish the best flavors it can achieve.
Aside from pickles, I think you should try out gherkin as well. Although there are a few distinctions between pickles and gherkins, they share many similarities that if you like one, chances are that you'll like the other. So go ahead and give gherkins a go.
This side dish is one of the most common party dishes out there. Because mashed potato is so easy to make and can accompany any meat dish, you can add it to the dinner menu and it would pair well with fried fish naturally.
Follow this recipe and add some garlic into the mashed potatoes to enhance their flavors even further. If you have leftovers, they can be stored in the fridge for a few days. Simply add some milk and reheat them in the oven the next time you eat.
If you're still unsure, here is a great step-by-step guide for mashed potatoes.
If the color of mashed potatoes is too plain for you, mashed peas can be a good replacement. Mashed peas is a pretty healthy dish that takes less than 5 minutes to make.
The vibrant green color pairs well with crispy golden fried fish. This dish is naturally sweet so your kids are definitely going to enjoy this green addition to the table.
When you can't seem to think of a proper answer for "What dish should you serve with fish?", it's best to opt for the classic mac and cheese. Ideal for holiday gatherings, it's a favorite of many, from children to adults. This creamy cheesy dish will take the spotlight at the table.
Just like how potatoes go well with anything, mac and cheese is also a great side to pair with fried fish. Its creamy texture goes hand in hand with the soft and flaky meat of the fish.
Rest assured you will be surprised at how easy this recipe can be. To put it in simple terms, this is chopped broccoli steamed over hot water for 5 minutes then seasoned with salt and pepper.
No side dishes can be easier to make than steamed broccoli. You can add olive oil and lemon juice to make it goes better with your fish
Sauteed zucchini is always a good summer treat that goes well with any meat dishes, or, in this case, fried fish.
Make sure not to overcook the fruit starting with the Z letter. A perfect sauteed zucchini is both crunchy and tender at the same time.
Fried Fish Tastes Even Better With Delicious Side Dishes
So those are 28 side dishes that you can choose to make as a side to your fried fish. Some of these may be simple to make, but their tastes are as wonderful as food can be. Pick your favorite and I guarantee you will get some attention at the dinner table.
If you find this list of side dishes useful, make sure to share your experience and insights down in the comments. Let me and others know how successful your dinner menu is.
Nutrition Facts
6 servings per container
---
Amount Per ServingCalories156
% Daily Value *
Total Fat 0.2g

0

%
Sodium 14mg

1

%
Potassium 923mg

27

%
Total Carbohydrate 35.6g

12

%

Dietary Fiber 5.4g

20

%
Sugars 2.6g

Protein 3.8g

6

%
---
* The % Daily Value tells you how much a nutrient in a serving of food contributes to a daily diet. 2,000 calories a day is used for general nutrition advice.