Avocado oil substitutes can mimic real oil taste and bring you brand-new flavor. Using avocado oil is a trendy phenomenon in culinary. However, it is quite difficult to afford due to its pricey tag and popularity.
Don't worry, I will provide you with affordable replacements when the recipes require. All of them will serve you perfectly, but before diving into the most expected- section, you should look at some basic information about this special oil.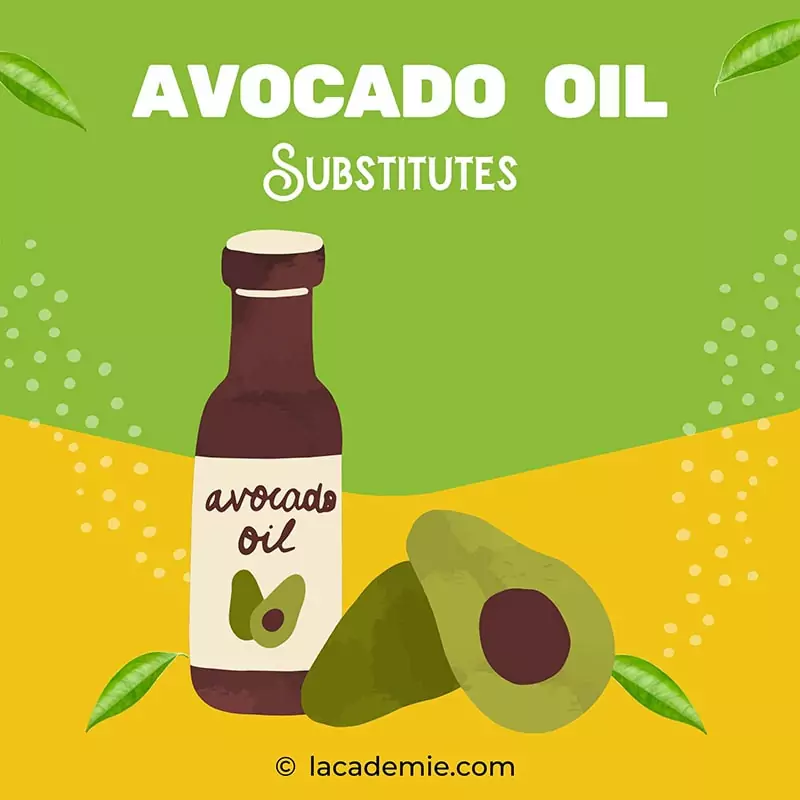 Fun Facts About Avocado Oil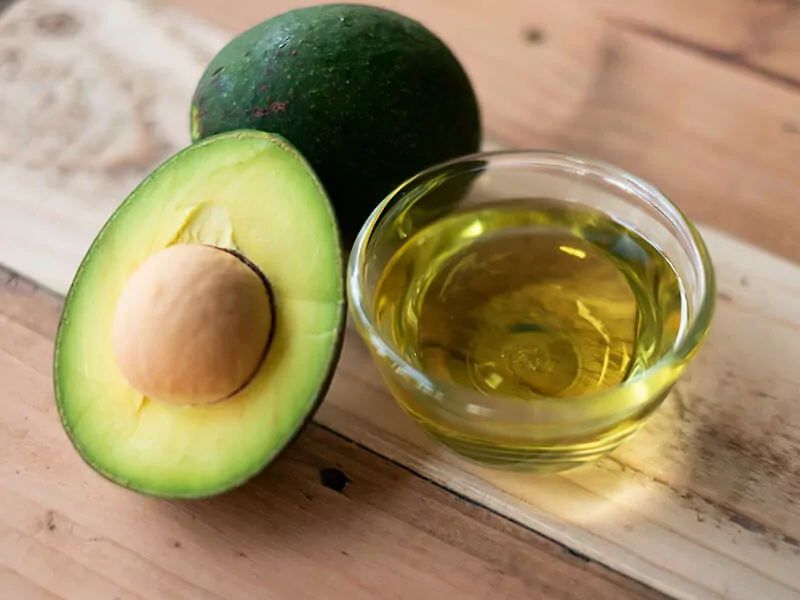 Avocado oil may be relatively uncommon for some people; nevertheless, it has risen as a state-of-the-art oil in worldwide culinary. This oil not only provides you extraordinary flavor but also potential health benefits that you will wow.
Avocado oil is produced from fresh avocado pulp, and you can eat the raw oil or use it for cooking (1). There are slight differences in flavor between refined and extra virgin oil. The former one has a neutral taste while the other is quite plain, has a grassy-like and pleasant buttery flavor.
The avocado oils are ideal for cooking, especially if you are pursuing a Paleo diet. For those who don't know, the Paleo diet just contains health-fat products instead of using coconut oils in their recipes. The fat in avocado flesh is up to 25%. The monounsaturated fat makes up mainly in fat value, particularly 50%.
Therefore, you can preserve it at room temperature without worrying about oxidation compared to polyunsaturated oils. The smoke point of unrefined avocado is 482F, and the refined one is 520F; this figure is one of the highest smoke points of plant-based oil.
According to your needs, you can choose an unrefined or refined one to saute, fry, or even deep fry. If you wonder whether avocado oil is good for baking, the short answer is yes. However, you should choose the type of avocado oil with a suitable heat point.
Many people consider adding avocado oil to their diets because it is a rich source of omega-9, vitamin E, and lutein. They are essential nutrients that promote your vision.
Not only for cooking, but you can also use this oil to take care of your skin. However, avocado oil is not always available. That's why you should equip yourself with several alternatives to save your dishes from failure. I will not waste your valuable time anymore; let's jump into the main section.
Are you finding information about the health benefits of avocado oil?
Take A Quick Look At Avocado Oil Alternative Chart
Don't skip it since you will have an overview of all suggestions. It takes you just a couple of minutes to know.
| Avocado Oil Substitutes | Smoke Point | Applications |
| --- | --- | --- |
| Grapeseed Oil | 420F | Seared or stir-fried foods |
| Peanut Oil | 450F | Stir-fried and deep-fried foods; salads, sauces, dressing, and more |
| Extra Virgin Olive Oil | 468F | Any recipes where avocado oil is absent |
| Flaxseed Oil | 225F | Unheated dishes; sauces, marinades, dressings, salads |
| Coconut Oil | 350F | Medium-high heat recipes: soups, dips, sautes, and sauces |
| Ghee | 482F | Medium-high to high heat recipes |
| Macadamia Nut Oil | 410F | For baked goods, cooking and salad dressings |
| Vegetable Oil | 400F | For frying and even oven cooking |
| Butter | 350F | For baking and sauteing |
| Sunflower Oil | 450F | For baking, stir-frying, frying, and more |
| Canola Oil | 400F | Baked goods and fried foods |
| Sesame Oil | 410F | For roasting, sauteing, dressing, and more |
| Homemade Avocado Oil | 482F (unrefined)/520F (refined) | For sauteing and deep-frying |
13 Perfect Avocado Oil Substitutes Will Blow Your Mind
Are you curious about potential candidates for the best-match choice? Consider one of these below, and try creating satisfying recipes.
Grapeseed Oil – Best For Mild Taste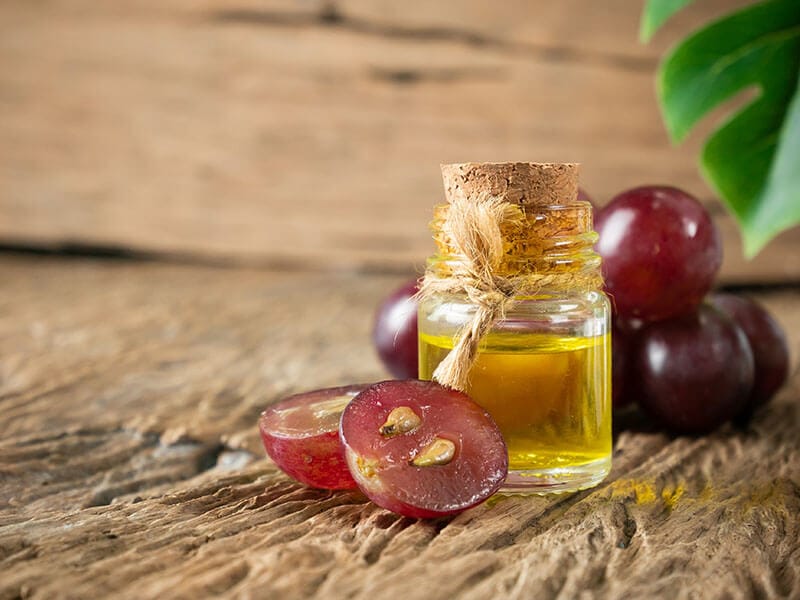 The first option I would like to introduce to you is the excellent grapeseed oil that is perfect for cooking. Although it is not an ideal choice for frying chicken or fried foods since its smoke point is pretty low – around 420F, you can be confident to sear or stir-fry foods.
You surely wonder how it tastes, right? There are some differences between grapeseed and avocado oil. However, their flavors are quite similar. It is light and somewhat plain. If you want to find a clearer flavor, you should come to virgin oil. This kind has grassy, nutty, and slightly fruity notes.
Moreover, grapeseed oil has less monounsaturated fat than avocado oil, but it is still a beneficial choice. The linoleic acid content will encourage you to choose it.
Peanut Oil – Best For Asian Dishes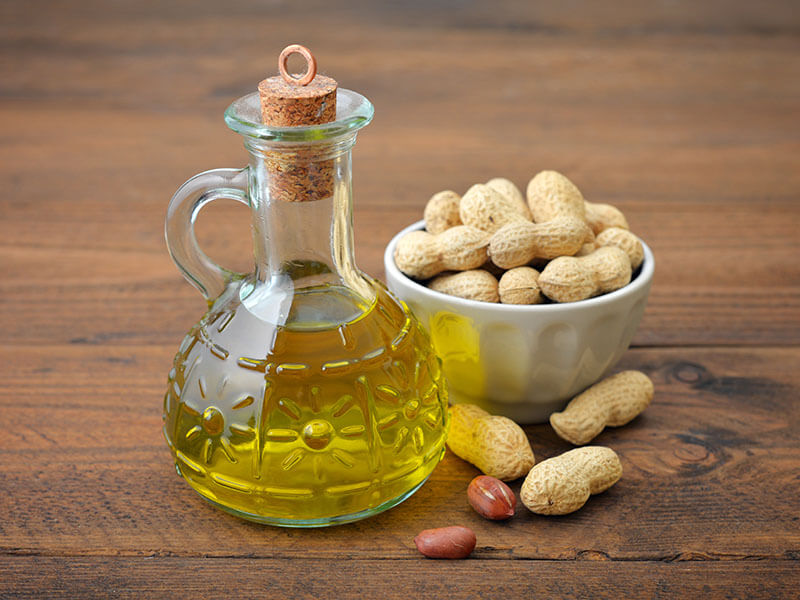 Hello, peanut oil! Yes, you don't hear wrong. Peanut oil and avocado oil have many similarities in both flavor and smoke point. You can use it for stir-frying and deep-frying, and your foods will not be greasy. If you're worried about peanut oil going bad too quickly, don't be, as it has quite a long shelf life.
It is especially a perfect companion of various mouth-watering Asian side dishes, including salads, sauces, dressing, and more. The flavor will make you pleased since it is slightly nutty and can keep the original neutral flavor after being cooked.
Keep in mind you should not use peanut oil for baking, and it can cause allergic reactions for some people. Let's try frying French fries in this oil, and you will open a new door. Although peanut oil is not too good for baked goods, the amazing peanut substitutes can fill this downside.
Extra Virgin Olive Oil – Excellent Substitute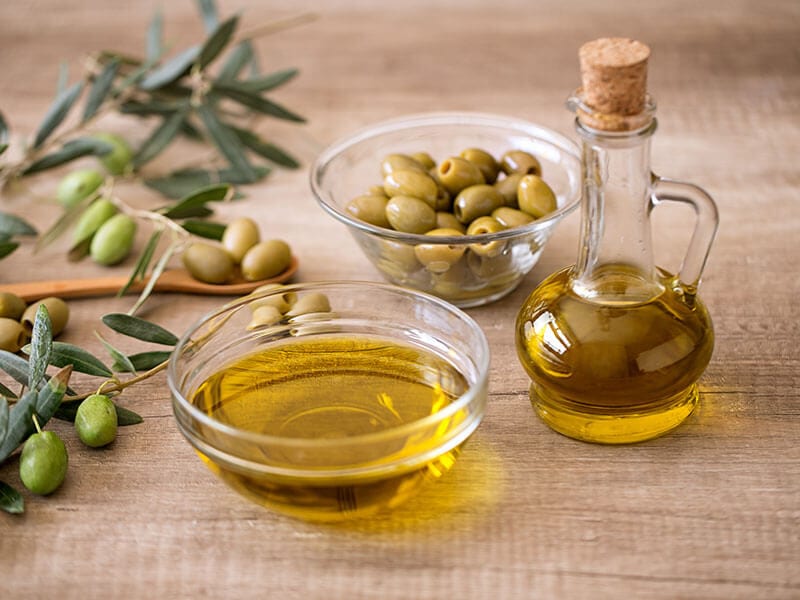 Are you looking for extra virgin olive oil in this substitute list? Olive oil can fill in any recipes where avocado oil is absent. The most common reason for the alternative is the equivalent smoke point. Avocado oil is 520F compared to 468F of olive oil.
They also share the same flavor profile, that is, neutral taste. Thus, your dishes will not change significantly in terms of taste. You can still feel bitterness and pepper taste with somewhat fresh herbs and fruits in this oil.
You should expect the ranges of flavor from delicate to complex when catching various brands. Make sure you choose the right EVOO instead of normal oil, as the latter has a lower smoke point. You can get a lot of vitamin E and monounsaturated fats when consuming it. (2)
Flaxseed Oil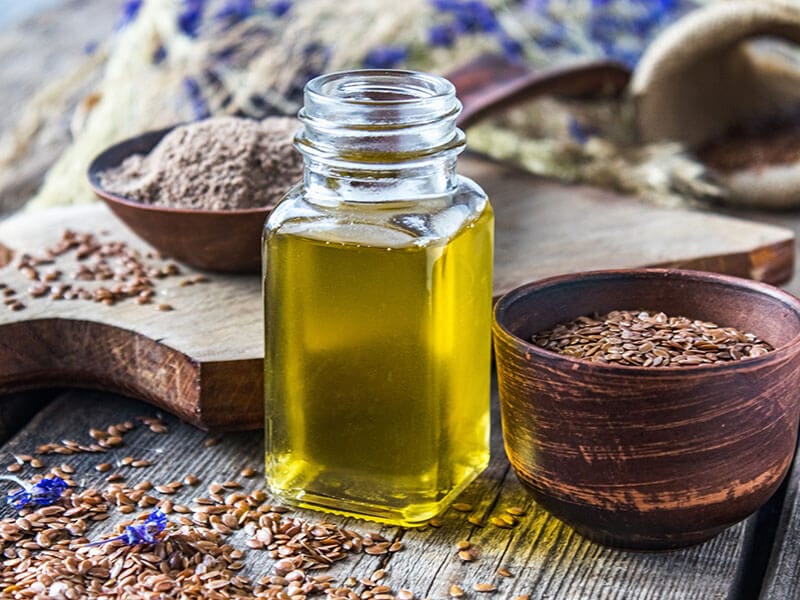 You can confidently replace avocado oil with flaxseed oil if you have it on hand. The flaxseed oil or linseed oil is the same kind, so don't be confused between them. Flaxseed oil has a similar taste and smells with crisp, slightly nutty, and clean flavor.
Remember just to add this oil to unheated dishes that means you can let the linseed oil shine in sauce, marinades, dressing, salads but leave it to one side for a heated one. Drizzling it on a grilled meal is an excellent way to make your guest unforgettable.
If your oil has stayed in the pantry for a long time, check it before using it to ensure its safety. The rancid one will have a bitter, assertive, and burnt flavor. That's such an unpleasant feeling!
Coconut Oil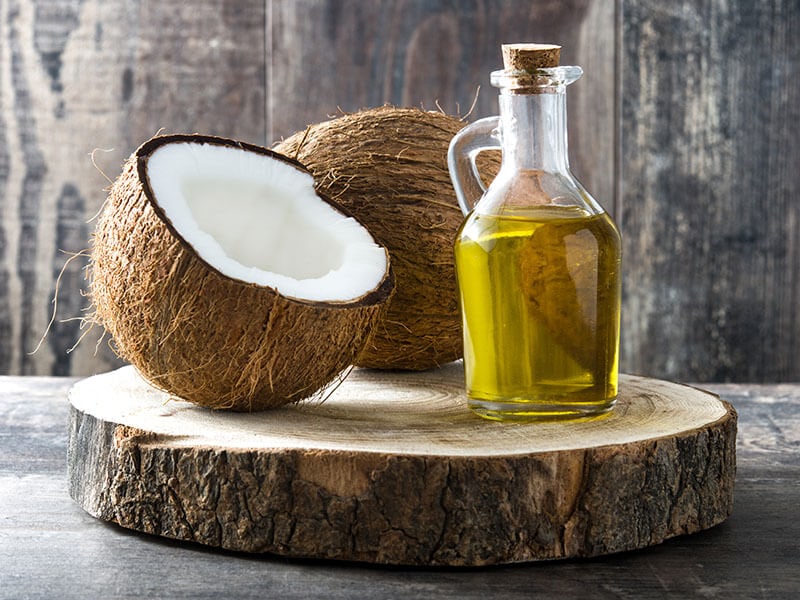 "I can't find any substitutes used for baking?" You are wondering. I am here to help you. Coconut oil will be your new muse in baked goods. Like almost any kind of oil, you can find 2 types of coconut oils: virgin and refined ones.
The unrefined oil has a distinctly tropical and delicious taste and scent, while the profile of refined oil is more neutral. The percentage of saturated fat of coconut is higher compared to peanut oil.
Besides baking, you can use coconut oil for most medium-high heat recipes, including soups, dips, sautes, and sauces. You should swap these oils in equal amounts to get the same rich flavor.
If your coconut oil is in your pantry for a long time, you should sniff and check whether the coconut oil can go bad or not to ensure it is safe to consume.
You can learn how to make coconut oil at home from scratch simply.
Ghee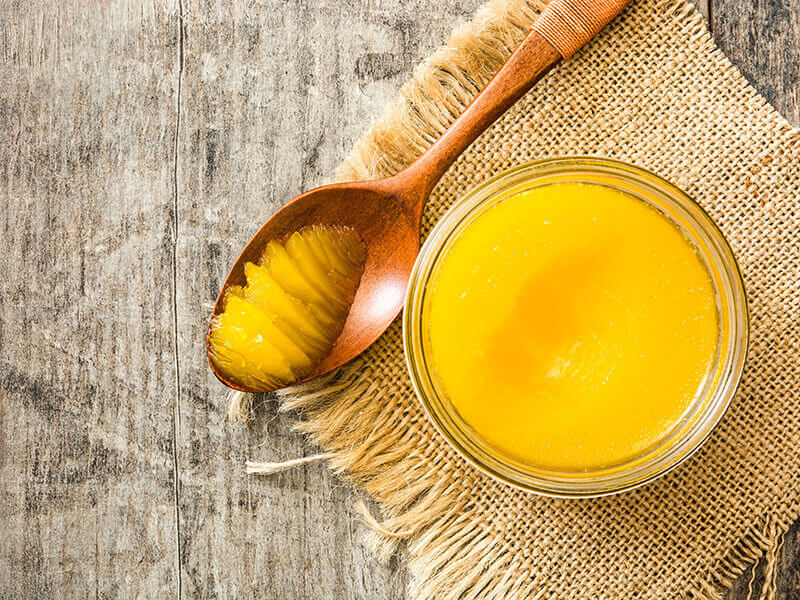 Ghee is heat-stable butter that allows you to replace avocado. It is one of 2 non-oil substitutes in this shortlist and a trustworthy shortening substitute. Milk soldier is removed from this butter; thus, it can serve you well in most recipes.
You can taste the buttery, rich flavor with hints of roasted, nutty background. You should carefully reference the brands of ghee before placing them in your cart since there are small differences among them.
Its smoking point is around 482F so that you can use it for medium-high to high heat recipes. The reasonable ratio is 1:1, or you can adjust on your own to meet your expectations.
Macadamia Nut Oil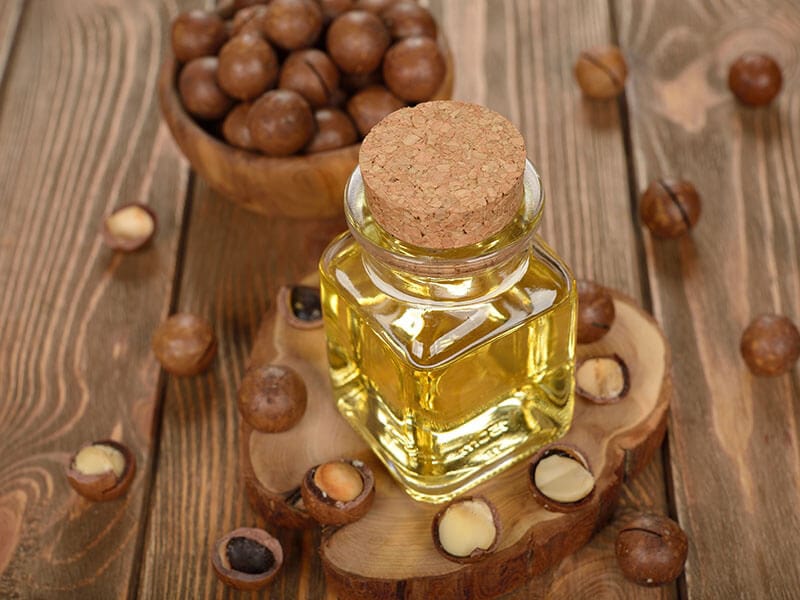 Another method to replace avocado oil is macadamia nut oil. Its smoke point is quite high at 410F; therefore, you can use it for cooking and baking without worrying about oxidizing when heated.
Don't limit the use of it, you can add the oil to salad dressing to boost the overall flavor with a smooth, creamy, nutty, and buttery taste. Thanks to its nut origin, you will benefit from the rich monounsaturated fatty acid content. It is a perfect gift to promote heart health.
There is no exact ratio for this substitute, but you can add a small amount at first and slowly increase until you find the right flavor.
Vegetable Oil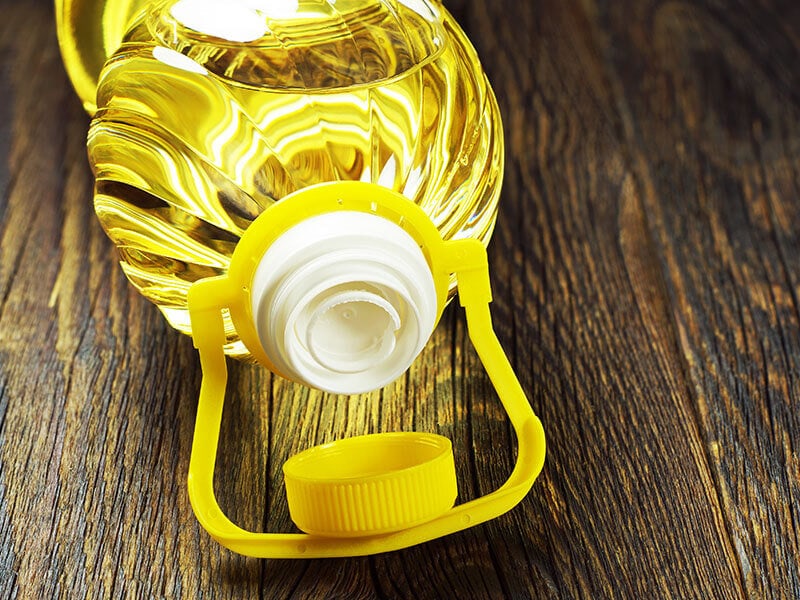 Vegetable oil – a staple ingredient in any kitchen. I'm sure that all of you have at least a bottle of this oil. Let's swap it for avocado oil. Compared to the real one, vegetable oil and its substitutes come at a lower price and are more popular.
There is no particular ingredient for vegetable oil; it is a combination of various things containing canola, corn, safflower, sunflower, and more. As the maximum time vegetable oil can last is rather long, you can rest assured that the oil won't spoil easily.
Overall, it features a high smoke point (400F) that makes it perfect for frying and even oven cooking. Its neutral flavor will not change the final taste dramatically.
Butter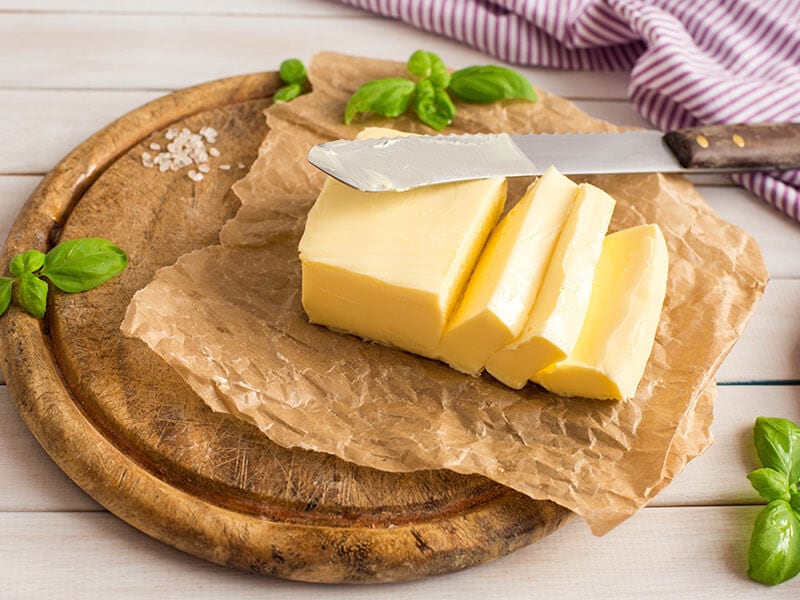 If you have butter in your fridge, let's use it to replace avocado oil in baking recipes. Actually, butter has its own flavor: creamy, rich, soft with a note of sweetness that you are hard to find in oils.
However, it can cause allergic reactions for people who can't stand dairy products, make sure all your guests can consume butter safely. The smoke point of butter is about 350F; you can use it for baking, of course, and sauteing.
Although there's no doubt that you can whip up delectable treats without butter, the presence of this creamy ingredient always adds depth to your desserts' flavor profile. That's why butter is a common ingredient in many, many sweet desserts.
The best thing when adding butter to your dishes is that you can replace 1 part of avocado oil with 1 part of butter. Butter is quite easy to store, but if you want to keep the butter condition like the first day of purchase, you should invest in convenient and effective butter keepers to maintain its quality.
Sunflower Oil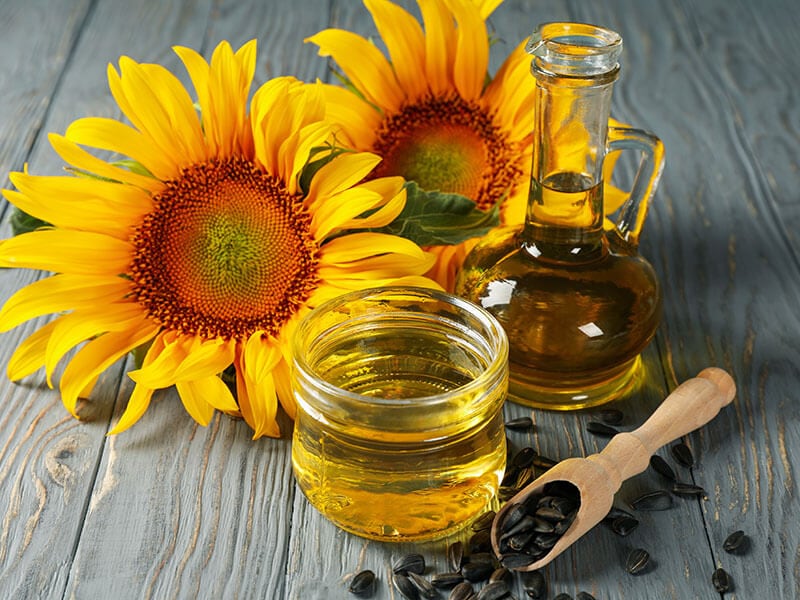 Sunflower oil is an amazing choice for folks who are looking for an alternative with similar health benefits to avocado oil. It is a good source of polyunsaturated fat and linoleic acid. Which dishes can I add sunflower oil to?
The answer is almost all recipes such as baking, stir-frying, frying, and more, as its smoking point is 450F. Besides, it also offers you a mildly nutty taste without overwhelming other ingredients.
Let's forget conventional oils when making vinaigrettes; sunflower oil can fulfill and level up their overall flavor. It is a trendy choice in baking, thanks to its buttery overtones. Find baking recipes and examine my words right now.
Is sunflower oil healthy for your skin. Find out the answer with the following video.?
Canola Oil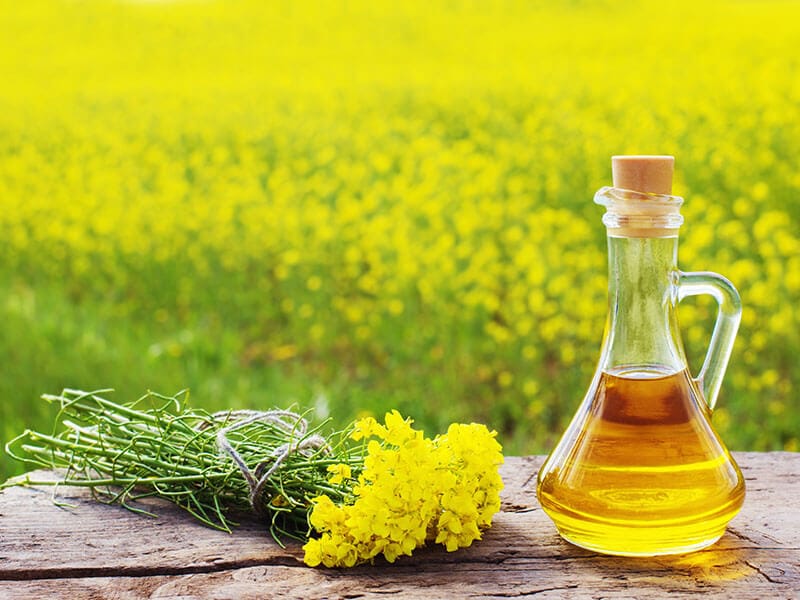 Canola oil is a quiet warrior in your kitchen since it is not popular like vegetable oil, but it can promote the shine of other ingredients. A star can only shine if the others shine too. Why do I say that?
This oil has a neutral and light taste; thus, even if you accidentally use a lot of oil while baking and frying, the final taste will not change significantly. The approximate smoke point of this rapeseed oil is 400F; it can maintain the temperature well on high heat.
The distinct feature is that the texture is lighter and less greasy compared to other oils that make it pleasant to cook with a large amount of oil. The percentage of saturated fats is quite low, featuring a healthy option.
Sesame Oil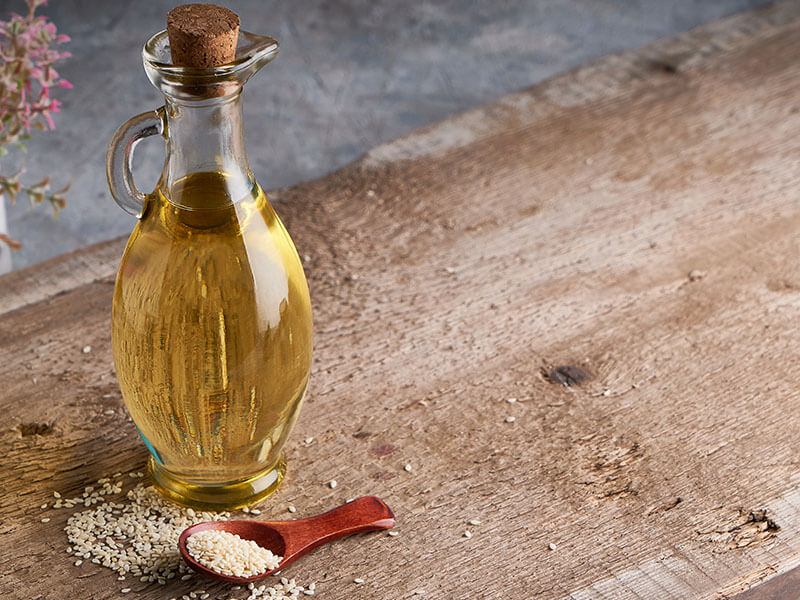 Do you believe the tiny sesame seeds produce a huge amount of oil? The shortage of avocado oil cannot challenge you in case you own a bottle of sesame oil in your panty.
You can choose light sesame, cold-pressed oi to your dish. If you can't find well-rated sesame oil for cooking, there are several other best-matched sesame oil substitutes you can try. Each of them will brighten your recipes in a specific way.
The lighter oil has a neutral taste that helps it easily combine with different dishes, while the cold-pressed one is milder with a note of sweetness. You can find sesame oil flavor in various dishes, but the most common is in Korean, Indian, and Chinese cuisines.
It is considered a general-purpose oil that means you can use it for roasting, sauteing, and more, thanks to its 410F smoke point. If you are a big fan of salad or pizza, you can check whether sesame oil gets rancid before splashing this oil to bring the flavor to a new level.
The 1:1 ratio is an ideal selection for newbies, or you can freely adjust the amount based on your taste since your feeling is the utter priority.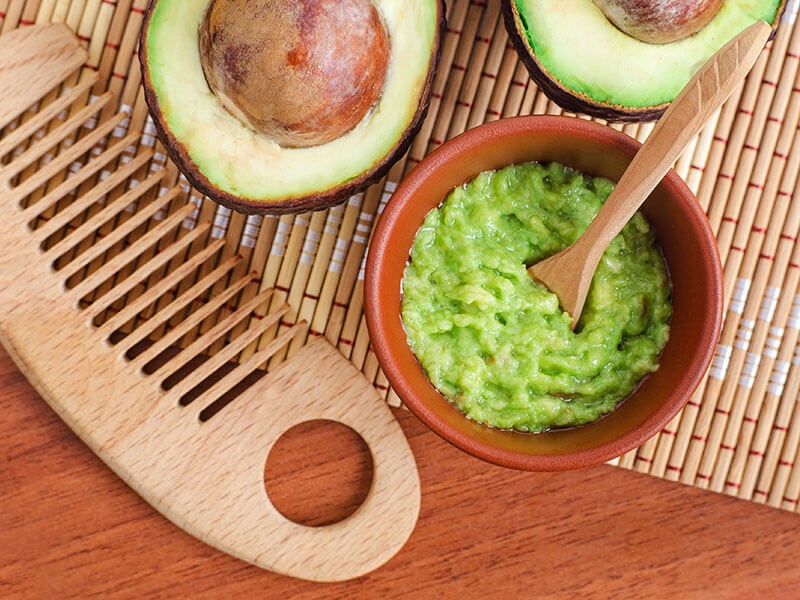 "I have several avocado oil substitutes in my pantry, but I want to replace one with an authentic avocado flavor. Can you help me?". My answer is a big yes, I am always here to support you.
Although homemade avocado oil can take you a certain time, you can experience a special feeling when tasting it, and your family will be very proud of you. Let's roll up your sleeves now!
All you need to do is medium avocados and a little time. Ten avocados will produce 2/3 cup of avocado oil. This homemade version is more cost-efficient than paying a fortune for the commercial one.
Let's find a way to make avocado oil at home effortlessly.
FAQs
This section will help you deal with any remaining questions in a blink. Therefore, don't skip it as you can find a simple way for your problems.
Richen Flavors With These Excellent Avocado Oil Substitutes
Changing is not always bad; since it can help you explore new things. Cooking is the same. You should not panic when running out of avocado as you still have numerous options to replace it without affecting the dishes.
Have you checked your pantry to find the oils? I'm sure you have found at least one for yourself. Let's try and tell me the results via the comment box chat below, and don't forget to share this post with many people if you find it helpful. Thank you so much!
Nutrition Facts
10 servings per container
---
Amount Per ServingCalories289
% Daily Value *
Total Fat 26.7g

40

%
Sodium 14mg

1

%
Potassium 877mg

26

%
Total Carbohydrate 15g

5

%

Dietary Fiber 11.8g

44

%
Sugars 0.5g

Protein 3.4g

6

%
---
* The % Daily Value tells you how much a nutrient in a serving of food contributes to a daily diet. 2,000 calories a day is used for general nutrition advice.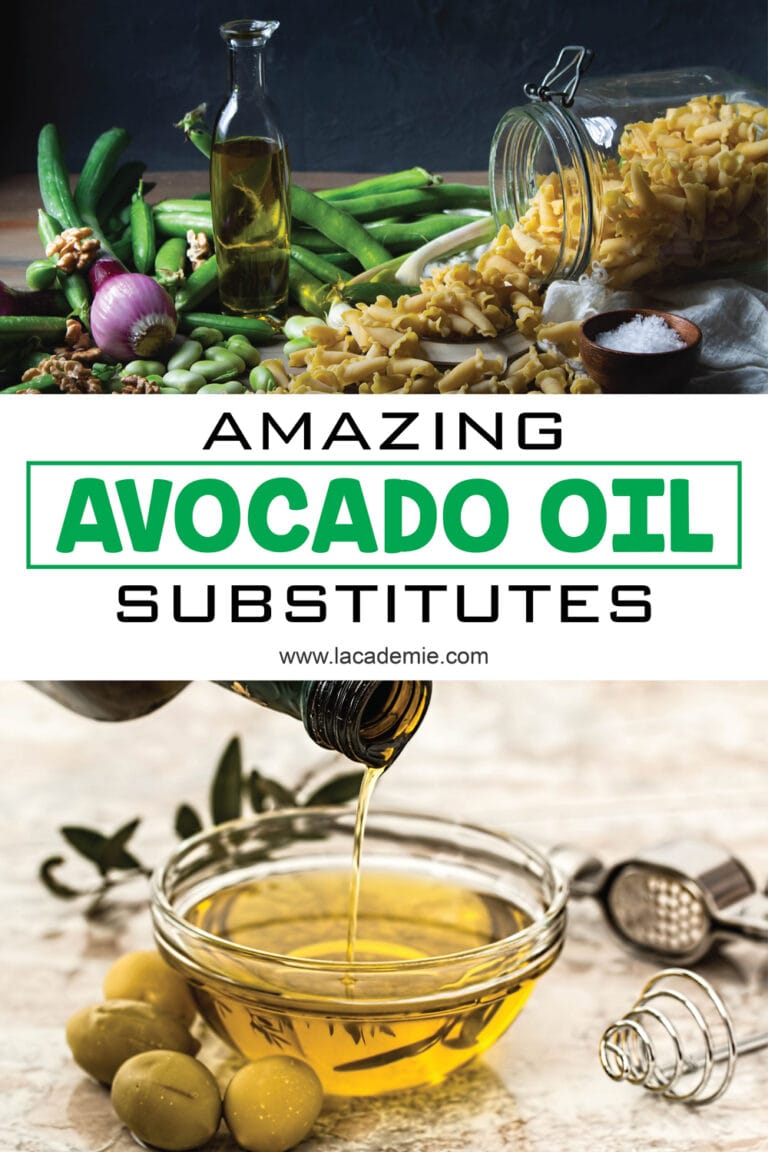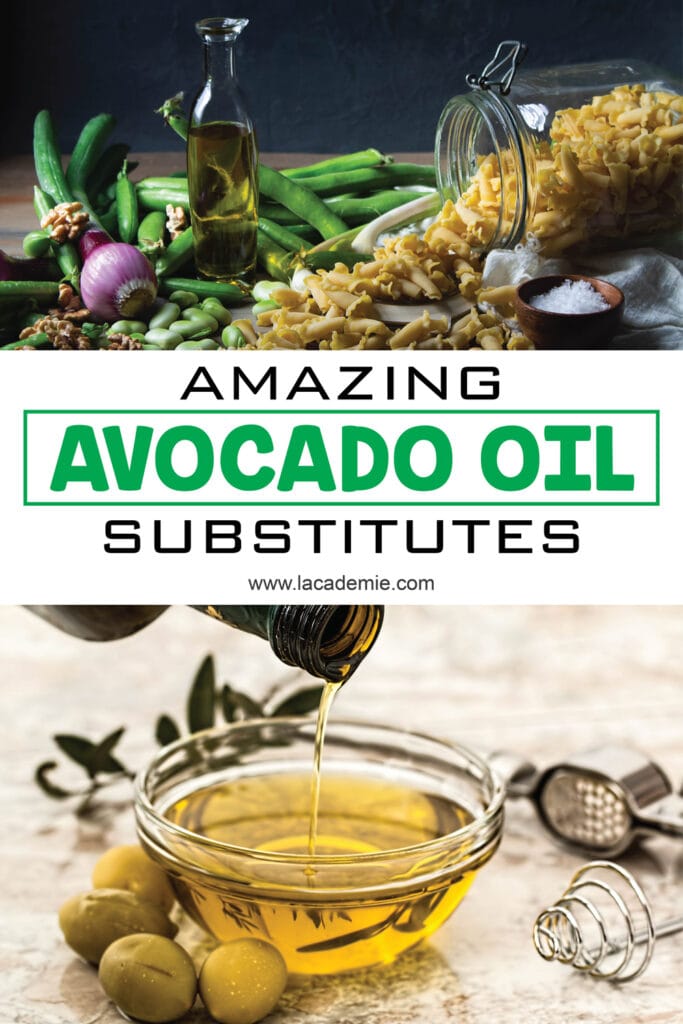 References
Flores, M., Saravia, C., Vergara, C., Avila, F., Valdés, H. and Ortiz-Viedma, J., 2021. Avocado Oil: Characteristics, Properties, and Applications.
2021. [online] Available at: <https://draxe.com/nutrition/olive-oil-benefits/>